Is Maui All That It's Hyped Up To Be?
A week of visiting my hippie friends and exploring Molokai – the most authentic Hawaiian Island – flew by faster than a beginner surfer lasts on their board while trying to catch a Hawaiian wave. It was tough to leave such a beautiful place, where one can easily find their own slice of paradise for the day. But Maui – the next stop on this Hawaiian island hopping journey – should continue the momentum, right? After all, Maui is an island which sparks the imagination with images of lush jungles and beautiful beaches coupled with beautiful people. But back to reality now… What's Maui really like? Keep reading and find out.
Visiting Hawaii? Sample itineraries, guides to the best spots, and the must-see highlights in five islands are all waiting for you in the Hawaii Travel Guide collection. Aloha!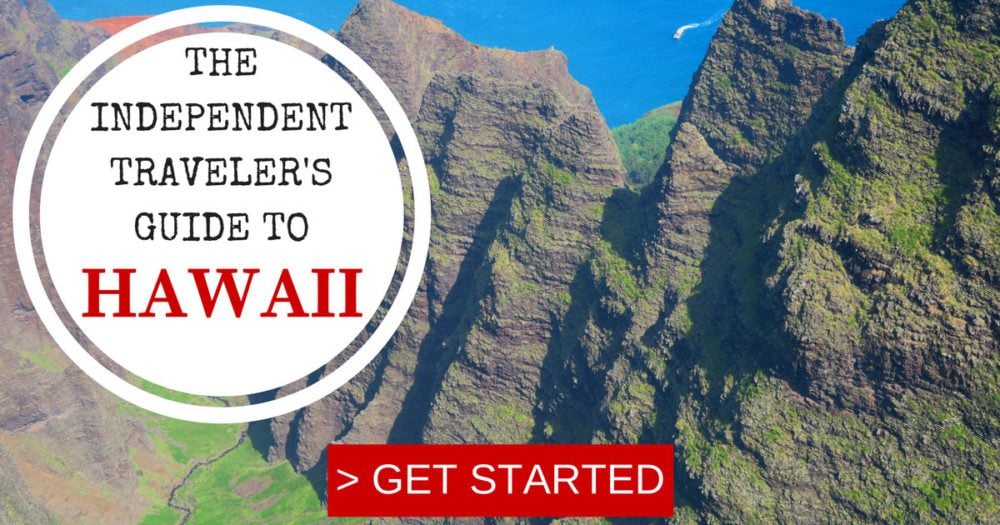 Hawaii, Tailor Made!
The Hawaiian islands are among the last places to be colonized by mankind, five main islands, each with its unique personality.
Get expert advice and assistance with planning your trip to the destination where tropical dreams come true!
The Valley Isle
Maui is the second-largest island in Hawaii and rises out of the depths of the Pacific Ocean in the shape of a figure-eight, a miniature version of the island of Tahiti in French Polynesia. The island's cute dimensions are owed to a pair of massive shield volcanoes that more-or-less erupted at the same time. Each volcano's flow of lava overlapped the other's, forming a large isthmus that gives Maui its nickname "the Valley Isle". But its official name has nothing to do with the sidekick hero in Disney's film – Moana – but more with an ancient Hawaiian demigod bearing the same name.
Although Maui's twin volcanos joined forces in ancient times to create this beauty, they have since then parted ways and possess completely different personalities. While West Maui's volcano – Mauna Kahalawai – gets a ton of rain and its peak has gradually eroded into separate spikes, East Maui's volcano – Haleakala – rises to over 3,000m and looks like an imported good from Mars. The two giants also create incredibly diverse weather patterns, where you can drive literally just a few kilometers and go from a torrential downpour to burning sunlight.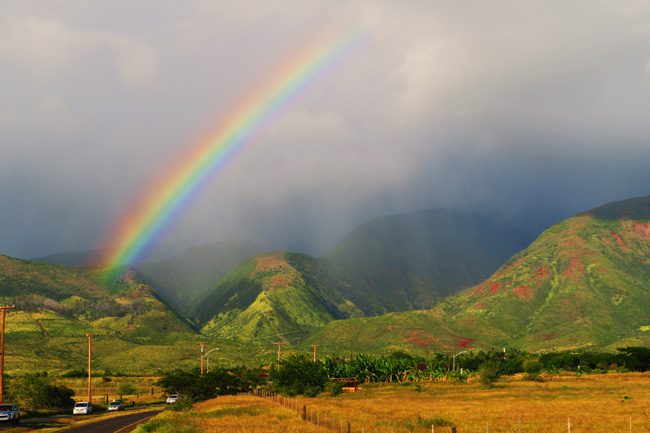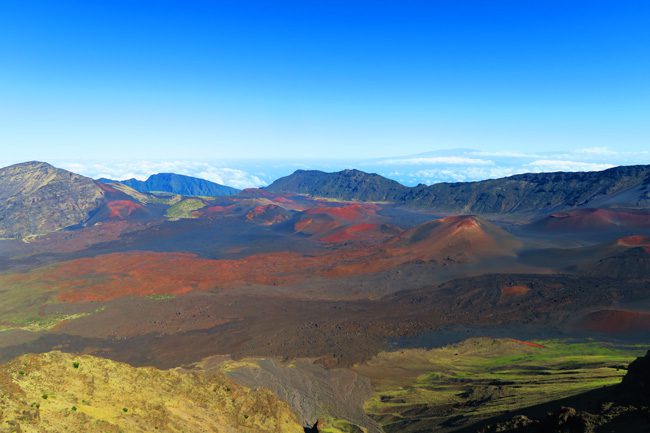 Fake "Aloha"?
But enough geology and meteorology. What about Maui's vibe and its level of authenticity? I must say that my preexisting notion loosely based on Hollywood film and media combined with contrasting opinions heard from dozens of travelers over the previous three months in Hawaii – all led me to ponder this life-or-death question over the course of a full week of lonely solo travel in Maui. I came to the conclusion that Maui's current scene is influenced by three major streams:
#1: White folks from 'da mainland' who relocated to the island mostly for its awesome weather. I'm totally generalizing here, but these can range from former slaves-to-the-office, entrepreneurs, working-class folks and all the way up to celebrities (Woody Harrelson, Steven Tyler to name a few). They, of course, brought with them all the comforts of home: Walmarts, shopping plazas, highways, fast food joints, overpriced restaurants and useless boutiques.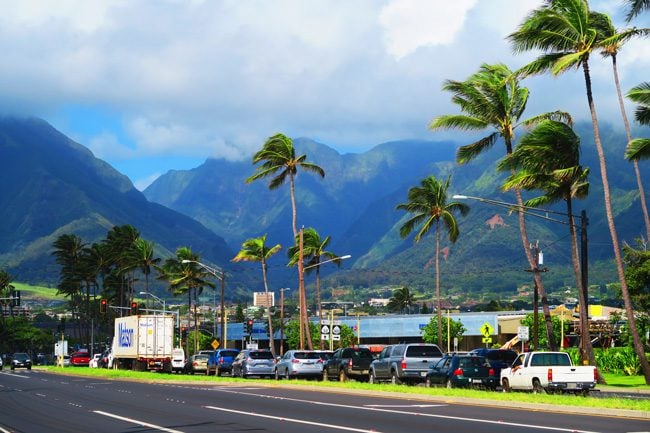 #2: Surfer dudes and wannabe hippies, some local but most not. They come here for the (so-called) laid-back vibes of peace and love, and of course… the waves.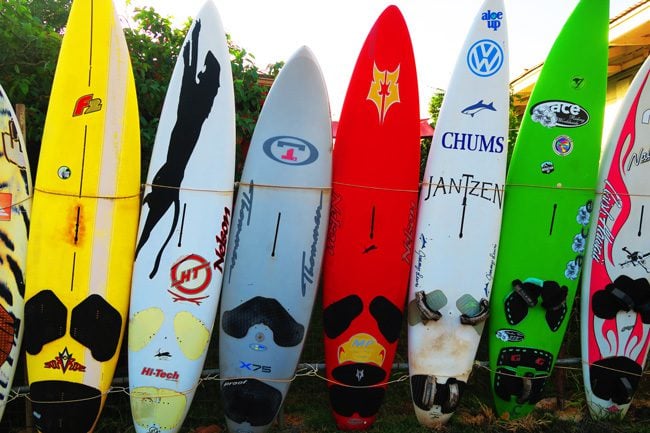 #3: The tourists. Overachieving Maui has an image of a tropical paradise. This, of course, attracts 100% authentically curious backpackers willing to dish out $50 for a dorm-room bed just to see what all the fuss is all about. But the majority of visitors are honeymooners, families or mature couples from mainland USA. They come here by the masses and appear to all drive Ford Mustang convertibles (usually red for some reason) like they own the road (I call those 'douchecars'). It is for these folks that Maui went on an overdevelopment frenzy, handing over large chunks of pristine beachfront real estate to developers who in turn constructed massive resorts complete with huge swimming pools (guys, the ocean is like 5m away), 18-hole golf courses, and cabana boys who smile at you like they totally don't mean it (but don't forget the tip!). Why would anyone stay in one of these resorts? You're not [enter your first name here], but rather room # [check your keycard]. I guess the answer lies in the fact that (what are supposed to be) cheaper alternatives like bed & breakfast and Airbnb units go for around $150 per night!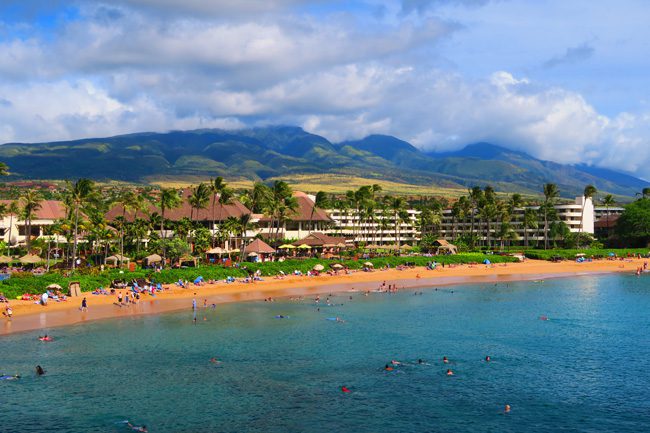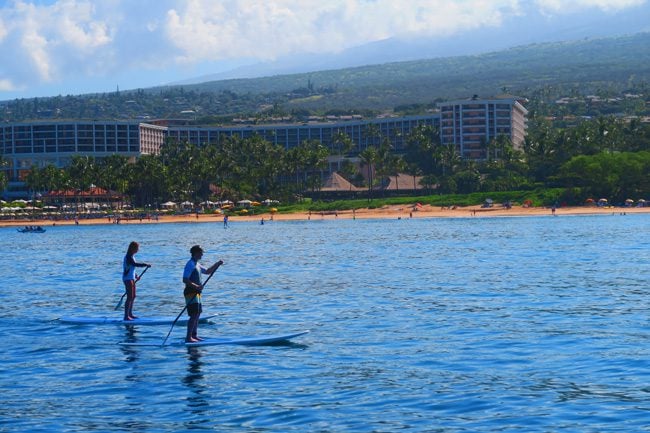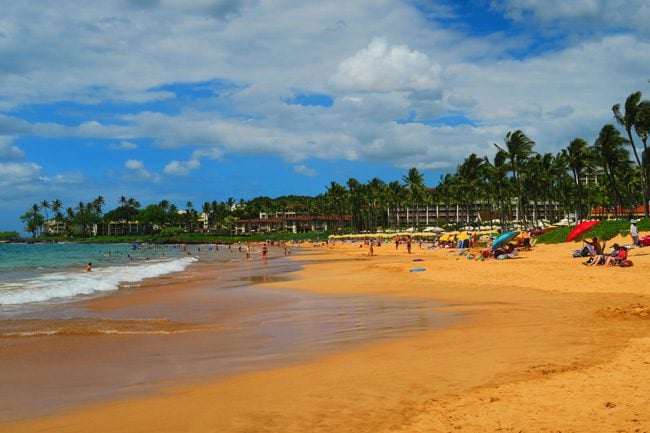 Missing from this, list in case you haven't noticed, are actual Hawaiians themselves (not to be confused with Hawaiian residents – big difference). There's little to no visible sight of this native group. Where are you, people?
OK but don't get me wrong. Maui's landscape is stunning so let's move to the part of the glass that's half full and do some sightseeing!
The Scenic Road to Hana
Remember we briefly discussed East Maui's giant volcano – Haleakala? Well, it's so massive in fact, that moisture carried by trade winds gets "trapped" and eventually falls on its slopes in the form of rain, and lots of it. And you don't have to be a rocket scientist to understand that rain + mountains = waterfalls and rainforests. This makes the remote northeast section of Maui one of the prettiest places in all of Hawaii. Thanks to a narrow road that snakes its way on the coastal cliffs, visitors are rewarded with an unforgettable scenic drive.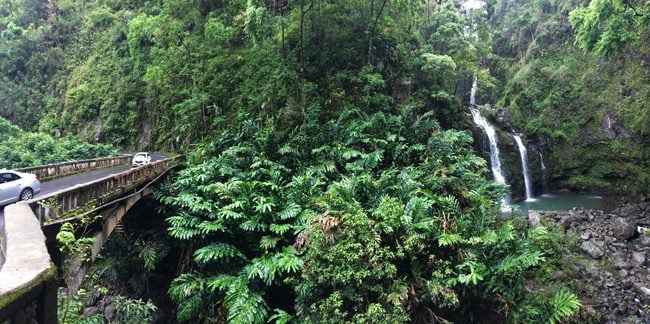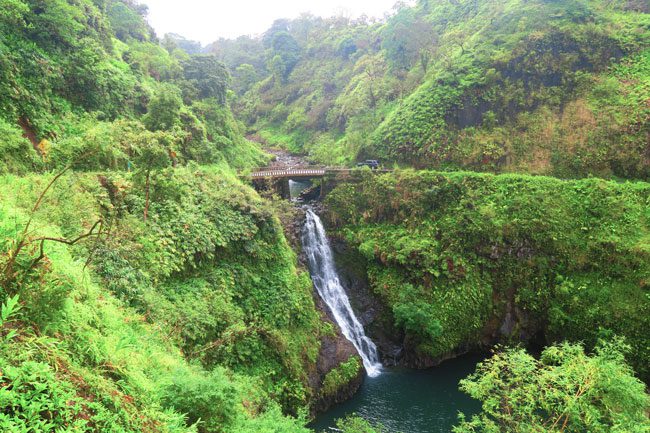 The road to Hana – the largest settlement on this part of the island – is not to be missed. It is a slow-going 44 mile (70km) narrow road that connects remote villages with civilization and visitors with nature. But 'reaching the rainbow' ain't easy and the scenic drive to Hana is challenging, having to cross 54 one-lane bridges, gliding along mind-bending curves at slow speeds and all of this while enjoying the spectacular scenery. Heck, there are more waterfalls out here than residents, an eternally moist paradise that reminds me of a tropical version of Ireland.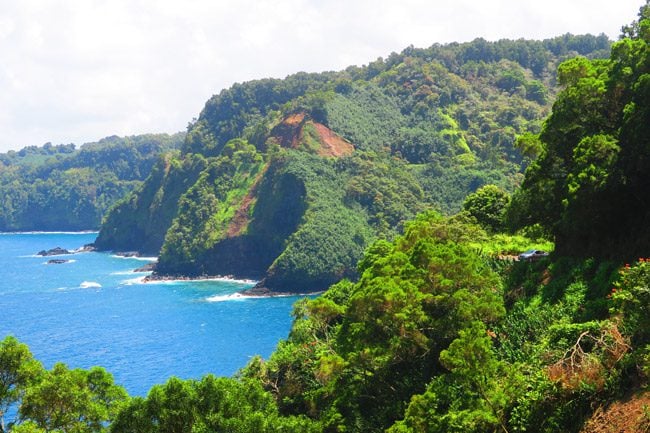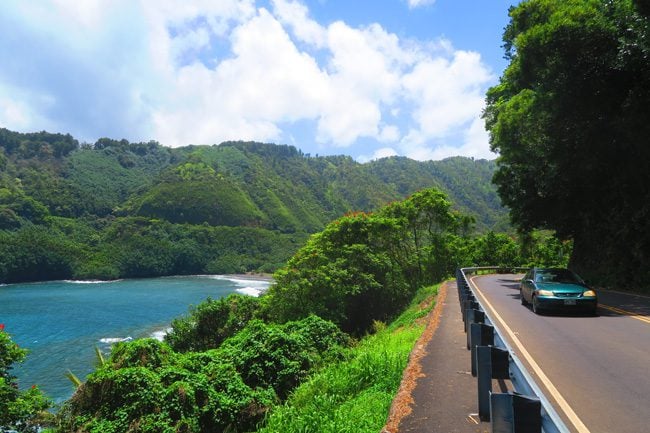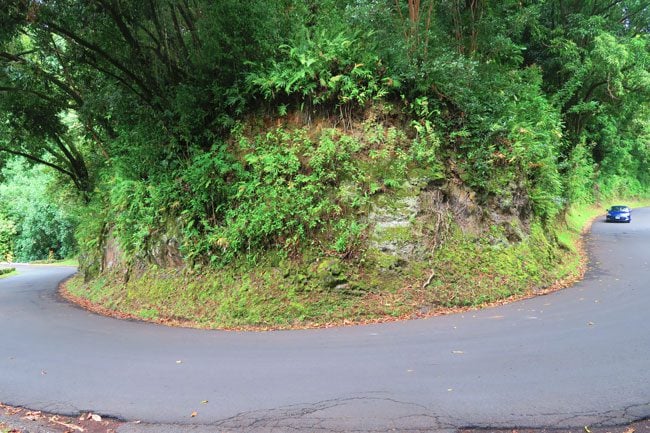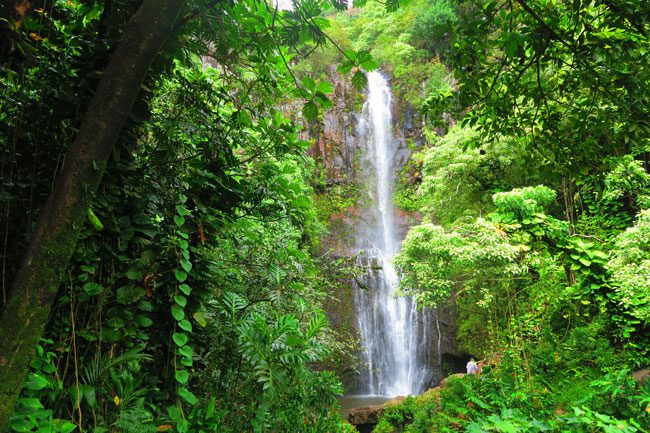 But it's not all about the drive. There are plenty of worthwhile stops along the way so let's have a look at a few highlights.
Bamboo Forest
The southern entrance to Haleakala National Park – probably the most remote section of Maui – is the gateway to one of the most enchanting places you'll ever visit. But in order to see it, you must hike the Pipiwai Trail. The hike begins with a nice-and-easy stroll in the rainforest along the banks of a symphonic river. Nothing special so far by Hawaiian standards.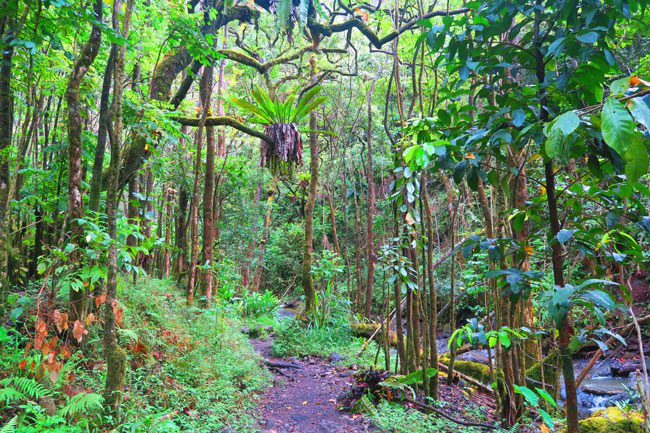 All of the sudden, the mango and guava trees of the rainforest give way to giant bamboos. They seem to trap you like some deadly prop in The Hunger Games, asynchronously producing a cracking sound as they sway in the gentle wind. Visibility into the interior of the bamboo forest is impossible, not the kind of forest you want to get lost in. Their density is extreme and their uniform structure and color play tricks on the eyes. It's a bizarre scene, further amplified when you have the trail all to yourself. What happens if one of these giants fall down?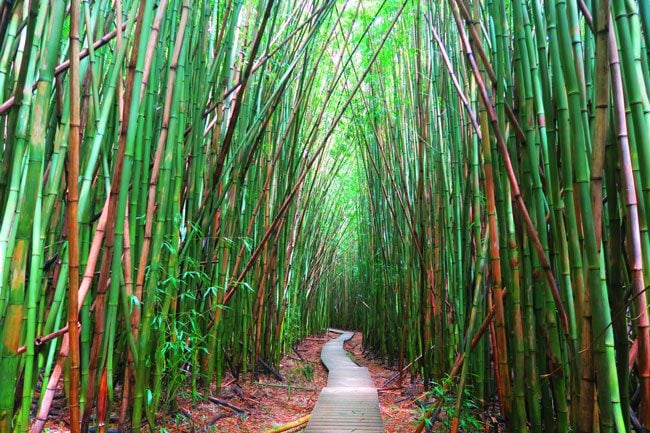 And if this wasn't thrilling enough, the wooden boardwalk which slices through the bamboo forest leads you to a clearing where the familiar sights and sounds of the rainforest return… but with a twist. Cascading out of nowhere from a height of over 120m, the Waimoku Falls tumble with immense force. The intensity of the drop slowly chips and carves into the surrounding cliffs. Swimming is highly ill-advised if you value your life.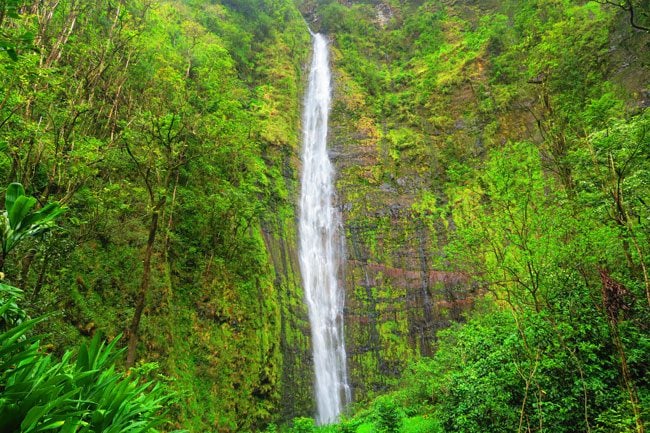 Red Sand Beach
The town of Hana is really just a tiny village. There's a cute church, the front lawns are manicured to perfection, and schoolchildren seem to have the time of their lives living in paradise. However, the #1 highlight over here is a bizarre-looking beach locally known as 'red sand beach'. And you can clearly see why…
Kaihalulu Beach is not to be missed, less for the swimming but more for the intense colors. The Martian-like soil is actually more black than red, and if you've visited red-soiled Kauai, it shouldn't come as a surprise to find these kinds of shades on Hawaii's islands. I came here on a cloudy day, yet the colors were still out of this world. I've seen many white, black and even pink-sand beaches but never a red one!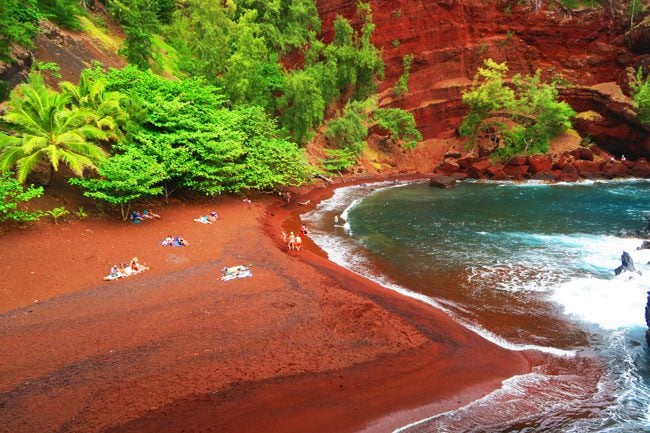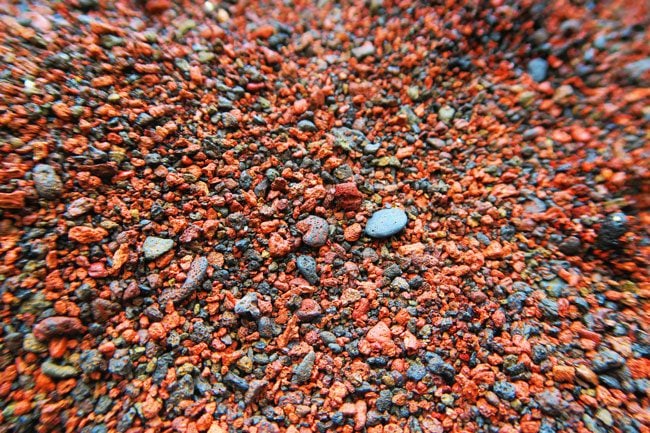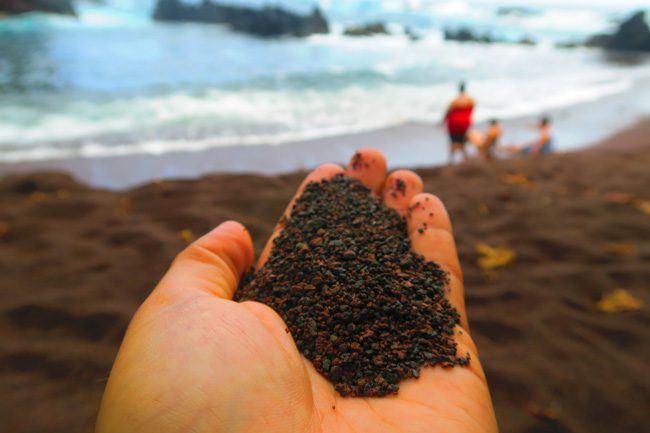 Three Bears Falls
After a few hours on the scenic drive and a few dozen photographed waterfalls, you become indifferent to what is normally such a heavenly sight – another waterfall. The brain telling you "na, let's continue" is quite shameful considering the beauty of the place. I reach the prettiest roadside waterfall about halfway through the drive. It's called Three Bears Falls and you can probably understand why. The three friendly bears cascade in perfect harmony to a very inviting pool that's safe for swimming. I scramble down from the road for a swim before starting the long drive back to civilization.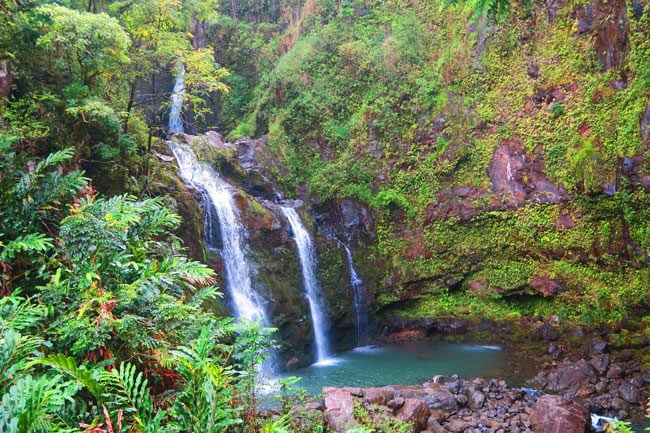 Surfers and Sea Turtles
I make it back to central Maui in time for the sunset and I pull over to Ho'okipa Beach and its scenic overlook. Locals are selling overpriced souvenirs and hippies are trying to sell me some weed, but it's the brave surfers taking to the water that catch my attention after such a long drive. A walk down to the beach reveals that the surfers are not actually the main attraction here. Bunched up together as if preserving body heat on some Arctic outpost, dozens of sea turtles are chilling on the soft sand. I arrive as some are exiting the water to catch the last rays and some are heading back to catch dinner. These guys are so damn cute!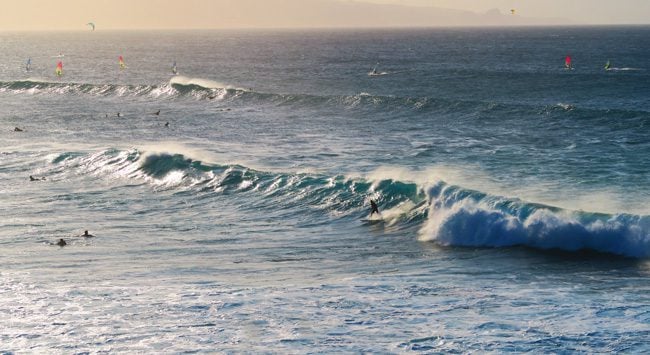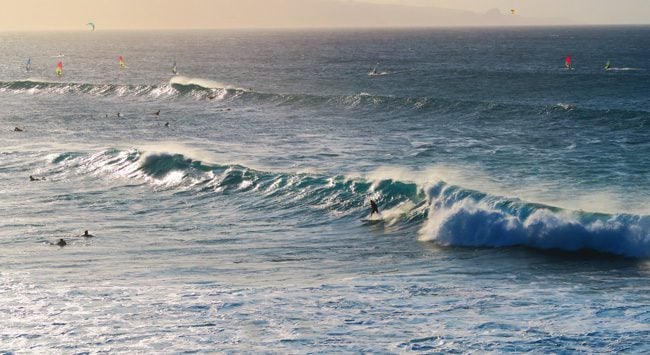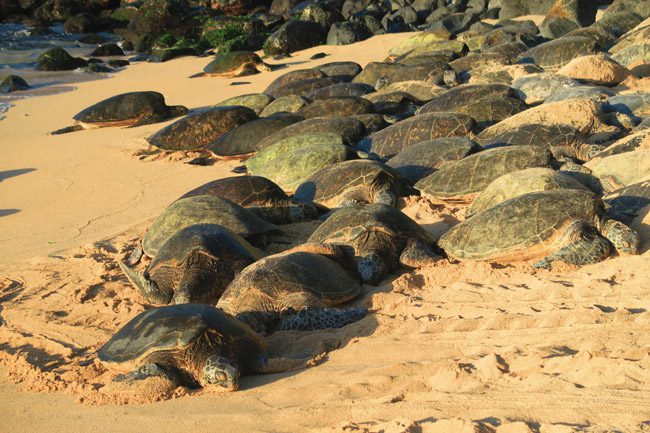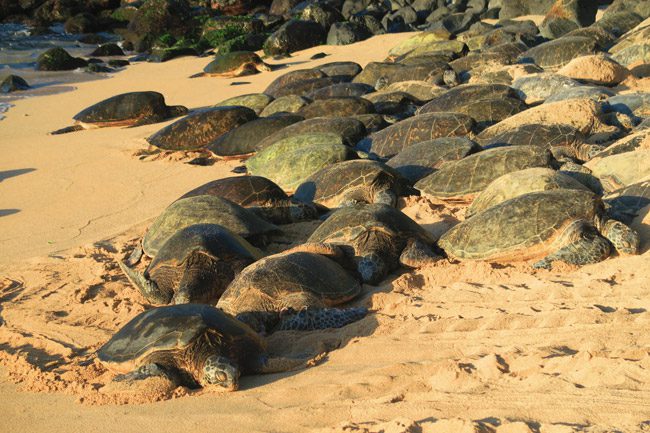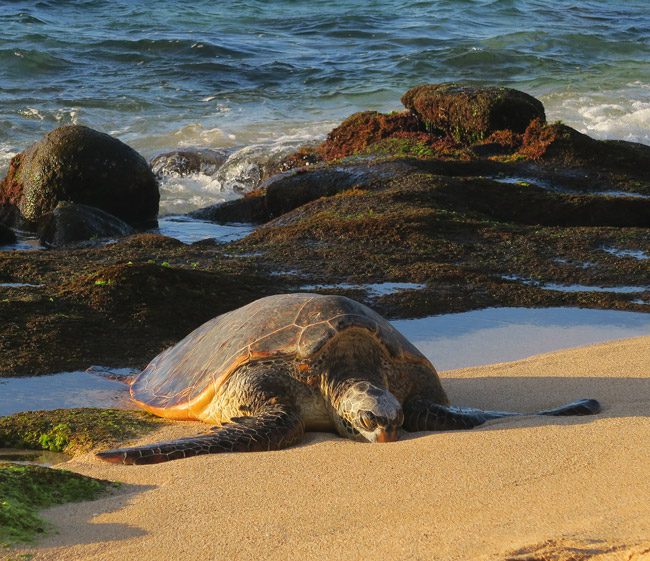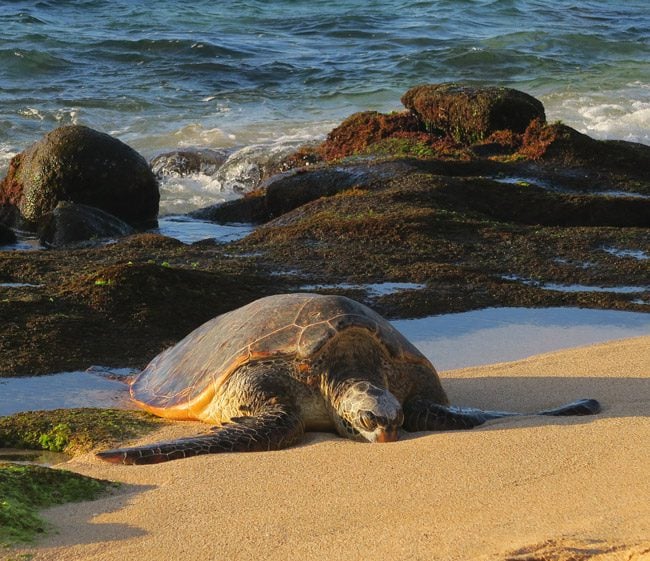 Haleakala National Park
The following day, it's time to peak inside the mouth of the giant volcano. The Haleakala Volcano is so massive, that its base is larger than the size of Manhattan. It is known as the "world's largest dormant volcano" and it also holds a very special place in native Hawaiian culture. Meaning "house of the sun", Haleakala was a sacred place for ancient Hawaiians. Way above the clouds with a summit at 3,055m, getting up here was a real pain in the ass back in the day. Remember the demigod Maui from earlier in the post? Well, his grandmother apparently lives up here too, all the more reason to check out this barren and chilly place.
Many visitors drive up to the summit of Haleakala for sunrise but I'm not really a morning person and prefer sunsets in general. So instead of driving the mind-bending road to the summit in the dark, I get to enjoy spectacular views of West Maui en route to the top. As I slowly ascend, thrill-seeking tourists are rapidly descending on bicycles. The views are incredible but the temperature is rapidly dropping and the wind is picking up speed.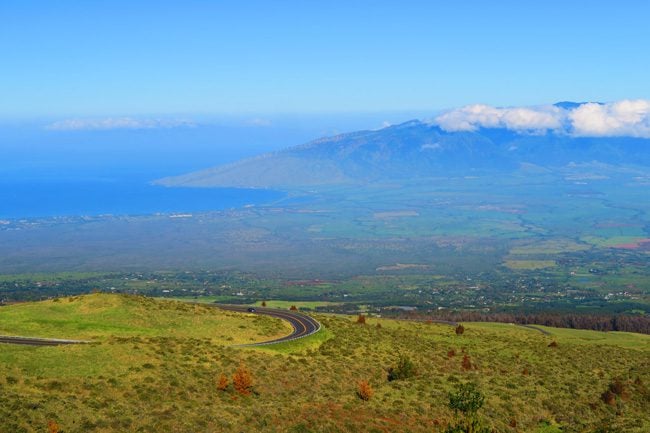 With a paved road leading all the way to the top, reaching the summit of Haleakala is a no-brainer. That is if you can withstand the ferocious winds. Though you must take refuge inside a glass-covered shelter (10,023ft or 3,055m), the view of the crater and the clouds beyond is surreal. I mean, a moon-like desert in Hawaii… How is this possible? Well, you see those clouds in the background? That's pretty the area we explored yesterday, the wet and tropical scenic road to Hana. Haleakala is so massive, that moisture carried by the trade winds rarely travels beyond its steep slopes. It gets trapped, condenses, and rains down on the coast, leaving this part of the island bone dry. From the comforts of the shelter, you can actually watch the weather being created in real time. So awesome!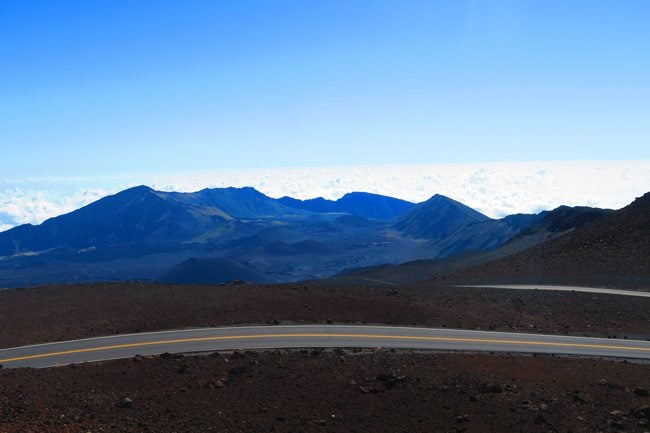 To truly experience Haleakala, one needs to stretch their legs, pack some lip balm and hike! Unlike the hike to the summit of Mauna Kea on the Big Island, in Haleakala, you hike down to the main attraction and just when exhaustion kicks in, it's time to somehow make it back up to the car. The views are sensational right from the start and they keep getting better and better as you descend, with shifting shades of maroon illuminated by the shifting sun and dozens of cinder cones indicating the spots where lava blasted out in the past.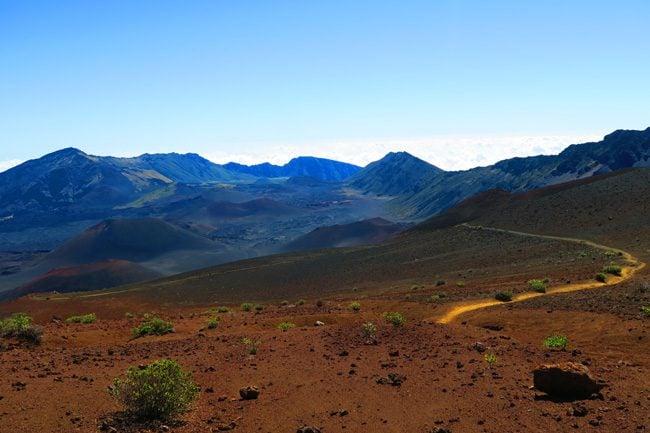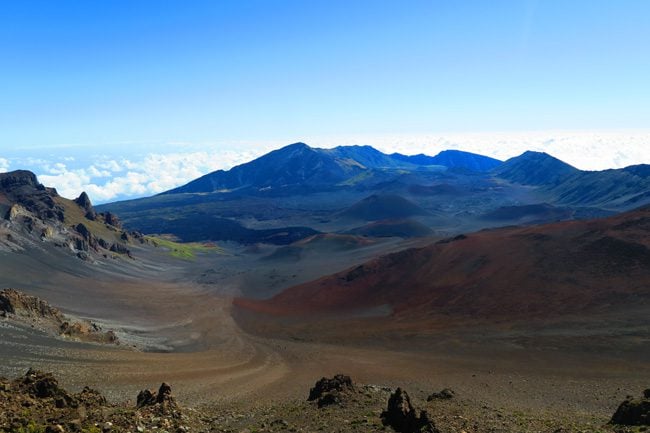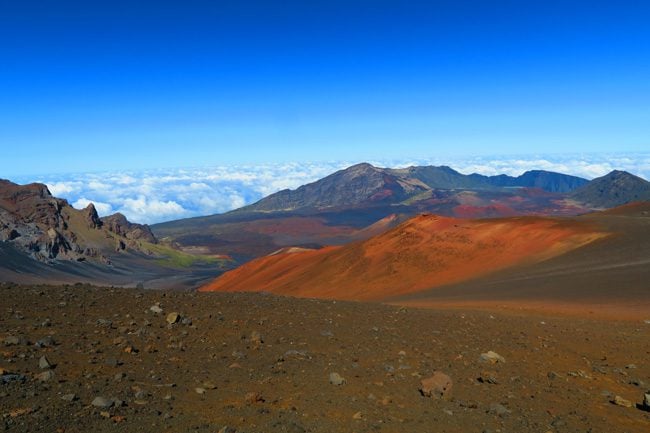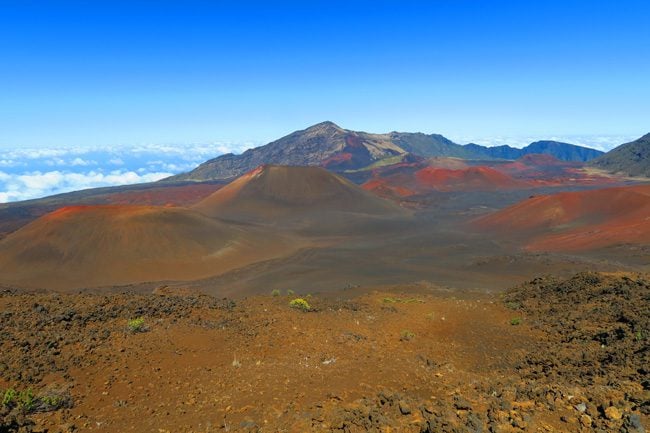 Though the Haleakala Crater resembles Mars or the moon, signs of life are everywhere. The moist patches of volcanic sand are prime real estate around here, home to unique plants that seem to be thriving. Heck, there are even colorful flowers blooming! Down at the bottom of the crater, there is nothing but silence. The wind that annoyed the hell out of you is gone, the layers of clothing can finally be peeled off, and it's a good time for a picnic lunch in this alien landscape.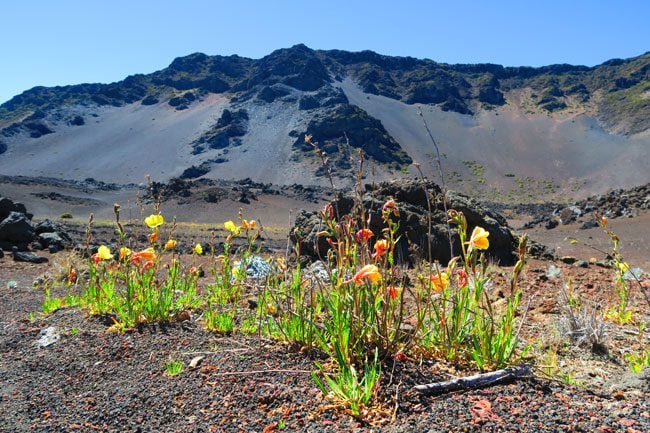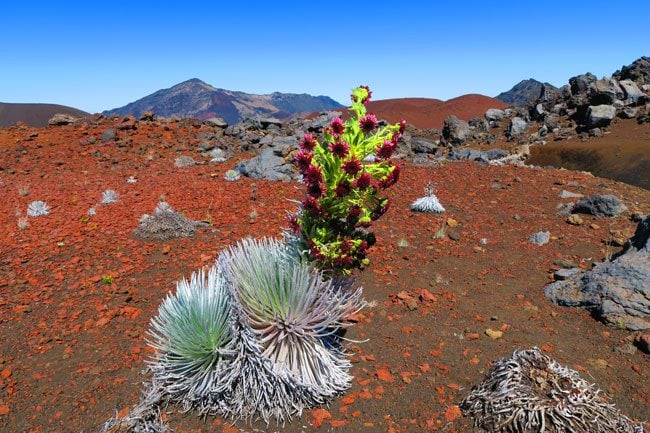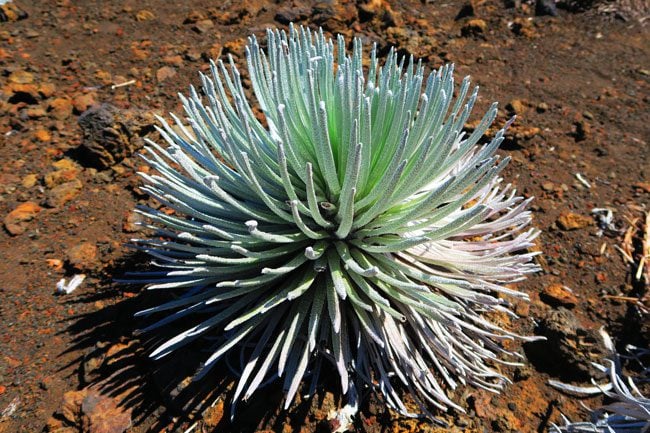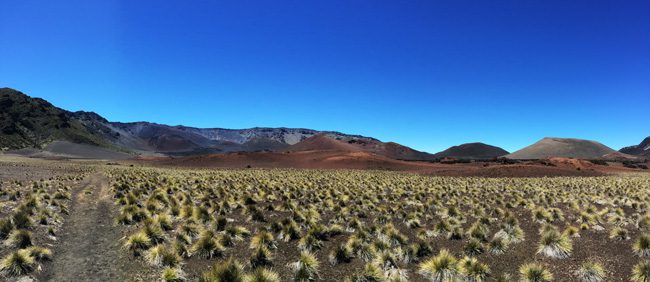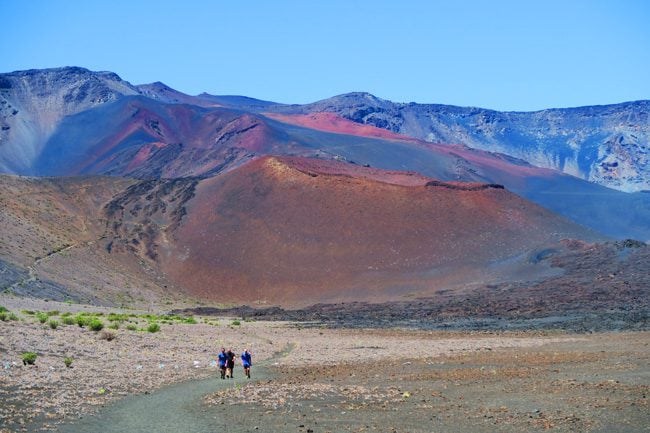 The Wild Wild Northwest
The week in Maui is nearly over and there's one more scenic drive to conquer, this time to the sparsely populated north coast of posh West Maui. If the narrow road to Hana was challenging, this one is really for the pros. There just aren't enough people living out here and way too many sea cliffs to justify more than one lane of asphalt. The Mustang convertibles (a.k.a "douchecars") driven by douche tourists from the mainland who think they own the island are making it difficult to enjoy the scenery in such challenging driving conditions. But it's just so beautiful and remote out here that turning the other cheek is easy. I'll be honest, there really isn't any reason to complain…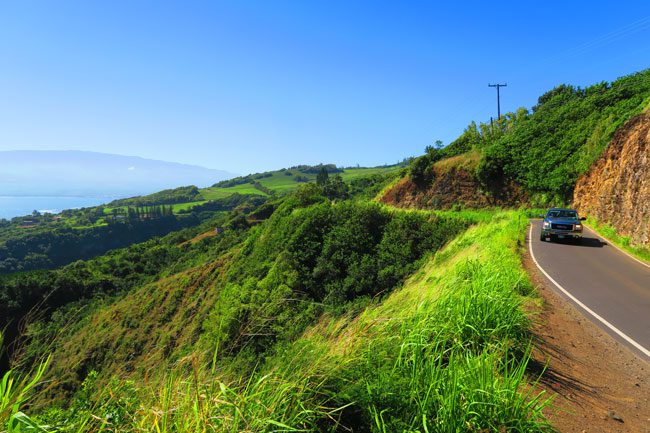 On this side of the island, it's nothing but lush valleys meeting a rugged coastline. There are small villages where I'm not even sure the Internet has arrived, natural swimming pools inches from the ocean, and impressive blowholes. It's another reminder of how beautiful Maui is if you manage to block out its overdevelopment and typical 'clientele'.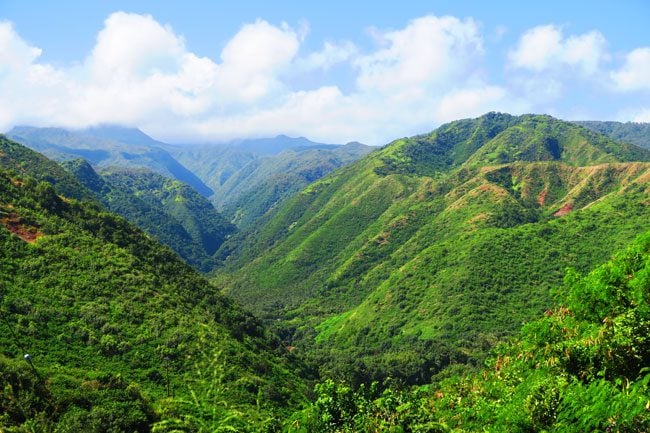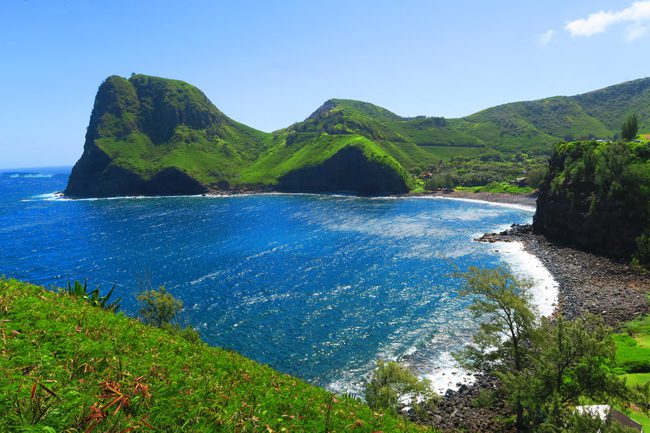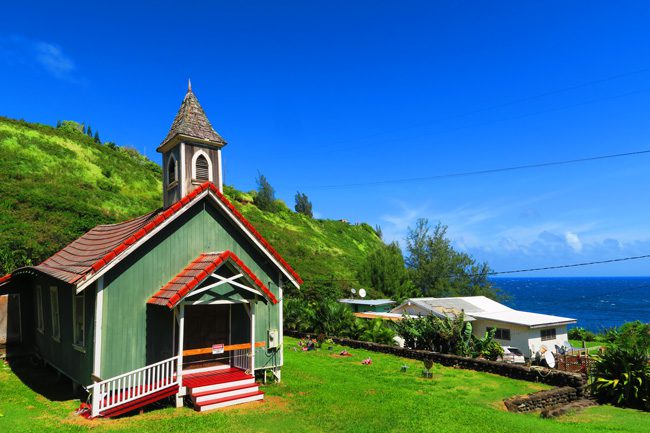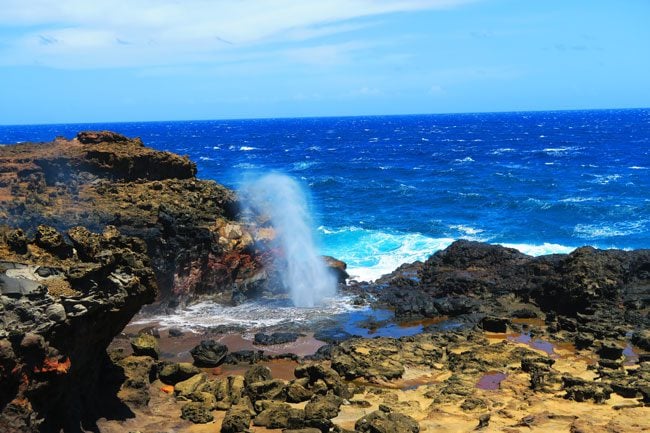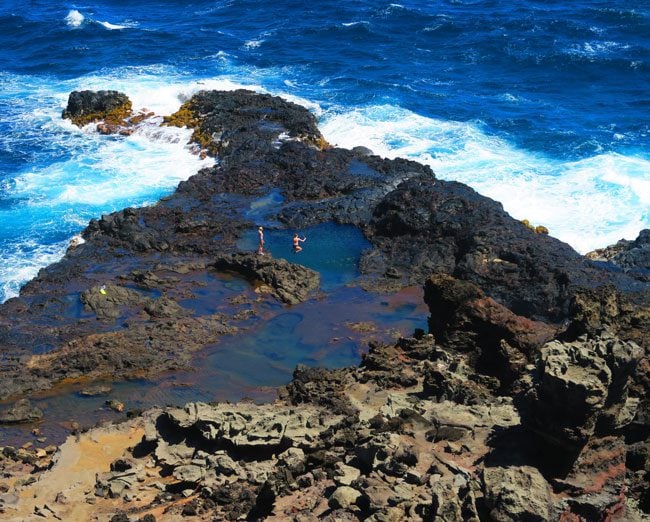 Big Beach
Before we wrap up our visit to Maui, shall we not check out a few of the best beaches? The beaches in Maui range from patches of beautiful sand overtaken by mega-resort (not my thing), to "secret" coves (warming up), to long patches of golden sand (bingo).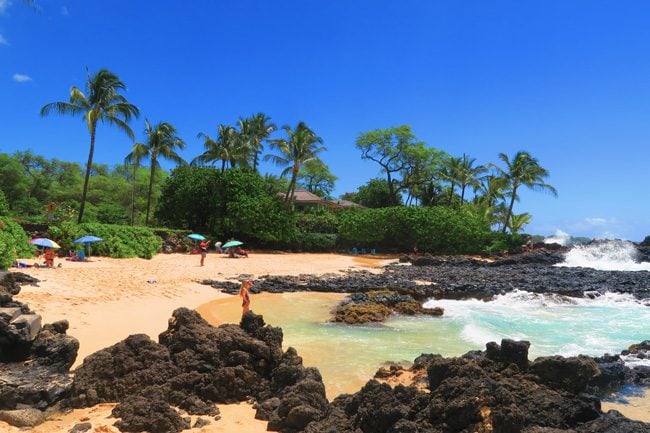 The best beach in Maui without a doubt is Big Beach, part of Makena State Park on the sunny and dry south coast. On the day I visit Big Beach, some local national holiday brings out the crowds, but there is enough space for everyone as you would expect from a beach with this name. However, the swimming on this particular day is pretty much banned by the lifeguards. Massive waves are crashing very close to the shoreline, perfect conditions for local brave bodysurfers, but not a haole like me!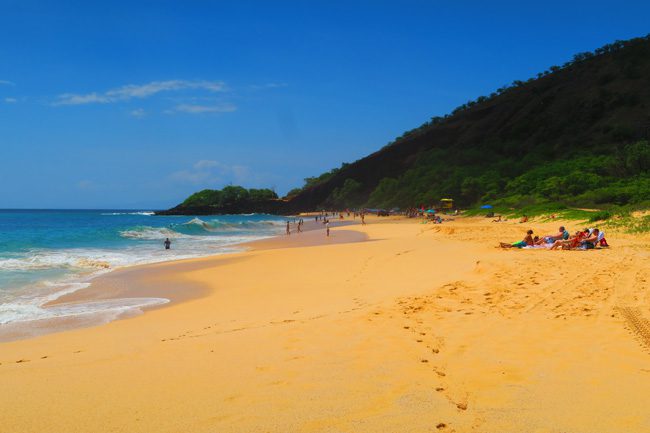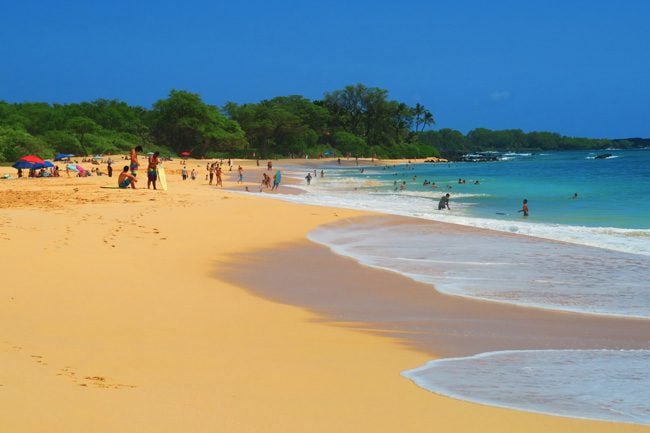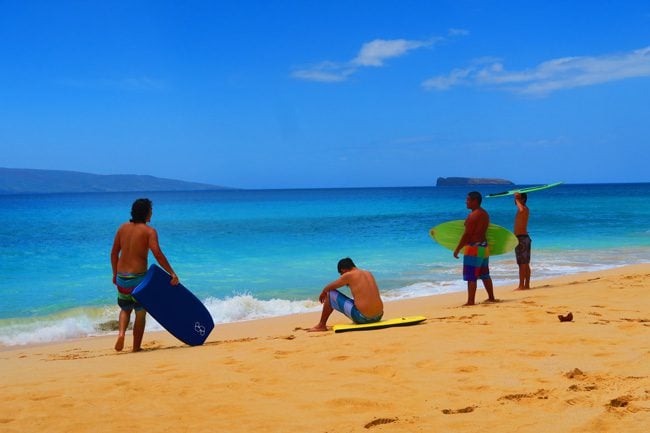 So what's the verdict on Maui? I wish I came to visit 50 years ago!
What's Next?
Next time, we'll explore the last Hawaiian Island on this journey – Oahu. It is home to over 1 million of the state's 1.4 million residents and its capital city – Honolulu. We'll check out the city and Waikiki Beach before exploring the beautiful countryside.
Visiting Hawaii? Sample itineraries, guides to the best spots, and the must-see highlights in five islands are all waiting for you in the Hawaii Travel Guide collection. Aloha!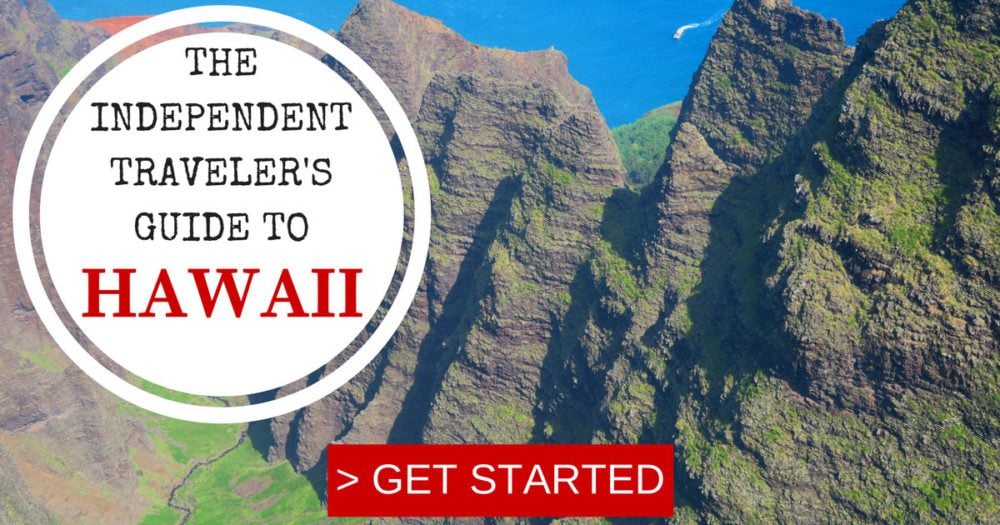 Hawaii, Tailor Made!
The Hawaiian islands are among the last places to be colonized by mankind, five main islands, each with its unique personality.
Get expert advice and assistance with planning your trip to the destination where tropical dreams come true!