Maui is one of the most visited islands in Hawaii and though, with a few exceptions, its beaches may not be the finest in the Pacific, they sure are dazzling. Catering to every traveler's needs, be it working on your tan, snorkeling or catching massive north shore waves, Maui's exceptional choice of beaches will surely keep you busy. I spent a full week in the "Valley Isle" and in this post, I'll share my list of the best beaches in Maui.
Visiting other Hawaiian islands? Sample itineraries, guides to the best beaches and the must-see highlights are all waiting for you in the Hawaii Travel Guide collection. Aloha!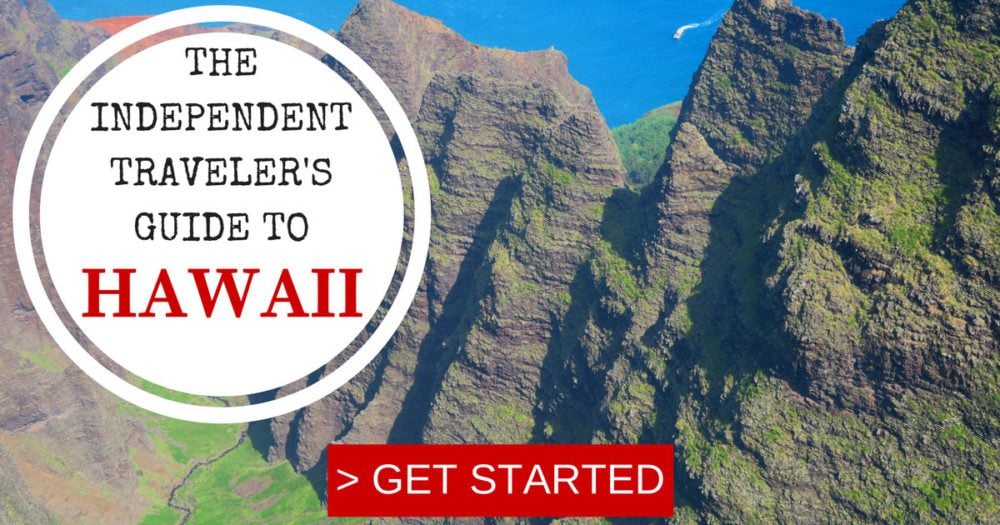 Things To Keep In Mind
This extensive list of the best beaches in Maui covers most of the accessible and less accessible beaches on the island. Feel free to pick and choose the ones that best fit into your Maui itinerary. Keep in mind two things:
Some beaches have facilities (showers, toilets, etc.) and lifeguards while others don't.
Beaches inside official state or county parks may have opening hours so have a look at the signs before entering. Some allow camping.
Hawaii, Tailor Made!
The Hawaiian islands are among the last places to be colonized by mankind, five main islands, each with its unique personality.
Get expert advice and assistance with planning your trip to the destination where tropical dreams come true!
---
Map of the Best Maui Beaches
This map outlines all the beaches mentioned in this article. Click on the image to open in Google Maps.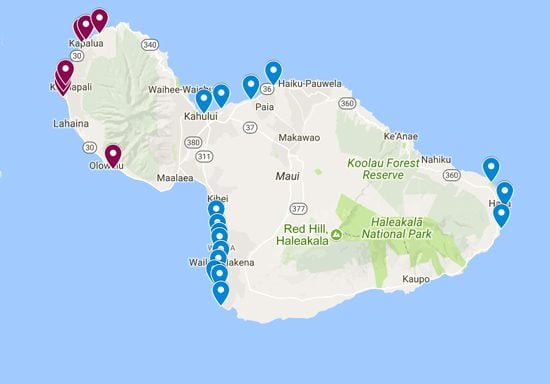 Best West Maui Beaches
Resort-friendly West Maui's finest beaches are pretty much dotted in succession along its western shore, facing the islands of Lanai and Molokai. Traffic and parking can be especially challenging between the Lahaina – Kaanapali and for the best sunset views, the further south you head, the better.
Olowalu Beach
The stretch of coastal road between Papawai Point and Lahaina is dotted with narrow beaches that are preferred by locals and sunset seekers. I found Olowalu Beach (mile marker 14) to be the most attractive stop along this stretch. The beach is a popular snorkeling spot, thanks to a coral reef extending from its brown-sand beach. Narrow channels with a sandy bottom carve their way into the reef, creating multiple routes for snorkelers. Sharks have been sighted off Olowalu's coast with a number of attacks reported in recent years so don't venture out too far. No facilities or lifeguards, do not park your car on soft sand.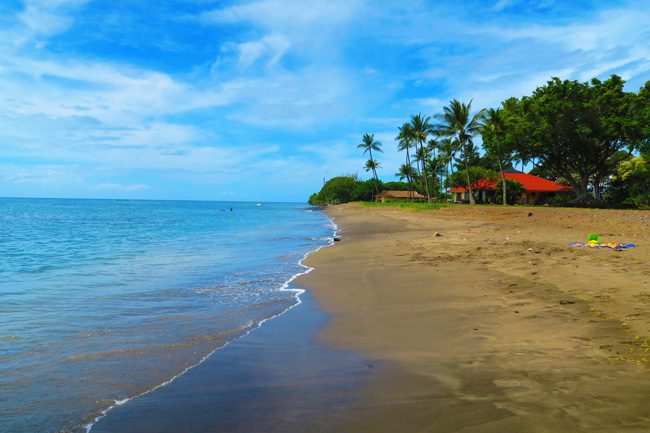 Kaanapali Beach
The prettiest strip of golden sand on West Maui is, for better or for worse, taken up by the Kaanapali resort area – the first master-planned resort area in the U.S. A magnet for families, couples, honeymooners, and package holidaymakers, Kaanapali boasts over a dozen high-end resorts, a couple of golf courses, shopping complexes and a few thousand beach chairs and cabanas. The beach itself is quite immense both in length and width so you'll have no problem finding your spot, just be sure to bring some shade with you.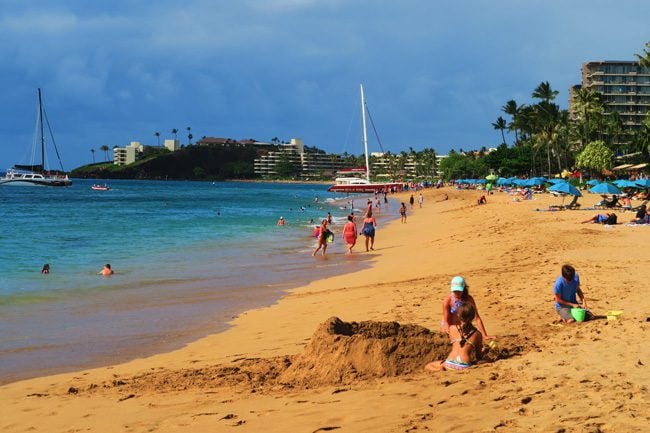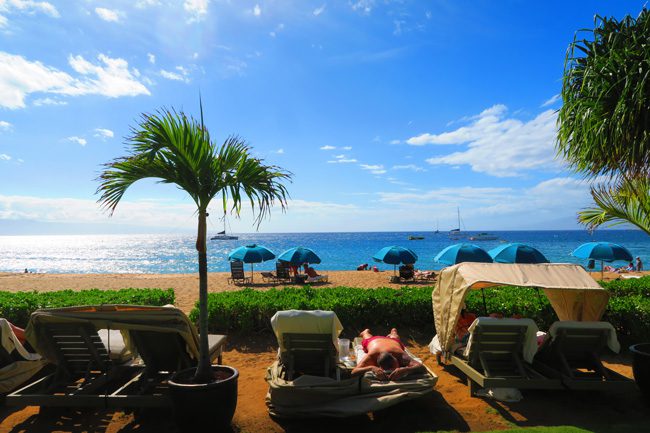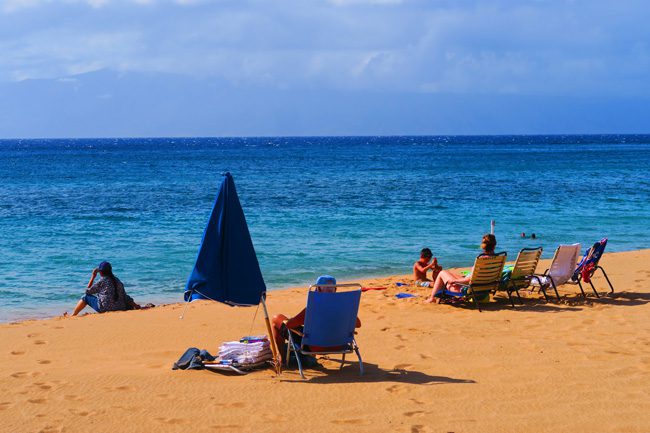 Literally capping off the Kaanapali Beach at its northern end, Black Rock Beach (Pu'u Keka'a) is reached by either marching on the soft golden sand or heading north along the paved Ka'anapali Beach Walk which runs parallel to the blue. This is the most scenic section of the beach strip and you can snorkel, jump from the rocky cliff or simply climb up to catch panoramic views of the coastline and the surrounding mountains. No public facilities, resort lifeguards present, limited free parking for non-resort guests.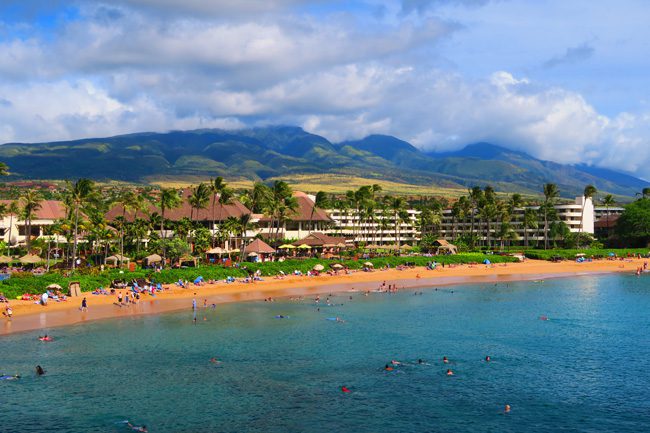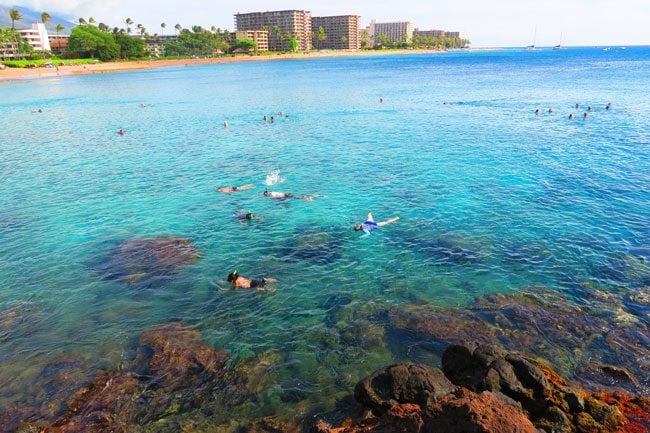 Kahekili Beach Park
The laid-back alternative to neighboring Kaanapali Beach, Kahekili Beach is essentially on the "other side" of Pu'u Keka'a (Black Rock Beach – see above). There's plenty of shade and free parking, the snorkeling is decent, and you might even spot a few sea turtles if you're lucky. What I especially liked about this beach is the long stretch of golden sand running in both directions, perfect for a long stroll during the day or before sunset. Full facilities including showers and picnic area. No lifeguard.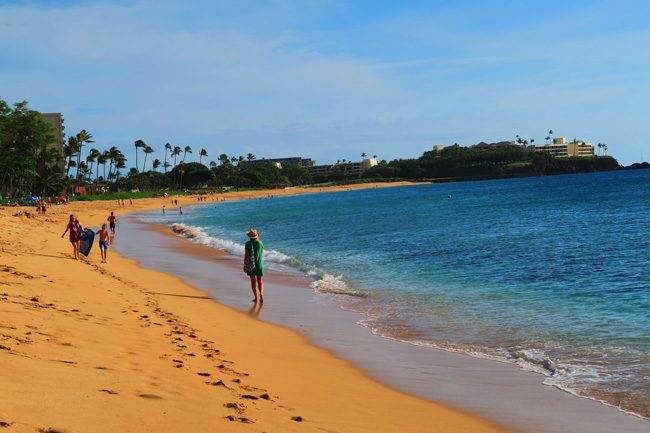 Kapalua Bay Beach
Reminiscent of Mauna Kea Beach on the Big Island, Kapalua Beach is sheltered on both ends by rocky outcrops. Its protected waters, palm trees, and golden sand make it one of the most popular beaches in West Maui. The beach is backed by two Kapalua resorts so it is a very popular place for families with children and resort guests. If you're looking for a rugged setting, this beach isn't for you but otherwise, you'll find here safe year-round swimming, decent snorkeling, paddleboarding conditions, and dining options. Kapalua Beach is also the start/endpoint for the Coastal Trail which runs from here all the way to D.T. Fleming Beach – 1.76 miles to the north. Full facilities and lifeguard.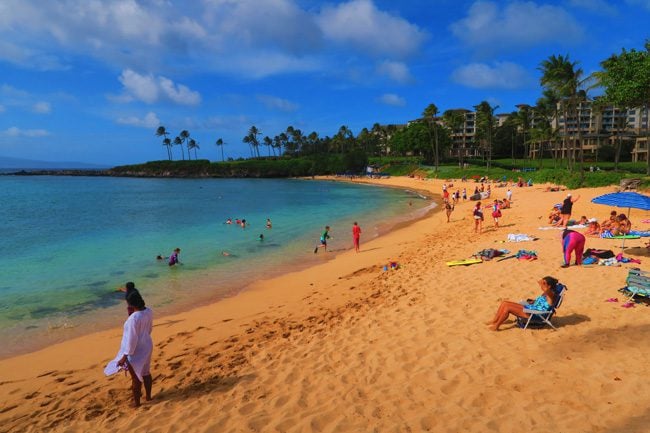 Oneloa Beach
Also known as Ironwoods Beach, Oneloa Beach is a long and narrow sliver of white sand that has the appearance and vibe of more of a locals' beach rather than a tourist magnet. Parking is a bit tricky – like in Kaanapali Beach – with just a few spots designated for non-resort guests. Makaluapuna Point (Dragon's Teeth) is easily spotted from the beach and provides a welcomed activity if you need to stretch your legs (it's a good snorkeling spot as well). If it weren't for the resort villas and the golf course in the back, Oneloa Bay would be a much welcomed off-the-grid beach. No facilities or lifeguards limited free parking.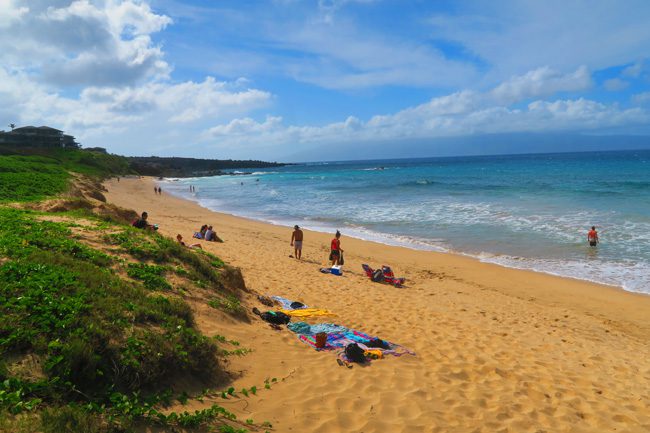 Honolua Bay Beach
Both a surfer's and snorkeler's paradise – depending on the day – Honolua Bay is a protected marine area that's only worth visiting if you plan on exploring what lies beneath the gentle waves. You can catch panoramic views of the bay and its magnificent backdrop (minus the resorts, of course) from a lookout point. The beach itself is rocky, with the best snorkeling (by Hawaii standards) along its eastern cliff wall. Parking isn't tricky to find along the main road, but don't leave anything visible inside and leave your car unlocked as break-ins do occur. Limited facilities (portable toilets) and no lifeguards.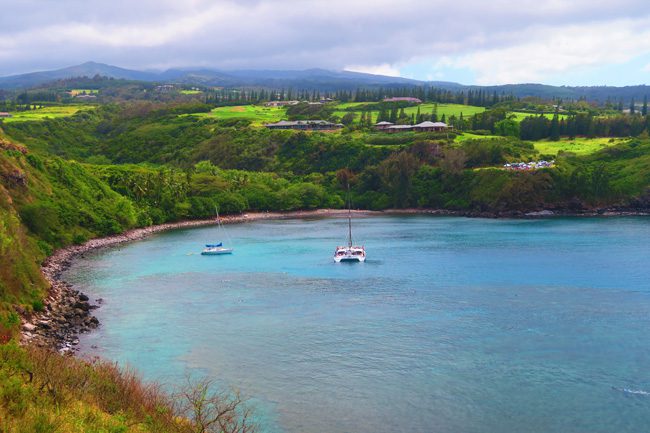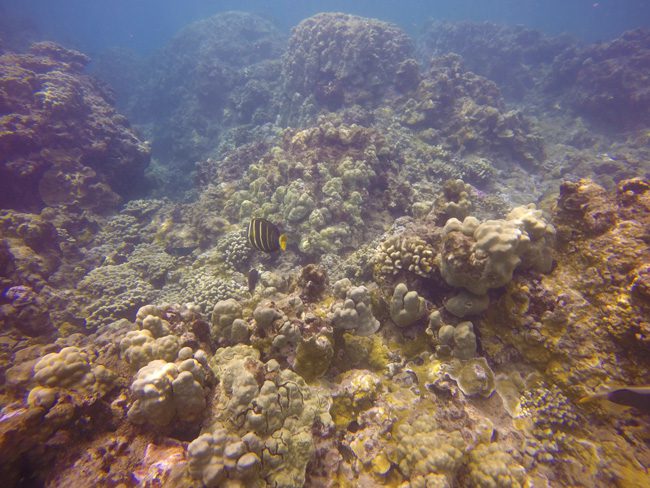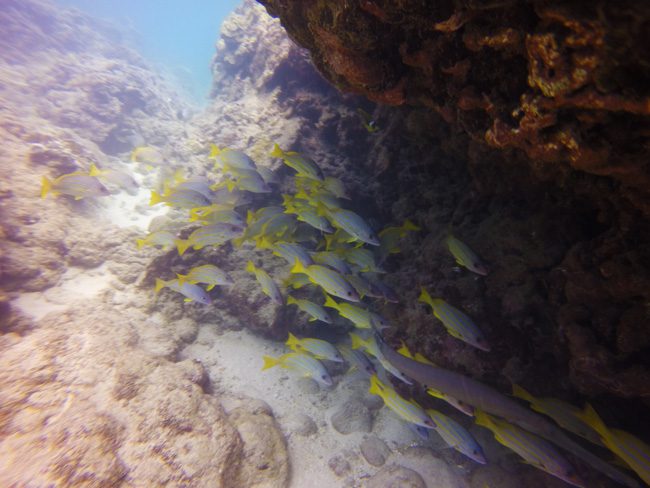 Best East Maui Beaches
The beaches in East Maui greatly vary between the tropical north shore and the very dry south shore. In general, north shore beaches are surf-friendly and wilder, while on the busier south coast they are more for chilling and swimming.
North Shore Beaches
We'll start in Kahului in the west and work our way east past the town of Hana.
Ho'aloha Park
Not really a swimming beach but more of a sightseeing beach, come here just before the sunset to get a rare taste of traditional Maui. In late afternoons, fishermen come to try their luck as fathers teach their children the value of hard work and locals take to the waters of the bay in their canoes, practicing their skills in Polynesia's unofficial "national sport". This slice of authenticity is wrapped in a beautiful natural setting, as the sun's last rays pierce through the openings of the Iao Valley.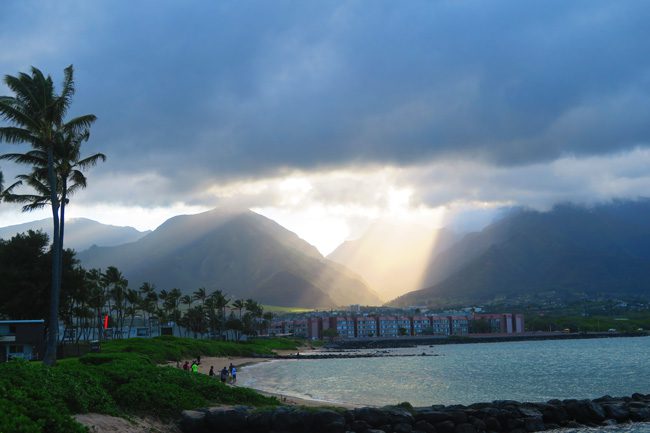 Kahana Beach Park
Like in the case of Ho'aloha Beach, come to Kahana Beach to see more than to swim. This is where the local kite and windsurfers come to ride serious swells in one of the best beaches in the world for windsurfing. Enjoy a long stretch of sand, gorgeous views of the Iao Valley, beautiful and fit men and women, and of course – the action out in the water! Full facilities including a picnic area, shade, and lifeguards.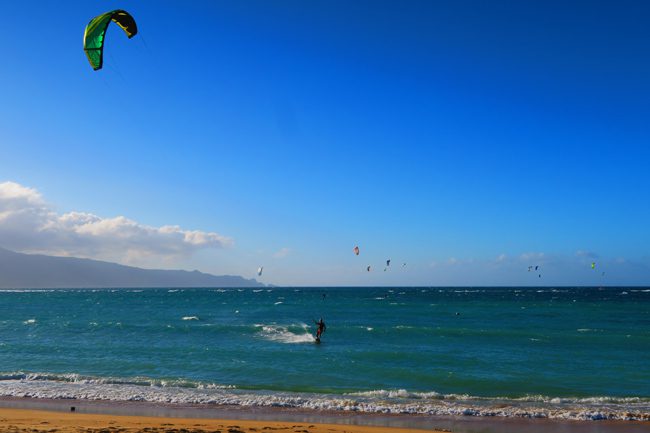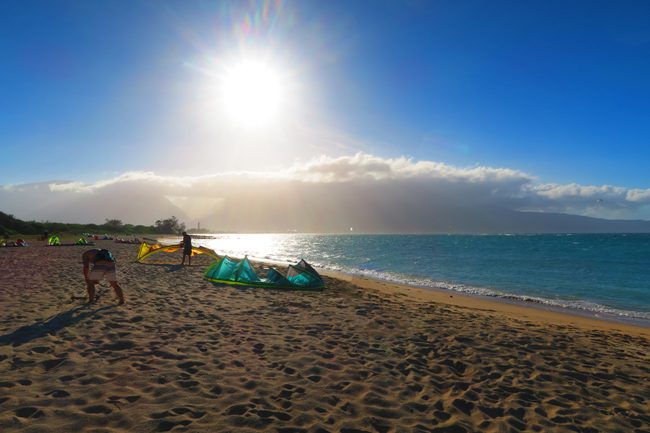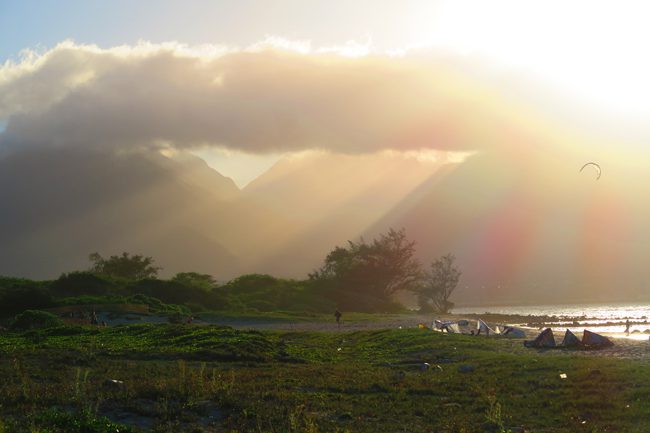 Baldwin Beach Park
I really liked this low-key beach that isn't too frequented by tourists, especially in the late afternoon as the sun begins to set. Enjoy a seriously long stretch of golden sand, palm and ironwood trees, and the odd kitesurfer flying in the air. And speaking of air… you'll likely pick up the scent of weed coming from the beach's western edge – a Mecca for hippies and regular folks. In fact, there's a small makeshift hippy camp in the trees backing this end of the beach. The swimming is a bit rough as is the case in most windward beaches, but the vibe is definitely inviting. Full facilities including lifeguards. Kahana Beach Park can be reached by foot from Baldwin Beach.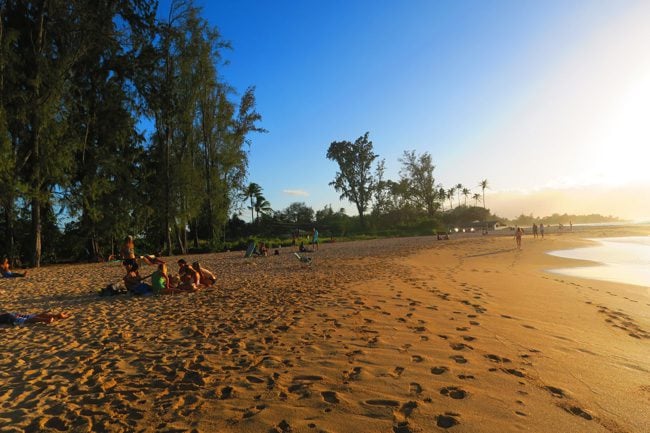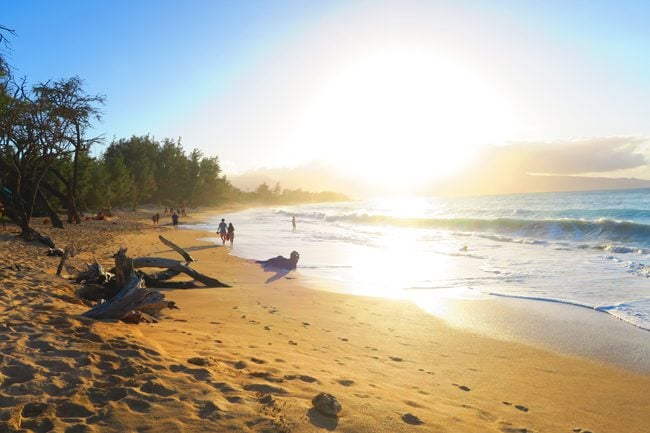 Ho'okipa Beach Park
Don't miss a visit to Ho'okipa Beach and its scenic overlook. From the overlook, you'll enjoy sweeping views of the coastline and the daring surfers that ride its waves. This is one of the top surfing beaches in Hawaii, best visited in the afternoons when surfing conditions are usually optimal. But that's not all, head down from the overlook to the beach or just follow the crowd. In a very specific area of the beach, dozens of green sea turtles are huddled together as they "work on their tan". Full facilities including lifeguards.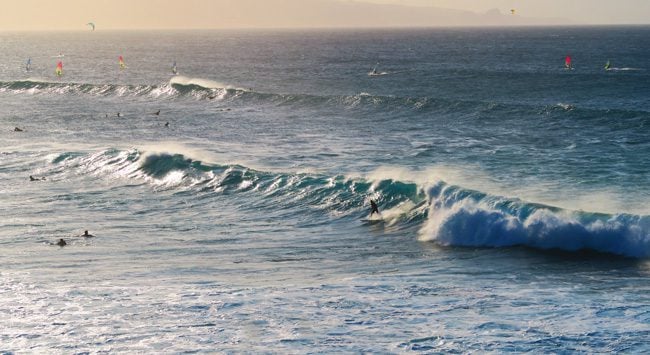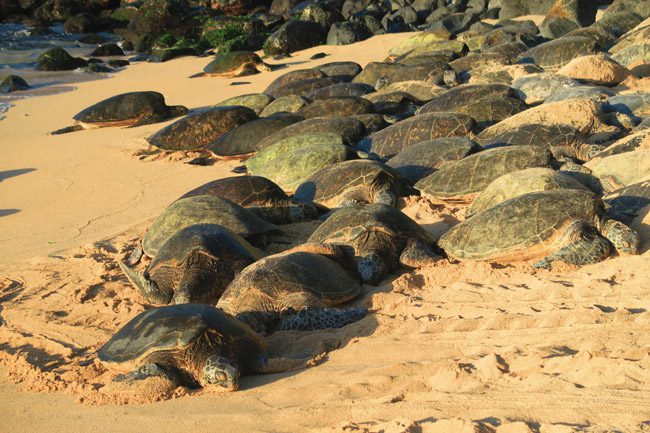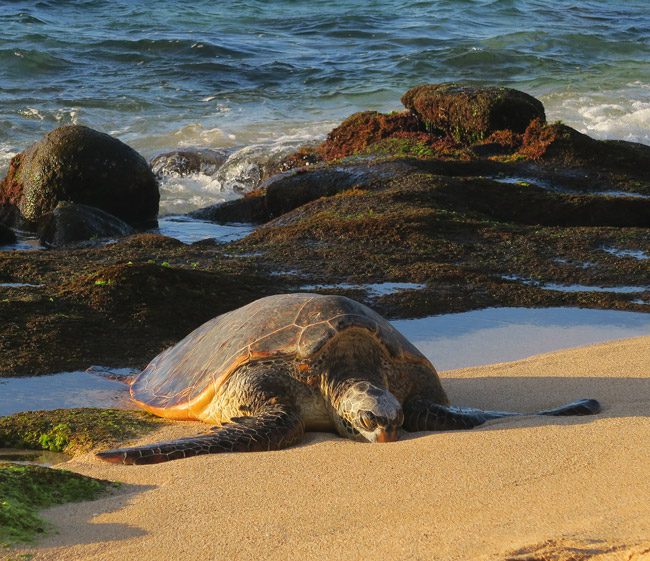 Pailoa Black Sand Beach
Within the Waianapanapa State Park along the famous scenic Hana Highway (reservations required) , Pailoa is considered the best black sand beach in Maui. Swimming is often dangerous but just relaxing and wetting your feet are enough. Within the park itself, you can camp, enjoy a picnic lunch, hike, and visit lava tubes (if they are open to the public). The setting is superb and finding such a pretty black sand beach in Maui is a rarity. Full facilities but no lifeguards.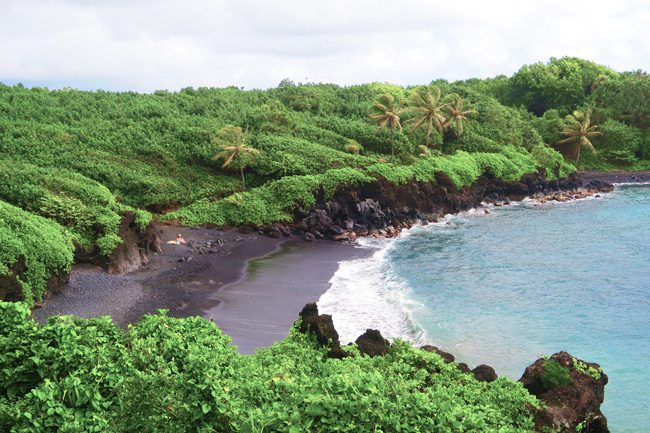 Red Sand Beach
Officially known as Kaihalulu Beach, you can easily see why this gem is better known as "Red Sand Beach". Easily one of the best beaches in Hawaii and perhaps even one of the prettiest beaches in the world, this is yet another unmissable stop along the Hana Highway. The sheltered beach is more or less protected by sharp pinnacles just a few meters offshore that create a small zone that is safe for swimming. It's also a great place for a picnic lunch or stretching your legs before heading back to the scenic road. No facilities or lifeguards, limited parking.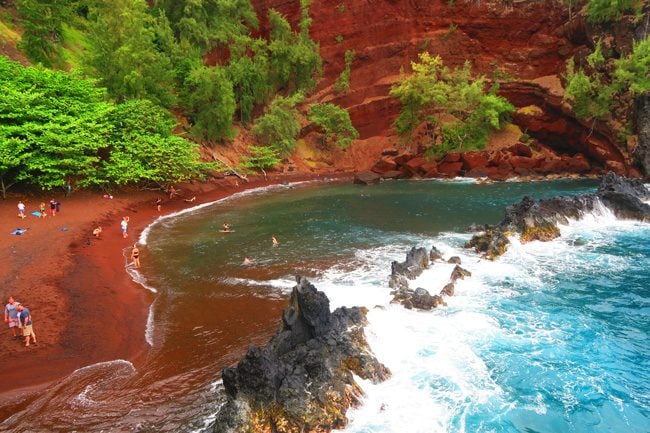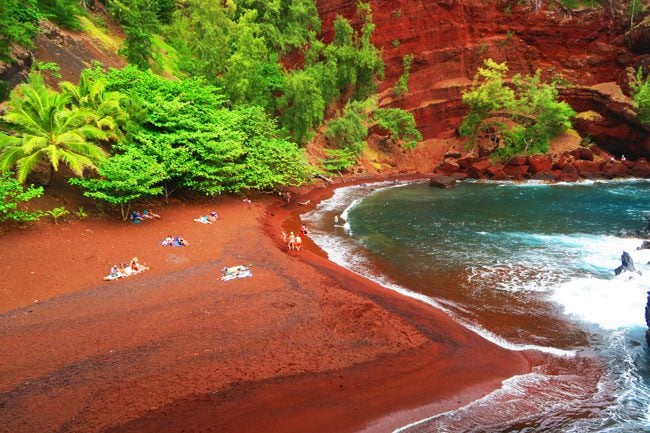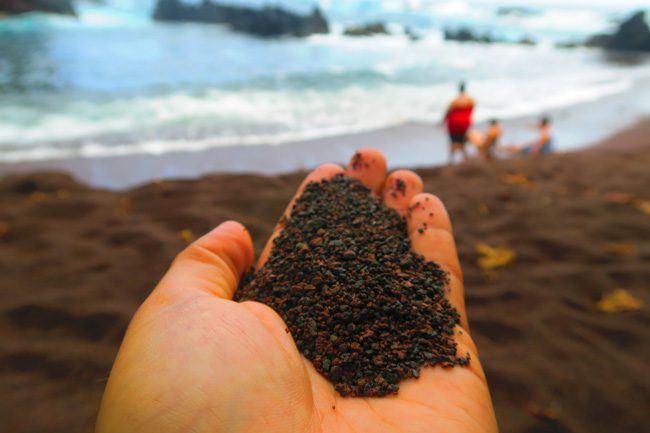 Hamoa Beach
Another stop on the Hana Highway, locals absolutely love Hamoa Beach: a crescent of soft charcoal sand backed by palm trees. It's a popular beach for families with children and bodysurfers, though you need to refrain from swimming out too much. Parking is very challenging on the narrow road which leads down to the beach. Restrooms available, no lifeguards.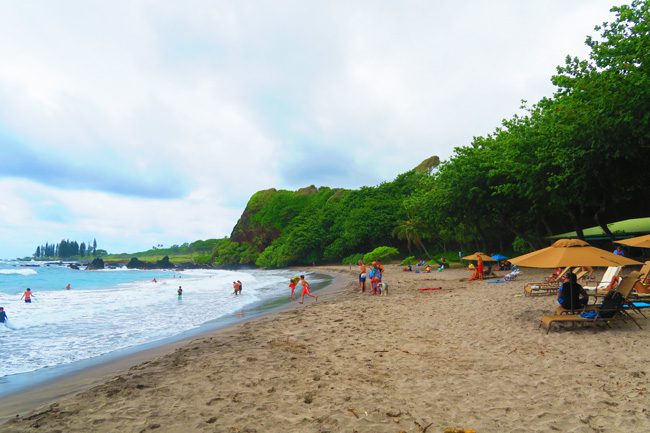 South Shore Beaches
We'll start near the town of Kihei and work our way south.
Charley Young Beach
I really loved this beach, retaining somewhat of a pristine look despite its location smack in the middle of Kihei. There's plenty of space on the golden sand, no resorts around to ruin the vibe, and even shade by the volleyball field on the grassy area overlooking the beach. Another plus to the beach is that it can be combined with lunch or dinner + drinks in Kihei without the need for further driving. Portable toilets, no lifeguards.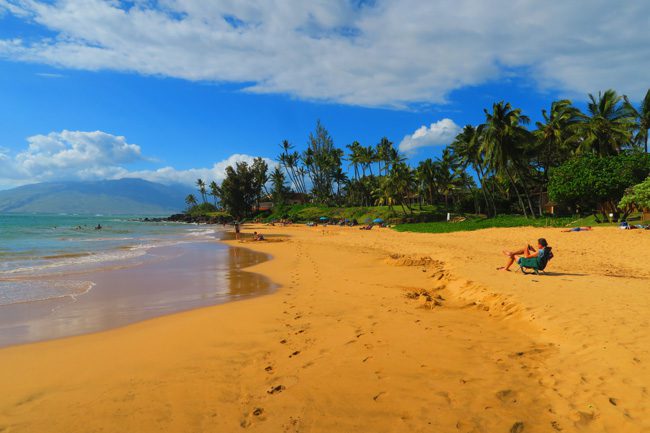 Keawakapu Beach
Quite similar in resemblance to Charley Young Beach, the only difference in Keawakapu Beach is the single resort wedged on the beach's northern end. The best time to visit this beach in the morning hours, when palm trees provide shade before the sun begins to cook the sand as you get closer to noon. Portable toilets, no lifeguards.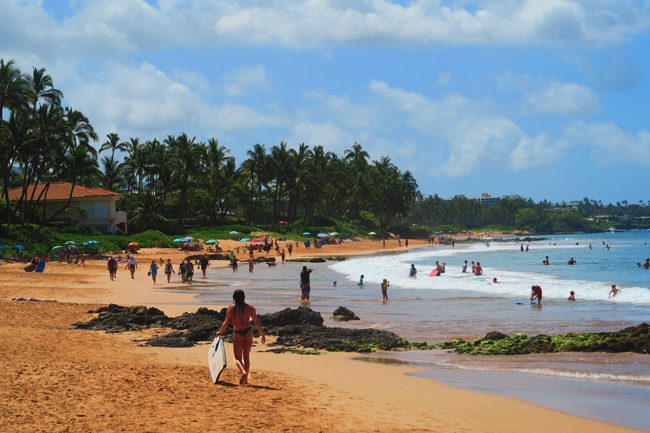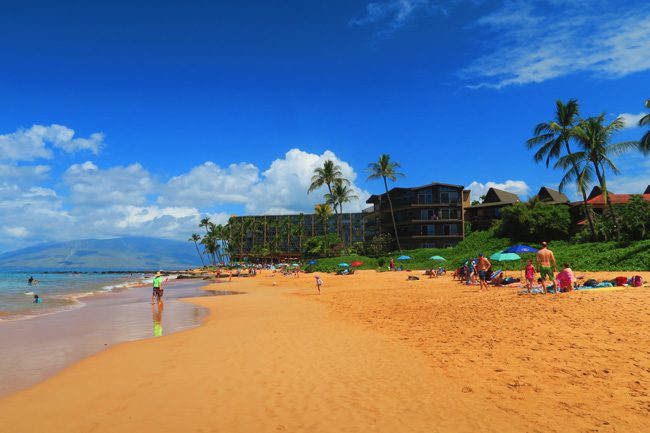 Ulua Beach
Now in the resort area of Wailea, Ulua Beach lies in a sheltered cove with a rocky outcrop that offers decent snorkeling. There isn't much beach left when the surf is high but the scenery is quite specular otherwise. The only negatives are the resorts in the back but I must admit that they erected a very inviting green buffer zone between them and the beach that makes swallowing this pill a bit easier. Full facilities, no lifeguards.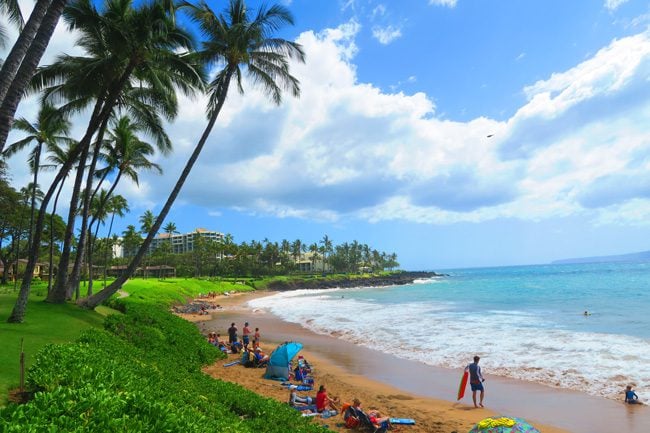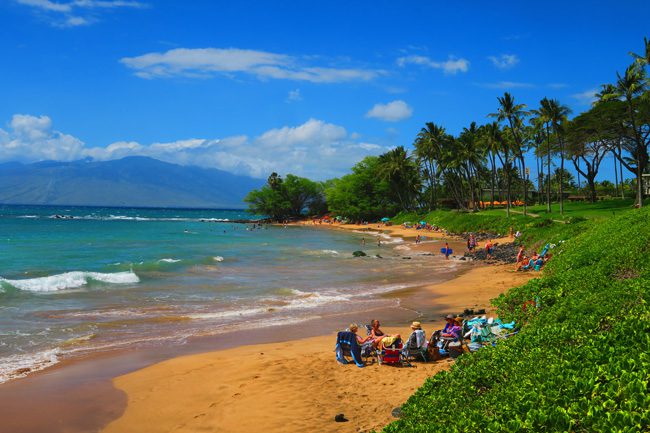 Wailea Beach
Wailea Beach must have been stunning, that is before all the posh resorts sprung up along its sandy shores. A paved path leads up and down the beach for those not in favor of the sand, and a cocktail bar is never too far away. I would say that Wailea Beach is great for families with children staying in one of the resorts, but for a more rugged setting, head further south. No public facilities, resort lifeguards present.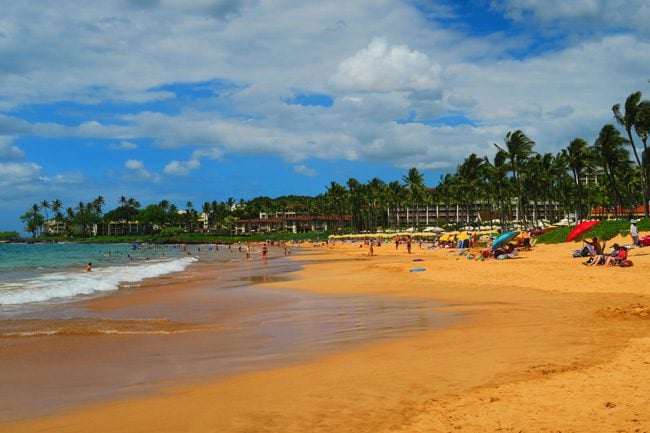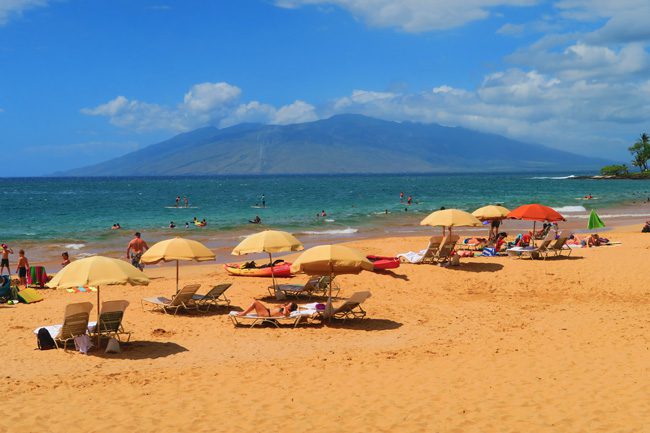 Po'olenalena Beach Park
There's nothing fancy about this beach, but the fact that it's rarely crowded awards it with so many extra bonus points, just bring your own shade! No facilities or lifeguards.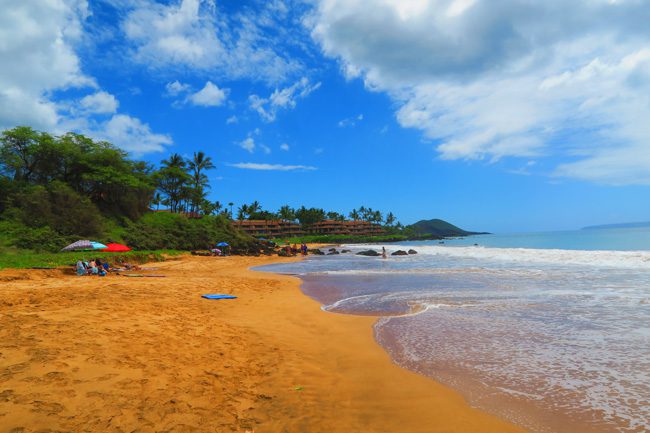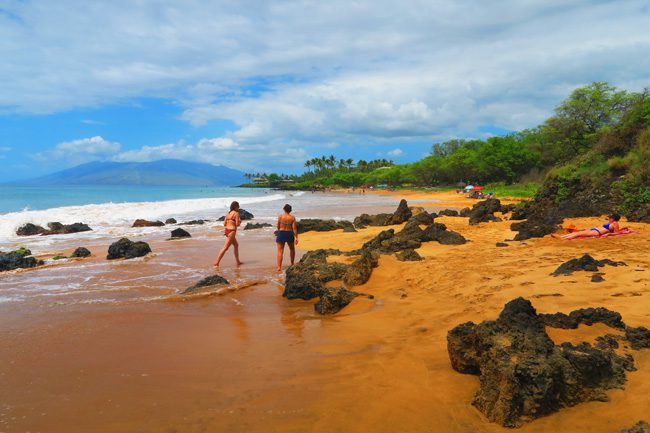 Maluaka Beach
Quite a stunner, Maluaka Beach is pretty much just on the "other side" of the scenic cliff which caps off Big Beach. Since most folks head south to Big Beach, Maluaka stays relatively quiet and there's a very good chance of spotting sea turtles when snorkeling in its waters on a calm day. While you're here, you can catch a quick glimpse of the picturesque Keawala'i Congregational Church and stick around for sunset! Full facilities, no lifeguards. Free parking lot just a 2-minute walk from the beach.
Big Beach
The most famous beach in Maui stretches for over a mile, well deserving of its official name – Oneloa Beach – which means "long sand" in Hawaiian. Despite the lack of palm trees, Big Beach is stunning thanks to its golden sand and turquoise water. That beautiful water though, is often quite rough, attracting bodysurfers who literally get tossed up in the air by the waves. So listen to the lifeguards and their warnings as a number of hard-headed beachgoers have gotten seriously injured during high surf periods. It might also get quite windy here thanks to the weird wind patterns caused by Maui's bizarre shape. If this is the case, moving up the coast will do the trick. Portable toilets available, little shade, lifeguards on hand. Big Beach is part of Makena State Park (fees required for non-residents).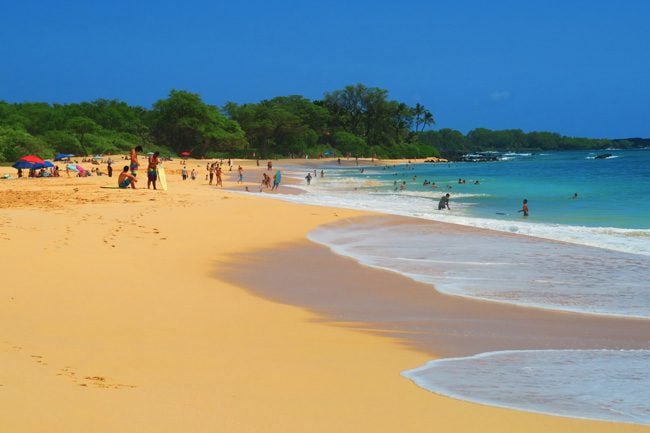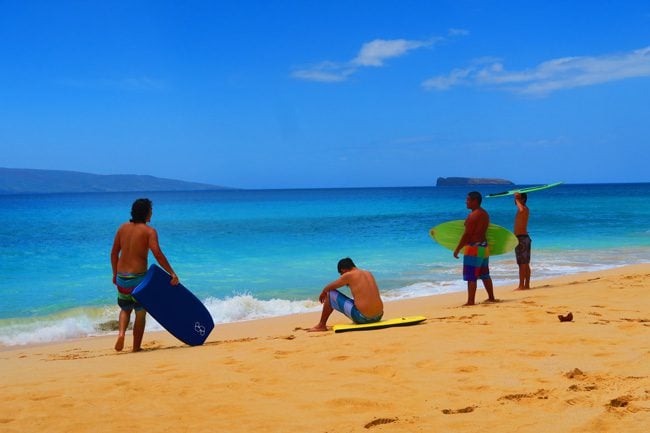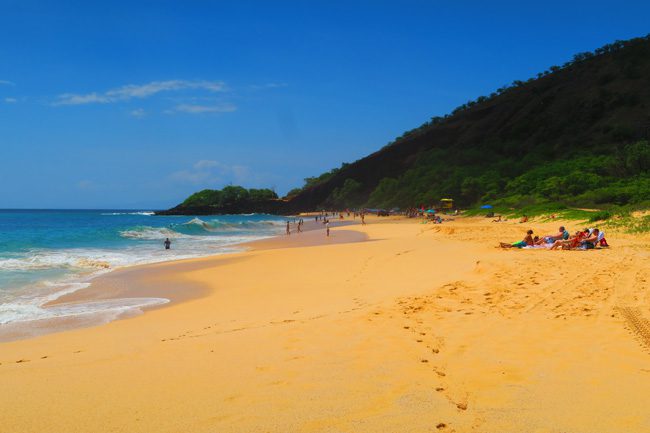 Little Beach
"Little Beach" is more secluded than its big sister to the south and that is why it is favored by hippies, nudists, and drum circle enthusiasts. To get to this "paradise" however, you'll have to climb over the rocky pinnacle that hugs the northern end of Big Beach. No facilities or lifeguards.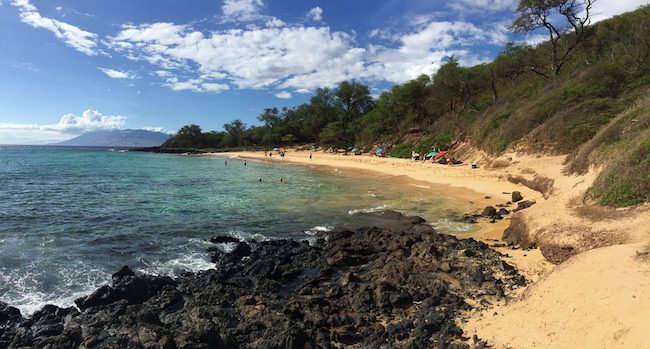 Secret Cove Beach
A real postcard of a beach and definitely one of the prettiest in Maui. A few lucky residents get to live around this gem but unfortunately, this cove ain't a secret anymore. The sliver of sand is quite small, so you might run out of luck on busy days. No facilities or lifeguards, limited street parking.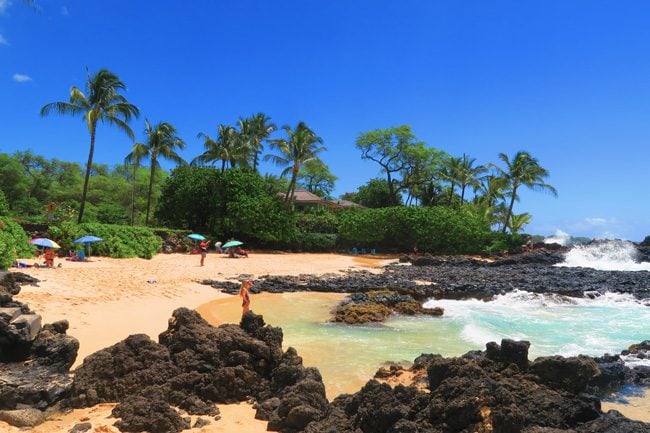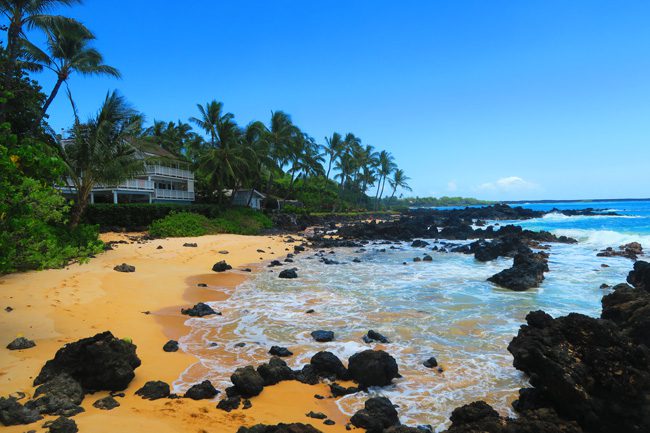 Ahihi-Kinau Natural Area Reserve
The end of the line on the south coast road, the scenic drive to the reserve is just the beginning. A walking path along the coastline leads to a number of secluded beaches before entering a barren lava field. There aren't too many man-made structures around here, just pick and choose your favorite cove and chill. Both swimming and snorkeling are optimal but when the surf is up, avoid entering the water. No facilities or lifeguards, small parking lot tends to fill up quickly.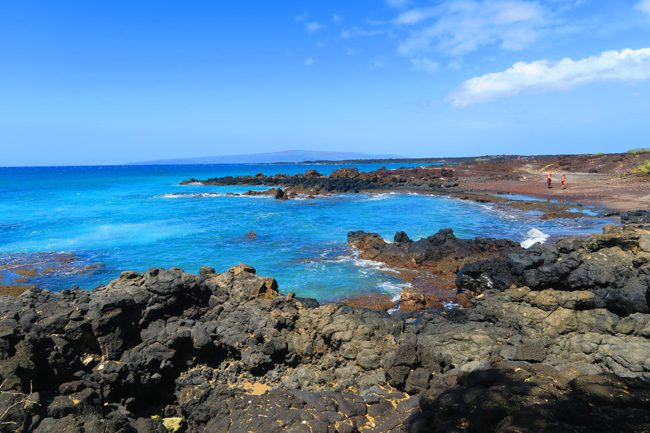 What's Next?
You're now equipped with knowledge about the absolute best beaches in Maui and I recommend picking and choosing the ones that fit into your itinerary. Visiting other Hawaiian islands? Sample itineraries, guides to the best beaches and the must-see highlights are all waiting for you in the Hawaii Travel Guide collection. Aloha!
Looking for More Information on Maui?
Hawaii, Tailor Made!
The Hawaiian islands are among the last places to be colonized by mankind, five main islands, each with its unique personality.
Get expert advice and assistance with planning your trip to the destination where tropical dreams come true!
---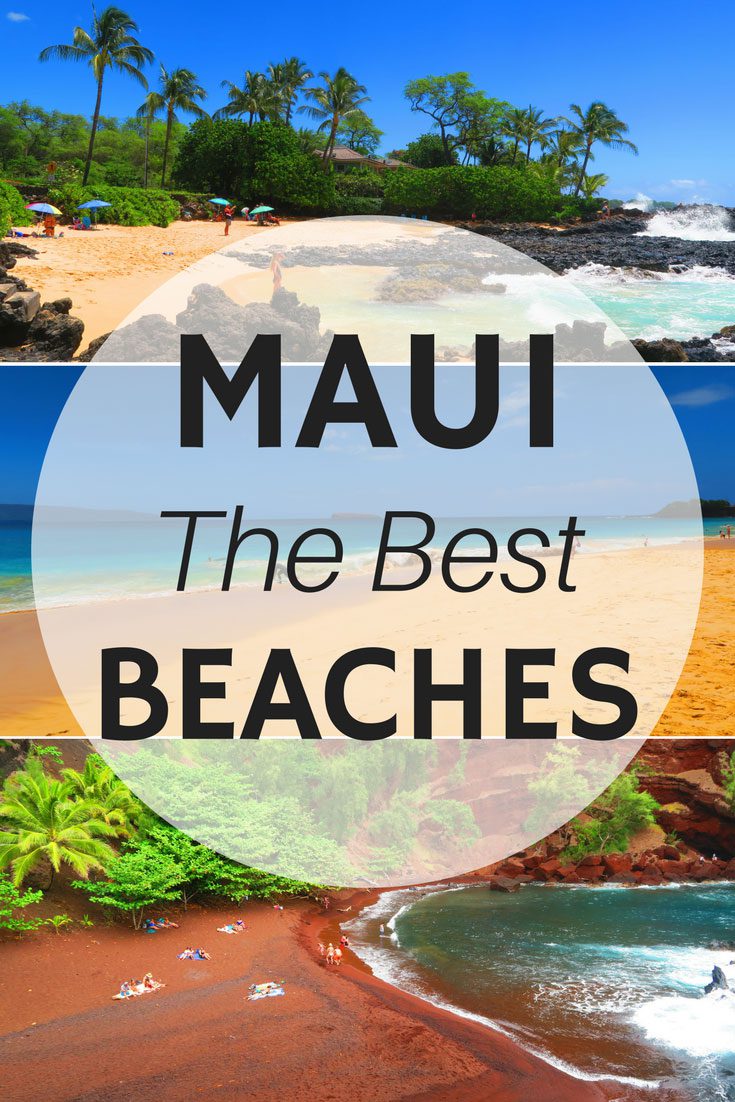 Pin These Photos To Your Favorite Boards!