Best Places to Eat in Rome
Food is as much an essential ingredient of any visit to Rome as seeing its major sites. A trip to Rome is one of those periods in life when you'll bend the diet rules or else you'll really be missing out. We've all grown up on pizza, pasta, and meatballs, but once you visit Italy, they'll never taste the same again. With so many choices and so few dinners, choosing the right place to wine and dine in Rome can be a challenging task. After all, let's face it, we're all looking for that Eat-Pray-Love experience. From cafes to wine bars and local favorites, in this guide, I'll share with you my top choices of the best places to eat in Rome.
Rome Travel Guide Collection
Planning or thinking about a trip to Rome? Have a look at additional Rome travel guides, including essential Rome travel tips, a detailed Rome itinerary and lots more!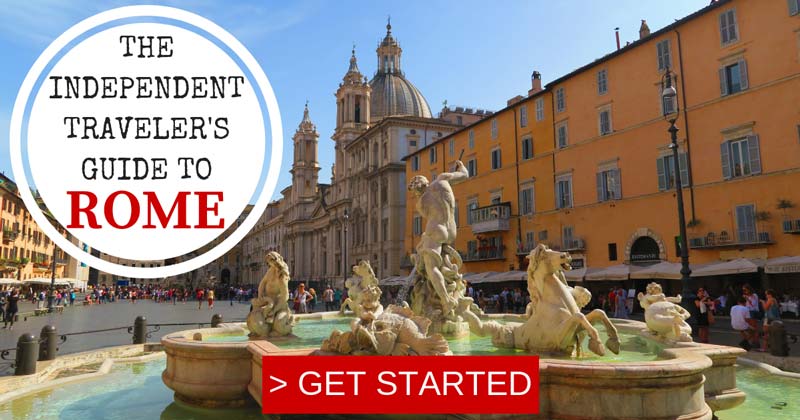 Quick Tour of Rome
Here's a quick video tour of Rome!
Basic rules of thumb for eating & drinking in Rome
In the following sections, I'll share specific tips along with the various listings of best places to eat and drink in Rome. However, before we begin, here are a few general rules of thumb:
Rome's tourist numbers have inevitably created many tourist traps along the years. It's best to avoid eating in the perimeter of major tourist attractions, to stay away from places that lure you inside from the street, and avoid restaurants that use pictures to display their menu.
Most importantly, before entering a restaurant, run a quick search on Google and see if this place is worthy. You inevitably have but a small number of special meals in Rome so why waste the opportunity? This also applies to wine bars, ice cream shops and cafes. Having mobile data is crucial.
Tipping in Rome is likely not what you are used to from back home. If you really enjoy your meal and the service, it is customary to leave 1.50-2€ per person, even if a cover charge was already added. This obviously only pertains to lunch and dinners in restaurants or wine bars.
Map of the Best Places to Eat & Drink in Rome
All the places mentioned in this guide to the best places to eat and drink in Rome are highlighted on this map. Simply click on the image to open in Google Maps.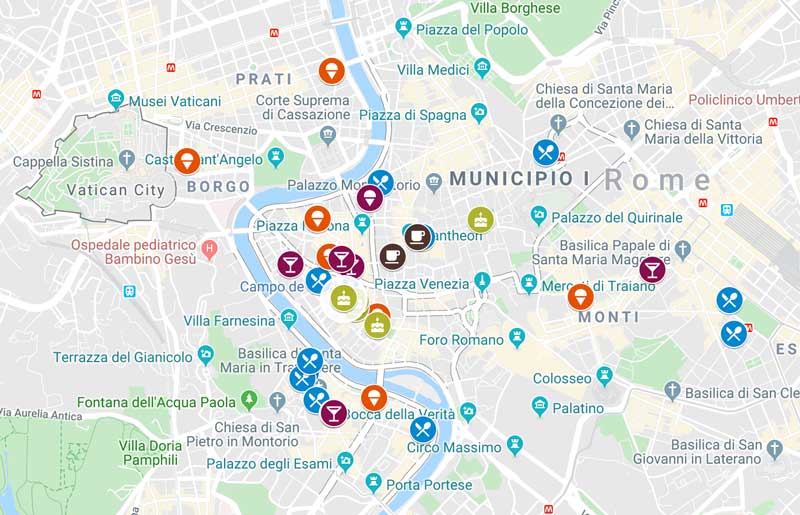 Best Pizza, Lunch & Dinner Restaurants in Rome
The most important meal of the day in Rome is definitely not breakfast! Roman cuisine is loaded with regional specialties of thick pasta, Jerusalem artichokes, unique cuts of meat and many more delights. Listed here are some of the best lunch and dinner choices we made on the 5-day trip to Rome. We got (seriously) many recommendations from foodie friends prior to the trip and vetted those to create a shortlist of places we aimed at trying. Before listing our top choices, here are a few Rome dining tips.
Rome dining tips
Opening hours: restaurants typically open for lunch from 12:30 to around 3pm and then reopen for dinner at around 6-7pm. If you did not make advanced reservations for a popular restaurant, your best chance at getting a table is at around 7-7:30pm or at 9:30pm. Some Roman restaurants take the second half of August off as well as either Sunday or Monday off.
Advanced booking: even if you're the type of traveler that likes to "play it by ear", I highly recommend to book your dinners ahead of time. This is especially true during peak tourist season. The best restaurants will be booked a few days in advance which means you'll need to have an early or late dinner and, even in this case, wait outside until a table frees up. When we visited Rome during early June, we could not find space in several places even when calling 2-3 days in advance. That said, not all restaurants accept reservations.
Trattoria vs. osteria vs. ristorante: you'll quickly notice that restaurants are split into three categories, so what's really the difference between trattoria, osteria and ristorante? Trattorias are usually small, family-owned traditional restaurants that serve "classic" dishes without too much fluff. These would likely suit the image of an authentic, rustic restaurant tucked away in a hidden lane. An osteria is kind of a scaled-down version of a trattoria. The menu usually changes every day according to what the chef found in the market. A ristorante is a "proper" restaurant, complete with host/hostess, a selection of wines, desserts and a slightly more sophisticated menu.
Avoid overeating at lunch: if you're planning on having a nice dinner, I advise to take it easy on the carbs during lunch because you will be stuffed, not to mention tired. In fact, if you're traveling as a couple, my recommendation is to share a pizza/pasta plus a salad for lunch.
Outside or inside? Where is the best seat? This really depends on the restaurant. Some will have a prime location right on a piazza but others will have a small outside seating area adjacent to a crowded street. It's always best to scout the place during the daytime or to use Google Maps Street View.
Cover charge: most restaurants in Rome add a cover charge to the bill which should amount to about 2€ per person at most. It will usually appear on the bill as "il coperto" and it is considered normal practice throughout Italy. This also means that tipping is not really necessary unless you had a great experience (and in that case, 1.50-2€ per person is adequate).
Bread basket: will almost always automatically be served to your table with a side of butter. Note that it's not free and you'll be charged about 1.50€ per person for it. Should you wish to avoid this charge (and avoid stuffing yourself with bread before the food arrives), you must ask your waiter to take it away as soon as it's served.
Best pizza at Dar Poeta
Quietly tucked away in a narrow lane in Trastevere, Dar Poeta is where we had the best pizza in Rome during our trip. If you can, grab one of the few outside tables covered in classic red and white checkered cloth and soak the vibe of Trastevere as you savor a delicious pizza. Don't be alarmed if there's a queue of people waiting to be seated as the restaurant's interior is quite huge and can easily accommodate large parties. We devoured two pizzas accompanied by drinks for about 15€.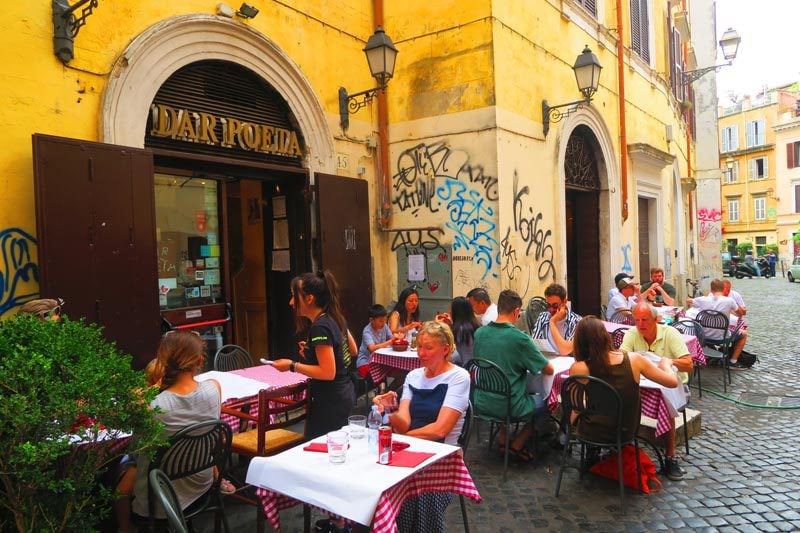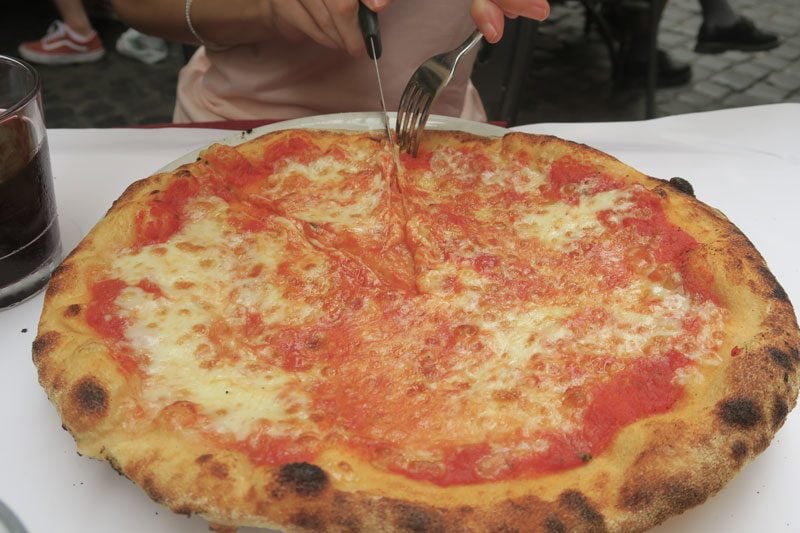 Where: Vicolo del Bologna 45 in Trastevere
Opening times: daily from 12 am-12 pm
Pietro al Pantheon
We had one of our best meals at Pietro al Pantheon both in terms of cuisine and ambiance.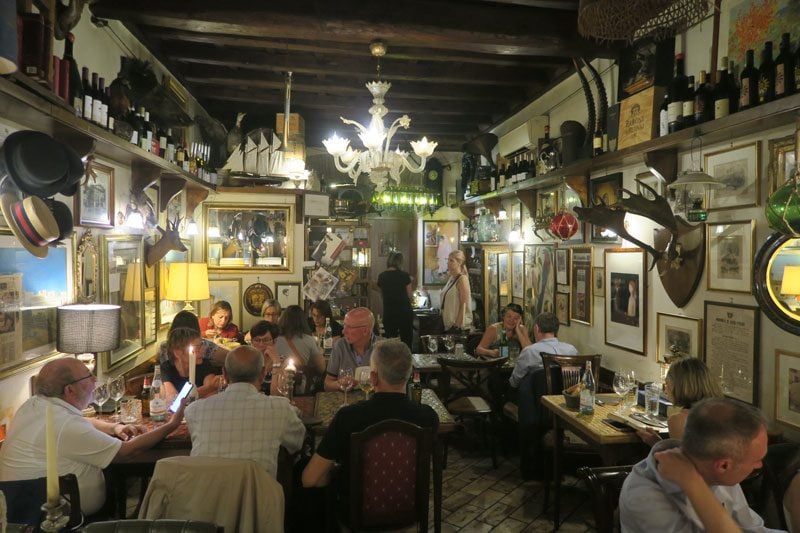 Its dishes focus on typical Judaeo-Roman cuisine, so we just had to accompany our tomato bruschettas with an additional starter of Jerusalem artichoke. To go with a bottle of red wine, we each dove into a bowl of spaghetti and pasta, and for dessert – tiramisu, of course. Portions were quite generous and the price was very reasonable for the location and quality. Be sure to make reservations in advance and I recommend interior seating for this particular restaurant.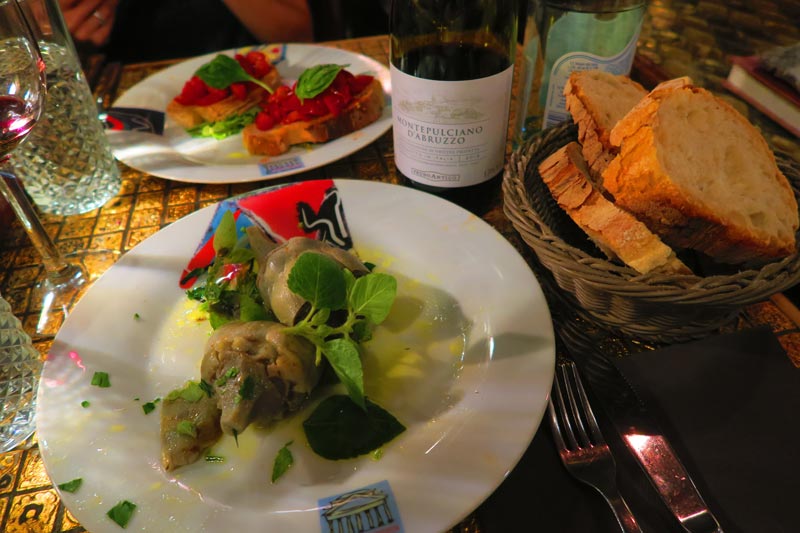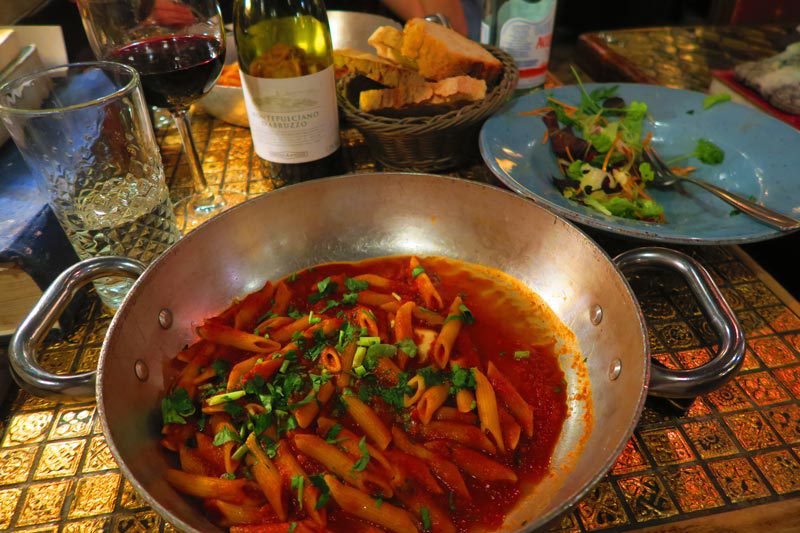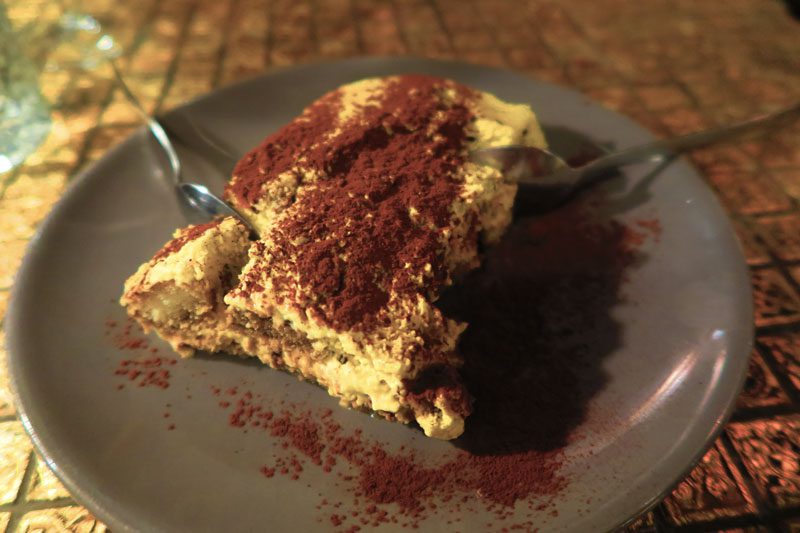 Where: Via dei Pastini 125 near the Pantheon
Opening times: daily from 12:00-3:30 pm and 6-11 pm
La Scala in Trastevere
With a great location in a scenic piazza in the heart of Trastevere, sitting on the outside terrace of La Scala in Trastevere is the first ingredient in a very romantic dinner. La Scala specializes in dishes involving truffles but even if you're not into the luxury mushroom, you'll find plenty of classic options. We started with some bruschettas with truffles, then continued to a beef dish… with truffles and arguably the best pasta we sampled in Rome (Roman-style pasta with tuna, cherry tomatoes and capers). The food was incredibly delicious and very well priced.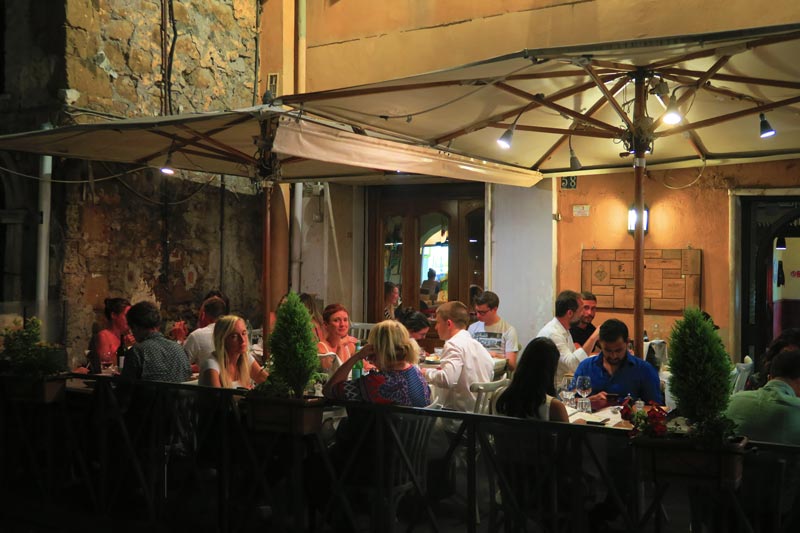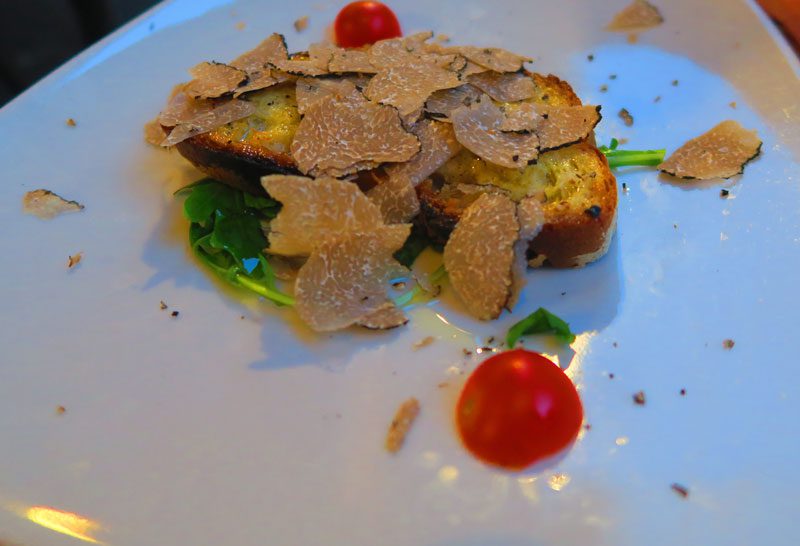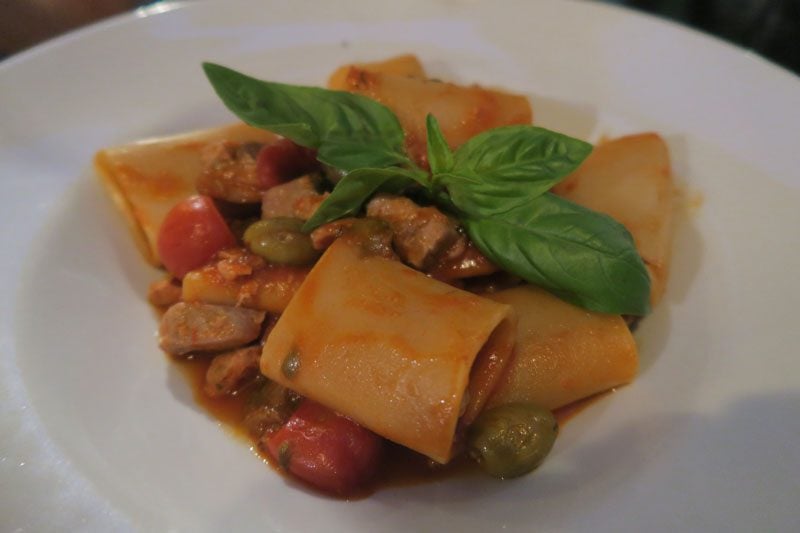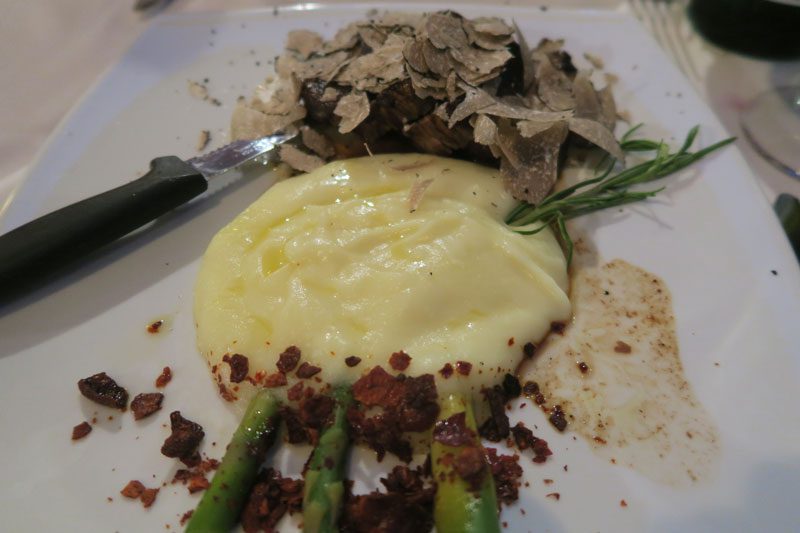 Where: Piazza della Scala 58/61 near the Ponte Sisto
Opening times: daily from 12 am-12 pm
Osteria Barberini
Not far from the Spanish Steps, Osteria Barberini is another Roman restaurant specializing in dishes with white and black truffles. There are only 40 seats available in this intimate restaurant so it's key to book in advance. For those not into truffles, you will find other options but it might not be worth your while if not staying nearby.
Where: Via della Purificazione 21, near the top of the Spanish Steps
Opening times: every day but Sunday from 12:30-2:30 pm and 6:30-10:30 pm
Trattoria Vecchia Roma
Located slightly away from the touristy historic center in the trendy neighborhood of Monti, we managed to snatch a table at Trattoria Vecchia Roma without reservations by arriving at around 7:30 and were super lucky as a long queue began to form just after we arrived. The vibe at this simple restaurant is very authentic. We had our usual bruschettas to kick things off, followed by a double order of pasts and swordfish. The service is quick and unpretentious, the house wine is more than enough and the prices are more than reasonable (less than 50€ for everything).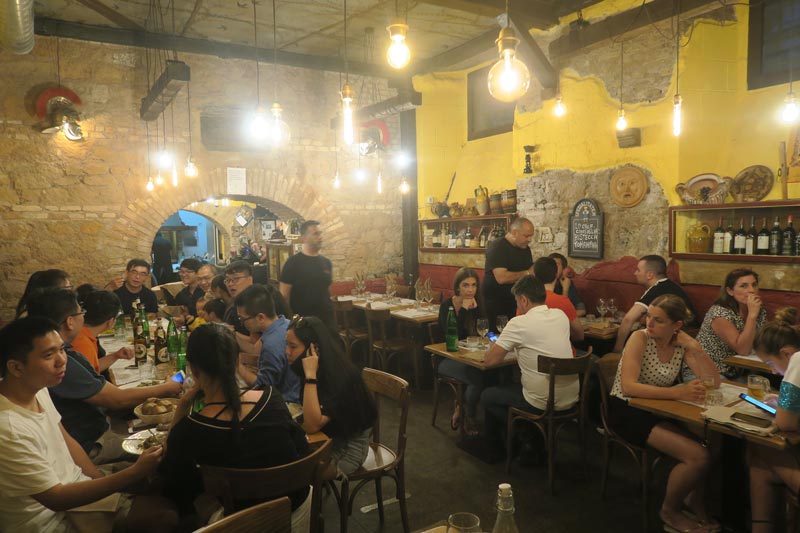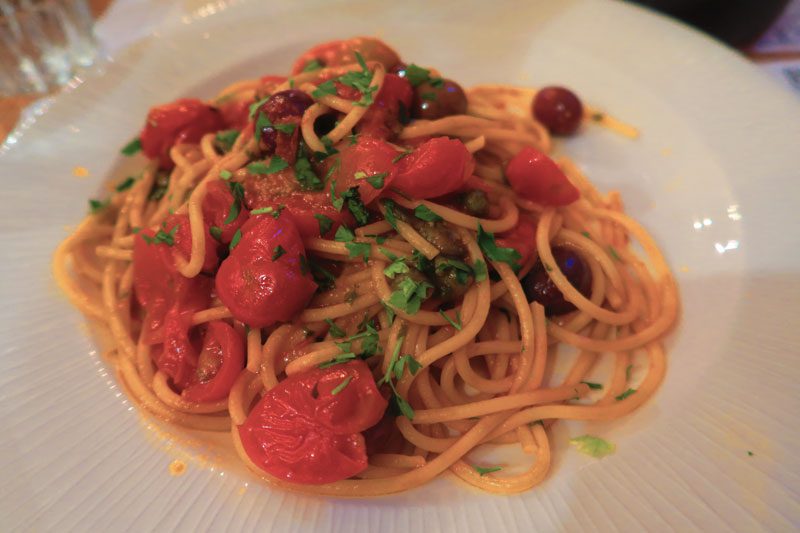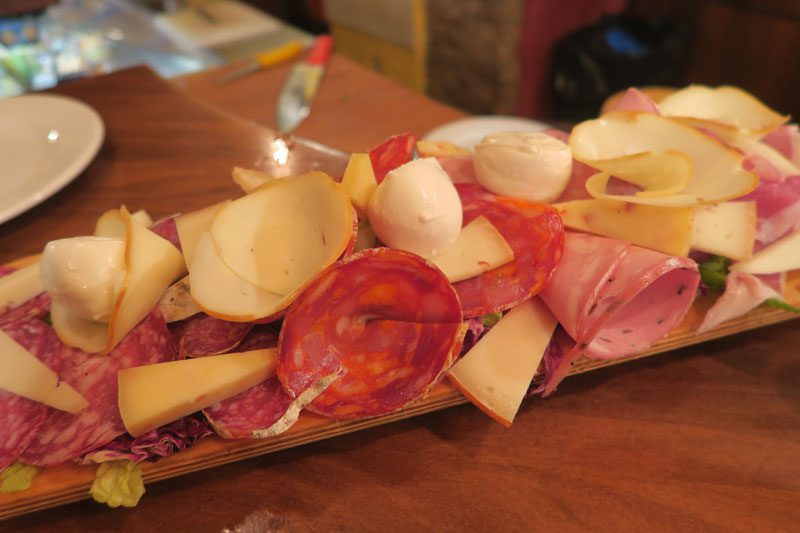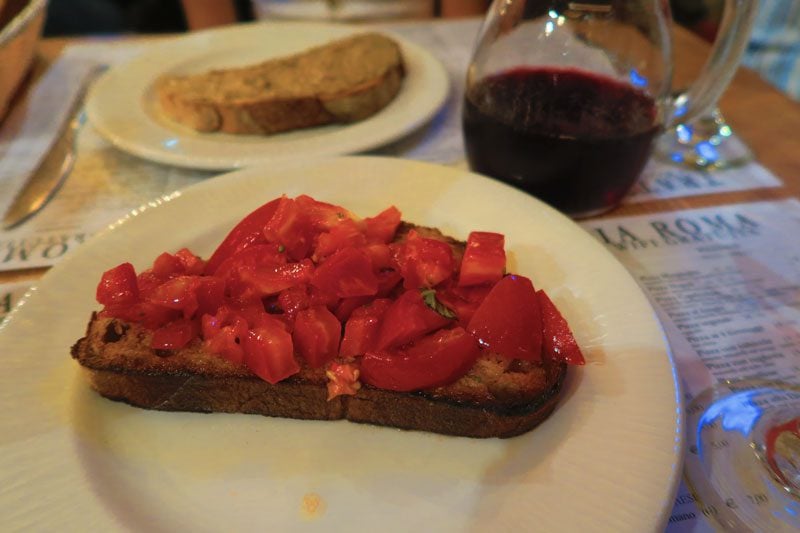 Where: Via Ferruccio 12 near Termini Station
Opening times: every day but Sunday from 12:30-3 pm and 7-11 pm
Trattoria Monti
Another excellent choice in Monti, Trattoria Monti is operated by two brothers who specialize in dishes from Italy's Le Marche region, where egg-based pasta, fish and game birds (duck for example) are a big part of the menu. Dinner reservations are essential but lunch walk-ins are possible.
Where: Via di S. Vito 13 near Termini Station
Opening times: every day but Monday from 1-2:45 pm and 8-10:45 pm
Ristorante la Campana
Located in the historic center, Ristorante La Campana claims to be one of the oldest restaurants in Rome with a 500-year-old history. Unfortunately, only interior seating is available but the menu is typical Roman and portions are quite large. Come here if you're looking more for typical food rather than for a romantic setting.
Where: Vicolo della Campana 18, near the Pantheon
Opening times: every day but Monday from 12:30-3 pm and 7:30-11 pm
La Fiaschetta
This place was totally off our radar and ended up being one of our finest dinners in Rome. We walked by La Fiaschetta one morning and something drew us to make reservations for the night. Hiding in a small alley at the edge of the historic center, this restaurant offers an intimate dining experience in its interior and the staff are super friendly (and helpful). We dined on tomato bruschettas for starters and continued to main dishes of tuna steak with spicy tomato sauce and pasta, two dishes that are memorable in my palette to this very day. For dessert, tiramisu, of course.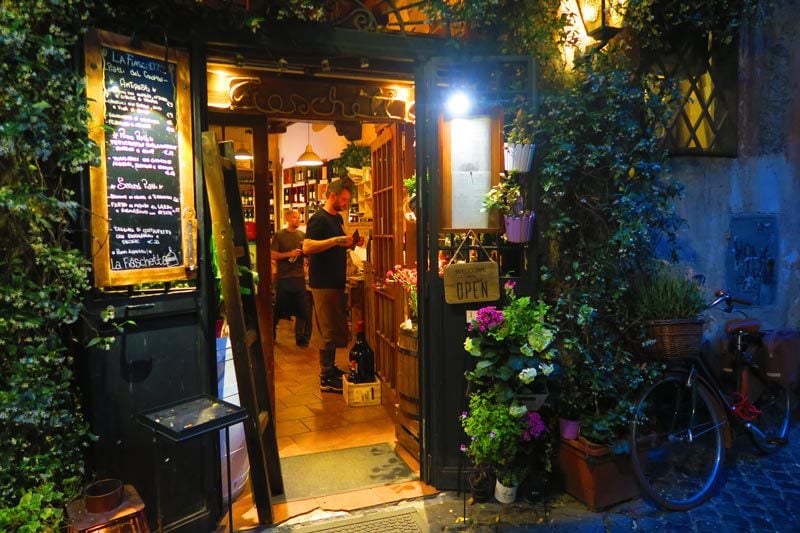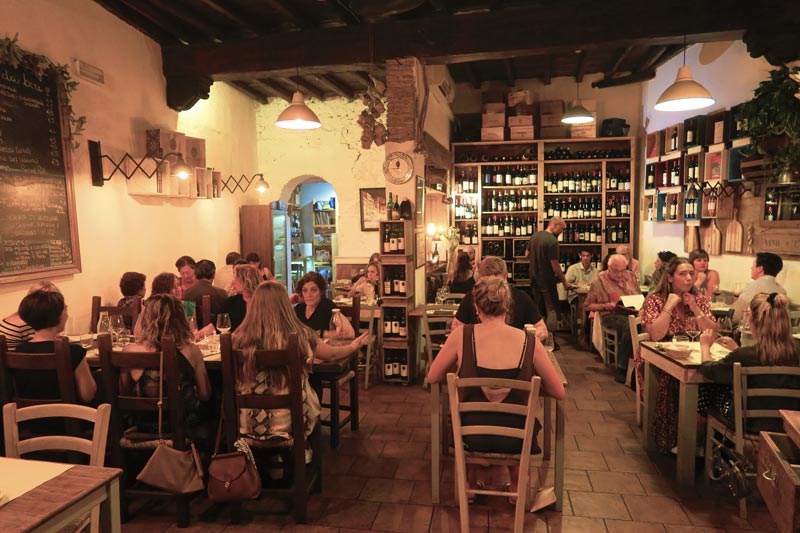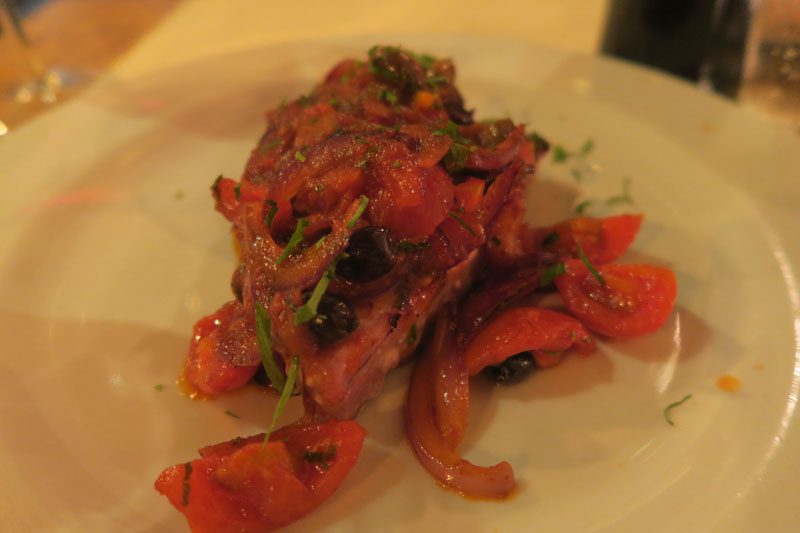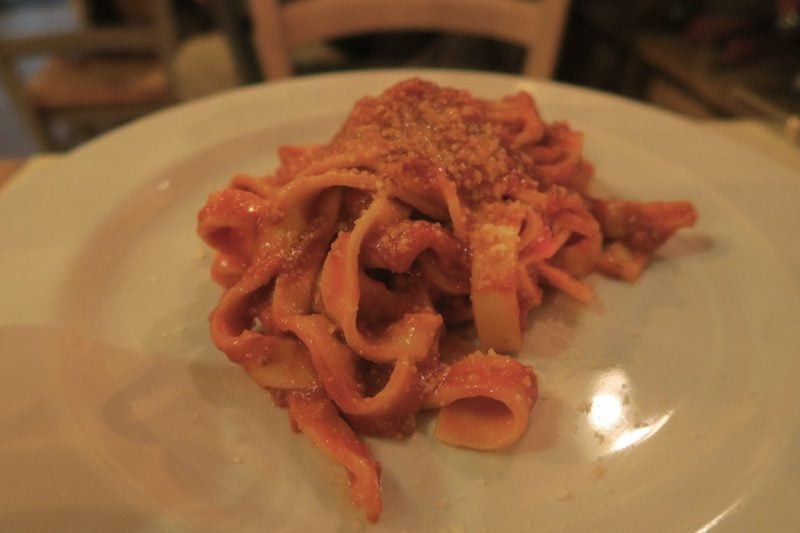 Where: Via dei Cappellari 64, near Piazza Navona
Opening times: every day but Monday from 12:30-3 pm and 7-11 pm
Trattoria Da Enzo al 29
One of the most popular restaurants in Trastevere and for a good reason, you'll be lucky to find a spot at Da Enzo al 29 if you did not book days in advance (if you have your heart set on dining here, book as early as you can over the phone). Dishes here are typically Roman and made with the freshest ingredients sourced from top producers. The interior is small and cramped in a charming way and the exterior terrace is always surrounded by onlookers waiting to be seated (if they're lucky).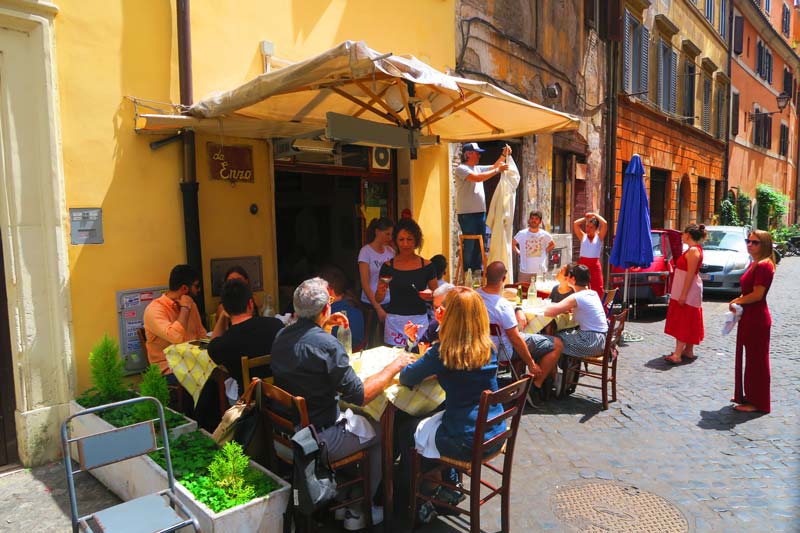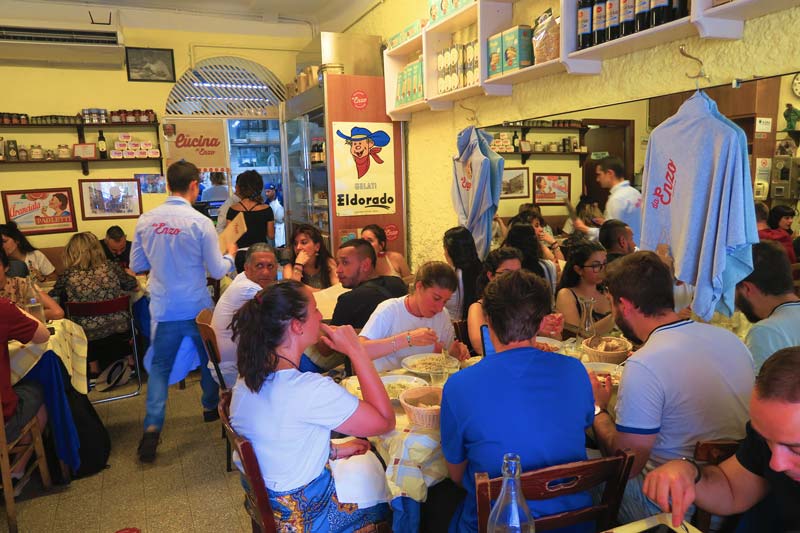 Where: Via dei Vascellari 29 at the edge of Trastevere
Opening times: daily from 10 am-11 pm
Tonnarello
Hugely popular, Tonnarello doesn't accept advanced booking so you're almost guaranteed to wait a bit before being seated during peak lunch and dinner hours. Though pizza and a selection of meats are on the menu, the name of the game in Tonnarello is pasta, made fresh and served the proper way inside a steel bowl. It's one of the most popular restaurants among tourists so scout it out before spending the energy waiting in line.
Where: Piazza di San Calisto
Opening times: daily from 10 am-11 pm
Nannarella
This simple osteria is the little, and lesser-known sister of Tonnarello so the wait in line is much shorter. Nannarella offers a wide range of tonnarelli pasta, pizzas and meatballs. The vibe is cozy and it's smack in the middle of Trastevere, so there's plenty of pre or post-dinner strolling in the romantic lanes.
Where: Via della Paglia 1 in Trastevere
Opening times: daily from 8 am-1 am
Osteria da Zi Umberto
If you're looking for a local experience in Trastevere, Osteria da Zi Umberto is as close as it gets. Both tourists and locals frequent this simple restaurant that is off the main tourist trail. You'll find here the typical classics but the value for money and casual service are what turn this place into a gem.
Where: Piazza di S. Giovanni della Malva 14 near Ponte Sisto
Opening times: every day but Monday from 12:30-3:30 pm and 7:30-11:30 pm
Best Places in Rome for Ice Cream
We'll continue with the quintessential excuse for taking a break from all the walking you'll be doing in Rome. One cannot visit Italy without spoiling themselves with delicious gelato. The main tip for when it comes to ice cream in Rome is to look for the "artisanal" gelaterias as they produce ice cream of very high traditional standards (much like Parisian bakeries have set standards for making traditional baguettes). Listed here are some of the best places in Rome for ice cream.
Gelateria del Teatro
In the very heart of the historic center, you don't need to follow your nose to get to Gelateria del Teatro, but rather to follow the crowds and look for the queue on Via dei Coronari. Grab a number and begin the tough process of selecting the flavors that will be loaded onto your cone. The ice cream here is very "creamy" (just like we prefer) and they have a few delicious flavors we found nowhere else in Rome such as peach-lavender (our favorite). We loved their ice cream so much that we came back for seconds on later days.
Where: three locations in the center of Rome
Gelateria Frigidarium
Another popular ice cream shop in the historic center, small queues can also be expected at Gelateria Frigidarium. This artisan ice cream shop has been around for over 15 years and prides itself on blending traditional and modern methods of making ice gelato. Known for their fruit flavors and Sicilian pistachio, it's a great stop after exploring the narrow lanes of the historic center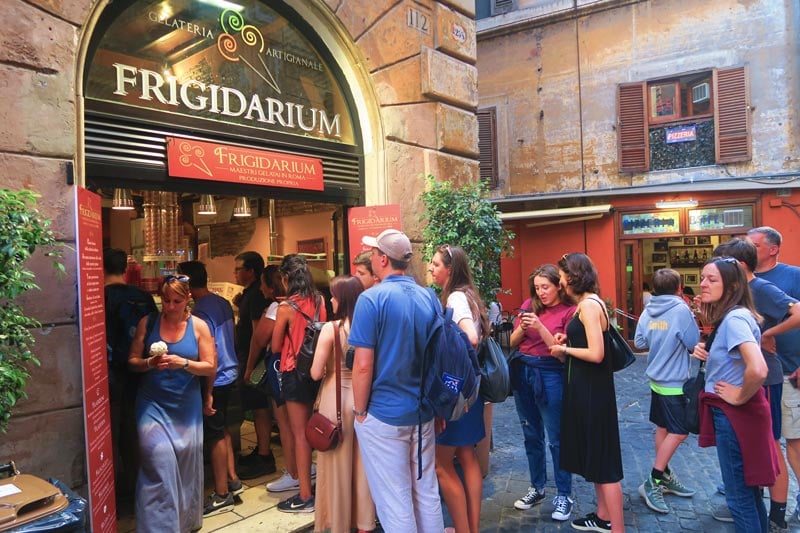 Where: Via del Governo Vecchio, close to Piazza Navona
Fatamorgana Chiavari
Maria Agnese takes pride in her family heritage, which manifests in perhaps the quirkiest ice cream flavors in Rome. You can stick to the classics or dare yourself to try something fruity or with a dash of spice.
Where: Via dei Chiavari, close to Campo de Fiori
Gelateria del Viale
A perfect stop after a sumptuous meal in Trastevere, the ice cream at Gelateria del Viale is smooth and wonderfully flavored. Look for the rusty bicycle at the entrance and inquire just how many flavors can be fitted in a single cup.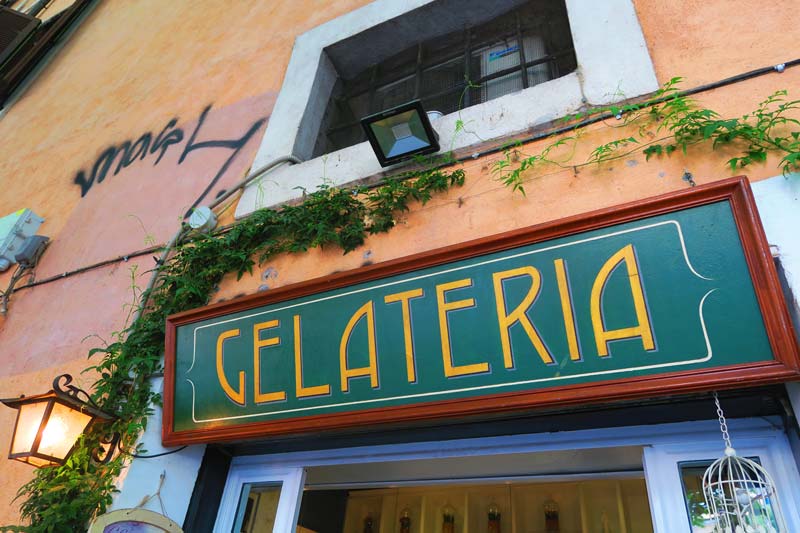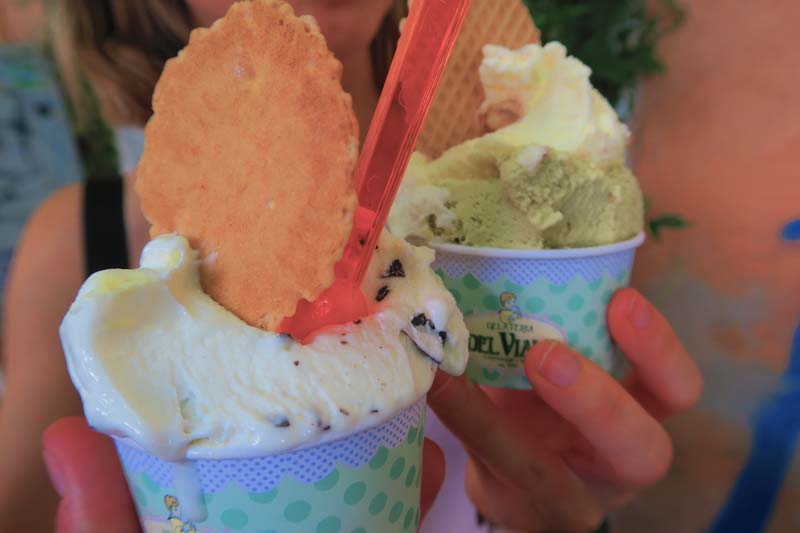 Where: Piazza Giuseppe Gioachino Belli, close to Ponte Garibaldi
Il Gelatone Roma
Not many tourists venture to the trendy neighborhood of Monti but if you do, treat yourself to some ice cream at Il Gelatone Roma. Unlike some of the "boutique" ice cream shops covered so far, this place is really down to earth and very popular with the locals. It might not look like much when step inside, but the ice cream is excellent.
Where: Via dei Serpenti, close to Domus Aurea
Gelateria la Romana
Among the more senior ice cream shops on this list, Gelateria la Romana has been making ice cream since 1947. Though it does offer modern flavors, the focus here is on classic favorites and ingredients are carefully selected, including organic milk, fresh fruit and quality nuts. This place also serves excellent desserts to rival their ice cream, including fresh brioche stuffed with delicious vanilla cream.
Where: four locations in Rome, including Via Cola di Rienzo at the edge of the Prati neighborhood and across the river from Piazza del Popolo
Gelateria del Monte
Located right next to St. Peter's Square in the Vatican, a stop at Gelateria Del Monte is a no-brainer after a visit to the Vatican Museums. This is another one of those "artisan" ice cream shops but it is unpretentious and really hits the spot on a day filled with walking. And, if you just happen to base yourself nearby, they'll even deliver the ice cream to you!
Where: Borgo Pio, next to St. Peter's Square
Best classic cafes in Rome
Italy is synonymous with coffee so it's no surprise to find a number of classic cafes in Rome. What do I mean by "classic"? The following two listings have been around for ages and although they are absolutely on the tourist radar, it's highly recommended to pay a visit because… you're a tourist! Both offer drinks, pastries, coffee to take back home in the form of beans or capsules, and other souvenirs. Keep in mind that it is very customary to order and drink "on the bar" and it will also be much cheaper, as outside seating is limited and comes at a premium (add 1-2€ extra per cup of coffee).
Sant'Eustachio il Caffe
The more famous and more expensive of the two, with optional seating outside (at an additional premium). Opened in 1938, Sant' Eustachio Il Caffè is probably the most famous cafe in Rome among tourists, perhaps because its home-roasted beans are said to be blended with water from an ancient aqueduct. You simply must try the granita con panna!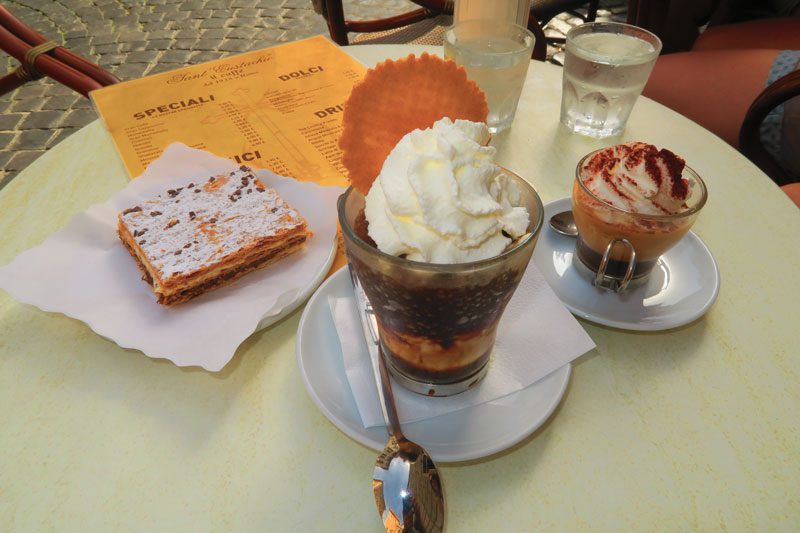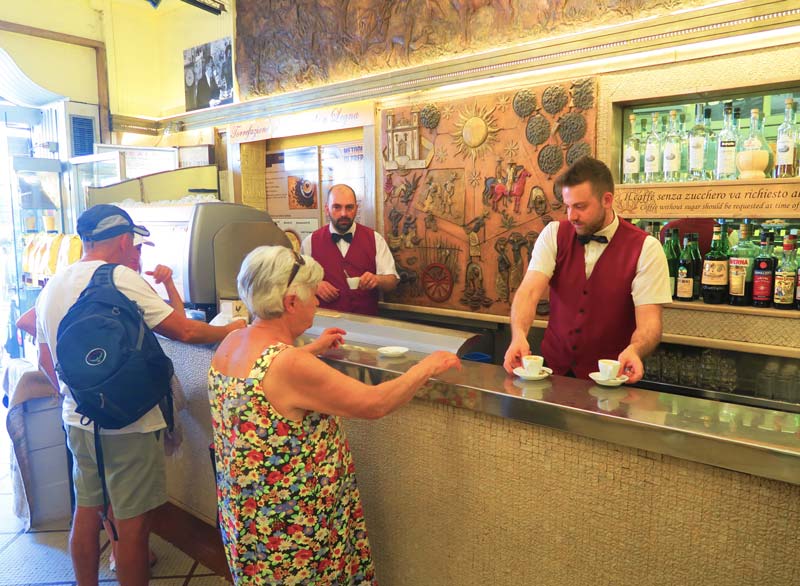 Where: Piazza di S. Eustachio, right next to the Pantheon
La Casa Del Caffè Tazza D'oro
Located on the other end of the Pantheon from its rival, this cafe is more down to earth and all the action happens inside and happens quickly. Founded in 1946, La Casa Del Caffè Tazza D'oro serves award-winning coffee and strong espressos. Here too, the granita con panna cannot be missed and, in my opinion, it is far superior to the previous tasting (and cheaper).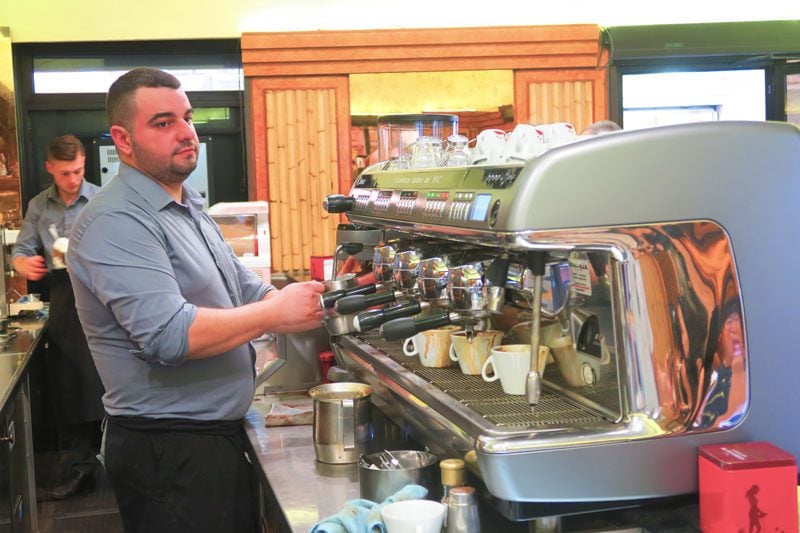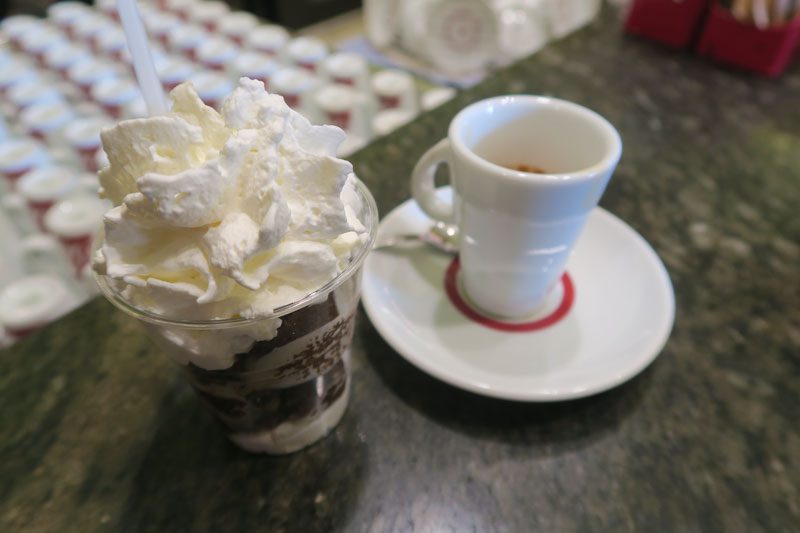 Where: Via degli Orfani, right next to the Pantheon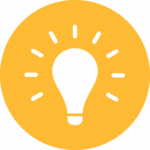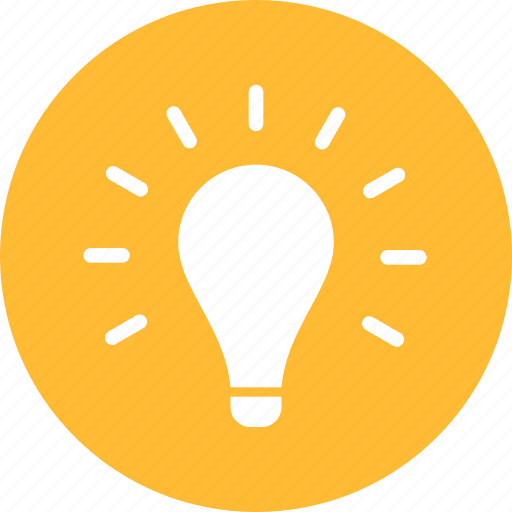 Pro Tip
If you're around Campo de Fiori and feel the urge for a smoothie, head to Pascucci for a fruity shake.
Best Wine Bars in Rome
After we've covered what the difference between trattoria, osteria and ristorante is, it's time we learned about another Italian culinary establishment – the enoteca. On some occasions, your stomach will simply not be able to accommodate more carbs in the form of pizza or pasta. A great alternative is to have drinks and dinner in one of Rome's wine bars, called enoteca. Respectable wine bars offer a huge selection of wines to suit any budget and have evolved to also include a selection of dishes that range from shareable nibbles to proper meals. Those who especially take a liking to cheese and cured meats will really appreciate Rome's best wine bars. Where possible, reservations are highly recommended (over the phone).
Cul de Sac
Located in the heart of the historic center, Cul de Sac has been around since 1977 but its early 1900's predecessor apparently started the entire wine bar scene in Rome back in the early 20th century. This enoteca has a huge selection of wines (they claim the number to be 1,500 labels) and the food is pretty good as well. We went for a selection of small dishes to go with a bottle of white wine and sat in its narrow interior.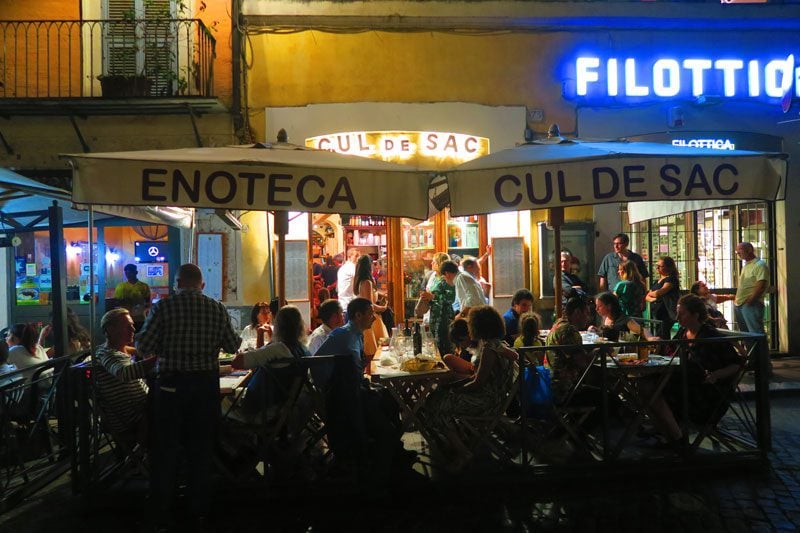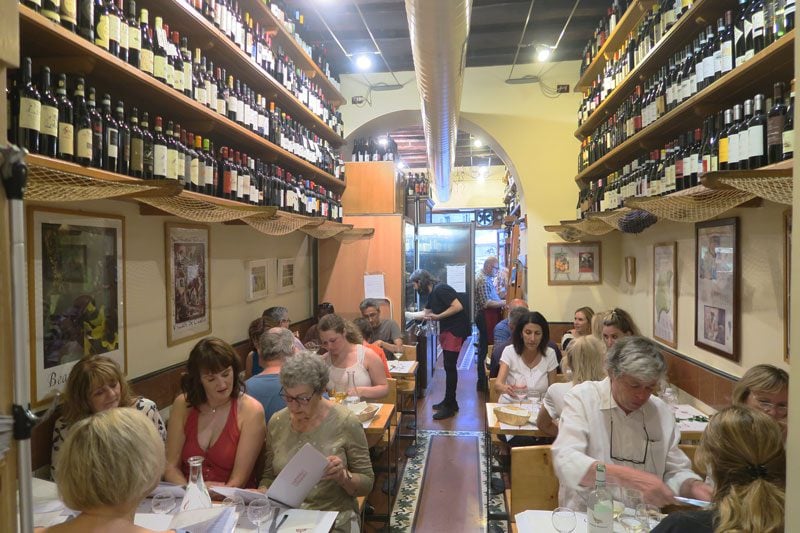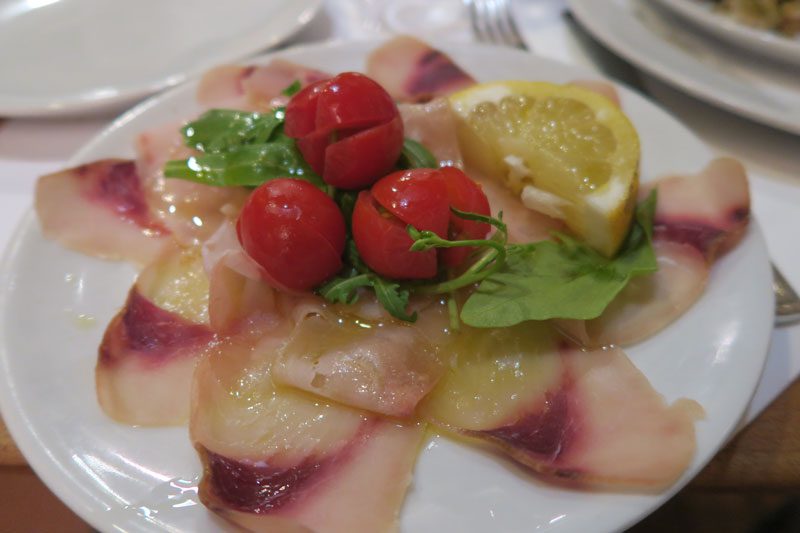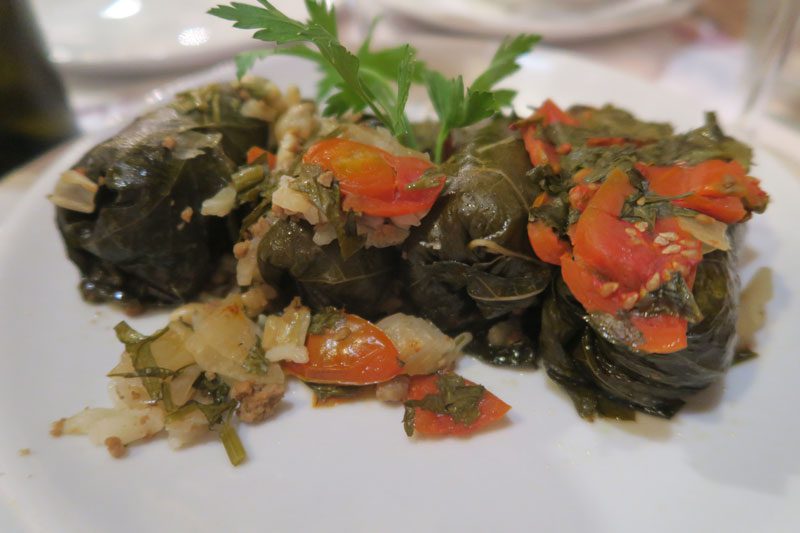 Where: Piazza di Pasquino, close to Piazza Navona
Mimi e Coco
One of the more popular wine bars but with a menu that suits a proper restaurant. The historic center branch of Mimi e Coco is small and its atmosphere quite vibrant, even on a weekday afternoon.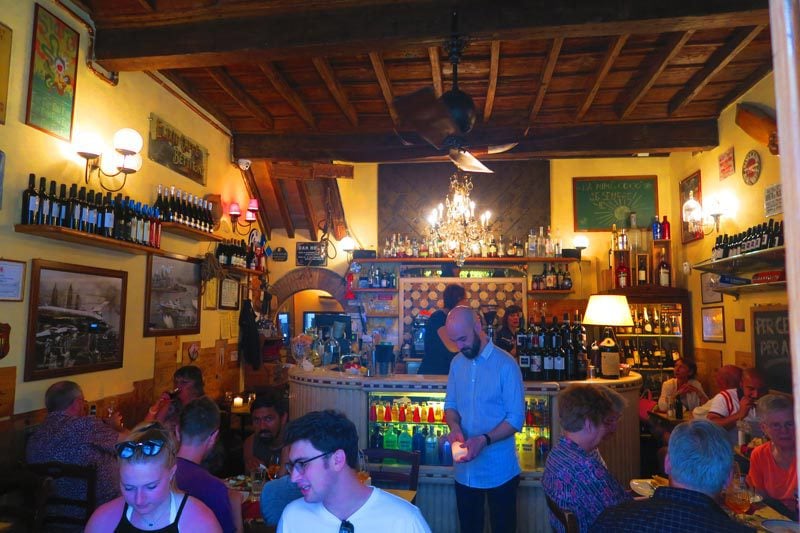 Where: Via del Governo Vecchio, close to Piazza Navona (they also have a Trastevere location)
Il Goccetto
If Mimi e Coco was small, Il Gocceto (meaning "the little drop") is even cozier and bottles of wine covering just about every inch of space further add to the atmosphere. Wine takes center stage at this enoteca but if you're looking for a light meal, this is a great option.
Where: Via dei Banchi Vecchi, close to Campo de Fiori
CiPasso
We came across CiPasso completely by chance and came back here for pre-dinner drinks. This is a slightly upscale wine bar, located in a very quiet section of the historic center. It's currently one of the top-rated wine bars in Rome.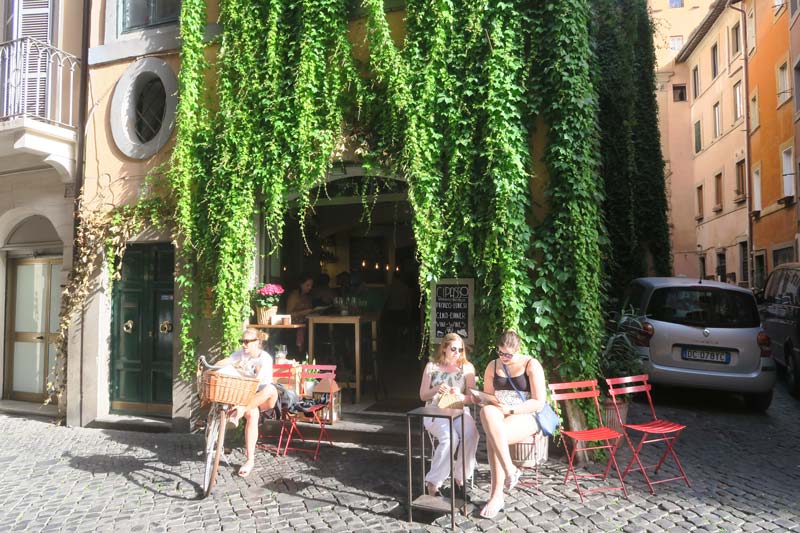 Where: Via dell'Orso, close to Piazza Navona
Bar San Calisto
No frills, cheap beer, 1970's wooden decor. If you like the sound of that, head to Bar San Calisto in Trastevere for some people watching on a hot afternoon or an evening you don't want to end.
Where: Piazza di S. Calisto in Trastevere
Astemio
If you're looking to get away from the touristy historic center, the trendy neighborhood of Monti is a great option. With a few outside seats and a cozy interior, Astemio boasts over 1,500 wine labels to choose from. It's another good choice for those looking to enjoy both wine and dinner, with a healthy menu of classic Italian dishes. You can even book a table online via their website.
Where: Via Cavour, close to Santa Maria Maggiore Basilica in Monti
Best Delis, Bakeries & Wine Shops in Rome
A picnic lunch can be a great way to save on costs and to save some room in the stomach for a proper dinner. Rome has a great selection of delis (called salumeria) that you can visit in the morning before beginning your planned itinerary. Also in this section is a bakery worth mentioning and a good place to buy wine in Rome.
Ancient Pizzicheria Ruggeri
An iconic deli that's been around since 1919, Ancient Pizzicheria Ruggeri offers a great selection of cheeses, salads, and meats that can be blended to make sandwiches for a picnic lunch. They also have a decent selection of well-priced wines and liquors, though duty-free prices were comparable. The staff here were not all that friendly (they seem to be family members but I wasn't quite sure) but, nonetheless, we came here twice for sandwiches-to-go during our 5-day visit to Rome.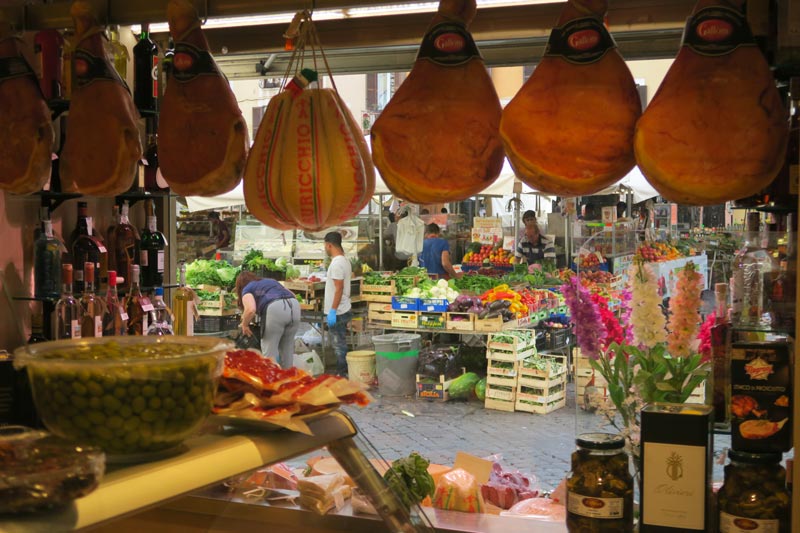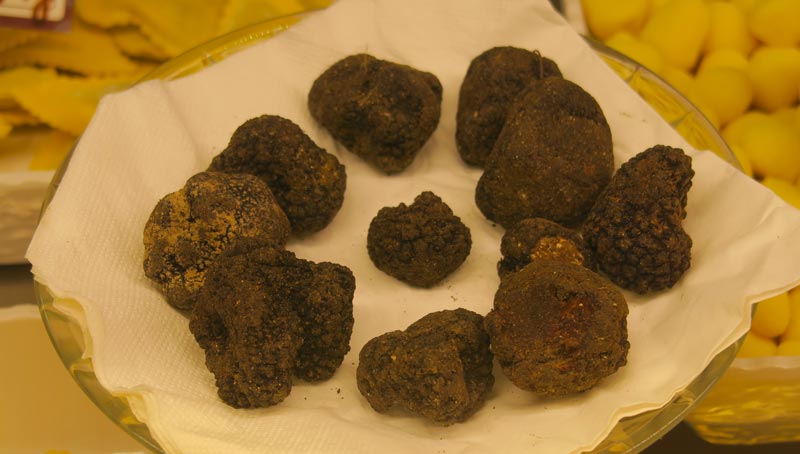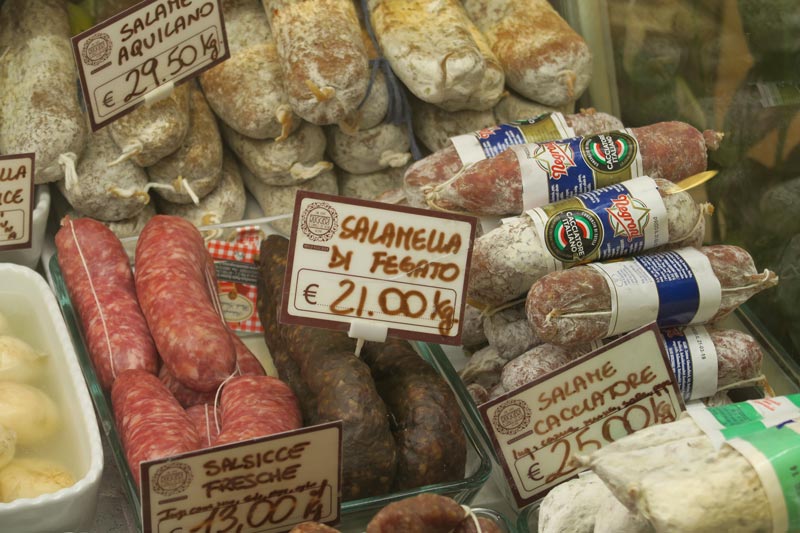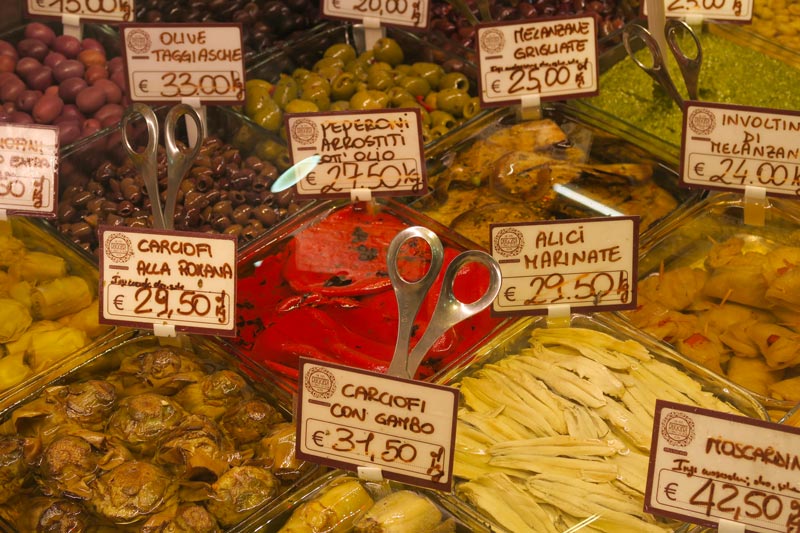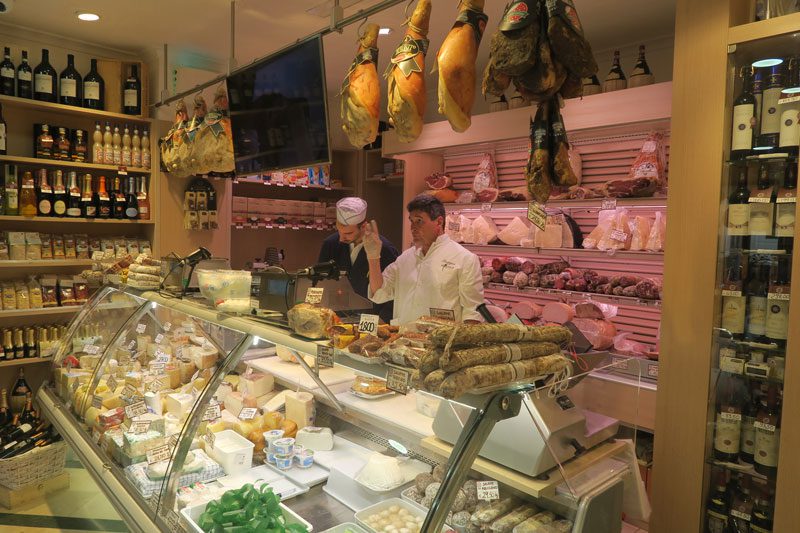 Where: Campo di Fiori
Norcineria Viola
On the opposite end of the square, head to Norcineria Viola but not if you're a vegetarian. Since 1890, this salumeria has been specializing in one thing and one thing only – cured meats! Their specialties center around the flavors of Norcia, a small town north of Rome and the goods, how shall I put it, simply dangle from the ceiling.
Where: Campo di Fiori
Guerrini Enoteche
A popular wine shop with several locations across Rome. The selection of wine at Guerrini Enoteche is impressive and the prices are said to be reasonable. We did a small comparison with duty-free prices and in certain spot checks found the duty-free to offer better prices on the same wines we saw in town. Keep in mind though that in the better wine shops, you can often taste before buying and you have the luxury of packing several bottles in your checked luggage…
Where: multiple locations
Roscioli Salumeria Con Cucina
Doubling both as a restaurant and a deli that also sells wines, Roscioli Salumeria Con Cucina is less recommended for a sit-down meal rather than for a packed lunch and a couple of bottles of wine to take home with you. For those that aim to reverse engineer some of the dishes they've tried in Rome, this place also has a large selection of specialty products and ingredients.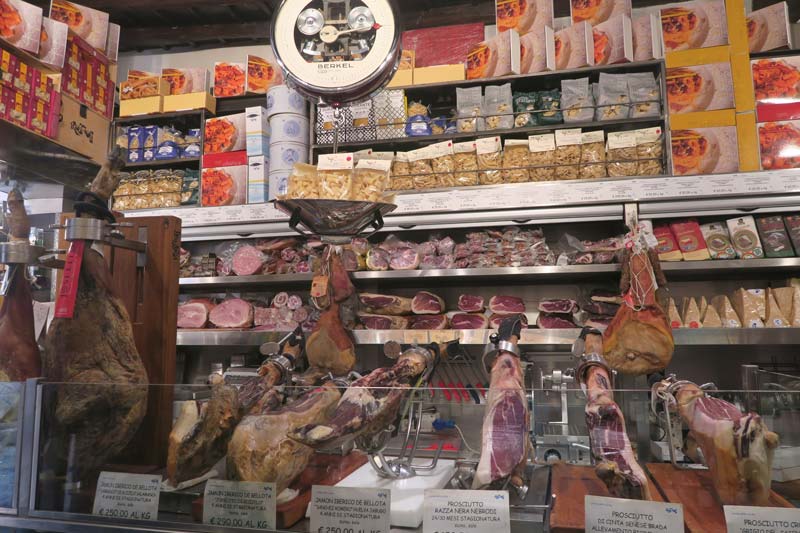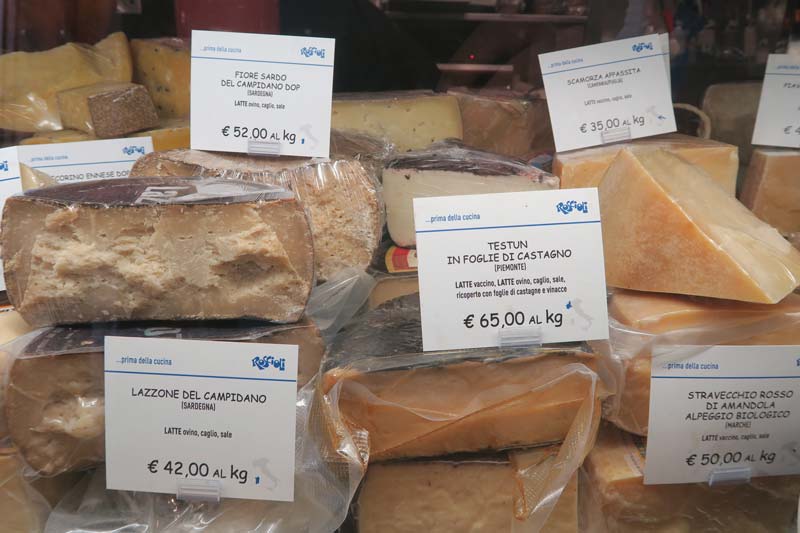 Where: Via dei Giubbonari, next to Campo de Fiori
Forno Campo de Fiori
Still in the Campo de Fiori area, if you're into focaccias, you'll love Forno Campo de Fiori. This is one of Rome's best bakeries, offering a good selection of classic Italian pastries but above all, a great selection of focaccias that range from the plainly seasoned to the stuffed with meat and cheese type.
Where: Piazza Campo de' Fiori
What's Next?
There you have it, my personal list of the best places to eat in Rome. Be sure to make reservations and to check out the rest of the Rome travel guide collection, including Rome travel tips, day-by-day Rome itinerary, the best museums and lots more.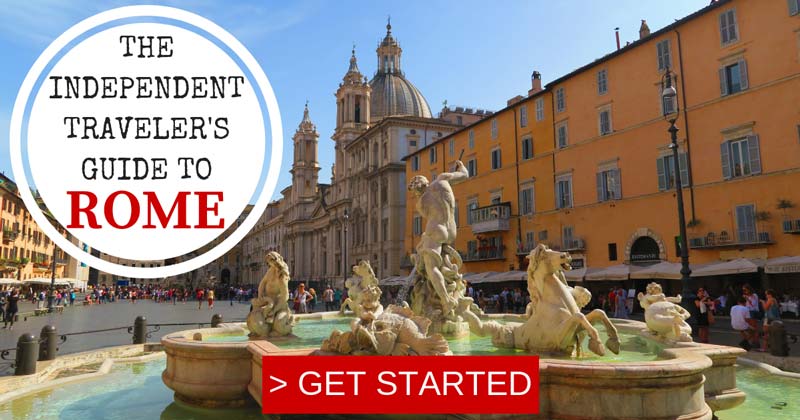 ---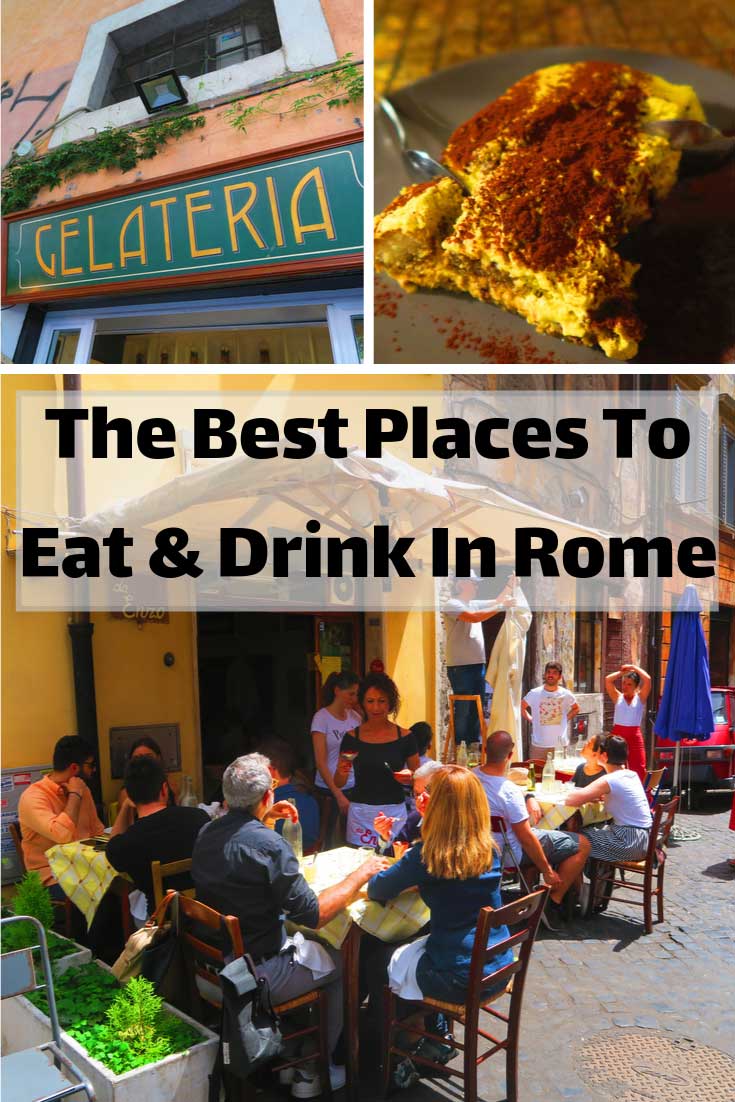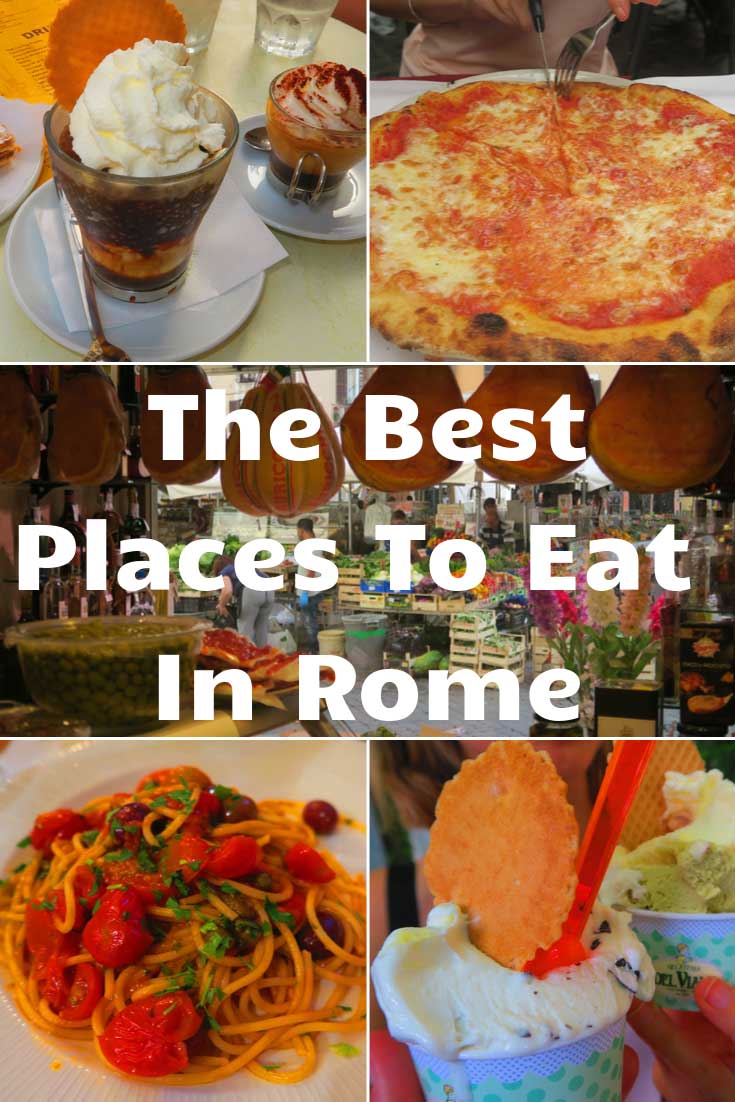 Pin These Images To Your Favorite Boards!