The Longest Day of The Year At The Festival of Music in Paris
Following a post I wrote last year on how I spent the shortest day of the year, I thought it's only fitting to close the circle and share with you how things looked from the other side of the earth's rotation around the sun. We are deep into the summer by now and hopefully you're all off somewhere nice and warm with a cocktail in your hand and the sunglasses on. But let's go back a few weeks ago and see how it all began, with the longest day of the year! My three month Paris adventure was quickly drawing to a close but the city had one last trick up its sleeve.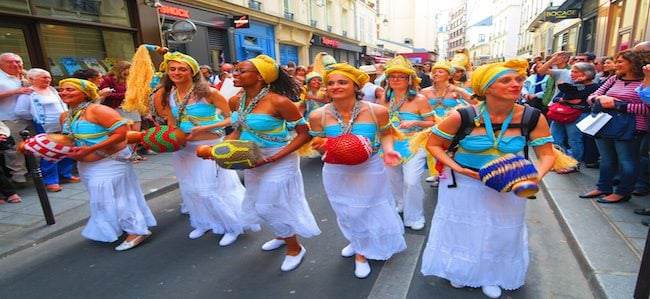 Well Done Monsieur Lang!
Every 21st of June, Paris celebrates the summer solstice with The Festival of Music (Fête de la Musique) – a full-day carnival in all parts of town. It all goes back to 1982 and one French Minister of Culture (Jack Lang), who thought it would be a good idea to encourage amateur and professional musicians to freely play across town wherever they wanted, under the slogan faites de la musique ('make music') – for the entire day! The only rule of thumb is that concerts, large or small, spontaneous or organized by the city – be completely free to the public! The first festival in Paris was such a huge success, that today, the concept has been exported throughout France and to over 100 countries around the world! Well done Monsieur Lang!
The result, as you will soon see, is a magical day in Paris. Not only is summer officially here (yay!) + June 21 fell on a Saturday this year (double yay!) – but more importantly, the entire city becomes one giant festival with every block of town playing host to street parties and top-notch performances. I've been hearing from colleagues at work for a while about June 21 but I didn't know what all the fuss was about. Some even warned me to stay indoors on this day as things can get out of hand. I just had to try it out for myself!
Isabelle and I were trying to figure out where to spend the day but like a lot of French websites (no offense guys), the Fête de la Musique site did not make things easy. There was simply too much going on around town so we decided to do what we did every weekend – just walk around!
A Concert for Three
We started our day with a trip to our favorite part of town – the Latin Quarter & Saint Germain. As we exited the Metro at Place Monge, we stumbled upon another one of those yummy Parisian food markets. I guess the local knife sharpener was also gearing up for the festival but I must admit that the tunes coming out of his instrument was not music to our ears.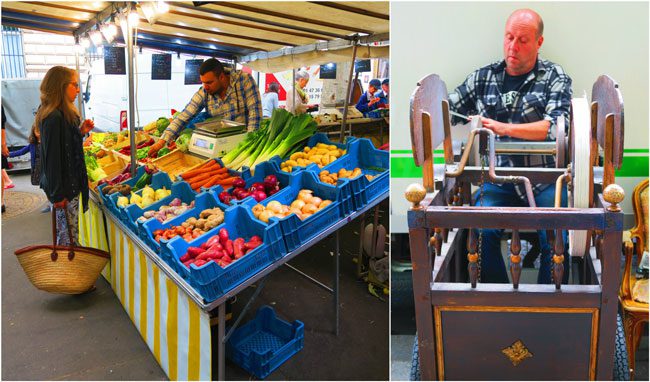 We gradually made our way through the Latin Quarter and right by the Pantheon, the massive building where some of France's finest guys and gals and buried, witnessed the first real concert of the day (if you can really call it that). It was early in the day and the heavyweight performers were still sleeping, so these young violinists took advantage of the empty prime real estate and played to an audience of three, right outside the famous monument – it's gonna be an interesting day!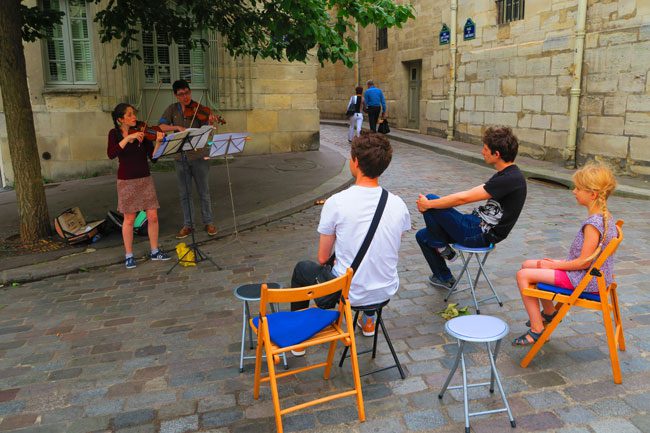 Around the World in Saint Germain
A couple of hours later and now deep in the heart of Saint Germain, things were warming up. Keeping in line with the chic atmosphere of one of the chicest neighborhoods in Paris, the music here was a bit more high-end, matching well with a glass of wine!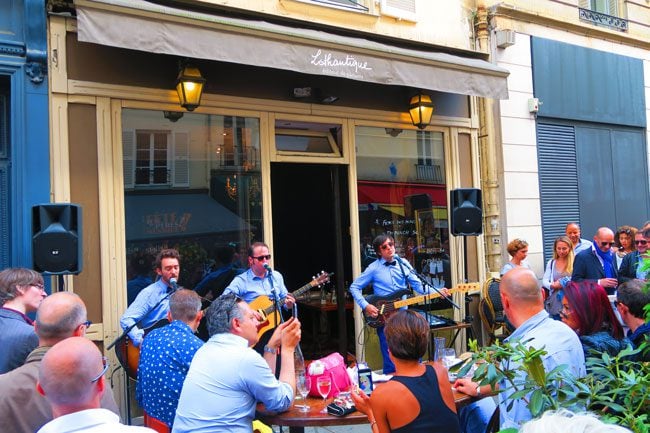 Cruising along the charming streets of Saint Germain, we stumbled upon a few hundred Parisians just blocking the narrow street outside the Eugene Delacroix Museum. The audience was treated to back-to-back performances of 'world music'. There was the Fado singer from Portugal and the Turkish violinist who really blew the crowd with her solo performance of music from her native Cappadocia. The Festival of Music in Paris is now in full swing!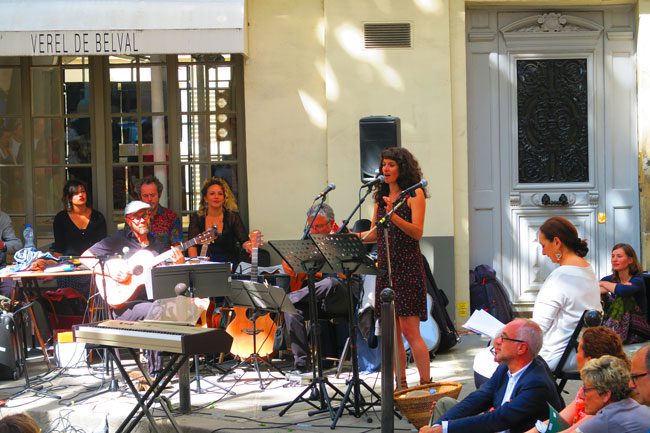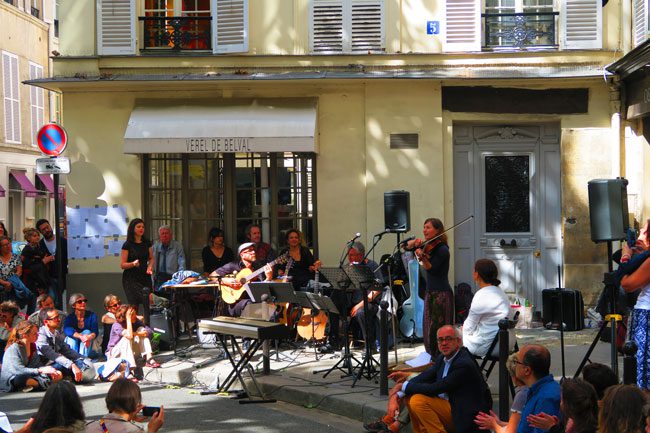 By now, we thought it was a good idea to check out what's happening on the other side of the Seine. On the way, we came across this awesome cover band who were finally whipping out some tunes we could relate to.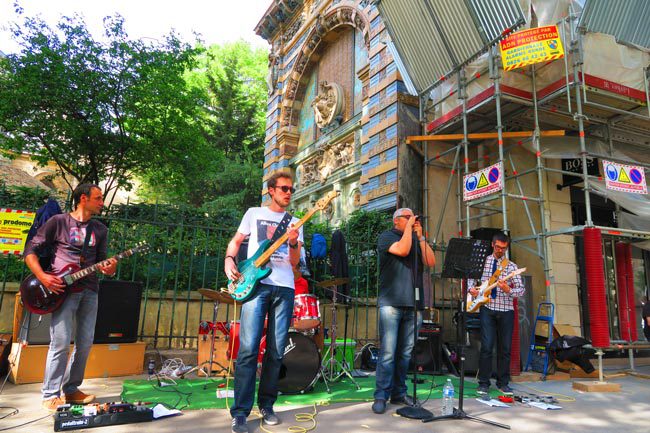 A real surprise came from what looked like a hybrid band of Mexican mariachis and cowboys from the Wild West. In any case, they put an interesting twist to the classic Rolling Stones hit, Paint It Black, and the fans just loved it!
Gay-Friendly Hipster Central!
Crossing the Seine, we were now on what's known as the Right Bank. We entered the Marais, one of the coolest neighborhoods in Paris. What used to be the aristocratic center back in the day is now a 'gay-friendly-hipster-central' sort of place, and that spells good news considering we're in the Festival of Music in Paris! We couldn't escape the sound of electric guitars and just followed our ears to probably the best street performance ever – this guy was on fire! Too bad we just made it in time for the last song, but hey, there's plenty more on this day.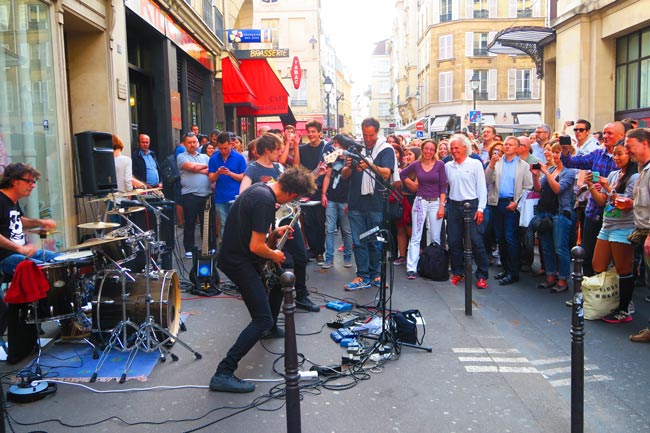 Continuing our walk through the heart of the Marais, things were getting a bit more in line with the neighborhood vibe. We suddenly realized that we're in the middle of a massive block party organized by the gay-friendly bars on the street. Funky music was blasted through the speakers and hormones were flying high in the air in this little part of the Marais (check out a short video). Every block of town has its own surprises today!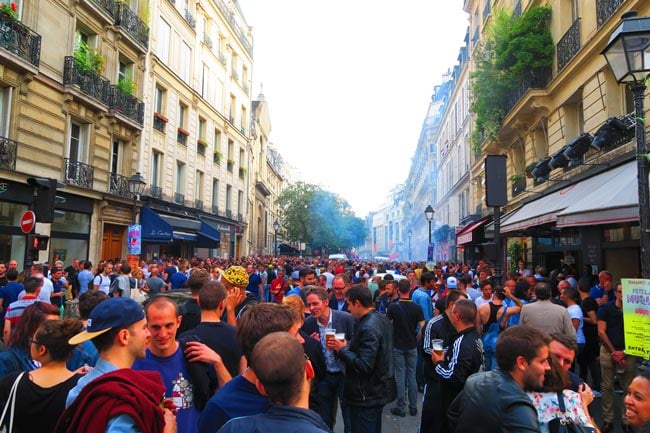 The long day of walking was starting to take its toll, so we thought it was a good idea to stop for ice cream. Just outside the shop, there was something funny happening in the bar just across the street. It was as if both customers and staff were just taken over by the music and couldn't help but just get up and start dancing. Maybe it was the music, maybe it was the alcohol – what do you say? In any case, just as things were warming up at the bar, we heard the pounding sound of drums from around the corner. We grabbed our ice creams (pistachio is my favorite just in case you're wondering) and went to check out what was happening. Before we knew it, we had front row standing seats to a Brazilian carnival!
Gotta Love Those French Chansons!
It will be really hard to top that but let's give it a shot. If you're ever in the Marais, you simply have to visit Place des Vosges. This former palace garden is now one of the nicest parks in Paris. But on this day, the area around the square was like a never-ending stage! The vibe here is totally different than what we just felt a few minutes ago. In fact, it couldn't be more different but that's what I like about Paris. You walk for a few minutes and it's like you've arrived in a whole other city.
On the right corner, you had the over-dramatic Edith Piaf wannabe who was doing her best to animate the crowd with this lovely chanson (watch it here)! And on the left corner, you had the senior crowd, who was reminiscing about the good old days with the classic tune by George Brassens – L'Orage. Actually, it was really cute to see how song sheets were passed through the crowd so politely and then everyone singing together. I think it's clear to say that music definitely brings people together and I guess this was the main reason for starting the Festival of Music in Paris. What a great idea Monsieur Lang (we thanked him already once, didn't we?).
It was starting to get late in the day but we didn't really care, it's the longest day of the year after all. As we headed out of the Marais, performances were pleasantly getting back down to earth. We had the 70's style rock group (where did he get that corduroy jacket?) putting on a show but notice the lady staring out of her window – do you think she prefers the Place des Vosges tunes?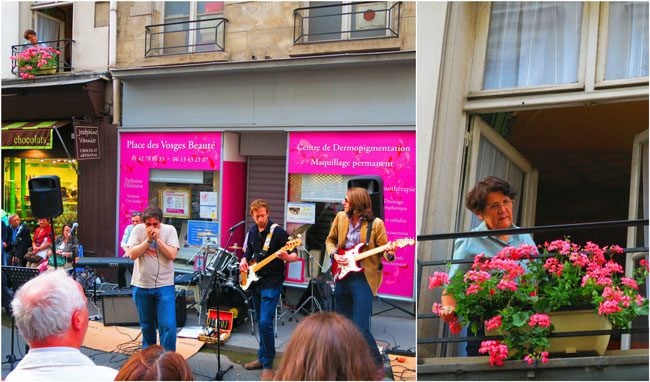 It's Nice to See You Again
Isabelle and I decided to end the day at Place de la Republique, where we could easily hop on the Metro back home. This area of Paris couldn't be any different than chic Saint Germain and you could sense that in the acts over here. Over in the Cuban bar, things were once again getting out of hand – people are just extra happy today, aren't they? Over at Bar du Cirque, you couldn't help it but just grab a drink and listen to those classic French tunes.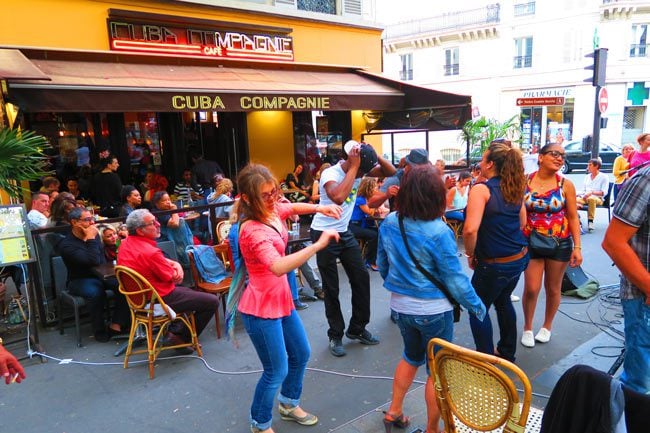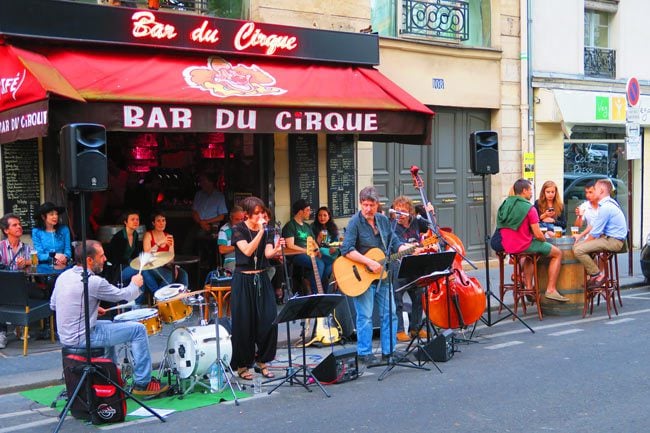 Finally, we could see Place de la Republique, more like hear it! It seems like every weekend there's a massive concert in this square that's seen it all, over the years. There were thousands of Parisians, mostly young folks about to start their summer – I think this guy is just gonna park it here for the next couple of months. He's got a great spot!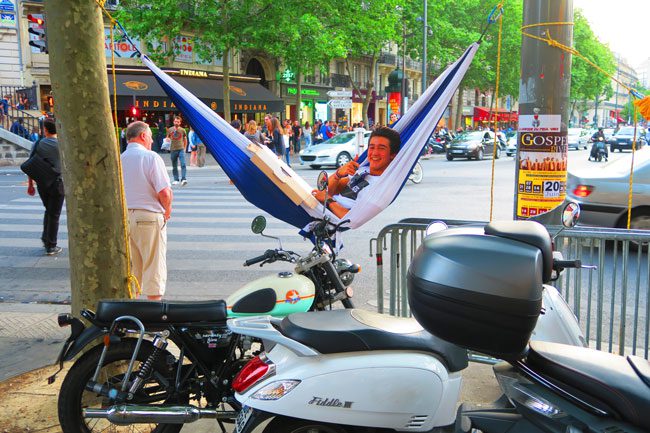 Anyways, Republique was a real mess. I guess this is what the folks in the office were warning me about. But I didn't really care, I just didn't want this day to end. Over on the stage, French band ALB was officially welcoming the summer with their catchy tune Golden Chains. I didn't know the keyboard was still in fashion but it sounds good, doesn't it?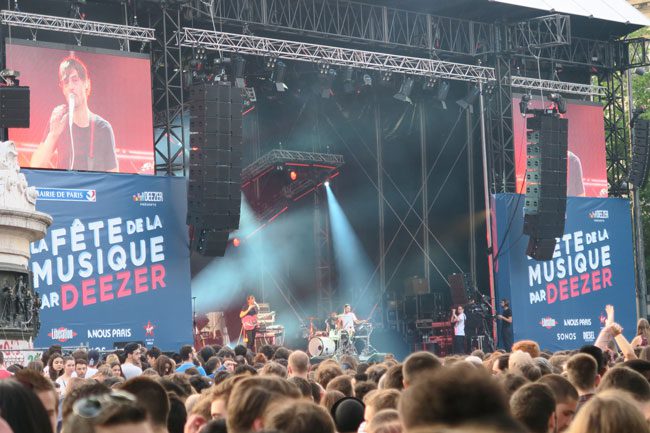 Thank God It's Summer
The longest day of the year also marked the longest walk we took in Paris. We must have walked 15 kilometers by now but I could have kept going. It was another one of the days in Paris that you just didn't want to end. There were many such days like that. But all good things come to an end and sadly or happily (depends if you ask Isabelle or myself), we hopped on the crowded Metro and headed back home.
The Festival of Music in Paris was one of the most special days in my short Paris stint. The diversity of each neighborhood was mirrored by the diversity of music in each. If you needed another reason to love Paris, here's another one. Thank God summer is finally here!