Santa Claus is Coming to Dublin
It's the most wonderful time of the year and there's no better way to gear up for the festive season than in the Emerald Island's capital city – Dublin. In this post, I'll take you on a holiday tour of Dublin city center, with the best spots to get you into that Christmas spirit.
If you want to follow the route on Google Maps, you can do so here.
Dublin is certainly not known as the City of Lights but during the holiday season, the city probably racks up a pretty huge electricity bill with many buildings and streets festively illuminated. Starting off on the city center's main artery, O'Connell Street is not only home to the Millennium Spire but also home to veteran department store Clery's. Built in 1853 as one of the world's first purpose-built department stores, Clery's is literally wrapped in Christmas spirit on the outside and is also well worth venturing inside.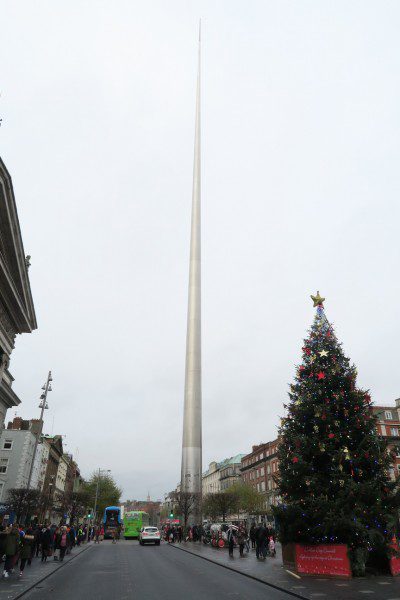 Just across the street from Clery's is the entrance to Henry Street, Dublin's largest pedestrian shopping street. It's always busy here on a weekend but during the holiday season, dozens of local merchants erect stalls in the street selling anything from Christmas sweaters ('jumpers' as they're known around here) to toys to women's fragrances. These guys are hardcore and each has their own loud chant to attract shoppers to their stall.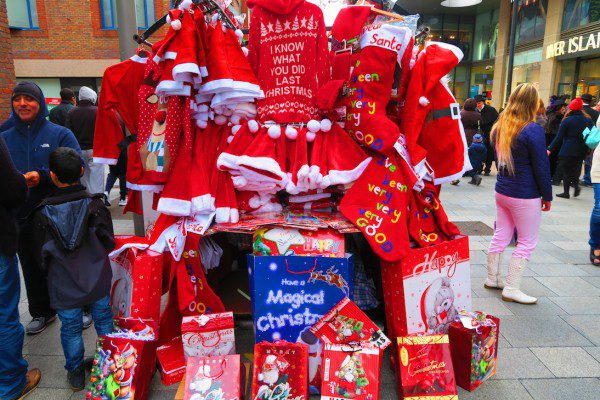 Just off Henry Street on Moore Street, the usual fruit and vegetable stalls give way for holiday flowers and Christmas bouquets.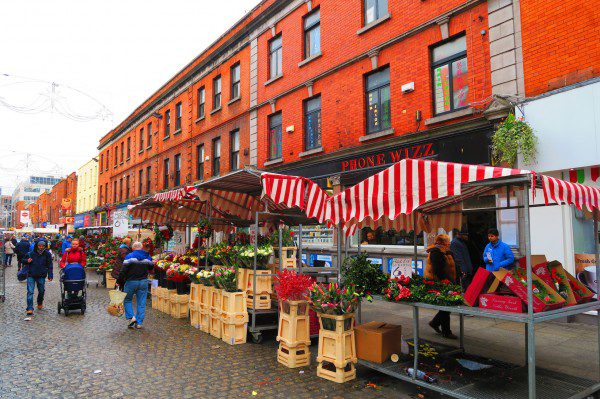 Taking a left on Liffey Street, you eventually reach another Dublin landmark, the Ha'Penny Bridge. Built in 1816 to alleviate the need to use aging ferries to make the short crossing, pedestrians were charged a half penny to use the bridge until 1919. Today, it's a popular way to cross the Liffey River by foot and also for couples in love to lock their commitment to one of the iron bars.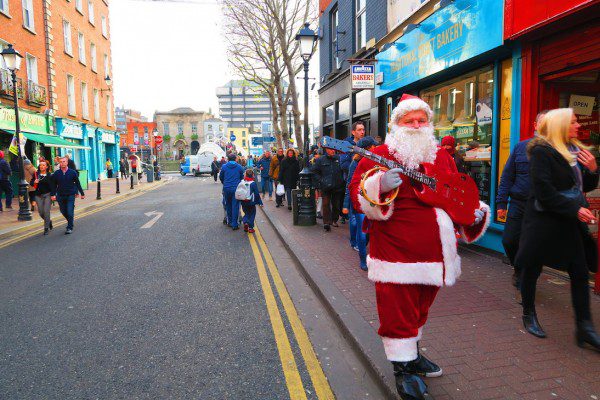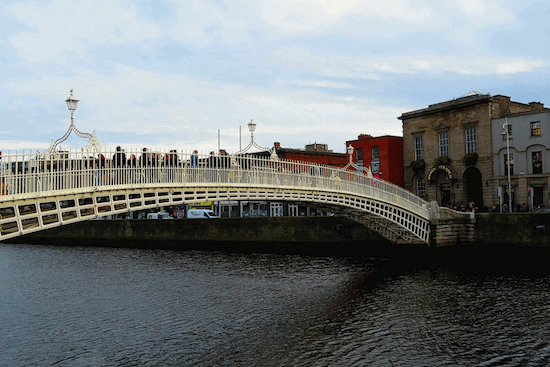 Now, you're in Temple Bar, synonymous with Guinness beer and live Irish music. There's no better way to experience Temple Bar during the holiday season other than in… The Temple Bar. This iconic bar has been around since 1840 and is always a must-see on any visitor's list. During the holiday season, you'll not only experience a fresh pint of Guinness but also great live music in a very festive atmosphere.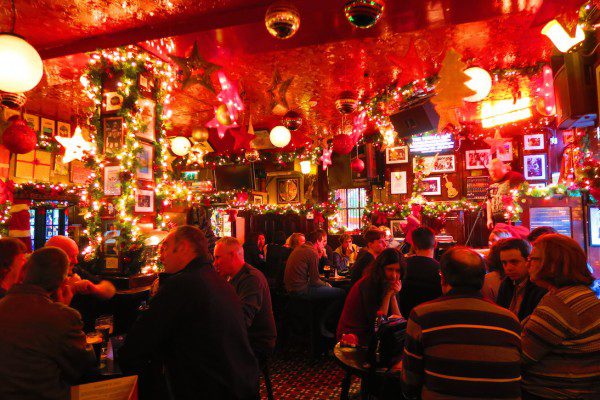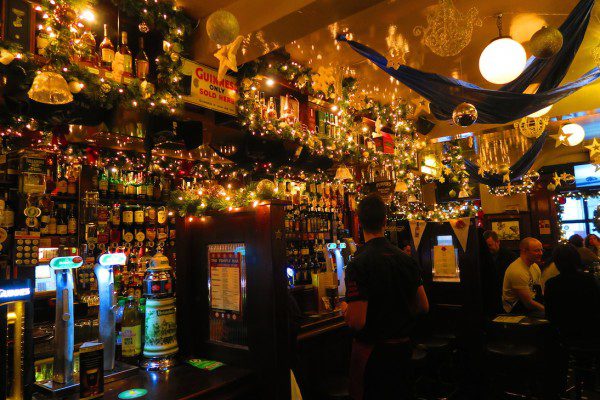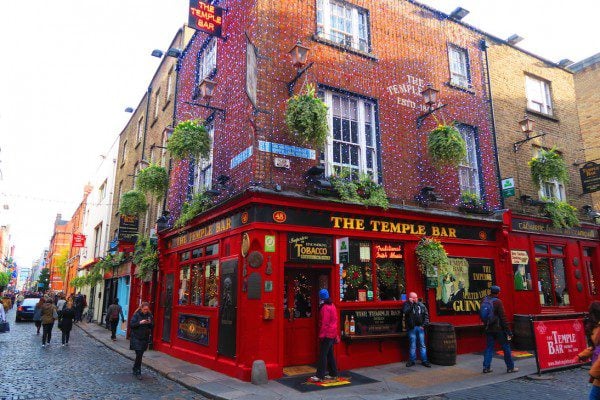 All freshened up after a pint of that black magic, we head over to nearby George's Street Arcade with its large atrium of vintage shops and cross over to South William Street.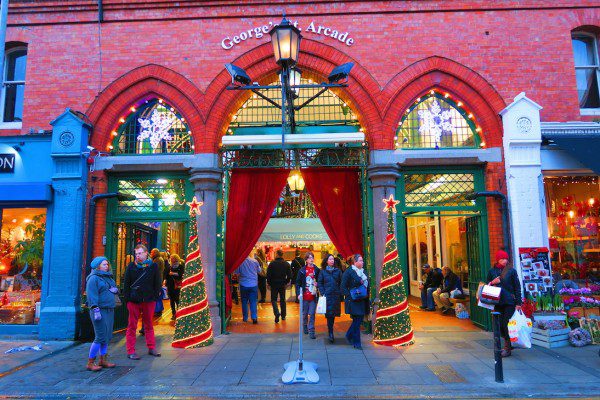 South William Street is one of the coolest ones in Dublin and during the Christmas season, one little shop becomes the Mecca for any Dubliner who is about to venture out on one of the toughest challenges on the island, the '12 pubs of Christmas' challenge. In this grueling test of alcohol endurance and concentration, while intoxicated, a group of friends ('lads' as they're called around here) will follow a preplanned route around town that will take them into 12 pubs. In each pub, they'll have to down a pint (later turning to 'shots') and follow strict but strange rules that apply to each pub they visit. Any lad who does not obey the rules will be punished by the harshest penalty known in Ireland and that means… chugging another pint.
Why am I mentioning all of this? Well, you cannot participate in the 12 pubs of Christmas challenge without proper attire and on South William Street, you'll find the Funky Christmas Jumpers shop that'll make sure you're looking sharp, even after 12 pints of beer.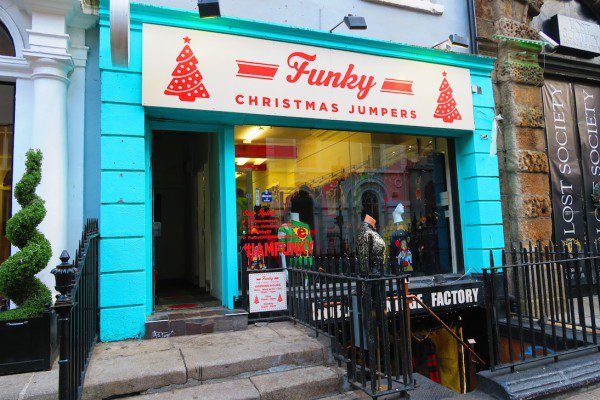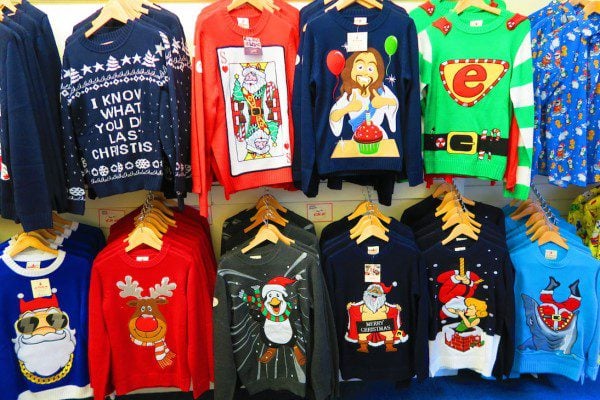 Just a short stroll away, it's time for a festive coffee break at the Powerscourt Centre, a beautiful Georgian-style complex, housing boutiques, antique jewelry shops, fashion stores restaurants and our favorite little cafe in Dublin, the Pepper Pot. Throughout the year, you can enjoy delicious pastries at this charming cafe but during the holiday season, you'll be treated to the tunes of live Christmas carols bursting from the nearby balcony.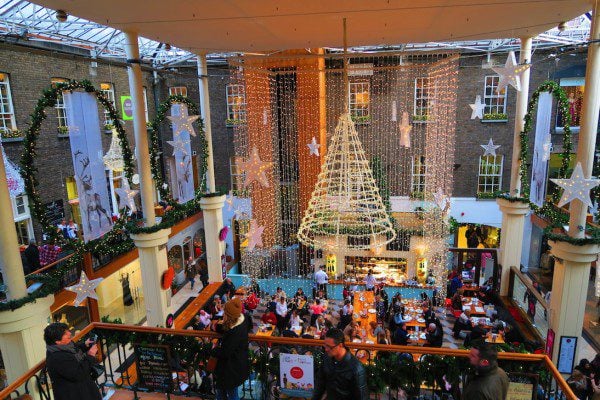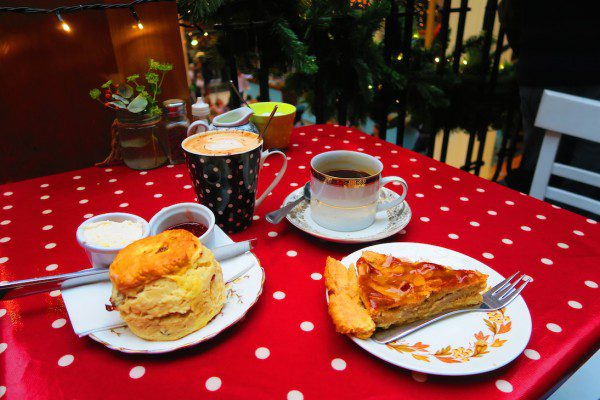 After this festive break, it's a short stroll to the start of Grafton Street, the beating heart of Dublin and the city's most famous pedestrian street. Lined with popular shops and with loads of people coming and going, Grafton Street is also where you can catch great live street performances. Rumor has it that during the holiday season, Dublin's very own Bono puts on a spontaneous live show. We weren't so lucky on our day out but nonetheless, check out this cool electric guitar act and this melodic solo.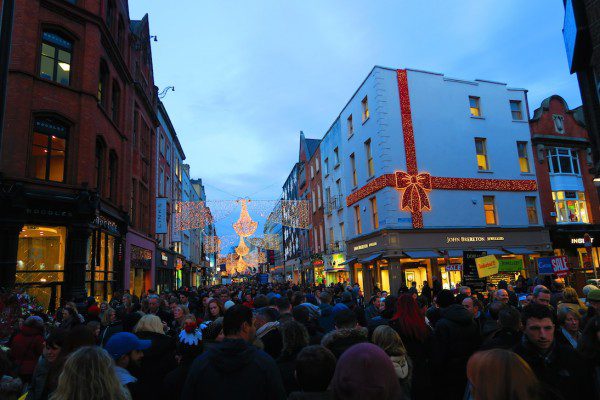 There are a few detours worth venturing out on from Grafton Street. One such is a must for chocolate lovers, Leonidas Belgian Chocolates on 16 Royal Hibernian Way. This tiny shop makes the best chocolates in Dublin and is a hidden secret. Choose the box size you want and start loading.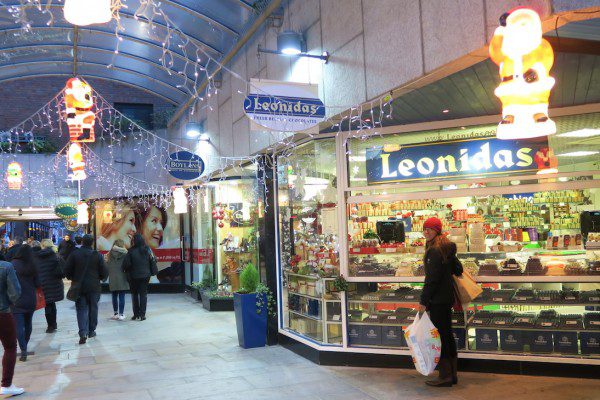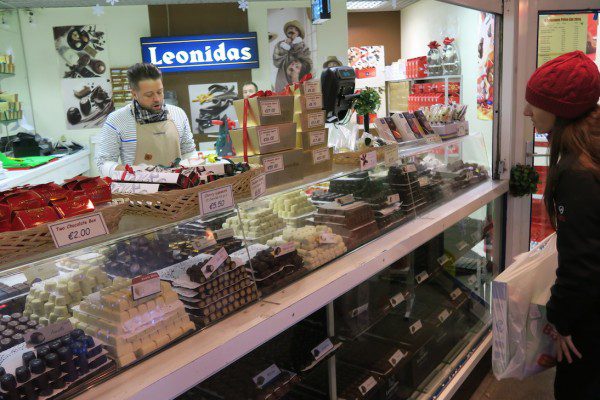 Back to Grafton street and all the way up is Stephen's Green Shopping Centre. If you still need to do some shopping, this might come in handy but even if you don't, the Christmas decorations here are worth their own visit.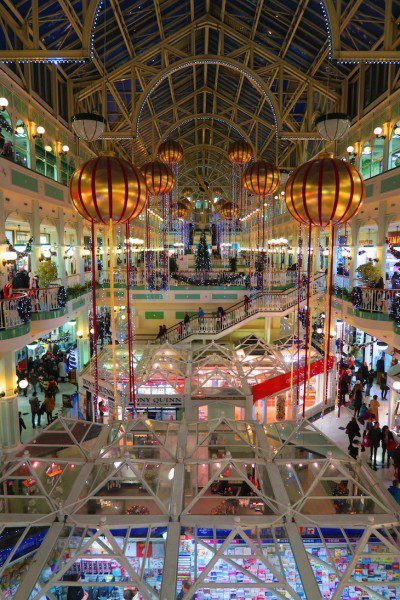 We're almost at our last stop on this Dublin Christmas tour and no Christmas in the city is complete without a Christmas market. Right at the St Stephen's Green gate, we enter Dublin's Christmas market. This city block has been taken over with holiday stalls to satisfy anyone's appetite from candy to burgers and of course, hot wine and warm cider.
Since it's been at least two hours since our last pint at the Temple Bar, a good way to cap off this Dublin Christmas tour is with a fresh pint at Kehoes on Anne Street, just off Grafton. This place has been around since 1803 so they know a thing or two about drinks. It's pretty up close and personal around the small bar area but you can find a quiet spot in one of the wooden booths or in the lounge upstairs, which still has wall-to-wall carpeting – something that's becoming a thing of the past. When in Rome… you know how it goes, and when in Dublin… drink up!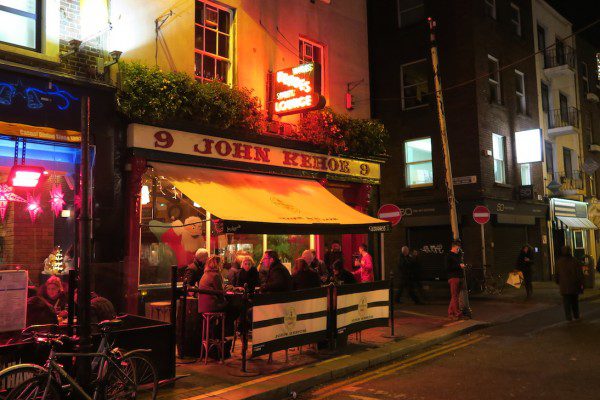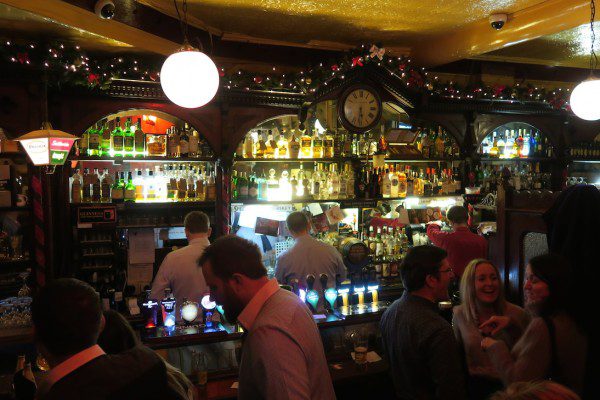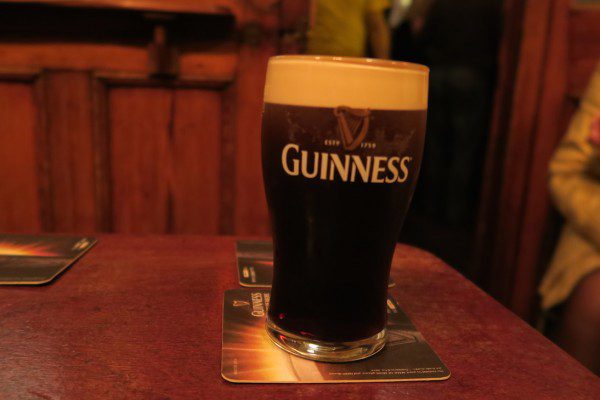 After all that walking, pints of Guinness and warm cider, it's pretty hard to write more lines so 'nollaig shona duit' as they say in Irish – merry Christmas to you!