Sawadika! One of the most pampering destinations in the world, you simply cannot go wrong with a trip Thailand. Exotic, diverse and beautifully chaotic – every traveler must make the pilgrimage to Thailand at least once in their lifetime, though I can almost guarantee there will be a return visit. Impressive temples and colorful markets await you in the mega-city of Bangkok, while on the outer islands, your decisions will vary from when to get a massage to when exactly to go for that fruit shake? While mass tourism has certainly taken away a lot of the charm, this 14 days in Thailand sample itinerary will help you outsmart the bandwagon crowds!
Thailand is one of the best value-for-money destinations in the world and it's also one of the prettiest places you'll ever visit. The problem is that you ain't the only ones that have figured this out. So if you're looking to have the place all to yourself, look elsewhere. Thailand lives and breathes tourism. In fact, tourists are pretty much everywhere you look. Kind of like Bangkok smog. But have no fear – with a little bit of planning, you will have a memorable experience.
What's Included In This 14 Days In Thailand Itinerary?
Several sections make up this guide:
This page: essential travel tips, where to go and when?
Chiang Mai: the Missing Piece
I traveled to Thailand during the second half of November on a couple's trip. We were living in Ireland at the time, so sun and beaches were our top priority. We, unfortunately, didn't have enough time to visit Chiang Mai – a charming northern city with magnificent temples, a laid-back vibe, top-notch food, and awesome nature nearby. Looking back, all our beach stops were great but Railay Beach was not as impressive as we had hoped. So, we could have used these three days for Chiang Mai or as extra days in Ko Phi Phi and especially in Ko Lanta.
Thailand Travel Tips
Listed in this section are general travel tips for Thailand. Later sections will highlight specific tips for the various stops on this two-week Thailand itinerary.
Don't leave without the Rough Guide to Thailand and the Lonely Planet Pocket Bangkok. Together with this sample itinerary – they will be your best friends on the trip to Thailand. If you're only visiting Bangkok and the beaches, the Rough Guide to Thailand's Beaches and Islands will do the job.
You'll likely enter Thailand via Bangkok, a megacity with two international airports: Suvarnabhumi and Don Mueang. Suvarnabhumi is the ultra-modern airport serving all major airlines, while Don Mueang serves the low-cost airlines. Keep this in mind when booking your international and domestic flights, as airports are far apart and require plenty of travel time in between.
Domestic flights in Thailand are very cheap, with lots of competition over popular routes. However, safety is always a concern. This is the reason why we chose to fly with Nok Air, a great low-cost airline that's partially owned by Thai Airways.
Do not, I repeat – do not, joke or even mention the royal family. Don't even accidentally step on bills as they carry the portrait of the late King Rama IX. Offending the monarchy can get both locals and tourists into some serious trouble!
Pack very light, quick-drying clothes. If you're visiting the islands and beaches – a backpack is better than a trolly since you'll need to walk over sand and shallow water to get in or out of your ride. Here's a list of recommended travel items.
While accommodations in Bangkok are plentiful, the same cannot be said about the popular beach stops. It's wise to book in advance.
I strongly suggest carrying a first aid kit and a 'small pharmacy' that includes pills against a headache, fever, food poisoning, diarrhea etc. We met a handful of tourists who got sick on the outer islands during the weekend when pharmacies were shut.
On that subject: always check Tripadvisor before eating in a restaurant. If somebody recently got sick, there's a very good chance they posted a review. This trick worked for us and we managed to avoid a few potential mines.
At the airport, purchase a local SIM with data. This will seriously come in handy, especially in Bangkok.
Especially in a destination like this, make sure you have sufficient travel insurance. The folks at World Nomads offer excellent value plans for all types of trips.
How to Choose the Right Thai Island or Beach?
If you're visiting Thailand on a short holiday – choosing the right island or beach destination is a real challenge. You'll hear conflicting recommendations from friends and might attempt to squeeze in as many stops as you possibly can. Keep in mind that Thailand is huge! Its best islands and beaches are concentrated in the southern Gulf of the Andaman Sea (Railay Beach, Ko Phi Phi, Phuket, Ko Lanta) and in the Bay of Thailand (Ko Tao, Ko Phangan, Ko Samui). The most important factor when choosing your stops is the weather. Here's a general rule of thumb:
May – October:

the rainy season, expect frequent rain, not the best time to visit the islands if on a short visit.

Nov – Feb

: the cool season, ideal for visiting the islands of the southern Andaman Sea

Dec – April

: the hot season, ideal for visiting the islands of the Bay of Thailand (+ Andaman Sea)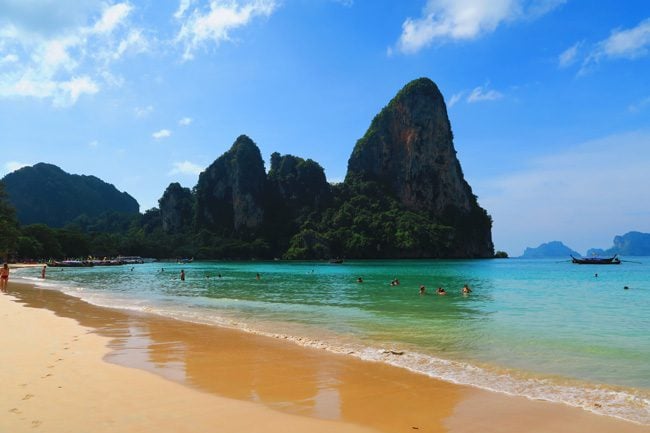 In any case – unless you like package holidays – avoid staying in Phuket, Pattaya, and Krabi. Not that these are not necessarily nice places, but they lack the authenticity that independent travelers usually seek. I also advise spending at least 3-5 nights at each stop. This will not only allow you to unwind and enjoy the beach but also explore the surrounding area on awesome day trips. Also keep in mind that transfers from one island to another take a few hours either by land or sea, so it's best to keep these to a minimum.
Finally – I haven't been to all of Thailand's islands and beaches, but here are the best choices:
Which islands to visit in Thailand and when?
Andaman Sea (Nov-Apr)
Popular: Ko Phi Phi, Railay Beach
Laid back: Ko Lanta, Ko Similan (diving), Ko Yao Noi, Ko Jum, Ko Hai, Ko Lipe
Bay of Thailand (Dec-Apr)
Popular: Ko Chang, Ko Samui, Ko Phangan
Laid back: Ko Kood, Ko Tao