Paradise found! The Aitutaki Lagoon In The Cook Islands
Wondering how on earth I could ever top that magical week on the remote Ofu Island in American Samoa, I marked the respectable milestone of two months on the road since beginning my journey across the South Pacific Islands with arrival in the Cooks Islands. Just that name sparks your imagination with flashes of a tropical paradise and pioneering maritime exploration. In this week's update from the South Pacific, we'll get to know the Cook Islands and hop on a tiny plane to a gorgeous looking lagoon that's home to the bluest of water. Kiana Orana! Welcome to the Cook Islands.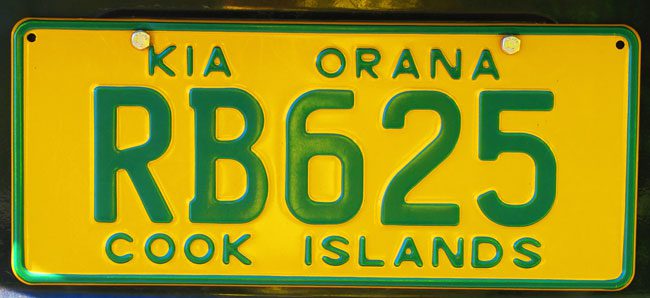 Cooks Islands 101
The Cook Islands are made up of 15 islands divided into a northern and southern group. The northern group is mighty hard to reach and you either have to be a millionaire or own a boat (or both) to somehow get there. The southern group, on the other hand, is relatively easy to explore and frequented by visitors, who account for the bulk of the islands' GDP. Though the total landmass of the Cook Islands is tiny, it spans across over 2 million square km of blue Pacific waters – roughly the size of Western Europe!
Named after the famous British explorer, Captain James Cook, the islands were actually discovered long before the captain made landfall over here. So why are they named after him? Well, to honor the man who made so many discoveries in this part of the world, a well-known Russian cartographer named the islands in his honor in maps that he published – and the name just stuck. Not bad, ah?
The real explorers of the Cook Islands are the Polynesians, who arrived here on massive outrigger canoes thousands of years ago from French Polynesia. They were masters of ocean navigation, long before the GPS, and they continued onward to settle New Zealand – way out west.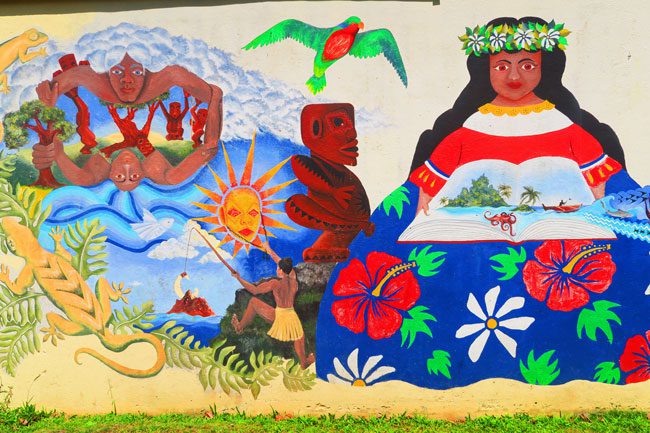 After years of British and then New Zealand rule, the Cook Islands are today kind of an independent nation. The official term is 'in free association' with New Zealand – but I couldn't really figure out what the difference was. Either way, the strong Kiwi influence has brought with it much development and a Western standard of living to some of the islands. That said, the local population is still super laid back, defining the meaning of 'island time'. They are amongst the calmest and friendliest folks I've met so far on this journey! I am still amazed at just how unique people are in every archipelago of the South Pacific.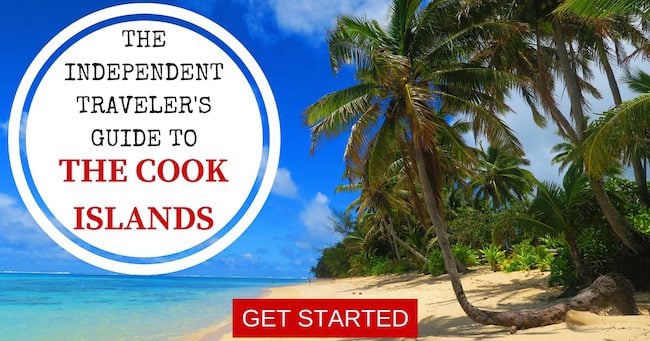 Traveling through time
I started my journey to the Cook Islands with a flight on Nov 15 at night from Samoa. This involved a good few hours by plane to Auckland in New Zealand, a night at the airport and a late afternoon 3.5-hour flight on Nov 16 to Rarotonga. Guess at what time I landed? With all this travel, I landed in Rarotonga only one hour after leaving Samoa, on Nov 15! How's that for efficient travel? Things are crazy when you're going back and forth across the international dateline.
I was greeted at the airport with a lovely smelling tropical flower necklace, called 'Ei. Good thing, because after a smelly night in the Auckland airport, I really needed that! I spent the first few days on Rarotonga, the main island in 'the Cooks'. It's a beautiful and compact little island, with towering mountains, blue lagoons and endless palm trees. It's also quite built up for tourism and there's a ton of stuff to see and do. We'll have a closer look at Rarotonga in next week's update but now – it's time to take off to paradise!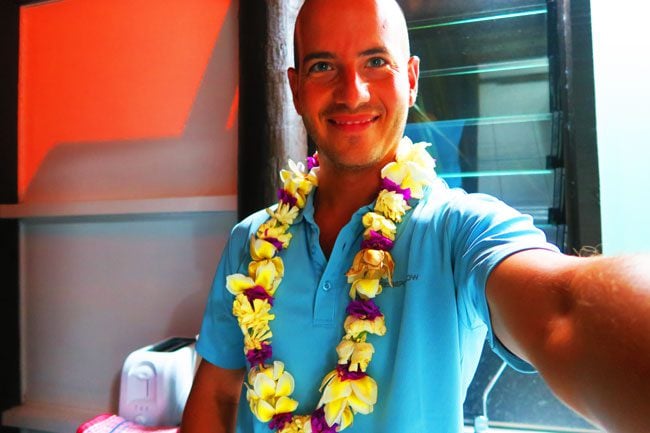 The Cook Islands gem – Aitutaki
So after a few days on the 'big island', I hopped on this tiny-looking Air Rarotonga plane for the 45-minute journey to Aitutaki. You haven't been to the Cook Islands until you've visited this little gem. Prepare to be blown away!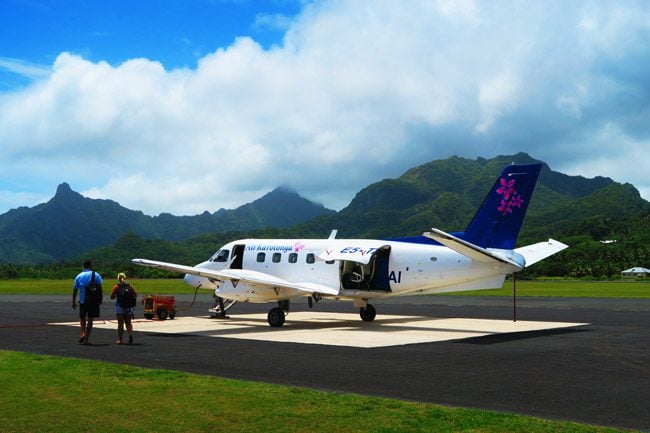 Aitutaki is a tiny island that almost completely encircles a beautiful lagoon, with uninhabited islets dotting its edges. It's one of the prettiest sites you'll ever see and impressive from every angle. The excitement already begins on the approach to the runway, with Aitutaki coming into a radiating view. This is the stuff dreams are made of.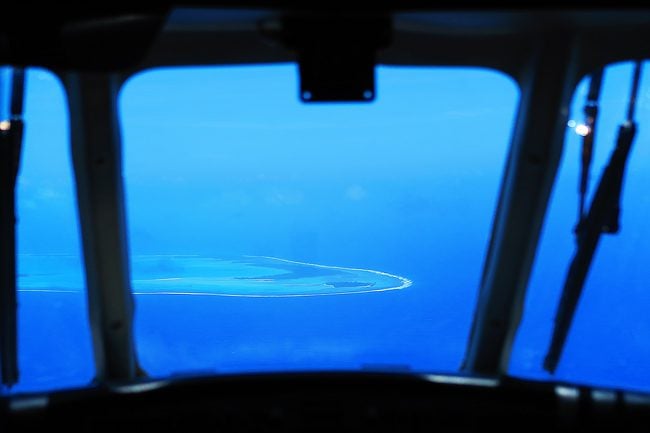 The island was first settled in the 12th century when Chief Ru landed here with his canoe – all the way from French Polynesia. He brought with him his wives, their brothers and wives and 20 maidens. Europeans first arrived in Aitutaki on the infamous Bounty ship, captained by William Bligh, just days before the famous mutiny. During WWII, the Americans built a runway here and thanks to them, it's relatively easy to get here once you've made the long voyage to Rarotonga.
Though a short distance from the main island, Aitutaki feels like a world away. There is no point in trying to rush things over here – they will happen when they happen.
There are only 1,500 or so very laid-back locals living here and trust me – they all know each other. Some of them have forgotten what house keys are for… They live in paradise and they know it. There is one thing though, that gets the crowd vocal and that's religion. The local population is devoutly Christian and little did I know how much it upsets some that commercial flights land here on the holy day of Sunday. Guys, I swear I didn't mean to offend anyone with my Sunday arrival.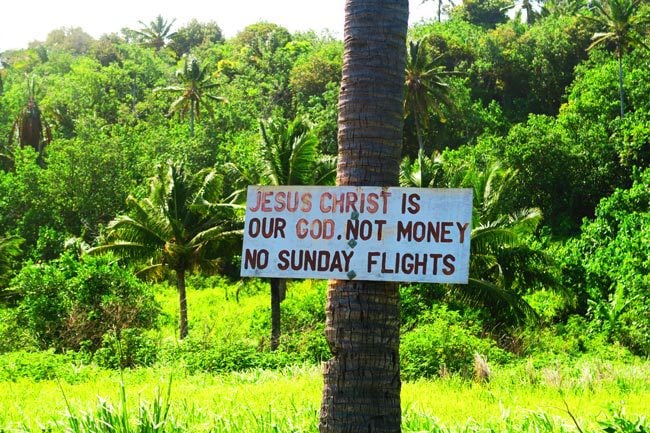 Hello? Is anybody home?
Perhaps it was because of this 'abomination' that my visit to Aitutaki started off on the wrong foot. I landed at the tiny airport on a Sunday, only to be greeted by no one. No flowery necklace this time… I tried calling the hotel but no answer, so I decided to take matters into my own hands and get there on my own, only to discover there's nobody there. Apart from a few super relaxed guests, the office was closed and no staff members around. Running low on drinking water and fending off the ferocious mosquitos that Aitutaki is also famous for, I waited and waited… and waited. I thought the owners just had some post-church family BBQ but this was unusual to say the least. After four, that's right – 4 hours of waiting, I managed to score a different accommodation and of course, just as I left the owner came back. Too bad, I'm outta here! This wasn't the way I planned to start my visit, but these things happen and let's be honest – may these be the world's problems…
I guess things happen for a reason because the bungalow I checked into was just what I was looking for. Right on the lagoon and with a shady wooden deck to kill the time, I managed to quickly forget about the short ordeal and focus on the positive.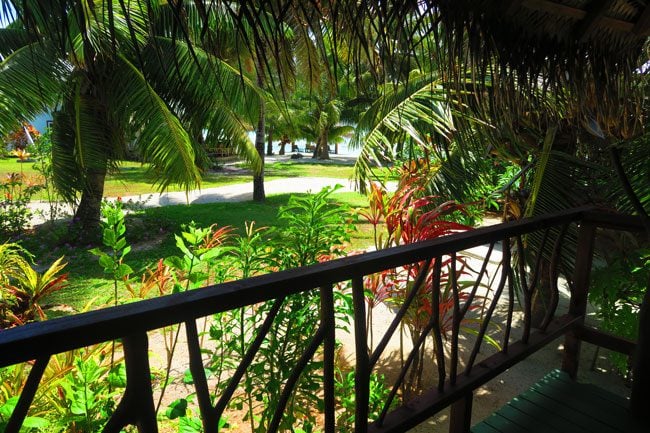 The beach made up for all the afternoon hardships. Super calm lagoon waters of beautiful color and endless rows of palm trees. The lagoon is very shallow, you can walk for hundreds of meters and just grab a seat to enjoy the view. It's perfect for wind/kite surfing, kayaking and that new fad called SUP, if you're into that.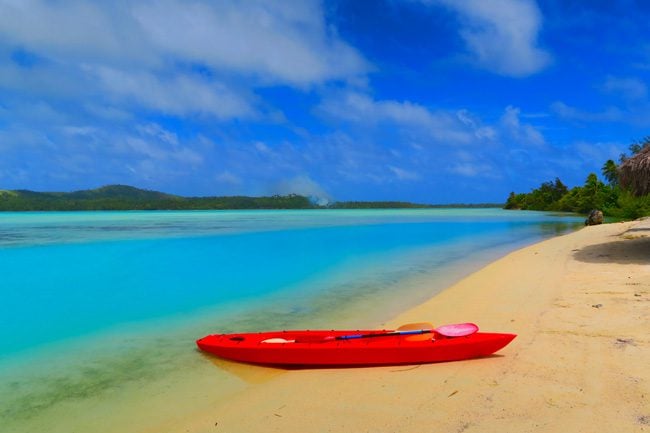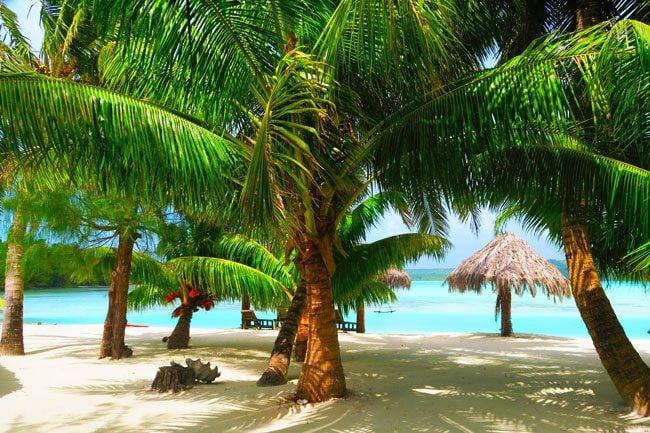 Guys, get a room!
But we're not alone on the beach… While exploring what's around, I saw two hermit crabs 'getting it on'. I am no animal expert but from the looks of things, they were 'getting busy' – in public! So weird. Only meters away, was what looked like a scary-looking sea snake that was trying to break up the party. This reminded me of the terrifying eels vs. crabs attach in Oge Beach. Things can get freaky, even in paradise.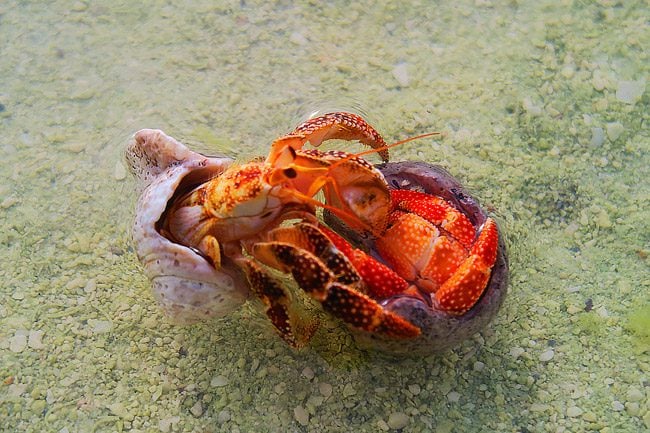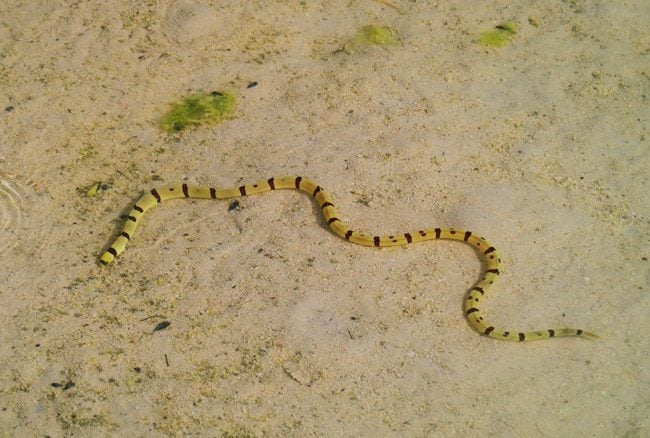 As for the food, this is definitely a refreshing highlight of the Cook Islands. Unlike in Samoa, the food in the Cook Islands is a lot healthier (and tastier). It's based more on fish, fruits and vegetables. My current favorite is a local Aitutaki specialty – the Ikamata. It's basically slices of sashimi, marinated for hours in lime juice and served in coconut sauce. So delicious!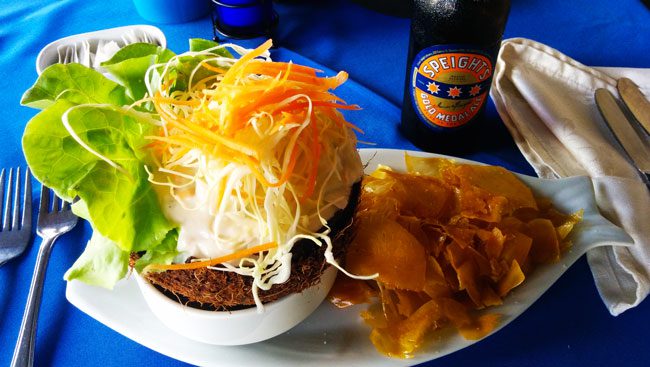 As for after hours, There's not much to do aside from enjoying the colors of dusk and the full moon light. My kind of night!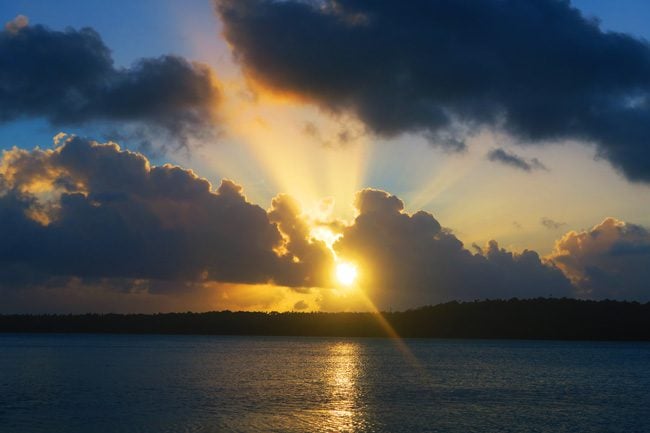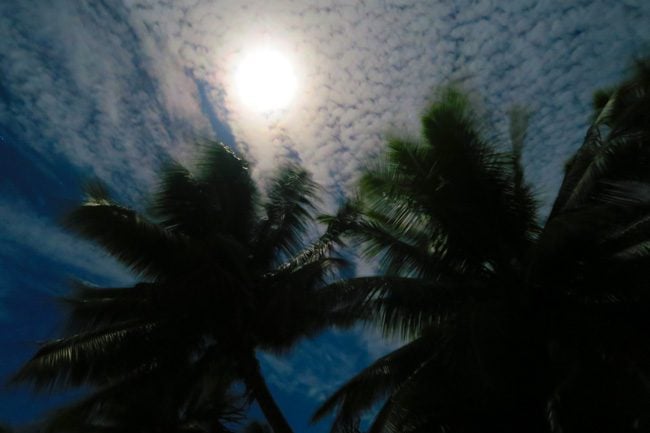 Exploring Aitutaki
The following day was spent exploring the island. It's quite easy to get around, just choose your favorite mode of transport: car, scooter, bike or hitchhiking. I started off with the prettiest beach on the main island – O'otu Beach. It's the site of a few plush resorts and small sand dunes that just seem to rise out of the shallow lagoon.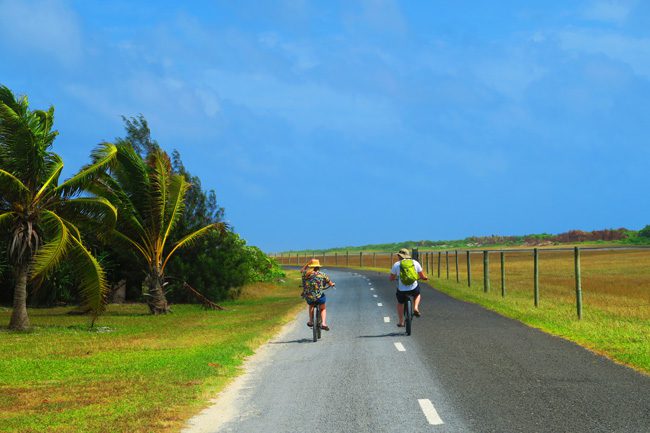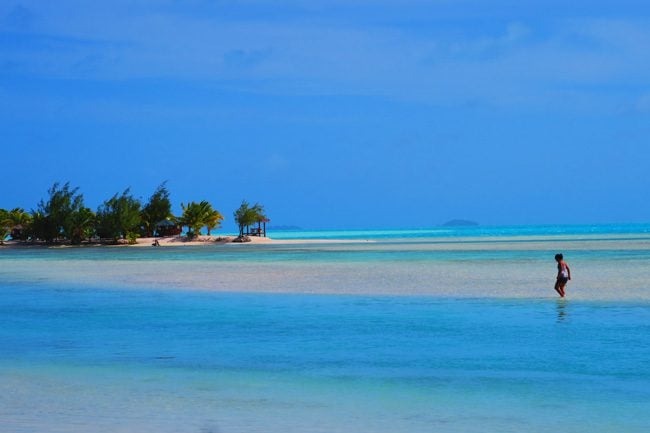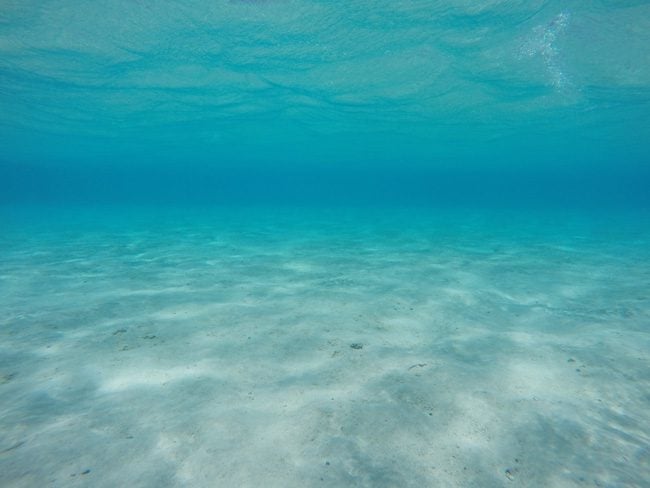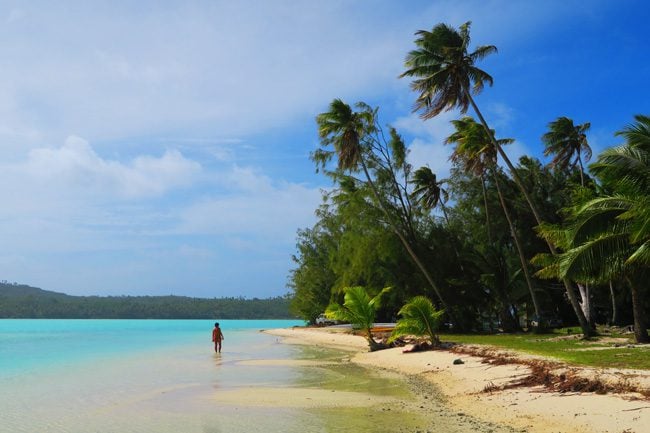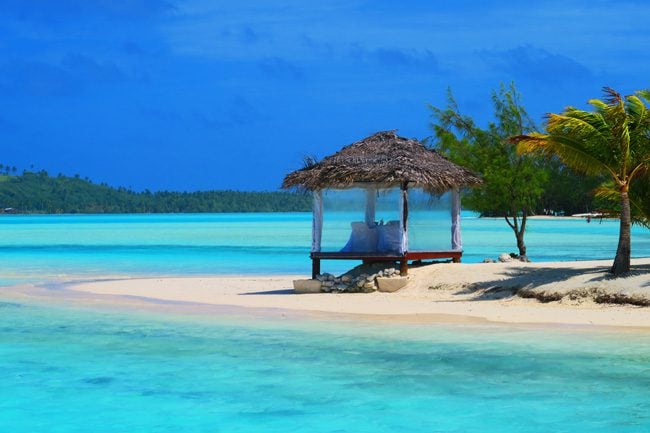 With such beautiful shades of white and blue, I was intrigued to get a better view of the lagoon. So I climbed up to the highest 'peak' in Aitutaki, Mount Maungapu. It sits at the 'staggering' height of 124 meters but nonetheless, the view from the top is breathtaking. How did a mountain form on such a low-lying island? Well, legend has it that this mountain was 'stolen' from Rarotonga back in the day and brought over to its present location by the Aitutaki gods. Sounds like a reasonable explanation to me.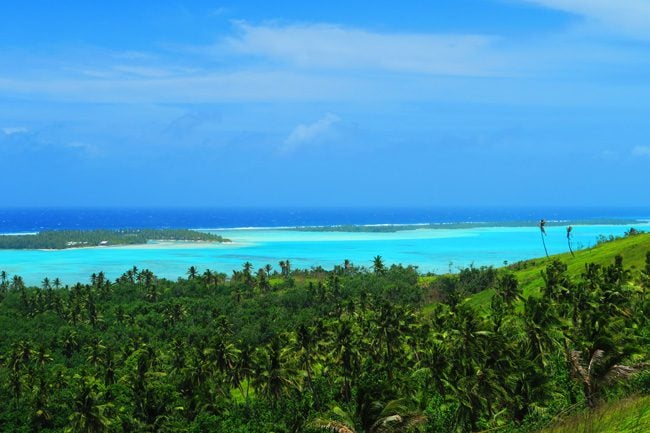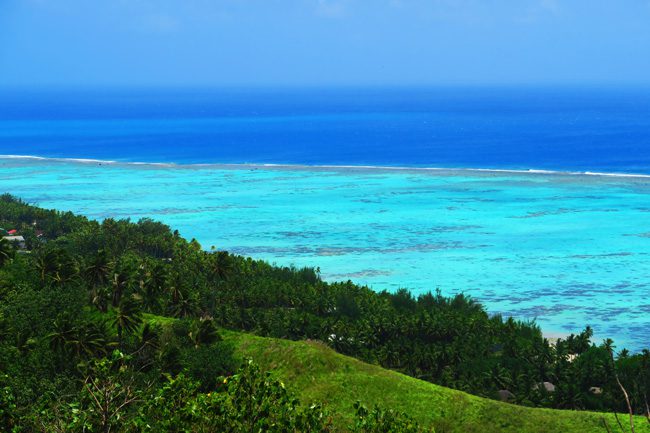 Cruising along, it was time to head 'downtown' to Arutanga – Aitutaki's main town. To call Arutanga a town would be a complete lie, but there's everything you really need – including of course a beautiful church. This one is actually the oldest church in the entire Cook Islands, dating back to 1828. I'll definitely come back for Sunday service.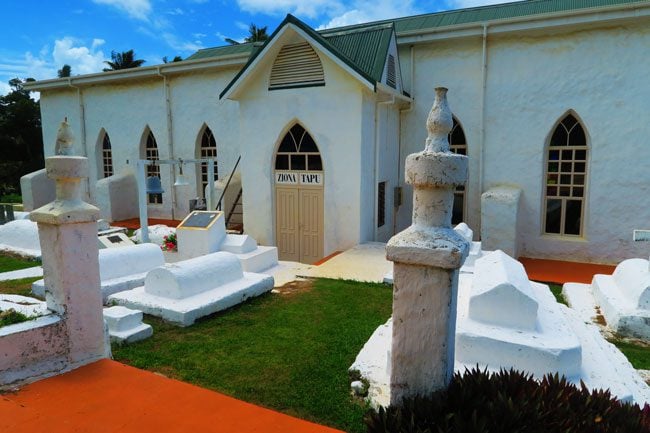 The rest of my afternoon of island discovery involved riding the empty roads, occasionally passing someone along the way and occasionally driving through giant banyan trees. Life is simple in the sweetest way on Aitutaki. In such a sparsely populated island, you'll also easily find your very own beach. Just be aware of the falling coconuts. Those can be nasty when they tumble down.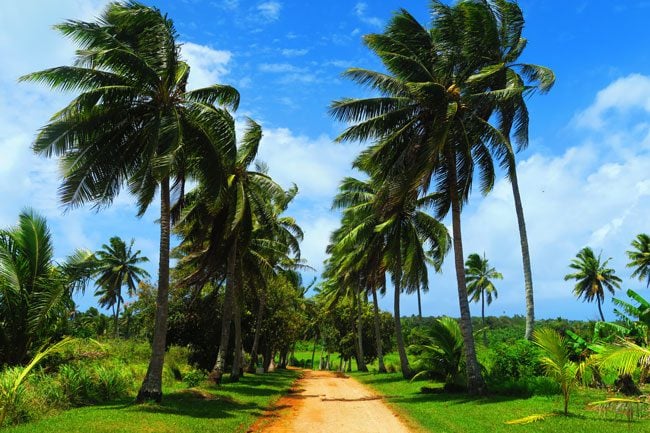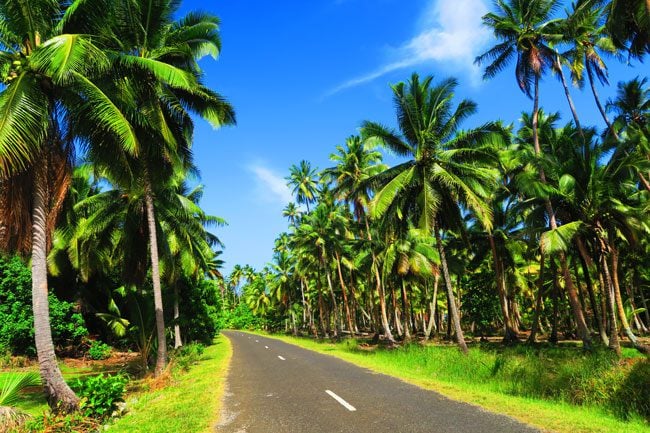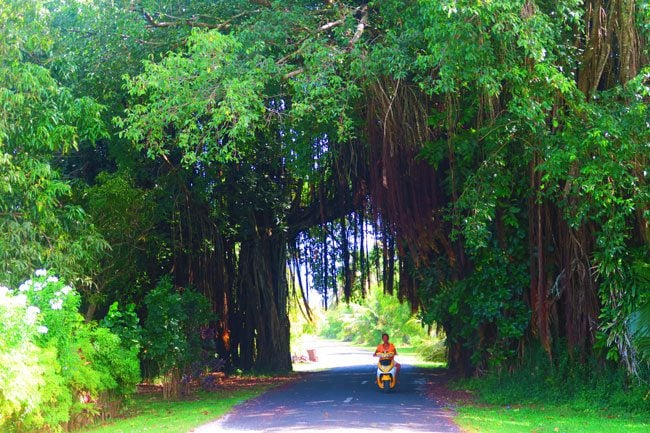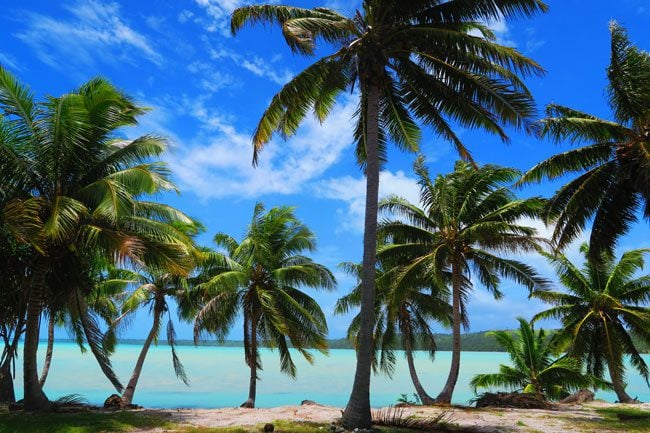 Continue to the next page for the highlight of Aitutaki!