Death Valley Travel Guide
With no interstate for miles and miles in every direction, Death Valley is as remote as it gets. But despite its name and extreme weather, Death Valley is a place where human life has existed for thousands of years and where wildlife thrives thanks to ingenious adaptation. In this Death Valley travel guide, we'll explore the ins and outs of planning a visit to Death Valley along with the national park's top highlights.
Despite their hostile environment, I find great pleasure in visiting deserts. With no trees or grass to cover the natural landscape, deserts have no place to hide. On the flip side, their vastness and relative emptiness, make the desert a perfect place to hide. Despite several visits to California over the years, it was only on a recent five-week road trip in the American Southwest that I finally managed to visit Death Valley. This Death Valley travel guide is based on extensive research and my experience exploring the national park.
Why Visit Death Valley?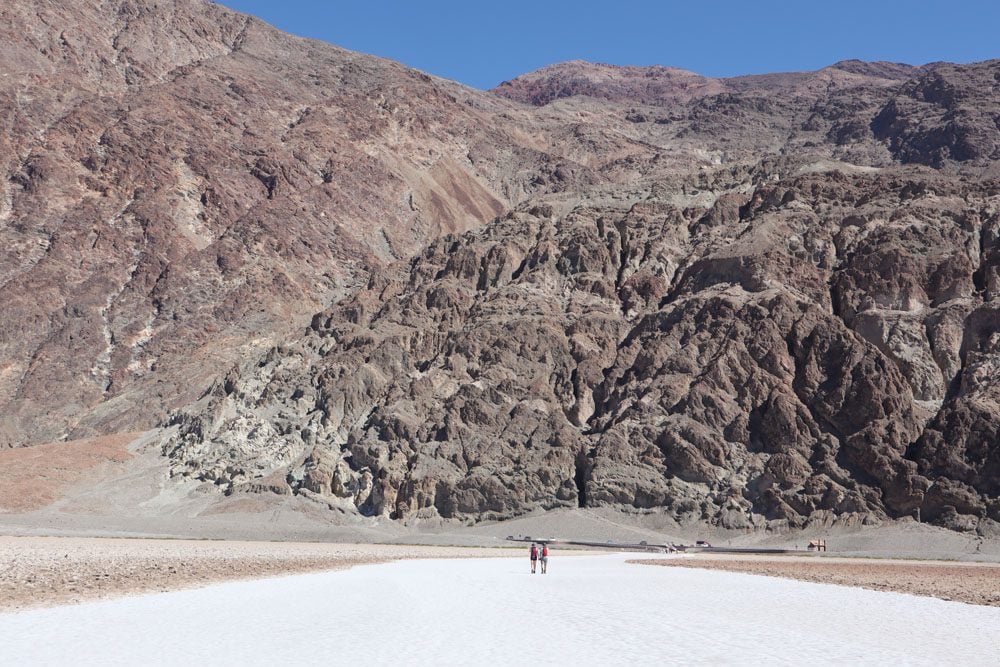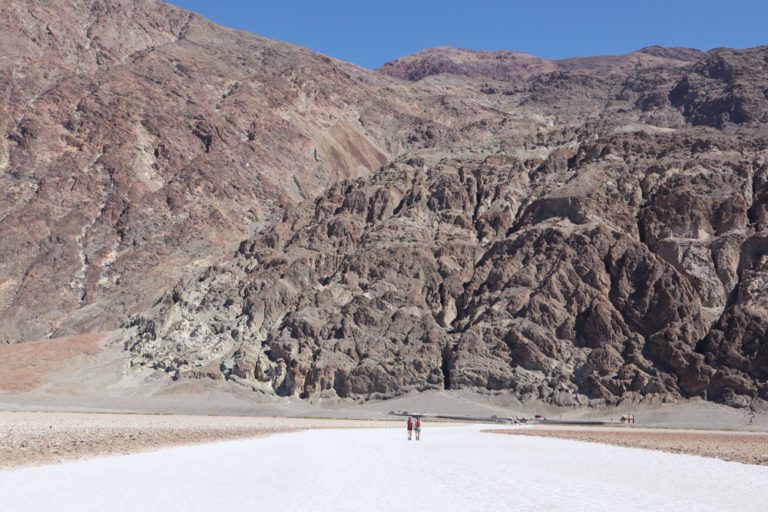 Hot, Dry, Low
Death Valley is the hottest place on Earth, the driest U.S. national park, and features the lowest elevation in North America. These extremes come together to form one unforgettable adventure.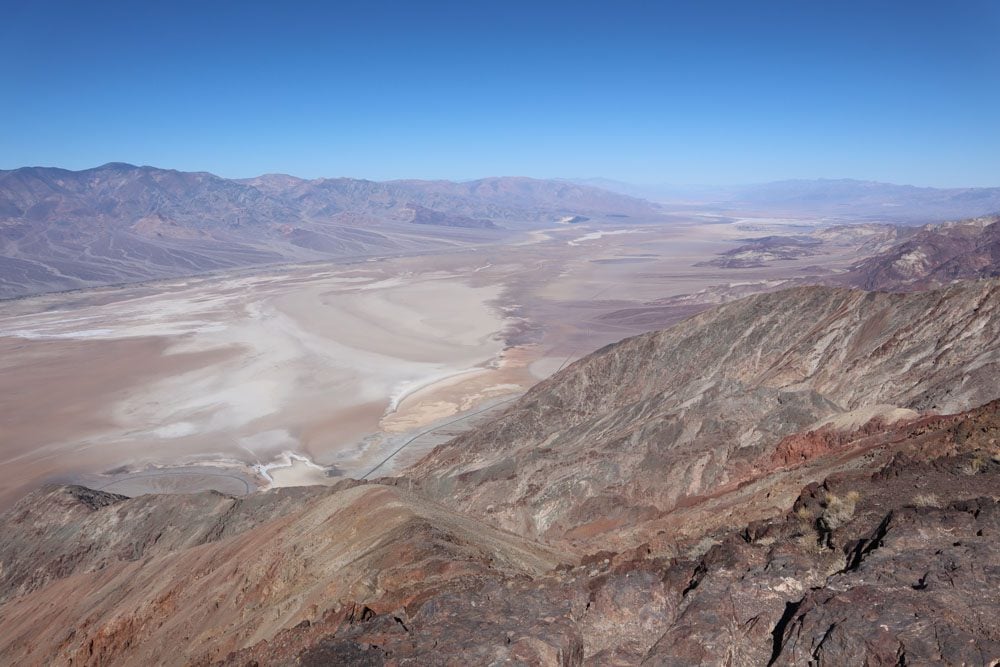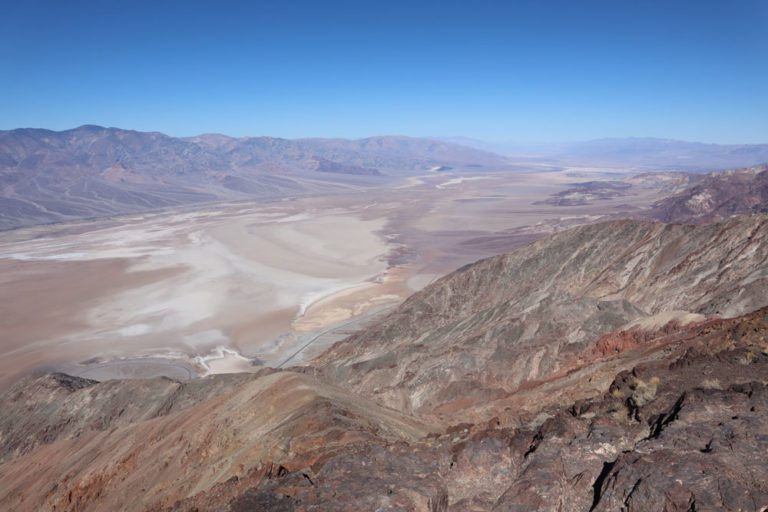 The Landscape
A spectacular desert where nearly all colors of the rainbow can be seen on deeply eroded canyon walls, dry lakes, and sand dunes. Don't trust the name, Death Valley is alive in so many ways.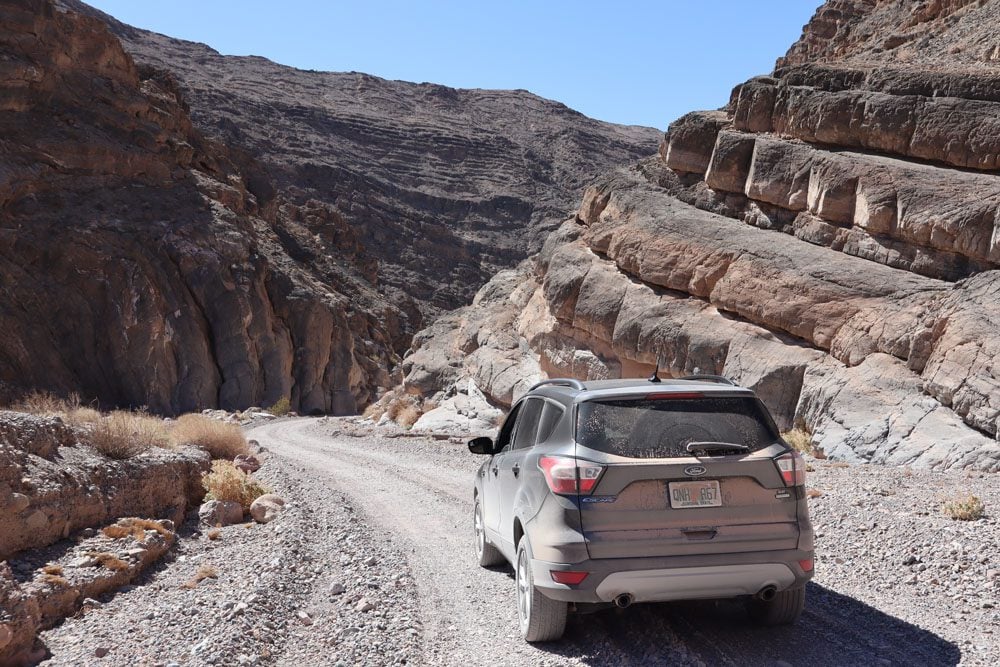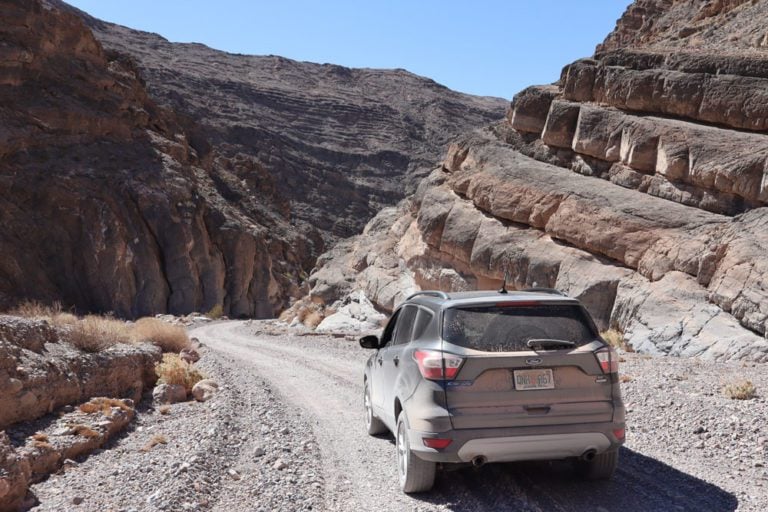 Off The Grid Vibe
It isn't rare to see no other human for several hours during the day, and nothing but millions of stars in the night sky. In Death Valley, even the smallest outing requires planning.
What's Included in this Death Valley Travel Guide?
Several sections make up this Death Valley travel guide:
Death Valley background and travel guide companion map
Additional Death Valley Resources
Check out the Death Valley travel guide collection for additional information, including one and two-day Death Valley itineraries, the best hikes, and the top things to do.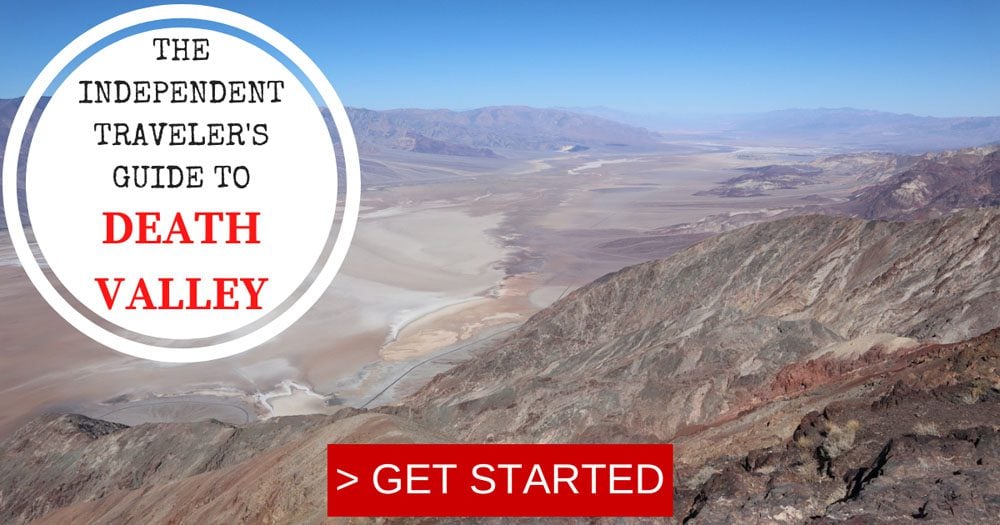 Death Valley Travel Guide Map
All places mentioned in this Death Valley travel guide can be found on this companion map. Simply click on the image to open it in Google Maps.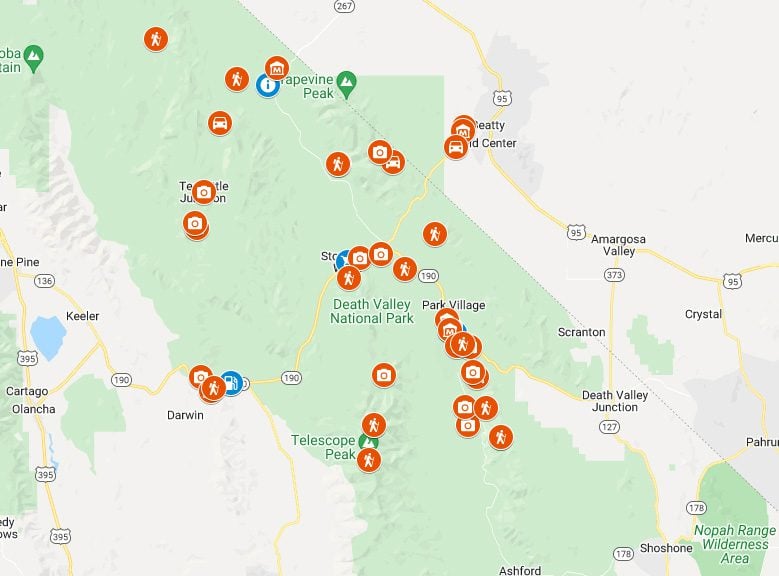 Background
Death Valley is a land of extremes in the northern Mojave Desert in California consisting of a long, narrow basin that descends below sea level and is walled on all sides by mountain ranges. It is one of the warmest places on Earth. In 1913 the highest atmospheric temperature ever recorded was 134 F (56.7 C). It is also one of the driest places on the planet, even going an entire year without a single drop of rain in 1929, 1953, and 1989. Death Valley's third extreme is elevation, with 11,325 feet (3,452 m) separating its highest point at Telescope Peak (11,043 feet | 3,366 m) and its lowest point at Badwater Basin (−282 feet | −86 m).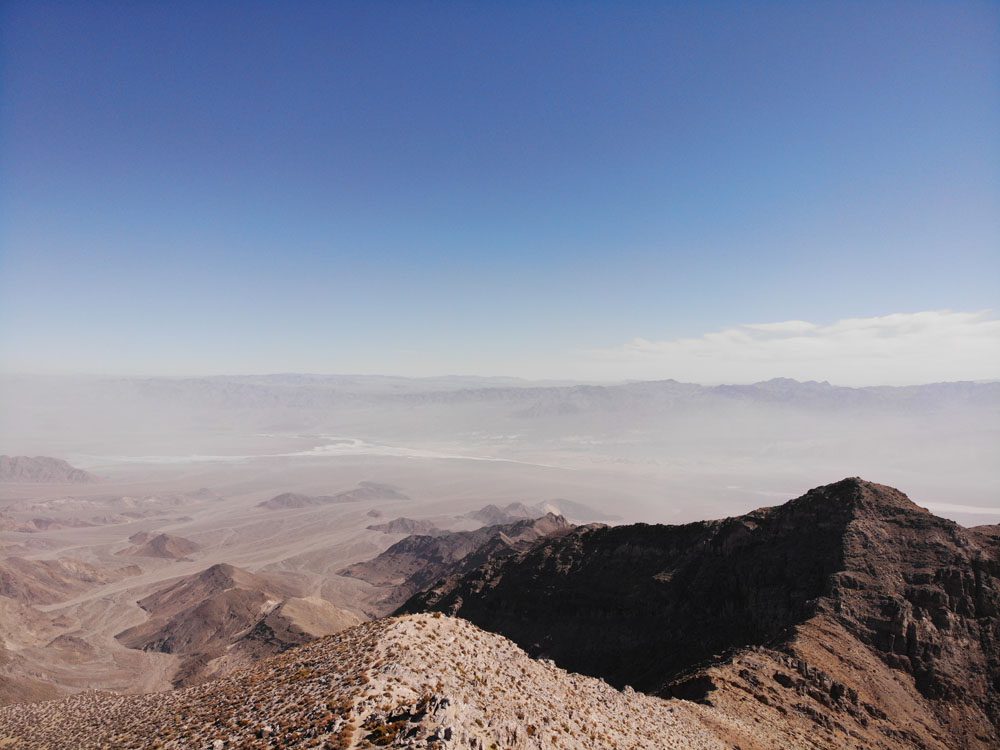 The valley's extreme warm and dry weather is attributed to its position. Being "trapped" by mountains on all sides and separated from the Pacific Ocean by four mountain ranges, including the Sierra Nevada, means that moisture has a nearly impossible task of reaching the sky above Death Valley. By the time this cooler air does manage to reach Death Valley, most if not all of its moisture has been lost. And thanks to the clean air and sparse vegetation on the valley floor, when this air does manage to reach Death Valley, it undergoes solar heating in an almost constant cycle that sees very little relief during the cooler nights.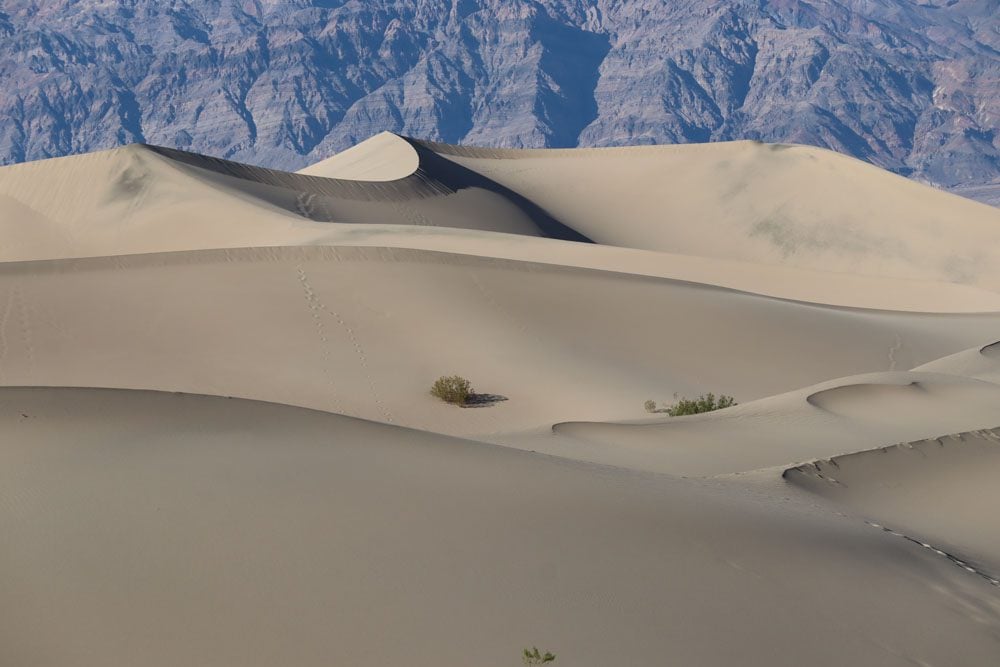 Death Valley was not always such a hostile place. At various times during the middle of the Pleistocene era which ended roughly 10,000 – 12,000 years ago, the valley was home to a large lake measuring nearly 100 miles long and 600 feet deep. When the area turned into desert, the lakebed was left with many mineral deposits. Together with other minerals found such as gold and silver, Death Valley would turn into a prime mining area in later years.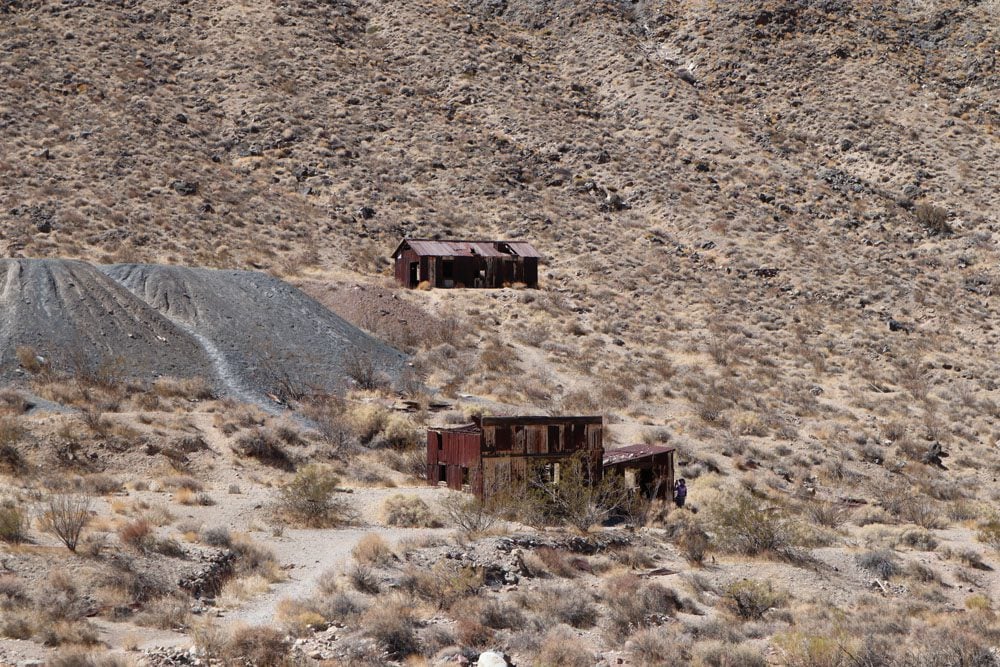 Even after the lake's disappearance, humans have lived in and around the valley for over 1,000 years. Various Shoshone Native American tribes, including the present-day Timbisha tribe, spent the winters around the valley's springs and the hot summers in the cooler high grounds. Death Valley received its current name when during the California Gold Rush of the mid-19th century, several prospectors died while attempting to shortcut their way through the inhospitable valley.
In 1933, President Hoover designated the area as a National Monument and in 1994, Death Valley National Park was inaugurated. With an area of 3,000 sq mi (7,800 km2), it is the largest U.S national park outside Alaska.