Season's greetings to you all and to a great 2016! Ten years of dreaming and three months of traveling, have finally brought me to Tahiti, in French Polynesia. Dreams do come true, you just have to make them happen! Tahiti… just saying that name evokes flashes of lush mountains, black sand and exotic looking people. French Polynesia is the last island group I'll visit on this journey across the South Pacific Islands, after Vanuatu, Samoa, American Samoa and the Cook Islands. I'll be spending the next three months exploring what just might be the most beautiful part of our little planet. In this update from the South Pacific Islands, we'll visit the island of Tahiti and see how a random chain of events led me to once again, believe in miracles!
Heading off to French Polynesia? In-depth island guides to all 5 archipelagos await you, including sample itineraries and essential travel tips & tricks.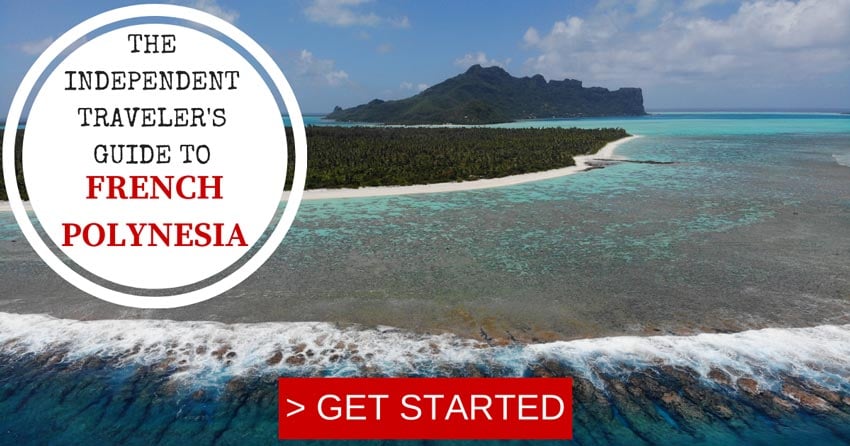 It all started with a near-empty Air Tahiti evening flight from the Cook Islands, to the capital of French Polynesia, Papeete. The giant mountains radiating in the sunset were a good sign, and the ukulele tunes that greeted me as I entered the terminal left no room for confusion – this is Tahiti.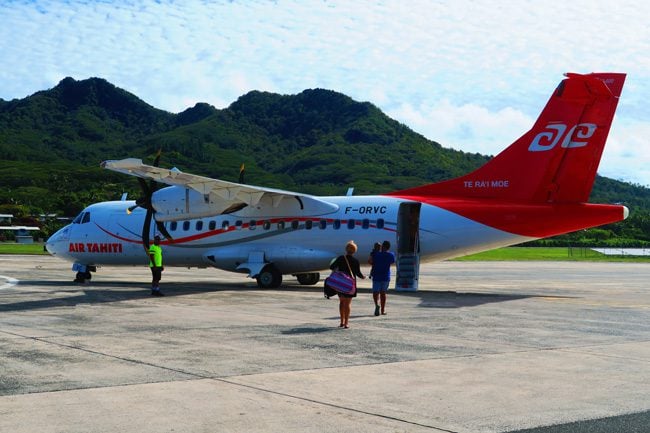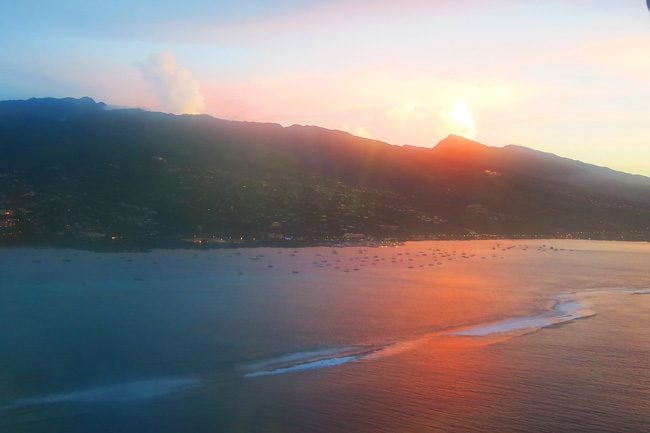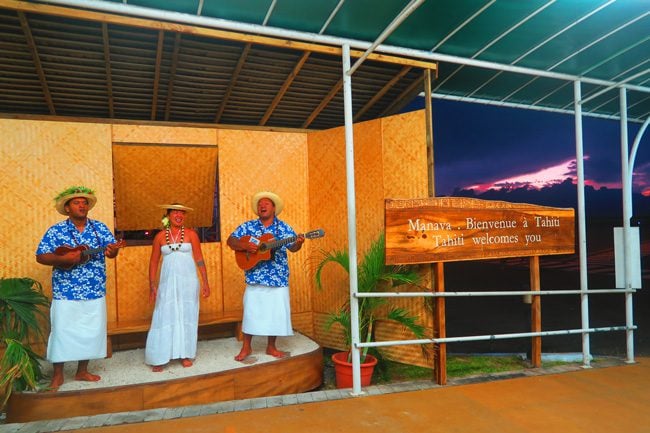 Do you believe in Miracles?
To set up the Christmas miracle story, I need to take you back 5 months ago, when I started planning this complicated trip. And one more thing. In my case, it will be a Hanukkah miracle. December is a month when both Jews and Christians celebrate a period of miracles. Hanukkah celebrates the miracle of light when a small can of oil managed to light the massive lamp (Menora) in the Temple for eight full days. Christmas or Hanukkah, let's get to the story. Back in August, I was freaking out that during the Christmas season, I'll have a hard time finding a place to stay in Tahiti. In French Polynesia, if you're stuck without a place to stay, the $2,000 per night over-the-water bungalow might be your only option. So I booked a nice apartment for 9 nights, with a great view and with plenty of time to cancel for free.
During my voyage, I periodically searched for alternatives without much success. So despite betting on canceling this reservation, I ended up just going with it. Maybe it's fate? Fast forward to the Tahiti airport, I'm greeted by my driver with the customary Tiare flower necklace and the following question: "are you sure you want to stay at the place you've booked? It's really far up the hill and I've never actually been up there…". I thought it can be that bad. All I have to do is walk down the hill and catch a bus to town. She must be exaggerating. Well… she wasn't. The van was struggling up the hill and she was giving me names of hotels I should look into. I really screwed this one up. How did I not notice that this place is at the top of a very high hill?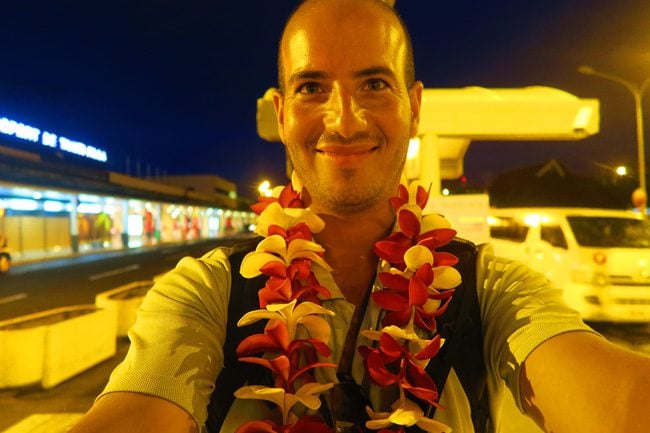 How am I going to get out of this mess?
When we finally got up to Residence Aito, I was both surprised and stressed. There's everything you need for a comfortable stay, including a hilltop swimming pool, television with only French channels, and this amazing view of the island of Moorea. During that night, I went online looking at car rental options, when the infamous French Polynesia prices hit me with a massive blow to the face (we're talking $80-100 per day…). "What can I do?" There are no good options but to politely ask to be relieved of my 9-night reservation tomorrow, and regroup.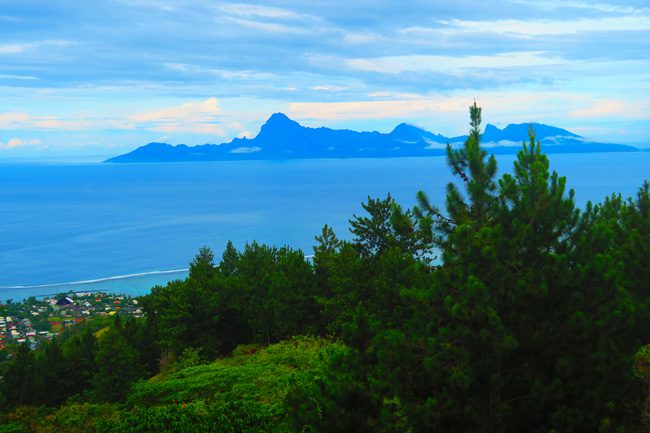 The next morning, I spoke to the boss with the best of my French linguistic abilities (it's actually not that bad). Once he understood the problem, he said he needs to call the 'big boss', nicknamed 'Le Patron'. Someone with the nickname 'Le Patron' is not a person you want to mess with. I'm really in trouble now. I asked if the boss could explain to 'Le Patron' the issue but he refused, saying I'll have to take care of my own mess. Le Patron gets on the phone, his name is Prosper and he speaks solid English. After starting to explain my situation, I felt the instinct to ask him "Prosper, do you speak Hebrew by any chance?".
It turns out Prosper is a Franco-Israeli who's been living in Tahiti for 20 years. Being an Israeli 16,000 km away from home, this is a huge coincidence. But get this, Prosper also just happens to own a very nice hotel in the center of town and after pulling a few strings transferred me there for the rest of my stay and for the same price. The Sarah Nui Hotel was quite an upgrade: fast internet, a fridge, and air conditioning – what else do you need? But that's not where this miracle ends.
In my trip research, I learned of a tiny Jewish community in Tahiti and I tried to contact them without success. And here's one of them, on the phone with me! Not only did Prosper solve my accommodation problem, he also invited me for Shabbat service at the local synagogue and to his home for dinner. It was a 4 hour, 4-course dinner – complete with freshly baked challah, lots of alcohol and endless philosophical discussions about this week's Torah chapter. So far away from Israel, the tiny Jewish community of Tahiti is really something to marvel at.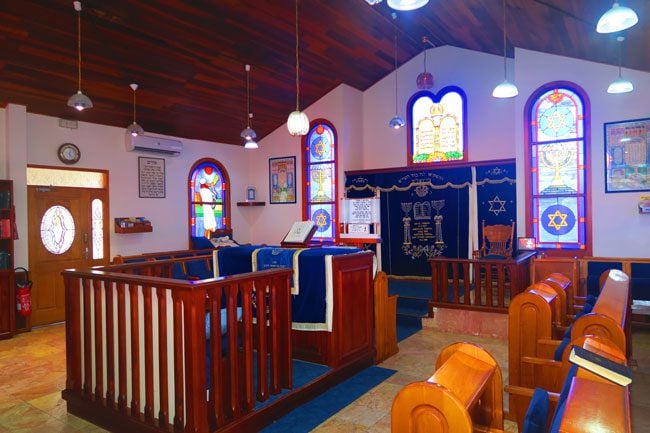 So do you believe in miracles now? How random was this chain of events?
French Polynesia 101
French Polynesia has been the stuff dreams are made of ever since Europeans landed here some 250 years ago. Its 118 islands and atolls cover an area roughly the size of Western Europe, but with a population of only 250,000 lucky folks. It's made up of 5 distinct archipelagos: the Society Islands – known for Tahiti & Bora Bora, the Tuamotus – where some of the world's largest atolls can be found, the Marquesas Islands – with towering mountains & villages where time sits still, the remote Austral Islands and the even further remote Gambier Islands.
One of the last places on earth to be settled by humans, Southeast Asians landed with massive outrigger canoes in the Marquesas Islands at around 200 BC. It is not exactly clear to this day where these Polynesians arrived from. Some say from Indonesia, others say from Taiwan or even the Philippines. Whatever the case may be, Tahitians as they are commonly known, are simply beautiful – exactly like the legends have it. Young men sport a natural-looking '6 pack', while young women glow in the sun, with their milk chocolate skin and that famous Gardenia flower in their hair. Apparently, the side of the head where the flower is looming determines whether a Tahitian woman is taken or not.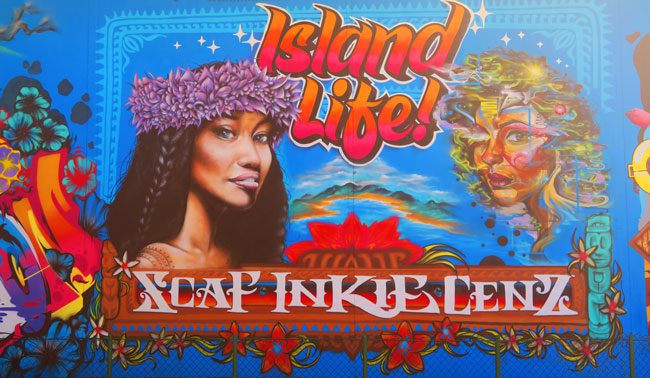 Stories of exotic women and land that provides an endless supply of food – are what kept the Europeans coming back to Tahiti. It first started with the British, but the French soon followed. They didn't give up until taking full control of the archipelagos in 1880 and ending the Pomare Dynasty. Even the sailors of the HMS Bounty (yes, the ones from Mutiny On The Bounty) made a U-turn back to Tahiti. Who could blame them? This kind of beauty was thought to only exist in fantasy.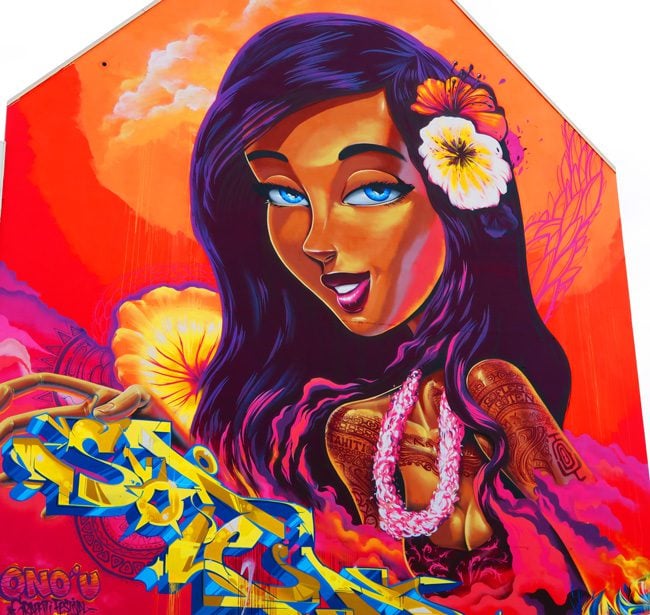 Today, French Polynesia is a French Overseas Collectivity and though there's some movement towards independence, it seems that things will stay as they are. The French influence is everywhere, for better and for worst. What's funny is that even many Tahitians speak French amongst themselves.
Over 70% of the population lives in Tahiti, the largest island, with many in the capital – Papeete. Tahiti is actually two islands joined together at the hip: Tahiti Nui & the smaller Tahiti Iti. The island's scenery is taken straight out of a fairytale. Enormously lush mountains that are actually part of a massive crater – rise out of the sea, leaving just enough space for the lucky few who live here. The highest peak is at 2,200m and that means lots of waterfalls plummeting from mountain tops into lagoons and rivers, that spill out to black sand beaches.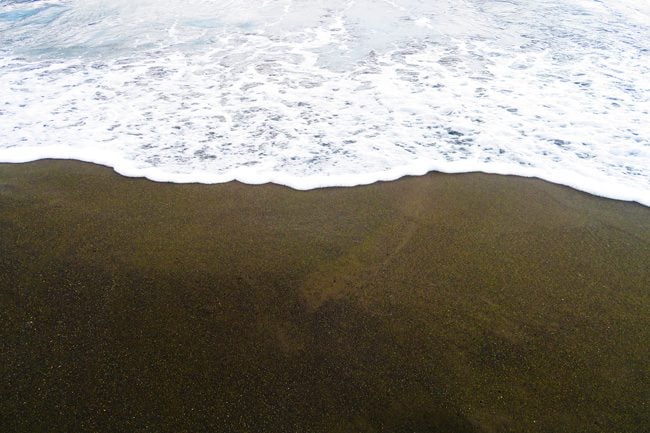 Exploring Papeete
Having moved to the Sarah Nui Hotel, exploring Papeete was a breeze. Papeete looks like a town somewhere in the south of France, complete with highways, traffic jams, roundabouts, that signature French police siren sound and even those 5 story seaside apartments. Despite the congestion, it's actually quite refreshing to be in a proper city after 3 months on the road and the waterfront is awesome in the evening hours.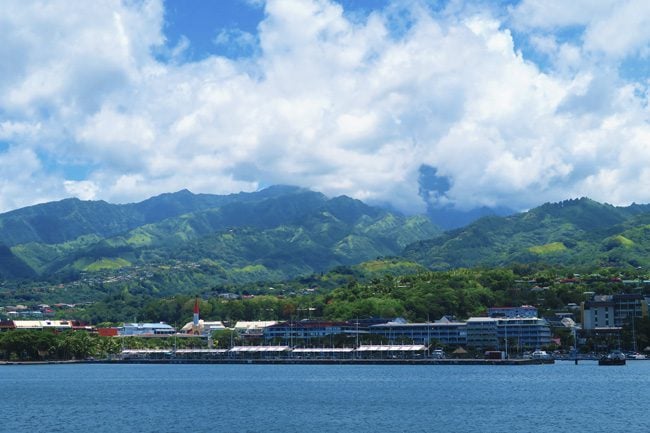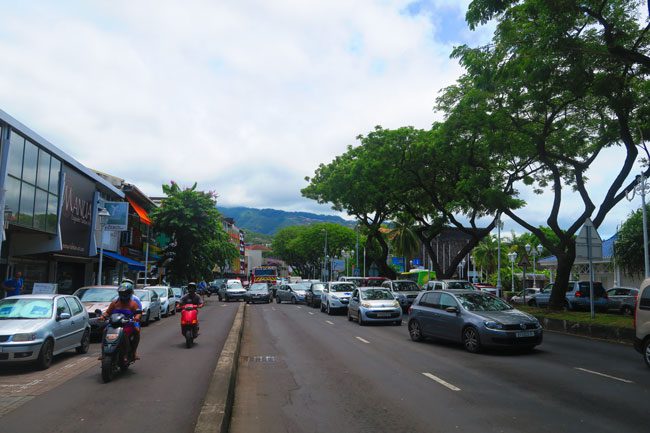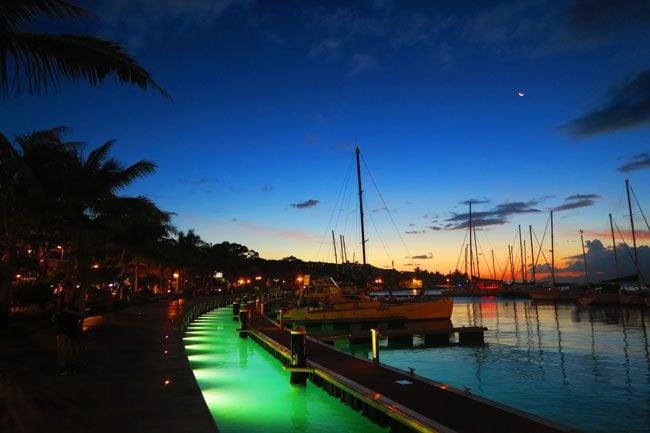 The best way to start a visit is at the local market and it so happens that Papeete has one of the best markets in the South Pacific. I was impressed with the Punanga Nui market in the Cook Islands, but let's see what Papeete has to offer. What could resemble a Parisian covered market, the Marché de Papeete is certainly more colorful. It all starts with some ukulele tunes and an ice-cold coconut at the entrance to get the electrolytes going.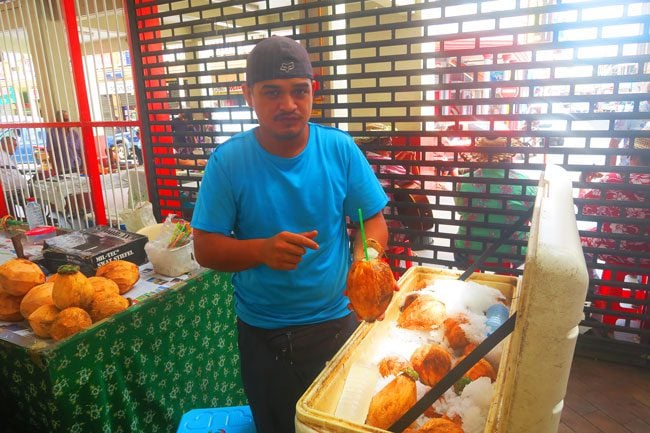 The lower floor is the most interesting one, with stall after stall of local produce. You can find here everything: tropical fruits, fresh tuna, takeaway dishes, beach bags and the famous Monoi oils that are made in Tahiti.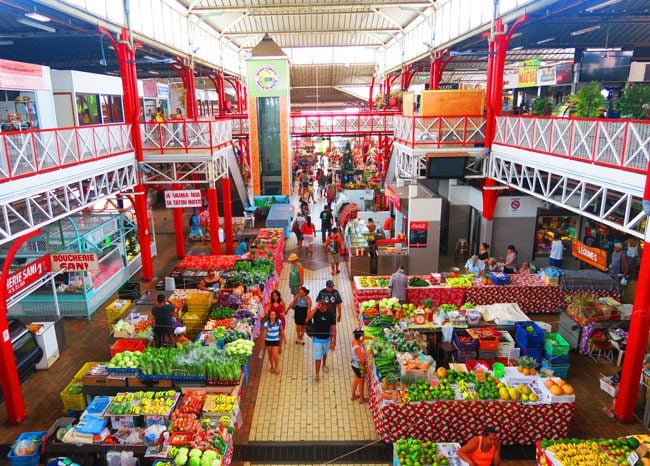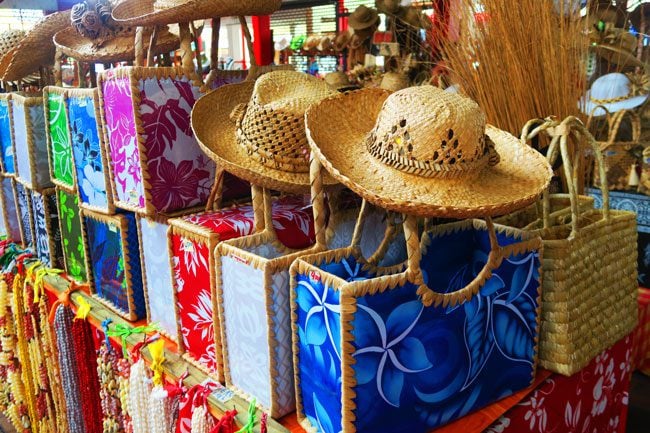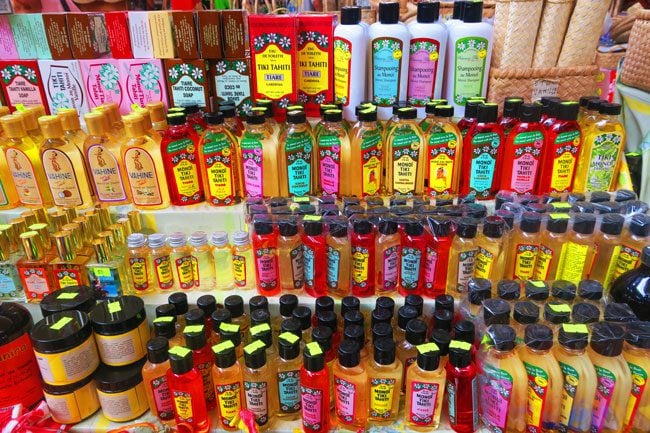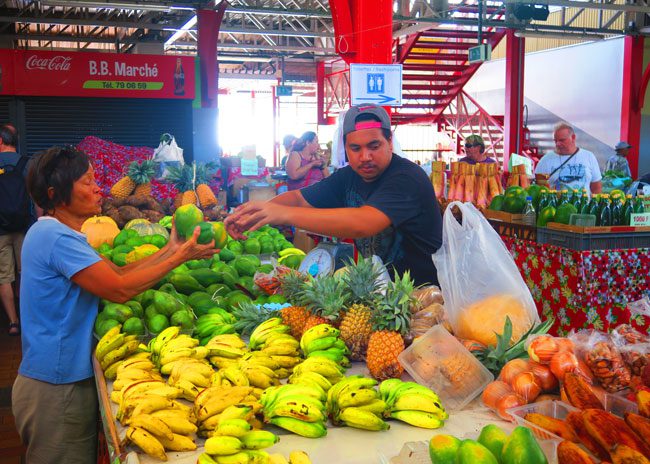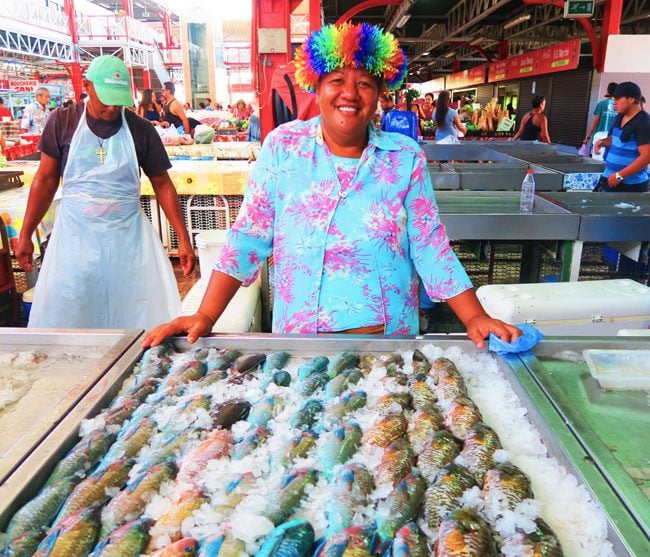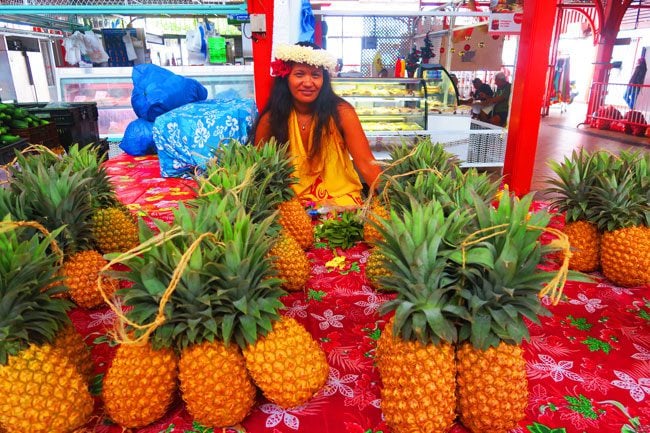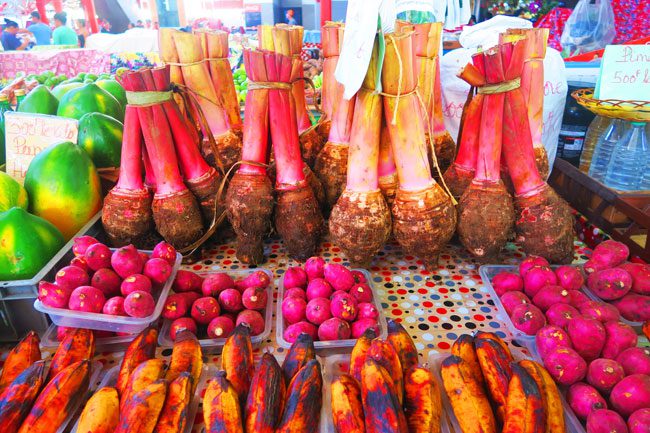 Christmas was definitely felt in the air but here's one thing Tahitians can keep dreaming about: a white Christmas!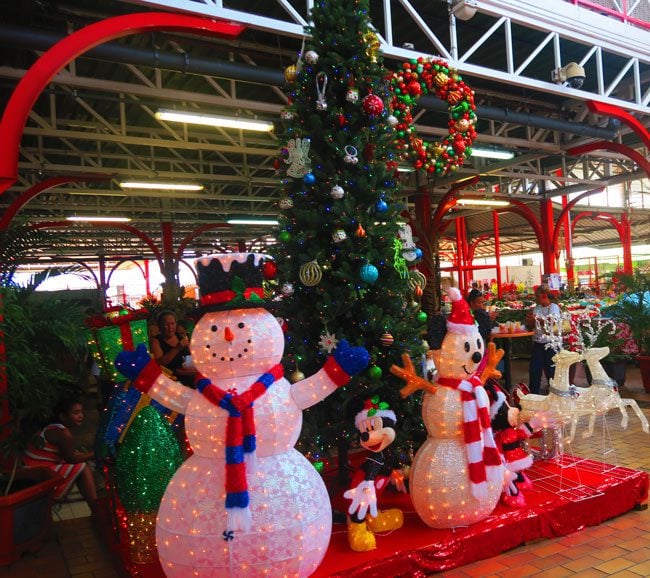 After all that walking, I was happy to find someone selling sugarcane juice. I first tasted this a long time ago in Fiji, so I was super excited to see this on tap at the Papeete Market. So refreshing! Here's what it looks and sounds like inside the Papeete Market.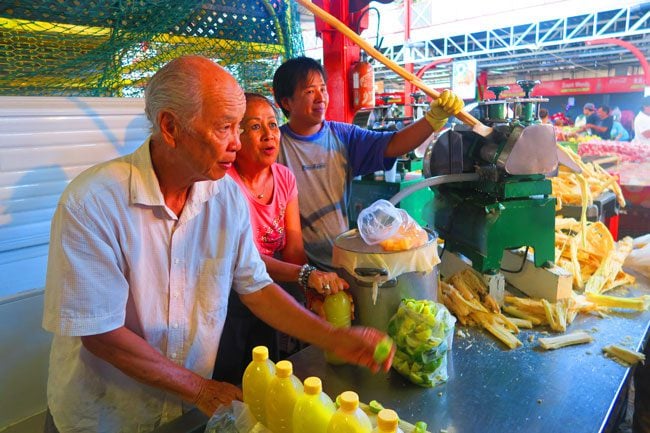 Outside the market, the selling doesn't stop. Families camp out on the street, meticulously weaving tropical flowers into necklaces for the entire day. It's not only the tourists that wear these and they smell soooo good!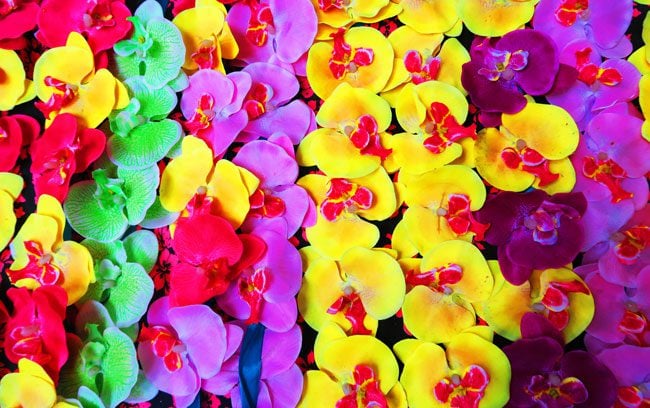 My walking tour of Papeete continued with checking out a few of the old colonial buildings and churches that are still around. Both the mayor of Papeete and the President of French Polynesia certainly seem to have luck, as their offices look very impressive.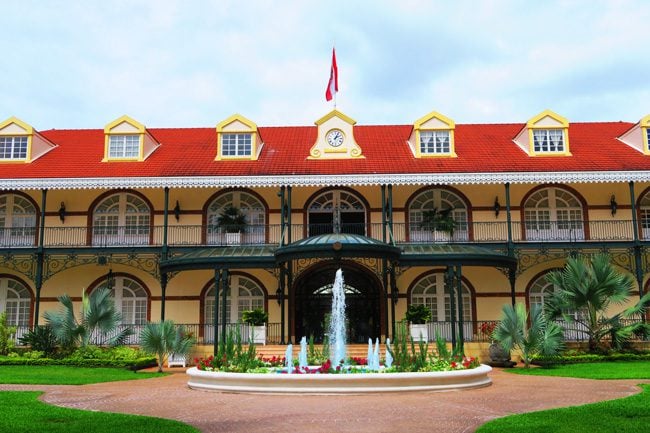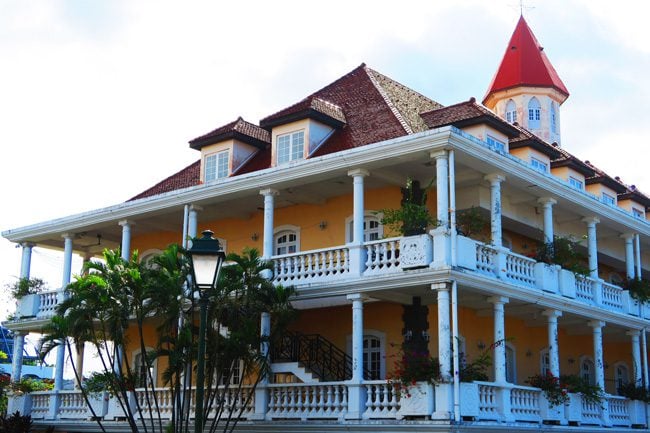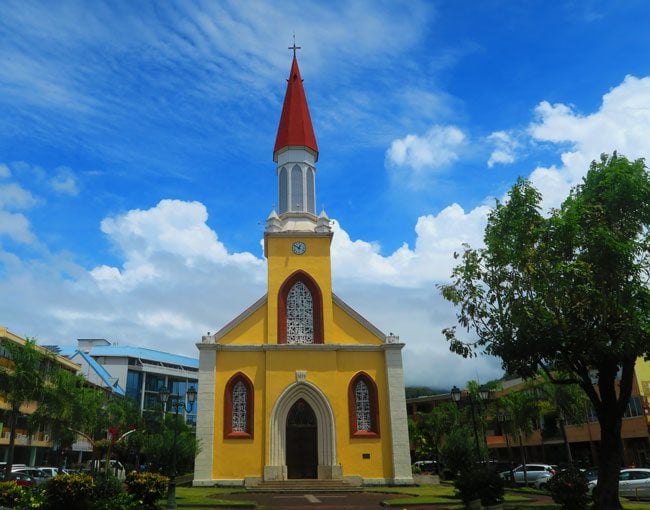 Towards the end of this busy day, I paid a visit to the Tahiti Pearl Museum. The museum is the work of Robert Wan, who has put the Tahitian pearl industry on the global map. It was interesting to learn how oysters are made to bear these magnificent gems and see some of the finished products.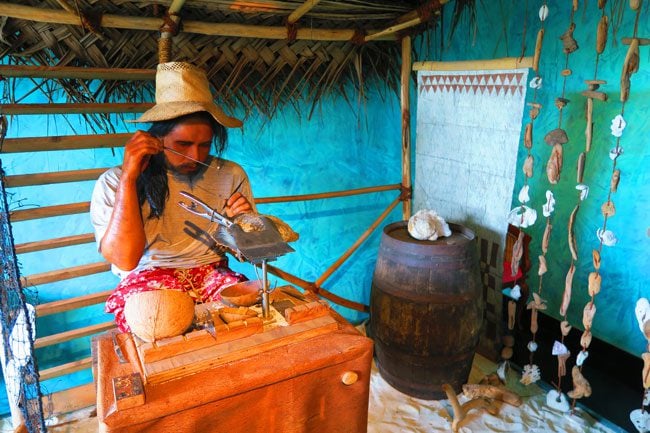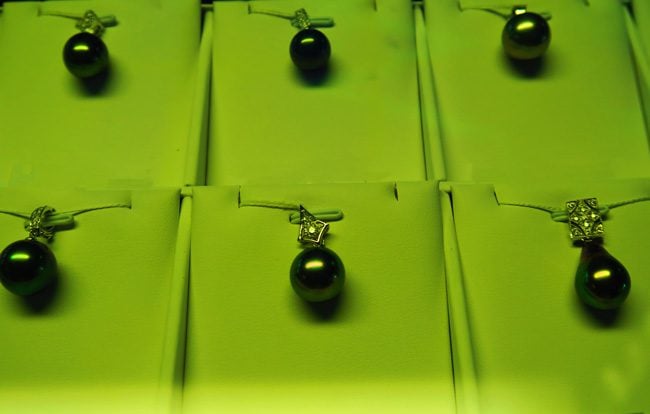 Papeete for foodies
As for the night… that's when food lovers really fall in love with Papeete. Just before the sun begins to set, dozens of food trucks (more like vans) park in the middle of Place Vaiete. They are called roulottes and locals just can't seem to get enough of them. You can choose from crepes to Chinese food, pizza, Tahitian delicacies and lots more. Portions are huge and no matter what you order, you'll get it with a basket filled with baguette! But let me tell you, it ain't the same baguette as in France – but kudos for at least having these here.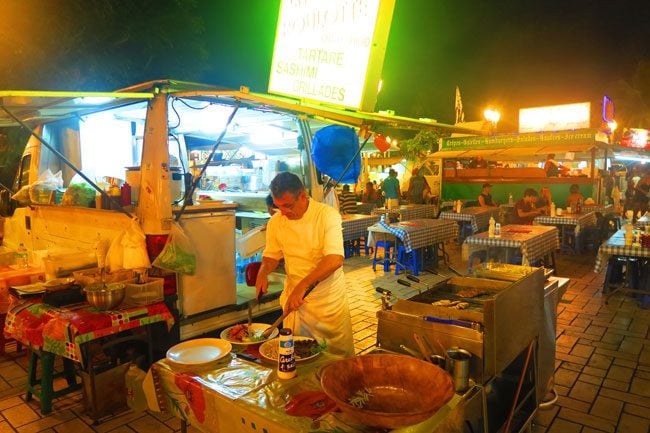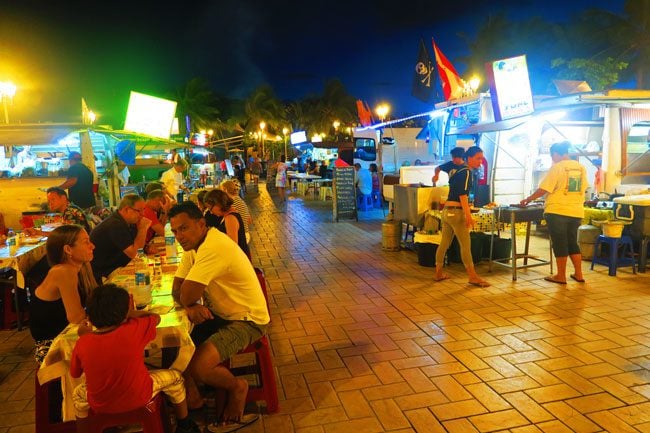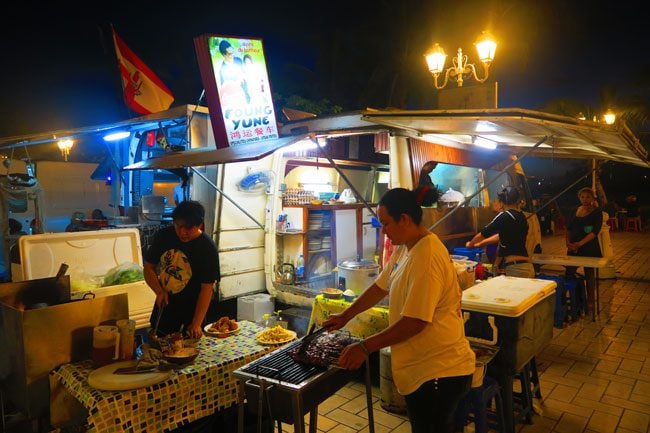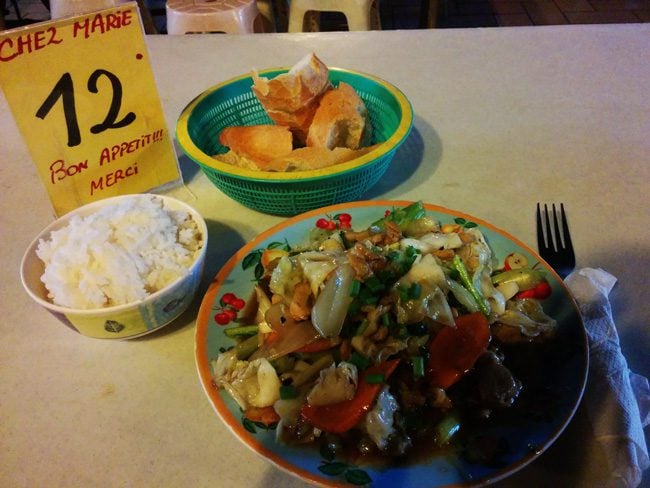 My favorite is the famous Tahitian salad – slices of fresh raw tuna, some lime, vegetables and coconut sauce. Definitely a must!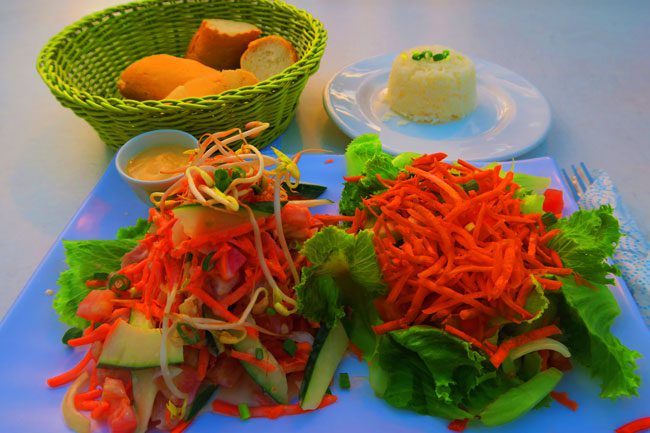 That tune sounds familiar!
The following morning was Sunday, and if you've followed my visit to the South Pacific Islands so far, you know that I love checking out the local Sunday service. I headed to the local Protestant Church, the Temple de Paofai, known for its loud signing.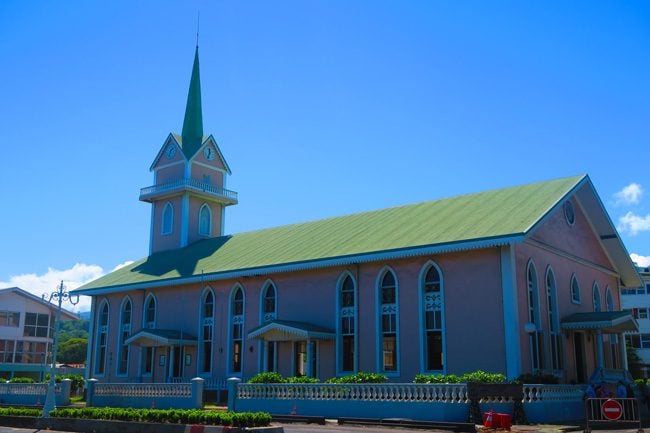 As always, locals wear their Sunday best and sing at the top of their lungs for a good hour or so. In this particular church, there were several choirs within the congregation. Every once in a while, a different choir would start singing and it's always so beautiful. I guess I've been to church too many times during this visit because I was starting to recognize the songs. Here's what it looks and sounds like at the Paofai Temple on Sunday.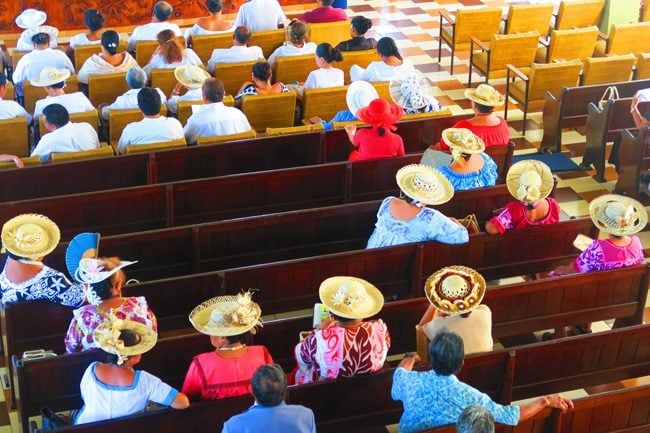 With Sunday service complete, I crossed the street to the lovely Paofai Gardens. These gardens are a prime chillout spot during the day and a prime jogging spot when the sun begins to set. Everybody in Papeete seems to be jogging, which would explain the abundance of '6-packs'.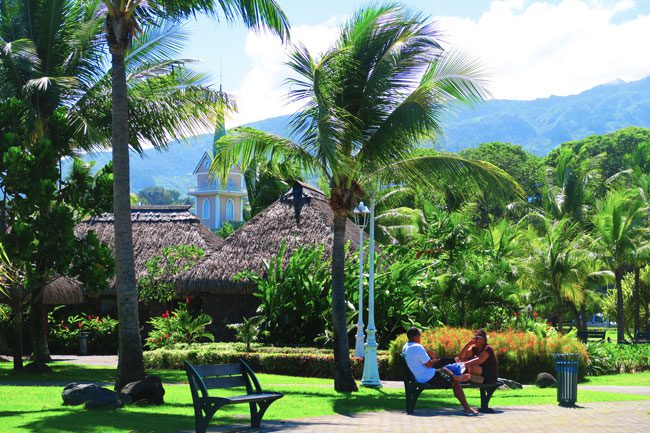 Ready to go on a road trip in Tahiti & circle the island? Click over to the next page!
Road trip in Tahiti
With three days left in Tahiti, it was time to get out of town. I rented an outrageously expensive 'economy car' and hit the road to circle the island. I started out with the west and south coasts which are packed with more attractions. My first stop was at Plage Vaiava, a favorite with locals and surprisingly without black sand. The water was super clear and there were even a few topless bathers, something that was definitely a 'no no' in the islands I previously visited.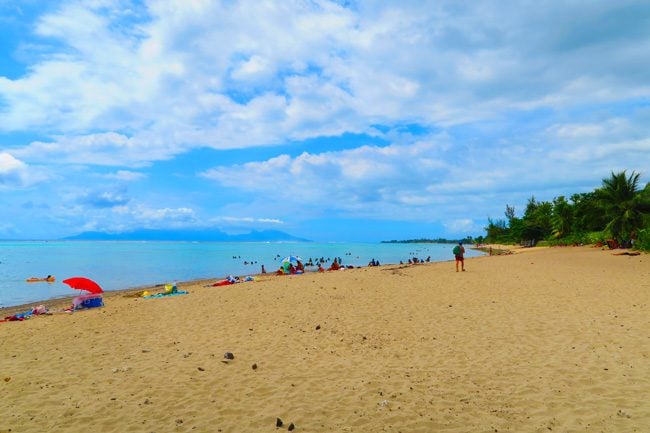 After a quick swim at the beach, I visited a couple of very sacred spots called marae. I've seen those before in the Cook Islands but they were never as big as the ones in Tahiti. A marae was the spiritual center of the Polynesians. It is where religious, ceremonial and social activities were carried out. They are still highly spiritual places and in most cases, it is forbidden to walk on the marae's remains.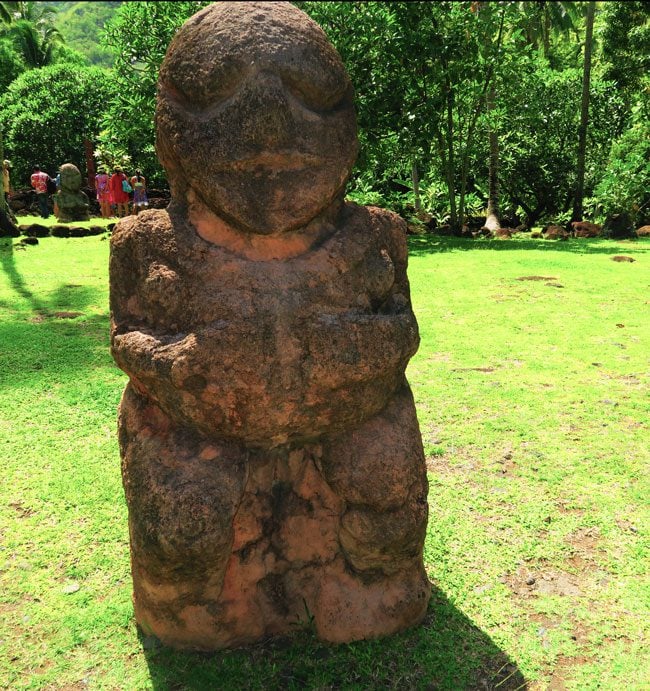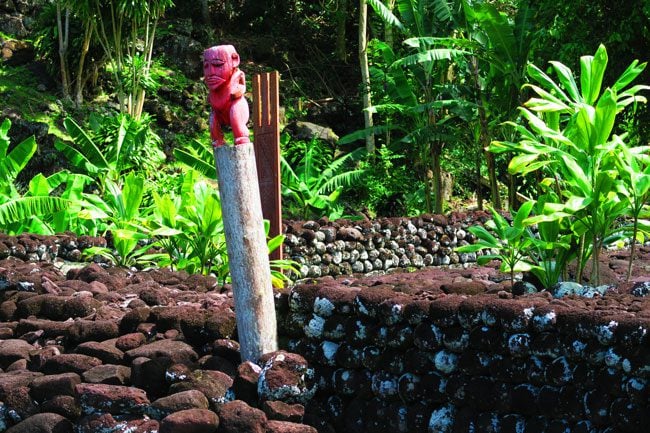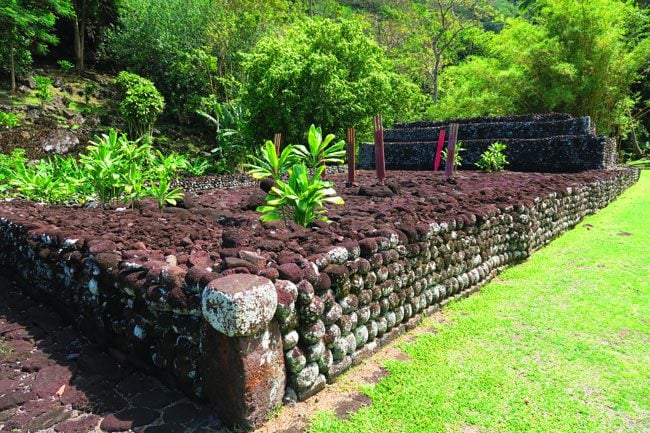 A few miles down the road and finally, a black sand beach! I've been waiting to see one ever since driving on the black sand plains of the Mount Yasur Volcano in Vanuatu. Papara Beach is one of the widest in Tahiti, and the clear blue water splashing against the dark volcanic sand provides a unique contrast that I've never seen before.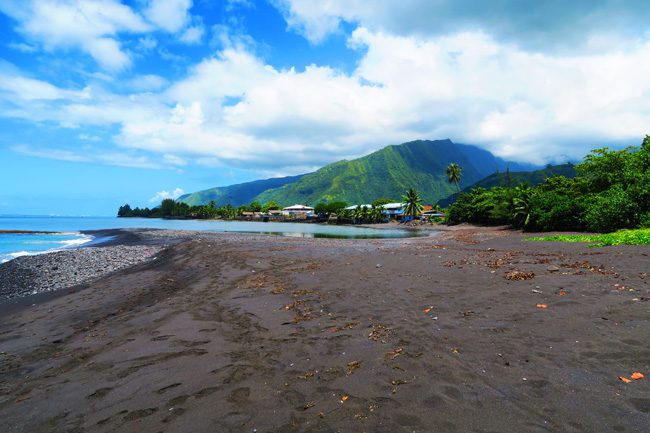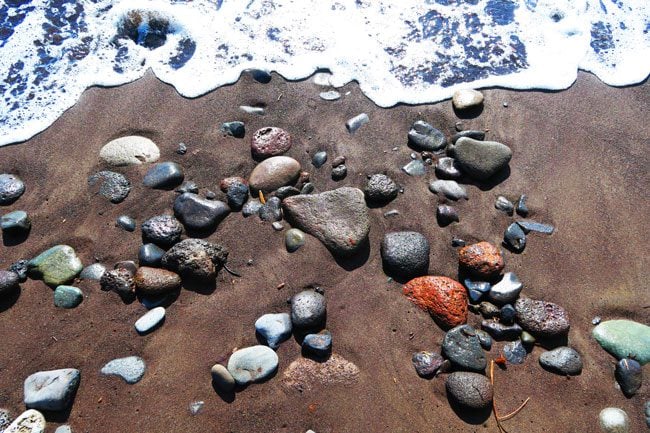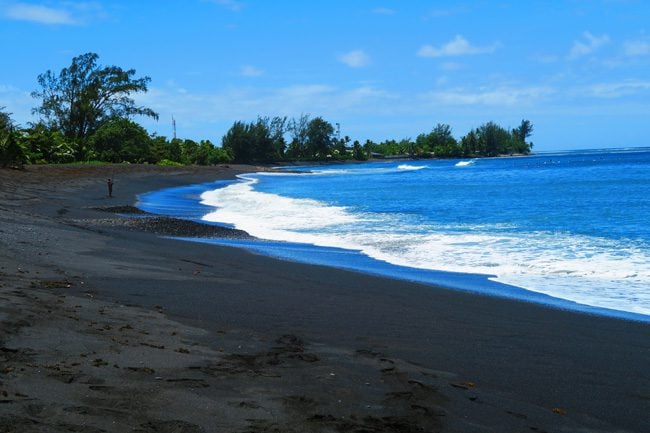 From Papara Beach, the coastal road sweeps between sleepy villages, coconut plantations and churches that haven't changed much since the days of the London missionaries.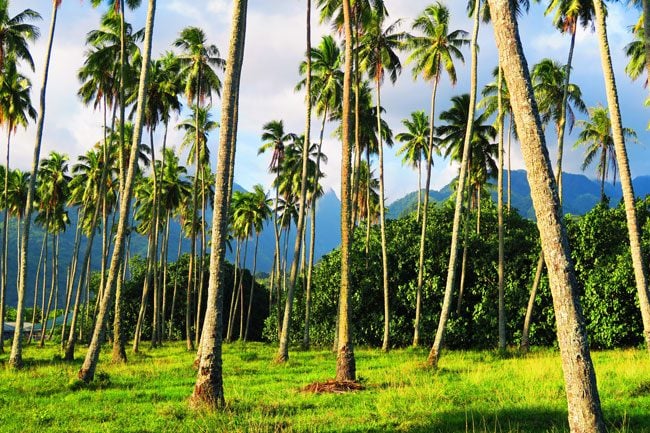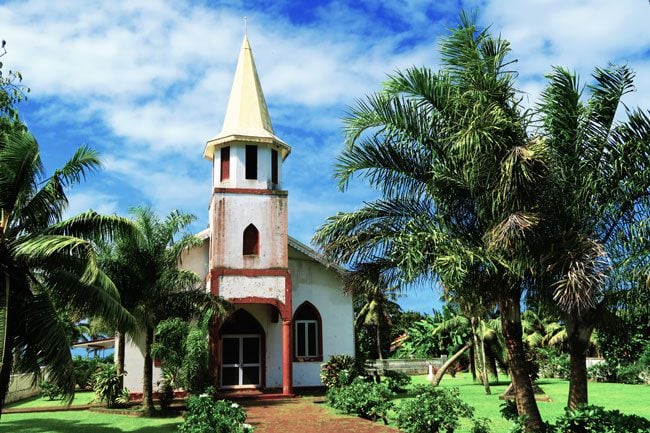 Tropical garden hopping
The next stop was at the Vaipahi Gardens, home to beautifully maintained tropical gardens and a fresh waterfall. There are a few hiking trails up the mountains for panoramic views of the coast.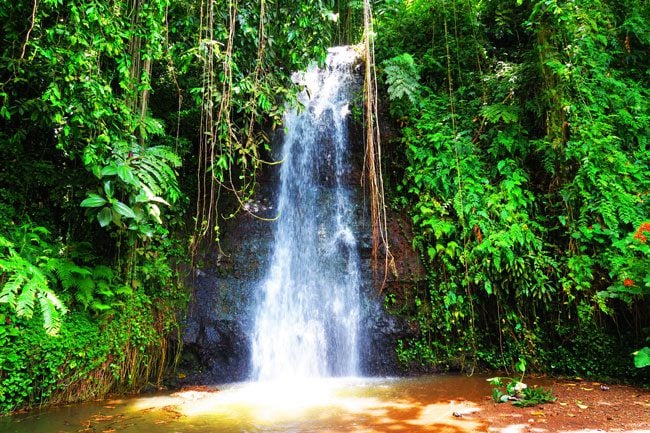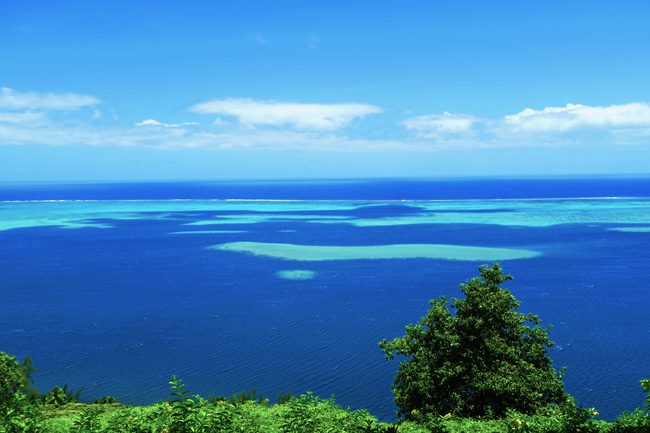 Getting back down involves maneuvering in and out of freshwater streams that are surrounded by unique mape trees (Tahitian Chestnut Tree). The exposed wave-like roots of these trees provide a fairy tale setting and it's just you and the mosquitoes out here.
I was so impressed with the gardens, that I decided to pull over to the Jardins Botaniques. The gardens are the work of American, Harrison Smith, who set up these gorgeous tropical gardens back in 1919. Smith introduced a few successful plant species to Tahiti like the Pomelo, but unfortunately also introduced a few which proved to be disastrous. In any case, we'll forgive him for his mistakes and check out the gardens.
Before we embark on our botanical journey, let's pay a visit to the resident Galapagos Turtles. The female is thought to be 150 years old and the male is approaching 200! His signs of aging are showing, as he's extra slow and blind. Age doesn't seem to suppress their appetite – these fellas enjoy a constant supply of fresh vegetables, which can be fed by visitors – as you can see. These creatures are simply incredible!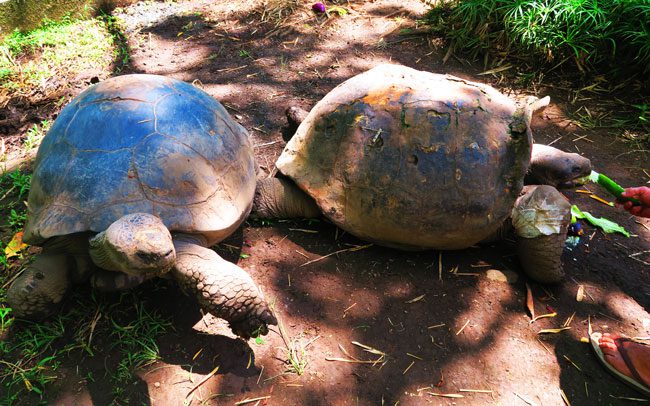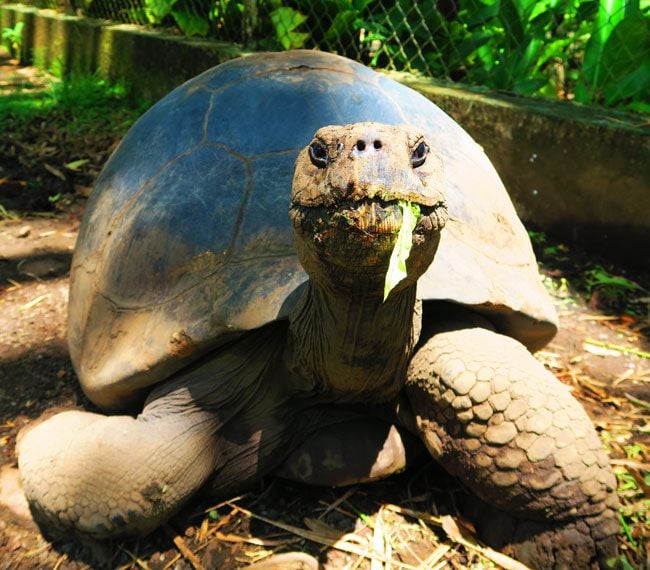 Back to the gardens now. We'll start off with a walk through the mape forest – remember, it's those trees with incredibly wavy roots. Did I just step onto the set of a Harry Potter or Lord Of The Rings sequel?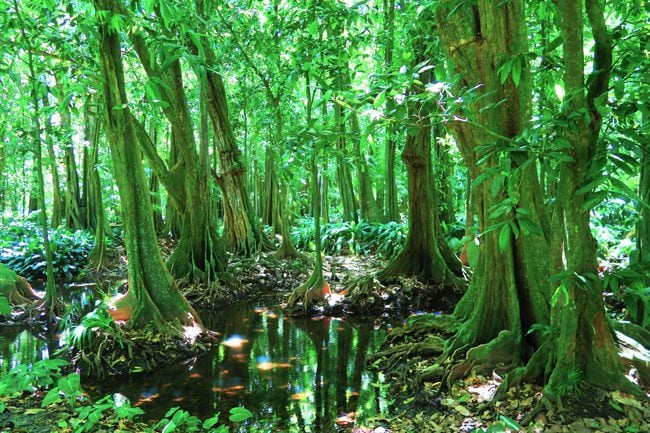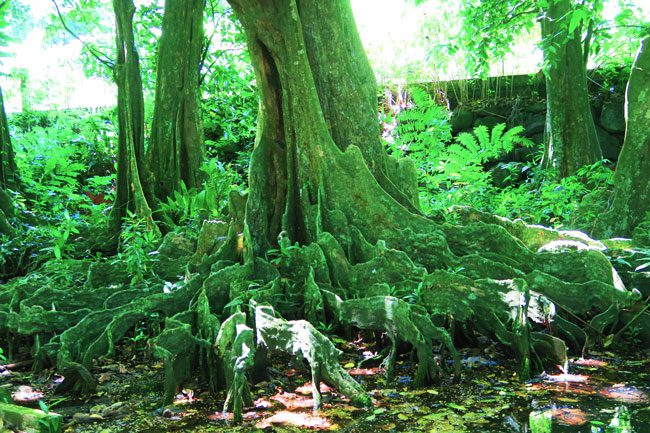 Aside from the chestnut trees, the gardens are also home to giant lotuses, tranquil lily ponds and of course, endless rows of coconuts. It's so peaceful here that I could definitely kill a few hours, but it's time to get moving.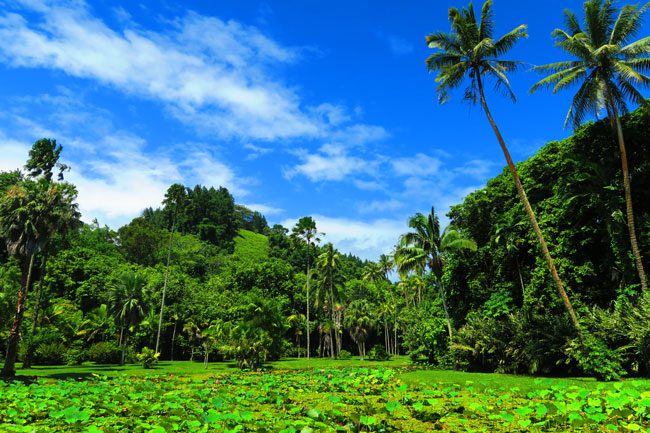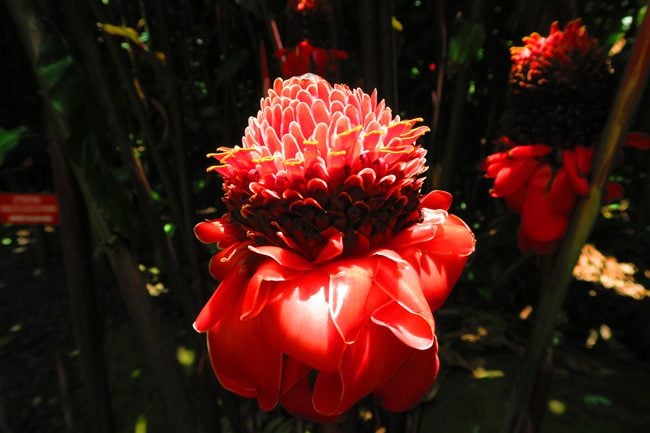 Crossing over to Tahiti Iti
The coastal road took me over to Tahiti Iti, the little sister of Tahiti Nui. This is the island where the French first landed and it couldn't be more different than Tahiti Nui. Here, things move at a much slower pace. It reminded me of rural life back on Savaii Island – Samoa's 'wild' island, with the mountains and the sea and not much else.
If you've embarked on road trips in France, you'll probably recall the French love for mountainous roads up to panoramic views. Tahiti is no different in that respect, so I put the car in low gear and drove up to the 'belvedere point' of Plateau de Taravao. From here, you can really appreciate the rugged beauty of Tahiti.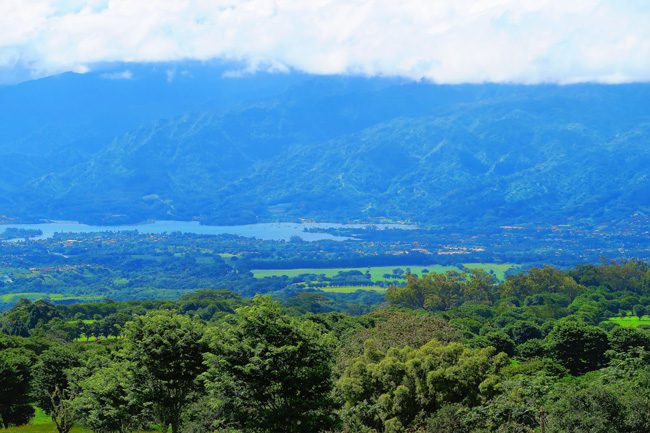 From the belvedere, I descended to the last leg of this journey. In fact, there's not much choice since the road is about to end. I passed by Maui Beach, a small sliver of white sand that attracted local villagers at a day's end. How many of you go for a dip in the ocean after a day's work? Island life has its upsides.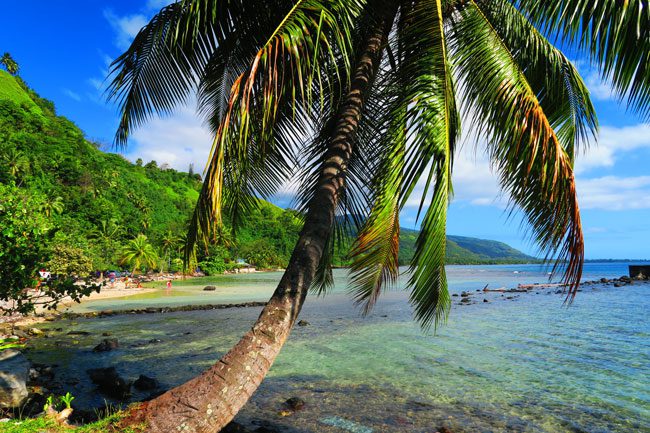 From Maui Beach, the road ends at the famed Teahupoo Beach. There's no mistaking the reason for this beach's fame – this is the surf capital of Tahiti! This calm-looking beach gets some serious waves (up to 8m!) and attracts top surfers every year for the Billabong Pro. On this particular day, there weren't any big waves and Kelly Slater was nowhere to be found.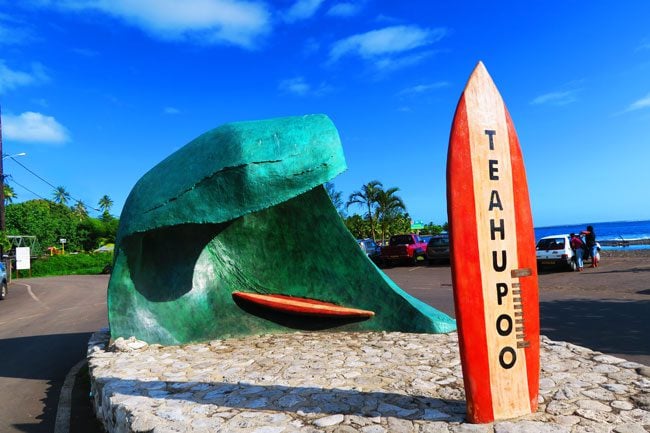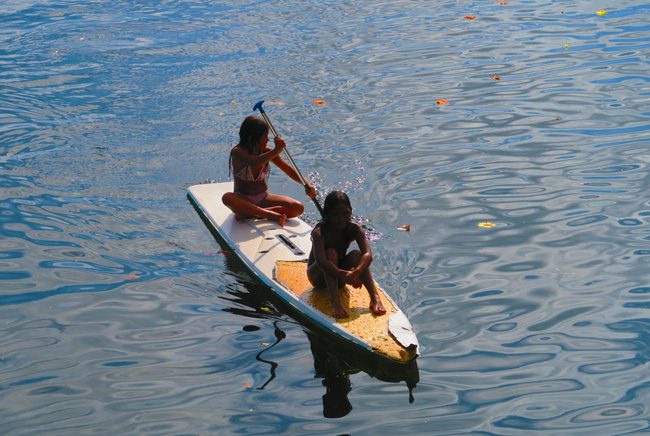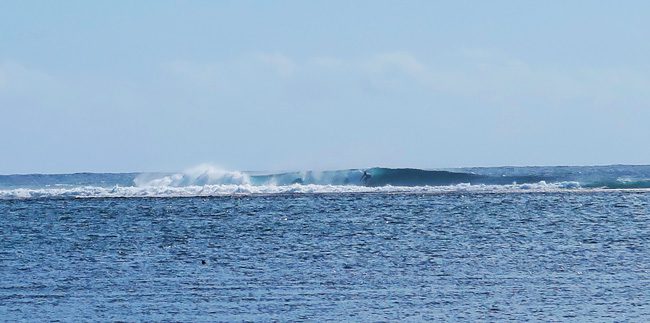 Nevertheless, the black sand beach is impressive and the lush mountains partially hidden by the towering palm trees provide a very relaxing vibe. I can totally imagine how cool it must be to stay here during the surfing competition.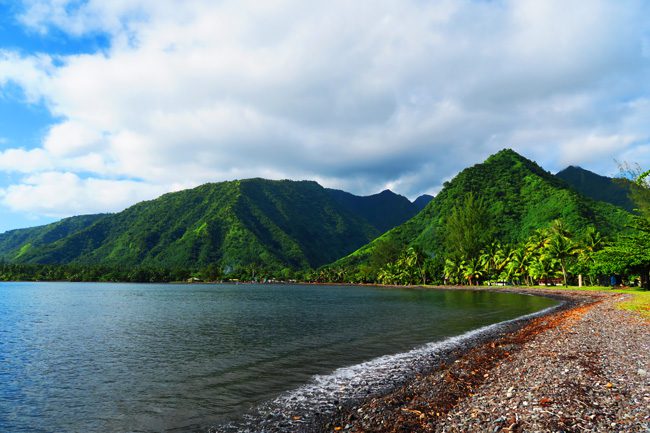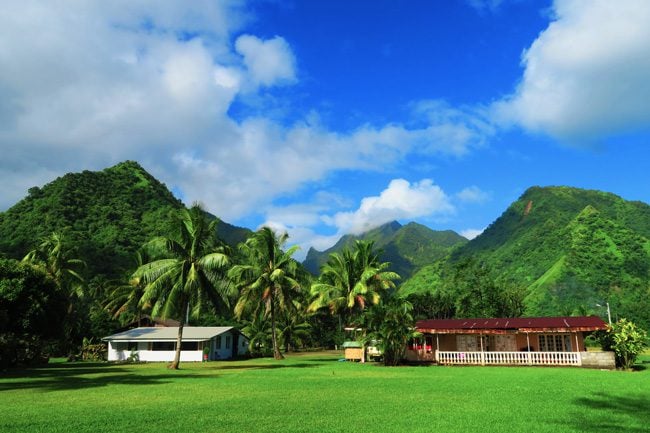 From Captain Cook to waterfalls
The following day, I checked out Tahiti's north coast – the quietest part of the island, where the mountains really squeeze the coastal road into the ocean. It reminded me of the legendary Pacific Coast Highway in California.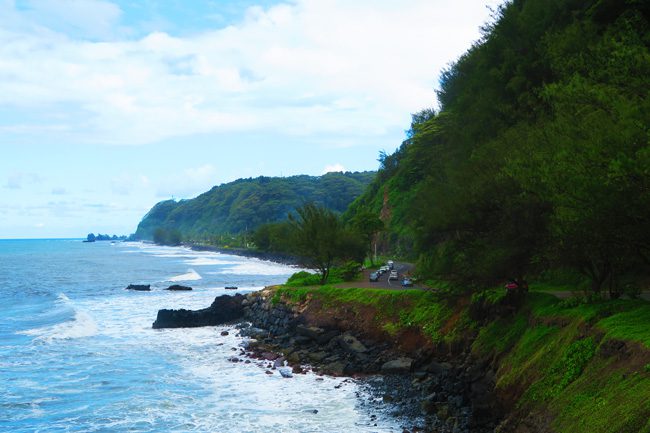 The first stop was at Point Venus in Matavai Bay, where a few major historical events took place. Here, Tahitians first made contact with Europeans and where the mutineers of the HMS Bounty made landfall. It's also where missionaries landed in 1796 and where Captain Cook parked his ship on his unsuccessful voyage to track the movement of Venus. Today, there's a cute-looking lighthouse that's popular with Tahitian petanque players as well as a beach that's popular with aspiring surfers and canoers.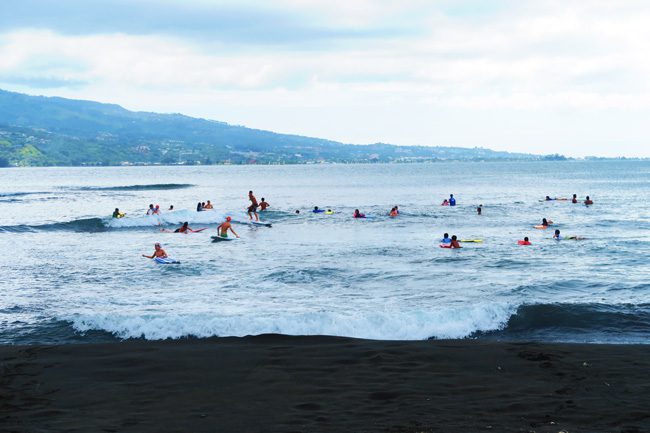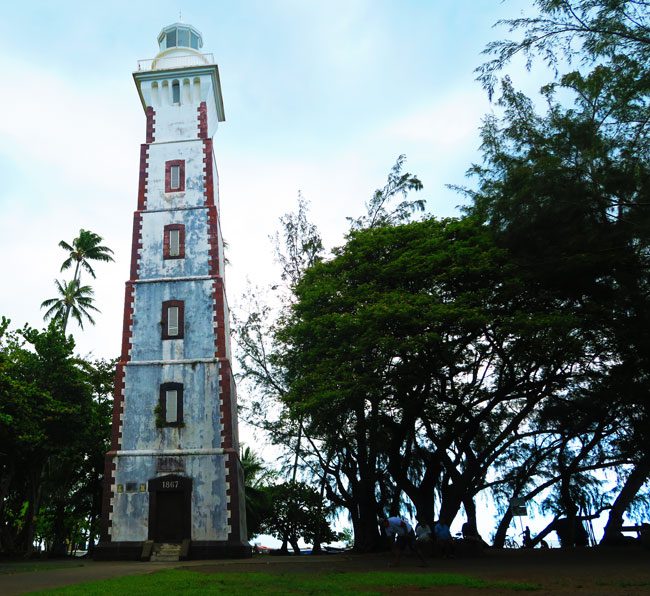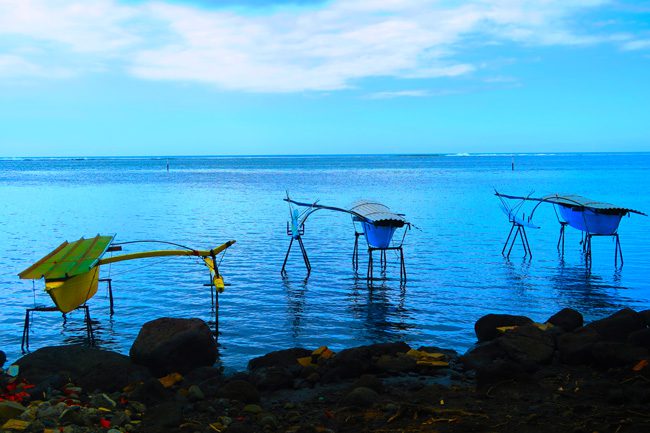 About halfway along the coast, you come across the Arahoho Blowhole. As you exit the car, you hear underground whistles coming out of the giant lava tube right beneath you. As you make it to the coast, gushes of water rush out of the rock!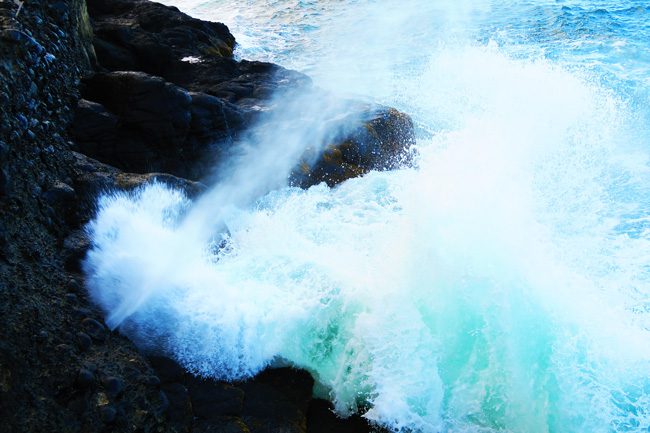 A few meters down the road was the last highlight of this Tahiti road trip – The Three Waterfalls. As you can see below, the area suffered major damage from heavy rains a few days ago and it wasn't really possible to access the waterfalls from up close. Locals sustained a great deal of damage and when I was there, damage assessment was being done by the local government.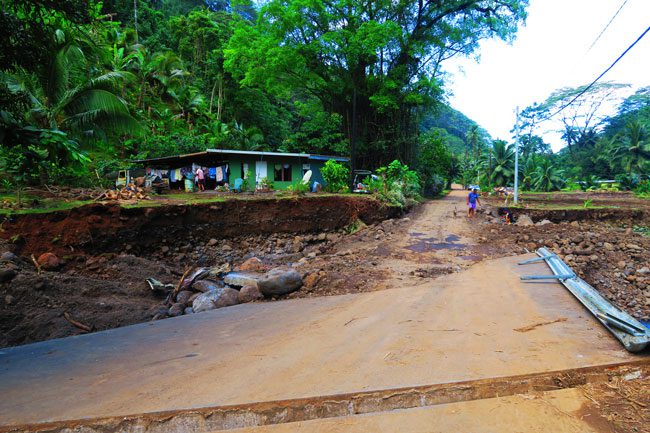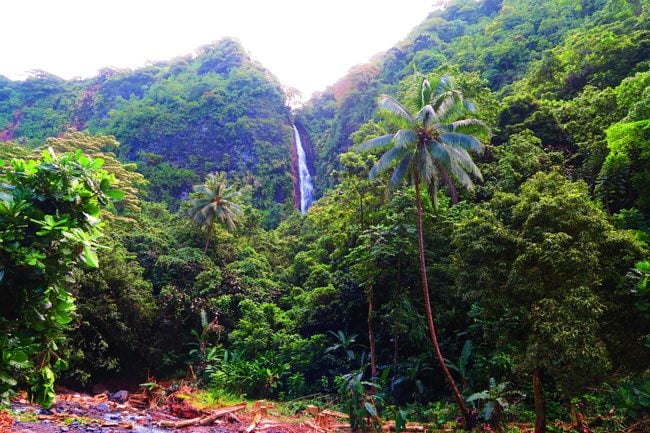 Saving the best for last!
My last day in Tahiti was the most challenging one. Inspired by the mountains, I decided to attempt the challenging climb to the third highest peak in Tahiti – Mount Aorai. Towering at 2066 m, Mount Aorai is regarded as one of the top hikes in the world. The thing is, that it's not recommended to summit the mountain in the rainy season, definitely if you're flying solo. And one more thing, you should leave at the crack of dawn, because by 10 am you'll be walking in the clouds and that would be a waste of an effort.
I decided to take the advice of a few locals and only attempt to make it to the first refuge hut, leaving the summit for another trip. I felt confident enough since it hadn't rained in the last few days, at least not in town, but took plenty of supplies just in case. The trail starts with gorgeous views down towards Papeete, across the water to Moorea and more of what's to come in the form of breathtaking mountains that seem to ripple across the horizon.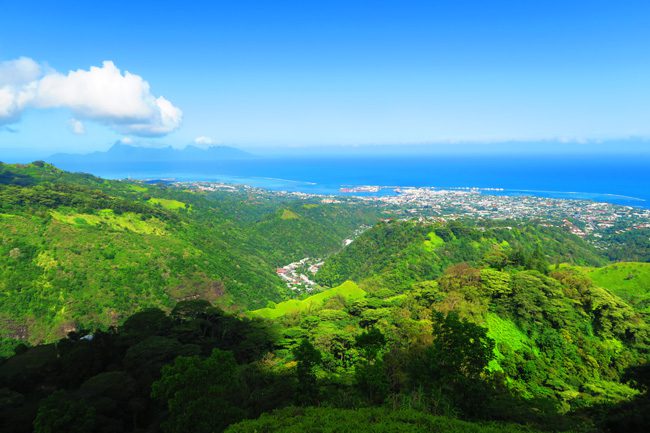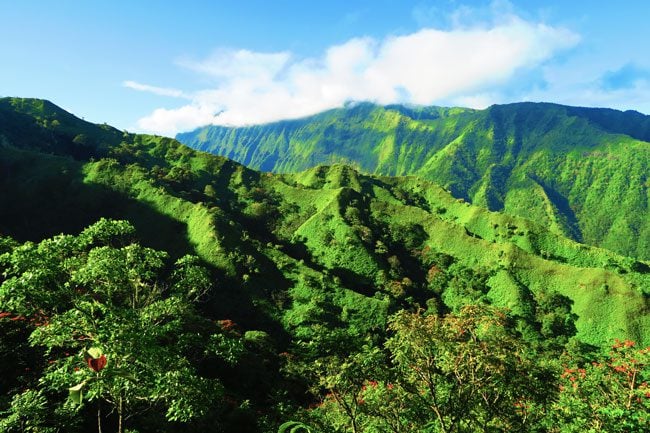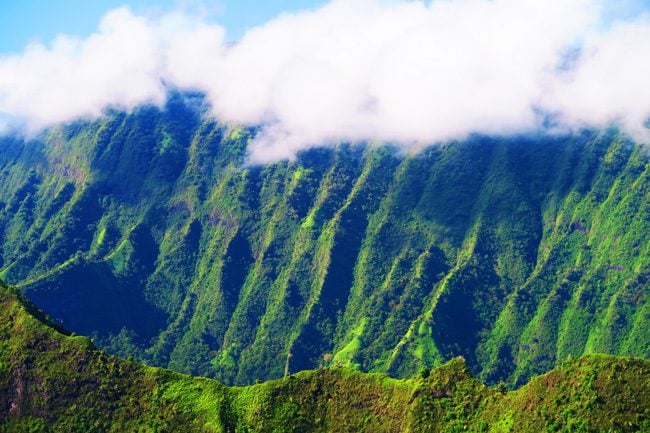 After these views, the going gets really tough. You're pretty much walking on a narrow path carved into the mud, where your next move could be your last. Another challenging aspect that I didn't take into account is the wetness of everything, in the morning dew. After just a few minutes, I was completely soaked from head to toe. Those waterproof hiking shoes were no match for mother nature – but there's no turning back now.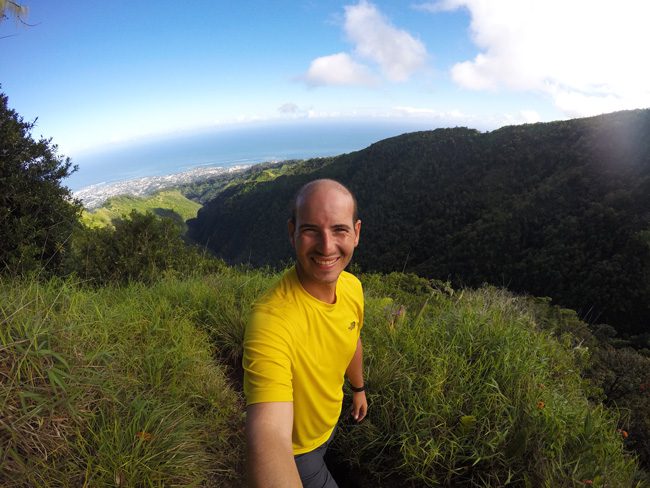 Soaked but still progressing nicely, the trail took me beneath the canopy and into the rainforest. With all the water this place gets, it's no surprise to find freshwater streams gushing out of the mountainside, mossy bushes and tropical flowers. Only the monkeys are missing but the birds certainly make up for the lack of noise.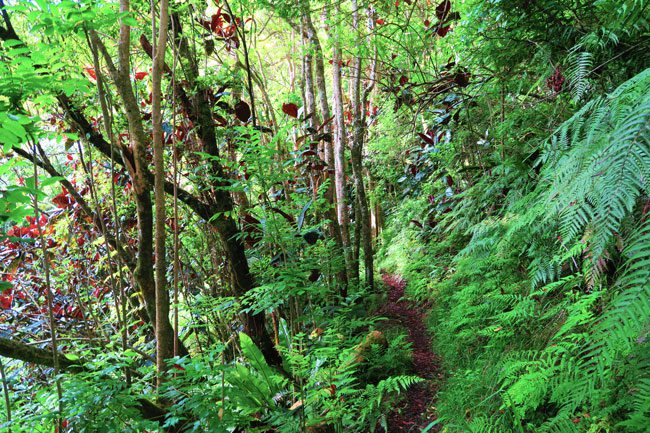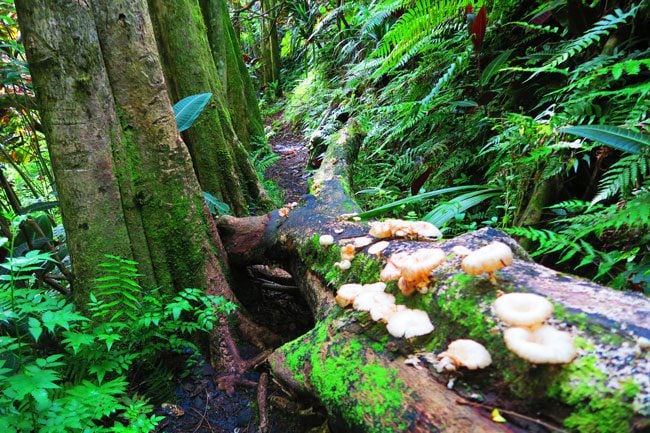 Are we there yet?
The hike gets tougher as you continue to ascend and you just need to plow through the waist-high vegetation. During a water break, I heard faint sounds getting clearer and clearer and a few minutes later, a party of four greeted me. I was happy to hear they've done this before and that we were only 15 minutes away from the refuge hut – our turnaround point. By then, I was so sweaty that even my hat was sweating!
Fifteen minutes turned into 30 but the view from the hut was well worth it. My God! Can you imagine this place on a cloudless day?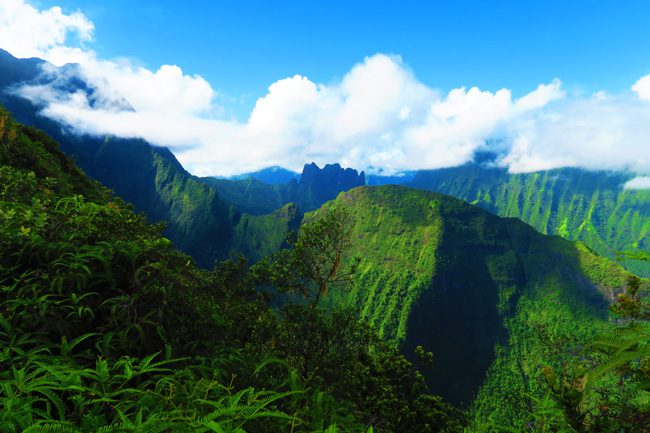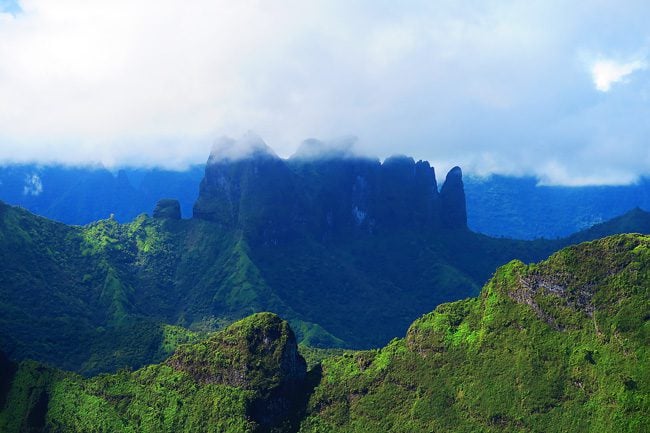 From this point, it was either to attempt the 'Devil's Ridge Pass' or head back down. You pretty much summit the mountain by walking on the narrow (and buttery) ridgeline for a good few km. Seeing how the moisture in the valley had already condensed into clouds, and I didn't want to mess with the devil, it was wise to turn around and descend via the clouds. Mom, I'm still alive and it was all worth it! For those of you who want to see what the summit looks like, check out this link.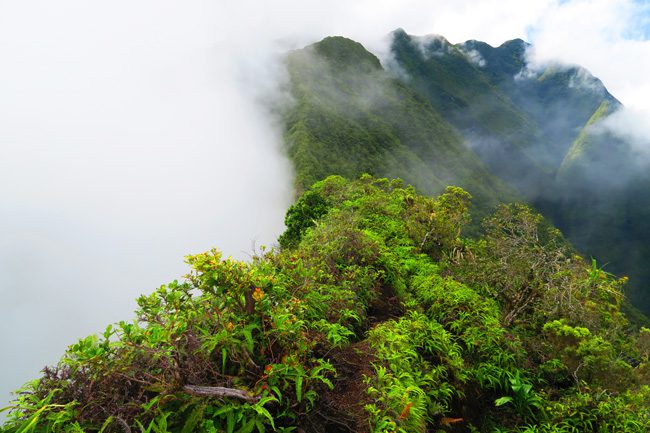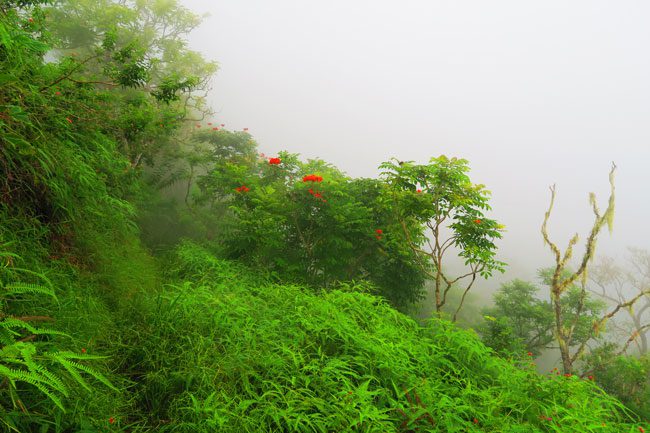 What's Next?
Tahiti was just lovely and I can't imagine how most package holidaymakers simply skip it. But it's now time to hop on the ferry for a month's stay in Moorea! The island of Moorea is just as rugged as Tahiti but is super laid back. I can't wait to share with you what's next. See you in a couple of weeks.
Heading off to French Polynesia? In-depth island guides to all 5 archipelagos await you, including sample itineraries and essential travel tips & tricks.