Insider's Review Of Lagoon Breeze Villas In Rarotonga
Rarotonga in the Cook Islands is the perfect tropical vacation in the heart of the South Pacific. I spent nearly 3 weeks in Rarotonga on my voyage across the South Pacific Islands, with 4 nights in Lagoon Breeze Villas. With lots of space to call your own, it's the kind of place that's perfect for a long holiday. Maybe that's the precise reason why so many guests keep coming back. Here's a full review of Lagoon Breeze Villas in Rarotonga.
Traveling to the Cook Islands? Start planning with The Cook Islands Travel Guide!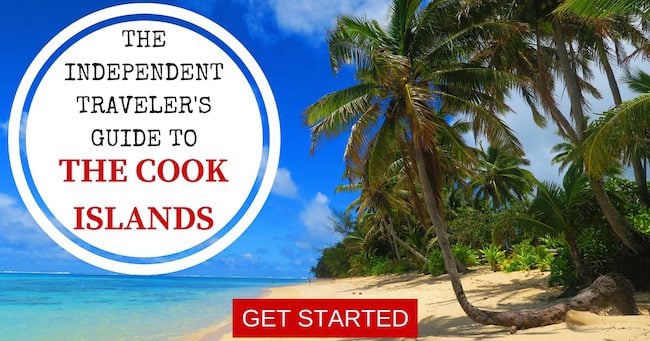 The Location
At the southern end of Rarotonga's quiet west coast, Lagoon Breeze Villas sits on five acres of tropical gardens – backed by Rarotonga's signature peaks and fronted by Aroa Beach. The entire area is a protected marine reserve and surprisingly not that frequented by visitors from the other side of the island. The swimming and snorkeling are great, as is just strolling up and down the beach or finding your own spot for a few hours.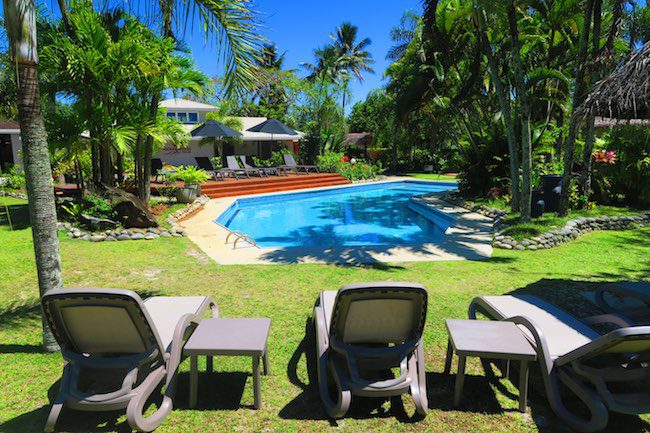 The area is also known as 'the sunset side' and you should not miss the evening light show (or the stargazing for that matter). You're walking distance from the Coco Putt Ale House and mini-golf, two dive centers, internet hotspot, and car/scooter/bicycle hire. Wigmore's supermarket, the Shipwreck Hut beach bar, and lots of other restaurants are just a short drive away, with some even picking you up for free.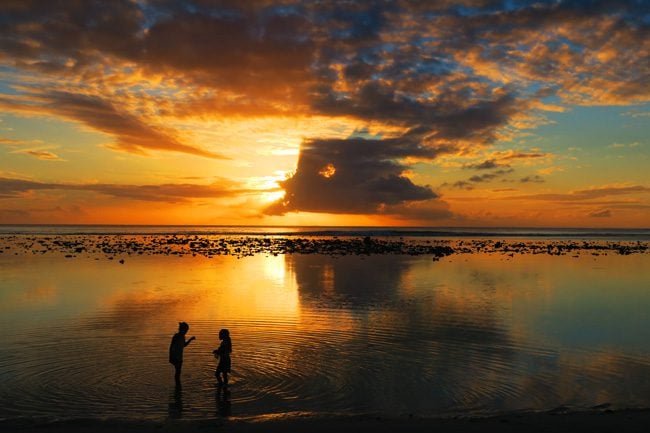 The Story
There is little chance you won't meet owners Debbie and Garth over a cup of morning coffee. The Kiwi couple came to Rarotonga to celebrate their daughter's wedding and simply fell in love with the island. They decided to take a bold risk and completely change their careers, moving to the island to manage a nearby resort for a few years. In 2011, they saw an opportunity to turn a long-time resort that was now badly run down into a family-friendly gem. Putting a lot of blood, sweat, and tears, they managed to completely transform the grounds into Lagoon Breeze Villas. Their story really inspired me to listen to my gut feeling and chase my own dreams. It's amazing how a chain of events and a bit of risk-taking can completely change your life.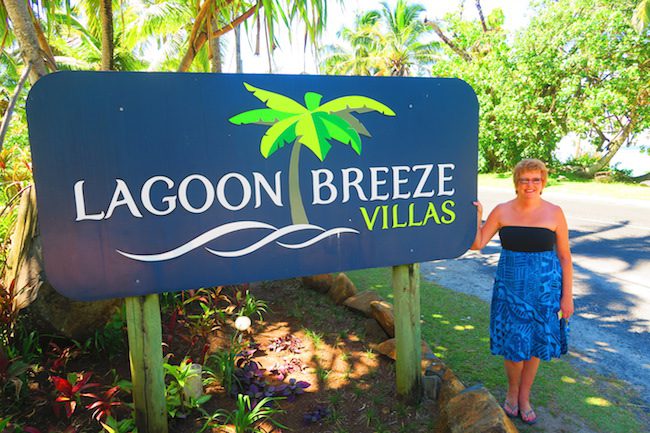 The Grounds
Eighteen self-contained units are scattered throughout the property, to go along with three BBQ areas and four additional units in the pipeline. With the tropical grounds so large, each unit offers guests a high degree of privacy. Children will have a blast bouncing on the trampoline, drifting off in the playground, or splashing in their own pool, while adults can get wet in their own pool. Though it's a family-friendly resort, it's by no means noisy enough for couples to feel even the slightest degree of stress. A complimentary breakfast is served in the main house, where you'll no doubt meet guests from around the world. If that doesn't happen, maybe it will during happy hour, running from 4:30-6 pm.
The Villas
All units are fully self-contained, serviced daily except on Sundays, and include a ceiling fan, air conditioning, safe, filtered water, screen windows, fantastically warm shower, and toiletries.
Garden Studios
This was my home for 4 nights. The studio unit is suitable for singles, couples or couples traveling with one child. The kitchenette is slightly smaller but more than adequate for cooking your meals. Those can be enjoyed in a small dining area or outside on the balcony.
One Bedroom Villas
These units can comfortably sleep up to four people, with a large master bedroom and two single beds in the living area. The kitchenette is larger in this unit, with a full-sized refrigerator and a large balcony.
Two Bedroom Villas
The large two-bedroom villas can comfortably sleep a couple and three others, making them perfect for a family or a small group. The villas open up to a large covered patio, equipped with a full-size kitchen which includes a large fridge, oven and some even a dishwasher.
Polynesian Villa
For those seeking a slice of extra authenticity, the two-floor Polynesian villa offers a great balance of tradition and comfort. The villa sleeps up to 5 people and includes two master bedrooms on each floor. I just loved the wooden outdoor terrace and the overall rustic feeling of this particular villa.
What Else?
Garth and Debbie will be more than happy to share with you all their secret island tips. They were especially helpful in advising on hikes, authentic island tours, and dining options. Here are a few other extras:
3-night minimum stay

Free use of kayaks and snorkeling gear (life jackets available)

Zenbu hotspot

Great deals on vehicle rental
Come Here If You Are…
Lagoon Breeze Villas is perfect for self-catering couples, families, groups of friends, and long-term holidaymakers. I absolutely loved this place and felt I could stay here for a month. In fact, there was one guy I met here who did exactly that. Book Here!
What's Next?
Here are a few more resources to help make sense of your visit to the Cook Islands and to Rarotonga.