Insider's Review Of Muri Beach Cottages In Rarotonga
Rarotonga in the Cook Islands is the perfect tropical vacation in the heart of the South Pacific. I spent nearly 3 weeks in Rarotonga on my voyage across the South Pacific Islands, with 3 nights in Muri Beach Cottages. If you're looking to stay close to the action yet far enough to enjoy solitude and privacy, this might be the place for you. Here's a full review of Muri Beach Cottages in Rarotonga.
Traveling to the Cook Islands? Start planning with The Cook Islands Travel Guide!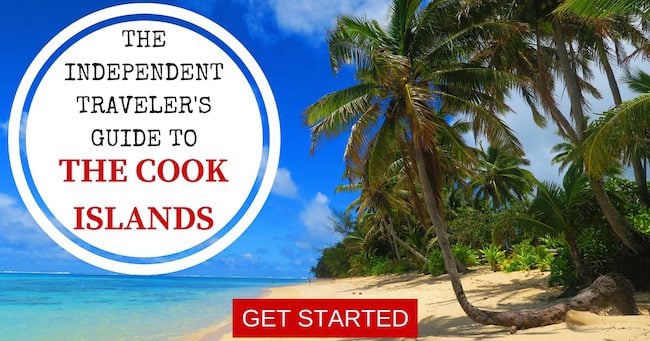 The Location
Hiding in the quiet southern end of the Muri Lagoon, the adult-only Muri Beach Cottages is optimally located close enough to the action of Muri Village yet far enough. While most of the resorts lie further north, down here you'll enjoy the same views with hardly anyone around. A 15-minute walk or a 2-minute scooter ride will bring you to the center of the village, where you'll find plenty of dining options, ATMs, activities, and more. Nestled along the beach, the cottages are perfectly positioned to watch the glorious sunrise and for stargazing. There's always a gentle breeze blowing from the east, perfect when you return from a stroll up and down the sandy beach.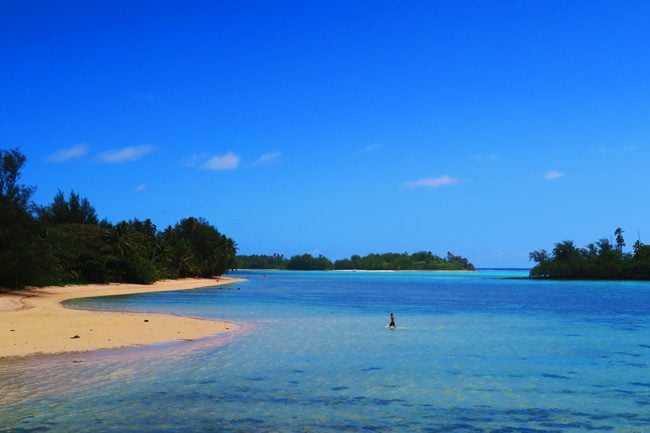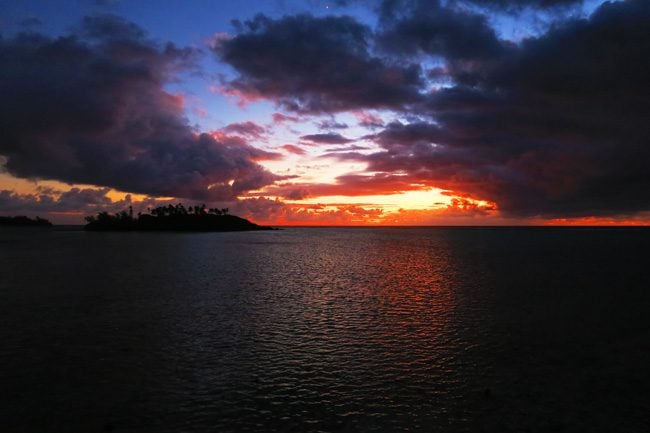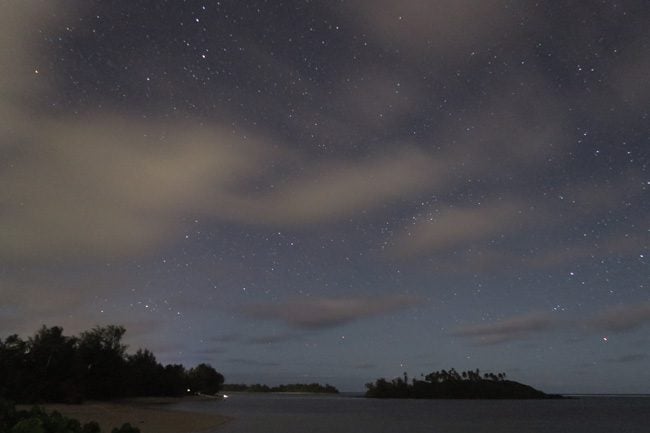 The Story
One of the highlights of your stay will be meeting the property's inspiring owner. Gwen arrived in the Cook Islands from the U.S. back in 1962. She saw a good chunk of the South Pacific and chose Rarotonga as her home. Since 1964, she's been living on this property, cultivating a beautiful tropical garden that's yours to enjoy. In fact, gardening is not only Gwen's hobby but also her second profession. Gwen runs a successful business turning self-grown noni fruit into juice. The juice smells awfully like strong blue cheese, but it is said to hold exceptional health benefits. Perhaps this is Gwen's little secret… If you ask really nicely, she might even take you on a tour of the operation.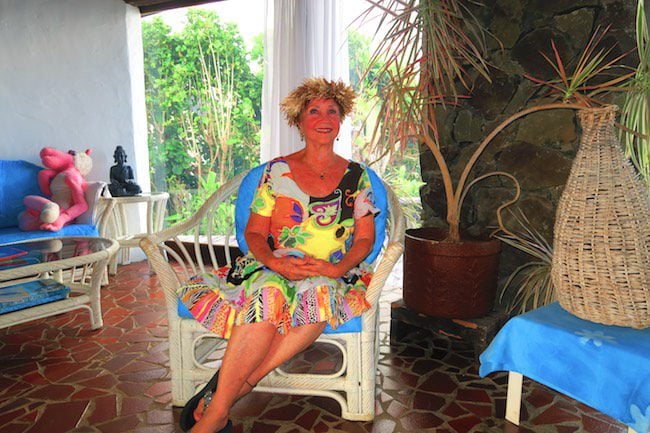 The Cottages
Three fully screened eco-friendly cottages face the beach, along with a small budget studio in the front garden. Built in rustic fashion, the cottages are like that cabin in the woods you've always dreamed of owning, except these ones are on a tropical island. All units are self-contained, well stocked with cooking gear to help you prepare your own meals, with books to pass the time and a safe to lock your valuables. Though parallel to each other, the cottages are thoughtfully positioned to provide maximum privacy.
We offer no TV, just stars above,beaches to comb, waves to observe, books to read, geckos to name (and not feed), gardens to relax in and, sunrises to admire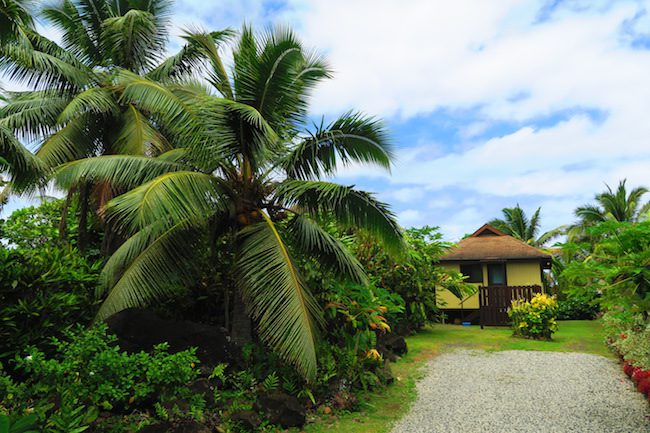 Pole House
Literally, on the water, this cottage romantically sleeps two adults in a cozy loft. The unit is equipped with a sofa, a small dining area, a floor fan, and a large deck that's perfect for watching the sunrise and the millions of stars at night! I personally stayed here and had a hard time leaving. Minimum 4-night booking.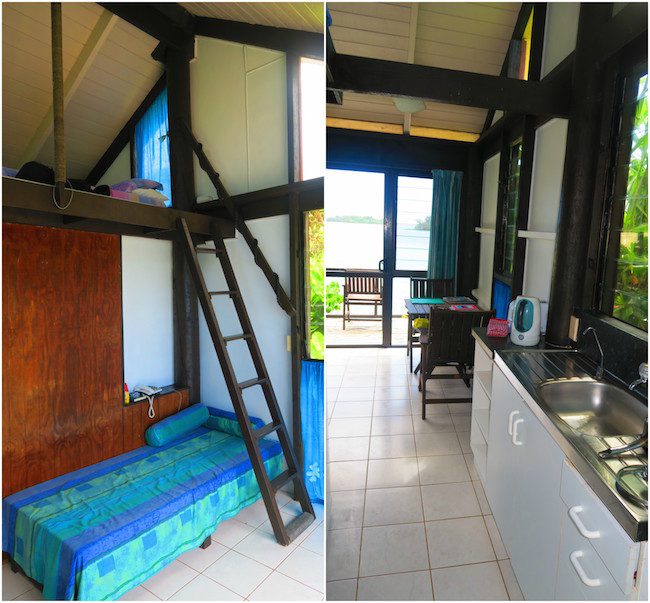 Beach Cottages
Two beach cottage units are available, sleeping two adults on a single-story structure. These units are slightly larger than the pole house, with a covered deck and overhead fans. Minimum 4-night booking.
Budget Studio
Like a triangle rising out of the green grass, the studio was built in 1968 and is perfect for a budget traveler. It is only rented on a weekly basis.
What Else?
Gwen knows the island inside out and she'll help sort out your stay if needed. Here are a few other extras:
Filtered water in every unit

Snorkeling equipment

Free laundry

Credit cards accepted

BBQ area

Blue Sky internet hotspot (just buy your own credit)

Airport transfers: $20 each way, complimentary for longer stays (and always greeted with a huge flower necklace)

Telephone in each unit with free local calls

Gwen has a dog and a cat but you'll hardly see them

Must be 18+ to stay here
Come Here If You Are…
A solo traveler or couple seeking some peace and quiet in a central, comfortable yet rustic setting – where luxury isn't a priority but serenity is. Book here!
What's Next?
Start planning your visit to paradise with the Cook Islands Travel Guide, complete with lots of tips, tricks, and in-depth travel guides to Rarotonga and Aitutaki.