Only 123 km's separate Samoa from it's little sister to the east – American Samoa. With all the similarities between the two, life could not be any different when Uncle Sam is involved. American Samoa is also home to one of the most beautiful tropical islands in the entire world, making the short yet expensive trip that much more tempting. In this weekly update from the South Pacific Islands, we'll spend ten memorable days in American Samoa and get a taste for what paradise might look like.
Visiting American Samoa and thinking about heading to Ofu? Good for you! Here's a detailed 10-day itinerary to help you plan your visit to paradise.
After three weeks in the country formerly known as Western Samoa, I took off on a tiny looking plane for the 40-minute ride to American Samoa's capital, Pago Pago (pronounced Pango Pango). The two airports are so close to each other, yet I arrived more than a day earlier – things are so strange when crossing the international dateline. The flight was scenic on both ends, with great panoramic views of Upolu and American Samoa's rugged coastline.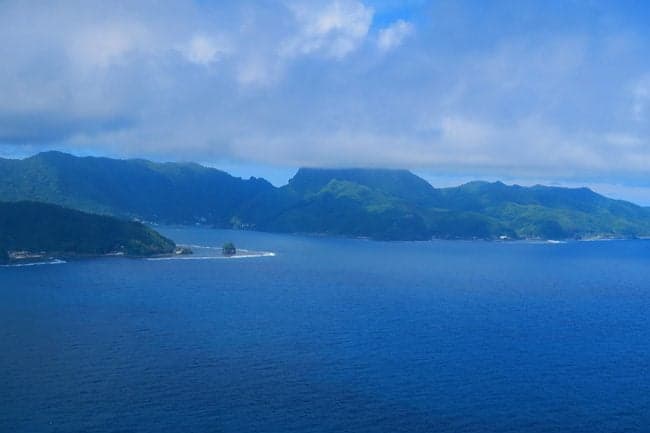 As soon as you land on the tarmac in Pago Pago, there's no mistake to be made – the Yankees are here!
American Samoa 101
Before we get to our paradise adventure, let's see what American Samoa is all about.
Pago Pago is on the main island with the cool sounding name Tutuila (tu-tu-ila). It's an absolute gem of an island, with jagged mountains formed by extinct volcanoes rising out of the ocean. There's not much room to maneuver on the island and the feeling is of 'tightness'. Nearly all the population lives in the tiny flat space that's left between the mountains and the ocean. Pago Pago is blessed with one of the finest natural harbors in the world. It's deep, it's huge and this is what it looks like from Mount Alava, one of the wonderful hikes in the National Park of American Samoa.
Uncle Sam's story in Polynesia begins way back in the late 1800's. By then, Christian missionaries were already 'bearing fruit' with the local population and global powers were starting to show interest in the South Pacific. The US set up a coal storage facility in Tutuila, followed by a Naval station to take advantage of the fine natural harbor. In 1900, the US struck a deal with local chiefs and Tutuila was ceded over to the Americans as an overseas territory. The outer islands followed soon after and that's how American Samoa was born.
A win: win situation
This paid off for both sides. For the US, it now had a naval base in a prime location. During WWII, the Americans set up fortification to protect the harbor but the Japanese only attacked here once, though – launching a missile from a submarine that ironically landed on a Japanese-owned shop. Remember this small anecdote for later.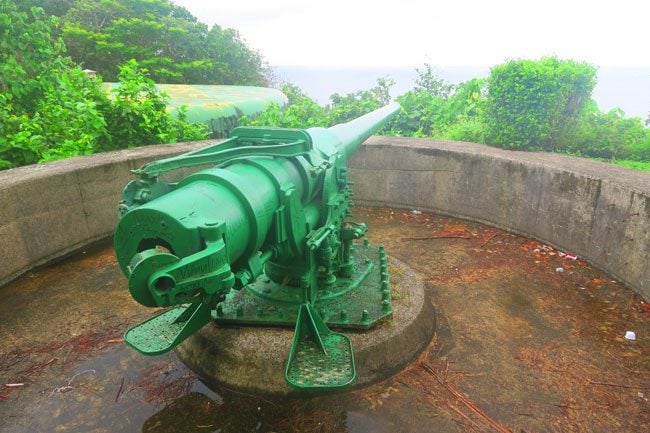 For the Samoans, they now had the financial backing of a superpower. The palagis (white Caucasians) brought with them: good infrastructure, schooling, healthcare, social security benefits, and capitalism. They also introduced air conditioning, which is a good thing because this place is so damn humid! These dramatic lifestyle changes also brought with them a serious obesity problem in American Samoa. The local McDonald's drive-thru is almost always packed – but more on this topic later.
Walking around Tutuila, you can't help it but notice the difference with neighboring Samoa. The fales (traditional Samoan huts) have been replaced with modern homes, everyone is driving an American made pickup truck and instead of rugby, children are playing American football! The only annoying thing is having to deal with those $1 bills… I just don't get the logic behind that. One thing that is similar to the two Samoas is the bus. Riding the bus in Samoa is quite an experience, but in American Samoa, they took it one step further – converting small pickup trucks into the primary mode of public transportation. Cute, ah?
The US has created a semi-subsidized economy over here. It pours in a lot of money in annual funding and with the Navy long gone, had another trick up its sleeve. The port of Pago Pago is a global powerhouse in the tuna industry, yet tuna is not actually caught here… Tuna that is packaged in Pago Pago can enter US markets tax-free, so boats from around the Pacific use the mega-facilities in Pago Pago to prep everything up. So next time you open a can of tuna, check the label – it might have been packaged far away in American Samoa.
Sir, you've been bumped
After a day in Pago Pago, it was time to head to the real reason for my detour: the remote Manu'a Islands. They are only 110 km's east of Tutuila, yet to the few lucky visitors who make it out here, they seem like a trip back in time. My destination was Ofu Beach, as off the beaten track as off the beaten track can get. It's one of the most remote places you can travel to, and from what I've seen so far in my lifetime – it's God's greatest piece of artwork! You really need the big guy's help to get here and a whole lot of luck… better to have both!
Getting to Ofu taught me a new concept in civil aviation: overweight flights (not to be confused with overbooked flights). I get to the local airport to check in for the short flight but find no one at the counter. There's only one flight a week to Ofu and with all the time travel I went through coming from Samoa, thought I maybe got the dates mixed up. I finally found an agent who made a few phone calls and shockingly informed me: "you've been bumped off the flight, you're not going to Ofu today". WTF?!?
When all else fails… beg!
You see, American Samoans are some of the heaviest in the entire world. So when a few folks weighing between 150-200 kg's check in before you, and the plane is tiny – there ain't enough room for everybody! Too much weight on a small plane flying over the Ocean is not a good thing… What am I gonna do now? How could this happen? I came all the way to this remote place just to make this flight. What a disaster! I run to the airline office only to hear the same thing: "you've been bumped, the flight is overweight". I started to plead with the agent, making suggestions I knew wouldn't work, like asking passengers to leave some luggage behind. When that didn't work I resorted to my last option… begging!
That seemed to get things moving, and after a few minutes of discussions in the back room, I was instructed to head back to the counter. I was told to only take my absolute necessities with me and leave everything behind. Now to make some 'tough' decisions: snorkel or sunscreen? Camera charger or clean underwear? As this drama was unfolding and the departure time getting ever so close, the weighting agent (this role really does exist) finally came to the conclusion that neither me nor my luggage weighed a lot. I was given the green light to get on the plane with all my stuff and nobody even checked my passport. I'm going to Ofu!
The moral of the story folks is to never take 'no' for an answer. Unfortunately for a vacationing Hawaiian couple that was scheduled for this flight, things didn't work out and they did not make it on.
Touchdown in Ofu
Thrilled to make it on the coveted flight, we took off for a bumpy 30-minute journey to paradise. The feeling of landing at Ofu Airport can only be described as surreal. It's actually not much of an airport, just a small building at the end of a super short runway. The plane needs every meter of that runway because beyond that it's down to the reef. In the months of planning this short segment of my long trip across the South Pacific islands, I managed to score a place at Vaoto Lodge. The lodge is conveniently located… guess what? Right at the end of the runway! See you in a week captain, I made it to paradise!
Keep scrolling to the next page to start exploring Ofu with me!
Where exactly is Ofu?
Ofu is part of the small Manu'a Islands chain. Its sister island is called Olosega and both are connected by a narrow one lane bridge. There are only 200 or so lucky folks living here with their 20 or so cars and it really puts the 'R' in remote. There are three villages on the two islands but one of them only has a single house, so not sure if that really counts.
We're only 112 km's from Pago Pago, but almost 16,000 km's away from London! When you get here, it really feels as though you've traveled back in time – to a more peaceful way of life that was perhaps enjoyed by our ancestors back home. With all due respect to time travel, this is America after all. So thanks to the Yankee influence, the islands enjoy the likes of fresh water, reliable electricity, a good road (yes, there's just one) and high-speed internet – believe it or not! But there's one thing Americans haven't managed to export to Ofu and that's air pollution. The island enjoys some of the cleanest air in the entire Pacific.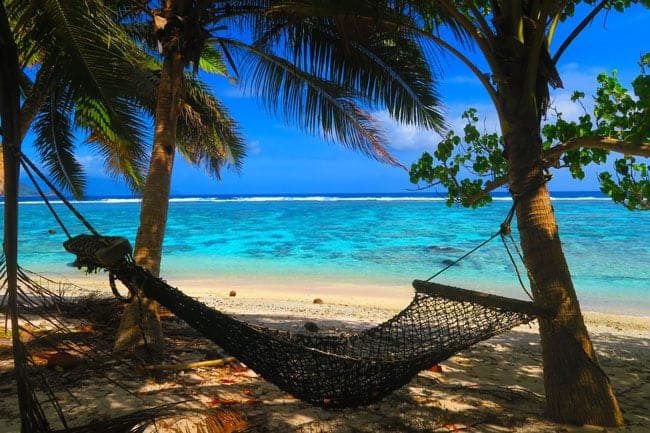 Ofu, Olosega and the distant third island in the group – Ta'u, were formed when volcanos rose out of the Pacific Ocean millions of years ago. In fact, some of the earliest evidence of human life in the Polynesian Triangle were discovered right here. The most beautiful places in the world require a bit of effort to get to but when you do make it, it's all worth it. You're about to see why.
Comfort in paradise
Back to Vaoto Lodge now before we hit the beach – this place is amazing and has been an Ofu visitor's haven since 1979. Owners Deb & Ben must be among the luckiest couples in the entire world to be living here. But they work mighty hard keeping this beautiful lodge spotless. Ben is part Japanese and in fact, it's his family's shop where that lone Japanese shell landed during WWII. Right from the outside, the grounds smell of heaven, with tropical flowers growing everywhere and butterflies just having a ball with this all-you-can-drink nectar. And I haven't even mentioned the food. Deb & Ben whip up delicious meals for guests and it's hard to imagine how. Supply only arrives once in a while by boat and sometimes, it just doesn't make it…
Let's head to the beach
But enough teasing, let's check out the main attraction – Ofu Beach. Just minutes away from the lodge, along an empty road where the only hazard is the occasional falling coconut, hides one of the most spectacular beaches in the world. Surely, I'll have to update my list of the top 10 beaches after this visit. A long stretch of powdery white sand, palm trees growing wild and Sunu'itao Peak looking like shark teeth sticking out of the ocean – providing the climax. This is paradise found… and there's nobody here!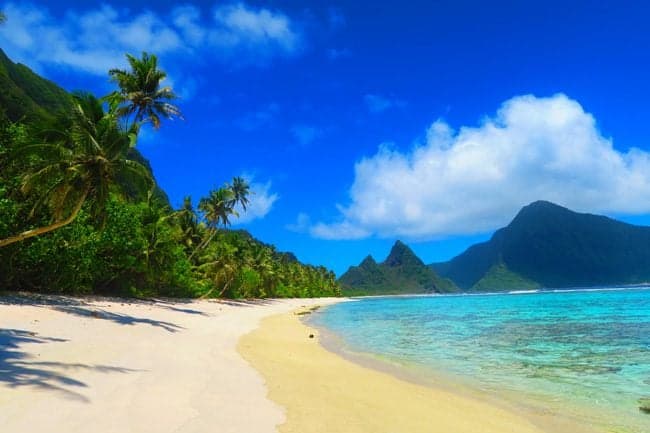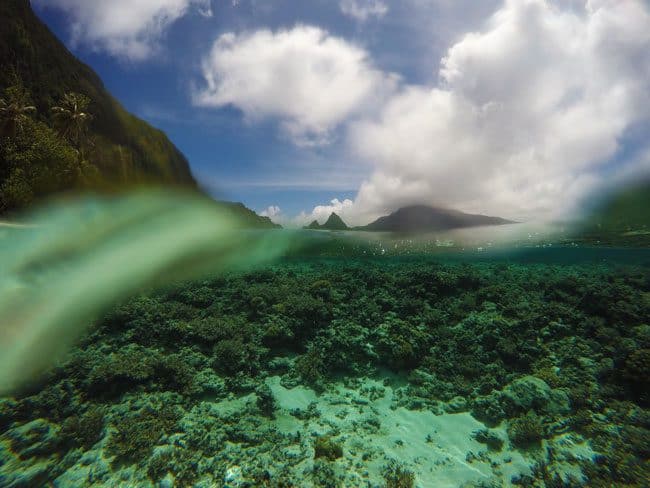 Let's head underwater, shall we? Ofu's coral reef is among the best in the world. In fact, researchers from around the world come to study just how this reef is able to bounce back from bleaching so quickly. I met a few of those scientists towards the end of my visit and they confirmed that visitors to Ofu are a spoiled bunch.
The following are two slideshows:
The hard coral below the waves is spectacular. I was especially amazed with the 'boulder coral', which makes you feel as if you're swimming in some kind of canyon. Fish have plenty of housing options over here and that's part of the reason why there's just so many of them.
In the fish department, Ofu is blessed with an abundance of our usual reef favorites, including the ever so cute sea turtle. I also learned about another local reef resident – the parrot fish. Each little fellow can grind up to 1 ton of coral every year as it digests algae, producing the fine white sand that this beach is so blessed with.
Here's a video that summarizes everything
Have you ever seen the Milky Way?
But what is there to do at night on this remote island, you might ask? Well, for the night to begin, the sun needs to set. And this means you start off by admiring the spectacular colors of the sunset.
When the sun is already down, you can proceed to watch how the beach crabs prep up for bed.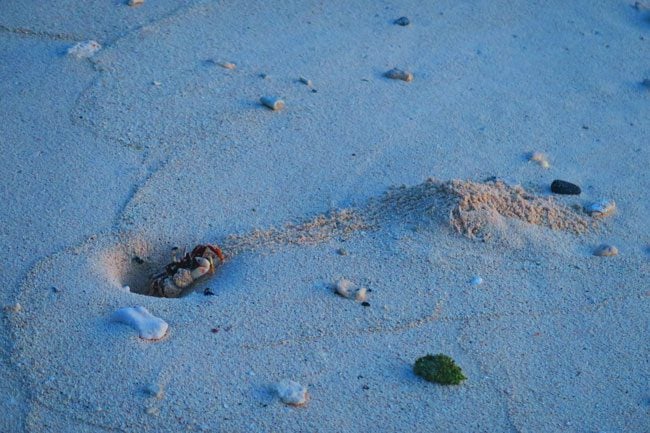 When you've had enough, just head to the empty runway for the main event – star gazing! On a good night (which is pretty much every night), you can see the Milky Way. I've never gotten such a clear view of it and I just had to force myself to bed.
Let's go hiking
Aside from beach bumming and star gazing, Ofu & Olosega are a nature lover's paradise. The sight of the beautiful beach made me wonder what it looks like from above, so I got up early in the morning and headed to climb Tumu Mountain.
The hike is a challenging one but thanks to the rangers from the National Park of American Samoa, at least you don't get lost. And that's a good thing because you traverse through some pretty thick and tall sticky grass in certain points of the trail. The views keep getting better and better as you ascend. First, you walk through coconut groves and even get a chance to see how a coconut turns into a palm tree. Here's what it looks and sounds like. The rainforest then opens up, providing a clear panoramic view of the northern coast.
Further up the trail, you're deep into the rainforest and if you're not making too much noise, you might even get to see this interesting creature. The coconut crab lives on land and uses its giant claws to collect coconuts from the forest floor. It then takes it up high on a tree and let's go, hoping to crack the coconut open and enjoy its sweet white flesh.
As you near the summit, things get rough and you're completely soaked in sweat. Grab a hold of the rope and with your last bits of energy, cross the finish line and enjoy the view!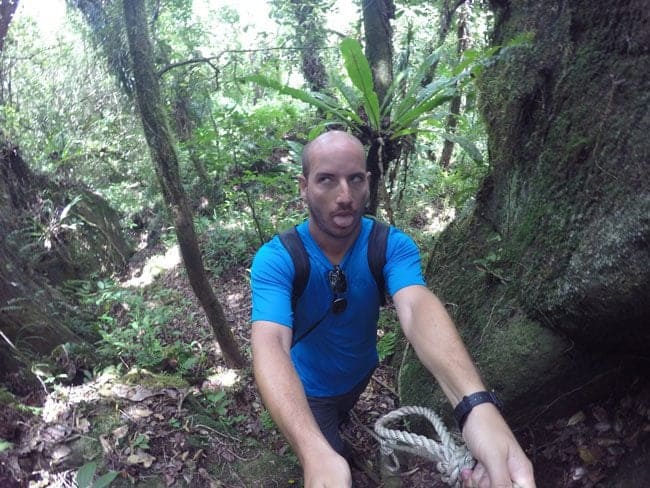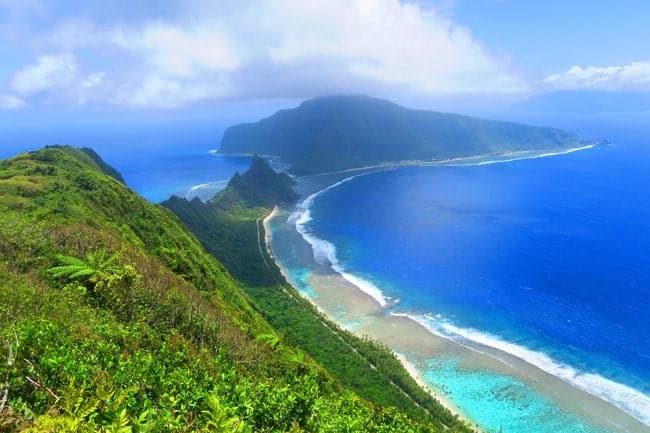 They finally made it!
Back at the lodge, that Hawaiian couple that was bumped from my flight, managed to somehow get here using a combination of air and sea transport – bringing the grand total number of tourists on the island to a whopping three! They live life off the beaten track back home so they fit right in at Ofu. Turns out we have a lot in common, so the rest of the week was pleasantly spent laughing and learning about each others' home.
With time having little meaning on the island, it's easy to lose track. But there's one day that's never forgotten and that's Sunday. Like their brothers and sisters in Samoa, American Samoans love their church. So to continue my tradition of checking out Sunday service, I headed down the road to Ofu Village to assess the situation. The village is as sleepy as they get, with a sandy road, a spectacular view and a whole lot of nothing happening.
I was recommended to head to the local Pentecostal church, not the one you just saw in the picture. Apparently, they sing and dance a lot more than their Baptist cousins. I could have easily missed the church as it's housed in an ordinary home – but thanks to the songs that praise Jesus, there was no mistaking the location. I was instructed to grab a seat in the front row and the preacher's daughter immediately sat beside me, translating her father's Samoan sermon (who occasional spiced things up with a random shout of 'praise the Lord') and showing me which page in the holy book I should follow. A few minutes later, her brothers took positions on the organ and the drums, her mom took center stage and the preacher's daughter grabbed the mic – as we all broke out singing the smash hit single, 'Shake Your Body to the Lord'. Give it a listen.
Crossing over the bridge to Olosega
After several days of hanging out the beach, I finally crossed (and jumped off) the bridge and explored Olosega Island.
Not much is happening in Olosega Village. Even the school was super quiet on this weekday morning. My target was Oge Beach, to be reached by walking along the coastline past superb ocean cliffs. Just before descending to the beach, I watched as Frigate Birds and, believe or not Flying Fox Bats, were riding the thermals on this beautiful warm day just above me.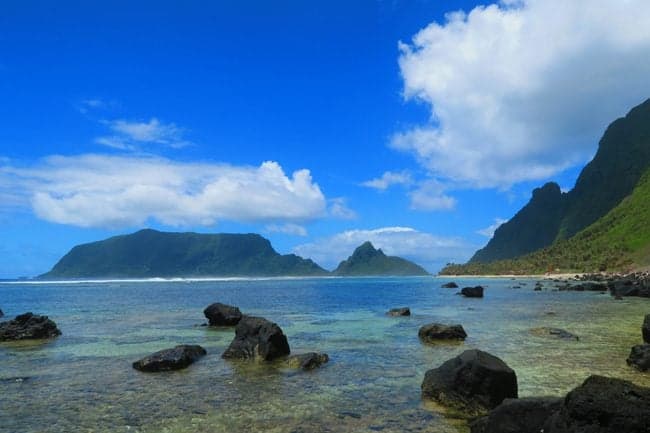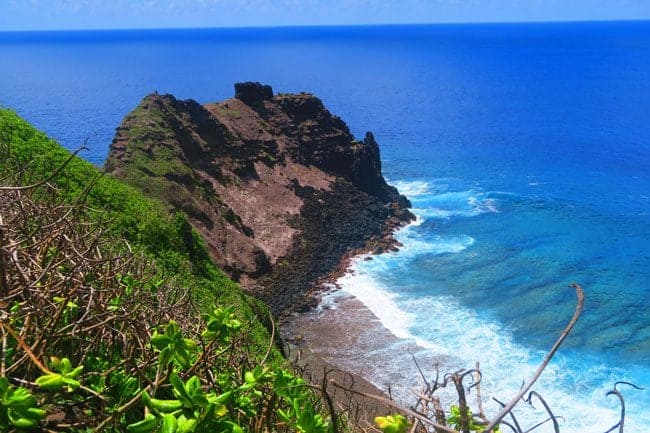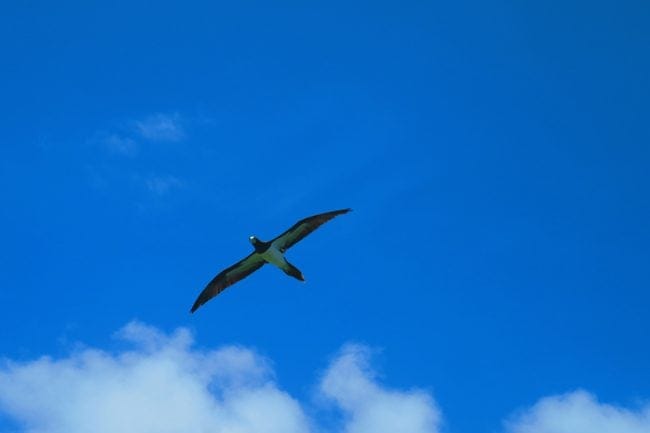 Oge Beach is the complete opposite of Ofu Beach. This place is wild! Sand is nowhere to be found, with millions of years of dead coral piling up on the shore. The waves are much stronger here, pounding into the rocky cliffs without mercy.
The most bizarre thing I've ever seen!
As I was enjoying my leisurely walk on the beach, completely alone, of course, I witnessed a bizarre spectacle. The exposed rocks in the low tide were packed with extremely shy crabs, out to catch some sun. They wouldn't even let me get close to them, fearing this tall and handsome-looking Israeli predator. But as soon as another (less attractive) predator arrived, they lost their shyness towards me.
Out of nowhere, packs of Moray Eel arrived on the scene, attempting to ambush the crabs. Their strategy was to work in pairs or threes, trying to create a distraction and then simply swimming out of the water and onto the rocks to catch their prey. These scary-looking snake-like creatures even made a run for me when I got too close… and I was well away from the water! I guess there's no need for the bathing suit and snorkel today, ah?
The final few days in Ofu were spent taking lots of mental photos of this place. I walked a ton and rested a tiny bit… you know me. Towards the end, scientists from the National Oceanic and Atmospheric Administration (NOAA)arrived to do some research. This opportunity allowed me to learn interesting things about the reef, like that all corals are actually living animals, how they reproduce and what the hell is bleaching really about? But that's for another time…
Exactly a week after I arrived, the captain landed his tiny plane and my unforgettable week in paradise had come to an end. I was sad to leave Ofu and sad to leave my great hosts and the couple I met at the lodge. I'm sure we'll all meet again in the future!
What's next?
Every ending brings with it a new beginning and I'm off to my next Pacific island adventure. After one month in the 'Samoas', it's time to say goodbye and head to the Cook Islands. Just that exotic name gives me the shivers. That's where we'll pick things up next time!
Hover over these images to quickly pin it