Travel to London: The Ins and Outs of Gatwick Airport
Flying to London usually requires the ability to weave through busy airports like Gatwick, Heathrow and Luton, as well as the patience to brave streets as congested as the city's airport runways. With close to 200 million travellers worldwide, a younger passenger demographic make up a whopping 20% of international tourists, according to statistics by The Atlantic. However, these millennials' airport problems are not just limited to finding a reliable Wi-Fi connection or looking for cheap places to eat. Often times, it's the little nuances that make or break the whole experience inside a packed London airport. Luckily, experienced travellers provide valuable information on how to survive a busy airfield such as Gatwick from the outside to the inside.
Outside Features
Just to put things in perspective for you, London Gatwick is the world's busiest single-use runway. Add that to the fact that it sees more than 40 million passengers go to 200 destinations every year, and travellers have the perfect ground where problems inevitably arise. As a solution, Gatwick's administration invests millions in the constant improvement of facilities across the board. From parking spaces to internal features, the airport focuses on giving passengers total convenience and a pleasant experience. For local and business travellers, management devoted £17 million to a multi-storey parking area that has over 1,000 car bays. Parking4Less, a UK-based review aggregator, lists North and South Terminal options as long stay and summer special for the former, as well as the latter's long stay and long stay plus. Considering these, it's still important to pre-reserve a parking slot two or three weeks before the flight and leave ahead of time to anticipate London's traffic. On the other hand, during unforeseen layovers and flight delays, travellers can head on to a nearby Let's Race! facility on Brighton Road and try their hand at a realistic simulation of a Formula 1 car.
Airport Facilities
While inside, it's best to accomplish all the pre-boarding requirements as early as possible, as Gatwick offers a bunch of recreational areas that covers the bases from rest to leisure. Aside from beautiful art collection by the godfather of British pop art, Sir Peter Blake, both terminals have a long list of high-end fashion boutiques and delicious food choices. Passengers make the most of a mini-cinema that showcases films of different genres and a cosy play area for the kids. Airport staff even has the latest internal communications technology – highlighting an innovative approach in terms of traveller convenience. At the start of the year, ComputerWeekly.com reported Gatwick's community app that gives staff easier access to various information such as transport status, passenger density, and weather.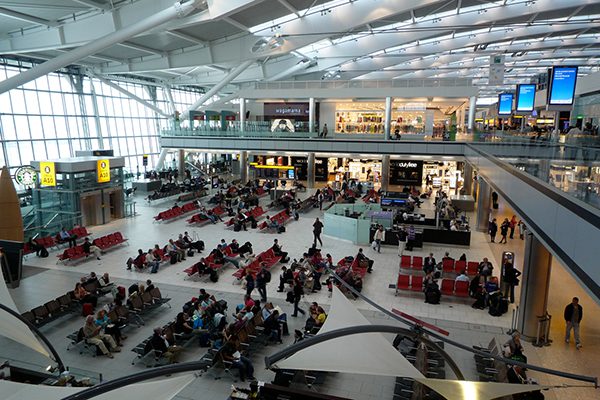 Follow(function(d, s, id) {var js, fjs = d.getElementsByTagName(s)[0];if (d.getElementById(id)) return;js = d.createElement(s);js.id = id;js.src = "https://www.bloglovin.com/widget/js/loader.js?v=1";fjs.parentNode.insertBefore(js, fjs);}(document, "script", "bloglovin-sdk"))