Samoa's Wild Island: Road Tripping In Savaii
After exploring some of Samoa's best tropical beaches, it was time to grab the one hour ferry and make the 22km journey from Upolu to Savaii Island. Savaii is Samoa's largest island, and in fact, one of the largest if not the largest of all the South Pacific islands. As large as it may be, Savaii only has a fraction of the already tiny Samoan population, making it an even more appealing island to explore for those seeking the off the beaten track. In this week's update from the South Pacific, we'll go road-tripping on the island of Savaii! There's also a special bonus section, so don't forget to keep scrolling down.
Visiting Samoa? Start planning your trip to paradise with this in-depth Samoa Travel Guide!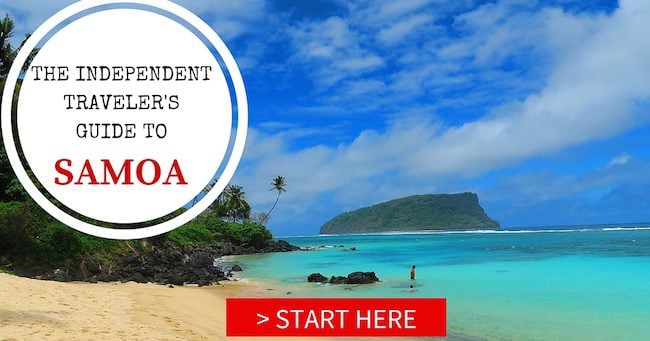 Savaii is known for its very laid-back traditional Samoan way of life, pristine scenery and the most sacred Samoan mythology. Savaii's dramatic natural beauty is largely defined by its centuries of volcanic activity, inheriting giant lava fields and massive volcanic cones in the middle of lush rainforests. It's also got one of the prettiest ocean roads in all of the South Pacific so I thought it's a good idea to rent a car and hit the road.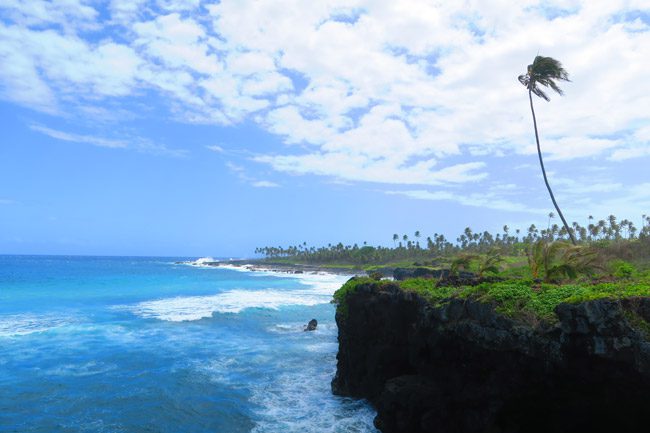 Jesus Christ Superstar
I love riding Samoan busses but having a car really makes the difference. Despite the radio only going up to 90FM and all three stations praising Jesus nonstop through reggae, pop and rock – I didn't really mind, with all this tropical beauty around me. You can also pretty much forget about road signs over here. Good thing the locals are so friendly!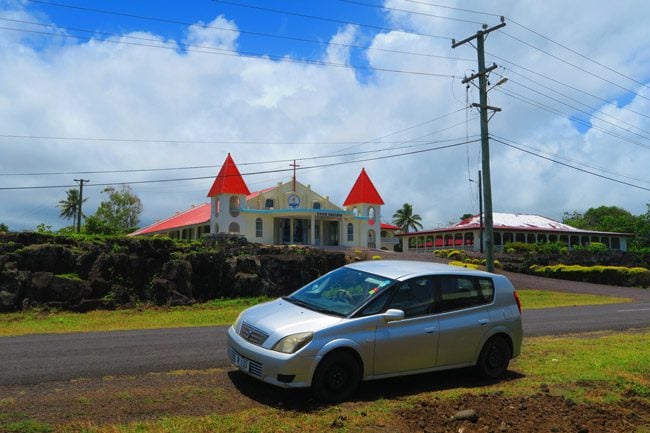 My first stop was the Afu Aau Waterfall in Savaii's southern coast. I had finally hit the jackpot! This was exactly the image I had in mind when fantasizing about Samoa: a thundering waterfall tumbling down to a pristine freshwater pool in the middle of the rainforest – with beautiful Polynesian girls bathing in its waters. OK – so there weren't any Polynesian girls around, but I did have this magical spot all to myself.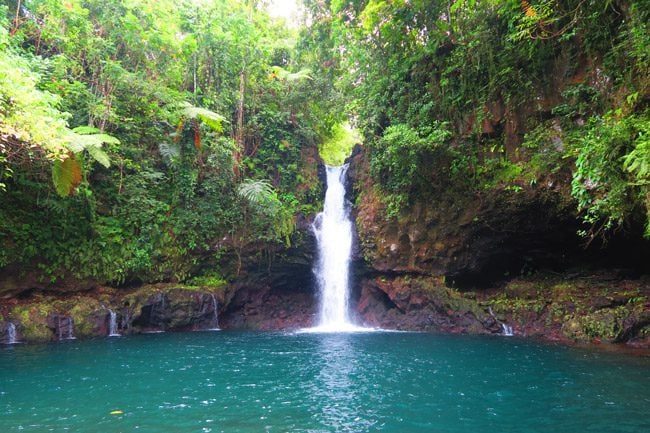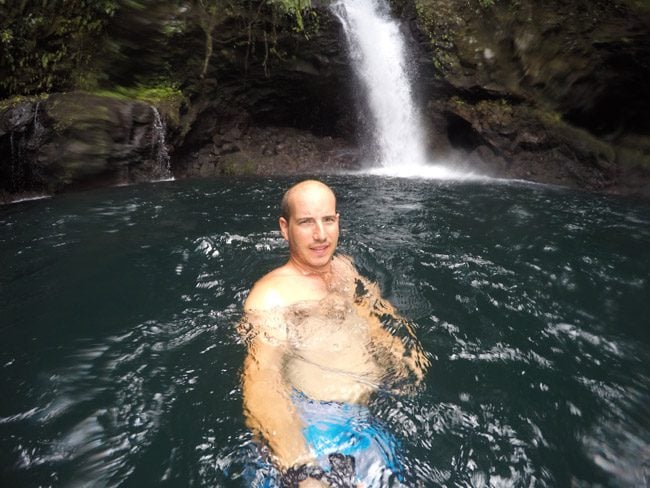 The southern coastal road then began to twist its way along the Pacific Ocean, with glimpses of rugged beaches that you wouldn't really want to swim in if you fancy life. In between, were the sleepy villages – where life seems to be so simple, in the sweetest way. The major action seemed to be the chickens and the pigs dashing bravely across the road, keeping you in a healthy state of alert.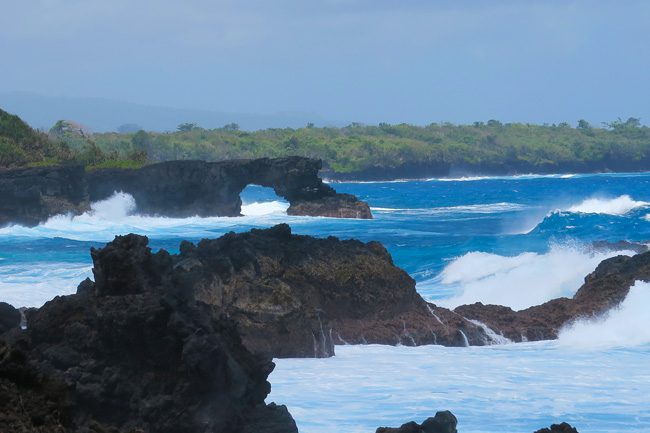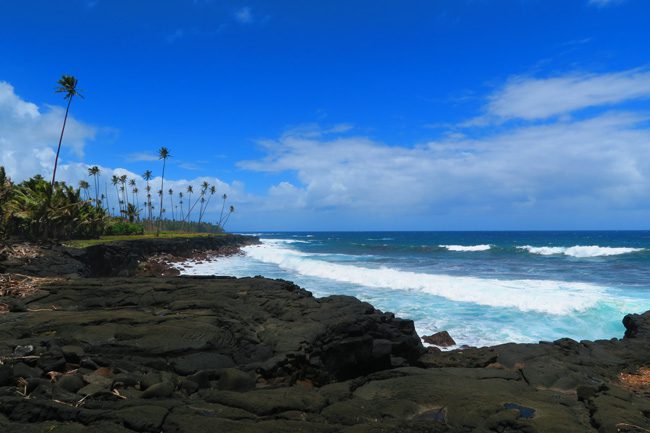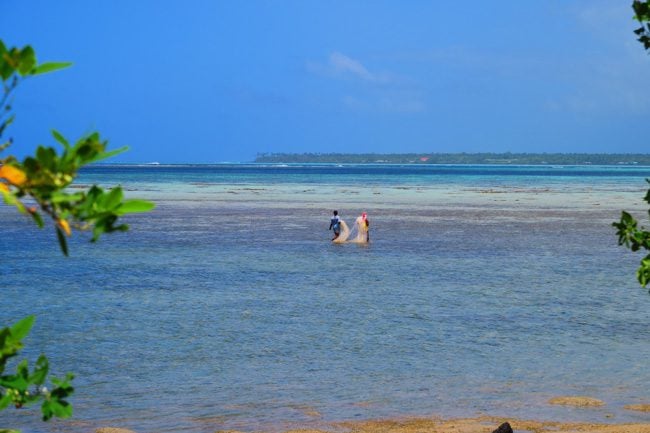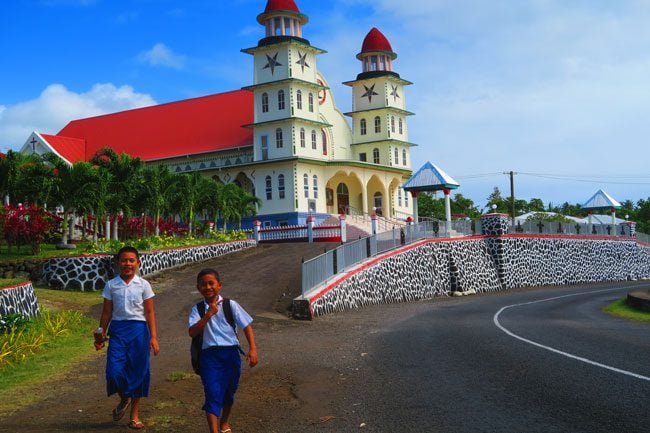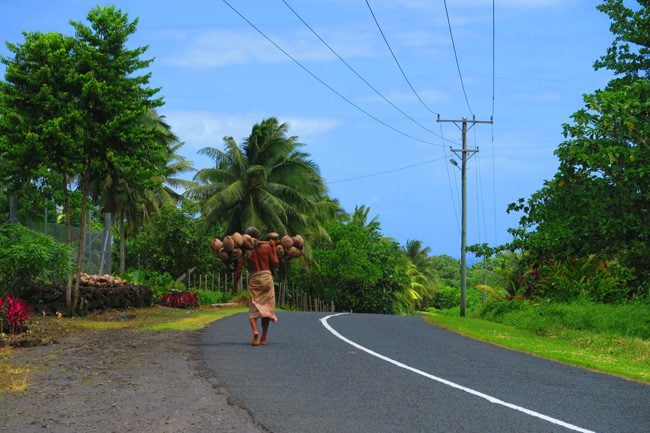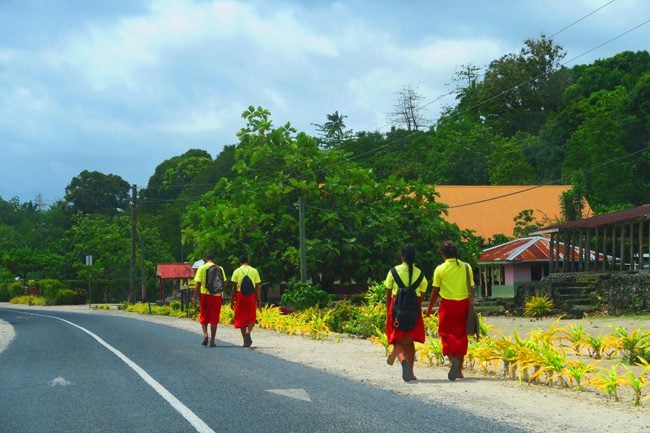 The next stop was at the famous Alofaaga Blowholes, where the pounding waves of the Pacific Ocean smash into lava tubes, tossing water way up in the air like jets. Locals even toss flying coconuts into these holes. Maybe it's a new way of cracking them open…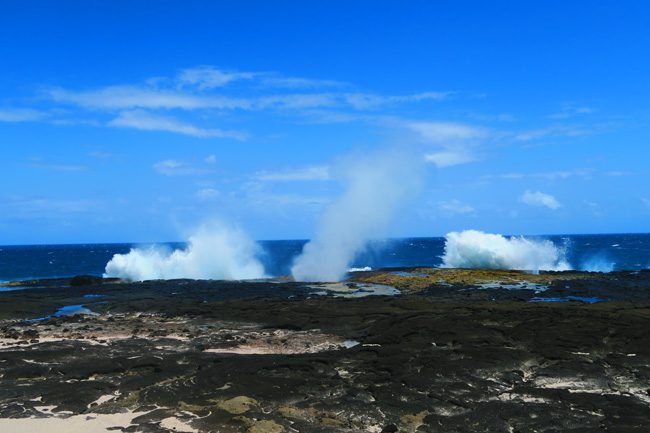 Gateway to the underworld
Impressed by the blowholes, I continued to the very western edge of Savaii and in fact, of Samoa. The Falealupo Peninsula is the best place to catch a sunset and it's also one of the most sacred spots for Samoans. It is believed that the setting sun off this peninsula is the gateway of the soul to its next destination. It's no wonder then that there are quite a few interesting things to be seen here.
The peninsula itself is quite rugged, both in terms of landscape and people. Perhaps the remoteness has added another layer of thick skin to Samoans living out here. The coconuts are growing wild like crazy out here and the local folks are a bit less friendly than usual. I got stopped quite a few times with a request to pay ridiculous 'fees' by young men. I remembered a lesson in negotiation class from back in the day advising to trade with your counterpart items of unequal value. I just happened to have a couple of apples in the car and those went a much longer way than a bit of spare change… Apples are not native to Samoa and they are expensively imported from 'neighboring' New Zealand.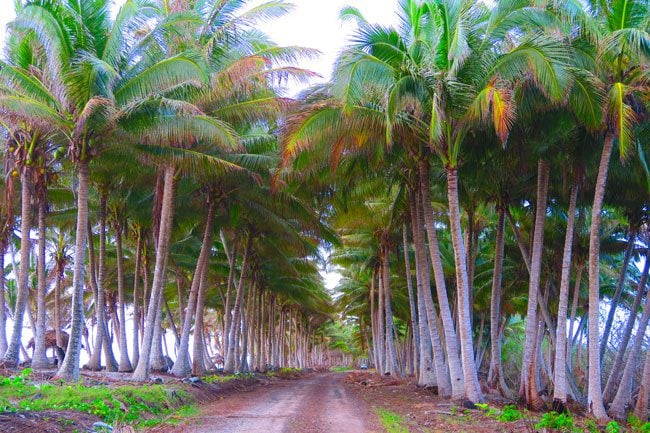 My first stop was at Cape Mulinuu, where a local guide took me to the 'Blood Well'. This is the spot where a legendary ancient Samoan warrior is said to have had the habit of tossing the heads of his enemies into the well. The beach across the road ain't too bad either, but my timing for sunset was a bit off on this day.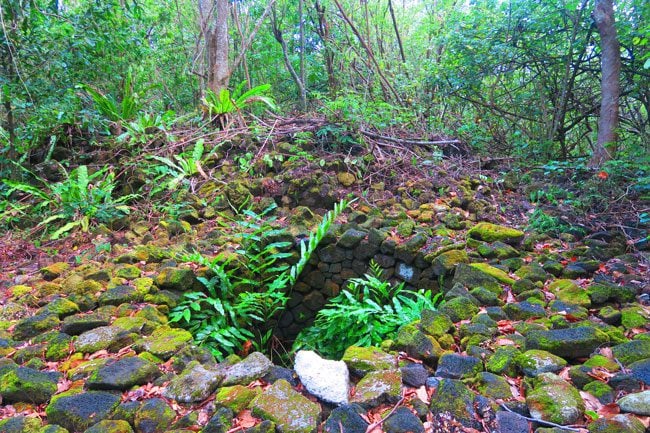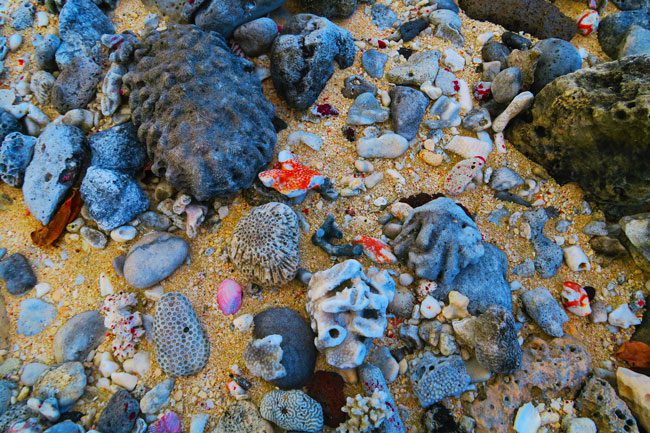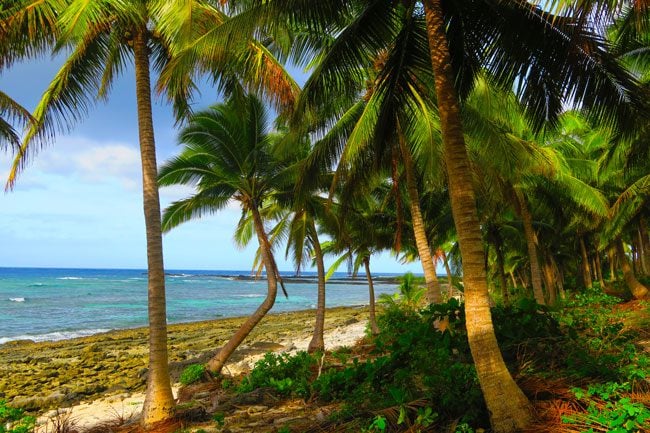 With the stomach begging for pretty much anything at this point, I quickly continued to Falealupo Village. The original village was badly hit by cyclones in 1990 and 1991 and was actually relocated to a safer spot. All that remains is this eery-looking Catholic church.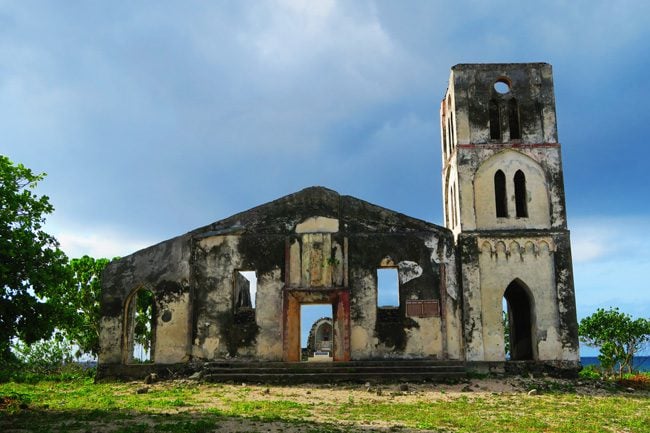 Before turning around and heading back to town, there was time for one last stop. After all, it's not every day that you get to climb a giant banyan tree, right? To get to this friendly giant, you just have to cross a shaky swing bridge above the rainforest. Easy, right? The view from the top is well worth the effort, though if you're scared of heights, this might not be the place for you.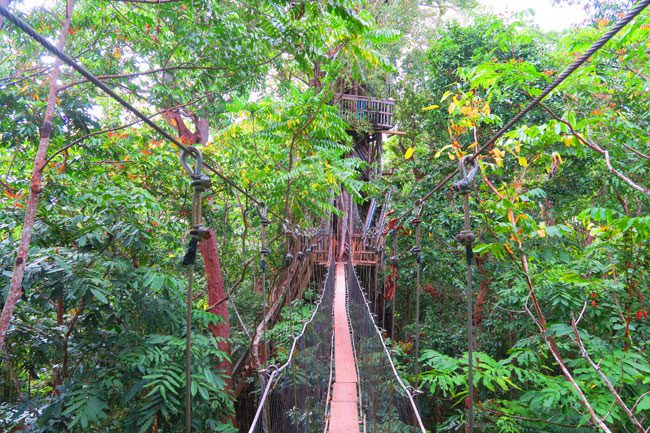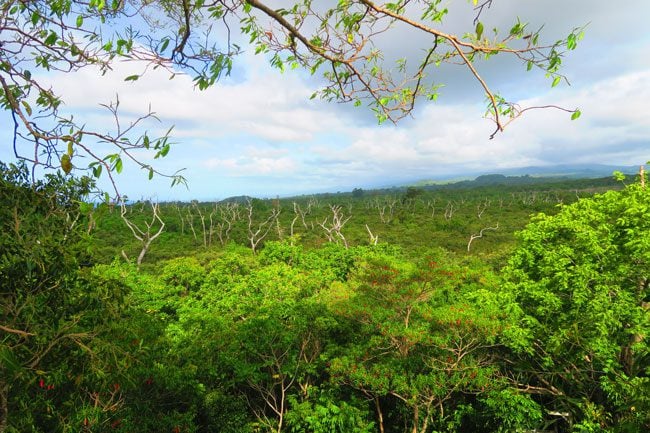 As the evening was falling on the drive back, front lawns in every village were filling up with kids ending their day with a friendly round of cricket and rugby. Even the brief rain brought with it one last treat for the day.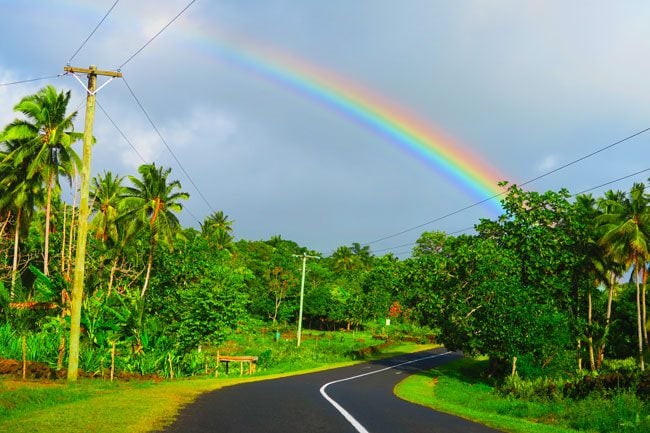 Exploring Savaii's north coast
The next day was dedicated to exploring Savaii's northern coast, which has a healthy mix of volcanic landscapes and white sand beaches. Dividends started to pay off quite quickly on this side of the island, with turquoise waters and palm trees as close to the road as possible.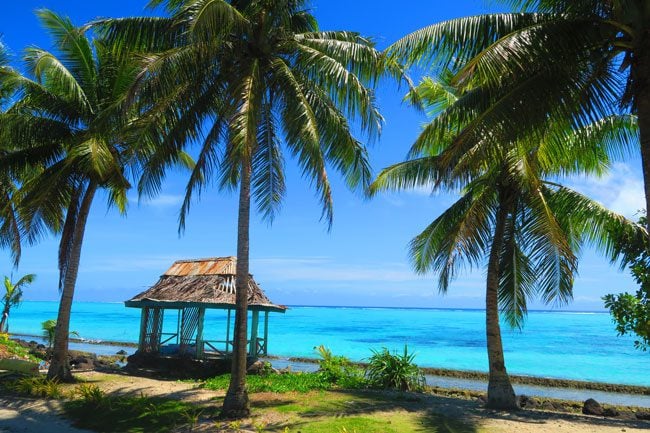 My first stop was at the Saleaula Lava Ruins, where you get yet another proof of who's the real boss in this world – mother nature! As I mentioned before, signs of volcanic activity are everywhere on Savaii and in fact, we'll head up one of those volcanoes very soon. The very same volcano we're about to explore is responsible for the destruction over here. Between 1905 and 1911, Mount Matavanu violently erupted, sending an over 10-meter thick layer of lava down towards the sea. Sadly, there were a few villages in the way that got completely wiped out. From the main coastal road, it's a shocking yet impressive sight.
This church is pretty much all that's left of the former village that used to be here. Spooky, ah?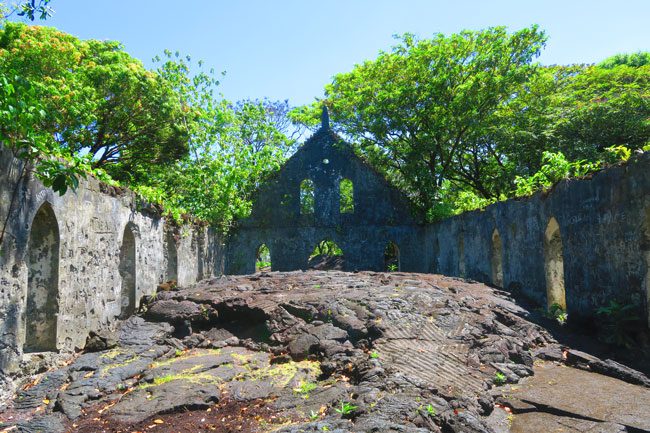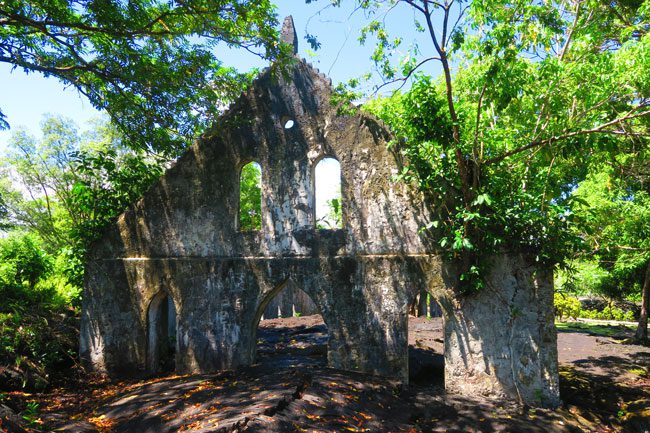 Meet Da Craterman
I already had a close encounter with a volcano in Vanuatu, but I just had to find out a bit more about this Mount Matavanu. So I took a left off the main road and went off-roading for a super difficult climb up to the volcano's crater. After a few miles of praying that the car is still in one piece, I reached a beautiful plateau – teeming with giant palm trees and friendly men working the fields in the blistering heat.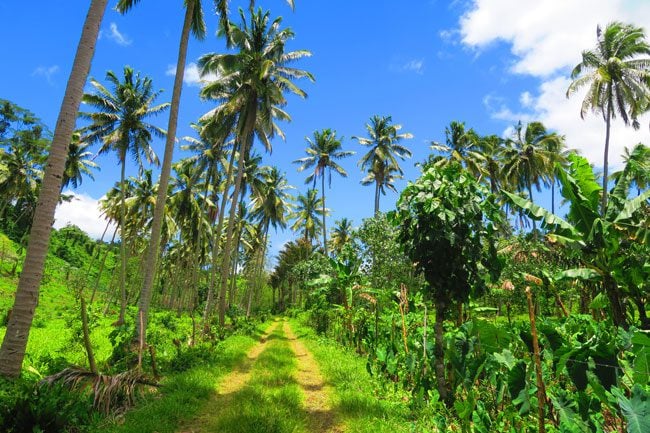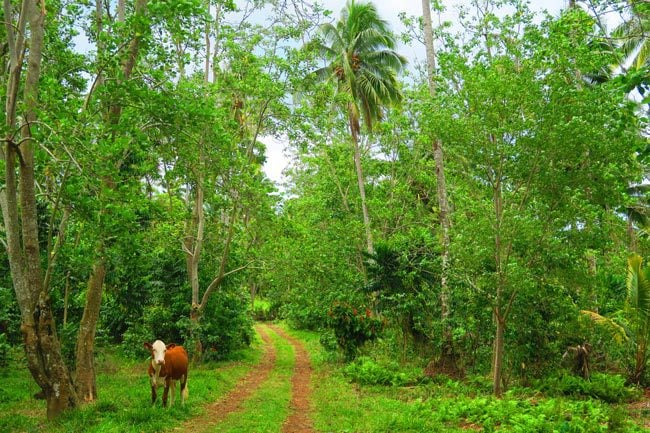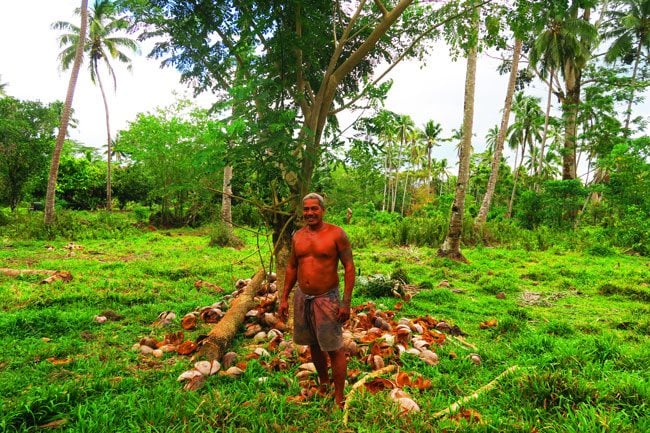 A few more miles and I made to the entrance to the volcano and finally got to meet the local legend simply known as 'Da Craterman'. His real name is Seu but he ain't called Da Crateman for no reason. The man lives up here and makes sure everything is nice and tidy for the visitors. Da Craterman has got a million-dollar view, his own version of the English language ('gr8ta' = crater) and he likes to commemorate your visit by dedicating a plaque along the path in your honor. If you guys ever make it to Mount Matavanu in Savaii, have a look if mine's there, will you?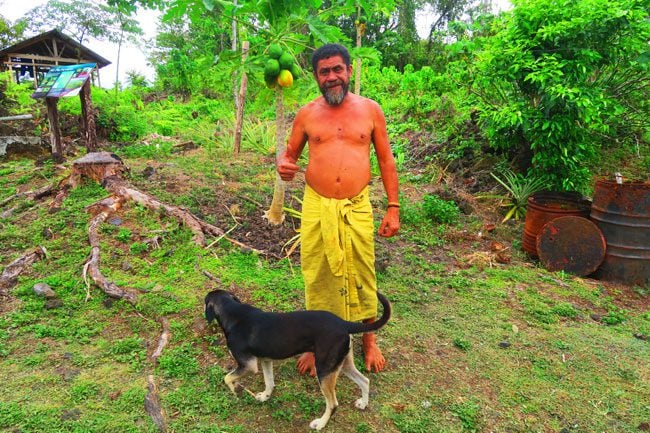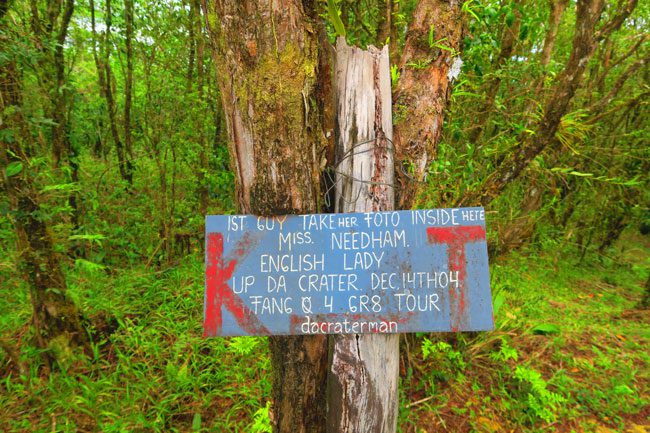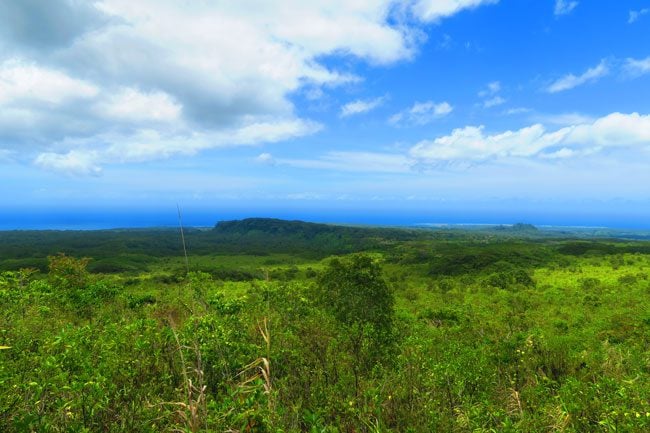 Leaving the poor beaten-up car behind, I headed deep into the rainforest and after a while finally made it to the volcano's crater. What a sight of absolute serenity. There is hardly any noise up here, aside from the birds singing away. Have a listen for yourself!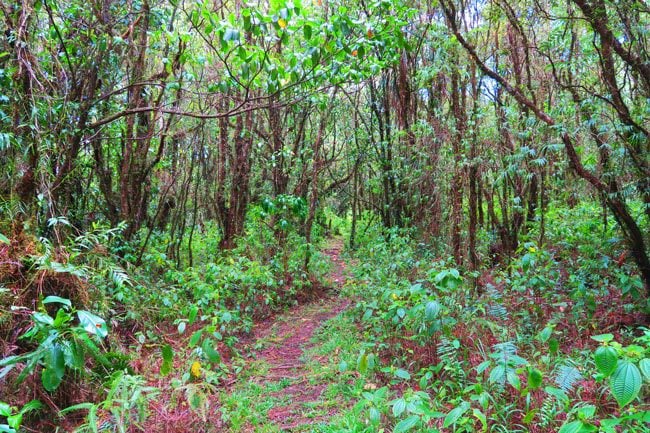 This crater used to be filled with lava, some of which flowed down and destroyed the village we just visited. Why only some? It turns out there's a drain at the bottom of this crater, in the form of a massive lava tube going all the way out to sea. Most of the lava was simply 'washed out', like in your very own bathtub!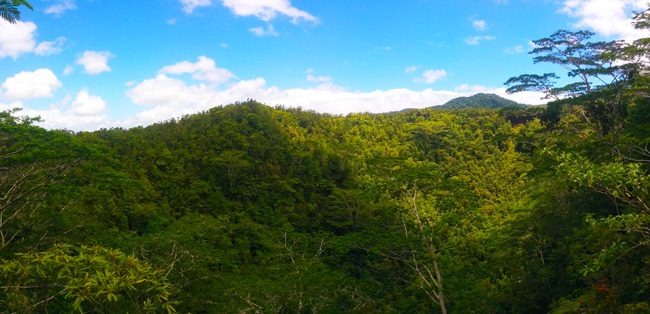 Let's freshen up
Bidding farewell to Da Craterman, going down turned out to be much easier than the way up but I needed a well-deserved refreshment. Pretty close by was a freshwater pool with the jaw-breaking name – Mata o le Alelo Pool. With a very sweaty 30 degrees out in the open, the pool came at just the right time and the local company was pretty entertaining as well, in a macho kind of way.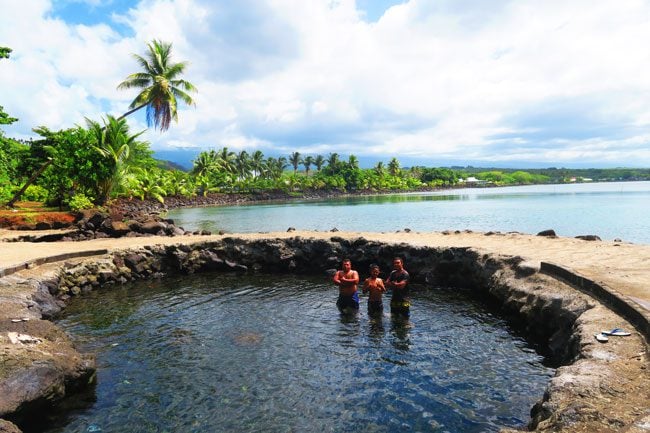 The last stop on the Savaii road trip before settling in for a lazy six days on the beach was at Peapea Cave. There are many caves on Savaii, so this one is nothing out of the ordinary – except for one thing. Inside the pitch-black cave, nests the Polynesian Swiftlet which only comes out at night. My guide also managed to find the nest of a young one, I hope the flash didn't harm it…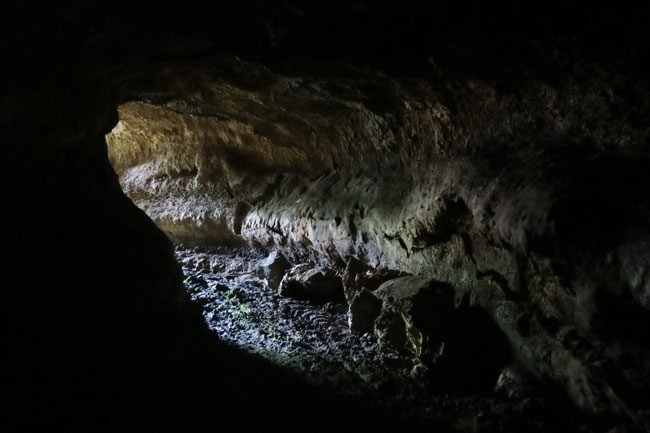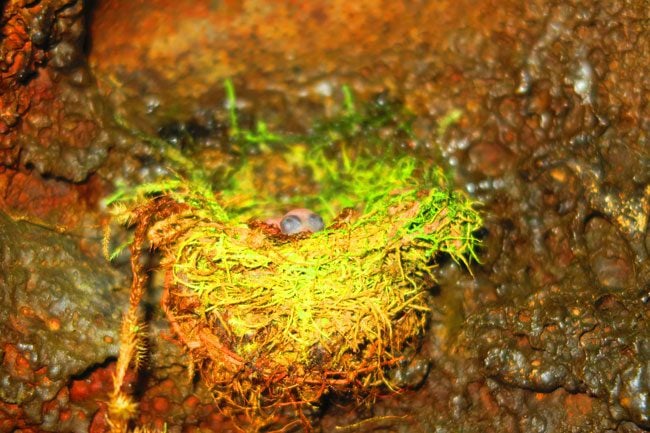 Doing a whole lot of nothing in Manase
With the car safely dropped back, my Savaii road trip had come to an end and I could finally spend a few days of lazing around on the beach. If it's the beach you want on Savaii, you gotta head to Manase Village.
Manase is a sleepy village where's there's really nothing to do aside from watching the waves. It does have a gas station and a precious ATM, which is like striking oil around here since the question of 'paper or plastic' doesn't really exist. Cash only, dummy! Anyways, the beach is like a postcard at low tide and your very own fale is right on it (traditional Samoan beach hut). In fact, it might even be above it, with the waves sweeping right beneath you.
Sleeping in an open fale is an amazing yet weird experience. We are simply not used to sleeping in the open, let alone right above the waves. While they are truly relaxing, they also cause to sleep alertly and wake up frequently at night, instinctively checking if everything is as it should be.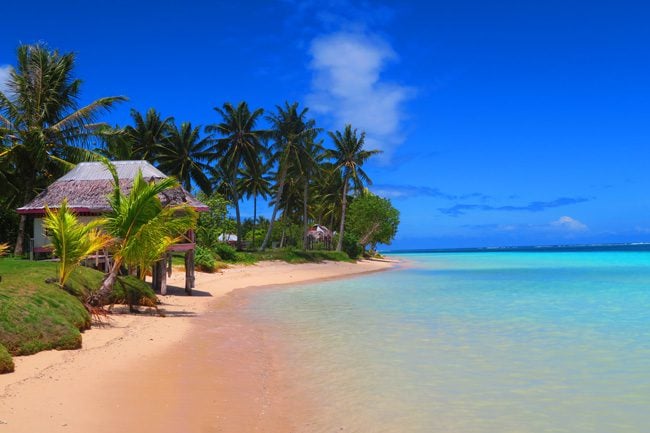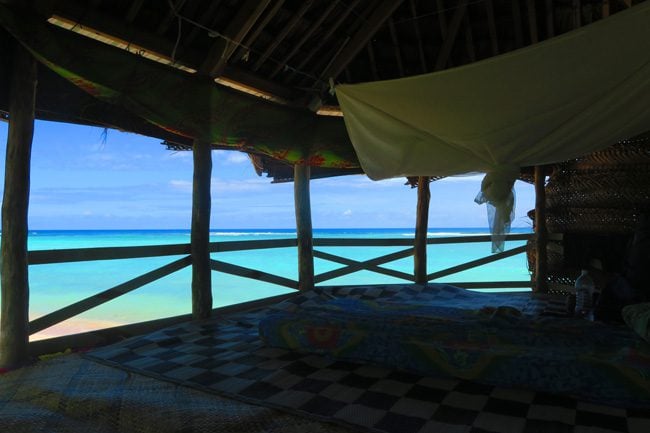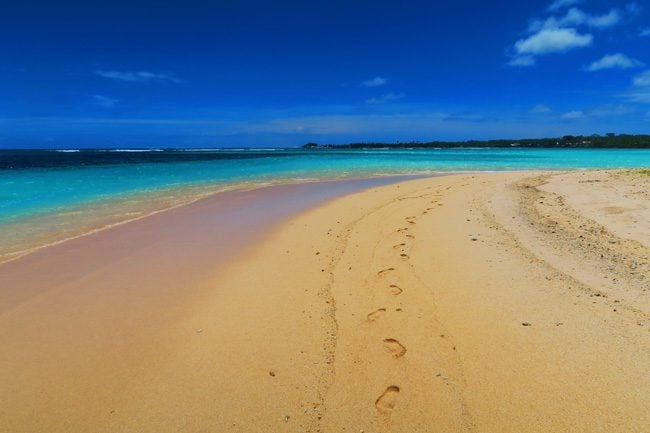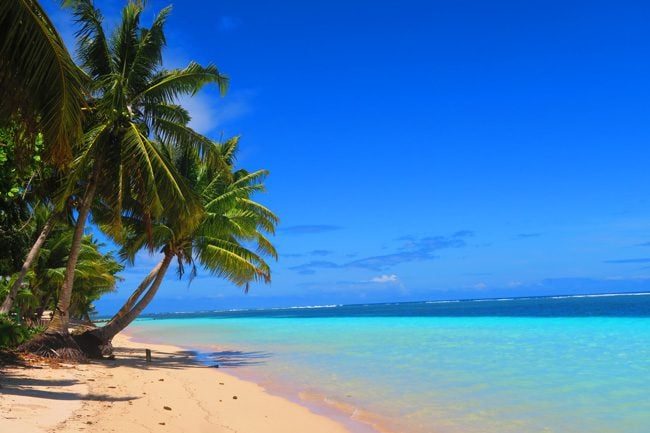 Frequently, sea turtles are spotted cruising up and down the coast, while feasting on seagrass – giving you yet another activity to do on an otherwise heavenly lazy day. Once in a while, the staff at your friendly beach fales might throw in a traditional Samoan show, like the one we saw back in Lalomanu. The storyline is pretty much the same, the young Polynesian bachelorette dances her traditional moves as the men honor her with some side dancing. All this is followed by an always impressive fire show by the boys and if you're lucky – a full moon like this one.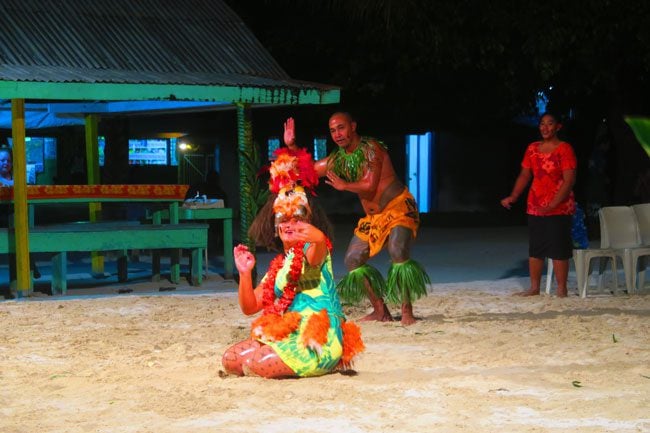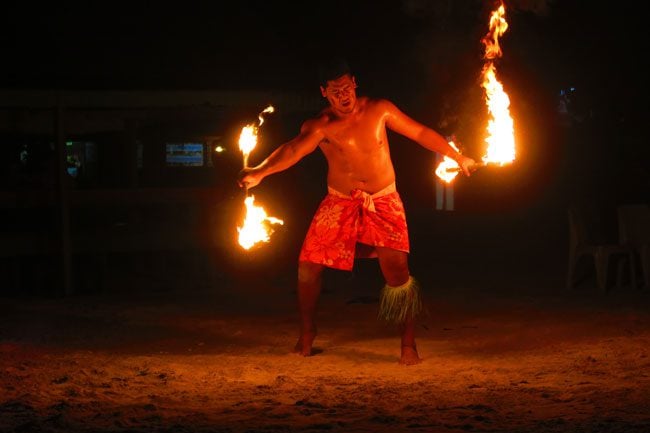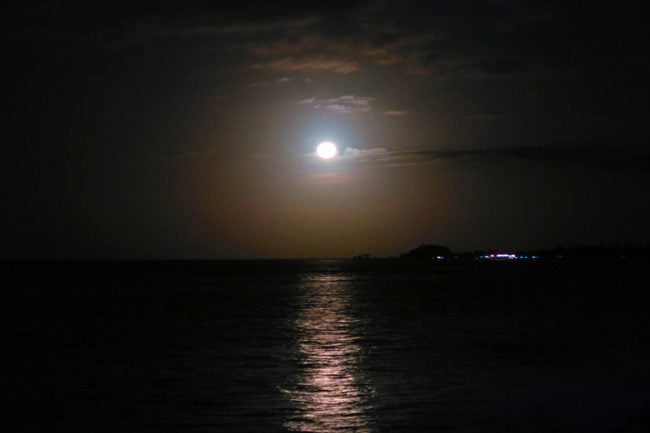 In search of some sea turtles
Seeing the turtles from the comforts of my beach fale made me curious, so I decided to head underwater and explore the reef. The first dive was a shallow warm up, where we saw no turtles. That's OK though, as we did get to maneuver through some tight cracks formed by the lava and got to see a scary-looking lionfish, the always interesting but dangerous stingray and the usual reef favorites (the following are slideshows).
The second dive started off at the wreck of the John Williams V. This was a missionary boat that came to Savaii from Apia just after Christmas back in the day but took the wrong turn and plowed into the reef. Perhaps it was the eggnog or maybe just poor navigation. At least everyone made it out alive and as with the SS Coolidge wreck dive back in Vanuatu, it makes for an always interesting dive.
The landscape on this dive was something very unique, and definitely compensated for the lack of soft coral. It kind of feels like you're on some mountainous range, with all these lava mounts around you. Very special.
This time around, we saw turtles – and plenty of them. You just can't get enough of these cute creatures. It still puzzles me how this animal lives underwater. It just seems so strange. Anyways, these guys are definitely not like their land-based relatives, showing impressive speed beneath the waves.
What's Next?
The next few days were spent … doing a whole lot of nothing. I did get to do some very challenging bucket laundry (try drying it in the rain) and plan the next stop, which is what I wanted to talk to you about. Next time we'll touch base, it'll be from Samoa's little sister – American Samoa. I'll be heading to a super remote tropical paradise called Ofu Island (run a Google Image Search on that). I hope there will be wifi because you won't want to miss this one!
Special Bonus Section
Some of you remember my first week in Samoa, where I explored some natural sights around Apia. It was a super cloudy day and the GoPro was out of battery, so I rented a car to do some leftover sightseeing on my last day back in Upolu Island, before the flight to American Samoa. Enjoy!
Piula Cave Pool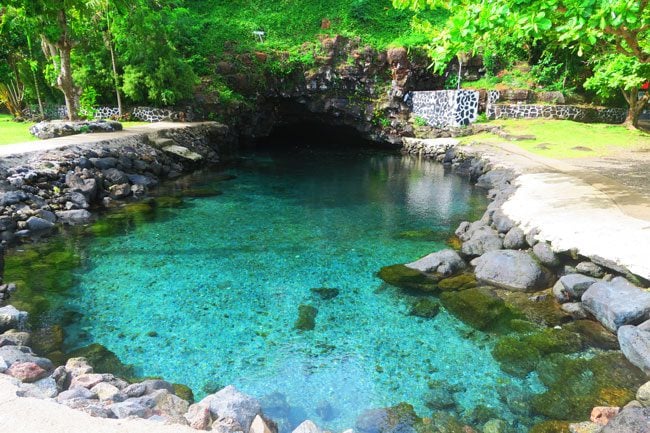 Wanna head underwater? Let's go!
Cross Island Scenic Drive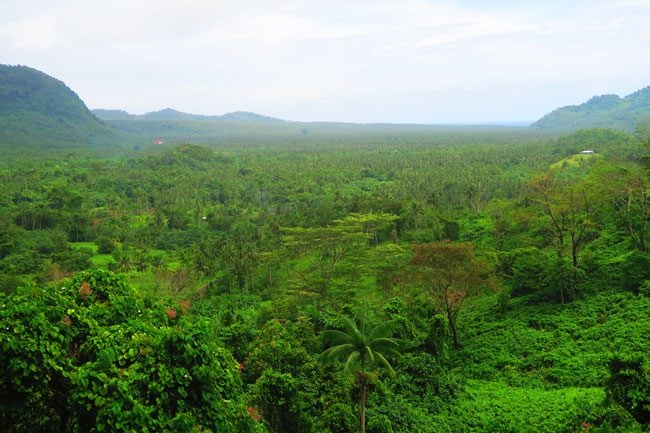 Fuipisia Waterfall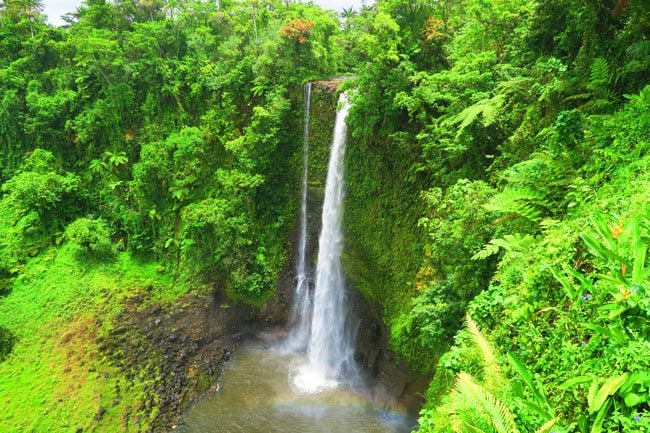 Sopoaga Waterfall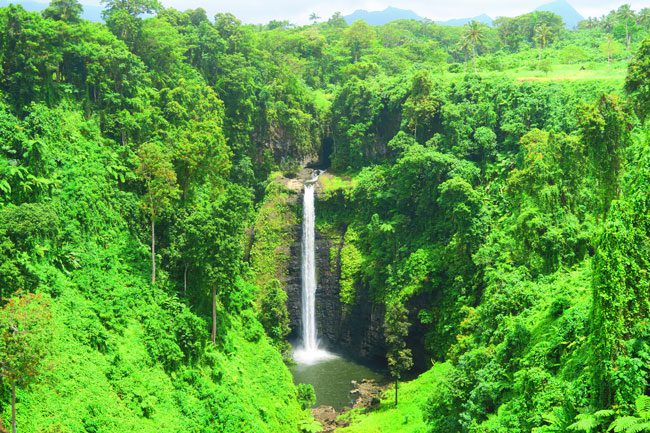 Papapapaitai Waterfall