Saguaro National Park Travel Guide & Itinerary
Close to the big city but feeling like a world away, a visit to Saguaro National Park sparks vivid flashes of the Old West. Nowhere else can you walk amid dense clusters of giant saguaro cactuses and experience the great Sonoran Desert with such comfort. In this Saguaro National Park travel guide and itinerary, we'll explore the best ways of visiting the national park.
I visited Saguaro National Park during a three-day trip to Tucson. The visit was part of a memorable five-week road trip in the American Southwest. This travel guide and Saguaro National Park itinerary is based on my experience and extensive research.
Why Visit Saguaro National Park?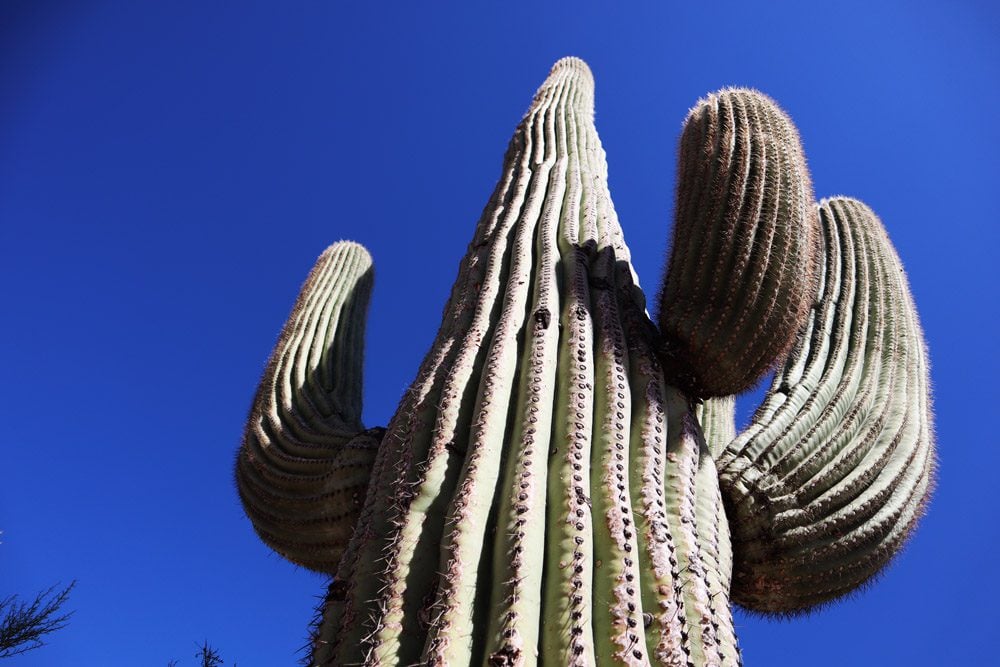 Giant Cactuses
Saguaro National Park is the best place to see the saguaro cactuses. These giants are native to the region and can grow up to 50 feet during their average 200-year lifespan.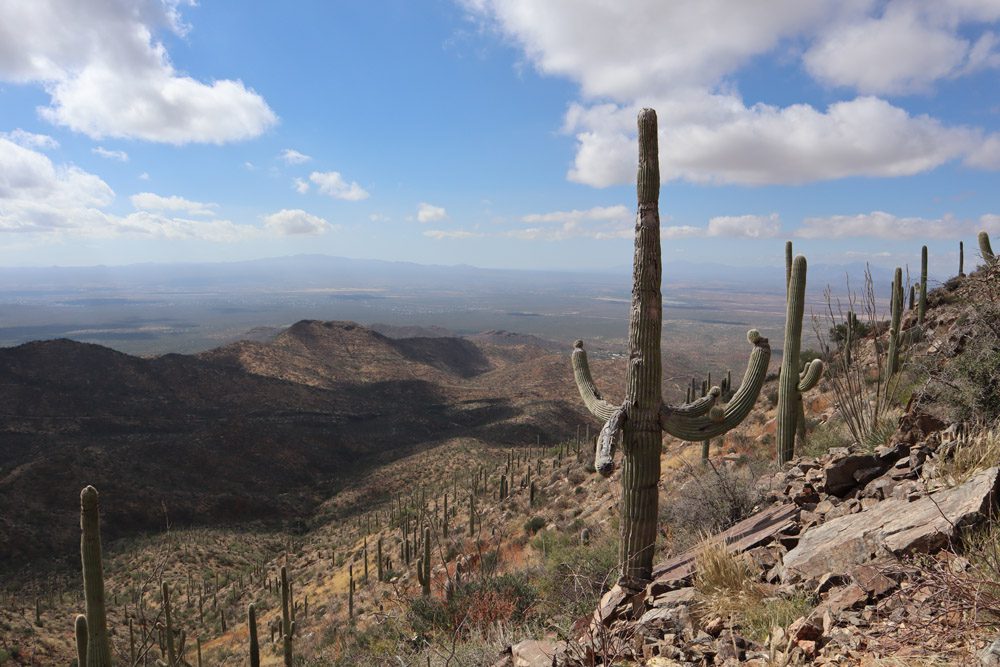 Sonoran Desert
Experience "classic" Wild West scenery in Southern Arizona's great Sonoran Desert, the hottest desert in the United States. Enjoy fine desert scenery from both park sections.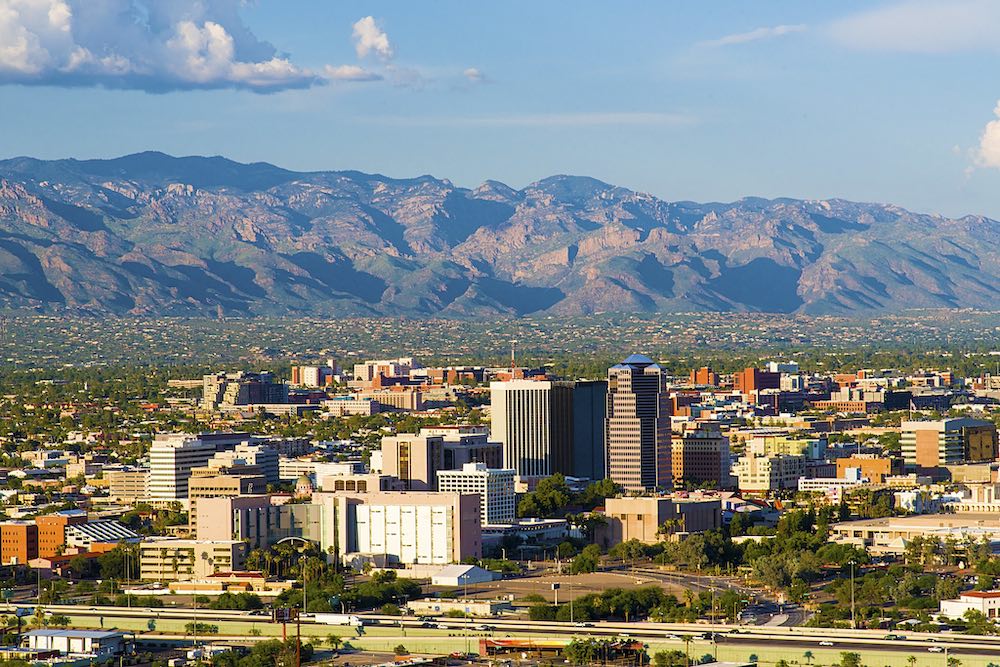 Close to Tucson
Both national park districts are less than 30 minutes by car from Tucson. Spend the day outdoors in either section of the park and return to the comforts of the city at night.
What's Included in this Saguaro NP Travel Guide
Several sections make up this travel guide:
Brief background
How to plan a trip to Saguaro National Park
Saguaro National Park itinerary
Additional Arizona Travel Resources
Check out additional Arizona and Southwest USA travel guides to combine your visit to Saguaro National Park with additional desert highlights.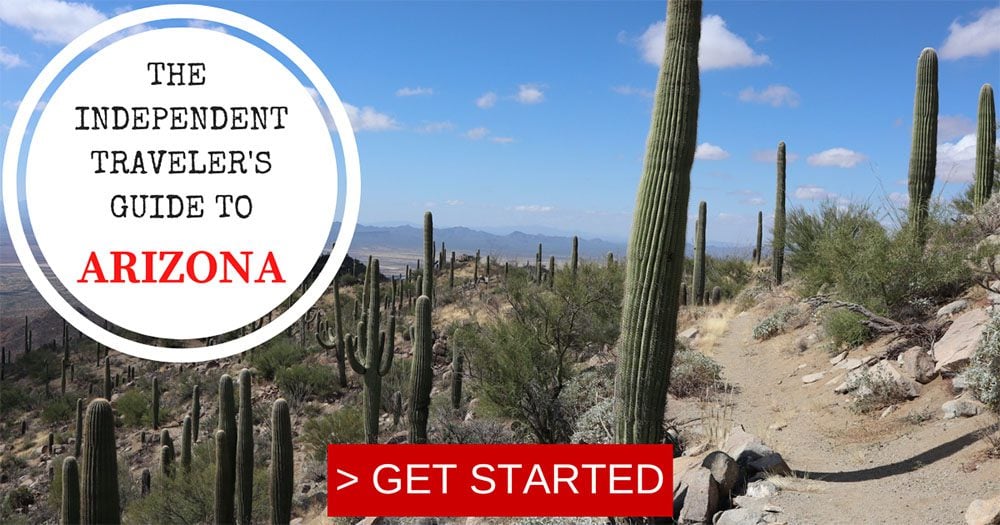 Saguaro NP Itinerary Map
All places mentioned in this Saguaro National Park travel guide and itinerary are marked on this companion map. Simply click on the image to open it in Google Maps.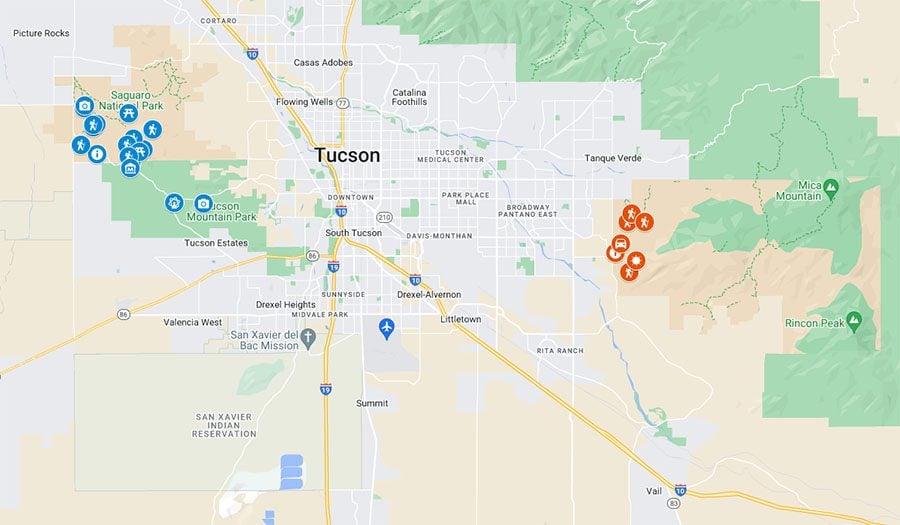 Brief History
Saguaro National Park was officially established in 1994, but its conservation history dates back to 1933. Spreading across 92,000 acres in the Sonoran Desert, the present-day national park is divided into two sections on either side of Tucson.
The main reason for visiting Saguaro NP is to see large clusters of giant saguaro cactuses found nowhere else in such large numbers. Saguaros can live up to 200 years, rising to 50 feet during this span and weighing up to eight tons. For many, the giant saguaros are the definition of the Wild West.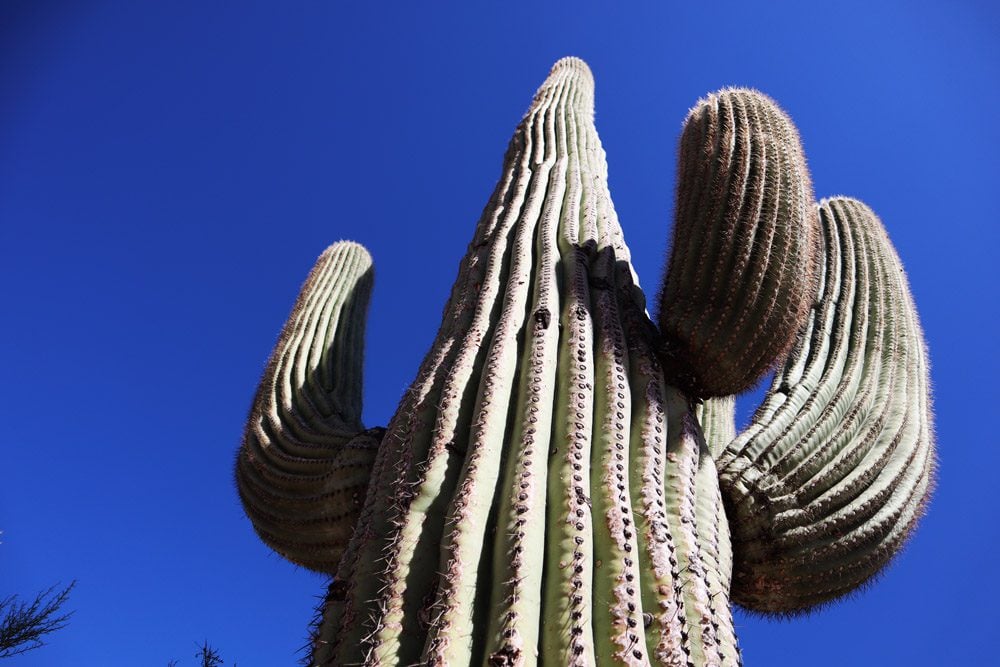 The region's original inhabitants were the Hohokam, whose petroglyphs can still be seen in Signal Hill. Then, in the late 17th century, the Spanish began to settle the area, though the section of land now taken up by the national park remained relatively undeveloped until the arrival of American settlers, ranchers, and miners in the late 19th century.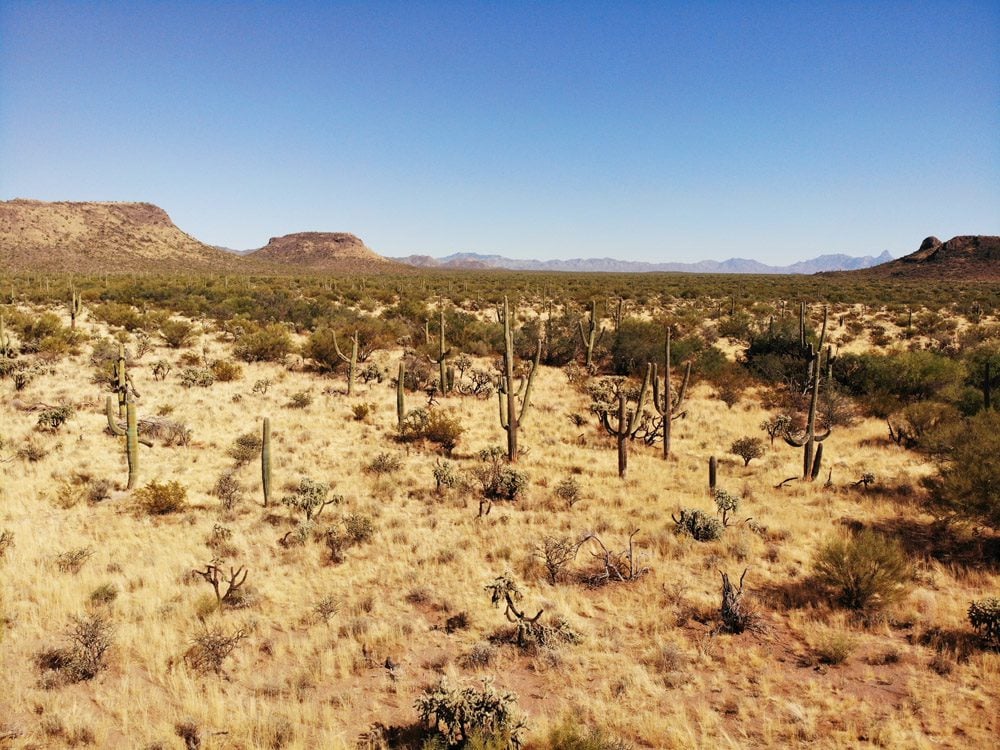 Saguaro National Park Travel Tips
This section deep dives into the essential ingredients for a successful visit to Saguaro NP.
Where is Saguaro National Park?
Saguaro National Park is located on the western and eastern outskirts of Tucson, Arizona. The national park is divided into two sections that aren't directly connected. The western section is known as the Tucson Mountain District and lies about 16 miles from Tucson. The eastern section is known as the Rincon Mountain District and is located about 18 miles from the city.
Saguaro West vs. Saguaro East
Most visitors to Saguaro National Park focus on the park's western section. This is where you'll find the highest concentration of saguaro cactuses and hiking trails suitable for day visits and even small children. The eastern section does have a short scenic drive, but it is more appealing to backcountry hikers. You will see saguaro cactuses in the eastern section, but in far fewer numbers than in the western section due to the higher elevation.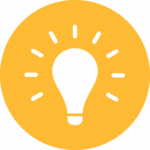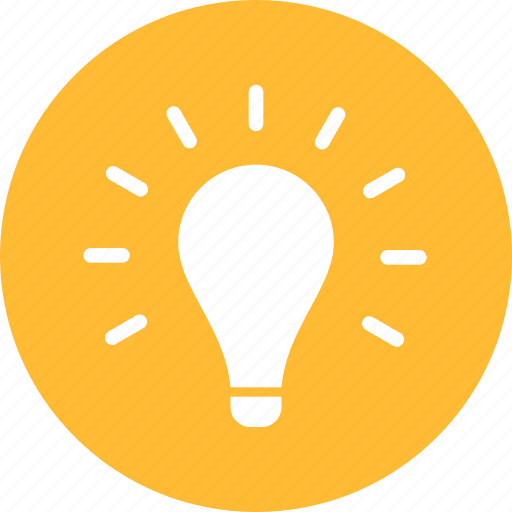 Pro Tip
If you only have one day to spend in Saguaro National Park, devote it to the park's western section.
How to Get to Saguaro NP
Saguaro National Park is easy to reach from Tucson. The Red Hills Visitor Center in Saguaro West is about 30 minutes by car from Tucson via scenic Gates Pass, a similar distance to the Rincon Mountain Visitor Center in Saguaro East. Saguaro National Park is about two hours south of Phoenix. The quickest way to drive from Phoenix to Saguaro NP is via Interstate 10.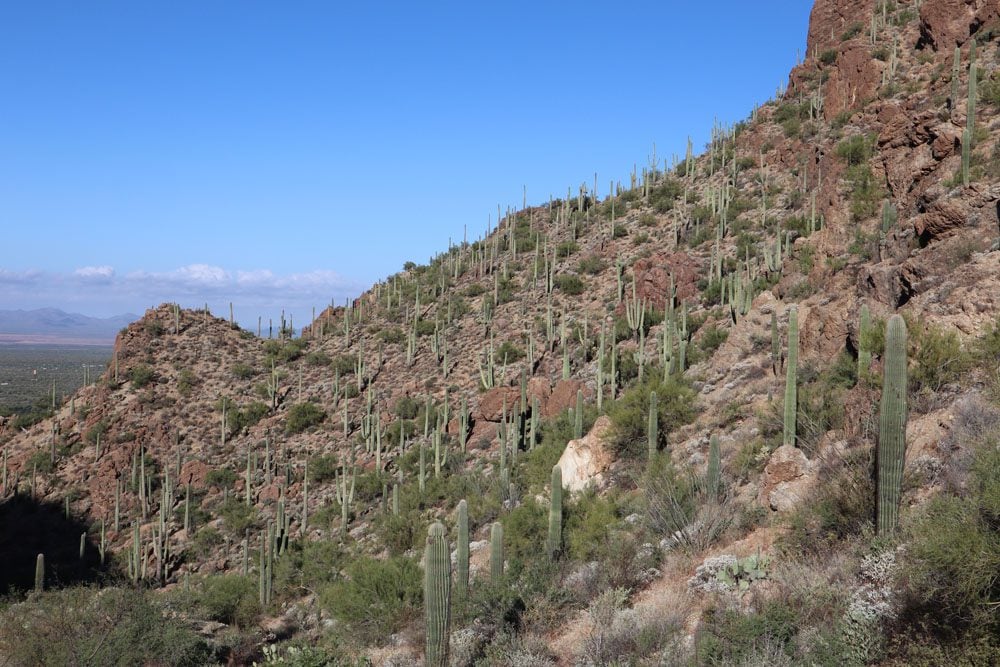 When is the Best Time to Visit Saguaro National Park?
The best time to visit Saguaro National Park is during spring and late fall when temperatures are optimal throughout the day. Summers in the Tucson region are usually brutal, with daytime temperatures exceeding 100 degrees Fahrenheit. This will greatly limit the amount of hiking you can get done. Flash flooding is a possibility during summer thunderstorms. Winters are also a good time to visit Saguaro NP if you aren't planning to camp in the backcountry, as the days are pleasant, but nights are cold and heavy snowfall is a possibility in the eastern section's high mountain area.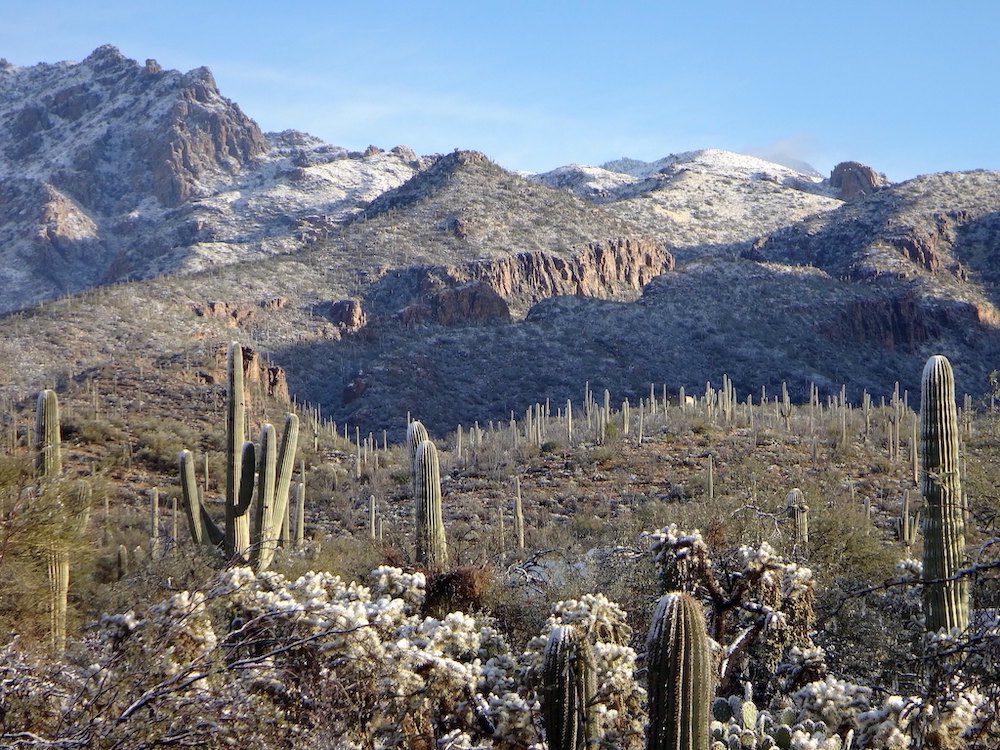 How Many Days Do You Need in Saguaro National Park?
If you aren't planning to hike in the backcountry, one day is enough to properly experience Saguaro National Park, with a focus on the park's western section. It is possible to spend the morning and early afternoon in Saguaro west and then complete the eastern section's scenic drive, but it's not practical for most visitors. To properly explore both sections, devote two days to the national park.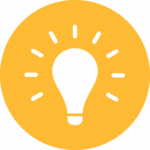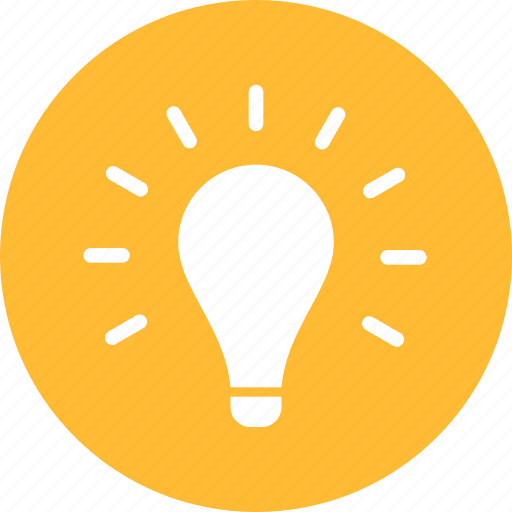 Pro Tips
(1) See the next section of this travel guide for a detailed itinerary for spending up to three days in Saguaro NP. (2) If you're planning to visit multiple national parks, pre-purchase the America the Beautiful Pass.
Where to Stay Near Saguaro National Park?
Most visitors use Tucson as a base for exploring Saguaro National Park. Tucson has no shortage of hotels in the downtown area as well as on the outskirts of the city. If you're looking for quiet accommodation with a local vibe, see if there's any vacancy at El Amador Downtown Luxury Inn.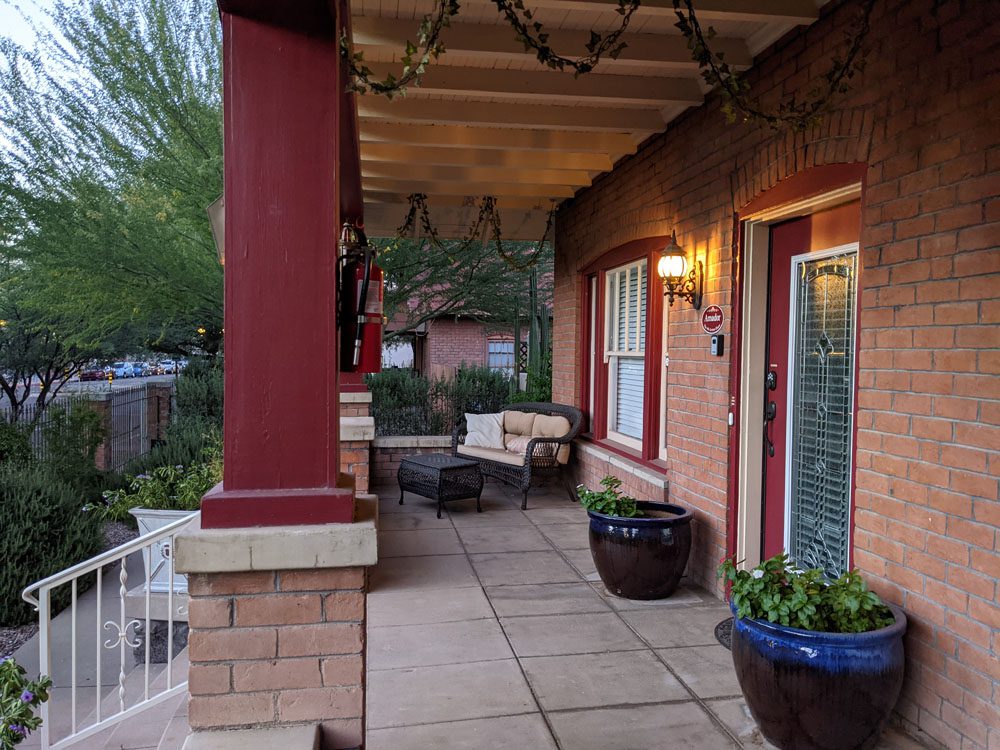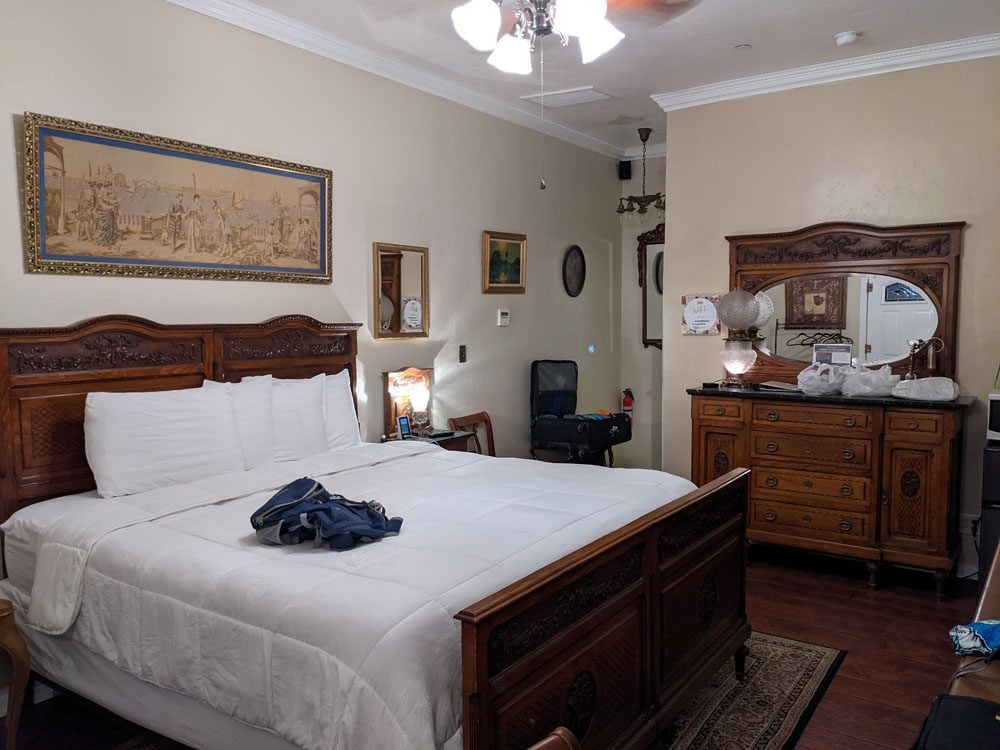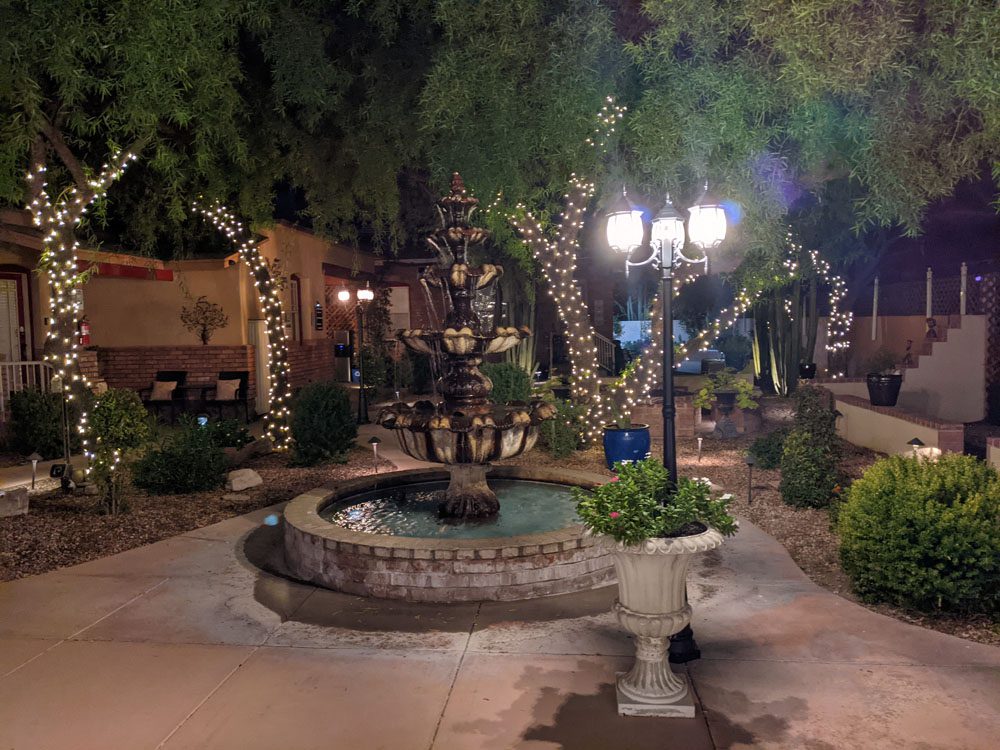 Backcountry camping in Saguaro NP is possible with a permit, or hike to one of six designated campsites, all of which are in Saguaro east. If you want to camp near Saguaro West, check your options at the Gilbert Ray Campground.
Getting Around
You need a car to explore either section of Saguaro National Park. There are short scenic drives in both the east and west sections, along with trail access for hikers. As far as I know, there is no public transportation from Tucson to Saguaro NP, but several tour operators offer multi-day tours of the Tucson region, including the national park.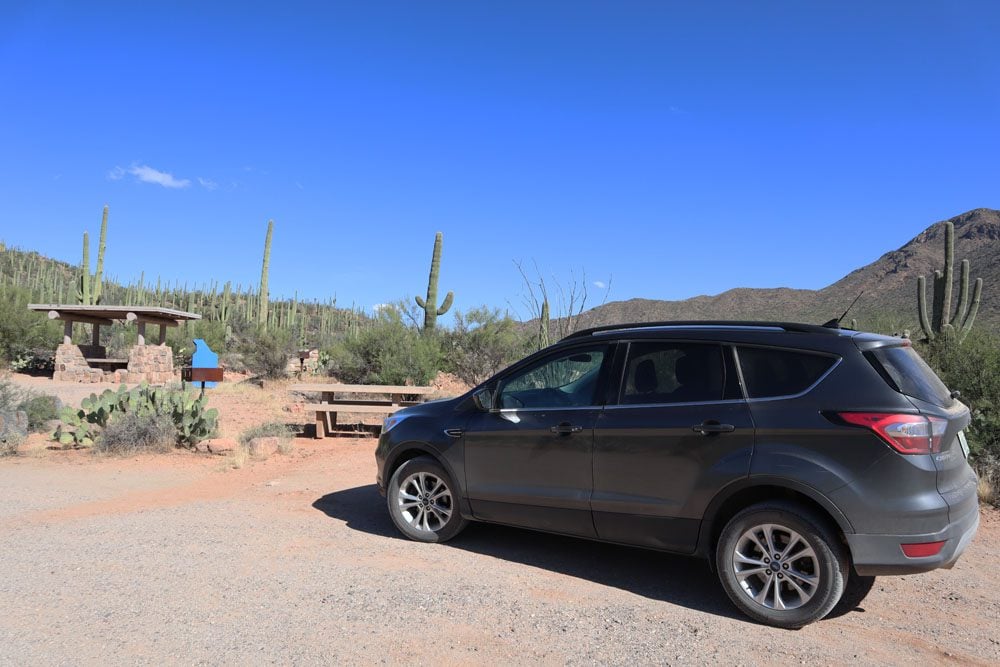 Hiking in Saguaro NP
If you only want to see clusters of giant saguaro cactuses, you don't need to do any serious hiking in the national park. All you need is to complete the short scenic drives in either section of the park and hike one or two easy trails in Saguaro West. However, with over 175 miles of trails, Saguaro NP offers plenty of ways to go off the grid, whether for a couple of hours or days.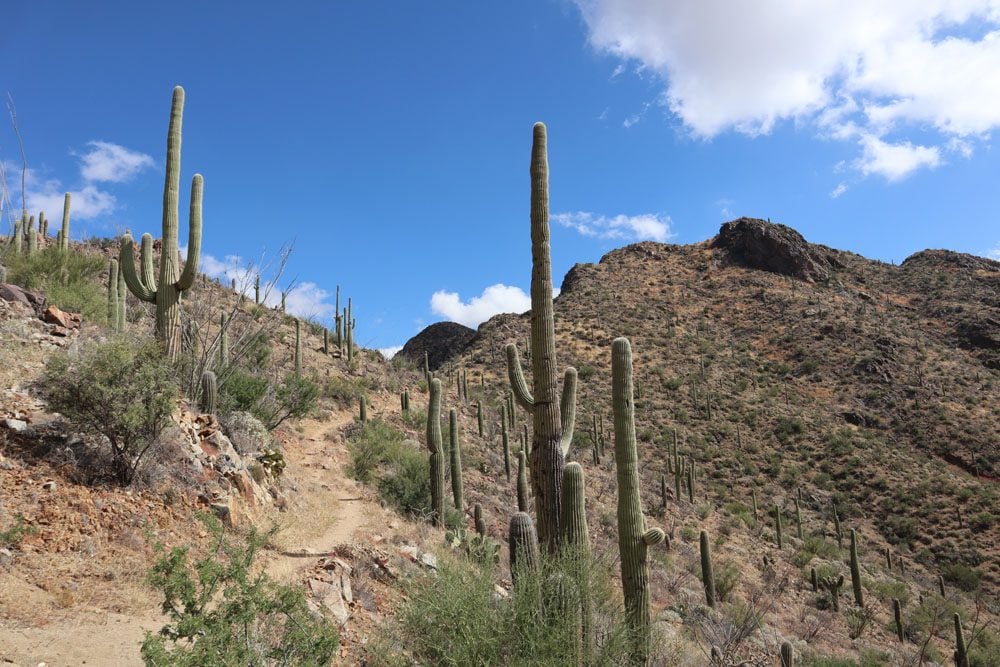 The most challenging hikes are in Saguaro East, with most, if not all hikes requiring overnight stays to complete. These trails take hikers into the Rincon Mountains, where the views are stunning but where saguaro cactuses quickly vanish as you gain altitude. Across the city in Saguaro West, day hikes are very rewarding as they combine "proper" desert scenery, including clusters of saguaro cactuses, without having to camp overnight.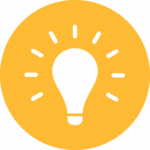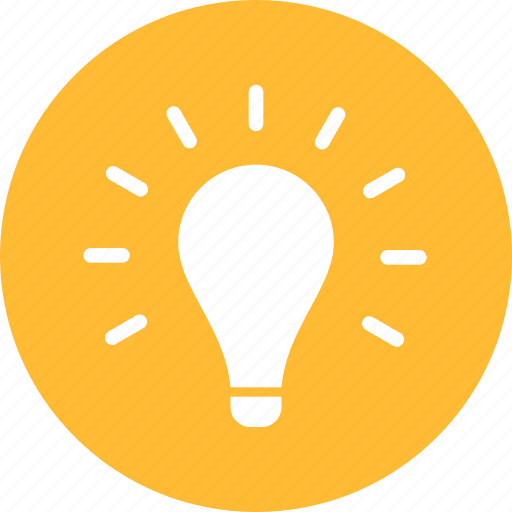 Pro Tip
I heavily relied on All Trails maps when planning my hikes, and I strongly recommend upgrading to the pro version so you can download trail maps to your phone.
Water & Food
Bring enough food and water for your planned visit (at least 1 gallon of water per person per day). There is no food on sale within the national park (this can change in the future), but you can fill water in the visitor centers.
Pets in Saguaro NP
Pets are allowed to enter Saguaro National Park as long as they stick to the roadways and picnic areas. You can hike with your pet on the Desert Discovery and the Desert Ecology trails (subject to change).
What to Pack for Saguaro NP
Here are a few items worth considering when planning a trip to Saguaro National Park.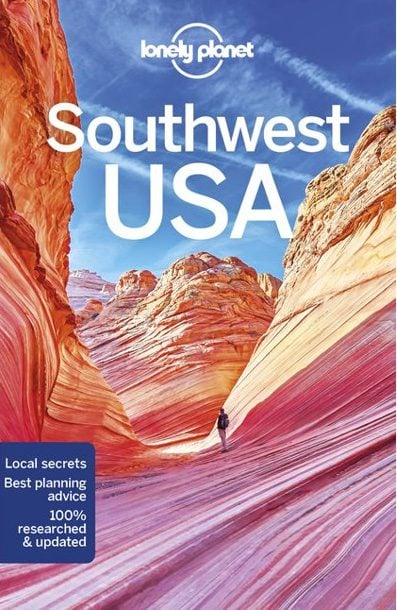 Get your copy of the Lonely Planet guide to Southwest USA for information about the national park and other parts of your road trip.
Water: bottles or a large water pack
Sun protection: hat, sunscreen, sunglasses
Clothing: lightweight and sweat-repelling layers but also multiple warm layers for cool mornings
Extra warm clothing if visiting during winter
Dry weather: lip balm and tissues
Safety: first-aid kit, walking poles (optional), hiking shoes, thick socks
Hygiene: alcogel, small garbage bag
Energy bars and snacks
USB charger to charge your phone in the car
Saguaro National Park Itinerary
In this section, we'll explore in detail an itinerary for spending up to three days in Saguaro National Park, focusing on Saguaro West.
Day 1: Saguaro West
If you only have one day in Saguaro National Park and your primary motivation is to see the giant saguaro cactuses, devote the day to Saguaro West. We'll spend most of the first day inside the national park and leave some room for other exciting activities.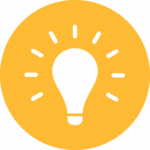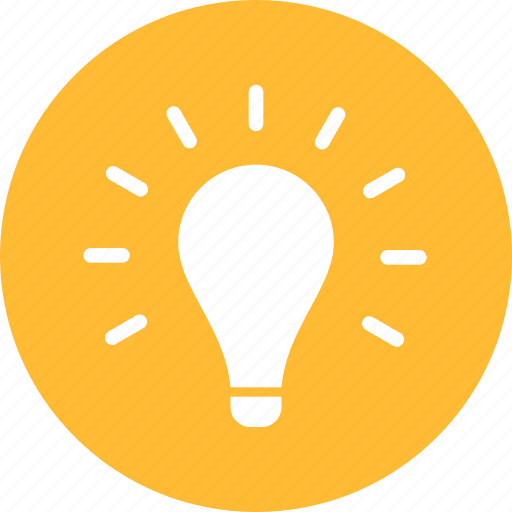 Pro Tip
Get an early start to avoid the day's worst heat while hiking. If you're traveling during the winter, consider late afternoon temperatures and sunset time.
Drive from Tucson
The drive from Tucson to Saguaro West takes about 30 scenic minutes. Once you clear the final residential area, you'll start seeing clusters of saguaro cactuses as you drive on W. Gates Pass Road. Stop for a short break at the Gates Pass Scenic Lookout before the final leg to the national park. From this viewpoint, you're rewarded with impressive panoramic views of the surprisingly lush Sonoran Desert plain. There are two interesting trails in this area, the Gates Pass Trail and the Yetman Trail, but it's best to continue the drive in the interest of time.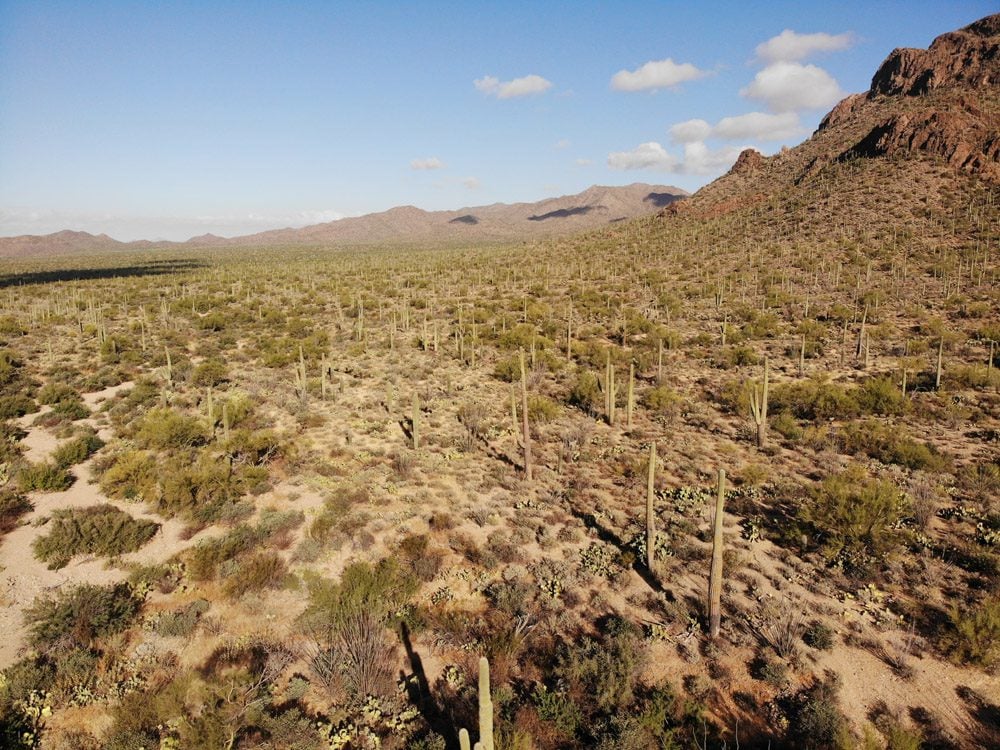 Entering Saguaro West
Enter Saguaro National Park via N. Kinney Road and pay the park fees at the Red Hills Visitor Center. If park rangers are around, "sanity check" the day's itinerary, see if any special ranger-led programs are taking place and double-check today's weather forecast.
King Canyon Trail
If you have time for one "proper," hike the King Canyon Trail to Wasson Peak. At the height of 4687 feet (1,429m), Wasson Peak is the highest spot in Saguaro West and offers exceptional views of the Sonoran Desert. There are multiple ways to reach Wasson Peak, but the hike described below combines four different trails to create a loop.
Park your car at the King Canyon Trailhead and hike 3.4 miles to Wasson Peak. This section of the trail is an old mining route, but you can also walk on the sandy Lower King Wash Trail and connect with the King Canyon Trail when you've had enough. Along this stretch, you'll see many saguaro cactuses rising from the mountain's foothills.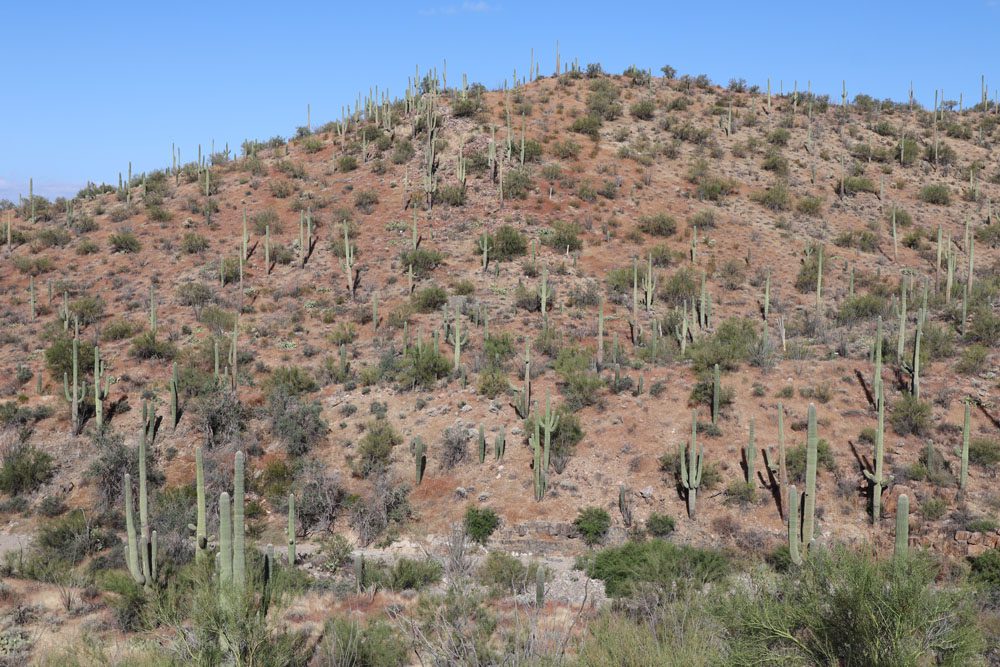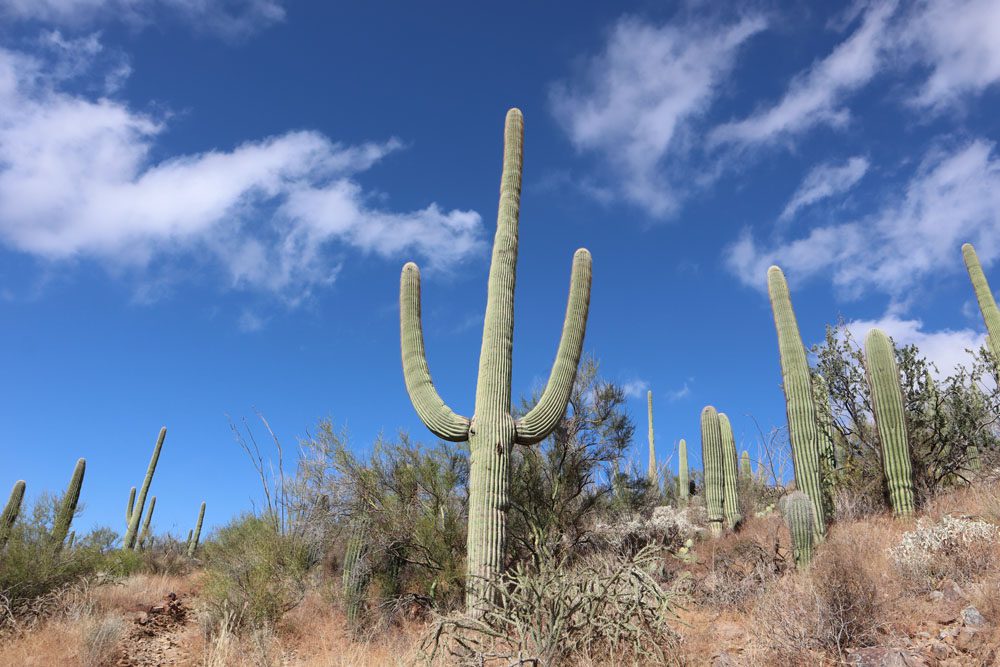 The ascent to Wasson peak is not easy but the views from the top are well worth the effort. This is a great spot to take a break and have a snack before starting the descent, though it can be windy up here, so pack something warm.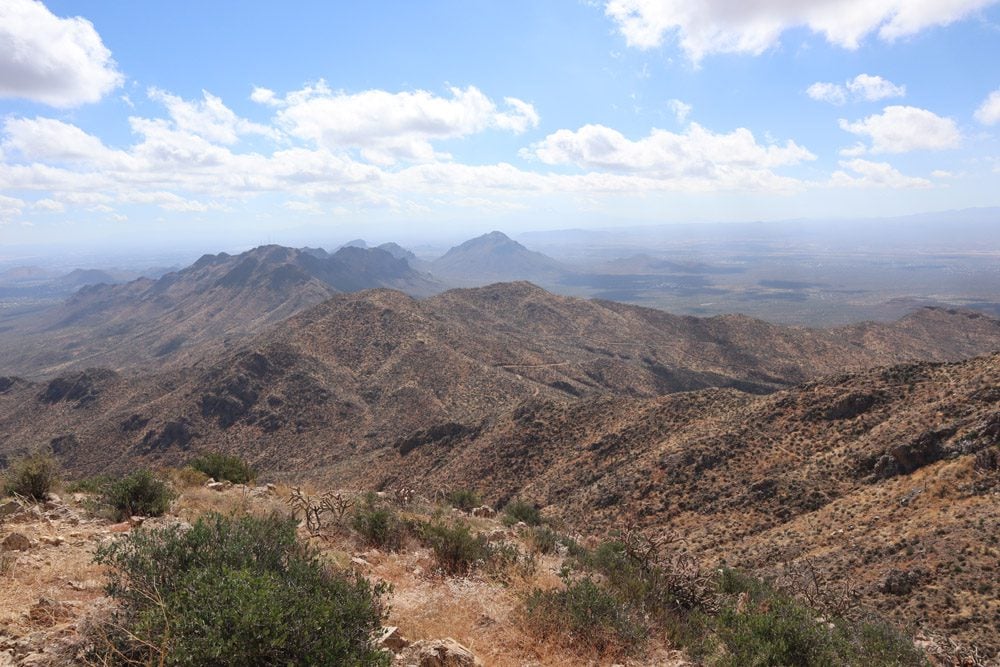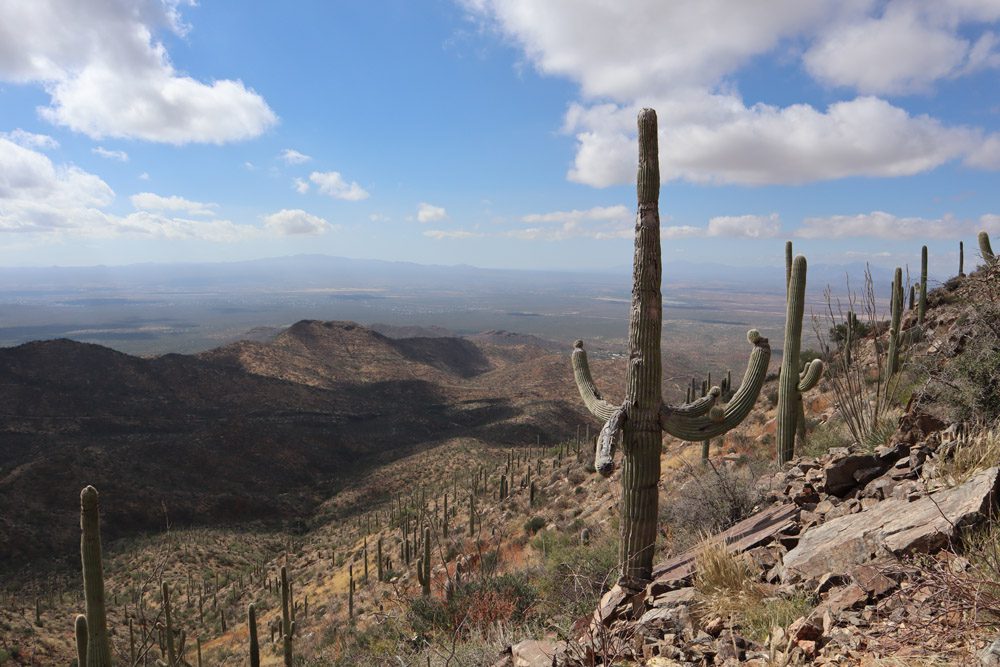 To complete the loop, instead of hiking back the same way you came from, pick up the Hugh Norris Trail for 1.9 miles until the junction with the Sendero Esperanza Trail. This is the prettiest section of the hike, taking you through a grove of saguaros with stunning desert views from the high ground.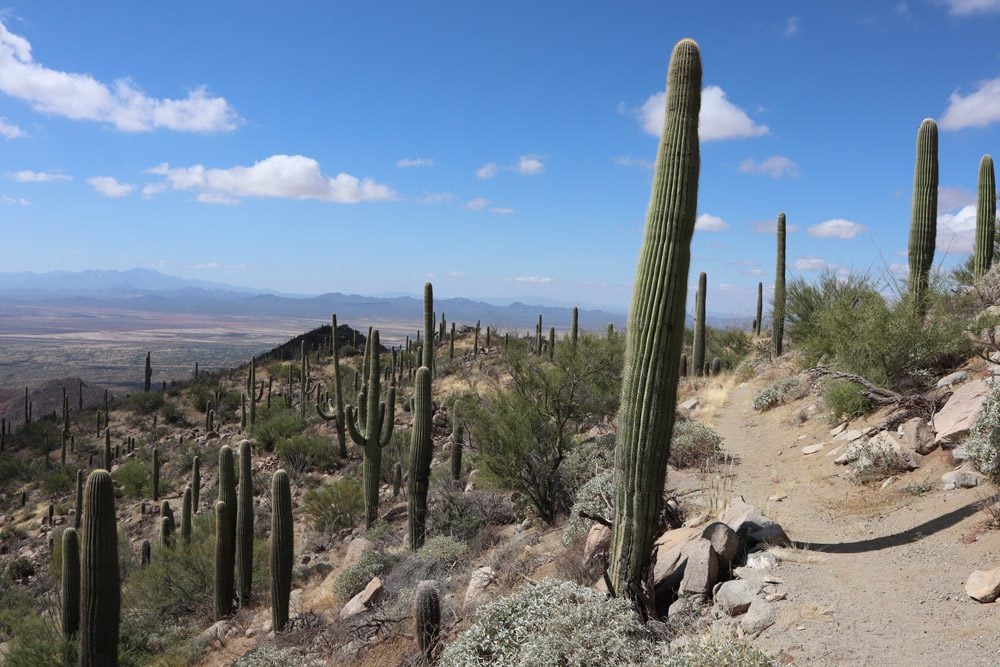 After one mile on the Sendero Esperanza Trail, continue for another 0.4 miles for a picnic lunch at Mam-A-Gah, or join the Gould Mine Trail for an 0.8-mile hike back to the trailhead.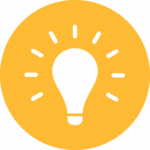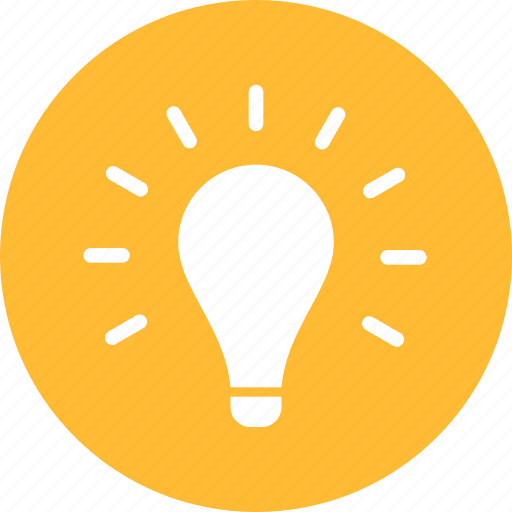 Pro Tips
(1) Do this hike early in the day to avoid peak heat. (2) I recommend hiking the loop counterclockwise, as described above. (3) Allot about 3.5 hours to the hike and pack lots of water, snacks, sun protection, and wear proper hiking shoes. (4) The next "best" way to hike to Wasson Peak is via the Hugh Norris Trail, which begins along Hohokam Road.
Desert Discovery Nature Trail
Saguaro's Desert Discover Nature Trail is the national park's easiest and most accessible trail. The 0.4-mile paved loop sweeps around a dense garden of giant saguaros and other desert plants in the Sonoran Desert. You might even encounter curious animals depending on the time of day. Plaques along the trail explain how cactuses, animals, soil, and water combine to create this delicate ecosystem.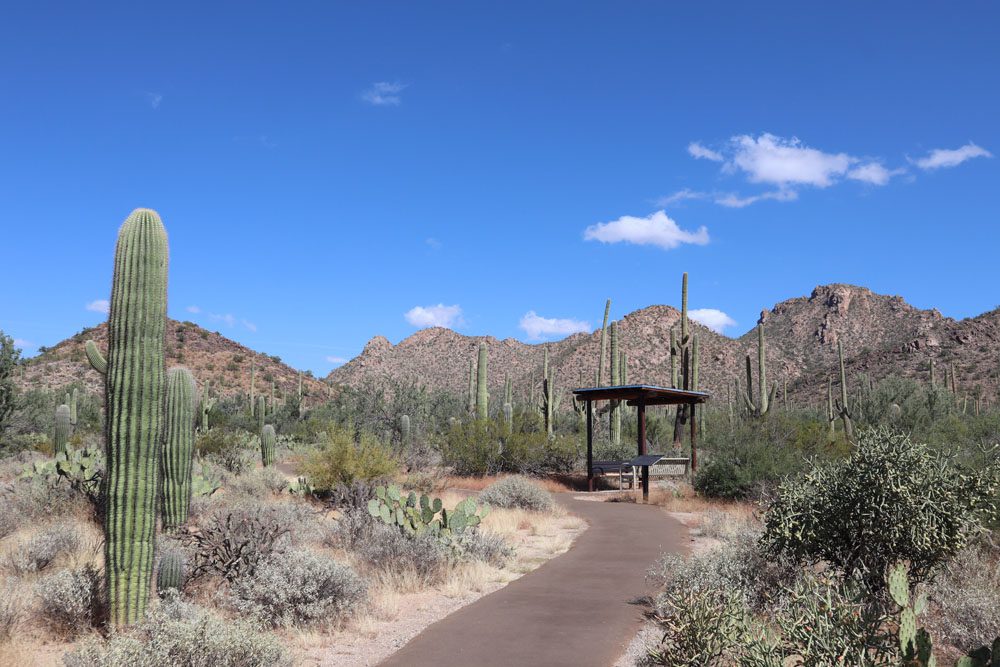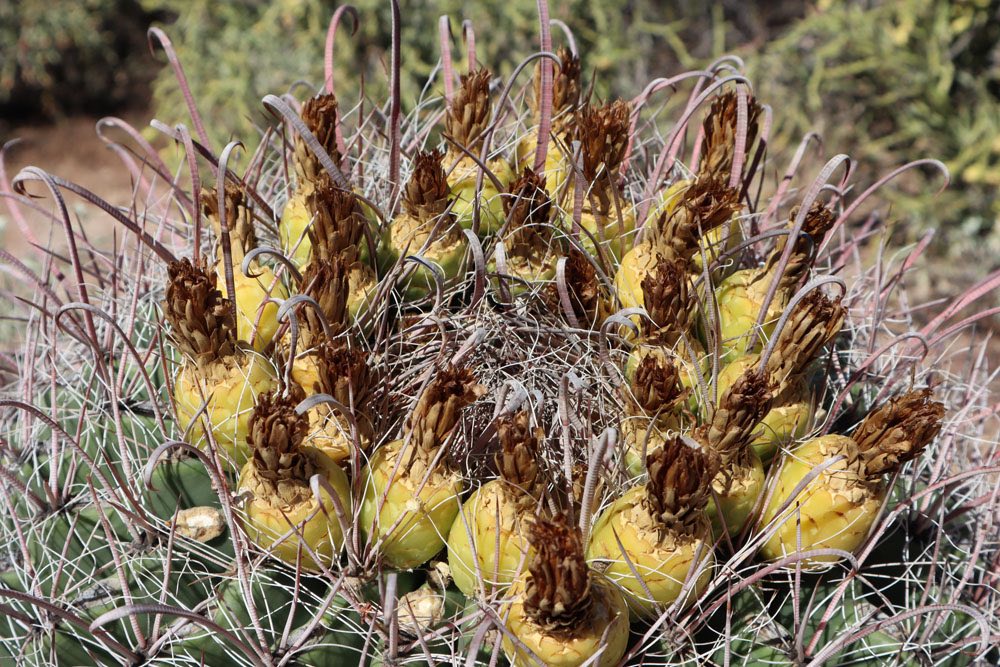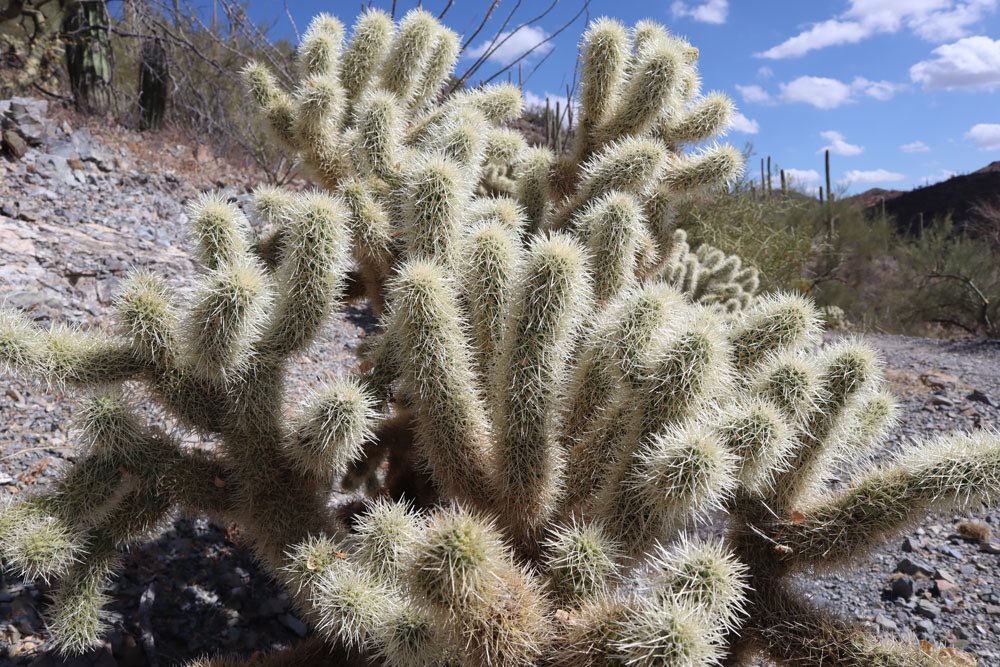 Bajada Loop Drive
Bajada Loop Drive is Saguaro West's scenic drive. The six-mile dirt road is suitable for regular vehicles and runs in both directions for the most part. Highlights along the scenic drive include the Hugh Norris trailhead, Valley View Overlook Trail, and Signal Hill.
Valley View Overlook Trail
The Valley View Overlook Trail is a highly rewarding 0.8-mile walk. The trail passes through a dense forest of giant saguaro cactuses and other desert plants, ending in a stunning lookout above the Sonoran Desert plain.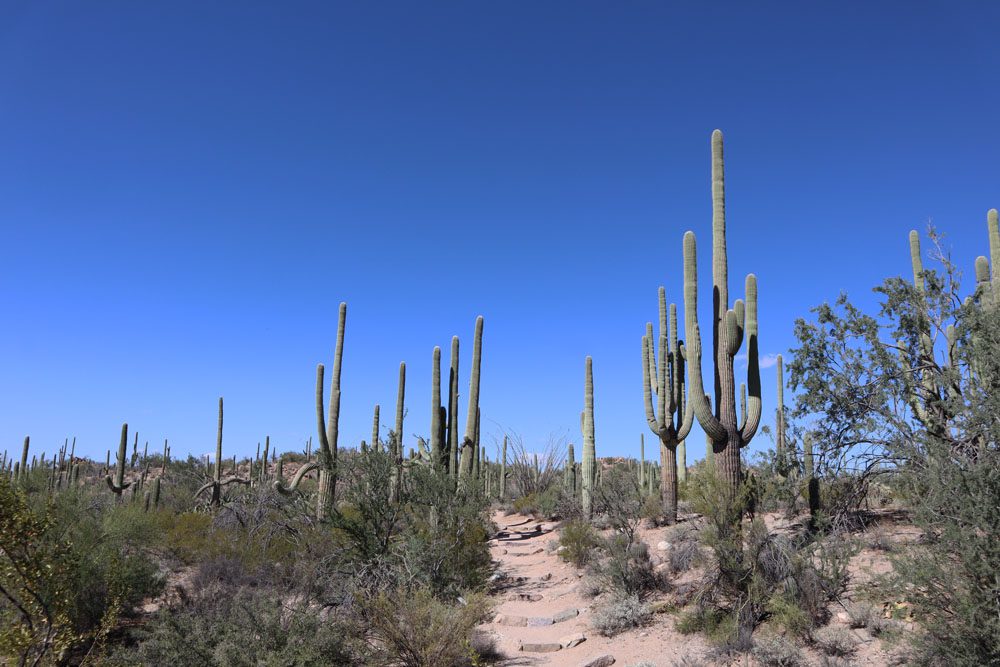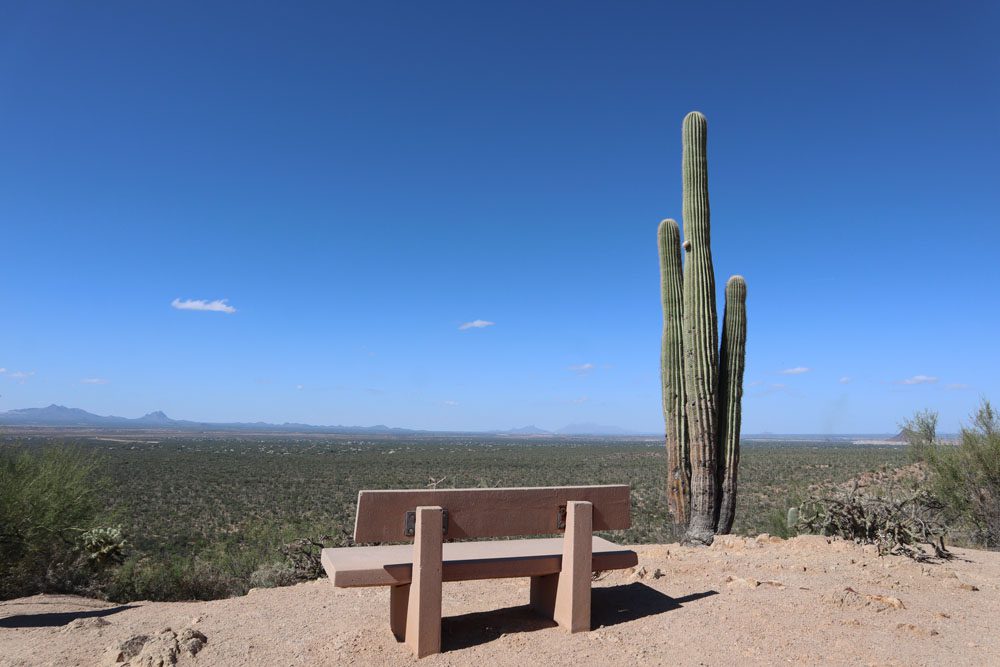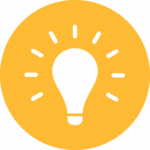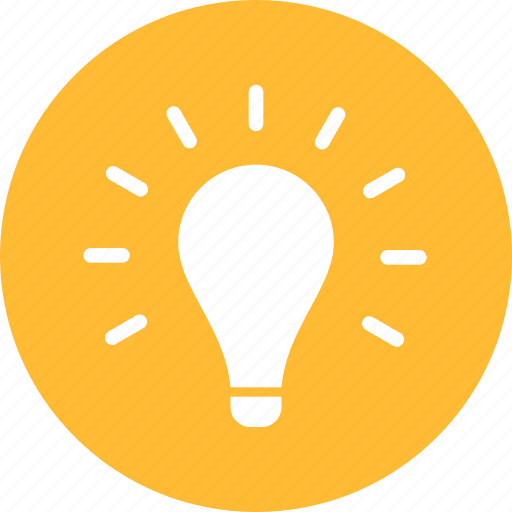 Pro Tip
Extend your hike by connecting to Valley Overlook Trail via the Bajada Wash Trail.
Ez-Kim-In-Zin
If you fancy a picnic lunch with a view, see if there are any free spots at the Ez-Kim-In-Zin picnic area. To get here, detour from the Bajada Loop Drive and grab one of the huts or designated parking spots. The picnic area is just across the dirt road from the Sendero Esperanza trailhead.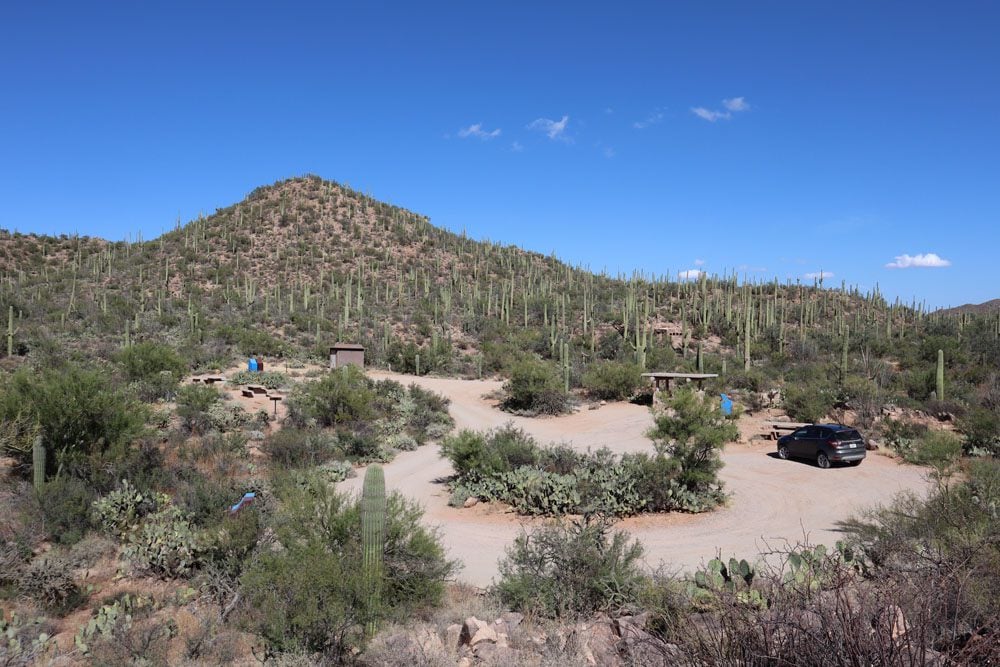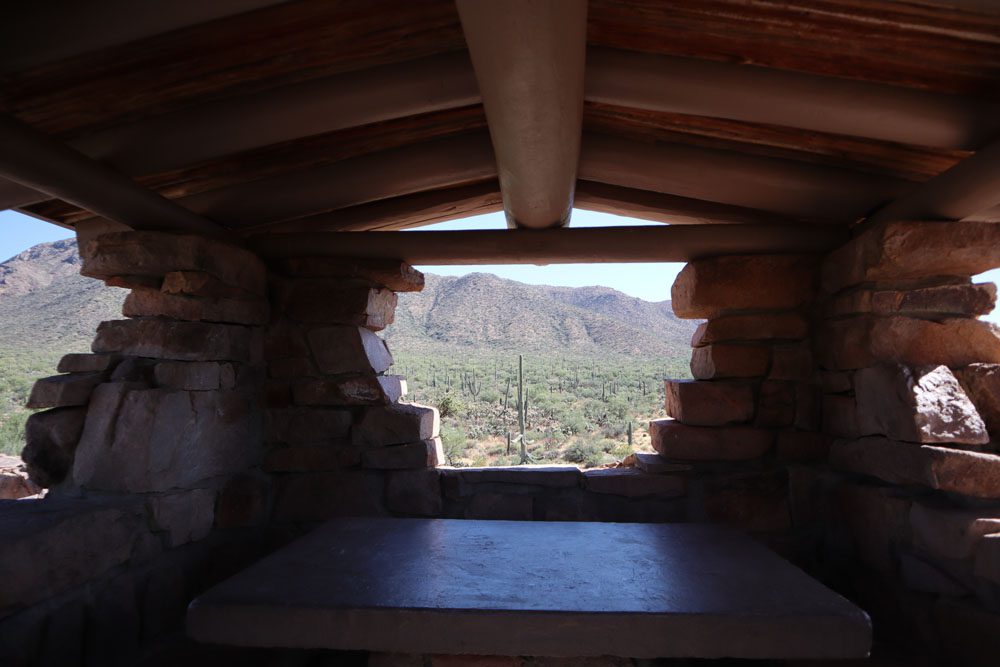 Signal Hill
Back on the Bajada Loop Drive, Signal Hill is another popular and scenic picnic area. The twist here, hover, is its proximity to the most extensive petroglyph site in Saguaro West. Follow the trail and climb to the top of the hill to see over 200 petroglyphs created sometime between 550-1550 years ago by the Hohokam Native Americans.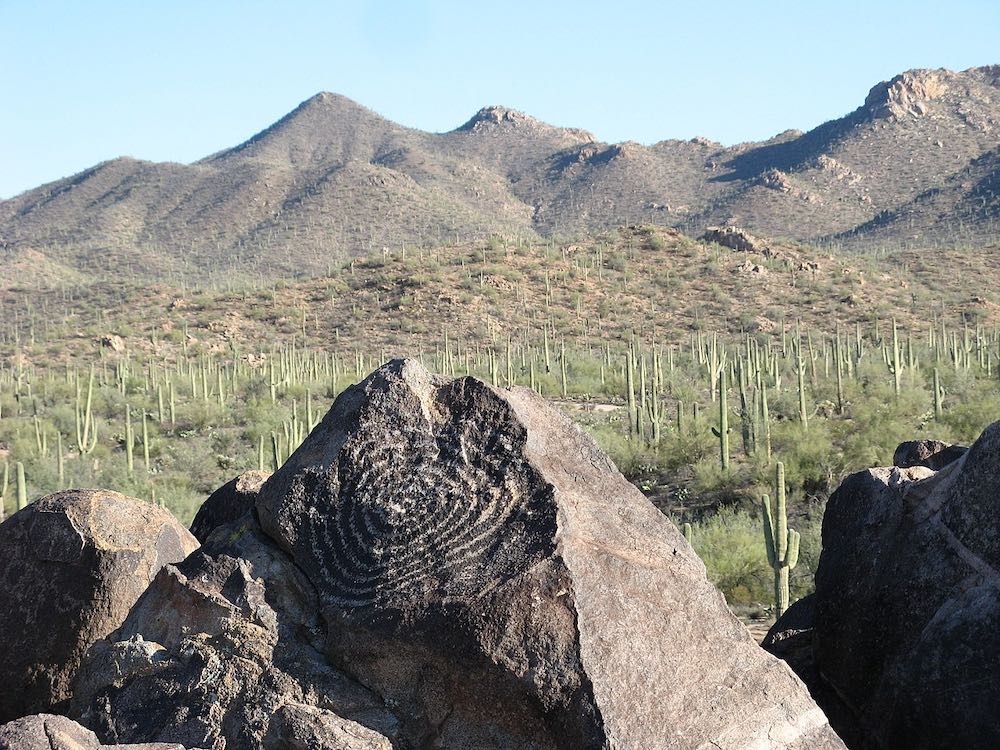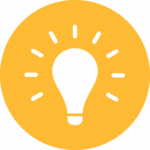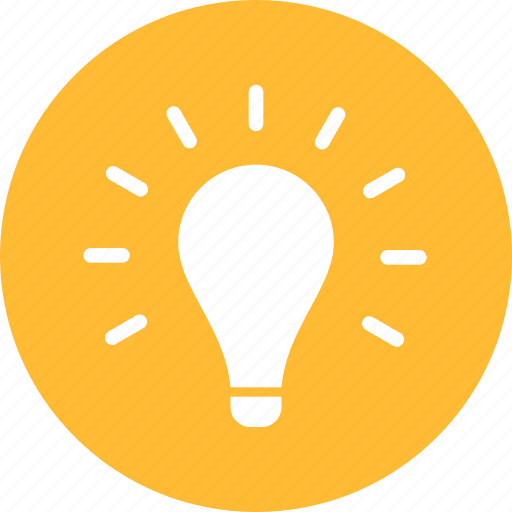 Pro Tip
Signal Hill is also a popular spot for viewing the sunset at Saguaro West.
Arizona-Sonora Desert Museum
Depending on how the day is going, visit the Arizona-Sonora Desert Museum as you exit the park to explore its botanical gardens and live animal displays, including reptiles. If you're traveling with small children and didn't hike for hours on one of the park's long trails, it's a worthwhile stop.
Old Tucson
Stop at Old Tucson before heading back to the city for more family fun. Since 1939, this movie studio has served as the filming location of westerns and television shows such as Little House of the Prairie and Tombstone. In 1960, the studio expanded into a theme park featuring guided movie set tours, gunfights, and stunt shows.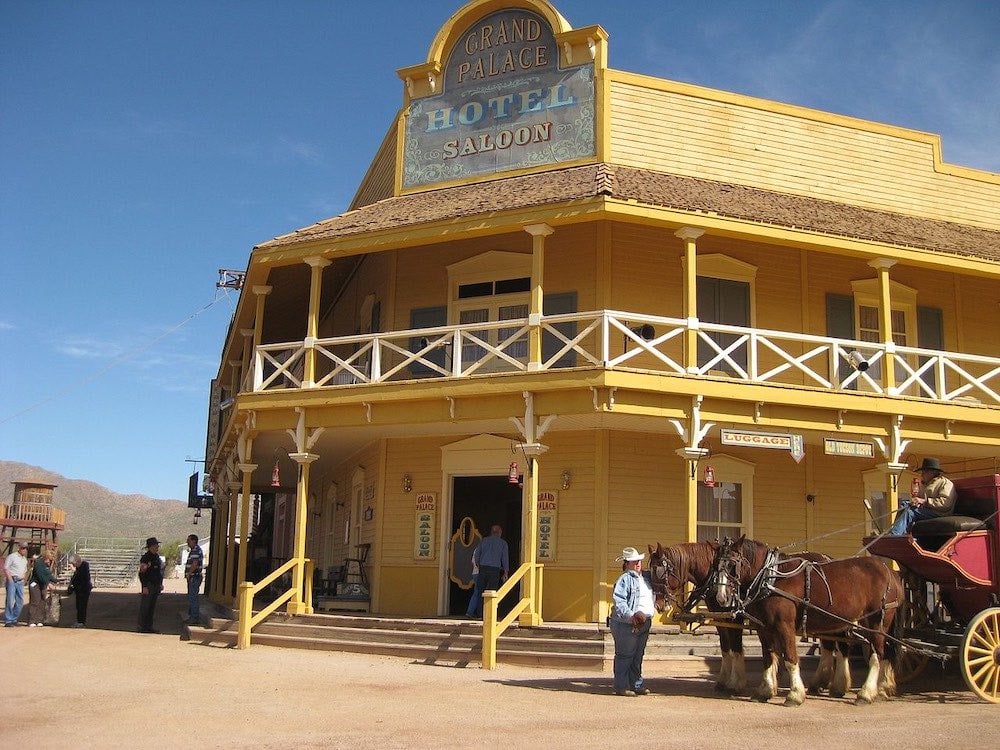 Sunset at Gates Pass
If you didn't stick around for sunset at Signal Hill, you have another opportunity on the drive back to Tucson. Revisit the Gates Pass Scenic Lookout and prepare for a glorious sunset over the Sonoran Desert.
Day 2 & 3: Saguaro East
Use extra days to explore the eastern section of Saguaro National Park, a.k.a the Rincon Mountain District. Saguaro East is the larger and more remote district within the national park, mostly appealing to backcountry hikers.
Rincon Mountain Visitor Center
The Rincon Mountain Visitor Center is the gateway to Saguaro East. If you've already visited Saguaro West, show your ticket at the fee station. If you're planning to hike in the Rincon Mountains, chat with park rangers before heading out.
Cactus Forest Drive
Saguaro East's scenic drive is the eight-mile Cactus Forest Drive. The winding road offers several opportunities to exit the car and stretch your legs, but its low concentration of saguaro cactuses and the city views detract from its appeal.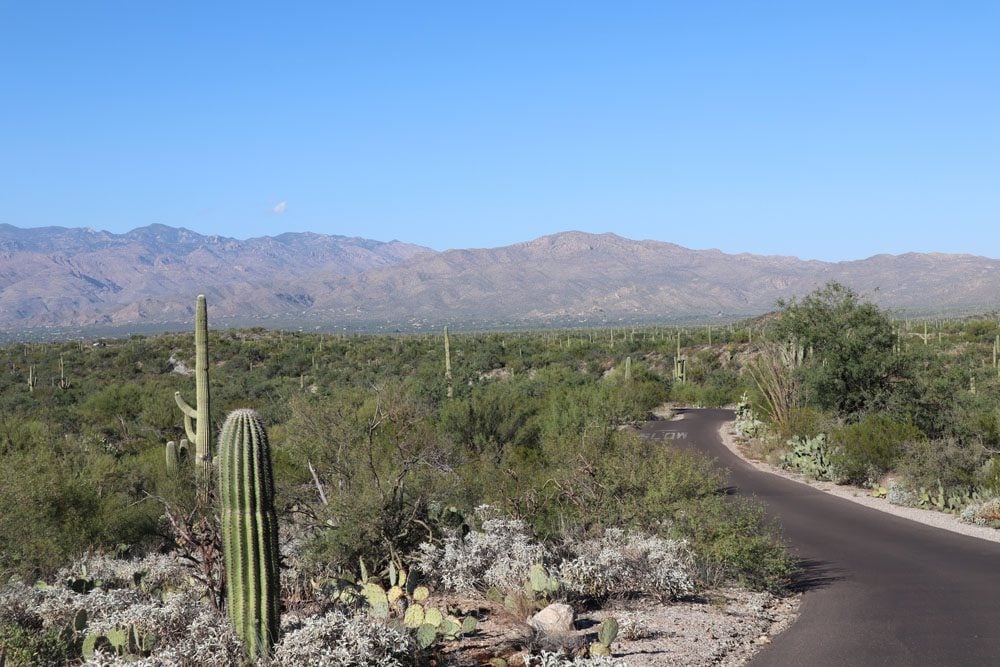 Short Hikes
While Saguaro East is most known for its backcountry trails, there are several hiking options for day hikers. The Desert Ecology Trail is Saguaro East's shortest and most accessible trail. The Cactus Forest Trail is much longer, but simply hike its section which slices through the heart of the scenic drive to get a good taste. The Loma Verde Loop is another good option, combining the best of several trails to create a 3.7-mile loop.
Backcountry Hiking
The Rincon Mountains are crossed by many trails that form many hiking combinations. The most famous hike in Saguaro East is the Tanque Verde Ridge Trail. This challenging hike is your best route into the mountains and their network of trails. Chat with park rangers about the best spot to turn around if you're only day hiking. Otherwise, seek a permit and overnight in one of the area's campsites.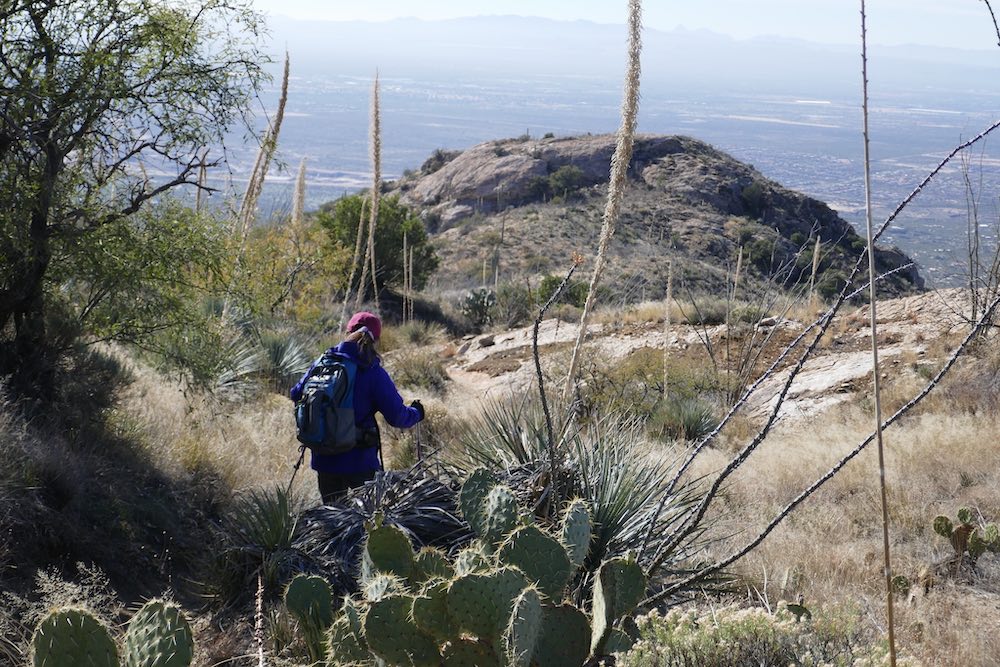 Sunset in Saguaro East
If you want to stick around for sunset, the best place to view the sunset in Saguaro East is at Javelina Rocks, accessed via one of the pullouts along the scenic drive. Alternatively, hike for about a half mile on the Tanque Verde Ridge trail to enjoy sunset views.
What's Next?
Saguaro National Park is a great excuse for visiting Southern Arizona on a one-day or multi-day trip if your main motivation is hiking. This wraps up the Saguaro National Park travel guide and itinerary. Be sure to check out additional Arizona and Southwest USA travel guides, and plan the next legs of your adventure in the American Southwest.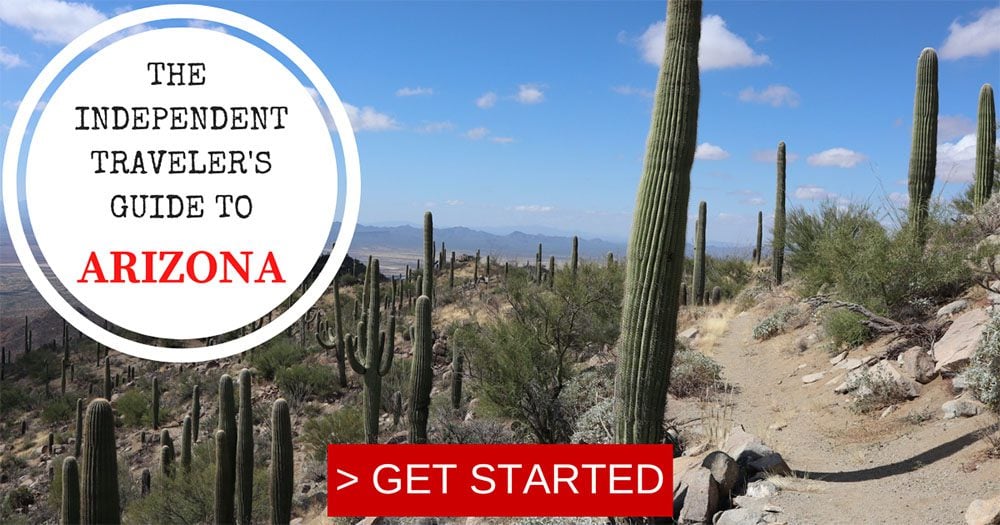 ---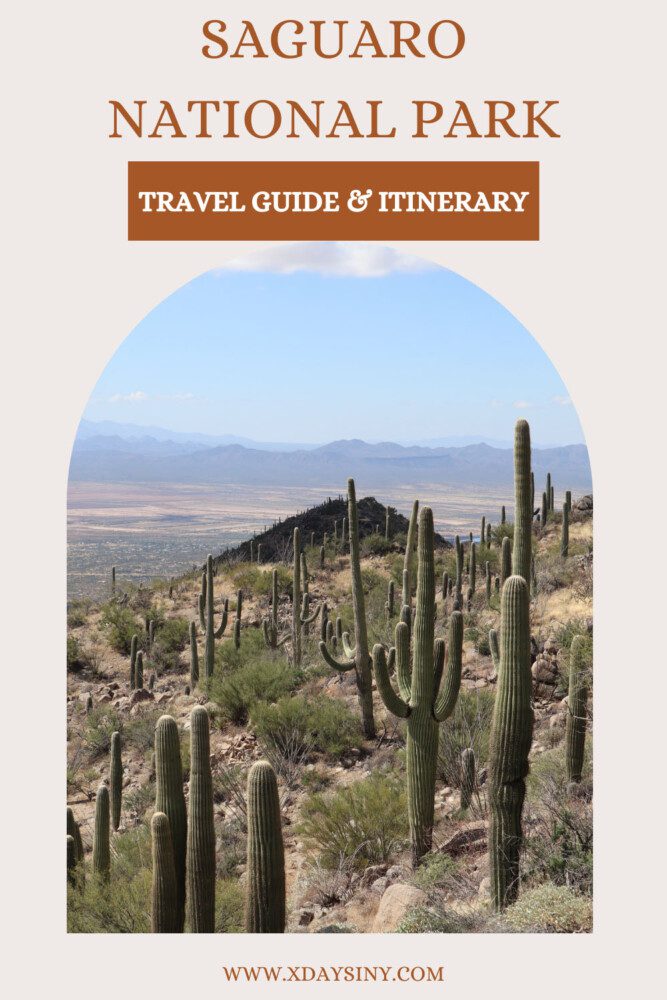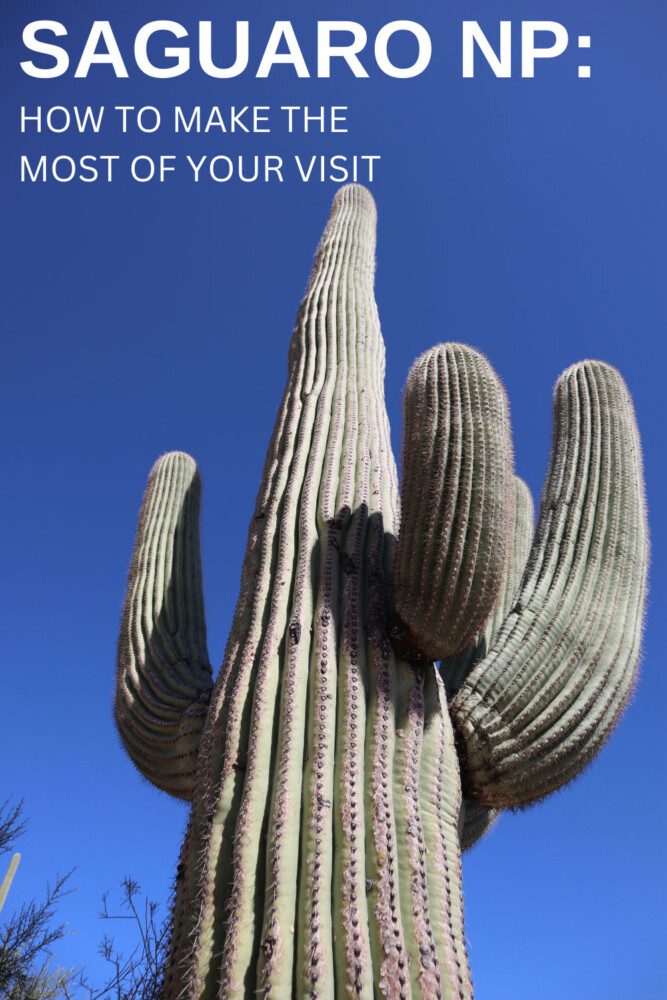 Pin These Images To Your Favorite Boards!