St. Patrick's Day in Dublin – a Behind the Scenes Tour
Fáilte go mBaile Átha Cliath! If you've nearly dislocated your jaw, not to fear – you are not alone. This simply means 'welcome to Dublin' in Irish. Not too long ago on March 17th, Ireland celebrated its national holiday and today, you'll get a behind the scenes tour St. Patrick's Day in Dublin. I've recently shared with you how Dublin celebrates Christmas, but St. Patrick's Day is on a whole other level.
You're gonna have loads of craic so let's get started (if you don't know what craic means, look it up. Hint: it's not a drug).
St. Patrick's Day is pretty much Ireland's version of the 4th of July or Bastille Day or Australia Day or all those other holidays where a nation celebrates its heritage and colors. However, St Patrick's Day is a lot more than just the Irish national holiday. It's a day celebrated around the world, where people search their family tree for a drop of Irish blood, and a day where no pub is left behind. Did you know that over 13 million pints of Guinness are consumed on St. Patrick's Day? That's over 6 million liters!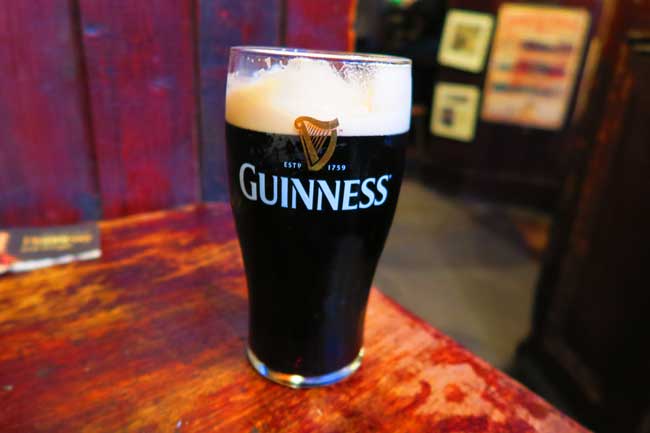 Don't be alarmed by all the talk of alcohol (or on the flip side, don't stop yourself from all the excitement). St Patrick's Day is also a family-friendly holiday with every Irish town and village putting on their own show. In fact, most local Irish families will tend to avoid the madness of Dublin and enjoy the holiday in the comfort of their town. Dublin can get pretty rough on this day, as you'll soon see. For the sake of giving you a behind-the-scenes look at St. Patrick's Day in Dublin, I'm going to take one for the team and fight the crowds to bring you the best and the worst of what Dublin has to offer on this special day. I'll also take you to local authentic spots, which can certainly be enjoyed throughout the holiday.
Why are there no snakes in Ireland?
March 17 marks the anniversary of the death of Ireland's patron saint, Patrick, who is credited with importing Christianity to Ireland. While traveling the 'Emerald Island' and converting folks to Christianity, Saint Patrick also took the time to scare away all the snakes and legend has it that this is the reason why you cannot find these sneaky serpents around Ireland. Ok…
Why is there so much drinking on St. Patrick's Day?
St Patrick's Day is synonymous with binge drinking and if you're wondering why this is, let's not forget that we're talking about the Irish national holiday here. But seriously now, there might be a religious explanation for this. The restrictions around eating and consuming alcohol that are observed by some devout Christians during this period of the year before Easter, are lifted – and so, if even the church gives you the green light to get wasted, who are we to judge?
Aside from the religious aspect of Paddy's Day, as it is known in Ireland, this day is also a chance to celebrate the culture and heritage of Ireland and so, the leprechauns hit the streets in full force, buildings are painted green, bartenders carve out four-leaf clovers from the foam that tops your pint of Guinness and Ireland's finest gals display the latest minimalist fashions – showing complete disregard for the weather. Today, St Patrick's Day is a 4-day event and no, the River Liffey is not painted green (its murky waters are already kind of greenish as is).
So let's begin our tour of St. Patrick's Day in Dublin, shall we?
The buildup before St. Patrick's Day
The fun excitement begins long before the official bank holiday. March 17th fell on a Tuesday this year so why not start the celebration over the weekend?
As the wave of tourists begin their descent into Dublin's city center, the city was getting ready for the big show. Ireland's version of the 'black gold' was distributed around town, literally by the truckloads, ensuring that no pub is left behind or left 'dry' for that matter and souvenir shops, along with random stalls, were fully stocked with Chinese made St. Patrick's Day gear, ensuring that no visitor is left without the proper attire. As we'll see later on, Dublin's famous landmarks also get into the festive mode but we'll have to wait for nightfall for that.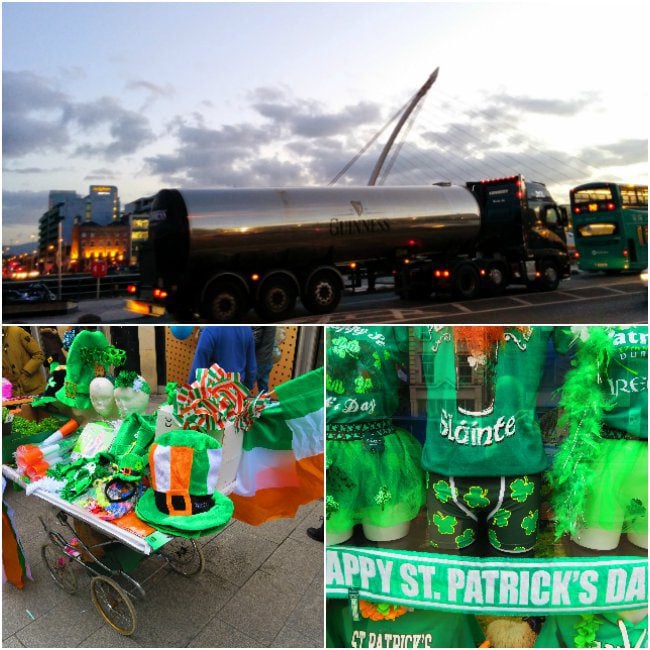 The best way to experience Dublin is to stroll its most famous street, Grafton Street. On any regular weekend day, Grafton Street is packed with shoppers, musicians, flower stalls, and street performers. The same is true on this weekend but with a Paddy's Day twist. Dublin is definitely getting ready for the big day.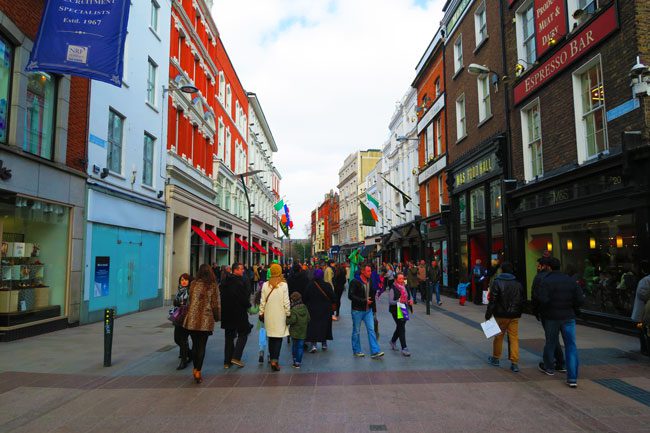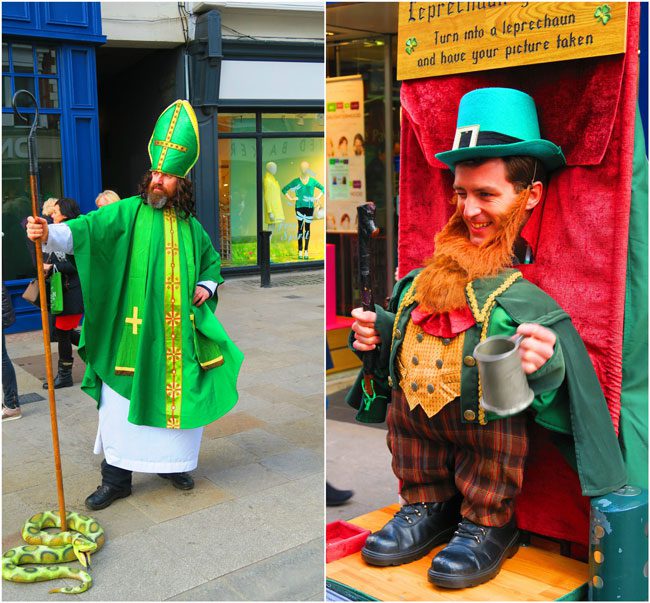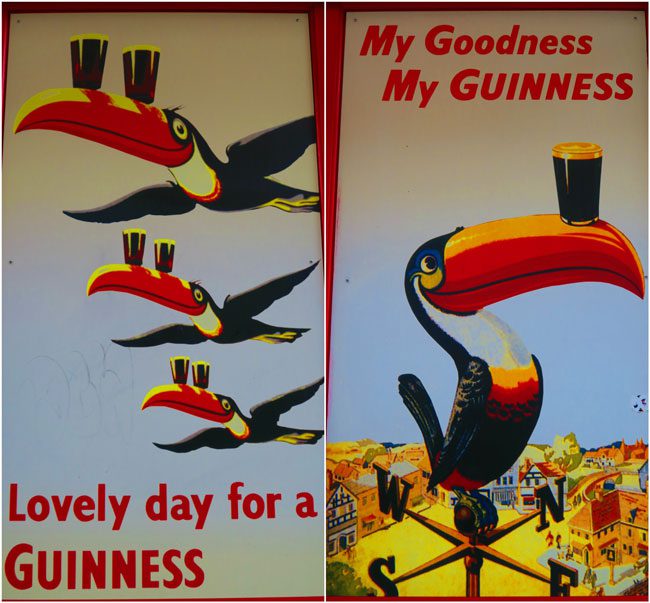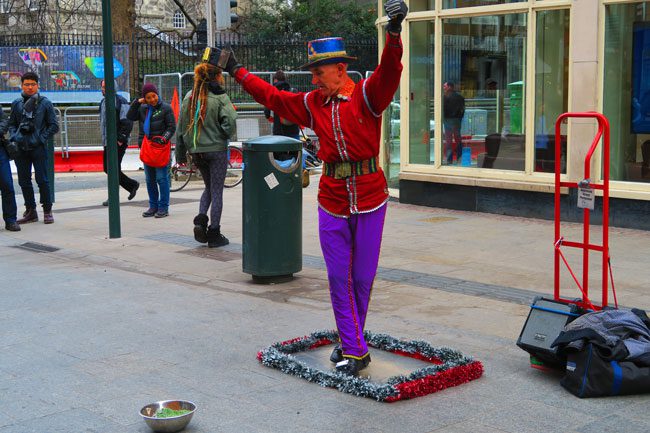 From Grafton Street, let's head over to the legendary Temple Bar area, right by the River Liffey. Temple Bar is Dublin's version of 'the old city'. Its cobblestoned streets lead to narrow alleys that are home to ancient pubs and nowadays quite a few hipster shops.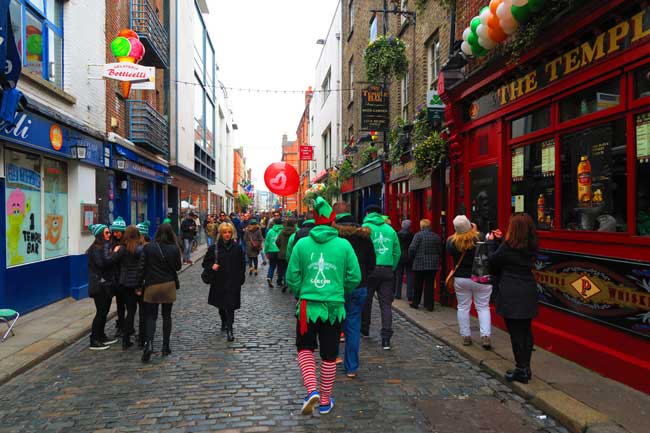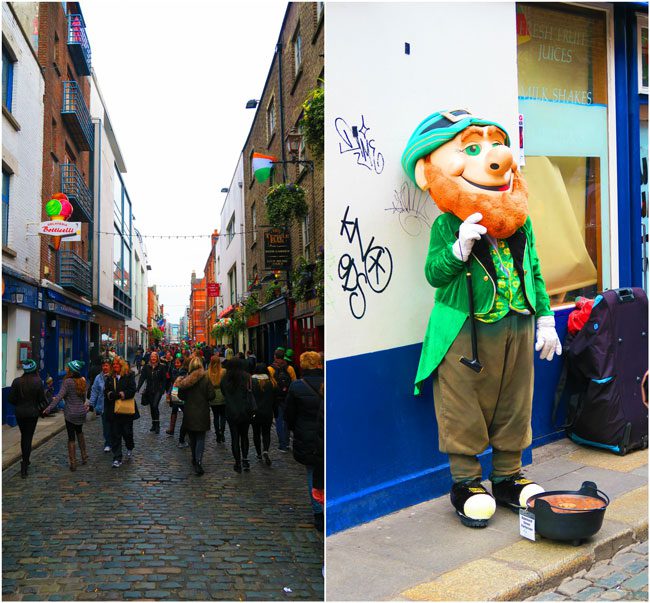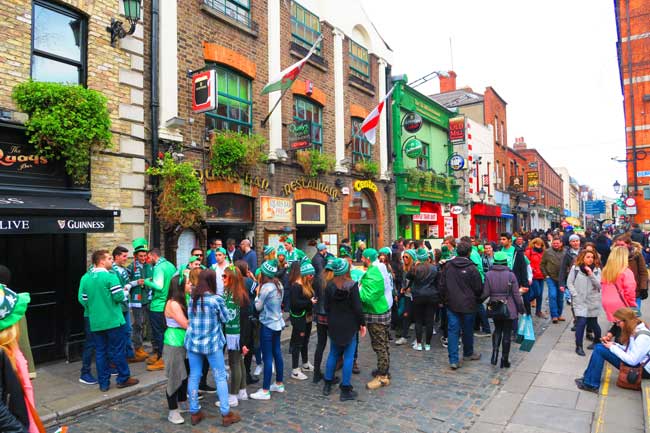 The most famous resident of the Temple Bar area is, of course, The Temple Bar. Pretty much every major city in the world will have a temple bar but only Dublin has The Temple Bar. This Dublin icon has been serving drinks for over 160 years and is a stop on every Dublin visit. There's a good chance you'll be treated to traditional Irish music pretty much at any time you visit and the choice of beers and especially whiskey is very impressive.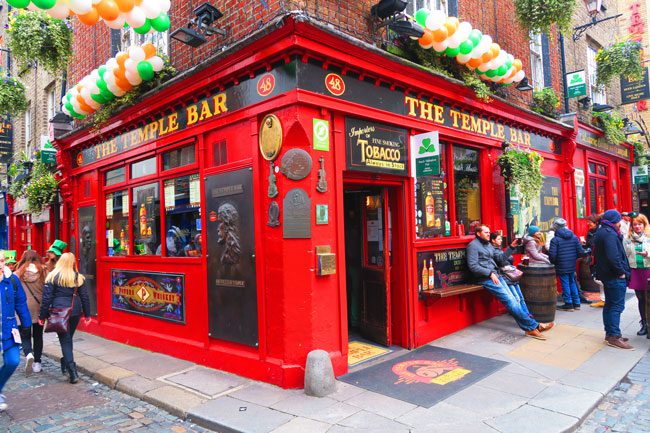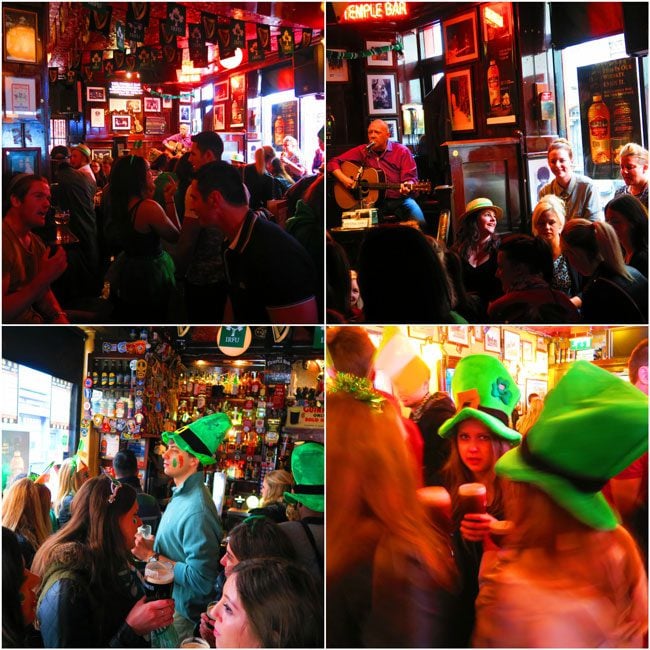 If you keep reading on, you'll see why today was pretty much the last chance to visit The Temple Bar, at least for the next few days. It's pretty crowded inside, as always, but I could still grab a pint and listen to some traditional Irish tunes while getting into the holiday spirit. Not a bad way to spend a Saturday afternoon, ah?
With the bulk of festivities still to come (and with one more working day ahead), I'll pause things, for now, give the liver a little while longer to prepare and conserve some energy for the actual holiday.
The eve of St. Patrick's Day
The clock showed 6 pm on Monday, March 16 and this can only signal one thing – let the drinking begin!
There are so many good Irish pubs in Dublin and it's needless to say, I don't recommend trying to visit all of them in one evening. However, as I am 'taking one for the team' and bringing you the best sites and sounds of St. Patrick's Day in Dublin, I was very motivated on this night. Let's grab a few pints OK?
I personally love those super old Irish pubs that have been there for ages. These 'no frill' places are all about an authentic atmosphere, a good local crowd, and fresh pints. The rule of thumb when on the hunt for authentic Irish pubs is as follows: if the pub has wall-to-wall carpeting, get inside. I know you're thinking that the last place you would put a carpet in, is a pub in the middle of town and I must say I agree with you. But back in the day, this was the thing to do – so only the real Irish pubs have resisted the urge to get rid of their cherished carpets (no matter how little fabric is left or how many pieces of gum are stuck to it).
The best selection of traditional Irish pubs can be found along Baggot Street and to make life easy for you, the best ones are just next to each other. On the way to our first pint, I stopped at the Irish House of Parliament which was beautifully lit for St. Patrick's Day.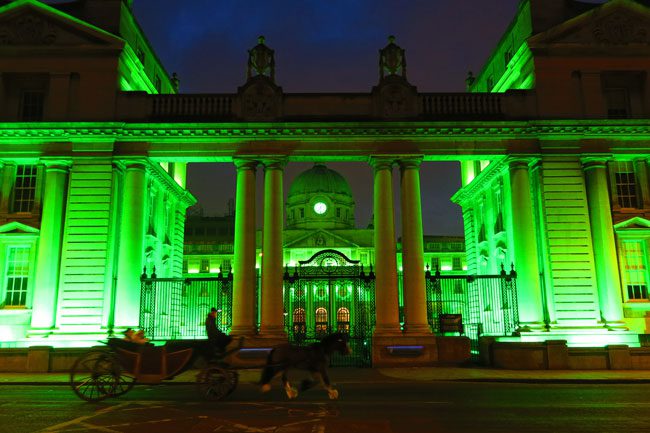 Let's start our journey at Toners Pub, which has been in business since 1818! It started as a pub & grocery store but very quickly, the owners realized where the real money lies. This is probably the reason why you'll find quite a few antique wooden cabinets behind the bars.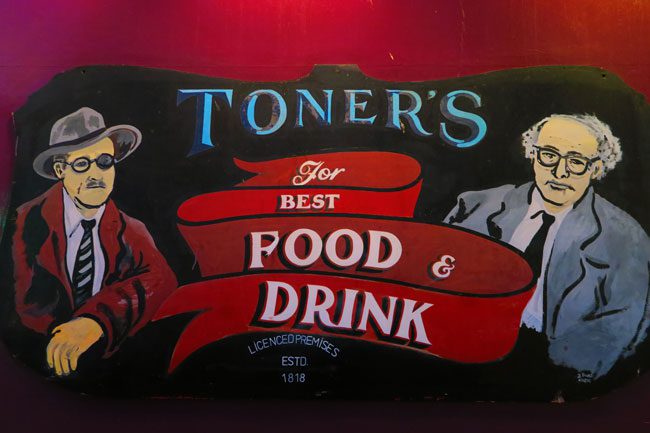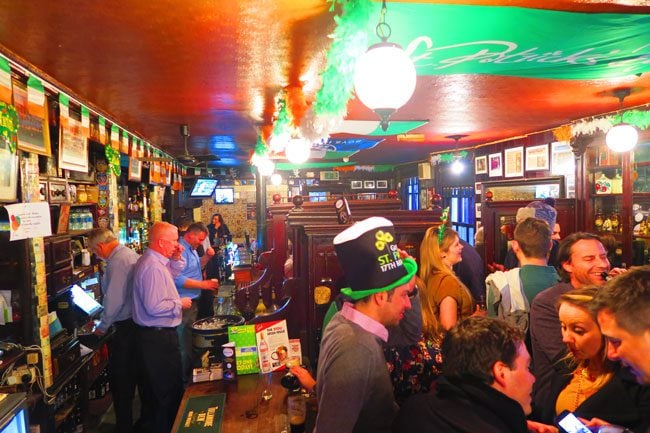 Aside from wall-to-wall carpets, traditional Irish pubs also offered some privacy in the form of snugs. A snug is your very own drinking booth, complete with a door – and Toners Pub has one of the best-preserved snugs. I am curious to know who else grabbed a pint of Guinness in this very same snug.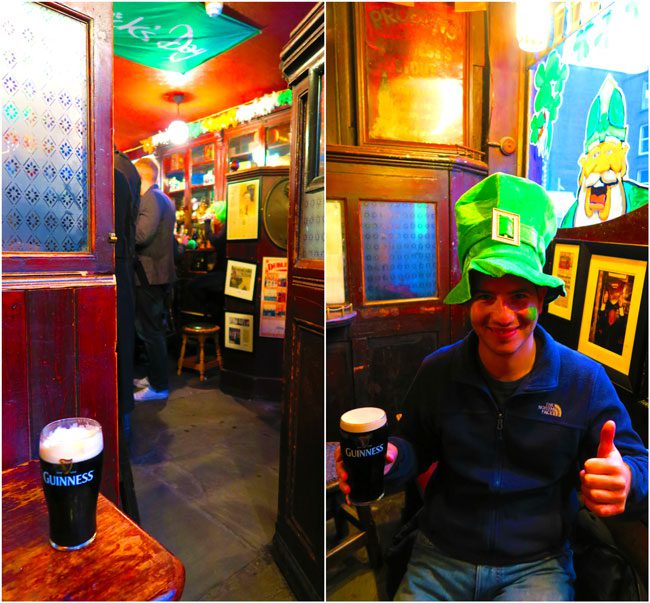 Just a bit further up the street and a pint later, welcome to O'Donoghue's. It's 'only' been around since 1934 but super famous for live music, home of one of the legendary musical acts to come out of Dublin (aside from U2) – The Dubliners. The wooden interior is beautifully rotting away in the main bar area but if you're looking for something less 'depressing', venture to the inner rooms that eventually open up to a beer garden. Apparently, they also have a few rooms for rent upstairs but judging by the looks of things, I would stick to drinking at this establishment, though I can see certain use cases for this side of the business…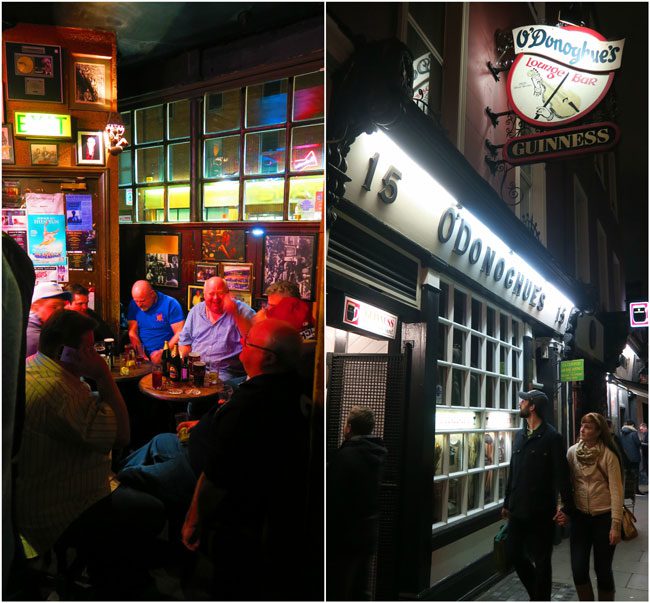 I must say that the crowd at O'Donoghue's was more local than usual, at least in the main bar area. There were some interesting characters over here and though I never get in trouble for snapping photos, I did start to get a few threats that made me head further inside the pub (check out what I did manage to film here). I told you I was taking one for the team here!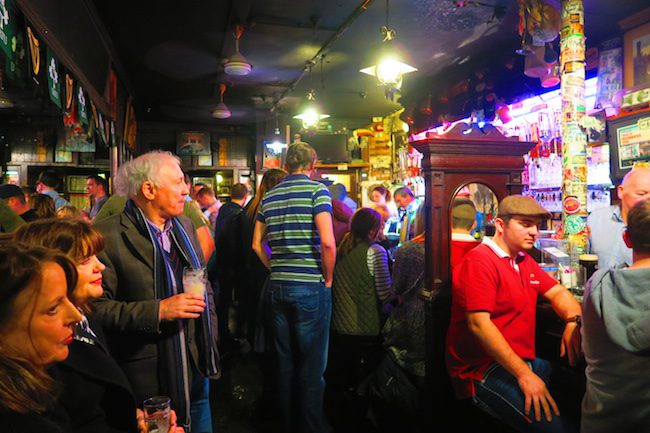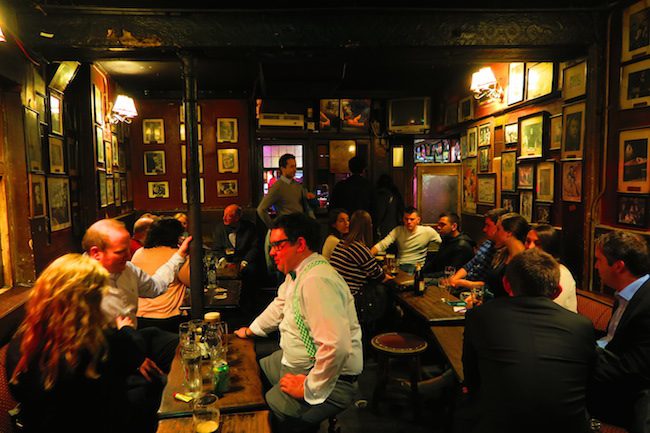 Now over to our last Baggot Street pub and just across the street to Doheny and Nesbitt. You can check the time as you step inside but who really cares? Just a stone's throw away from the parliament, Doheny and Nesbitt is the favorite watering hole for many Irish politicians and those covering politics. I can certainly imagine a few deals being struck in the snugs of this pub.
Doheny and Nesbitt has been around since the 1840s and is one of the most famous Irish pubs in Dublin. Don't be fooled by the narrow entrance, venture inside to the beautiful high ceiling room, where most of the action takes place.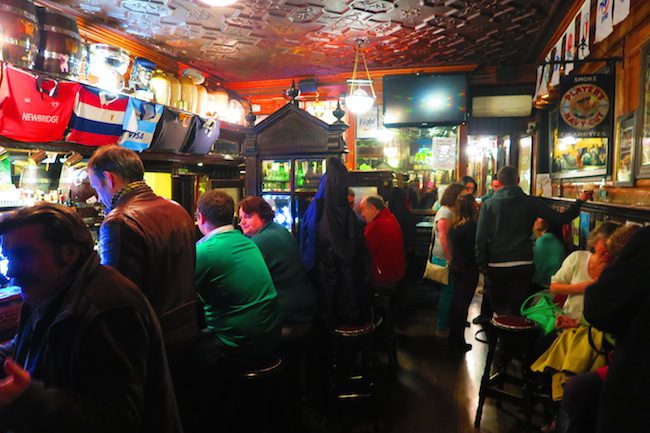 Three pubs down, lots more to go, and adding whiskeys to the mix, we headed deeper into the city center and Neary's, conveniently located just off Grafton Street. It was pretty empty, unlike the other pubs, but had a carpet so it was a no-brainer to head inside (remember the rule of thumb?).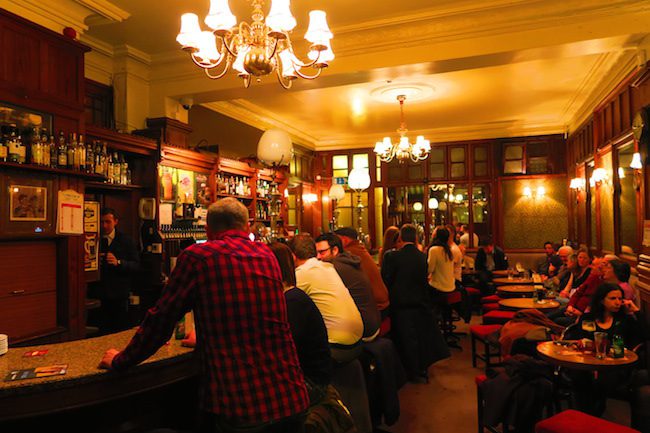 Neary's has a warm atmosphere to it, not to mention ultra-comfy couches. I'm pretty sure they don't allow music in here so it's a great place to have a conversation, especially since booze makes yelling so difficult. Well rested and with enough gas in the tank for one more pub, it was time to leave this charming little place.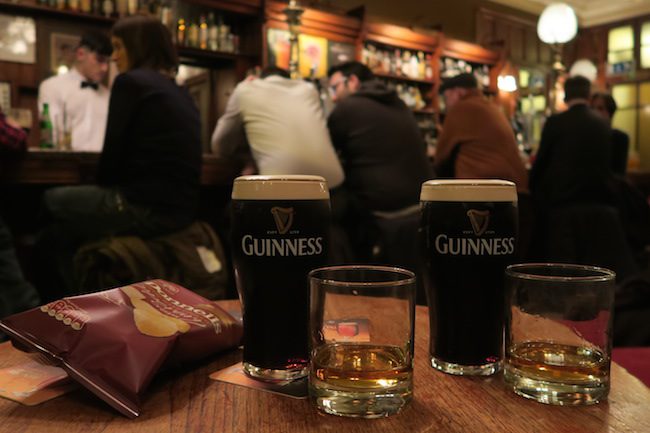 The last drink of the night was consumed at the Long Hall. It doesn't look like much from the outside but inside, it's a different story in a pub that's been around since the 1860s. Wall-to-wall carpeting – check tons of history depicted on the walls – check, beautiful woodwork – check, lots of whiskeys – check. Need I say more?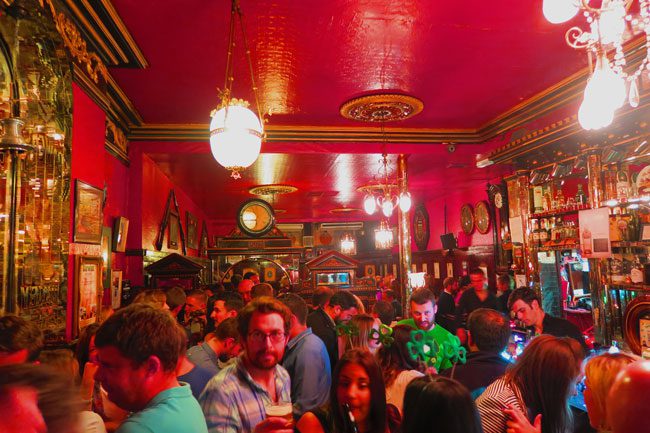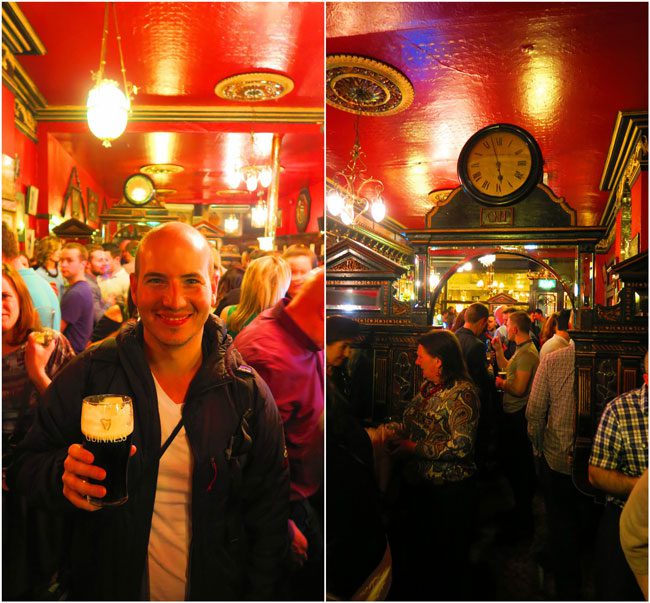 Let's check the scoreboard: 5 pints of Guinness and 4 glasses of whiskey (I think…). It's time to call it a night. I do have the parade to go to tomorrow so time to go home. I do want to take you back to Temple Bar and show you what it looks like on the eve of St. Patrick's Day. Good luck getting through and definitely forget about grabbing a pint here, unless you want to bodysurf your way into the pub. You might, however, catch some interesting sounds (warning: turn your volume down before clicking).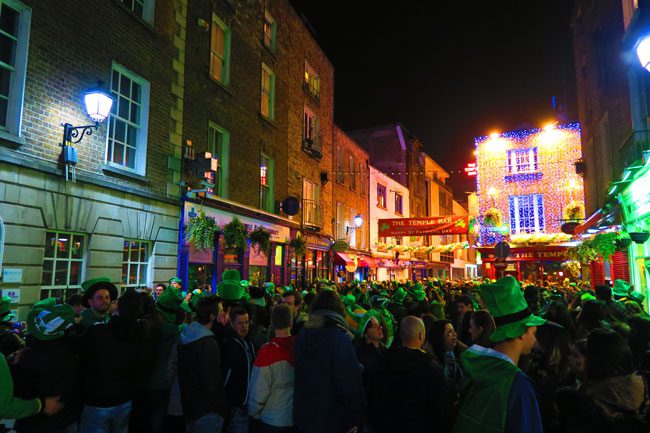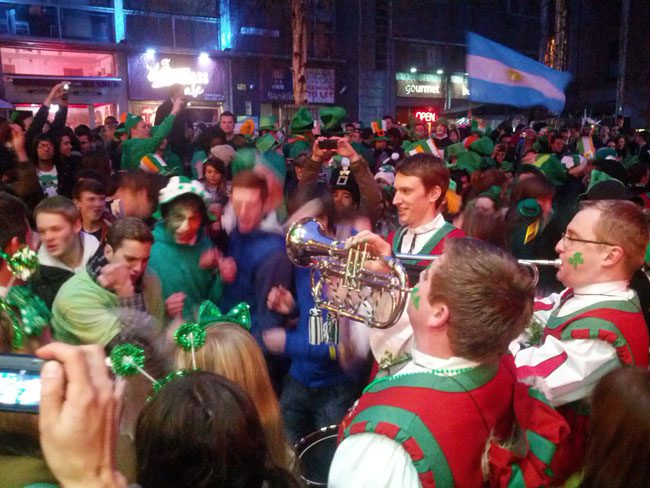 On the walk back home, I also passed by a few more famous Dublin landmarks, illuminated in the traditional green holiday color. Dublin is definitely ready for the big day tomorrow!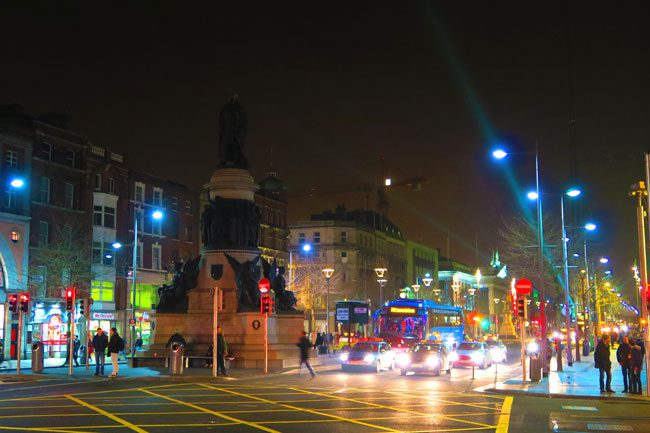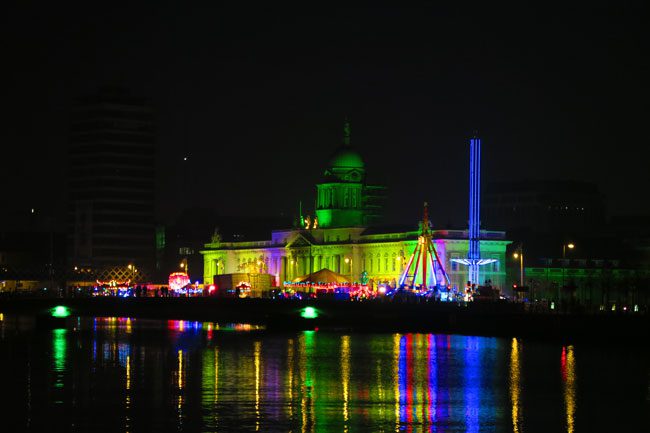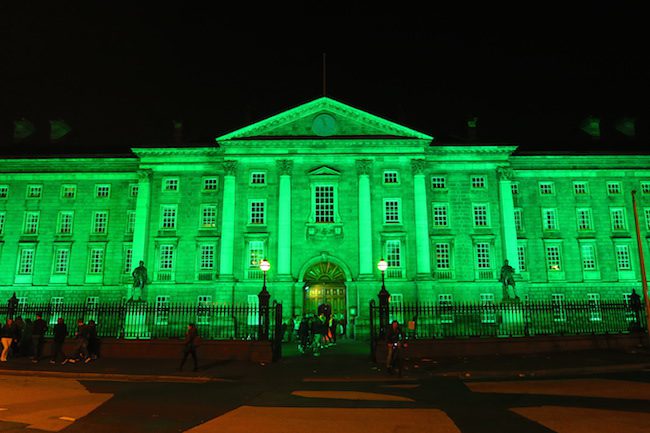 St. Patrick's Day Parade
It was a gloomy March 17, as most St Patrick's Days have been in my 4 years in Ireland so far. Slightly hungover, I was committed to getting an early start and heading over to catch my spot for the climax of the holiday, the St Patrick's Day Parade in Dublin.
By far, the highlight of every St. Patrick's Day (aside from drinking) is the traditional parade. It all started in the 19th century and maybe even before that in the United States, home to many Irish immigrants. Funny enough, Dublin was super late to jump on the parade bandwagon, and the first parade as we know it today was held only in 1996.
A word of caution – St Patrick's Day Parade in Dublin draws tens of thousands of visitors and it will get incredibly crowded along the parade route, running from Parnell Square to St. Patrick's Cathedral. You can also imagine what happens as the parade wraps up. Yeap, you guessed it … the pubs fill up.
In the spirit of showing you St. Patrick's Day in Dublin, I'll squeeze my way through town and I hope you appreciate the fact I arrived 2 hours before the start of the parade to grab a front-row spot on O'Connell Bridge – just for you my dear readers.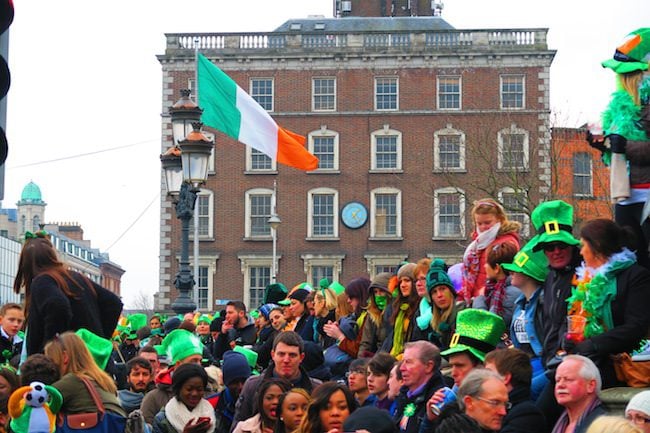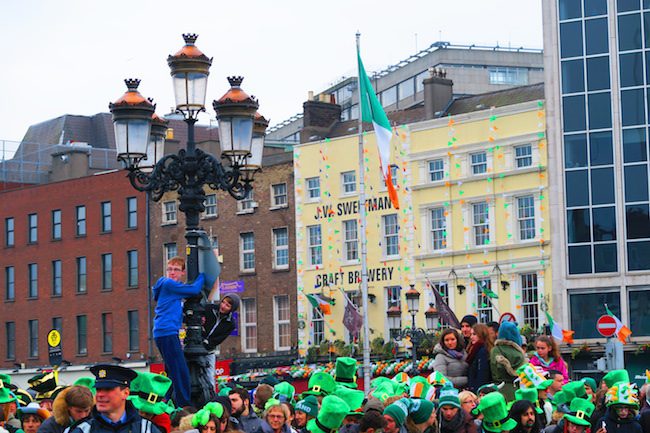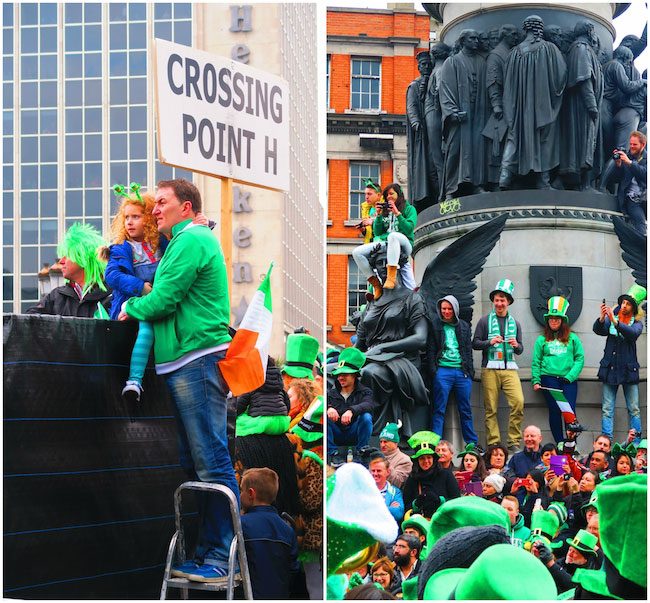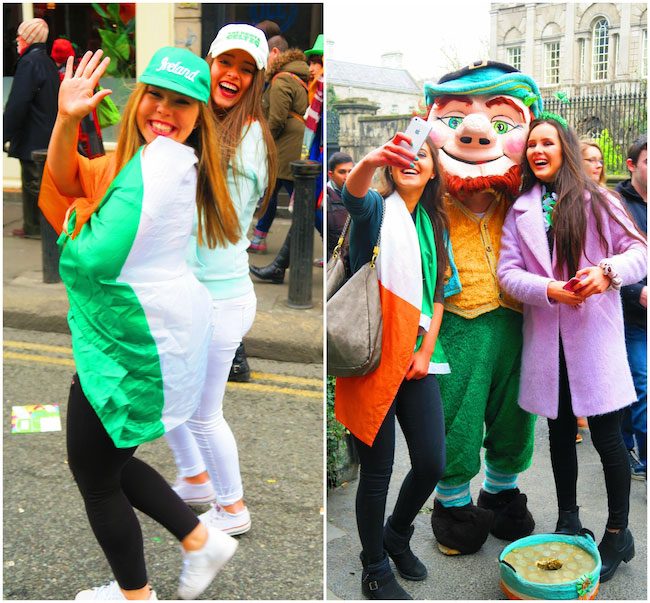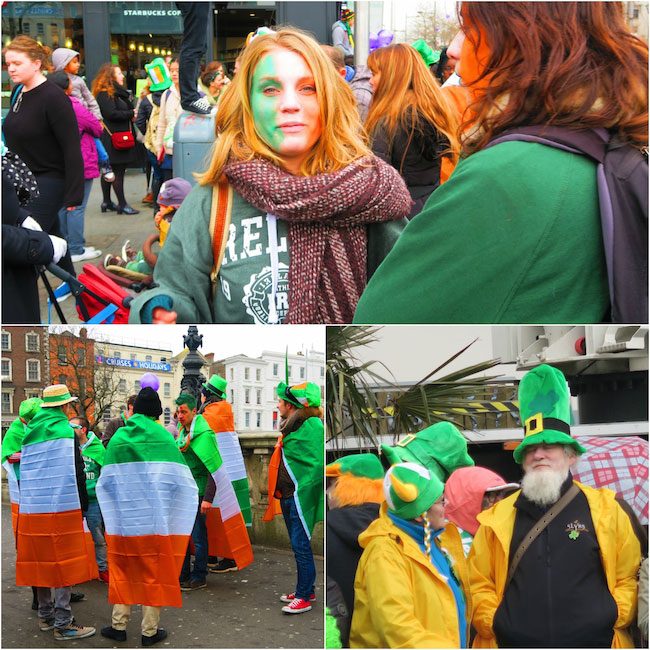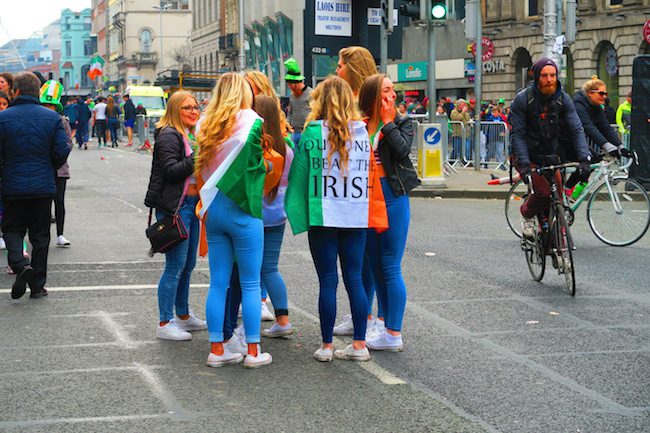 This ain't exactly the Carnival in Rio, as you'll soon see, but the nation's eyes are centered on Dublin today and along with it, the national media. If you were watching Irish television, you might have even seen me!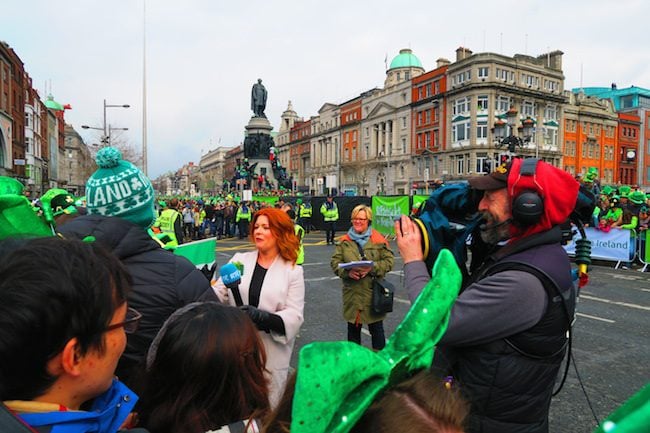 The parade is pretty much a series of marching bands from around the world paying homage to Ireland. Some play traditional music but others choose more modern tunes, even from the world of hip-hop. There's nothing like a good Pharrell Williams tune played by a marching band!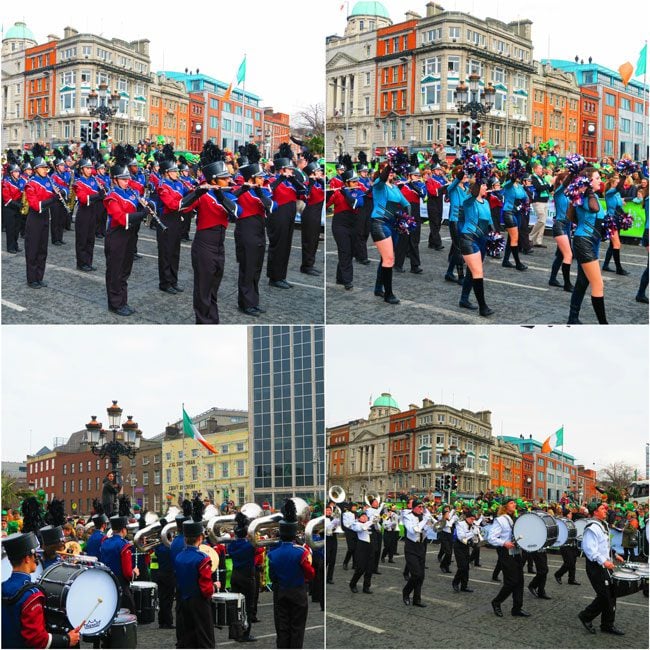 Aside from marching bands, a procession of floats makes its way through the city, some more impressive than others. Even the city cleaners get to be in the spotlight, sporting the latest street cleaning gadgets. Though not what you'd expect to find in a parade, these guys certainly deserve to be in the spotlight with everything that's waiting for them later on.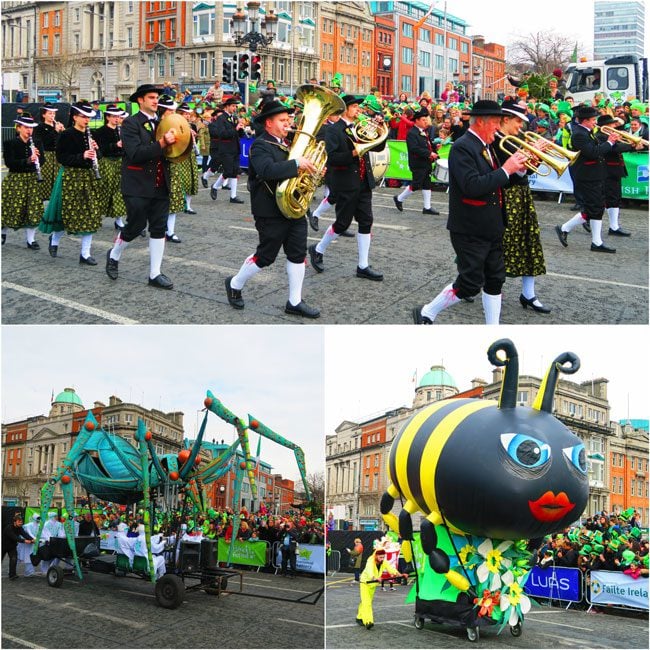 Here's a video with a few sights and sounds from the parade.
After the parade is over, all hell breaks loose. The city is by now packed with visitors from all nations, of all ages, and with varying tolerance to alcohol. The police, or Garda as they're known around Ireland, will do their best to keep things in control but honestly, it's kind of a lost cause.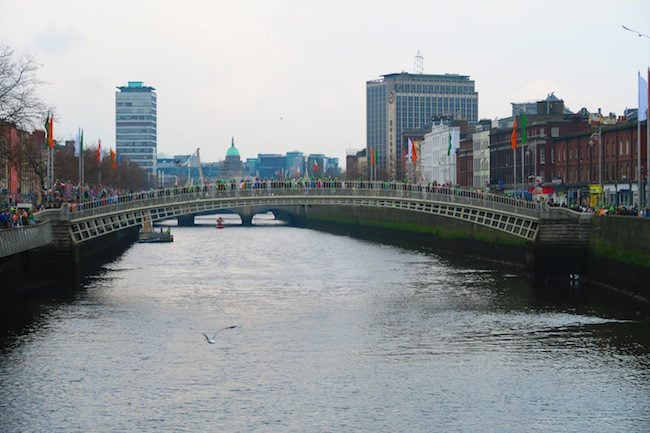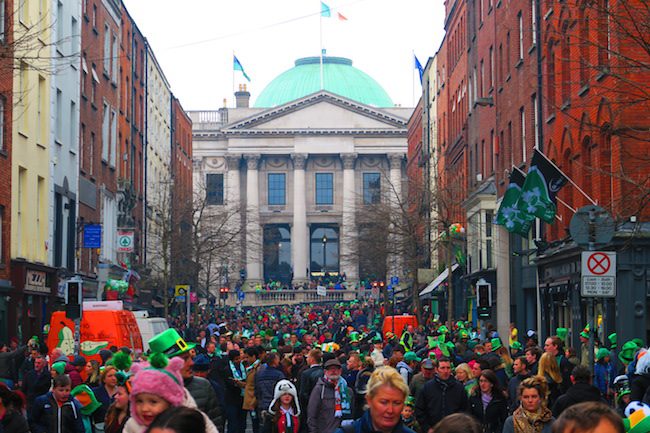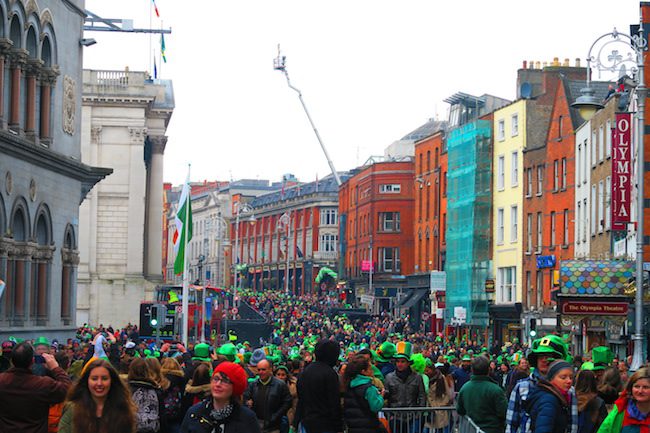 Just to put things in perspective, let's head back to Temple Bar. If you remember, even yesterday it was pretty impossible to get through this area and today is even worst. It's completely packed, mostly with tourists, and to be honest, there is no real reason for spending your day specifically here.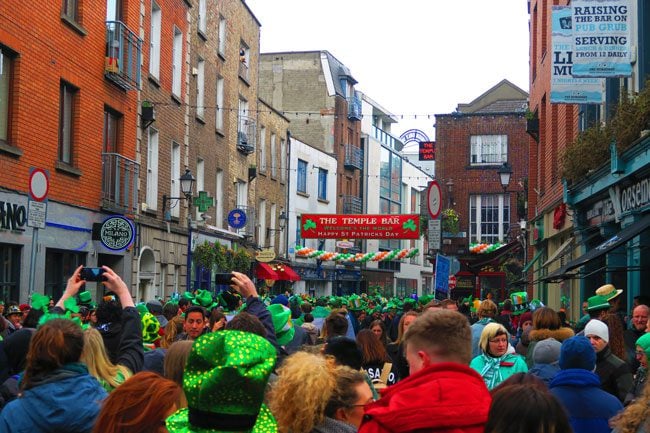 Grabbing a pint in the city center just after the parade will be quite tough. Nonetheless, if you want to, The Mercantile is not a bad option. It's a very cool bar on any given day but size is the main advantage today. This place has multiple floors and rooms, increasing your chances of getting served and not being trampled over, like the poor suckers across the street in Temple Bar.
Things get pretty blurry from this stage onward in Dublin. There are quite a few popup amusement 'parks' in the city center, live music venues but mostly, lots of drinking both inside the pubs and on the streets. I honestly have no idea how the country functions the next day but I would bet there's a national headache on March 18th.
That pretty much wraps up St. Patrick's Day in Dublin. On the way home, let's give you another glimpse of Grafton Street and also venture inside Dublin's famous urban park – St. Stephen's Green.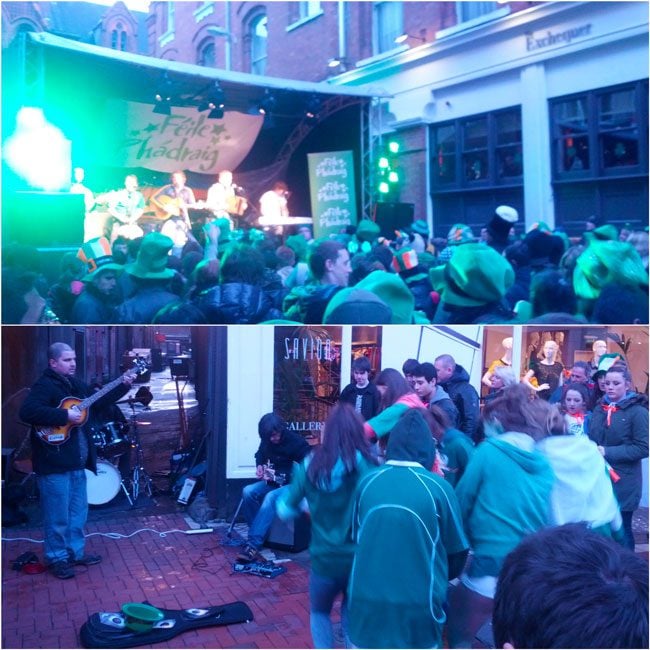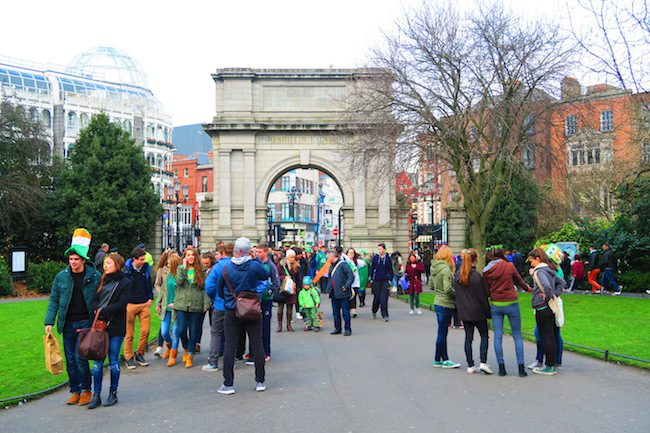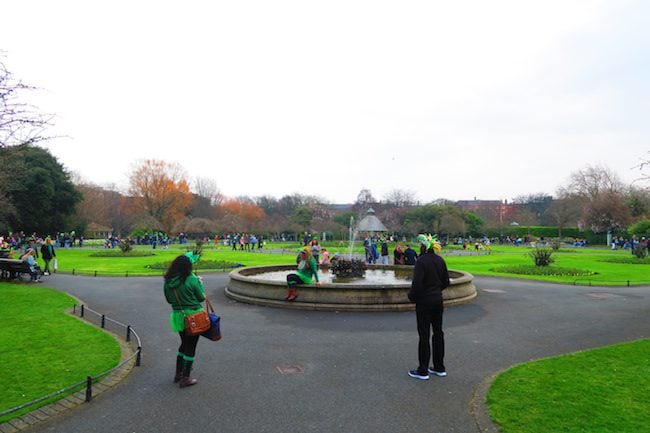 To be honest, the best part of St. Patrick's Day for me, was the build-up over the weekend and the night before the parade. That's when I had the most fun and felt more like a local Irish than a tourist. I hope you've enjoyed this behind-the-scenes tour of St. Patrick's Day in Dublin and remember to please drink responsibly!