Europe's original version of San Francisco, Lisbon is a city that wins your heart right from the start. Perhaps it's the hills overlooking the Tagus River with their panoramic lookouts and cafes, perhaps it's the ancient lifts and trams that connect the city's neighborhoods, or perhaps it's the incredible food scene – from the sweet to the sour – at bargain prices that win you over. Whatever the case may be, you can't go wrong with a visit to Lisbon. In this 4 days in Lisbon sample itinerary, we'll explore the city's top attractions, both on the sightseeing and culinary sides, and even embark on a road trip to soak some extra rays of sunshine.
Background
Lisbon was one of Europe's wealthiest cities during Portugal's heyday, in a period known as the Golden Age. The strategic port city was the departure point for some of the world's greatest maritime voyages. The riches brought back were used to erect spectacular palaces, monuments, and gardens but is all came to a tragic end on one Saturday morning in 1755 when an 8.5-magnitude earthquake rocked the capital. The subsequent fire and tsunami killed nearly a fifth of the local population and destroyed much of the city. It was a tragedy from which the Kingdom struggled to recover.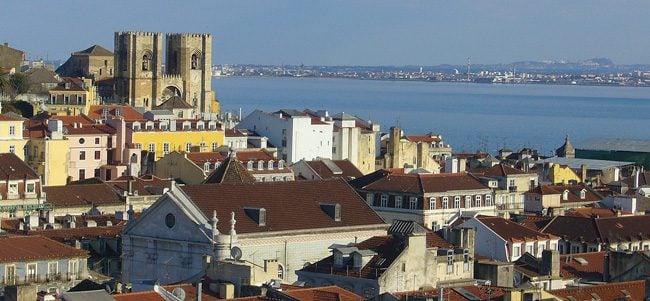 The city was slowly rebuilt over the years and these days, Lisbon is one of the most charming European cities – somewhat of a relatively hidden secret, a destination worthy of return visits. It's worth mentioning that Lisbon is home to (literally) dozens of museums. On this particular couple's trip, we chose to mainly stay in the outdoors and even combined our visit with a trip to Porto. If you fancy history and culture or if it's a rainy day in Lisbon – know that there are plenty of ways to stay busy (and dry).
What's Included in this 4 days in Lisbon Itinerary?
Several sections make up this Lisbon itinerary
Day 1: Lisbon Travel Tips, Baixa, Rossio, Chiado & Bairro Alto [This Page]
4 Days In Lisbon Map
This map contains all the places mentioned in this sample itinerary. Click on the image to open in Google Maps.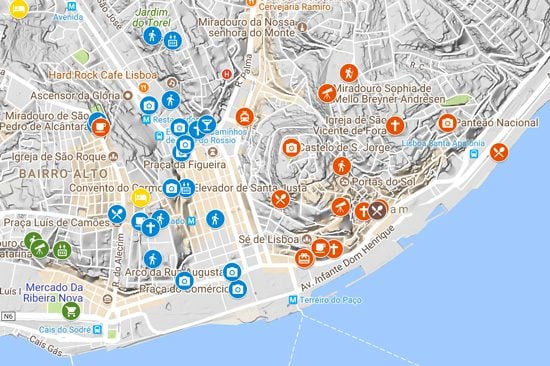 Visiting Porto or other parts of Portugal? Sample Portugal itineraries and an in-depth guide to Portugal's "other" great city are waiting for you in the Portugal Travel Guide collection. Bom dia!
Lisbon Travel Tips: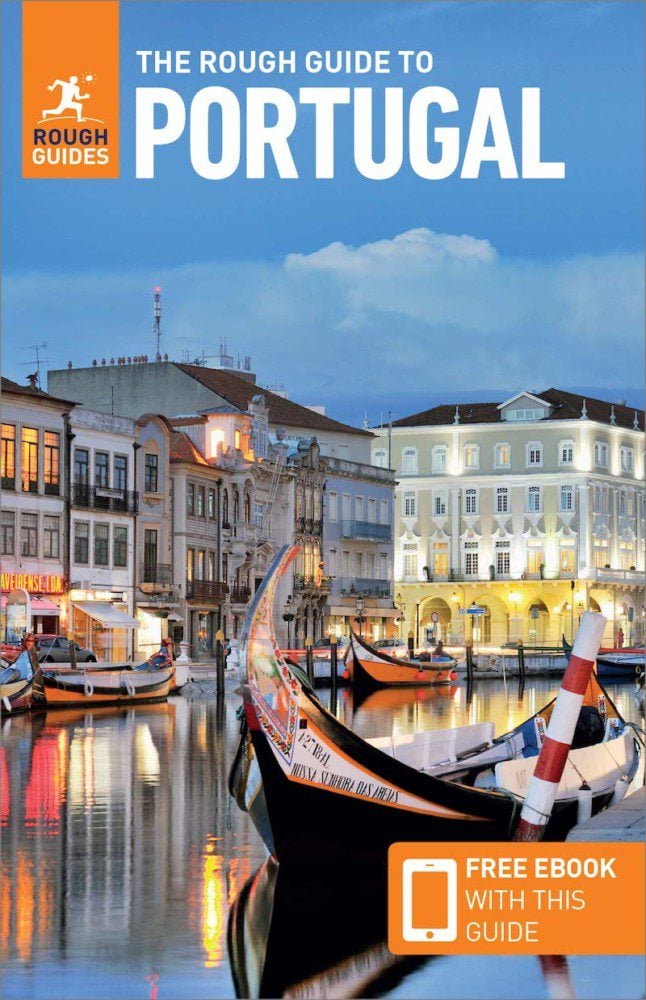 Pick up your copy of the Pocket Rough Guide to Lisbon. It's got just the right amount of info about Lisbon and will comfortably fit in a small bag when you wander the city streets. If you're combining your 4-day trip to Lisbon with other stops in Portugal, also pick up the Lonely Planet Guide to Portugal. I personally used both books when visiting Lisbon and Porto.
Browse through this collection of online tickets to Lisbon's various sites, tours, and experiences. Tickets are immediately issued and usually delivered by email. This includes the Lisbon Card which allows skip-the-line access to 26 museums and monuments as well as free use of public transportation. As you'll later read, part of the fun in Lisbon is using the famous "lifts" (elevadores) to negotiate the steep hills. With each ride costing a few Euros, the Lisbon Card unlocks additional unexpected savings.
Getting from Lisbon airport to the city is quite simple as the distance isn't great. A Taxi should cost under €20 (depending on the traffic) but you can also use the Metro.
Lisbon is a city that's best explored by combining walking together with its antiquated elevators (elevadores) for negotiating the steep hills and trams (electricos) for scenic rides between neighborhoods. For longer (and quicker) journeys, consider using the Metro.
Take extra care of your belongings, especially when riding the tourist-crowded trams. Pickpockets make their living by riding the lines, usually working in tandem. If you look carefully, you'll be able to spot the two partners working the carriage. Ensure you have absolutely nothing in your back pocket, zip-up your bag or purse, and pay close attention to your valuables.
Ladies, leave your high heels back home and guys, sneakers or sandals are the way to go. Lisbon is best enjoyed on foot so dress properly. Have a look at the X Days In Y Packing List for clothing and apparel ideas.
Part of the fun of exploring Lisbon is pausing in the lookout points (miradouros) to enjoy the views and the vibes over a drink. Leave enough room in your itinerary for spontaneity and for relaxing.
As for shopping, alcohol and ceramics are the names of the game in Lisbon. If you won't be visiting Porto, be sure to pick up a few bottles of port wine along with Ginghina – the local cherry liqueur. On the ceramic front – originally painted tiles and the famous Rooster of Barcelos are great souvenirs to bring back home with you. We'll visit the best shop for ceramics in Lisbon in the second of this four days in Lisbon itinerary.
Where to Stay in Lisbon?
On our first visit to Lisbon, we stayed at the Eurostars Das Letras. It was a very comfortable "Holiday-Inn" type of hotel but slightly on the more luxurious end of the scale. Despite a 20-minute walk to the main city center area, the hotel is just five minutes away from the main avenue, train station, and dining options.
On our second trip to Lisbon, we stayed in the heart of the city center at the Teatro Boutique Bed & Breakfast. This charming B&B is located between the Chiado and Bairro Alto neighborhoods so you're just steps away from excellent nightlife, restaurants, bars, and major tourist sites. Across the street is the historic Teatro da Trindade with its impressive facade. Each room is individually decorated, the staff are friendly, the WiFi is fast, and the breakfast is excellent. We found this boutique accommodation of great value and would definitely recommend it to other couples.
Here's a list of other Lisbon accommodations that you can book online!
---
Day 1: Baixa, Rossio, Chiado & Bairro Alto
The first of these 4 days in Lisbon will be a very busy yet rewarding day. We'll start things off in the Lower Town districts of Baixa and Rossio before beginning the ascent to Barrio Alto – Upper Town – via the Chiado district.

Breakfast in Chiado
We'll later come back to explore parts of Chiado but there are several good reasons to start your day in this part of the city center. Chiado is a unique part of Lisbon since its topography is comprised of high ground which gradually descends to the flat riverbank of the Rio Tejo.
Walk along Rua Garrett, Chiado's main street, to A Brasileira – Lisbon's most famous historic café. In business since 1905, you really can't miss the iconic bronze statue of the poet Fernando Pessoa at its entrance. It ain't the cheapest spot in town for a cup of coffee but it sure is one of the most enjoyable ones. If you're lucky (and don't mind paying a bit of a premium), grab a seat outside and do a bit of people watching while basking in the sunlight. In any case, check out the impressive interior which sends you flying back in time to a more glorious era (or so it seems). Adding to the historic vibe is the Igreja dos Mártires just across the street with its exquisite interior ceiling.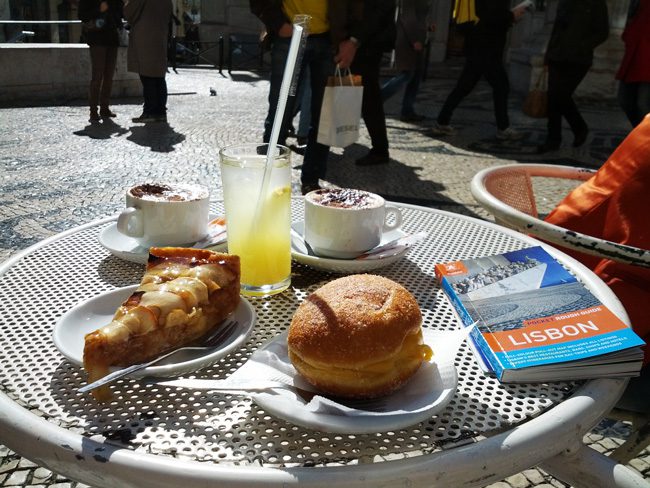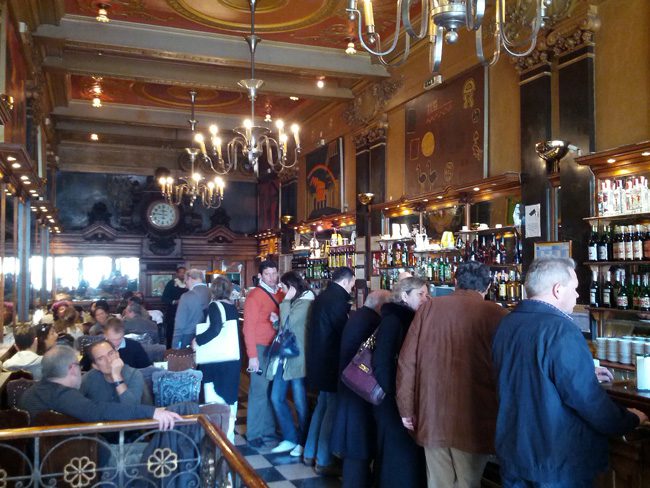 When you've had your dose of caffeine and people watching, check out the shopping scene of Rua Garrett. The street boasts a mix of old shops along with current brands, and on weekends you'll be treated to a small used books market – favored by some of Lisbon's intellectual seniors.
Head to our next sightseeing stop – the Praca do Comercio – via Rua Garrett's side streets which descend south towards the river. You'll find on these small streets cool shops selling stamps, antiques, collectibles, and the like. This part of Lisbon reminded me of those historic Parisien shops that sell "stuff" that you really can't find elsewhere.
Praca do Comercio
Lisbon's main square is nestled along the banks of the River Tejo and is the gateway to the grid-pattern streets of the Baixa district (Lower Town). At its center is the bronze statue of Dom Jose – Lisbon's monarch during the destructive earthquake and the subsequent rebuilding of the city. The square is a popular spot for working on your tan, catching a bus or tram, and for chilling around sunset time. On the sightseeing front, also check out the mosaic-paved Praca Municipio – Lisbon's City Hall. This is the site of the 1910 declaration of the Portuguese Republic and it's worth checking out what is considered to be among the most beautiful structures in the city.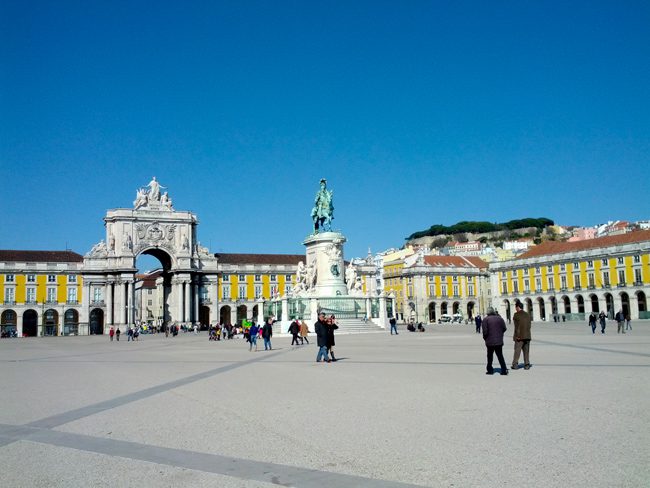 Baixa
Enter the realm of the Baixa via the massive arch of Arco da Rua Augusta. Built to commemorate the reconstruction of Lisbon, you'll find an assortment of touristy souvenir stalls under the shade of the arch, beyond which is Rua Augusta – the Baixa's main avenue. A busy place during the daytime, shops, and cafes line both ends of the cobblestone avenue while street performers, hot chestnut stalls during the winter months, and tourist restaurants take up space along its interior.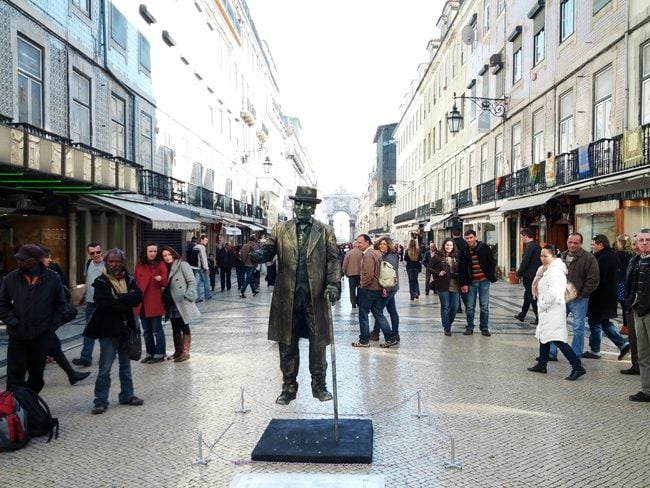 For a more leisurely stroll, check out the smaller streets that make up the Baixa grid, especially the ones running north to south. Like we saw earlier in Chiado, you'll find here an assortment of "old school" shops if the previous dosage wasn't enough.
In any case, make your way to Elevador de Santa Justa for the first taste of Lisbon's famous "lifts". This imposing Gothic-style elevator was built by one of Alfred Eiffel's students back in 1902 and is actually a shortcut back up to Chiado. For €5 (return), you'll be treated to awesome views from the viewing platform atop the Baixa. Be sure to head up the narrow steel spiral staircase for even finer unobstructed views.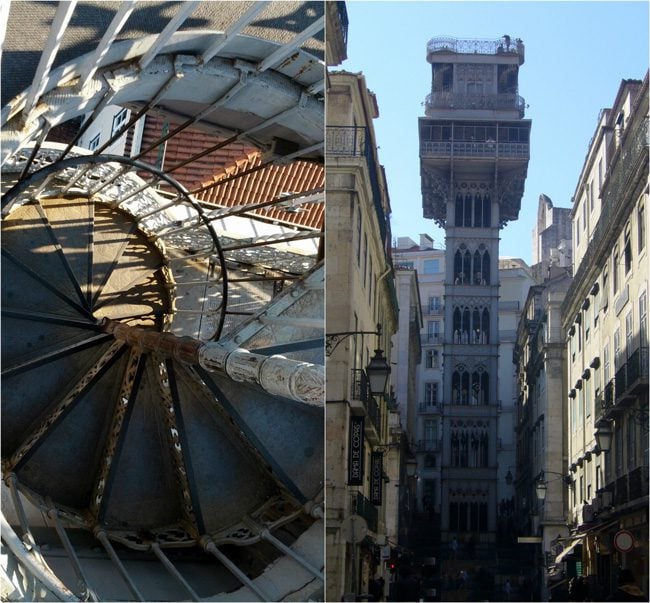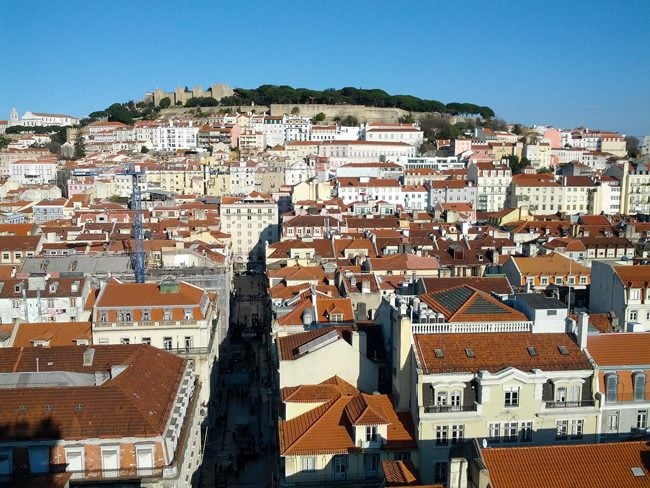 After snapping a few photos or enjoying the views over a drink in the tower's cafe, you can either head straight down back to the Baixa or take a detour via the Convento do Carmo. This 15th-century Gothic monastery was partially destroyed by the great earthquake but wasn't toppled down by the authorities. These days, it houses an archeology museum and makes for an eerie walk through its nave which is exposed to the elements.
Rossio
Back down in Baixa, head to Rossio (a.k.a Praca Dom Pedro IV) – a large square that houses a large central fountain. At its northern end is the National Theatre – yet another impressive building, but Rossio is also a good spot for grabbing lunch or a drink in one of the cafes lining the square. They're a bit pricey and slightly on the touristy end but, hey…it's all about location. If you're craving seafood, walk a further five minutes to Rua das Portas de Santo Antão.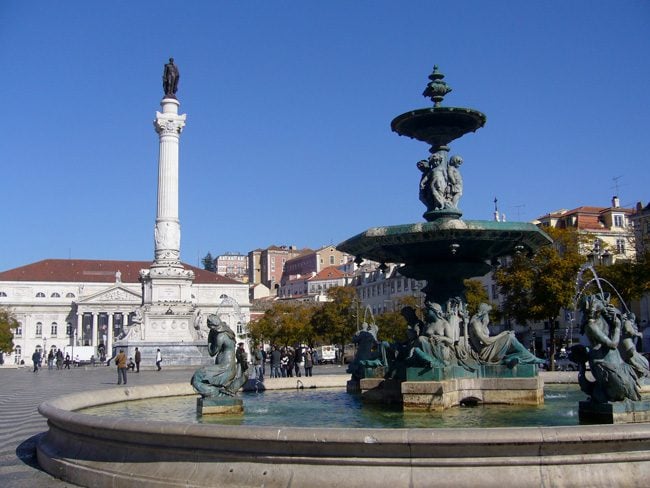 Since it's already the afternoon and since you're on vacation, meander along the narrow alleys east of the Rossio and make your way amid the selection of port-wine bars to A Ginghina for a taste of Portugal's famous cherry liqueur. This tiny tile-decorated bar is a Lisbon landmark and is the equivalent of an espresso bar in Rome in the sense that locals make a quick pit stop, down a glass of port wine or cherry liqueur and continue about their day. Hopefully feeling a pleasant "buzz", also check out the facade of Igreja de Sao Domingos, which likely seems even more impressive with the sugary alcohol now in your bloodstream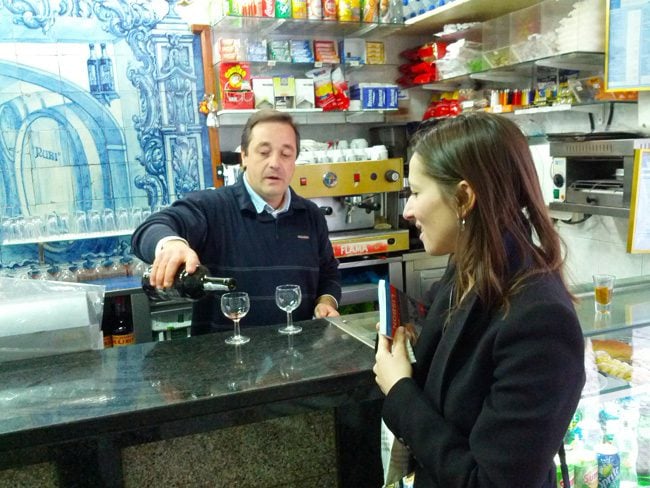 Naturally, the next stop should be Praca da Figueira but this former grand square has lost much of its appeal over the years. Instead, head to Praca dos Restauradores just beyond the Rossio. This square is surrounded by several historical structures and is essentially the bottom end of Avenida da Liberdade – a wide tree-lined boulevard showcasing high-end shops, statues, cafes, and the facades of tile-covered buildings.
Jardim do Torel or Miradouro de Sao Pedro de Alcantara (or Both)
We'll end the sightseeing portion of this busy first day in two charming lookouts located on opposite hills above the Baixa. We paid a visit to both on this day but if you want to take things slow, head to Jardim do Torel and leave the second choice for tomorrow's breakfast location!
The Jardim do Torel is a small park that commands fine views of Lisbon's Lower Town and the Rio Tejo. It's a popular spot with the locals and you'll love chilling here for a while over a cup of tea during the winter months or a fresh pint of Sagres on a warm afternoon. The best part of visiting this spot is that you have yet another excuse for using one of Lisbon's iconic lifts, this time Elevador de Lavra (€3.50 return) which dates back to 1882!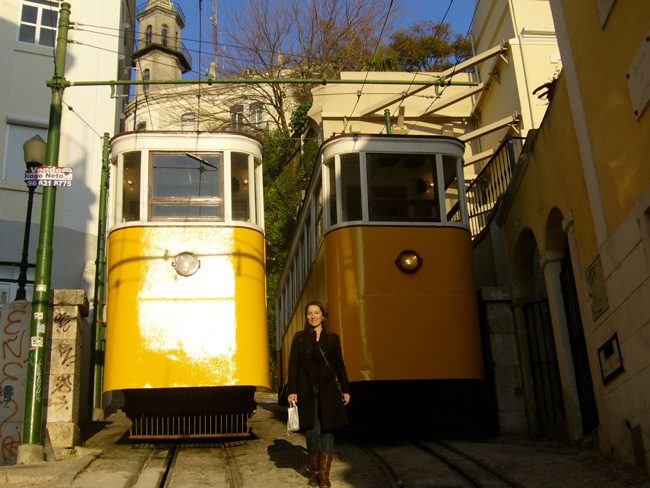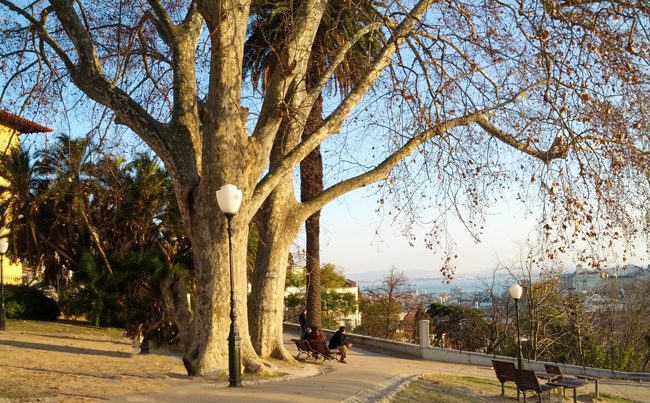 On the hill opposite the Jardim do Torel, the Miradouro de Sao Pedro de Alcantara is a worthwhile spot. Located in the Bairro Alto (Upper Town), take the Elevador da Gloria to get up here from the Baixa. An engineering marvel, this 1885 lift is one of the more popular rides in the city as it negotiates a very steep hill. From the lookout, enjoy panoramic views of the Lower Town but also the castle – which we'll visit tomorrow. If there's time, you can also check out the nearby Praca do Principe Real – a lovely square where locals come to catch some shade during the day, and the Jardim Botanico if you fancy botanical gardens.
Dinner & Drinks in Bairro Alto
Wrap up this rewarding first day in Lisbon with a proper dinner and consider these two options, both specializing in Portuguese grill and the local tradition of cooking your own meat on a sizzling hot stone.
To dine with the locals, head to Restaurante Casa dos Passarinhos – a long-running establishment with its proud history displayed on its walls. Requiring a short, yet totally worth it taxi ride from the Bairro Alto or Chiado to get here, we learned about this place from local friends. It all starts with an assortment of appetizers including bread, olives, and empanadas. For the main course, choose your own cut of meat and grill it to your liking over a hot stone right at your table. Wash everything down with a glass of red wine from the Douro Valley and ask locals to help you out because the staff might not speak a word of English!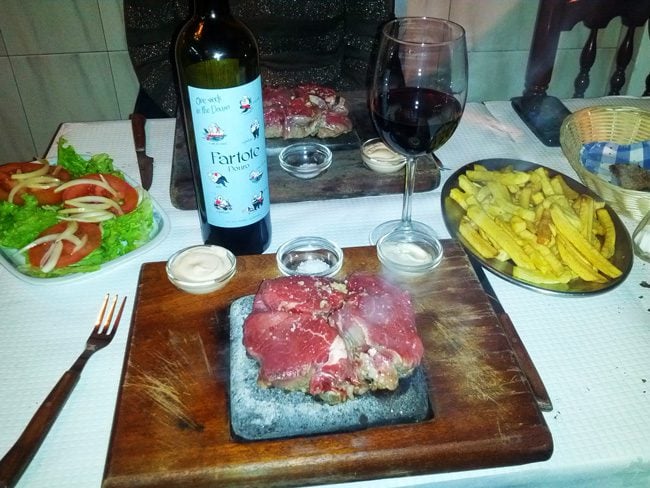 For a similar experience, head to Restaurante Cabaça in the heart of the Barrio Alto. The scene is more geared towards tourists and the opening hours a bit odd, but the vibe is good and the food excellent.
If you still have some energy left in your after all that sightseeing, meat, and red wine, stroll the streets of the Bairro Alto – the place to be by night in Lisbon. The narrow lanes come to life after hours and the party scene often spills over to the streets on weekends and summer nights. We checked in to Grapes & Bites – a cool wine bar with a huge selection of port wines, delicious tapas, and live music on some nights.