Insider's Review Of Te Vakaroa Villas In Rarotonga
Rarotonga in the Cook Islands is the perfect tropical vacation in the heart of the South Pacific. I spent nearly three weeks in Rarotonga on my voyage across the South Pacific Islands, with seven nights in Te Vakaroa Villas. Impeccably furnished, these 5 star villas offer the absolute luxury without the luxury resort scene. Here's a full review of Te Vakaroa Luxury Villas in Rarotonga.
Traveling to the Cook Islands? Start planning with The Cook Islands Travel Guide!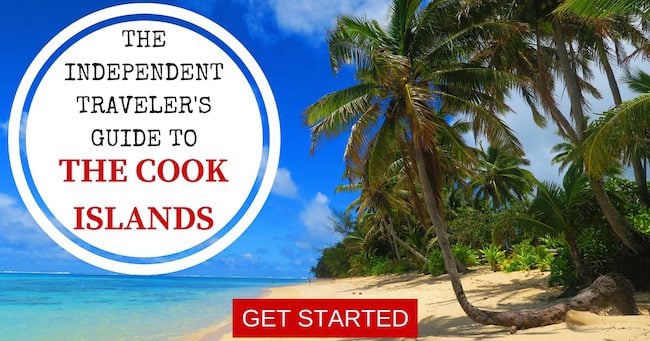 The Location
The beachfront property is located at the very heart of Muri Beach, arguably the prettiest area of Rarotonga. The lagoon and beach are excellent grounds for snorkeling, long walks, watersports, and swimming. Sails Restaurant and the Isobar are right next door, while cafes, shops, ATM, car/scooter rental, the Muri night market, and even Te Vara Nui Village are less than five minutes away on foot. You really couldn't ask for such a better and more central location, yet once you step inside its gates you enter your own quiet world.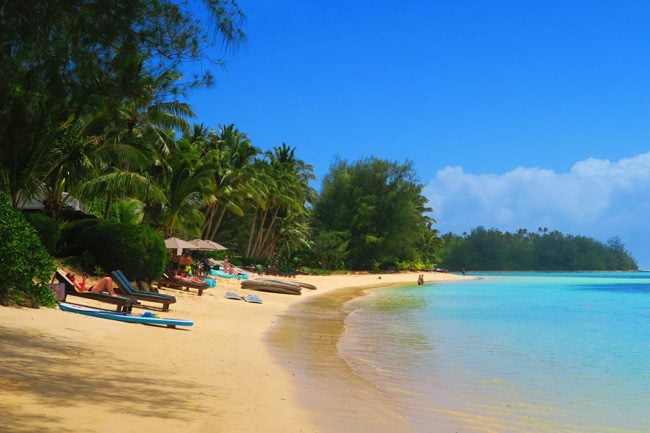 The Story
Meaning 'the long canoe' in Cook Islands Maori, Te Vakaroa Villas honor the ancient canoe building that took place in Muri Village back in the day. In fact, it's not too far away from here in Avana Harbor that such canoes embarked on an incredible voyage into the unknown, resulting in the discovery of New Zealand. Kiwi owners Nick and Des spent a few years on the island, envisioning a kind of place where you'd spend a few weeks living in absolute comfort – your luxury home away from home. The 5-star beachfront villas were designed by a multi-award-winning architect and opened in 2008. Today, Te Vakaroa Villas is one of the most exclusive self-catering options in Rarotonga, a truly unique experience.

The Villas
Built, decorated, and furnished to the highest standards – each of the six villas offers you the absolute feeling of privacy and the highest degree of independence. I was super impressed at the level of detail with regards to everything from the ambient lighting to the wine glasses. Considering you're on a remote tropical island, it's amazing how something like this can be put together.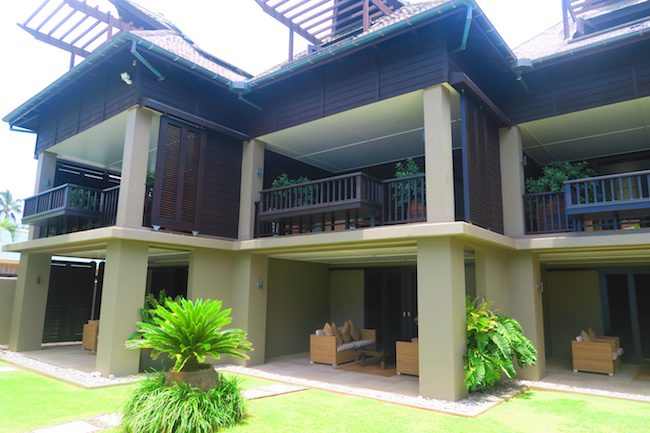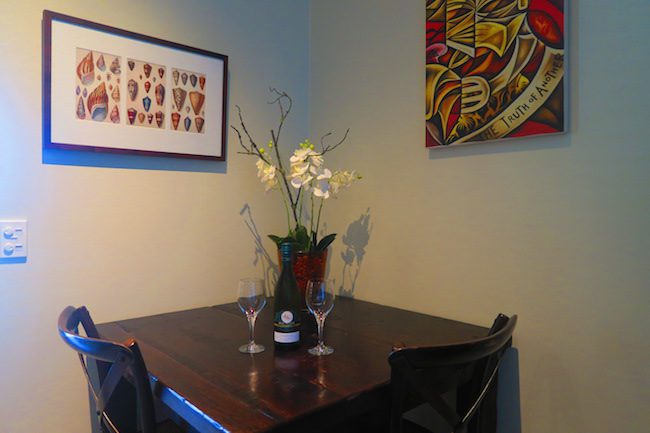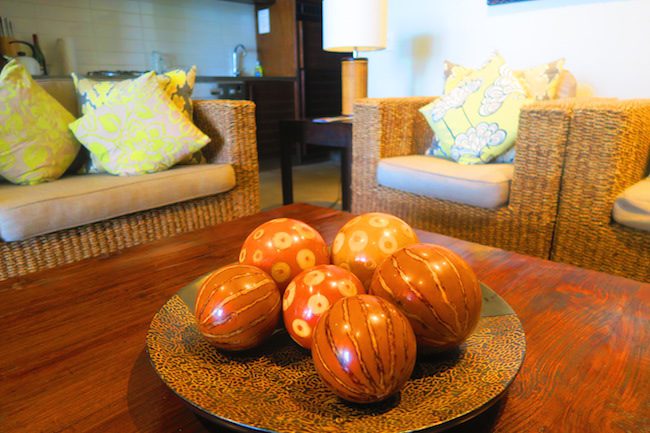 Let's start with your bedroom. You'll have a seriously hard time getting out of bed: the sheets are perfectly smooth, the pillows perfectly soft, and the king-size mattress at just the right degree of firmness. When you do manage to roll out of bed, a massive shower head awaits you to finally wake up.
The knock on the front door signals the arrival of your tropical breakfast, always with a huge smile. Grab your tray and slide the floor-to-ceiling wooden doors, stepping out to your very own patio to enjoy breakfast with a view of the Muri Lagoon.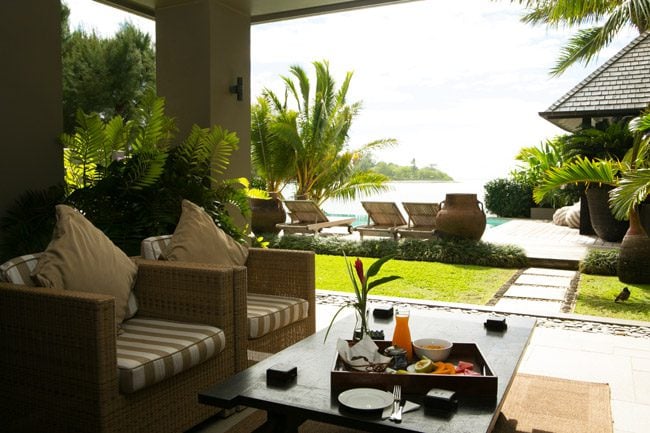 Now that you're fully awake, it's time to get wet. Go for a dip in the infinity pool or jacuzzi, magically facing Muri Beach and offering the best of both worlds. For the real deal, simply open the gate and step down to the soft white sand. When it's time to move back to a horizontal position, grab a wooden sunbed and either catch some Z's or catch up on your holiday reading.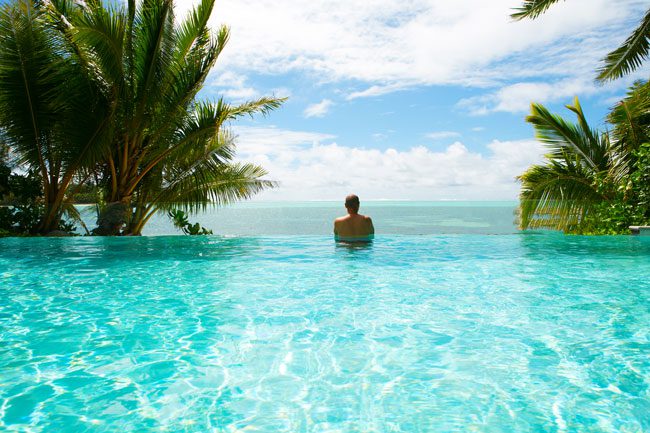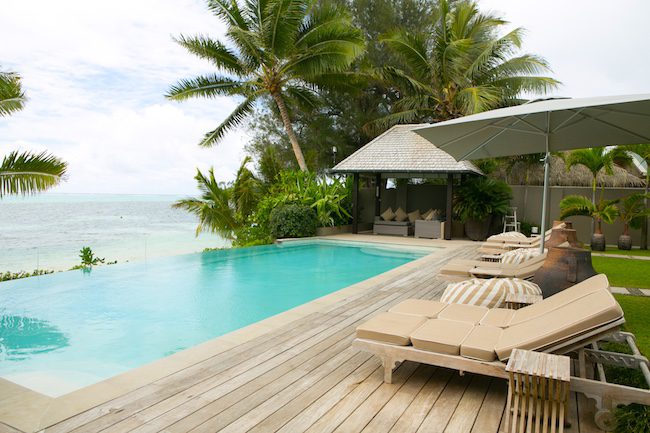 Back inside, your villa is equipped with a fully functional kitchen. In fact, your kitchen back home may not have some of the accessories that you'll find here. I even found a juice blender – perfect for making good use of the fresh fruit I bought at the market. The kitchen opens up to a large and comfortable living area, cooled by a ceiling fan, air conditioning or simply the breeze blowing from the lagoon.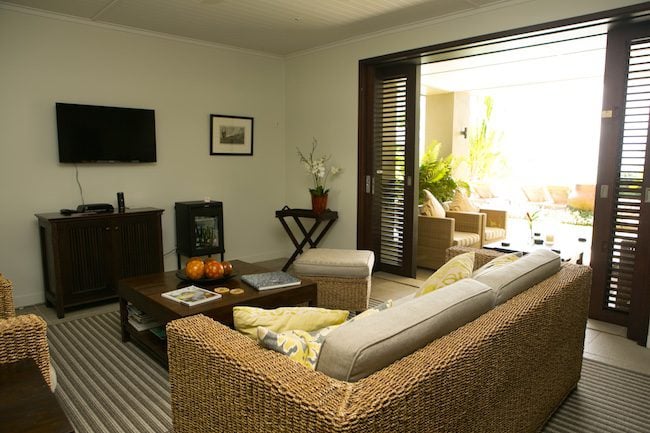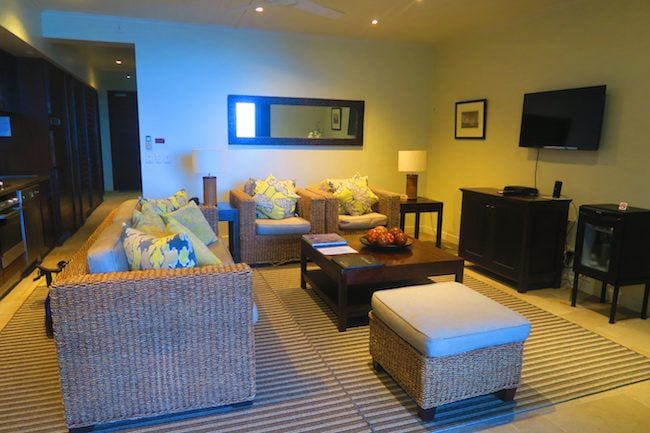 One Bedroom Villas
Suitable for a couple, the three 93 square meter one-bedroom villas are located on the ground floor. Their living room opens up to a large patio that faces the swimming pool area and the beach.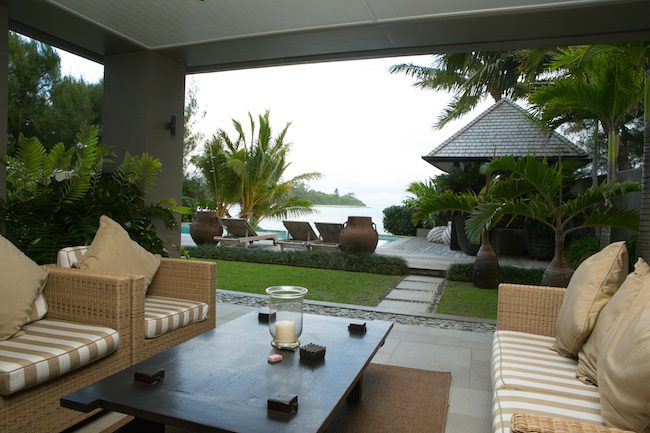 Two Bedroom Villas
Three 170 square meter two-bedroom villas are located on the second floor. With one king-size master bedroom and another king-size bed that can be split into two single beds – these villas are perfect for either two couples or a family with two children. In these units, the living room opens up to a private balcony that offers views of the infinity pool and Muri Lagoon from slightly higher up.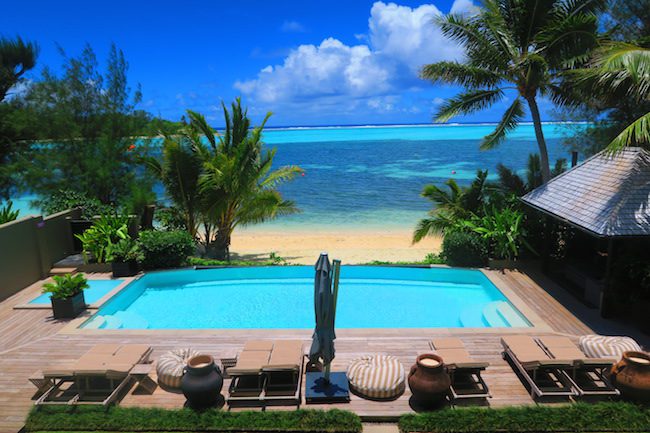 What Else?
Pop into the tour desk and say hello to Poko. She'll be more than happy to provide advice or book anything from a romantic dinner to an island night. Here are a few more extras:
Children 12 or older are welcomed

UV filtered water runs through all the taps

Free airport transfers

Each villa also includes: safe, well-stocked minibar, satellite TV, speaker system, hairdryer, washer/dryer (including powder), dishwasher

Villas are serviced daily

Zenbu internet hotspot in all units

BBQ area, sunbeds and poolside gazebo

Free standup paddleboard and kayaks can be arranged

Sails Restaurant

and the Isobar are right next door. Room service and even a private chef can be arranged.

Property can be booked for weddings, with a wedding planner on hand to assist.

Minimum 3-night stay
Come Here If You Are…
A couple, families with older children, honeymooners, wedding parties, or simply a group of family or friends seeking the absolute luxury but with a high degree of independence. Te Vakaroa is the perfect choice to celebrate that special occasion or simply to pamper yourself … you deserve it! Book here!
Exclusive Offer
Get a free two-day car rental when you book a stay of 5 nights or more. Mention the promotion code 'X Days In Y' when making an inquiry directly with the Te Vakaroa Villas.
What's Next?
Start planning your visit to paradise with the Cook Islands Travel Guide, complete with lots of tips, tricks, and in-depth travel guides to Rarotonga and Aitutaki.