Two or Three Days In Canyonlands NP Itinerary
Covering about half the size of Rhode Island, Canyonlands National Park is Utah's largest. It's certainly worthy of more than a single day to explore its diverse desert landscape stretching across one of America's least accessible corners. This itinerary will explore how to spend two or three days in Canyonlands, hopping between its districts and experiencing its magnificent sites.
I finally made it to Canyonlands National Park on an extended five-week road trip across the American Southwest. I spent five nights in Moab, exploring Arches National Park and three of the four districts that comprise Canyonlands. This itinerary is based on extensive research and my experience.
Why Visit Canyonlands National Park?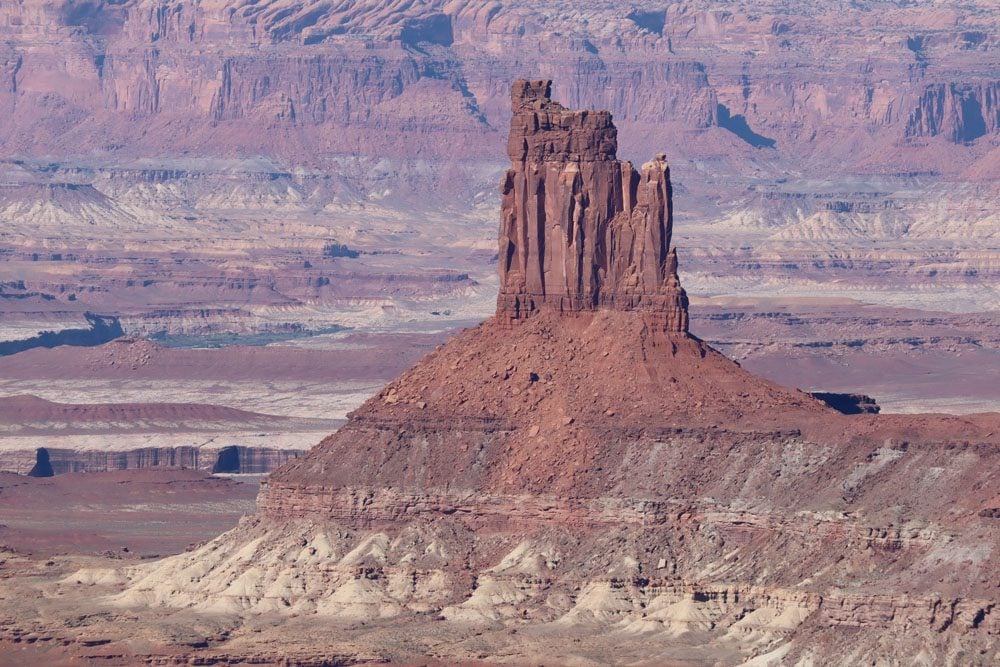 The Wild West
If you're intrigued by the "classic" desert scenery featured in old western films, or wish to explore some of America's wildest and remotest corners, Canyonlands NP is a perfect choice.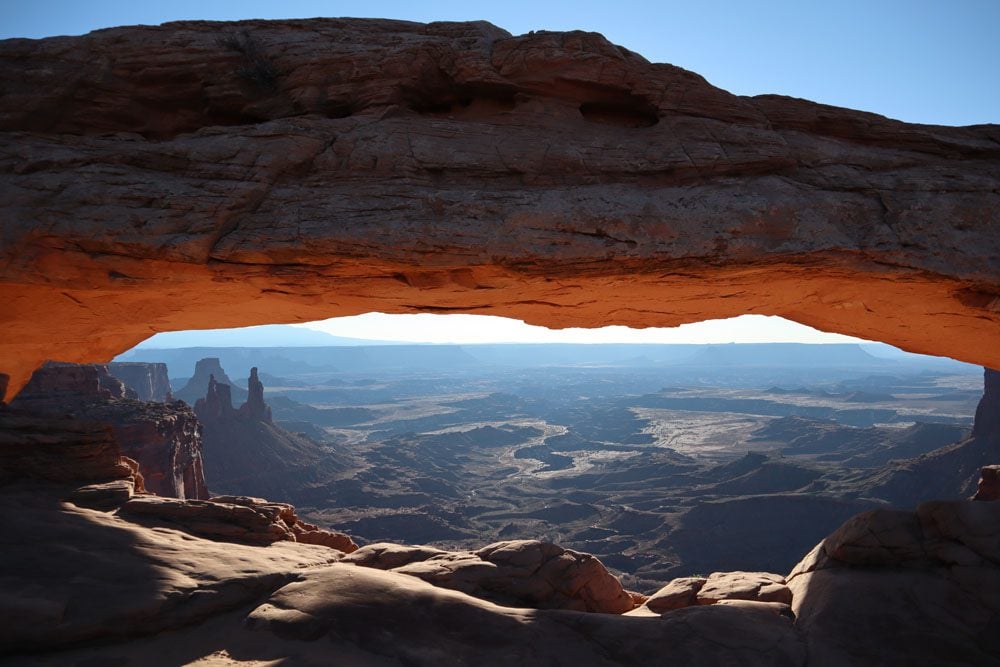 The Diversity
Colorful sandstone needles, natural arches, mesas, buttes, canyons, and fins. These are just some of the stunning geological features waiting to be discovered at Canyonlands.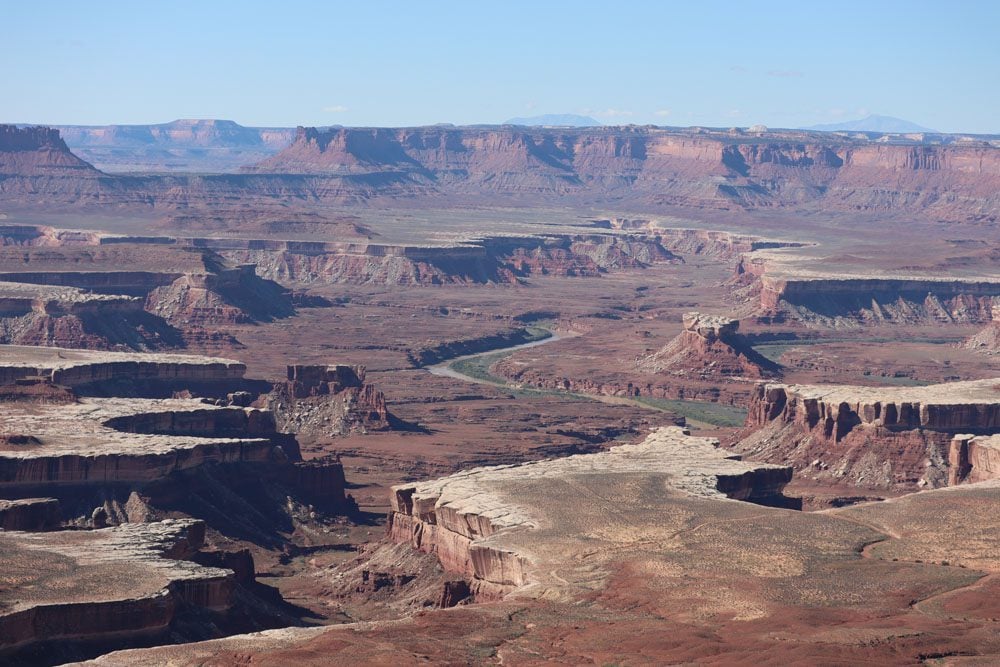 The Solitude
With just a fraction of visitor numbers compared to other Utah national parks but with far more land than the eye can see, Canyonlands NP is the perfect place to be at one with nature.
What's Included in this Itinerary?
The following sections comprise this two or three days in Canyonlands National Park itinerary.
Day 1: Island in the Sky
Day 2: Horseshoe Canyon
Day 3: The Needles
Additional Resources
Check out additional travel guides to Southern Utah and combine your visit to Canyonlands NP with other members of Utah's "Mighty Five."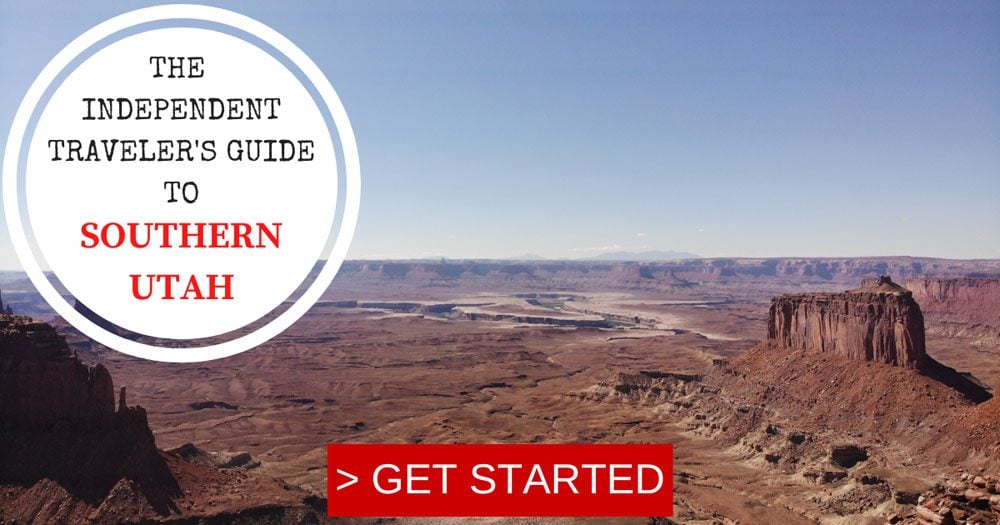 Canyonlands Itinerary Map
All the places mentioned in this two or three days in Canyonlands National Park itinerary are marked on the following companion map. Simply click on the image to open it in Google Maps.
Where to Stay?
Moab is the best option if you want a single base for your entire stay in the region. However, Moab is the closest town to Island in the Sky, but if you want to shorten driving time to Horseshoe Canyon, Green River is your best bet, and if you want to shorten the drive to the Needles, Monticello and La Sal are good options.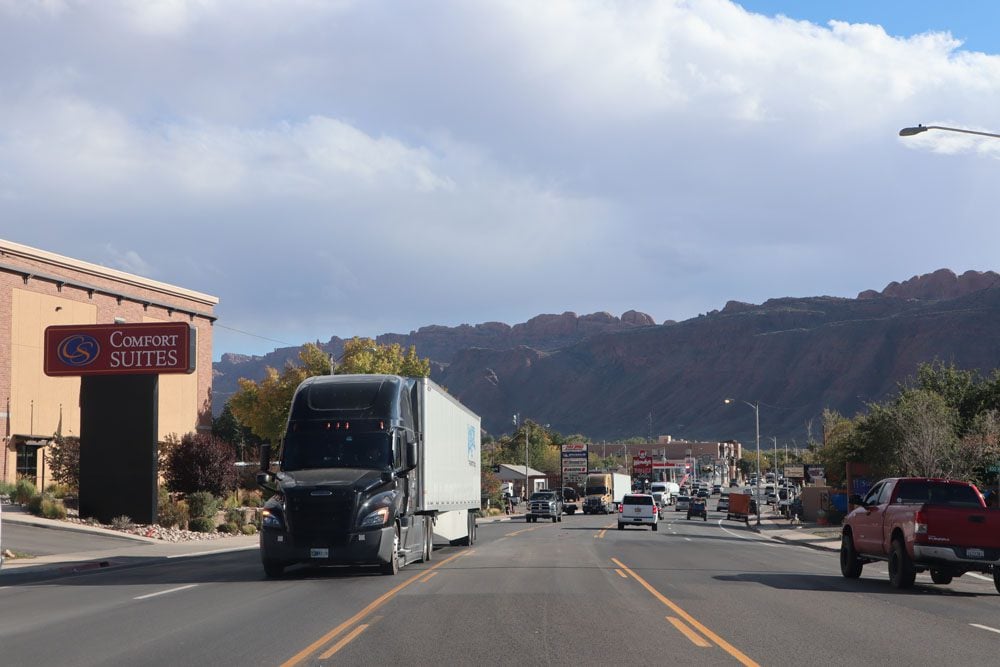 For camping options, see if there's space available at the Island in the Sky or the Needles campgrounds. You can also hike and camp in the backcountry with a permit or find a spot in BLM campgrounds just outside Moab along State Route 128.
Day 1: Island in the Sky
Island in the Sky is the most popular and accessible district in Canyonlands National Park. Despite the crowds (it's not nearly as crowded as Arches National Park), you cannot visit Canyonlands without spending a day in Island in the Sky.
The district derives its name from its commanding position on the edge of a 6,000-foot sandstone mesa, overlooking 100 miles of stunning Canyonlands scenery. Island in the Sky is a Y-shaped district bordered by the Colorado and Green Rivers, whose confluence is at its southern tip.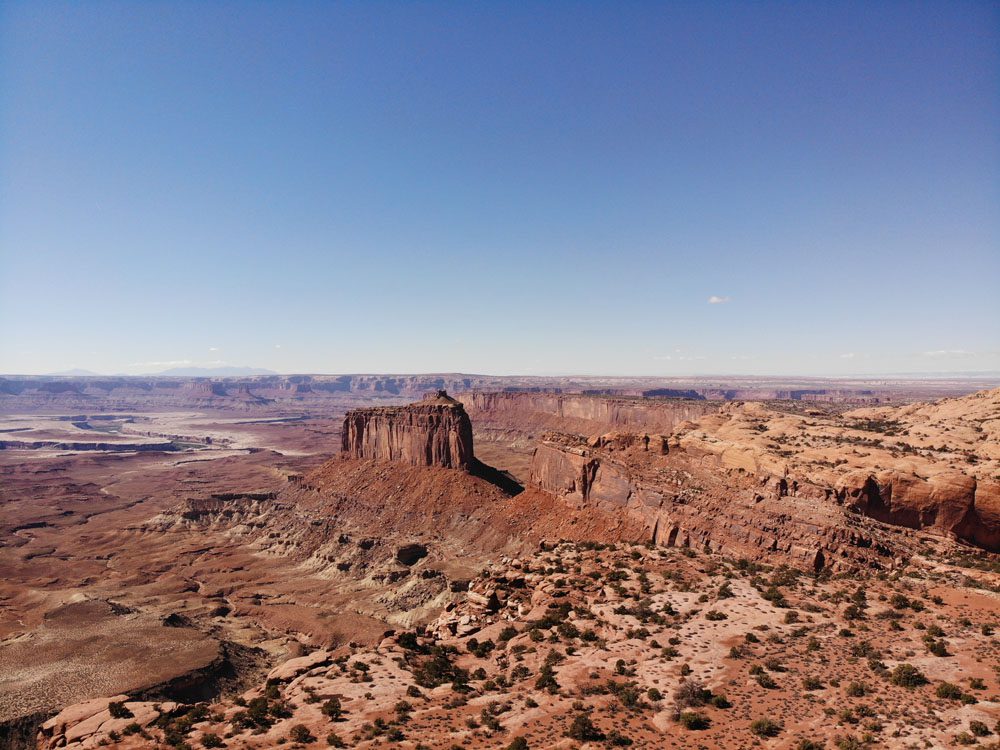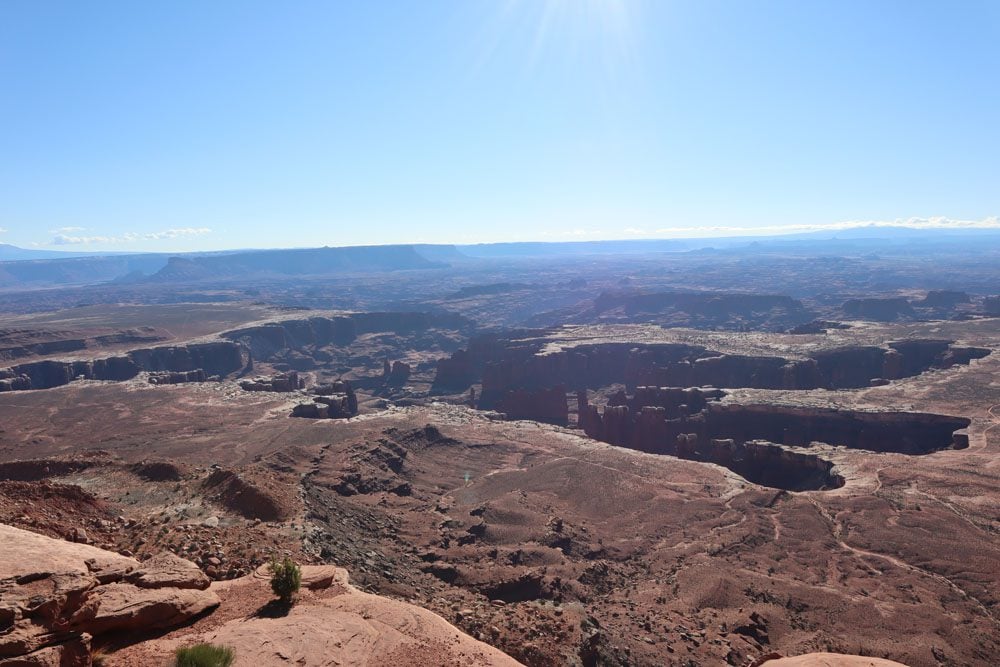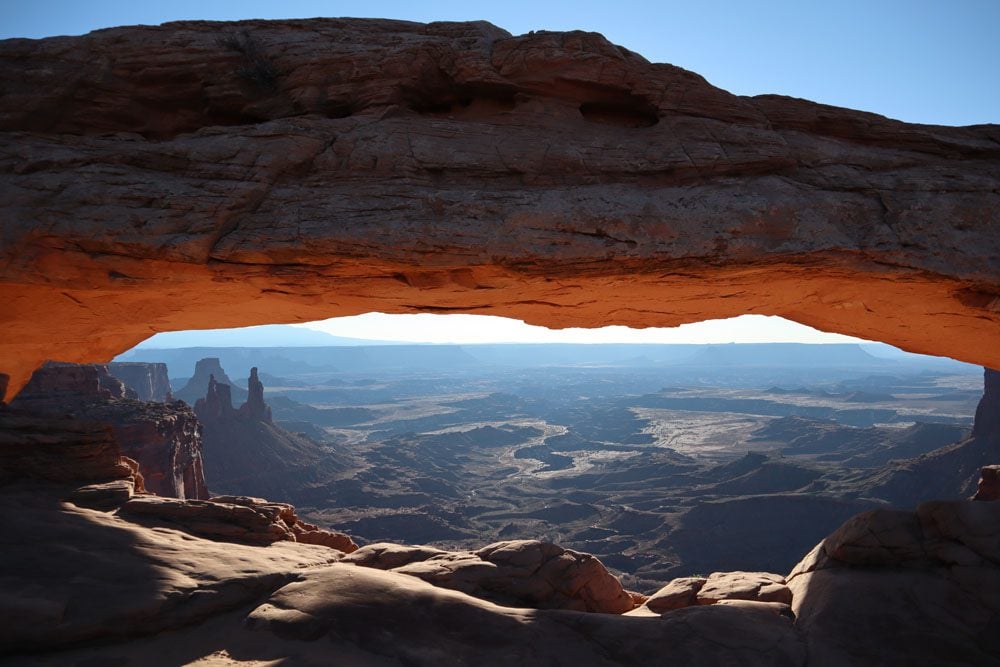 Island in the Sky is easy to explore, thanks to a 34-mile / 55 km (return) scenic drive that offers access to many gorgeous scenic lookouts and trailheads. Spend the morning driving the length of the scenic drive and the afternoon hiking one of the medium or long trails. Then, head next door to Dead Horse Point State Park for one of the best sunsets in America.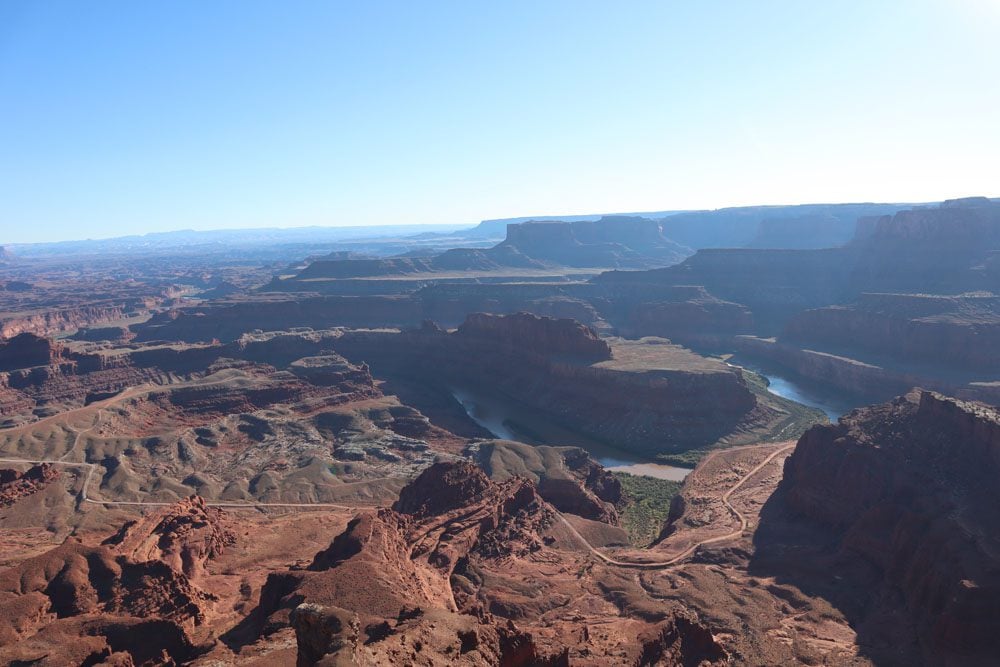 ---
Day 2: Horseshoe Canyon
If you're looking for a real adventure and spending two days in Canyonlands NP, little-known and even less visited Horseshoe Canyon is an excellent option. Why? Horseshoe Canyon contains some of North America's most significant and magnificent rock paintings, yet it's pretty hard to reach.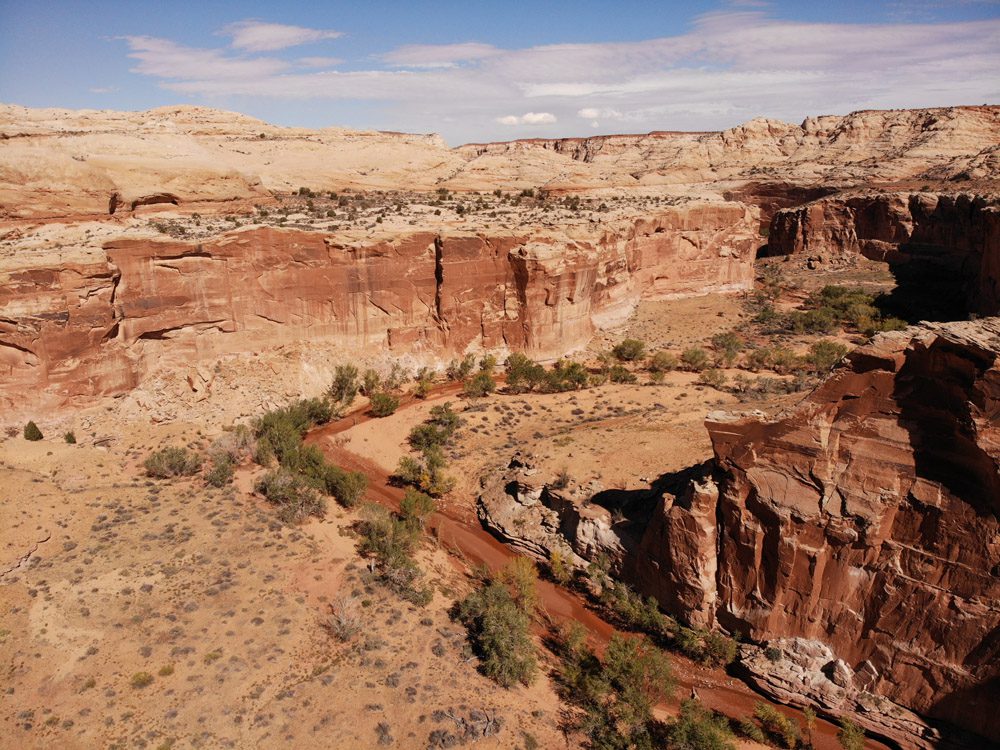 Where is Horseshoe Canyon?
Horseshoe Canyon is located about 100 miles from Moab. It is technically part of the Maze district of Canyonlands National Park but managed as a separate unit.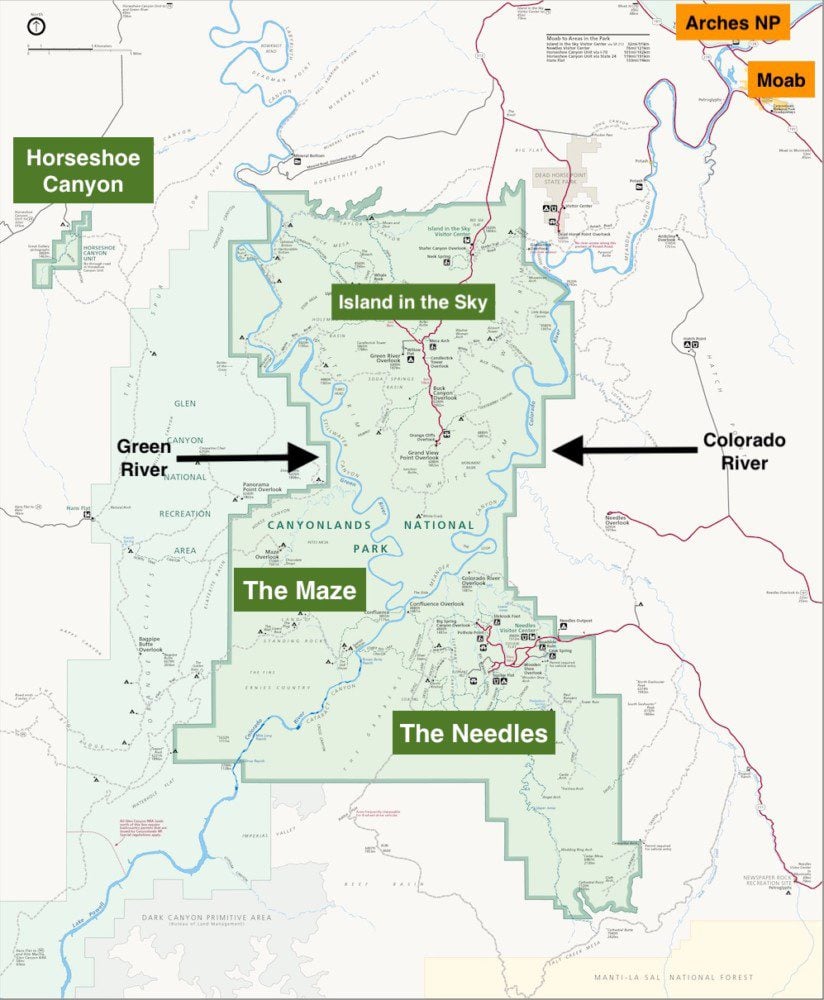 Background
Visitors to Horseshoe Canyon are drawn to its life-sized rock paintings. However, the canyon is also impressive, thanks to its sheer sandstone walls shielding delicate desert flowers and cottonwood trees.
The canyon's human history dates back approximately 11,000 years to the era of hunter-gatherers. These tribes are likely responsible for the magnificent rock art that decorates Horseshoe Canyon's Great Gallery, estimated at 3000-4000 years old. These mysterious paintings have yet to be deciphered, leading to speculations of the Ancient Aliens kind. After the hunter-gatherers came the ancestral Puebloans, who left their own markings on the canyon walls. Like in other parts of the Southwest, these tribes mysteriously vanished over 500 years ago.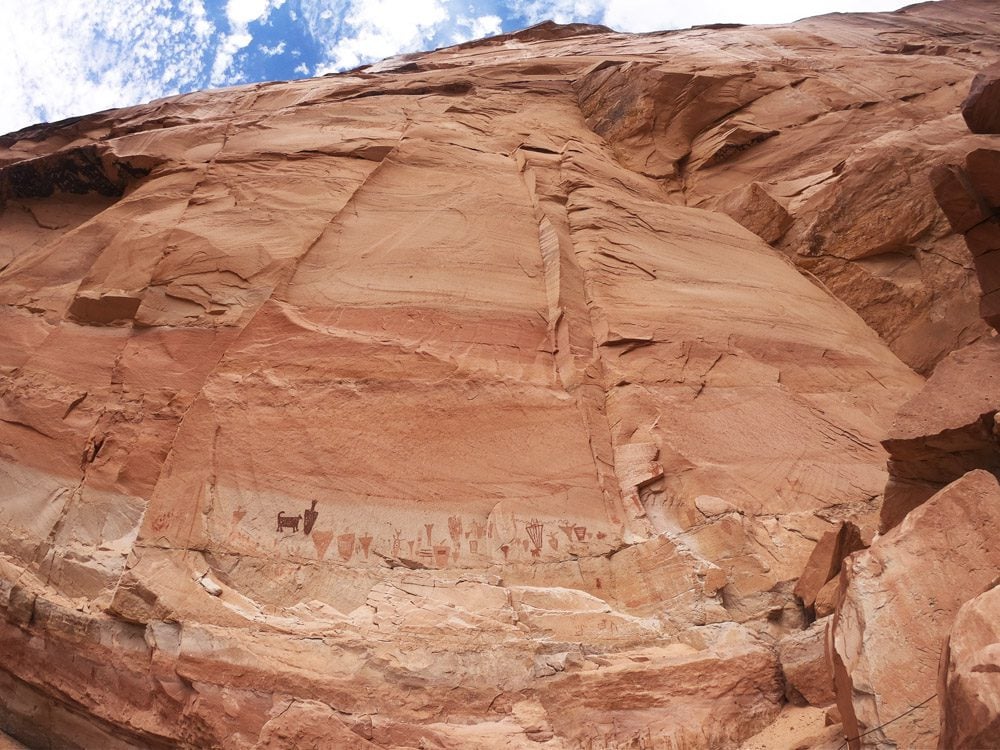 In modern times, Horseshoe Canyon gained notoriety thanks to Wild West outlaws such as Butch Cassidy, who took refuge in the canyon. Ranchers tried their luck in the area, followed by mineral prospectors, putting the delicate natural environment and priceless rock art at risk. This prompted officials to incorporate Horseshoe Canyon into Canyonlands National Park in 1971.
How to Get to Horseshoe Canyon from Moab?
It takes about 2.5 hours to reach Horseshoe Canyon from Moab or 1.5 hours from Green River. From Moab, take Interstate 70 to Green River and head south along County Road (also marked on Google Maps as Airport Road). Take South Lower San Rafael Road at the fork and follow it for about 40 miles on a lonely dirt road. Look for the small sign point left to Horseshoe Canyon, and about three miles later, you'll reach the parking area.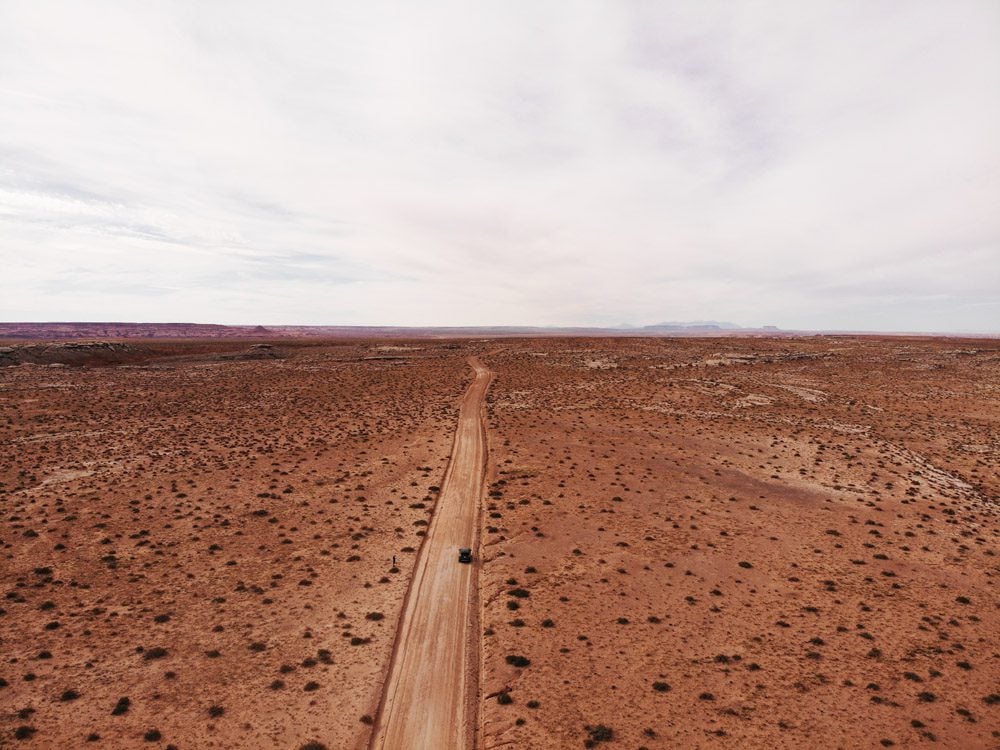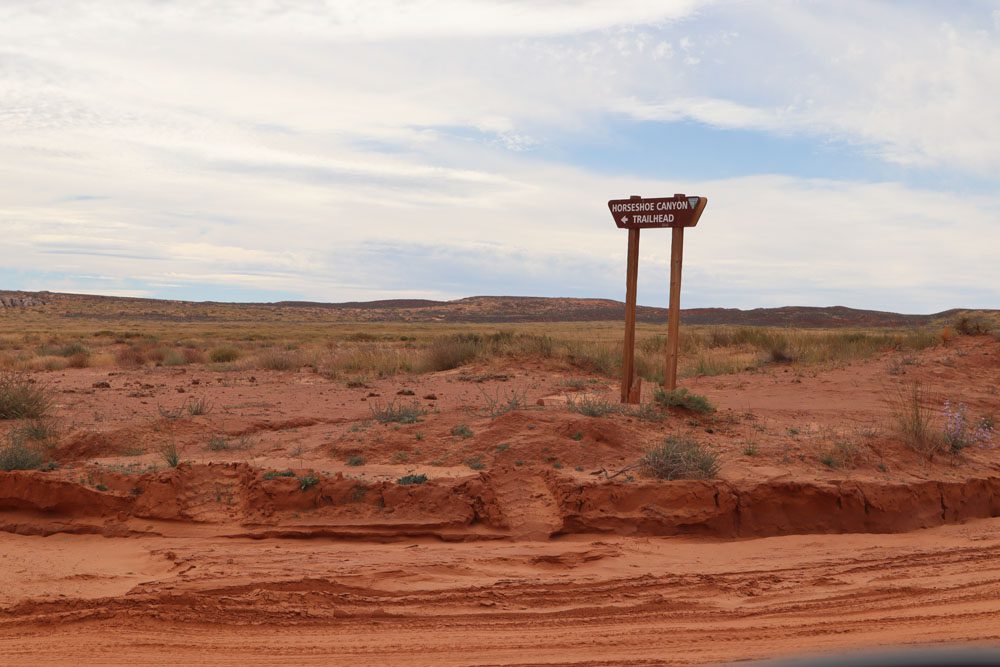 If you want to visit Horseshoe Canyon from Capitol Reef National Park, a 30-mile graded road heads to the canyon from State Route 24.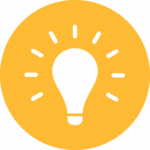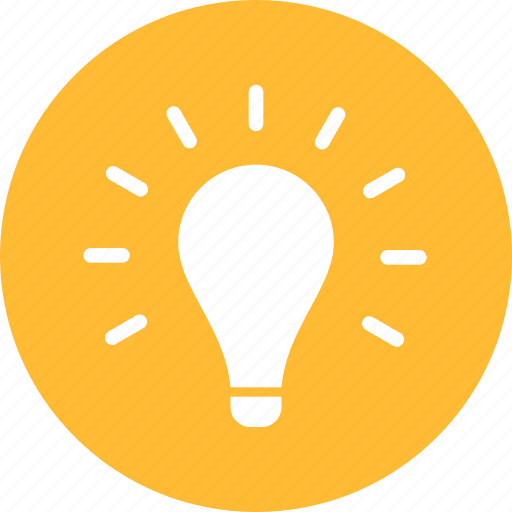 Pro Tip
If you want to minimize driving times, consider spending the night before (or after) visiting Horseshoe Canyon in Green River or camping on the canyon's west rim trailhead (but not in the canyon itself).
What Type of Car is Needed for Horseshoe Canyon?
You'll drive over 40 miles on dirt roads to reach Horseshoe Canyon from Moab. A regular AWD vehicle should be OK for the drive, but a high clearance vehicle is recommended as some sections are sandy, and the extra height makes the difference. After heavy rain, the roads are impassable for any type of vehicle.
Can You Visit Horseshoe Canyon on a Day Trip?
Absolutely. Despite the long driving time (five hours in total from/to Moab), if you get an early start, it's doable. The beautiful drive is an experience on its own, and the hike in Horseshoe Canyon is "just" 7 miles (11.2 km) return, so it's not a full-day activity.
Safety First
Horseshoe Canyon is off-the-grid, so preparation is vital. Here are a few essential tips.
Check your spare tire and repair kit the day before your visit. I discovered by chance a nail stuck in one of my tires on the previous day but could not find an open repair shop as it was too late in the day. Therefore, I could not get an early start the following morning.
Share travel plans with your hosts or loved ones.
Fill your gas tank at Green River.
Check updated road conditions before heading out.
Bring more food and water than you think you'll need.
Be prepared for hot and wet conditions. It can be windy on the canyon rim and hot on the canyon floor.
Wear comfortable and sturdy hiking shoes.
Carry a first aid kit, just in case.
There is no mobile reception in the area. Print a map of Horseshoe Canyon or pick one up at the Island in the Sky or the Needles visitor centers.
Download an offline Google Map of the drive and the Canyon; upgrade to All Trails Pro so you can download the trail map to your smartphone.
Carry a USB charger to charge your mobile phone on the drive.
Sign the guestbook at the trailhead.
The Drive to Horseshoe Canyon
The long drive to Horseshoe Canyon on dirt roads is just part of the fun. If you're traveling alone, as I did, it can be scary at first. But once you get used to the straight road to nowhere and take it slow, it's an experience you'll never forget. In the interest of time, I recommend making stops only on the return leg.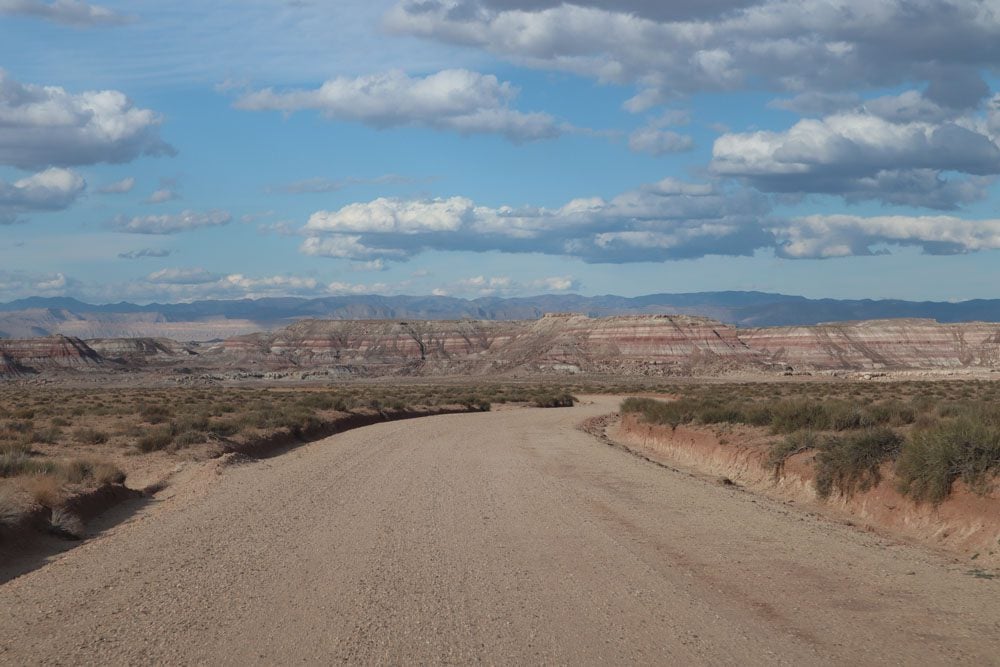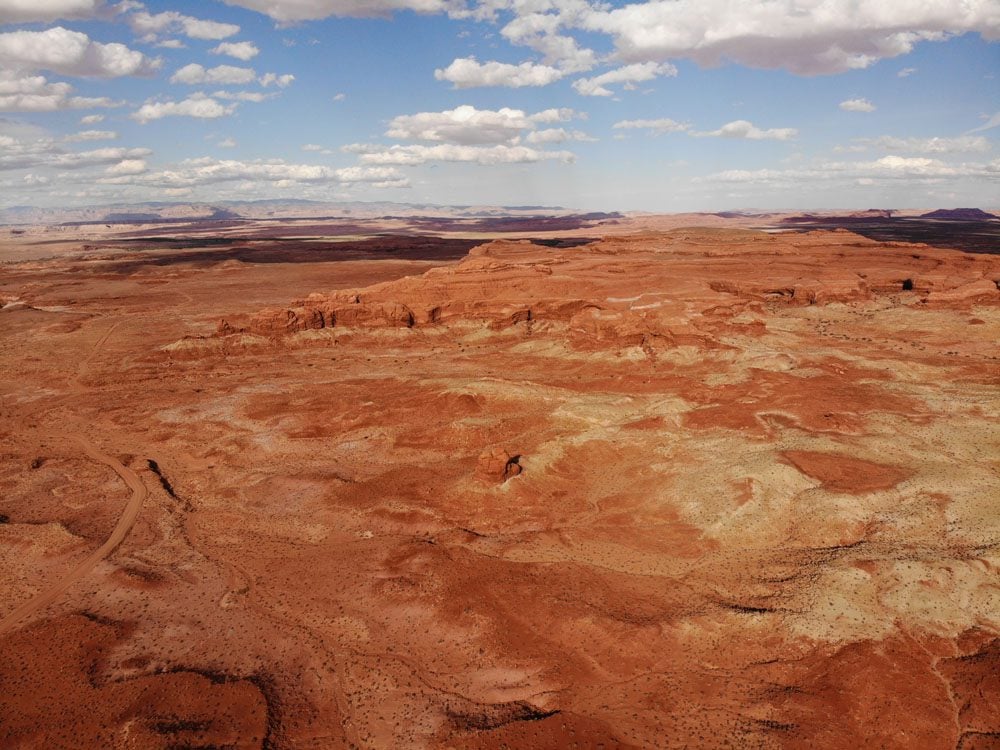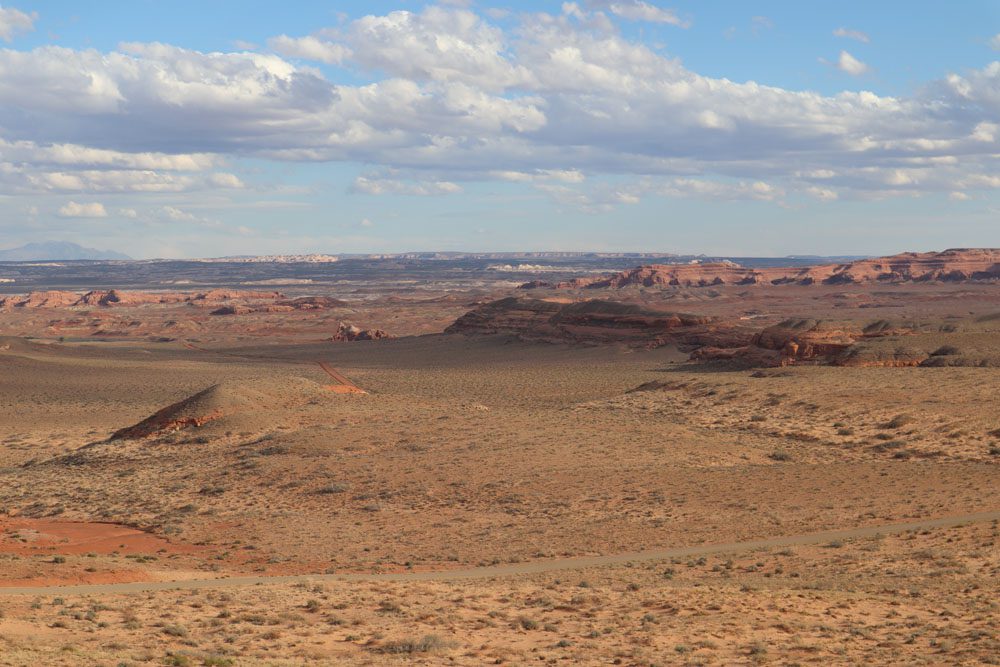 Horseshoe Canyon Trail
The moderately difficult Horseshoe Canyon Trail is a 7-mile (11.2 km) round trip hike. The trail immediately begins with a descent to the canyon floor. Once at the sandy bottom, you basically follow the river upstream, using rock piles (cairns) left by rangers to keep your bearings straight. Some sections are muddy after a light rain, washing away footprints and trail markings. Therefore, downloading an offline trail map to your smartphone helps, though it's tough to get completely lost inside the canyon.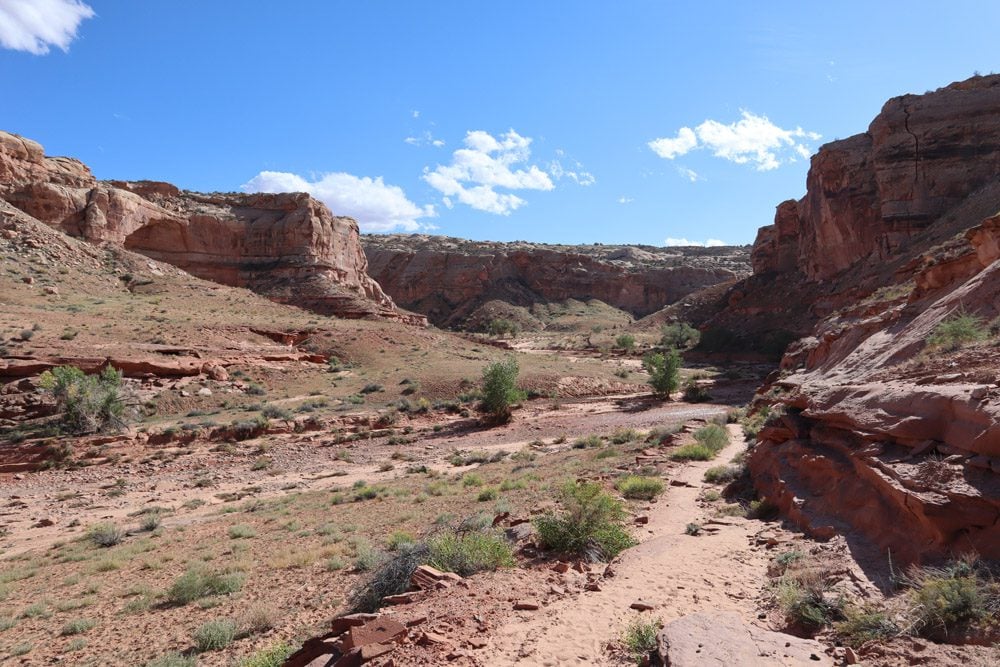 The feeling of hiking in Horseshoe Canyon is thrilling. It's completely quiet on the canyon floor, with silence only broken by the occasional breeze or loose desert bush carried by the wind. There's hardly anyone around, and we haven't even begun speaking about the rock art.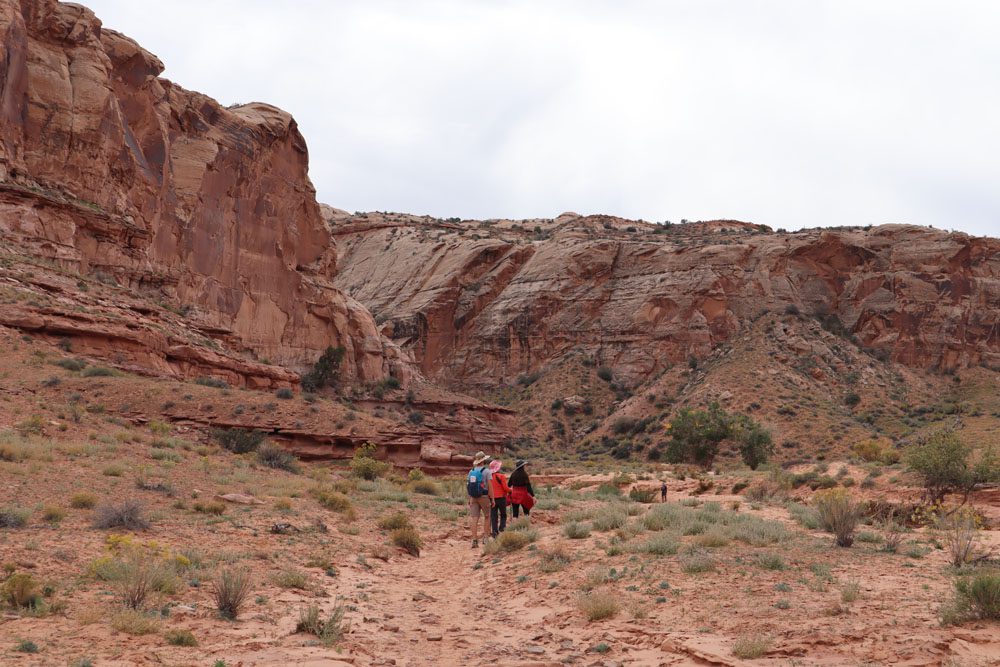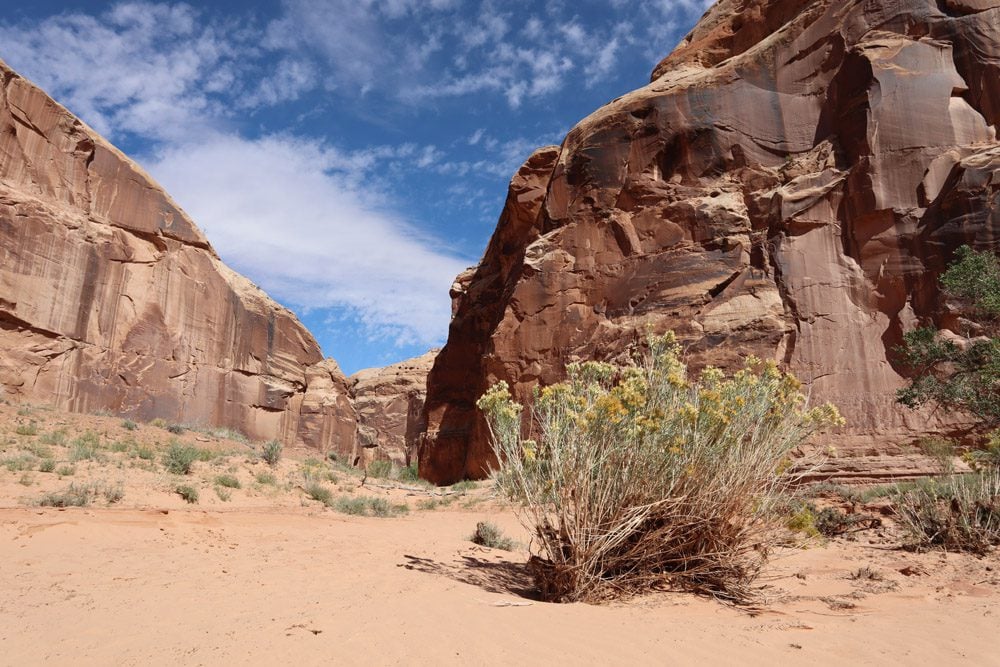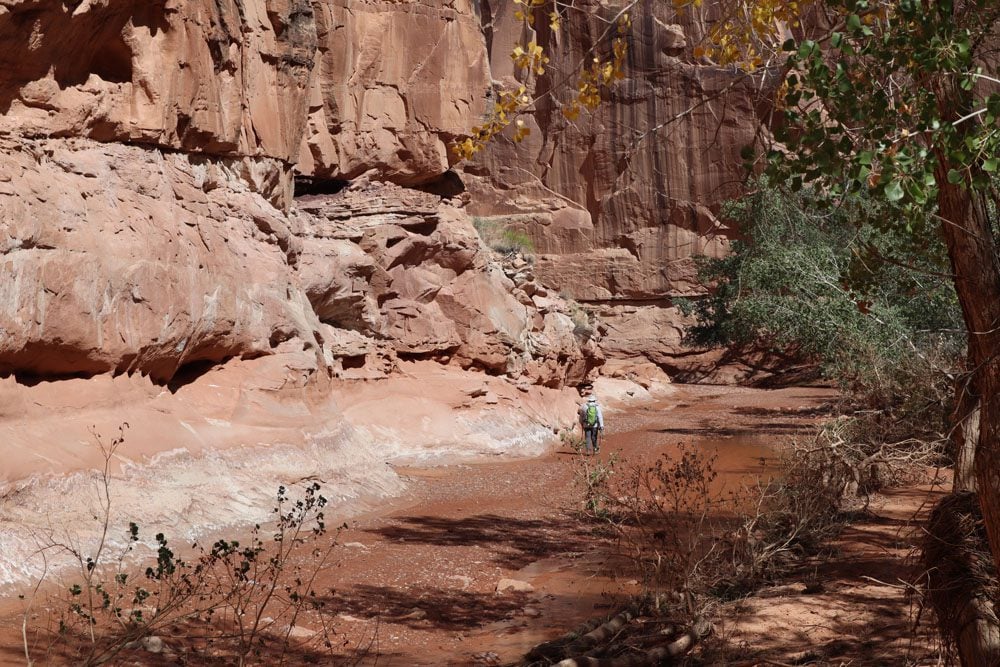 Horseshoe Canyon contains four major rock art sites, but I only identified three. The first site is the High Gallery, your first glimpse of bizarre human figures somehow painted high on the sandstone wall.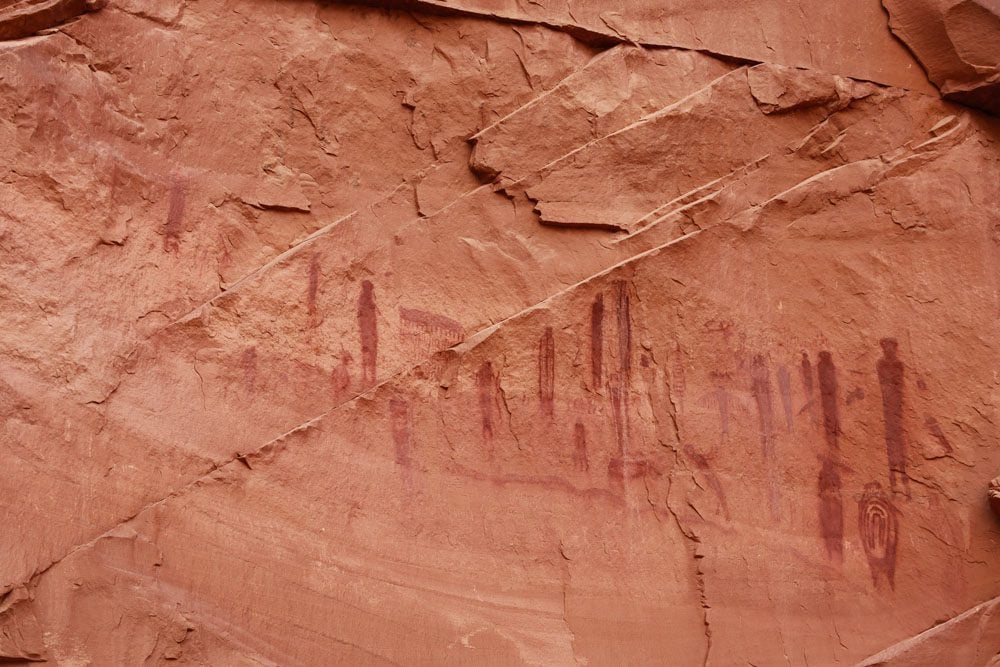 The next site is Horseshoe Shelter, a remarkable gallery about 10 feet above the sandy canyon wall, containing more intricate paintings than the High Gallery. Here, we can see strange human figures as well as animals.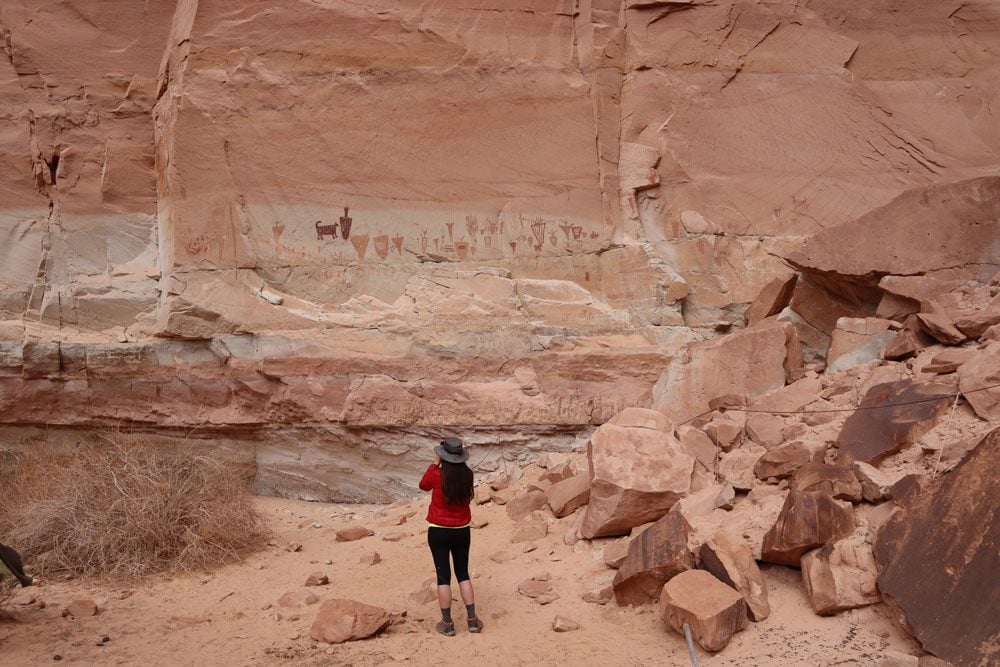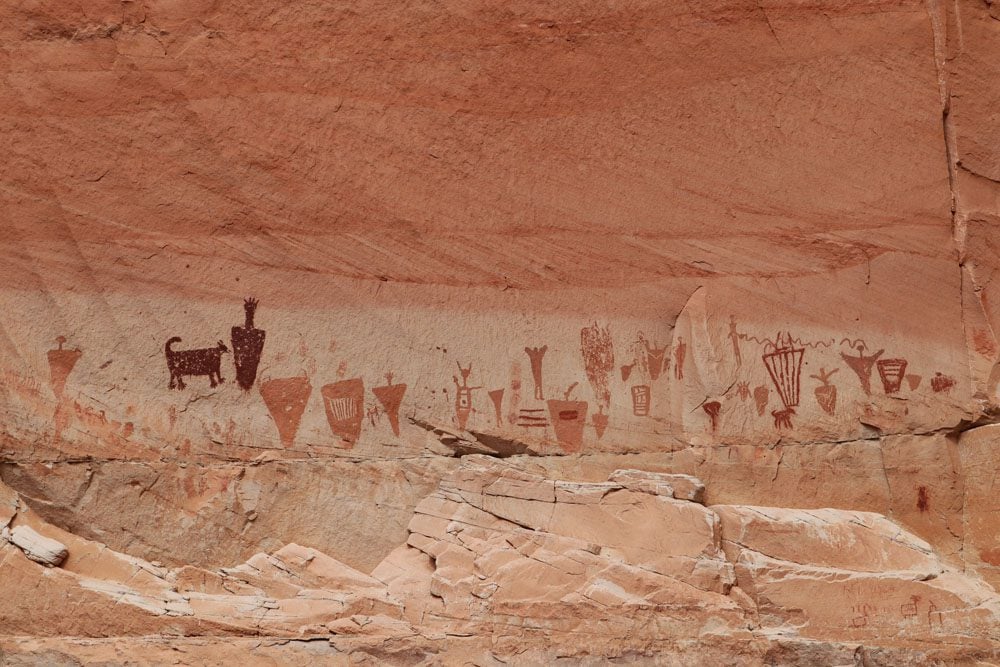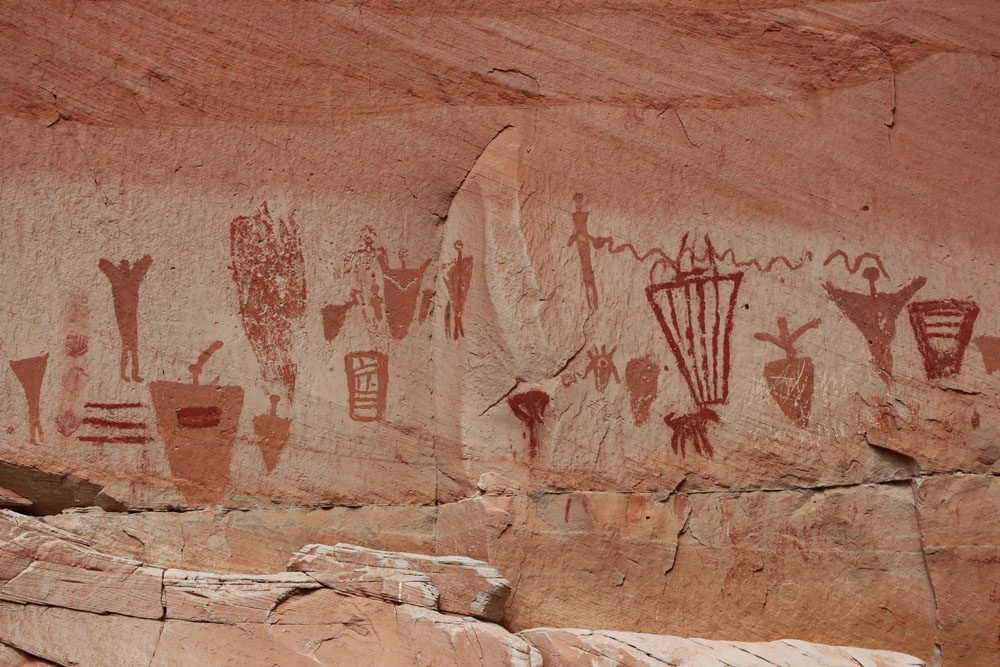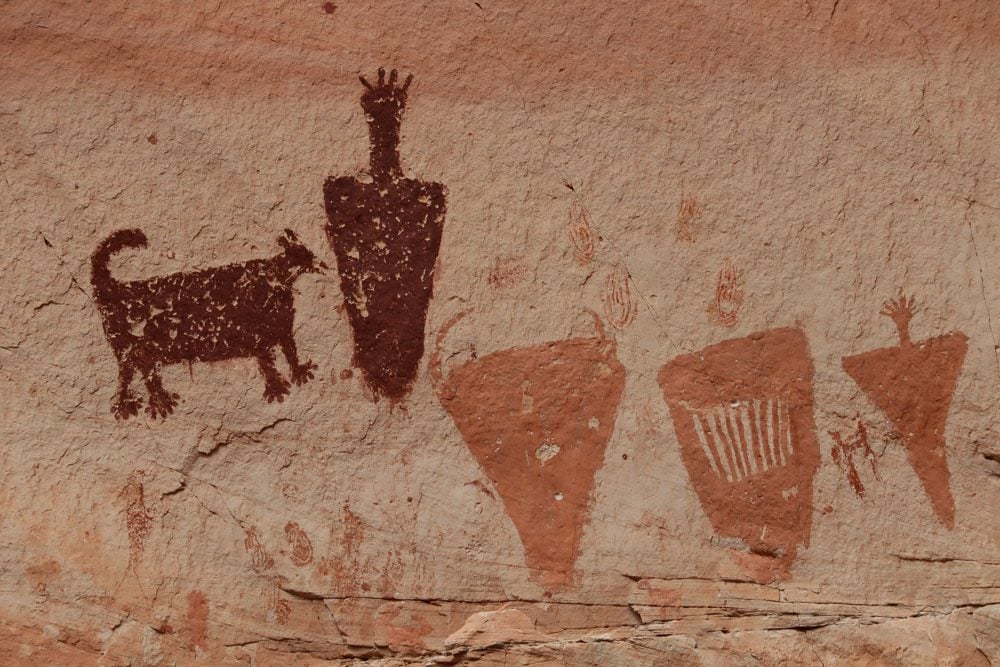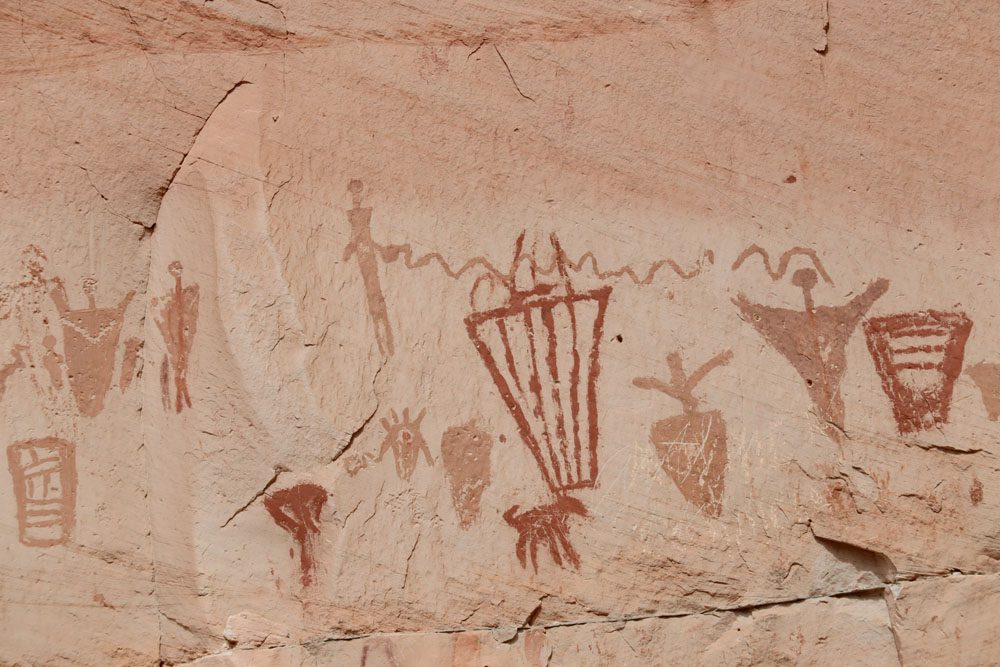 The most impressive site is the Great Gallery, and what a site it is. Grab a pair of binoculars from the metal box and admire the rich art left by mysterious tribes. Take particular note of the various colors on the sandstone walls and the intricate patterns in some life-sized human and animal figures. To this day, researchers are not exactly sure what the meaning of these paintings is.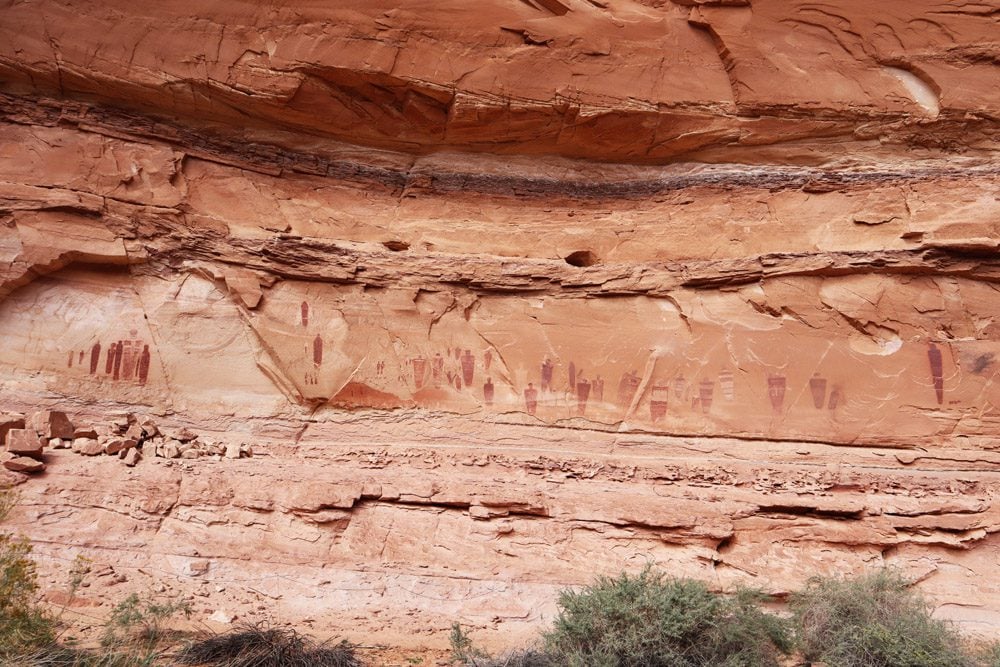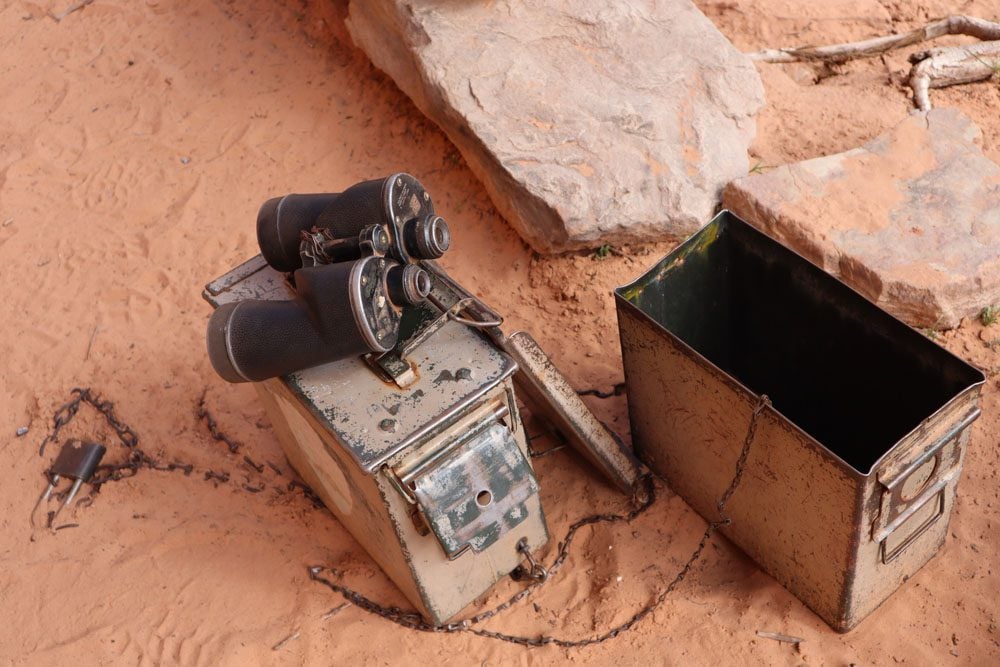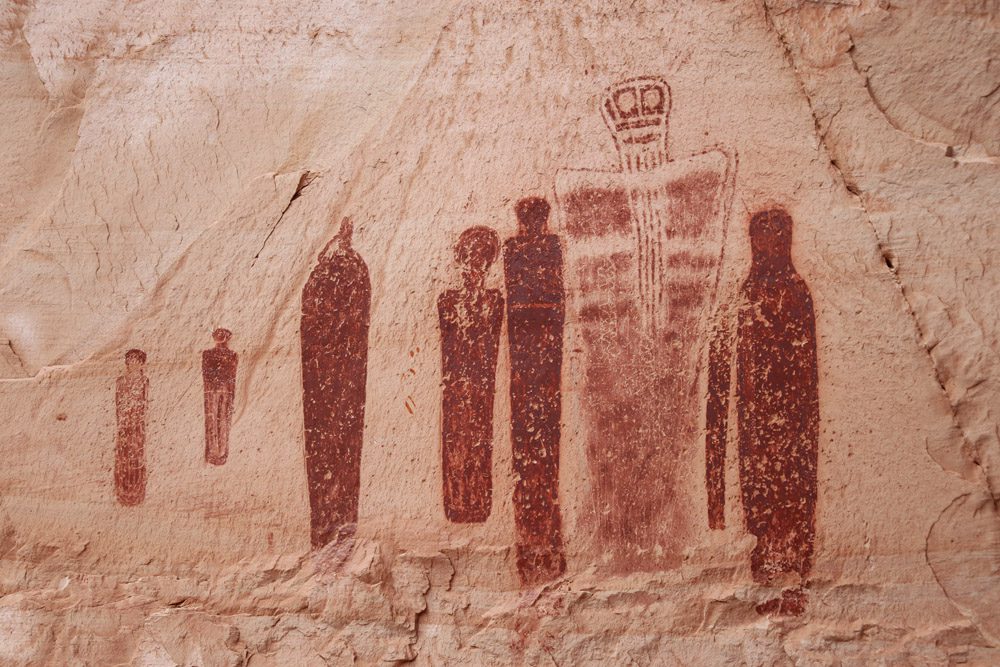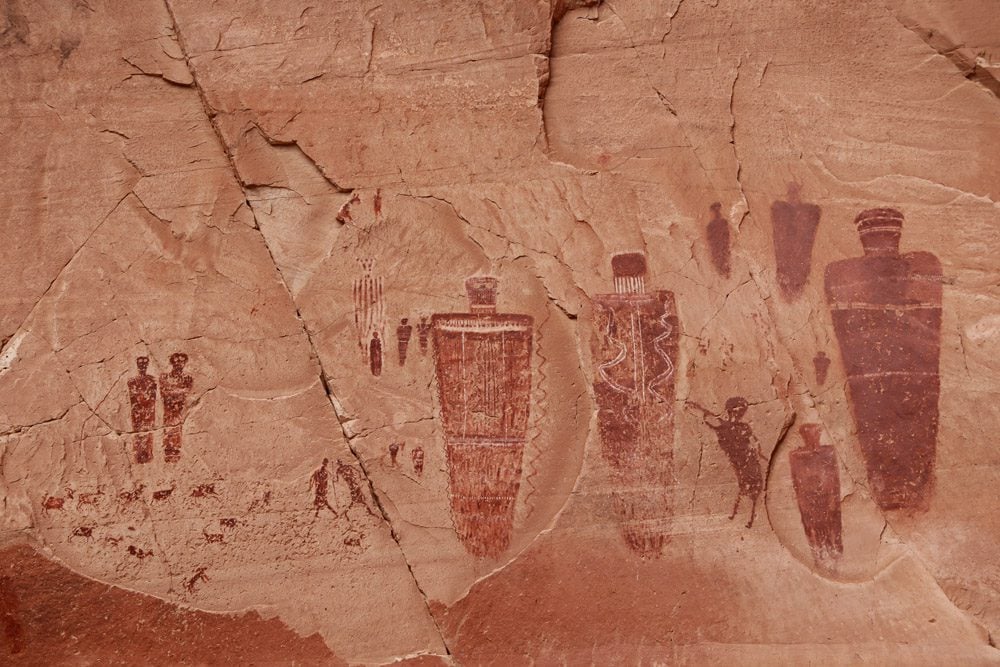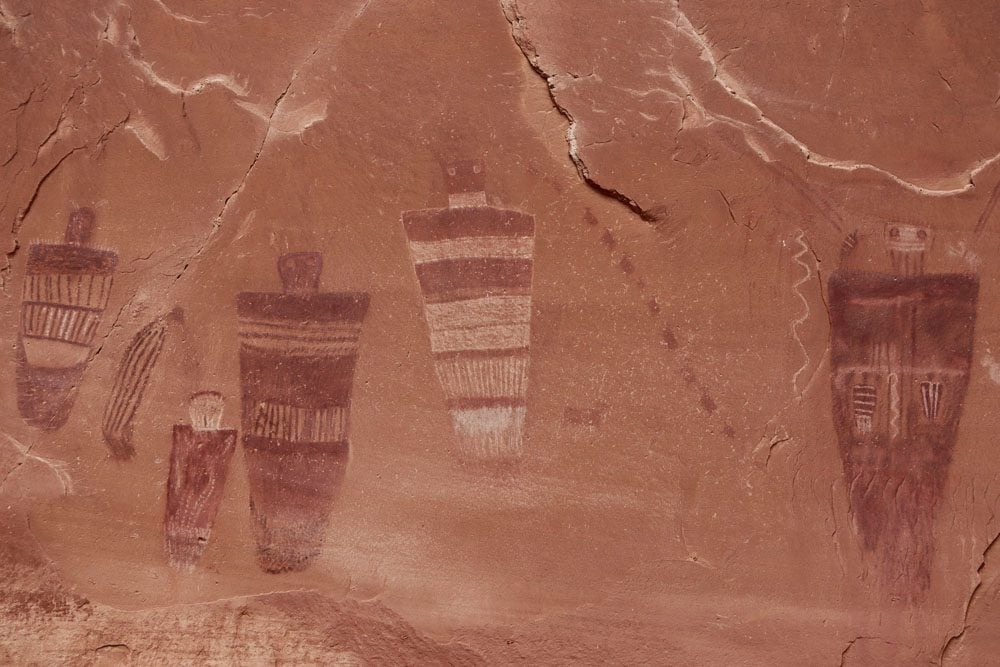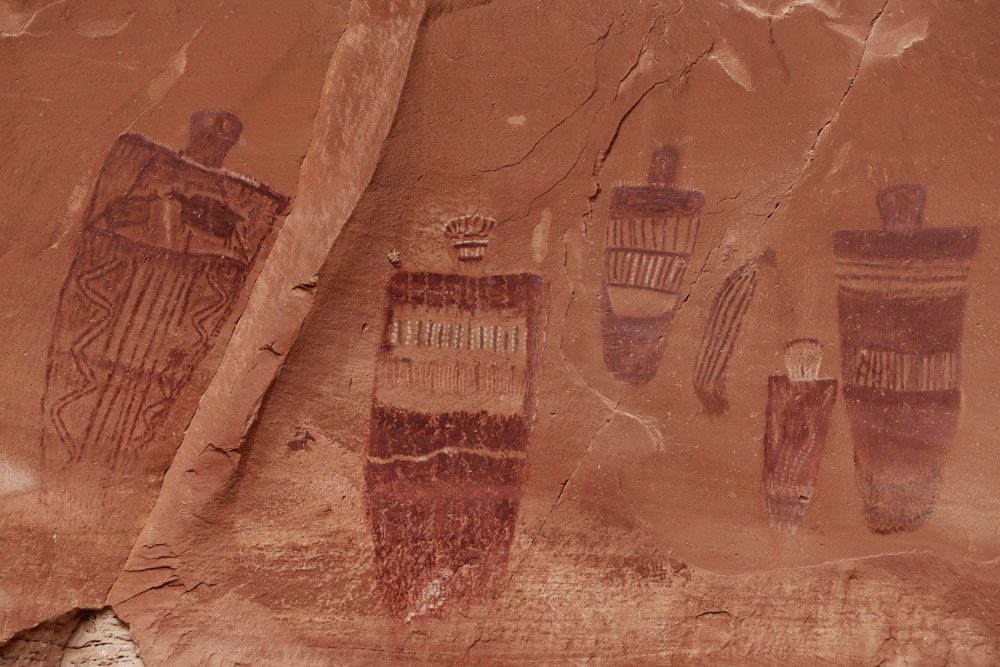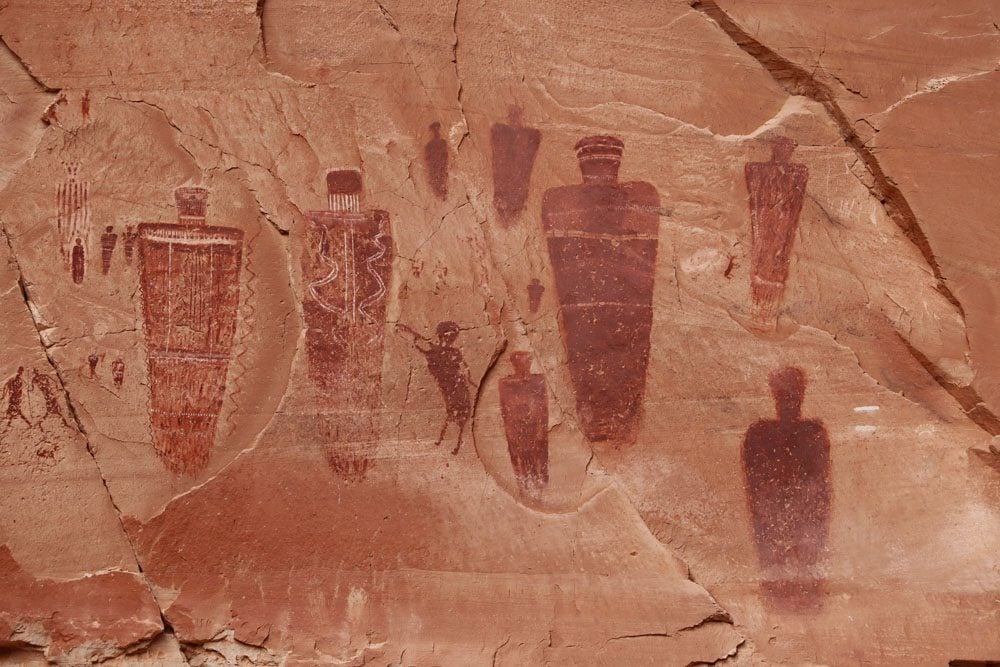 The Great Gallery is about 0.5 miles from the trail's end, but feel free to head back from this point as there's little interest beyond. Be prepared for a strenuous climb out of the canyon, but I guarantee your spirits will be high.
---
Day 3: The Needles
If you spend three days in Canyonlands National Park, there's little excuse to forgo a visit to the park's second most popular district. We'll spend this day driving the length of the scenic drive and hiking one of the Needles' top trails.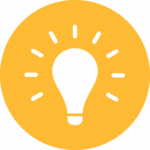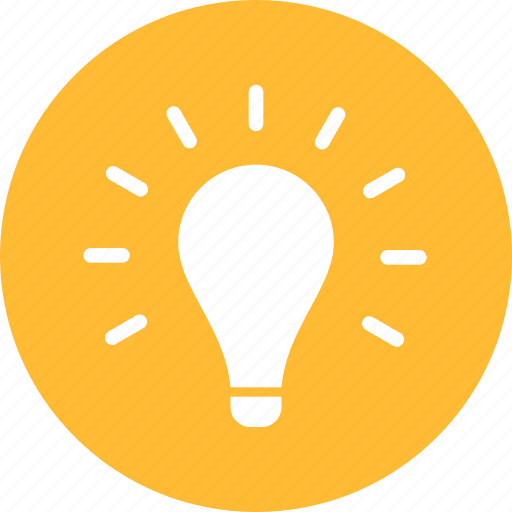 Pro Tip
Of course, you can switch the order between Horseshoe Canyon and the Needles or spend two full days exploring the Needles.
Why Visit the Needles
The Needles district is home to colorful red and white sandstone spires that give it its name and draw the crowds. However, the area also boasts impressive natural rock arches, reached either on long hikes or 4WD dirt roads. The uniqueness of the Needles is owed not only to its natural features but also because visitors can get close to these gems, unlike Island in the Sky, where they're admired from afar.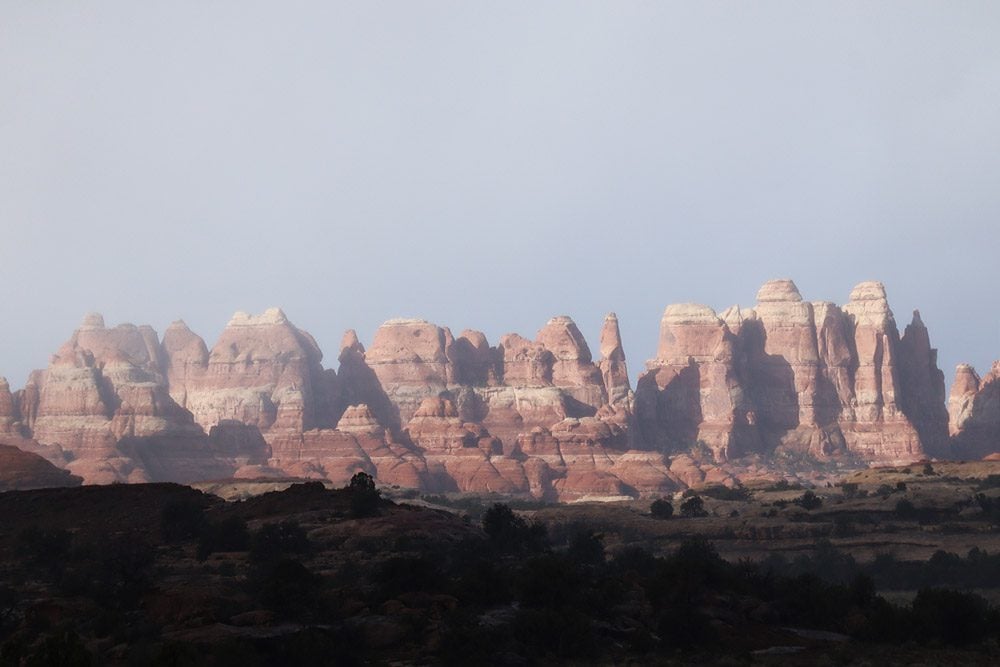 Getting to the Needles
Exploring the Needles on a day trip is harder than Island in the Sky. The visitor center is located about 1.5 hours from Moab (74 miles) or one hour from Monticello (49 miles). Moreover, the district's scenic road is only 6.5 miles long, so to properly see its top sites, you need to do some serious hiking or have a 4WD vehicle.
Camping in the Needles
If you're lucky enough to score a vacant spot in the Needles campground, this could add a few precious hiking hours to your one-day visit. Of course, you can also stick around for a couple of days in Needles and visit more than one of its top highlights.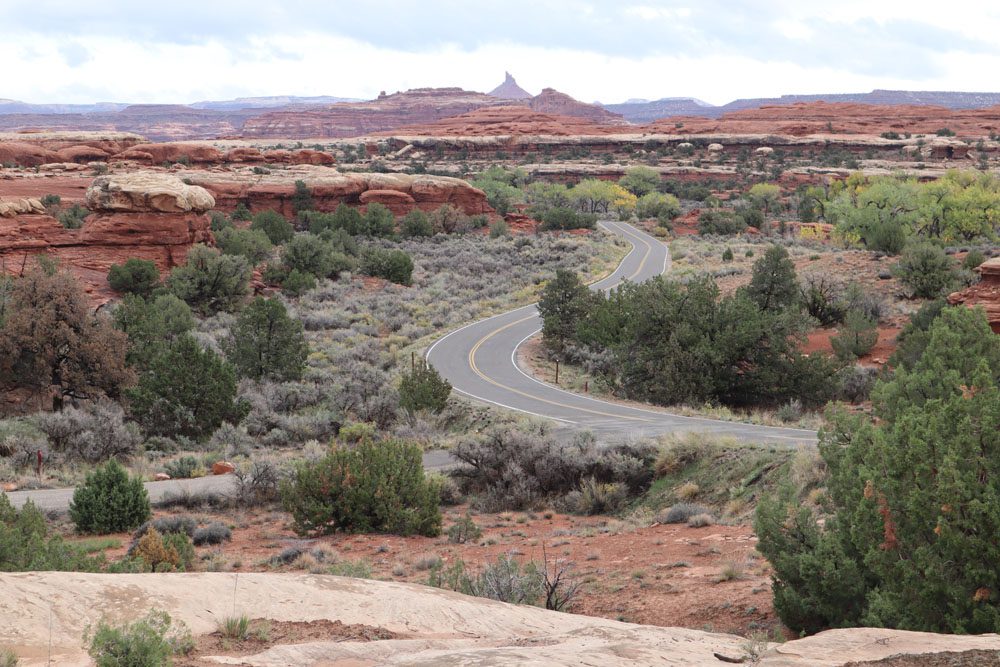 Driving from Moab to the Needles
If you're only visiting the Needles for the day, it's probably wise to drive straight to the entrance without "wasting" too much time. However, if you're aiming for an "easy day" of cruising the scenic drive without any serious hiking, there are a few interesting stops on the drive to the Needles from Moab.
Hole 'N' The Rock
Children and tourist trap fans might enjoy visiting Hole 'N" The Rock. This 5,000-square-foot house is entirely carved into a sandstone cliff. It features a general store, souvenir shops, and a petting zoo.
Wilson Arch
See Wilson Arch from the roadside stop along Highway 191. This impressive natural stone arch spans 91 feet (28 m) and 46 feet (14m) in height.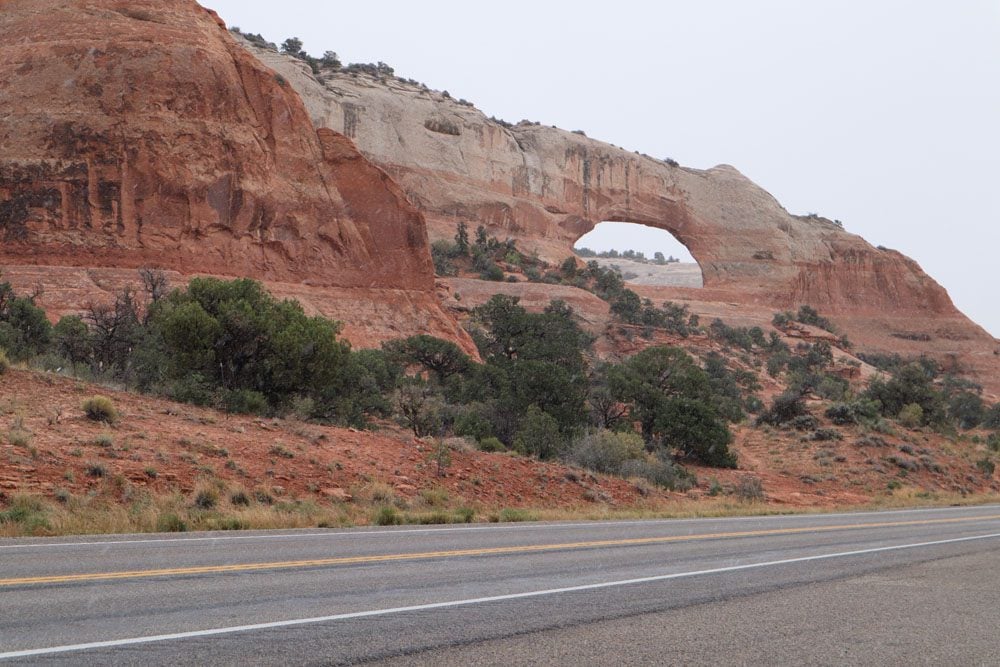 Needles Overlook
The Needles Overlook is about 20 miles west of Highway 191 and does not connect to the Needles district of Canyonlands NP. So it's quite a detour to reach this 1,600 ft (486m) scenic lookout, but it could be worthwhile if you're planning a casual sightseeing day in the Needles without "heavy" hiking. Few travelers venture to this lonely spot, so you could have this eye-catching view of Canyonlands all to yourself.
Newspaper Rock
About 12 miles after turning from Highway 191 to State Route 211, stop at Newspaper Rock and see the impressive petroglyph panel. It gets its name from the hundreds of petroglyphs inscribed on it, some dated over 2,000 years ago, while others are more recent.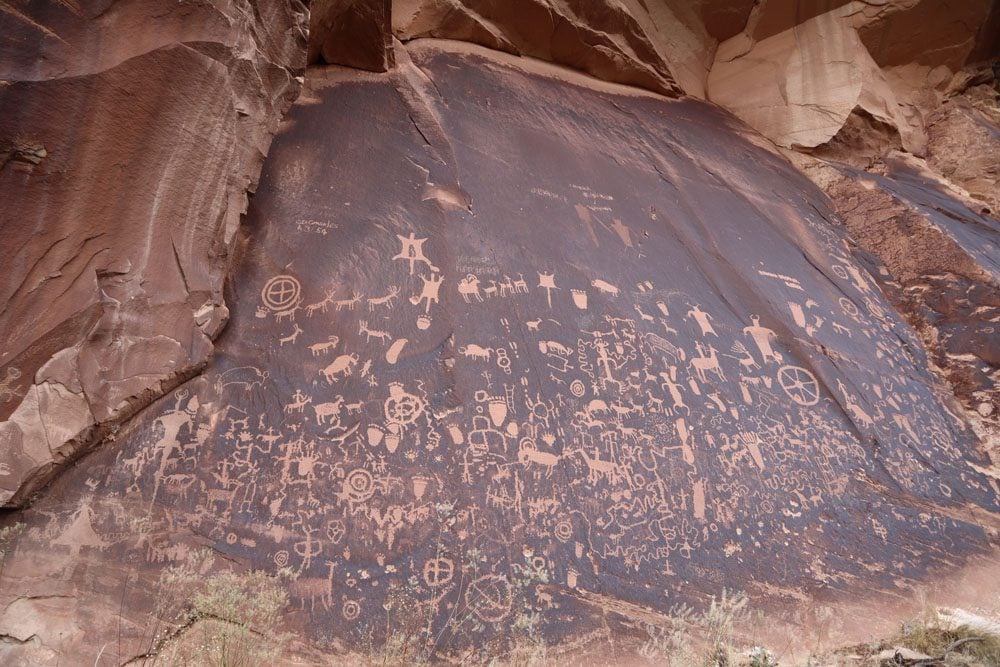 Newspaper Rock to the National Park Entrance
The road section of SR211 beyond Newspaper Rock is very scenic, offering "classic" Utah scenery with a mix of picturesque ranches and sandstone mesas. As you get closer to the national park, the famous needles come into view in the far distance.
Visitor Center
Stop at the Needles visitor center to refill your water bottles and to touch base with park rangers. It's wise to "sanity check" your plan, get some help with choosing which hiking trail(s) to tackle, check if you can drive to Elephant Hill with your type of car, and see if any closures are in effect.
If the day's main purpose is hiking…
The best way to experience the Needles is by hiking. Some trails are suitable for day hikers and many for multi-day excursions into the backcountry (permit required). If your main goal today is to hike, head straight to the trailhead without wasting time on the scenic drive.
Roadside Ruin
A rapid stop that is definitely not the highlight of the day but worth it if you're just meandering along the Needles' scenic drive. Take the 0.3-mile path from the parking area to see this small ancestral Puebloan site tucked under a shielding rock.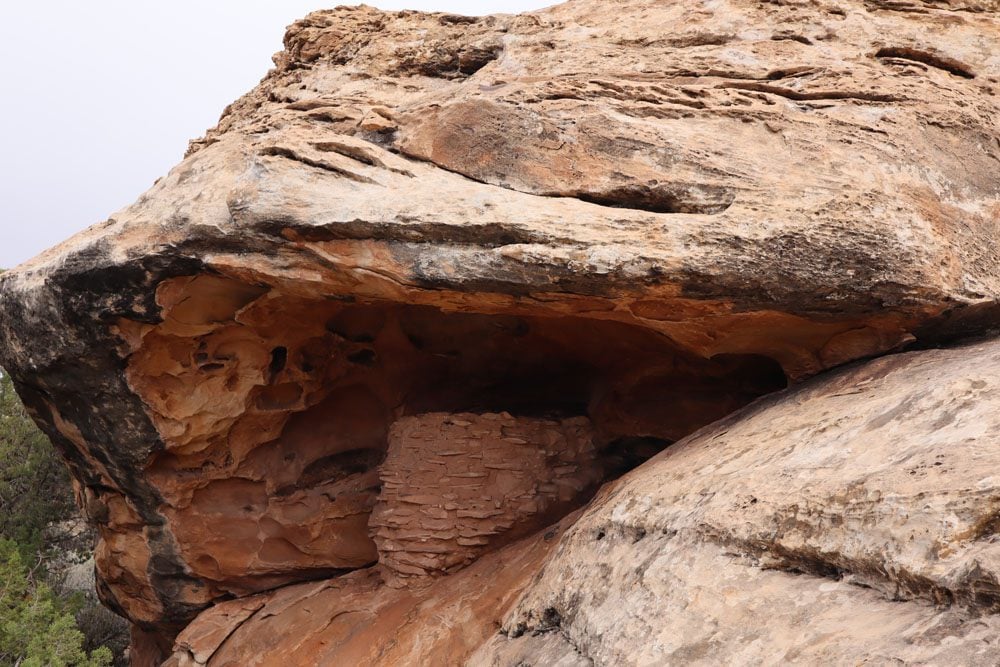 Wooden Shoe Arch Overlook
Stop at this scenic overlook to see a natural rock arch resembling a dutch shoe from a distance. The "shoe" appears to be standing on a rocky pedestal.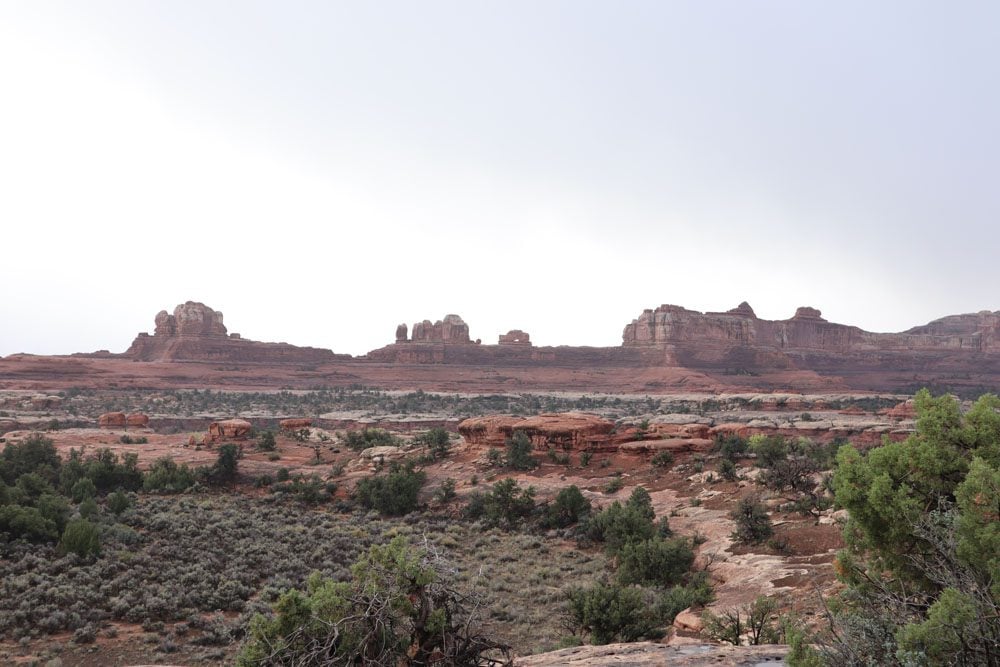 Big Spring Canyon Overlook
Located at the western tip of the paved scenic drive, Big Spring Canyon Overlook offers a good opportunity to get out of the car and put the legs to work. Take a look at the mushroom-shaped spires and the place's relative lushness, owing to the natural spring that flows in the area.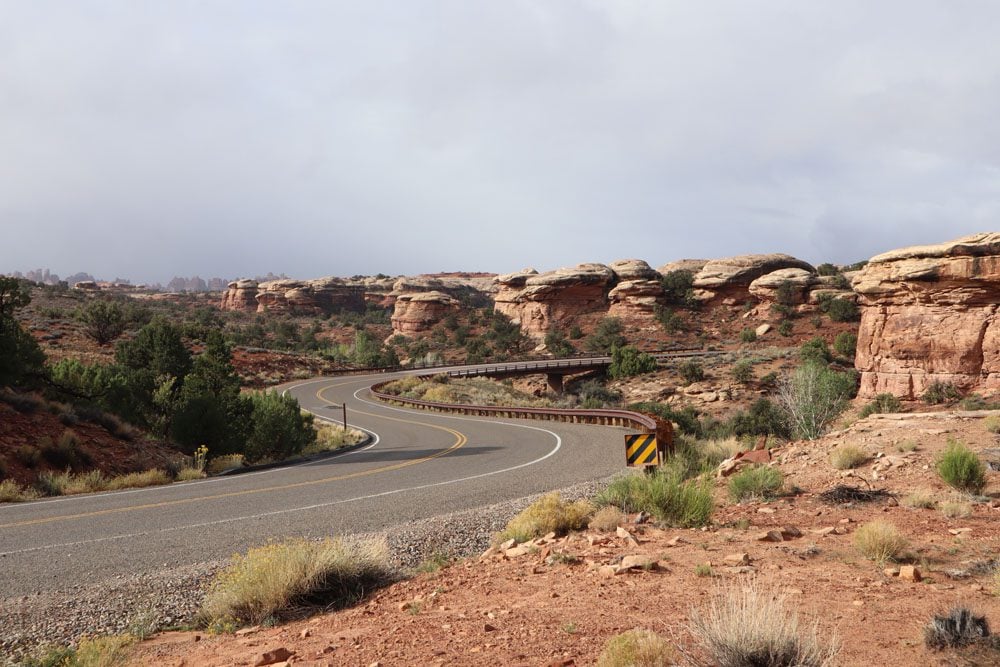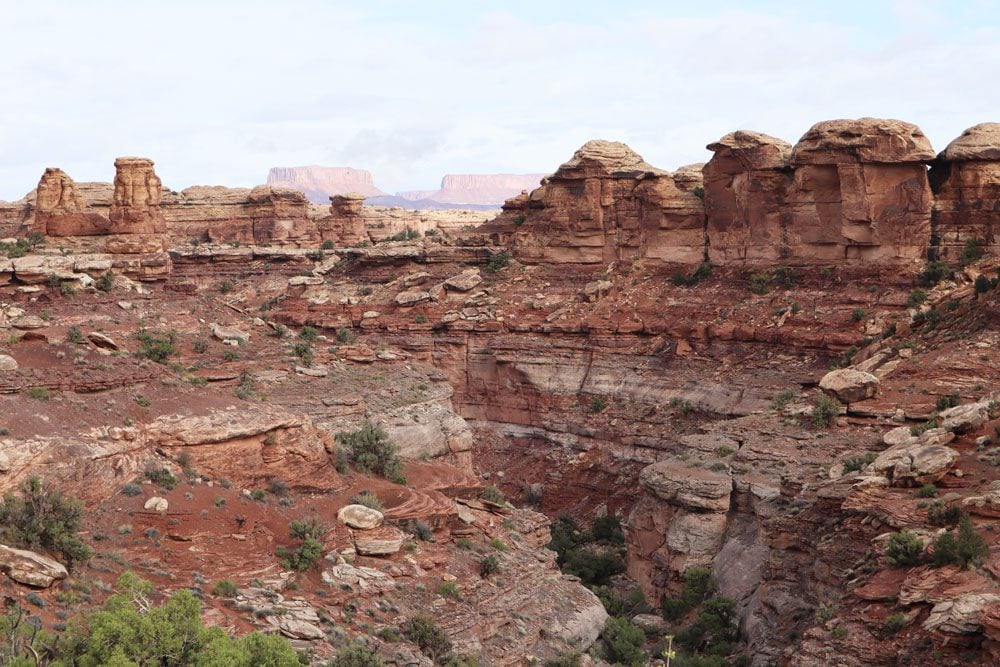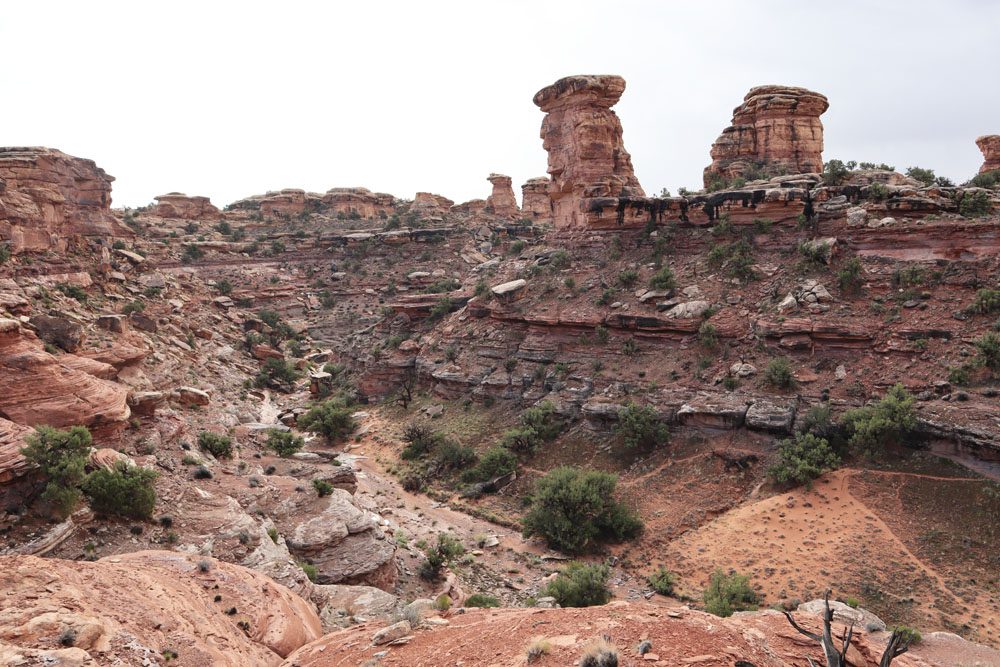 Elephant Hill
The distant view of the needles from Elephant Hill is one of the best in the district. First, check at the visitor center if you can drive the short section of dirt road to Elephant Hill with your type of vehicle. Definitely, beyond the overlook, Elephant Hill Road is one of the most challenging 4WD roads in Utah. You need a permit to visit this part of the park, even if just on a day trip.
Short Hikes
If you can't spare 5-7 hours of hiking, there are a few short hiking options in the Needles. The Cave Spring Trail is a short 0.6-mile (1 km) easy loop hike that leads to a historic cowboy camp and petroglyphs. The longer 2.4-mile (4 km) Slickrock Foot Trail offers panoramic views of the surrounding landscape, including expansive mesas and needles. Lastly, the 0.6-mile (1 km) Pothole Point Trail offers a quick route to see the needles from a distance.
Longer Hikes
If you camped nearby or arrived early and there's enough daylight left, you should be able to squeeze one serious hike in the Needles. Here are the best options.
Elephant Hill Trail
The Elephant Hill Trail is a long but relatively easy hike that begins at Elephant Hill and ends at the Devil's Kitchen Campground. The trail follows the path of the challenging 4WD road.
Chesler Park Loop Trail
The Chesler Park Loop Trail is the most popular hike in the Needles. The trail provides access to the grassy meadow from which the famous needles rise to the sky. The trail begins at Elephant Hill (see above). Hikers can extend the thrills on the Joint Trail, which winds through deep narrow fractures in the sandstone. Here's a good description of the Chesler Park Loop Trail.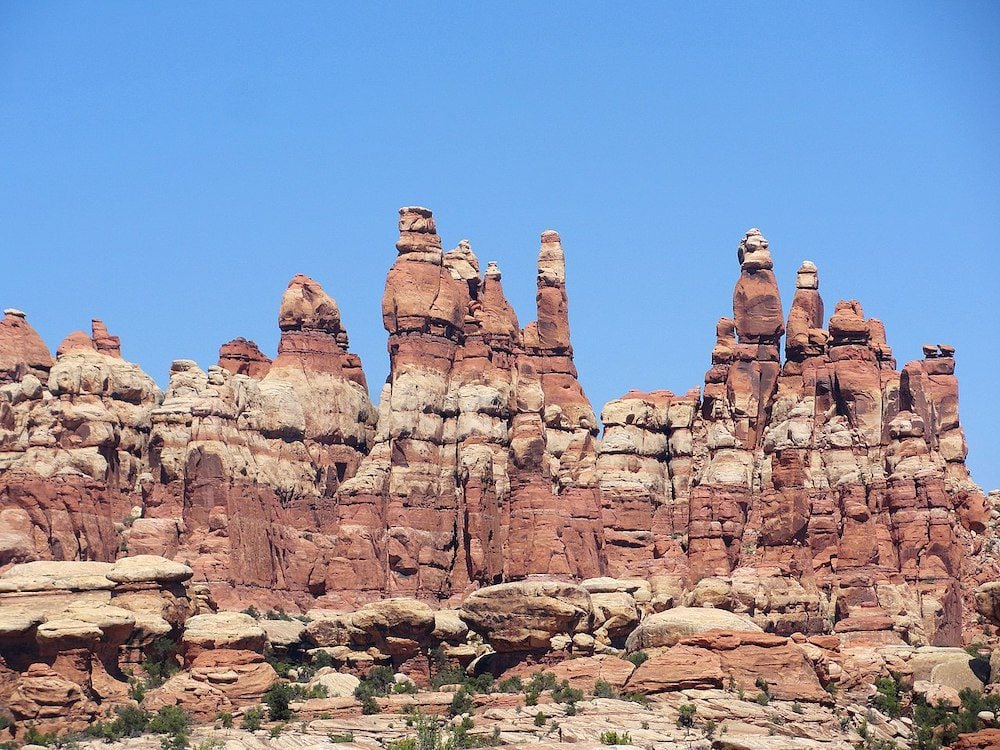 Chesler Park Viewpoint Trail
If you don't have time to loop around Chesler Park, complete the Chesler Park Viewpoint Trail that begins at Elephant Hill. It's sort of like Moses seeing the Promised Land and not entering, but considering that it's a 6-mile (10km) hike, this might be good enough.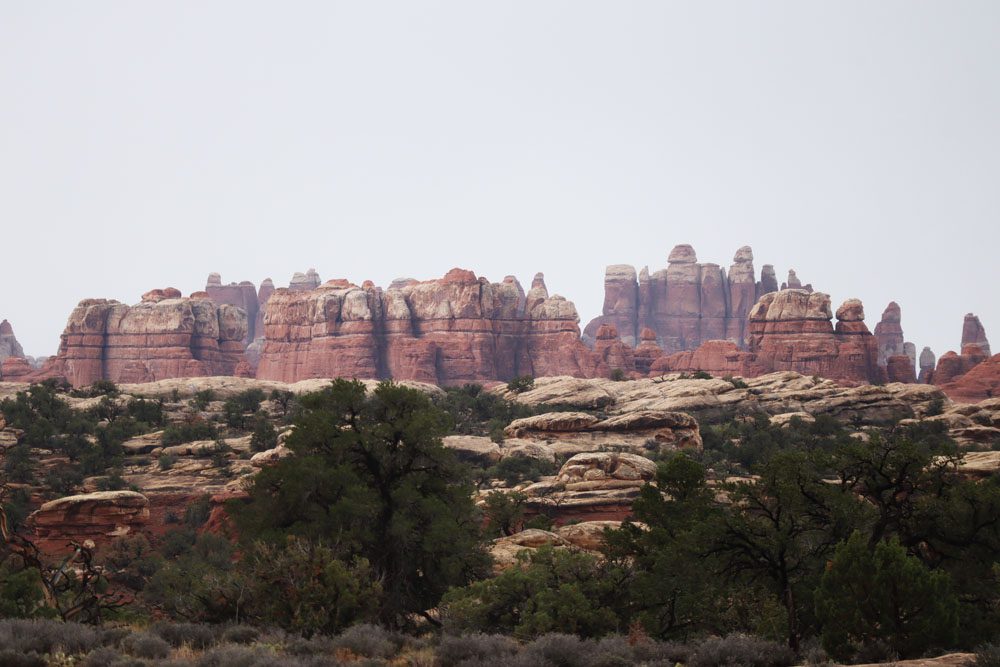 Druid Arch Trail
Hiking the challenging Druid Arch Trail takes you further south beyond Chesler Park to one of Utah's most striking natural rock arches. If you have the time and the will, this could be a good option as you get to see part of Chesler Park and the Druid Arch in the same hike.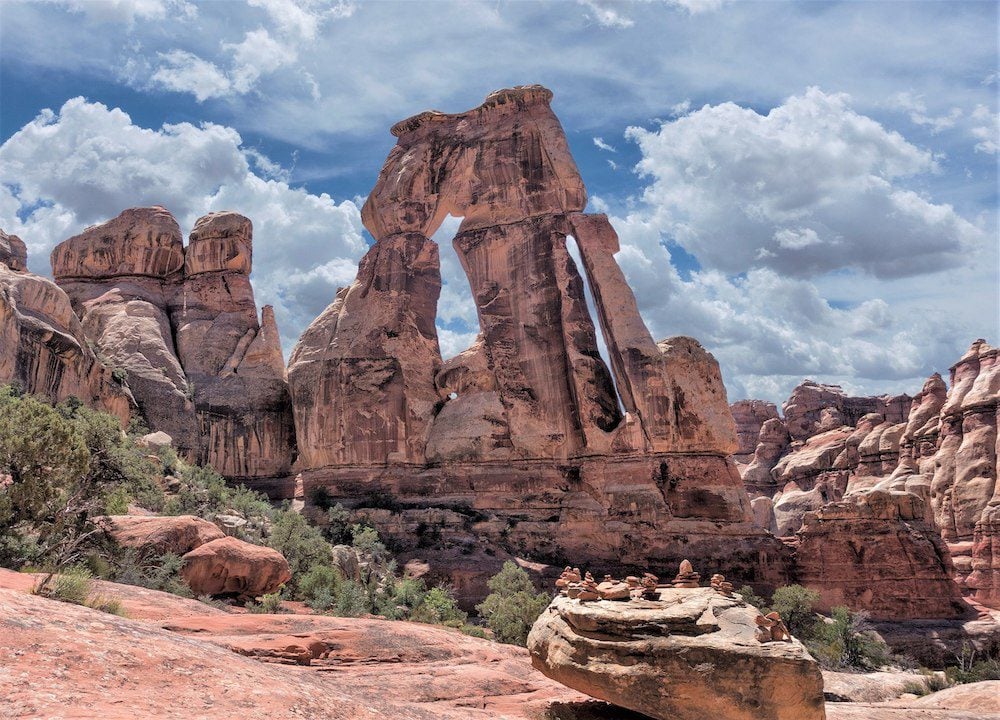 Confluence Overlook Trail
The 10-mile (16.5 km) Confluence Overlook Trail begins at the end of the scenic drive at Big Spring Canyon. If you're missing the Island in the Sky type of scenery, this could be a good option as the hike leads to a scenic overlook above the confluence of the Colorado and Green Rivers.
What's Next?
This itinerary for spending two or three days in Canyonlands National Park highlighted three of the park's four districts. If you have this much time to spend in Canyonlands and enjoy hiking, I recommend investing the days before moving on to your next stop. Explore more Canyonlands travel resources, including a shorter one-day itinerary and essential Canyonlands NP planning tips. Also, check out additional travel guides to the region if you're visiting other parts of Southern Utah.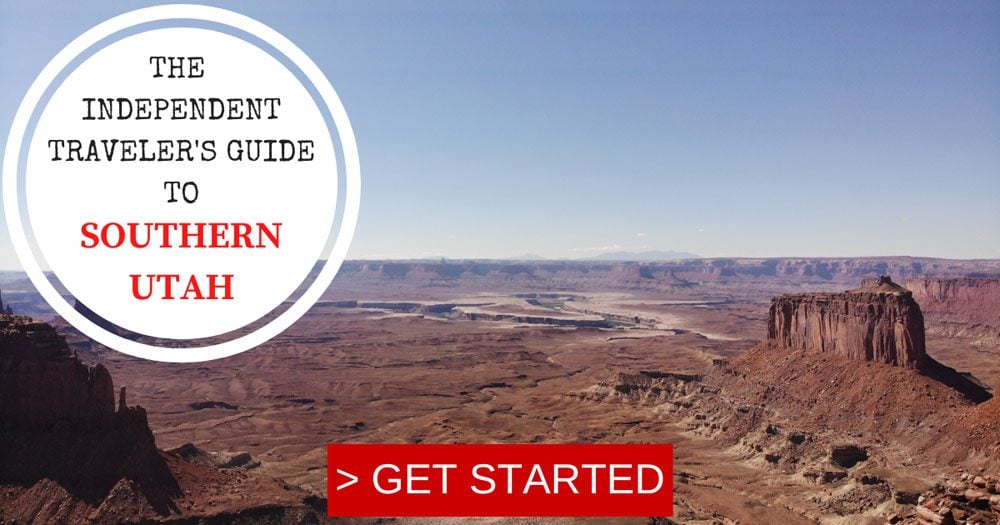 ---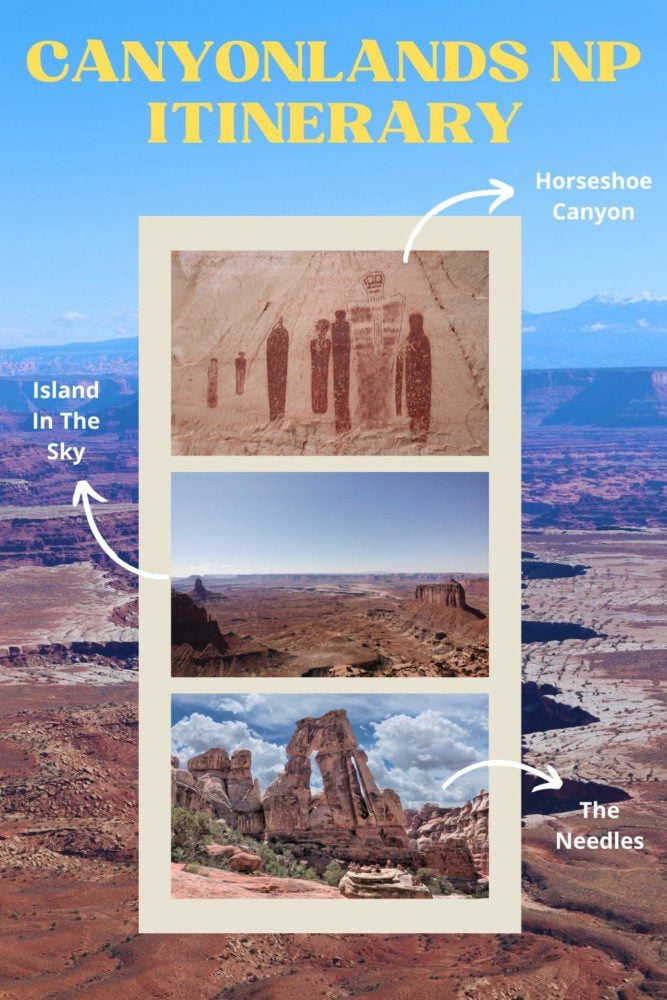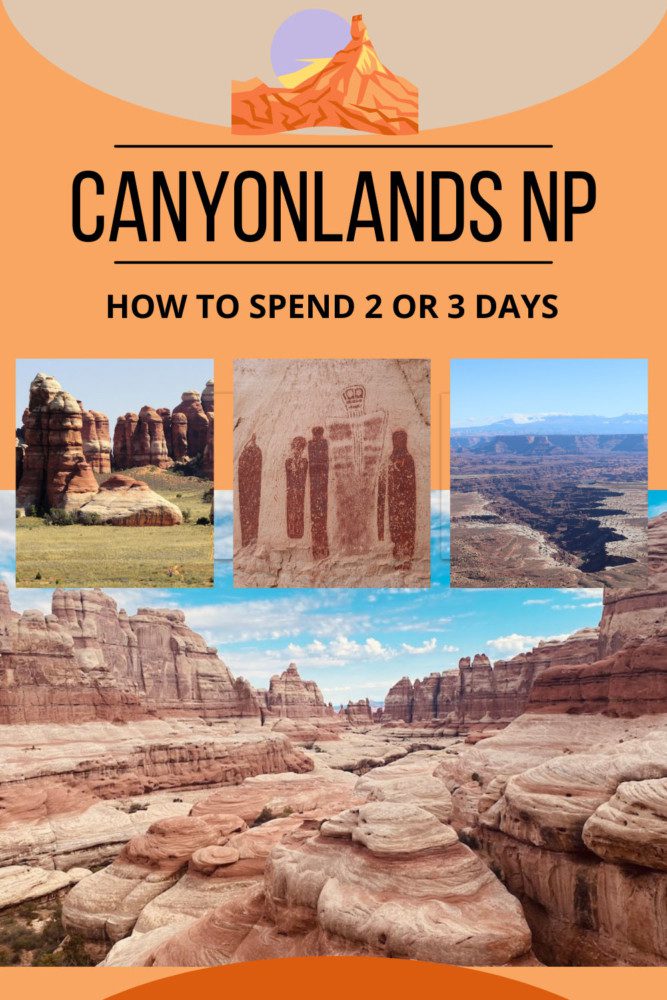 Pin These Images To Your Favorite Boards