Moab Itinerary: How To Spend Up To 5 Days In Moab
The gateway town to Utah's Arches and Canyonlands National Parks, Moab is an optimal base for exploring the region in comfort and a launchpad for the next leg of a memorable road trip in the American Southwest. This itinerary highlights how to spend up to five days in Moab, covering both national parks with the option to choose daily itineraries that appeal the most.
I spent six days in Moab on a five-week road trip in the Southwest, splitting my time between Arches and Canyonlands National Parks but also seeing what this friendly town has to offer. This Moab itinerary is based on my experience and extensive research.
What's Included In This Moab Itinerary?
Several sections make up this Moab itinerary. It's possible to pick and choose the days most appealing to you.
Day 1: Arches NP – Scenic Drive & Main Highlights
Day 2: Canyonlands NP – Island in the Sky
Day 3: Arches NP – Klondike Cliffs & the Windows
Day 4: Canyonlands NP – The Needles
Day 5: Canyonlands NP – Horseshoe Canyon
Moab Itinerary Map
All places mentioned in this itinerary for how to spend up to five days in Moab appear on this companion map. Simply click on the image to open it in Google Maps.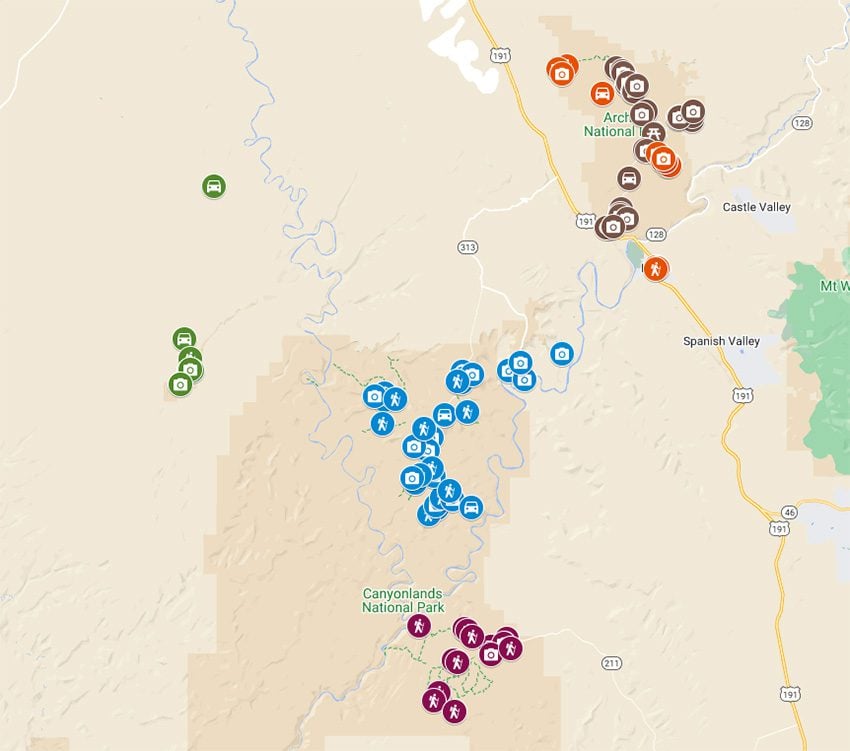 Additional Resources
Check out in-depth national park guides, sample itineraries, essential planning tips, and more on the Southern Utah travel guides collection.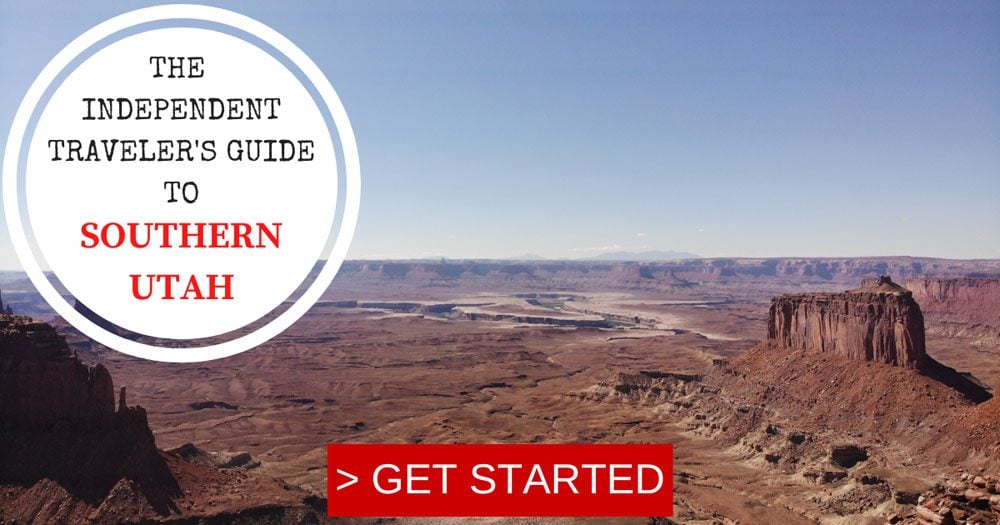 Where Is Moab?
Moab is a small city in Southeastern Utah not far from the Colorado state line. Moab is conveniently located next to two national parks in an otherwise remote corner of the United States. Looking south, the Grand Canyon (South Rim) is 5.5 hours from Moab, and combining the drive with a visit to Monument Valley is possible. North of Moab, Salt Lake City, is just four hours away. Looking west, Zion NP is five hours away, and Bryce Canyon is four hours from Moab. The drive from Bryce Canyon to Moab is lovely and can be done in a single day, while extended road trips in this region offer the ultimate escape from urban life.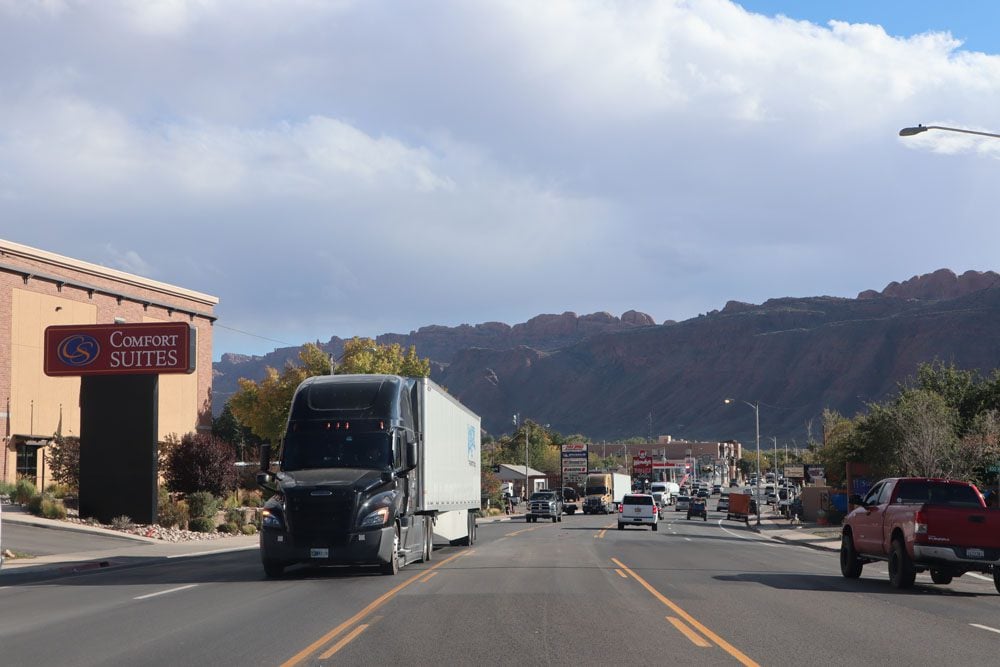 Is Moab Worth Visiting?
Moab is not a destination on its own but rather an optimal base for exploring Arches National Park and Canyonlands National Park. The town is charming and offers everything a road tripper might need, including accommodations, restaurants, shopping, and car repair. In addition, tour operators in Moab provide a rich menu of excursions for thrill-seeking travelers, such as 4WD tours, river rafting, mountain biking, rock climbing, and more.
How Many Days Do You Need In Moab?
Moab is a good base for an extended stay in this part of Southern Utah, but if you're limited in time, try spending between two to three nights in Moab. This unlocks the opportunity to explore most of Arches National Park and the popular districts of Canyonlands NP. If you can spare a couple of extra nights, you'll be able to explore lesser-known national park sections, head to the La Sal Mountains, or devote one or two days to exciting organized excursions.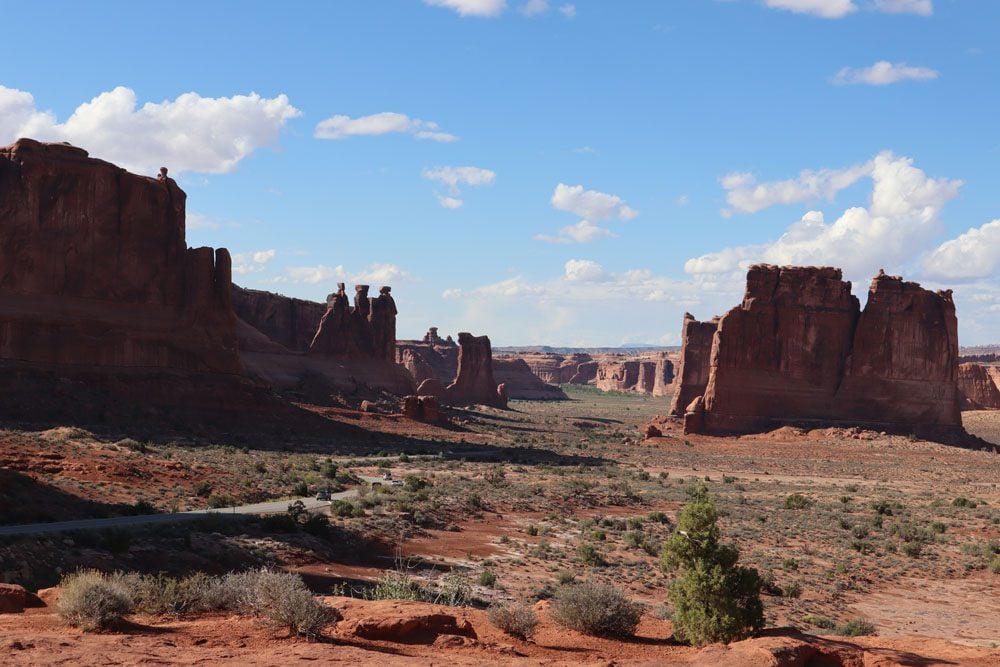 When is the Best Time to Moab?
Assuming the purpose of your visit is to explore the nearby national parks, the best time to visit Moab is during spring and early fall. During these months, the temperatures are moderate, visitor numbers are not at their peak, and the risk of thunderstorms and flash floods is minimal. Both seasons have their advantages, with springtime colors painting the canyons, while the long days of early fall allow for more sightseeing.
Where to Stay in Moab?
Moab's small population supports a wealth of accommodations almost in all budget categories. However, accommodation prices come at a slight premium due to the high demand and lack of comfortable alternatives nearby. Book as early as possible if you're visiting in peak months.
Hotels & Motels
I started my visit to Moab at the Scenic View Inn & Suites. The hotel is located four miles south of "downtown" and can be hard to find at night. However, the rooms are modern, feature excellent amenities, and some even offer views of the La Sal Mountains.
After two nights, I switched to the Comfort Suites to see what the city center has to offer. This was another great find, though on the pricey side. The rooms are huge, and there are many dining options within walking distance or a short drive.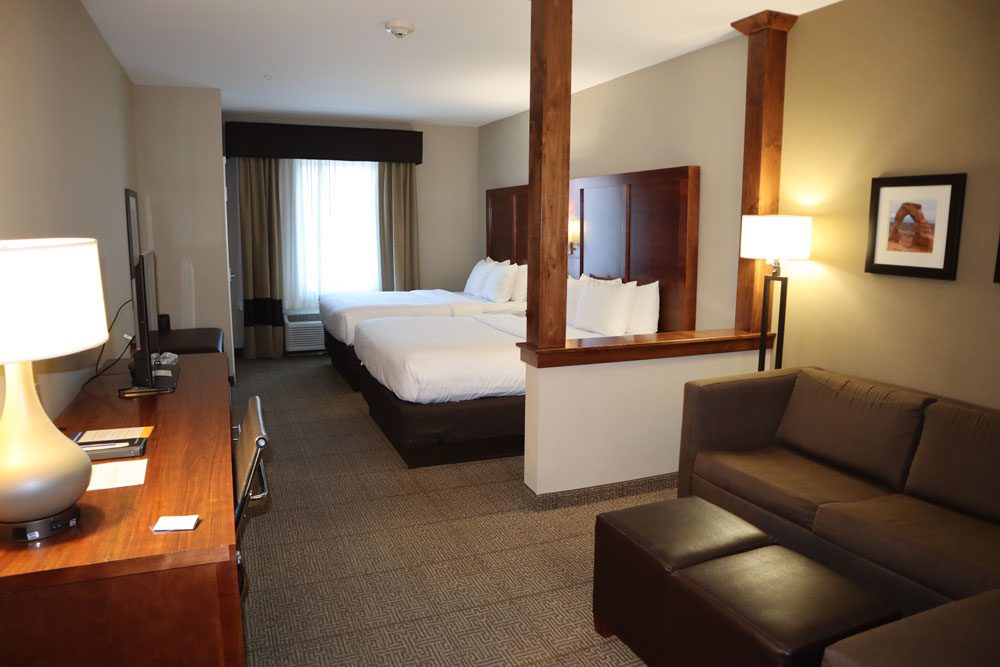 The last accommodation I sampled was in the budget category. The Adventure Inn was adequate for the price I paid, but such motels show their age. The walls are thin, and room features are a little outdated, but if you're looking for a clean bed without breaking the bank, this can be a suitable option.
Camping
Each national park near Moab has at least one "official" campground, but securing a spot during peak season is challenging. There are a few camping options (tent or R/V) in the outskirts of Moab, but many more on BLM land on the banks of the Colorado River along State Routes 128 and 279.
Day 1: Arches NP – Scenic Drive & Main Highlights
If you only have one day in Moab, spend it in Arches National Park, home to the world's largest concentration of natural rock arches. Arches is one of Utah's smallest national parks, yet it receives over 1.5 million visitors every year (and rising). Therefore, preparing for your visit is key, including securing timed entry as far in advance as possible.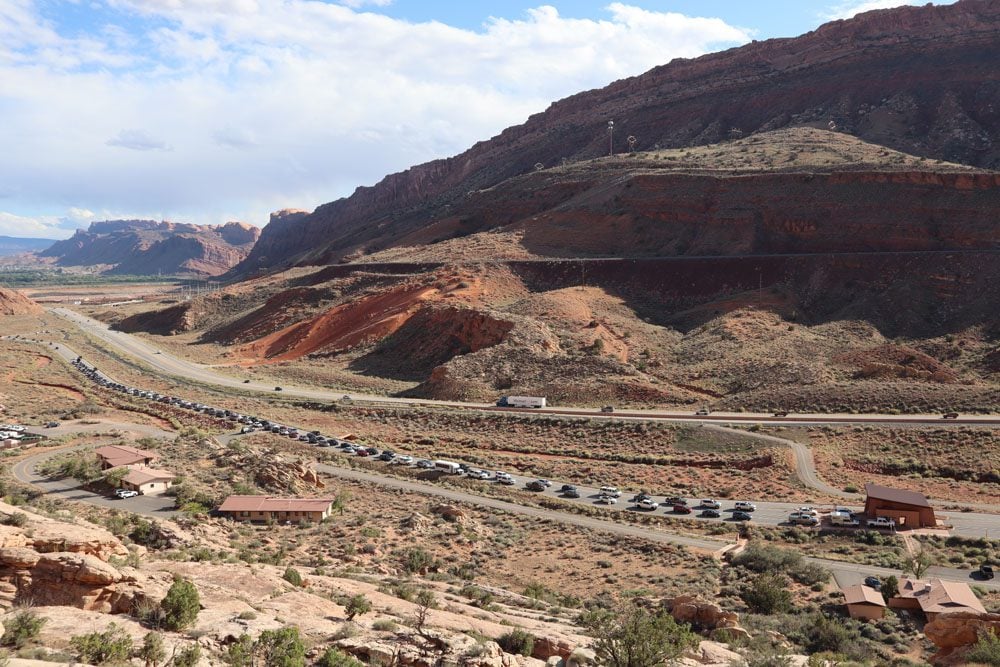 Use this day to travel the length of the park's 18-mile scenic drive, stopping at scenic viewpoints and hiking short trails. If you get an early start, enjoy morning colors from just about anywhere, especially from the La Sal Mountains Viewpoint. Then continue to Devils Garden and hike part of the Devil's Garden Trail to Landscape Arch.
In the late morning, drive from Devils Garden to Delicate Arch and stop on the way at Skyline Arch, Fiery Furnace, and Sand Dune Arch. Hiking to Delicate Arch is the top highlight of any visit to Arches NP, but you'll need to have some luck in finding a parking spot near the trailhead and negotiate a short but strenuous climb.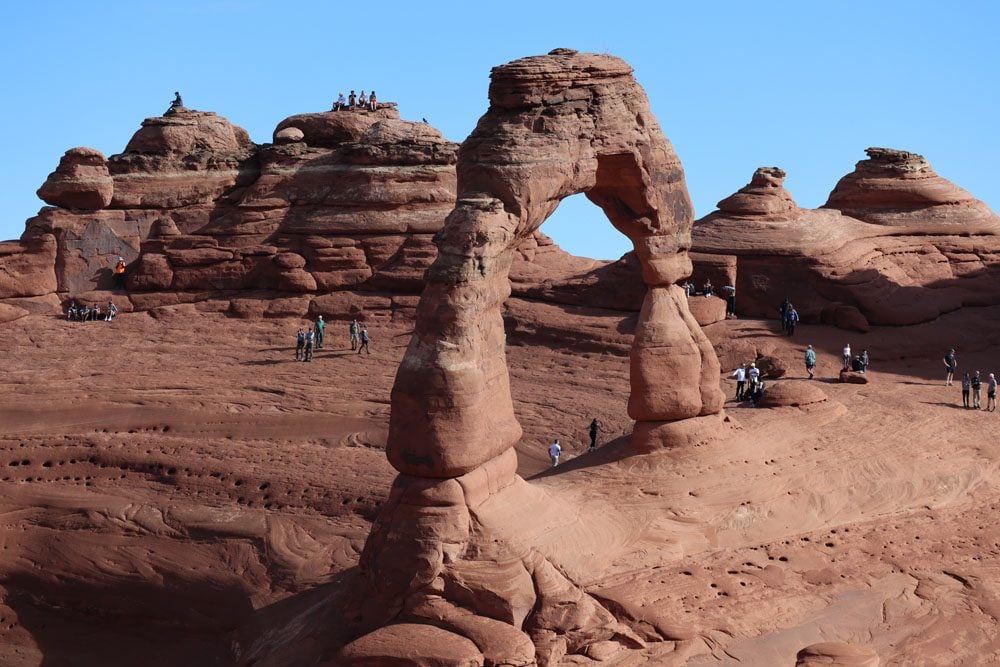 In the afternoon, explore the magnificent Windows section. Begin with a stop at the Garden of Eden Viewpoint to see the Parade of Elephants. Next, continue to the end of the paved road to hike the Windows Loop Trail, later crossing the road for the short trail to Double Arch. Before leaving the park, spend some time around the Courthouse Towers and Park Avenue, where stunning sandstone cliffs replace the rock arches.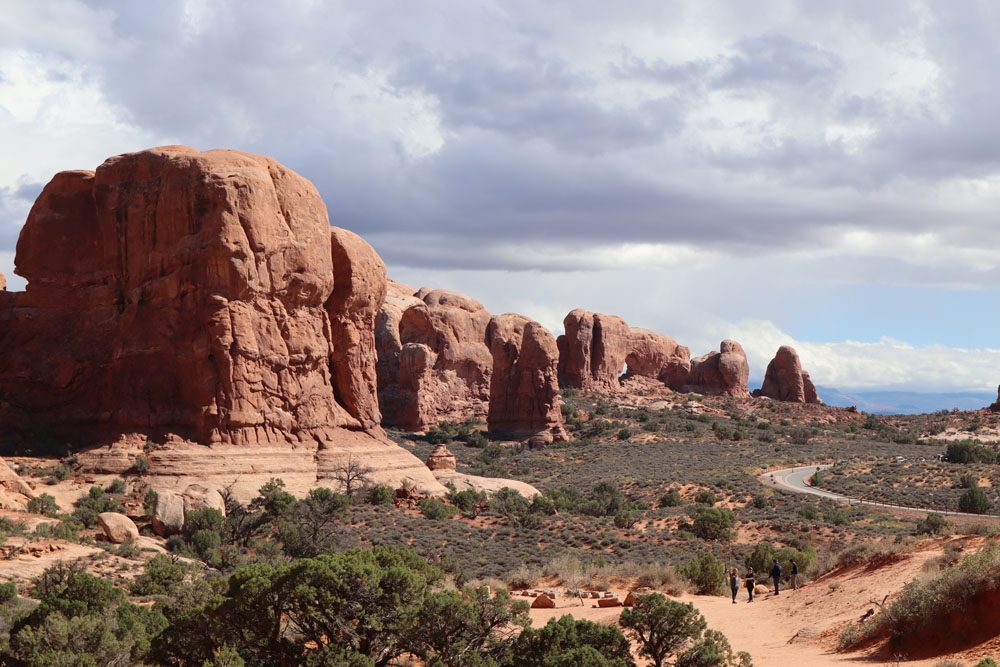 Day 2: Canyonlands NP – Island in the Sky
If you have two days in Moab, spend the second day in the Island in the Sky district of Canyonlands National Park. Canyonlands is Utah's largest yet least-visited national park, so colossal that it's divided into four separate districts by the Green and Colorado Rivers. Island in the Sky is the park's most visited and accessible district. It derives its name from its commanding position on the edge of a 6,000-foot sandstone mesa, overlooking 100 miles of stunning Canyonlands scenery.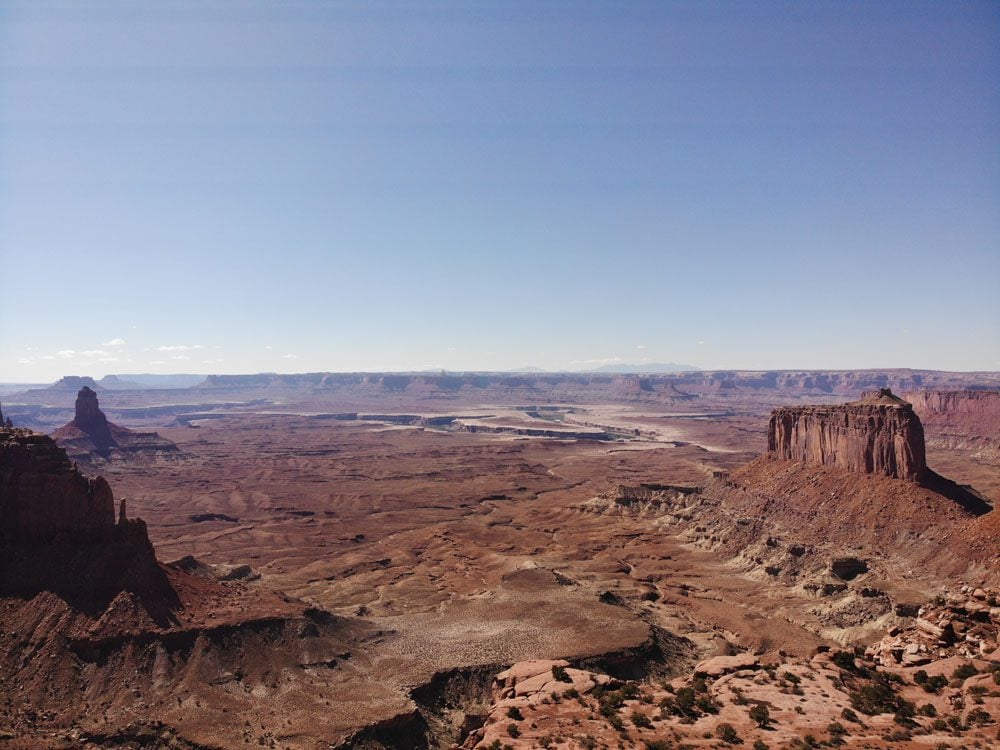 Spend the morning driving the length of the 34-mile scenic drive. Start at Mesa Arch and enjoy morning colors shining through this natural window. Then, head to Grand View Overlook and hike the length of the Grand View Point Trail to better understand why they call it Island in the Sky.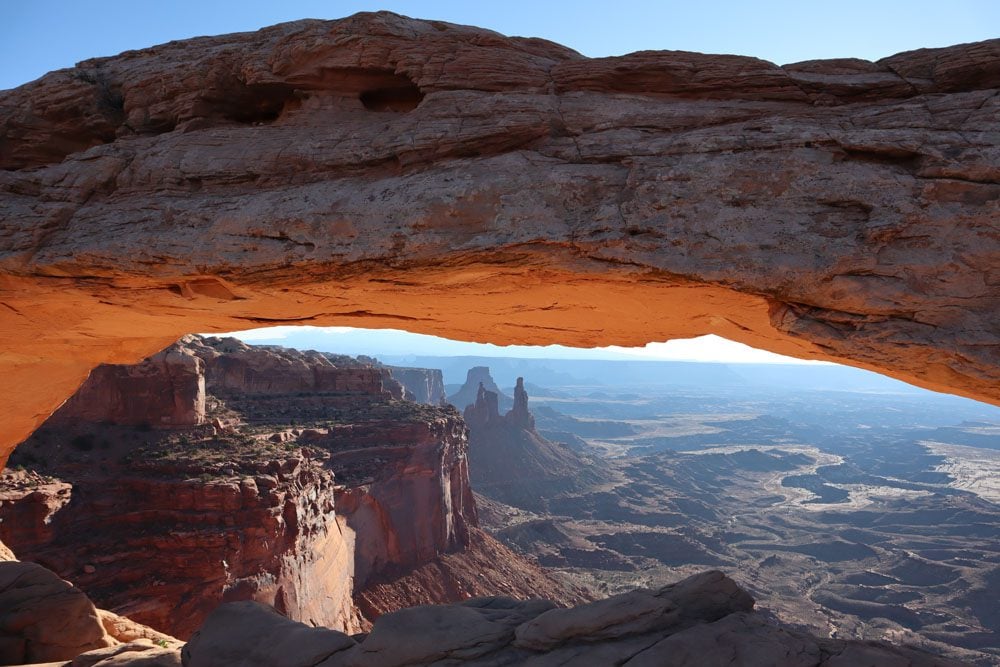 After the hike, continue to additional scenic spots, including Buck Canyon and White Rim Overlooks. At the Green River Overlook, witness how the serpent-like river shaped Canyonlands and then continue to Upheaval Dome to see the meteorite impact crater.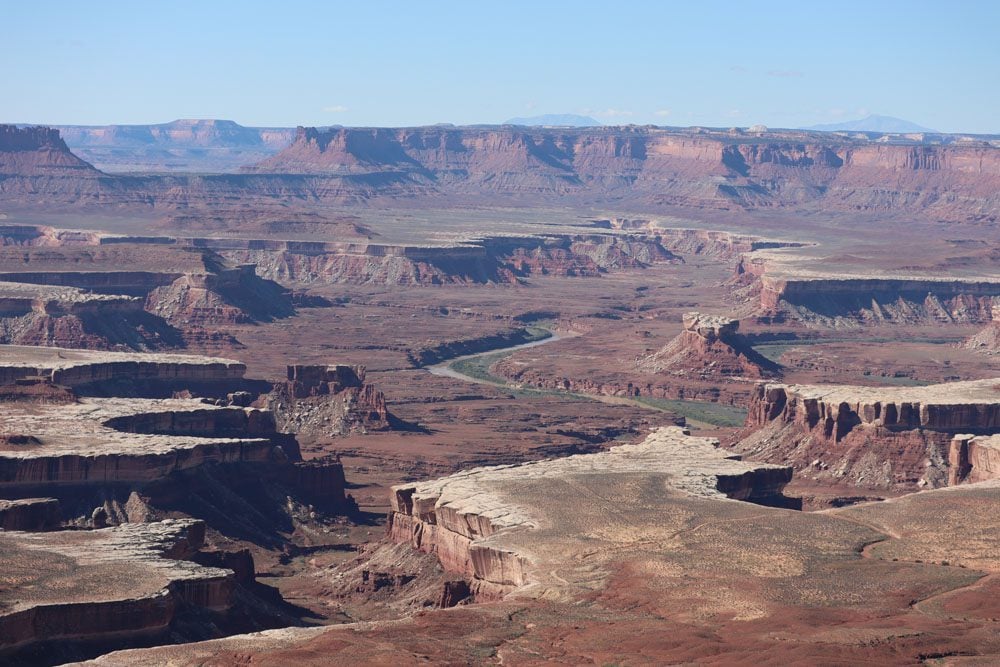 Spend the afternoon hiking one of Island in the Sky's medium or long trails. Challenging trails descend over 1,000 feet from "the island" and lead to the famous 4WD-only White Rim Road. Remember, though, that what goes down must come up. Shorter trails like the Neck Spring Trail and Murphy Point Trail are easier options. Before returning to Moab, leave enough time for a glorious sunset next door at Dead Horse Point (extra fee).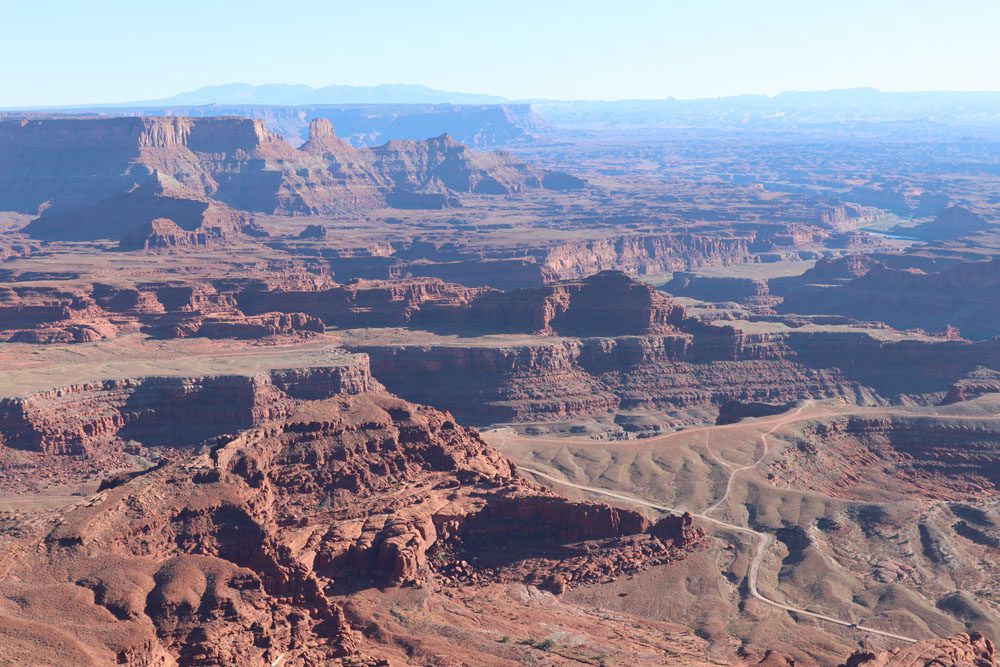 Day 3: Arches NP – Klondike Cliffs & the Windows
If you have three days to spend in Moab, head back to Arches National Park (your ticket is still valid). This second day in Arches NP allows us to change things a bit. Back on your first day in Arches, hike the length of the Devil's Garden Trail in the morning instead of just the short leg to Landscape Arch. Then, in the afternoon, hike to Delicate Arch and wrap up the day at the Courthouse Towers and Park Avenue. On day two in Arches, take the eight-mile dirt road to Klondike Bluffs and complete the Tower Arch Trail. Then, devote the afternoon to the Windows Section, as detailed above.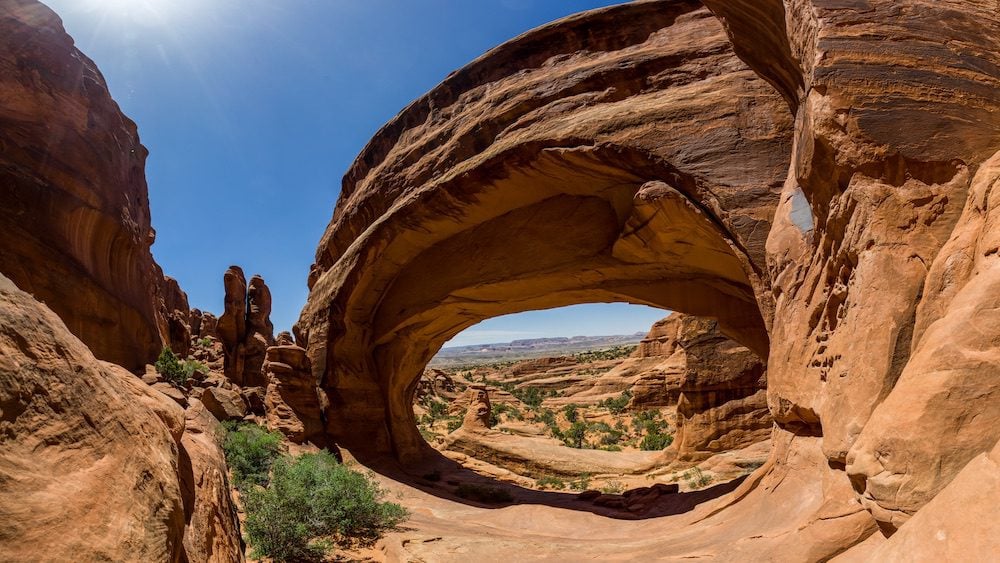 If there's enough time in the afternoon, use it to explore and relax in Moab. Stroll down Main Street, browsing through quality Southwest souvenirs at Lema's Kokopelli Gallery and trying on some Western-style outfits across the street at Cowboys and Indians Trading Company. Then, head to the Moab Museum to learn about the region's history, or cruise with your car along the banks of the Colorado River and find a nice picnic spot on Highway 128.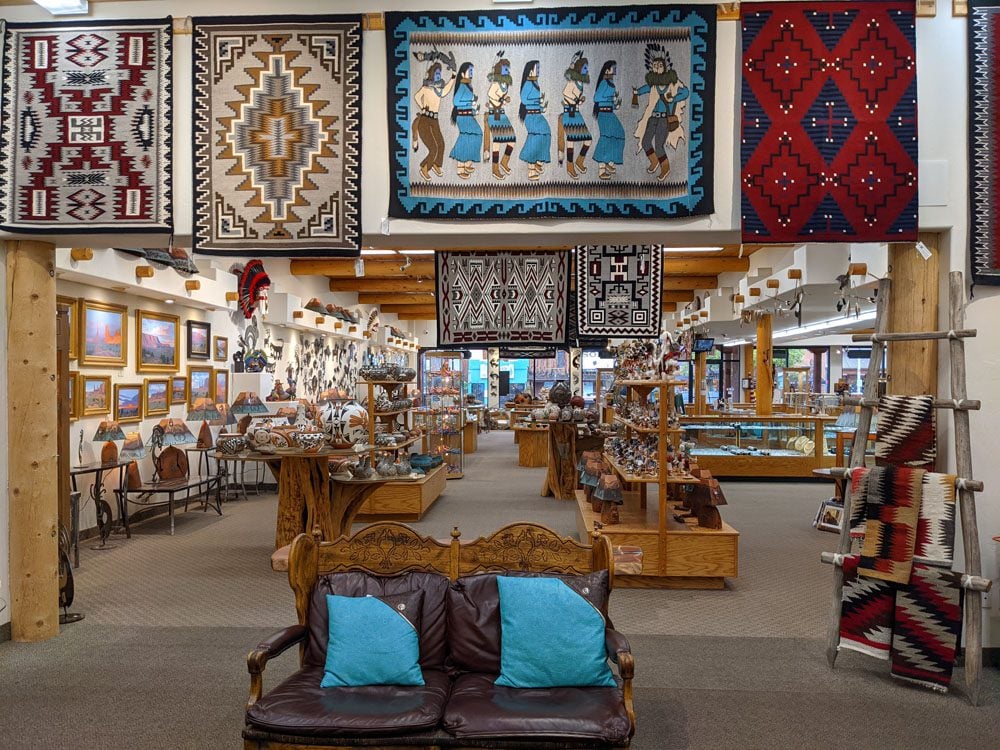 Day 4: Canyonlands NP – The Needles
If you have four days in Moab, head back to Canyonlands NP to explore the park's second most visited district (your ticket is still valid). The Needles is about 75 miles from Moab, so it's not far but also not close. The district's red and white sandstone spires give it its name, but seeing them from a close distance requires extensive hiking or off-road driving. However, a 6.5-mile scenic drive does offer excellent distant views of the needles and shorter hiking opportunities.
Moab continues to serve as a good base if you're not planning any extensive hiking in the Needles. But if you want to "properly" explore the Needles, consider camping nearby or spending the previous night in Monticello.
Start your visit to the Needles by driving the length of the short scenic drive, stopping at scenic lookouts such as Wooden Shoe Arch Overlook and Big Spring Canyon Overlook, which also marks the end of the paved road. For shorter hikes, consider the Cave Spring Trail or the Slickrock Foot Trail. To venture closer to the needles, the Chesler Park Loop Trail is the most popular and can be combined with the hike to Druid Arch if you have the time and the will.
Day 5: Canyonlands NP – Horseshoe Canyon
If you're spending five days in Moab, use the last day to explore Horseshoe Canyon, home to North America's most significant and impressive rock paintings. Horseshoe Canyon is technically part of the Maze district, Canyonlands' remotest and least accessible region. And though getting to Horseshoe Canyon requires a lot of effort, it's definitely not a monumental task, as is the preparation it takes to explore the Maze properly.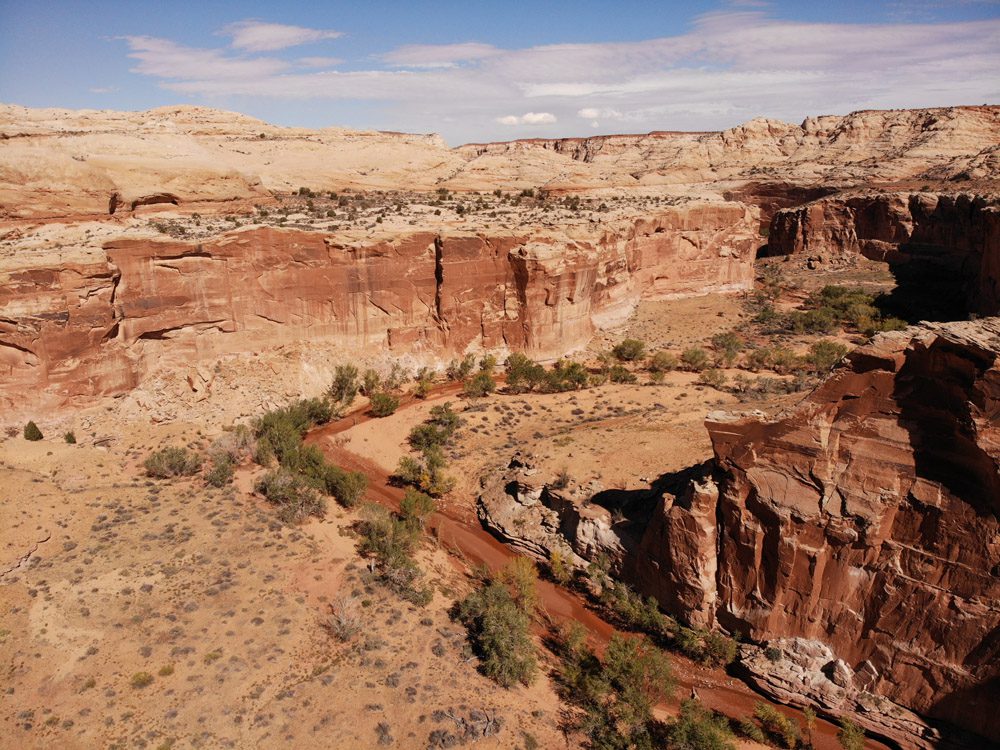 Horseshoe Canyon is 2.5 hours from Moab or 1.5 hours from the town of Green River. Reaching the canyon is an experience on its own since most of the drive is on dirt roads passable with a high-clearance AWD vehicle unless it has recently rained. Regular cars can also make the trip, but some sections might be slightly bumpy.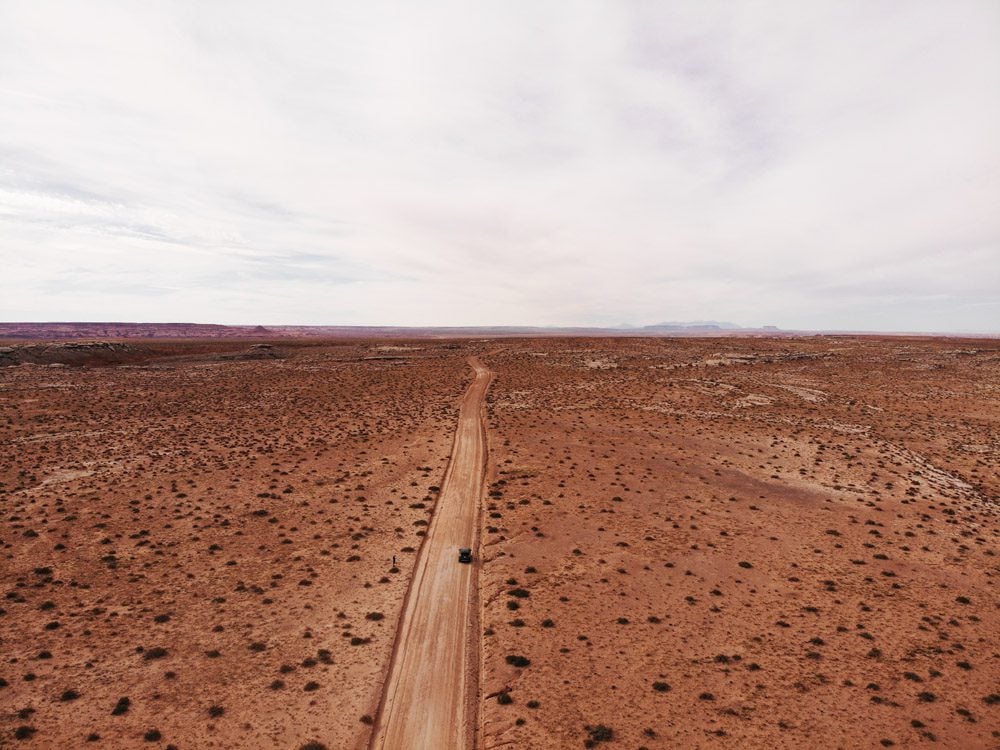 Once you reach the trailhead's parking lot, sign the guest book and descend to the canyon floor on the Horseshoe Canyon Trail. Cairns marks the lonely trail, but it's hard to get lost as you just follow the canyon floor to four galleries whose mysterious rock art is estimated at 3000-4000 years old.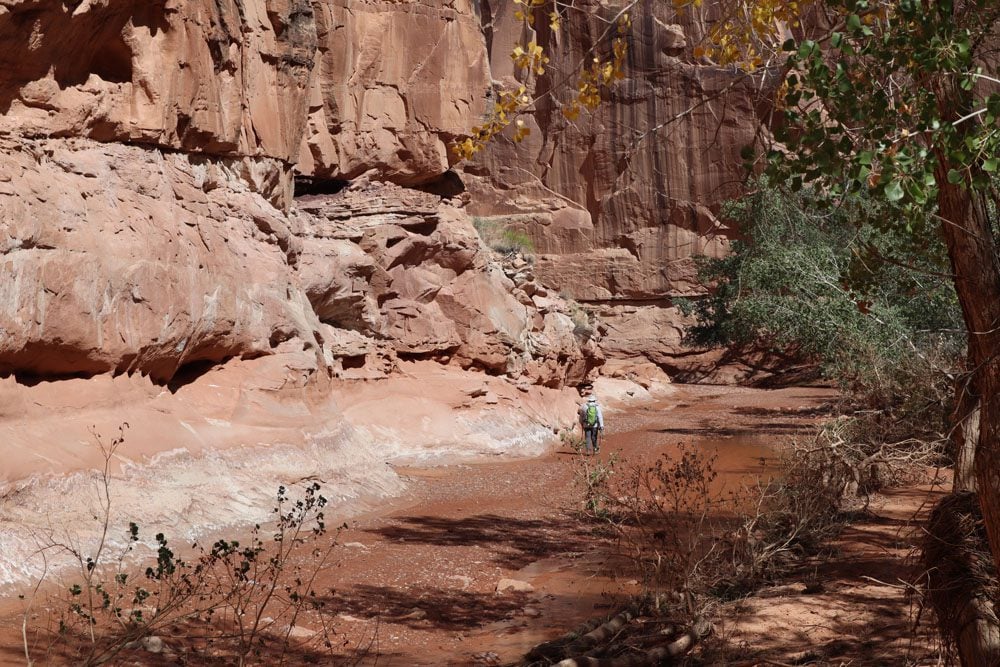 Researchers aren't sure why the ancient hunter-gatherer tribes painted these figures or what they collectively mean. Still, the feeling of hiking in this secluded canyon and seeing these ancient works is hard to describe. The trail's highlight is the Great Gallery, with its life-sized human figures, intricate patterns, and impressive use of color.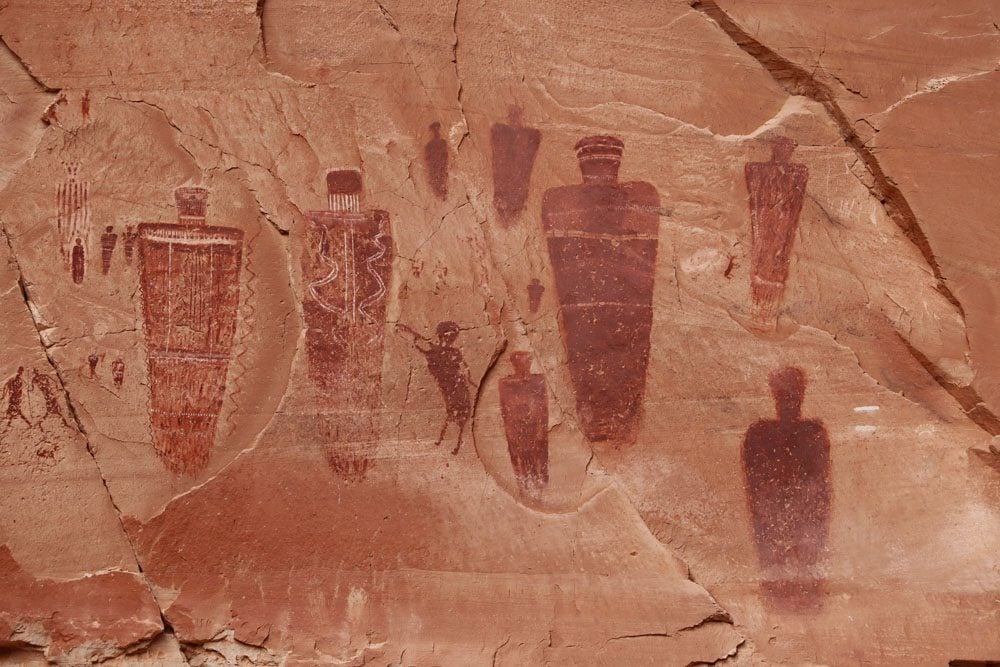 What's Next?
This guide explored how to plan a trip to Moab with a suggested itinerary ranging from one to five days in Moab. Of course, you can pick and choose the days that work best for you and piece them together with the rest of your plan. Before hitting the road, explore additional travel guides to America's Southwest and in-depth guides to Southern Utah.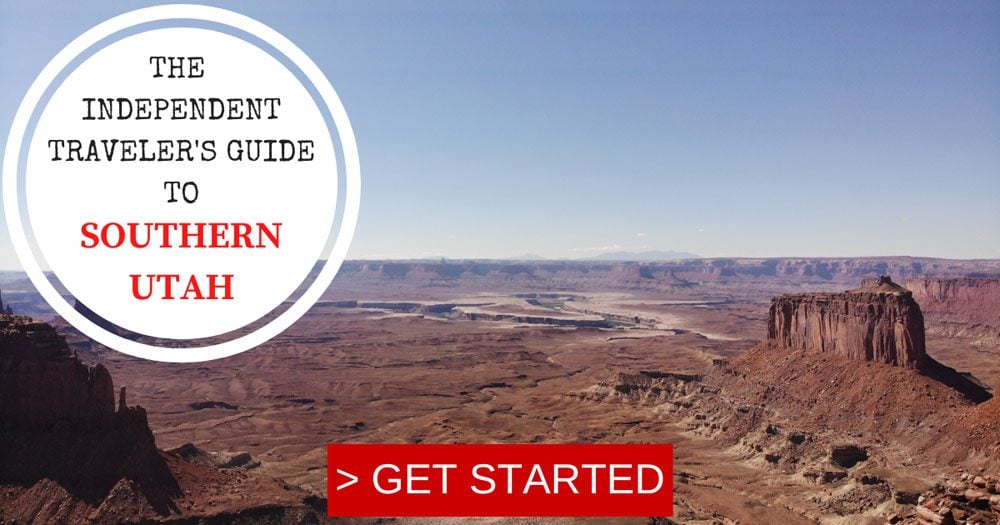 ---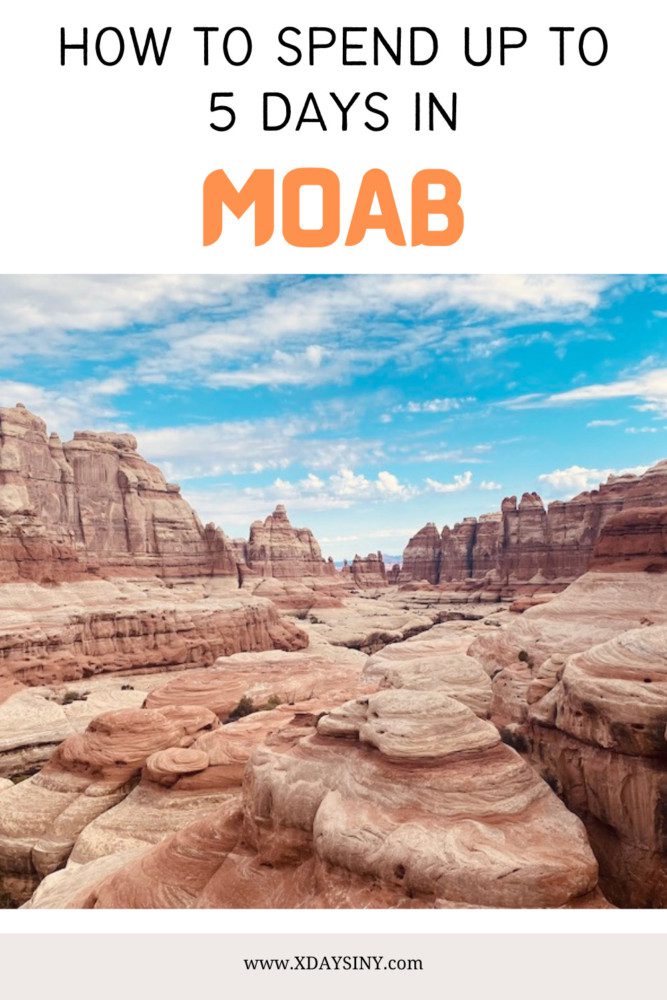 Pin These Images To Your Favorite Boards!