Things to Do in Ua Pou
Highlighted in this section are the things you should see and do in Ua Pou. To see how everything fits together, check out a 4 Days in Ua Pou itinerary.
Hakahau Village
Hakahau means "valley of peace" and it is the main village in Ua Pou. It's a proper village with all the amenities of a small town. You'll find here grocery shops, a bakery, post office, ATM, restaurants, etc. Here are a few tourist highlights.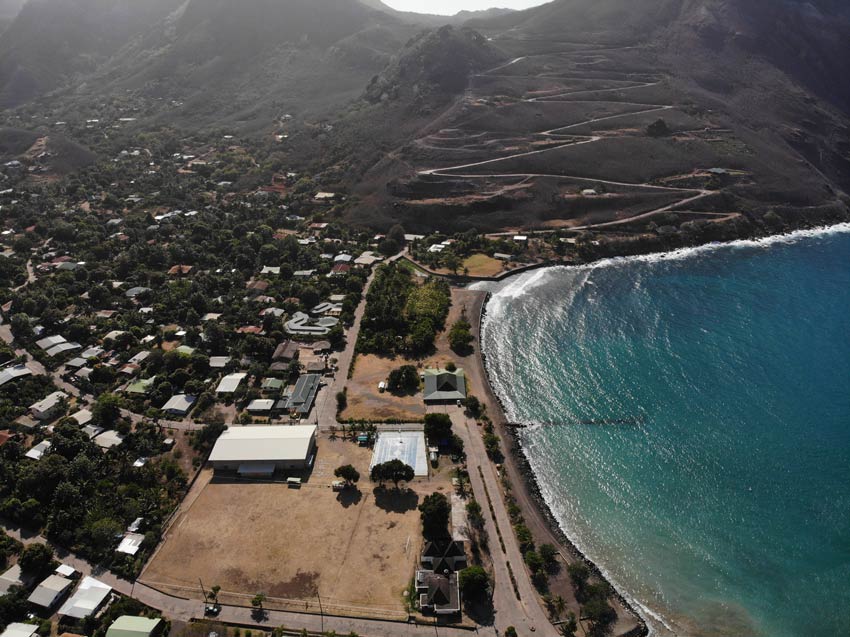 The Beach
Hakahau's beach is safe for swimming and features a long and curving sandy shore. If you're lucky, you could spot sea turtles patrolling the waters and maybe even a few coral heads. Locals flock to this beach after school is out and on weekends.
Crafts Center
Of all the Marquesas Islands which I've visited, this was the best place for buying authentic souvenirs. The Centre Artisanal features the work of nearly 50 local artists from around the island, including art sculpted from the flower stone which is unique to Ua Pou. The center is open daily from 8 am to 2 pm (except maybe on Sunday) and credit cards are accepted. Just outside the center, locals often sell food to go and next door is the local library which also sells books about the Marquesas.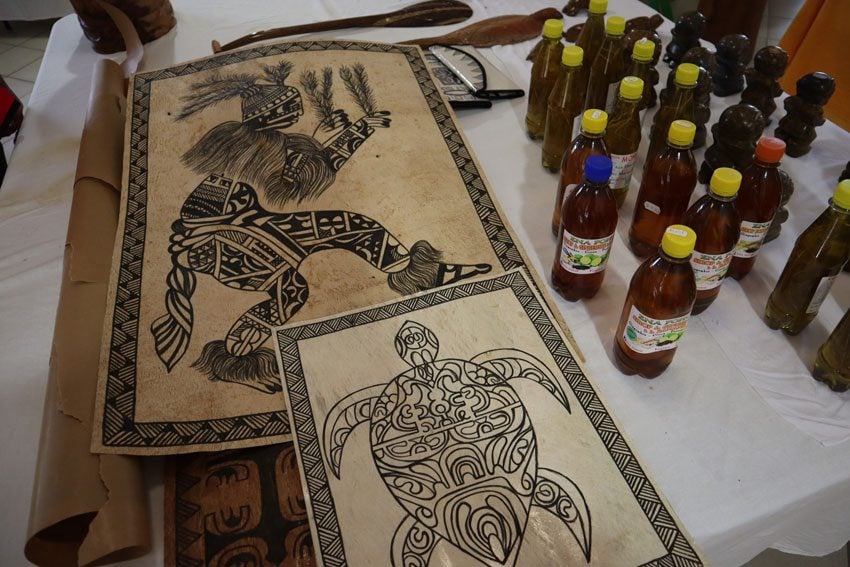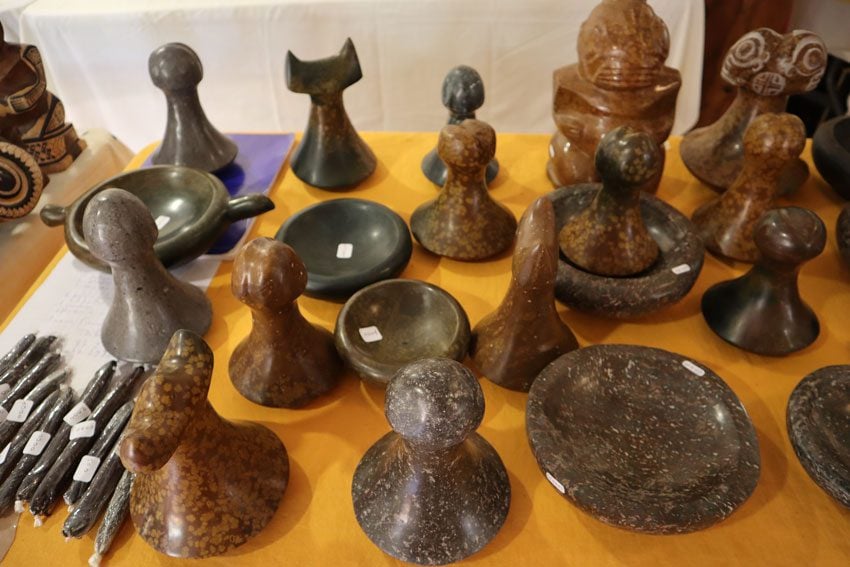 Catholic Church
Step inside the main church and check out the intricate woodwork. No expense seems to have been spared here. Also, note the opening in the roof, strategically positioned to offer worshippers a view of the pinnacles on a clear day.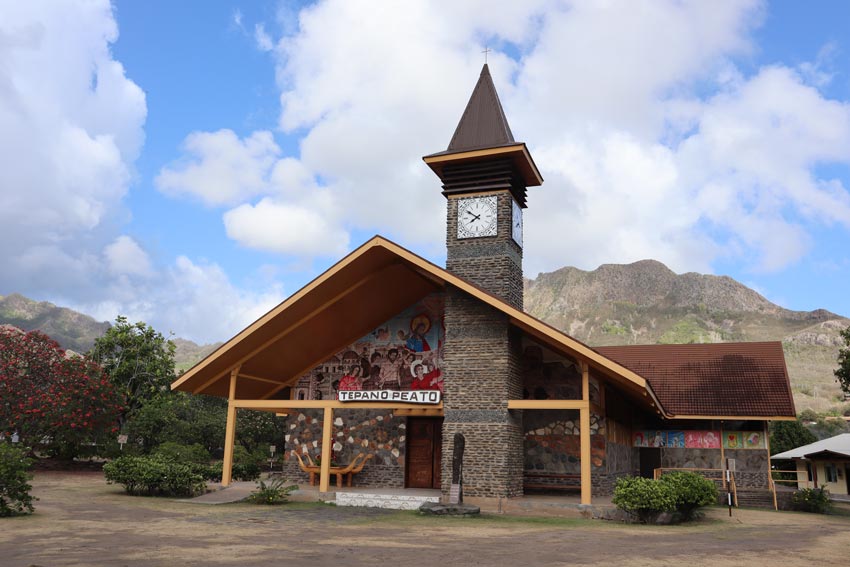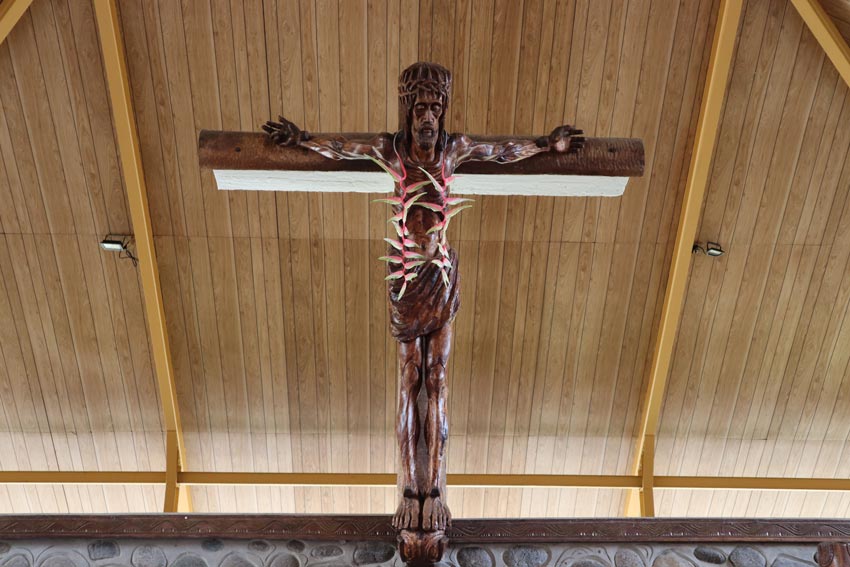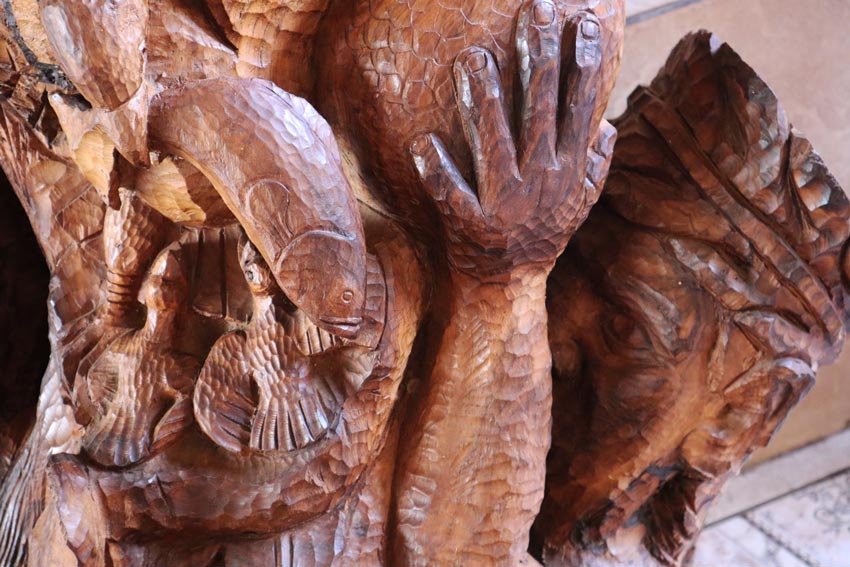 Hakahau to Hakamoui Hike
An easy hike that begins in the back of Pension Pukuee. You'll begin with a short descent to lonely Anahoa Bay where you'll surely be the only ones there (except maybe for jellyfish). From there, you'll climb back up to the main path and walk to "the cross", from where the best views of the village and its surroundings can be enjoyed.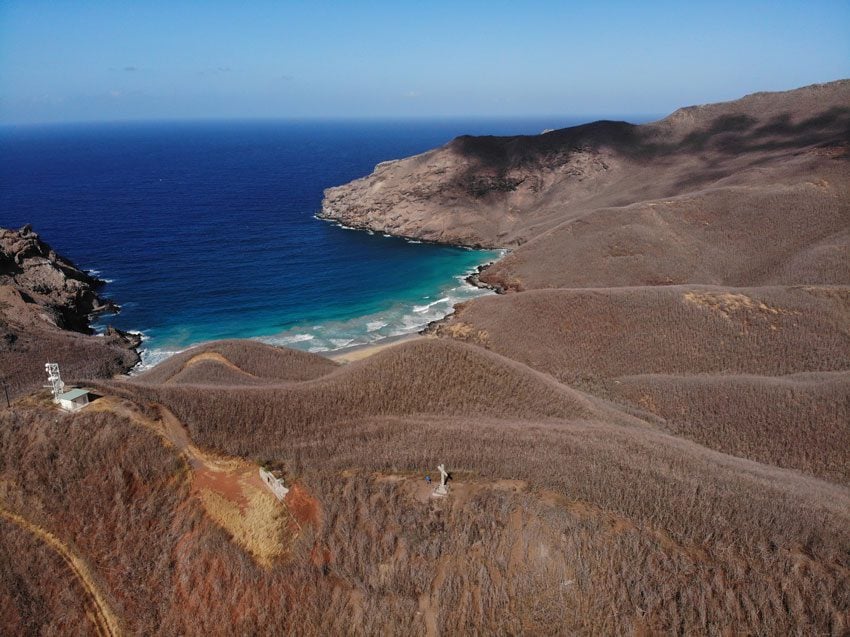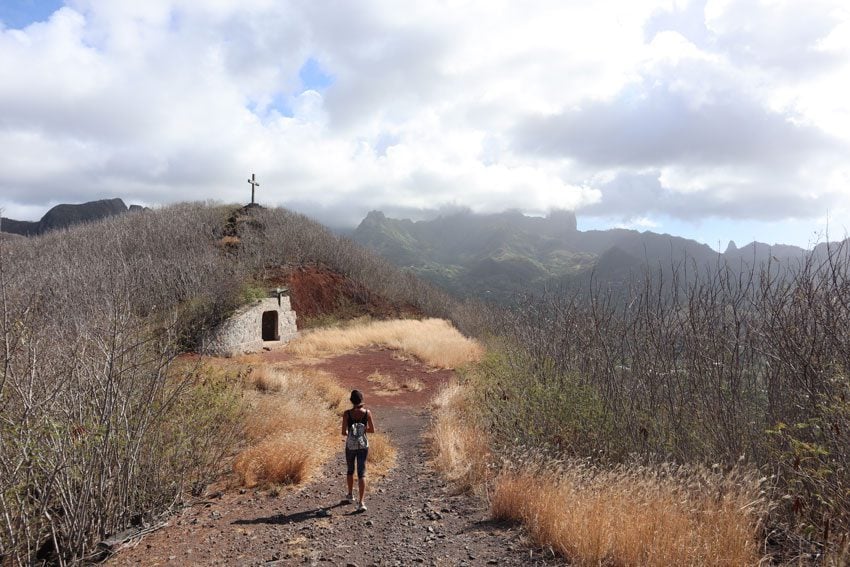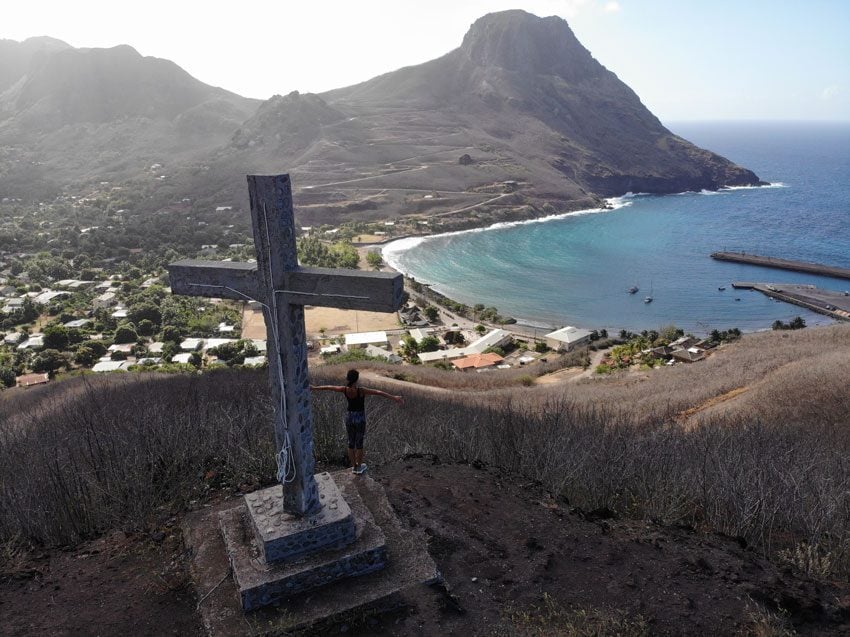 From the cross, you can either head back to the village or continue to Hakamoui. The trail can be a bit tricky to find at times because of animal tracks that criss-cross it but if you just head in a general direction, you can't miss it. Hakamoui was the seat of the last chief to rule the island and this valley is therefore known as "the king's valley". From here, you'll need to walk back to the main village along the paved road or hitch a ride from a passing car. On the way, you can stop on the side of the road to see the only tiki statue in Ua Pou (pea pea Ode Heatu).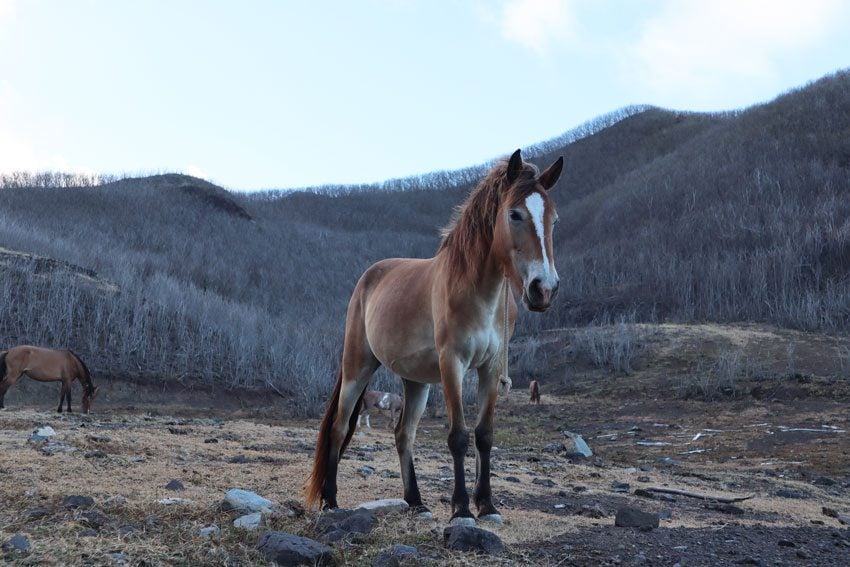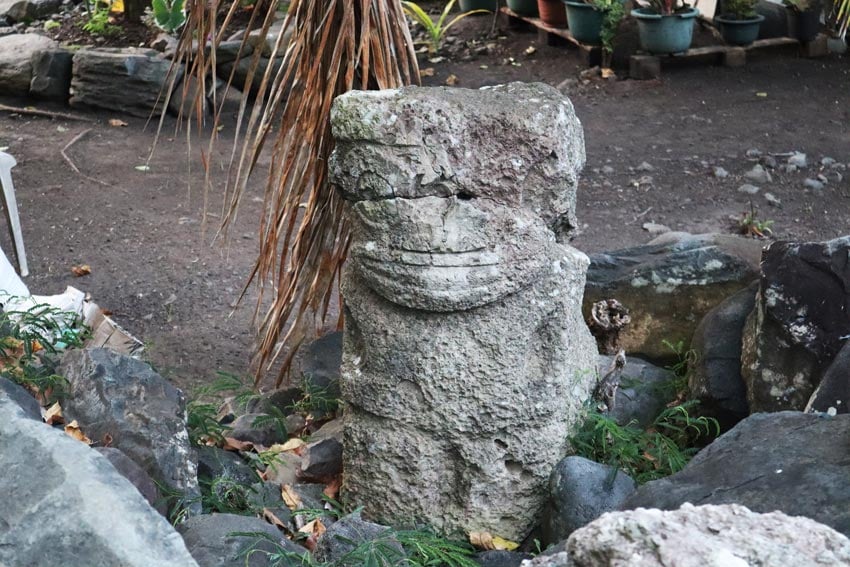 Logistics: it takes about 2-3 hours to hike the 8 km one way from the pension to Hakamoui. Be sure to get directions (Pension Pukuee has a hand-drawn map) and take plenty of water. Also take note of when it gets dark for the return leg.
Hakahau to Hakatao
The following sites in this section take us southeast from Hakahau to the end of the road in Hakatao. All sites can be seen on a single day either with a rented car or on a guided island tour with Jerome from Pension Pukuee. This is the drier side of the island and the best area to see some of the ancient sites that were discovered. They were used for different purposes such as floors in the home of the noble class, dancing platforms, and temples. Some are overgrown with vegetation and in some cases, locals to this day won't get near because of the tapu (taboo) that was enforced in the old days.
King's Valley
The last stop on the Hakahau to Hakamoui hike, a beautiful bay where the most powerful chiefs in Ua Pou resided.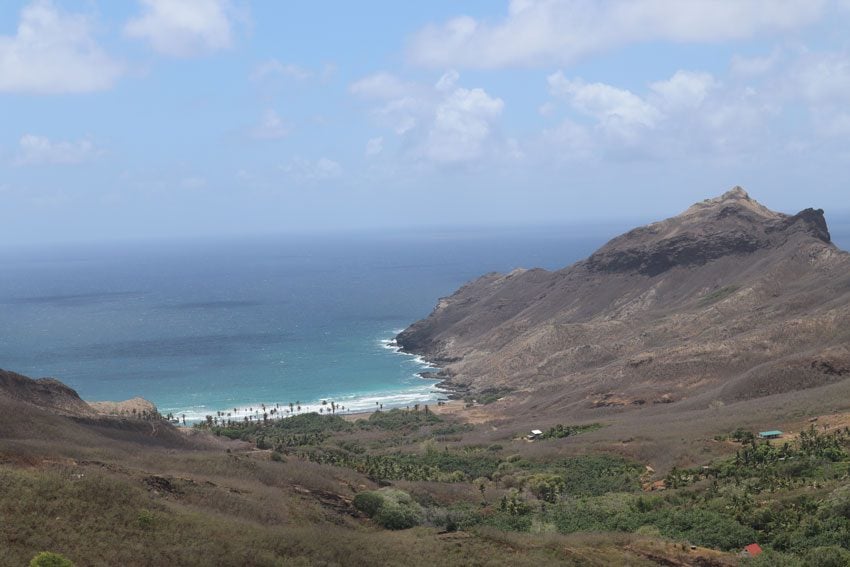 Belvedere Ua Pou Pata
A beautiful lookout with a stone ledge known as the "divorce rock", though nobody really knows why.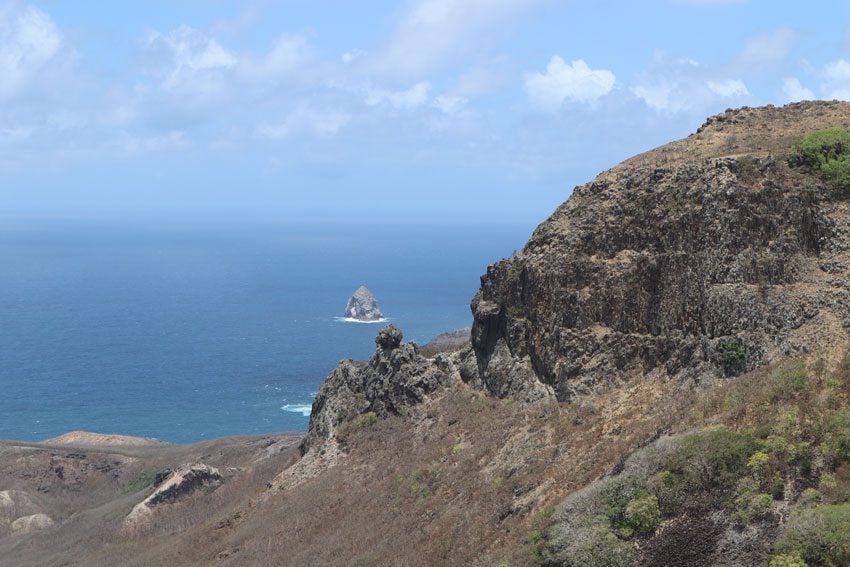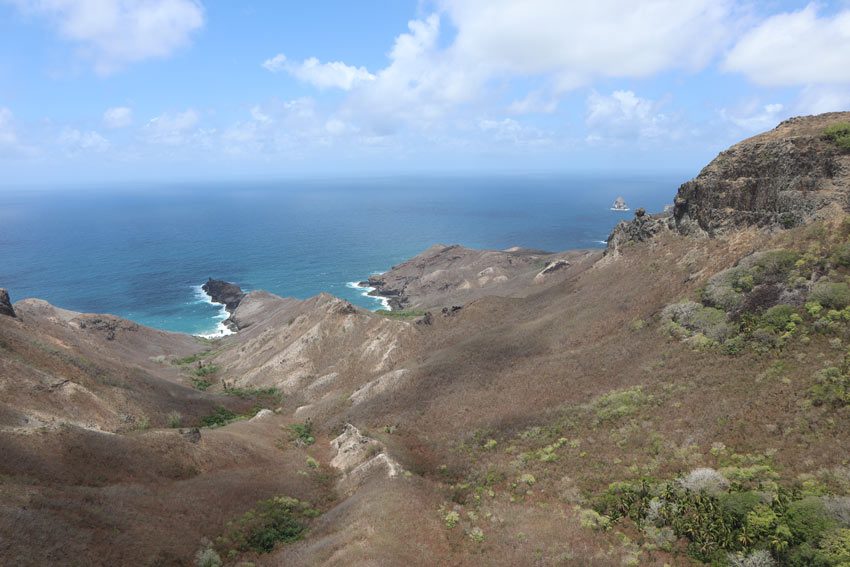 Flower Stone Beach
A wild and untamed beach where you might find Ua Pou's famous "flower stone". This stone is unique to Ua Pou and to specific spots in Brazil but it is here where it is found in its highest quality. Certain minerals within the rock have mixed to create what appear to be miniature flowers. Local artists scour the upper valley where slabs of this rock can be found. Around the beach are a few pea pea that were used by fishermen and even a 100-year-old tiki. This is a good picnic spot.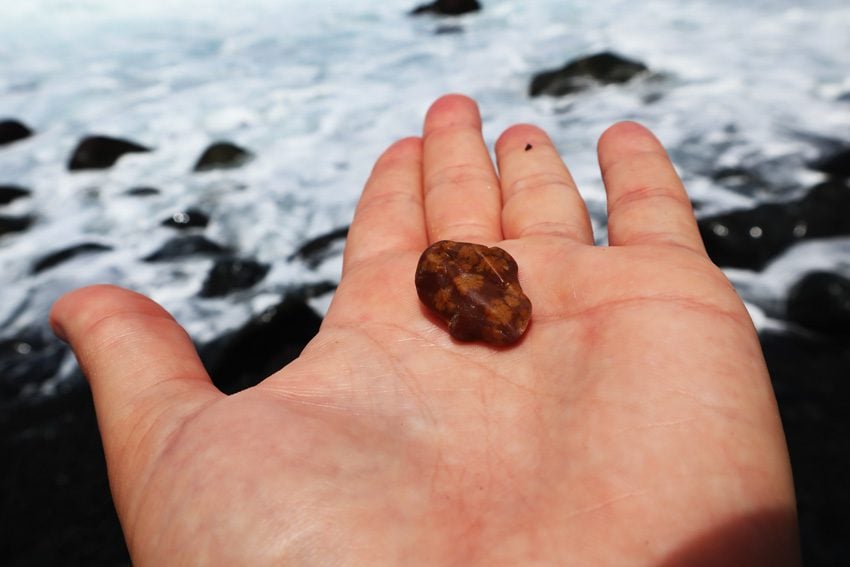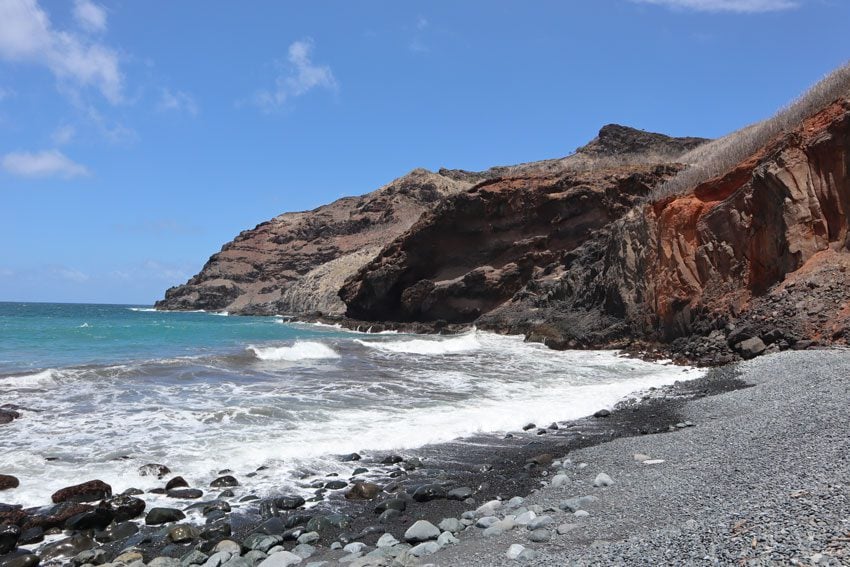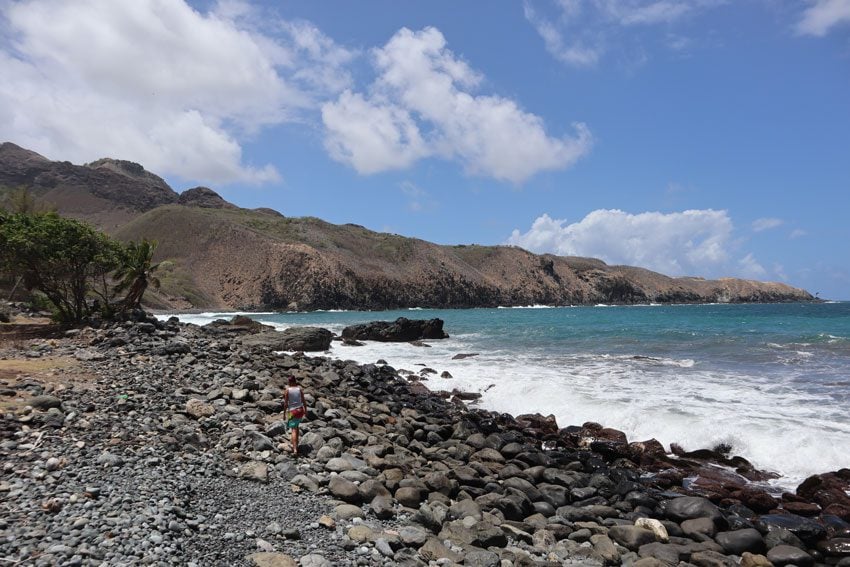 Hohoi Village
Hohoi is a tranquil village where you can stop for lunch at a local restaurant. The village is also home to the most famous sculpture on the island, Jean Kautai. You can arrange to visit his workshop and see him in action. You can also purchase his sculptures from the crafts center in Hakahau (prices are the same).
Tohua Mauia
Restored for the 2019 Marquesas Arts Festival, this is the largest and most impressive archeological site in Ua Pou (500 XPF entrance fee). Formerly the home of the Tavaka tribe, up to 1,500 are thought to have once resided in this valley. This was their gathering spot for a multitude of rituals and festivities such as the first tattoo of a boy or a girl (after the first menstrual cycle), funerals, and even public consummation after a marriage ceremony.
The most impressive feature of this site is the 100-meter long pea pea, all made through thousands of hours of gathering and meticulously piling up basalt rock. On top of some of the platforms, you can see sculptures made by modern-day artists depicting the ancient past.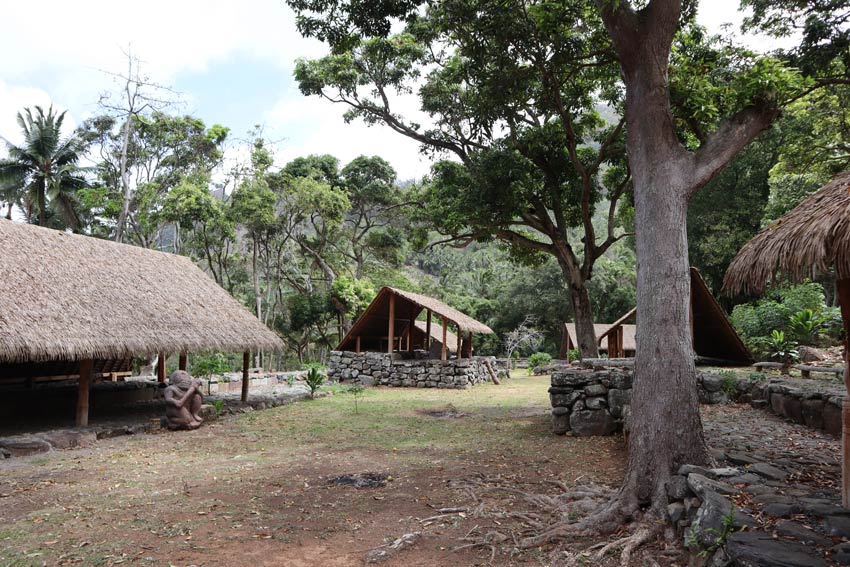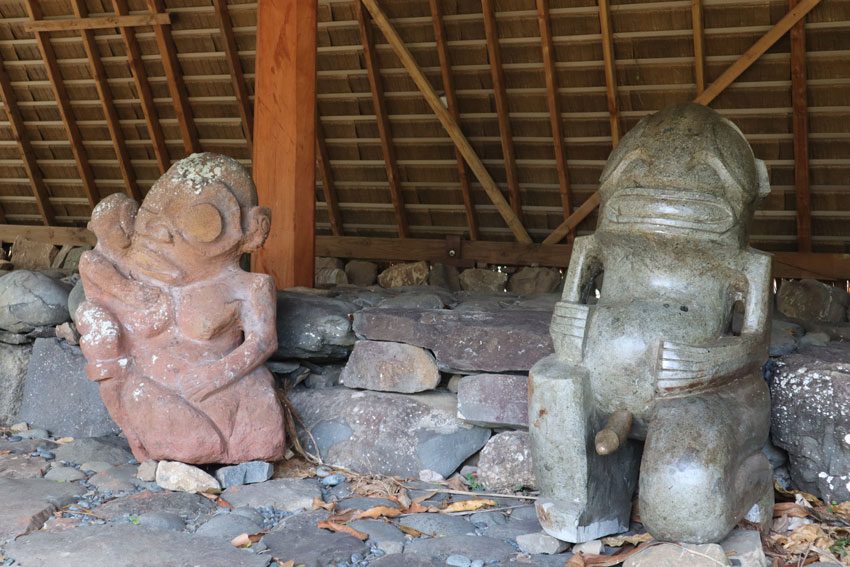 Hakatao
The drive to Hakatao is beautiful. In contrast to the desert-like east coast during the dry season, this is a lush section of the island, blessed by a dense blanket of coconut palms that shelter local vegetable gardens. Sleepy Hakatao means "bay of taro" and it is the southernmost village on the island, nestled at the mouth of a picturesque valley.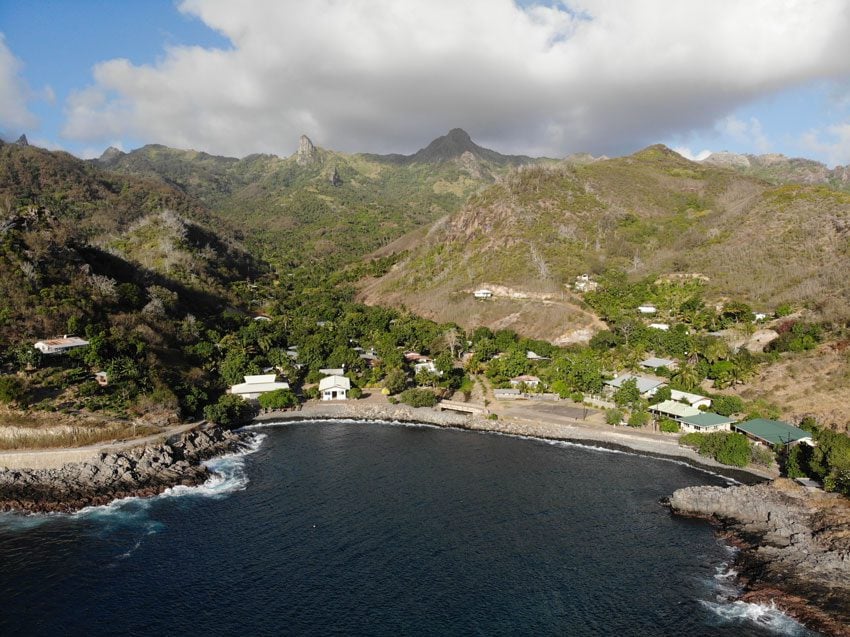 From the village, you can take a short path up the ridge to a special viewpoint from where you can see Cathedral Rock (Motu Takaae), a pinnacle rising 240 meters straight out of the water. Look down from the edge of the sea cliff and spot the natural tide pools. Fishermen come here to catch lobsters when the tide is just right.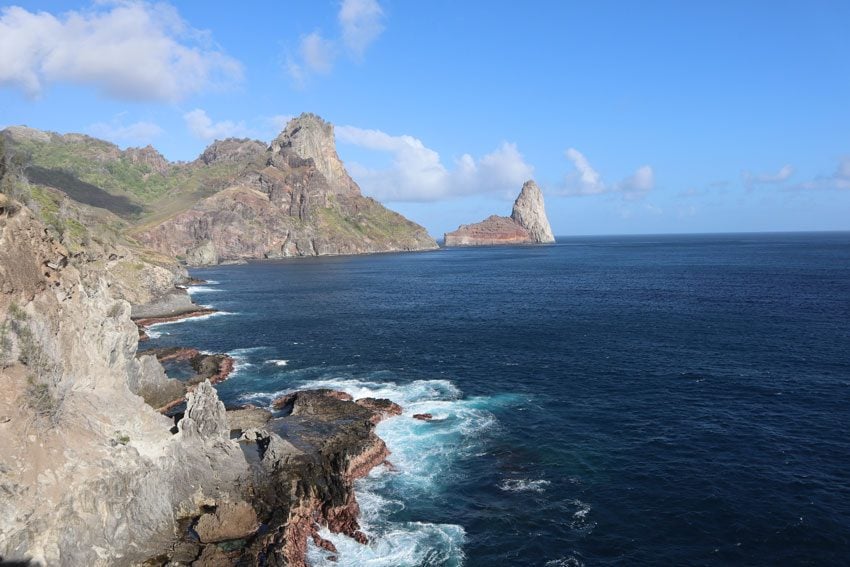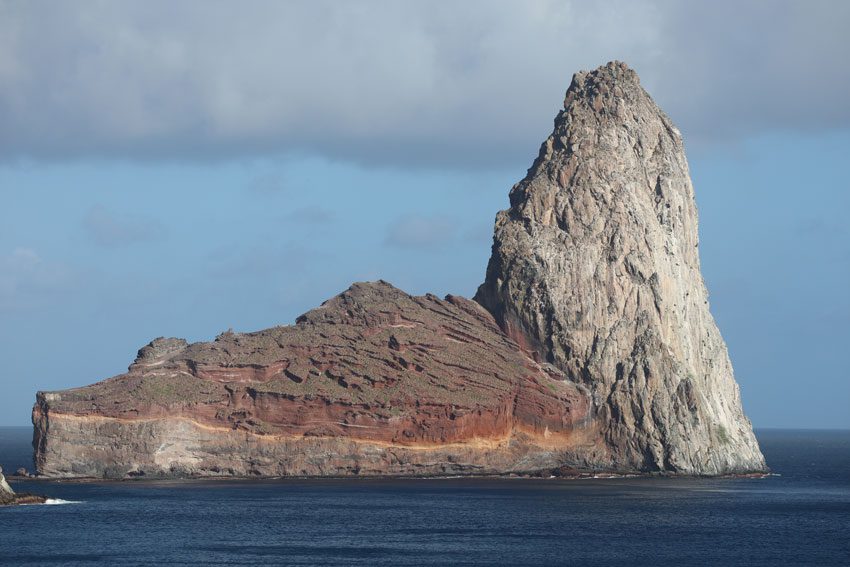 Bird Island
It's hard to spot from the viewpoint, but behind Cathedral Rock, there's an even larger islet called Motu Oa but it's better known as Ile aux Oiseaux (Bird Island). You can hire a guide with a boat and come here to do some birdwatching.
Hakahau to Hakamaii
The following sites in this section take us southwest from Hakahau to the end of the road in Hakamaii. All sites can be seen on a single day either with a rented car or on a guided island tour with Jerome from Pension Pukuee. This is the lush side of the island that even includes a short hike to a magical waterfall. It's one of the most enjoyable scenic drives in the South Pacific, so be prepared for frequent roadside stops.
Shark Bay
Don't be alarmed by its name, Shark Bay (Hakanai Bay) is safe for swimming though you might see a few sharks hanging around. You'll first notice the bay as you round the corner after the airport and you'll want to stop to enjoy the views before heading down to the beach. What an incredible sight!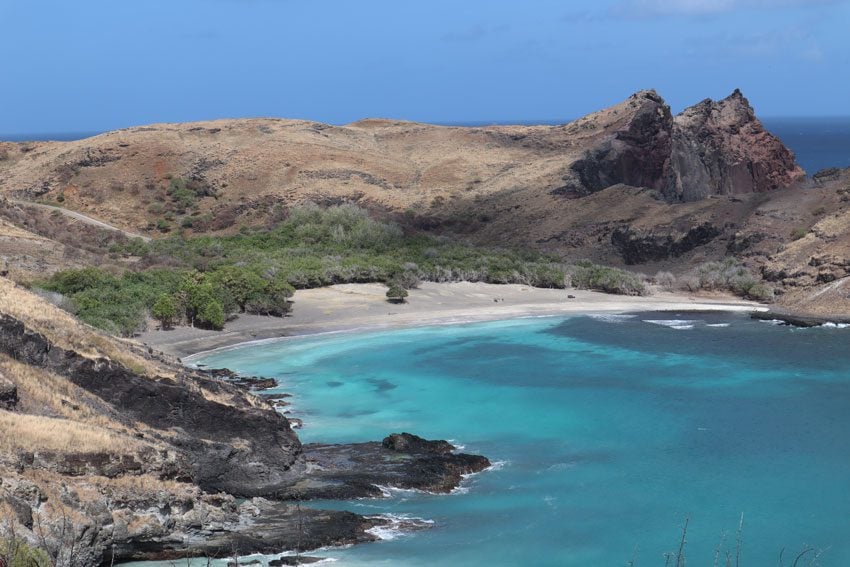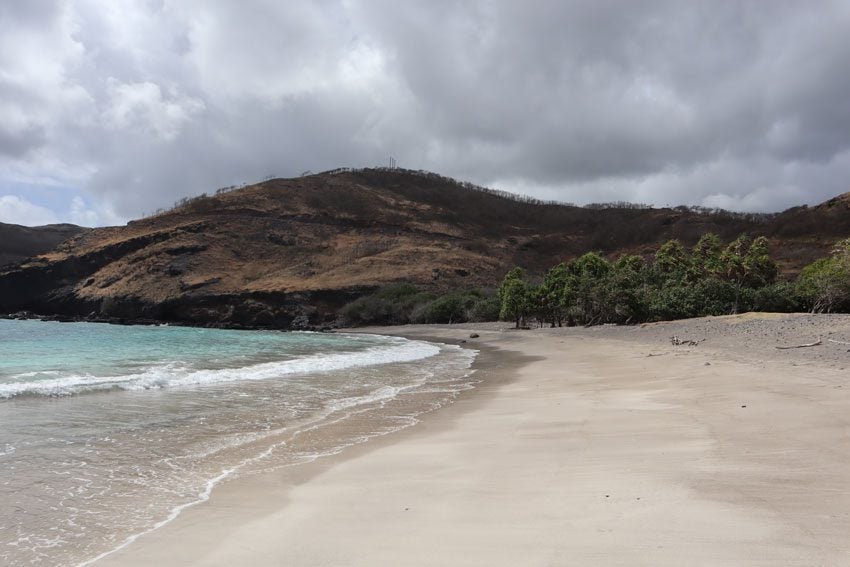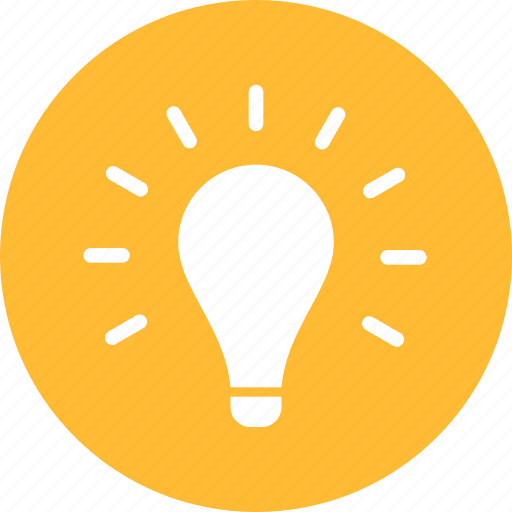 Pro Tip
From Shark Bay, head straight to the furthest stop and work your way back. That way, there will be plenty of time for lunch and for the waterfall hike (it's also better for photography).
Hakahetau
If you haven't had lunch yet, stop at Snack Ti' Piero but don't plan on doing much sightseeing after. You can order a la carte or go for a tasting menu that includes way more dishes than you can handle (2,000 XPF). The village also has a nice lookout and an ancient archaeological site (Tetahuna).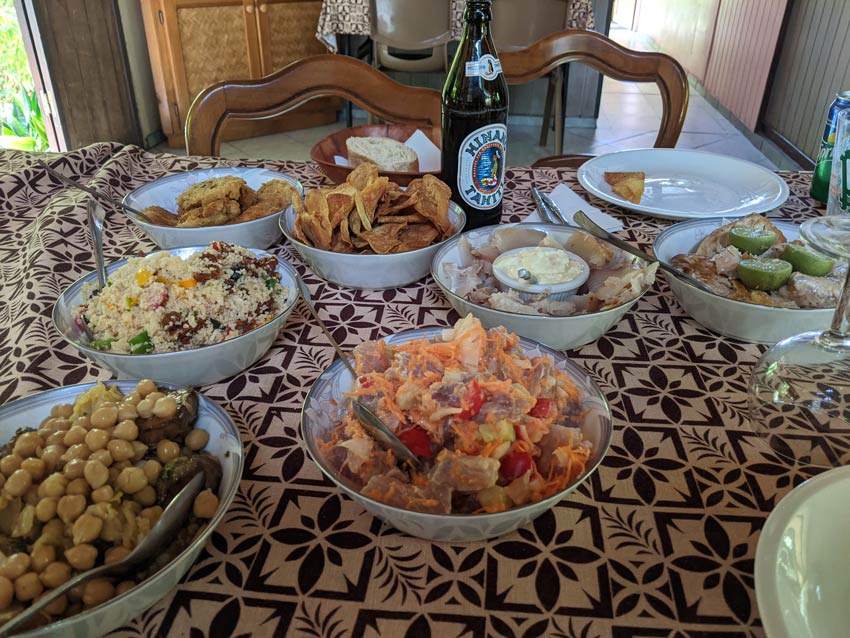 Hike to Vaiea Waterfall
There's a dirt road that enters the forest just outside Hakahetau. Park your 4WD at the start of the road if you want to extend your hike or drive until you see a sign to your right and a trail that heads further inland. From here, it's a short and enchanting walk to Cascade Vaiea. Negotiate your way through the tick ferns and banyan trees, and follow the sound of the water.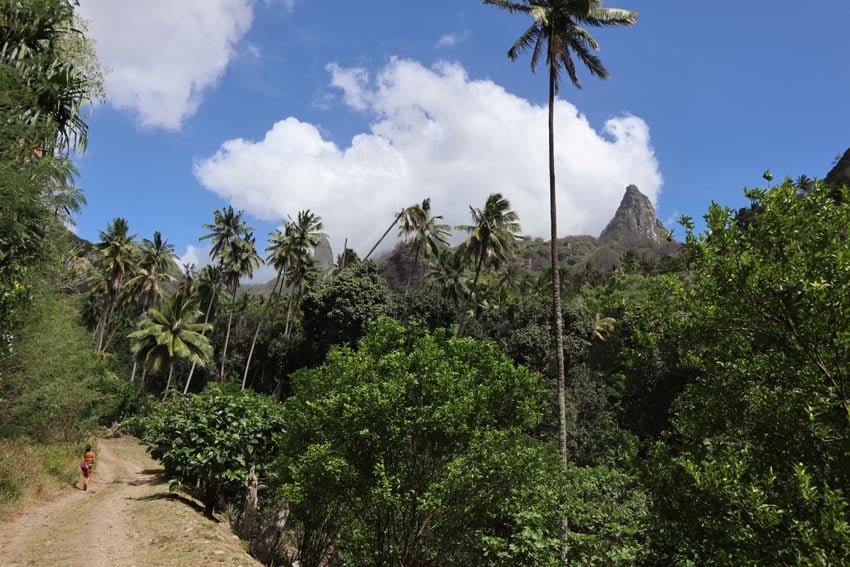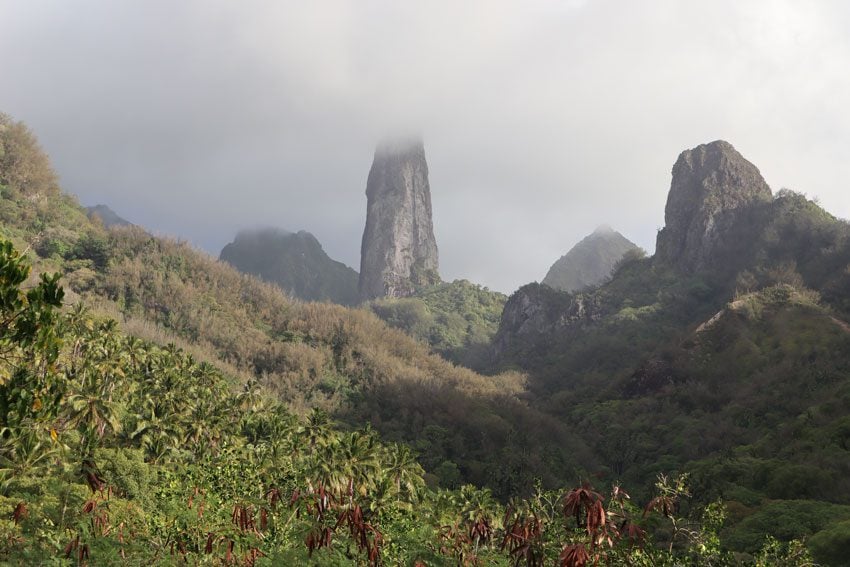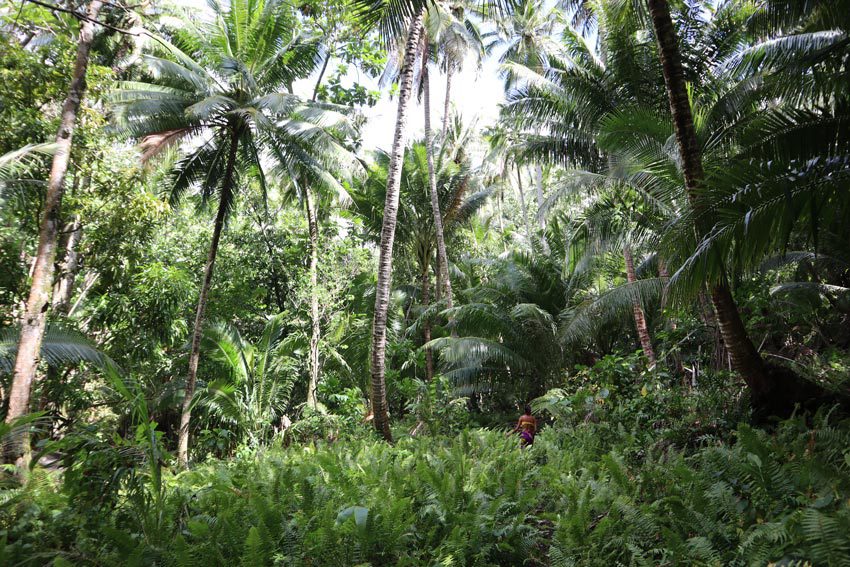 Cascade Vaiea might not be the highest waterfall you've ever seen but the fact that it's in the heart of the rainforest, in an island that has bone dry sections, and since there's likely nobody here but you, it will be one of the more memorable experiences on your Marquesas Islands voyage. Now it's time to get a waterfall massage!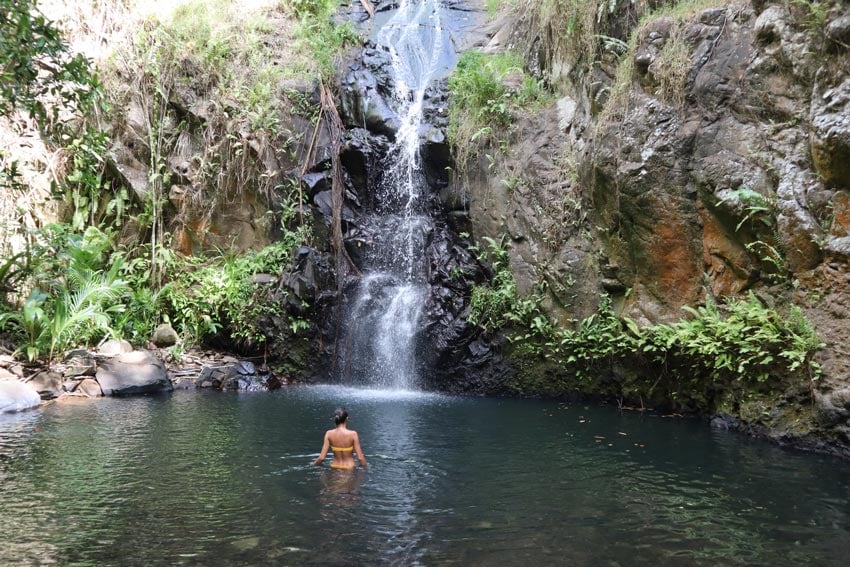 Logistics: bring mosquito repellent for this hike as there might not be any other humans around, but plenty of mosquitos will provide company. I also recommend wearing sandals as brief sections must be crossed in water. If you feel something tickling your feet in the water, not to worry as those are just freshwater shrimp.
Ua Pou "Chocolate Man"
Ua Pou is the last place you would expect to find a chocolate maker but German ex-pat Manfred Drechsler seems to have figured it out. He lives off-the-grid in a self-sufficient lifestyle with his collection of chickens, cats and dogs in the middle of nowhere, creating for himself a real paradise amid cocoa and fruit trees galore. Manfred produces a variety of chocolate flavors and he'll be happy to offer you a tasting of each one. Bars go for 500 XPF but must be kept refrigerated as no preservatives are added. Manfred's chocolates are quite well-known in some parts of French Polynesia and, in Tahiti, they sell for more than triple that price.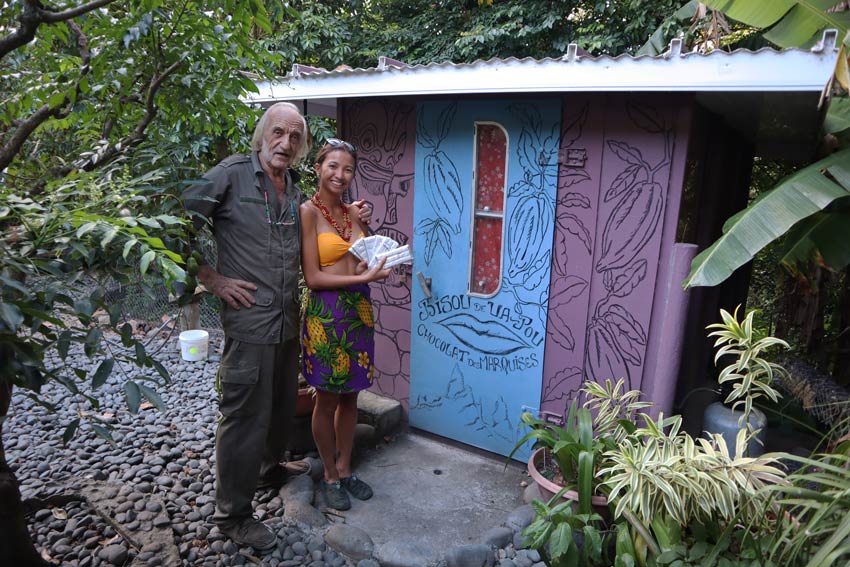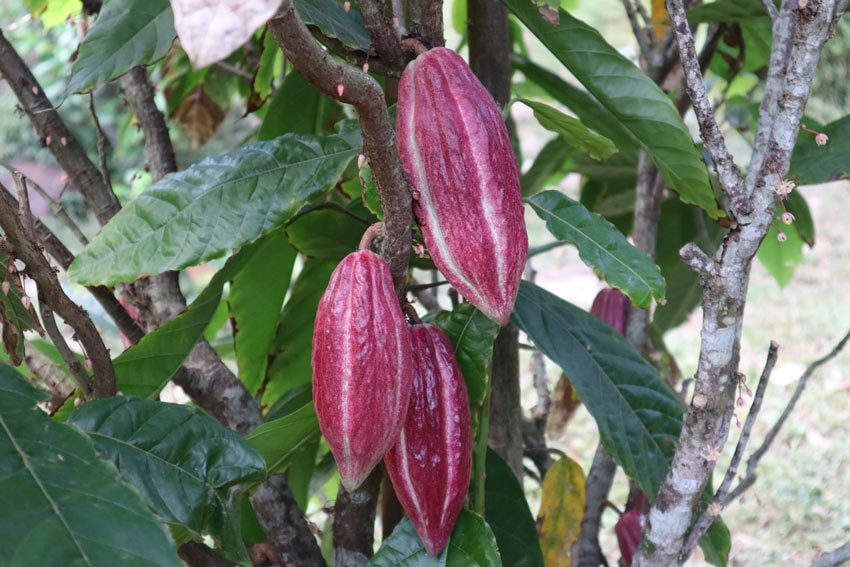 Hakamaii
The village at the end of the road, this is another beautiful sleepy stop, where life goes by at a slow pace and where fishermen head out to catch tonight's dinner. Only 150 residents call this place home. From the village, ask for directions to a path that snakes up to a lovely lookout.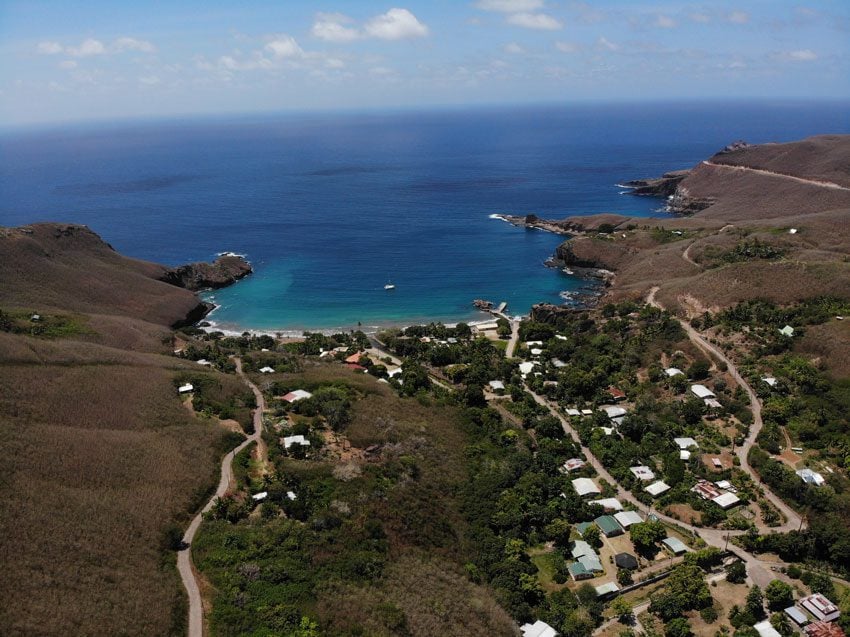 Hakamaii to Hakahetau
This stretch of road is best enjoyed when driving from Hakamaii to Hakahetau. Keep your eyes peeled for wild goats and horses but also for the breathtaking view of the pinnacles rising from the island's center. You'll enjoy long stretches of unobstructed views.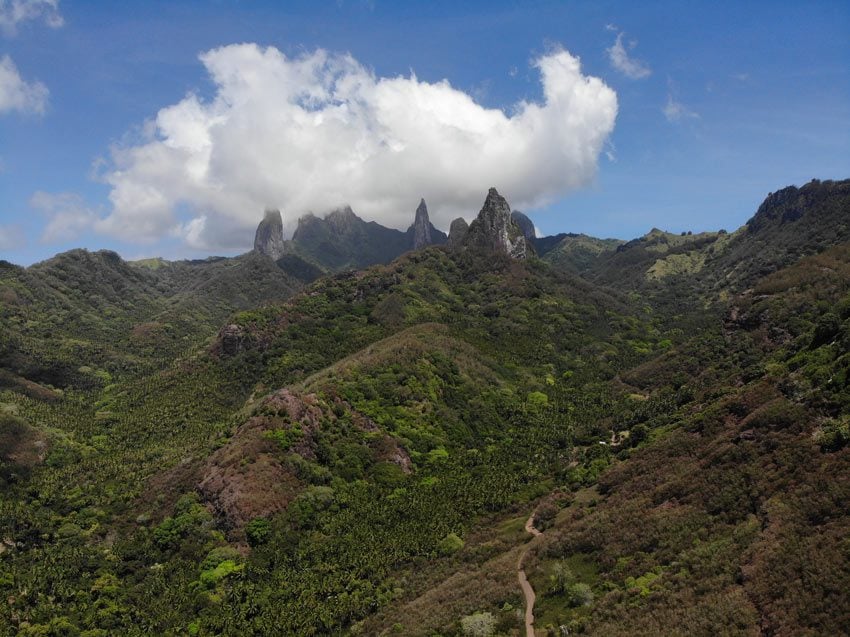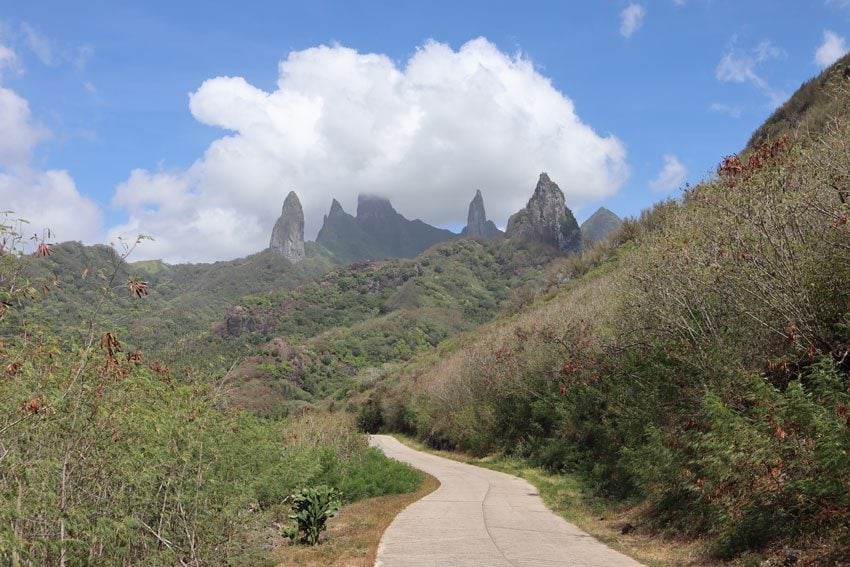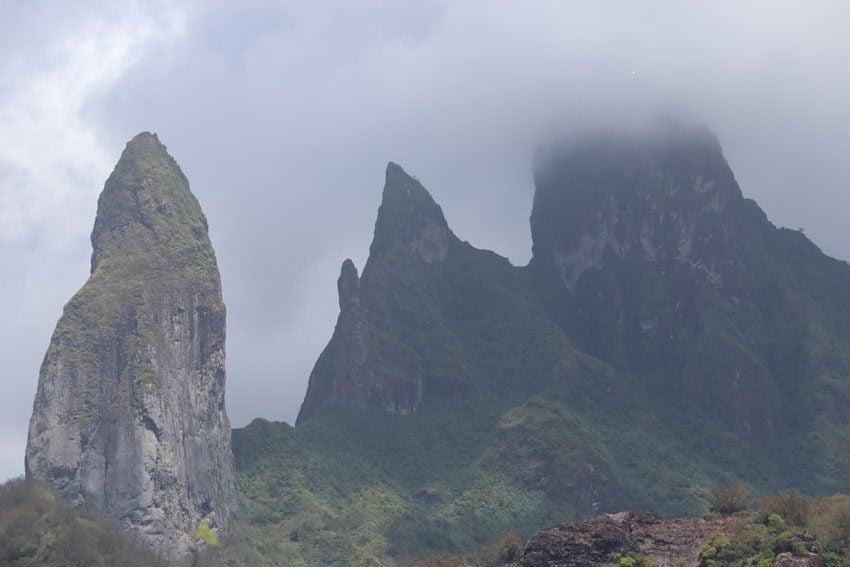 Sunset Viewing
Just as you rise from the valley that houses the airport, stop on the side of the road from where you can enjoy the best sunset views in Ua Pou.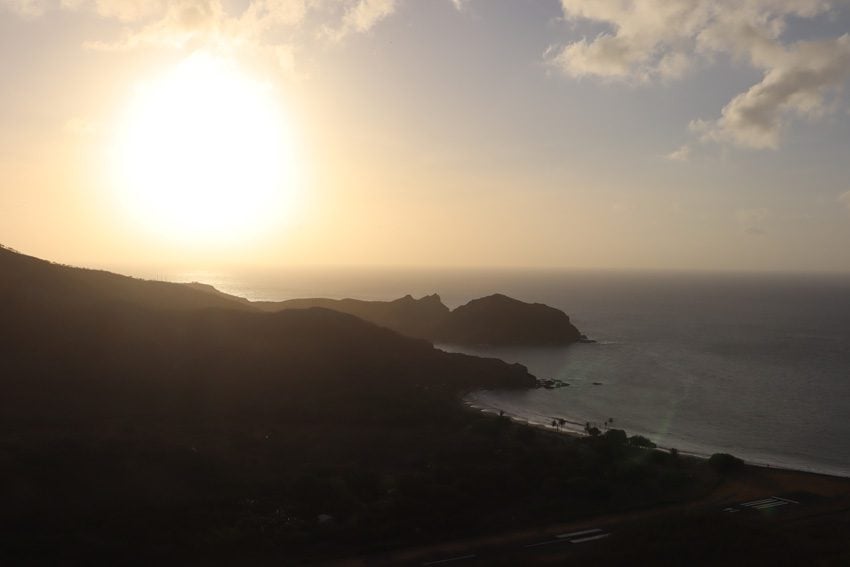 Poumaka Peak Hike
This is the best hike in Ua Pou and one of the best hikes in French Polynesia. It must be done with a guide. Jerome from Pension Pukuee is your best option and his outing also includes an optional stop for lunch at Snack Ti' Piero (see above for more info). The hike is essentially a 9 kilometer loop in the Hakatehau Valley.
The hike begins somewhere in the rainforest outside the village of Hakahetau, where wild tropical vegetation dominated by ferns and banyan trees mixes with vanilla, orange, and coffee.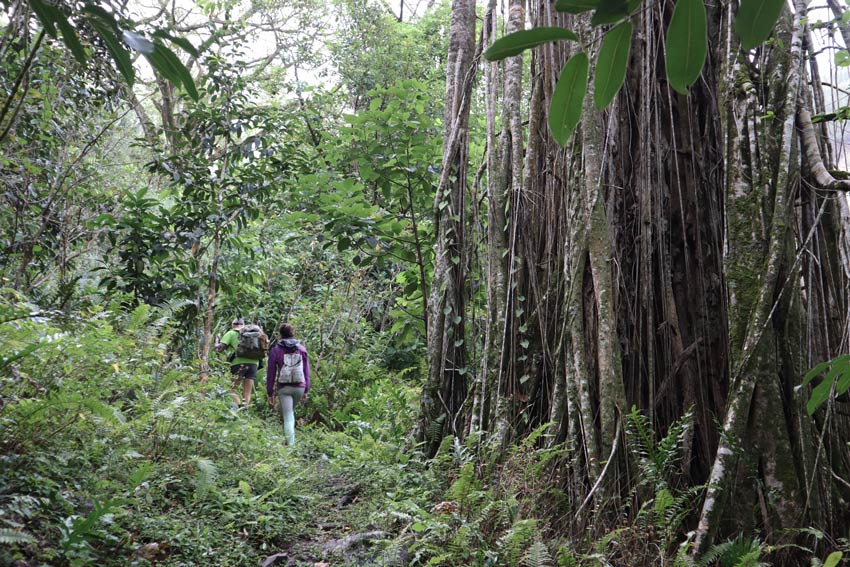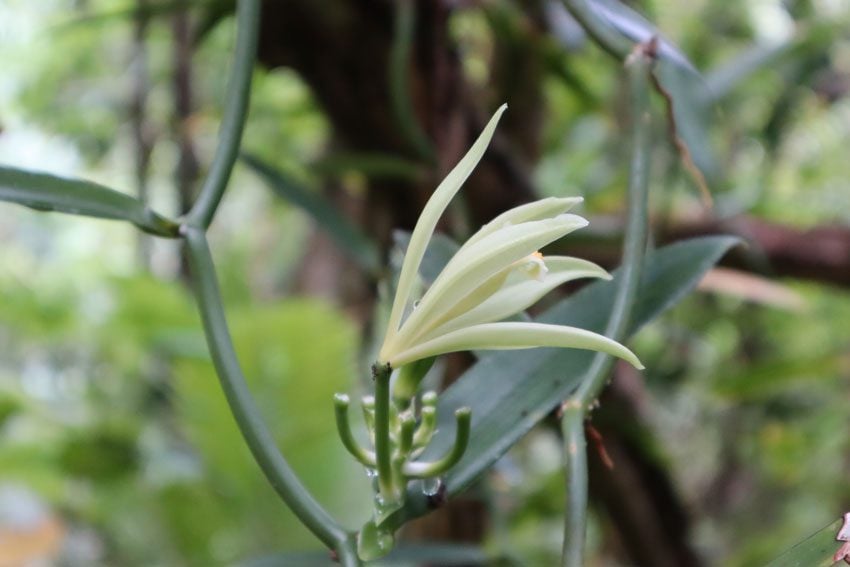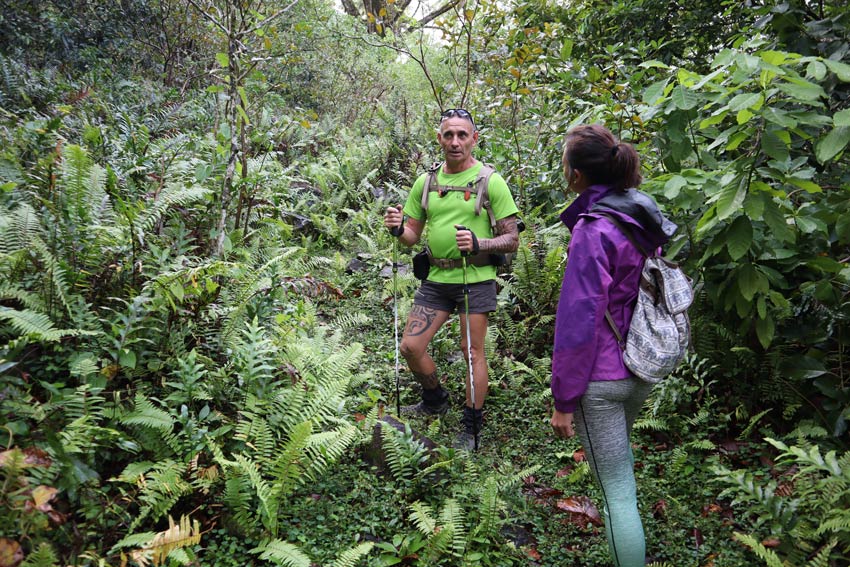 You then begin the sharp ascent of 600 meters in altitude to the ridgeline from where the closest views of the magnificent pinnacles can be enjoyed (certain sections are rope-assisted). The view from up here is spectacular even on a bad day. Poumaka is not the highest peak on the island, but being able to get so close to nature's marvel is a moving experience.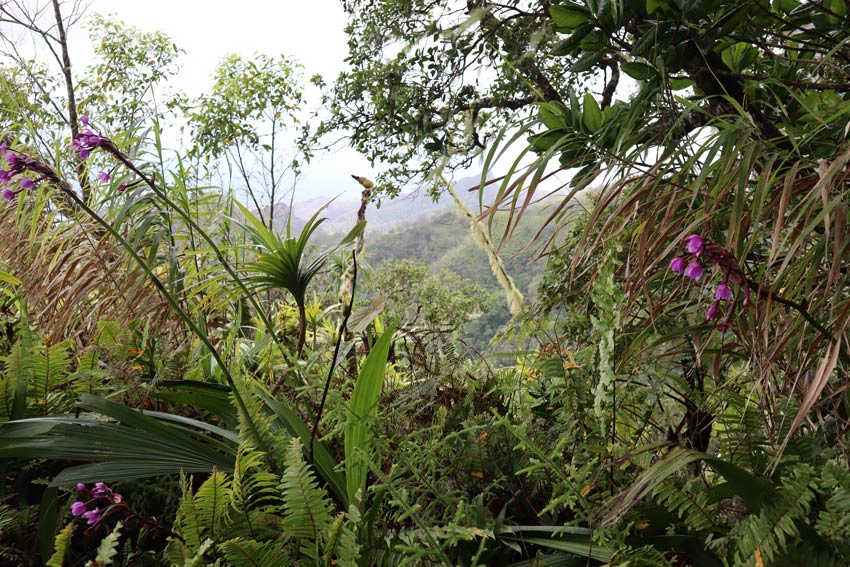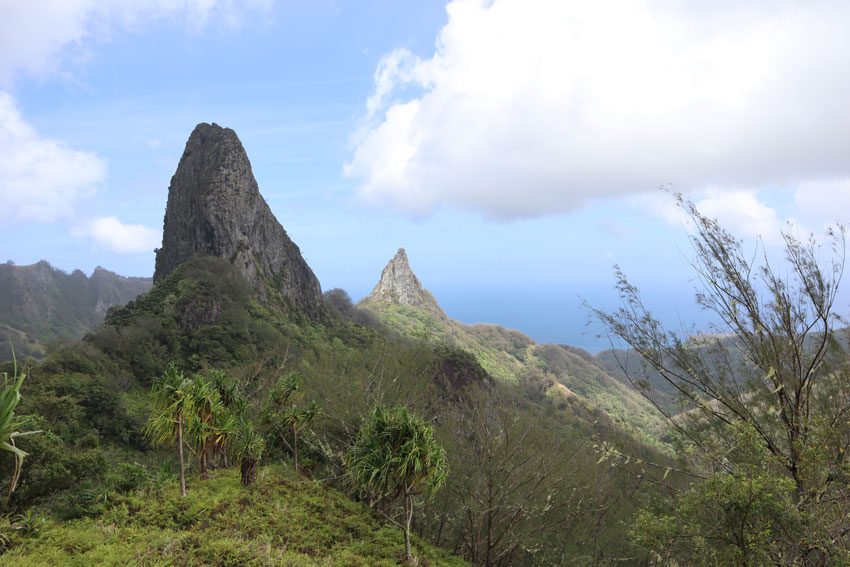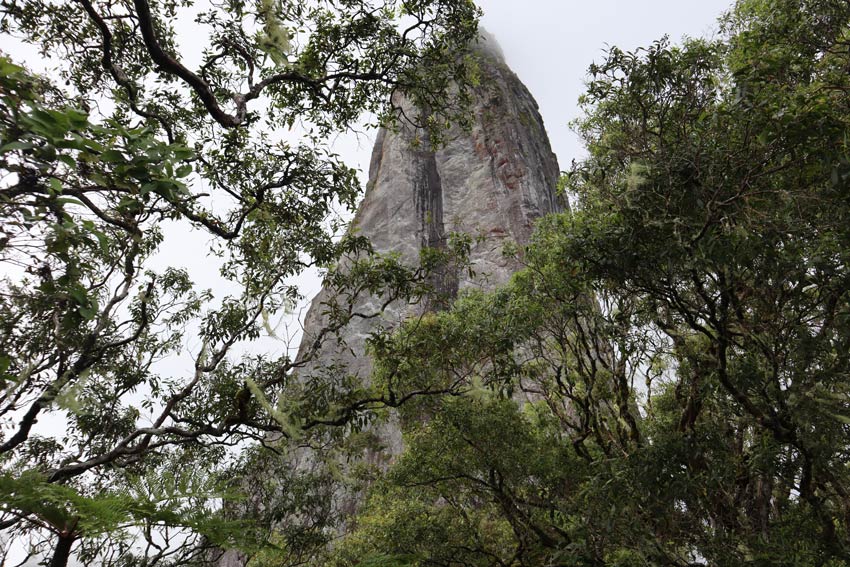 From the ridgeline, Jerome can fit your hiking shoe with metal spikes to help going down. The descent takes you through a maze of massive pandanus trees before connecting with the "chocolate man's" estate and the path that heads to Cascade Vaiea. After a refreshing dip in the waterfall, you'll either head back to your pension or stop for lunch in the village (highly recommended).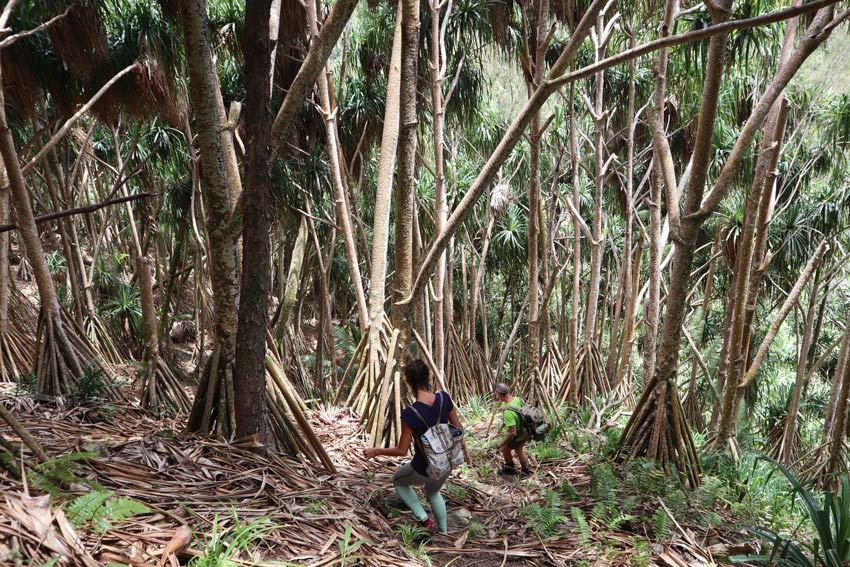 Logistics: it takes about 4 hours to complete the loop and then another hour of relaxing in the waterfall. You must hike here with a guide as the trail is hard to find on your own and certain sections are rope-assisted. Be prepared for windy, wet and chilly weather at the ridgeline.
"The Crossing" Hike
A slightly easier version of the Poumaka hike basically takes you from one valley to the next, from Hakahau to Hakatehau. It's only slightly shorter and you still gain as much elevation, but the grade is easier so the hike is not as challenging. This hike should also be done with a guide.
What's Next?
This Ua Pou Travel Guide should give you a pretty good idea on what to expect on a visit to Ua Pou. To further explore your options, I recommend going over the following resources to see how to put the puzzle together on your visit to Ua Pou and the Marquesas Islands.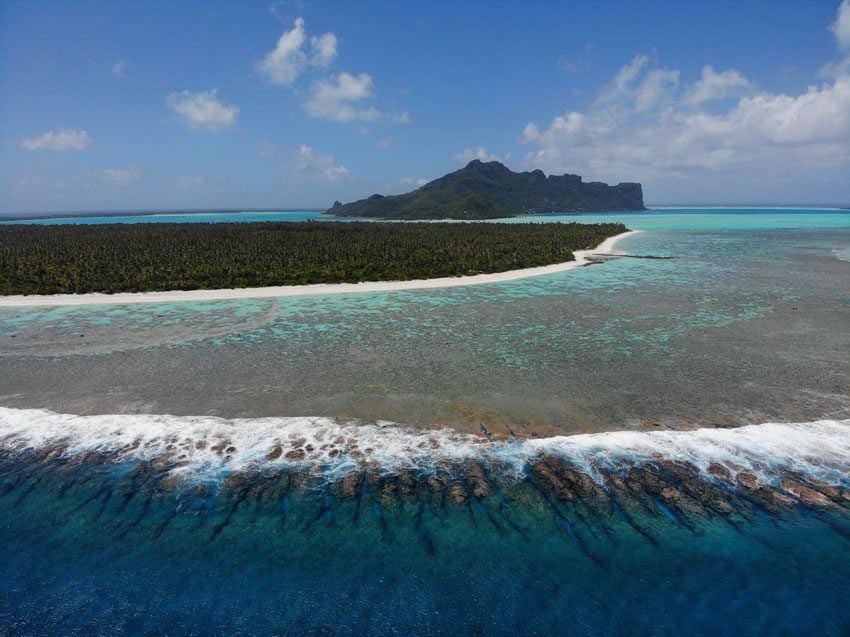 Tahiti, Tailor Made!
The Islands of Tahiti are among the last places to be colonized by mankind, 118 islands, each with their unique personality.
Get expert advice and assistance with planning your trip to the destination where tropical dreams come true!
See Options
---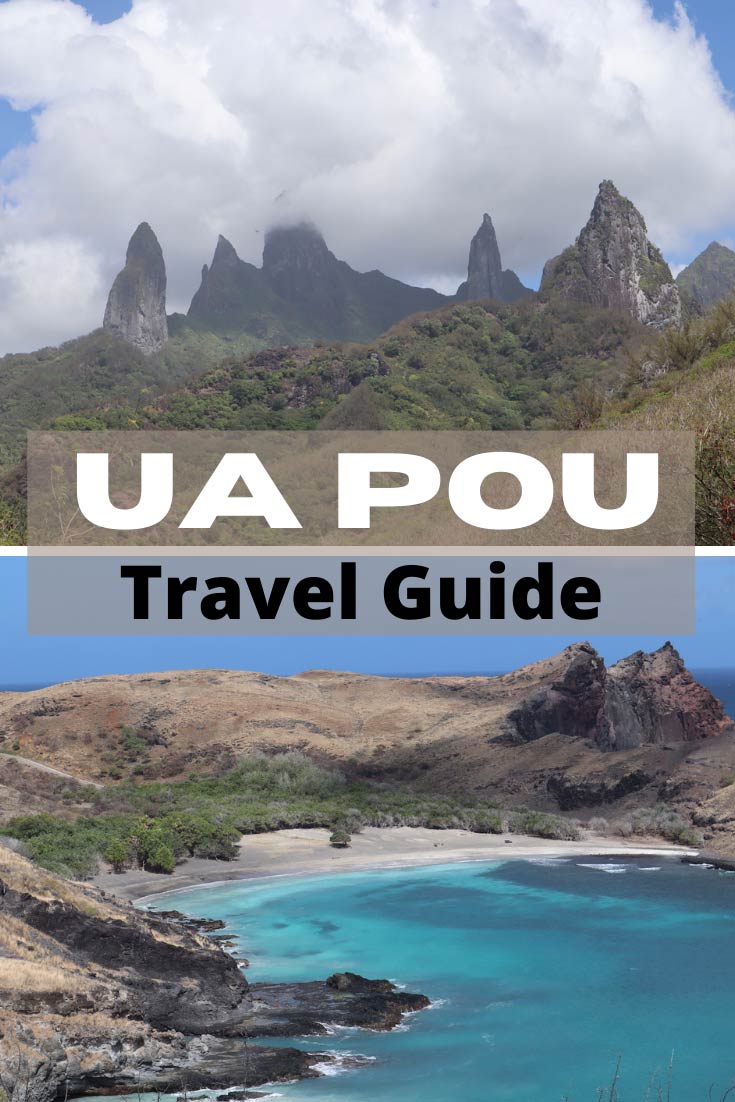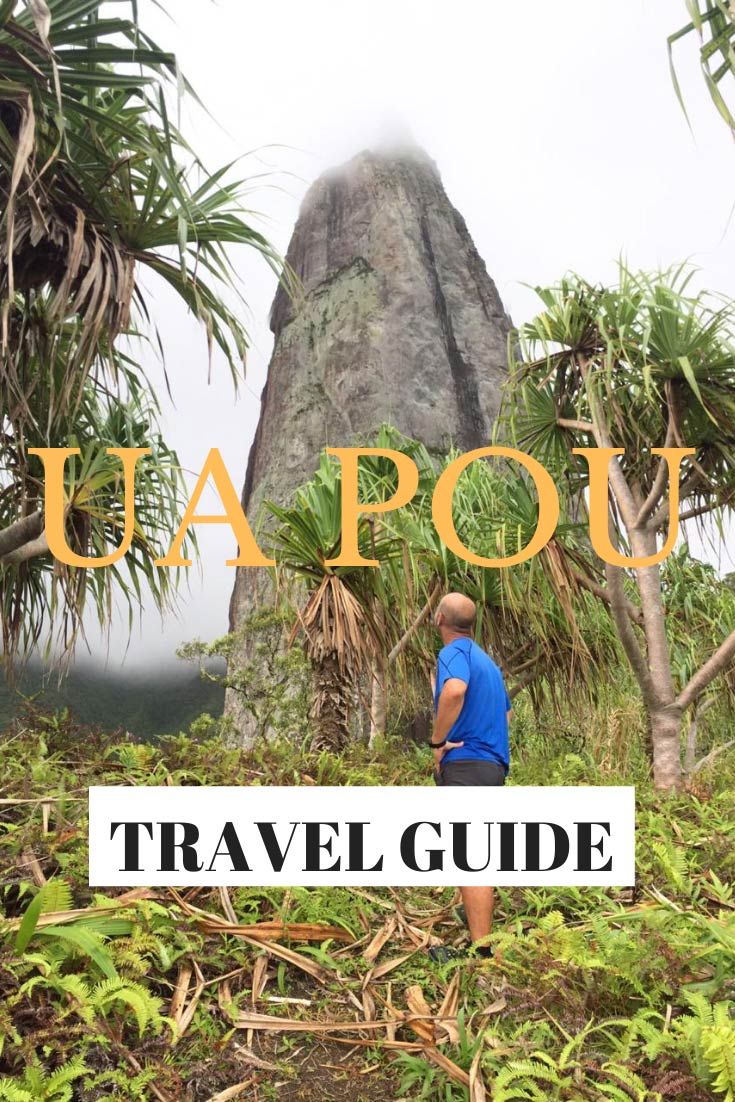 Pin These Images To Your Favorite Boards!