A Day Trip to Monet's Garden in Giverny
Hanging on the living room wall of the house I grew up in are two paintings depicting spring time at its absolute best. It wasn't until I visited the Musée d'Orsay in Paris, that I realized that these paintings were the (reproduced) masterpieces by none other than Claude Monet. So in the middle of May, when I got the opportunity to actually visit those magical gardens from the paintings, I simply could not refuse! This guide covers a day trip from Paris to Monet's Garden in Giverny.
Heading to Paris?
Plan the perfect trip to Paris with free and in-depth Paris travel guides, including the Best of Paris collection and a guide to all major Parisian neighborhoods.
Why Visit Monet's Garden in Giverny?
Claude Monet is one of the most famous painters in history and the founding father of the French Impressionist style you've probably heard of, even if you're not an art expert (like myself). Impressionists developed a unique style for painting scenes from nature, and Monet became famous for painting the same scene in different seasons, showcasing the changing effects of light.
From 1883 until his death in 1926, Monet settled in the village of Giverny, where he built a small home around a beautiful garden that served as the scene for his most famous works. Monet is well known for his paintings of the water lilies in his garden with the Japanese bridge in the backdrop.
When you visit Monet's house and garden in Giverny, you'll be walking in the same place that inspired Monet and you'll get to visit his charming pastel-colored house. Visiting Monet's Garden is the closest possible experience to bringing a magical painting to life – is that a good enough reason to make this day trip from Paris?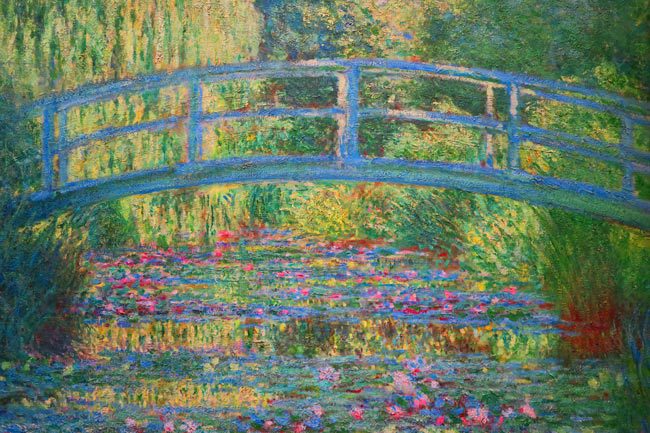 Where is Giverny & how to Get There?
Giverny is a small and picturesque village located only 80 km outside of Paris, making it a great option for a day trip from Paris! There are two good ways of getting to Giverny on a day trip from Paris.
By car: probably the most convenient way to get to Giverny at just about an hour's drive outside Paris.
By train: take the 'Grande Lignes' from Saint Lazare train station in Paris to Vernon (45 mins, timetable here). Monet probably also took the train – one of his most famous paintings is of the Saint Lazare station in 1877. When you get off at Vernon, follow the crowds and hop on a bus that will take you to Giverny (see the schedule).
When is the Best Time to Visit Monet's Garden?
Monet's garden and house are open from March 28th to November 1st from 9:30 am to 6 pm. Adult tickets cost a very steep ~€12 (considering the Louvre costs €17), and you can combine your ticket with other museums in the area, such as the Musée des impressionnismes. Check the official admissions page for discounts and packages. The best time to visit is during May and June when the garden is in full bloom. If you can, avoid weekends and try to make the trip on a sunny day, as I am sure the sun adds extra points to this place!
Tips for Visiting Monet's Garden
Spring is by far the best time to visit the Monet Garden (May – June), when the lily pond is in full action, the famous Japanese bridge is covered with wisteria and sunny days are more frequent. Naturally, it's also the busiest time so arriving early is recommended.
If you'll be driving to Giverny, the fastest way will take you via the E5 toll road though be warned: French toll roads can be super expensive (some short legs can cost over €100!!!). I highly recommend driving via the country roads and you'll see why later on.
Pack a picnic lunch with you! If you'll be driving via the country roads, you'll see why in a second but even if you're taking the train, the village itself is super cute and you'll be able to find a nice spot for a picnic lunch (you cannot picnic in the Monet garden itself).
Buy your ticket in advance online to avoid the serious queues for tickets.
Planning Your Visit
The Drive
We rented a car in Paris for a long weekend in May and made a road trip out of our visit to Giverny. A few days before, we got 'burned' on a French toll highway and had paid €115 for no more than 100 km on a nice stretch of road. So this time, we learned our lesson and set the GPS to avoid toll roads. The result was a magical drive in the French countryside during the peak of spring when everything is just so perfect on a sunny day (looks like that famous Windows XP default desktop image, doesn't it?).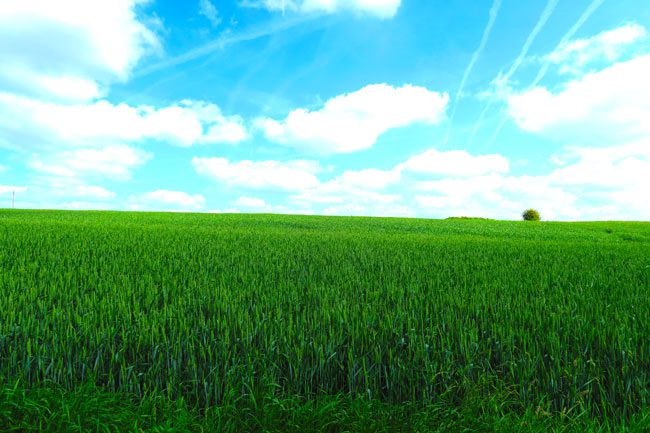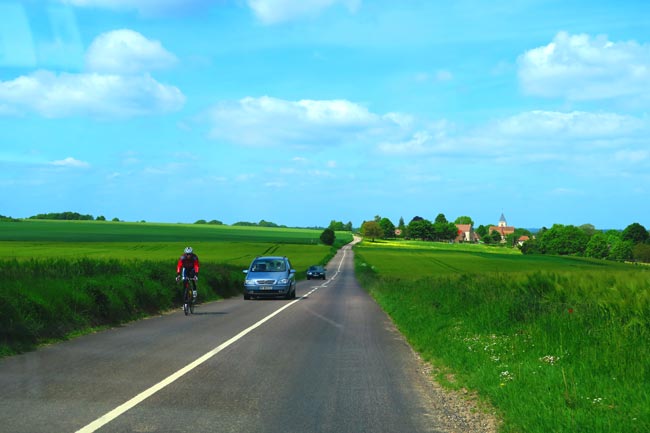 At some point on the D35 road, just above the picturesque village of La Roche-Guyon, we stopped for a bathroom break in nature but then realized this was the perfect spot for a picnic lunch! The view from our picnic spot was just perfect. Below us was a quiet stretch of the River Seine that gets so crowded towards Paris and a glimpse of an old medieval tower down below in the village of La Roche-Guyon. What a perfect way to start our day trip to Giverny!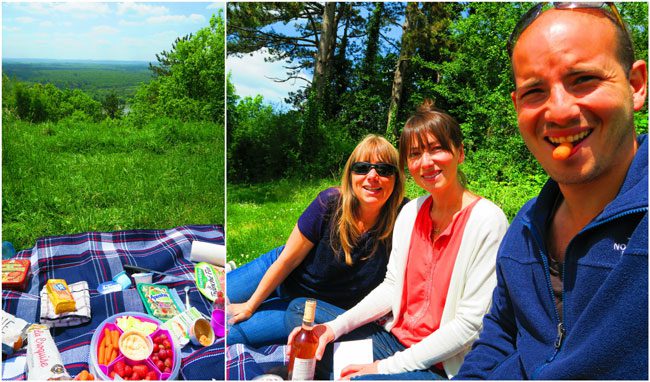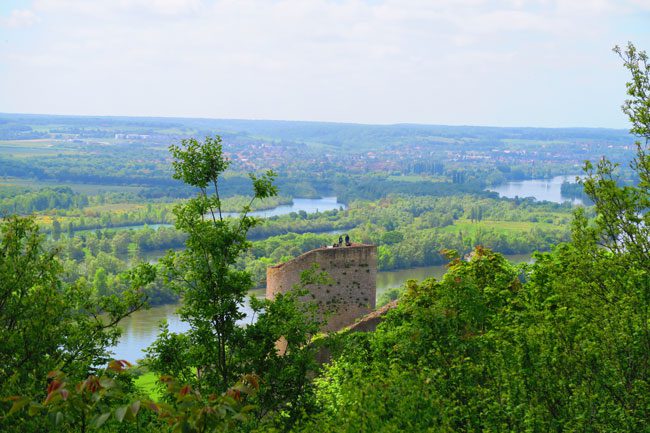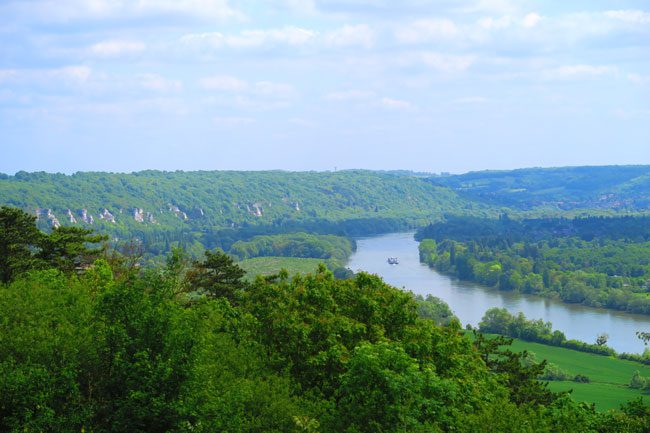 We arrived in Giverny at about 1 pm and easily found free parking on the side of the road (don't even try the parking lot – it's always full). You immediately sense that you've arrived in an artist's paradise – just look at the side of the road and all those aspiring Monets!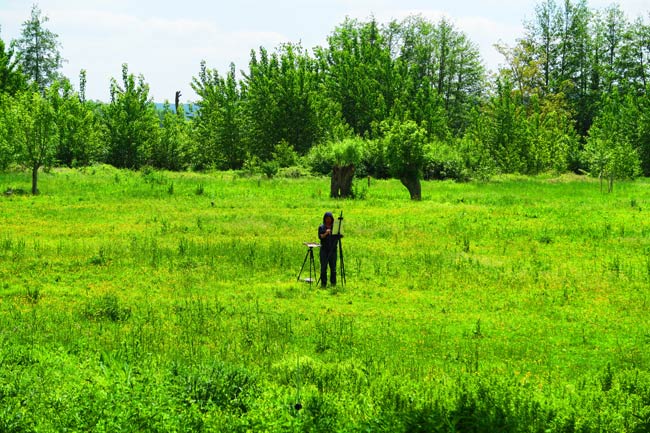 The Garden
We probably should have arrived earlier than we did as the ticket queue to the Monet house and garden (officially called the Fondation Claude Monet) was about 30 minutes long (as mentioned in the tips section, you can buy your ticket in advance online).
The first section of the Monet garden consists of row after row of flowers in all shapes and colors. You'll have to negotiate your way with the crowds, but it's manageable and enjoyable. The birds are singing, and the array of colors on display is stunning. It's no wonder Monet managed to paint masterpieces here!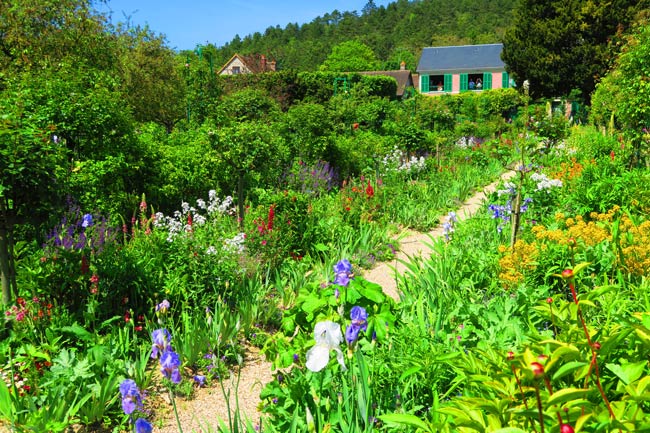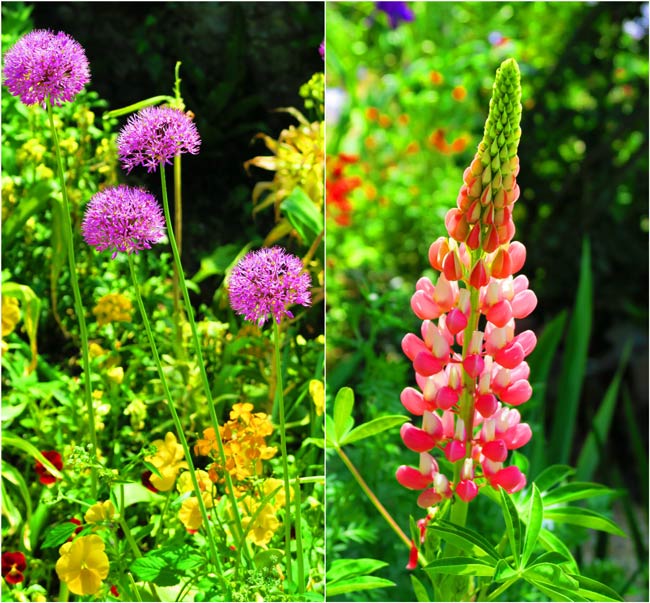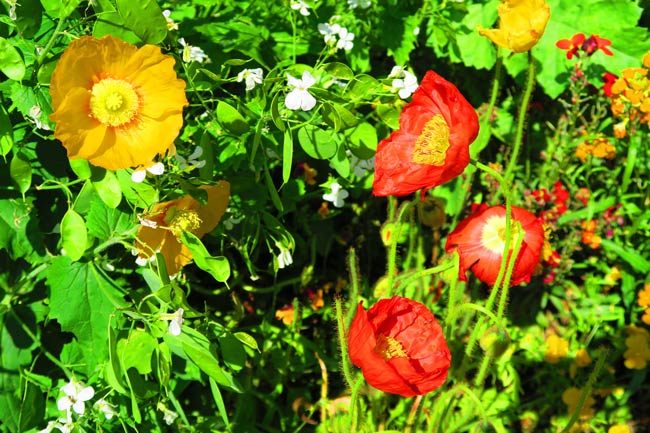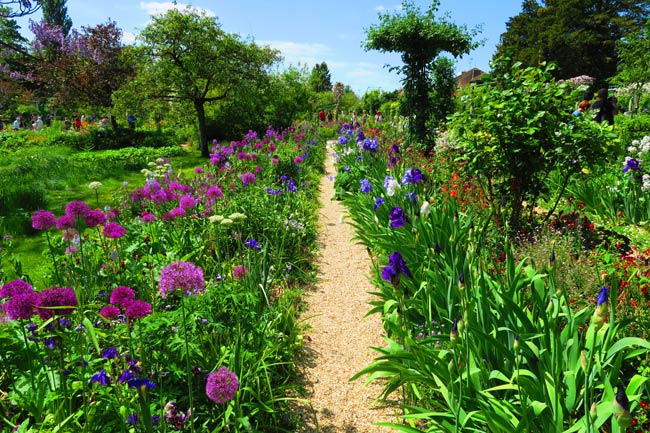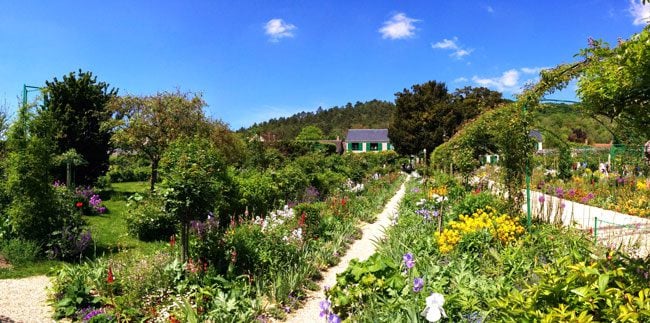 What you'll notice when visiting the garden is that everyone suddenly becomes a flower enthusiast, lover, and expert flower photographer. There's not much else to do here than to admire the beauty and capture the memories either the old-fashioned way or digitally.
Speaking of digital photography – don't you think it has made us humans so much more annoying than we used to be? I'm not just talking about those annoying 'selfie sticks' but more about the countless photos people take. What do they eventually do with all of them? Just a thought.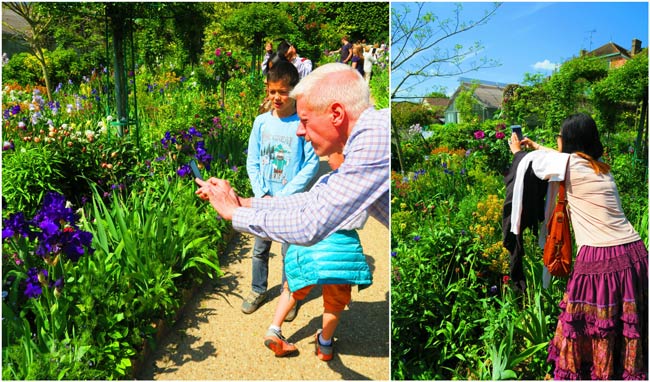 After a while, you'll venture underground and exit on the other side of the 'highway' for the climax of your visit to the Monet garden. This is the famous, truly magical, and super crowded water lily pond section of the garden.
Narrow lanes are running around the perimeter. Unfortunately, when it's busy over here, you'll find yourself just moving along without really being able to suck in the beautiful views. That's not to say you won't have a good time!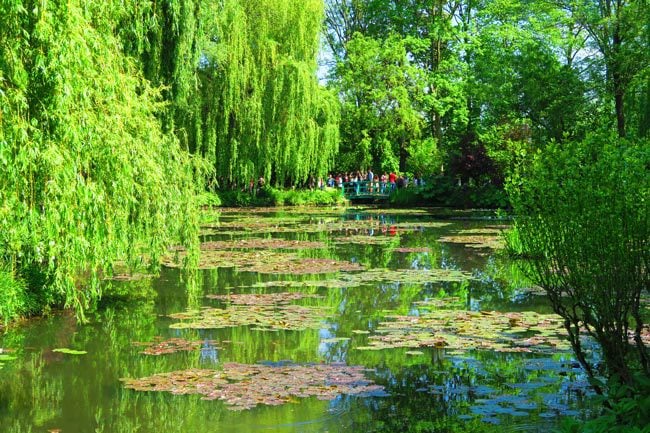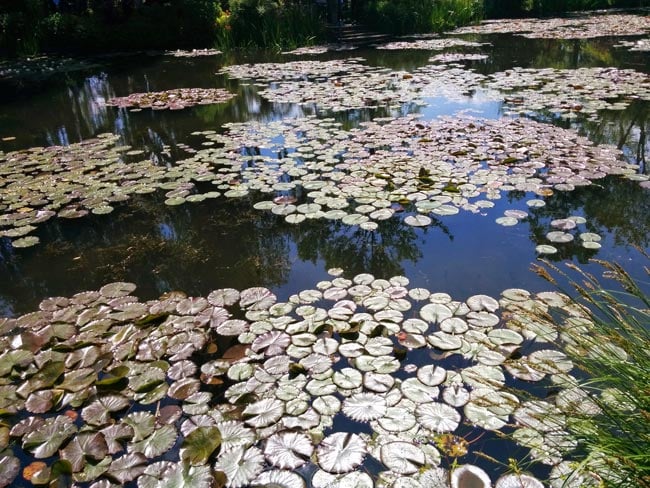 From over here, you can get a great view of the Monet house from across the pond. We'll visit the house in a second, but what a view!
On your way back to the first section of the garden, you'll pass by the famous Japanese bridge, which is hopefully covered in wisteria when you visit. This bridge served as the scene for many of Monet's paintings. As I've mentioned in the introduction, Monet painted the same scene in different seasons to show the changing effects of lights so it's very interesting to go back home and look online at the various paintings taken from this exact same spot.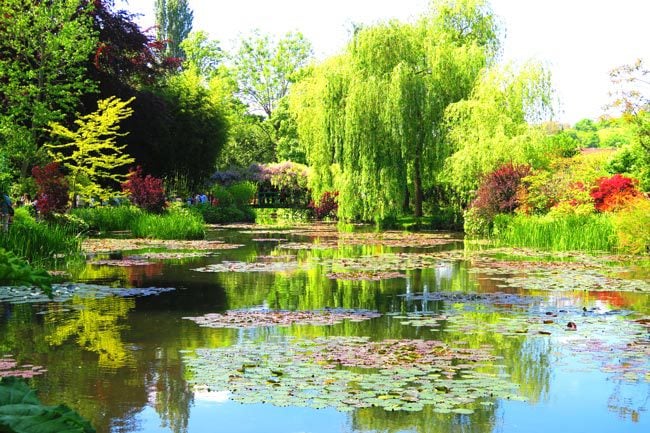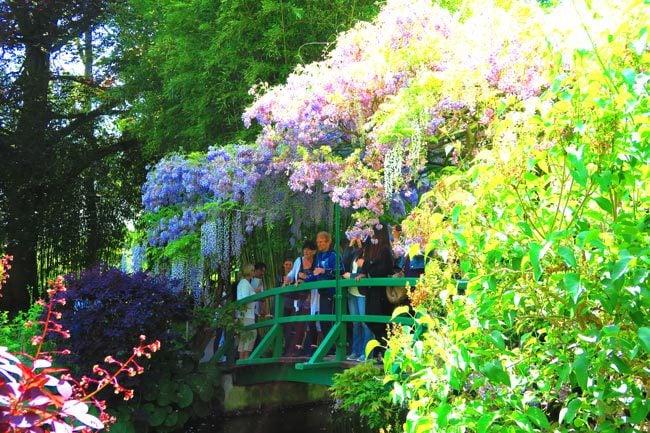 It does get super crowded over here, as you can imagine, but wouldn't it be nice to have the garden all to yourself? Monet was a lucky man!
Inside Monet's House
It wouldn't be the Monet house & garden without the Monet house, would it? What a cute home did Monet have; so similar is the house to his paintings, with each room colored in soft and cheerful pastel colors.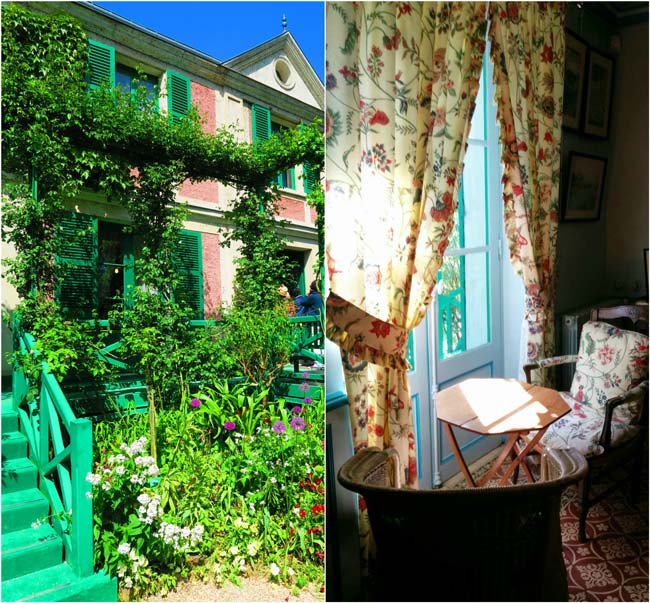 It can get crowded inside the house, but things seem to move along like the garden. In the living room, dozens of paintings are on display, with familiar scenes from the garden just outside and from other parts of Europe.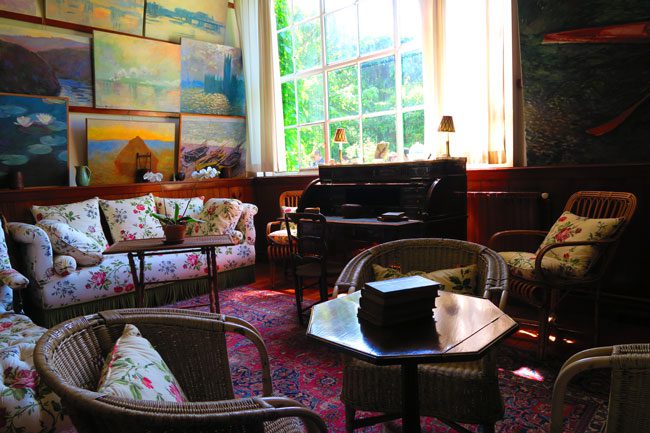 The real highlight is the Monet bedroom. Have a look at the gorgeous view from the bedroom windows. Imagine waking up to something like this on a bright spring day? The photos below can't show you the sound of the birds who, just like us, are enjoying these beautiful gardens.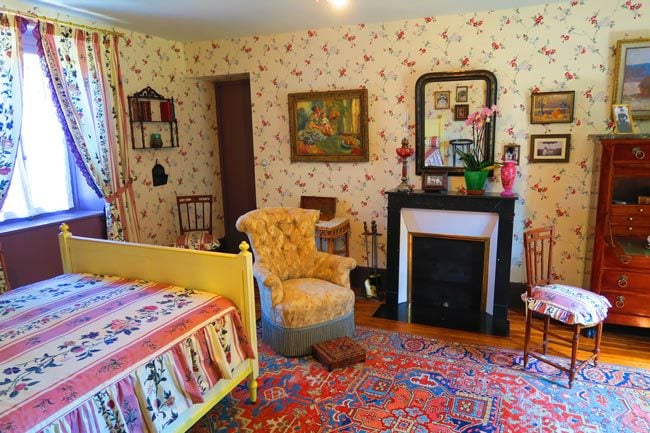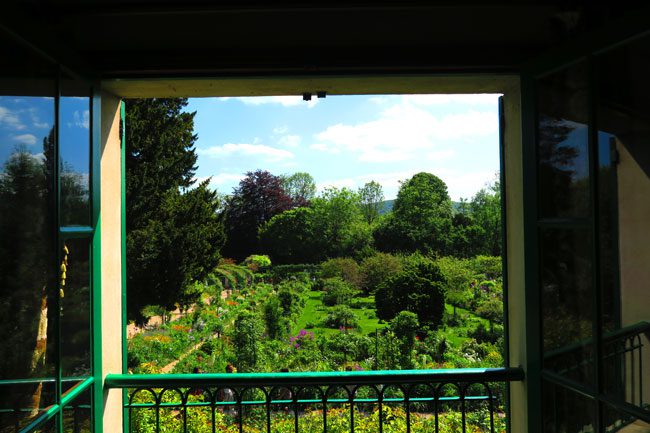 The Village
We spent about 90 minutes inside the Monet house & garden, but if you want to see more of Giverny village, you can visit nearby museums or stroll through the main street, Rue Claude Monet (of course). You'll find a bunch of cafes, restaurants, art galleries, and historical landmarks here – all in a tranquil setting.
In Conclusion
Visiting Monet's Garden in Giverny was definitely a well-worth day trip from Paris. Despite the crowds and the queues, we had a great time. What greatly contributed to our day's enjoyment was the drive through the countryside and the picnic that we did (see above). It's hard to imagine that such beauty, as we saw on this perfect day in May, is a mere one hour's drive outside Paris. Whether you like art or not, whether you've heard of Claude Monet or not, visiting Giverny is highly recommended as a day trip from Paris if you have the time and have already made the almost mandatory visit to Versaille.
What's Next?
Plan the perfect trip to Paris with free and in-depth Paris travel guides, including the Best of Paris collection and a guide to all major Parisian neighborhoods.