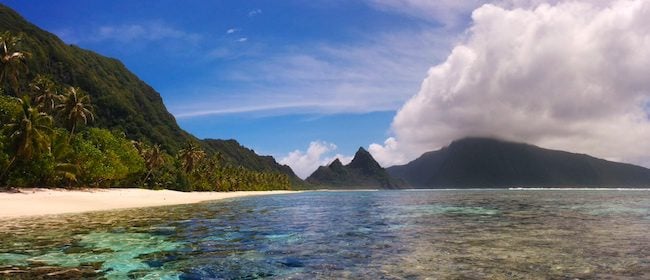 Putting the 'R' in remote, a visit to the tropical US territory of American Samoa is a fascinating experience. With a unique blend of modern American influence and a traditional 'island life' mentality of Samoans, American Samoa runs at its own pace. From hiking the giant peaks of Tutuila Island to touching down on one of the prettiest tropical beaches in the world in Ofu Island, a visit to American Samoa is a coveted achievement unlocked. I visited both Tutuila and Ofu on a short hop from neighboring Samoa while backpacking across the South Pacific islands. This 10 days in American Samoa sample itinerary is based on my experience, sharing with you my little secret of the paradise I found.
What's Included In This 10 Days In American Samoa Itinerary?
Introduction & Essential American Samoa Travel Tips
Part 3: Pago Pago & Tutuila (1 day)
Visiting other South Pacific destinations? Get expert advice on how to island hop in the South Pacific and check out these travel guides to French Polynesia, the Cook Islands, Samoa and Vanuatu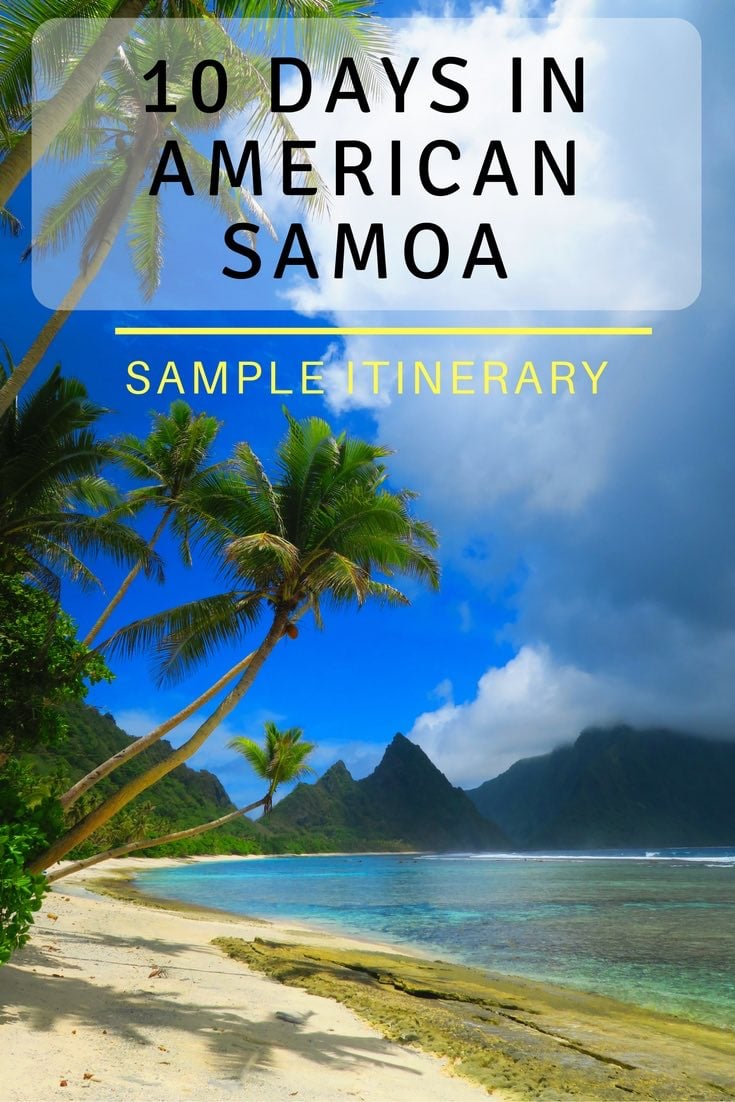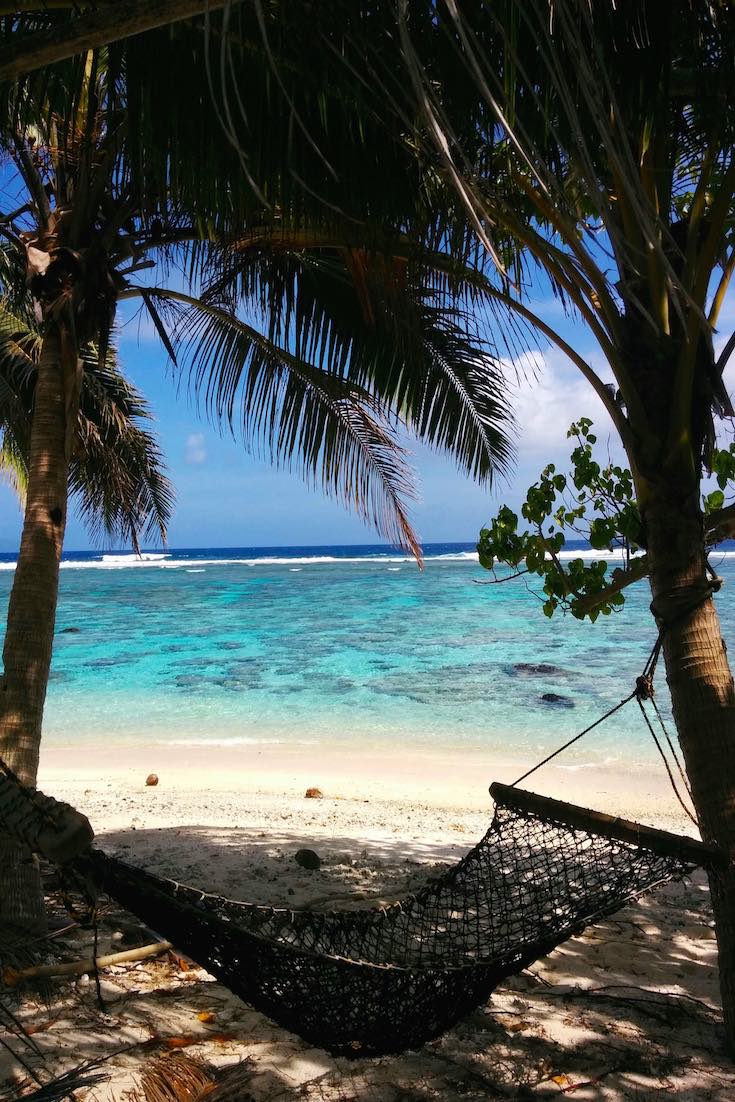 Pin These Photos To Your Favorite Boards!
Why Should You Visit American Samoa?
American Samoa is definitely not a top tourist destination, but that's what makes it all that more interesting. Aside from a cruise ship or two, the islands don't get that many visitors so you'll feel special around here. The main island of Tutuila is a beautifully sculpted piece of work, with lush jagged peaks towering over a narrow coastline. The Manu'a Islands of Ofu and Olosega are just a 30-minute flight from already remote Pago Pago, but out here you'll sometimes have the island all to yourself. Thanks to incredible work by the folks at the National Park of American Samoa the territory's pristine tropical nature is absolutely accessible, a rarity on other South Pacific islands. Come here if you are curious, come here for nature and make sure you also make it to the paradise of Ofu!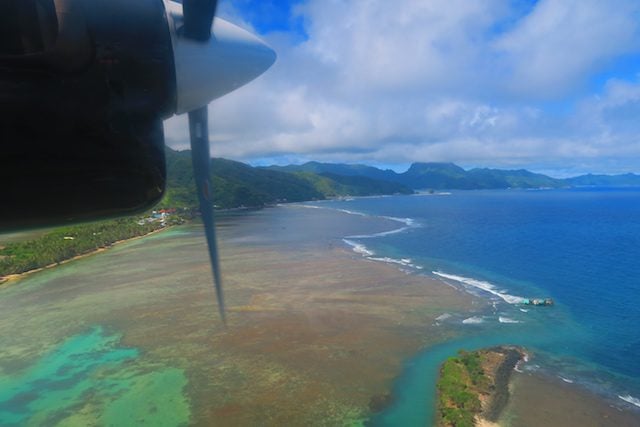 Facts & Brief History
Americans Samoa is the only US territory south of the equator, established in 1900 when Samoan chiefs in the main island of Tutuila ceded their land to be managed by the US with the smaller outer island later joining. Its origins are similar to that of neighboring Samoa, colonized thousands of years ago in an impressive wave of Polynesian migration that little is known about to this day.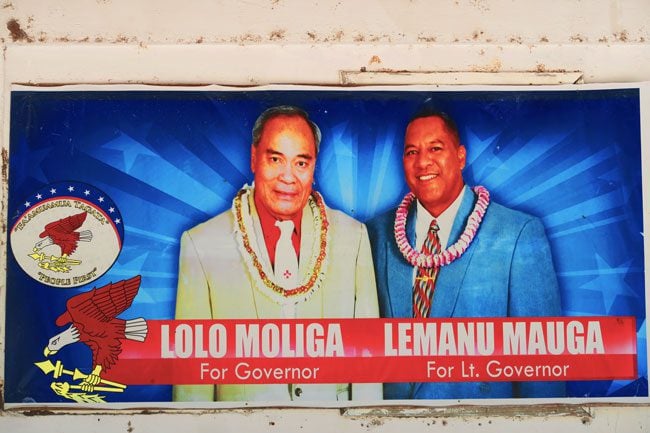 By the second half of the 19th century, the world's superpowers were fighting for influence over the South Pacific Islands. After a naval standoff in the Apia harbor in 1889, Germany was awarded 'Western' Samoa and the US with 'American' Samoa. The US was especially interested in the deep Pago Pago harbor, where coal was stored and where entire fleets could safely anchor. The harbor fills a caldera formed by a collapsed volcano. Pago Pago's strategic importance grew during WWII, with a fear of a Japanese invasion en route to Australia. Fortifications were erected, but other than a small incident, nothing serious really happened.
American Samoans are not US citizens, but they are free to enter and work in the US as they wish (a recent court ruling in Dec 2019 ruled that American Samoans should be granted U.S citizenship at birth). In fact, many American Samoans join the military as a means to get off the small and often congested Tutuila Island. While only 163 km separate the 'two Samoas', American Samoa is strikingly different – with the absence of the traditional and ubiquitous Samoan fale, the proliferation of air conditioning, fast food, large pickup trucks, social security, food stamps and football instead of rugby.
Unfortunately, car ownership, the lack of physical exercise needed for survival (hunting, fishing, etc.) and a poor diet (spam, turkey tail, junk food) have all contributed to American Samoans being among the heaviest folks in the world. It's a shame that the territory's beautiful nature can hardly be enjoyed by some of its residents. Despite some of these 'American influences', American Samoans value traditional customs of family life and church – much like their brothers and sisters out west.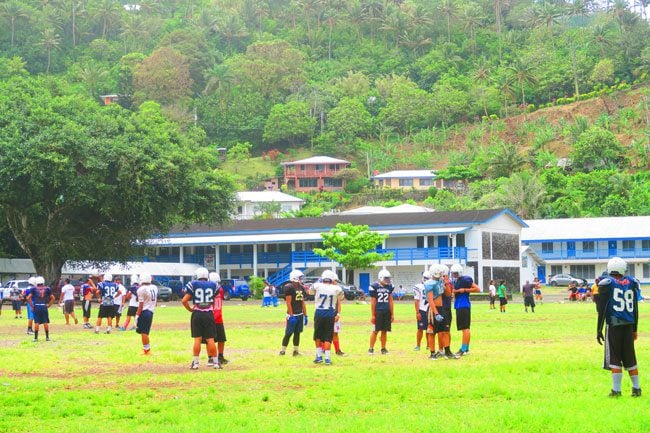 These days, American Samoans living in the territory are primarily employed in government jobs, small private-sector jobs and work in the tuna cannery. In an effort to boost the local economy and create jobs, tuna that is packaged in Pago Pago may enter the US mainland quota and tariff-free, so check your Starkist – maybe it was canned right here!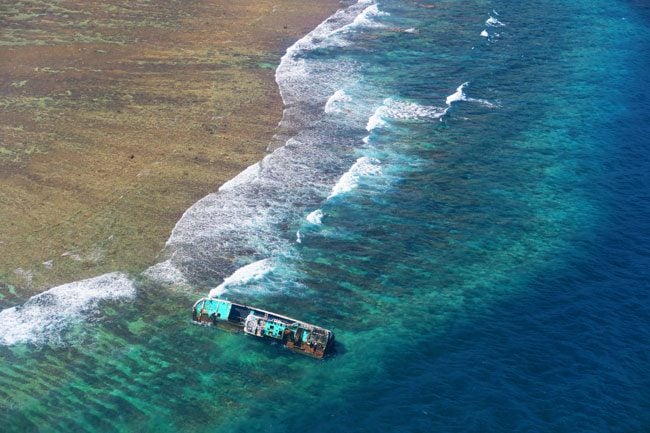 In 2009, an 8.1 earthquake caused a massive tsunami that struck American Samoa. Waves up to 6 meters reached over 1.5 km inland, causing extensive damage, pollution in the harbor and claiming the lives of 22 people.
American Samoa Travel Tips:
Don't forget to bring with you the Lonely Planet guide to American Samoa, only on $14 Amazon! Together with this practical itinerary, it'll be your best friend in this remote and beautiful part of the world.
The best time to visit American Samoa is from April/May to October. These months are known as the 'dry season', where there is less rain, more sunshine and no risk of cyclones. Keep in mind that even the dry season sees wet and cloudy weather, especially in Tutuila. You can't have all this green without the rain. I visited American Samoa during the end of October / start of November and while the weather in Ofu was perfect, I only enjoyed brief moments of sunshine on Tutuila.
Wondering what to pack? Have a look at the X Days In Y Packing List for advice on the right travel gear for the South Pacific.
If you're planning to visit during the Christmas holiday, book well in advance as flights quickly fill up with Samoans ex-pats returning for a family visit.
American Samoa is reached via direct flights from Hawaii (5.5 hours) and Samoa (40 mins). Flights from Samoa are frequent and very inexpensive. There is a passenger ferry between Apia and Pago Pago for those who have the time. If you are flying from Samoa, it'll be on a tiny plane prone to weight restrictions so make sure your bag makes it on board! UPDATE: as of July 2017, you can now fly to American Samoa not only from Samoa but also from Tonga with newly formed Talofa Airways. Keep in mind that a lot of these newcomers rarely stay in business for more than a few years so double-check.
All visitors must be able to show a return ticket upon entering American Samoa. Aside from US citizens, check VisaHQ to see if you need to apply for a visa to American Samoa ahead of time.
The US Dollar is the official currency and English is spoken by everybody.
How much does it cost to spend 10 days in American Samoa? Here's a cost breakdown of my 10-day visit to American Samoa. On the ground, expect prices to be slightly higher compared with the mainland, except the standards are not on par and budget options are few and far in between.
Internet access is readily available in American Samoa and free wifi is common in hotels and restaurants (but not at the airport). Visit the Blue Sky website for info on internet hotspots and prepaid mobile SIM cards.
Though a US territory, the traditional and easy-going Samoan way of life dictates things around here. So leave plenty of extra time for getting around, don't ever get upset (you're in paradise after all) and don't bargain as it's against Samoan culture. Read more about Fa'a Samoa (The Samoan Way) and village protocol in the Samoa Travel Guide.
If you haven't already done so, watch the incredible documentary film 'Next Goal Wins'. Aside from its interesting plot, you'll discover the natural beauty of Tutuila Island and get a beginner's understanding of the unique Samoan culture.
If you're planning to hike, pack: water-resistant hiking shoes, quick-drying long pants, lite rain jacket and a day pack. If you're planning to hit the water, bring your own mask & snorkel and wear reef shoes.
Especially on a visit like this, make sure you have sufficient travel insurance. World Nomads offer excellent coverage and value for money.
10 Days In American Samoa Map
Click on the image to open in Google Maps: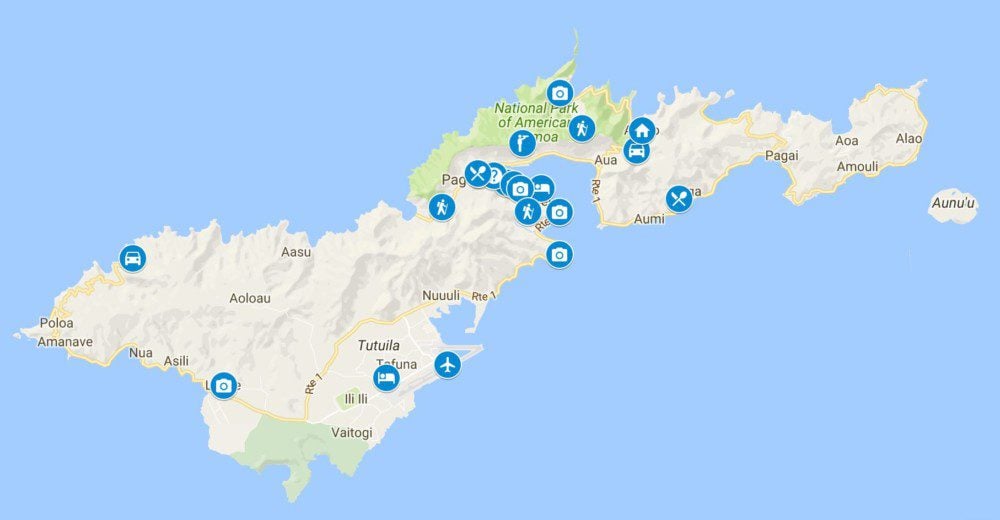 Part 1: Pago Pago (2 Days)

Pronounced 'Pango-Pango', Pago Pago is the largest settlement in American Samoa. But it's actually not a town per se, more like an area along the Pago Pago harbor that's home to several small villages. The thin sliver of flat coastal land is mostly taken up by shops, schools, government & infrastructure facilities, hotels, and the port. At its eastern end is the tuna cannery, a major source of employment for locals.
Pago Pago can feel a bit hectic, with constant traffic on its two-lane 'highway'. Everybody has a car on the island, preferably an American made pickup truck. But Pago Pago does have its tropical charm. To fully appreciate the beauty of the place, go for a stroll as school wraps up. Even better, venture inland on a thrilling hike and you'll find yourself in a whole new dimension, where the madness of town is replaced with breathtaking views.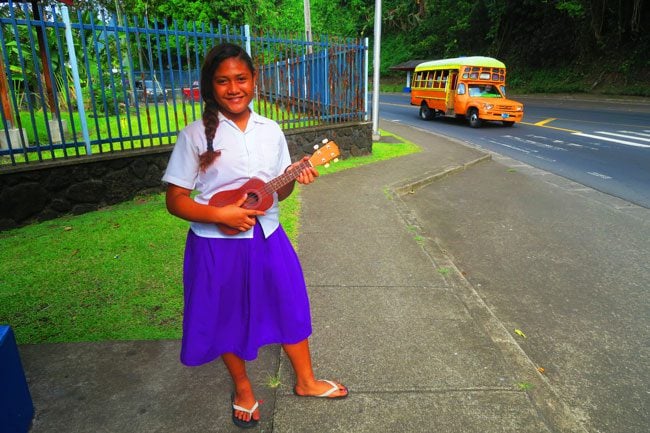 Pago Pago & Tutuila Island Travel Tips
A taxi to and from the airport will cost $15. You can also take the bus for about $2 but depending on where you're staying, you might have to switch lines at the Fagatogo Market which also serves as the island's main bus terminal.
Getting around Pago Pago on foot is possible, but getting to some hiking trails will require hitching a ride (Samoans are very friendly).
To explore Tutuila Island, renting a car is highly advisable (about $70 per day) though keep in mind that traffic, especially around Pago Pago, means extra driving times even for short distances. If it's just a specific village that you wish to visit, using the bus should be fine.
Visit the National Park of American Samoa (NPS) visitor center to get useful tips and brochures about all the incredible hiking opportunities on Tutuila and the outer islands. The friendly folks at the NPS can also assist in pairing you with a local family as part of the homestay program.
For your safety: always drink bottled or filtered water as Pago Pago's streams are sadly often contaminated, especially after heavy rain (this is also true of some of the island's swimming beaches). You'll likely notice water dispensing machines that look like vending machines from back home. Even locals must purchase filtered water. Be aware of your nearest Tsunami evacuation route. It's rare but can happen, as it tragically did in 2009. There have been outbreaks of Dengue, Zika and other mosquito-borne diseases in American Samoa. Always apply repellent, especially on Tutuila and check the National Park's alerts page for more information.
Sunday is a time for church and family in Samoa so most businesses will be closed. Use this opportunity to immerse yourself in local life in one of the villages.
ATMs are easy to find around the Fagatogo area but keep in mind they have a daily withdrawal limit. I had to withdraw from two separate ATM's to have enough cash for my onward trip to Ofu.
Where To Stay In Pago Pago?
You can feel that American Samoa is not a top tourist destination by the lack of accommodation options, even in and around Pago Pago. So expect prices to be quite high and the selection quite low. That said, here are a few good options to suit all budgets:
Day 1: Pago Pago, Fagatogo & WWII Cannons
The drive from the airport in Tafuna to Pago Pago will take about 30 minutes, depending on traffic which can be quite bad on this part of Tutuila. Tafuna is the largest flat area on this mountainous island and it's here that you'll find residential communities, small shopping 'centers' and a few culinary reminders that this is a US territory after all.
Along the way, you'll pass by the Fatu Rock (Flowerpot Rock), rising out of the shallow waters and covered with tropical vegetation at the top. It kind of looks like that cliff from James Bond Island in Thailand and its image stars on every American Samoa license plate.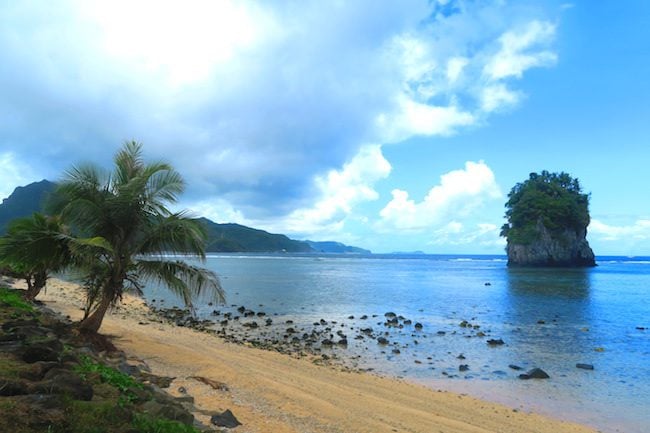 Walking Tour Of Pago Pago
After you've checked into your Pago Pago hotel, slip into something comfortable and head on a walking tour of the area. If it's time for lunch, head over to Emilio's Bakery. Aside from the obvious baked good, they do pretty good lunches as well (the grilled fish with rice was excellent). The wifi is free and so are the drink refills.
Start your Pago Pago tour with a visit to the National Park Visitor Center, where friendly rangers will be happy to share with you practical information and guidance on the 10 hiking trails on Tutuila Island and the 3 trails on outer islands. The center also has an exhibition showcasing the island's natural history and its flora fauna. It's useful to start here and get your tourist questions answered.
Continue walking along the waterfront to Fagatogo, Pago Pago's commercial center. The Fagatogo Market is adjacent to the 'central' bus station. Buses in American Samoa are even 'cuter' than the ones in Samoa, especially the small ones which are essentially pickup trucks fitted with a passenger compartment.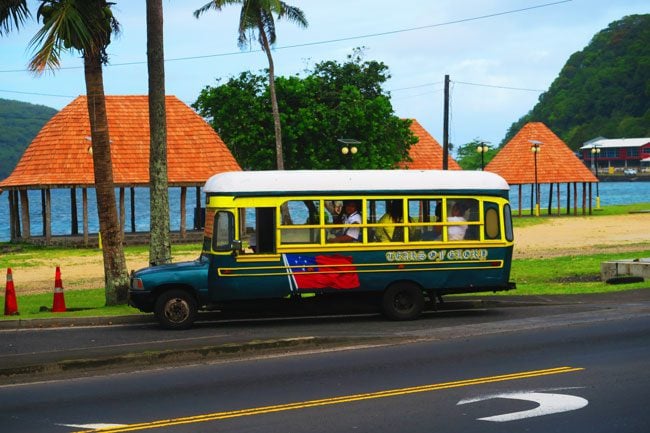 The market itself is at its busiest on Fridays, but weekdays see some action as well, with a few fruit and vegetable stalls, souvenir shops and takeaway food options further in the back. It's nothing like the markets of Apia or the Papeete Market in French Polynesia so don't expect too much.
Fagatogo not only houses the busy McDonald's branch, but also a few historical buildings, mainly the Navy Administration Building. The US Navy administered American Samoa until 1951 and this building is where all the shots were called.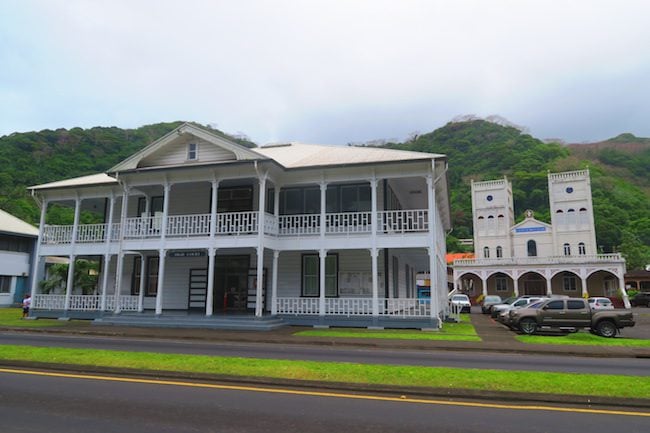 After passing the large container port, you're now officially in Utulei Village. There's not much to do here aside from a few shops, ATM's and a small beach that's popular with local schoolchildren who study just across the road.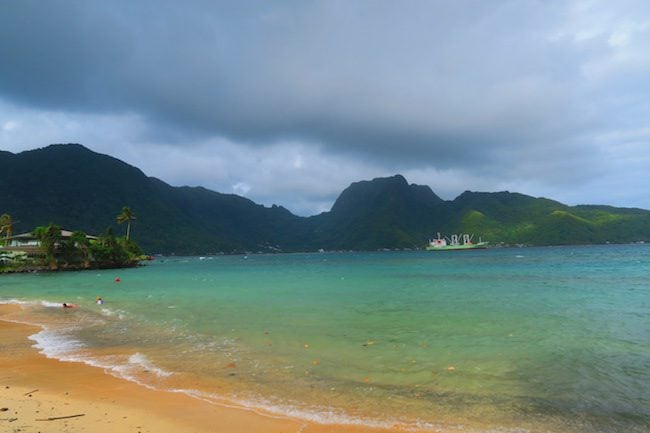 WWII Sites
Continue walking past the gas storage facility until you reach the 'IBM Laundromat'. A sign will point out the trailhead for the Blunts Point Trail. This easy 1 kilometer (return) hike will lead you through the rainforest to a WWII gun station. After the bombing of Pearl Harbor in 1941, such batteries were installed all around Pago Pago harbor to protect against Japanese invasion. The soldiers are long gone but the frogs are not, taking refuge in the small bunker that likely housed the ammunition. The view from up here is superb and the entire affair takes about 30 minutes.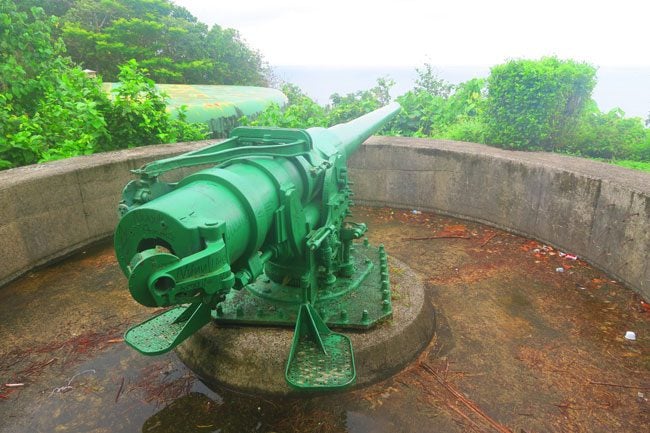 If you want to continue hiking, the Blunts Point Trail links up with the longer WWII Heritage Trail. This 3 kilometers (round trip) moderately difficult hike will actually end in Fagatogo, but instead of walking on sea level, you'll hike deep in the tropical rainforest. From the Blunts Point cannon, it's about another hour on the Heritage Trail. You'll pass by a number of other WWII installations, completely overrun by nature like in some science fiction movie depicting 'life after humans'. The hike is easy going except for a few steep sections where you'll use a rope. At the end of the trail, you'll descend a series of steps and find yourself just behind the main police station in Fagatogo (where you could have technically also started the trail).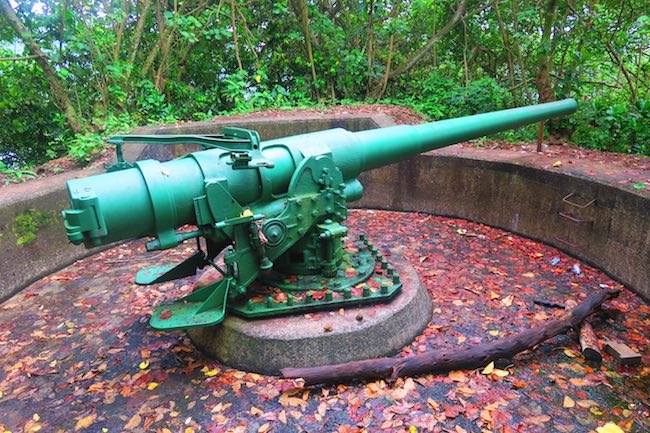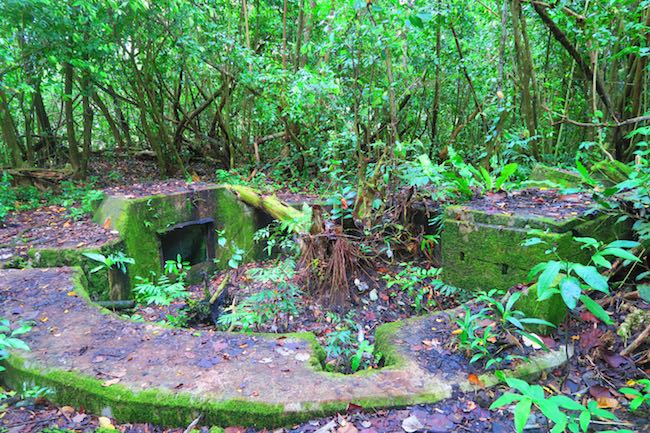 Now that you're completely soaked in sweat, it's time to head back to your hotel, shower and go for a well-deserved dinner.
Day 2: Mount Alava Hike & Eastern Tutuila
Today will combine a bit of hiking and a bit of road tripping so having a car is not a bad idea.
Mount Alava Hike
After breakfast, pack plenty of water, hiking gear (shoes are a must, shorts OK) and a change of clothes (you'll be sweaty), and head to the Fagasa Pass. Somewhere at the top of the pass is the trailhead to the Mount Alava Trail – one of the best hikes in American Samoa. It's a challenging 11.5 km (round trip) hike, but if there's one hike on Tutuila you should do – it's this one!
The roughly 90-minute hike to the summit of Mount Alava (491m) leads you along the ridgeline which runs high above the harbor. You'll be hiking through pristine Samoan rainforest, covered with lush vegetation and teeming with tropical life. From time to time, you'll reach a small clearing where you'll get to appreciate the beauty of American Samoa's rugged coastline. Fagasa Bay and even Massacre Bay come into view on a clear day en route to the summit.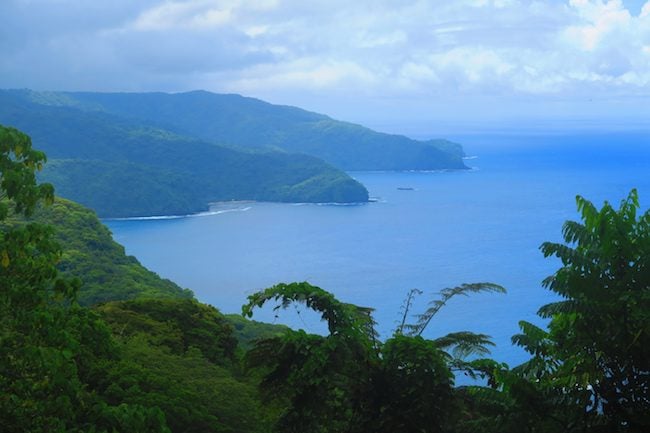 Almost at the top, you'll reach a set of steps and a rusty rail that leads to the summit of Mount Alava. The panoramic views from up here are absolutely sensational: Rainmaker Mountain, Pago Pago harbor, and the northwestern coastline. If you haven't already done so, you'll now fully understand why the US wanted Pago Pago's immense natural harbor so badly.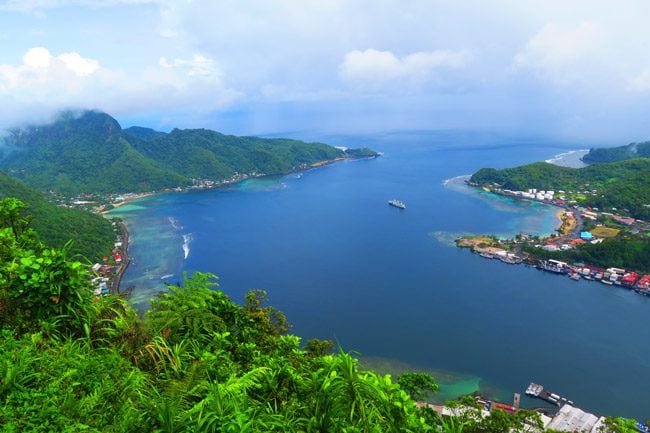 Aside from the great views, the summit is also home to a large antenna and a defunct cable car that used to run high above to harbor. It was a top tourist attraction in the '60s and '70s but has been rusting away since the 1980s. I have heard of plans to reopen this ride.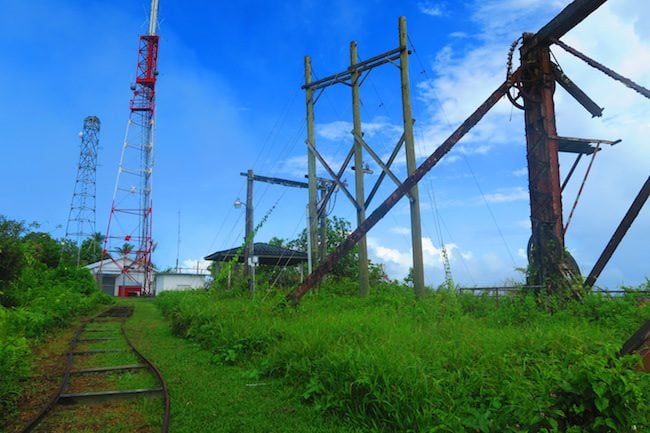 From the summit, you can link up to the Mount Alava Adventure Trail, a challenging hike down to the coastline via a series of 783 steps and 56 ladders. Alternatively, you can just turn and hike back to the Fagasa Pass like I did (roughly 60 minutes). Keep in mind that the weather up here can change very quickly. About halfway through the hike, the skies opened up and by the time I reached the summit I was completely soaked. In a matter of 10 minutes, the rain stopped and there was even a bit of sunshine up at the summit. Mind you the hike back was a bit muddy though absolutely worth the effort!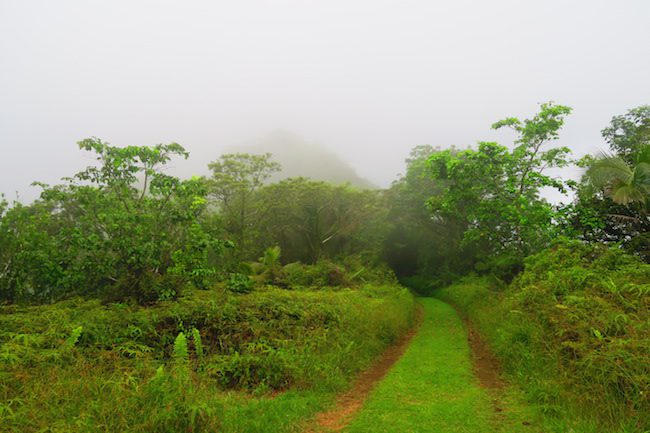 Short Road Trip
After downing a few liters of Gatorade in true American fashion, change out of your sweaty hiking gear and head east of Pago Pago to Alega Beach. Stop at Tisa's Barefoot Bar for a well-deserved lunch, and spend the next few hours on the beautiful beach!

Part 2: The Manu'a Islands – Ofu & Olosega (7 Days)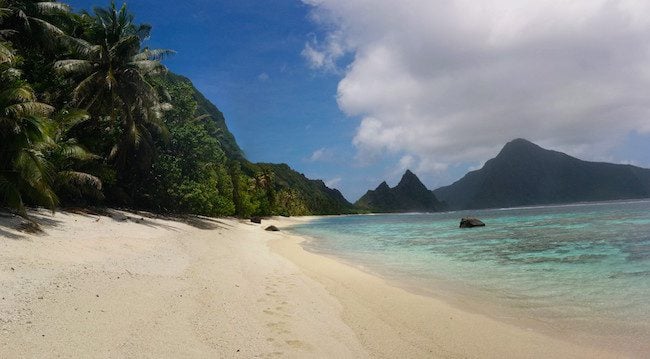 A travel cliché says that the toughest places to reach are often the most rewarding. This is true of the twin islands of Ofu and Olosega in the Manu'a Islands of American Samoa, among the most remote tropical islands that can 'relatively' easily be reached.
Touchdown on the beachside runway in Ofu signals the start of the weekly rush hour, as locals greet relatives returning from Tutuila with a big smile, government workers change shifts and a few lucky tourists begin the vacation of a lifetime. On the menu? Jungle covered peaks hiding rare coconut crabs under the canopy, some of the cleanest air in the South Pacific, sleepy villages waking up only for Sunday church service, and a beach worthy of an Oscar – if only 'The Academy' would be aware of its existence.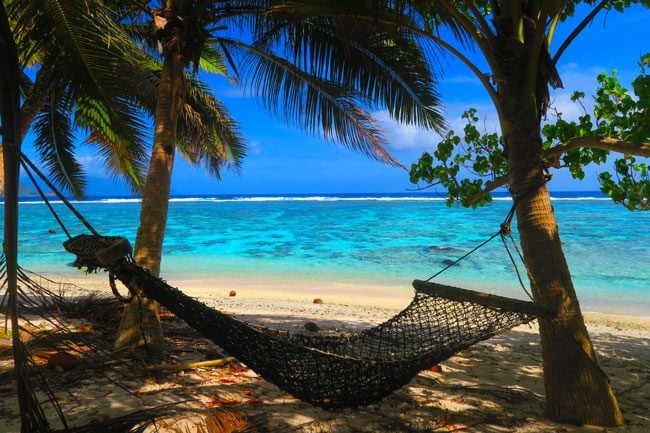 Any traveler in search of a pristine, yet to be discovered destination and with a love for the tropical outdoors – should absolutely make the effort to make it to Ofu. After All… you've come this far. The only catch? Once you've visited paradise, how will everything else compare?!
Ofu Travel Tips – How To Get To Ofu Island?
Flying is your only (practical) way to get to Ofu. At the time of writing this guide, Polynesian Airlines (rebranded as Samoa Airways) was the only airline serving the Manu'a Islands, with a weekly direct flight to Ofu from Pago Pago (30-40 mins), therefore making sense to spend an entire week in paradise. UPDATES: (1) as of June 2017, Manu'a Airways is planning service from Pago Pago to Ofu (and from Pago Pago to Ta'u) starting in mid-2017. I don't know if they'll actually make this date or how long they'll be in business but this is very good news for both locals and tourists trying to get to Ofu. (2) As of November 2017, Polynesian Airlines has been rebranded as Samoa Airways which also flies international routes from Samoa to/from Australia and New Zealand. Samoa Airways has announced bi-weekly flights from Pago Pago to Ofu in early 2019, but things constantly change when it comes to South Pacific aviation.
You can fly to/from neighboring Ta'u, more frequently serviced by direct flights from Pago Pago by Samoa Airways. However, you will need to arrange a boat transfer to Ofu which costs about $150 per boat (and can be choppy). Your host will help you arrange this and the more passengers to share the ride, the cheaper it is per person.
One thing to note: the FAA keeps a tight lid on small airlines servicing the islands. It, therefore, renews the airline's license on a monthly basis, which means securing your Ofu flight can only be done within the month you wish to travel. Paradise is hard to reach but trust me, it's totally worth it. UPDATE: as of November 2018, Samoa Airways can now book flights up to six months ahead, thanks to a special waiver granted by the federal government. Hopefully, this waiver will be extended but keep in mind that things can quickly change under certain circumstances.
In Pago Pago, get to the airport at least 2 hours prior to your flight. If the check-in counters are not yet manned, leave your bags by the counter to mark your spot. Planes are very small and tend to reach their weight capacity quickly, with 'heavy' locals flying to/from the islands along with cargo which often includes coolers packed with fresh fish. To avoid the near heart attack I had, it's better to get to the airport early!
There are no ATM's on Ofu and Olosega so bring all the cash you need. Each village does have at least one small grocery shop but if you have some extra weight in your bag, pick up some snacks in Pago Pago for the week.
There is no cell phone reception in Ofu but there is surprisingly very fast internet. Do yourself a favor and use this week in paradise to do a digital detox.
Avoid swimming near the small break in the reef on Ofu Beach as you can get sucked out to the open ocean (and nobody is around to save you). Look for the warning sign on the beach and inquire with your hosts. In any case, it's located in a spot that's not great for swimming so you'll likely not make it out here.
Aside from enough cash and some snacks, pack with you: hiking gear (long hiking pants), mosquito repellent, sandals/reef shoes, 'nice' clothes if planning to attend Sunday service (recommended) and plenty of books. When going hiking, take at least 2L of water per person with you.
Where To Stay In Ofu?
Without a doubt, the best place to stay in Ofu is at the Vaoto Lodge. A long-running family establishment since 1979, it is now run to perfection by Deb and Ben. Deb is the daughter of the lodge's founders and Ben is the descendant of a Japanese family who's Pago Pago shop was ironically the only one damaged in the sole Japanese shelling of Pago Pago in WWII. Considering just how remote this place is, the lodge exemplifies the true meaning of paradise – without the need for luxury overwater bungalows.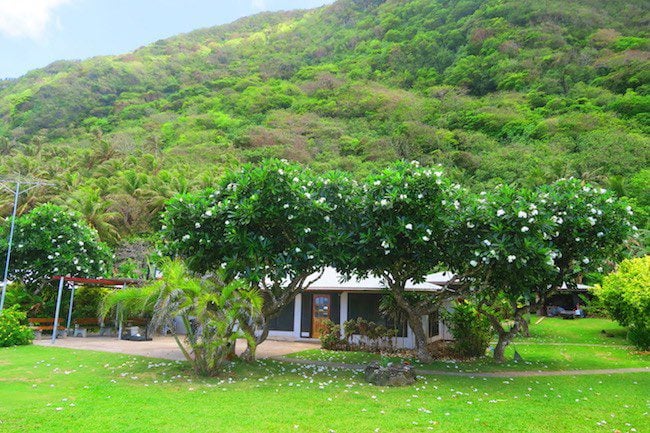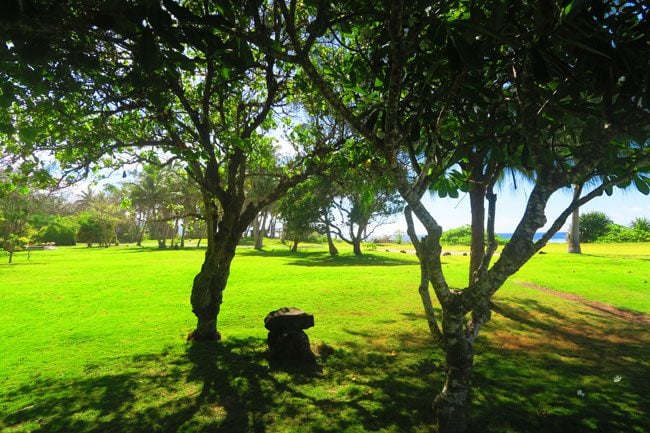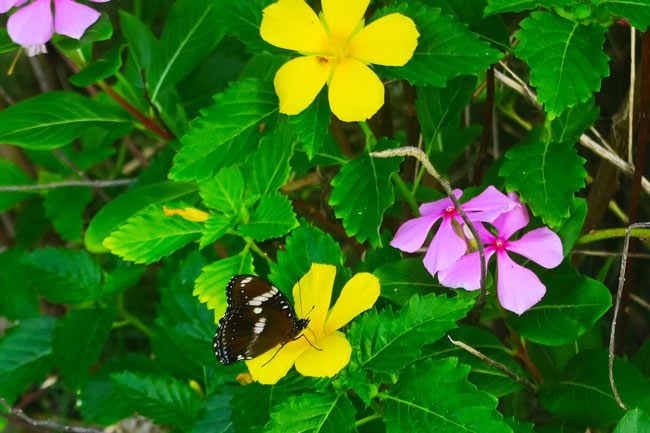 The lodge is located on a green patch of grass dotted with heavenly scented trees right at the very edge of the airstrip. The most 'happening' spot on the island when the weekly flight lands and departs, the airstrip is unused during the rest of the week – a fantastic spot for stargazing.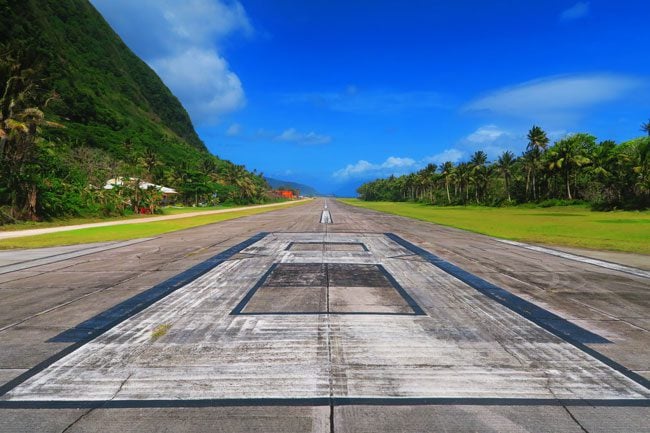 Rooms are large, clean and comfortable, complete with mosquito nets, a hot shower, fan and some even with wall mounted AC units. Windows are screened and towels are provided.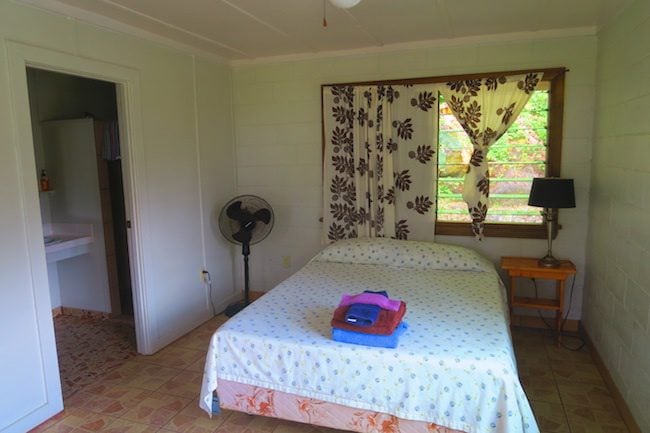 Meals and beer can be purchased, with the communal dinners the absolute highlight. Deb and Ben whip up delicious meals like Ben's famous chili, seafood BBQ night, Mexican nights and home baked pizza. The lodge often hosts marine biologists, journalists, researchers, visiting medical staff, missionaries and obviously – like-minded travelers like you, so the conversation is always fascinating. Cold drinking water is free to use and the main house is where you'll get online (surprisingly fast wifi), shoot some pool, grab a book or watch TV.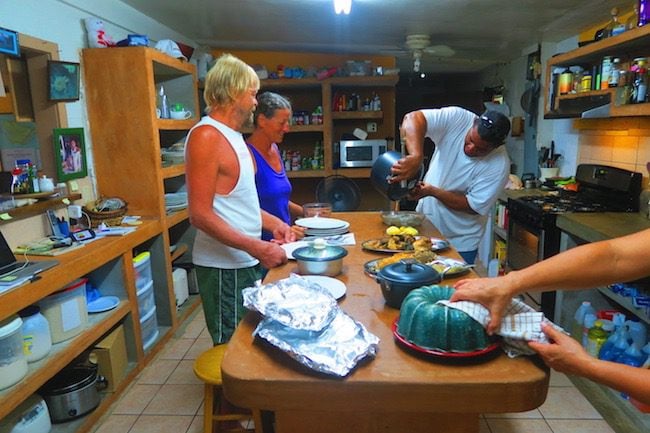 The lodge does have some snorkeling equipment left over by other guests but I highly recommend bringing your own (fins useful but not a must). There were no bicycles to use when I visited but you might be able to rent a vehicle if one is available. Getting around on foot is not a problem though and any local passing by will always offer a lift.
Ofu Beach is a pleasant 15-20 minute walk from the lodge, but there is a beach right out front that's good for swimming and snorkeling between the tides. In season, you'll even be able to spot whales off the coast. The National Park's ranger station is adjacent to the lodge, a convenient stop upon arrival for learning about the superb hiking opportunities on the islands.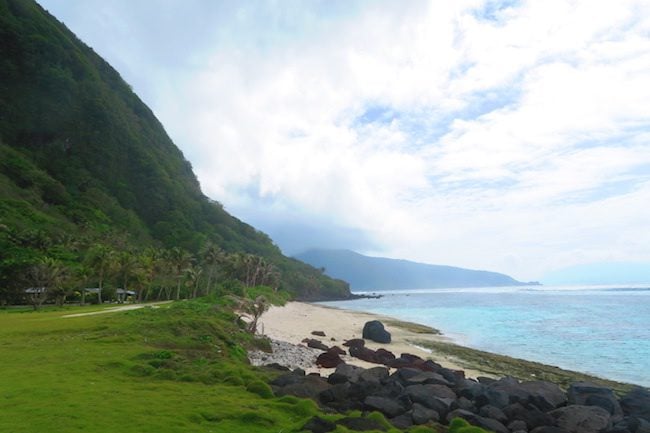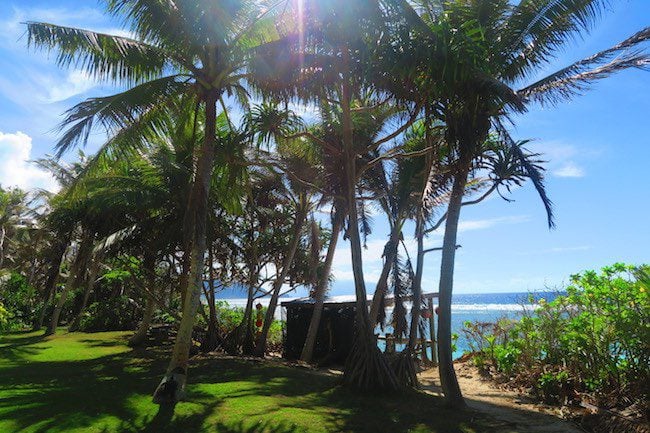 In the event that Vaoto Lodge is fully booked, the Asaga Inn is also a comfortable option. The inn is operated by Army veteran Trevor and his family, descendants of the chief responsible for successfully lobbying the American government to build a bridge over the Asaga Strait, finally connecting Ofu with Olosega. You'll find here comfortable air-conditioned rooms, wooden outdoor fales (Samoan open-air huts) and a grocery shop. The inn is located on the western side of the bridge, about a 20-minute walk from the prime swimming area of Ofu Beach. Should the Asaga Inn be full, there is a colorful grocery shop owner in Olosega Village that also offers rooms for rent. You'll need to ask around about this option but that shouldn't be a problem as everybody knows each other over here.
Things To Do In Ofu & Olosega
Since you're here for a week and the islands are so small, there's not really a good and bad way to arrange your time. So I'll simply list all the top things to see and do in this section and you can plan your own itinerary.
The Coastal Road
A concrete road connects the villages of Ofu with Olosega. Well, to be exact, the road ends a few hundred meters before each village and the rest of the way is just sand. With power lines buried in the ground to protect from the elements, walking along the road feels like walking on some distant tropical planet. On one side, the strikingly blue and white colors of water and sand peak from time to time from beyond the thick coastal vegetation. On the other side, thousands of coconut trees grow at the footsteps of Mount Tumutumu, teeming with flying fruit bats and songbirds galore. In front of you, the signature jagged edges of the Sunu'itao Peak. It really doesn't get any better than this, and you'll be whistling from pure happiness all the way. The only road hazard? The occasional falling coconut!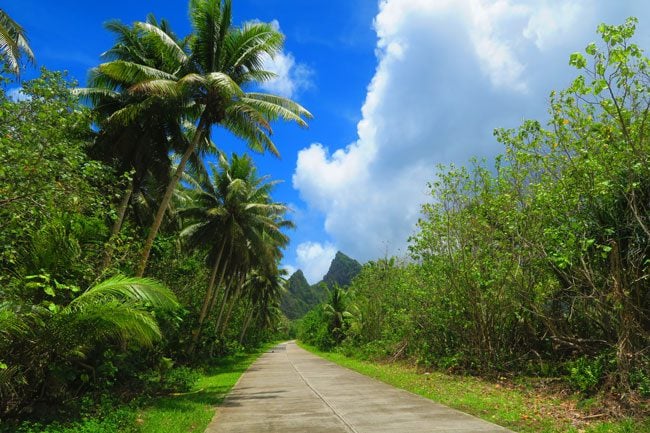 Ofu Beach
It's hard to describe the sense of accomplishment upon touching down on Ofu Beach, which has to be one of the prettiest tropical beaches in the world without a doubt. The soft white sand simply melts between your toes, the leaning palm trees perfectly bend to isolate you from the rest of the world, the mountains in front of you rise like giant shark fins out of the water, and the water – oh the water! And you know what the kicker is: you'll have this long stretch of pristine beach all to yourself. Here's what it looks and sounds like on Ofu Beach.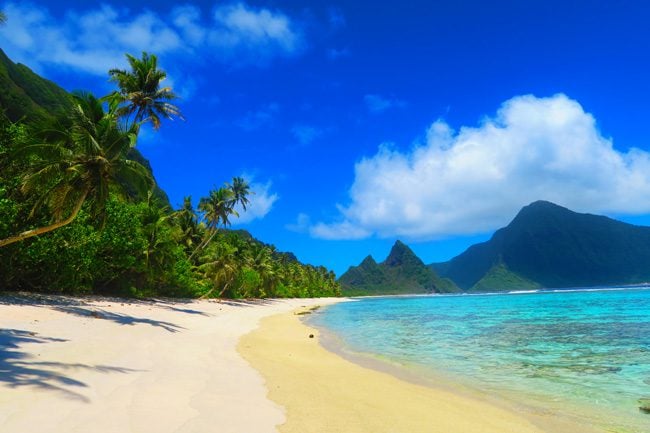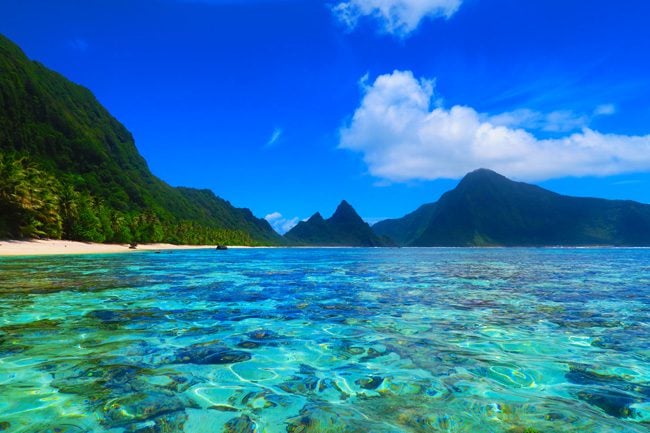 Aside from the occasional local's BBQ over the weekend, I hardly saw anyone on the beach during my week in Ofu. After walking up and down the beach several times and testing out various spots, I came to the conclusion that the best spot is right across the hurricane shelter. You'll see this shack on the side of the road so simply cross over to the beach, where makeshift chairs and tables mark the spot.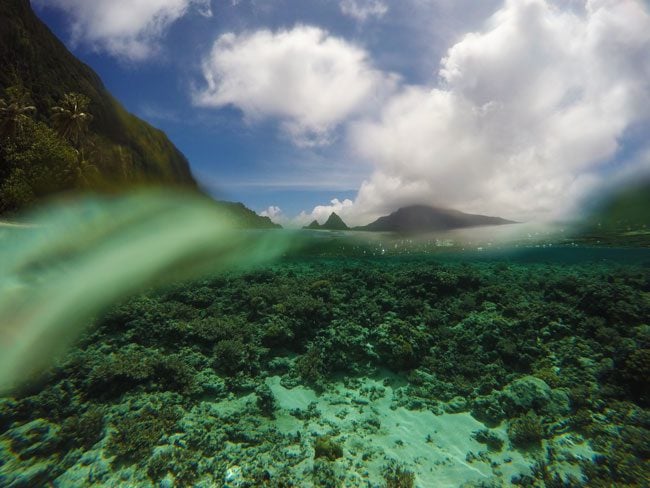 Here's an interesting anecdote for you. Did you know that as a parrotfish consumes fish and algae from the coral reef, it 'poops' out the undigested coral in the form of pure white sand? A single parrotfish can produce 1 ton of sand every year! With so many of these guys around, it's no wonder why the sand on Ofu Beach is of the purest kind.
Since I am terribly bad at selecting just one photo and Ofu beach is the prettiest I've ever been too, here's a slideshow with additional images from paradise!
Swimming & Snorkeling
The coral reef and lagoon in Ofu Beach is among the healthiest marine ecosystems in the South Pacific. Scientists from around the world come all the way out here to study the unexplained ability of Ofu's reef to quickly recover from coral bleaching. The reef and beach are protected as part of the National Park of American Samoa.
The first time I ventured underwater with a mask, I remember feeling a profound sense of 'wow'. The water is incredibly clear and just meters from the beach are corals in all shapes and sizes, both hard and soft. Especially impressive are the giant boulder and mushroom coral, where turtles like to nap at their base and where small fish like to gather at their soup bowl-like top.
In the fish department, you'll often find yourself completely surrounded by schools of Dartfish, always returning to formation when interrupted. Colorful groupers, puffer fish, trumpet fish and even reef sharks (if you're lucky) are just some of the friends you'll have in the absence of human companions back on dry land. But be warned, these friends are quite shy, perhaps because they don't get too many visitors around here.
The best time for swimming and snorkeling in Ofu Beach is between the tides. In high tide, there is too much sand that gets tossed around by the waves but even at low tide, you'll find a few shallow pools deep enough for swimming but not deep enough from moving from one pool to the other.
Here's a video that summarizes the underwater highlights from Ofu Beach!
Ofu Village
The sandy and sleepy Ofu Village is absolutely charming. It's got a couple of churches, three small shops, and a pretty little beach. The small Nu'utele Island lies just off its coast, though I was told by locals that getting there might seem easy but in fact it's dangerous and parts of it are scared private land. Feel free to walk around but stick to the main road. Every home has at least two dogs so it's advised to carry a small branch or a rock to scare them away should they come and check you out.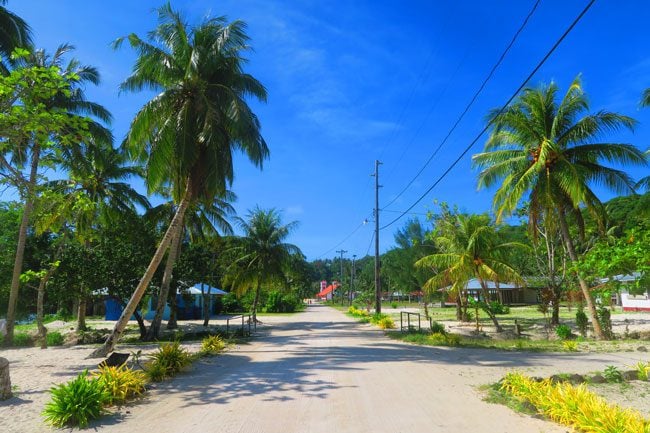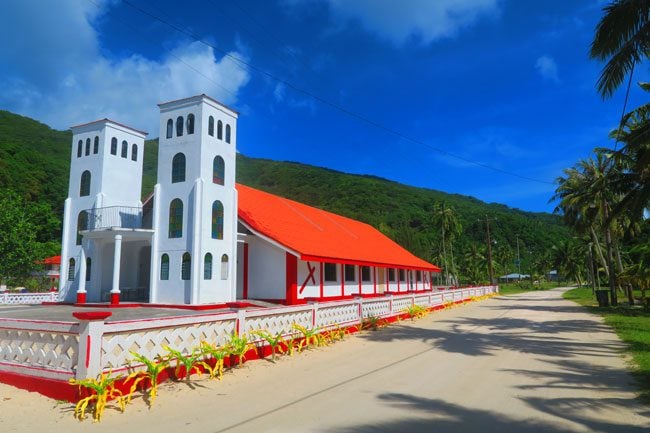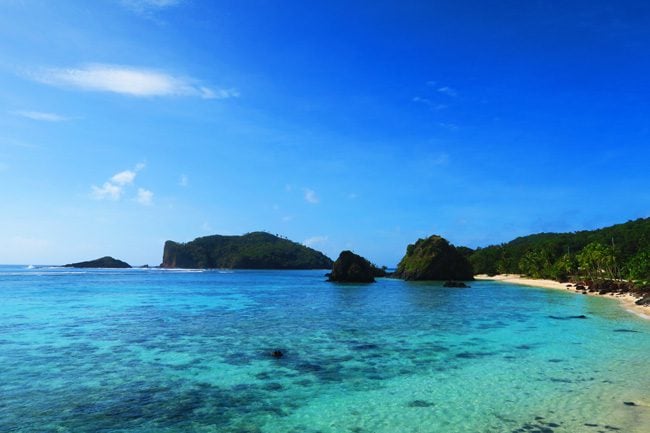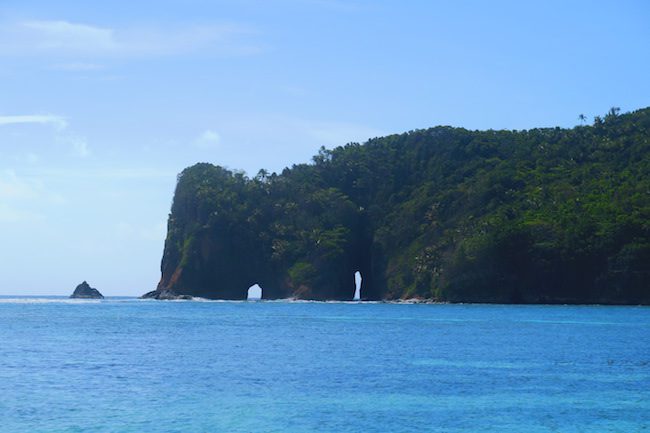 The best time to visit Ofu Village on Sunday. Though it's the Catholic church that gets top marks for exterior looks, it's what's inside that counts, right? I heard a rumor that the folks at the tiny Pentecostal church sing the loudest. Ben from Vaoto Lodge graciously gave me a lift for a Sunday morning that I will never forget. From the outside, the church looks like an ordinary house, that is until you get a bit closer…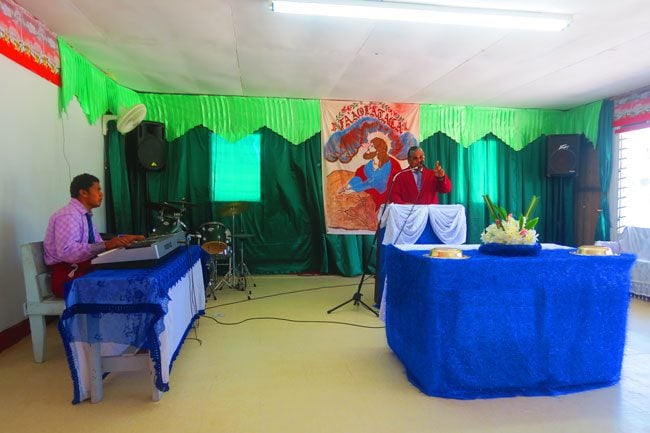 Inside, members of the church whom you can count with 10 fingers were paying close attention to the Sunday sermon delivered in Samoan by the charismatic pastor, who occasionally paused to squeeze in yet another quick 'praise the Lord'. Before inviting me for dinner, his daughter sat next to me to translate her father's words to English and then walked to 'center stage' to join her brother playing the keyboard, her other brother on the drums and her mom on the mic for a memorable version of 'Shake Your Body to the Lord'. Give it a listen for yourself!
Tumu Mountain Hike
The challenging hike up to the highest point on Ofu Island (494 meters) is one of the most rewarding hikes you'll ever embark on. It all starts from the marked trailhead just after the Ofu harbor (a 45-minute walk from Vaoto Lodge). The trail is clearly visible as it also serves as a 4X4 road up to the radio tower at the summit, though often covered with waist-high vegetation.
As you ascend, you'll be treated to awesome views of the coastline and the tropical vegetation, to the orchestra of songbirds busy at work. From up here, you can see Sili Village, the third village in Ofu and Olosega though not really a proper village since there's just one family living down there.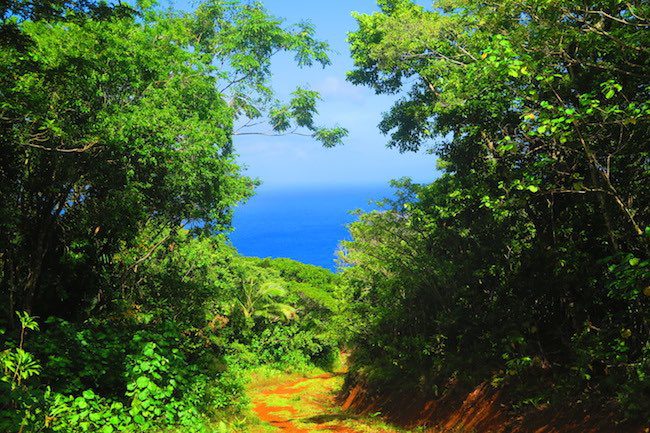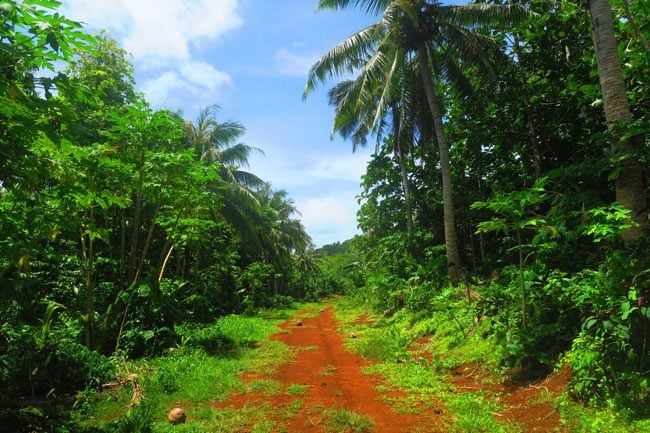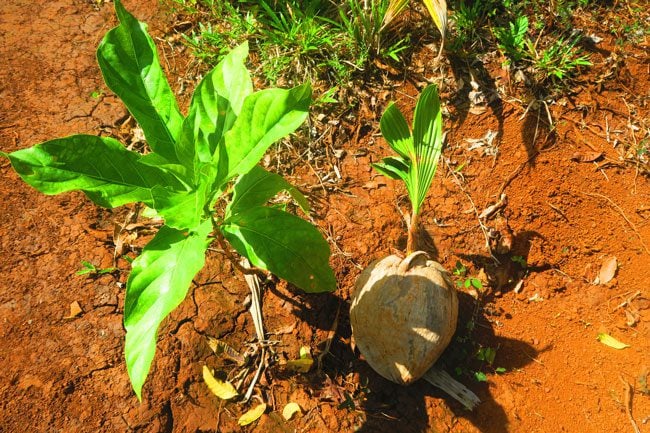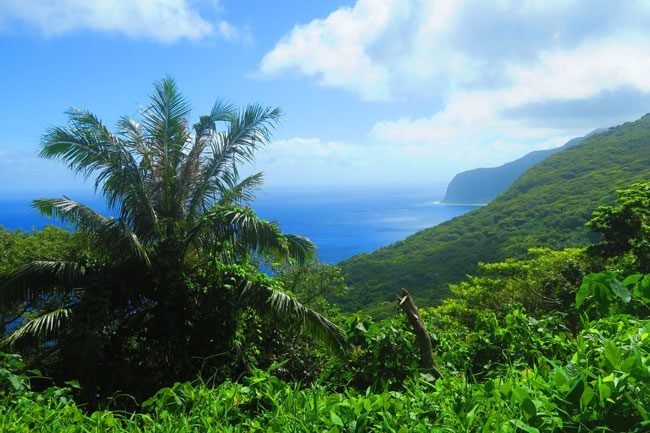 The trail then enters the rainforest, where it's nothing but trees, tall grass, and geckos. If you're lucky, you might spot flying fox bats or giant coconut crabs. These crabs used to be all over the South Pacific Islands, but apparently, they just taste so damn good that there are hardly any left on populated islands. The crab lives inland, hoisting fallen coconuts up high to the trees only to drop them with the hopes that gravity will crack them open.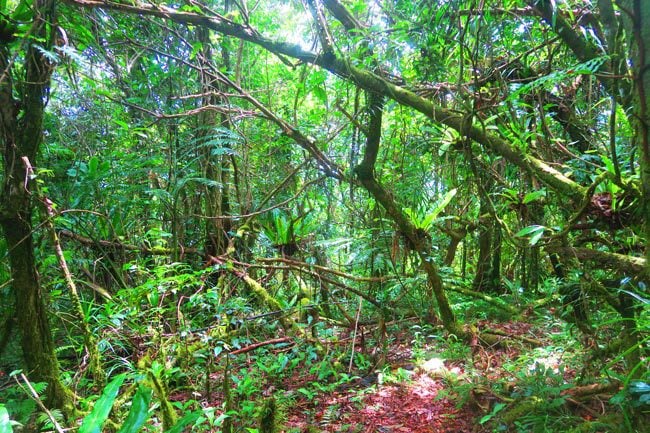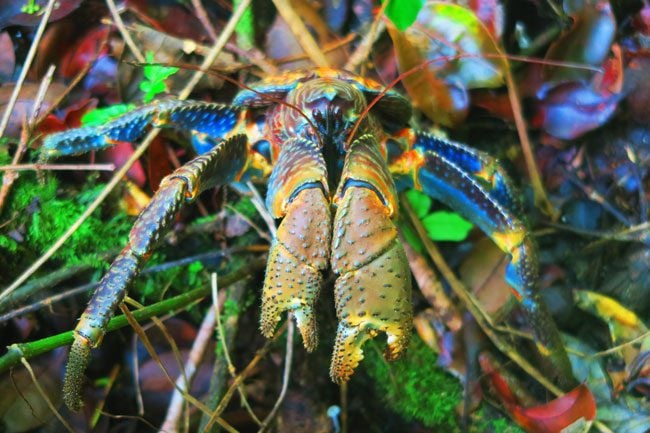 You'll then reach the radio cover, where a small solar power station is in the works. Follow the small sign to the Tumu Overlook and follow the path through the thick vegetation until you've reached a set of massive boulders and a rope. There's only one way from here and it's up to the top.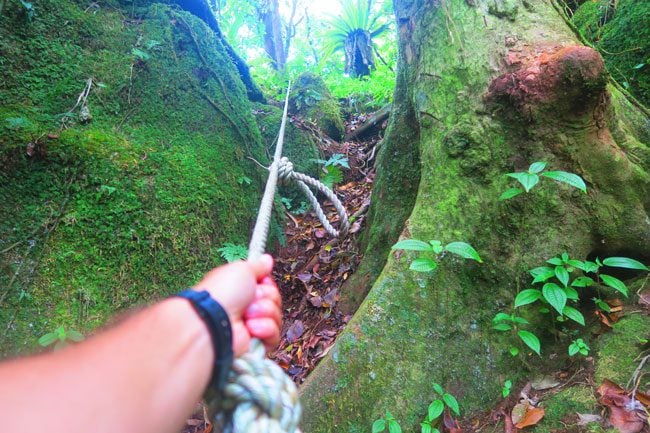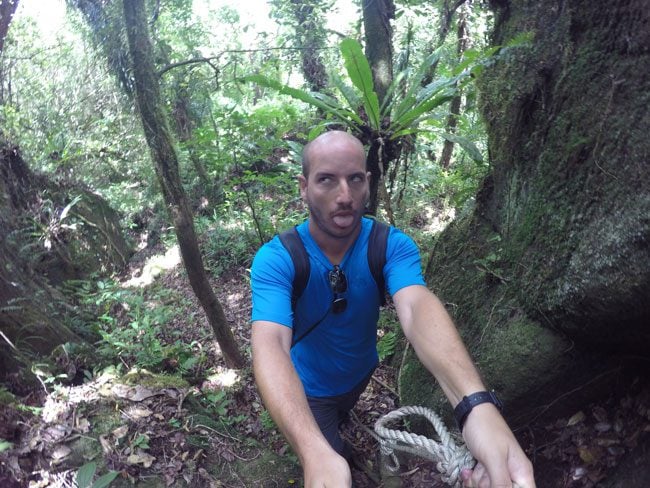 The Tumu Overlook is more like a balcony with a view to heaven! On a clear day, you can even see Ta'u Island in the distance. Here's what it looked like at the top of Tumu Mountain!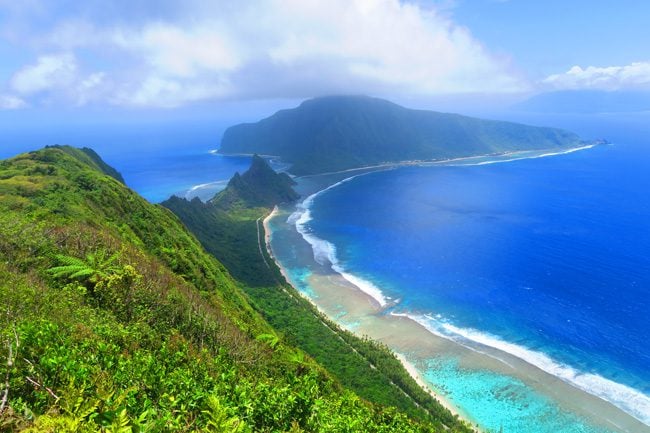 Logistics: the entire hike will take about 4-5 hours but be prepared to spend at least an hour at the overlook. Wear hiking shoes, hat, long pants and be prepared to be completely soaked in sweat. Pack at least 2L of water and snacks. Deb from Vaoto Lodge had a great idea of freezing small water bottles that would be better than a beer at the summit! I recommend attempting the hike on the first clear day you get and early in the morning.
Tuiofu Well & Tomb
This archeological site offers a chance to see early signs of life on this remote island. It's nothing too impressive but it's not too far from Ofu Beach. The site is located on private land so just check with the park ranger before visiting.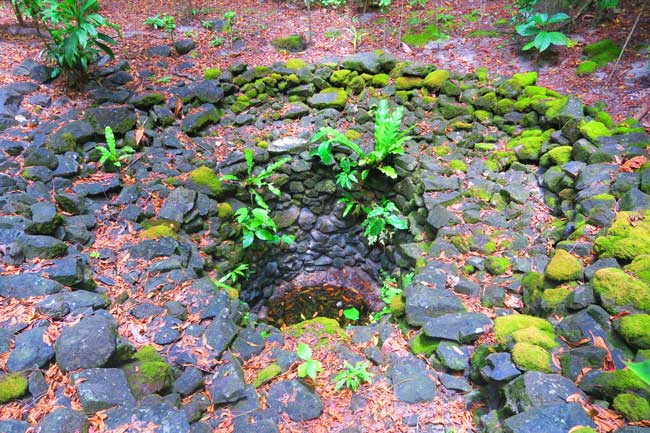 Asaga Strait
The body of water separating Ofu and Olosega had to be crossed by a 1-minute boat trip before a cyclone proof bridge was built in 1979. These days, jumping off the bridge is as close to Disneyland as it gets on the islands, though it's best to first check with the folks at the Asaga Inn if your timing is right.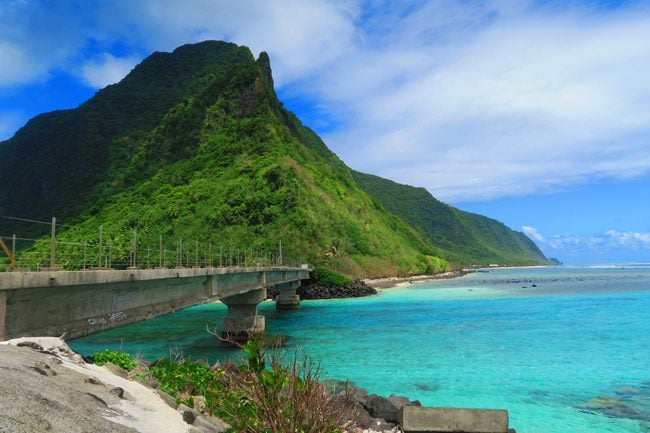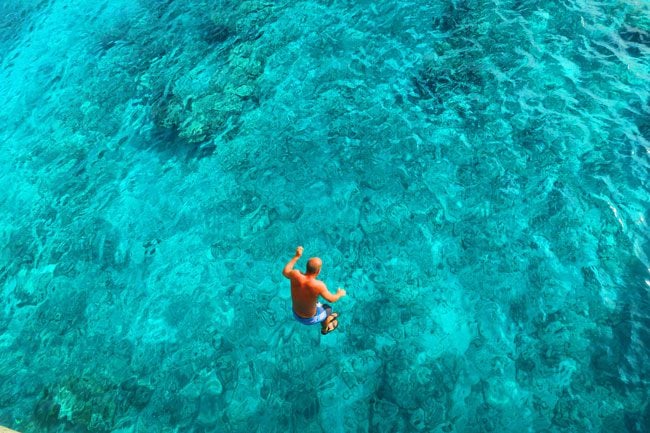 Olosega Village
Olosega is slightly more 'happening' than Ofu Village, maybe it's because the school is located here. There's a small shop in the center of the village and its beach is good for swimming.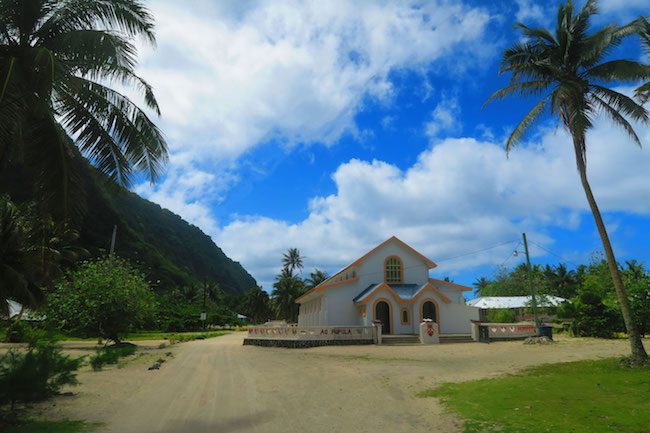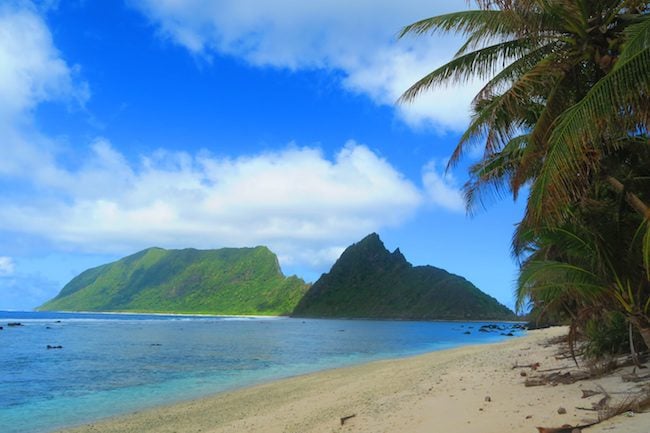 Oge Beach Hike
The second trail maintained by the National Park of American Samoa, you'll find the marked trailhead just after the landfill at the very edge of Olosega. The trailhead offers a different vantage point back towards the Sunu'itao Peak, Tumu Mountain, and Ofu Beach. You're now right at the footsteps of Mount Piumafua, the highest point on Olosega (639m).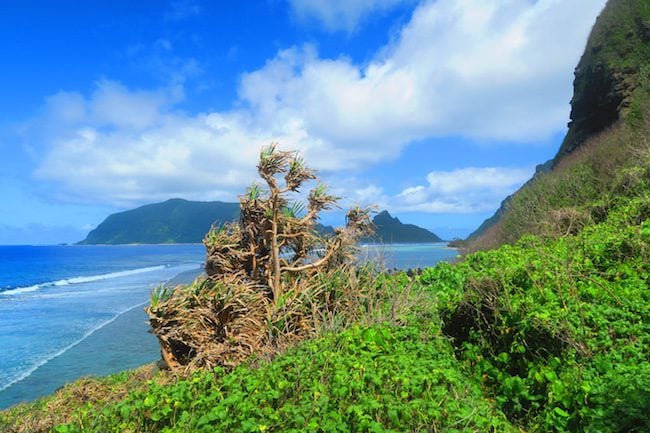 The first section of the trail is a cliff walk to the Maga Point, where you can clearly see how the curved contours of the exterior reef rapidly drop to the depths of the ocean.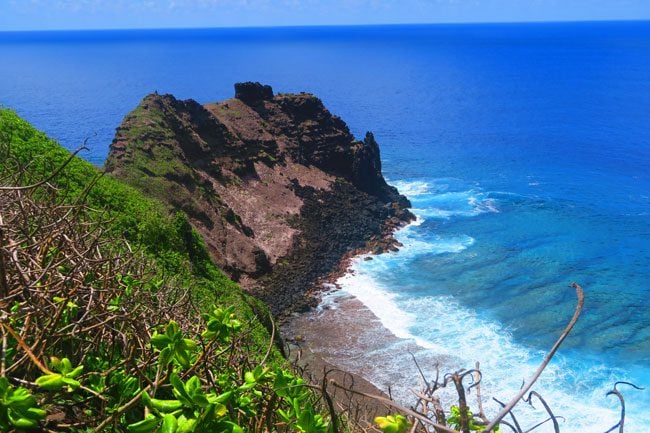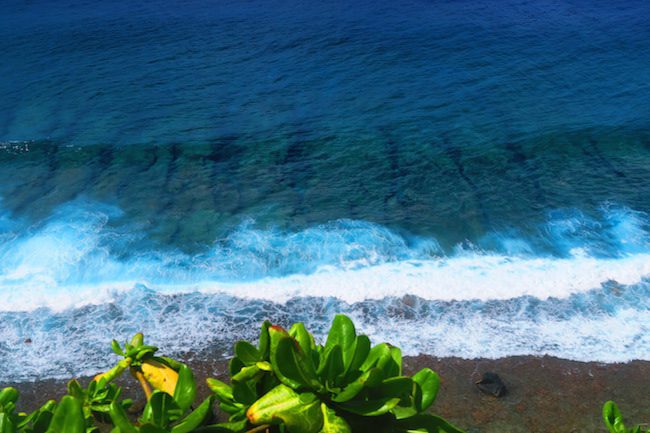 Before the trail steeply descends to the beach, stop for a quick rest and spot the boobies and frigate birds riding the thermals. Sometimes, they come down from the heavens and hover right above you. I was also lucky enough to spot a bunch of fruit bats, even though it was pretty close to noon.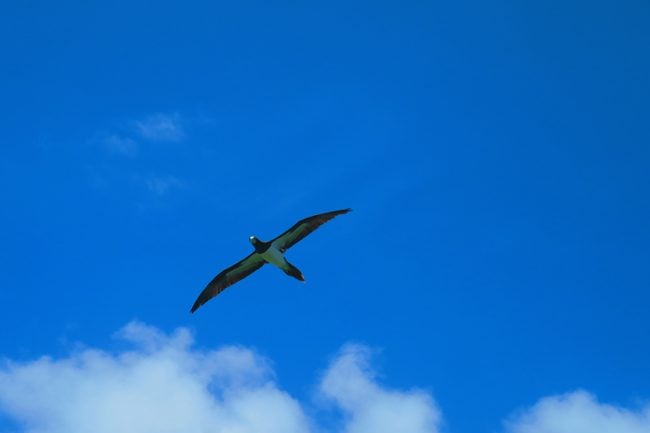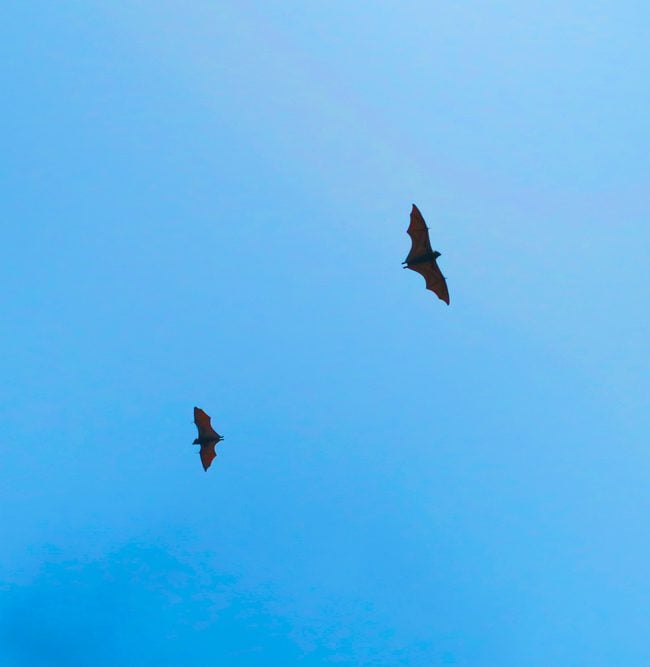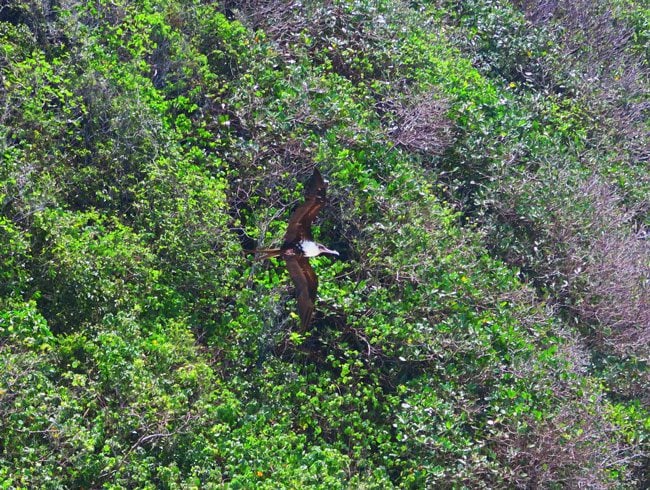 You'll then descend to Oge Beach, a battered rocky beach that's not safe for swimming. The beach faces Ta'u Island and somewhere in between lies one of the largest pieces of single coral in the world! There's no shade on the beach but it's nonetheless an inviting spot to park it for a couple of hours and just listen to the detoxing sounds of the ocean waves crashing ashore.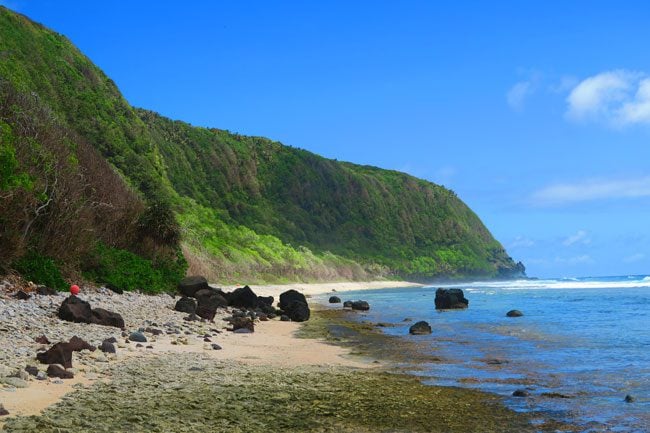 Here's what it looks and sounds like on Oge Beach.
You'll be completely alone on Oge Beach… well, not completely alone. I came across a bizarre scene that I was later told by a marine biologist back at the lodge has only been filmed once, so here we go.
Lurking in the shallow water are perfectly camouflaged and terrifying looking eels. Don't get too close as these guys actually came out onto the sand to attack me. The eels ingeniously work in small groups to attempt and catch crabs who soak in the sun on the rocks during low tide. Even when I tried to scare the shy crabs, they would not move an inch, perfectly understanding who their real predator was. This was a chilling, bizarre and memorable 'tropical safari' that I'll never forget!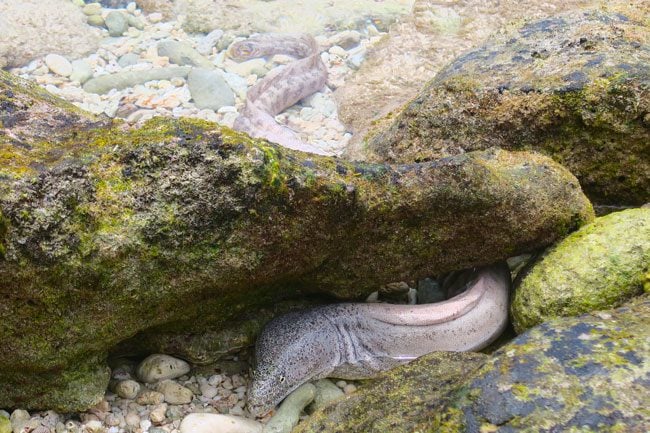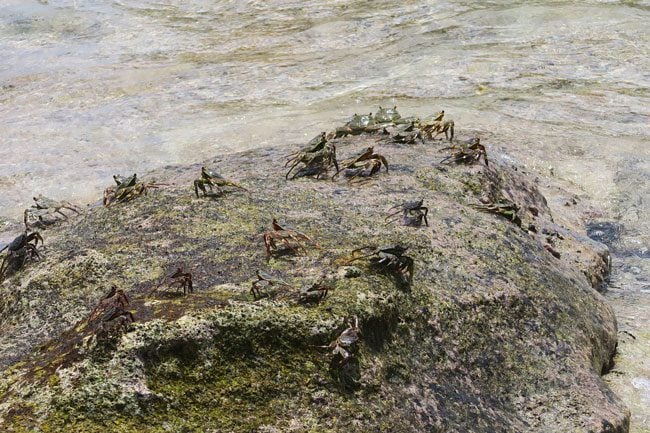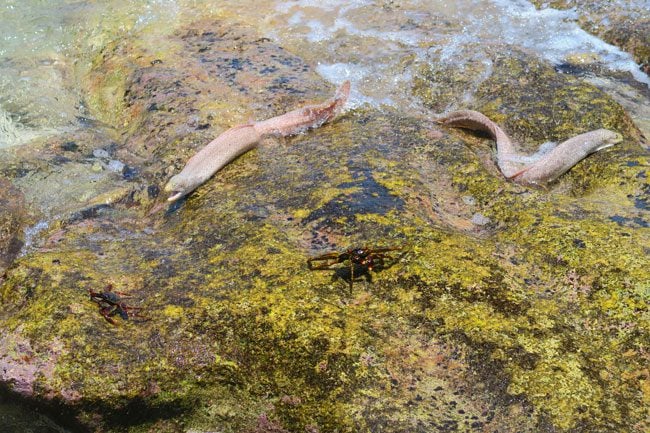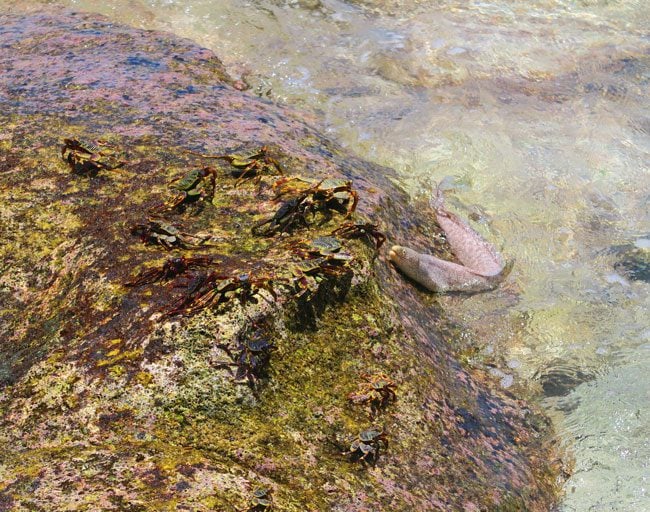 Logistics: the walk to Oge Beach takes about 1 hour from the Asaga Bridge. Bring plenty of water, snacks and don't forget a hat and sunscreen. Wearing shorts is OK and shoes will do just fine as between the eels and the waves – you won't really want to swim out here.
Sunsets & Stargazing
There's no need for ESPN or HBO out here, just step out to the runway or the beach, admire the sunset and gaze at the stars. Have you ever seen the Milky Way?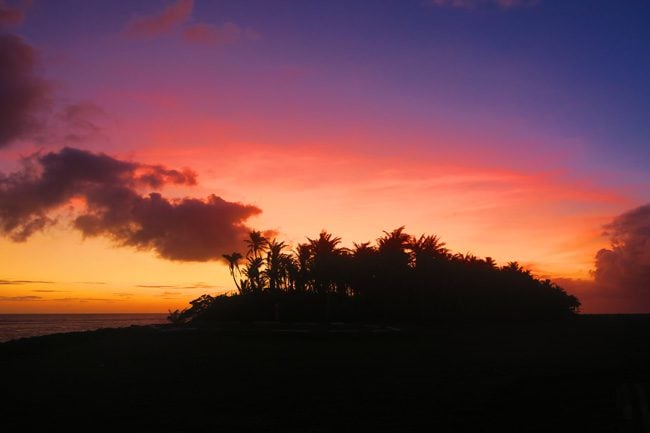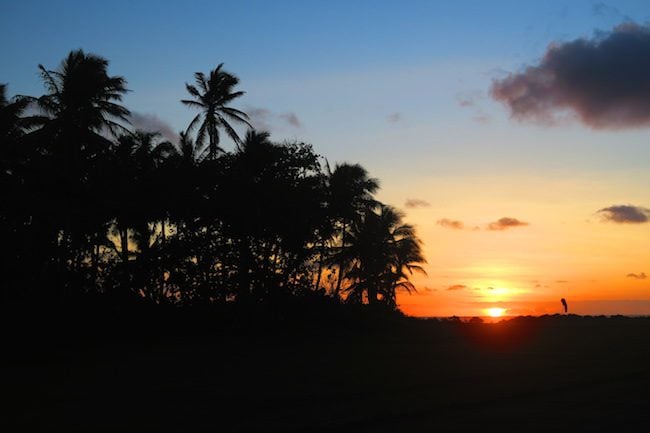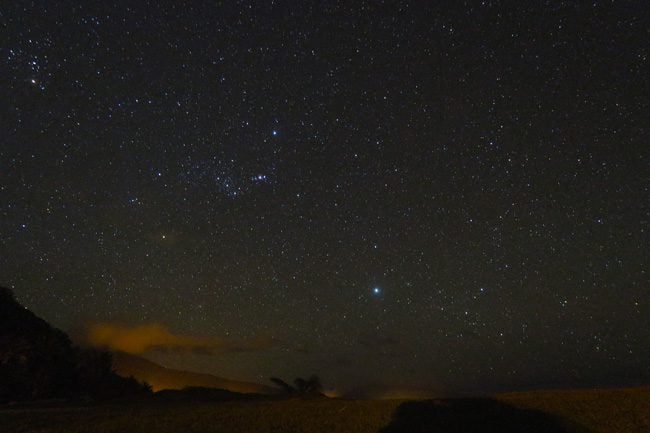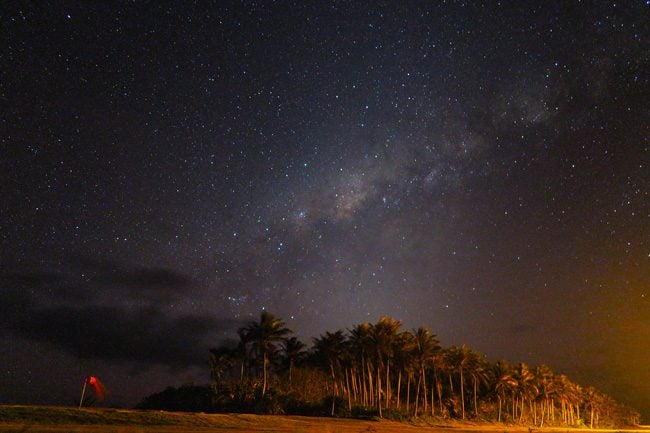 Part 3: Pago Pago (1 Day)
Your 10 days in American Samoa are coming to an end. It'll be mighty hard to leave Ofu but you'll feel an incredible sense of pride and gratitude for successfully making it out here.
You'll return to Pago Pago before noon and you can either rest ahead of your flight back home or rent a car and go for a spin. A recommended route to follow is west from the airport on Route 1 to the village of Leone and if you have time, all the way to Fagamalo where the road ends. Alternatively, you can drive to Pago Pago and pick up Route 6 which steeply snakes through the Rainmaker Pass down to Afono and Vatia.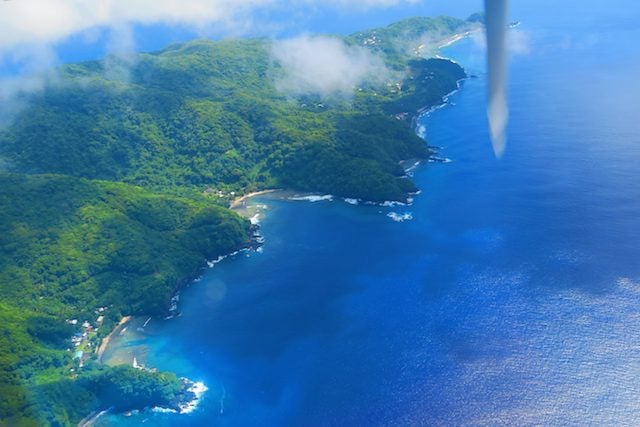 So what do you think? Is American Samoa worth visiting? Share your thoughts, questions, tips and own experiences in the comments below.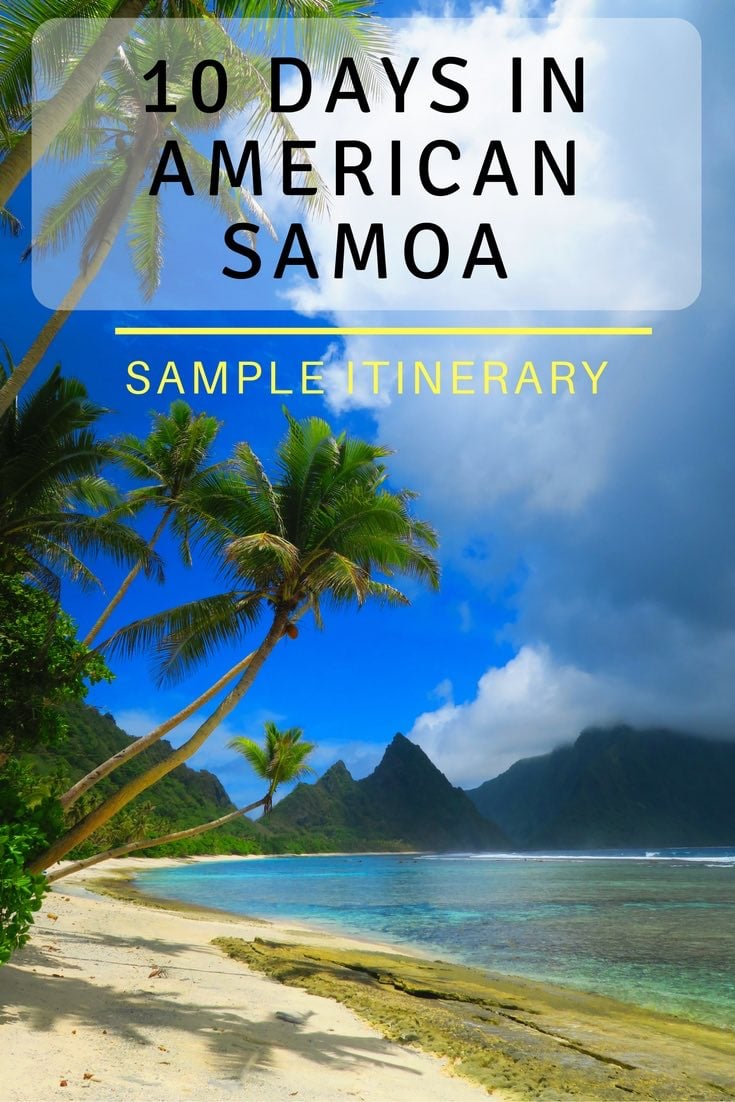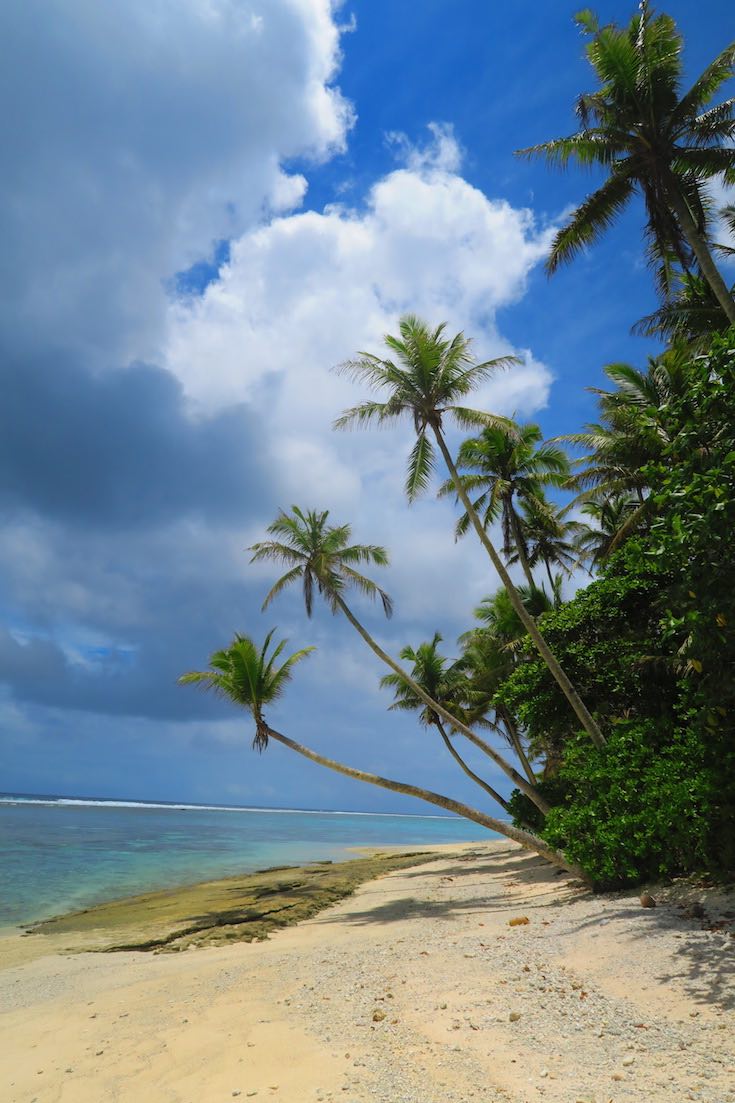 Pin These Photos To Your Favorite Boards!