10 Days In The Austral Islands
French Polynesia's "deep south" may be off the overwater bungalow tourist radar, but its pristine natural beauty and friendly locals, who still live life in the slow lane, make it one of the most interesting stops on a South Pacific voyage. In this Austral Islands itinerary, we'll head to three of the chain's islands: majestic Rurutu, lush Tubuai, and forgotten Raivavae.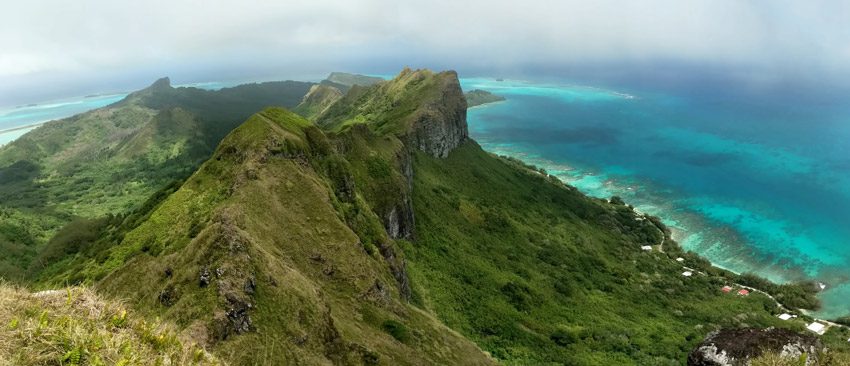 About This Austral Islands Itinerary
I finally made it to the Austral Islands on my fifth visit to French Polynesia in September 2020. Though it was tough to piece together a journey across the archipelago, I managed to spend over a week in the Australs, beginning in Rurutu, followed by a visit to Tubuai and Raivavae. This Austral Islands itinerary is based on my experience on the islands and on some of the lessons learned while exploring them.
Heading off to French Polynesia? In-depth island guides to all 5 archipelagos await you, including sample itineraries and essential travel tips & tricks.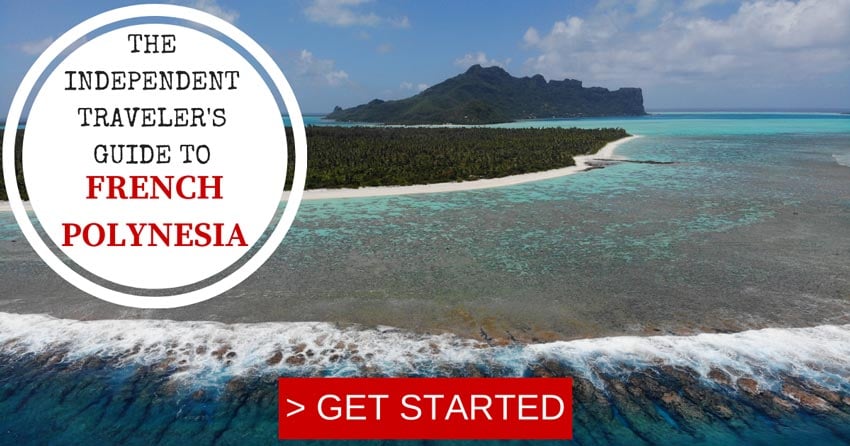 Tahiti, Tailor Made!
The Islands of Tahiti are among the last places to be colonized by mankind, 118 islands, each with its unique personality.
Get expert advice and assistance with planning your trip to the destination where tropical dreams come true!
Austral Islands Travel Guide Video
Watch this video to see what's expecting you in the Austral Islands (you might need to disable your ad blocker).
Further Reading About The Austral Islands
Planning to visit the Austral Islands? Check out these additional resources.
---
10 Days In The Austral Island Map
All points of interest mentioned in this Austral Islands itinerary can be found on this map. Simply click on the image to open in Google My Maps.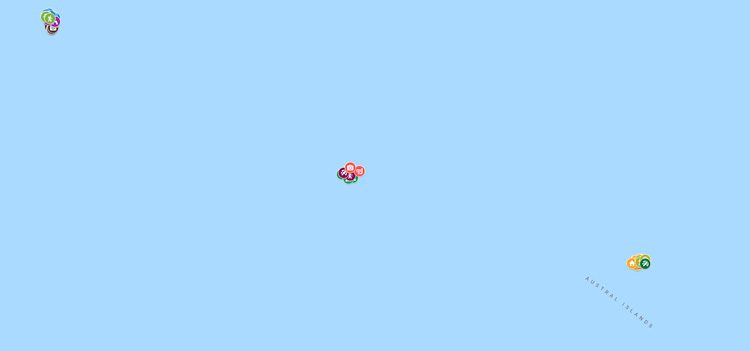 Part 1: Four Days In Rurutu
Our Austral Islands itinerary begins in Rurutu, the most visited island in the chain. Rurutu's interesting geology has created one of the most diverse islands in French Polynesia, home to a coral reef, high peaks, lush valleys, and hundreds of caves. But with all due respect, what draws visitors to Rurutu are the whales. Rurutu is one of the best places in the world for observing and swimming with humpback whales.

Day 1: Arrival & Around Moeari Village
Most flights from Tahiti land in Rurutu in the afternoon so you'll likely have just enough time to settle in and do a bit of sightseeing. The airport is on the north side of the island and your hosts will arrange a pickup.
I highly recommend staying at Vaitumu Village, a beautiful lodge on the west side of the island not far from the airport. This gorgeous property is perfect for both sunsets and whale watching. Traditionally decorated yet modern bungalows are spread around a lush garden and the friendly staff will take care of all of your needs. Meals are served buffet style and there's even a cocktail bar! Other options include Le Manotel, Pension Teautamatea, and Heiata Guesthouse.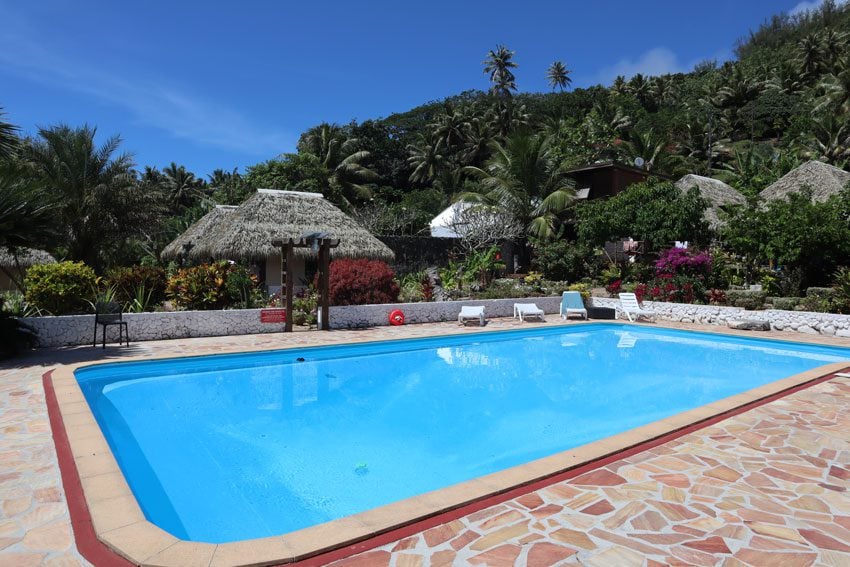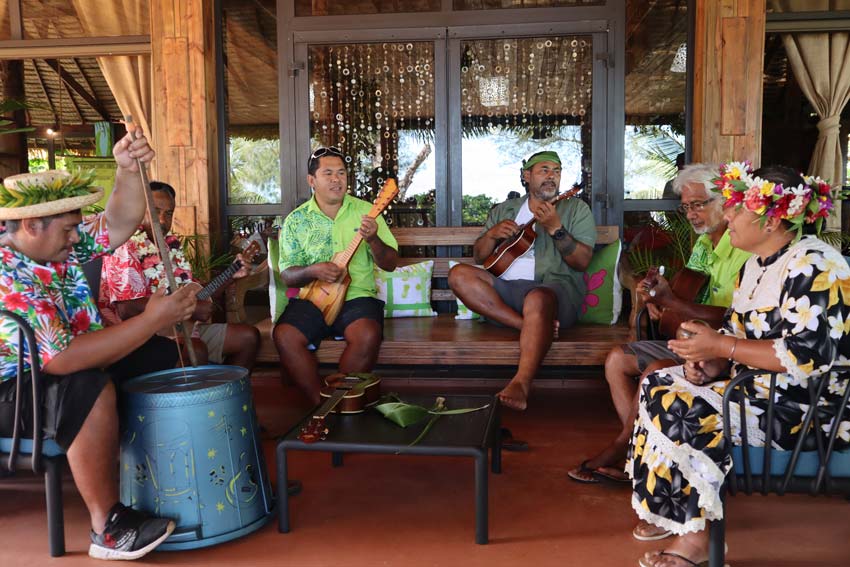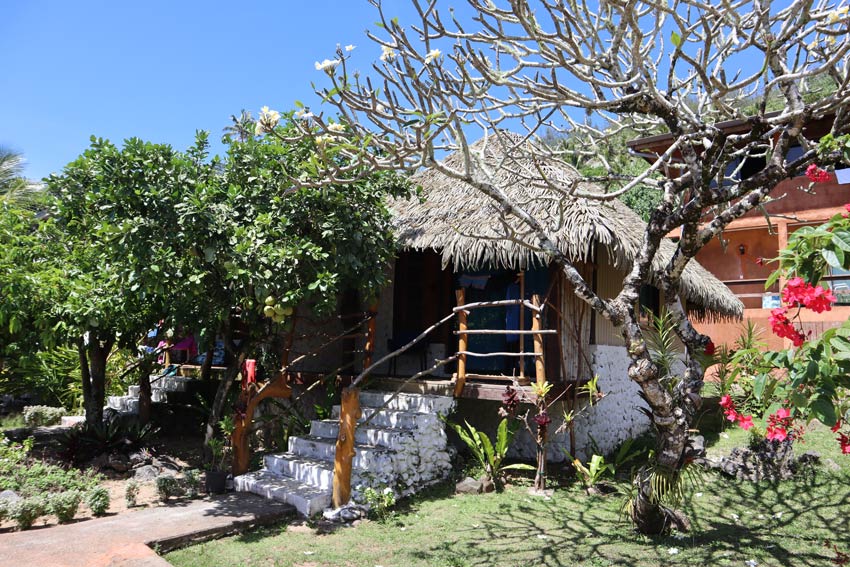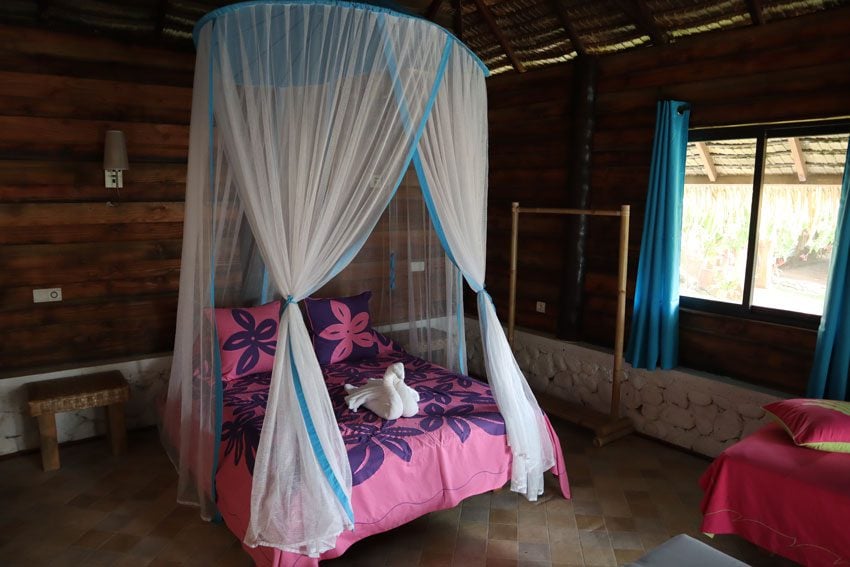 If there's enough time before sundown for an excursion, go for it. If not, head to Moerai, Rurutu's main village. Moerai was the place of residence of the last chief of Rurutu and it has an interesting architecture that's worth checking out such as the church and a few pastel-colored homes. There's a small communal market from 8 am to 3 pm (not sure on which days), two snacks (local restaurants), grocery shops, and an ATM. Ask locals for directions and head to the Tropicbird Lookout for some awesome views of the area. If the hike isn't for you, find a picnic table on Moerai's waterfront and look for some whales.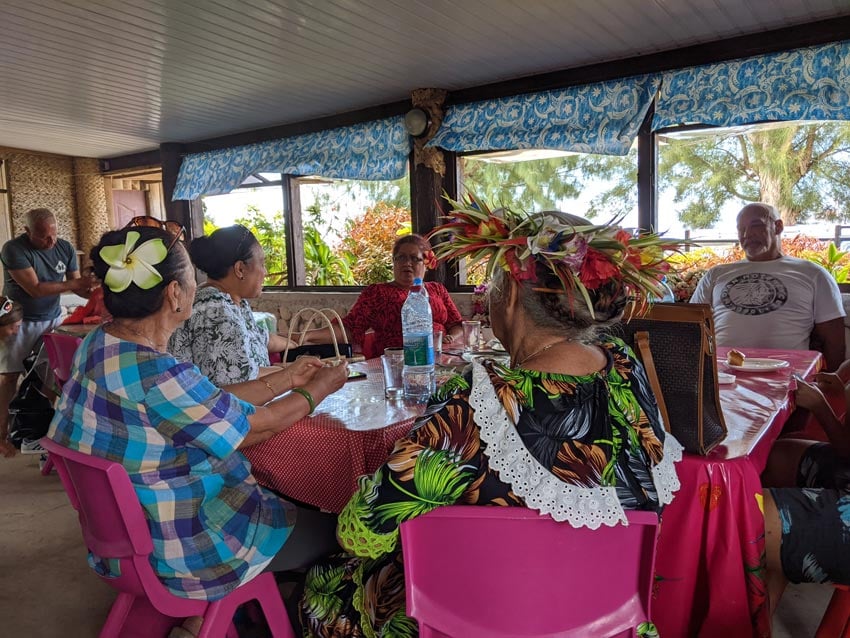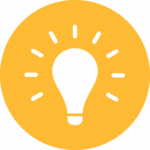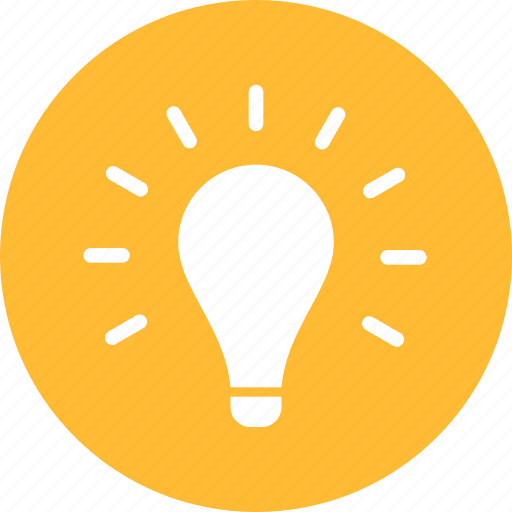 Pro Tip
If you're staying at Vaitumu Village, you can walk or cycle to Marae Tararoa and explore the most impressive remains of an ancient ceremonial site found in Rurutu. It lies on the property of Pension Teautamatea so just ask for permission. Naturally, if you're staying at this pension, it's a no-brainer to see this site.
Day 2: Swimming With Whales & Island Tour
Every year humpback whales migrate north from Antarctica to give birth and to mate in the warm Polynesian waters. Their journey takes them via the Austral Islands, where they can be observed from late July until the end of October. Rurutu is renowned for the quality of whale-watching because the whales are easily observed close to the coast and due to the island's clear waters. Swimming with whales is, by far, the top thing to do in the Austral Islands so it's best to book your excursion well ahead of time.
Excursions range from 9,000-13,000 XPF and you'll have the chance to be in the water for a few hours with the whales. I personally went with Raie Manta Club and we ventured into Avera Bay where we found a few pairs of mother and calf. From time to time, a male would emerge to check up on his family. The calf would often breach the surface of the water for that "classic" whale shot.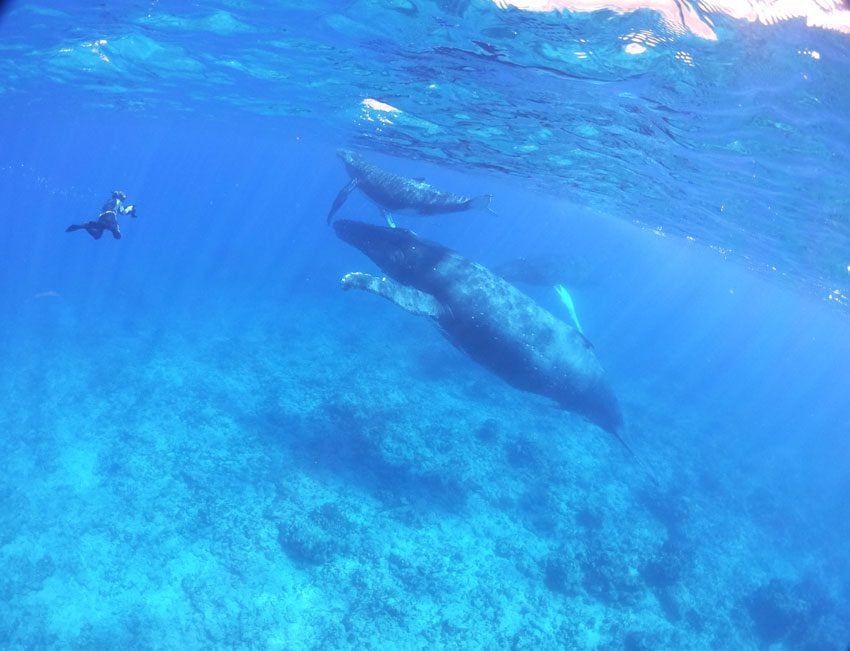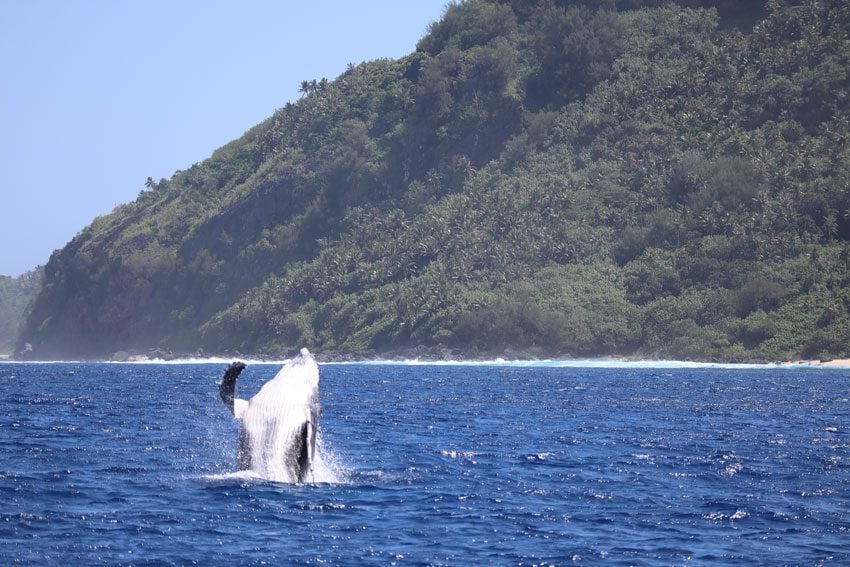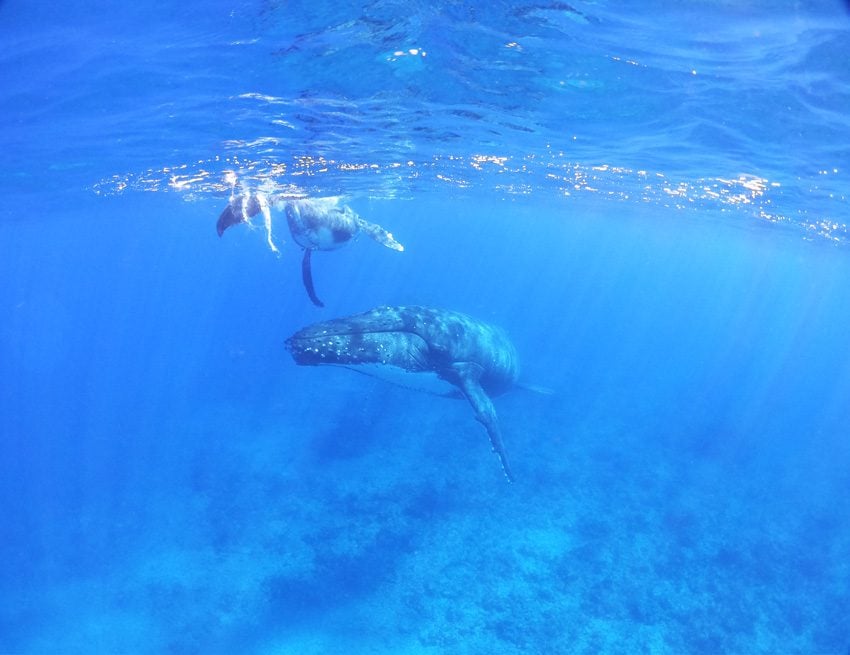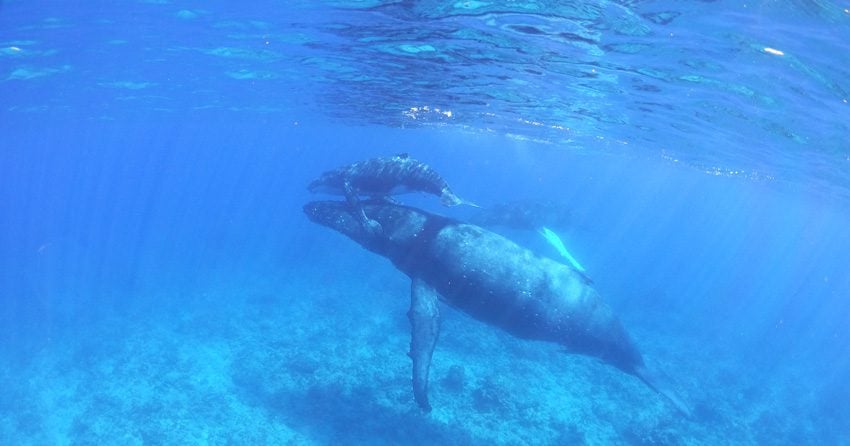 After a quick lunch back at the lodge or pension, head on a guided half-day island tour to see Rurutu's main island through the eyes of a local (~4,500 XPF). A half-day tour offers ample time to explore the island on its 30km of road. Highlights include the majestic Ana A'eo, better known as "Mitterrand's Cave", Avera Bay Lookout and Avera Village with its craft center and taro fields, and the lovely beaches on the southern end of the island (Toa Tara Tara Beach – also known as "lovers beach" and Naairoa Beach).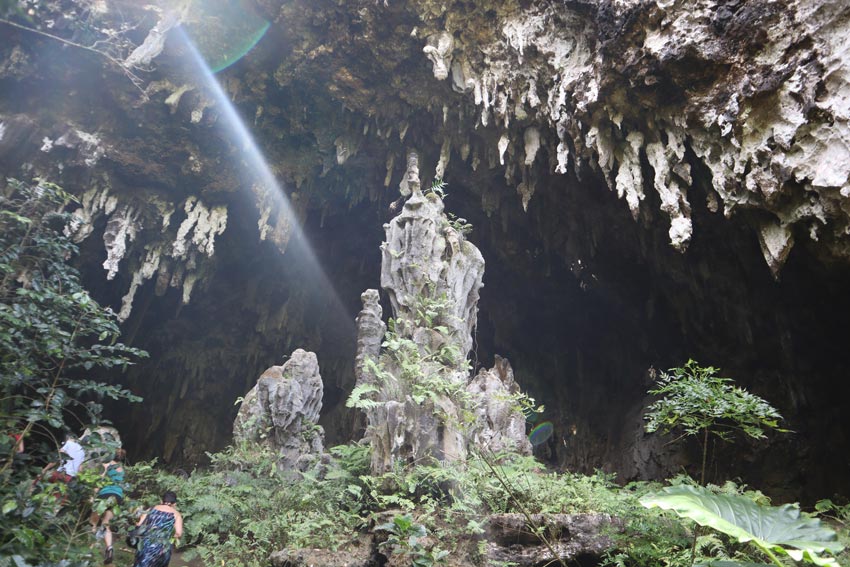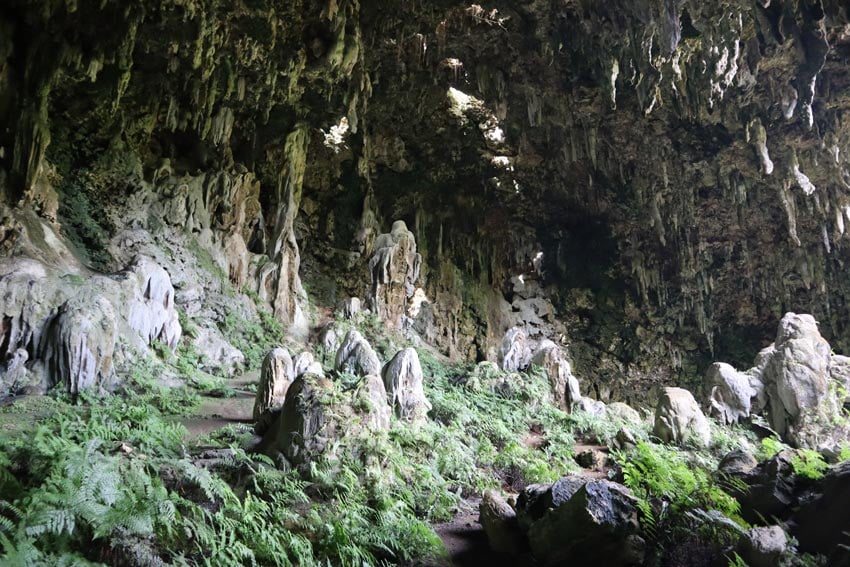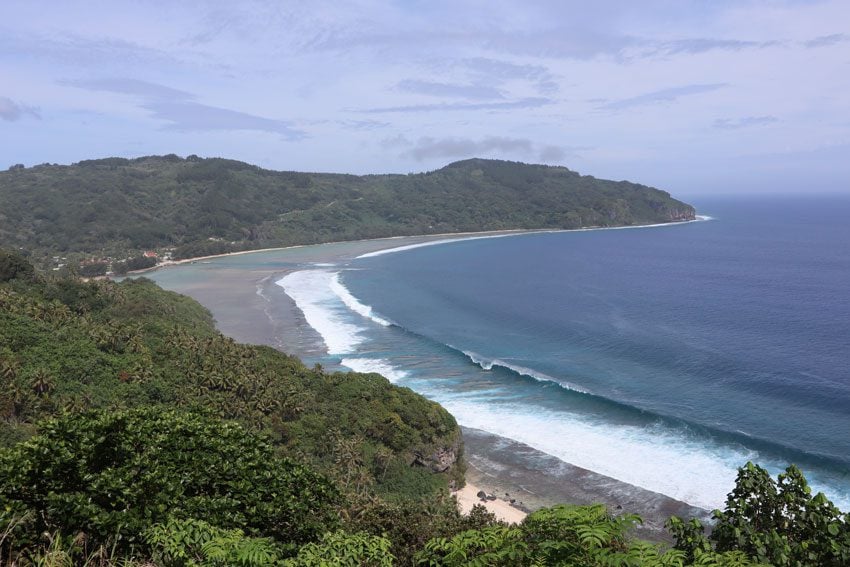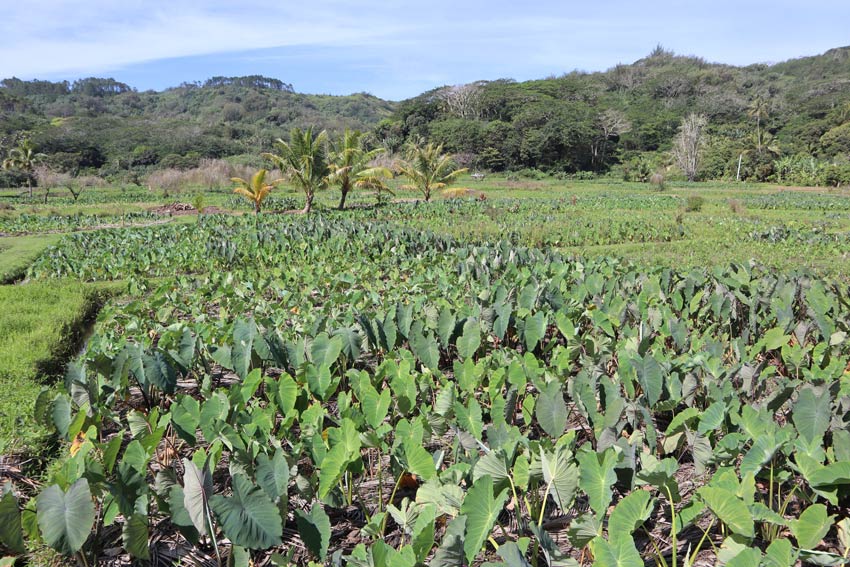 Day 3: Monster's Cave Hike
Besides whales, Rurutu is famous for its caves. Different tectonic movements have uplifted the island's once submerged coral reef dozens of meters into the air. The huge blocks of fossilized limestone, eroded by rainwater and ocean waves, are now peppered with caves that are richly decorated by impressive stalactites and stalagmites. The most famous cave to visit in Rurutu is Ana Taupe'e, better known as the "Monster's Cave".
The Monster's Cave is reached via a hike along the "lost trail" and it should be done with a guide (~4,500 XPF). The trail begins at low tide on the beach of Auti Village. The first cave on the trail is Ana Mōuo, with its deep amphitheater-like cavern, stalactites and stalagmites, and generous calcium deposits that have formed shapes and patterns over the ages.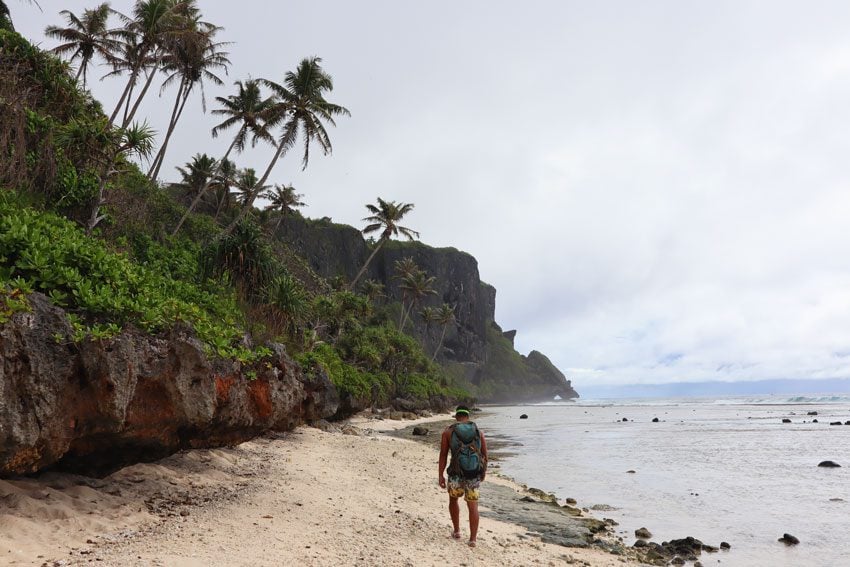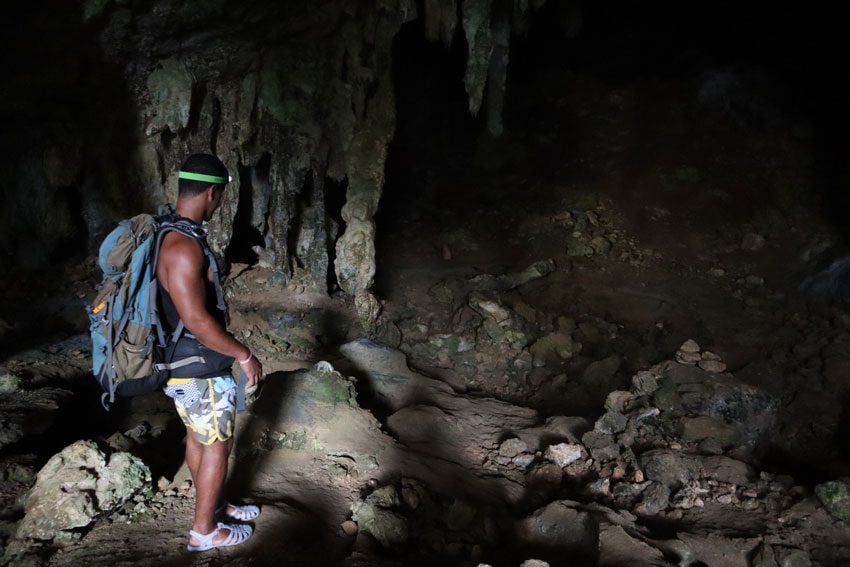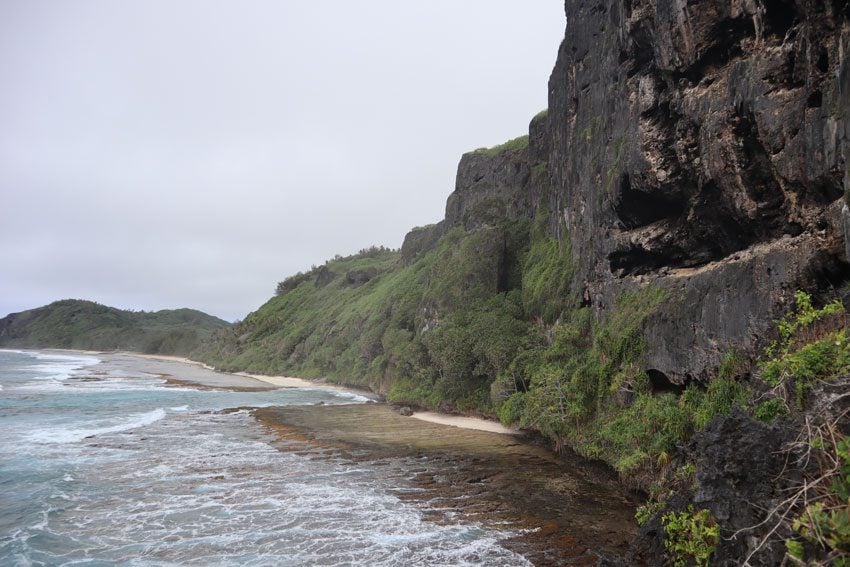 The second cave on the lost trail is the Monster's Cave. Looking at it from the exterior, it's easy to understand how this cave got its nickname, resembling the full head of a dinosaur or dragon of some sort. Inside the cave, the "monster's teeth" are to be carefully negotiated. The Monster's Cave is often featured in publications promoting tourism in French Polynesia, so this is the "money shot".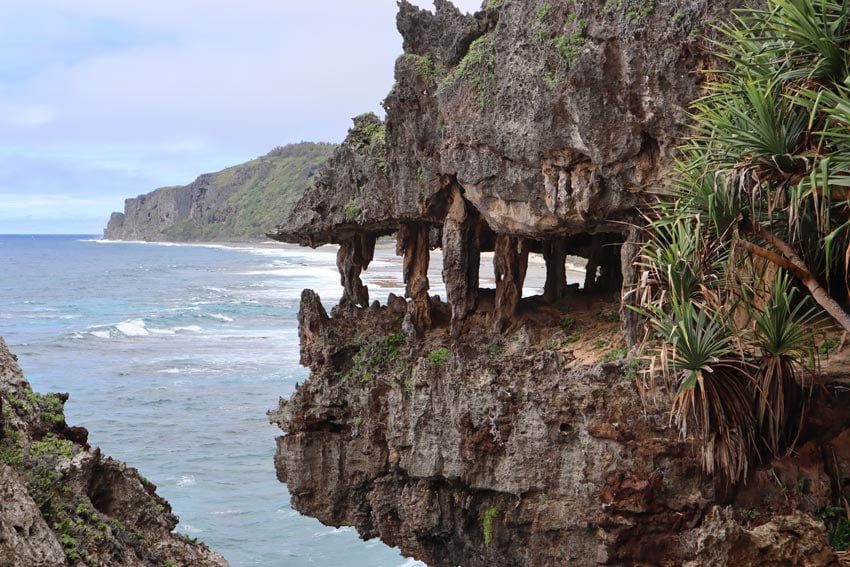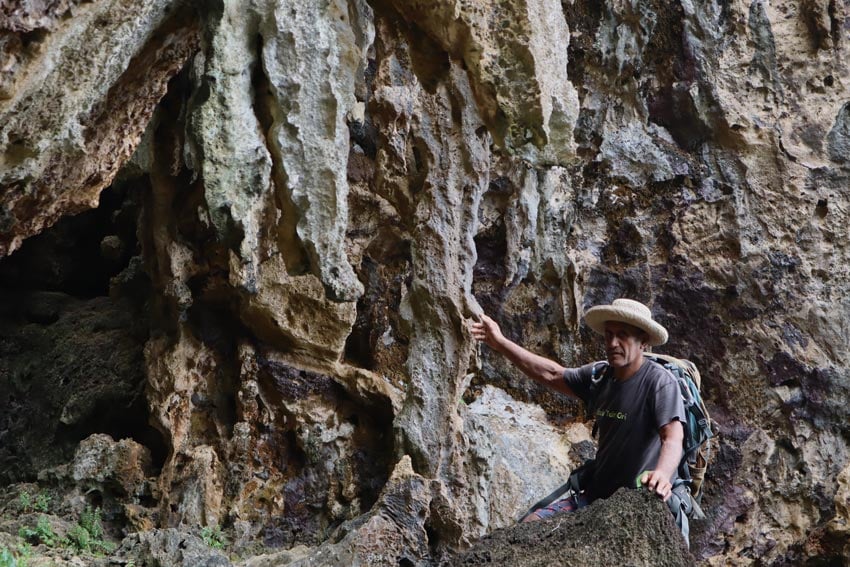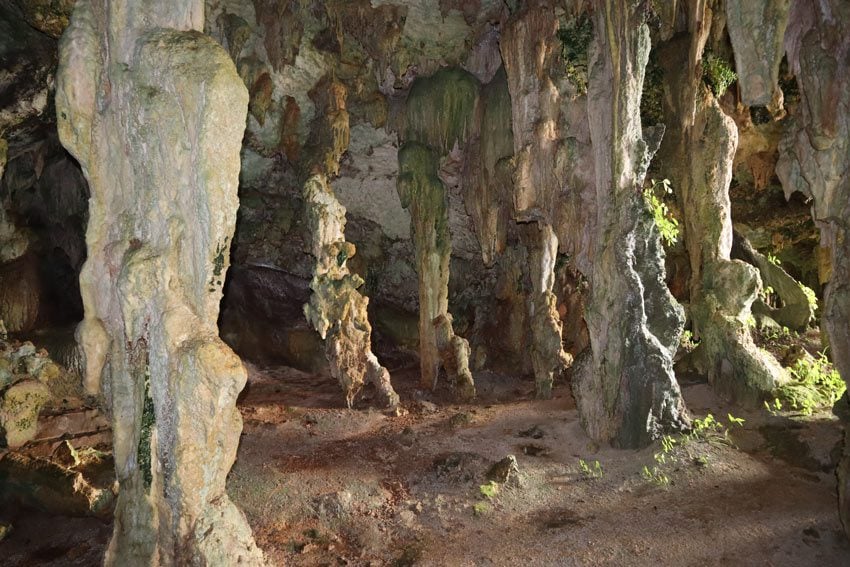 A third cave is visited on the trail before descending to the coast close to Moeari Village. It makes sense to arrange with your guide to stop in the village for lunch. If you want to continue the adventure, ask your guide to take you to the Secret Cave (an additional ~4,500 XPF). Located close to Avera Bay Lookout, to reach the cave, you'll need to head underground, carefully making your way down to the bottom of the cave where millennia of rainfall has accumulated in a crystal clear natural pool surrounded by untouched stalactites and stalagmites.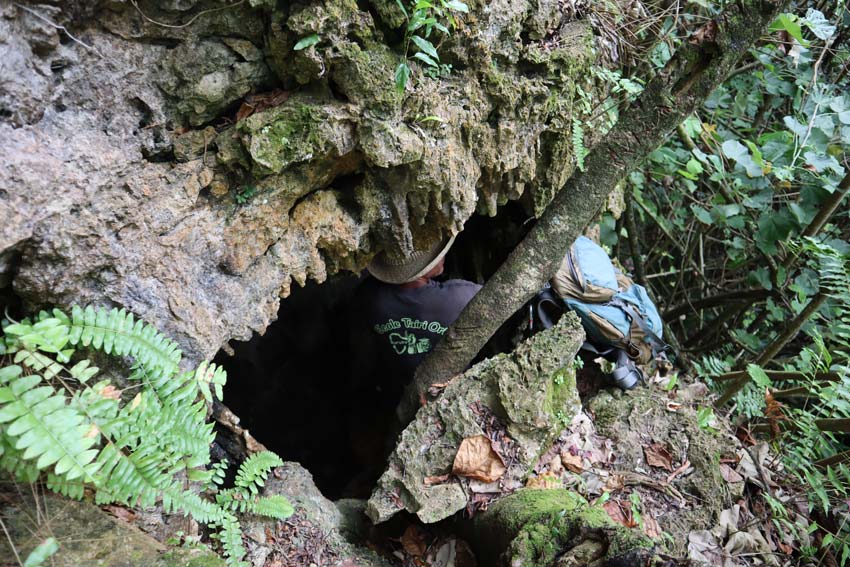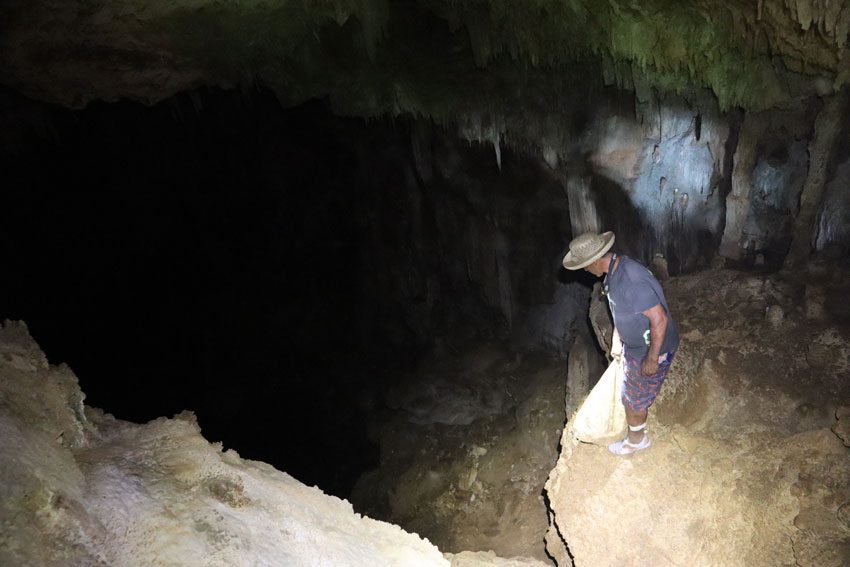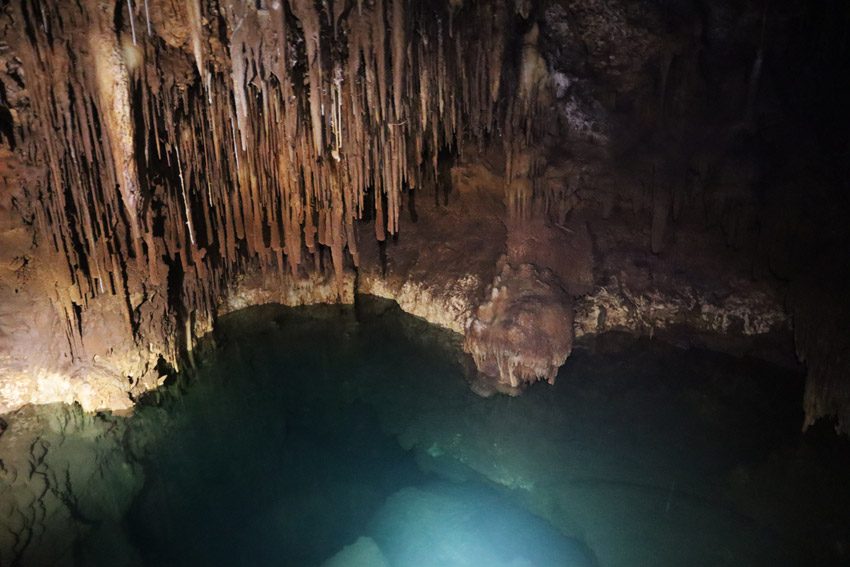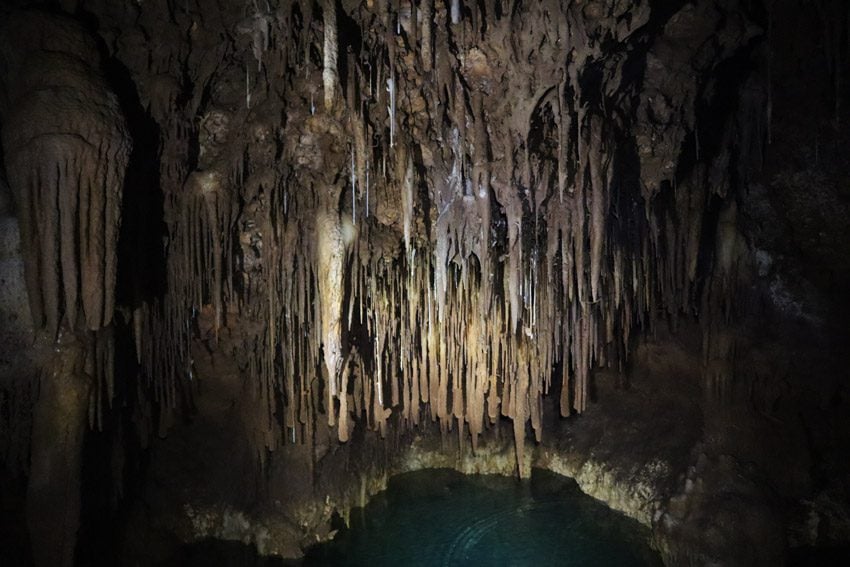 Day 4: Manureva Hike & Beach Time
On your last day in Rurutu, put on your hiking shoes and climb the island's three highest peaks. You don't need a guide for this hike but you will need a ride to the trailhead and a map drawn by your hosts to find the right path back to the main road, from where you'll either hitchhike or walk back.
The well-marked trail leads to the peaks of Mount Ta'ati'oe, Manureva (the highest peak at a height of 389m), and Te'ape. All three peaks afford panoramic views of the island and especially of picturesque Avera Bay. If you hang around long enough, you should be able to spot some whales breaching the bay's waters.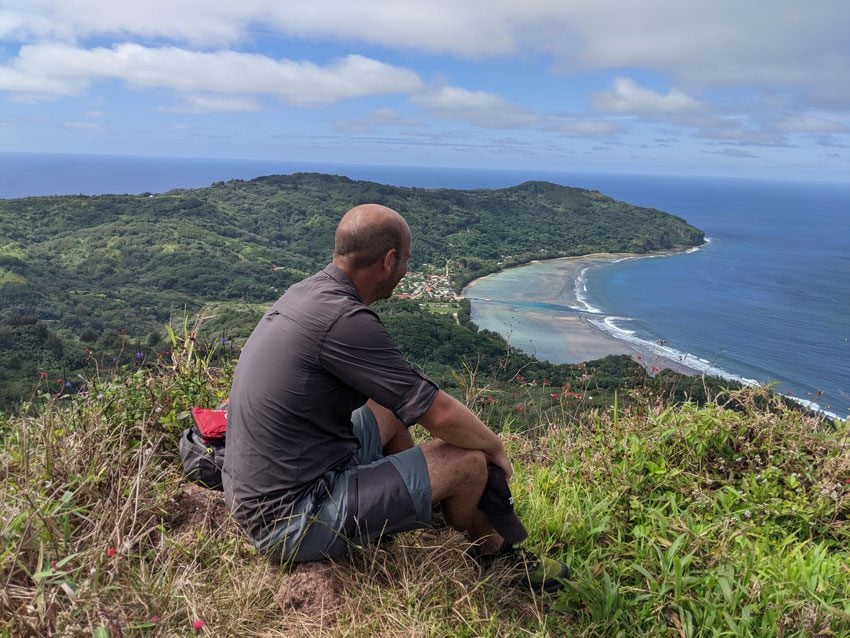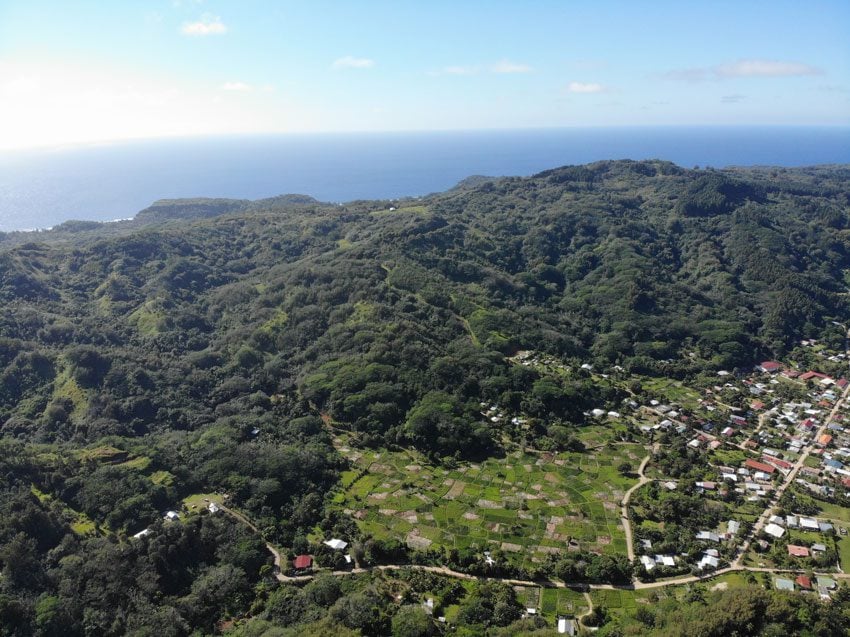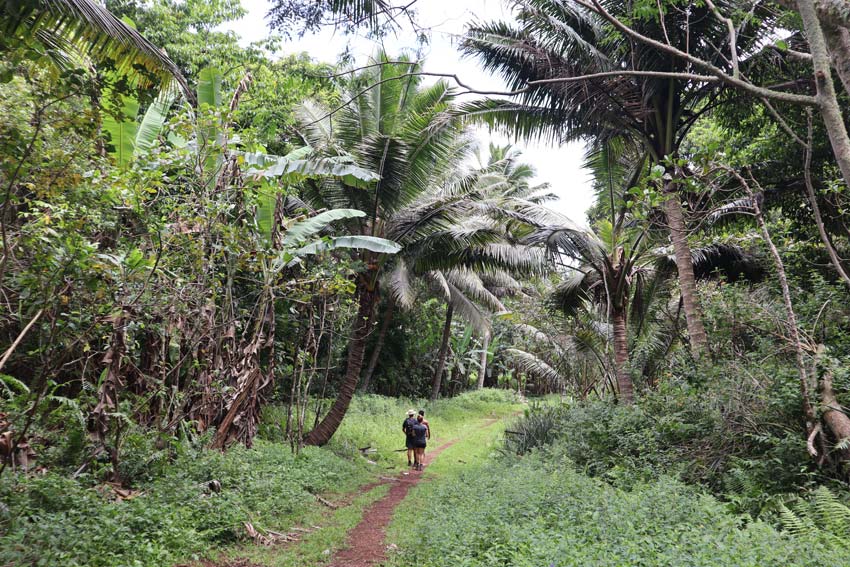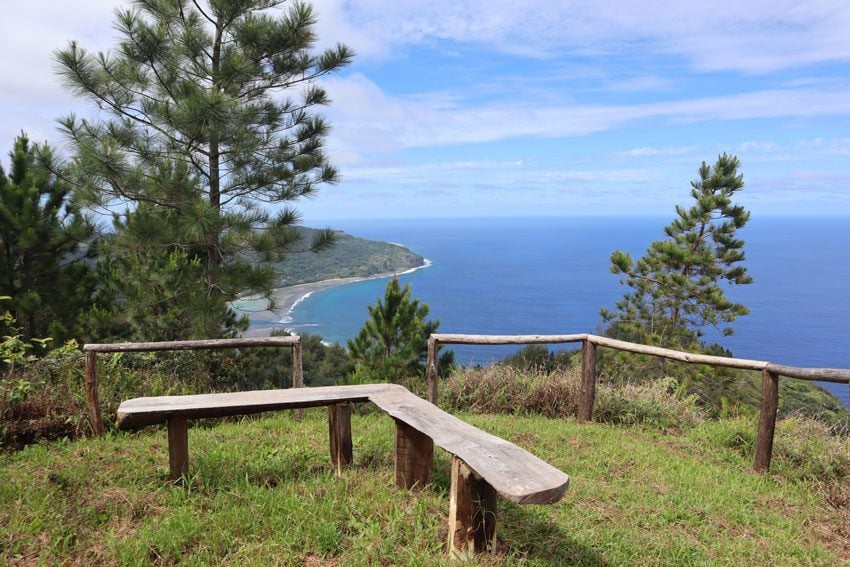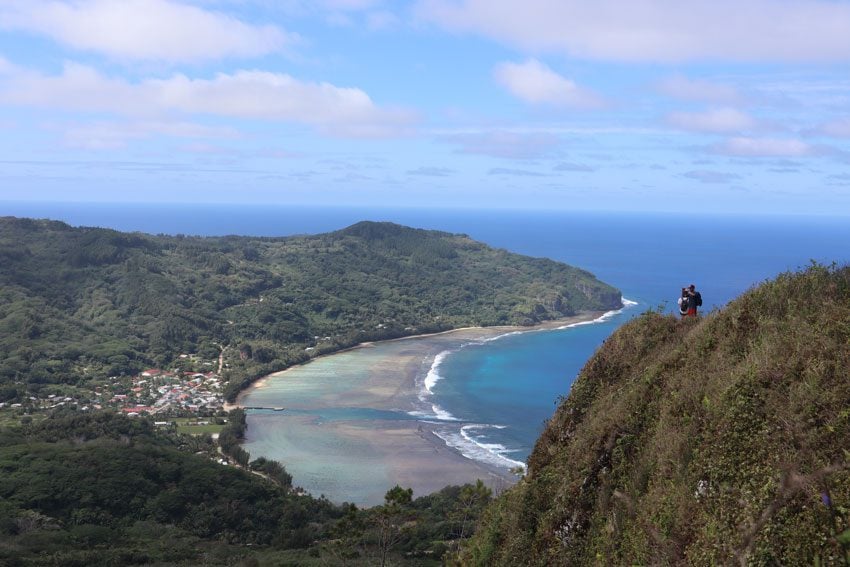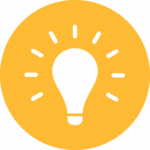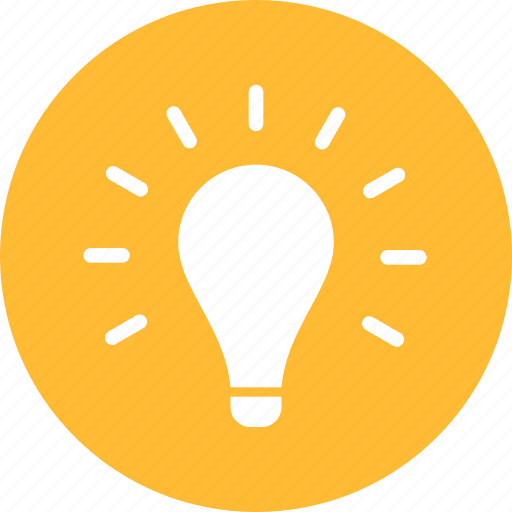 Pro Tip
If horseback riding is your thing, hire a guide to take you to some of these sites on the back of Rurutu's most cherished mode of transportation.
Back on level ground, head to one of the island's swimming beaches. If you're staying at Vaitumu Village or Pension Teautamatea, head to the beach just across the road from Marae Tararoa. It's a safe swimming beach backed by casuarina trees and picnic tables.