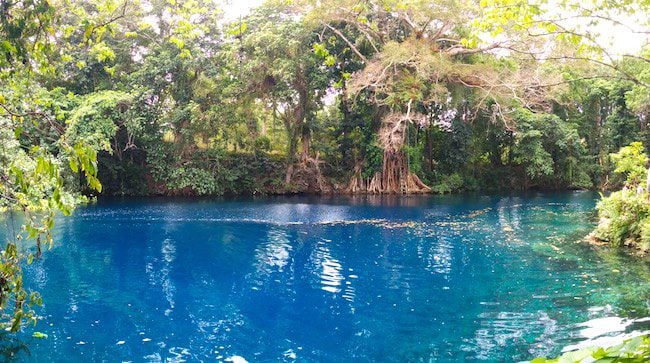 Part 2: Espiritu Santo Island (4 Days)
Vanuatu's largest island is known as its adventure playground. Espiritu Santo simply referred to as 'Santo', is the kind of tropical island where you could spend your entire vacation. Santo was home to a large US military base during WWII. With the base came thousands of troops, paved roads, airstrips and those familiar Quonset huts which can still be seen around Luganville. These days, Santo is famous for its pristine white sand beaches, crystal clear blue holes and WWII relics hiding beneath the gentle waves.
Where To Stay In Espiritu Santo?
This really depends if you're coming to Santo for the diving, the beaches or both. If you are planning to dive the SS President Coolidge and Million Dollar Point, I recommend staying in Luganville for this portion of your trip. If you're not diving, there is no need to stay around town and you should head straight to the beaches on the east coast of the island. Here are a few options:
Luganville: I stayed at the Deco Stop Lodge, a recently renovated hotel commanding fantastic views from a hill overlooking Luganville and its bay. The lodge is centered around a lush tropical garden, just a 10-minute walk from town. Families, couples, and even backpackers are accommodated for, with clean rooms equipped with hot showers, fans, towels and some even with air conditioning. You'll be greeted with an ice cold welcome drink at the reception and a free continental breakfast is served on the poolside deck. Other meals can be ordered and tours can be booked. Like all businesses in Vanuatu, a 5% surcharge will be added for credit card payments so cash is better, and the free wifi could use a little boost. But other than that, this place is a real bargain!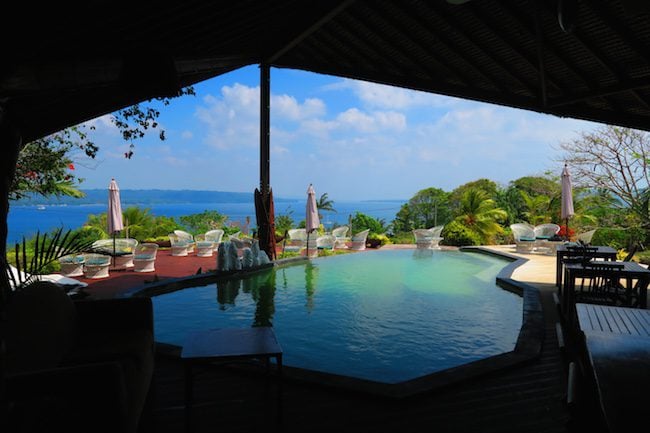 East Coast: for families and couples looking to get away from it all, the Oyster Island Resort has your name written all over it. This resort sits on a tiny private island just off the east coast of Santo. It's got a lovely beach, walking trails, romantic bungalows and of course – a great restaurant serving fresh oysters and hosting a happy hour. UPDATE: I've been recently informed (May 2018) that Oyster Islands has been purchased by a Chinese company and is currently closed or inaccessible t the public.
Champagne Beach: to really get off the grid, stay at Lonnoc Beach Bungalows, just a 15-minute walk from Champagne Beach. A row of cute and simple bungalows front a white sand beach where you'll hear nothing but waves and songbirds during the day and swaying palm trees, crickets and falling coconuts at night. Around since 1991, the place is run by larger than life Kelmar Vocor and his family along with students from the hospitality school that he established just across the road.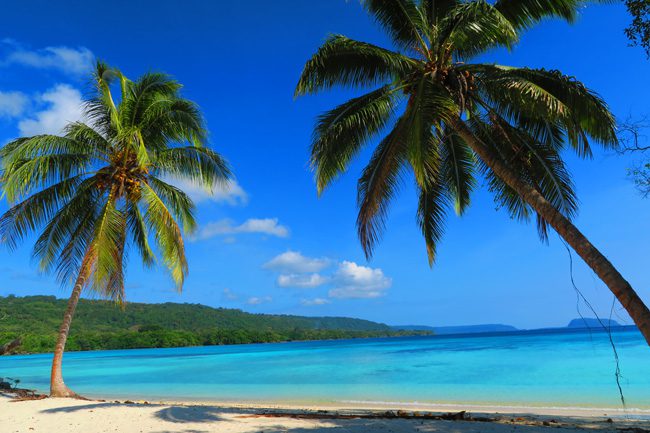 Units are very simple, fitted with: a thatched roof, cold water showers, flush toilets, not so great mosquito nets and solar-powered lights (no electricity). They do have a lot of charm but expect to come across a spider or two – this is the tropics after all. Electricity and (pretty good) wifi are available in the restaurant from 9:00-14:30 and from 17:30-21:00, where you'll also enjoy a fantastic breakfast and order lunch and dinner with mains ranging from V1,000-3,000 (don't miss out on BBQ nights).
You'll spend most of your time relaxing on the beach, with snorkeling OK and free kayaks to use. If you really want to get active, tours to the island's main attractions can be arranged (V5,000-7,000). The only bummer is getting here, with the lodge arranging private transfers to and from Luganville for an overpriced V6,000. Alternatively, you can catch a shared taxi to/from Luganville running up and down the east coast for just V500.
Offering an authentic local stay in beautiful surroundings, you will no doubt be invited to visit the village or attend church service on Sunday! Come here if you're looking for a simple stay, living the dream on a beautiful beach and to be in tune with nature. Alternatively, you can stop here for lunch during the day as you're exploring this side of Santo.
Visit this page to see available Santo accommodations which you can book online.
Espiritu Santo Travel Tips
Santo is a 45-minute flight from Port Vila but you can also get here on direct flights from Brisbane.
Private taxis from the airport to Luganville should cost V1,000. Shared taxis (marked with a 'B') are harder to come by outside the terminal but if you're lucky, a ride to town should cost V500.
Santo has a sealed road running up the east coast that's safe for driving. The interior of the island is pretty much off limits, home to a few remote villages that even most locals never get to see. I have heard of hiking trips to the remote west coast mountains but these are weeklong and require a lot of asking around.
If you're not traveling solo, renting a car would make sense for a maximum day or two as organized tours average V5,000-7,000. Keep in mind that entrance fees when traveling by car are higher (~V2,000 per car vs. V500 per person).
Private transfers from Luganville to accommodations on the east coast can be very expensive (~V6,000). If you're up for it, traveling with the locals can reduce this to just V500. Head to the Pacific gas station in the center of Luganville, which also doubles as the unofficial bus station. From Monday to Saturday, you should be able to easily catch a shared ride running up to Port Olry and get off wherever you want. On Sunday, you'll either have to hitchhike or book a private transfer.
Few shops exist outside Luganville aside from the occasional roadside stall. It's best to stock up on some snacks before leaving town for a few days.
10 Days In Vanuatu Map: Espiritu Santo
Click on the image to open in Google Maps. This map contains all the highlights mentioned in this section of the guide: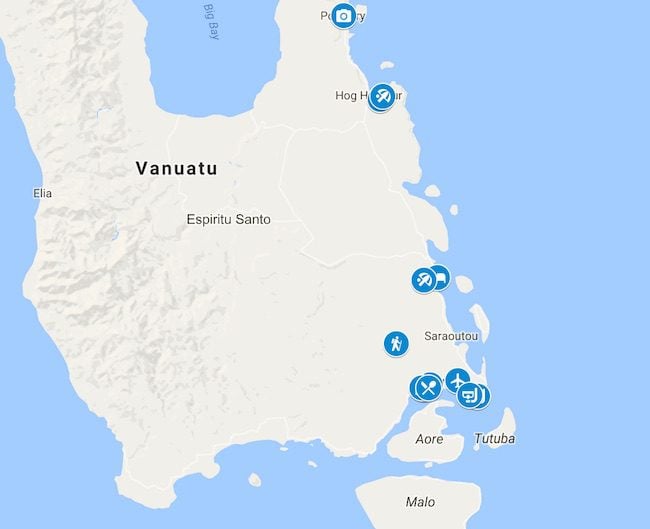 Day 1: Wreck Diving & Exploring Luganville
One of the main reasons for visiting Santo, if not the main one, is to dive the wreck of the SS President Coolidge – a luxury liner converted to a troop carrier during WWII. In 1942, the 22,000-ton ship was en route to the US Army base on Santo with over 5,000 troops on board. As it neared Luganville, the ship struck a friendly mine placed to defend against a Japanese invasion. The captain managed to beach the ship and the troops disembarked before the Coolidge slid down the reef just a few meters offshore. The tragic sinking of the Coolidge was probably the best thing to happen to the people of Santo, as thousands of divers visit the island to explore one of the best wreck dive sites in the world.
Diving The Coolidge Wreck
Pre-book a spot with Allan Power Dive Tours to explore the wreck of the Coolidge. Allan has been diving the Coolidge for over 35 years and his team of instructors will take excellent care of you. You'll be picked up from your Luganville hotel in the morning for the first dive. A 15-minute drive brings you to the spot where you'll walk from the shore, grab a rope and begin your descent.
The ship's bow (front), lies at a depth of 21 meters while the stern (rear) is down at 73. Shockingly, you can request to dive deeper than the usual limit, where you'll find the engine room and other 'highlights' that can be fun to see if you're not experiencing nitrogen narcosis. In any case, your first dive will be a nice and easy one on the exterior of the wreck.
Aside from the wreck itself, the coral and marine life are among some of the best I came across in the South Pacific. So even though the main event is the Coolidge, don't forget to look around during your safety spot.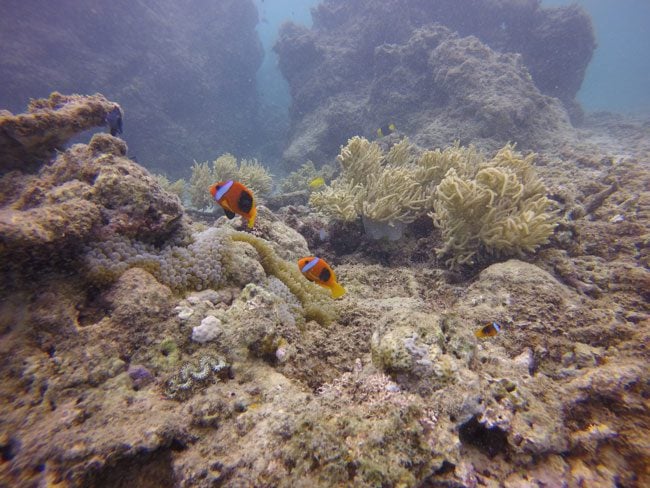 We'll explore the Coolidge from the inside shortly, but first – it's time to take a break between the dives.
Walking Around Luganville
Luganville is not the kind of town you'll be writing home about. There's a rocky beach running parallel to a dusty main street that's home to Chinese grocery shops, small hotels, restaurants, kava bars and the usual small town businesses. With the influx of tourists, there are a few higher end drinking and dining options that I'll mention.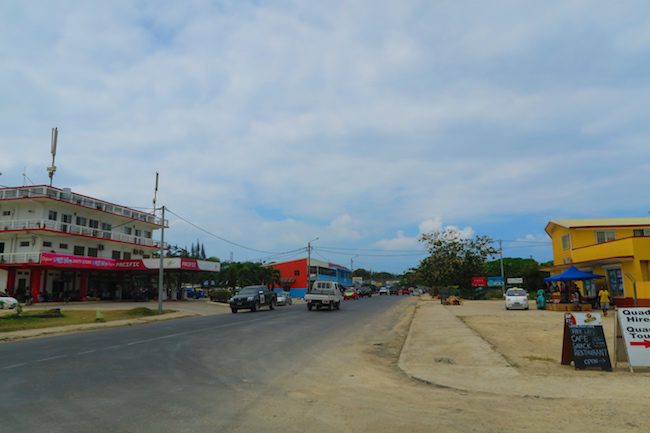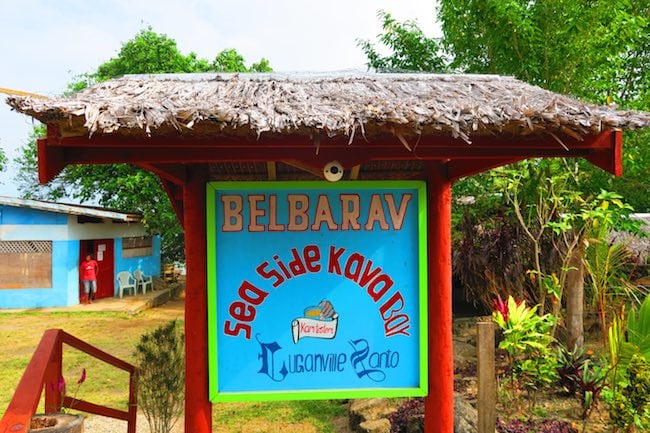 A definite Luganville highlight is the local market, about a 15-minute walk from Allan Power's dive shop. It's not as large and not as happy as the Port Vila market, but nonetheless, it offers a kaleidoscope of colors and faces that are worth the short walk.
Just like in Port Vila, there is a small 'food court' here too. Grab a seat where you see other people dining and enjoy a delicious lunch at a fraction of what you'll pay in town (~V400).
Diving Inside The Coolidge
Back to the Coolidge wreck site and this time you've earned the right to venture inside the massive ship. You'll start with a sharp descent to 37 meters to 'kiss the princess' – the signature ornament of the Coolidge. Down here it's pitch black and you'll use the torches your instructor will equip you with.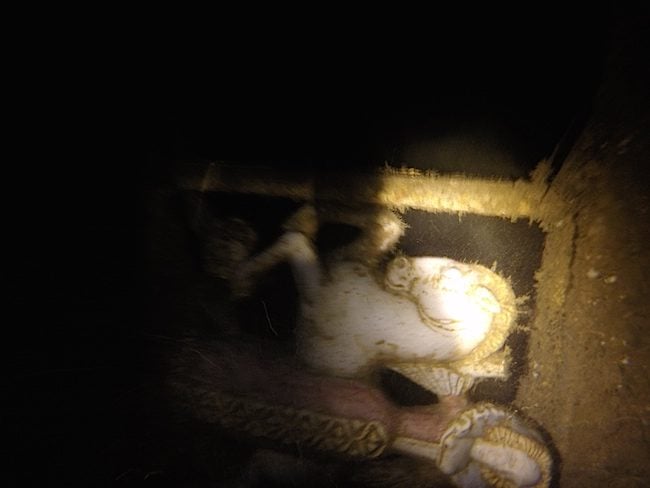 You'll then begin to slowly ascend back up to the surface, crawling through very tight spaces and inside the large hull where you'll finally understand the enormous size of the Coolidge. En route, you'll come across jeeps, aircraft fuel tanks, ammunition, medical supply and even latrines. It's a thrilling, tragic and eerie experience all at once.
Dinner & Drinks In Luganville
Cap off what must be a tiring day with either dinner at your hotel or another trip to Luganville. There's a decent Chinese Restaurant in the center of town or better yet, the Attar Cafe – a cozy restaurant with excellent wifi and western style food (~V1,000 per main). For drinks, head to the Waterside Bar & Grill or for another round of kava bar hopping!
Days 2-4: Million Dollar Point & East Coast
You can keep diving the Coolidge for as long as you want but if two dives are enough, let's do something else. For the rest of your time Santo, I'll list the places you don't want to miss. You can choose if/how to see them and where to base yourself. I personally left Luganville after a morning visit to Million Dollar Point to spend the rest of my time in Lonnoc Beach, super close to Champagne Beach. But this is totally up to you.
Million Dollar Point
At the end of WWII, the US Army no longer needed the base in Santo. With no potential buyers around and considering the long voyage back to the US, decision makers were faced with a huge dilemma over what to do with all the surplus military equipment. So they did what anybody else would do: they dumped the equipment just off the beach, packed up and went home! So you now probably understand how Million Dollar Point got its name…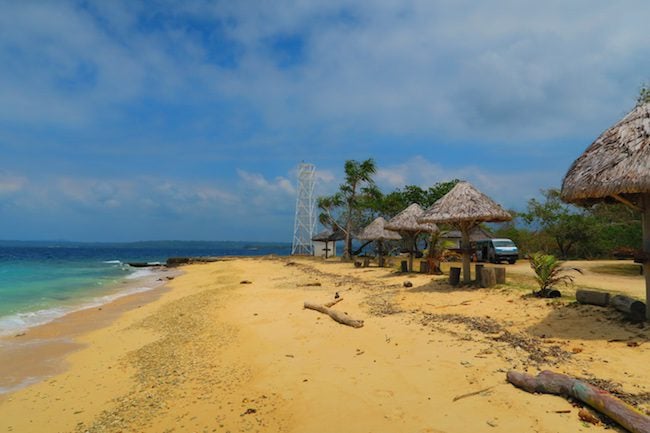 To get here, catch a bus (shared van) from Luganville for the 15-minute ride (V500 as oppose to V1,000 with taxi). You'll have to pay a V500 entrance fee but at least there will be somebody watching over your stuff and shower/toilet facilities. All you have to do is put your snorkel on and swim for about 30 meters offshore, where you'll start to see the leftover military equipment. There are cannons, tanks, jeeps, airplanes and troop carriers – all littering the ocean floor. Super cool!
To experience Million Dollar from up close, a scuba dive would come in handy. But snorkeling is also OK and you really get the point. Fins will really help out here but not a must.
East Coast Road
The sealed road running from Luganville to Port Olry passes through sleepy villages, coconut and plantations and thick rainforest. Along the way, you might get lucky and find a roadside stall where you can chit-chat with the locals and stock up on fresh tropical produce. If you're extra lucky, the boys might be preparing a batch of kava for later distribution to local bars.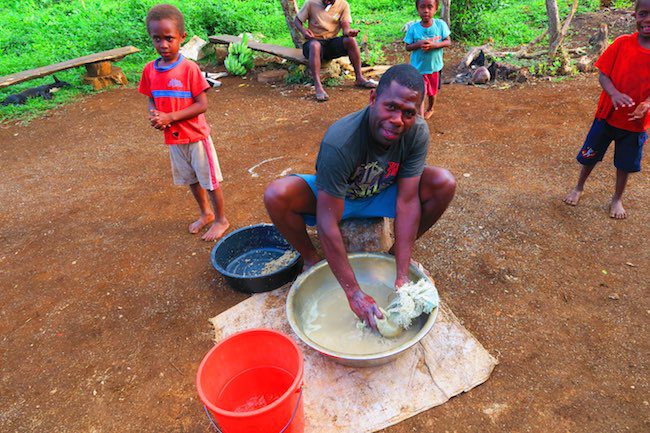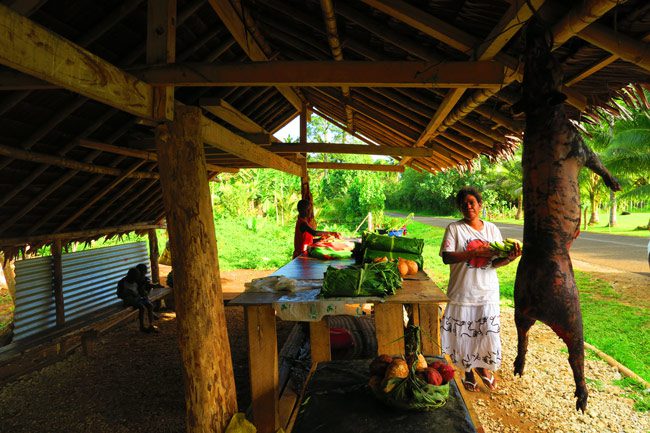 Oyster Island
Both a great lunch stop and a place to base yourself at for exploring Santo, the Oyster Island Resort should not be missed. Look for the sign off the coastal road and bang loudly on the rusty gas drum. In a matter of minutes, a boat will come and fetch you to Oyster Island, a small oasis in Santo. UPDATE: I've been recently informed (May 2018) that Oyster Islands has been purchased by a Chinese company and is currently closed or inaccessible t the public.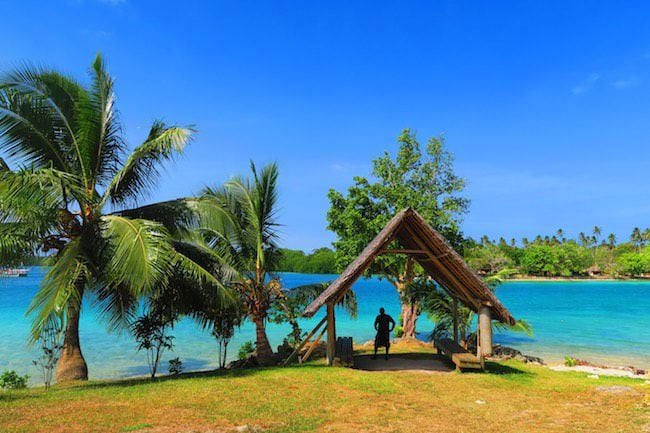 I came here as a day tripper for lunch to sample the oysters of course. After a great meal and a cold beer, it's really up to you whether to get back on the road or relax for a bit. The resort has a pretty but small sandy beach and walking trails that lead to more secluded coves where there's good snorkeling and even a plane wreck offshore.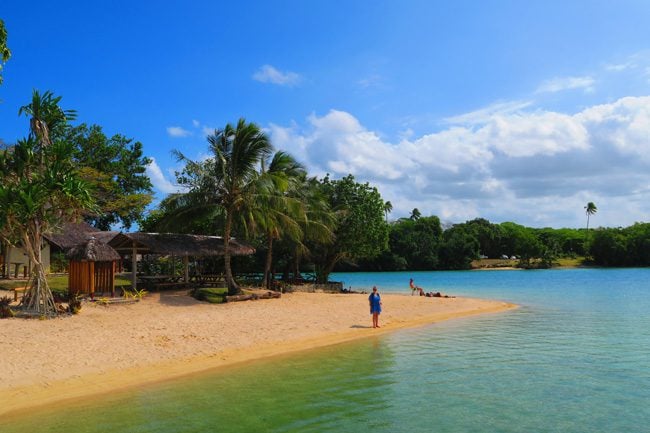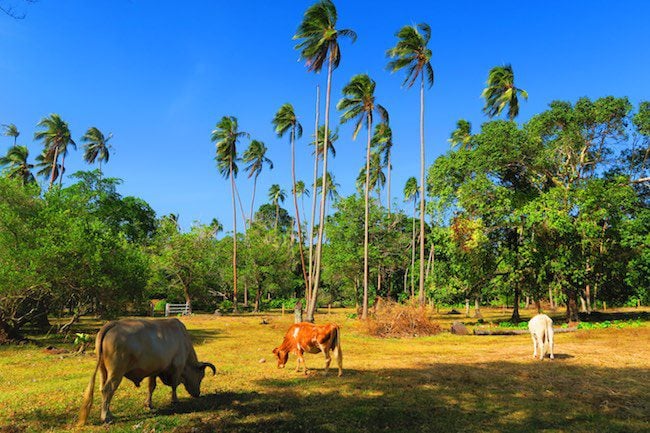 Matevulu Blue Hole
Vanuatu is blessed with thousands of fresh swimming holes, but the Matevulu Blue Hole in Santo is in a league of its own (V500 walk-in entrance). Shaded by massive banyan trees, a crystal clear natural swimming pool springs out of somewhere. Swimming in this blue hole feels like floating in space. Of course, after you've watched the local 'pros' in action, grab the rope and swing off the giant banyan tree!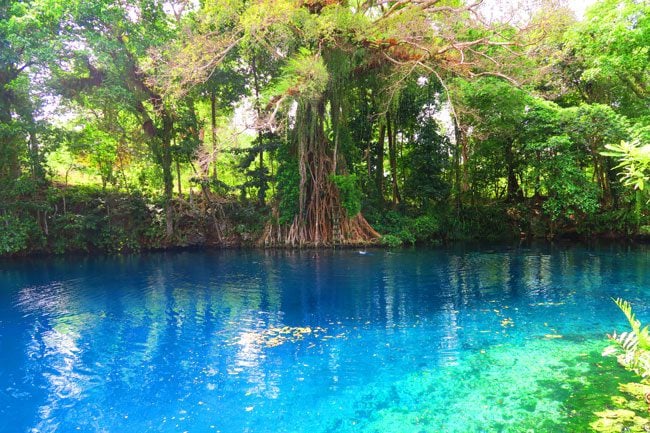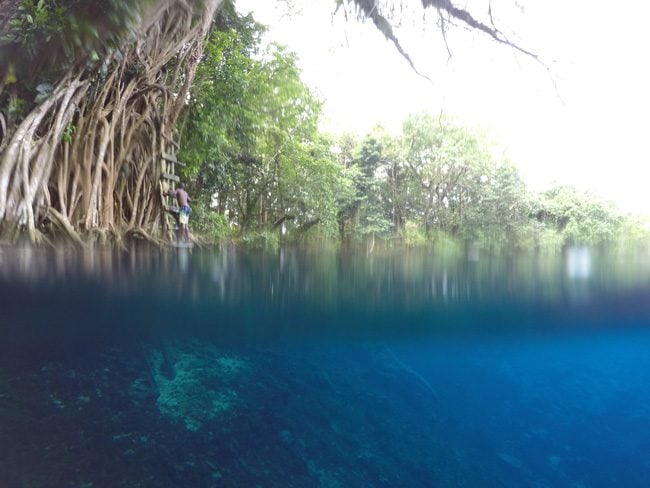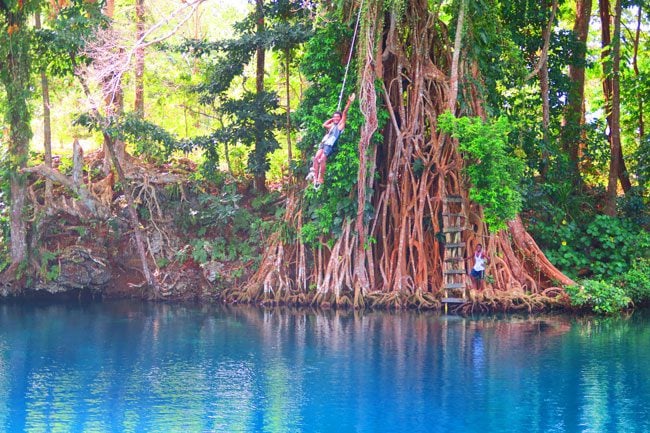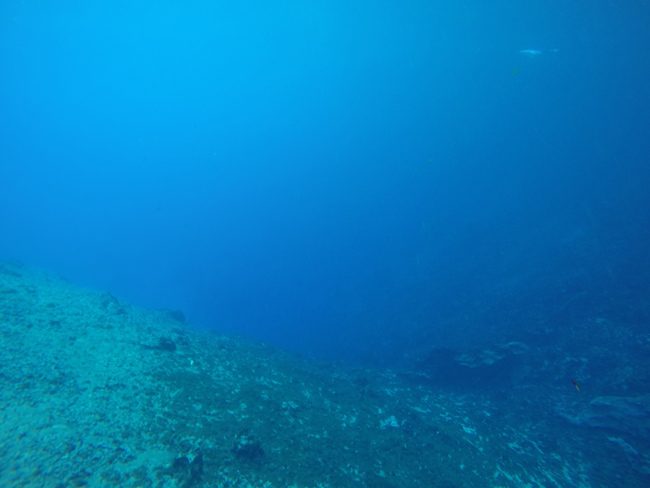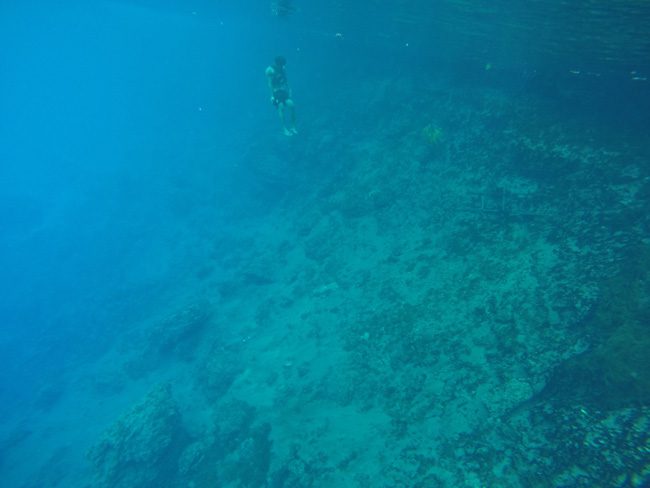 A popular way to visit the Matevulu Blue Hole is by kayaking from Oyster Island inland via the Riri Riri River. I am not a kayaking fan myself and I actually met a couple who found it quite difficult to kayak against the current.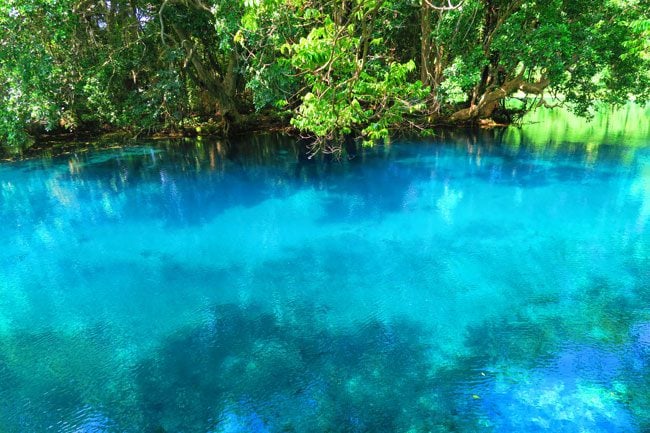 Champagne Beach
Considered the prettiest beach in Vanuatu, Champagne Beach is kind of a must visit in Santo. A long stretch of the whitest of sand curves around a horseshoe-shaped bay, with plenty of shade in the back. Needless to say, this is a very popular stop, even for cruise ships which anchor offshore. Entrance is V500 for walk-ins or V2,000 per car and there are facilities. It's not a bad place for a picnic lunch or just a bit of relaxing and swimming.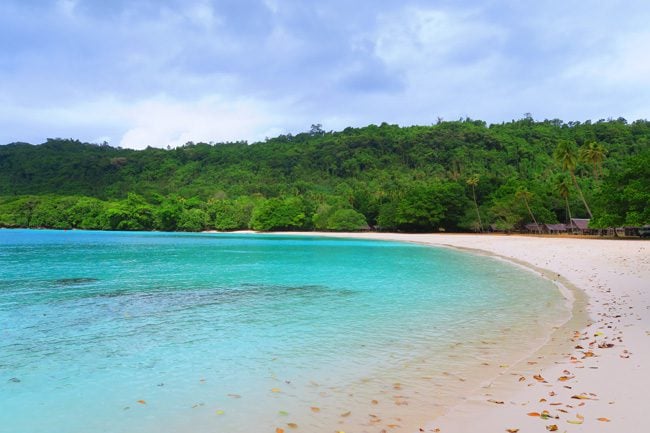 I thought Champagne Beach was lovely, but you could totally see how busy this place gets sometimes. When busses and cruise ships arrive, dozens of stalls spring to life, selling the typical souvenirs, sarongs and other things you don't really need (but certainly help the locals). So your level of affection towards Champagne Beach will really depend on the day you visit.
Lonnoc Beach
While everyone makes the pilgrimage to Champagne Beach, its sister beach is just as pretty and there's a good chance you'll be the only ones here. If you're not staying at Lonnoc Beach Bungalows, stop here for lunch or a drink and enjoy the magnificent beach.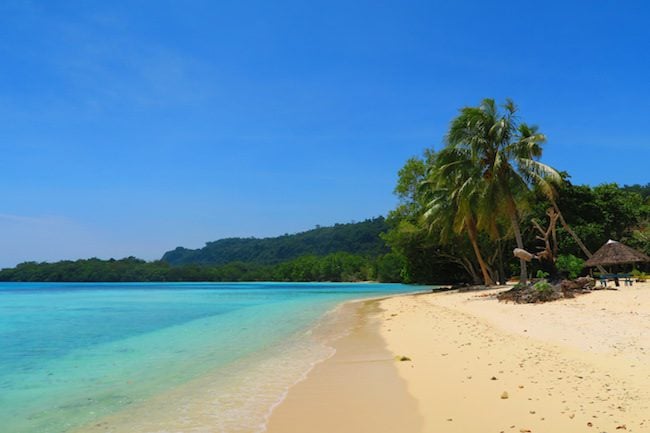 The snorkeling is 'just OK' but the intensity of the blue is simply incredible and on its own makes the stop well worth the effort. The beach bungalows have a few kayaks you can use to explore the bay and the food is quite good in the restaurant (free wifi).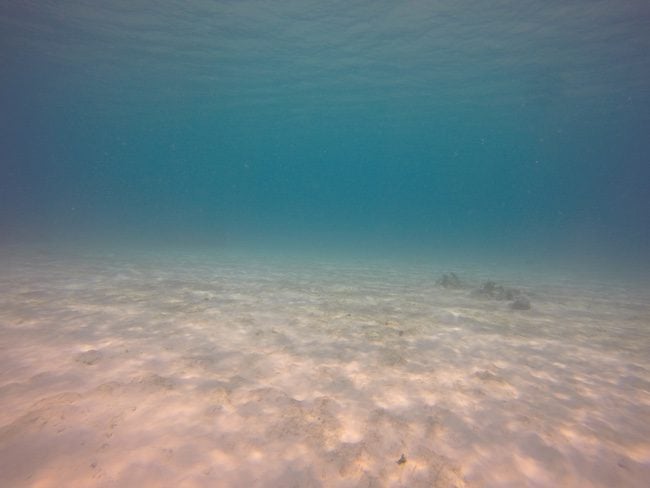 Port Olry
Marking the end of the coastal road, Port Olry's name is a reminder of past French influence. This small village centers around a Catholic mission that was founded in 1887. There's a lovely stretch of beach and a few restaurants that are popular with daytrippers.
Millenium Cave
If caving is your thing, you'll love the full day tour of the Millennium Cave. This 50-meter high cave is not too far from Luganville but be prepared to get muddy, wet and sweaty. Parts of the tour are quite extreme, requiring a bit of swimming and a good fitness level (~V7,000).