Part 3: Tanna Island (3 Days)
My favorite island in Vanuatu, do not miss the chance to visit Tanna. Its main attraction is Mount Yasur – the world's most accessible active volcano, but Tanna offers plenty more for those who stay for more than just a quick night. With hardly any paved roads and with remote villages where 26 different dialects are spoken, let curiosity lead you on a discovery of Tanna's wild nature and old Kustom way of life. Living on the fringes of society, mysterious cargo cults do their own thing, further adding to Tanna's cultural appeal to complement its awesome natural beauty.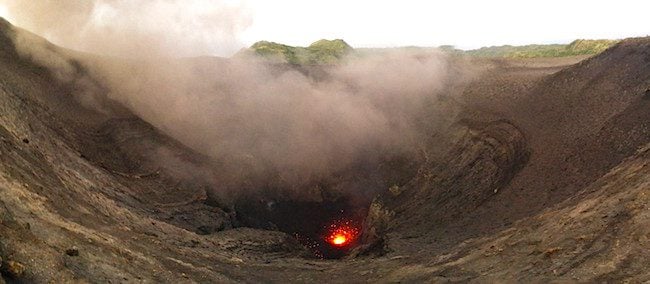 Tanna was severely hit by the category 5 Cyclone Pam in 2015, with the island taking a direct hit. Many lives were lost, along with destroyed crops and infrastructure. Signs of that horrible day were still evident when I visited Tanna, from the torn airport terminal roof to the lack of fruit on the trees.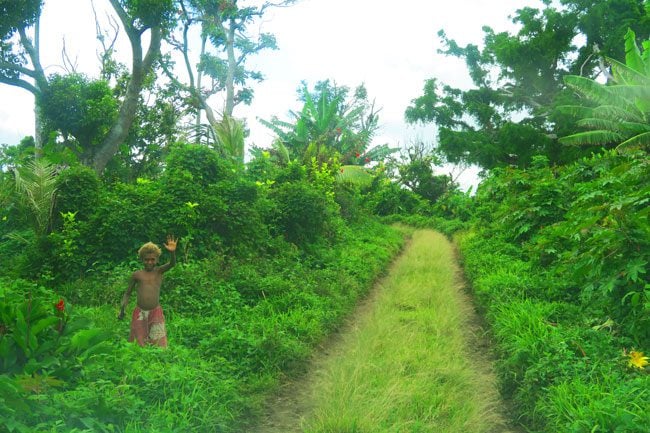 Tanna Island Travel Tips
Aim to spend at least two nights in Tanna. If the weather is bad and Mount Yasur trips are canceled, you'll at least have an extra shot.

Tanna is mainly reached via 40-minute flights from Port Vila.

Bring enough cash as the only ATM on the island serves local bank accounts. Some accommodations accept credit cards, but a 5% surcharge will be added to your bill.

Getting around Tanna is difficult and its only commercial center is Lenakel (not much happening there). Therefore, I highly recommend bringing some snacks to cover those 'in between' meals.

Confirm your departing flight a few hours before (your hosts can help you). When I visited, a mechanical problem caused disruption in service and miscommunication, causing some to miss their flight to Port Vila and their onward connection back home.

Pack something warm. Tanna can get a bit chilly at night, especially around Mount Yasur.

Don't forget reef shoes. Tanna has some amazing snorkeling off the west coast but it's quite a rocky approach to get to the best spots.

To get a sneak peek of the island, watch the highly recommended film

Tanna

, which accurately depicts Kustom life on the island.
Where To Stay In Tanna?
There are pretty much two areas to choose from as your base: the Mount Yasur area on the east side of the island and the airport area on the west coast.
Mount Yasur area

: very simple huts, campgrounds,

and even tree houses (no wifi and 24-hour electricity). They can be very cheap, offer a unique local stay, and you're close to Port Resolution and Mount Yasur (you can even walk there at night). Keep in mind that unless you happen to hitch a ride from the airport, the cost of a prearranged airport transport will almost equal that of a tour of Mount Yasur from the west coast.
Airport area: accommodations are more modern, with 24-hour electricity, WiFi, and dining options. You'll be close to excellent snorkeling spots, the airport, nearby guided tours,

and the 'town' of Lenakel – though Mount Yasur is a 90-minute drive.
I stayed at the Tanna Evergreen Resort and loved it! The resort is just 10 minutes north of the airport, and they'll pick you up for free. Small bungalows dot a lush tropical garden, and trails down to the ocean pass through a series of small tropical pools. When I stayed here, they were just starting to recover from the cyclone damage, but it looks like an oasis from recent photos. There are budget-style bungalows with shared bathrooms (hot water, electricity, and mosquito nets provided) to go along with fancier ocean-facing units. The entire property is perfectly situated for magnificent sunsets.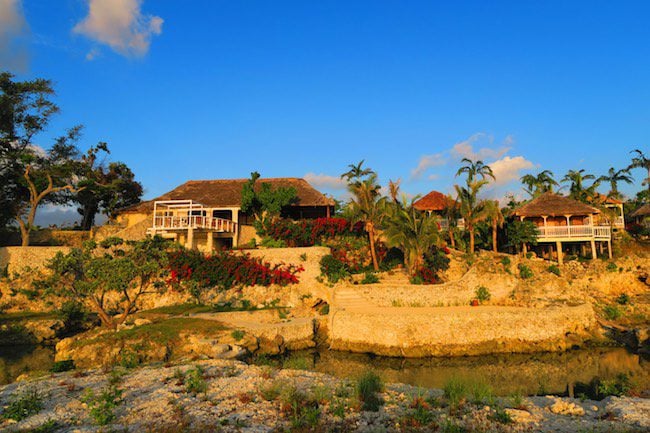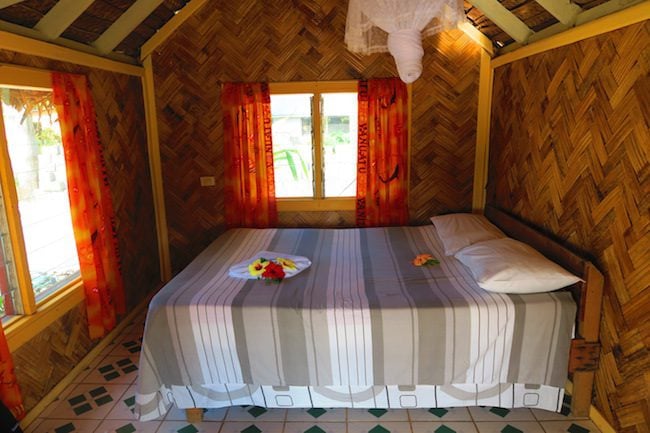 The resort's restaurant and bar are where you'll be treated to a great breakfast (with Tanna Coffee served, of course), sunset dinners, and connect to the (OK) wifi. Throughout the day, you can buy lunch, snacks, and drinks. The dinner menu was excellent and well priced, considering you're in the middle of nowhere (mains start at V1,200). Choose from Thai curry, chicken specials, and even a whole lobster for just ~V2,500. As the sun sets and the air gets a bit chilly, a bonfire is lit nearby and millions of stars begin to shine in the night sky.
Another advantage of staying here is the snorkeling. Right off the resort's rocky beach, you'll find superb marine life that's best explored a low tide. Don't forget your reef shoes!
Finally, the resort also doubles as a tour company, offering you the chance to visit Mount Yasur and discover all the highlights mentioned in this section of the guide. I went on four tours and would have done more if only I had more time. Though prices are quite steep, don't forget that Tanna is a remote island with very poor infrastructure, so everything is quite costly also for the locals. Nevertheless, all tours of Tanna featured in this section of the Vanuatu Travel Guide were booked directly via the resort and were well worth it.
A slightly more upscale option is the White Grass Ocean Resort, next door to the Evergreen Resort, or the recently opened Rockwater Resort.
10 Days In Vanuatu Map:

Tanna

Click on the image to open it in Google Maps. This map contains all the highlights mentioned in this section of the guide: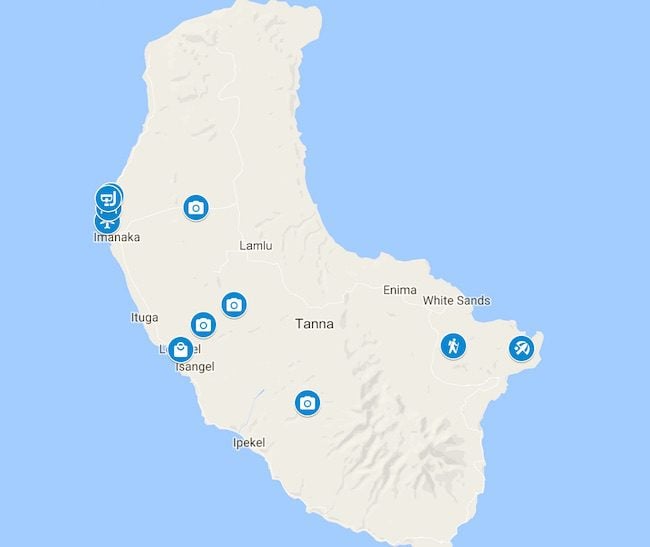 Day 1: Snorkeling & Mount Yasur Volcano Tour
Since it's your first full day in Tanna (or even if you've arrived on the morning flight from Port Vila), book a spot on a tour of Mount Yasur. This way, if the weather is bad, you'll have another shot tomorrow. The tour leaves around 3 pm, so use the morning to relax, enjoy the view and explore Tanna's marine life.
Snorkeling In Blue Hole #2
The best snorkeling in Tanna is just a 20-minute walk up the dirt road from the Tanna Evergreen Resort. Look for the sign to Blue Hole #2 and walk down to the rocky reef edge. From the surface, it looks nothing out of the ordinary, but once you enter the break in the reef (the hole), you enter a wonderland.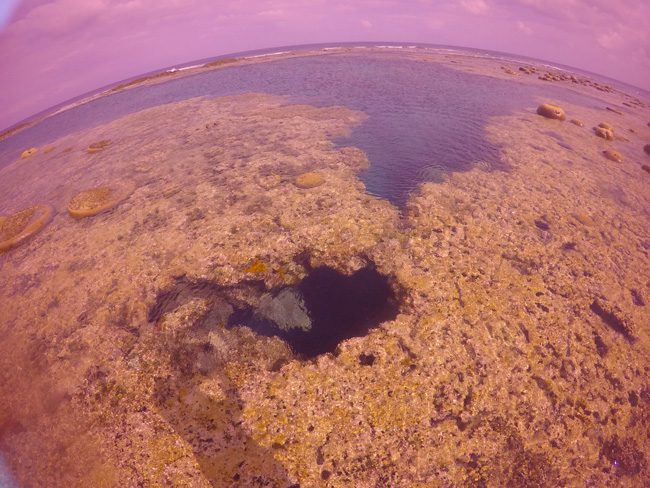 During low tide, the reef breaks create a calm tidal pool that's a good few meters deep. Tropical fish in all colors of the rainbow swim back and forth inside the safe confines formed by hard corals that grow on the volcanic rock.
The water is crystal clear, and if you're extra brave, you can venture inside small caverns and lava tubes running from the main pool. It's a magical experience, and you'll probably be the only ones here if you come early in the day.
Where's Blue Hole #1, you might ask? It's further up the road, but #2 is said to be better. Don't forget your reef shoes and snorkeling gear, of course. Inquire with your hosts about the tides and only venture inside at low tide when it's easy to spot the entrance and visibility is at its maximum.
Mount Yasur Volcano Tour
After lunch and a short nap, gear up for the trip of a lifetime. This is the prime reason you came to Tanna. Known as the 'world's most accessible volcano', the challenging and long trip to Mount Yasur is absolutely worth the effort and the cost (~V12,000-14,000). The volcano has been active for the last 800 years and its nightly glow is said to have led to its coincidental discovery by Captain Cook.
Your tour will depart at around 3 pm with a beautiful 90-minute drive up from the west coast to the highlands and down to the east coast where the volcano lies. Only the most difficult road sections are paved so expect a long and rough drive at times. You'll pass through remote villages where time stands still, villages destroyed during Cyclone Pam. Keep your eyes peeled for slices of tine roof wedged into the treetops, debris leftover from the cyclone.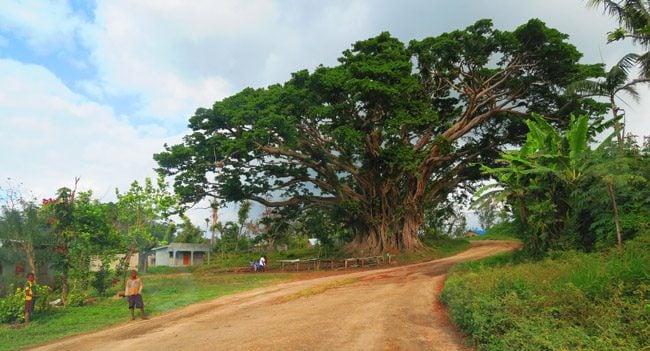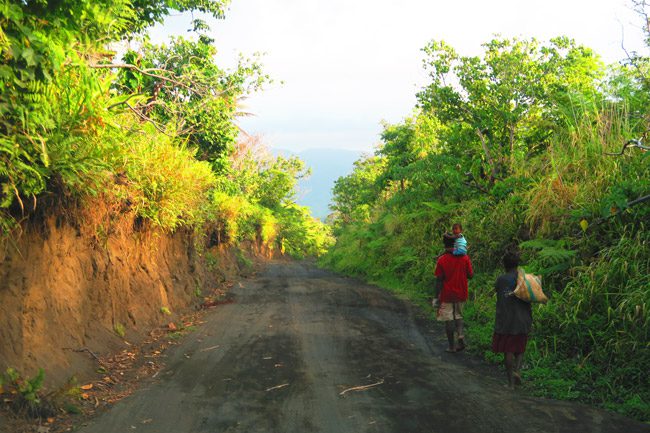 After the initial climb, you'll reach a lookout point with panoramic views of Tanna. To the north, the beautiful uninhabited coastline, and to the south – your first glimpse of Mount Yasur.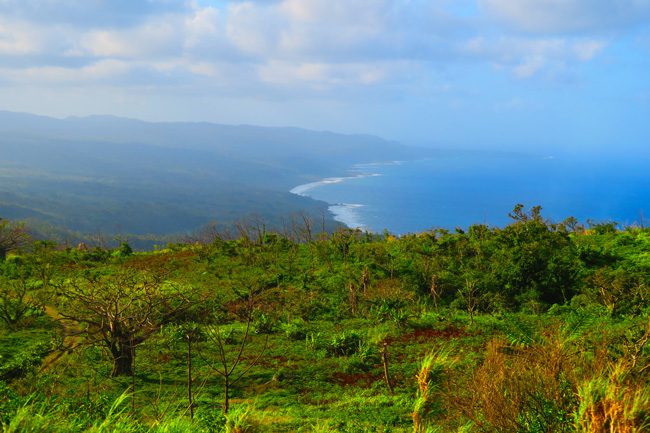 A few turns and a few miles later, you'll think you've just landed on the surface of Mars with a touch-down on the only highway in Tanna – the black ash plains of Mount Yasur. It's the only time you'll break out of third gear on this trip and it'll be your first glimpse of the volcano from up close.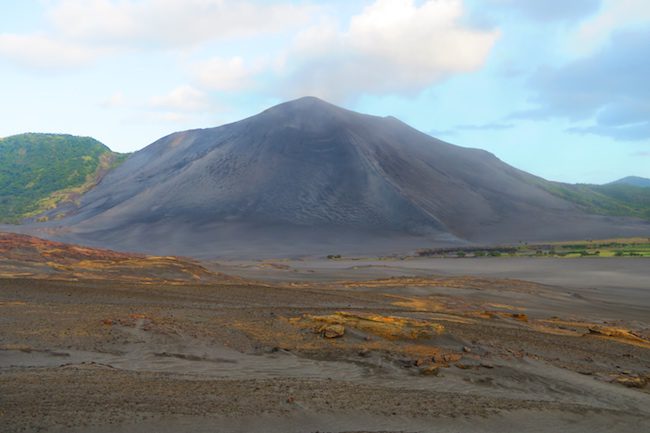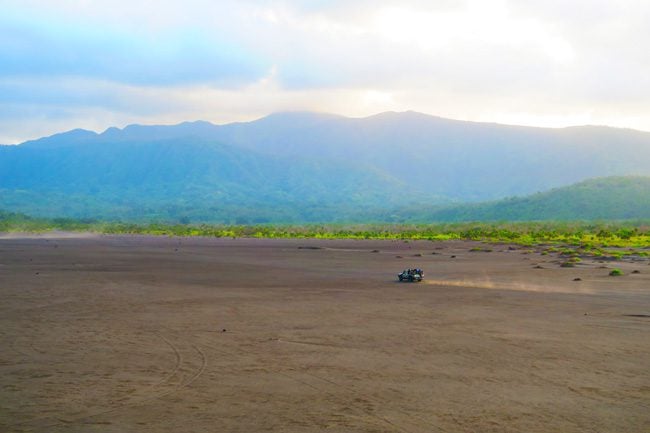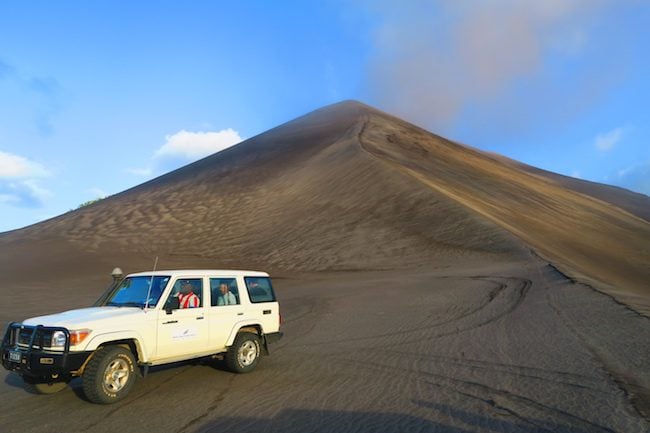 As you get closer, you'll pass a few small villages that live dangerously close to the volcano. There are a handful of accommodations out here in simple huts and treehouses for those who want to visit the volcano multiple times. Out here, you'll begin to notice smoke literally rising out of the ground, sure signs you took the right turn.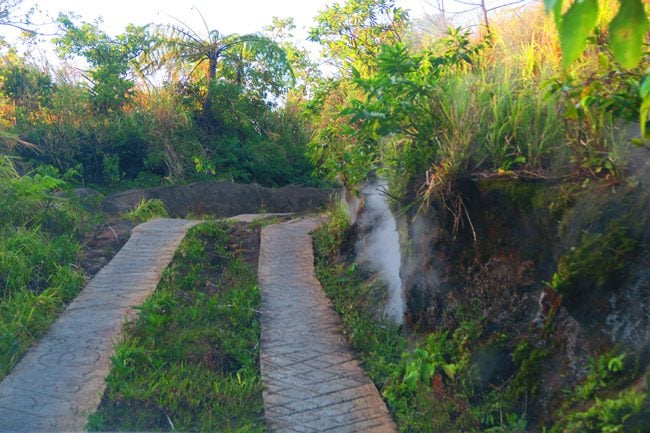 The jeeps will then park right at the foot of the volcano, where you'll embark on a short hike up to the creator to the sounds of exploding grenades and the smell of rotten eggs. En route, you'll have a chance to post a letter back home from a lonesome mailbox. In a country with such poor infrastructure, it amazes me how Vanuatu Post manages to reach the toughest of places.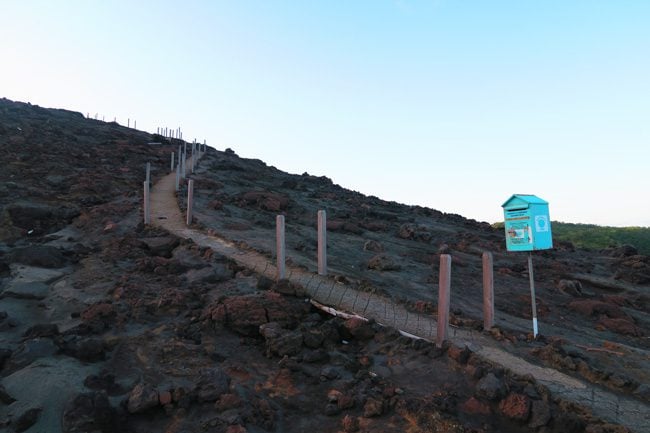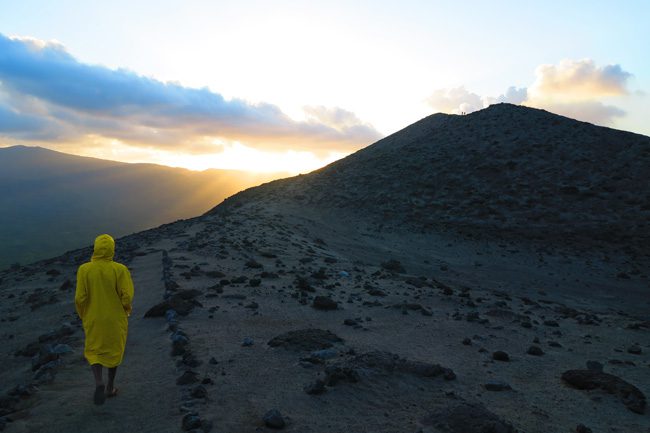 You'll make it to the rim just in time for a spectacular sunset. It'll be the last time you look out in that direction for the rest of the evening.
I've climbed the Pacaya Volcano in Guatemala, but I've never stared down the mouth of an active volcano. For the next hour, you'll be treated to a fiery display of lava eruptions that you'll never forget.
Here's what it felt like to be at the top of Mount Yasur and here's the entire experience from day to night in a time-lapse video
Logistics: tours from the west coast leave at 3 pm and return at 8 pm, so pre-order your dinner. Wear warm clothes and be prepared for a lot of ash flying your way. I recommend packing something to cover your nose and mouth with, baby wipes, tissues, a torch, and even something to protect your camera (mine briefly stopped working the following day).
Day 2: The Black Magic Tour
Another morning of taking it easy, pop into Lenakel to check out its small but excellent outdoor market, join a morning tour to the blue cave, 'wilderness waterfall', or just snorkel in the blue hole again.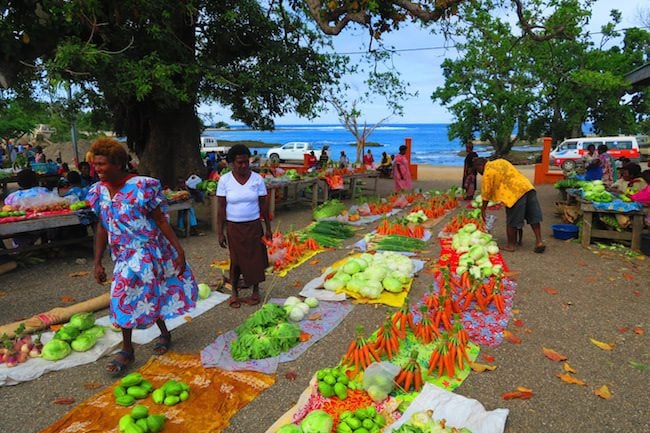 At 1 pm, depart to the middle of nowhere for the start of what's known as 'the black magic tour' – a reconstructed custom village where surprises lurk out of every corner – warning: spoilers coming up! You'll be greeted by a local tribe member who welcomes you to the village tour with the famous (true) story of a missionary that landed on the shores of Tanna only to be eaten by cannibals.
Great way to start your tour ah… here's what comes next!
After this welcoming introduction, you'll enter the village through a massive banyan tree where the next generation of warriors takes their shot at scaring the living daylights out of you.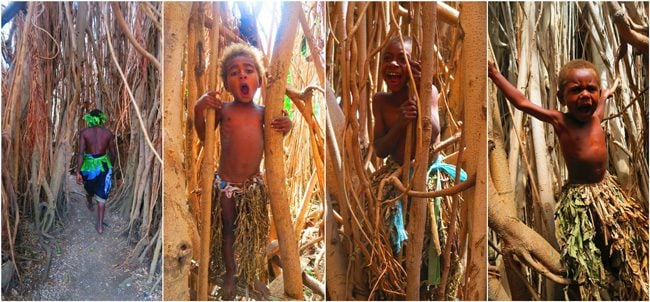 You'll then move from station to station, where you'll learn about the ancient ways of warfare: archery, camouflage, and medical evacuation using a few special leaves as a stretcher.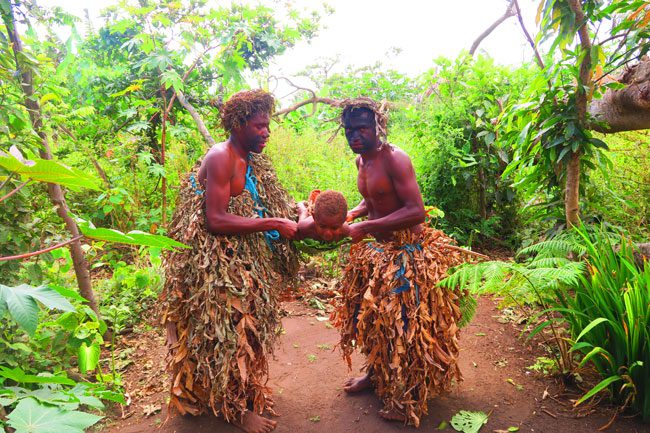 A few stations later, you'll finally be worthy of meeting the tribe's chief (he really is a chief). The chief will perform a beautiful wedding ceremony using his special powers to bind together two heart-shaped leaves known locally as Nanamian.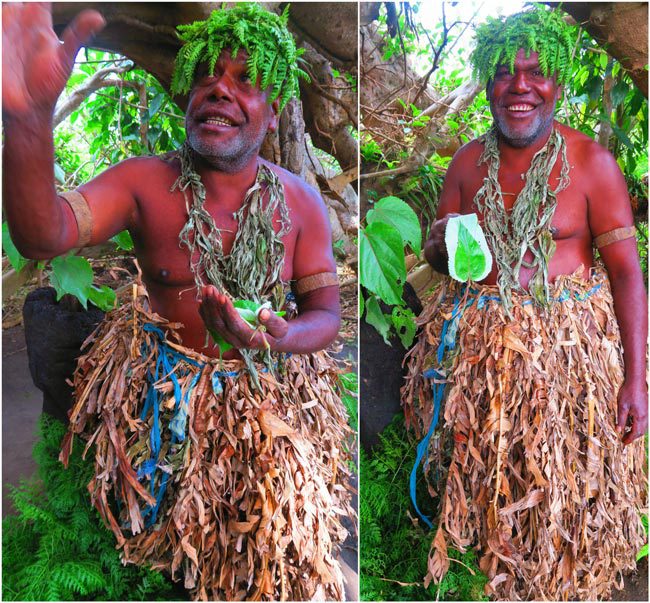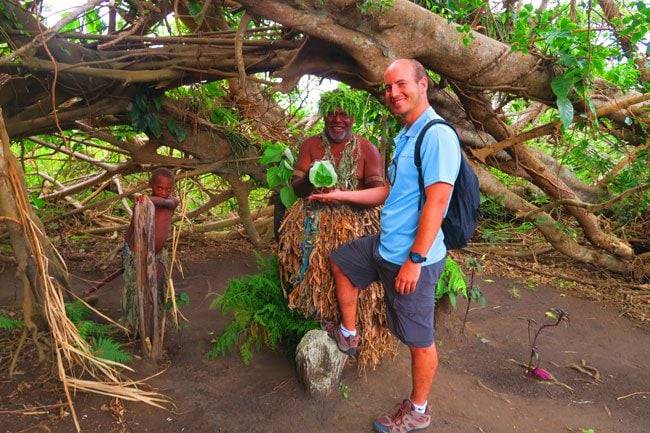 The tour then reaches its climax, with the entire village coming together to celebrate your arrival with traditional song and dance. The baton is then passed to you as you get to play chief and be paraded through the village with a huge entourage cheering you on!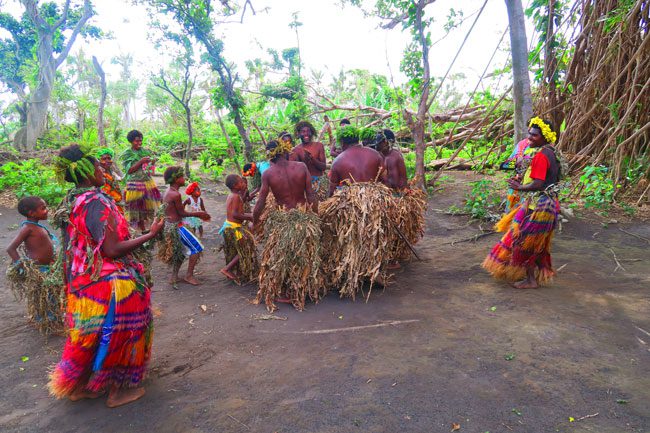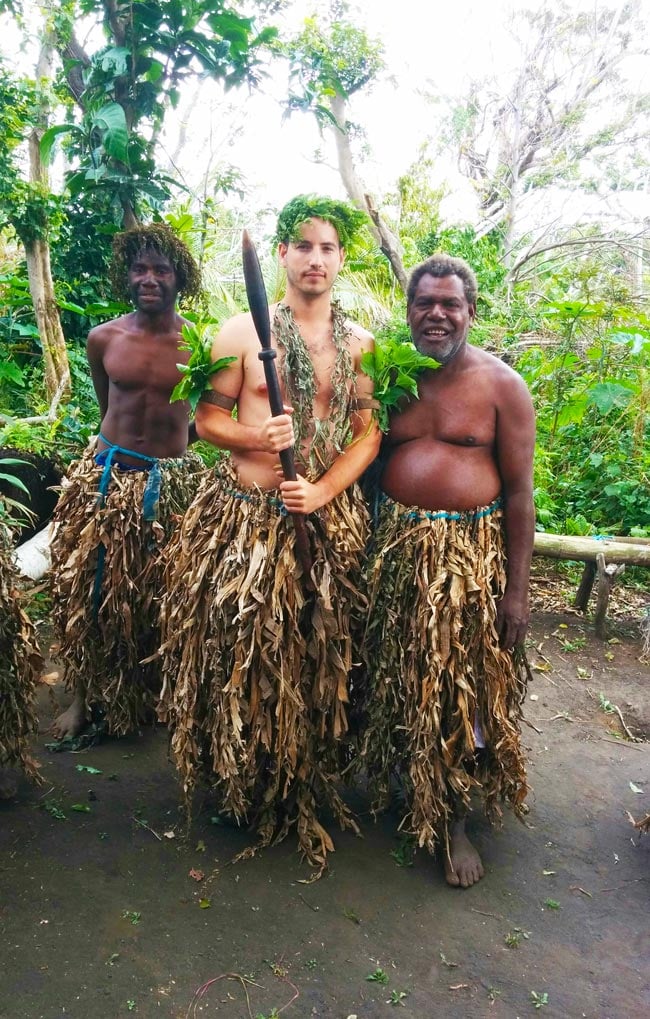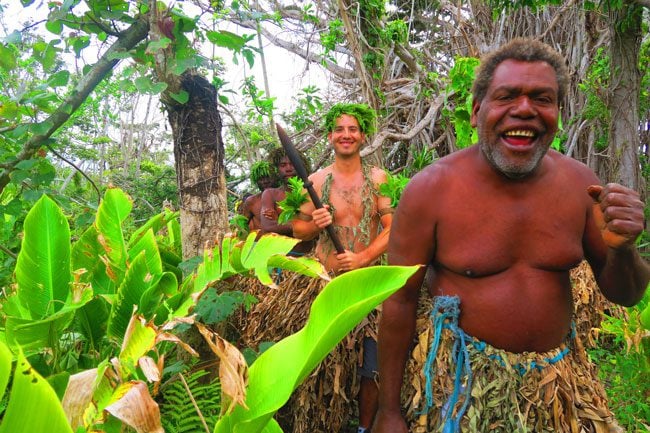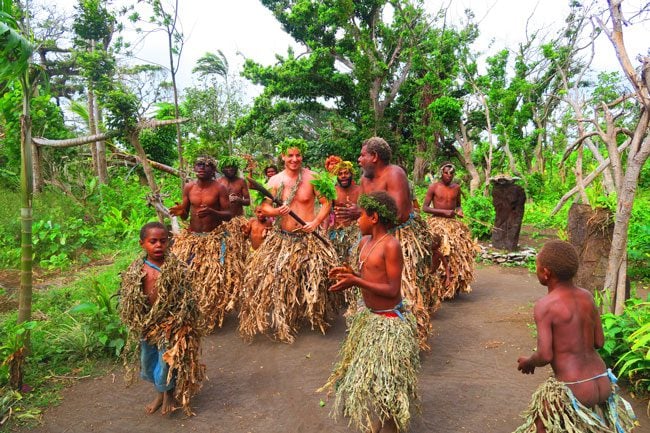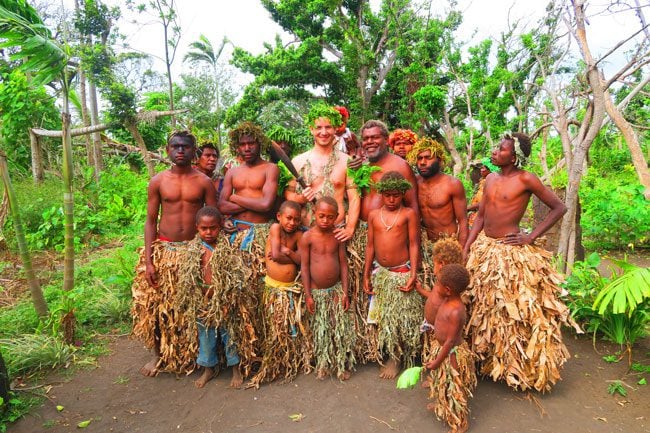 Bottom line: the Tanna black magic tour lasts for about 2 hours, and you'll have a chance to buy some local souvenirs from the villagers so bring extra cash (~V500-1,000). Despite being geared for tourists, I had a wonderful time on the magic tour. The special moments I experienced there still put a smile on my face whenever I dream about Vanuatu.
Day 3: Yakel Tribe Village Tour & Cargo Cults
The magic tour was great, but how about seeing the real deal? Tanna is home to a number of tribes that haven't changed much over the centuries, resisting Western influence and holding on to the traditional ways of Kustom. The most famous tribe is the Yakel tribe. A visit to their village is a must for any curious traveler.
Louinio Cultural Village
At around 8:30 am, you'll depart once again to the middle of nowhere, this time to the central highlands of Tanna. The ride will give you another opportunity to witness the beauty of Tanna's landscape and the allure of its remote villages.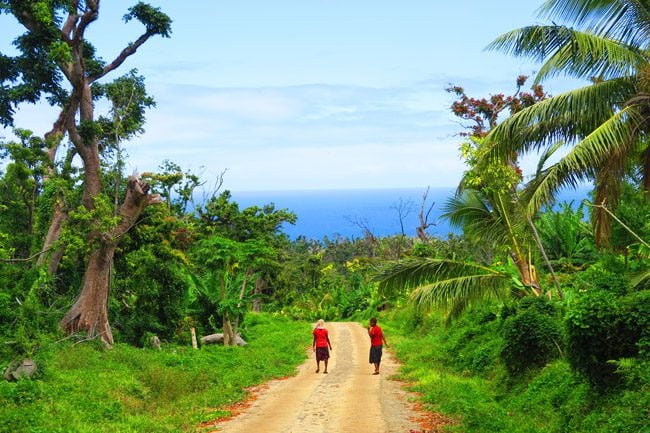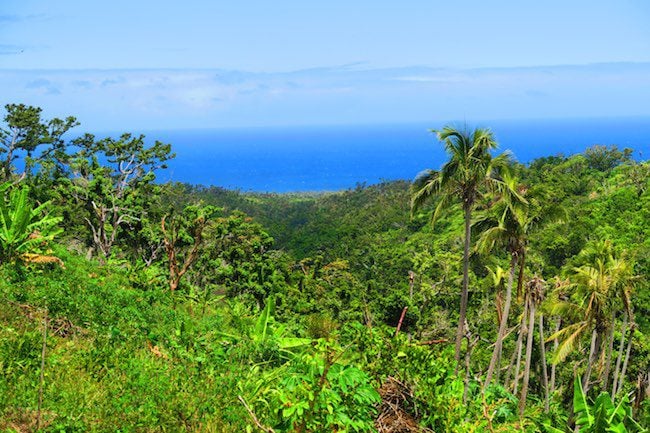 Arriving in Louinio Village, you'll think you've just arrived at a filming location for one of those BBC nature documentaries. In fact, this description is not that far from reality, as anthropologists from around the world come to Tanna to document the people of the Yakel tribe.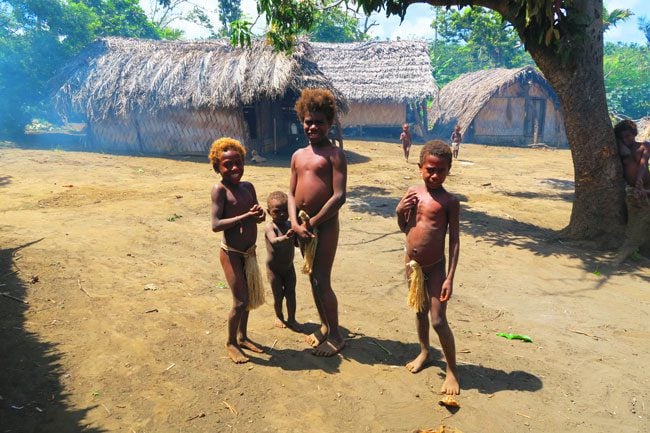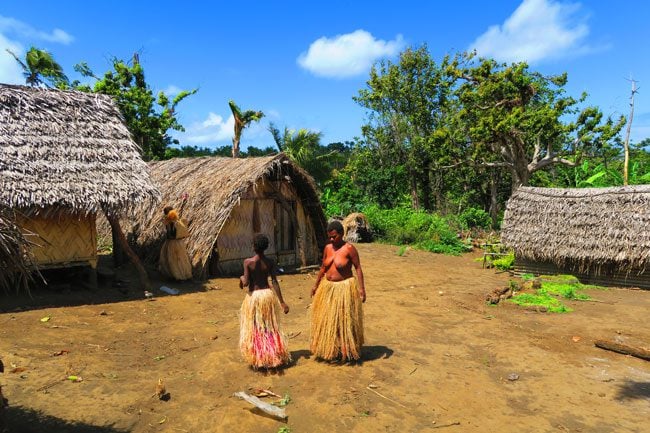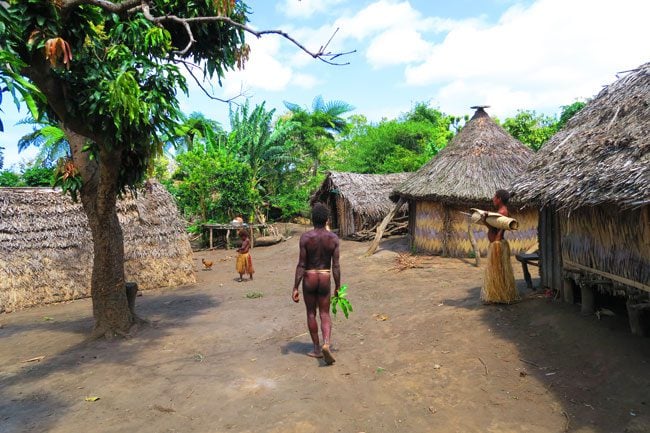 Your guide will lead you through the tribe's village, where women are covered only by grassy lavalava skirts and men by penis sheaths. There's no electricity out here and no 7-11. Everything is grown and raised on-site, with tribe members sometimes heading to town to barter for goods wearing their traditional clothing. In good years, the village is almost entirely self-sufficient, with taro, sweet potato, sugar cane, avocado, mango, and herbal medicines grown on-site to go along with chickens and pigs. Even tobacco and kava are grown in the village, with the men closely guarding these cash crops, which surely help pass the time in the absence of satellite TV and wifi.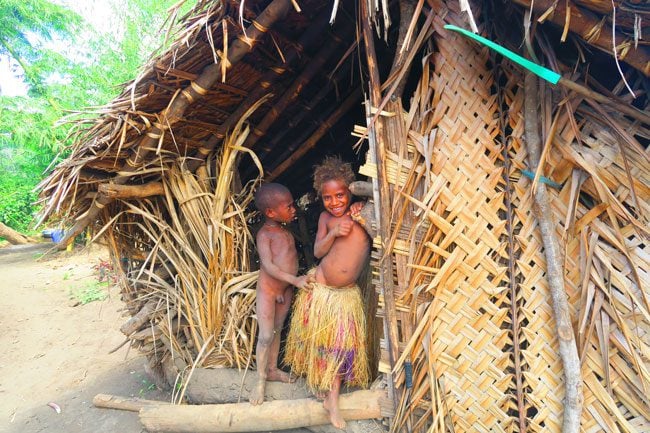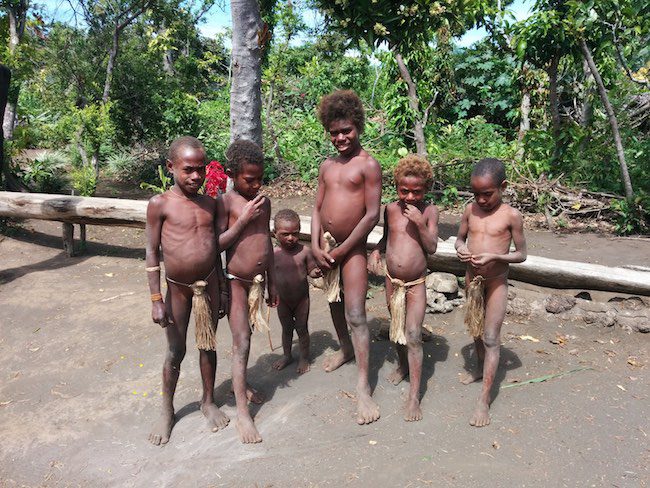 You'll then enter one of the huts, where a local mama is busy preparing traditional dishes that you'll get to taste. As you exit the hut, children play a local version of hide and seek, dancing around in a circle with one blindfolded in the middle. Who needs a PlayStation?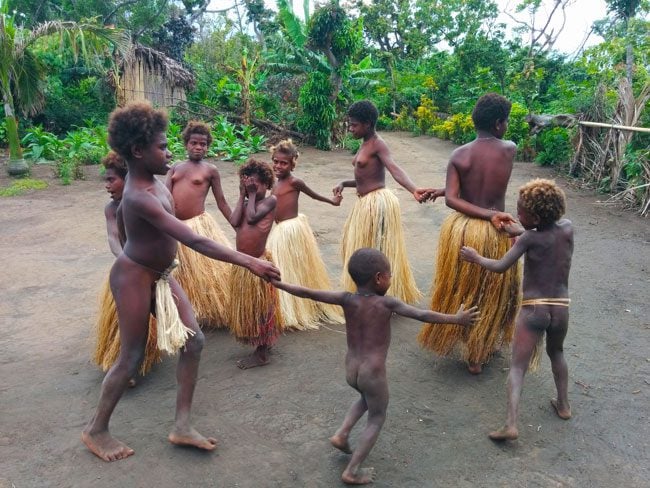 Moving closer to the tobacco plantation, the men demonstrate how they can light a fire with simply a wooden stick and some dried bark in seconds. The entire village will then join, erupting in a traditional dance that sends vibrations running through the ground.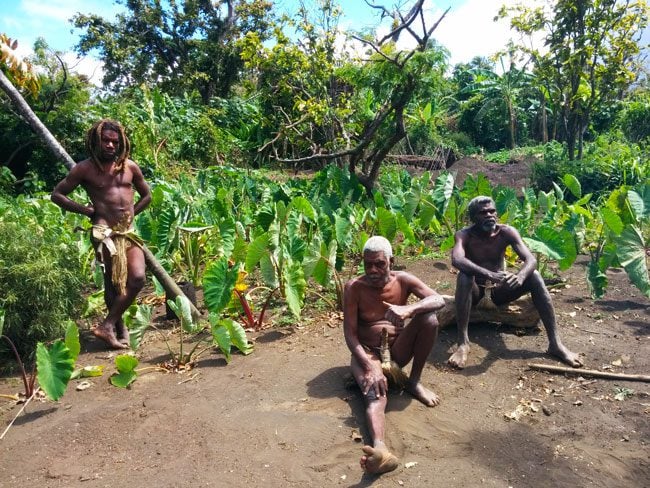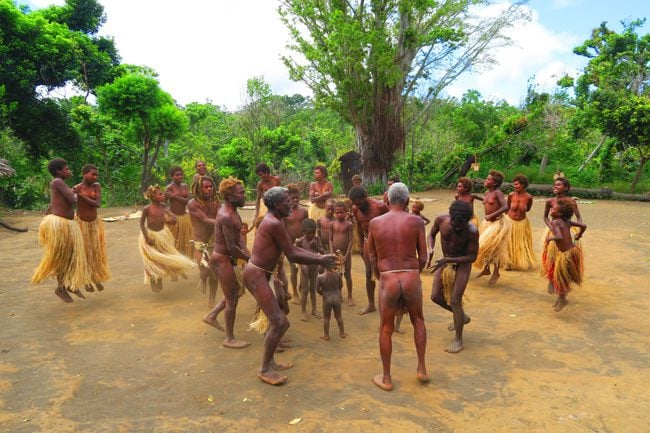 Bottom line: I highly recommend visiting the Yakel Tribe's village. It's as authentic as it gets, and after watching the (highly recommended) movie 'Tanna' – I can honestly tell you it's exactly like this in reality! In addition, like all villages in Tanna, Cyclone Pam really devastated the community, so any extra bit of cash goes a long way (bring some cash for souvenirs).
The Giant Banyan Tree
On the ride back from Louinio Village, you can detour and visit this freak of nature. Tanna has its fair share of banyan trees, but this one's huge! Though locals claim it's the biggest in the world, it's not quite there yet. What appears to be a single banyan tree that has somehow morphed into the size of a football field; nobody really knows when it all began. Local legend says that even when Captain Cook visited Tanna in the mid-18th century, this tree was already a giant. Perhaps its secret lies in the small stream that flows right through its heart.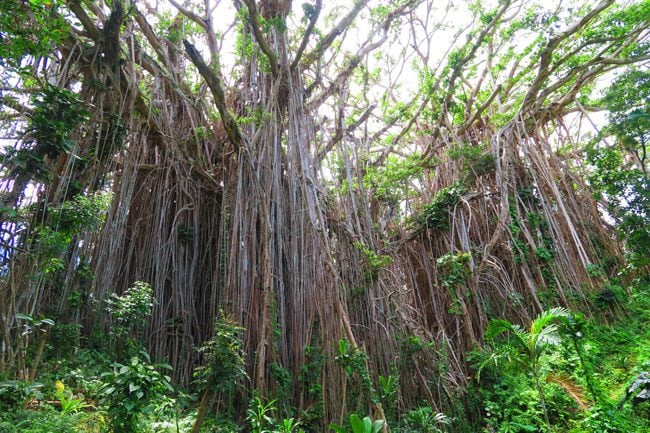 Logistics: the combo tour of the Yakel tribe village and the giant banyan tree leaves at 8:30 and returns at noon, so you can do this in the morning and catch an afternoon flight to Port Vila.
John Frum Cargo Cult
If it's Friday, you'll have the chance to visit one of the most bizarre scenes in the South Pacific. Tanna is home to a few cargo cults worshiping anything from Prince Philip to a mysterious figure called John Frum. Some say John Frum was a real person who spoke of the day when the European colonizers would depart Tanna and leave all their material wealth to the local Ni-Vans, while some say it's the misinterpretation of an American soldier 'John from (America)' whom islanders met while working for the US Army on other islands during WWII. While some John Frum villages worship 'cargo' i.e., old military equipment associated with this John Frum, others simply reject Western influence and hold on to their own belief system.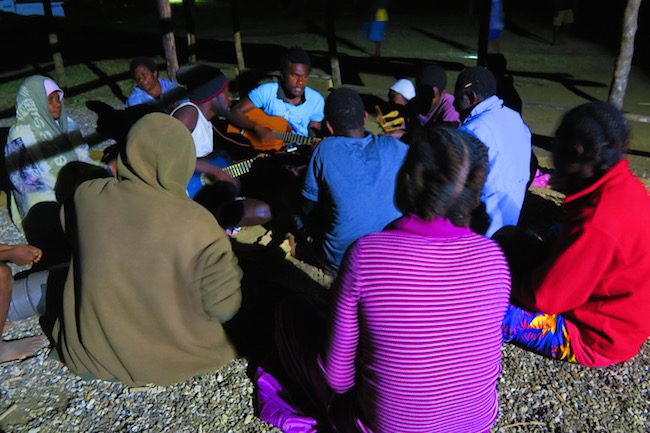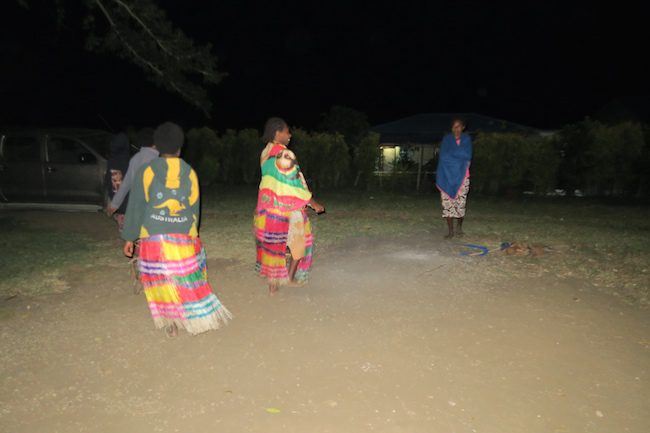 If you're staying close to Mount Yasur, you can visit the guys who worship WWII military cargo. I visited a John Frum village as night fell, locals gathered inside an open hut and began singing for hours. The men appeared to be completely high on kava, while some of the older women were dancing bizarrely outside and were also high on something.
Bottom line: it's certainly not a must to visit a John Frum village, but it is a rare nighttime activity on Fridays. Inquire about special occasions when cult members parade through their village dressed in old US military gear.
Part 4: Port Vila (1 Day)
I highly recommend returning to Port Vila for one last night, just in case there are any disruptions to inter-island flights on Air Vanuatu (which can happen). Use this last day in Port Vila to relax, reflect and shop in the town's market!
So What Do You Think?
I hope you've found this Vanuatu travel guide and 10-day sample itinerary helpful in planning your own adventure in Vanuatu!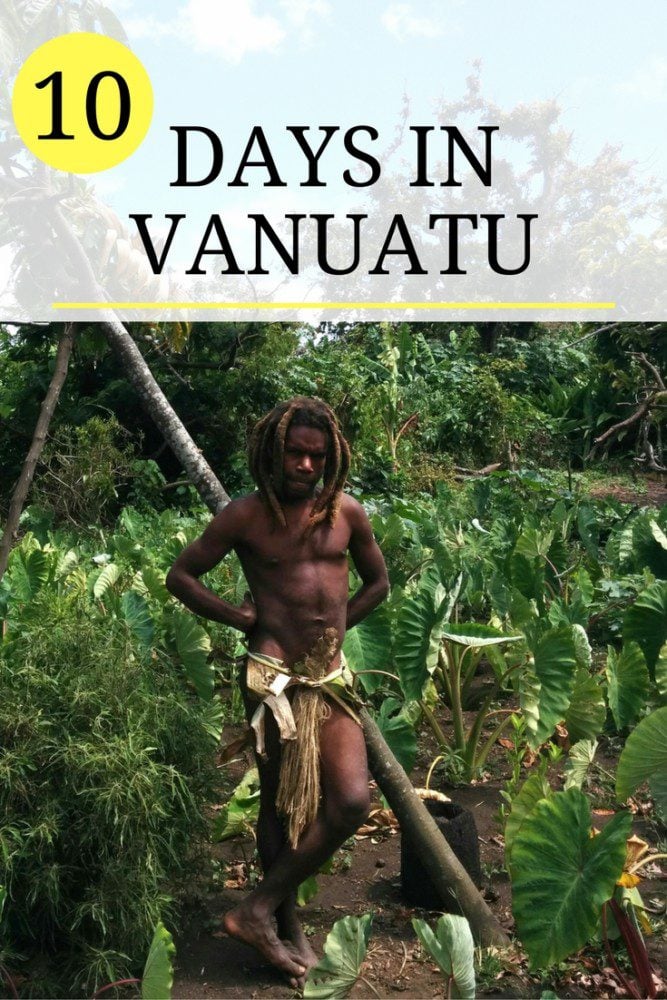 Pin These Images To Your Favorite Boards!