A trip to Kenya casts a lasting spell on any traveler, especially the kind who appreciate the power of nature's forces and respect its fragility. But apart from close encounters with the celebrity wild animals that make up the "Big Five", Kenya's blinding white-sand beaches, small Swahili fishing villages and the smiles of its friendly locals, are the key ingredients of this lasting experience. So put your worries behind, get into the Hakuna Matata mode and let's explore how to spend 3 days in Kenya with this sample itinerary.
About this Guide
I visited Kenya as part of a trip to several African capital cities during June when temperatures are much milder during the "African winter". This was a solo trip where the goal was to stay active and maximize sightseeing.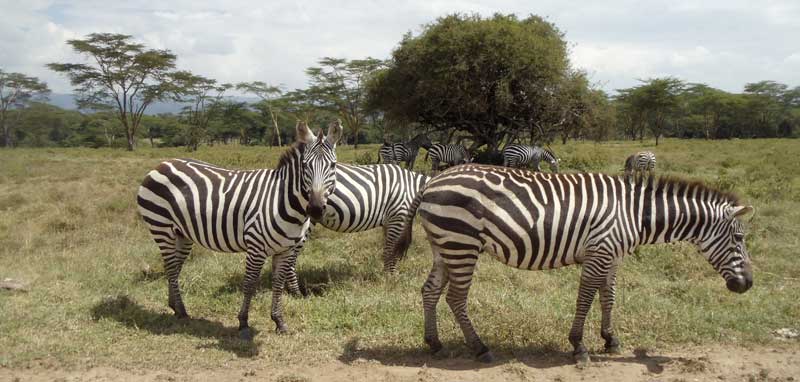 What's included in this 3 days in Kenya itinerary?
Several sections make up this itinerary:
Looking for Quick Reads?
Check out the top things to do in Kenya and extend your African voyage with a beach escape to neighboring Zanzibar.
Extending Your Visit Beyond 3 Days in Kenya
Safaris: Kenya is world-famous for its wildlife safaris. The top national parks to consider in Kenya are Masai Mara, Amboseli National Park, Tsavo East, and Tsavo West. You'll need to dedicate at least two nights inside the park for each plus travel time.
Hiking Mount Kenya: Africa's second-highest peak (5,199m) is a favorite goal for serious hikers. Unless you're a pro, your goal is to reach Point Lenana, the third-highest peak in the national park (4,985m). Apart from the travel time, you'll need at least 2 nights to scale the mountain and absolutely need to hire a guide for safety reasons.
Mombasa and east coast beaches: Kenya's historical and strategic port city is the gateway to the country's prime beaches. The coasts running to its north and south are home to stunning beaches, marine sanctuaries, and slow-moving Swahili fishing villages. If you're keen on exploring historical African cities, spend a night in Mombasa and then head to the beaches for another 2-3 nights.
Zanzibar: to perfectly combine wildlife with beach life on a single trip to Africa, fly from Nairobi to Zanzibar. Spend at least three nights on the island if you just want to relax on the beach and extend to five days or a full week to really get a taste for the Spice Island. Here's an in-depth Zanzibar itinerary to help plan your visit.
3 Days In Kenya Map
This map contains all the places mentioned in this sample itinerary. Click on the image to open in Google Maps.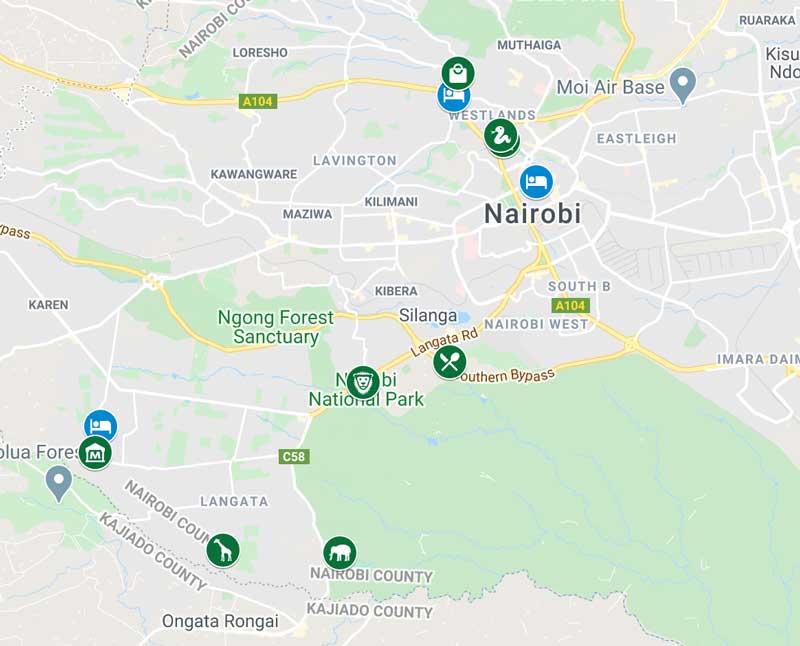 Kenya & Nairobi Travel Tips
Listed below are essential travel tips that are specific to this itinerary. I have added a few more tips for travelers planning safaris in Kenya.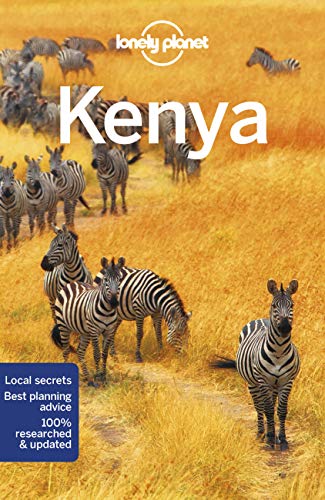 Planning: pick up your own copy of the Lonely Planet Guide to Kenya. Together with this 3 Days In Kenya sample itinerary, it will help in planning your itinerary and understanding the ins and outs of traveling in Kenya.
Packing: pack for both warm and chilly weather conditions to successfully deal with Kenya's microclimates. In addition, be sure to have the right photography gear to best document the rich wildlife encountered on this journey. Have a look at the X Days In Y Packing List for clothing and apparel ideas.
When to go: the best time to visit Kenya is between July and October, especially if wildlife watching is your prime objective. August is the peak migration season in Masai Mara National Park.
Travel vaccines: well before heading off to Kenya, consult your doctor on recommended travel vaccines for Kenya. You might also be required to get vaccinated against yellow fever if entering Kenya from countries where this virus exists. Do note, however, that if your visit to Kenya is centered around Nairobi, many vaccines are not necessary.
Travel insurance: as always, it's vital to have ample travel insurance. Get a quote and purchase your travel insurance from World Nomads who offer excellent policies to travelers.
Getting around: unless you are an absolute adventurer, it's highly recommended to hire a driver or a guide to take you around. Apart from Kenya's infamous high road accident rate, you'll feel much safer walking around with a local, get to know the history from a local's perspective, and save a lot of time. Kenyans know a lot about wildlife and are very excited to share their knowledge. For getting around Nairobi without a private guide, taxis, buses, and shared tours are your options. For day trips outside Nairobi, either hire a guide or join an organized trip from local operators. I highly recommend contacting Peter Wachira (+254722526210 | pitawachira@gmail.com) to guide you. Peter took me around for three days and we are friends to this day. He's a highly intelligent and lovable guide who takes so much joy in sharing the wonders of Kenya with visitors.
Nairobi traffic: the city-center and the roads leading to the capital are highly congested. Due to this, it's quite normal in the Nairobi business world to be late for meetings. Do give yourself extra time and consult with your local guide on how to beat the heavy traffic.
Safety: Kenyans are extremely friendly and welcoming people but many areas can be dangerous for tourists, even during the day but especially at night. Always check with your hosts for safety tips. At the time of my visit, I was advised not to walk around central Nairobi. It was close to election time and tensions were high.
Water: it is strongly advised to only drink bottled water in Kenya.
Be polite and patient: expect to always be approached by locals trying to sell anything from souvenirs to phone chargers. If you are not interested, a firm no with a smile while you keep walking will do the trick.
Taxes and tipping: a variety of tourist and service taxes will be added to your bill in most hotels and restaurants. This doesn't mean that you shouldn't leave a tip if you feel the service was good.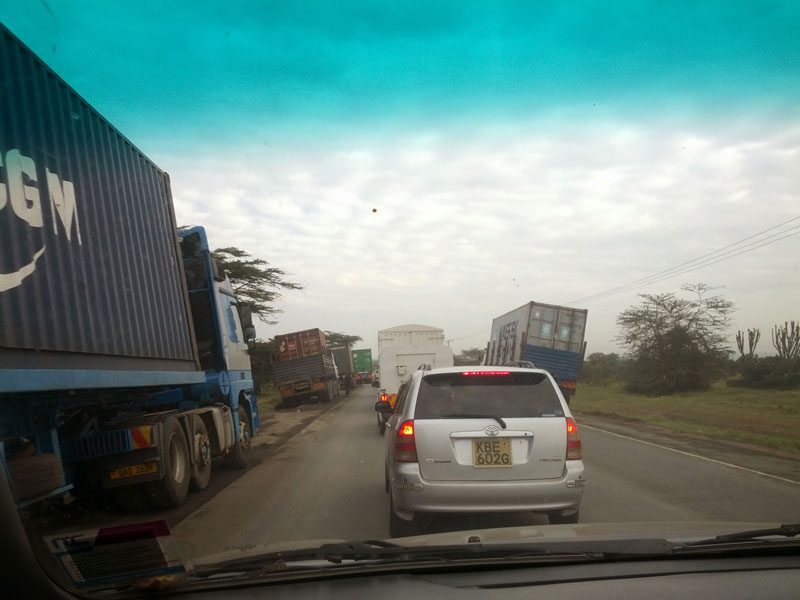 Where to Stay in Nairobi?
Like many African cities, Nairobi wasn't really well planned so its center is quite congested and chaotic. That said, there are a few top-notch hotels in central Nairobi but keep in mind that walking around at night (and possibly even during the day) might be ill-advised. The business-friendly Westlands area is easier to get in and out of and offers modern options, such as the Sankara Nairobi. For the bed and breakfast experience, head to the affluent suburbs of Karen and Langata. A recommended option in that area is Karen Blixen Coffee Garden & Cottages.
I personally stayed in the heart of the city center at the New Stanley Hotel, the reincarnation of the iconic Stanley Hotel. Founded in 1902, it's Nairobi's first luxury hotel, opening its doors when Nairobi was just a small settlement. The likes of Ernest Hemingway and various royals stayed here while on safari and a sense of history certainly shrouds every inch of this place. The rooms are very spacious and clean, the staff is friendly and there's a great pool and fitness center to enjoy.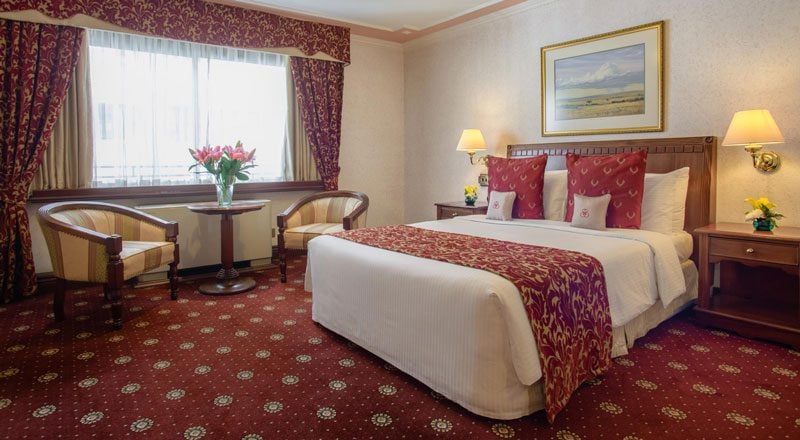 The breakfast is a real treat, with an endless variety of fresh pastries, fruit, and traditional English breakfast delights. There are plenty of drinking and dining options as well, from the famous Thorn Tree Cafe, poolside at the Pool Deck Restaurant or a drink in the magnificent Exchange Bar, which really takes you back 100 years in time.