Day 2: Monterey Peninsula & Point Lobos
We'll do much less driving on the second day of our 3 days on the Pacific Coast Highway than on day one, focusing on the sites in and around the Monterey Peninsula.
Carmel
Carmel-by-the-Sea, simply known as Carmel, is the residential jewel of the Monterey Peninsula. It's an extremely affluent community where residents will do everything to preserve their way of life, such as passing ordinances preventing neon signs or requiring a permit to wear high heels over two inches. Moreover, residential homes in Carmel are not necessarily street numbered. Instead, they can be found by describing their physical location relative to other homes, intersections, etc.
Despite being home to a great beach, a historic Spanish Mission, and a lovely state park practically in its backyard, Carmel owes its modern-day notoriety to the countless art galleries dotting its side streets, an extreme abundance of fancy cars, and one famous former mayor… Mr. Clint Eastwood.
Downtown Carmel
Park the car wherever you can and stroll around downtown Carmel. Downtown Carmel's main artery is Ocean Avenue, with its art galleries and restaurants with outdoor seating. Crossing Ocean Avenue are lovely side streets lined with the reoccurring theme of art galleries, fancy cars, and upscale eateries. Satisfy your sweet tooth with chocolates and candy by the pound at the Cottage of Sweets, or visit the Carmel Bakery for a fresh selection of baked goods and delicious sandwiches.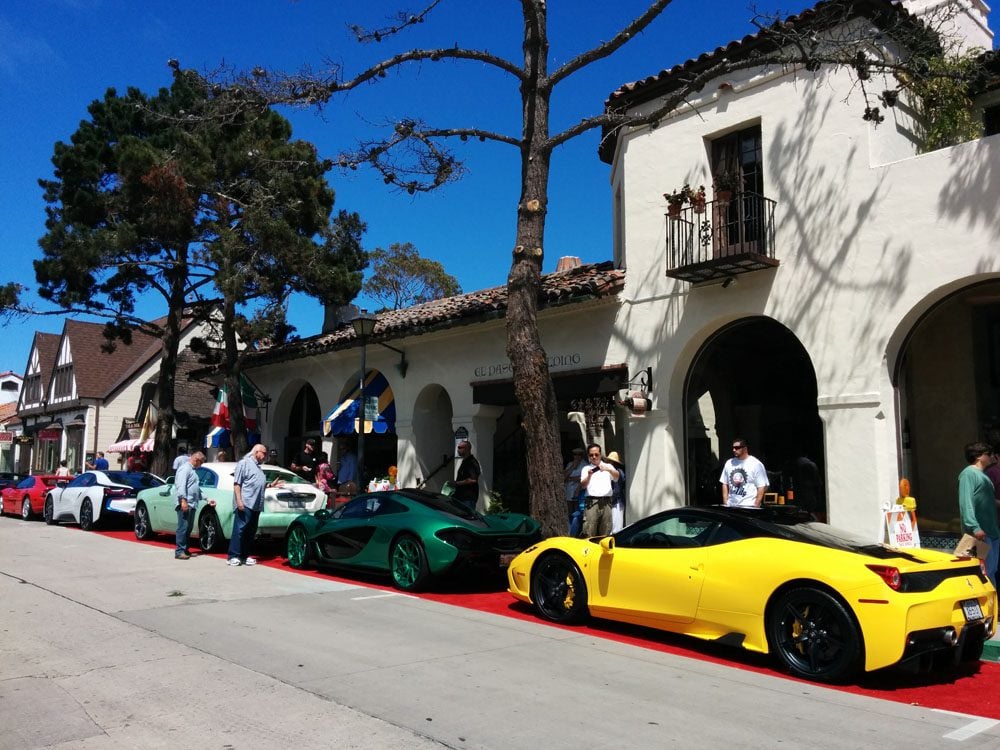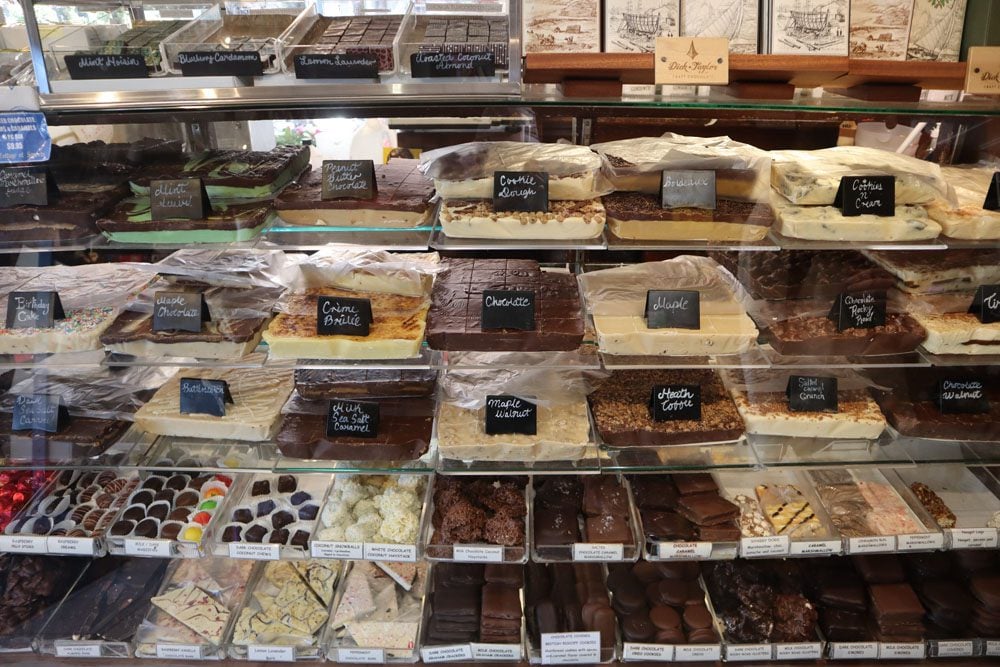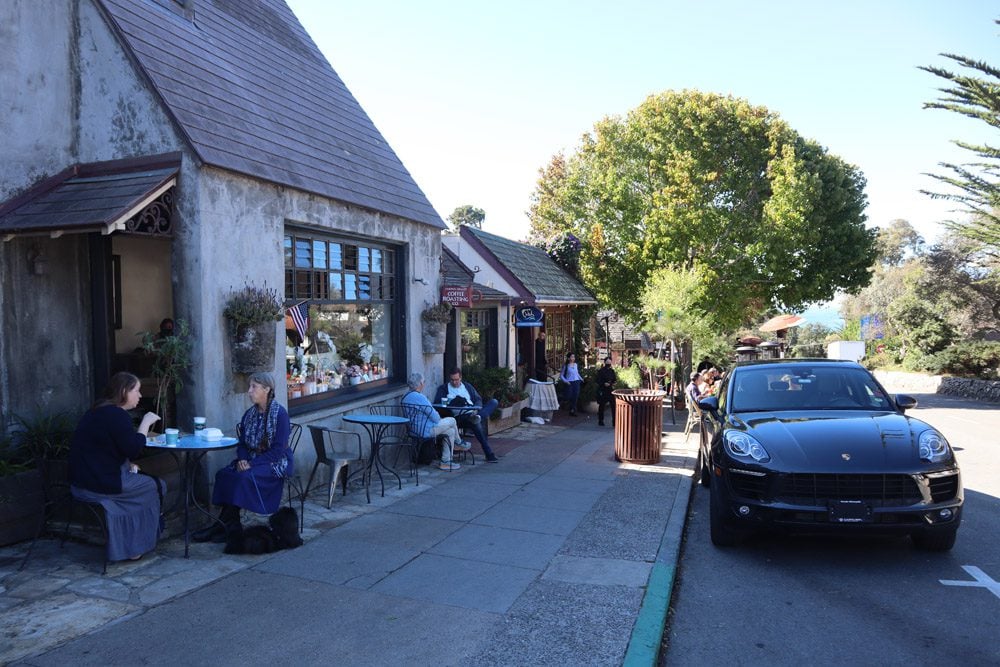 Downtown Carmel has another charm up its sleeve in the form of narrow passages. The passages are very well-kept and usually lined with boutiques and specialty shops. On Dolores Street between 5th and 6th Avenues, the "secret garden" is a worthwhile passage to explore, leading to a Tibetan shop with its relaxing sounds and incense.
Carmel is well known for its art galleries and part of the fun of exploring the downtown area is seeing the beautiful art on display. For some visitors, window shopping may be enough, but if you're extra curious, feel free to step inside and check out the works from up close. I don't consider myself an "art-lover" but some of these paintings are seriously impressive. At night, the galleries are beautifully illuminated.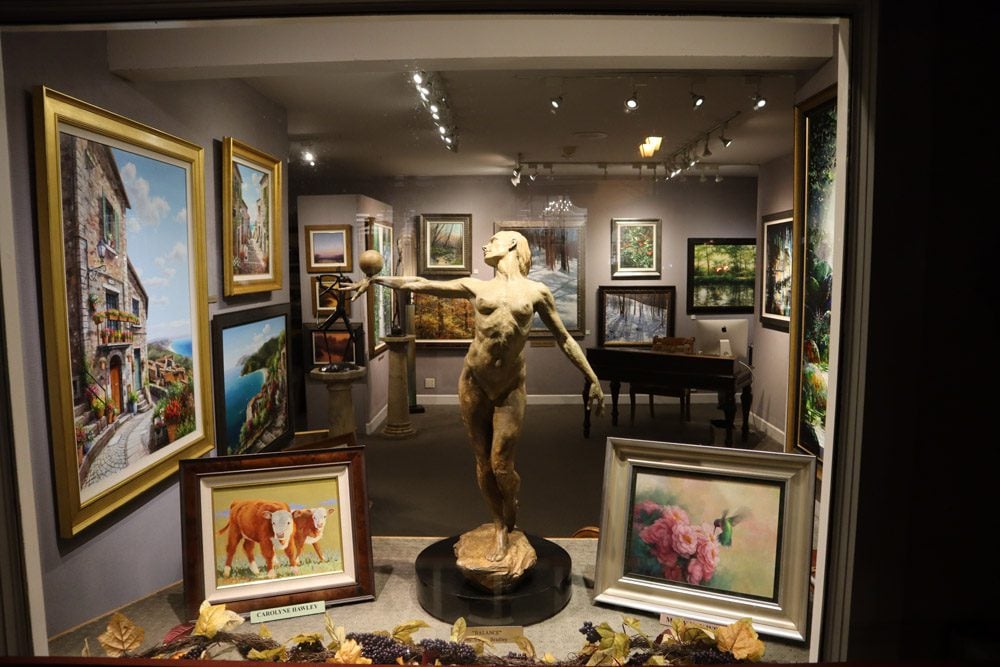 One gallery that I particularly enjoyed visiting was the Renoir Art Galleries on 6th Avenue between Dolores and Lincoln. During my visit, resident artist Mario Simic was in the gallery so it was cool to meet an artist in person. Serbian by origin, Simic has been living and creating in the U.S. since the1970s. He's famous for his magnificent artwork of iconic American landscapes.
Carmel Beach
On a sunny day, Carmel Beach is as pretty as they come, with its long crescent of soft white sand perfect for a quick or long stroll. Occasionally, you might spot dolphins swimming close to the shore and even Cormorants diving headfirst into the water to catch fish. If you look closely to your right, you can spot golfers teeing off at Pebble Beach. Carmel Beach is also a perfect spot to watch sunsets.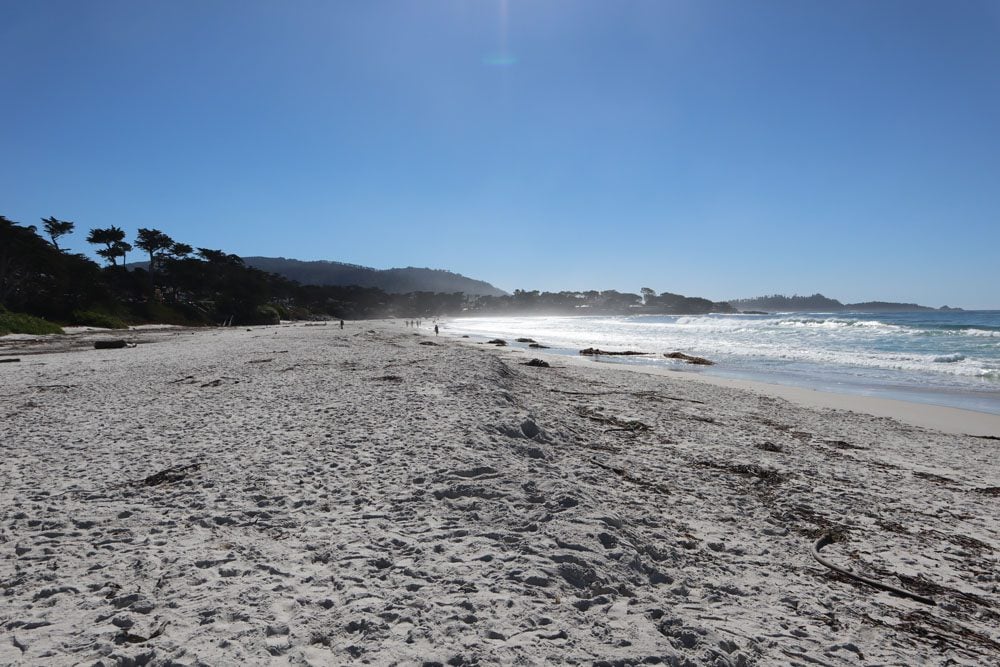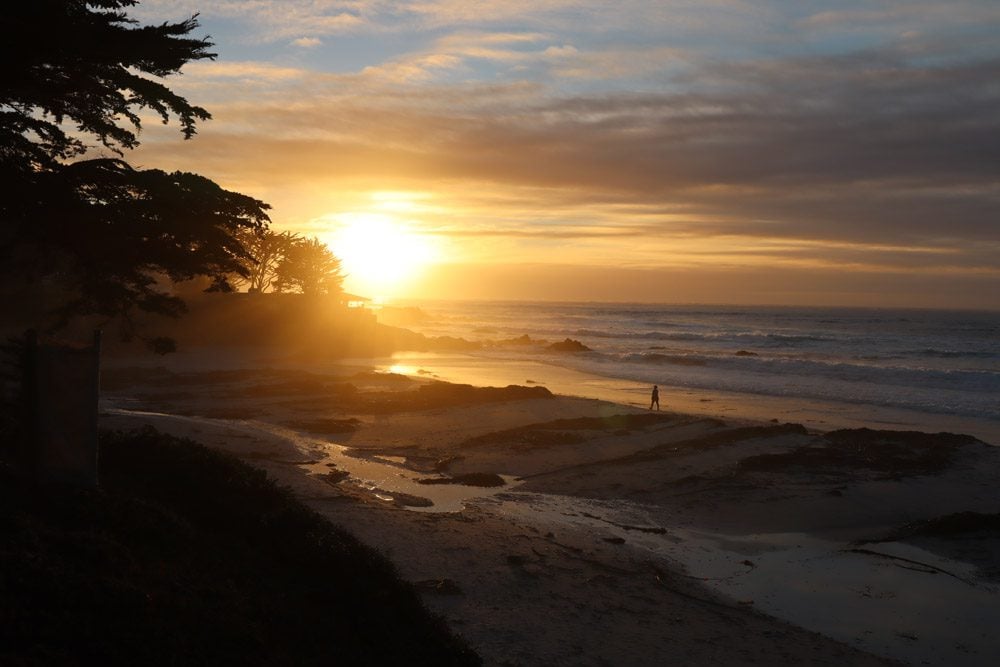 Residential Carmel
It's worth getting lost in the maze of residential streets en route to our next stop at the Carmel Mission. Check our Torres Street which weaves its way around trees and the famous Hansel and Gretel House on Torres St. between 5th and 6th Avenue.
Carmel Mission
Established in 1771 by Spanish missionary Junipero Serra, a visit to Carmel Mission is well worth the price of admission (check opening days and times). The tranquil mission has a lot of history, having changed hands between Christian missionaries, Mexican authorities, and finally the Americans. Having gone through extensive periods of restoration, visiting Carmel Mission is a lovely escape. Explore the basilica and the gardens to get a feeling of what it was like here, centuries ago.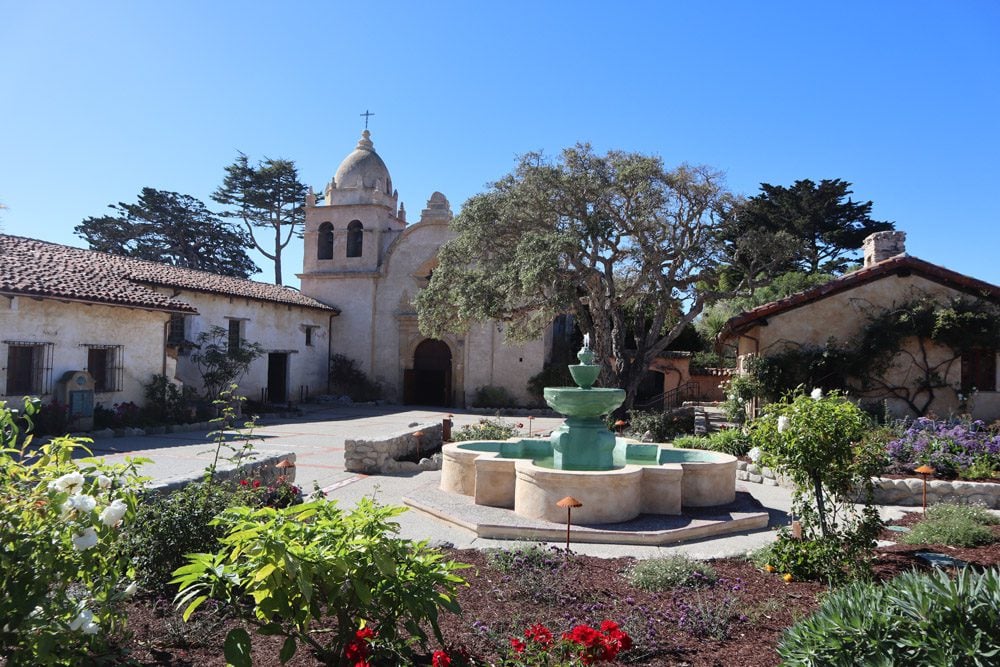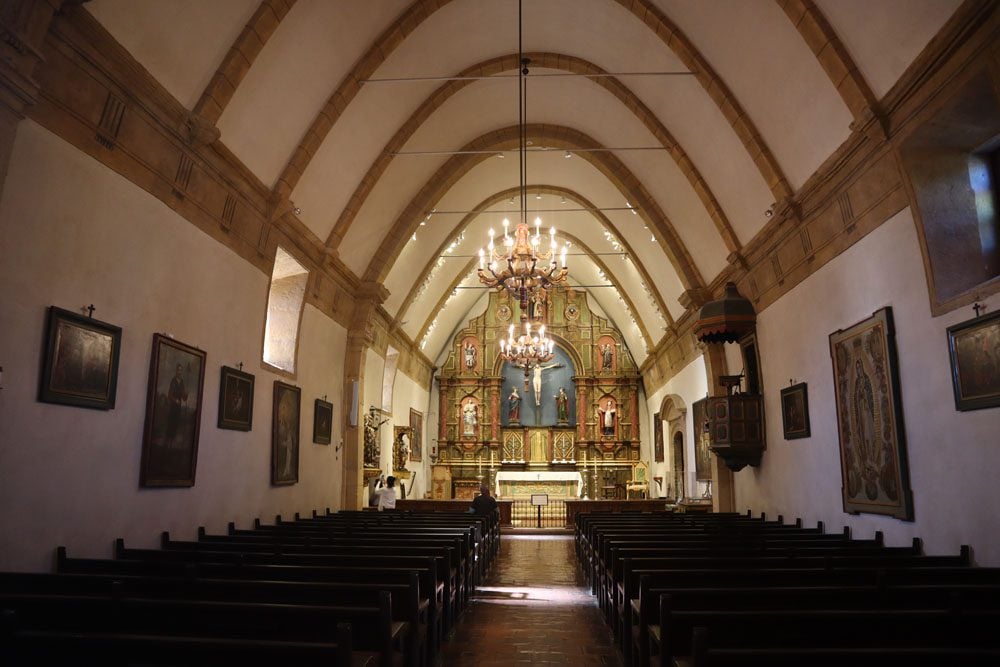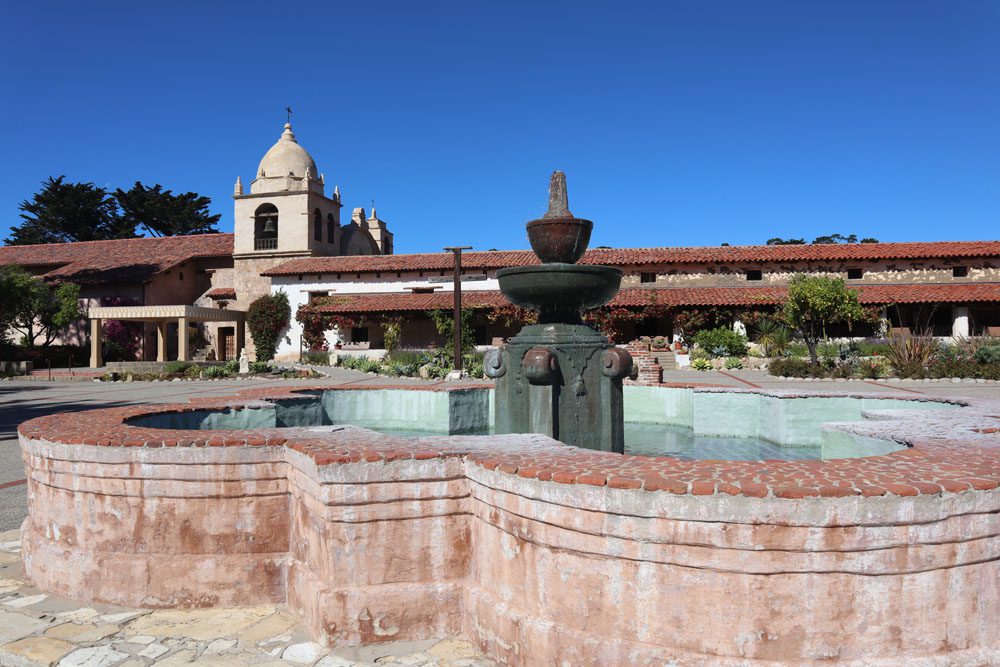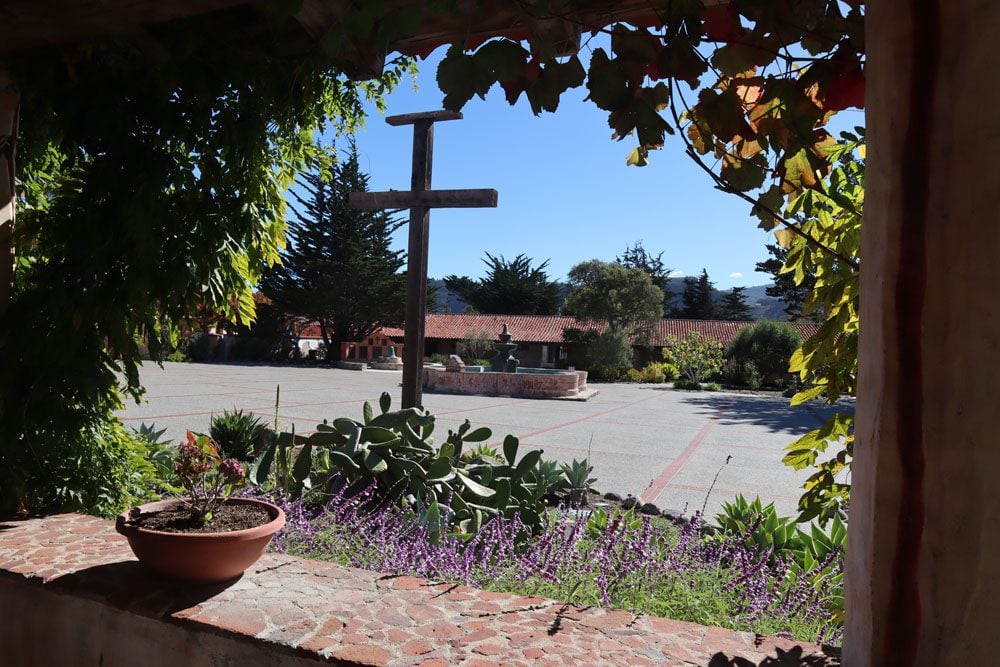 Optional Detour to Carmel Valley
If the morning is foggy, kill a couple of hours in Carmel and if the fog doesn't clear, consider heading slightly inland to Carmel Valley where there's a better chance of sunshine. The twenty-minute drive from Carmel is scenic, with rewarding views of Carmel Valley in certain sections. In town, you can go on an aimless stroll or sample local wine at one of Carmel Valley's wineries.
17 Mile Drive
Connecting Carmel with Pacific Grove, scenic 17-Mile Drive passes through the exclusive private community of Pebble Beach and its legendary golf course. Tourists have been exploring this scenic peninsula since 1881 when horse-drawn carriages traversed the Del Monte Forest en route to the coastline.
There are five gated entrances into 17-Mile Drive where you'll pay the entrance fee and receive a map. It's best to enter from Carmel gate and exit at Pacific Grove. The drive itself is very slow-going, especially in the non-coastal sections which snake around forested residential areas. If you're pressed for time, simply stick to the coastline as that's where all the top highlights are.
Among 17-Mile Drive's many scenic spots and highlights, notable mentions include (in the order they are reached on the coastal road from Carmel to Pacific Grove) Pescadero Point and the Lone Cypress from where you'll get picturesque views of Carmel Bay, Seal Rock and its usual sightings of birds and seals, Bird Rock with its boardwalk, and rugged Spanish Bay in which Spanish explorers camped back in 1769.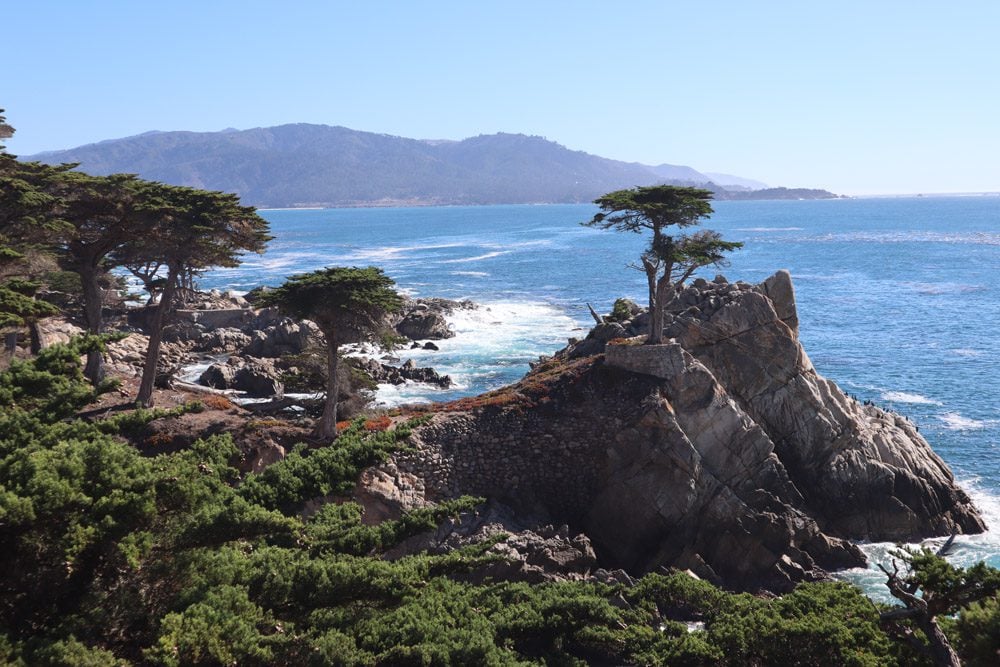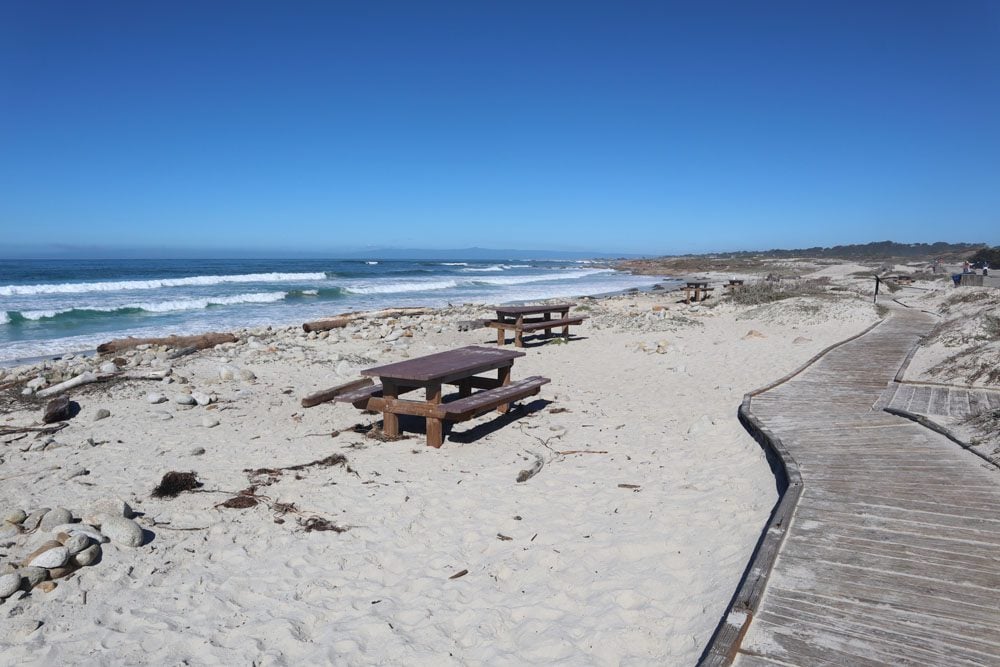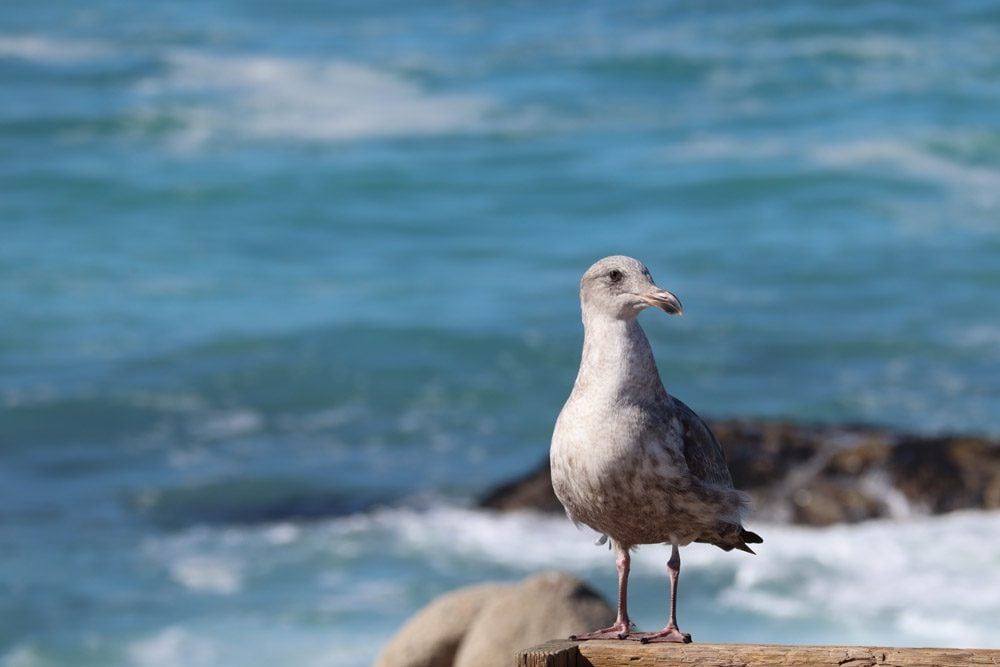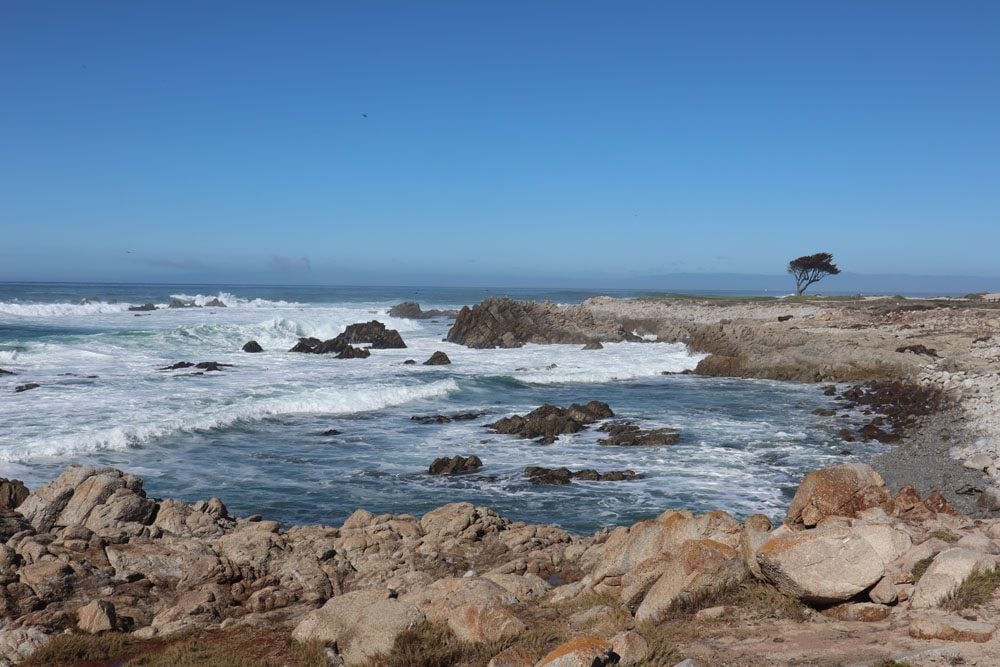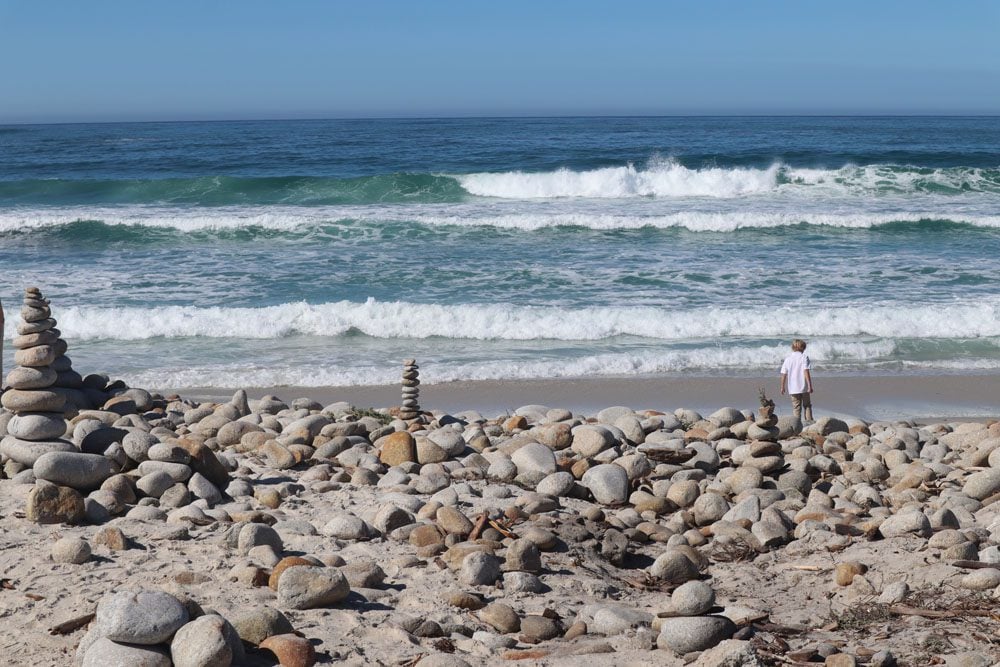 Pacific Grove
Located at the very tip of the Monterey Peninsula, Pacific Grove is the down-to-earth version of Carmel. This gorgeous seaside community is famous for its tastefully-painted Victorian-style homes and as California's last city to repeal Prohibition as late as 1969!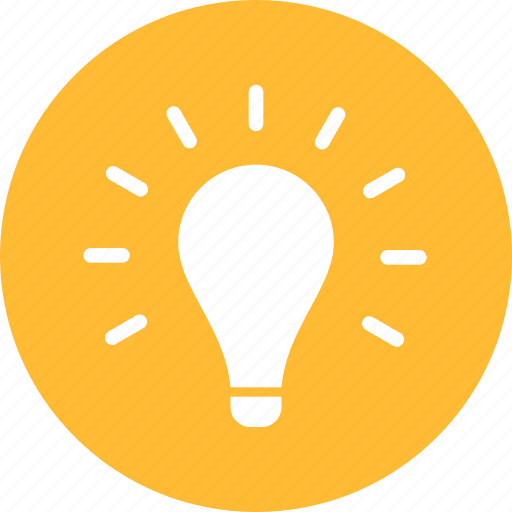 Pro Tip
Together with Carmel, Pacific Grove is an ideal location for spending a night or two on this San Francisco to Big Sur Pacific Coast Highway itinerary. Just be sure to book in advance as its top bed and breakfasts sell out quickly.
Exiting 17-Mile Drive from the Pacific Grove gate, follow the coastline on Sunset Drive. Apart from the wild scenery, notice the homes around this area. It doesn't get any better than this. As Sunset Drive becomes Ocean View Blvd., Stop to check out the view at Beach Point and the Kissing Rock. History buffs can make a slight detour if there's time and visit the Point Pinos Lighthouse, the oldest continually operating lighthouse on the West Coast. Pacific Grove's most famous spot is Lover's Point, where you'll find a small grassy park to pause and stretch your legs.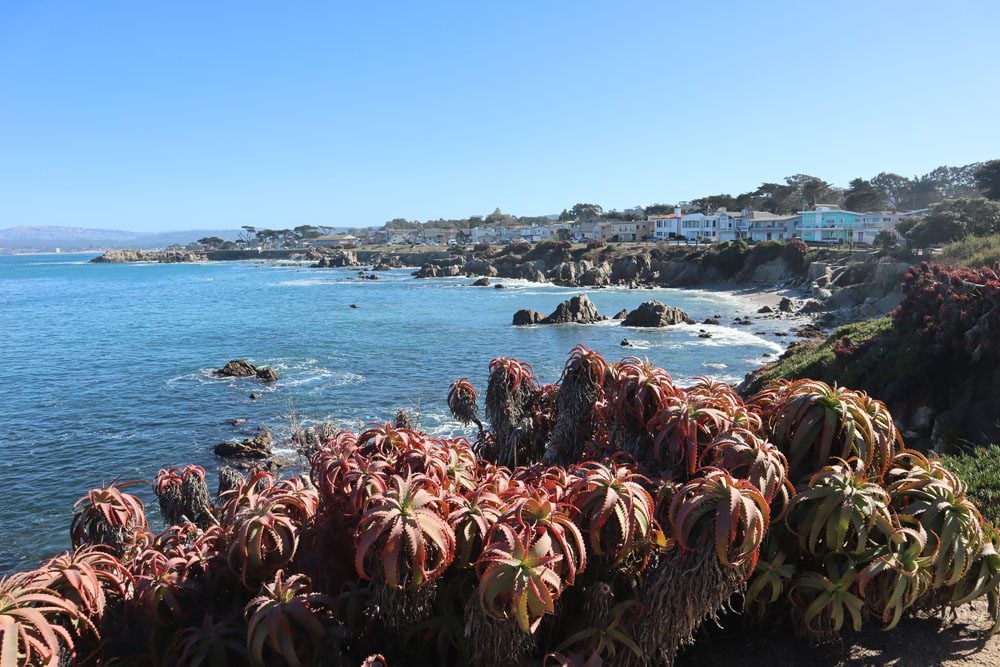 If you want to further explore Pacific Grove, go for a walk along Lighthouse Avenue. Between October and February, you can also check out the Monarch Grove Sanctuary, where tens of thousands of monarch butterflies congregate as part of their migration route. A worthwhile stop for some calories is at Pavel's Backerei, an acclaimed European bakery specializing in fine pastries and bread, or for a late breakfast at the Red House Cafe.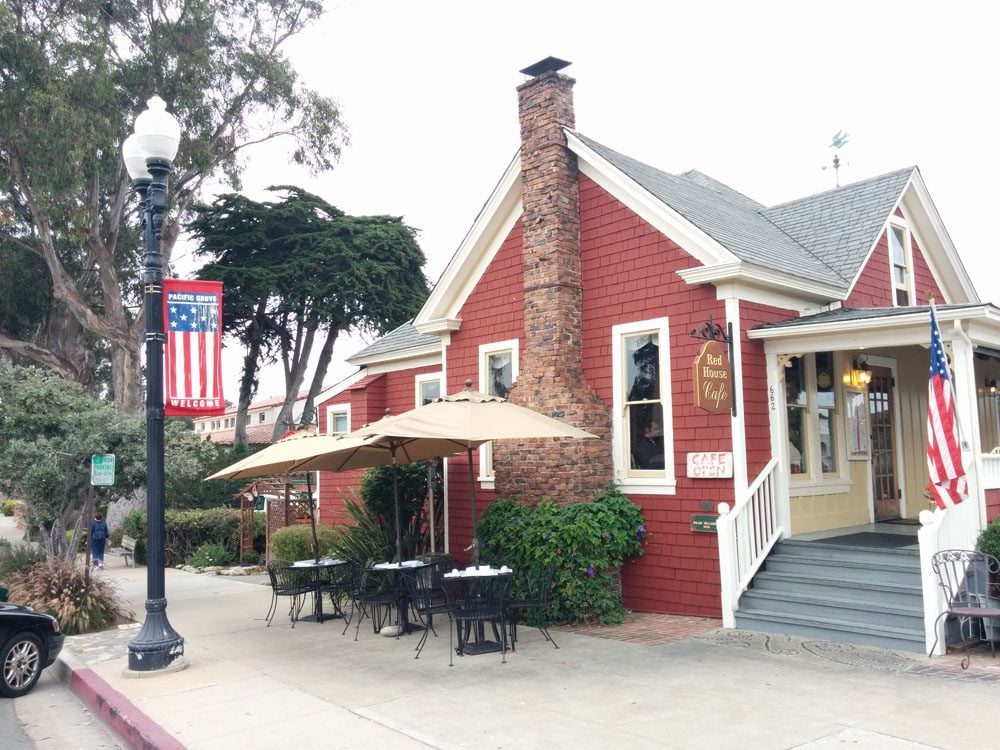 Monterey
Monterey can be an optional stop, depending on how you're doing time-wise and whether you're traveling with children. Monterey's historic waterfront is where most of the action lies, especially the shops, restaurants, and history at Cannery Row. The world-class Monterey Bay Aquarium is close by, definitely, a worthwhile stop with children or if the weather isn't pleasant. At the Monterey State Historic Park, you can head on a self-guided walking tour that leads to historic sites in the original settlement. If you have more time, check out the tourist attractions and the vibe at the Old Fisherman's Wharf and at Municipal Wharf #2.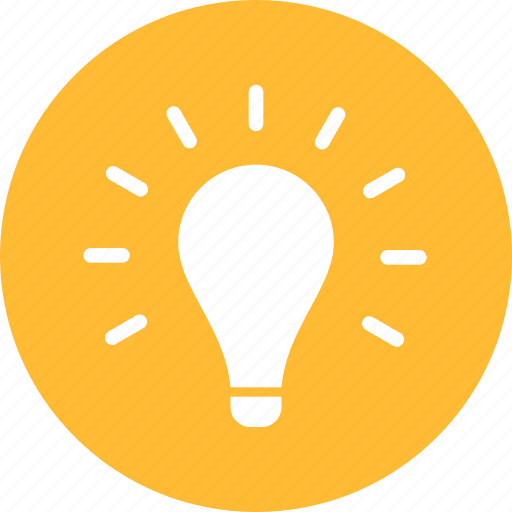 Pro Top
As in Moss Landing, Monterey is a popular departure point for whale and dolphin watching tours.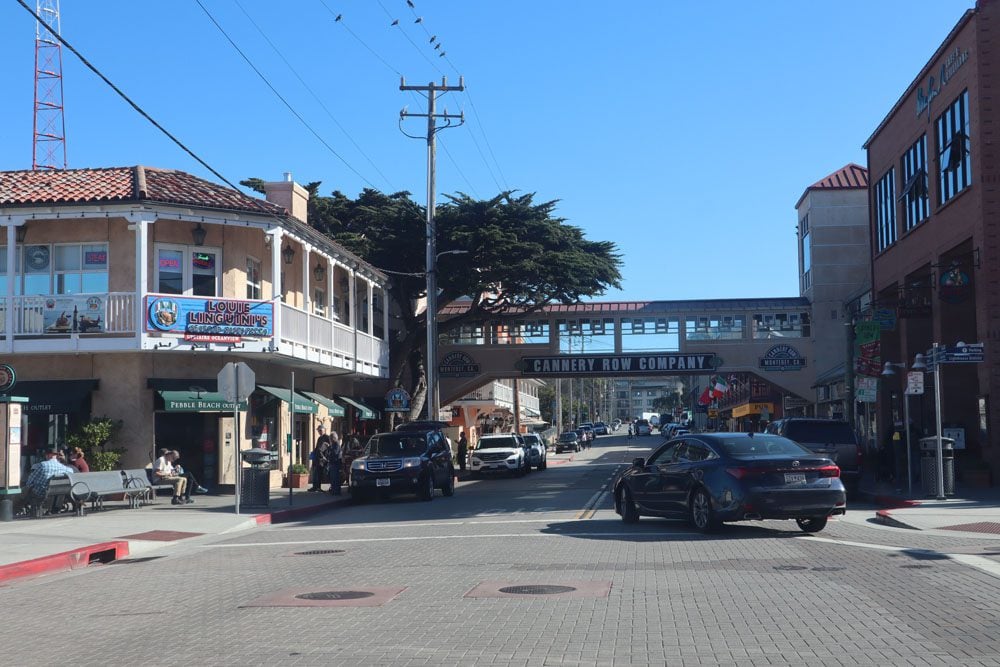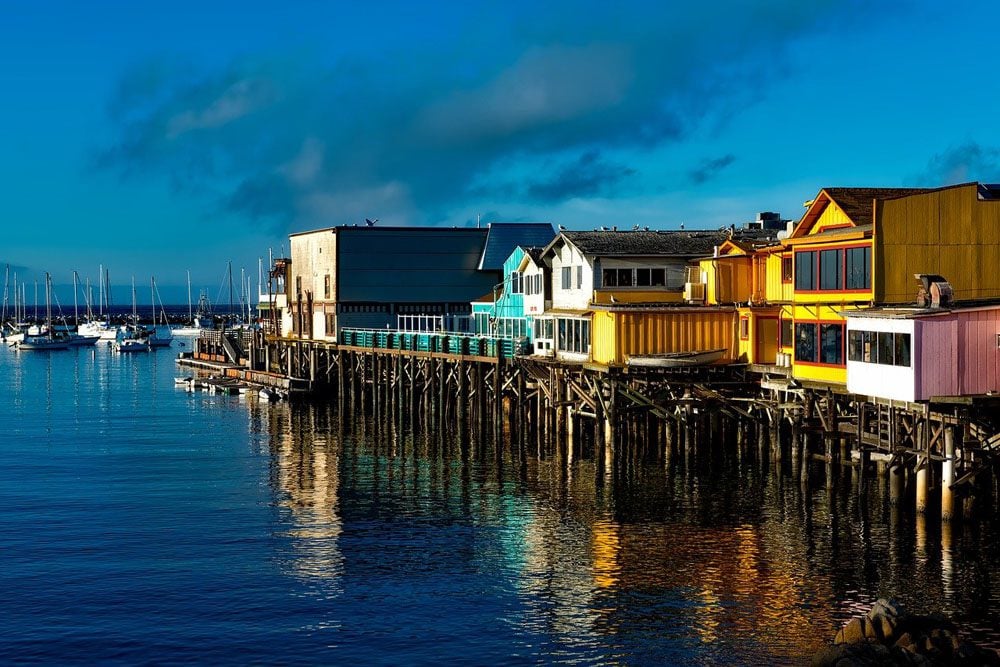 Point Lobos Natural Reserve
We'll wrap up the day at Point Lobos State Natural Reserve. This small yet scenic natural reserve is home to secluded coves and walking trails over sea-smashed cliffs with good views south of Big Sur. Sea Lion Point Trail is the reserve's popular walking path as there's a good chance of seeing seals in the water or further out on one of the exposed rocks (binoculars will come in handy). If you're lucky, you might even spot some Gray Whales. Another popular spot is Whaler's Cove. Parking can be a challenge at Point Lobos so coming here towards the end of the day is a good idea, also weather-wise (no morning fog).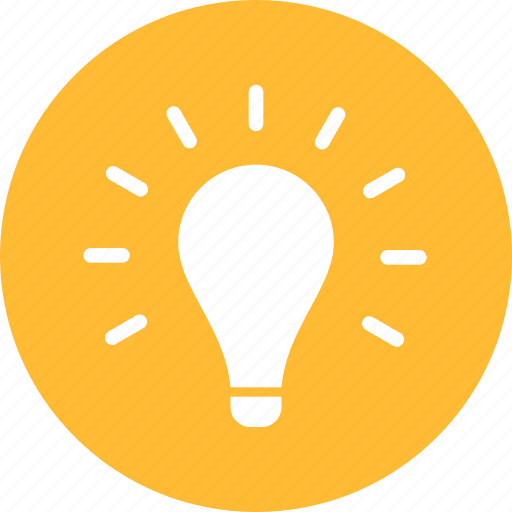 Pro Tips
(1) The reserve might still be accepting admission-free walk ins. You might see cars parked along the main road just ahead of the fee station. (2) Your day use ticket at Point Lobos might also be valid at Pfeiffer Beach, though we'll only visit it tomorrow. (3) Permits for scuba diving and snorkeling can be obtained to enjoy the reserve's abundant marine life from beneath the waves.