3 Days In San Francisco Itinerary
Day 3: The Mission, Painted Ladies & Golden Gate Park
We'll spend the last of our 3 days long weekend in San Francisco exploring one of the city's most interesting neighborhoods, later continuing to its urban lung via a few interesting stops. This is a full day of walking but you can also use public transportation and taxis to greatly shorten distances.
Our day begins in the Mission District, the founding site of Yerba Buena, or San Francisco as it will be later called. In a matter of a few city blocks, the Mission brings together hipsters, Latinos, and free spirits. If on the first day we admired the signature wooden facades of Nob Hill's affluent homes, in the Mission we'll experience powerful social and political messages delivered via impressive murals.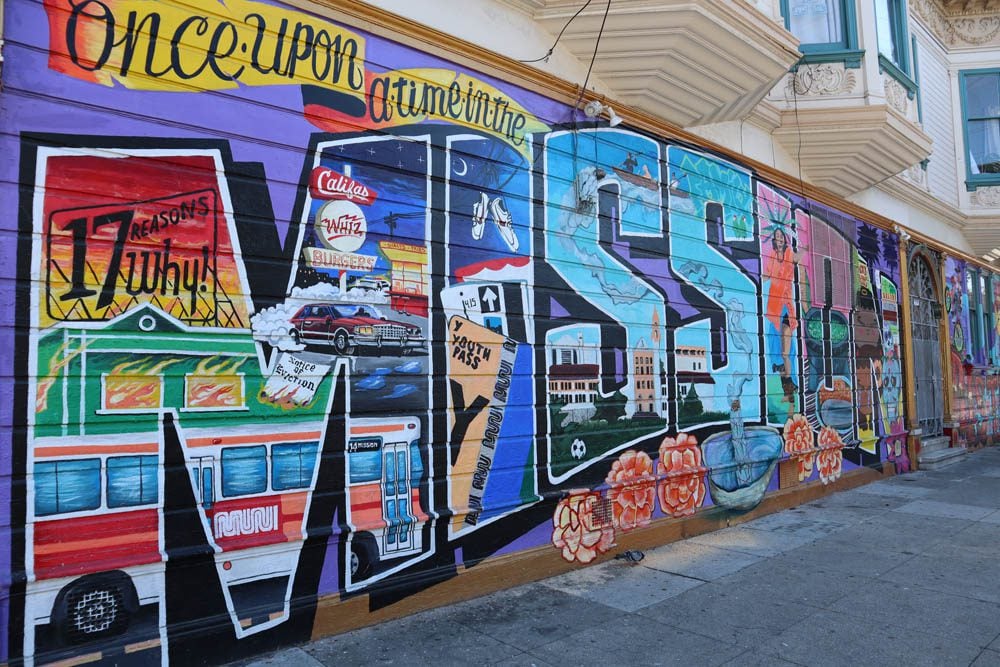 Bernal Heights
We'll start the day at our furthest stop at Bernal Heights and then work our way back through the Mission District. Take the BART to the 24th St. Mission station from where it's a short 20-minute walk via Folsom Street to Bernal Heights Park. The last leg is quite steep, making you wonder how residents live here, but when you reach the park you immediately realize why. Go for a stroll, enjoy the panoramic views from a bench, and follow the trails wherever they take you. The finest views are from the radio tower.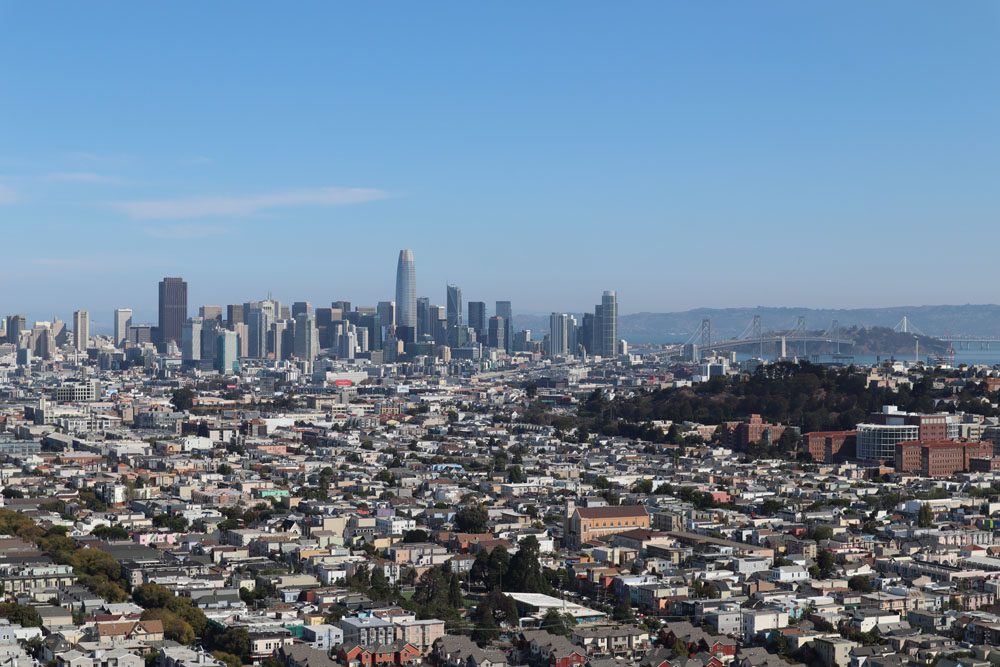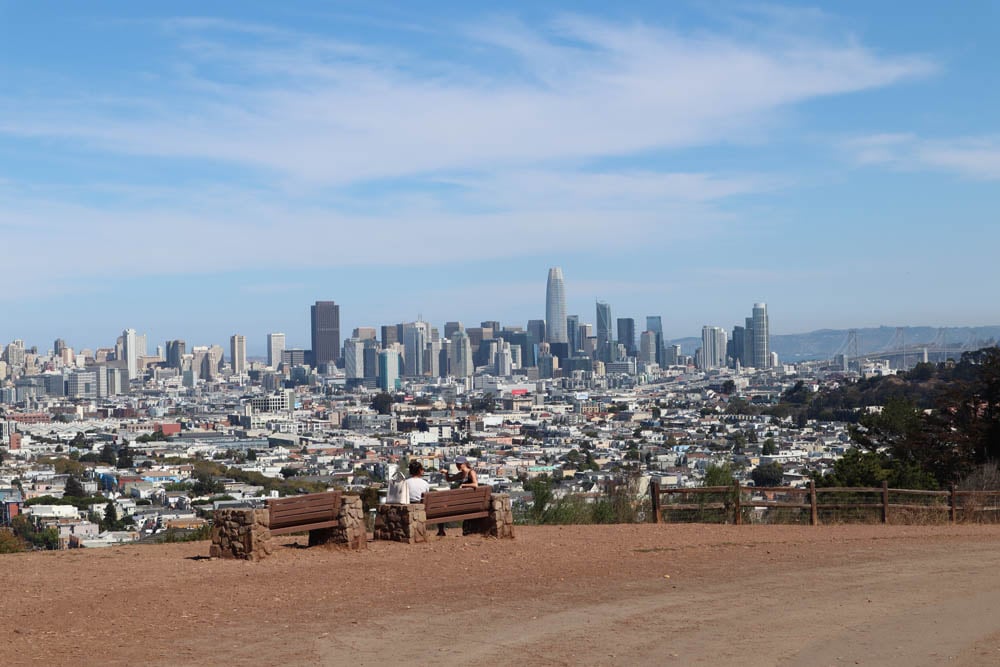 Balmy Alley
Head down from Bernal Heights on Folsom Street and make your way through Balmy Alley to 24th Street. This narrow alley has some of the best murals in San Francisco. Local Latino artists have been painting these walls since the 1970s, mostly depicting their hardships. The rising real estate prices in San Francisco have forced many out of the neighborhood and the frustration is vented through some of the murals in Balmy Alley.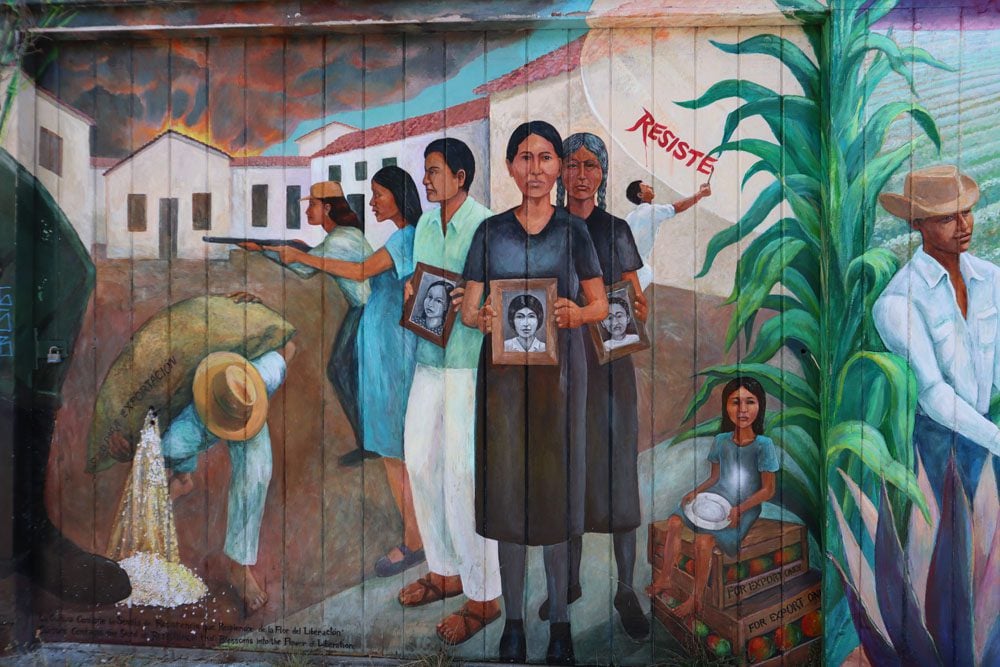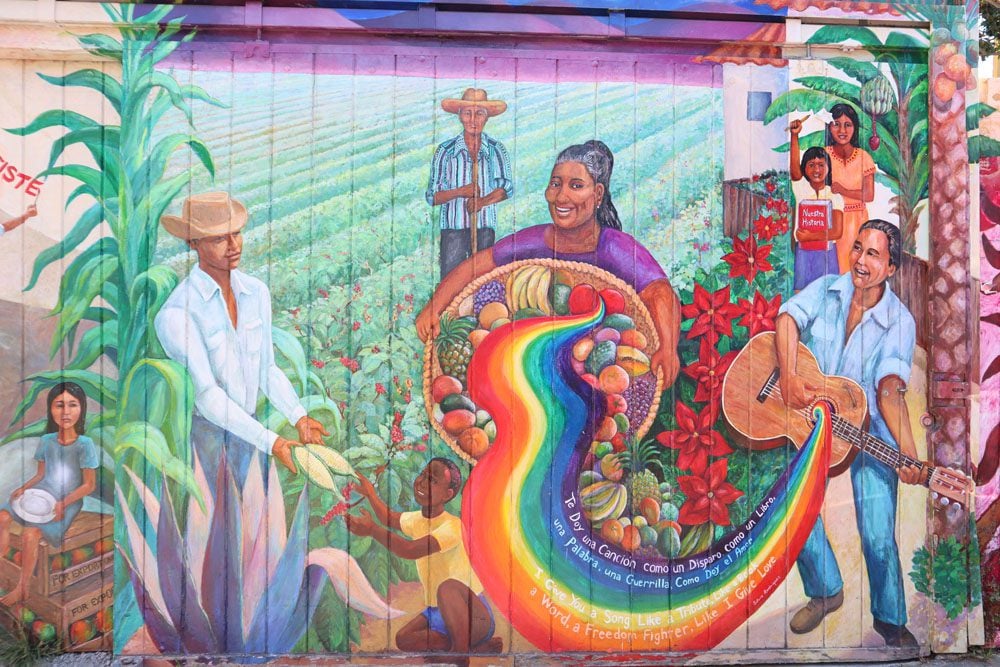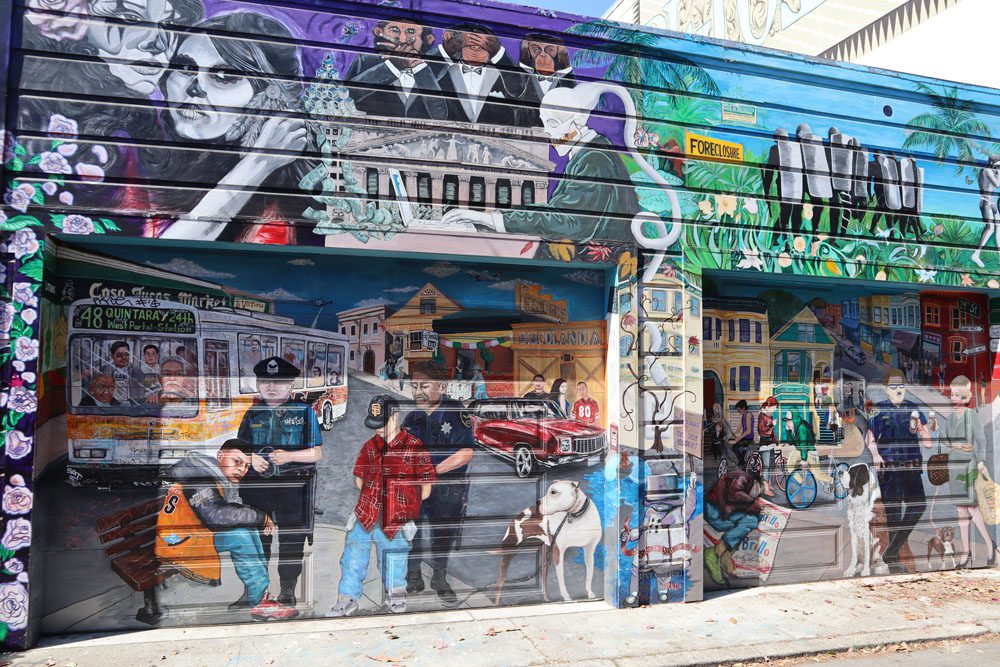 As you exit Balmy Alley, turn left and head towards Mission Street. En route, take a coffee break at Philz Coffee or continue for some cardamon tea at Cafe la Boheme. The rough-yet-friendly feel of 24th Street offers a glimpse into local life. As you walk to Mission Street, you'll also notice many murals on the facades of some of the homes and even of businesses.
Mission Street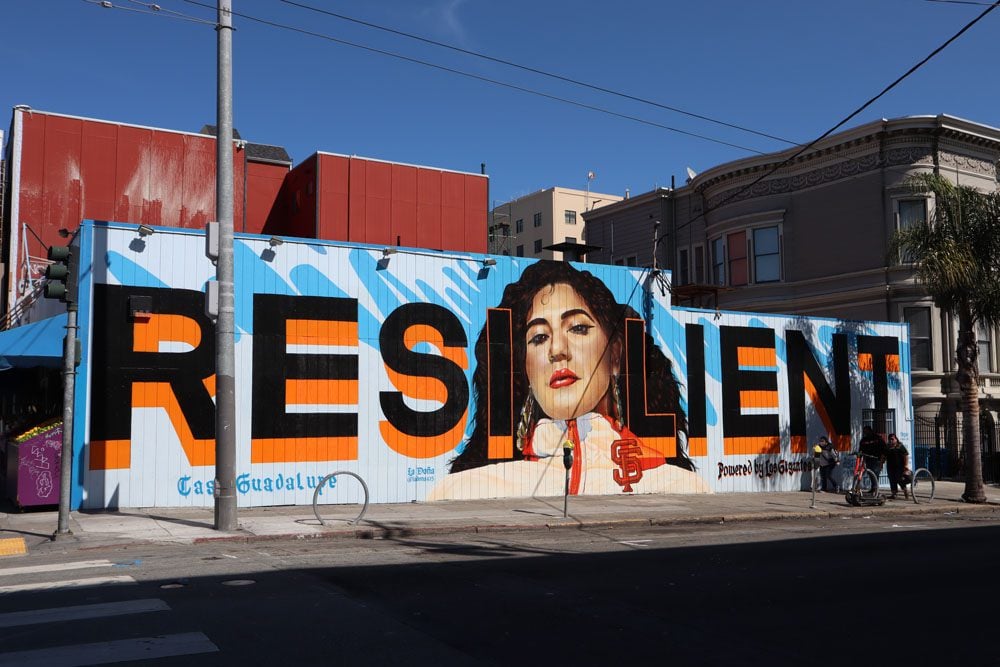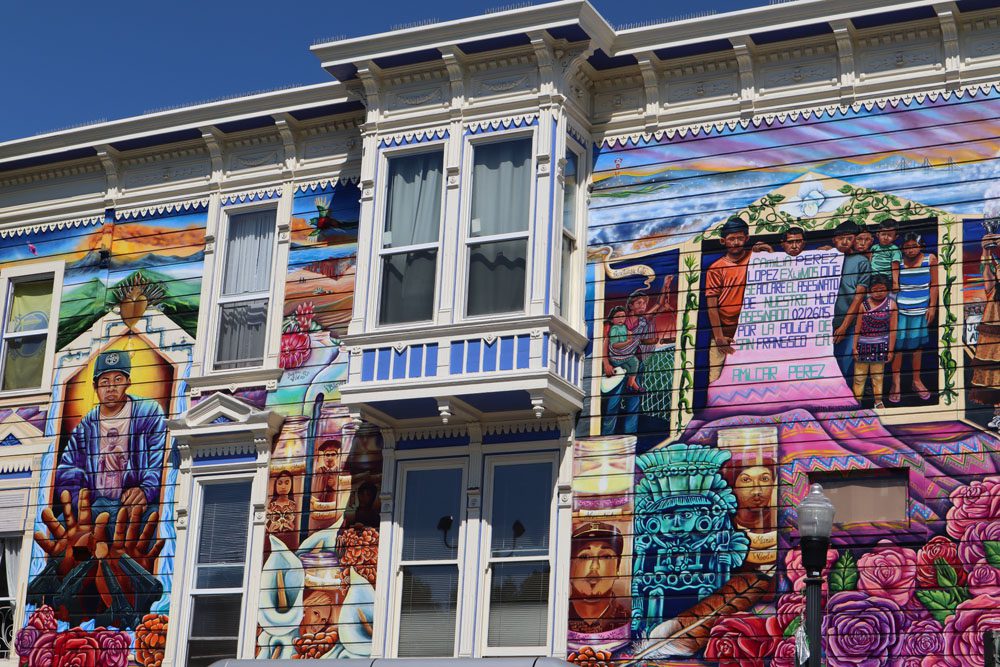 If you like Mexican food, you'll feel in heaven on Mission Street. Mission Street is a lot "rougher" and more vibrant than neighboring Valencia Street. Along with Latin music blasted out of stereos of passing cars, Mission St. is home to pawn shops, fruit & vegetable stalls, tobacco shops, tattoo parlors, and of course – a great number of taquerias.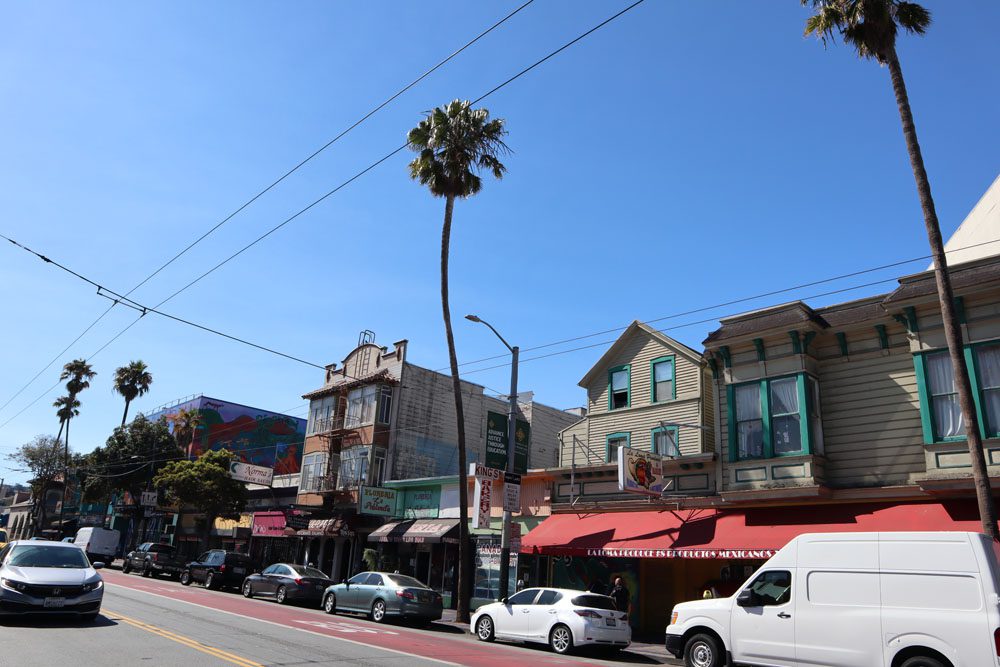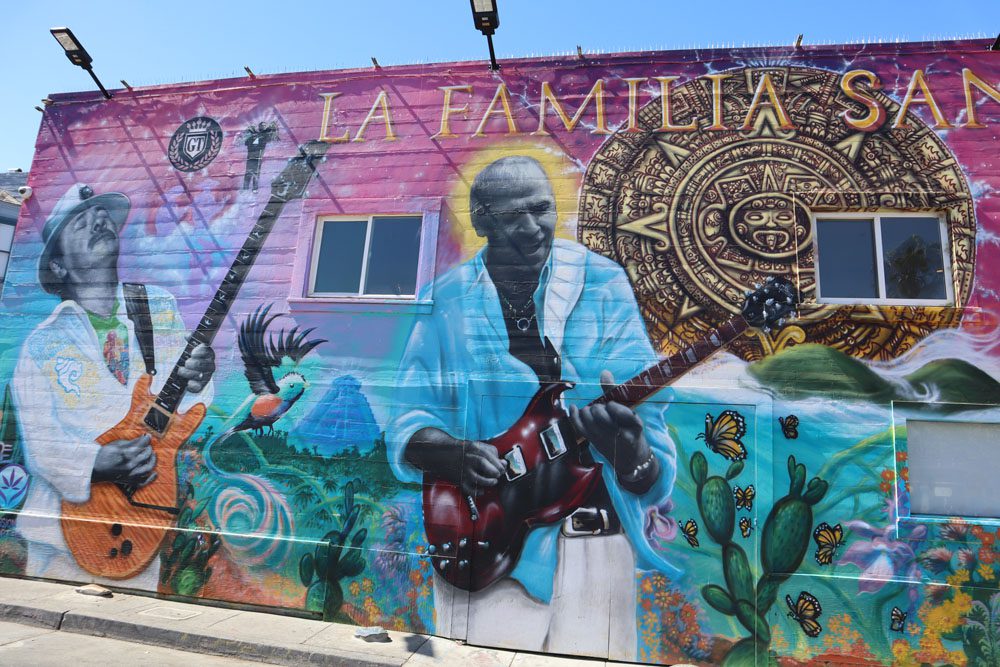 Notable mentions include Taqueria Cancun, the no-frills New Castillito Taqueria, and the neighborhood favorite – La Taqueria. I tried La Taqueria, going for a chicken burrito with a side of fresh guacamole and nachos, and cinnamon horchata to wash everything down. It's also worth mentioning Papalote though it's a bit out of the way.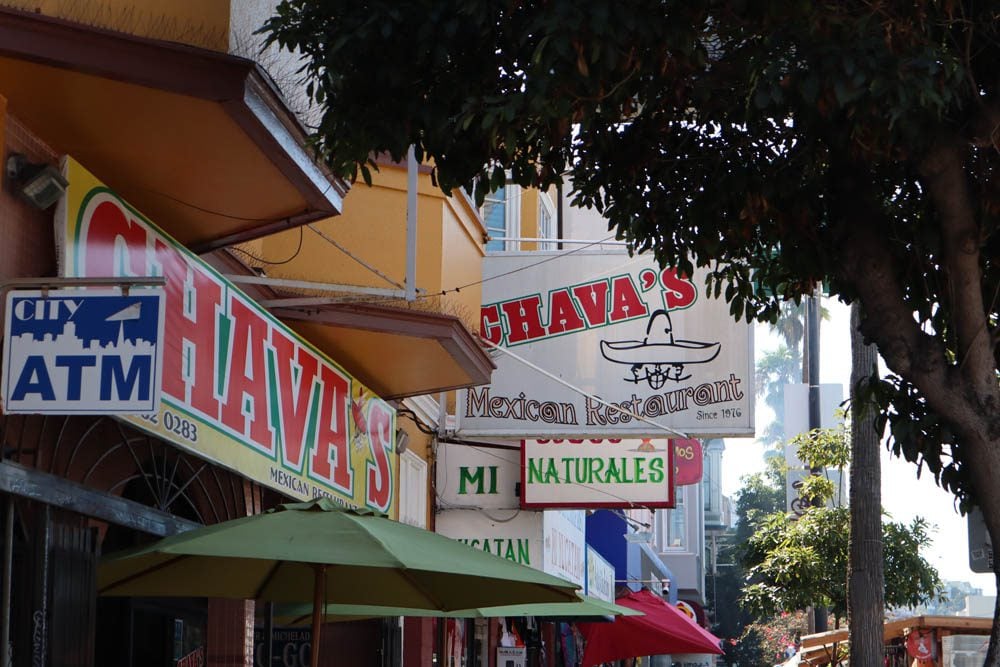 Valencia Street
If Mission Street is rough and Latino, Valencia Street is "hipster central". Enter this parallel universe through Clarion Alley, another mural-painted corridor. It's not as pleasant as Balmy Alley (cleanliness-wise), but the political and culturally-themed murals are outstanding.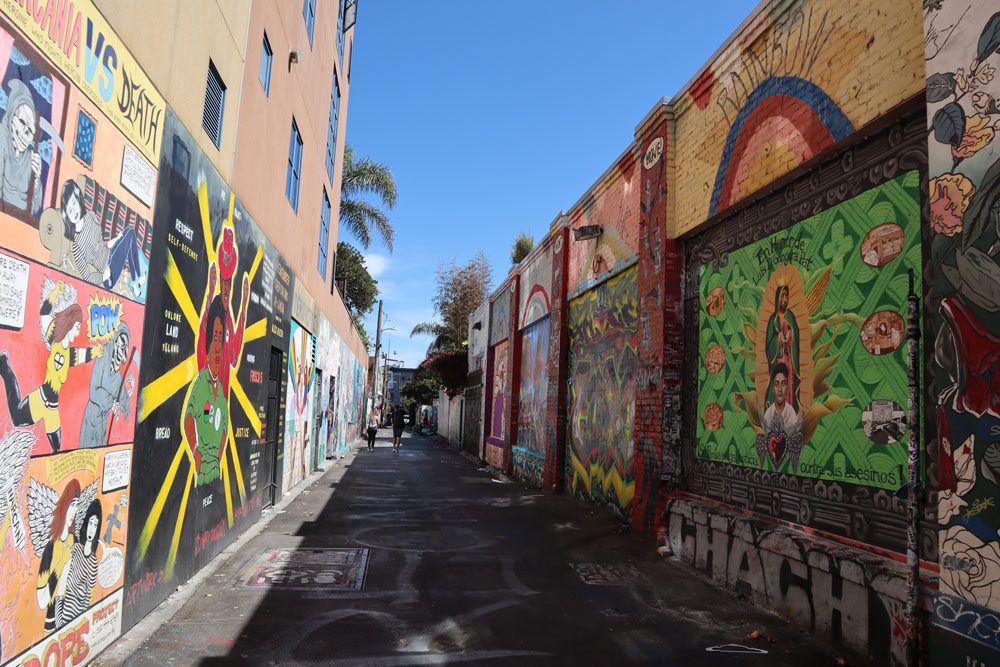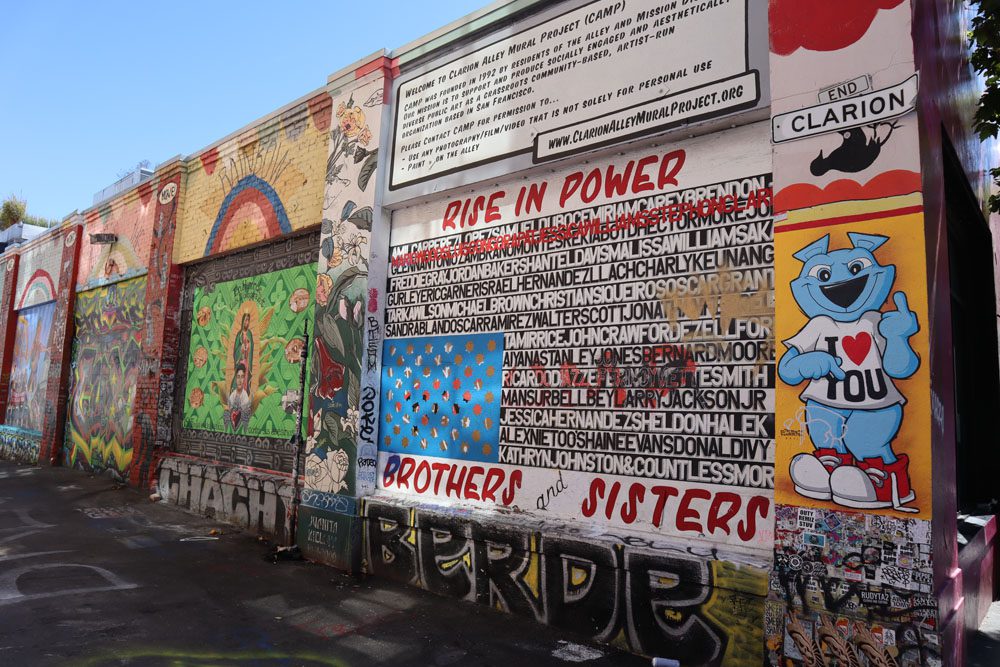 Valencia Street is made for walking, rich in ethnic restaurants (always with a pricey hipster twist), cafes, boutiques, music shops, vintage shops, and specialty shops. The atmosphere is very pleasant and it's just fun to explore without any particular goal in mind.
Dolores Park & Mission
You can keep heading south on Valencia Street for as long as you wish but at 20th Street, it's worth heading uphill towards Dolores Park. There are some seriously nice "classic San Francisco" Victorian-style homes on this stretch. At Dolores Park, join the locals and find a spot on a bench or the grass. Dolores Park offers a superb escape from the city, with wide green areas and great city views from its higher-elevated southern end.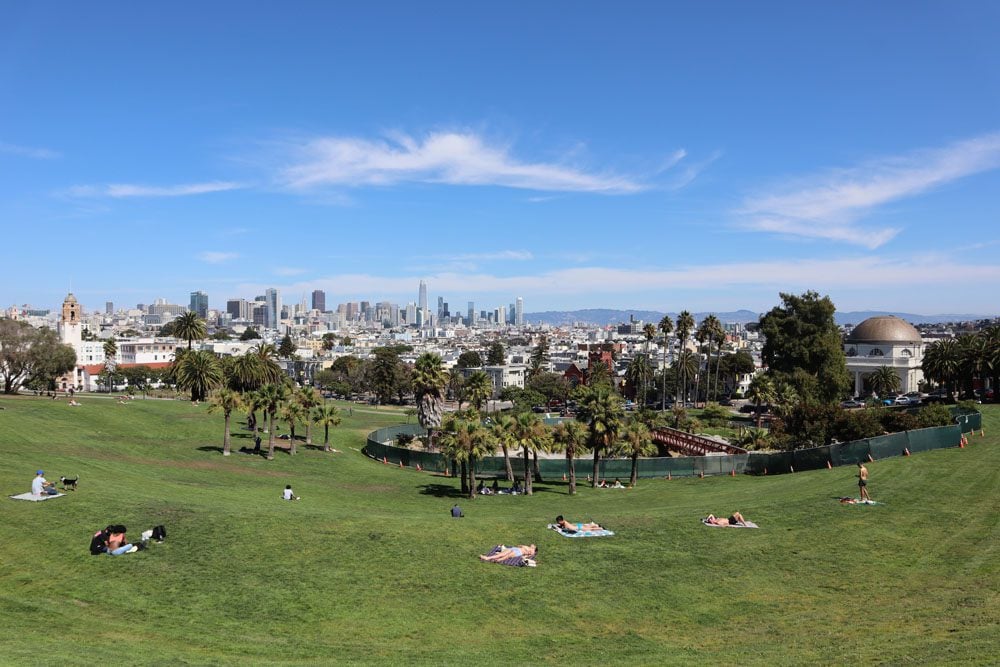 Just a block down the road from Dolores Park on 16th St, check out the impressive Spanish-style basilica. Dwarfed next to it is a tiny adobe church. This modest landmark is Mission Dolores, the 1776 birthplace of San Francisco (or Yerba Buena as it was called back then). This was the first European settlement in the area, on the site of what was then a creek. Mission Dolores also gives its name to the neighborhood we just explored.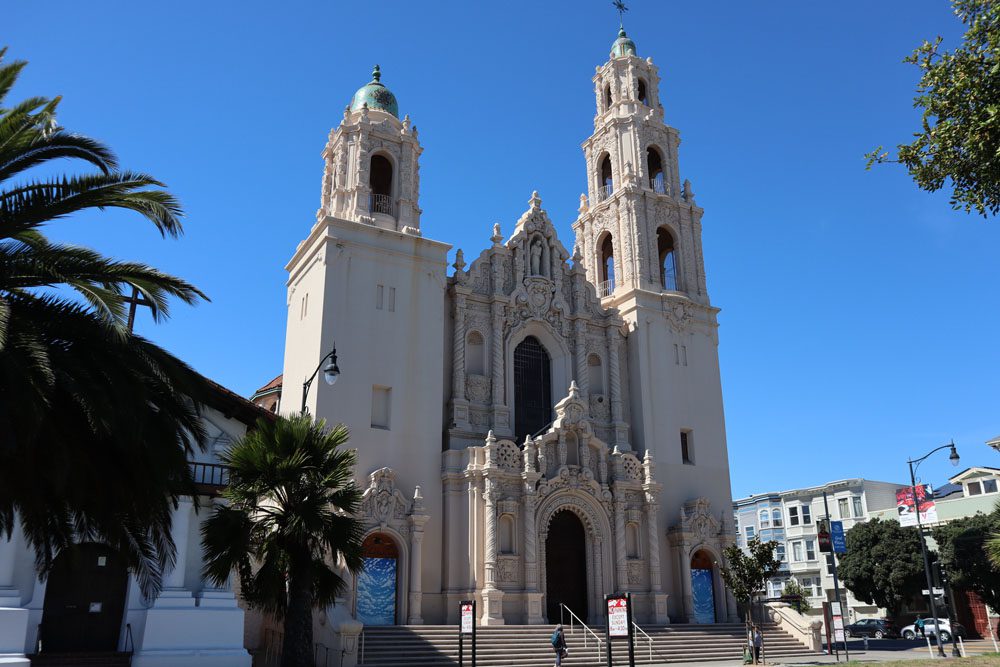 Alamo Square & The Painted Ladies
It's a lovely 25-minute stroll via a quiet residential area to our next stop, with a few steep sections along the way. If you need a breather or a coffee break, stop at one of the cafes around Duboce Park. The cute Duboce Park Cafe has outside seating and makes for a refreshing quick stop before continuing the walk to Alamo Square.
At Alamo Square, stroll on the grounds of this charming park but mostly admire the Painted Ladies, a row of Victorian-style homes with the city's skyline in the background. Surely you'll recognize this iconic frame from postcards, movies, and television shows.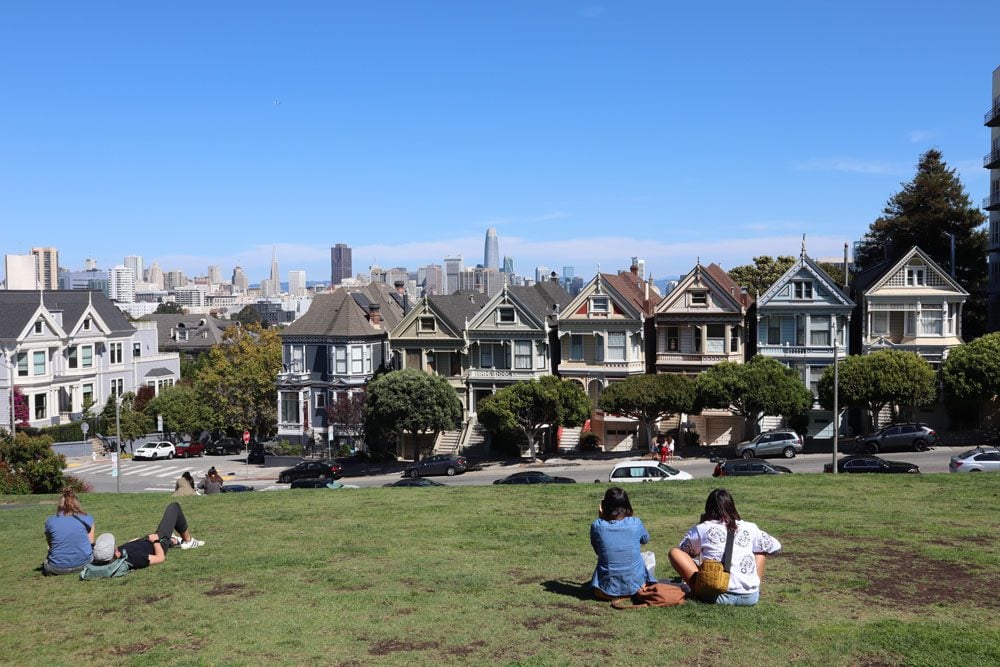 Golden Gate Park
We'll wrap up this long day of walking at Golden Gate Park. But to get there from Alamo Square, it's a long 45-minute walk, mainly on flat grounds. You can shorten the walk by taking the bus from a stop near Alamo Square service the #5 or #5R lines.
If you choose to walk from Alamo Square to Golden Gate Park do so via Haight Street. From Masonic Street to the park's entrance lies the iconic peace movement area, culminating in the intersection of Haight-Ashbury. Nowadays, this neighborhood is still popular with the hippy crowd and you'll likely find here the highest concentration in the city of tie-dye clothing shops, smoke shops, vegan cafes, vintage clothing, and, of course record stores.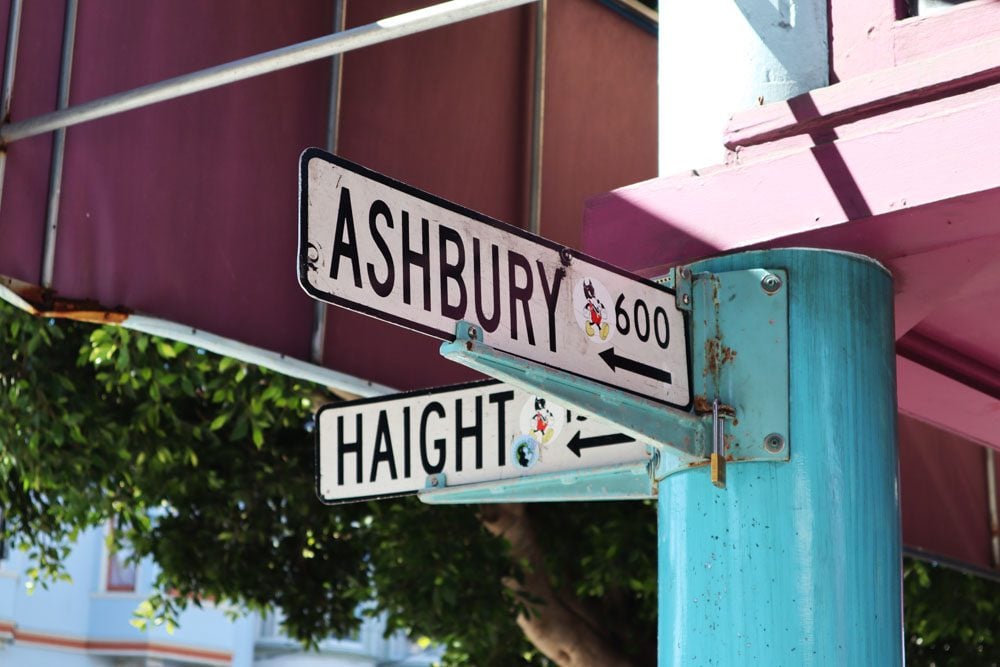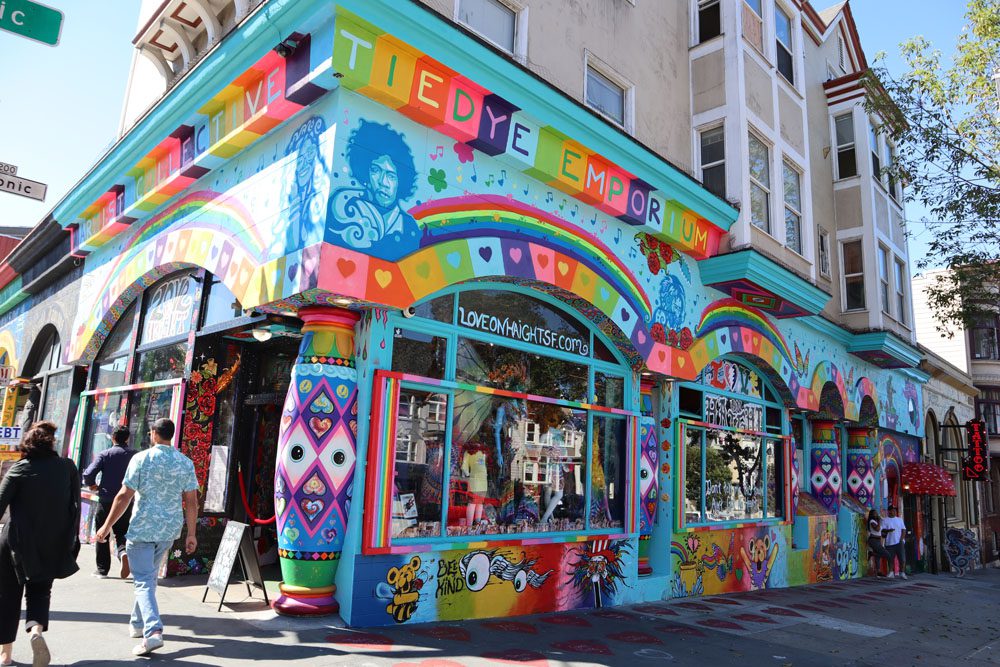 The end of Haight Street brings you right into Golden Gate Park. Rivaled only by New York's Central Park, this is one of the finest city parks in the world. Golden Gate Park is huge and deserves its own day of exploring but, since we just have a long weekend to spend in San Francisco, we'll do a rapid tour.
At the Japanese Tea Garden, footpaths lead visitors to pagodas, the famous bronze Buddha and the U-shaped bridge, as well as to ponds filled with a lot of serenity. Additional cultivated slices of nature can be found at the adjacent San Francisco Botanical Garden or at the rose garden. Don't forget to check out the symmetry of Rideout Fountain and its square, and the tranquil grounds of Stow Lake. If you have the time, the de Young Museum is a great option for art-lovers.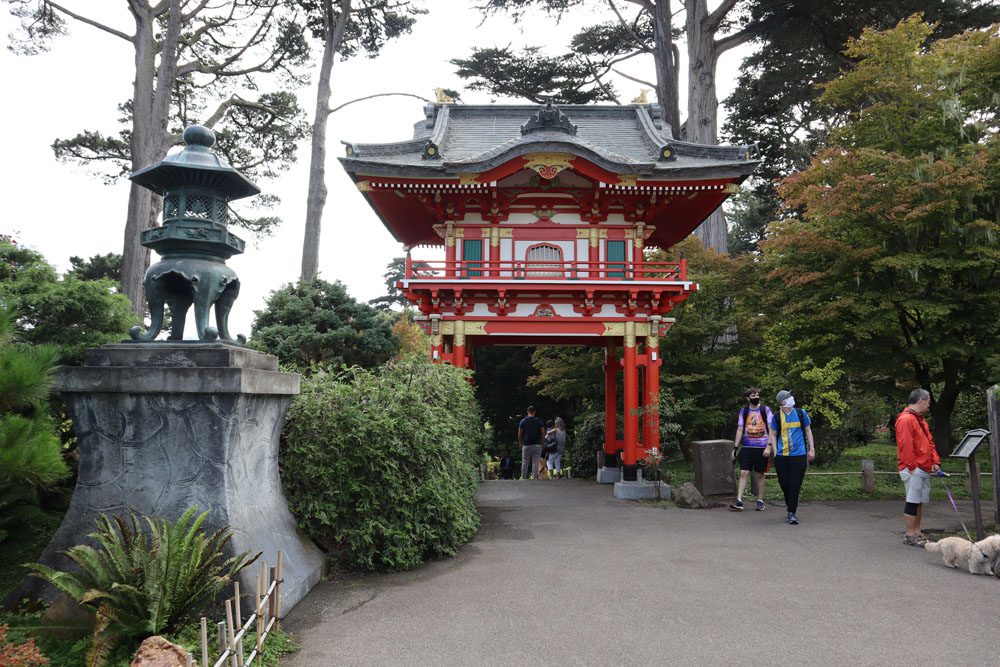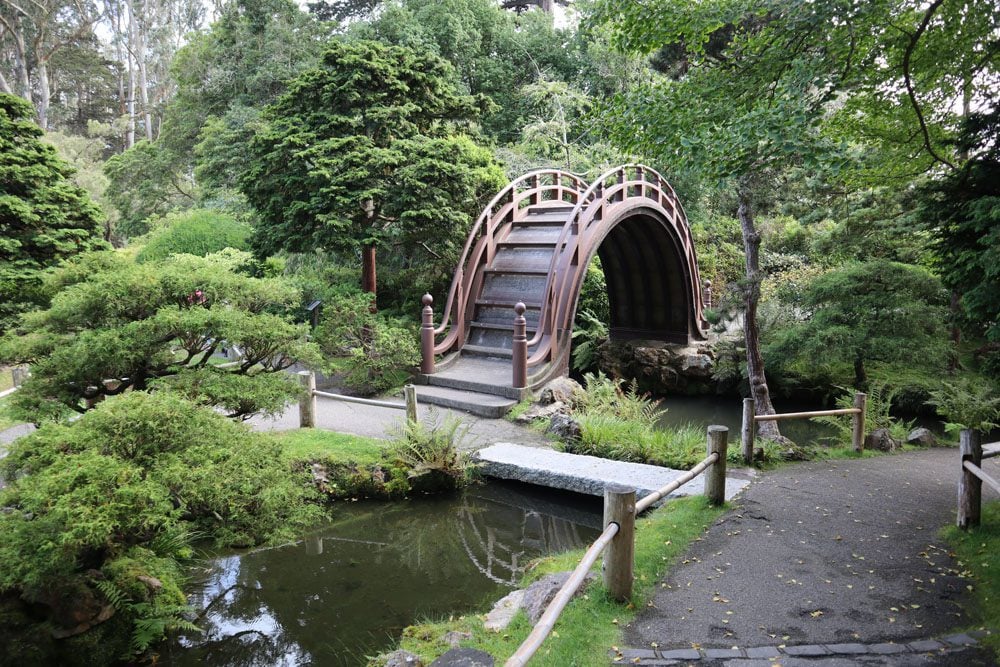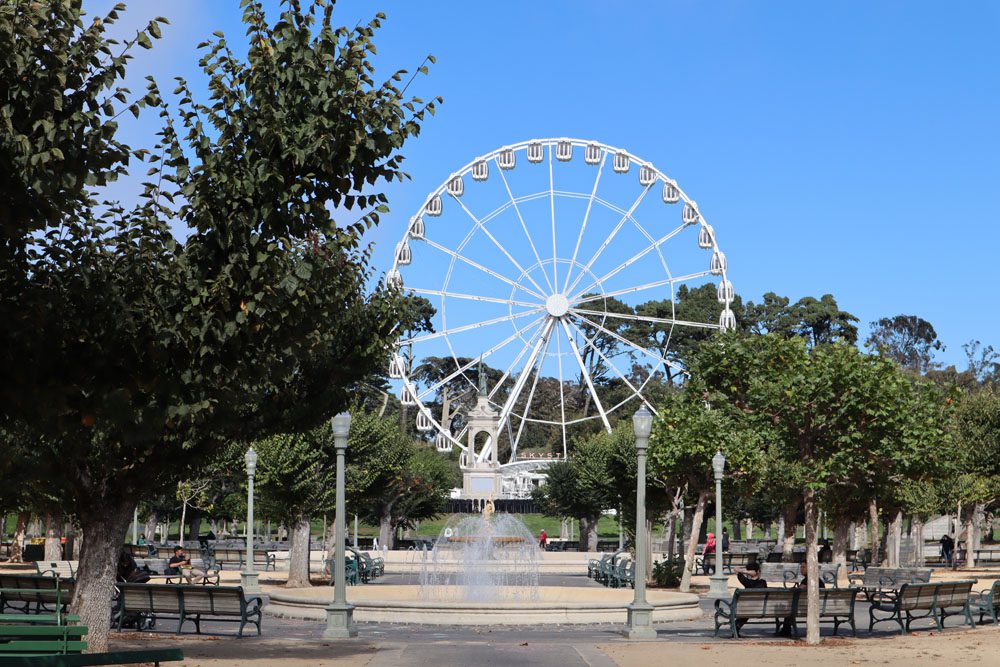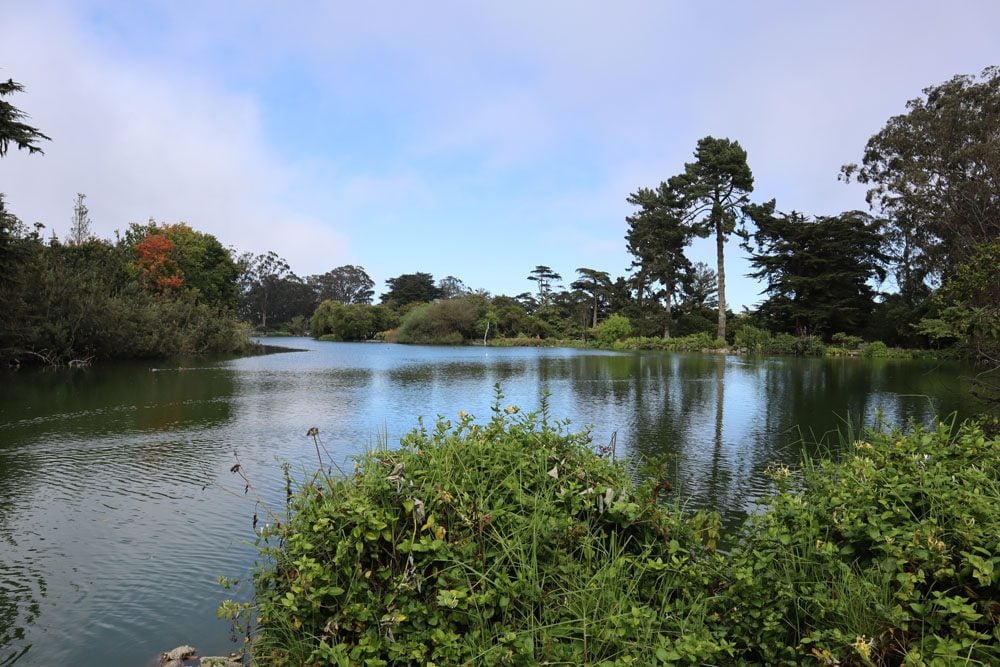 From here, it's probably a good idea to head back to the hotel and prepare for dinner by either taking the bus or ordering a taxi.
Dinner
To wrap up our long weekend in San Francisco, a celebratory dinner is called for. Head to a recommended restaurant near your hotel or opt in for a classic San Francisco meal, albeit a touristy affair. Catch a cab back to Fisherman's Wharf and find a spot in one of the simpler eateries along Taylor Street or nearby at Alioto's Waterside Cafe. The name of the game here is lobsters, crabs, and chowder. Other good options are the bread bowl seafood chowder at Boudin Bakery, or the seafood at Franciscan Crab Restaurant (reservations strongly advised).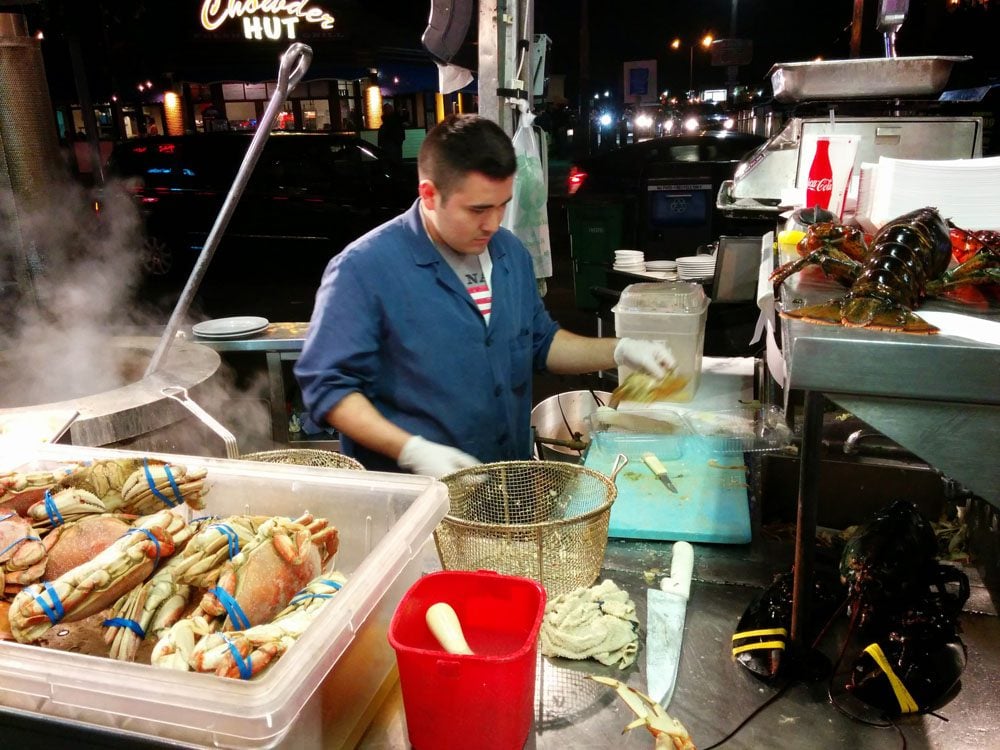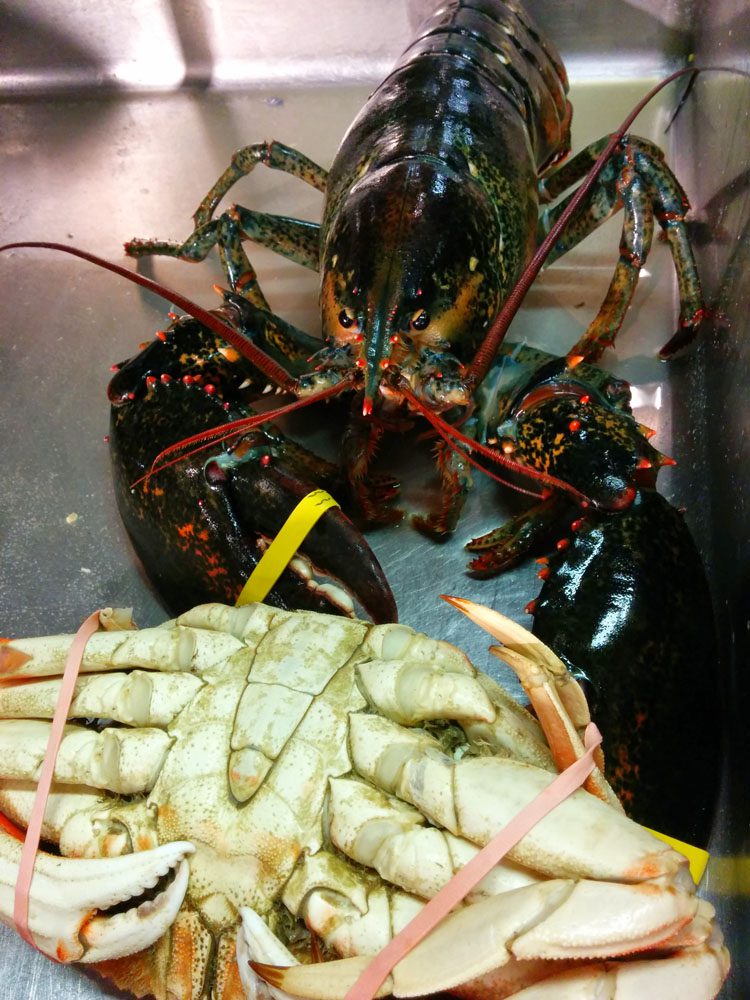 What's Next?
This action-packed 3 days long weekend in San Francisco itinerary should give you a very good taste of San Francisco and perhaps inspire you to revisit this area. Should that be the case, check out additional California travel guides that can be combined with a visit to San Francisco.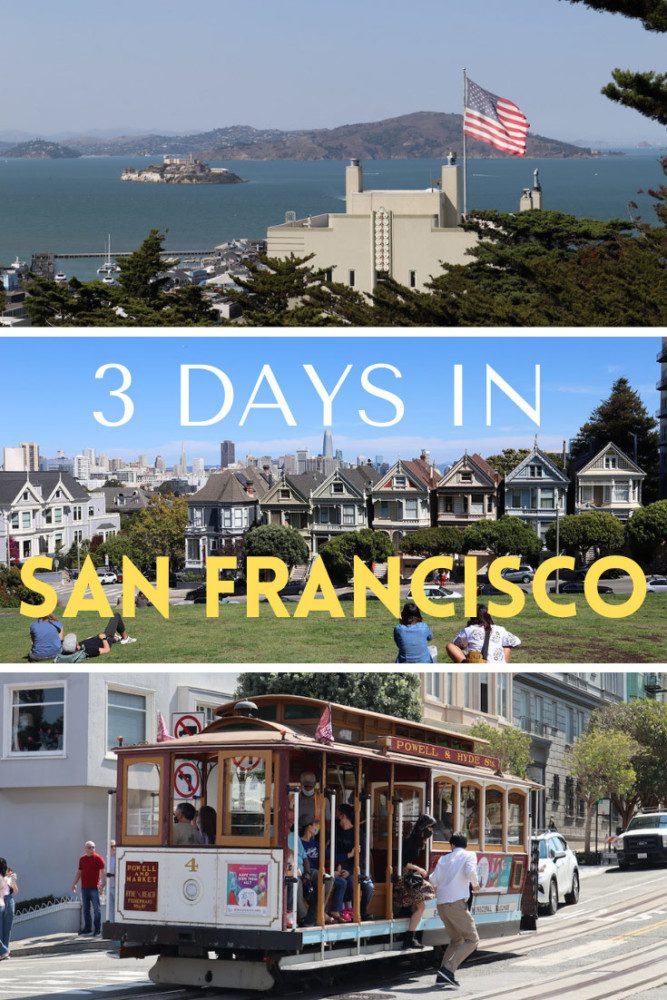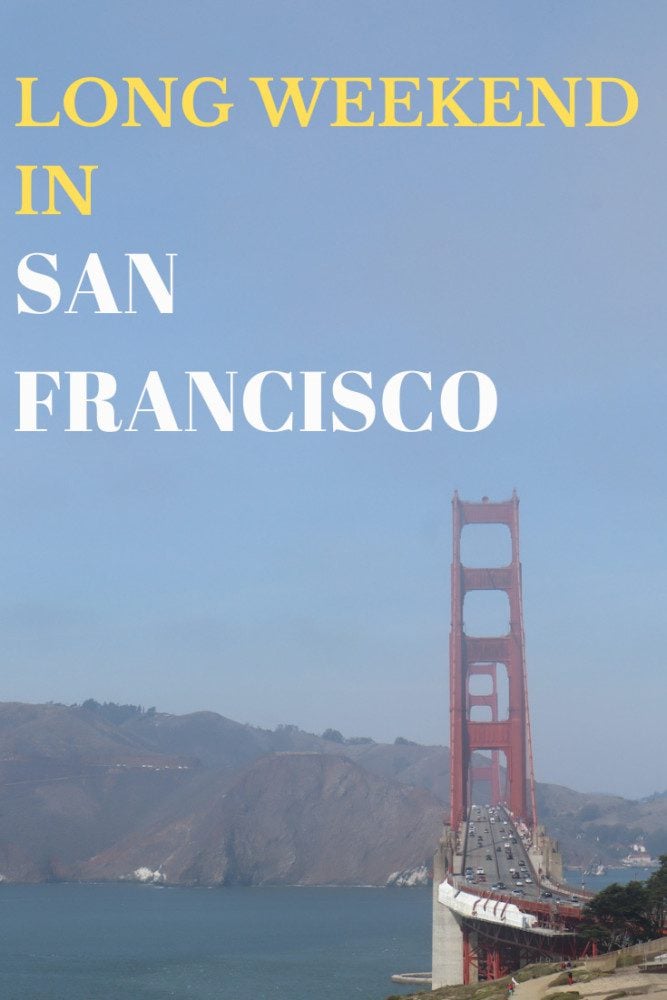 Pin These Images To Your Favorite Boards