3 Days In San Francisco Itinerary
Spending a long weekend in San Francisco is one of the ultimate city breaks in the United States. The City by the Bay is easy to explore and dotted with monumental sites. Its patches of diverse neighborhoods allow for every traveler to find their flavor. In this travel guide, we'll explore how to spend 3 days in San Francisco on a perfect long weekend city escape.
In this San Francisco travel guide, we'll focus on exploring the city's major central neighborhoods and also venture beyond the city limits to see what's happening on the other side of the bay.
Why Visit San Francisco for a Long Weekend?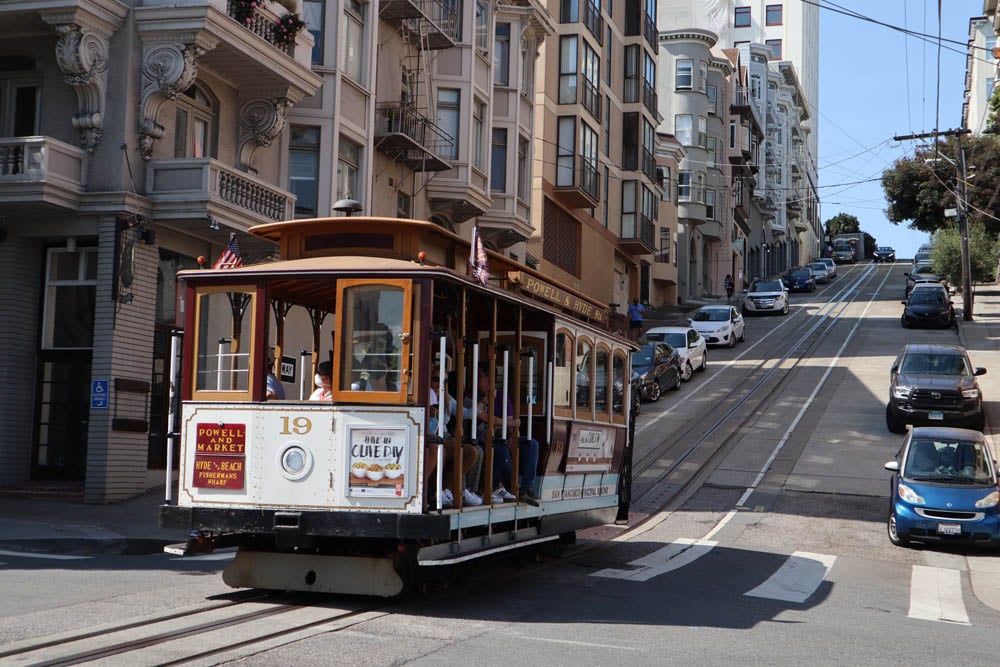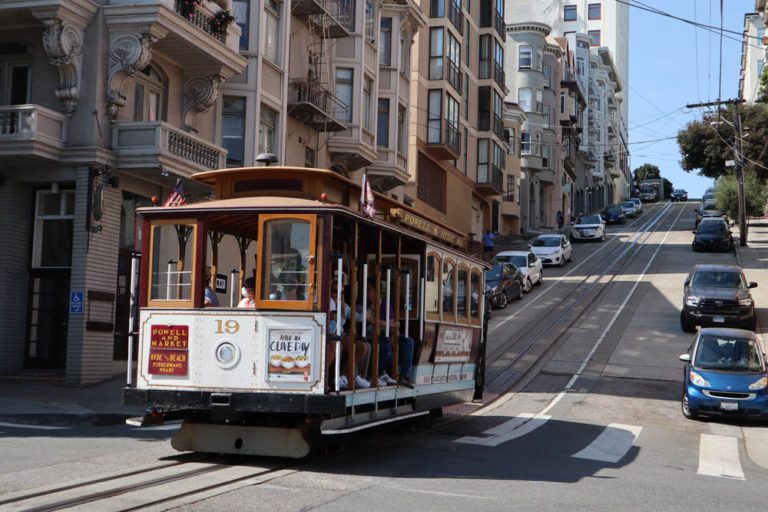 Easy to Explore
Unlike many U.S. cities, it's relatively easy to explore San Francisco despite it's size. Vast parts of the city are perfect for walking, even if there are a few hills to climb. Its far reaches are easily accessible by bicycle, public transportation, or some serious walking.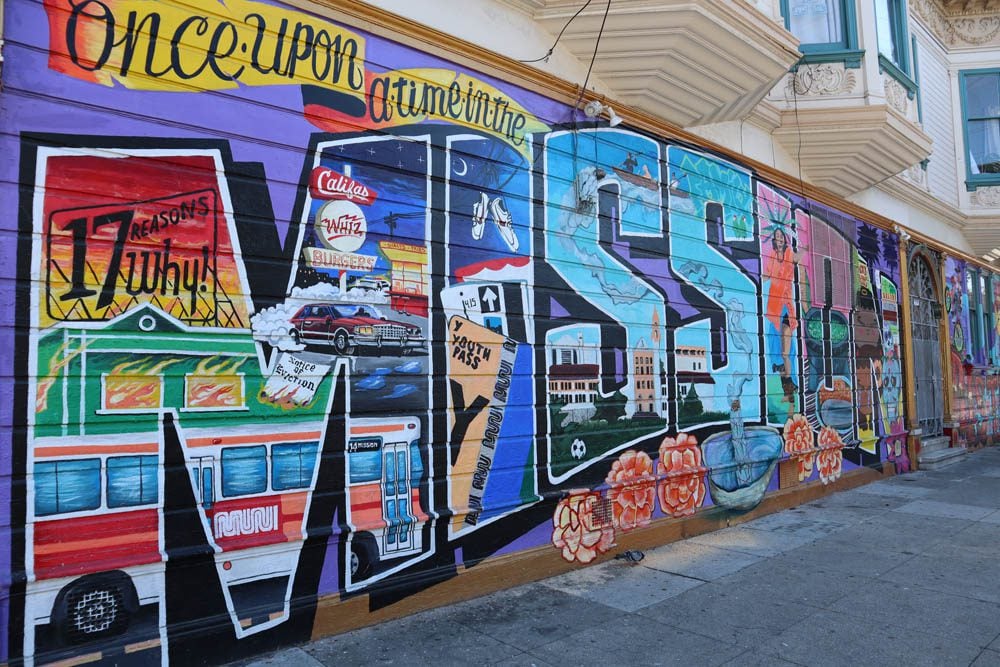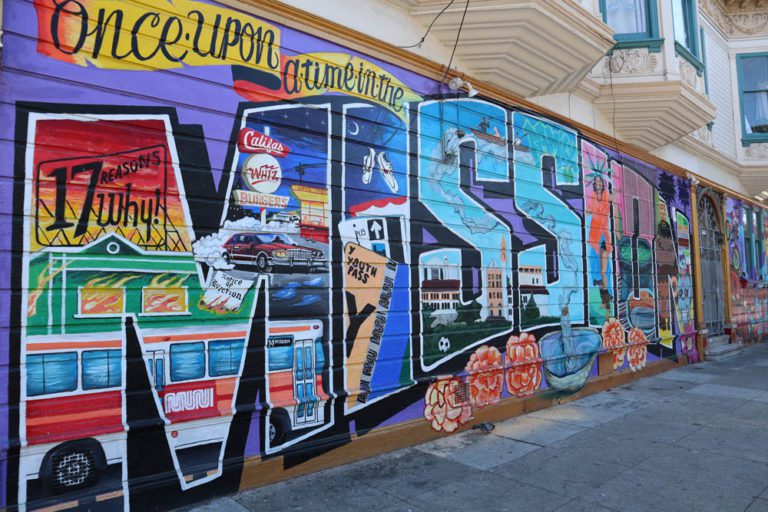 Diversity of Neighborhoods
Every San Francisco neighborhood has its unique vibe and, in a matter of a few city blocks, visitors can experience the city's unique blend of flavors. From Chinatown to Little Italy and the Mission, San Francisco never gets boring.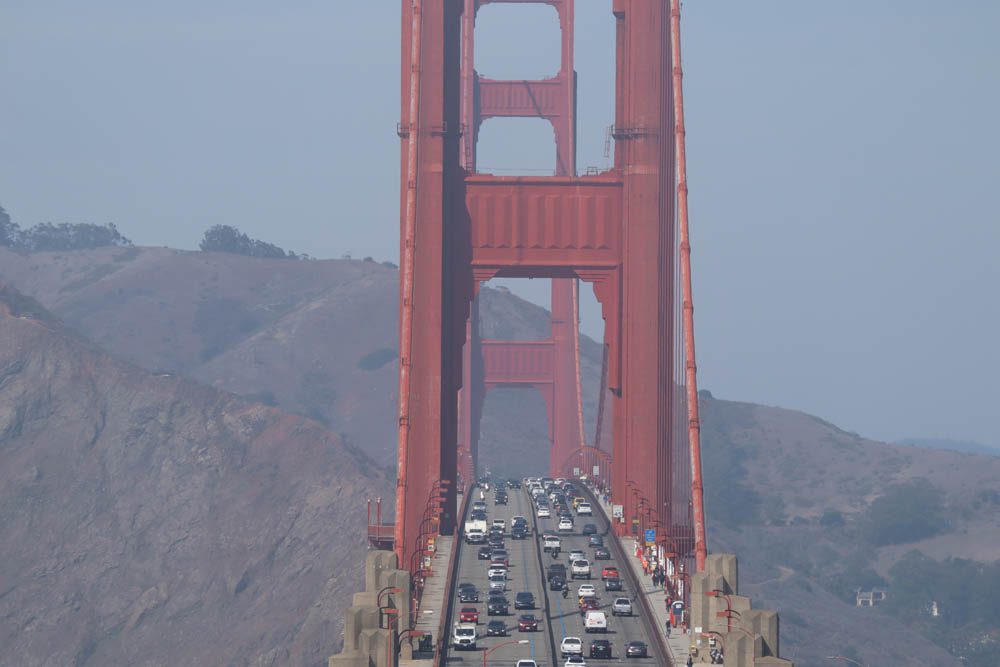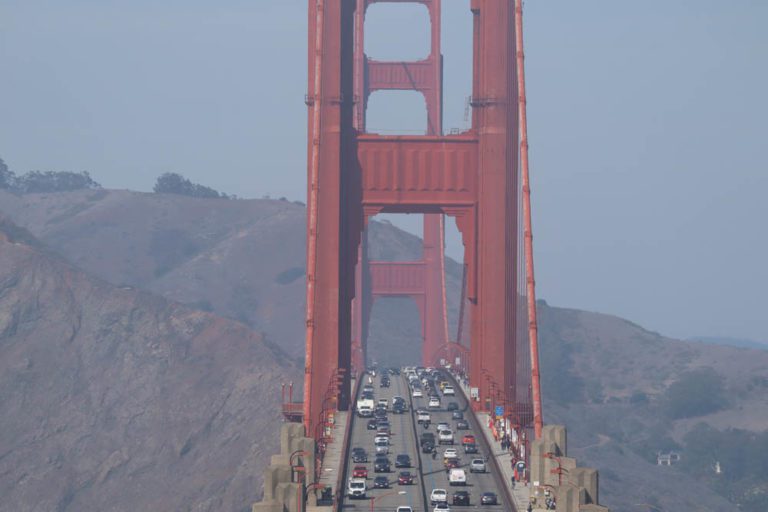 Picture Perfect
With beautiful hilltop vistas, a distinct architecture, and iconic landmarks, San Francisco is always easy on the eyes and a true photographer's paradise. It's one of the most picturesque cities in the world, with images forever etched in your memory.
What's Included in this 3 Days in San Francisco Itinerary?
Several sections make up this travel guide:
Day 1: Union Square, Chinatown, The Hills & Little Italy
Additional San Francisco Travel Resources
Visiting San Francisco for more than just a long weekend or looking for a quick read? These might come in handy.
3 Days in San Francisco Itinerary Map
This map contains all the points mentioned in this San Francisco long weekend itinerary. Simply click on the image to open in Google Maps.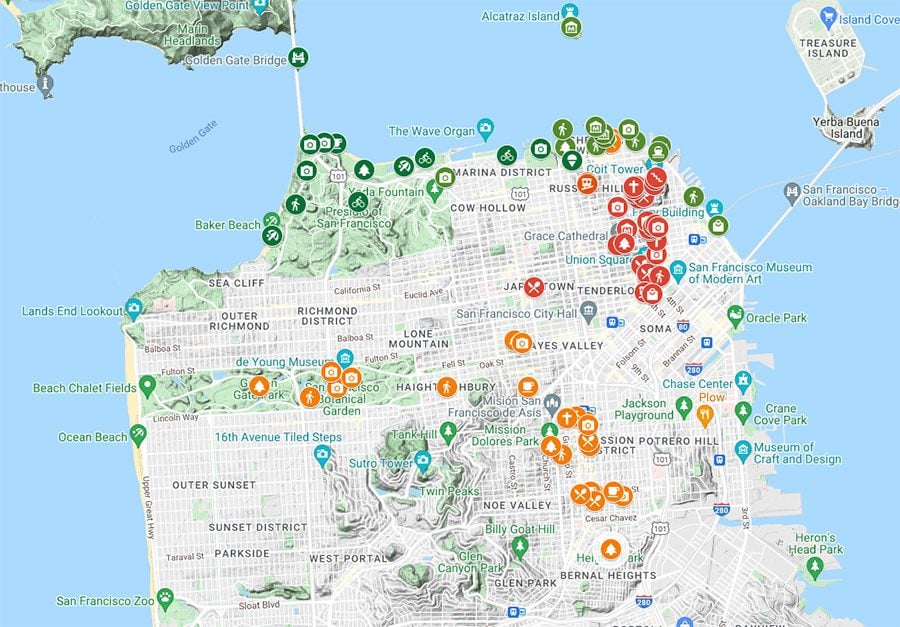 San Francisco Travel Tips
Visiting San Francisco for a long weekend city break doesn't leave much room for error. Be sure to read through a comprehensive list of detailed San Francisco travel tips outlined on the first page of this companion 5 days in San Francisco itinerary.
Day 1: Union Square, Chinatown, The Hills & Little Italy
We'll begin the first day of this long weekend in San Francisco in its downtown area, later exploring its scenic hills via Chinatown and Little Italy. There's a lot of walking to be done on this day so dress accordingly.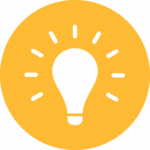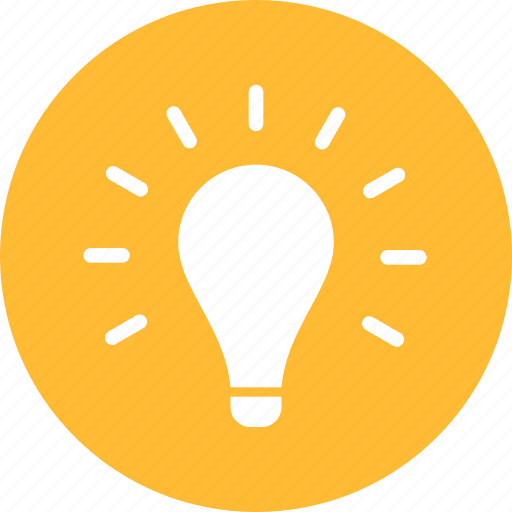 Pro Tip
You can also hop on and hop off the California and Powell-Hyde cable car lines using a day pass if walking the steep hills of San Francisco is less to your appetite.
If you've arrived on the previous evening, you'll have a full day to explore this itinerary but if you've taken a morning flight, adapt this itinerary accordingly.
Union Square & Around
Union Square is a large open plaza in downtown San Francisco and that's where we'll start the day. If breakfast is called for, head to Sears Fine Food on Powell St., where breakfasts have been served since 1938. Try their famous Swedish pancakes and don't forget to spin the slot machine on your way out for a chance to win delicious prizes.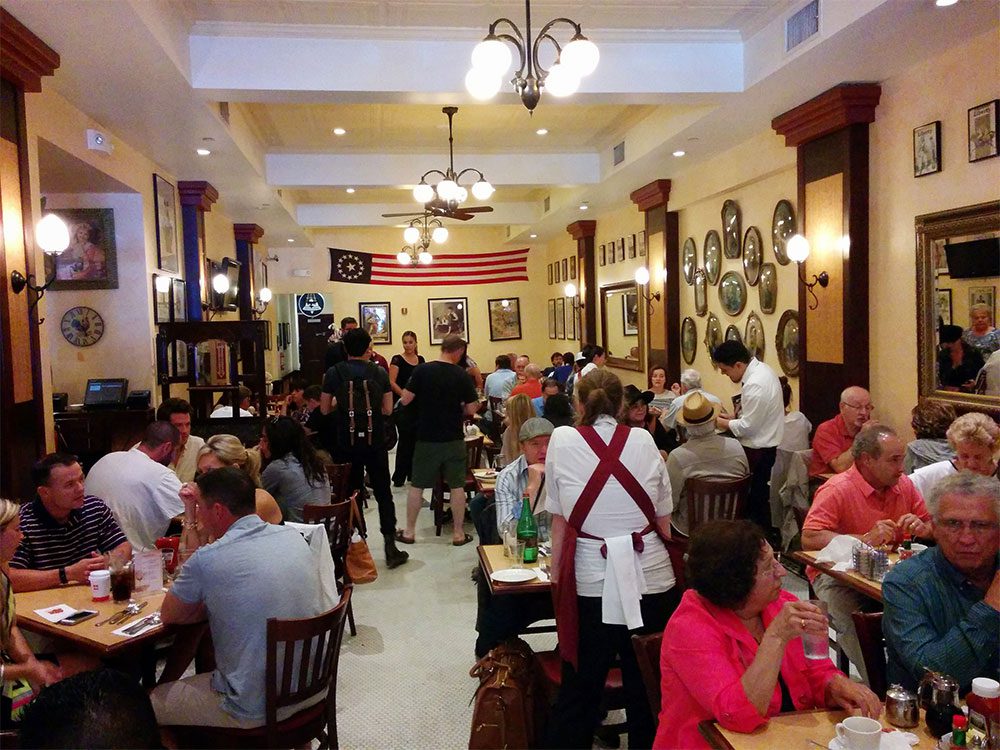 With your stomach full, check out the area around Union Square or just grab a cup of coffee in the square, catch some sun, and watch the passing cable cars. Around Union Square, you'll find many luxury and popular brands as well as department stores. If you're visiting from outside the U.S. and want to do some shopping, head to Macy's Union Square and inquire at any register about the "visitors' pass" which should provide a 10% discount.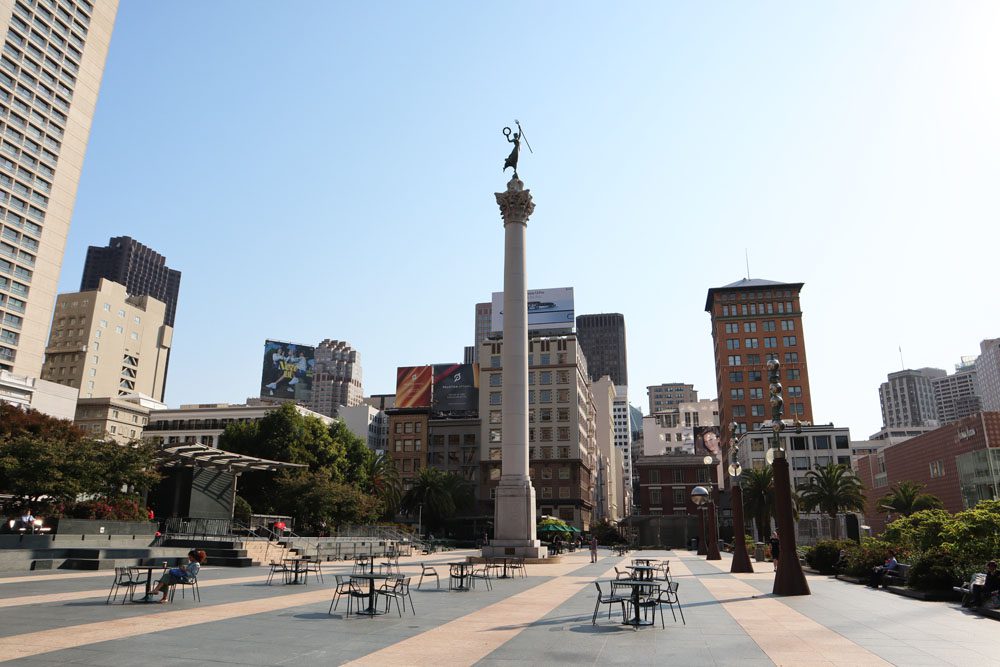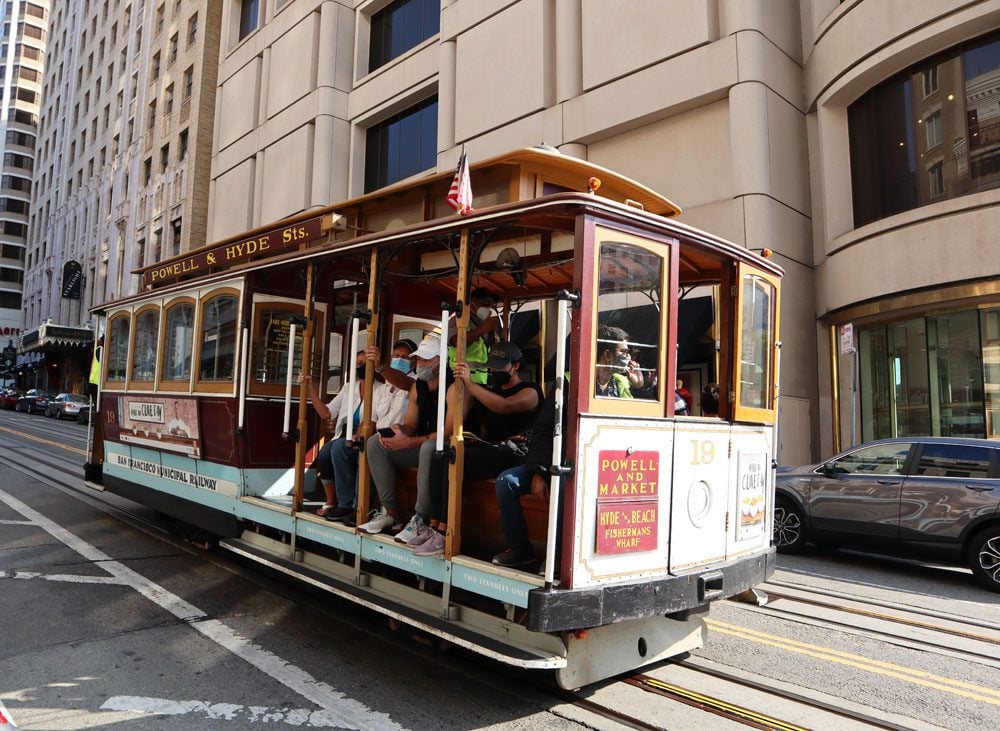 Even if you're not shopping, head to the Macy's Union Square branch of the Cheesecake Factory. Naturally, the cheesecake selection here is out of this world and I must admit that the food isn't bad either. But the prime reason I recommend heading here is for the splendid views of Union Square from the rooftop balcony.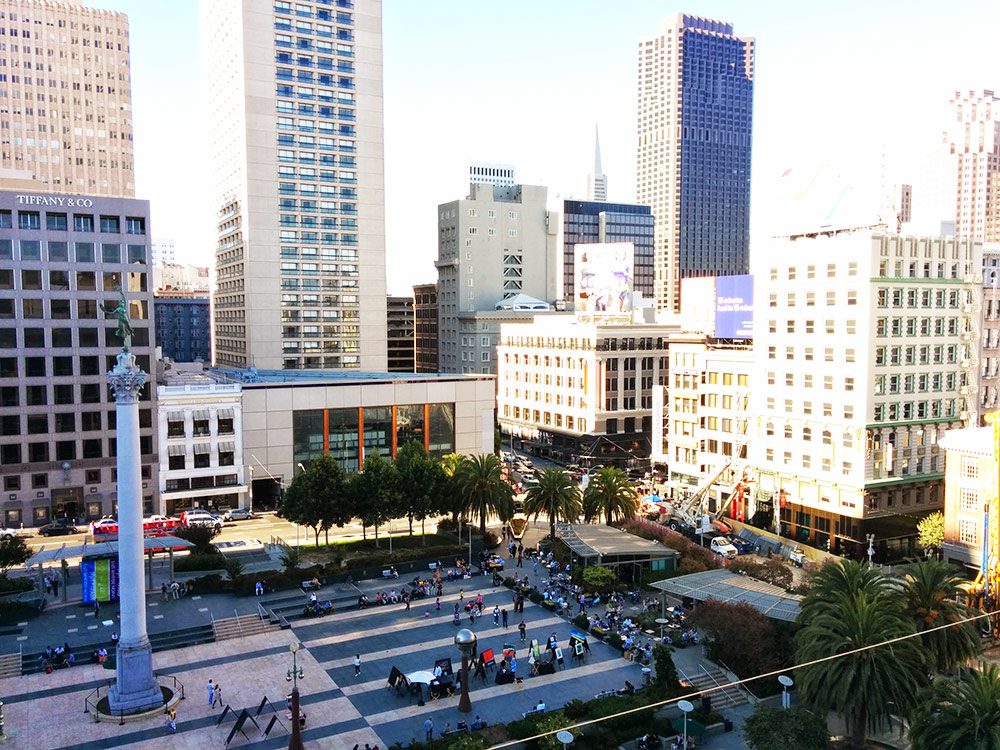 Not a must but certainly interesting for some, you can take a slight detour from Union Square down to the corner of Market and Powell which is the end (or the starting point) of a couple of cable car lines. Watch what happens when a cable car needs to be turned around. This section of Market Street is also a prime shopping area, highlighted by the Westfield San Francisco Centre, but it's also interesting for the beautifully restored streetcars that head up and down this busy thoroughfare.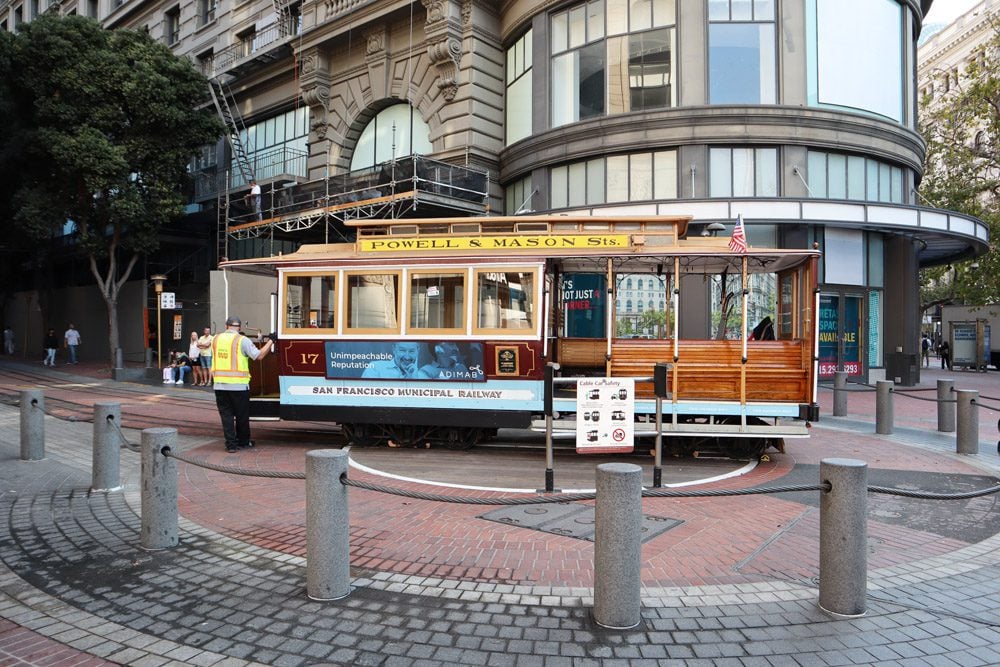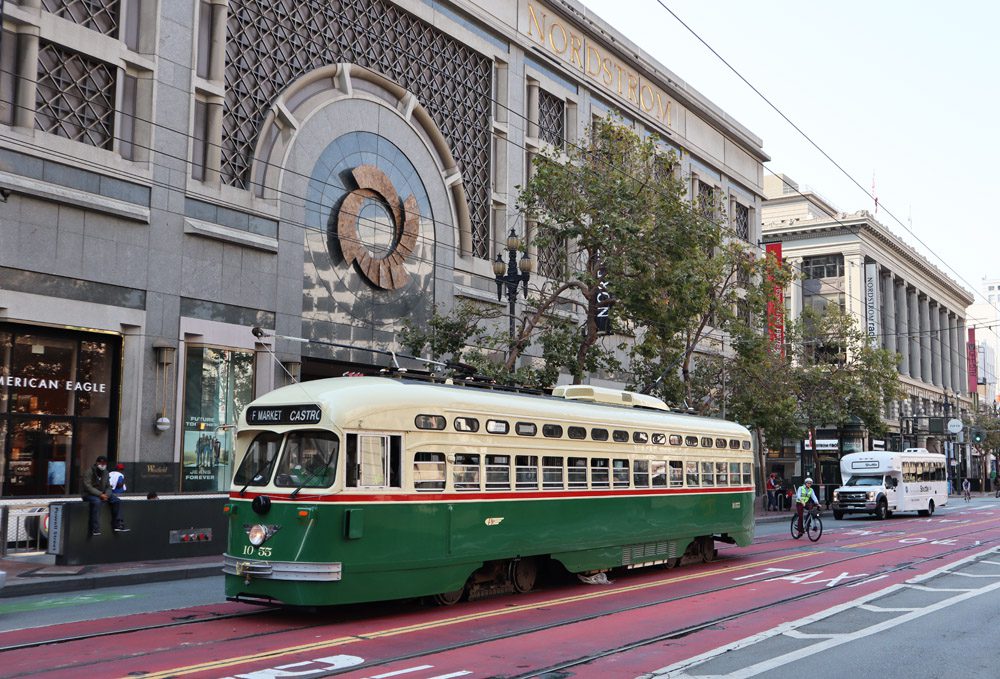 Chinatown
From Union Square, it's a short walk to colorful Chinatown. Enter from the famous Chinatown Gate on Grant Street and explore the oldest Chinatown in the United States. Its prime arteries are tourist-oriented Grant Avenue and local commerce-oriented Stockton Street.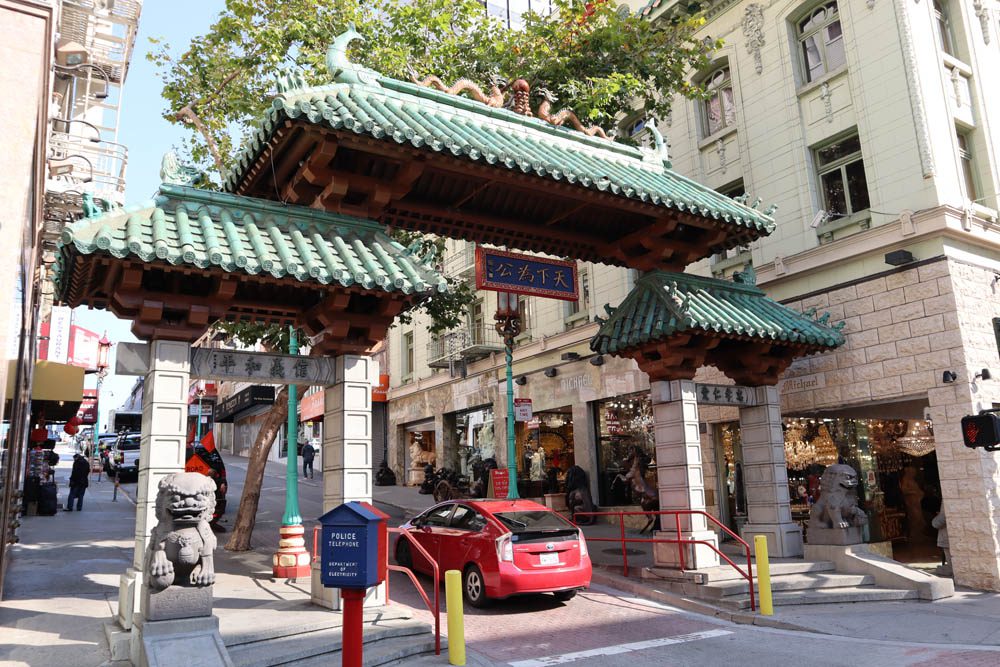 Check out Old St. Mary's Church with its grand interior and interesting photo exhibition about the devastating 1906 earthquake that flattened this part of San Francisco. The intersection in front of the church is a classic San Francisco photo spot, where cable cars head up and down a steep grade with the city's skyscrapers and the Bay Bridge in the background.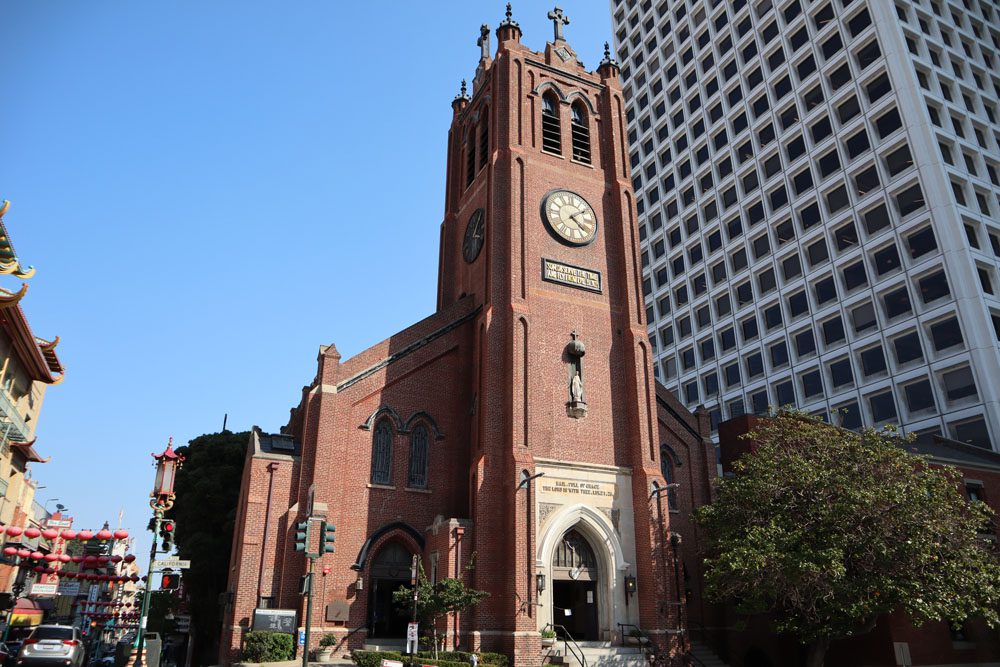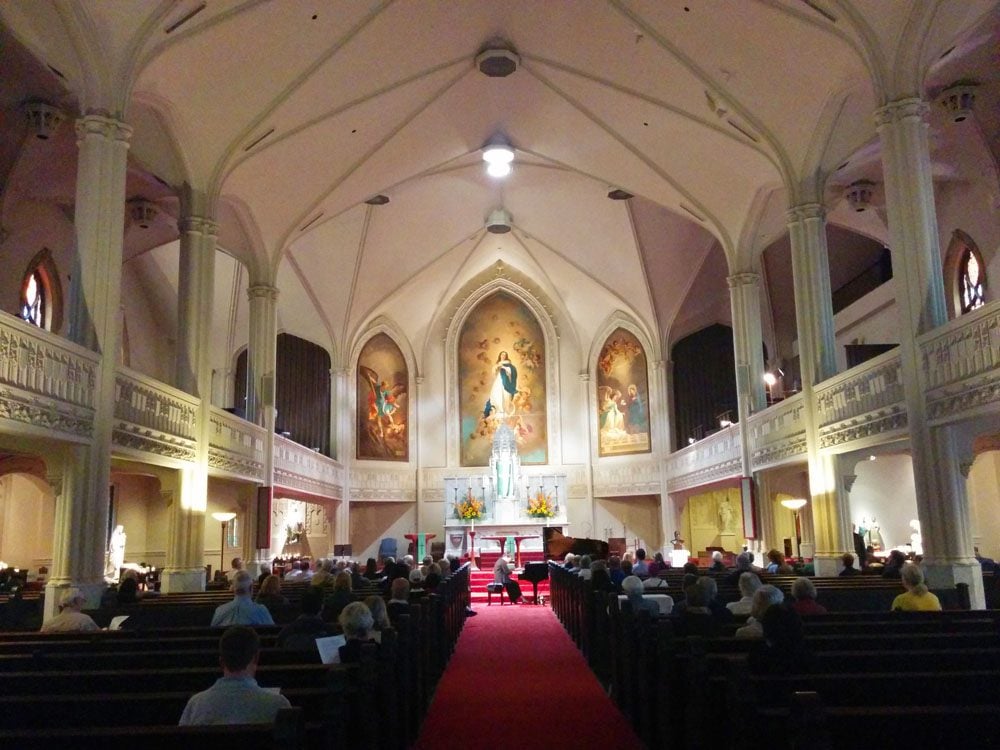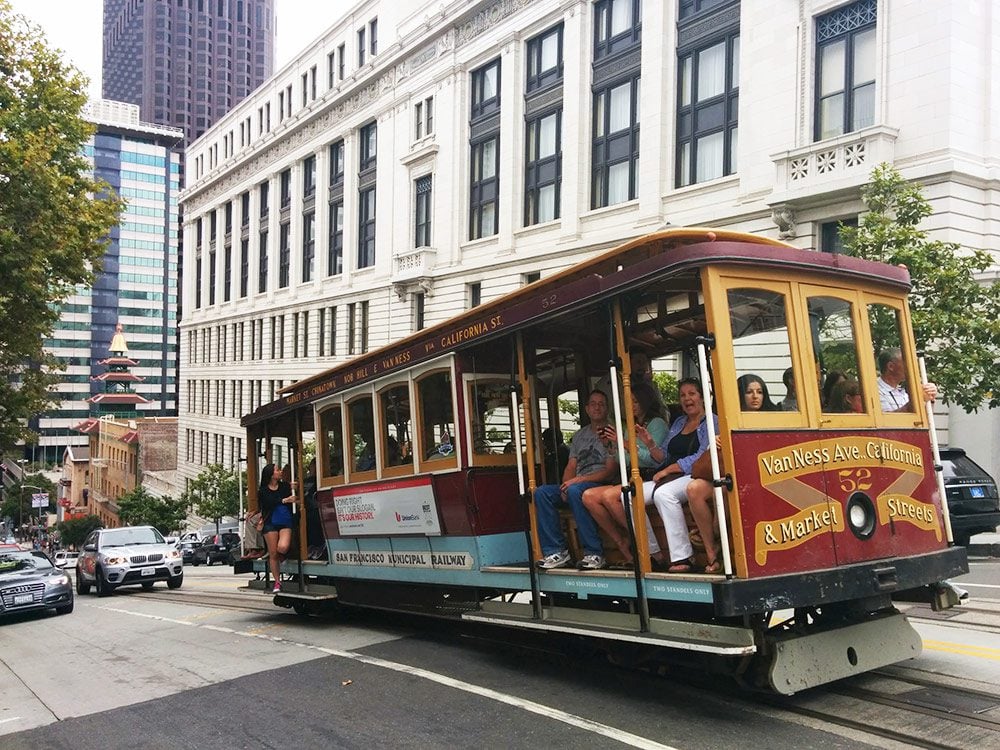 From Old St. Mary's Church, cross to Stockton Street and experience a vibrant section of Chinatown. The colors and smells of vegetable and seafood shops next to dim sum restaurants all blend together to create an authentic feel. Find your way to tiny Waverly Place and check out the architecture. If possible, visit Norras Temple or the Tin How Temple, both active places of worship. In nearby Ross Alley, see how fortune cookies are made at the Golden Gate Fortune Cookie Factory. They've been making fortune cookies here since the 1960s and you can buy small bags to snack on during the rest of the day.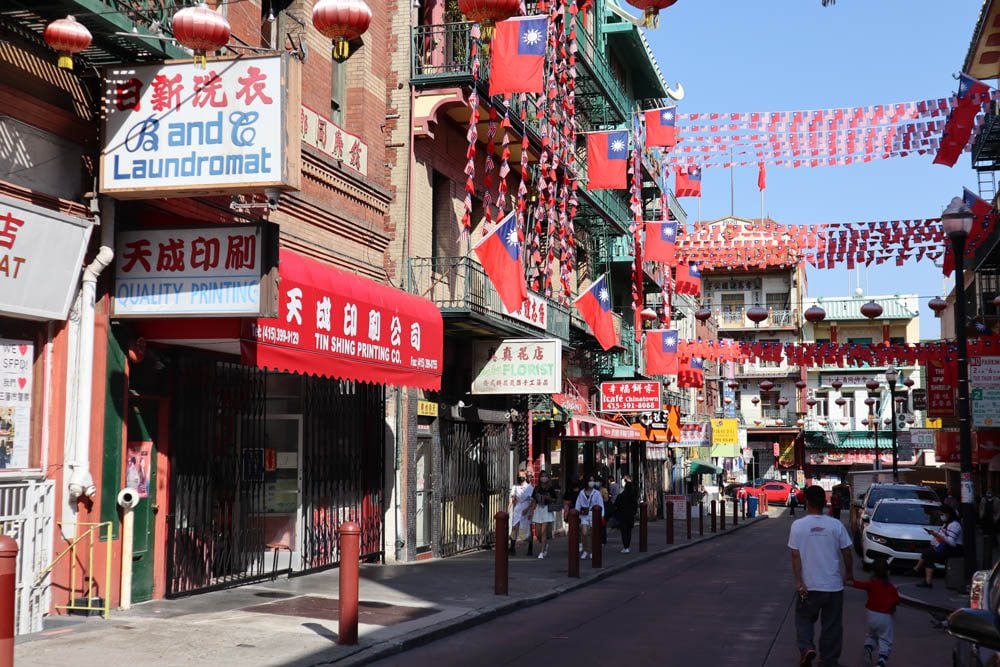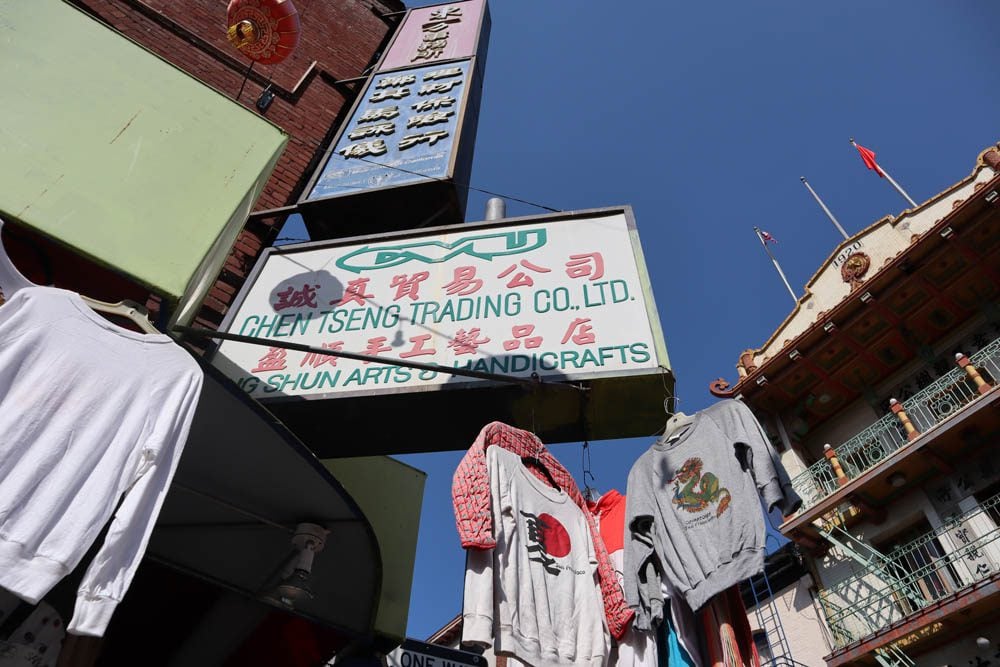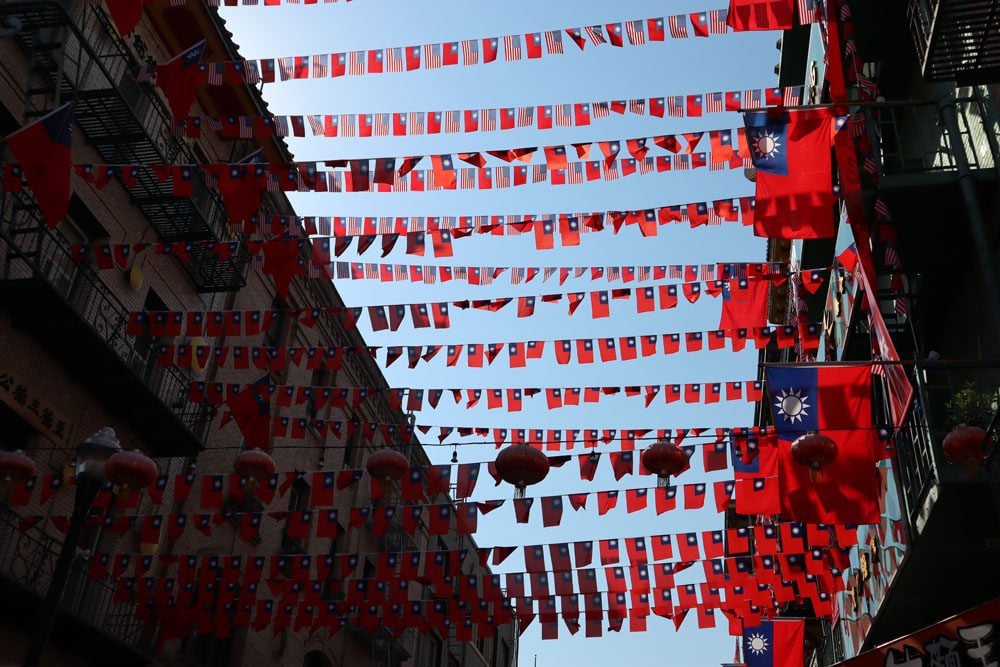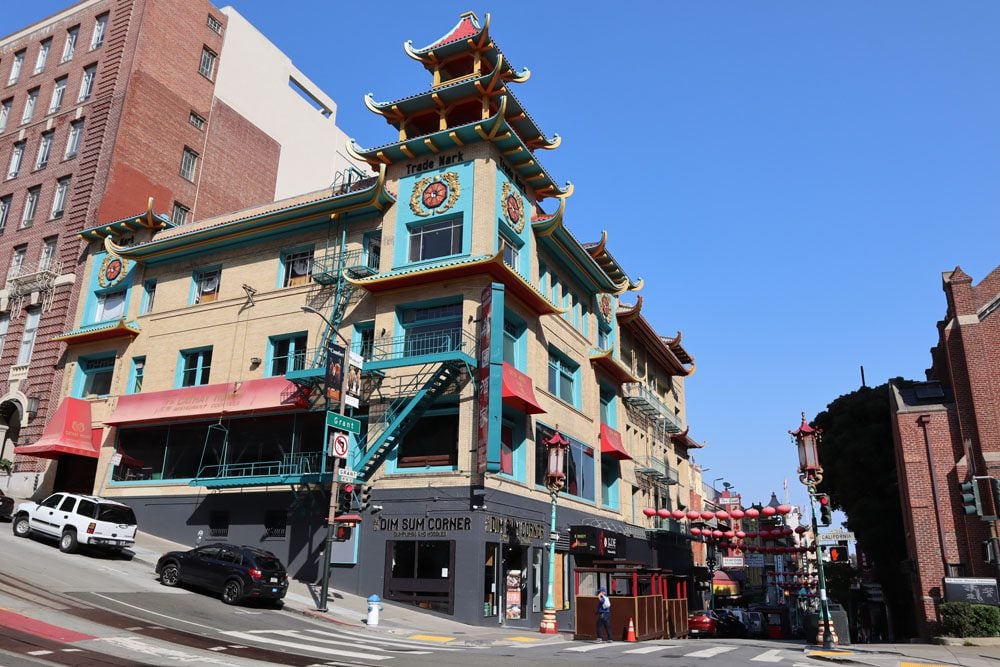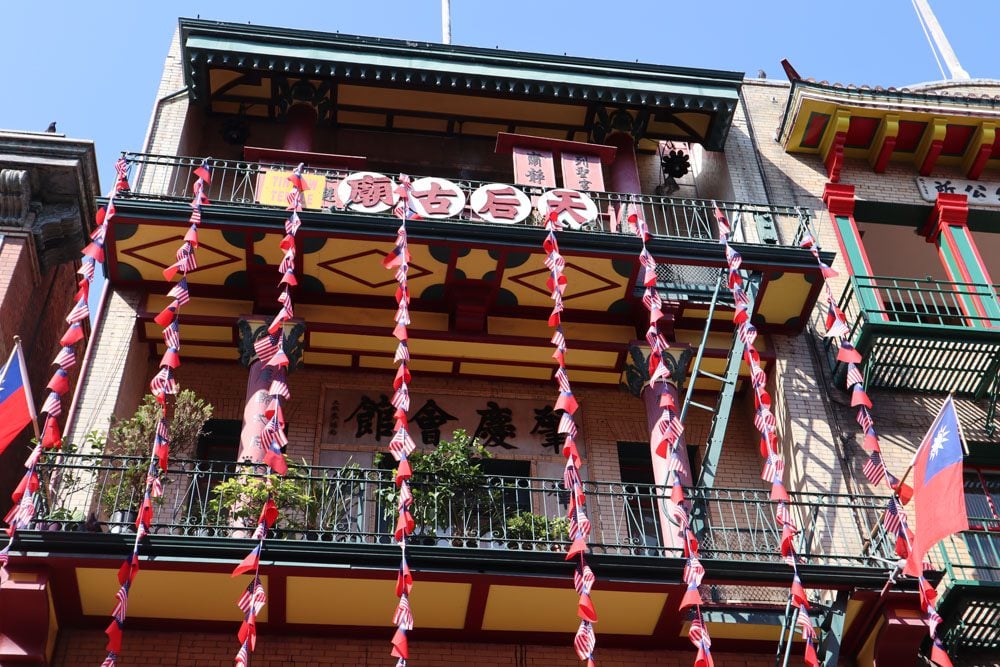 Before wrapping up this rapid tour of San Francisco's Chinatown, head to Portsmouth Square to witness intense battles of Chinese checkers. En route, check out the beautiful pagoda of the East-West Bank, better known as the Chinese American Telephone Exchange Building. Opened in 1909, this former telephone exchange was manned by operators who routed the calls by memorizing each subscriber's destination. For an authentic souvenir, head to Ellision Enterprises Corp. at 738 Washington St. This traditional Chinese medicine shop is lined with hundreds of different herbs and teas. Pharmacists still use hand-held scales to weigh the goods.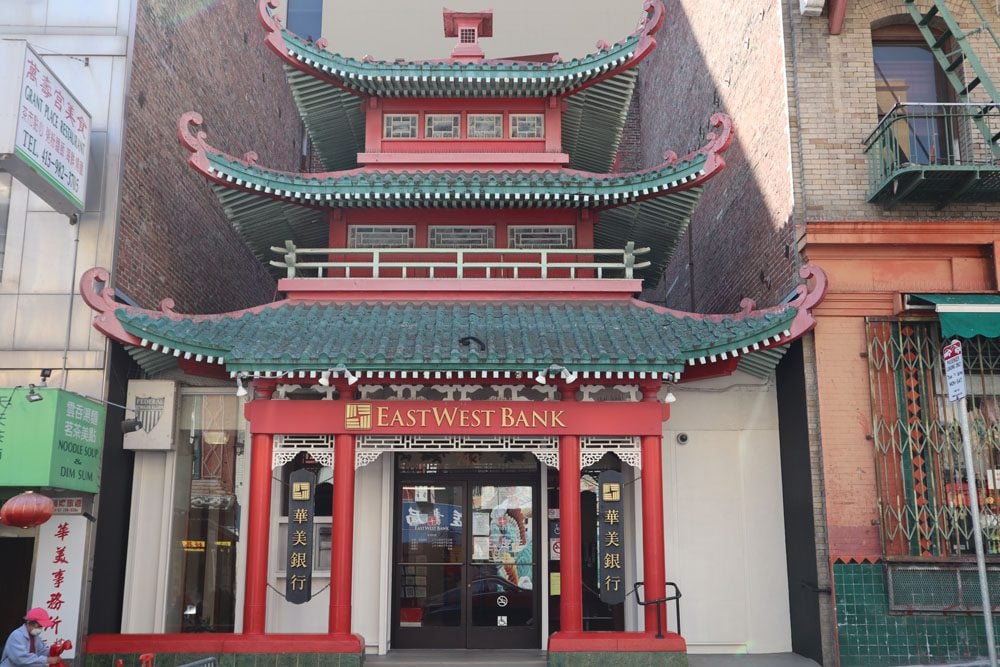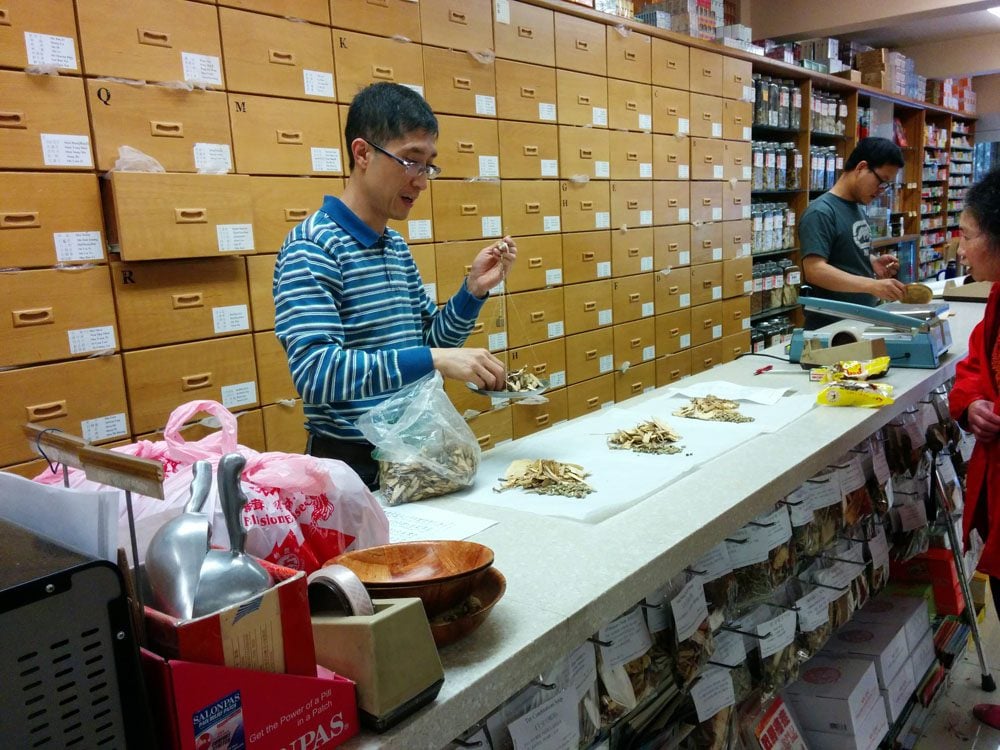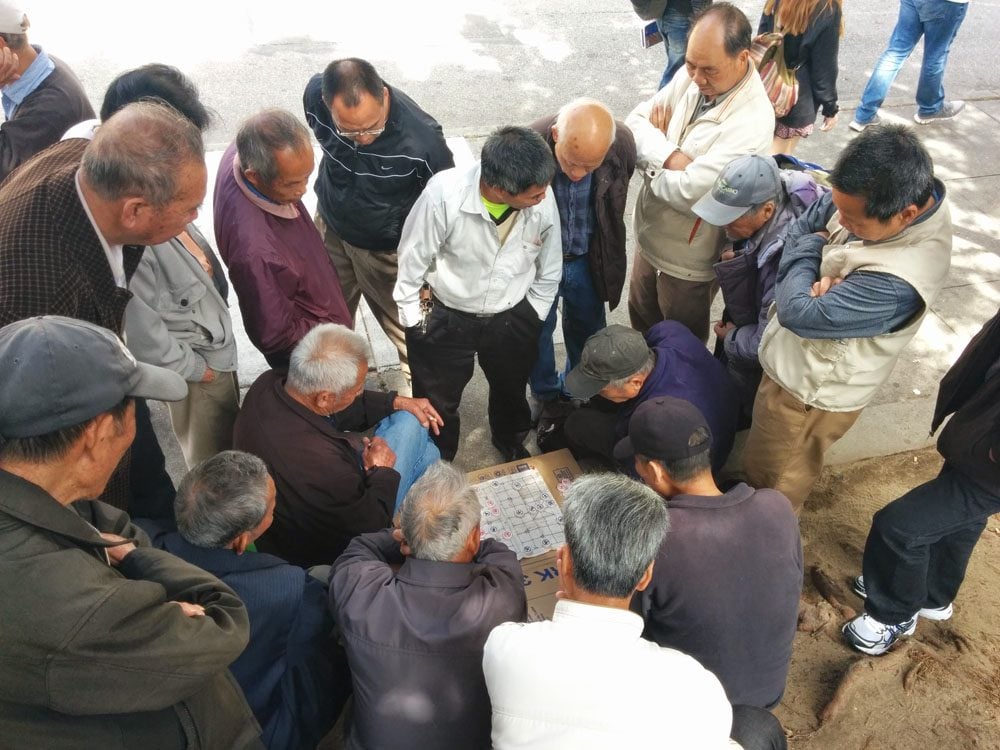 Nob Hill
Further uphill from Chinatown, Nob Hill is one of San Francisco's most charming neighborhoods. Though just minutes from downtown, it's relatively quiet here, perhaps due to the seriously steep grades of some of its streets.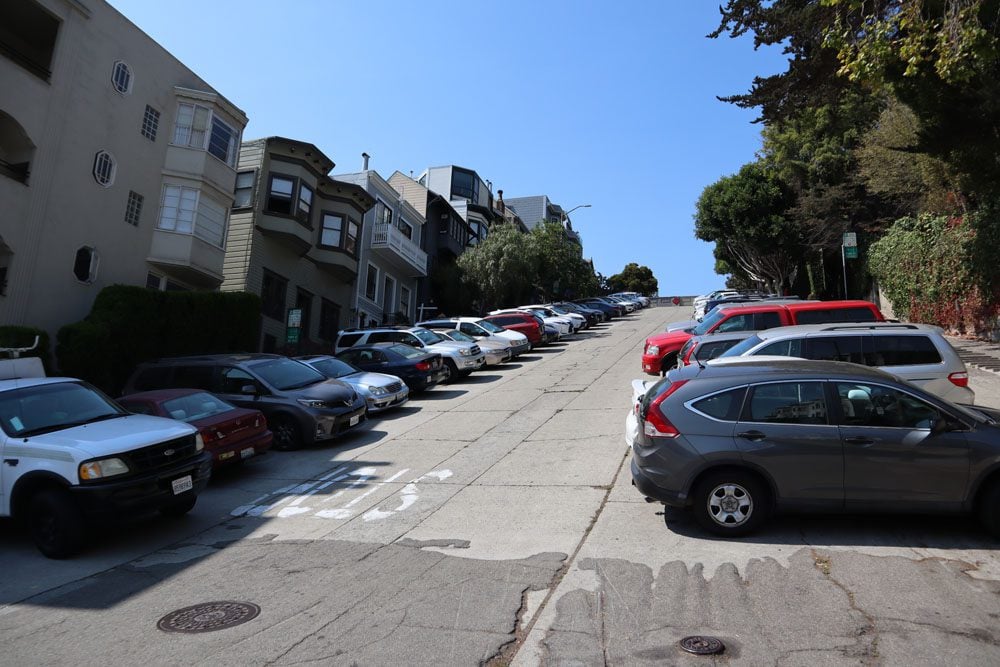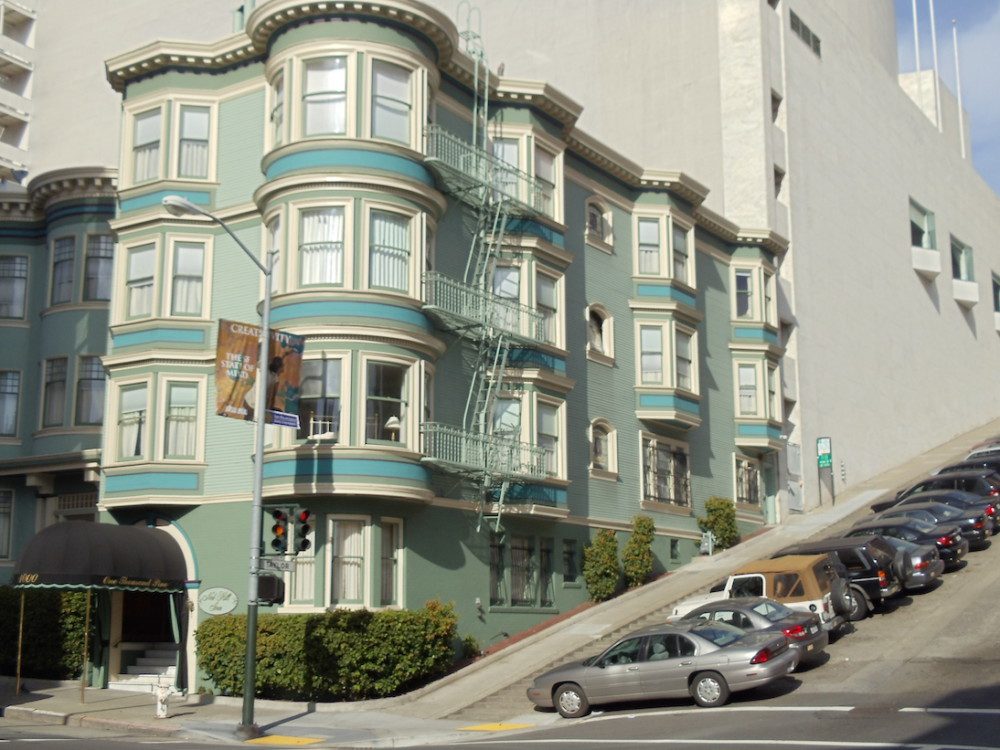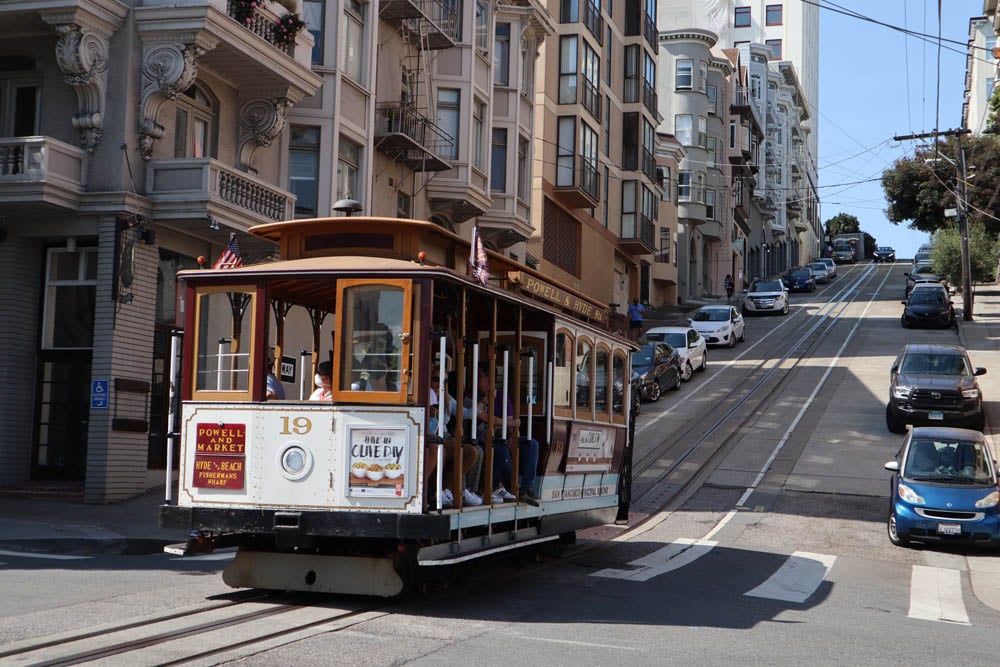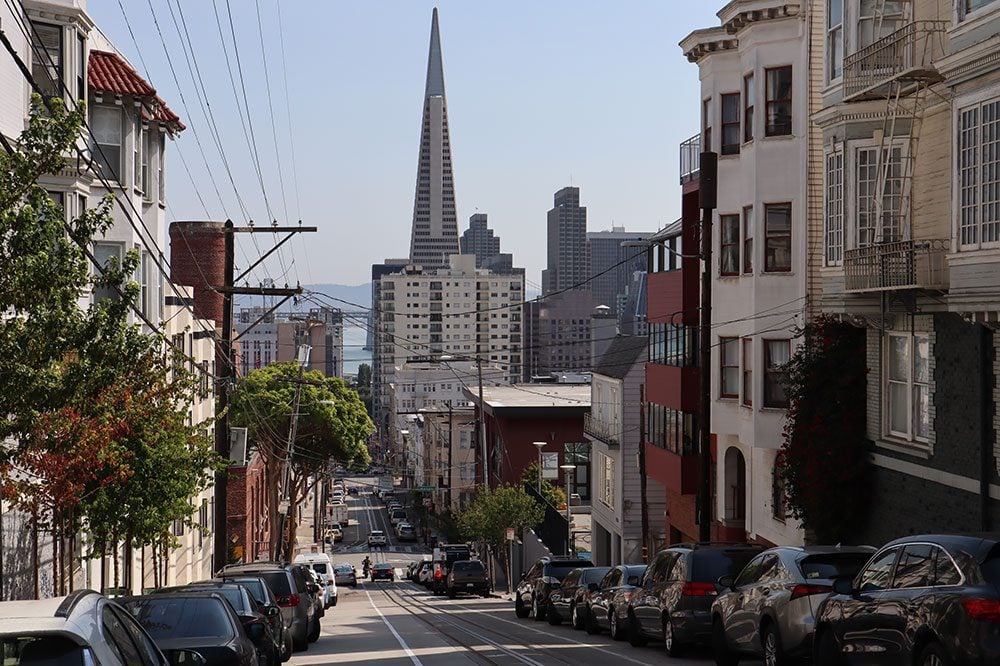 Take a break from the climbing at the San Francisco Cable Car Museum (free admission). If you're traveling with children or simply appreciate history and old technology, a visit to the cable car museum is a must. The museum highlights the history of this engineering marvel and exposed steel cables that are literally the lifeline of the cable cars can be seen at work.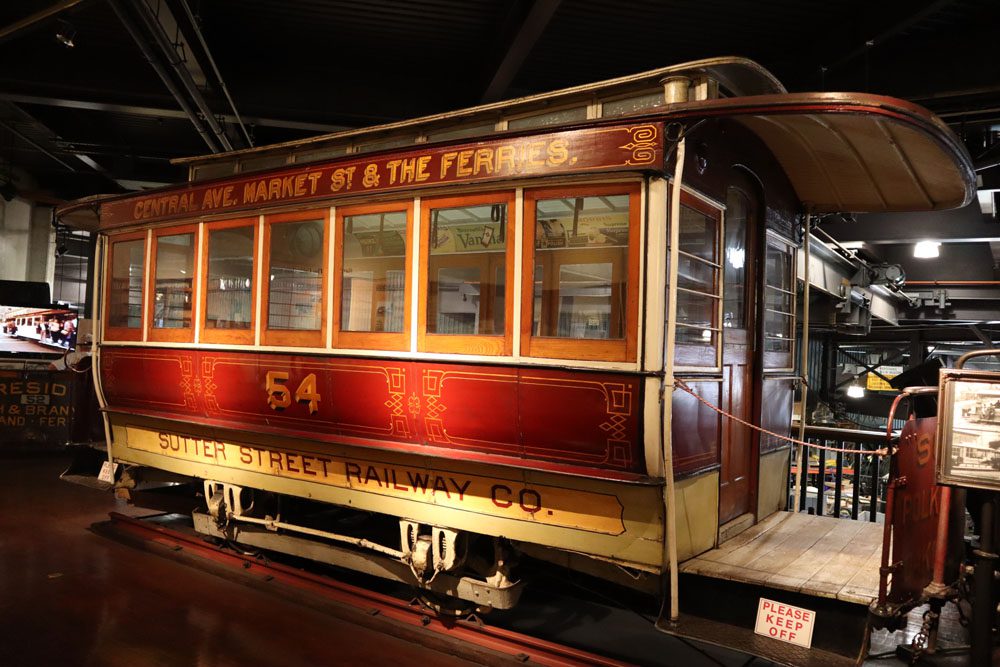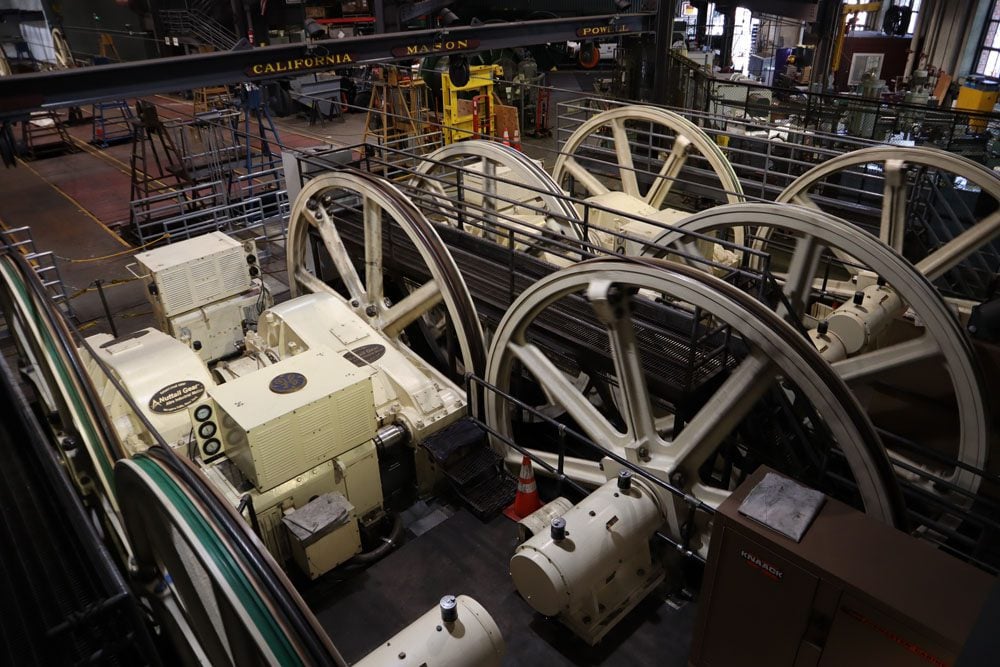 Keep heading uphill and turn on Taylor Street to check out the European-looking Grace Cathedral. This is one of the nicest spots in Nob Hill, with the tranquil Huntington Park just across the street. A short stroll from Washington Park is Ina Coolbrith Park. This secluded spot offers some of the finest views of San Francisco and it makes for a perfect stop for a picnic lunch.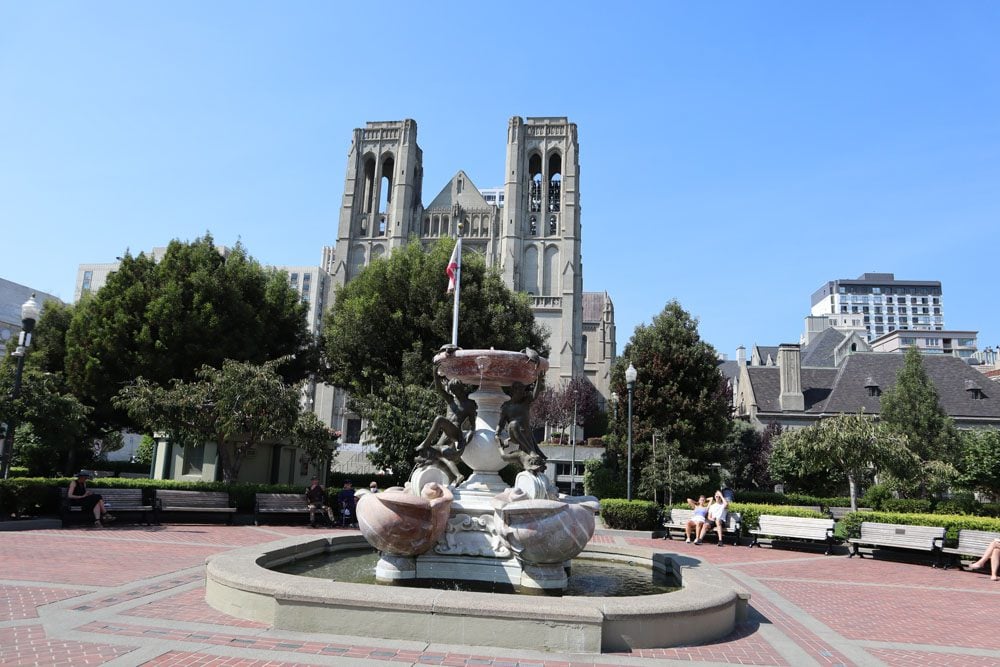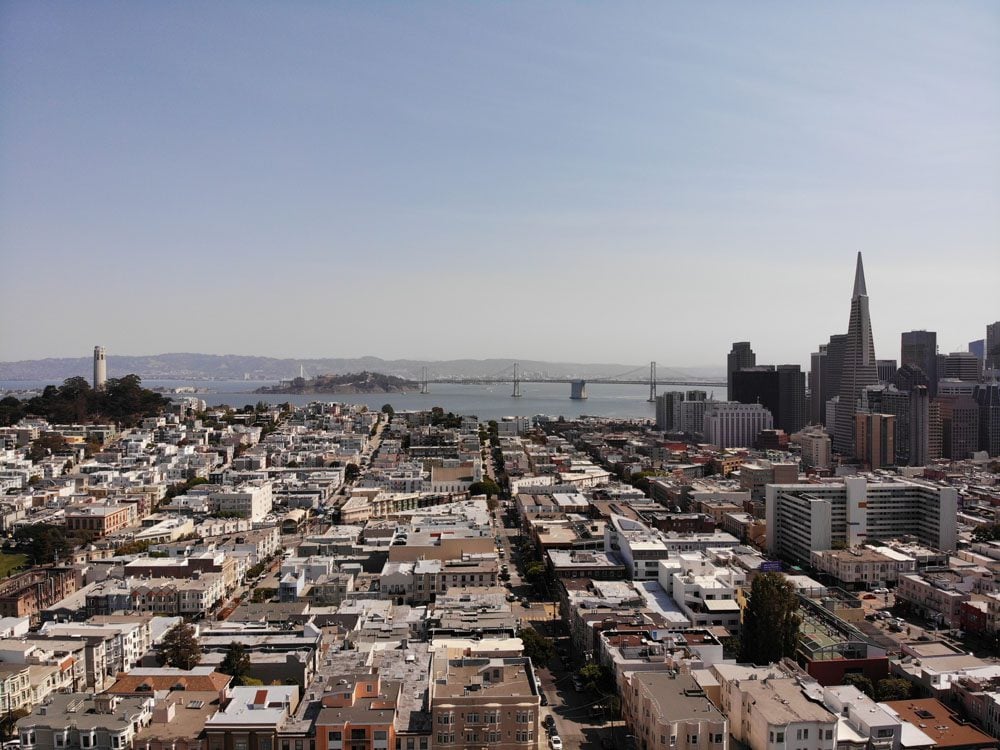 Lombard Street
From Nob Hill, it's a 15-minute walk to our next stop that begins with another "classic" San Francisco frame, this time of Alcatraz in the far distance. Though it's not a long walk, it does involve going from one hill to another. Alternatively, you can simply walk to California Street and hop on a cable car right and get off at Lombard Street.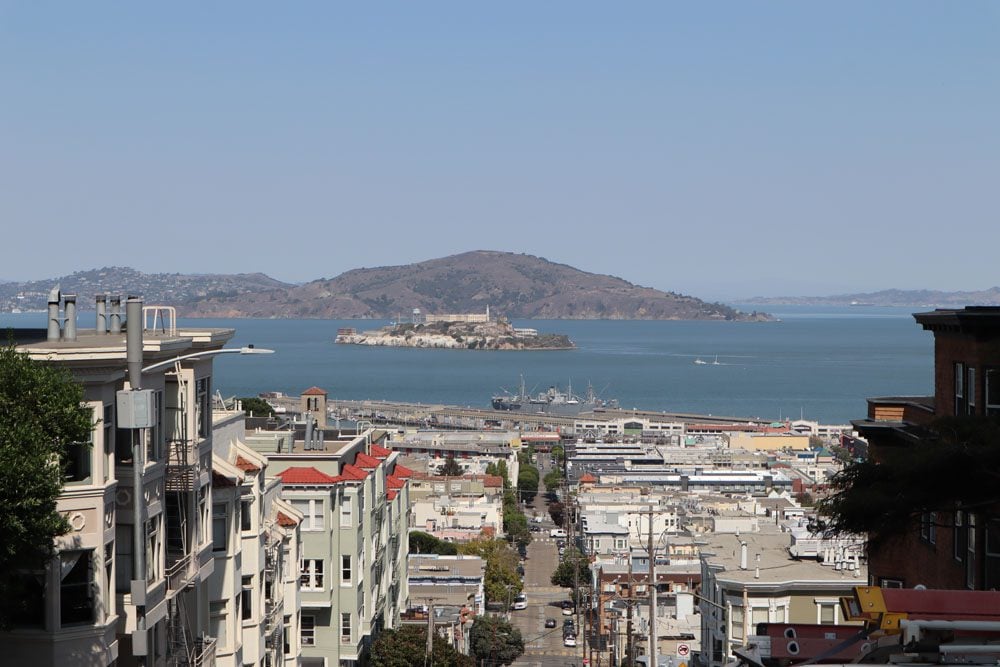 Lombard Street is another iconic San Francisco landmark, though I am sure its residents aren't too happy about the street's claim to fame. From the corner of Lombard and California, you can catch another nice view of Alcatraz, this time with Fisherman's Wharf in the background and the California Street cable cars.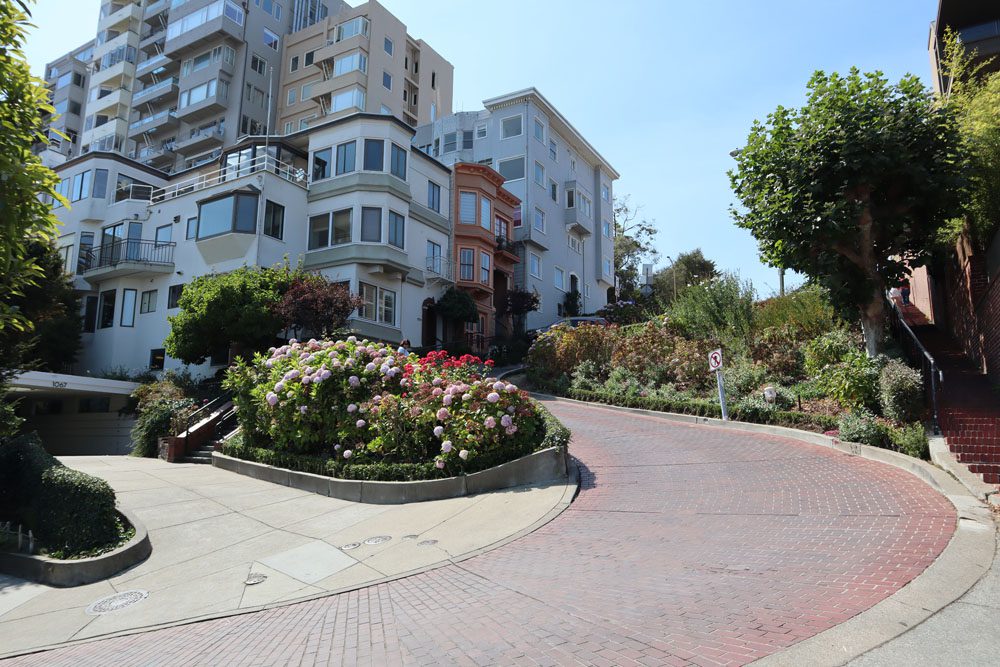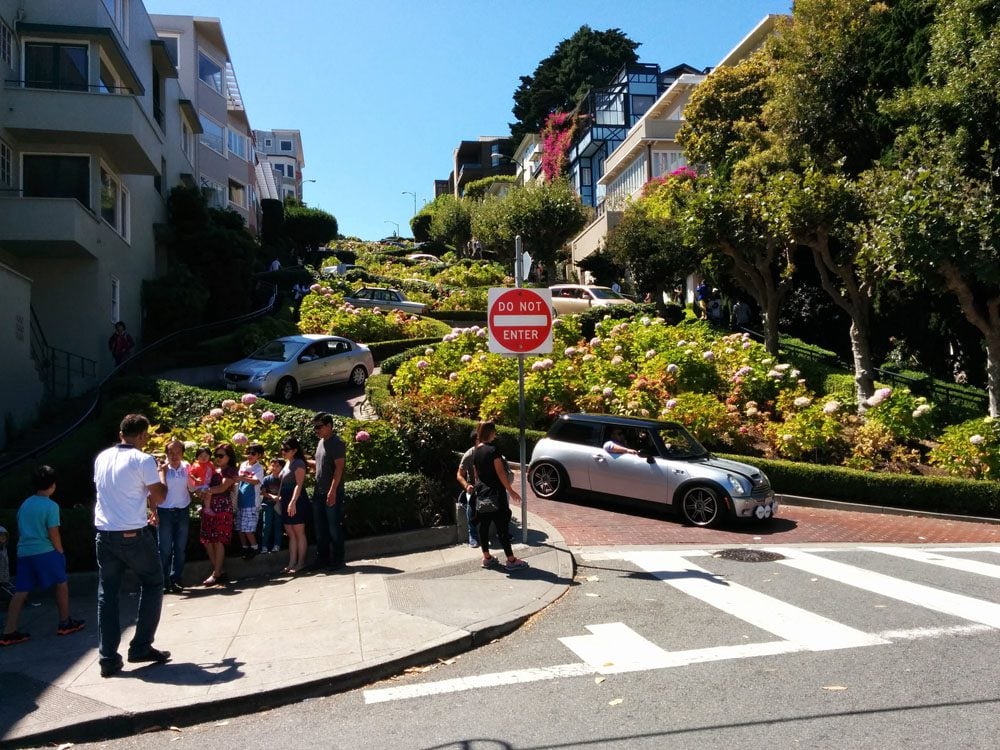 Little Italy
Once you've cleared Lombard Street's last bend, continue heading down and turn on busy Columbus Avenue towards Washington Square. At its intersection with Stockton and Green St. pause for a view of new and old San Francisco architecture. You'll see the famous Transamerica Pyramid which was completed in 1972, in the backdrop of the Columbus Tower, completed in 1907.
As you push forward in the direction of Washington Square, you are now in North Beach and entering the small district known as Little Italy. With Chinatown just a few blocks away, it's a great example of San Francisco's diversity of neighborhoods. North Beach is home to many Italians and many Italians mean great food and European-style cafes.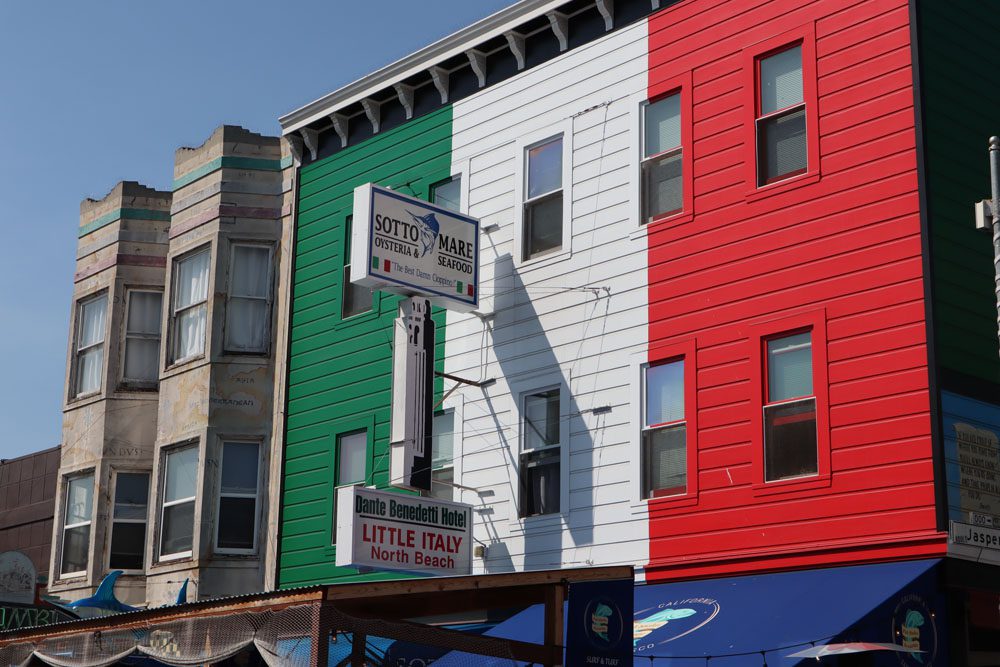 At Mario's Bohemian Cigar Store Cafe, choose from a simple yet delicious Italian menu. Try the cannelloni and turkey focaccia. Other good options to satisfy your craving include legendary Tony's Pizza Napoletana, Golden Boy Pizza, Gino & Carlo, and the fine focaccias at Liguria Bakery. If it's still early afternoon, you can also try your luck and look for a spot at Mama's On Washington Square. Their brunch dishes are no longer a secret so expect long queues (open until 2 pm on weekdays and 3 pm on weekends).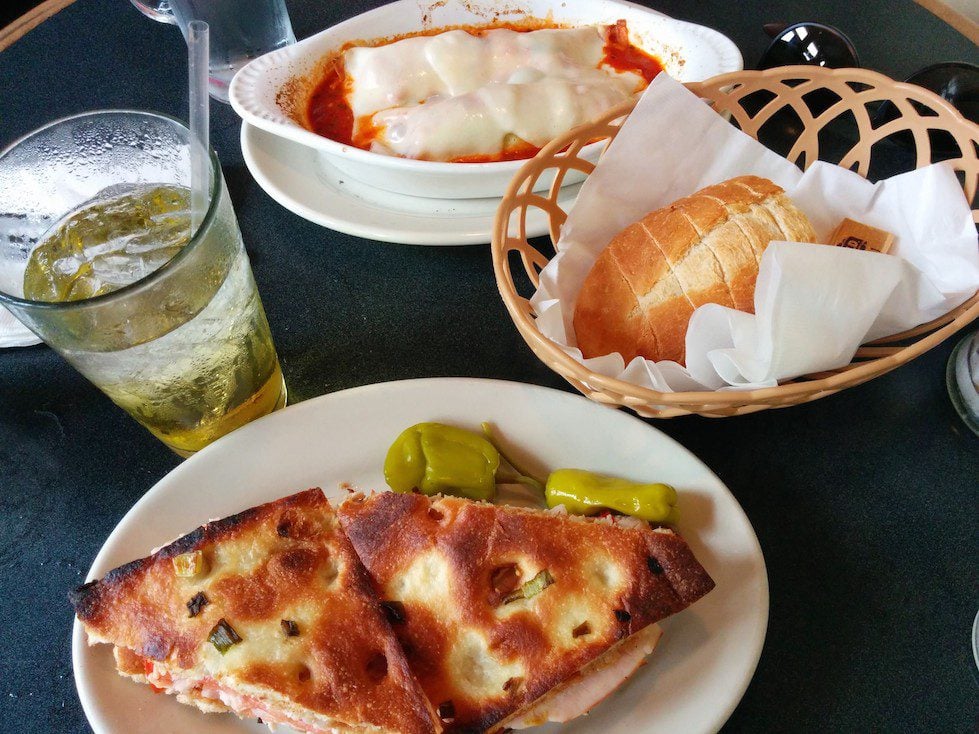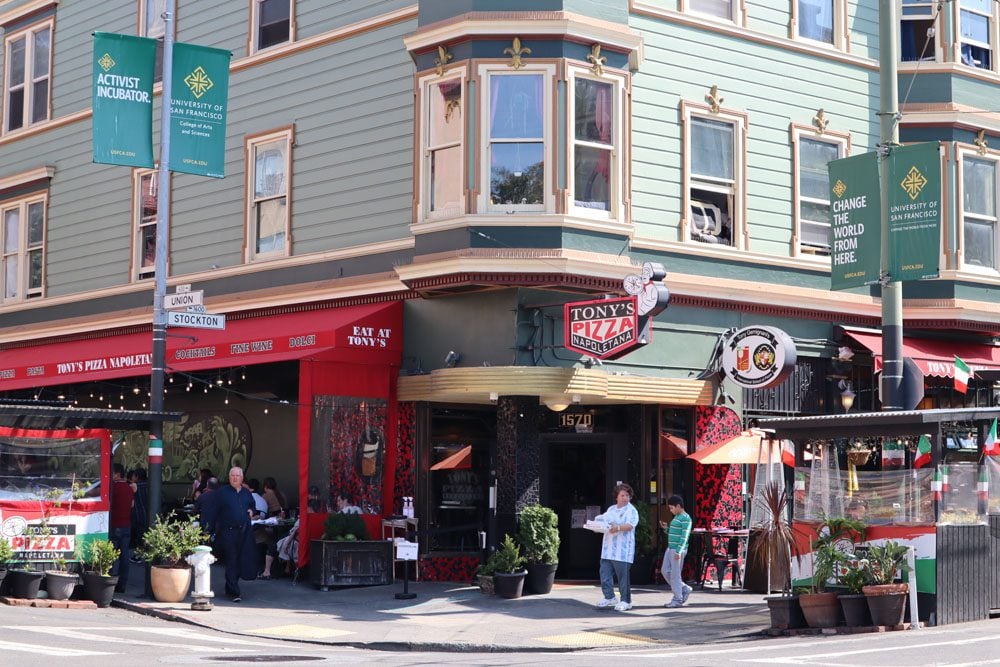 After lunch or a simple coffee break, stroll through charming Washington Square Park and see if the doors at Saint Peter and Paul Church are open. It's worth seeing its lavish interior with your own eyes.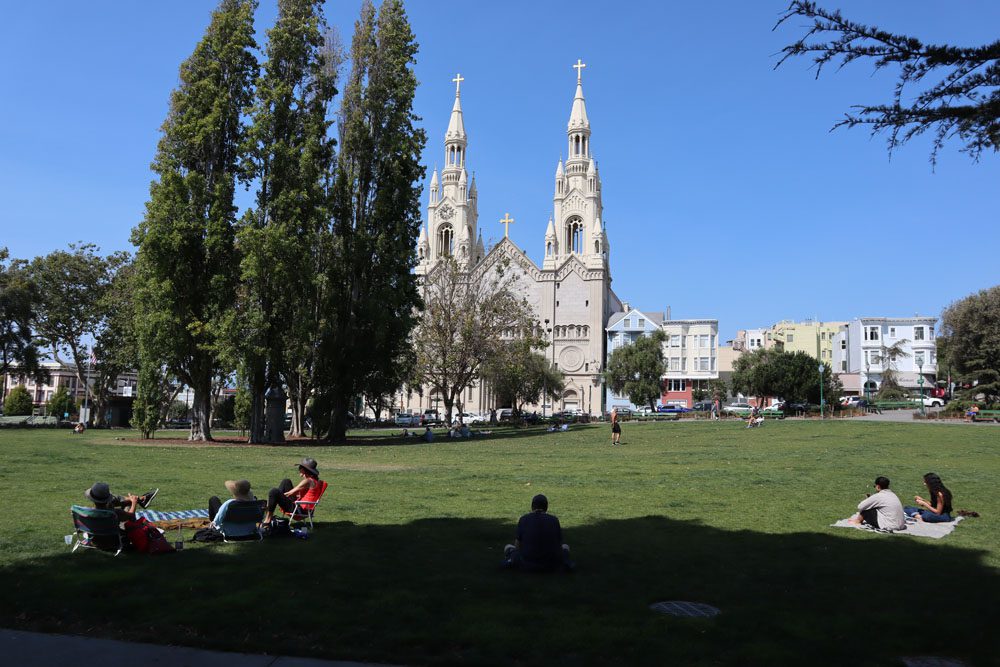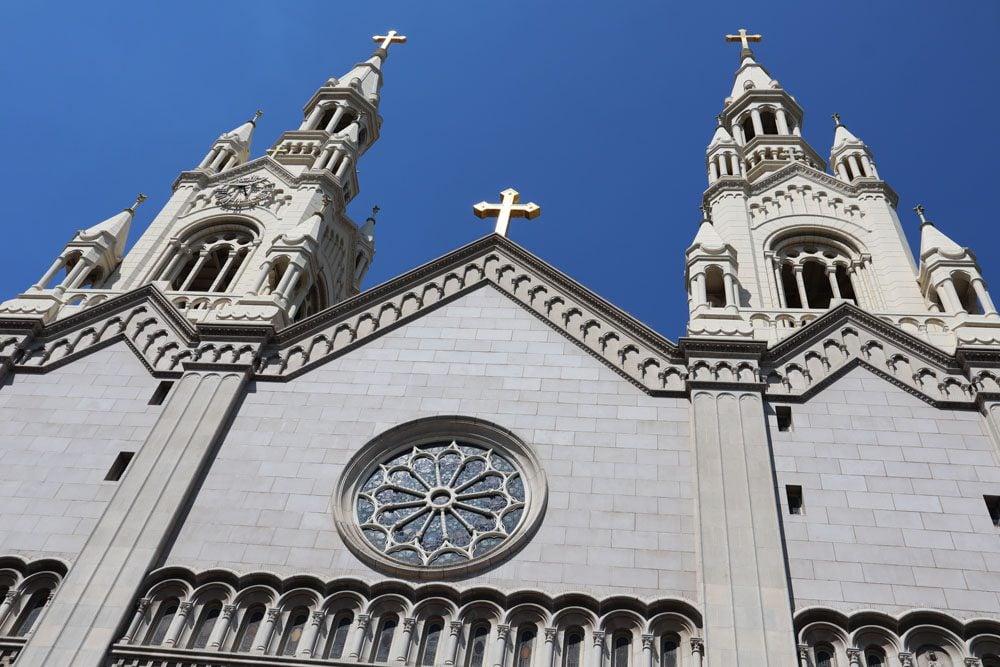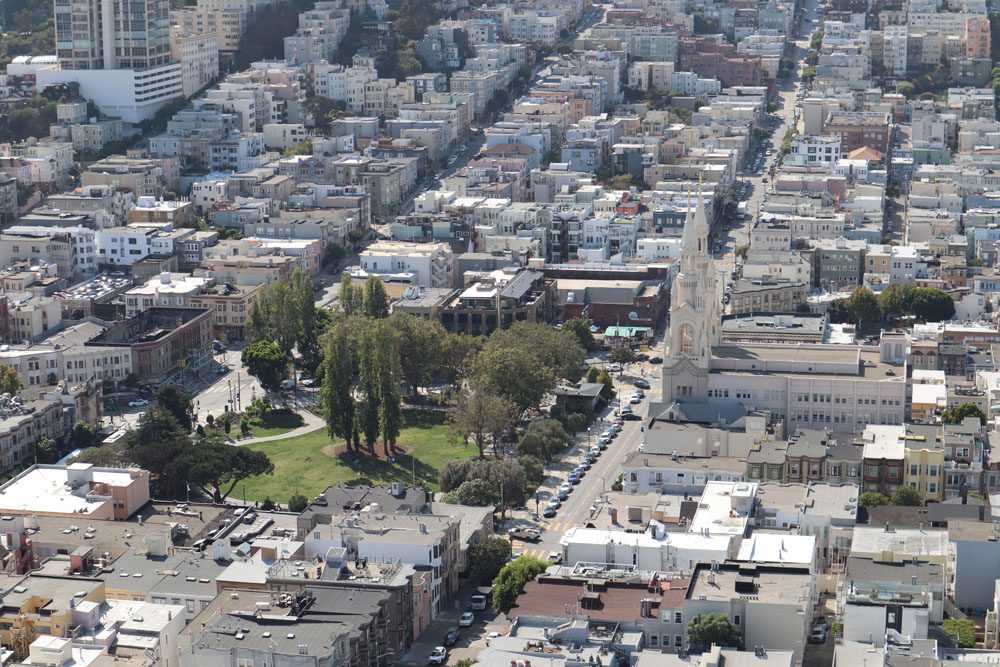 Coit Tower
Our final hill for the day is Telegraph Hill, home to Coit Tower and a beautiful scenic lookout. Climb to Coit Tower via the Filbert Steps and make your way to Pioneer Park for views of San Francisco Bay with Alcatraz and the Golden Gate Bridge in a single frame.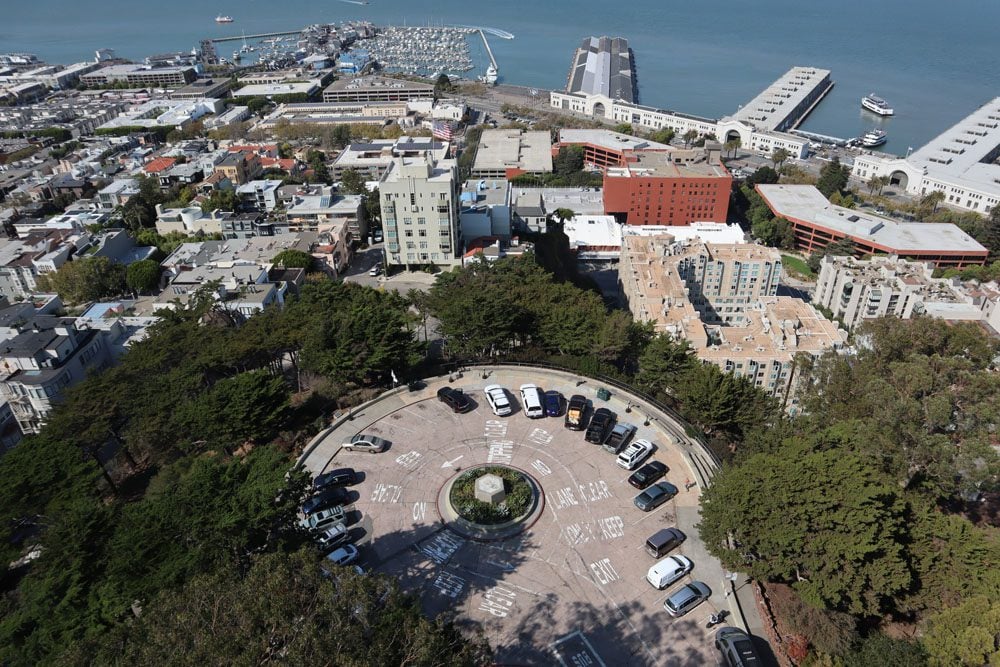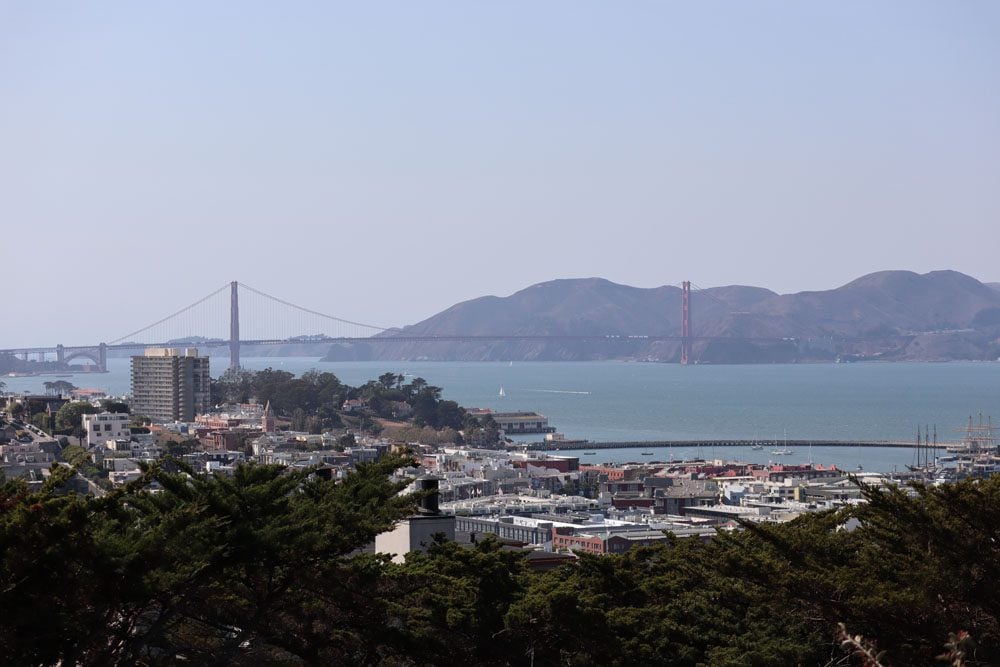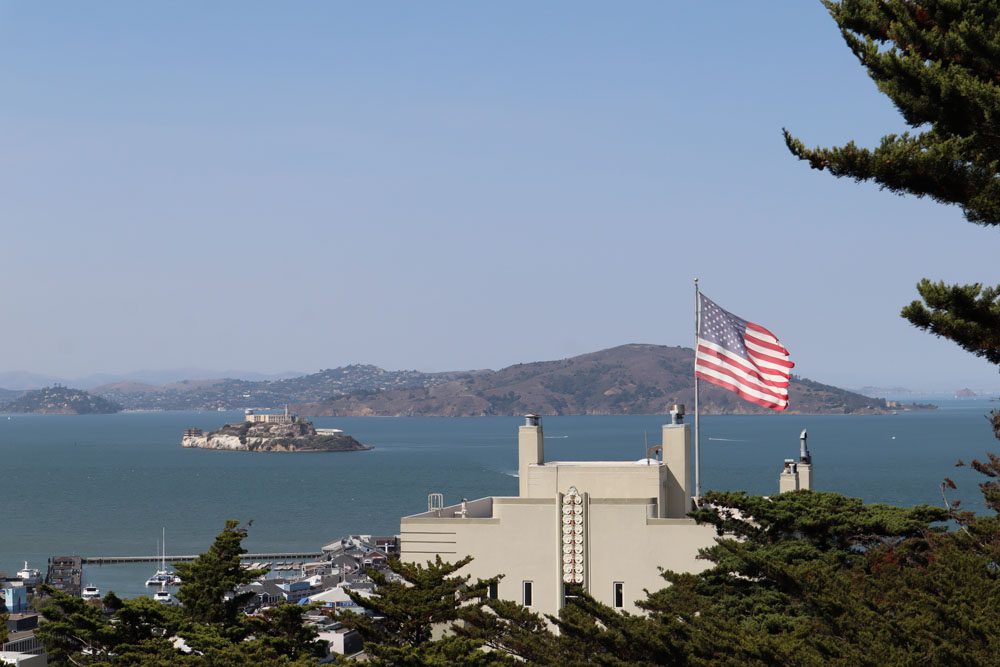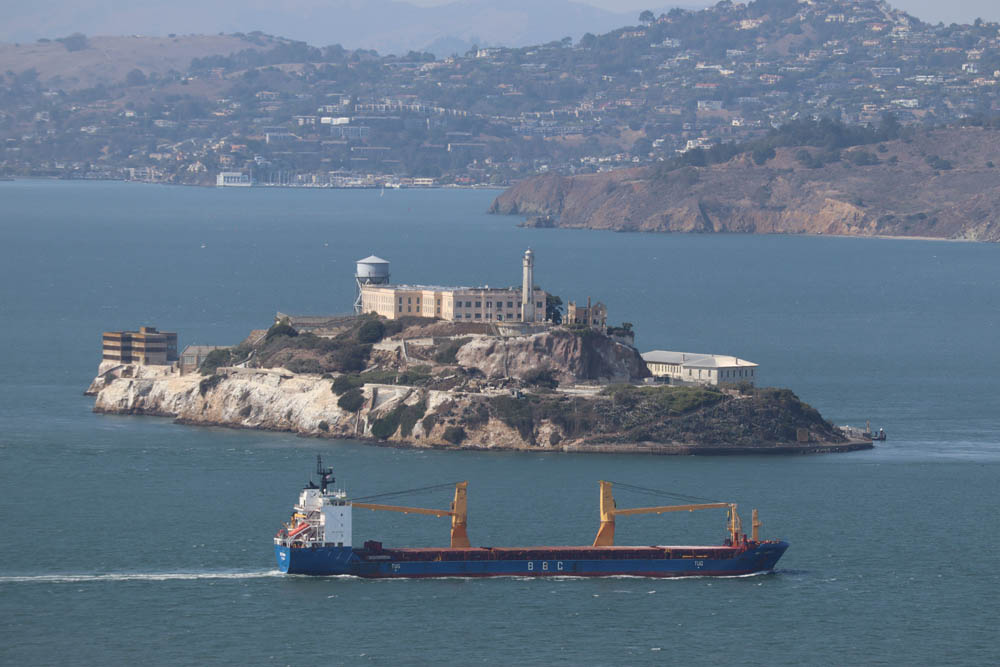 For even better views, climb to the top of Coit Tower from where unobstructed 360-degree views of San Francisco and the metro area can be appreciated (approx $10). Built in 1933, Coit Tower rises like a pin over Telegraph Hill and it's one of San Francisco's top landmarks.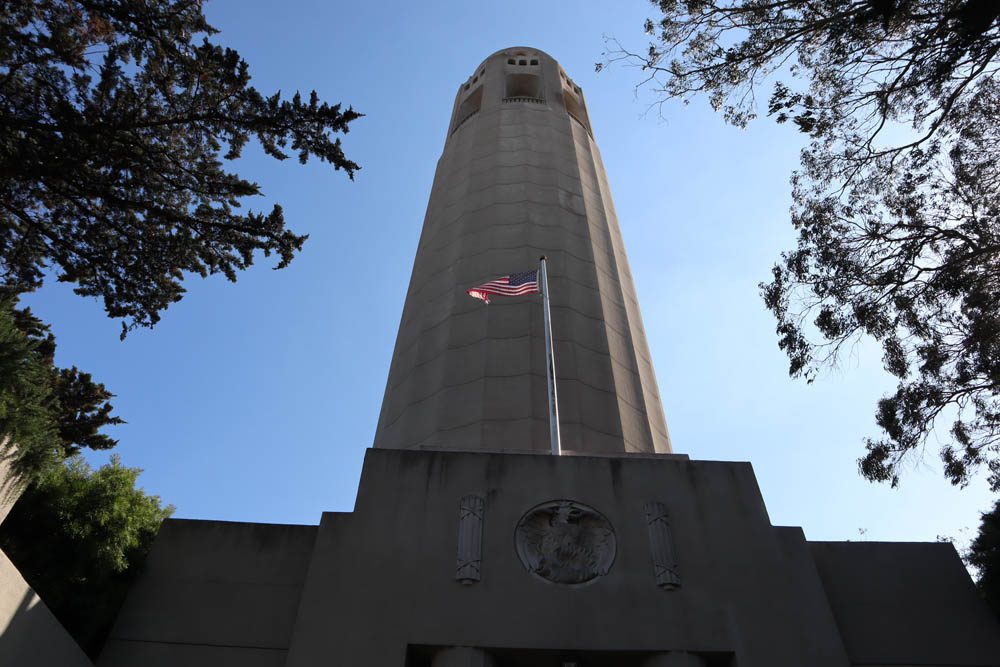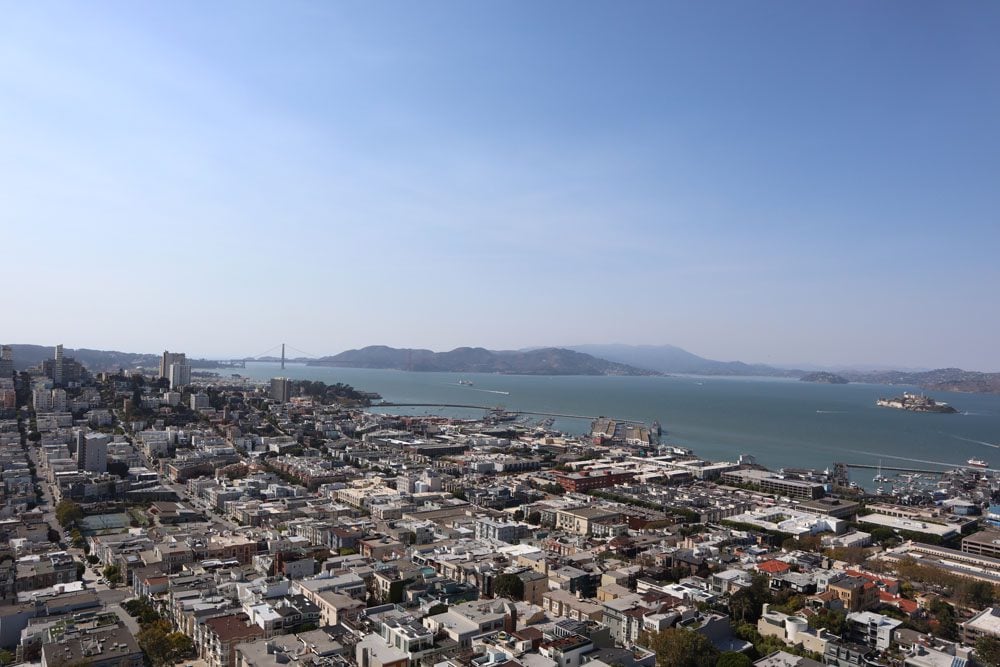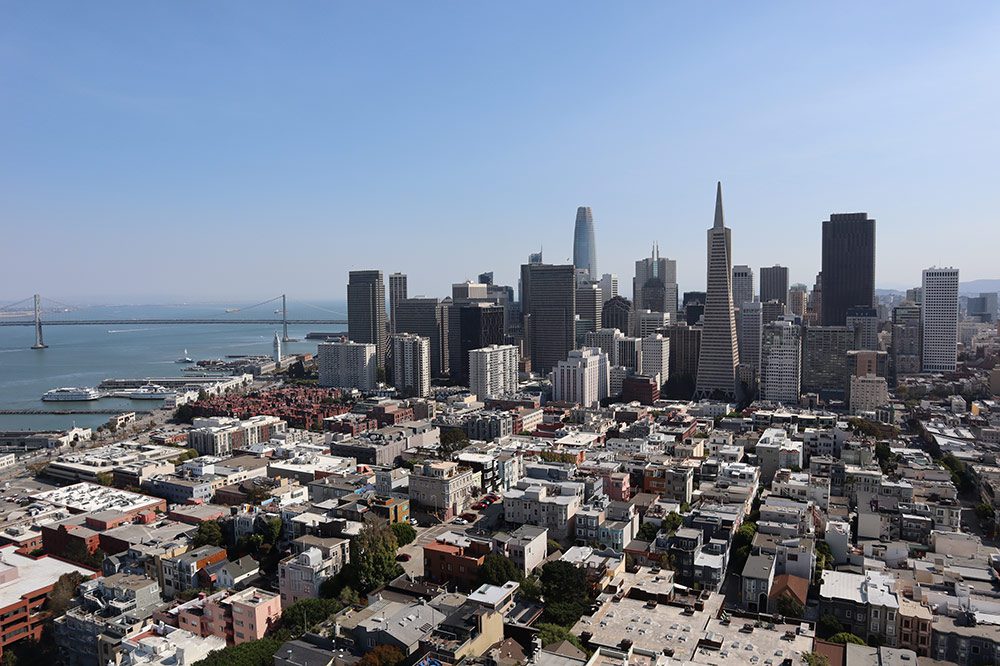 You can head down from Telegraph Hill the same way you came up but a better option is to take the Greenwich Steps down towards the waterfront. This steep staircase takes you through a lush urban forest and some beautiful homes with enviable views.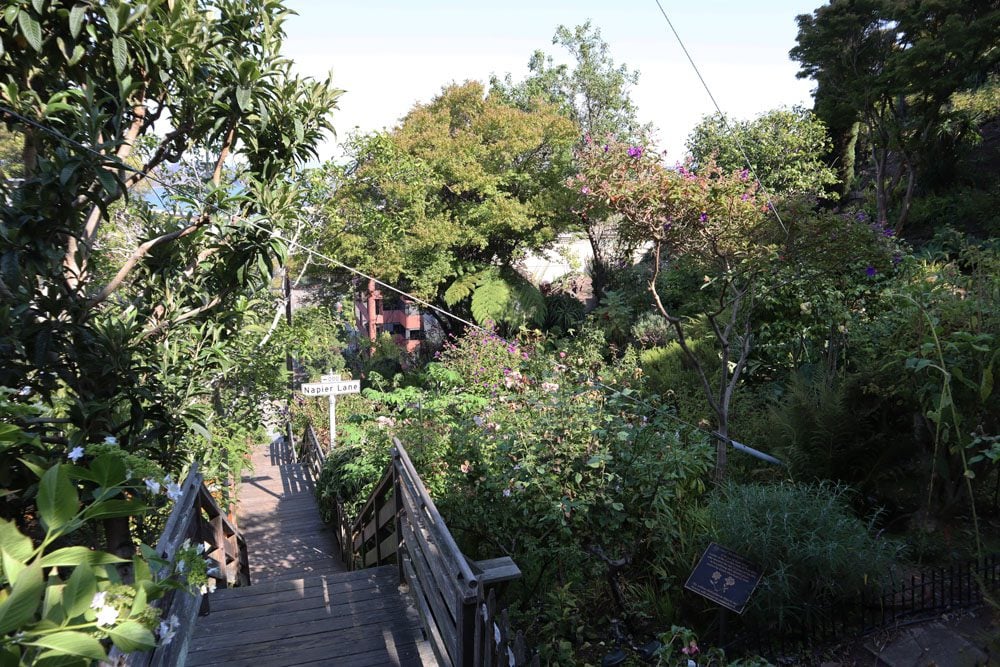 Dinner in Japantown
There aren't any monumental sites in Japantown but the dining options are worth the visit. At Isobune Sushi, guests sit around a river and passing boats deliver various sushi plates prepared by the chefs on the 'island'. Take what you want and pay according to the plate's color. The sushi is simple and not the fanciest in town but this place certainly gets points for originality and the sushi is not bad at all.