French Polynesia's second largest island will simply leave you lost for words. Nuku Hiva in the distant Marquesas Islands is wildly beautiful beyond imagination, with a unique language, rich ancient history and a landscape fit for a Hollywood movie set. With this kind of beauty, do not expect to recharge your batteries in this island. Nuku Hiva is action packed with incredible hikes, scenic road trips, archeological sites and plenty more to tire you out. I spent 5 days in Nuku Hiva while backpacking across the South Pacific Islands and have since returned for a second visit. Here's a sample 4 days in Nuku Hiva itinerary to help you plan the adventure of a lifetime!
Heading off to French Polynesia? In-depth island guides to all 5 archipelagos await you, including sample itineraries and essential travel tips & tricks.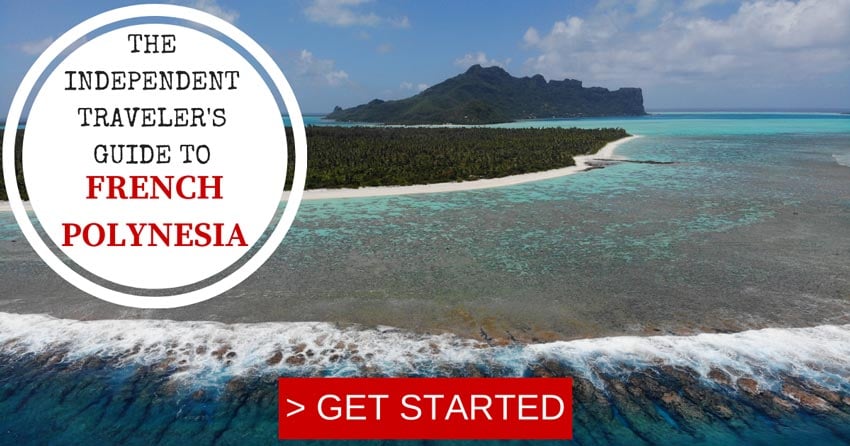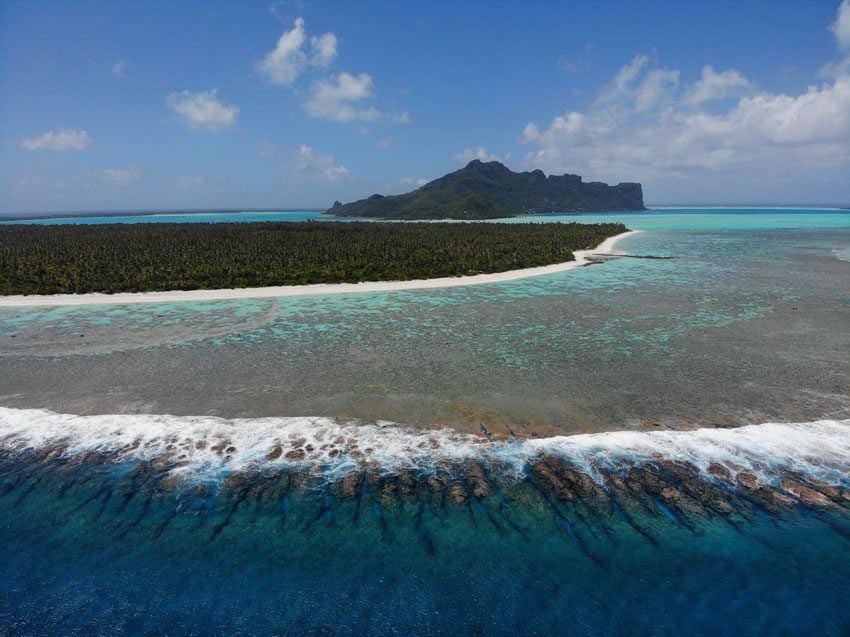 Tahiti, Tailor Made!
The Islands of Tahiti are among the last places to be colonized by mankind, 118 islands, each with their unique personality.
Get expert advice and assistance with planning your trip to the destination where tropical dreams come true!
See Options
---
Nuku Hiva Travel Guide Video
Watch this video to see what's expecting you in Nuku Hiva (you might need to disable your ad blocker).
4 Days In Nuku Hiva Itinerary Map
All places mentioned in this itinerary can be seen on this map. Click on the image to open in Google Maps: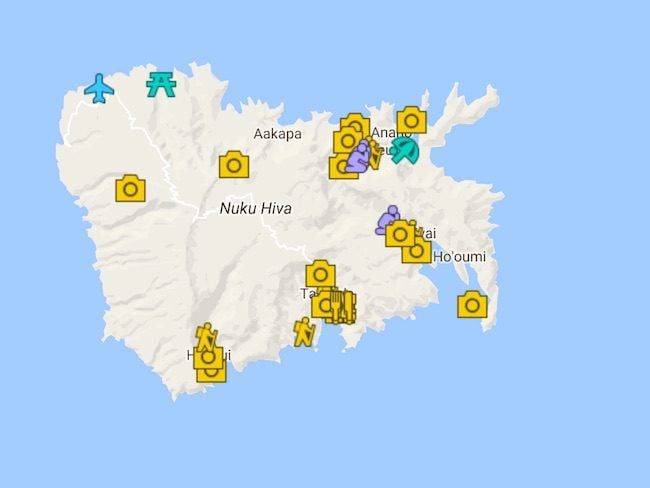 Where To Stay In Nuku Hiva?
Most accommodations in Nuku Hiva are centered in and around the main village of Taiohae, and most are "pensions" – family-owned and operated guesthouses that range from simple to "less simple" specifically in Nuku Hiva. Your pension stay will most likely be on a half-board basis (breakfast and dinner included) but, if this is not the case, dinner options are available in the village or at the Le Nuku Hiva. It's best to book well in advance if you have your heart set on a particular spot.
For a luxury stay, Le Nuku Hiva (formerly Keikahanui Pearl Lodge) is currently the only option in Nuku Hiva. This high-end lodge operates tours around the island for its guests. Apart from the majestic views over Taiohae Bay, rooms are modern and there's a restaurant on site. The lodge also hosts cultural shows on certain nights so inquire if planning to dine as outside guests. Le Nuku Hiva is located on the outskirts of Taiohae on a hill overlooking the bay.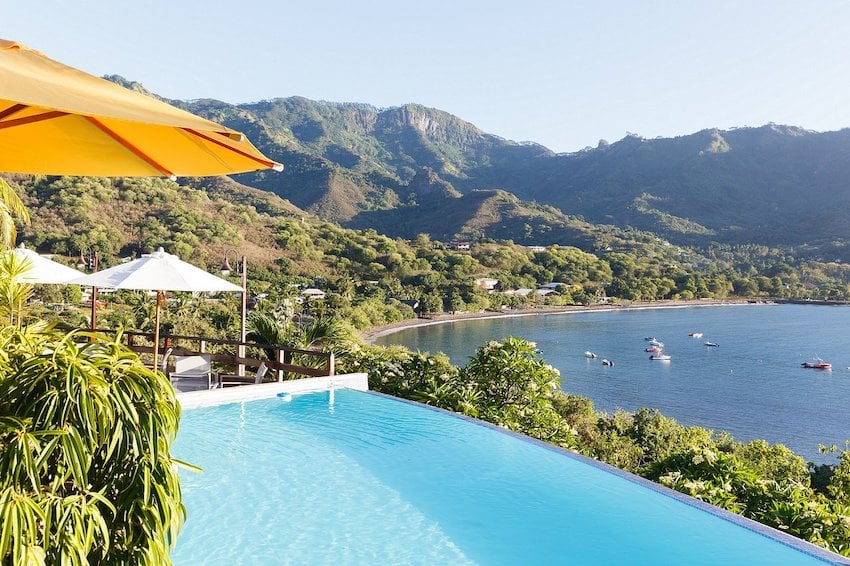 For a pension stay, look no further than to Pension Koku'u. Hosts Alvane, Claudine, and their family live in a simple home on a hill overlooking Taiohae Bay, just a 15-minute walk from the center of the village. Accommodations consist of basic rooms, some large enough for a family. All units are ensuite, with a cold shower that shouldn't be an issue with the kind of weather in Nuku Hiva. Wifi is free, with excellent reception throughout the pension, as is filtered water.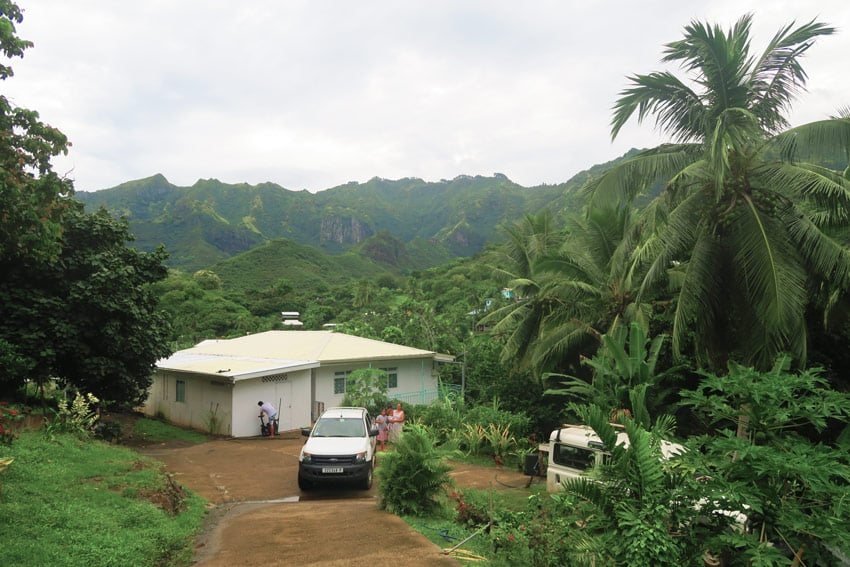 The real plus about Pension Koku'u is the warm Marquesan hospitality. Dinners are plentiful and always feature a local flavor, and Alvane and Claudine are great hosts. Alvane spends most of the time with the guests and he's quite a character. He's very knowledgeable about the local Marquesan culture and has even performed in several festivals. Alvane also leads the tours around the island and his itinerary is always more encompassing than what others offer. He even took me on an overnight hunting trip during my first visit.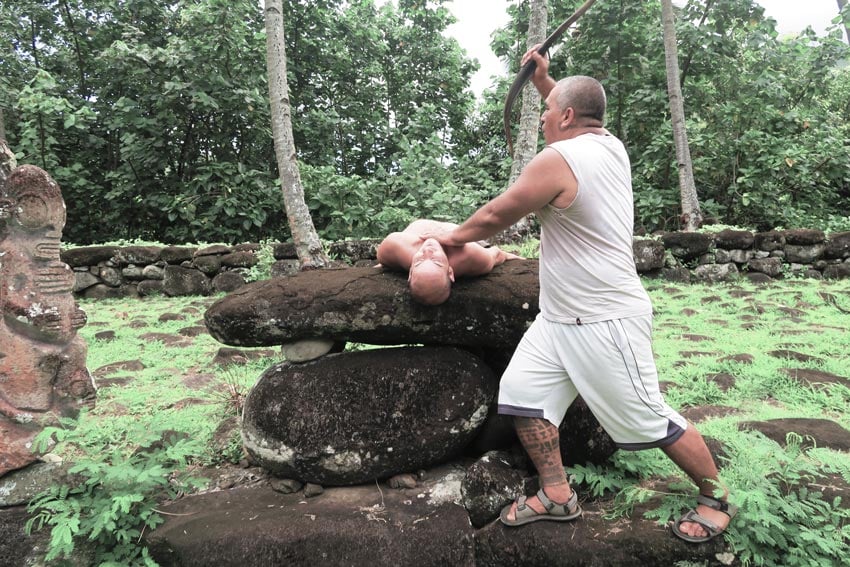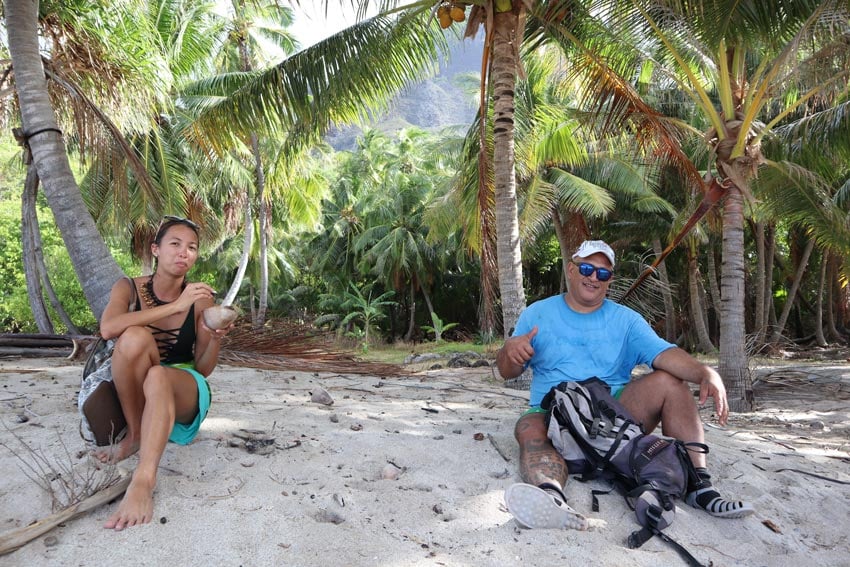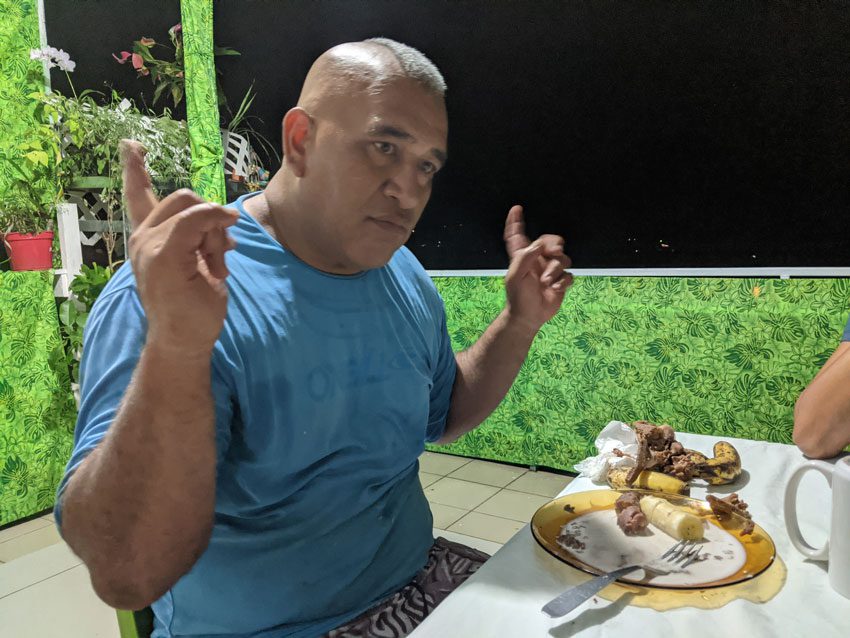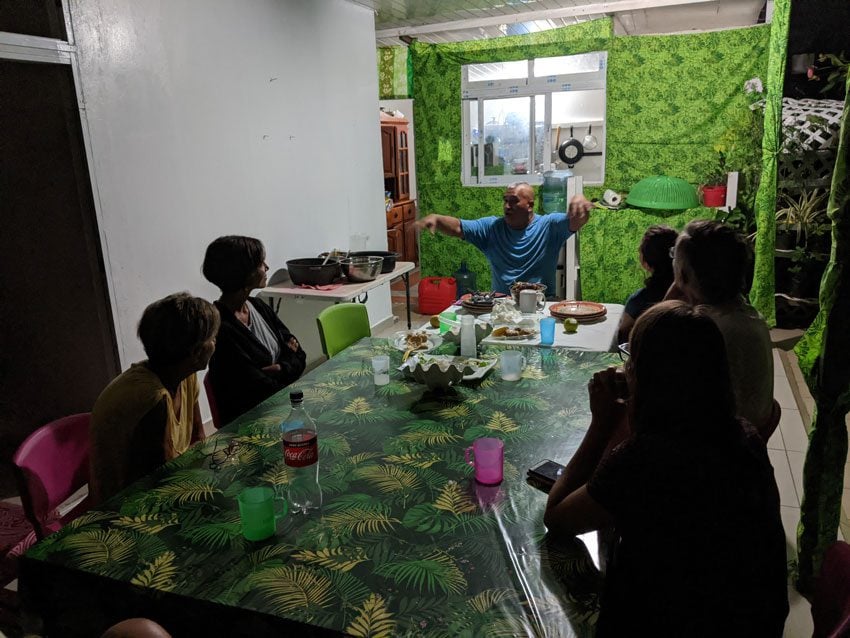 If you stay here, be sure to give the couple a warm hug from Avi (from Israel), and ask Alvane to tell you the interesting story of how his family came to live in Nuku Hiva.
Other options include the Hee Tai Inn, Pension Moana Nui, and Pension Mave Mai. On my return visit, Pension Koku'u was fully booked so I stayed at Mave Mai. I don't recommend staying here unless you have to as this place lacks a soul, though rooms are air-conditioned. You might also find a few options on Airbnb and Booking.com.
Day 1: Scenic Drive & Exploring Taiohae
Your 3+ hour flight from Tahiti will arrive around noon, landing in the remote northwestern side of the island known as 'desert land'. Your friendly pension hosts should be waiting for you with their 4X4 and off you go on the most scenic airport-to-town ride you'll ever have.

A Scenic Drive From The Airport
The 75-minute ride from the airport to the main village of Taiohae will leave you speechless if you aren't already lost for words from the view during landing. Your driver will stop along the sharp ridgeline for a great view of Nuku Hiva's version of the 'Grand Canyon'. Are you impressed by now?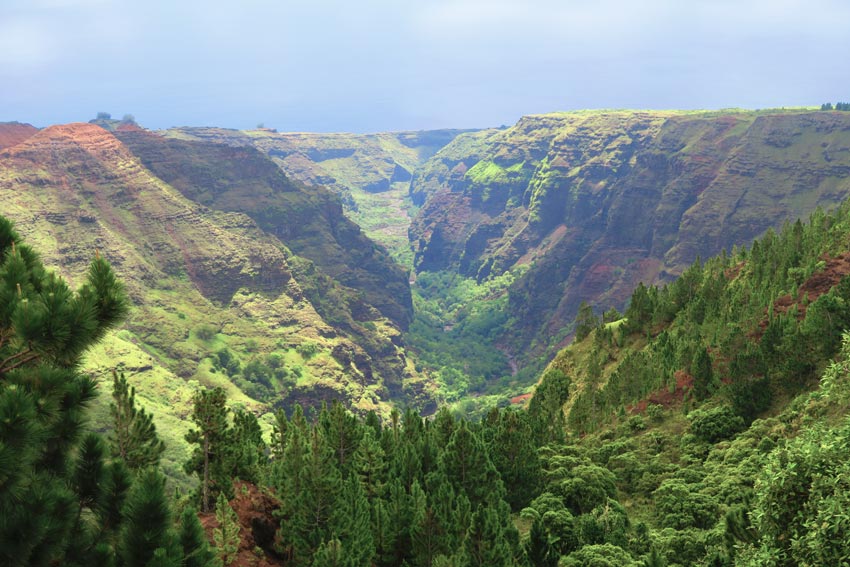 Your 4X4 will then snake its way up the mountain, passing endless pine-covered forests reaching for the sky. Watch out for wild horses and cattle on the road, and waterfalls cascading from the surrounding mountains.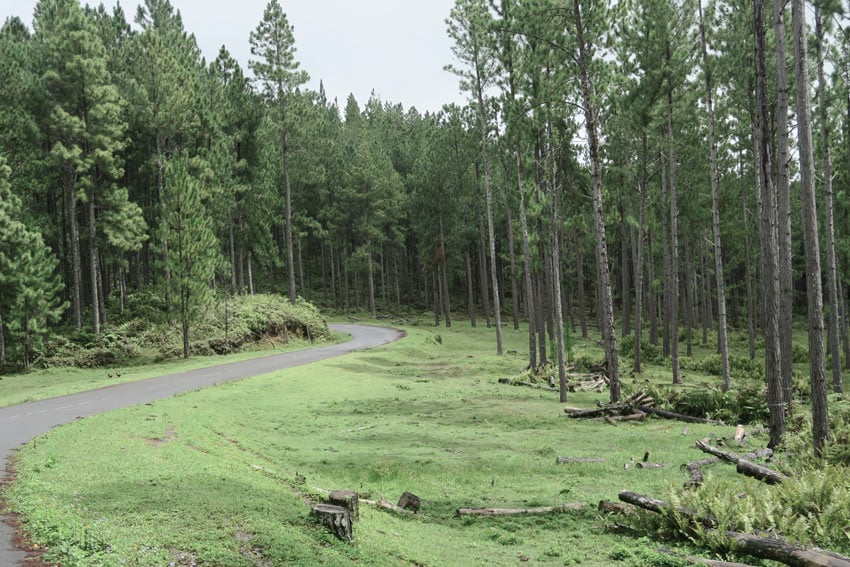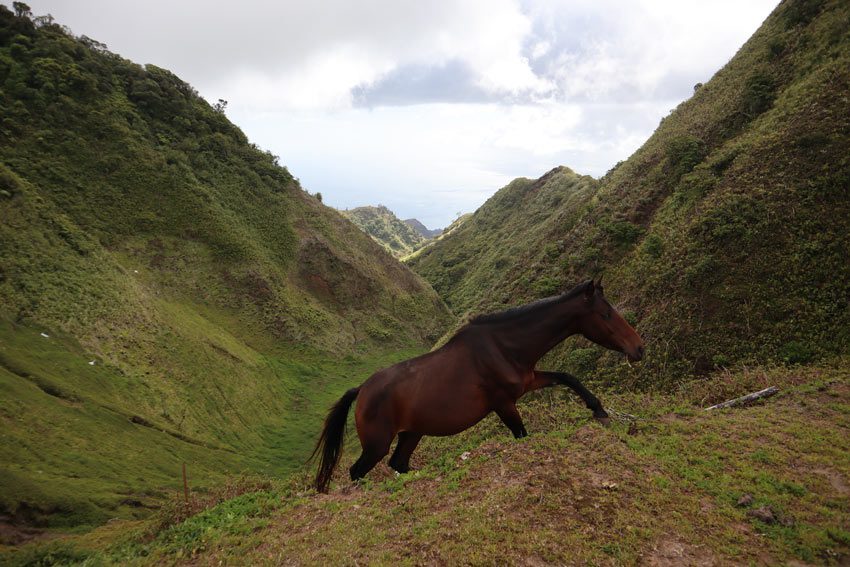 At last, you've reached the top of the Toovii Plateau. The view from up here will no doubt raise some doubts about whether you've actually landed on the right island. This fertile plateau is much cooler than the usual tropical heat, so green and so 'Swiss-like'.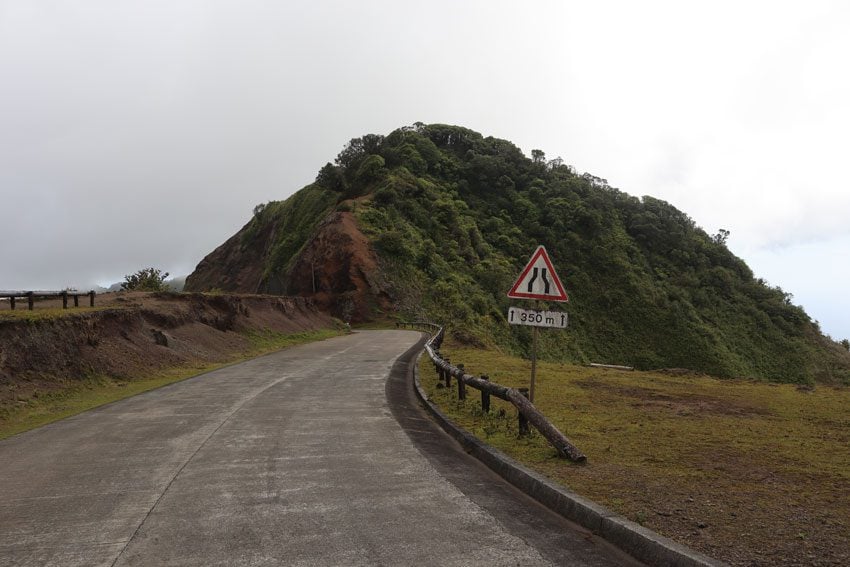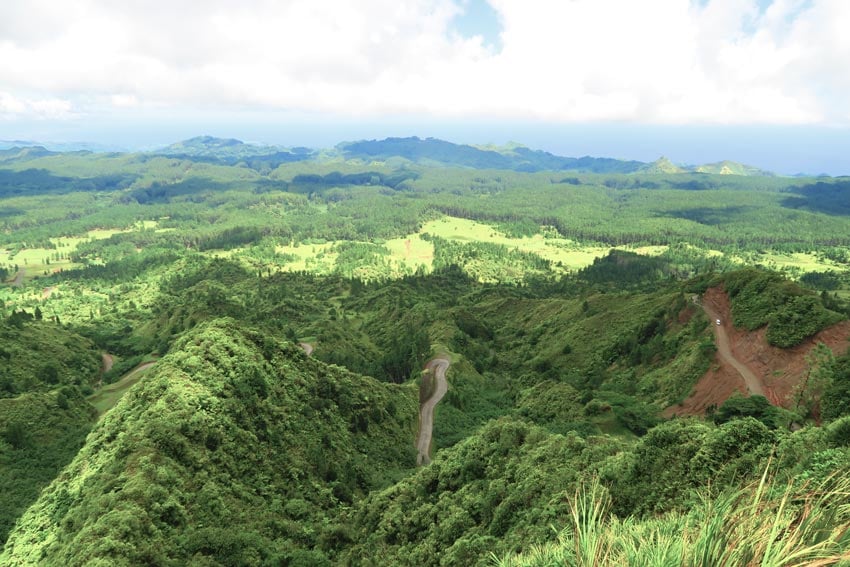 There's only one way to go from up here, and that's twisting and turning down to the plateau and descending from its southern end towards Taiohae.
A few more hair razing kilometers and this perfectly shaped bay finally comes into view. "Holy cow" is the first thing coming to mind, and yeap – that's Taiohae down there, where you'll be spending the next 4-5 nights!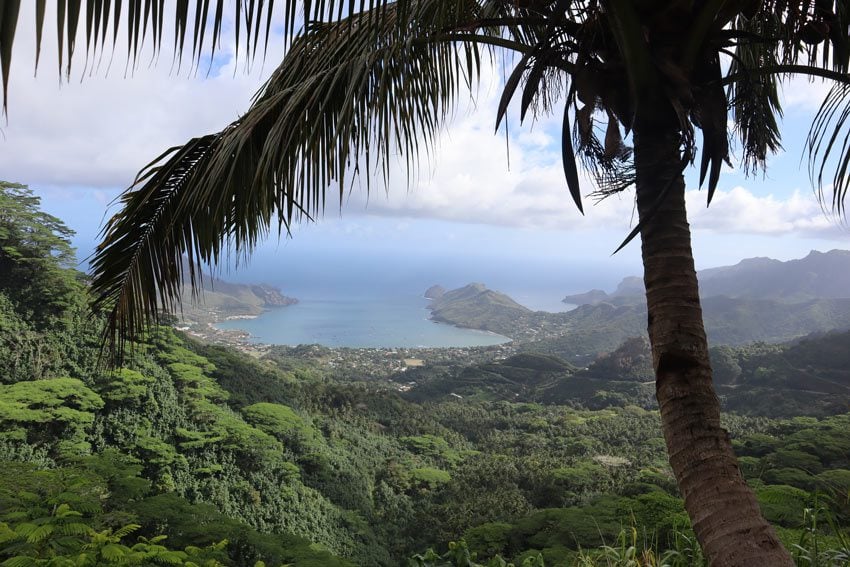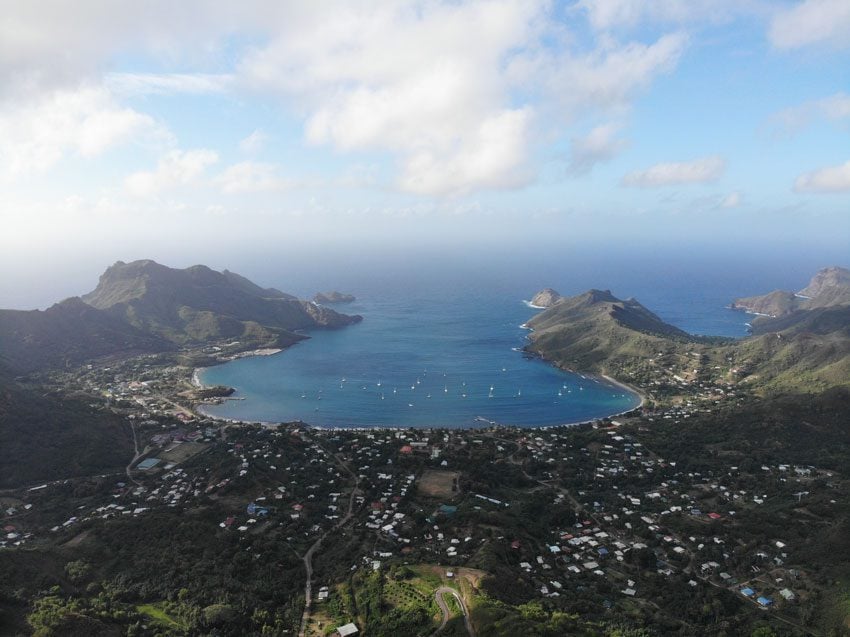 Walking Around Taiohae
All unpacked in your pension, put on your walking shoes and walk to town. Taiohae is the capital of the Marquesas Islands, but it's hardly a stressful place. With just a few streets and a whole lot of colorful tropical flowers, it's the perfect place to base yourself.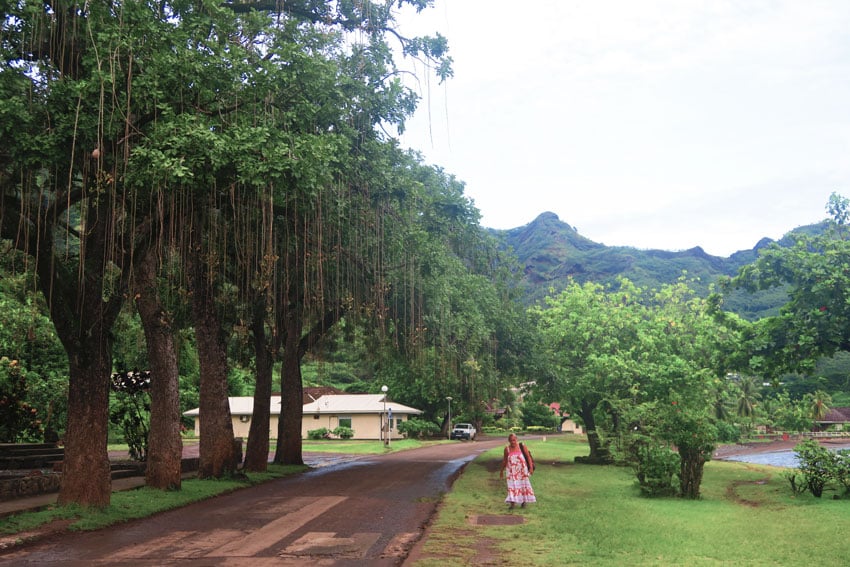 Head to the beach, a perfectly crescent patch of black sand. With lush mountains wrapping around the back, and dozens of yachts waiting for the cyclone season to pass in the bay – this little village is as picturesque as they come.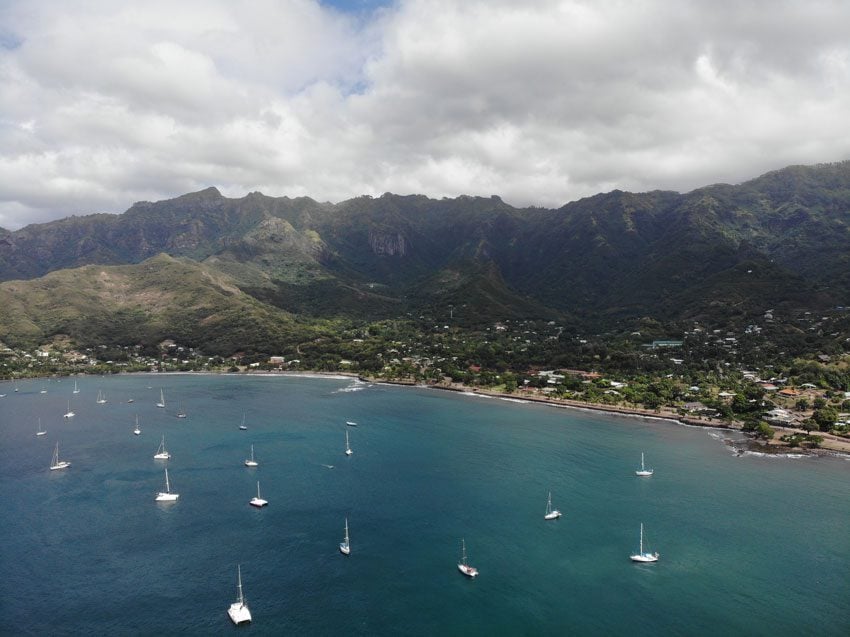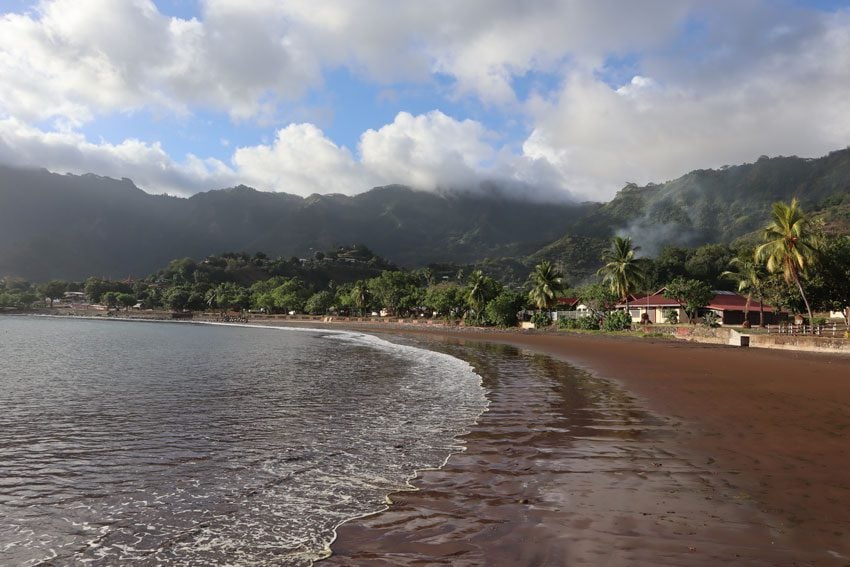 Down by the main quay, stop at Cafe Vaeaki or Snack Tematapuaua for a cold beer or something small to eat, and say hi to all the yachties passing the time thanks to the free wifi. Across from you, locals will probably be tossing their fishing lines with the (sure) hope of catching something for tonight.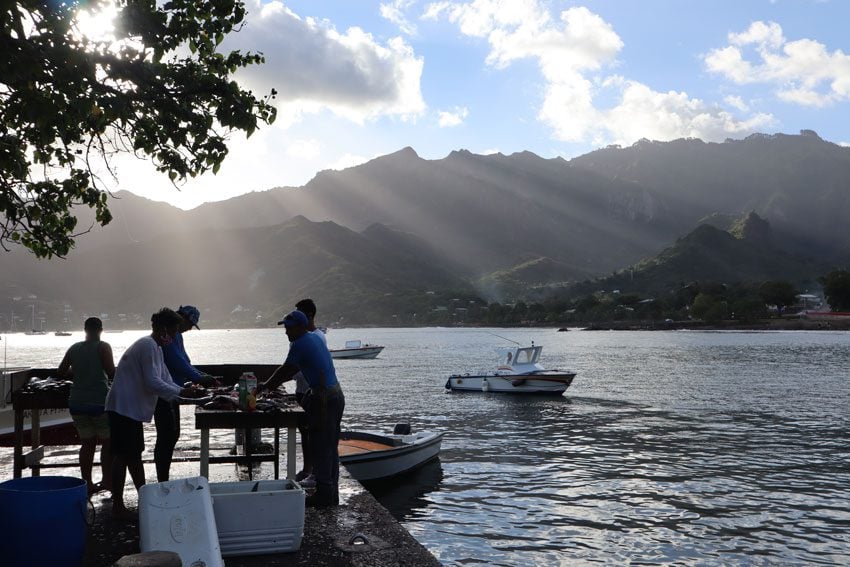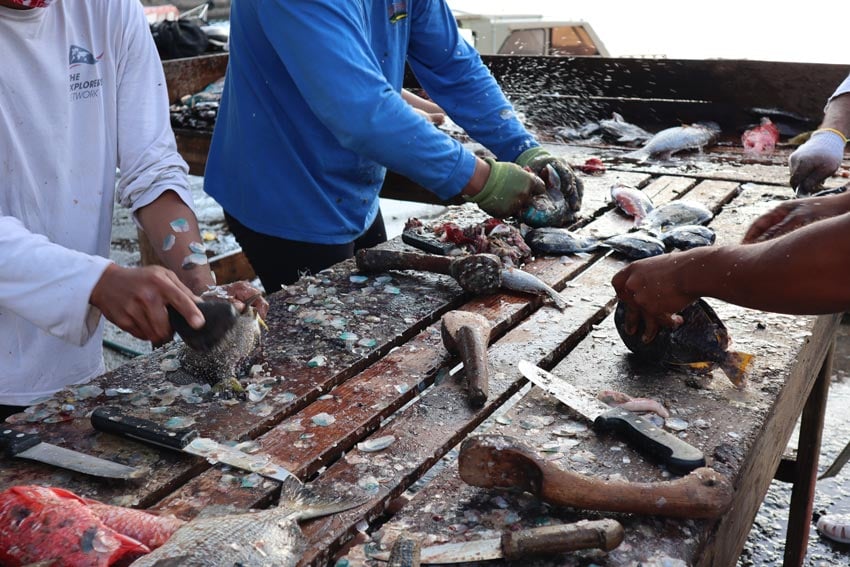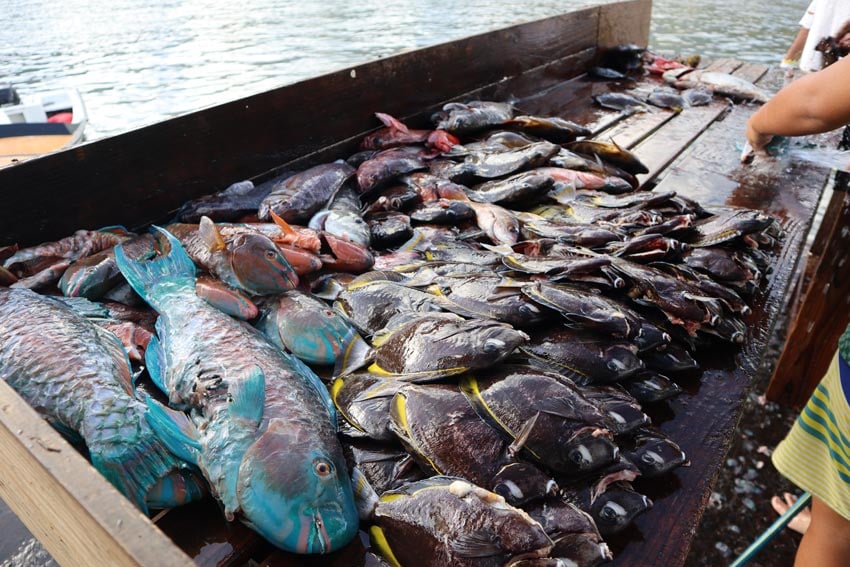 A few steps away, peek inside the fruit & vegetable market if it's still open and pop into the artisan market for some shopping. The Marquesas Islands are the best place in French Polynesia for anything fashioned from wood or rock. Local islanders are among the best carvers in the South Pacific, and this is a great opportunity to buy a few lasting memories from paradise (cash only).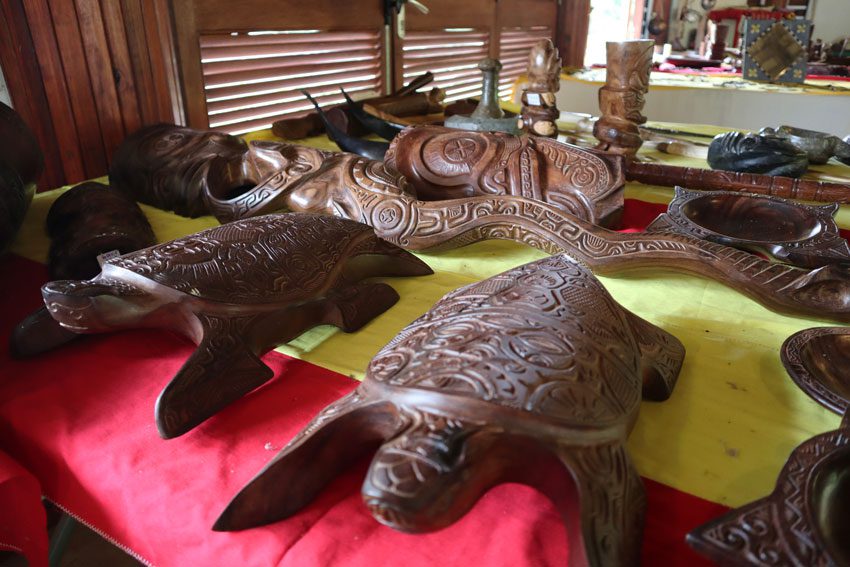 Behind the market, a path leads to Tiki Tuhiva. This commanding spot is the former site of Fort Madison, built by the Americans in 1813. Nowadays, it's a panoramic lookout and a picnic spot from where you'll get the best views of the village.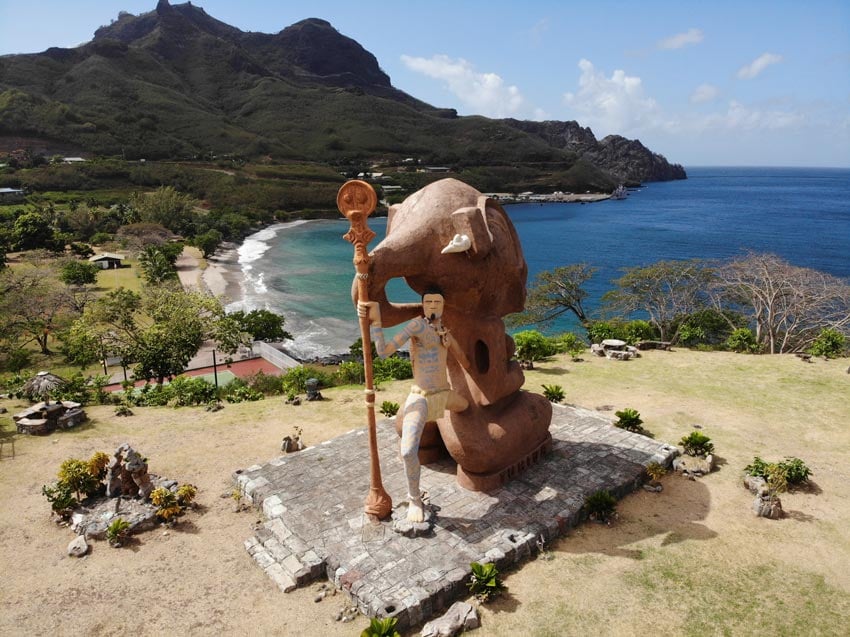 Before heading back, stop by the Notre Dame Cathedral. Taiohae's main church looks like something out of a fairytale or at least an episode of Game Of Thrones. If you just happen to be in Nuku Hiva on Sunday, don't forget to join the entire village at 8 am (that's right) for a memorable service and lots of food!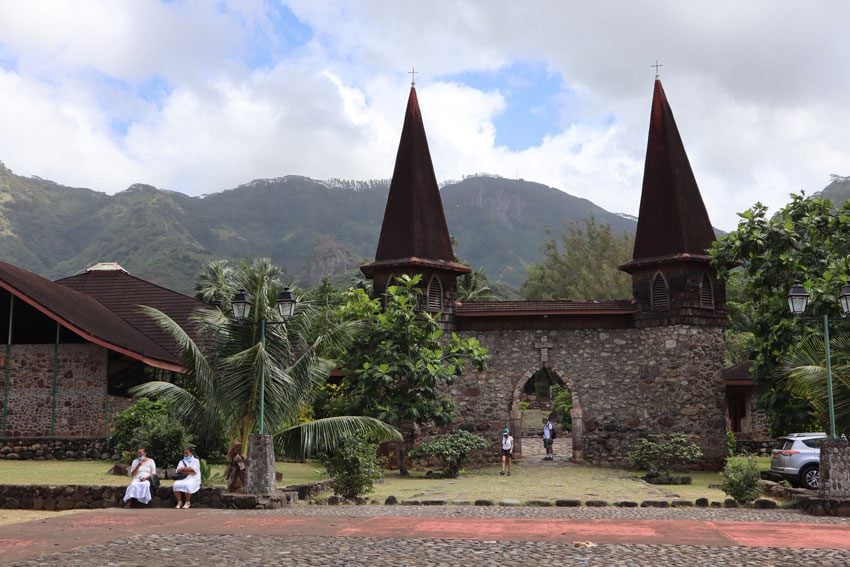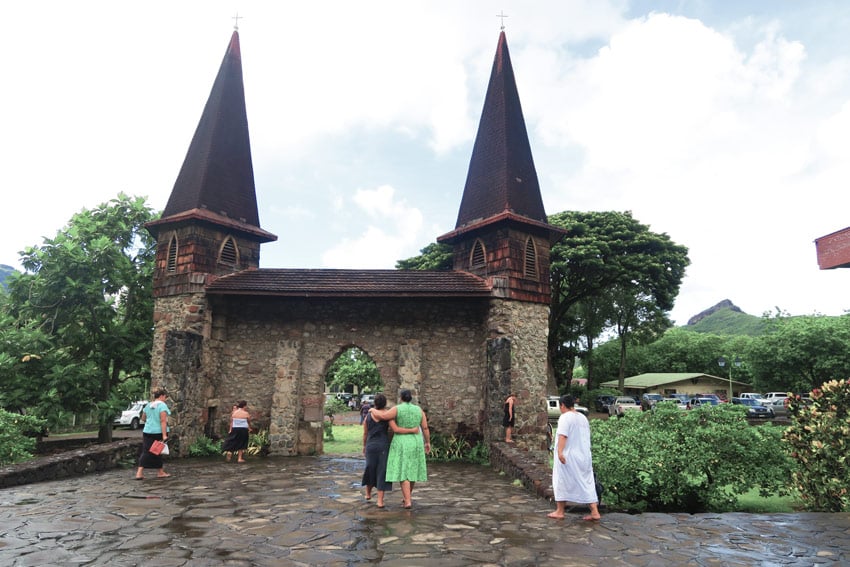 Across the road from the cathedral, check out Tohua Temeheah. This ancient ceremonial site. It mixes original findings as well as the work of local sculptures honoring the traditional past.
Dinner & Stars
Walk back to your pension and enjoy a delicious dinner. I bet some form of red tuna is on the menu! As for dessert, how about millions of stars in the night sky?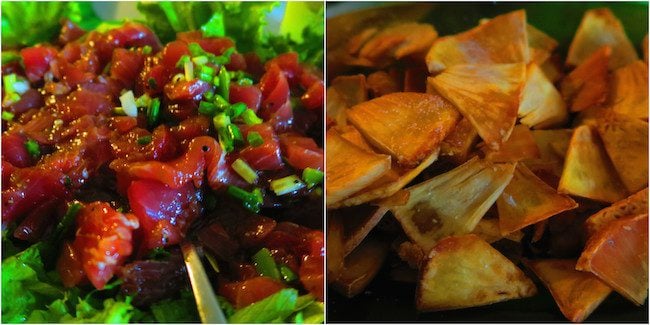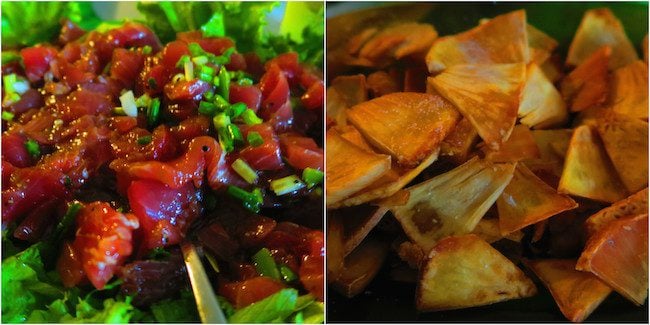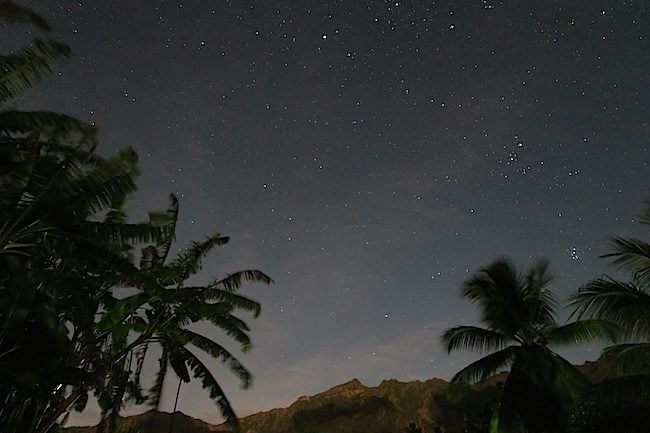 Day 2: Hakaui Valley & Hike To Vaipo Waterfall
Here's a day you won't want to miss. Today, you'll explore the enchanting Hakaui Valley and hike to the highest waterfall in French Polynesia. It's a busy yet unforgettable day.

Book your Hakaui Valley hike with Tangy and Ana from Cannibal Art. Their Hakaui adventure includes a hike to the base of the waterfall followed by a traditional lunch in their home. See the Nuku Hiva Travel Guide for additional options.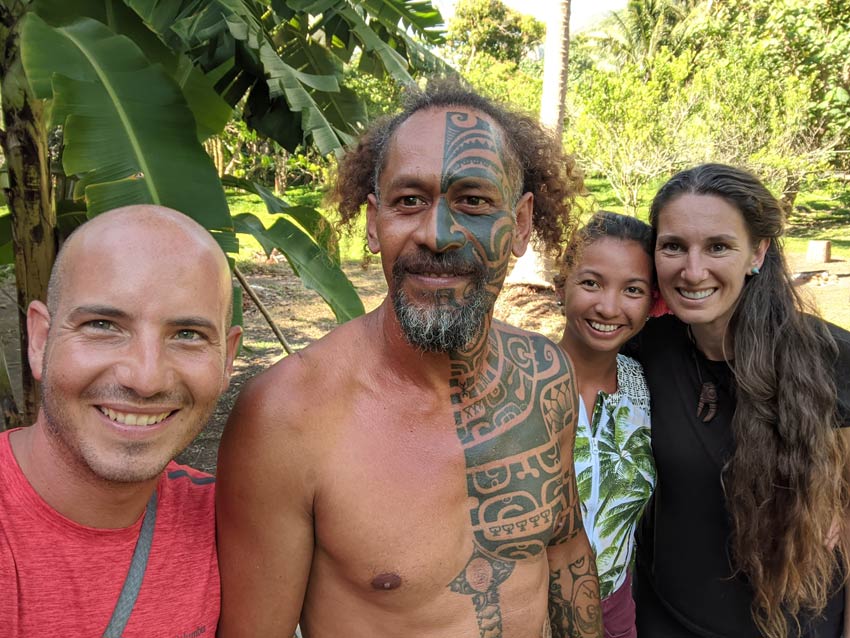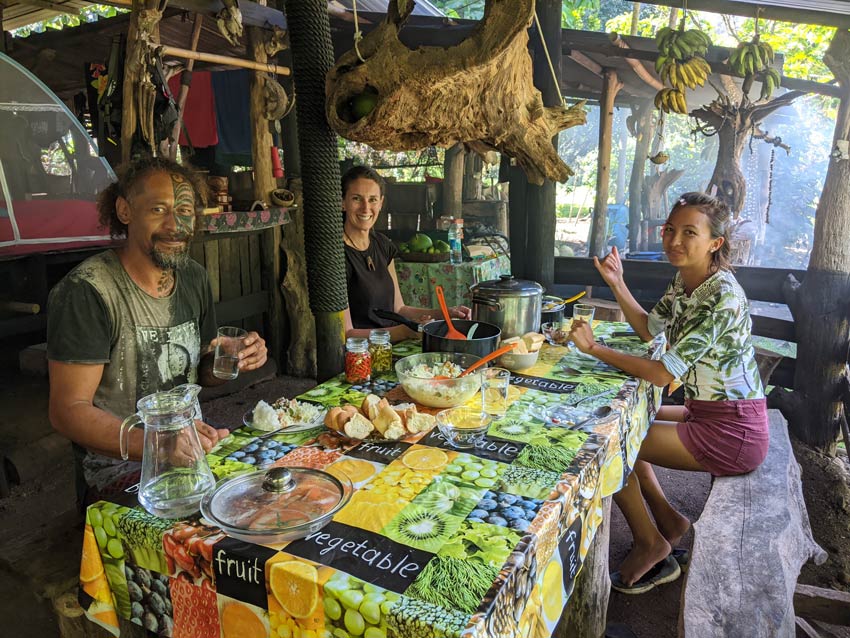 Tangy is also a gifted artist and he'll be happy to show you the basics of his trade. You can purchase exquisite art directly from their website or email Ana with a tailor-made request. Since they live off-the-grid in the valley, get in touch with them online and wait a few days for a response. Every week, the couple hikes to Taiohae to run their errands.
The day begins with a scenic 40-minute boat ride from Taiohae to Hakaui. This is a great chance to admire Taiohae from the bay and to get a close view of exposed cliffs clearly showing millennia of volcanic activity.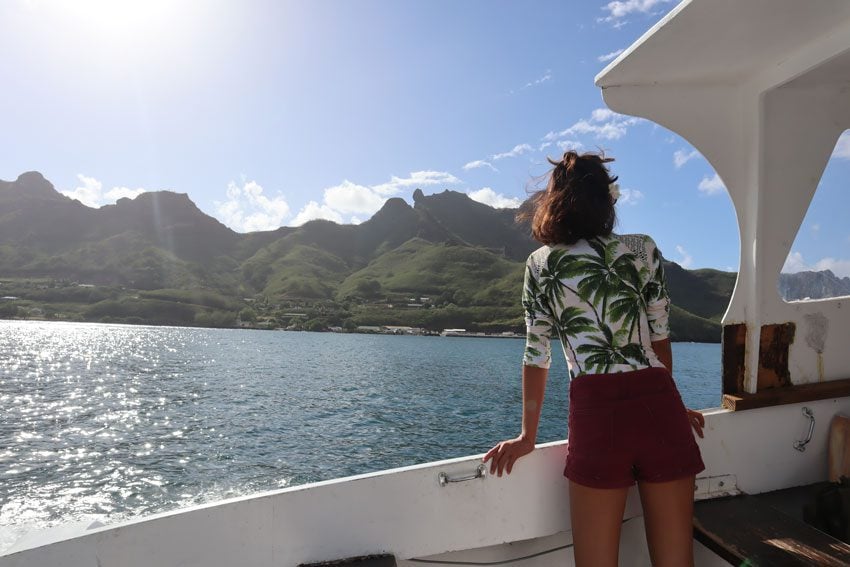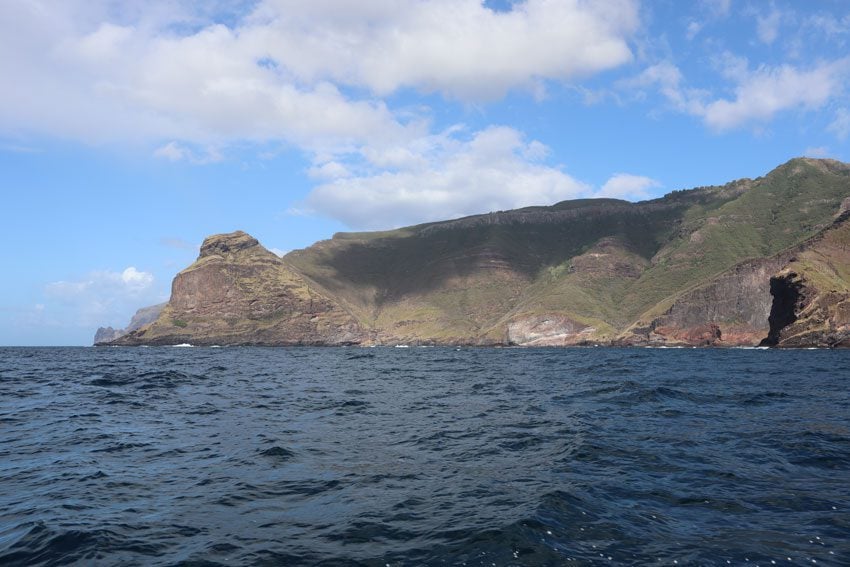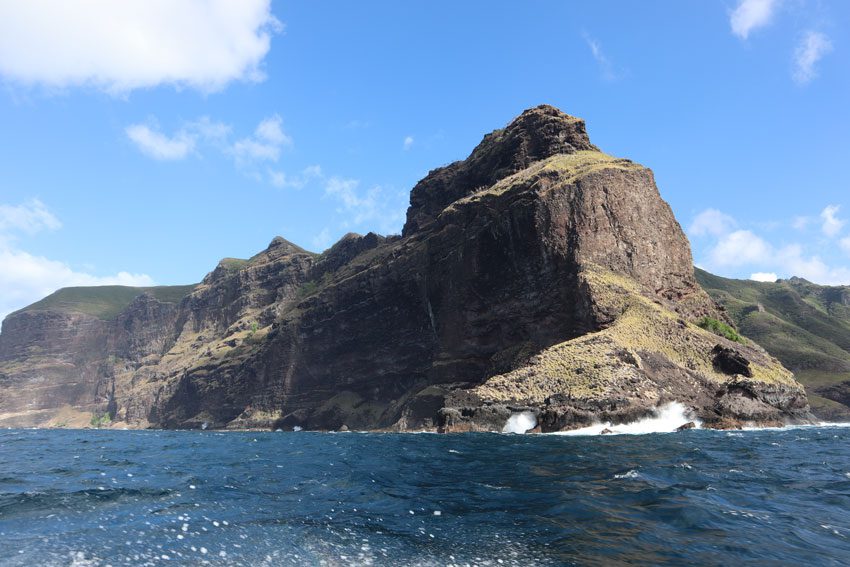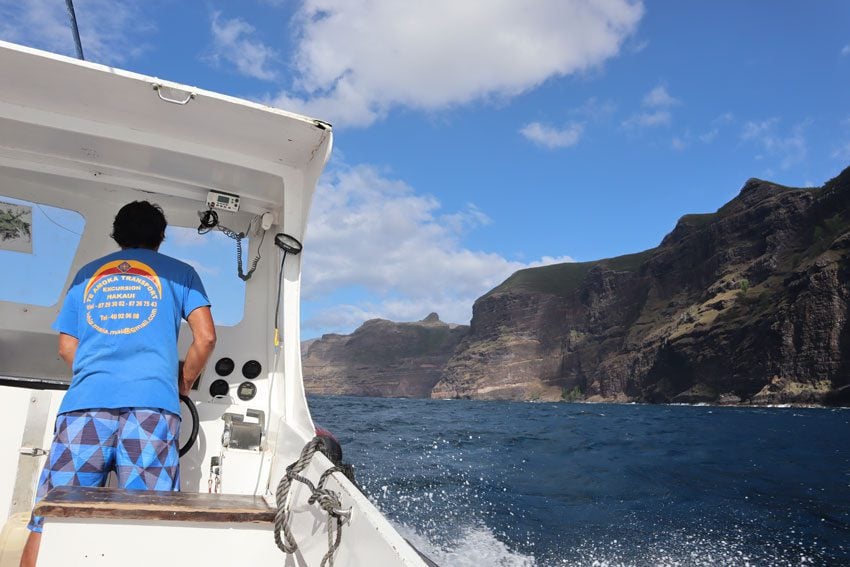 Hakatea Bay & Hakaui Valley
As you enter Hakatea Bay, you might find yourself lost for words. The bay hides a beautiful white sand beach, welcoming local fishermen returning from a night at sea. In the neighboring Hakaui Valley, the signature basaltic cliffs of Nuku Hiva run deep, hiding the waterfall somewhere in there. That's for you to find, so let's go!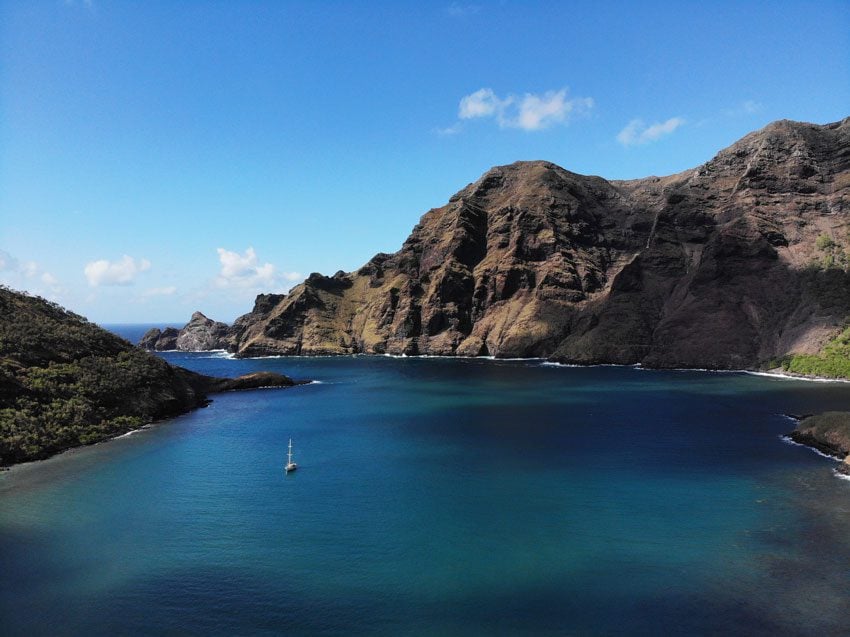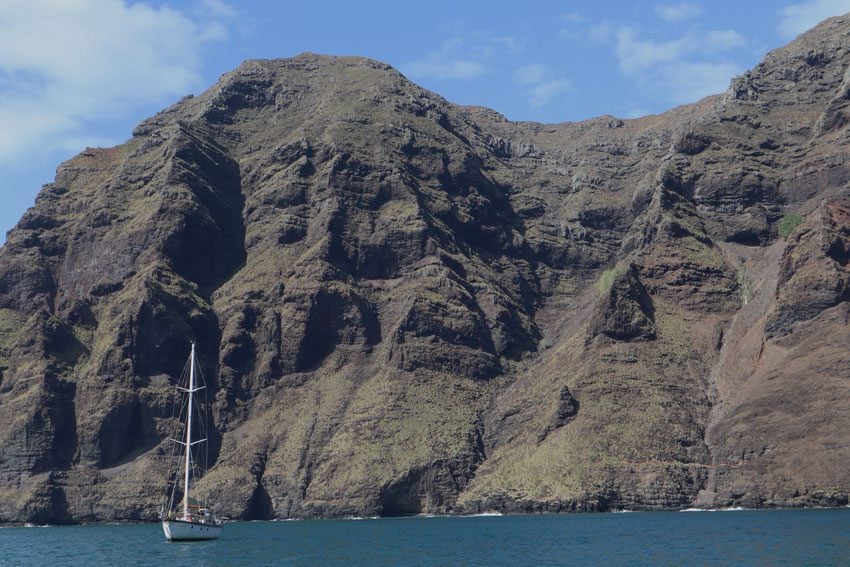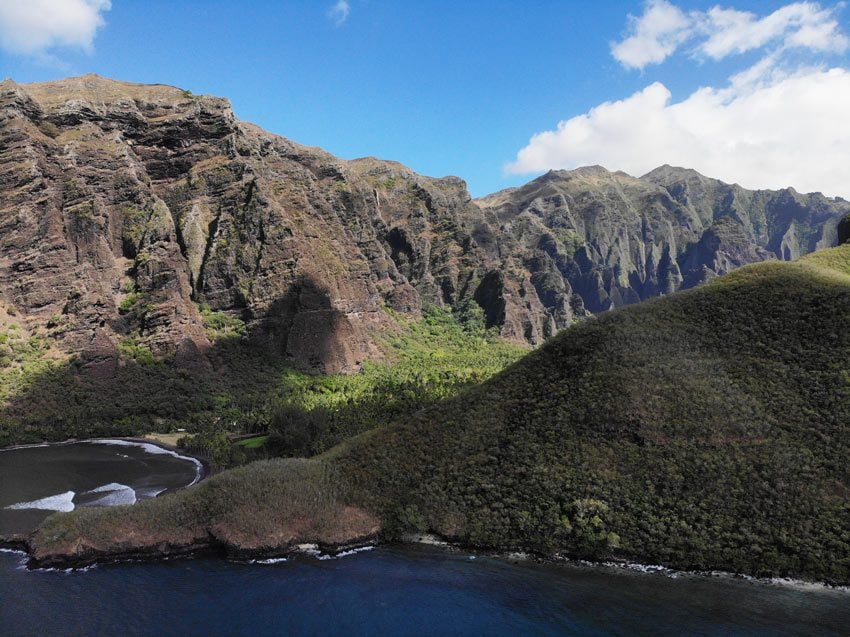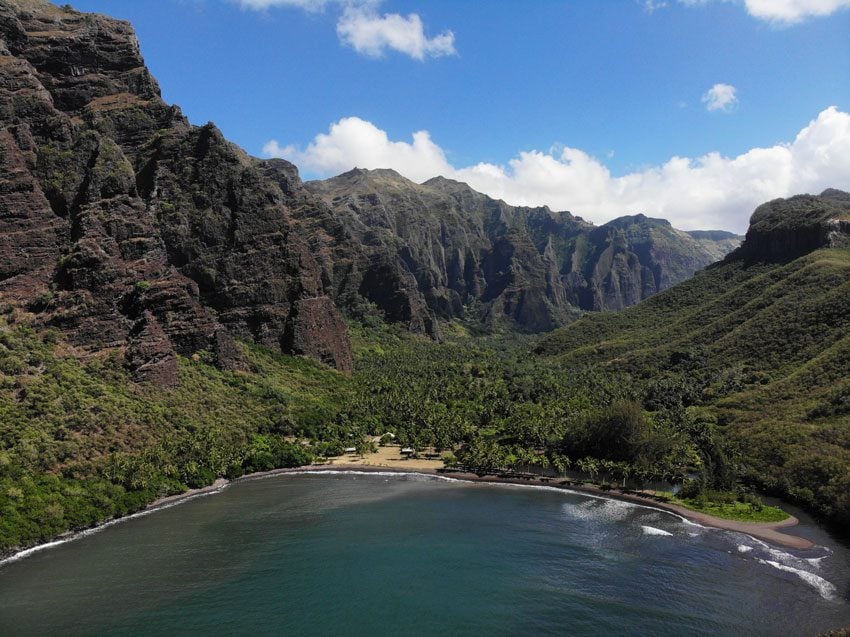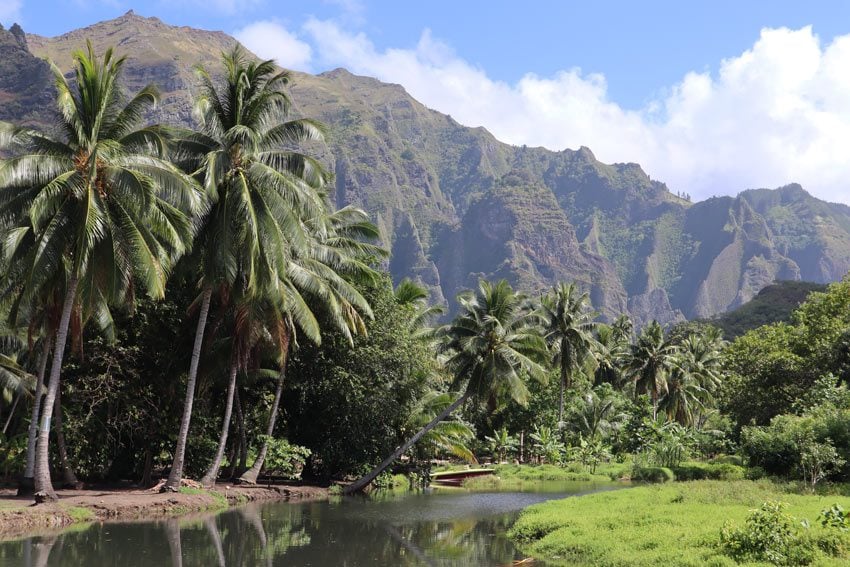 You'll enter the thick rainforest and walk the length of the valley along the ancient royal road, crossing several streams. The valley was once home to thousands of islanders, with only stone platforms left centuries after their departure, now overrun by magnificent mape trees.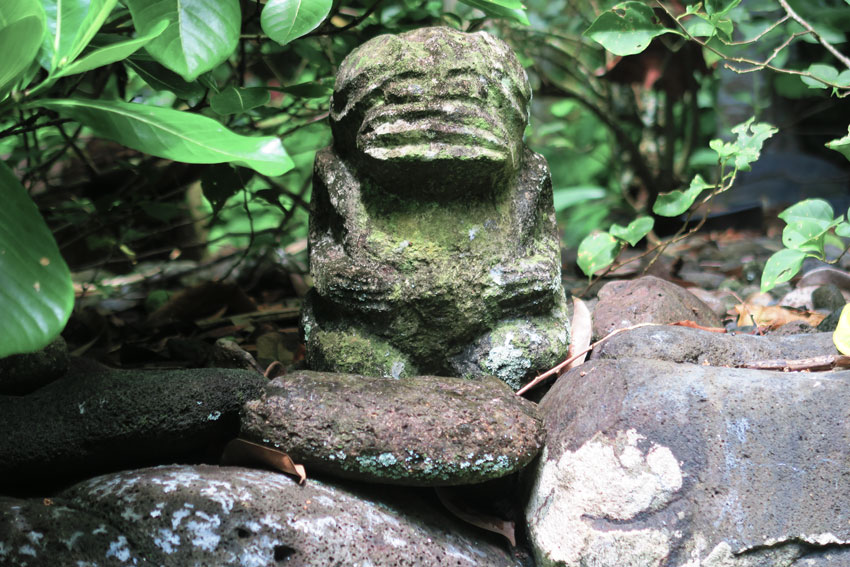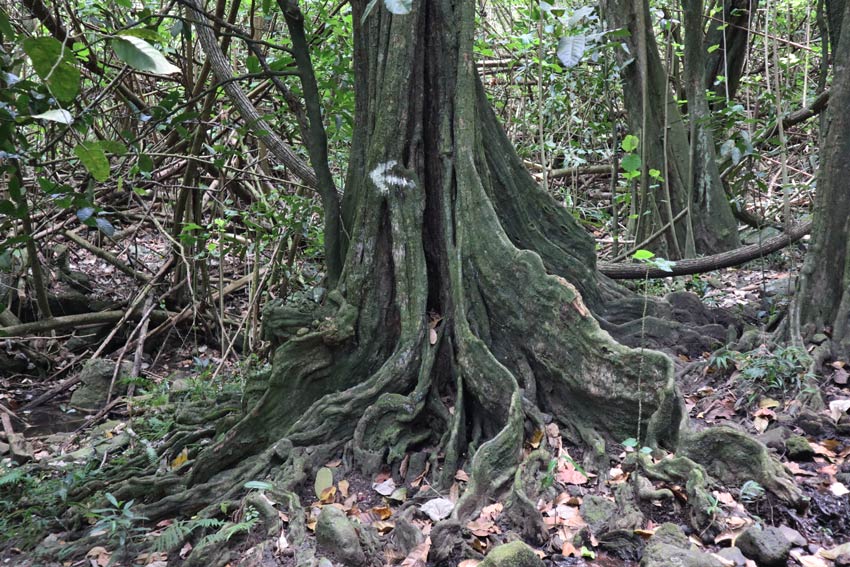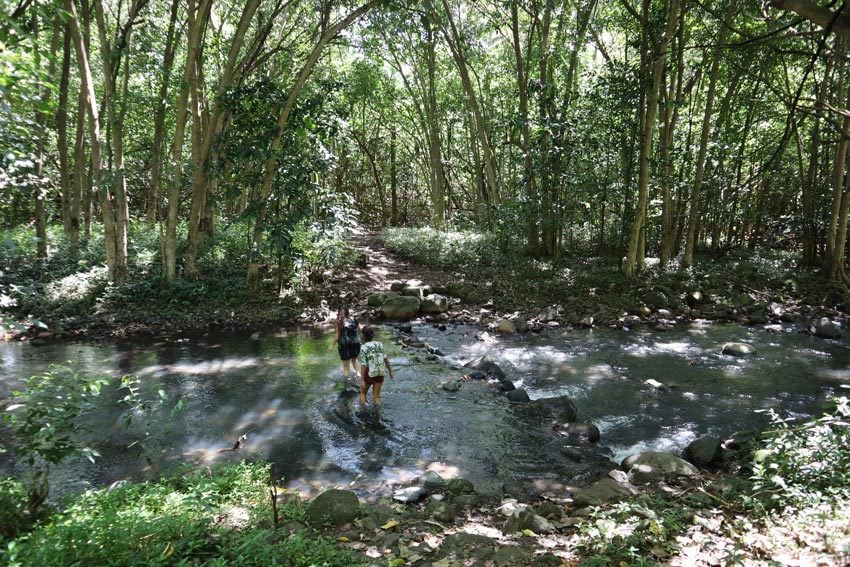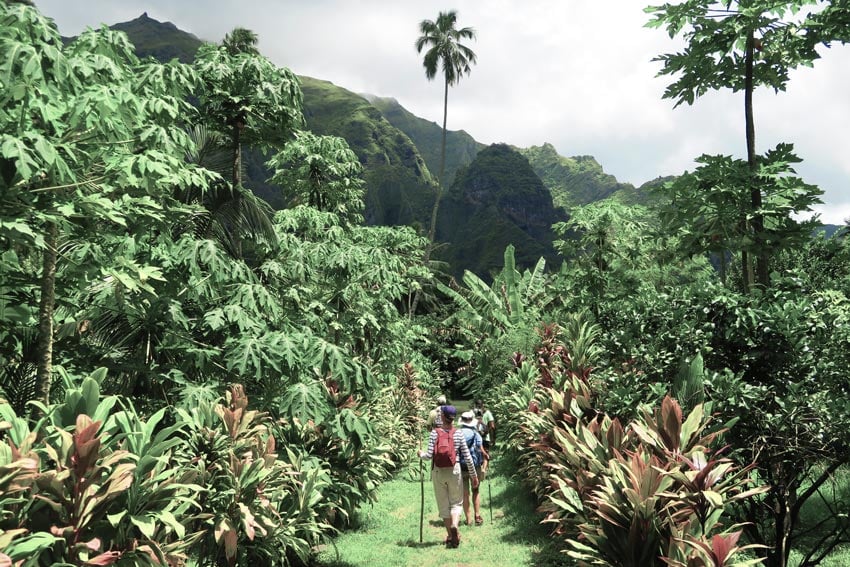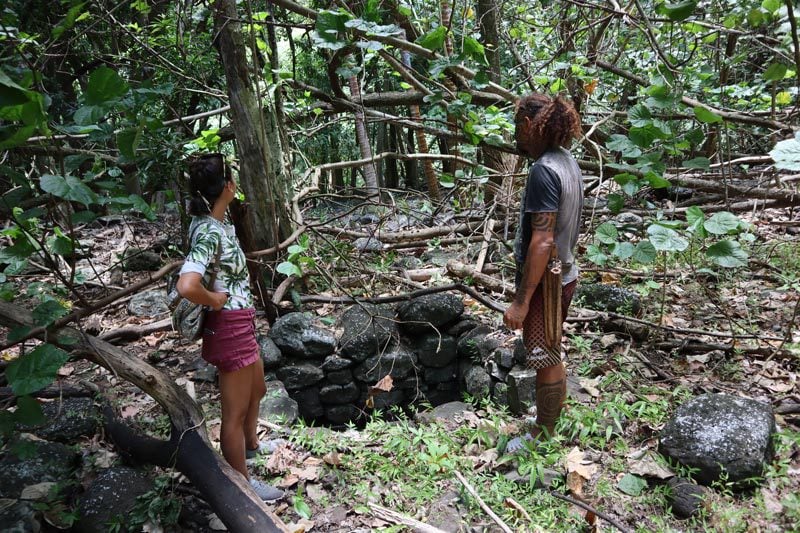 Vaipo Waterfall
A few kilometers later, a clearing in the forest will finally reveal the 350-meter high Vaipo Waterfall – a marvelous sighting, totally worth the endless battles with the mosquitos. Here's a view of the waterfall both during the wet and dry seasons.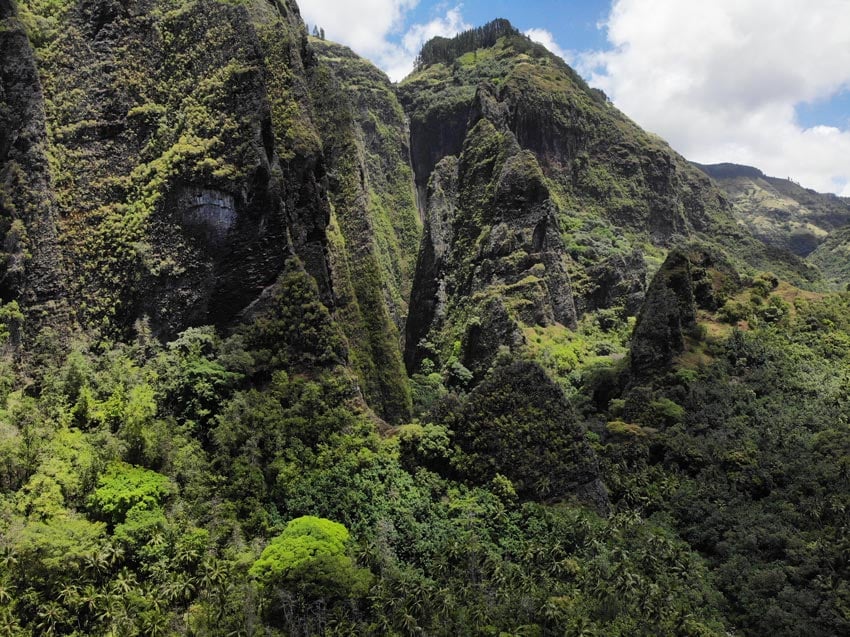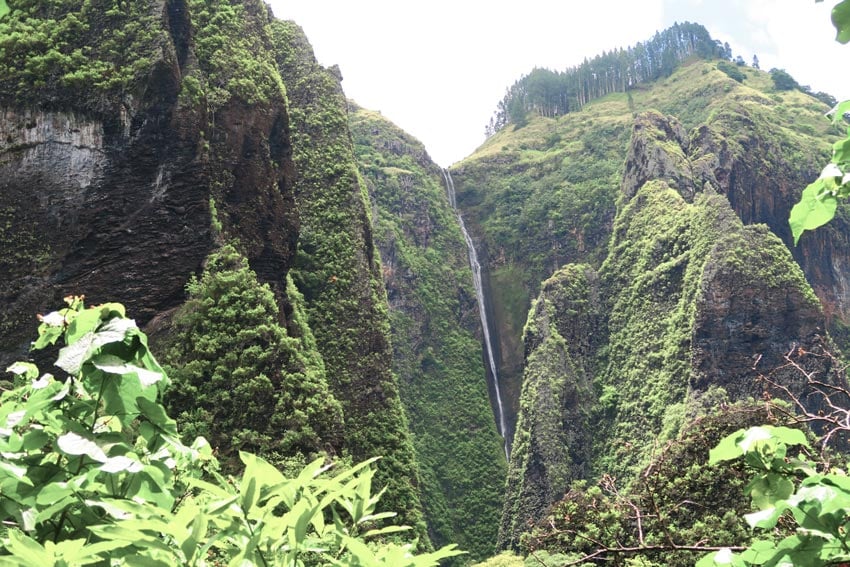 Secret Valley
From this lookout, check out the set of cliffs where the burial caves are located. They hide a "secret valley". There's a narrow entrance between the cliffs that opens to a hidden valley. Ana and Tangy can take you hiking there if you overnight at their place.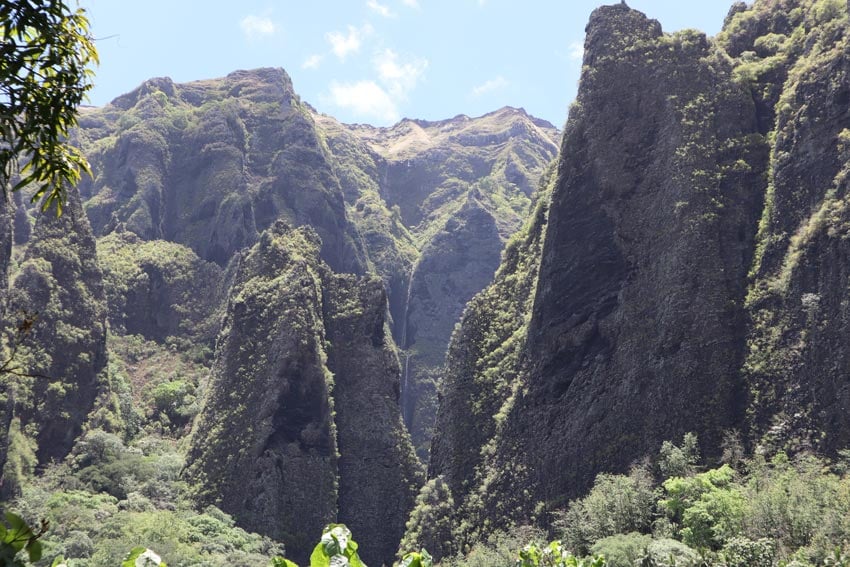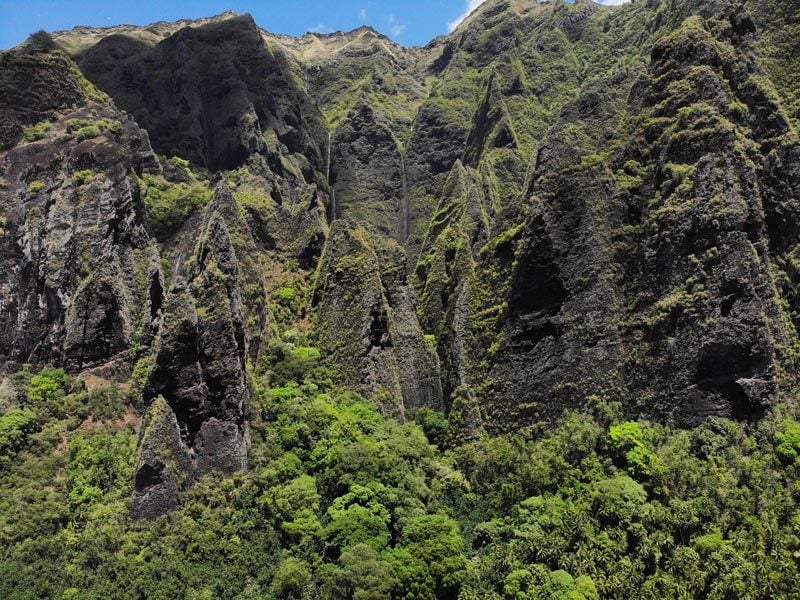 If your tour allows you to hike all the way to the waterfall (waiver required), you'll continue walking inside the creek until reaching a swimming pool at the base of the waterfall. From here, it's back to the beach and back on the boat to cap off a memorable day. Have a look at the Nuku Hiva Travel Guide for full logistical information. I highly recommend booking this for your first full day in Nuku Hiva as tours might be: fully booked, undercooked, or canceled due to bad weather.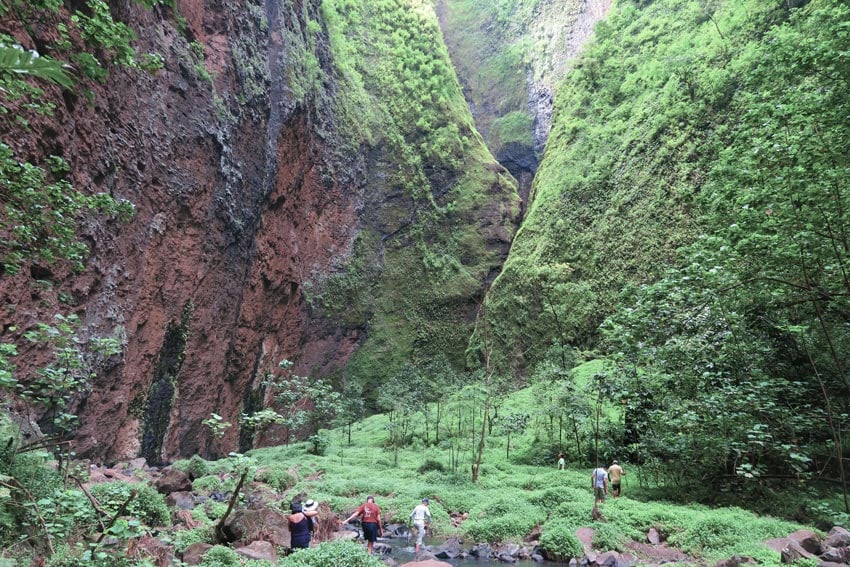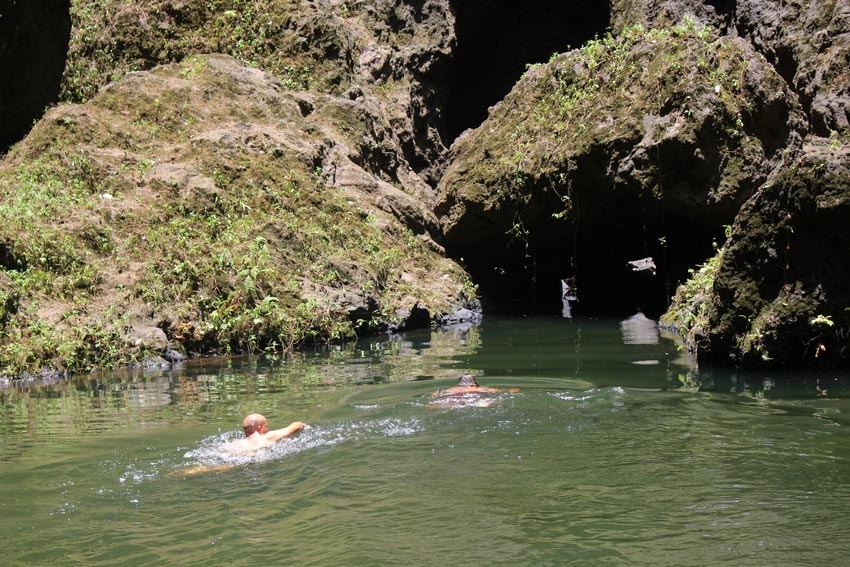 Drinks & Live Music
And how shall you celebrate such a fine day? Head to the 'market snack' for some drinks and great food. If you're lucky, there might even be a live band playing traditional tunes. Can you please ask them to play my absolute favorite song from French Polynesia?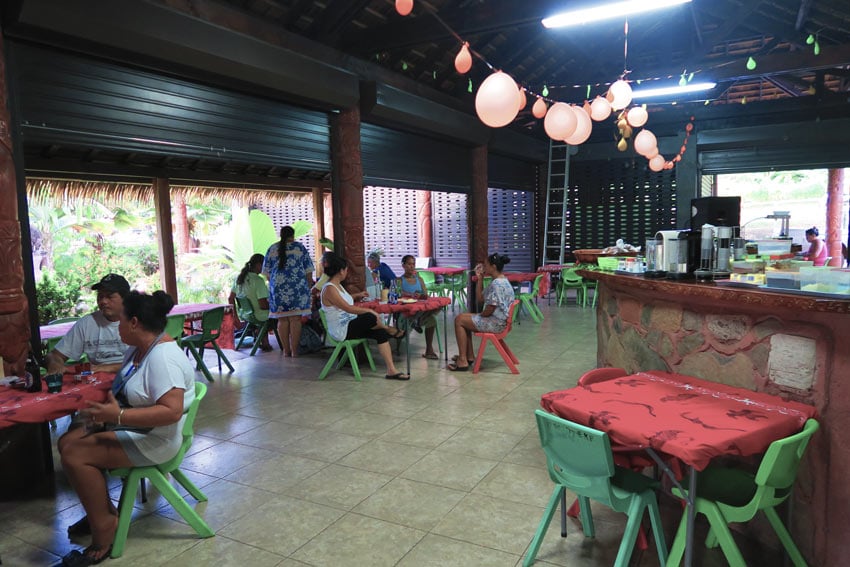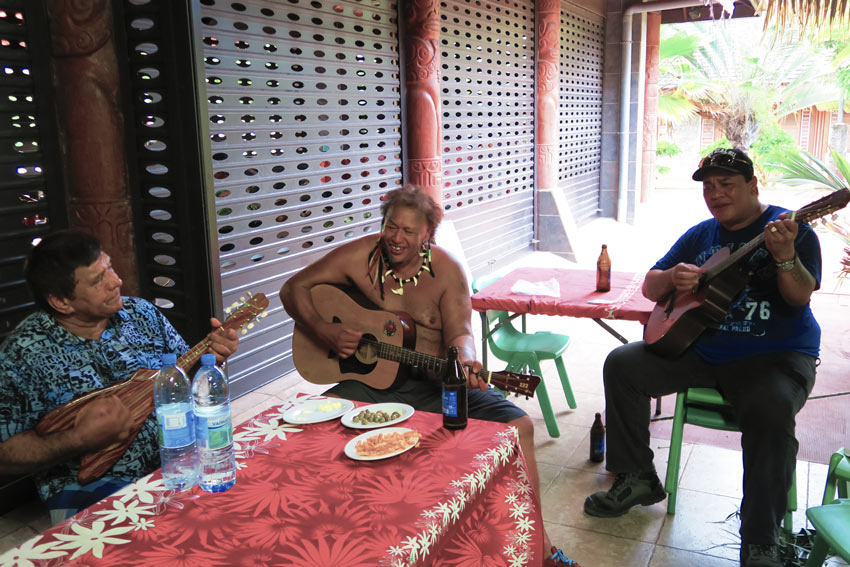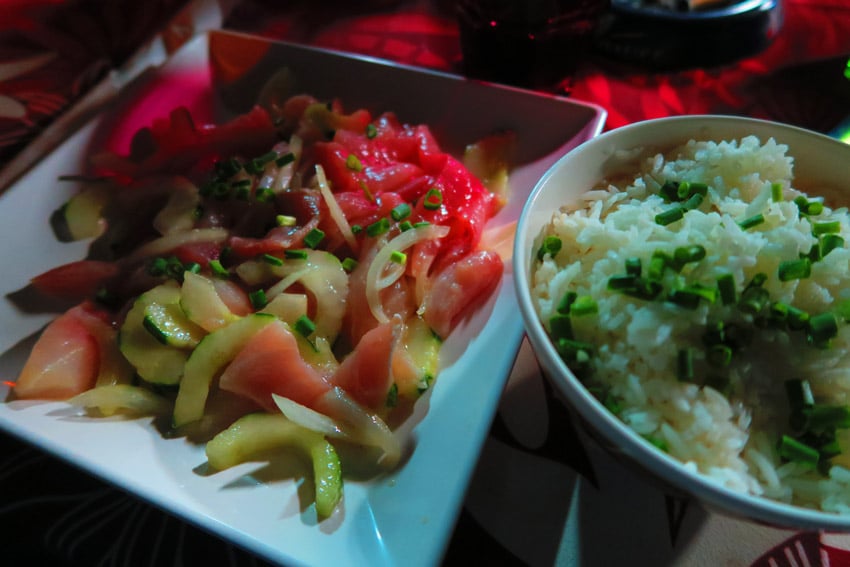 Day 3: Taiohae To Anaho Road Trip & Hike
Yet another busy day in Nuku Hiva but hey, you don't come all the way out here to relax on the beach. Rent a 4X4 in Taiohae or join a guided tour and explore the northeast section of Nuku Hiva, arguably the prettiest part of the island. If you're staying at Pension Koku'u, Alvane Alvarado's tour will not only include the road trip, but also the hike to Anaho Bay.

Taipivai Valley
Hop into the 4X4 and off you go on yet another scenic drive in Nuku Hiva (hint: they all are). As you descend from the Toovii Plateau to the eastern side of the island, you'll feel once again teleported to distant Europe, this time perhaps the Norwegian Fiordland. In front of you is Comptroller Bay and behind you, the Taipivai Valley.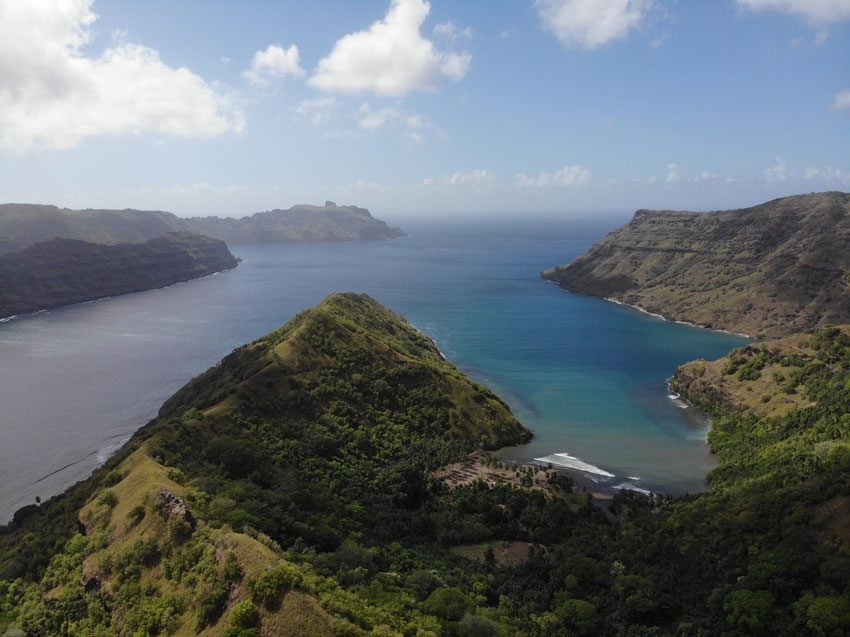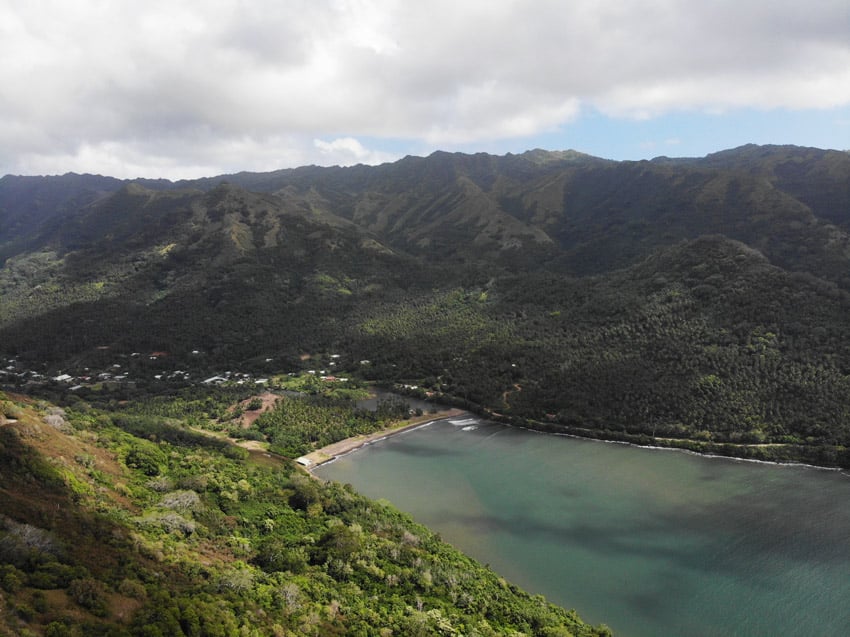 It can't get any better than this, can it? Wait and see.
Drive down to the valley and check out the huge complex where the legendary Marquesas Arts Festival is held once every five years. Showcasing the rich history of the islands, this complex is inspired by 'the good old days', with rocky platforms and intricate sculptures made by the island's finest. You can even head up the hill to check out the Paeke archeological site, but we'll be seeing more impressive sites in that department later in the day.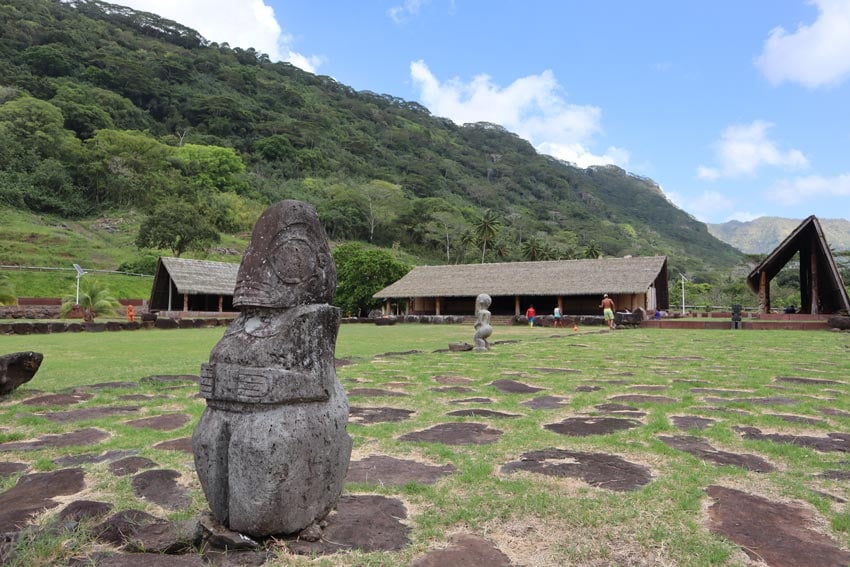 Taipivai Crafts Market
This crafts center is located near the ceremonial site and hosts the work of 26 local artists. You'll find here a great selection of Marquesan crafts at very reasonable prices.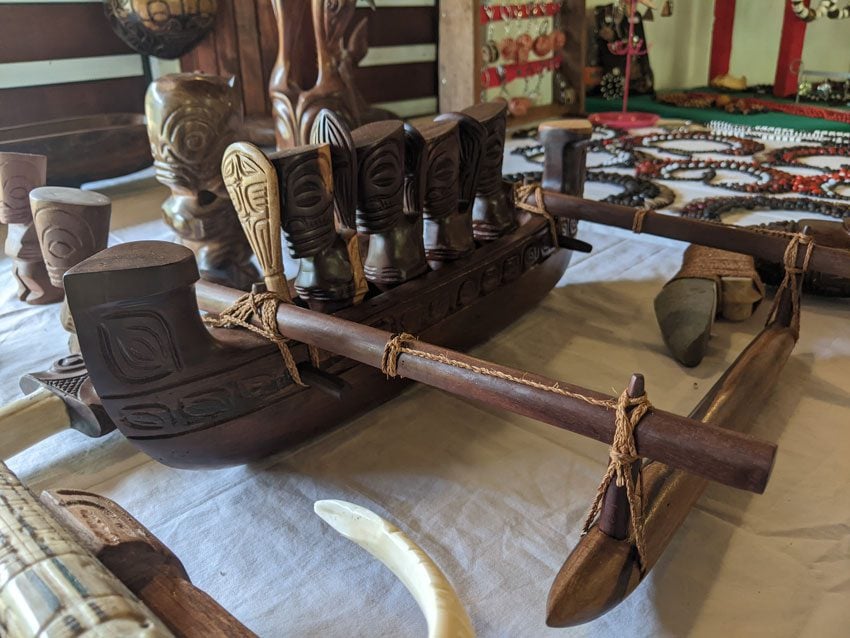 Distant Waterfall
In the outskirts of Taipivai, look left and spot the distant waterfall. It should flow even in the dry season. How tempting is it to try hiking to it? It should be possible with a guide.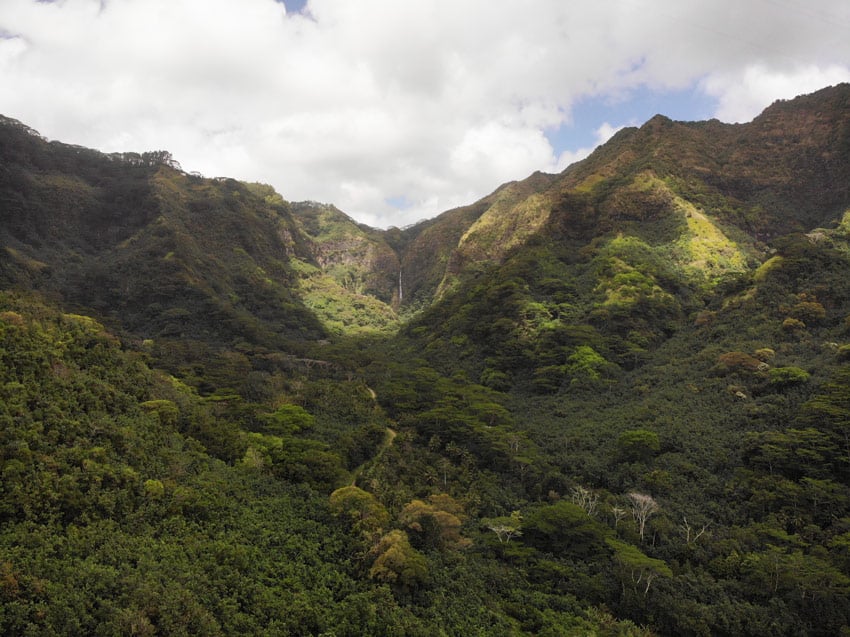 Hatiheu Bay
From the valley, break through the mountain pass and tumble down to Hatiheu Bay. I think it's safe to say the panoramic views from up here top those we just saw a few kilometers earlier. What do you think?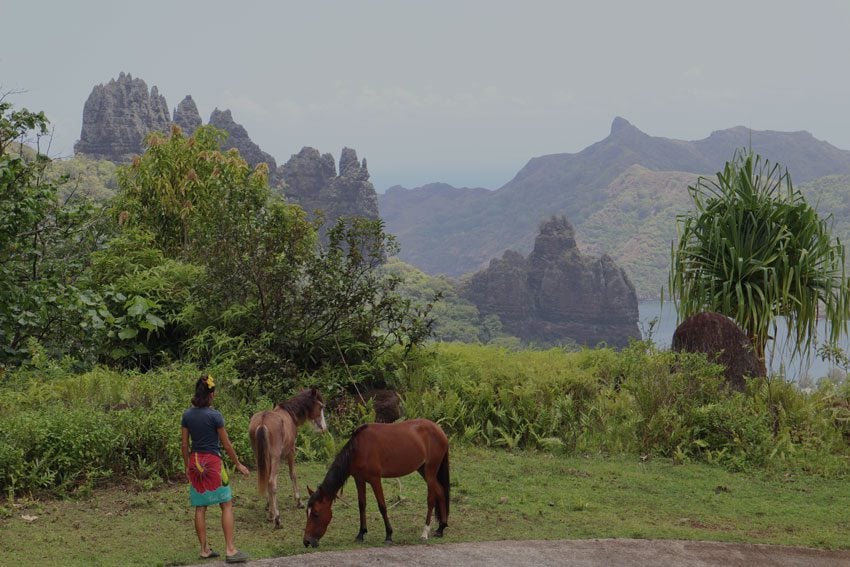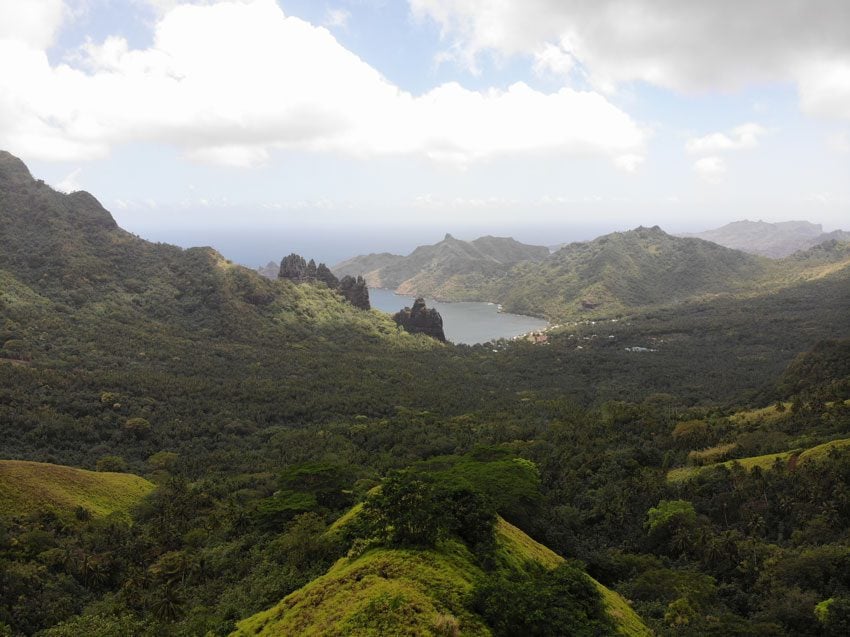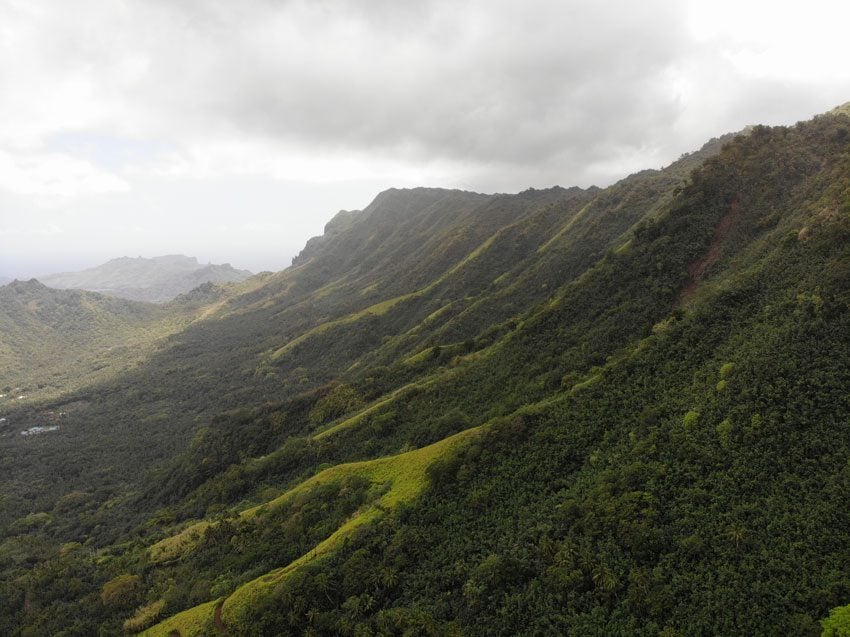 A'akapa Cliffs
As you enter Hatiheu, instead of turning right and entering the village, head left and drive to A'akapa. Part of the road is not sealed but it safe to drive. The cliffs of A'akapa are another Nuku Hiva highlight. They are best viewed from the lookout right next to a religious memorial that's hard to miss. If you have time, head down to the bay for more sensational views. Locals say the cliffs resemble a giant dinosaur and I certainly agree with that.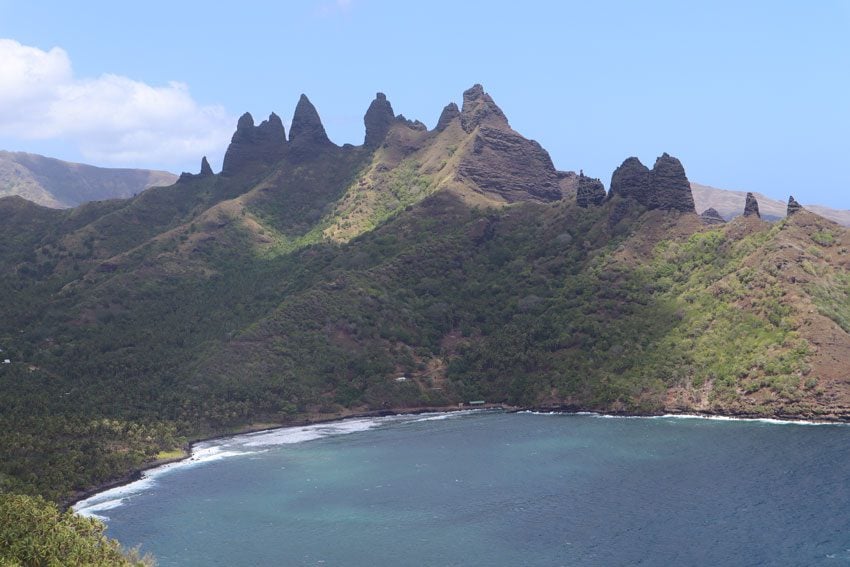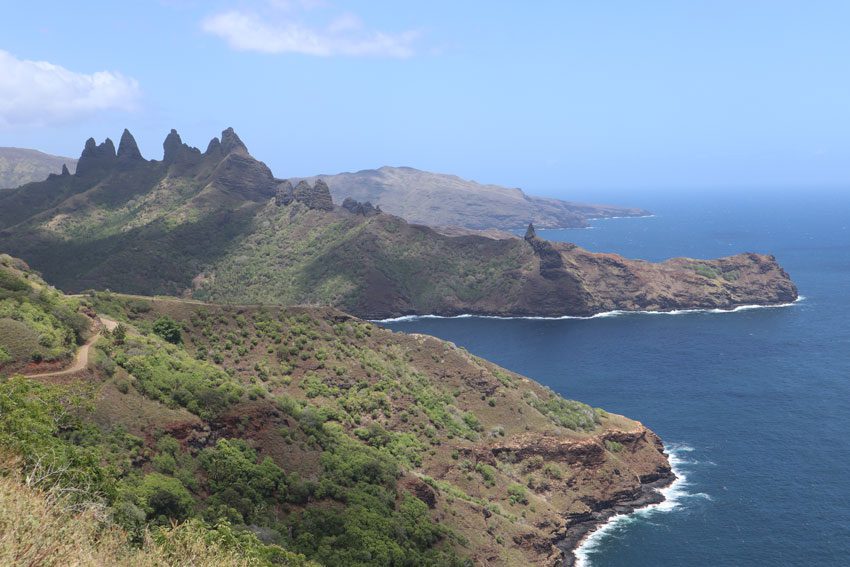 Hatiheu Village
Drive back and enter Hatiheu Village. Go for a stroll on 'main street', home to more tiki statues than residents. Nothing much happens here aside from copra production and the Catholic church, which you should totally step inside to check out. If you haven't brought a picnic lunch with you, the village is a good place to buy sandwiches and eat them on the beach or for later in Anaho Bay.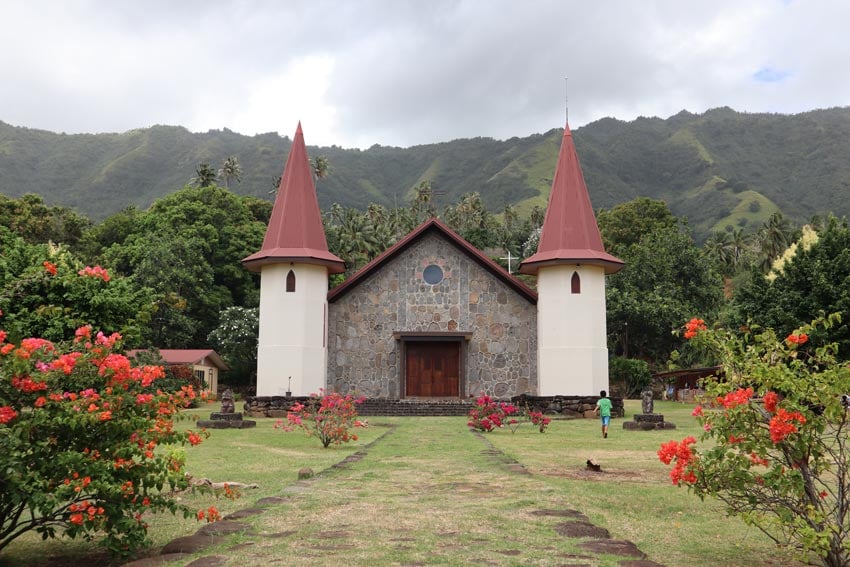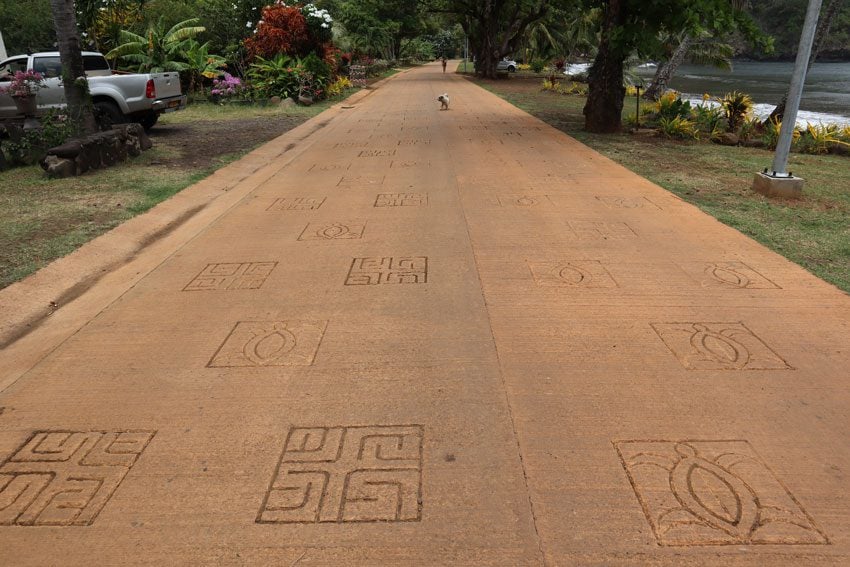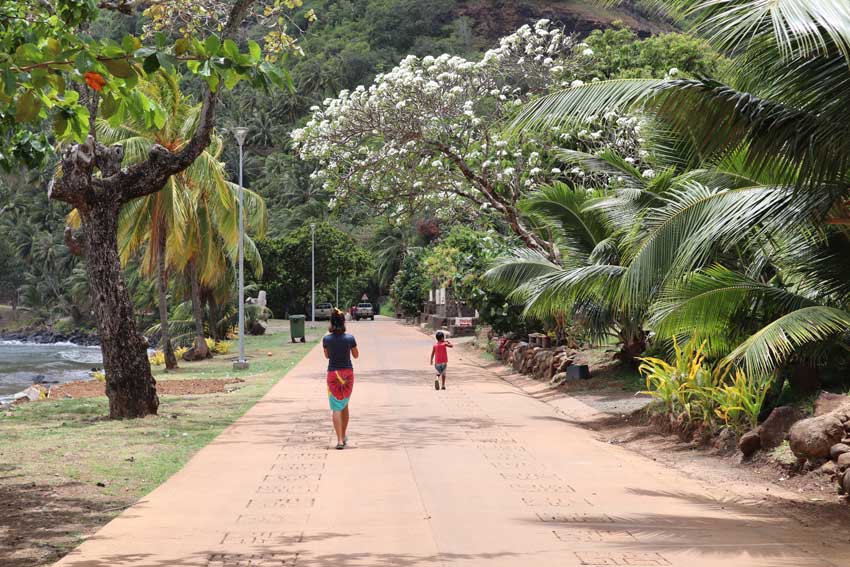 The village does have one trick up its sleeve. Its black sand beach backed by the basaltic cliffs we just admired from atop, is one of the most iconic Nuku Hiva shots you can take. Here's a little hint for you: it's at its full glory during low tide. Funny enough, locals somehow hoisted a statue of the Virgin Mary to the top of the cliffs back in 1872. Must have been one sweaty task!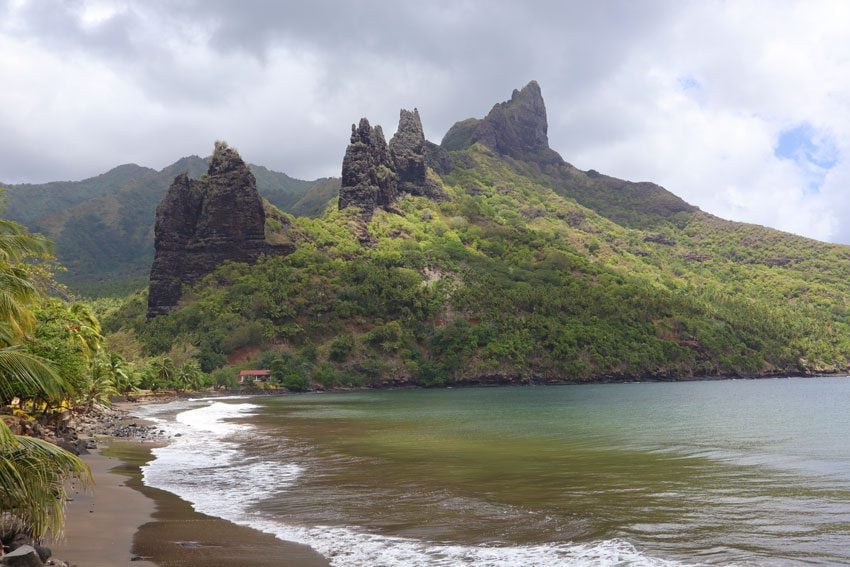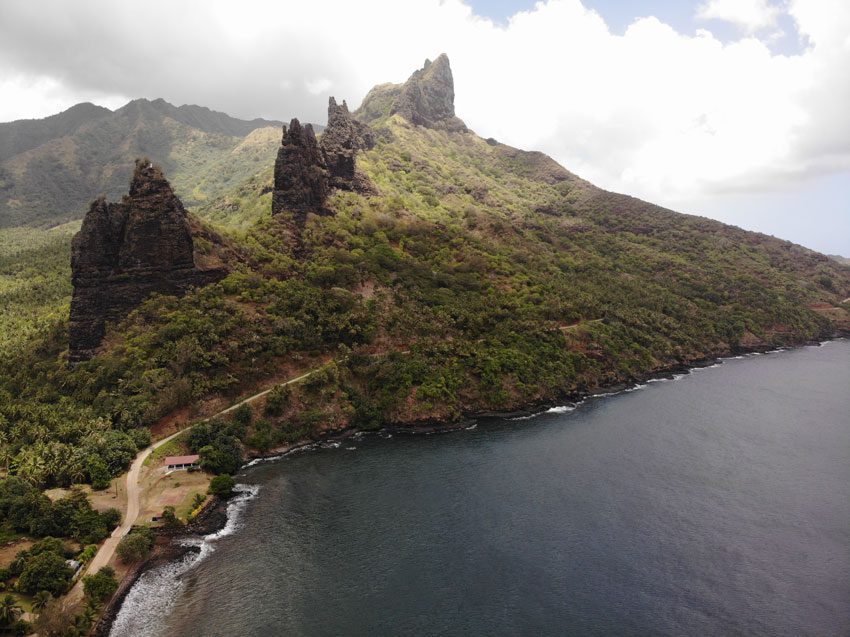 Hike To Anaho Bay
Most island tours finish off at Hatiheu, but if you were smart enough to go with Alvane Alvarado from Pension Kuku'u (or if you rented your own 4X4 for the day), the fun is just beginning. Not too far from the center of the village, you'll hit the trailhead to Anaho Bay. You can hike this on your own or with a guide.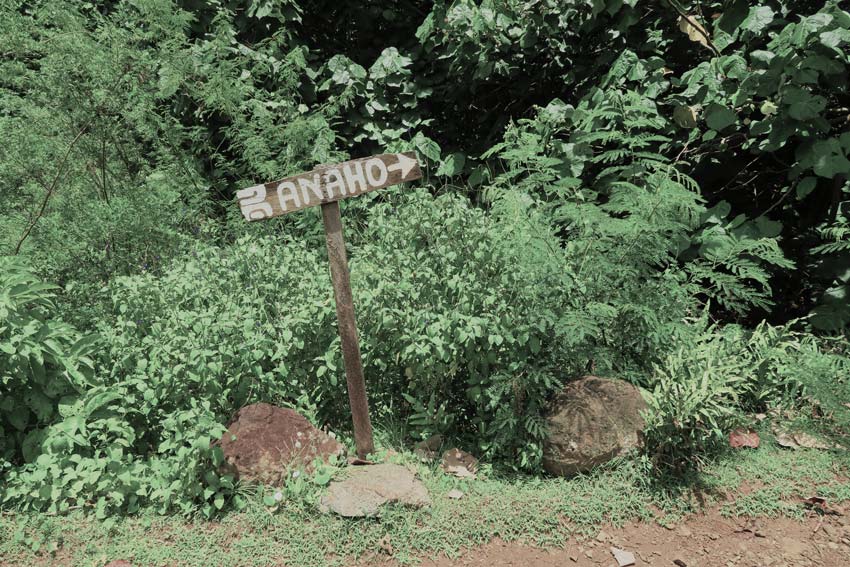 The hike begins with a climb to the mountain pass, where you'll catch your first glimpse of this magical bay. I told you, the views just keep getting better and better.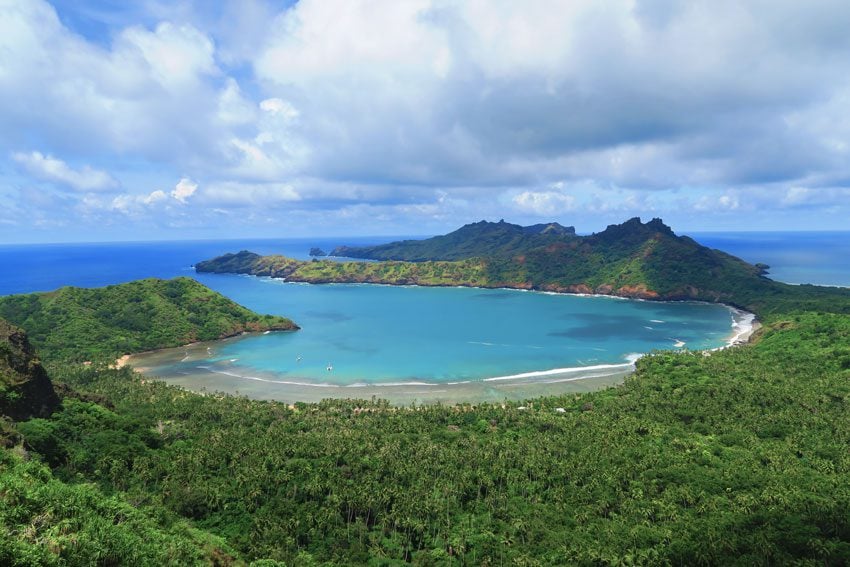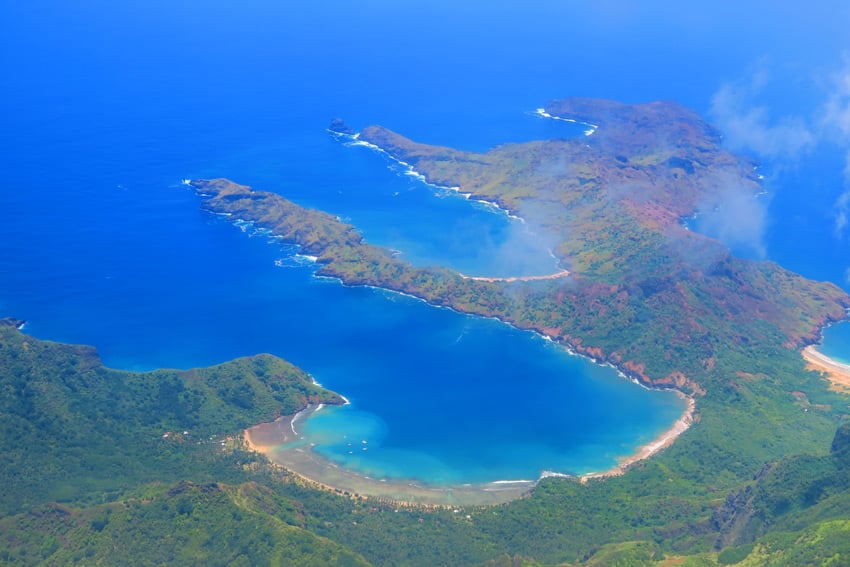 When you've gathered enough strength to leave this beautiful spot, begin your descent to the beach. Surprisingly, a small number of families actually live out here in the middle of nowhere. There aren't any startups or factories in Anaho, just making copra from the bazillion coconut trees that wildly grow here.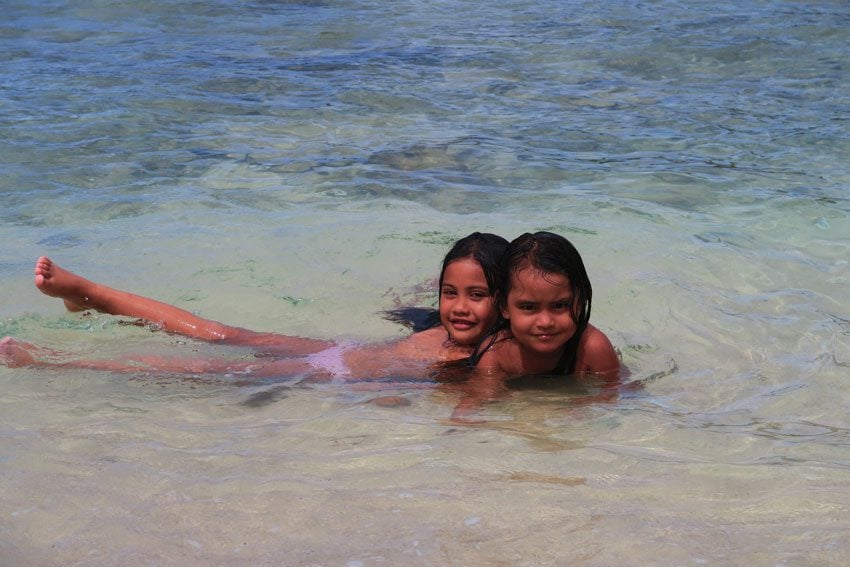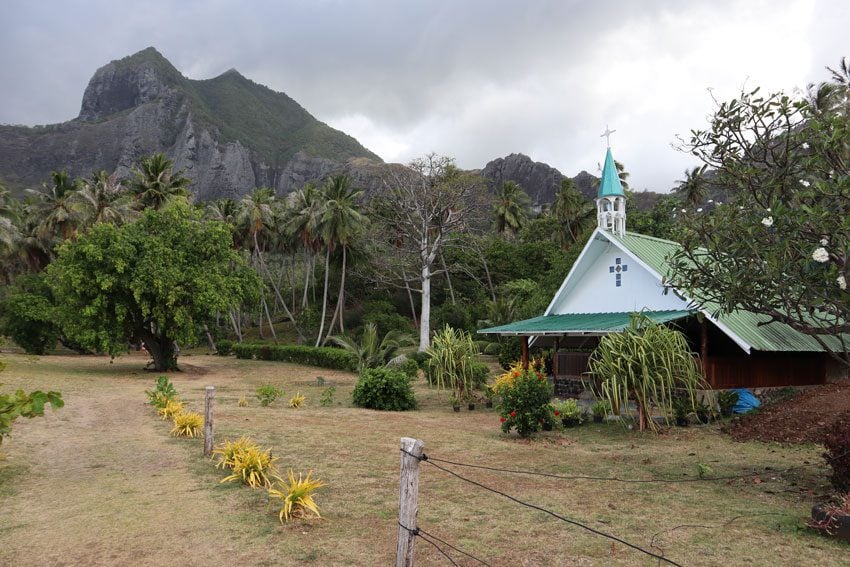 The beach is great for swimming, with one end having the only reef in Nuku Hiva and the other end perfect for those who like to ride waves (be careful though). It's the perfect spot for a picnic lunch (which you must bring with you) and for layering on the monoi oil to keep those nasty nonos away (sandflies).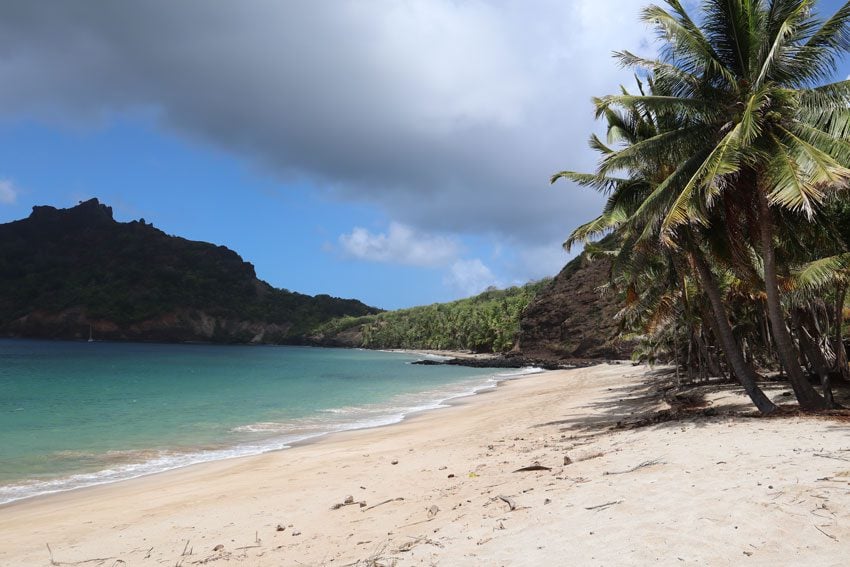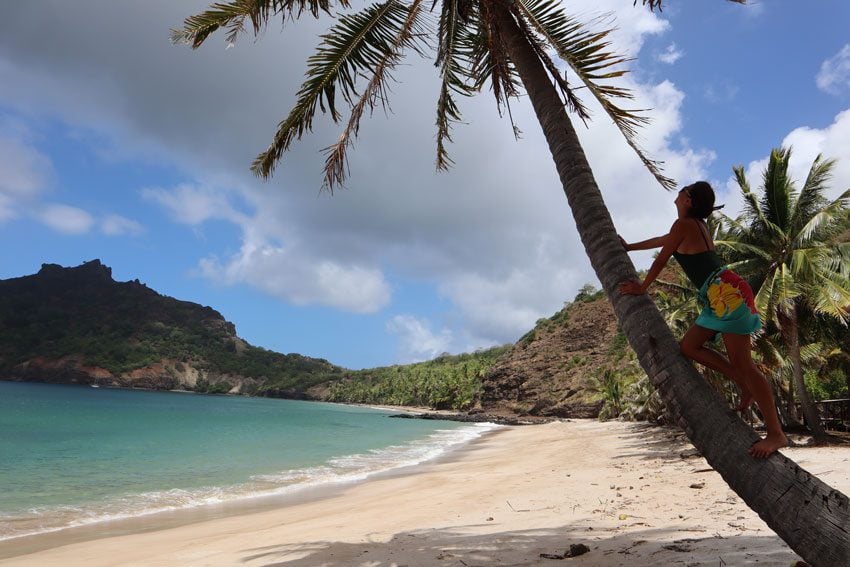 Hike from Anaho Bay to Ha'atuatua Bay
If you're well on time, it's possible to extend the hike and explore the neighboring bay. From the far end of Anaho Bay, a clear trail heads to the neighboring bay (about 30 mins return). Ha'atuatua Bay and its beach are as beautiful as they come. Soft golden sand, coconut palms, jagged onlooking cliffs, and not a soul around. However, hundreds of tiny blue jellyfish and invisible nono (sandflies) by the thousands make the trip out here memorable in all possible ways. It's strongly advised to either apply a generous layer of monoi oil before heading here or to admire the bay from a distance (there's a good spot for it halfway along the trail).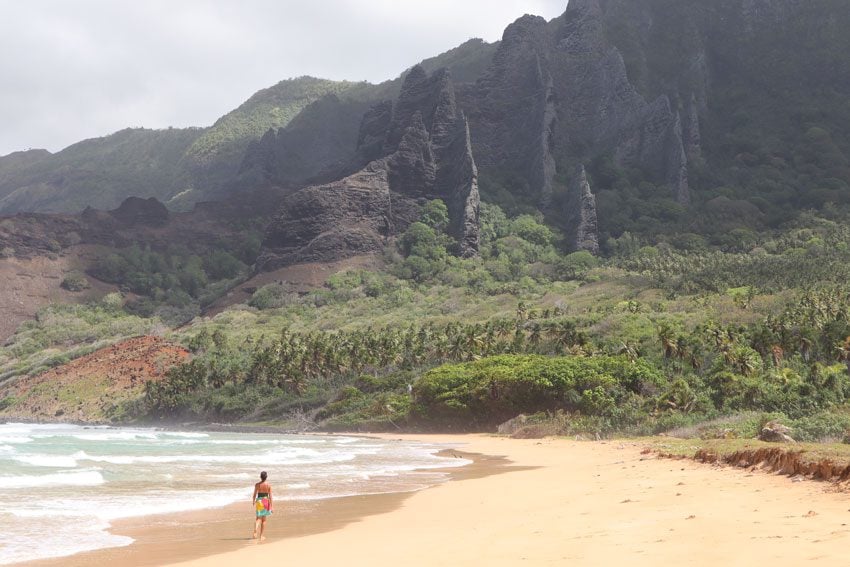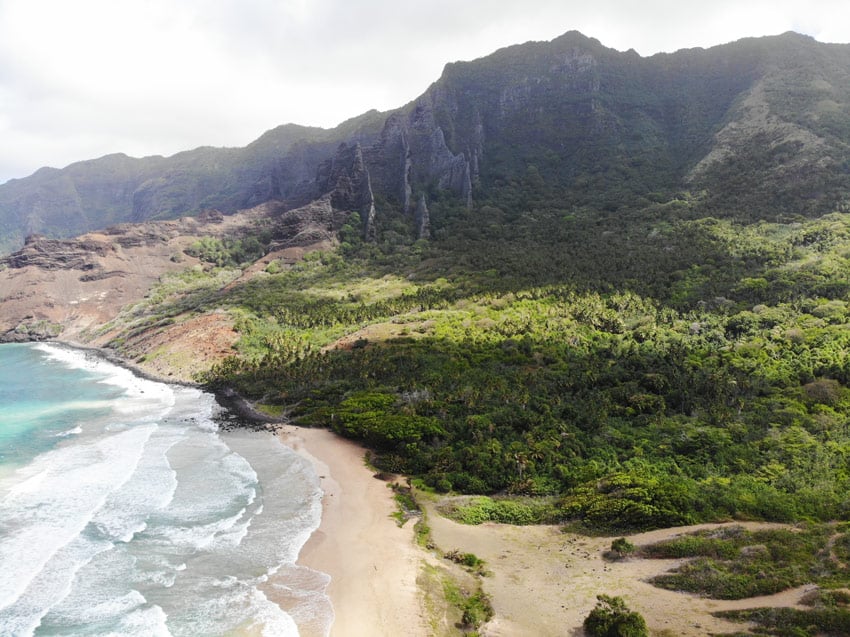 Hikokua Archaeological Site
Hike back to the car and begin the drive back to Taiohae. As you exit Hatiheu, you'll stop at four archaeological sites. They are among the most impressive sites in all of French Polynesia, matched only by those of neighboring Hiva Oa and easily eclipsing those of Raiatea, Huahine, and the likes.
The first complex is the Hikokua site. Dating back to the 13th century, this was essentially a large 'town square' where the valley's former residents (estimated in the thousands) used to gather for large ceremonies.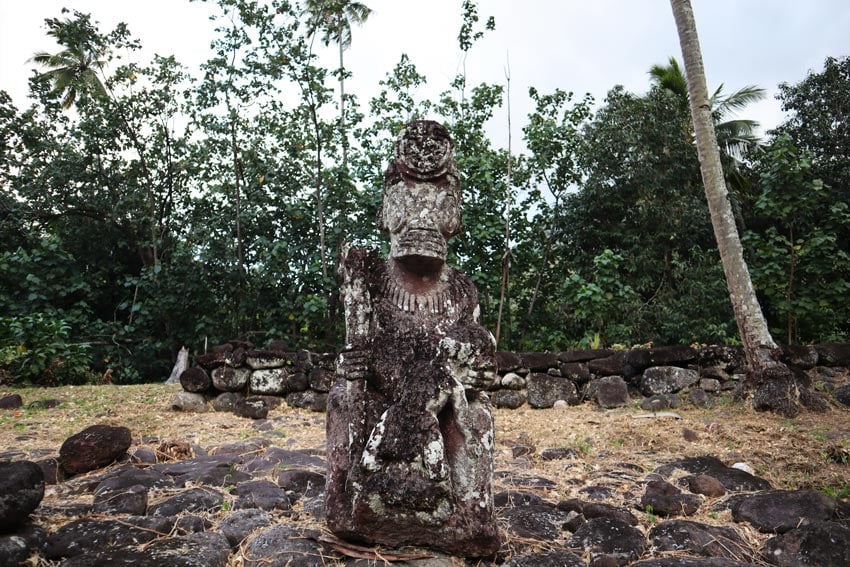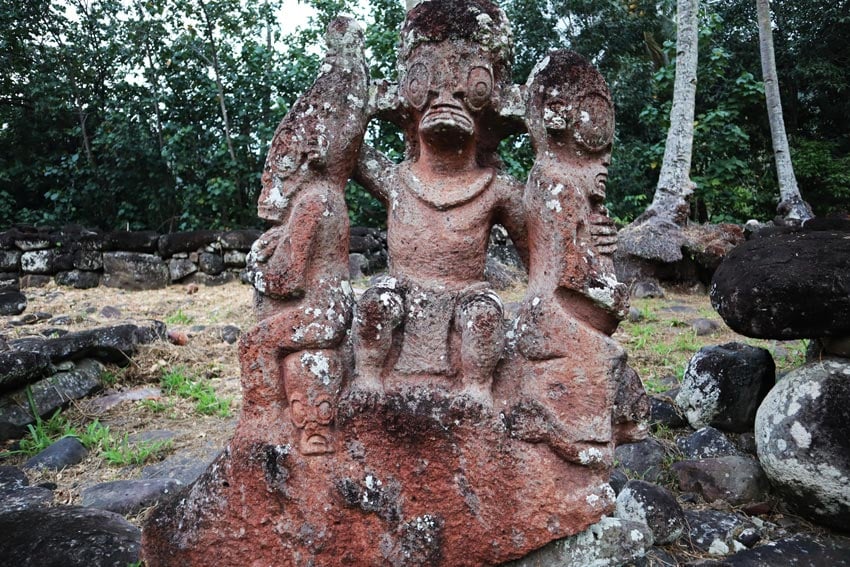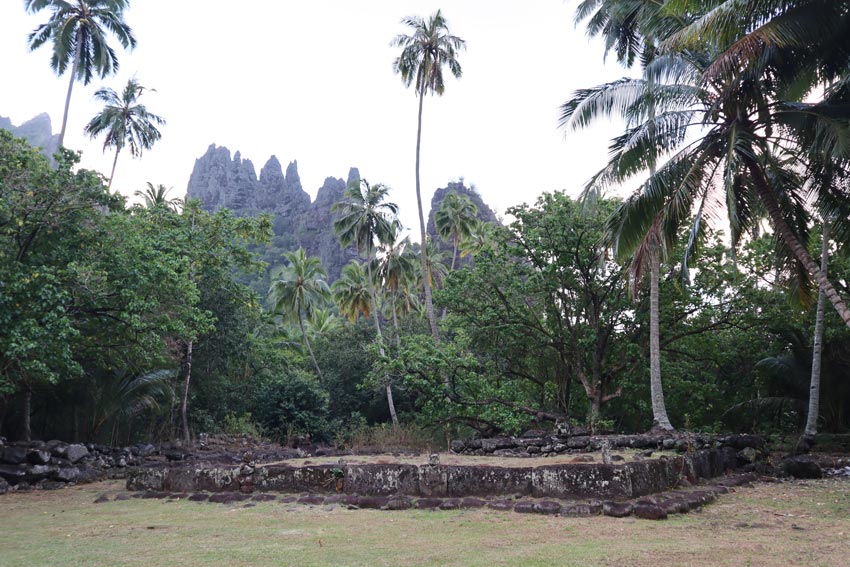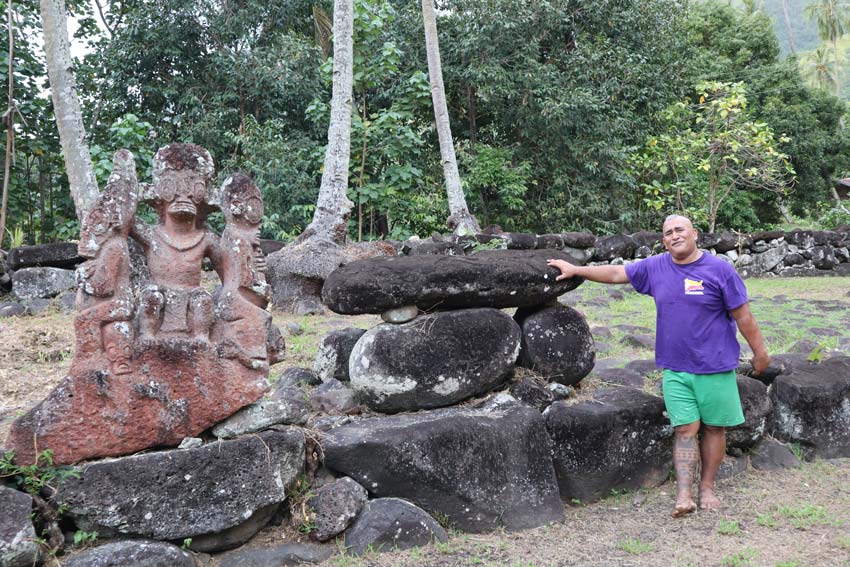 Have a stroll around the complex and inspect the ancient statues from up close. Can you imagine who carved these out? Some depict polygamy and some even depict human sacrifice. Speaking of that, don't miss the ancient human sacrifice stone. If you're not sure how it was used, Alvane will show you how, with the help of a brave volunteer (me in this case).
When he's done simulating your sacrifice, he'll welcome you to Nuku Hiva with a traditional haka dance. Alvane is not only a great tour guide, but he also dances at the Marquesas Arts Festival.
You could theoretically come here on your own, but isn't it worth going with Alvane just for the dance?
Kamuihei, Tahakia and Teiipoka
Before heading back home, stop at the next three complexes which are pretty much joined together. Kamuihei, Tahakia, and Teiipoka are totally eerie sites, especially just before sunset. Stroll amongst the giant banyan trees (at least 600 years old), petroglyphs, and ancient tiki statues.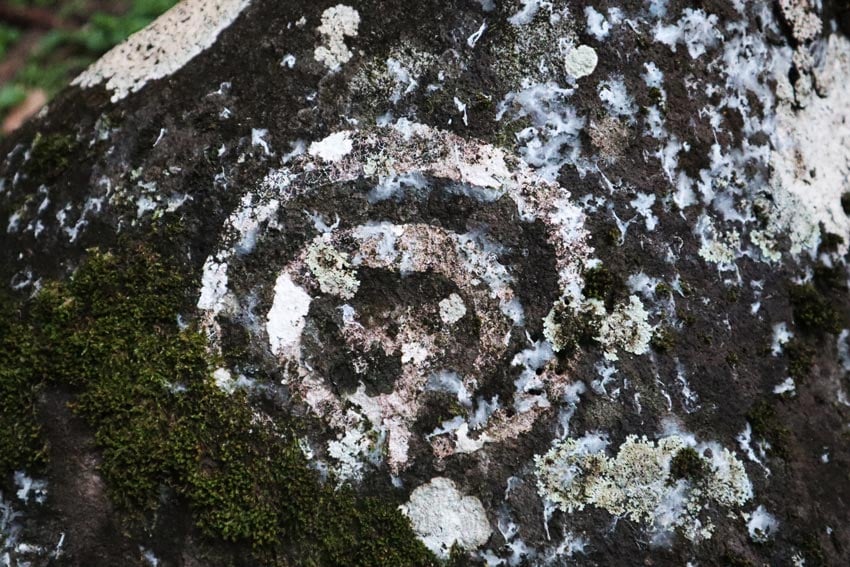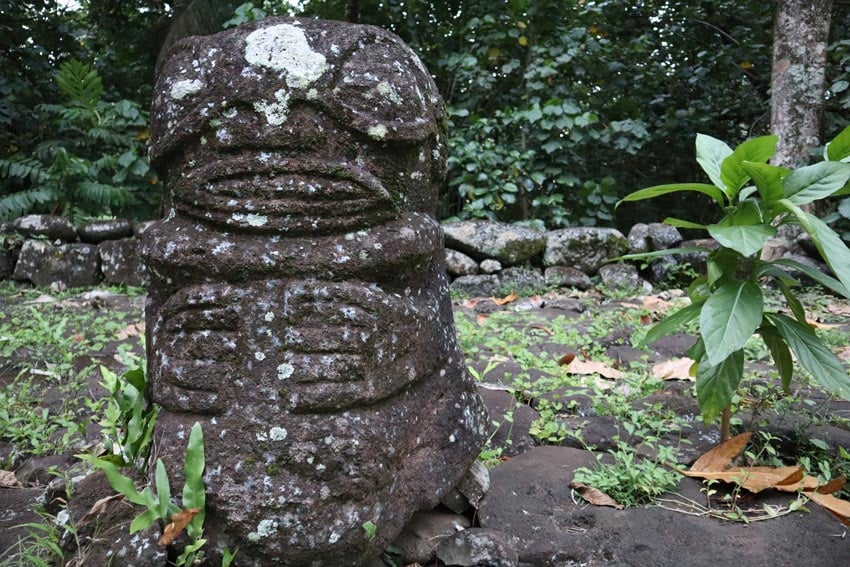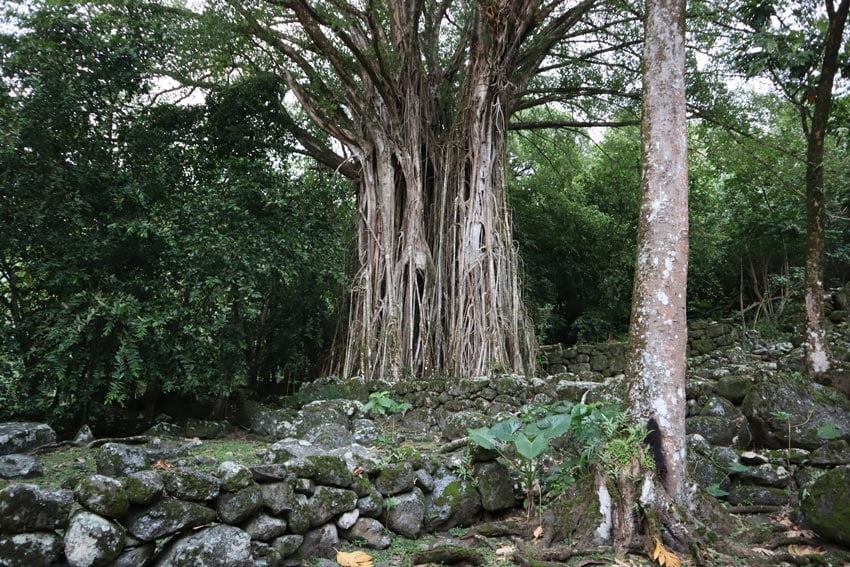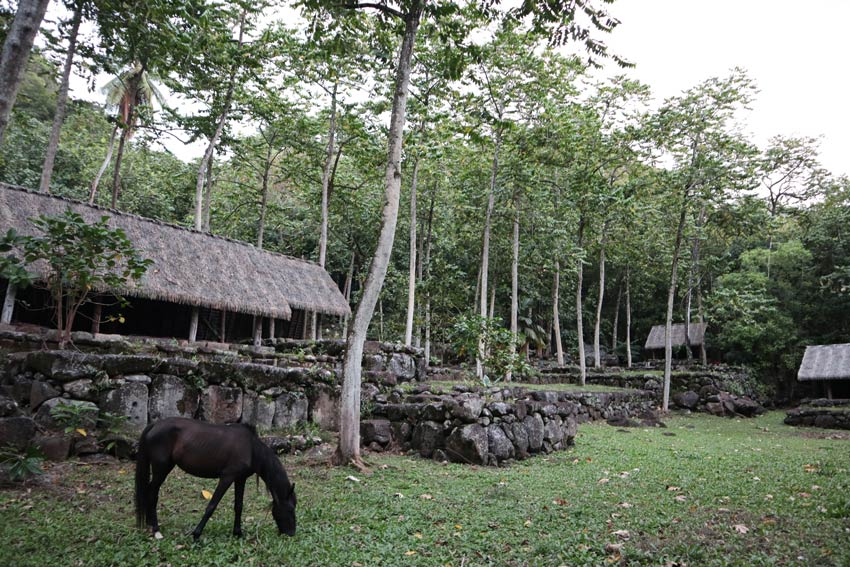 Logistics for this long day: if renting a car, leave as early as you can because this is a busy day. Purchase water food and snacks in the village before departing, though you can also buy lunch in Hatiheu. If joining a guided tour, you'll leave at around 9 am and return before 6 pm, just in time for dinner. The hike to Anaho Beach takes about 90 minutes return. Bring with you: a packed lunch, lots of water, monoi oil, a hat, swimwear, waterproof sandals and a change of clothes. Lots more info in the Nuku Hiva Travel Guide.
Day 4: Hunting, Hiking, Or Horseback Riding
On the last day of this 4 days in Nuku Hiva itinerary, you have a few options. Those with sore feet can go horseback riding in the Toovii plateau, only to return with a sore back. Horseback riding is super popular in the Marquesas but keep in mind that you can also do this in Hiva Oa (like I did).
Hikers can head to Colette Bay on a do-it-yourself hike in the next bay over from Taiohae, or hire a guide and try the arduous Big Z. There's also a new hiking trail in the Toovi Plateau that can be done with or without a guide. See the 'hiking and excursions' section for more info.
Those really looking to get off the beaten track (not that anything in the Marquesas is 'on' the beaten track), can do what every Marquesan man dreams of doing every day – chasse. That means hunting!
Hunting In The Marquesas Islands
Despite the infamous case of one unlucky German tourist murdered while on a hunting trip in Nuku Hiva, you can trust that islanders will take excellent care of you. If in doubt, go with Alvane! Totally resembling Hugo Chavez, Alvane simply loves taking adventurous tourists to his family's valley (that's right), way out in the northern part of the island not too far from the airport.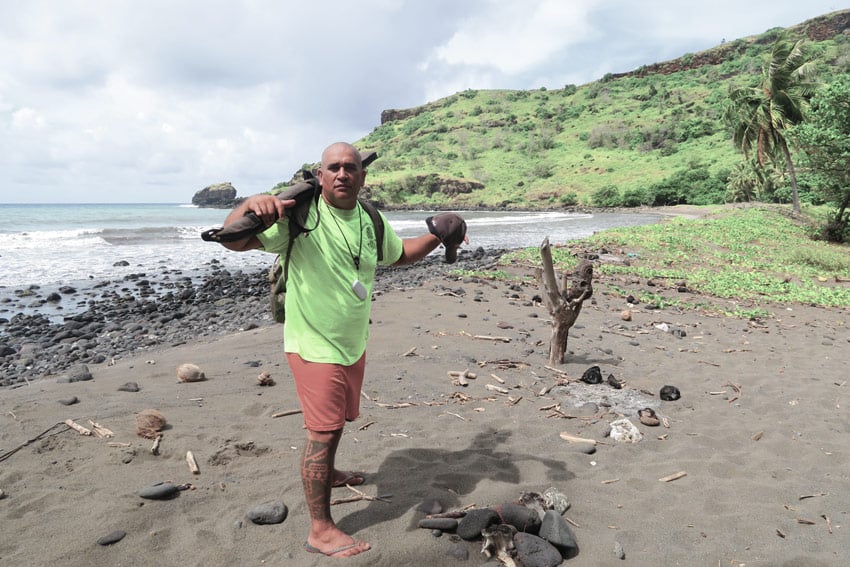 Hunting is a way of life in the Marquesas, and the animals killed will feed family and guests for months. The most interesting (and difficult) catch is the goat, which we were on the hunt for. After having some goat in coconut milk for dinner at the pension, I could totally see why hunters spend sometimes a full week in the middle of nowhere in search of one or two catches.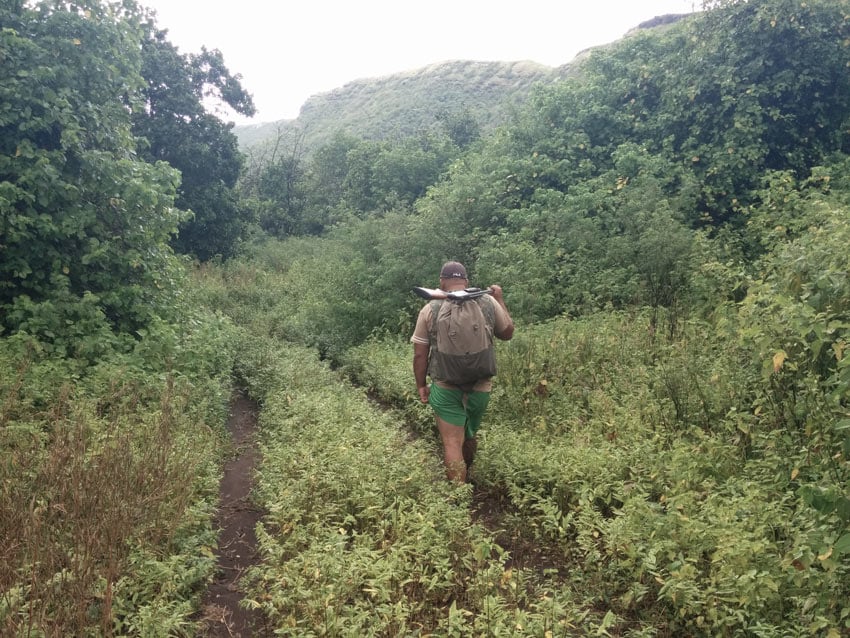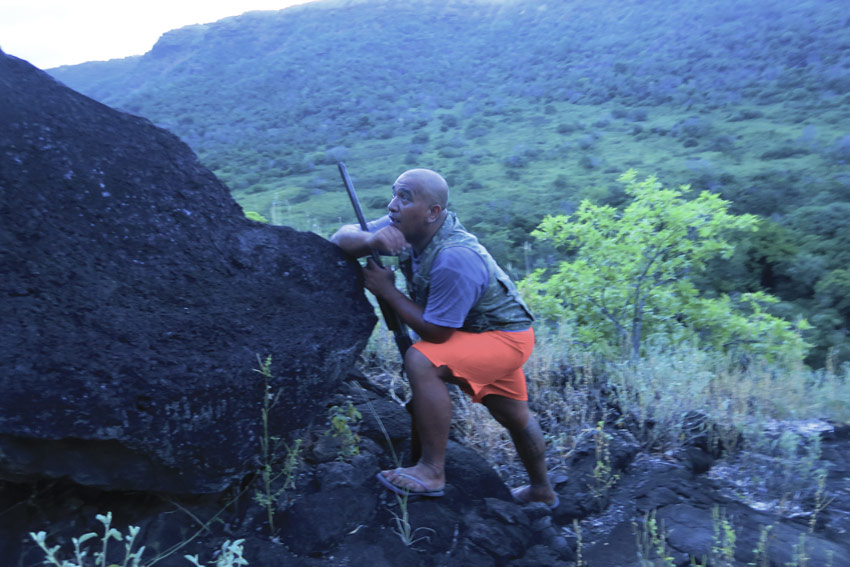 Alvane and I actually went on a memorable overnight hunting trip, spending the night in a rustic shack by the beach. You can read more about it in this post I published from Nuku Hiva, but feel free to just go for the day.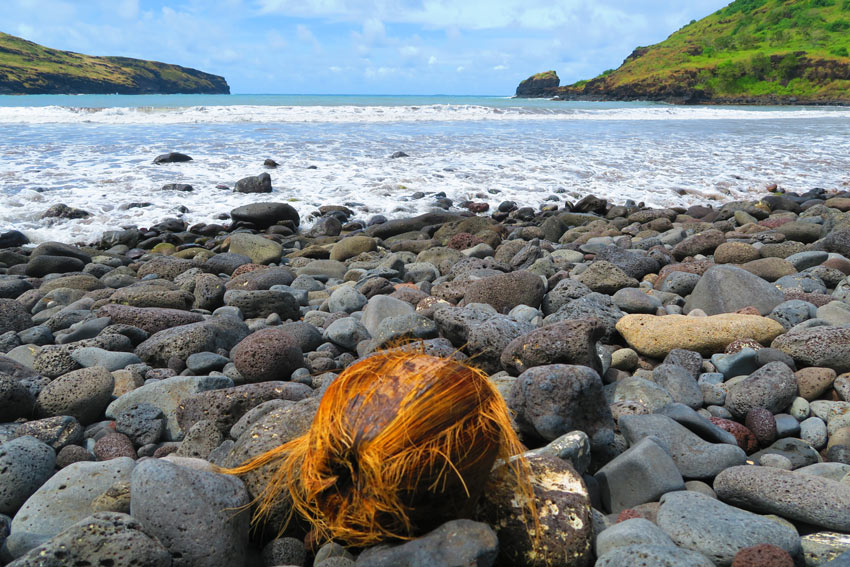 Logistics: hunting isn't for everybody and you really need to like the outdoors to enjoy this (and have no issues with killing animals, of course). Your host will tell you what to bring, but nonetheless, I strongly suggest bringing: waterproof hiking shoes, long pants, light rain gear and plenty of strong mosquito repellent.
What's Next?
This sample 4 days in Nuku Hiva itinerary is action-packed, but honestly – Nuku Hiva seems to tap into those extra energy reserves we all have. For more information about the Marquesas Islands and French Polynesia, check out these travel guides. For an extended visit to the Marquesas Islands, check out this 12-day itinerary.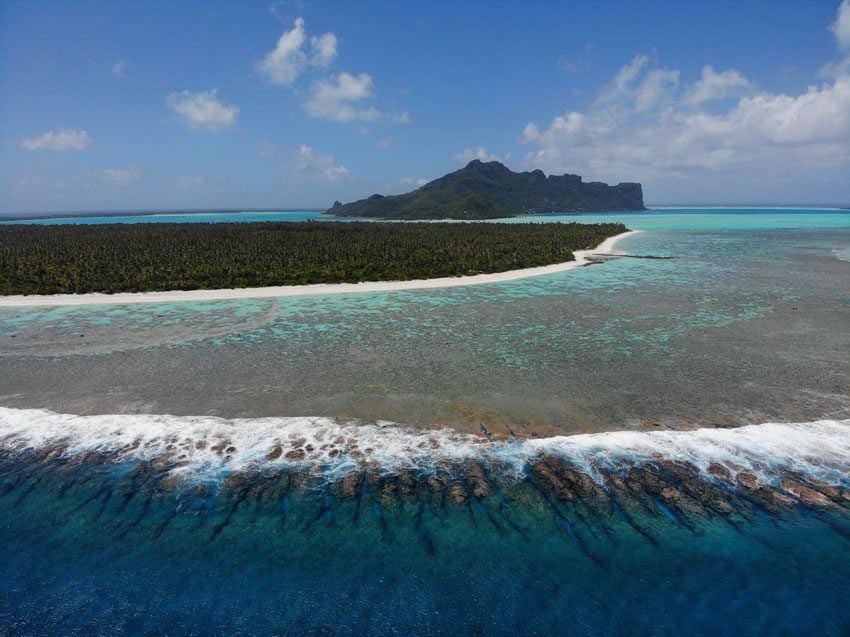 Tahiti, Tailor Made!
The Islands of Tahiti are among the last places to be colonized by mankind, 118 islands, each with their unique personality.
Get expert advice and assistance with planning your trip to the destination where tropical dreams come true!
See Options