Top 10 Tropical Beaches In The South Pacific
Appearing like grains of sand on a world map, the islands of the South Pacific are the purest definition of paradise. In 2015, I made my first trip to the South Seas and have since returned several times to revisit my favorite spots in discover new islands. After much contemplation and with quite a few dreamy looking beaches that didn't make the cut, here is my list of the top 10 tropical beaches in the South Pacific.
Thinking of heading off to the islands but don't know where to start? Here's a guide on how to island-hop in the South Pacific, including essential information, estimated costs, what to expect, and lots more!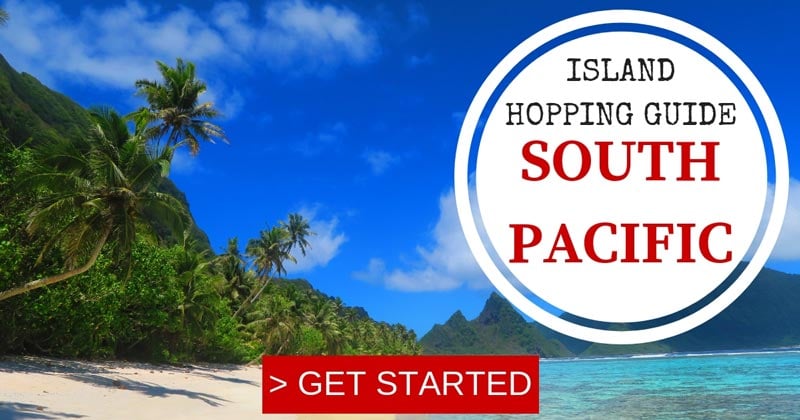 10. Champagne Beach – Espiritu Santo
Even after visiting Vanuatu's most famous beach, I haven't figured out how Champagne Beach got its name. After hours of gazing out towards the blue waters with nothing but powdery white sand between my toes, I came up with a possible theory: touching down on Champagne Beach on the island of Espiritu Santo feels like opening that expensive bottle of champagne you might be saving for a special occasion. After visiting this beach, a well-deserved toast is certainly to be made.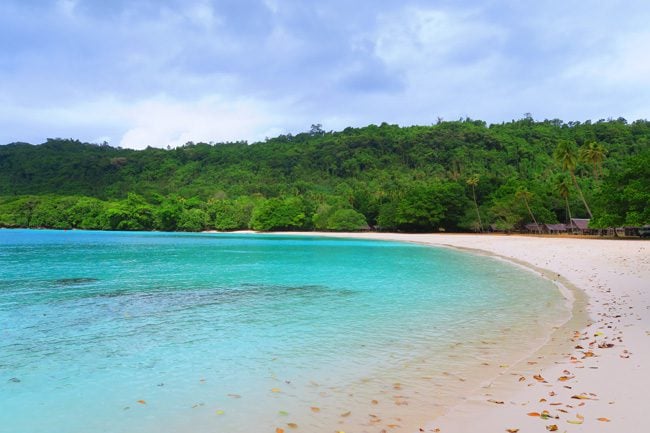 9. Anaho Beach – Nuku Hiva
In the distant Marquesas Islands of French Polynesia, Nuku Hiva is an island of many wonders. In fact, it reminded me so much of Jurassic Park, that I was on the constant lookout for dinosaurs. After an arduous hike up to a mountain pass, you catch your first glimpse of Anaho Bay, a magical crescent that seems to be detached from the rest of the world. Should you stay up here and enjoy the views or head down to the beach? That's a tough call. Once you make it down to the soft sand, a family of copra farmers living completely off the grid greets you with a huge Polynesian smile. Who needs WiFi or a Walmart when you have this as your front yard?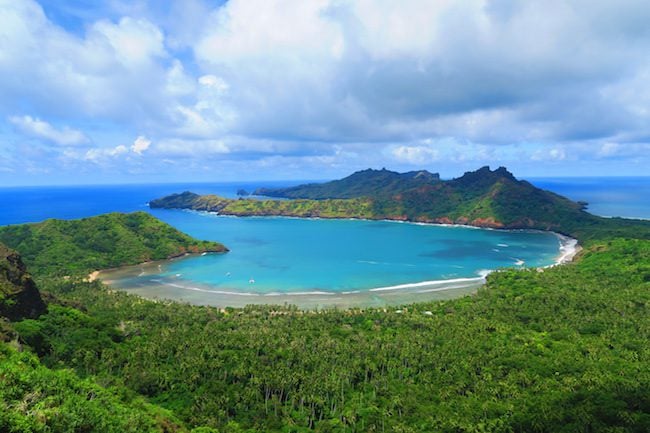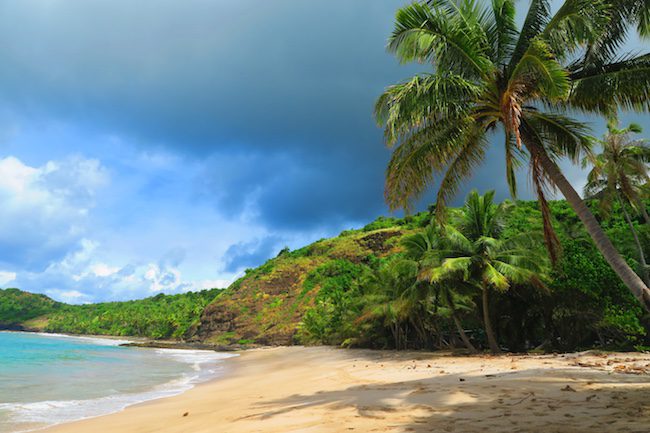 8. Matira Beach – Bora Bora
The fact that Bora Bora only comes in at #8 shows you just how stiff the competition is over the title of best South Pacific beach. On the romantic island that is on every couple's 'bucket list', Matira Beach gently curves around a quiet bay that seems to keep out the stresses of life. Surprisingly, there is little trouble finding a few square meters of shade just for yourself in this little paradise. Maybe that's because everybody's too busy in their outrageously expensive overwater bungalows…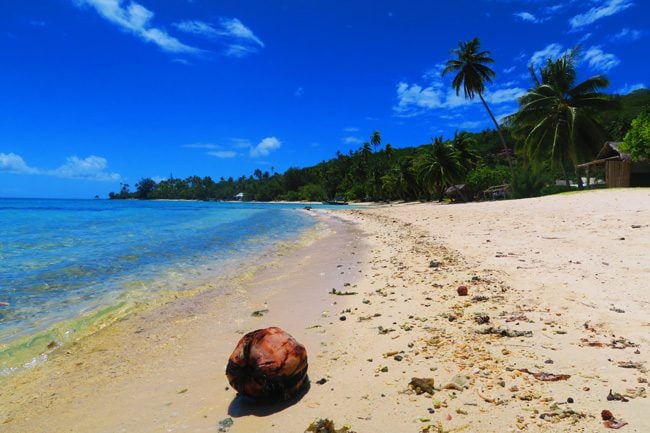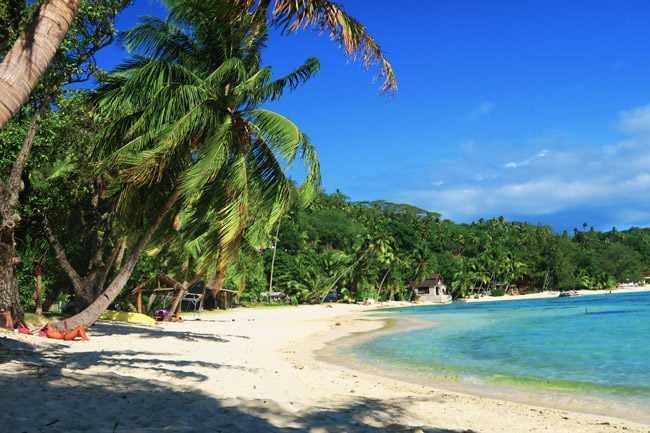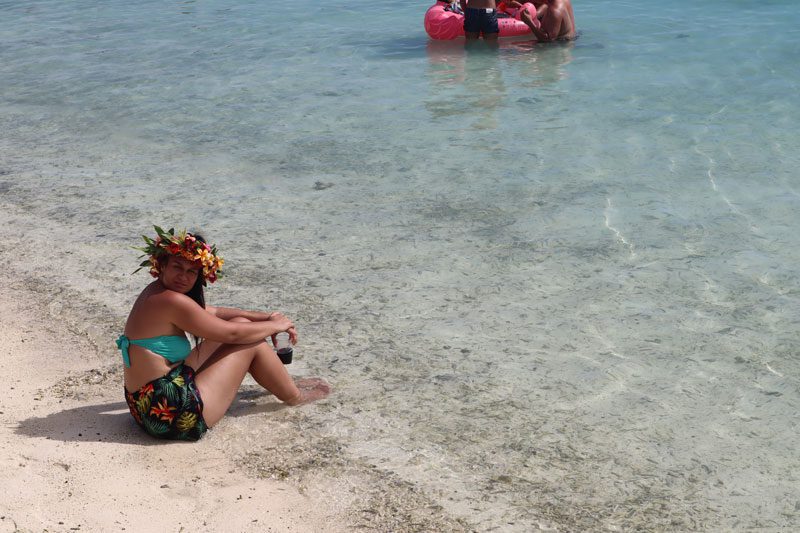 7. Titikaveka Beach – Rarotonga
On the quiet south coast of the busiest of the Cook Islands, Titikaveka Beach is that stereotypical tropical beach. The palm trees demonstrate incredible flexibility as they bend in all directions like an Olympic gymnast, the sand is absolutely golden and the shallow aqua blue lagoon of Rarotonga glows in the tropical sun. Though it's Muri Beach further to the north that draws the crowds, Titikaveka no doubt takes the top prize.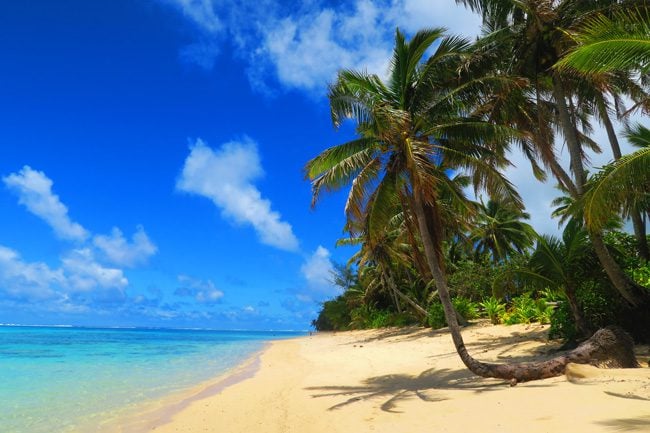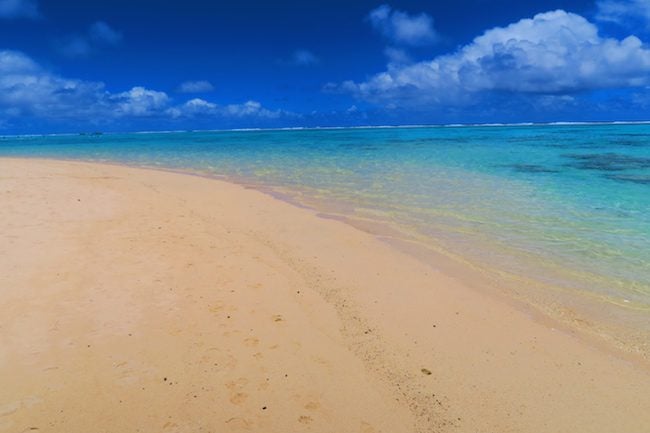 6. Pink Sand Beaches – Tikehau
Tikehau is a small atoll in the Tuamotu archipelago of French Polynesia. Made famous by French explorer Jacques Cousteau, Tikehau is now a popular scuba diving destination though it is still well off the tourist radar. Apart from its rich marine life, Tikehau is known for its miles and miles of pink sand beaches. Visitors can join a lagoon tour and venture to these breathtaking beaches for an unforgettable day in paradise.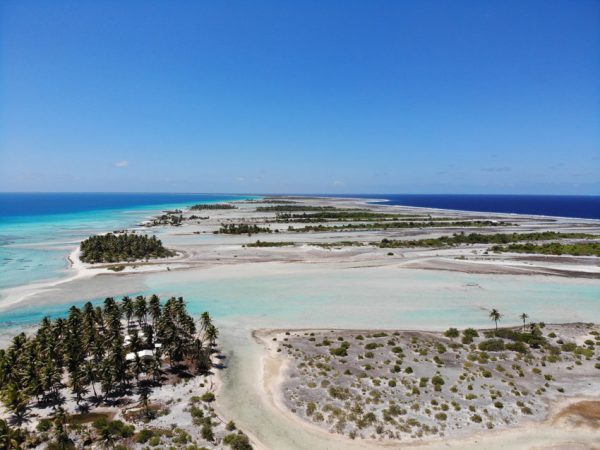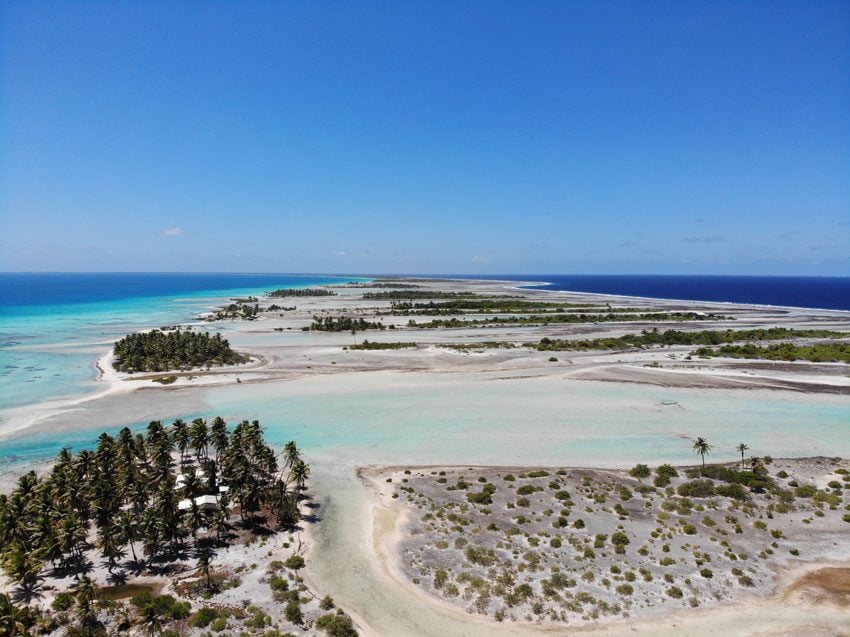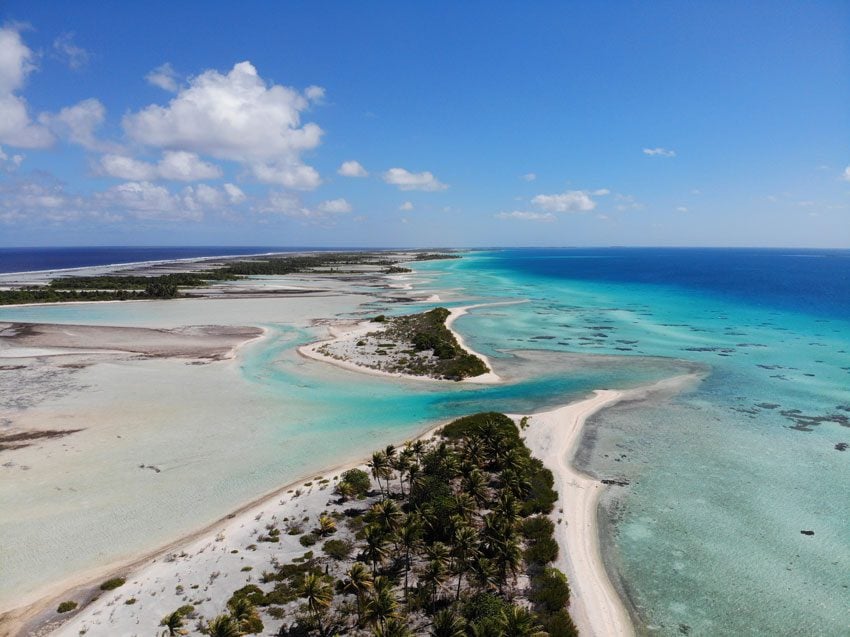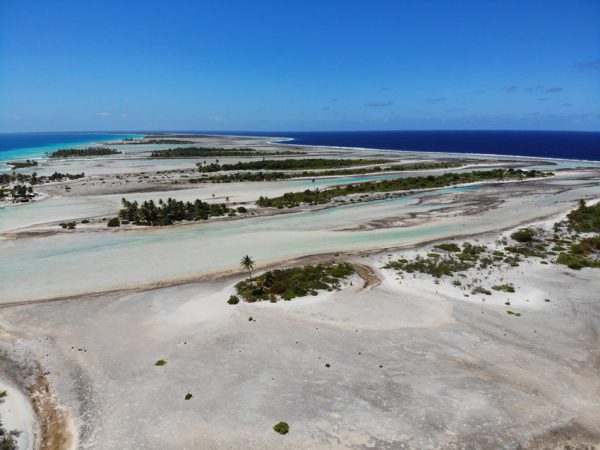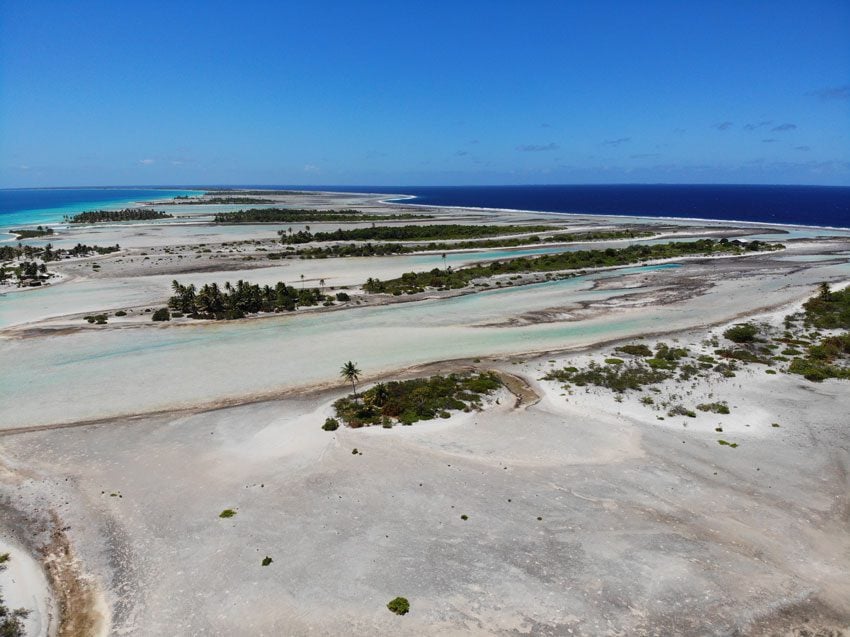 5. Motu Auira – Maupiti
French Polynesia's hidden gem, Maupiti is a dream island that's small enough to be explored on foot. In fact, you can walk across its shallow lagoon to Motu Auira – an islet at the very edge of the lagoon. On the way, harmless reef sharks and stingrays will lead the way to paradise, and if you see Bora Bora's silhouette in the far distance, you know you took the right turn. The islet's reef side is where the magic happens: crystal clear waters, the brightest of sand… and absolutely nobody around!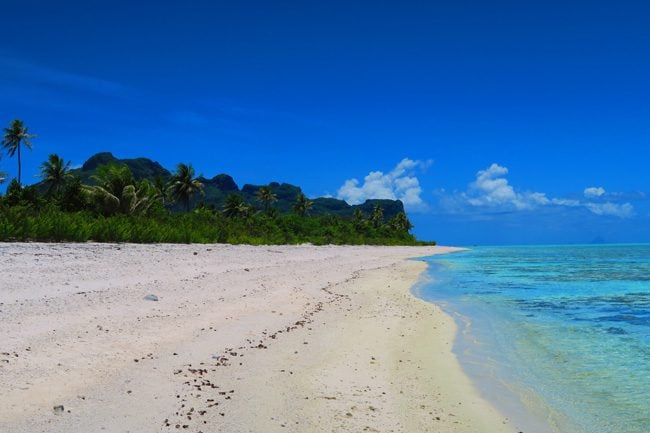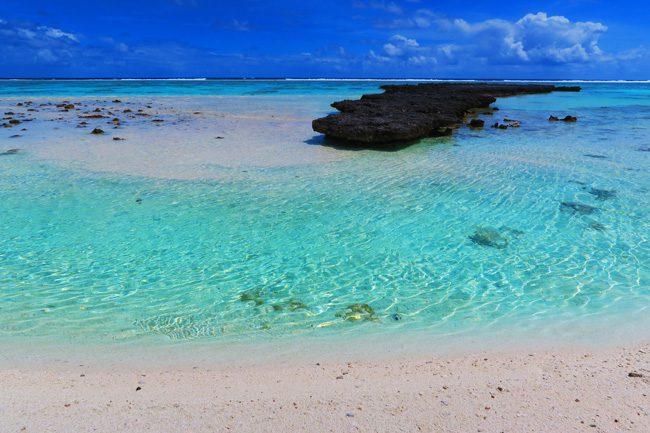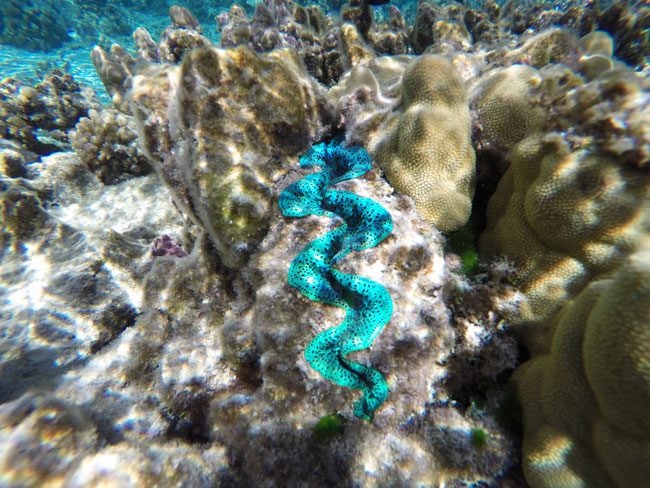 4. Lalomanu Beach – Upolu Island
The most famous beach in Samoa is one that you'll never want to leave. During the day, swim in the clear waters and gaze for hours at the perfect scenery from the comfort of your fale (traditional Samoan wooden beach hut)… you might even spot sea turtles cruising up and down the coastline. At night, count millions of stars and gently ease into your sweet dreams to the orchestra of crashing waves. Sounds like the perfect tropical getaway, ah?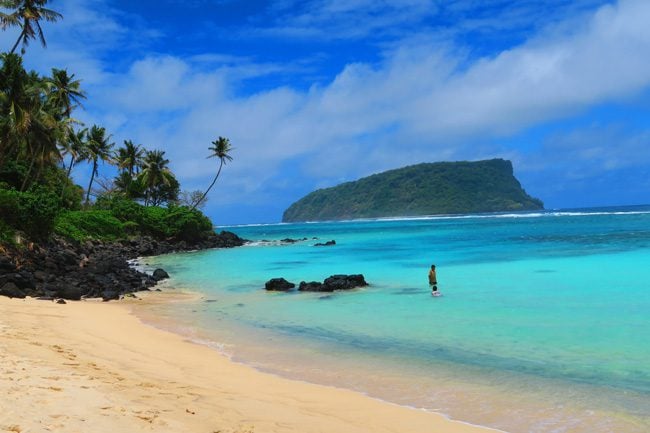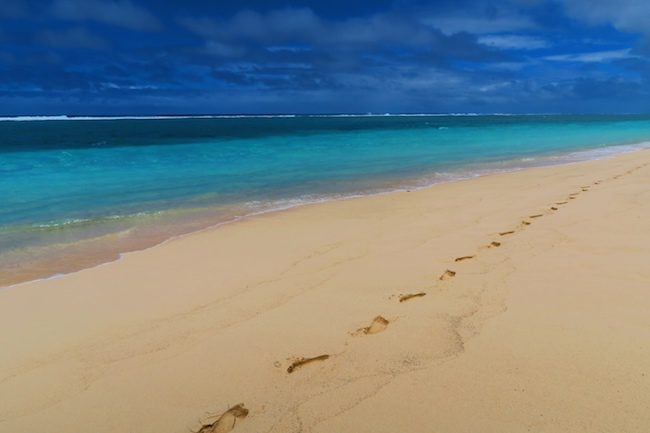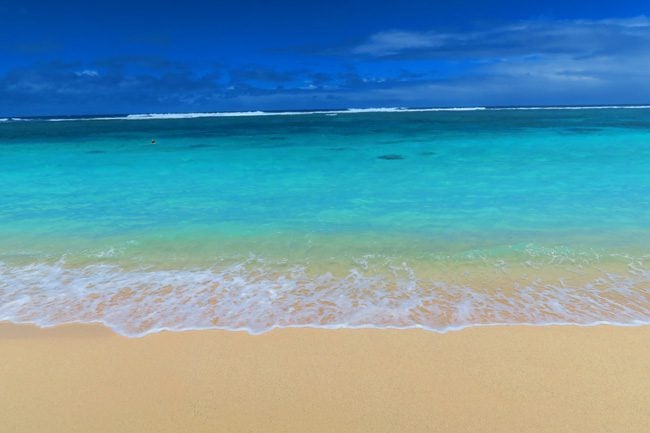 3. PK9 Beach – Fakarava Atoll
While most visitors head to the Fakarava Atoll of French Polynesia to scuba dive with massive walls of sharks, the perfect beach is waiting for those willing to cycle 9 km's out of town. Your heart beats rapidly as you clear the final row of trees and touch down on the soft white sand. Can this be real? This beach is an absolute stunner! The tropical palm trees bend like desert camels as if inviting you to hop on, the water is so clear, and the stress level – oh that doesn't exist out here. Heck, you might even spot Robinson Crusoe fishing off the coast. Just don't forget to bring a mask and snorkel!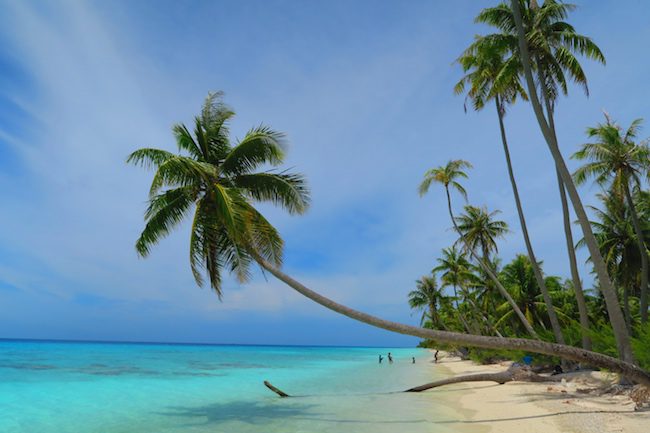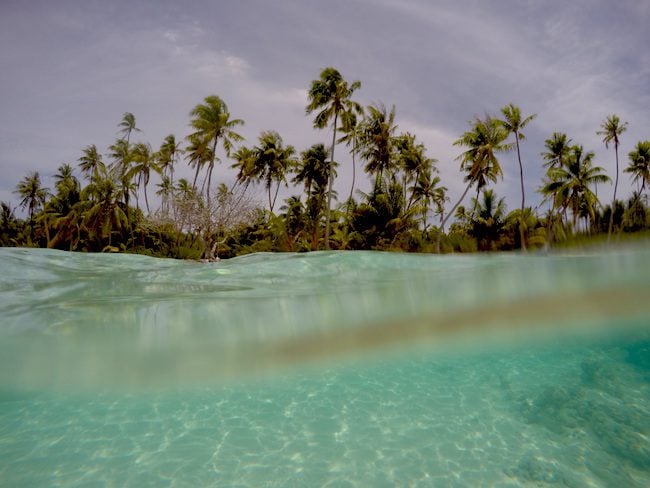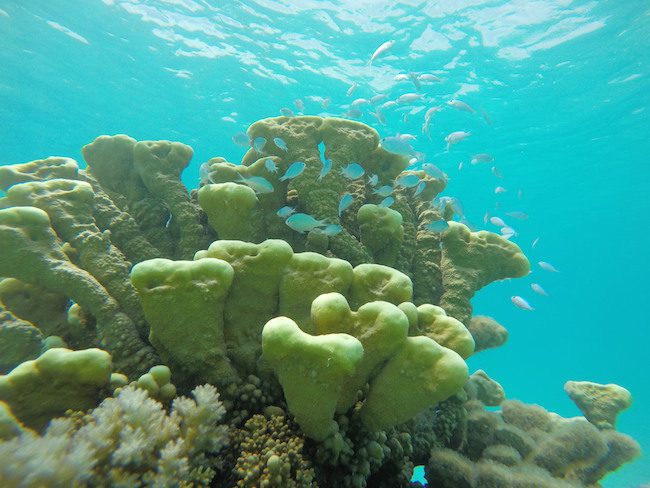 2. One Foot Island – Aitutaki
In a vast ocean scattered with infinite tropical lagoons, the Aitutaki Lagoon in the Cook Islands is perhaps the finest. Reached by boat from the main island, the approach to One Foot Island, helplessly leaves you lost for words… or at least scrambling to find your sunglasses. Floating sand bars rise out of the lagoon's aqua blue waters, covered in intense white sand that's further amplified by the rays of the tropical sun. As you touch down on its shores, you finally understand how it got its name: once you set one foot on the island, you won't want to leave!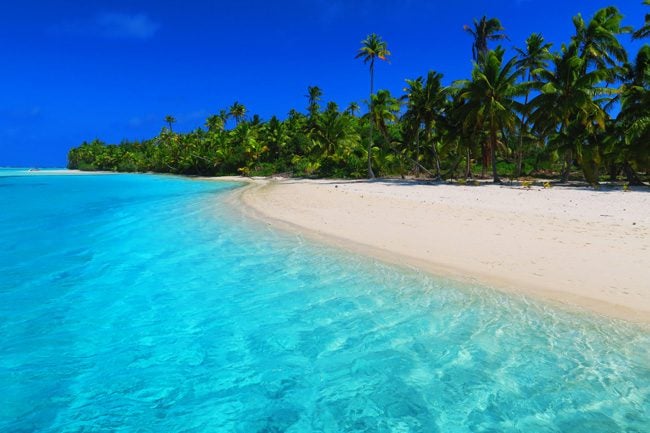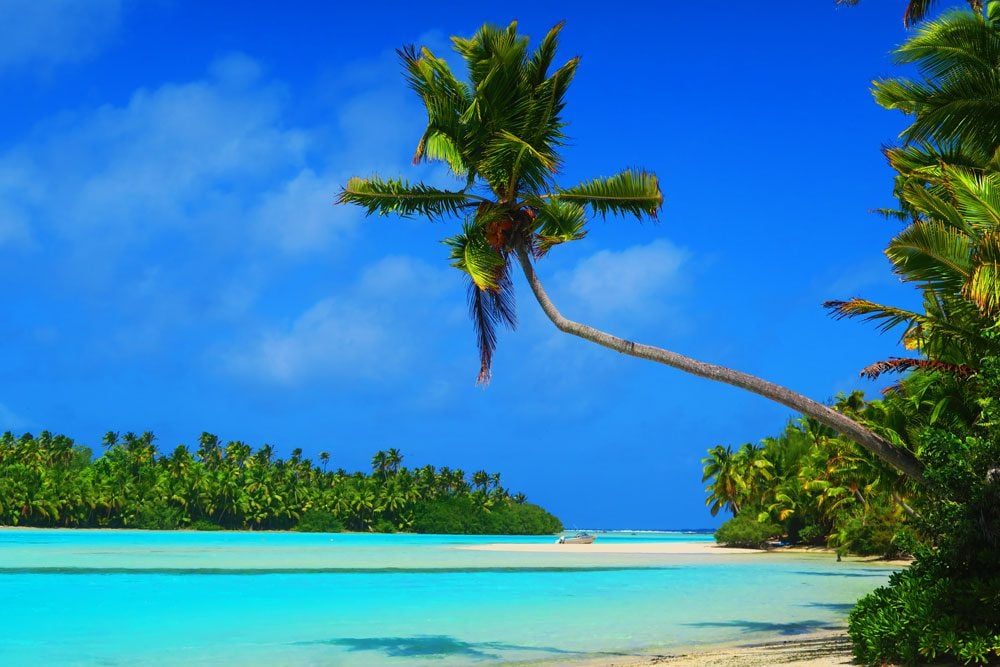 1. Ofu Beach – American Samoa
An overused travel cliché says that the most beautiful places on earth are often the hardest to reach. The stubborn few who manage to make it to Ofu are rewarded with what simply has to be 'that perfect beach'. It's one of nature's finest pieces of work, a beach worthy of an Oscar – if only the Academy was aware of its existence.
Rising like shark fins out of the water, the surrounding lush peaks provide the perfect backdrop for the palm-fringed beach. Diligently labored by parrotfish over the course of tens of thousands of years for us to enjoy (did you know?), its soft white sand melts between your toes as you parade like a kid in a candy store from one end of the beach to the other. Too bad (or luckily), there's nobody around to share all this excitement with. Here's what it looks and sounds like on Ofu Beach.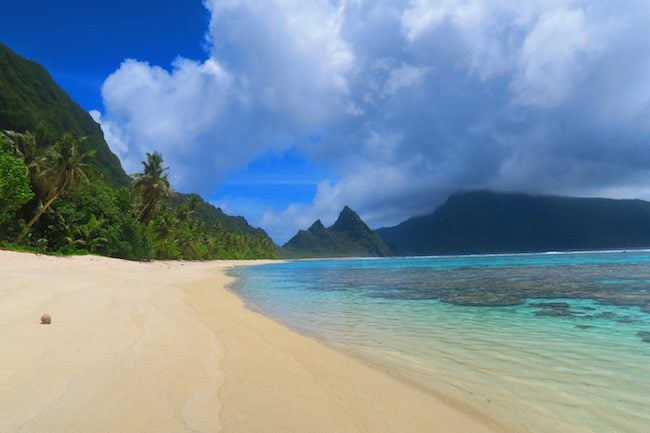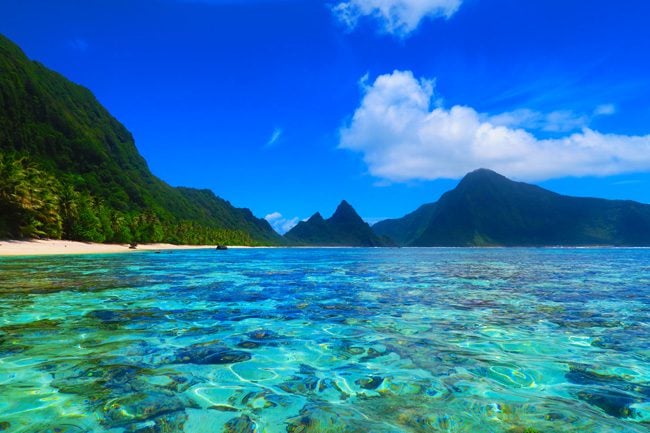 The magic only begins as you head underwater to explore one of the most pristine coral reefs in the South Pacific. In fact, Ofu's reef is in such great shape, that marine biologists from around the world come to study its resistance to bleaching. As for marine life: turtles, sharks, and tropical fish in all colors and shapes – are simply part of the norm.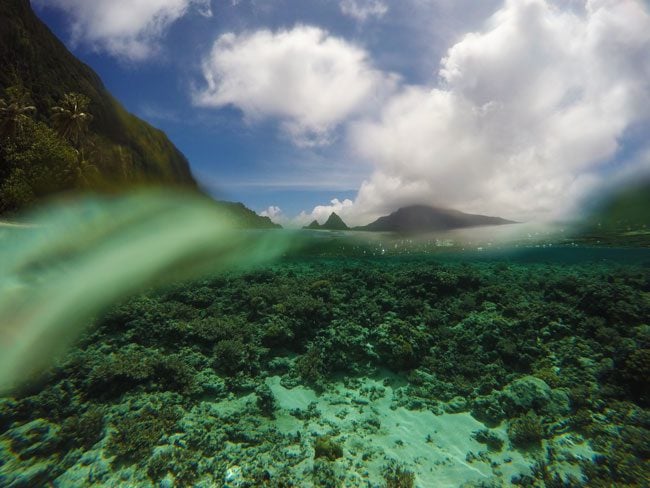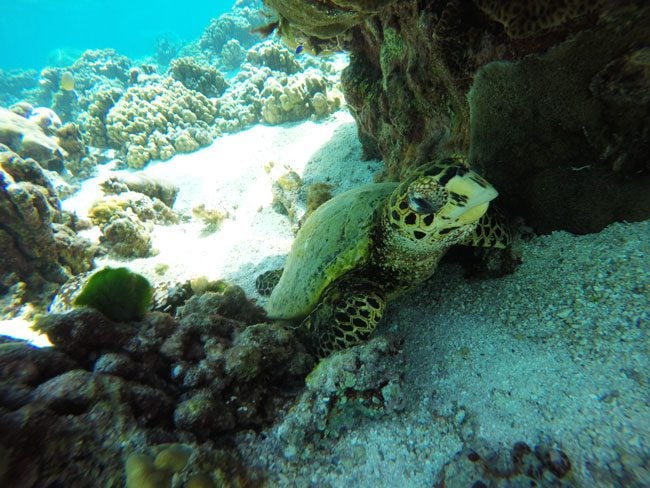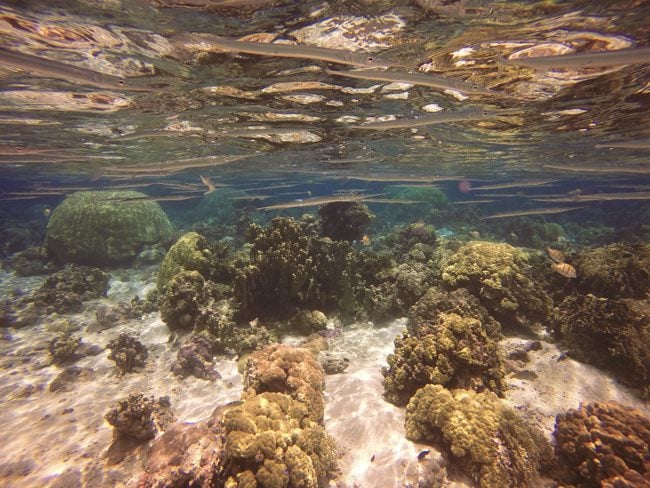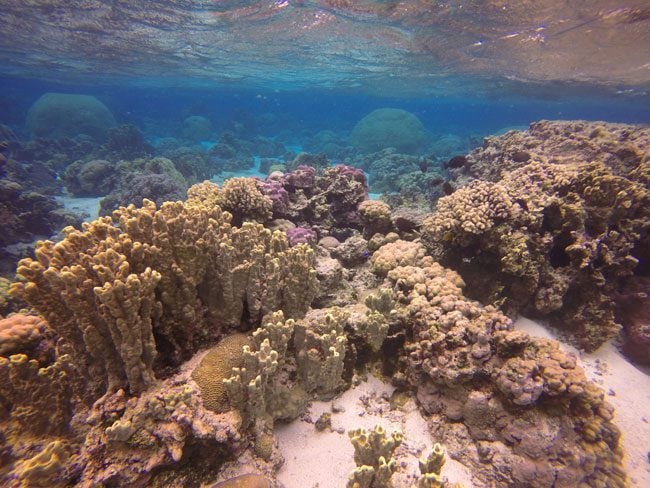 What Do You Think?
So after getting a glimpse of the top 10 tropical beaches in the South Pacific, are you ready to pack your bags and head to paradise?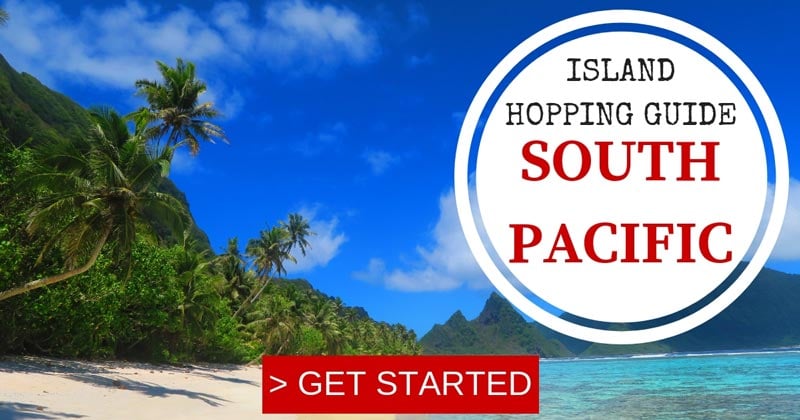 ---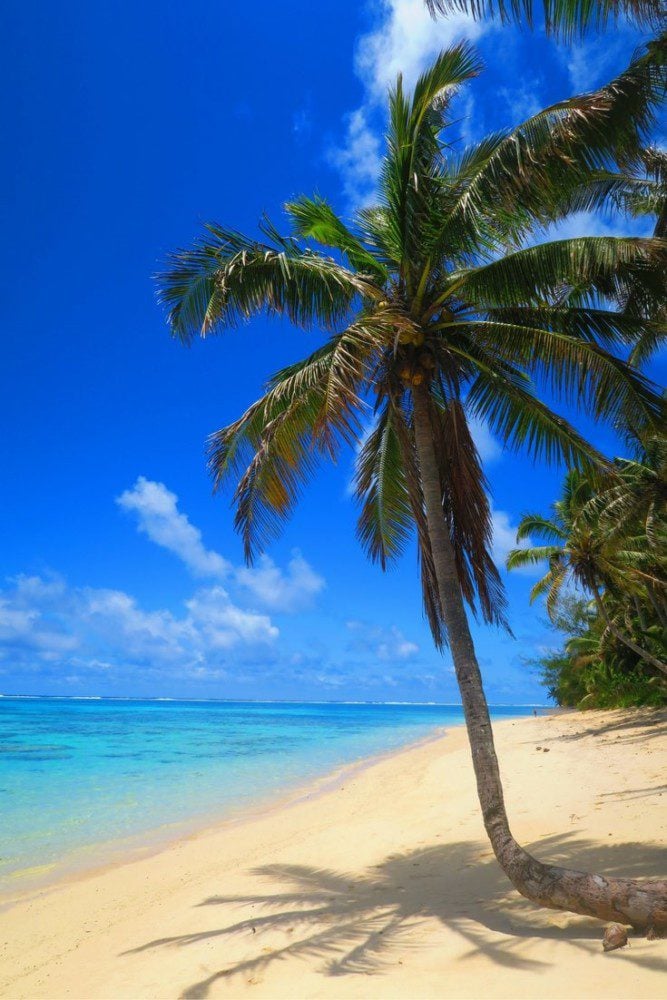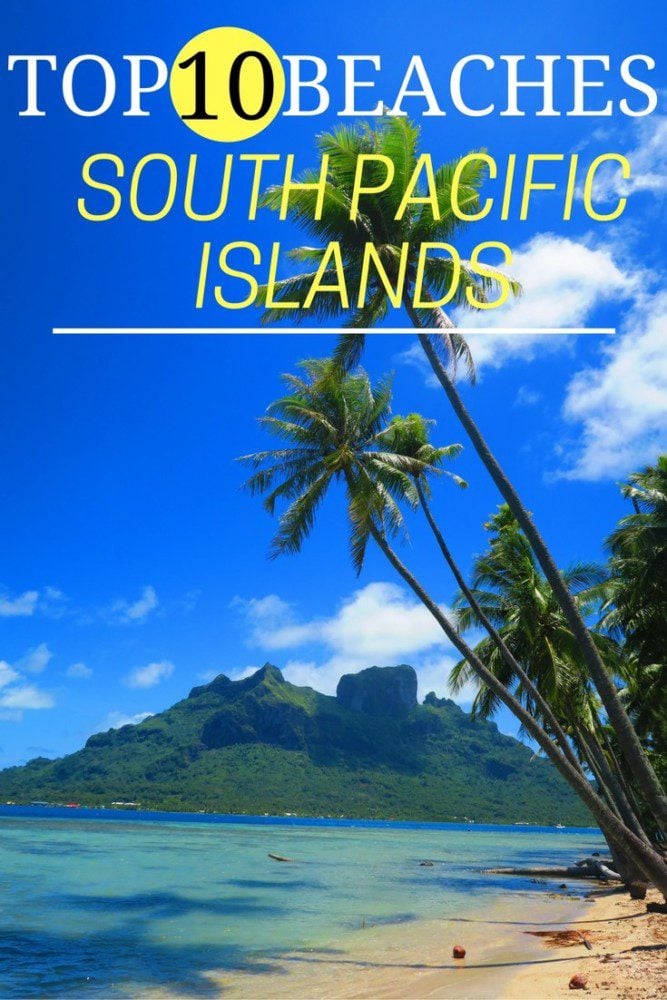 Pin These Images To Your Favorite Boards!