Day 2: Campo de Fiori and Trastevere
The first full day of our five days in Rome is an absolute delight for those who appreciate exploring a city on foot. We'll begin the day in Rome's colorful outdoor market before crossing the river to the romantic Trastevere district. We'll then head back via the former Jewish Ghetto to complete the circle.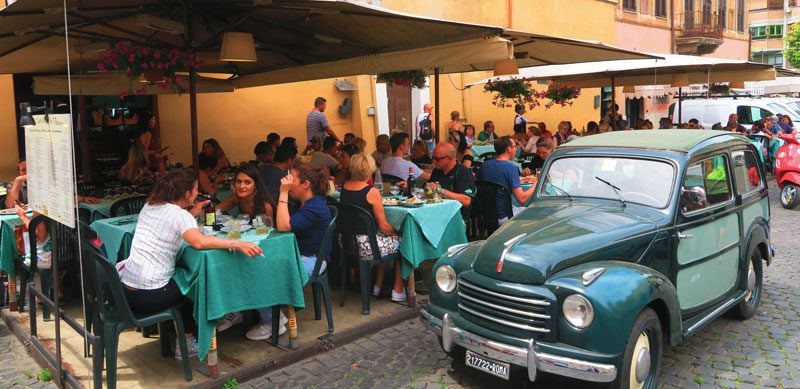 San Lorenzo in Damaso
San Lorenzo in Damaso was a quick stop before reaching the market. It is one of the oldest churches in Rome, though it has undergone a number of major renovations over the centuries. In the main altar, you can see the painting of Saints and Coronation of St. Mary by Federico Zuccari and below the altar lay the relics of Pope St. Eutychian and Pope St. Damasus I. We found this cathedral to be a lot quieter than some of the more touristy religious stops, but it is by no means a must-visit.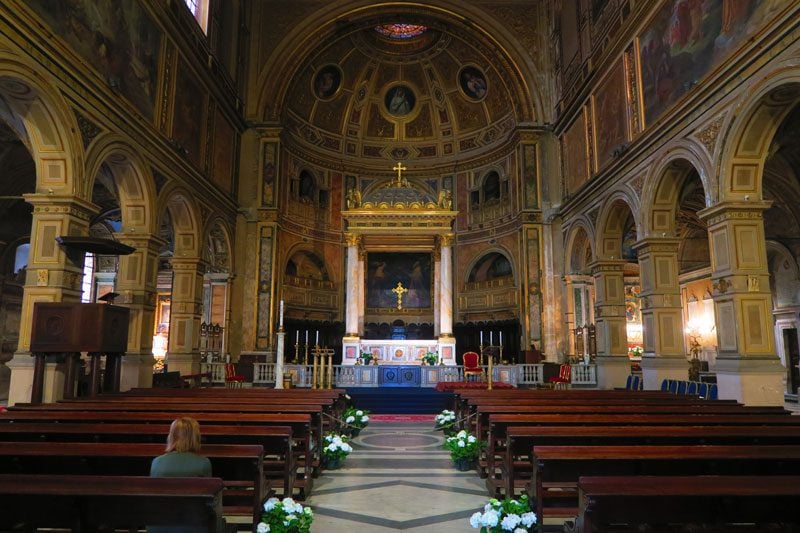 Campo de Fiori Market
Translating to "field of flowers", Rome's most colorful market is set on the grounds of a large square. The market is open every day but Sunday until around 1 pm so it's best to come here early in the morning. Cafes lining its perimeter invite you to grab a seat and have some breakfast, and just to be sure you don't miss the opportunity, prepare to be approached by waiters and their sales pitches. The statue at the center reminds visitors of the square's dark past as the site of public executions, including that of freethinker Giardino Bruno who seems to have pissed off the church in the 16th century.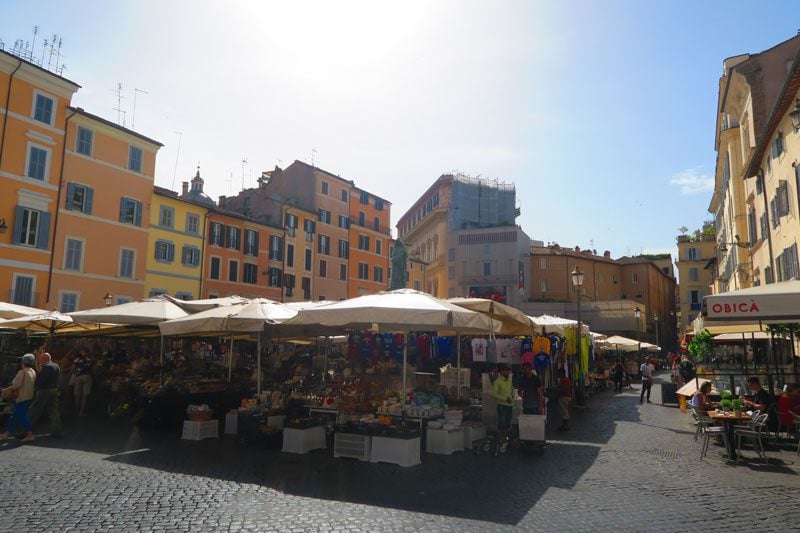 We first visited the market on a Saturday, which is considered the prime market day, but on the following mornings when we passed through, we didn't really notice much of a difference. The Campo de Fiori Market appeals mainly to tourists, though you will see some locals shopping for fruits and veggies here as well. Stalls mainly focus on local produce: fruits, vegetables, cheese, pasta and meat, but there are quite a few souvenir, clothing and kitchen-gadget stalls.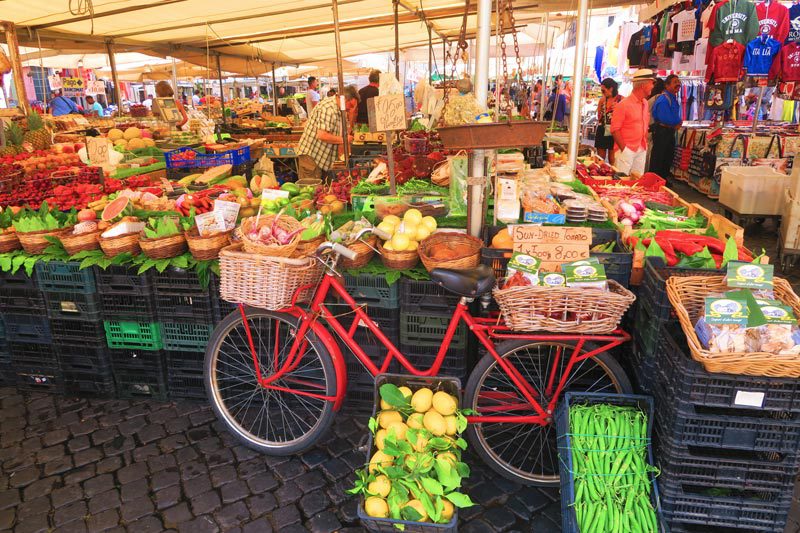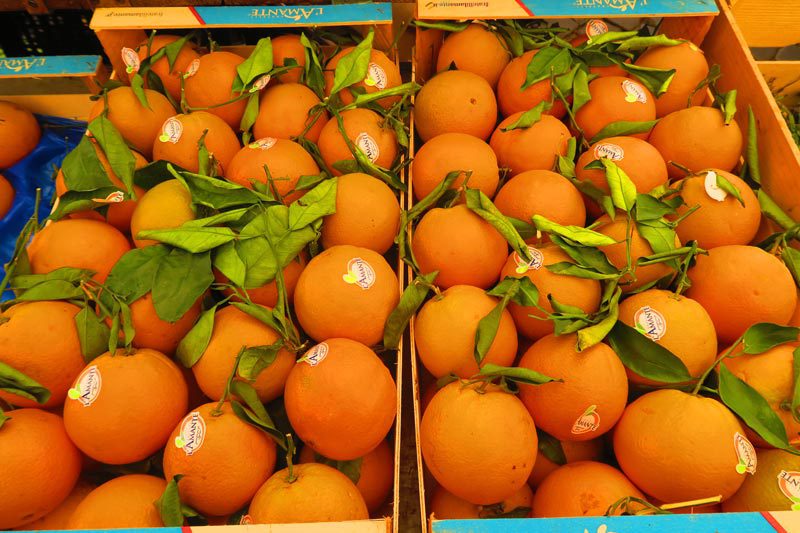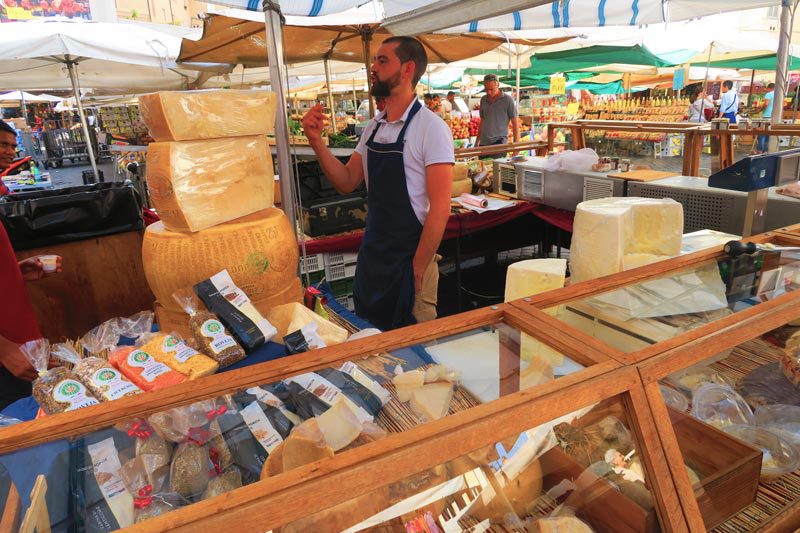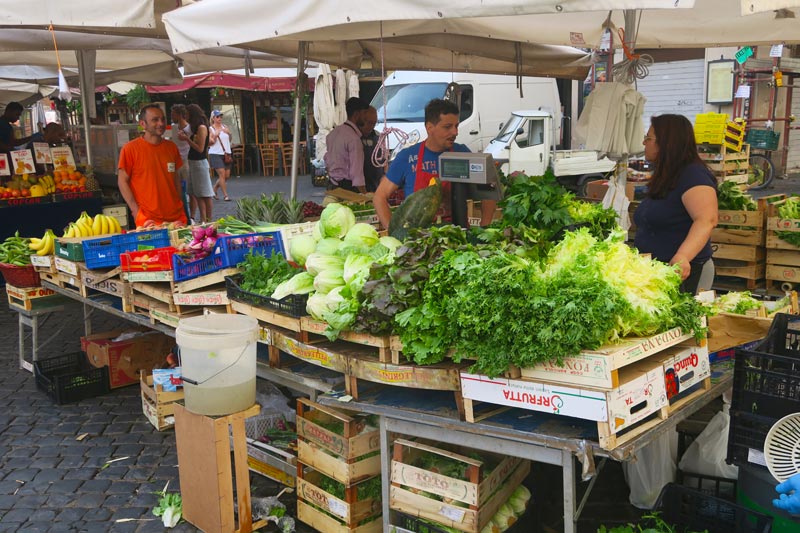 Personally, we did not purchase anything in the market itself but did take a liking to some interesting specialty shops along its perimeter and vicinity.
First on the list is Ancient Pizzicheria Ruggeri, an iconic deli that's been around since 1919. They have a great selection of cheeses, salads, and meats that can be blended to make sandwiches for a picnic lunch. They also have a decent selection of well-priced wines and liquors, though duty-free prices were comparable.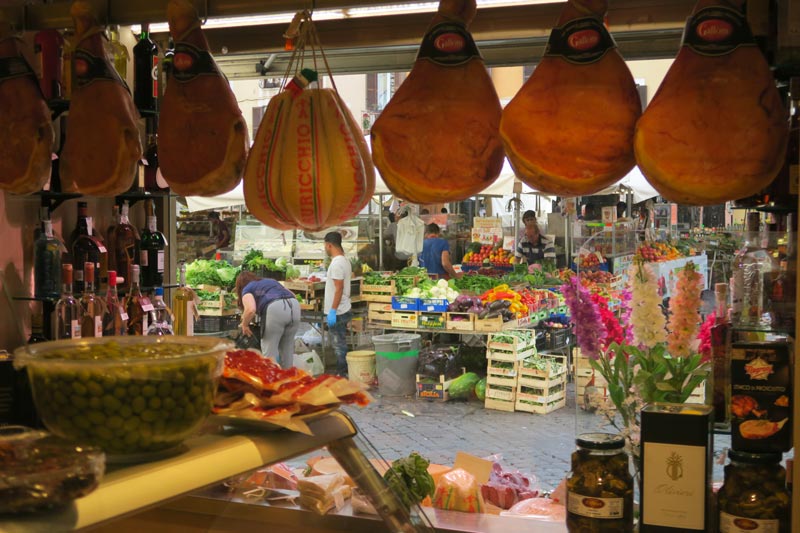 On the opposite end of the square, head to Norcineria Viola but not if you're a vegetarian as this shop has been specializing in cured meats since 1890! Additional optional stops include the legendary bakery of Forno Campo de Fiori, Bar Pascucci Frulatti for smoothies, Roscioli Salumeria Con Cucina for their deli and selection of wines (less for their restaurant), and Fatamorgana Chiavari for some of the best ice cream in Rome (and most "original" flavors).
At night, the Campo de Fiori comes to life and its restaurants are packed with dinner goers in search of that classic Roman meal. We did not dine here at night but did slice through en route to explore Trastevere by night.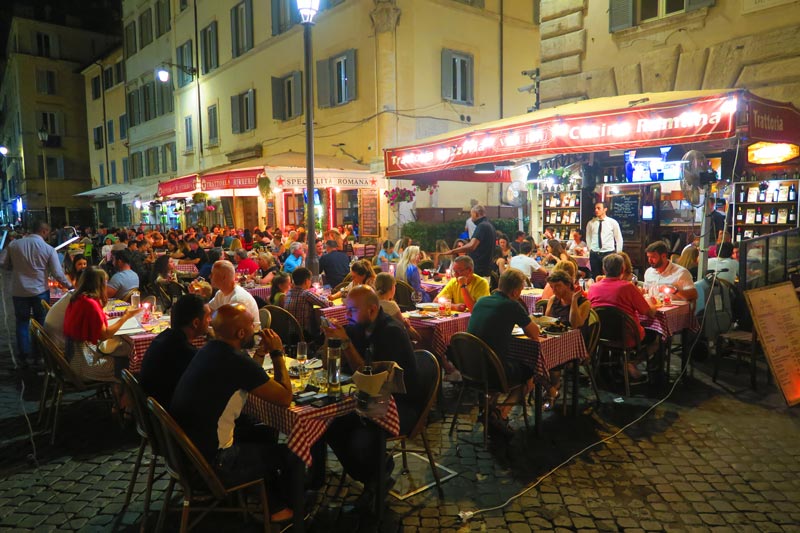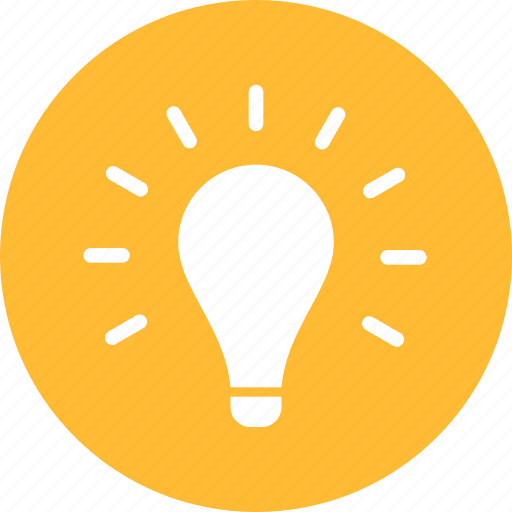 Pro Tip
For an additional market experience, head to Mercato Centrale Roma by Termini Station (open from 8 am to midnight).
Sant'andrea Della Valle
Completed in 1650, the church of Sant'andrea Della Valle is simply out of this world. Its dome is said to be the second-highest among Rome's cathedrals and its lavish Baroque interior is mindblowing. Especially impressive are the cathedral's frescoes which adorn its domes and ceiling. Such extreme attention was paid to every detail. Lining its walls and chapels are numerous exquisite religious paintings that are impressive even just for their sheer size. Be sure to visit in the morning hours as the church closes its doors for a long break before reopening at 4 pm.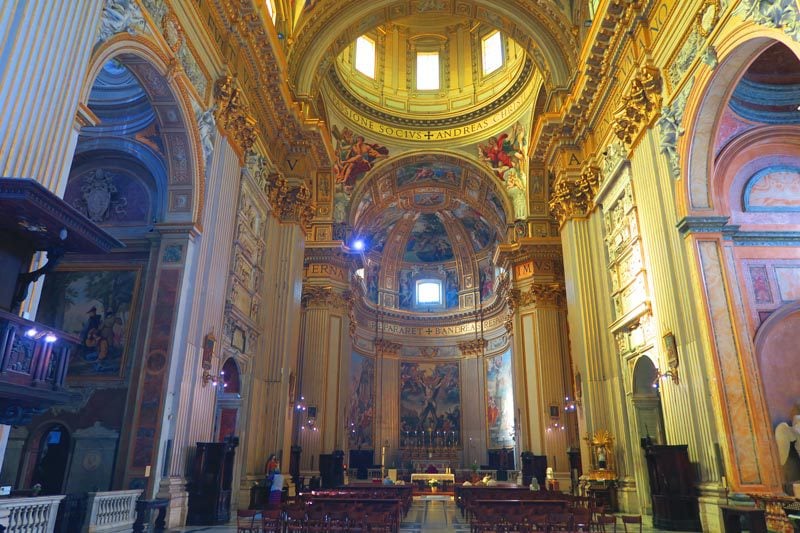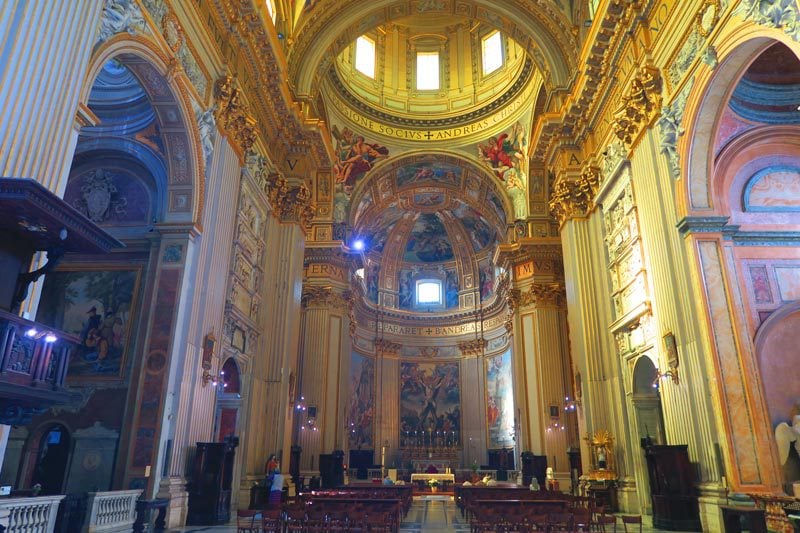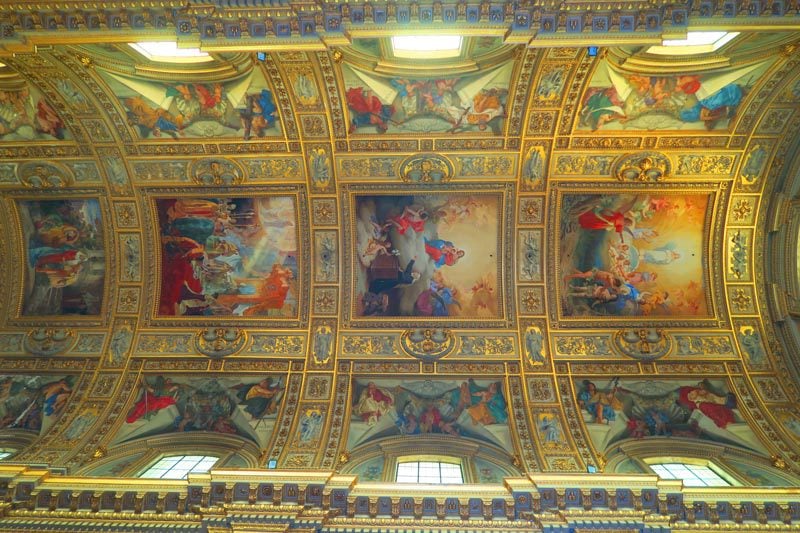 Largo di Torre Argentina
The ancient ruins at this large square are further proof of why Rome is such an amazing city to explore on foot. Walking from the market area to the banks of the river, we came across the remains of four temples dating back to the time of the Roman Republic (509 BC–27 BC). Nowadays, the fenced-off square is a cat sanctuary, home to hundreds of cats that are well tended to by the city and its residents. Near the square, the Rock Belt Store is a great little shop selling Italian-quality belts at great prices. We snatched a few belts for ourselves and for folks back home. Also nearby is the Turtle Fountain, a famous Renaissance fountain with bronze figures of young men, turtles and dolphins.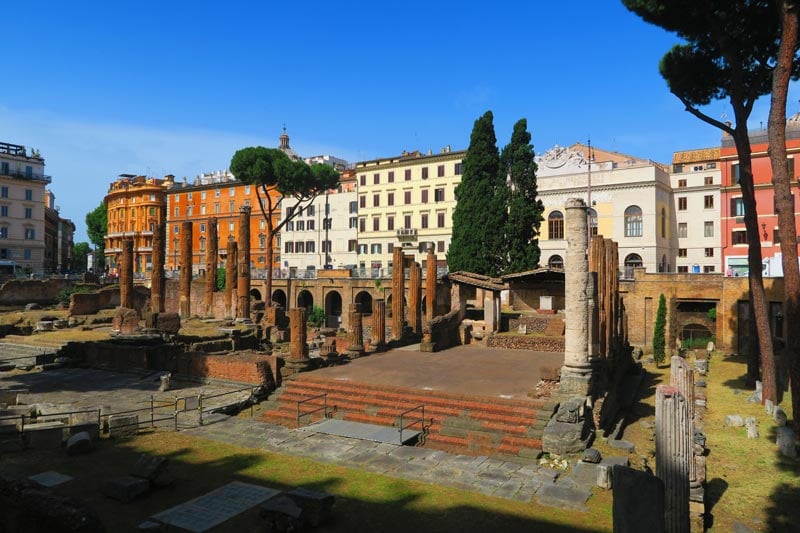 Chiesa del Gesù
This Jesuit church is the first of its kind in Rome and well worth a visit (both men and women must have their shoulders covered). As we've previously seen, Rome's best cathedrals are more like lavish museums of a past era. Inside the church, its interior is shining with gold, on its walls, its ceiling, and its altars. The frescoed ceiling is also quite incredible, especially when you take the time to make out the different scenes the artist meticulously painted over the span of years. I doubt something of this magnitude can be achieved, even by today's finest painters.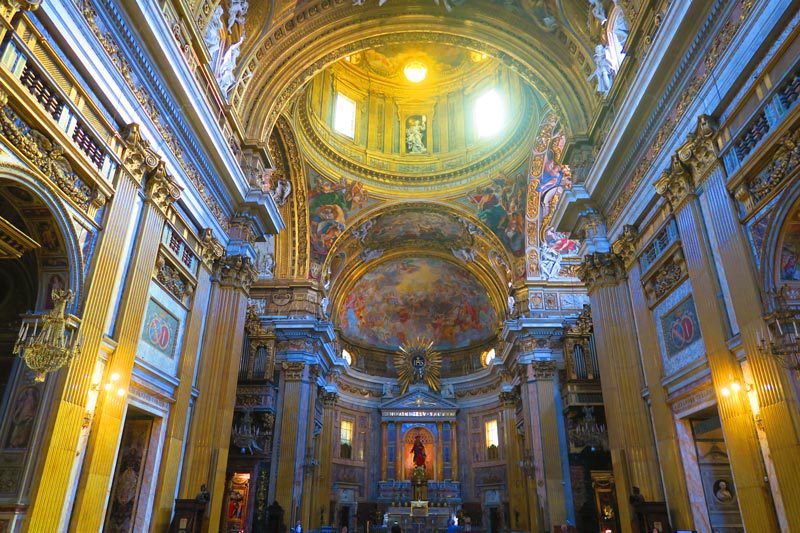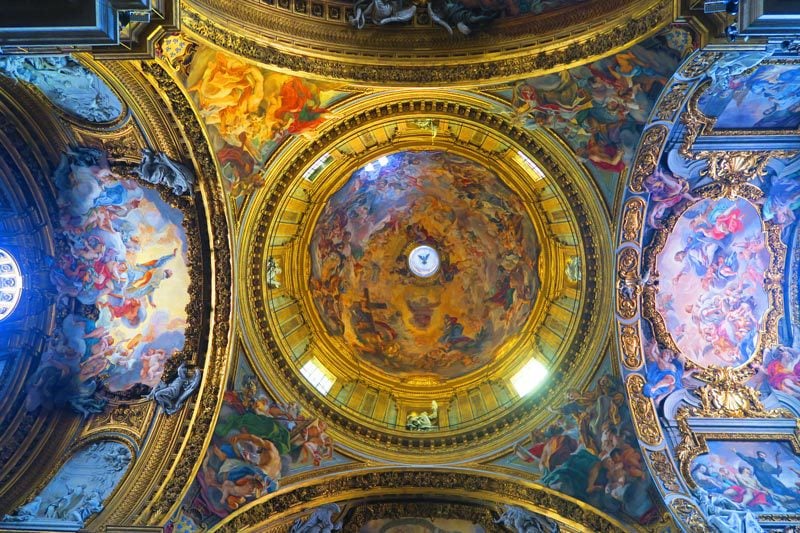 Crossing the Tiber River
We crossed the Tiber River to the Trastevere neighborhood over Ponte Sisto, a bridge built by Pope Sixtus IV in the late 15th century. It's one of the few options for getting across to the other bank and on the return leg, we'll use a different bridge to spice things up.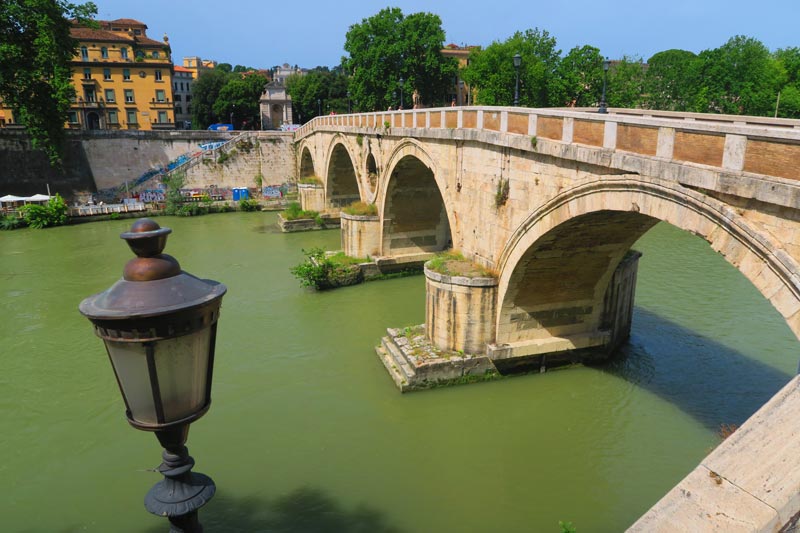 Trastevere
Welcome to one of Rome's most romantic areas, if not the most romantic of them all. Historically outside the city walls and a gathering spot for artists, Trastevere is nowadays a sought-after neighborhood. Its narrow cobblestone lanes are a quiet escape from the city center, converging in small piazzas where cathedrals and restaurants share the real estate. At night, the neighborhood really comes to life with street performers, overflowing bars and excellent cuisine.
Trastevere is the "classic" Rome you're looking for, not in terms of its place on the axis of time but rather for its culinary scene and the perfect blend of history and modern charm. In fact, Trastevere is where many scenes from the Woody Allen film To Rome With Love were filmed. I recommend paying a visit to Trastevere on your first full day in Rome since there's a great chance you'll want to return. We came back for dinner and for evening strolls over the following days.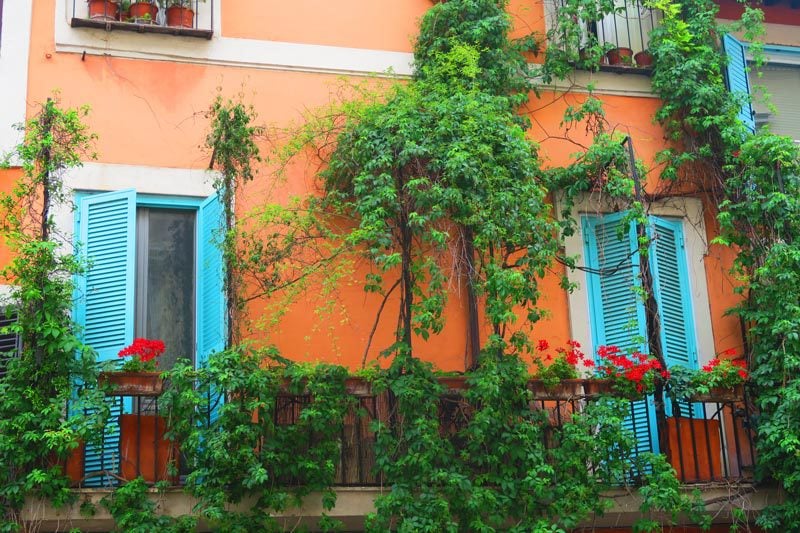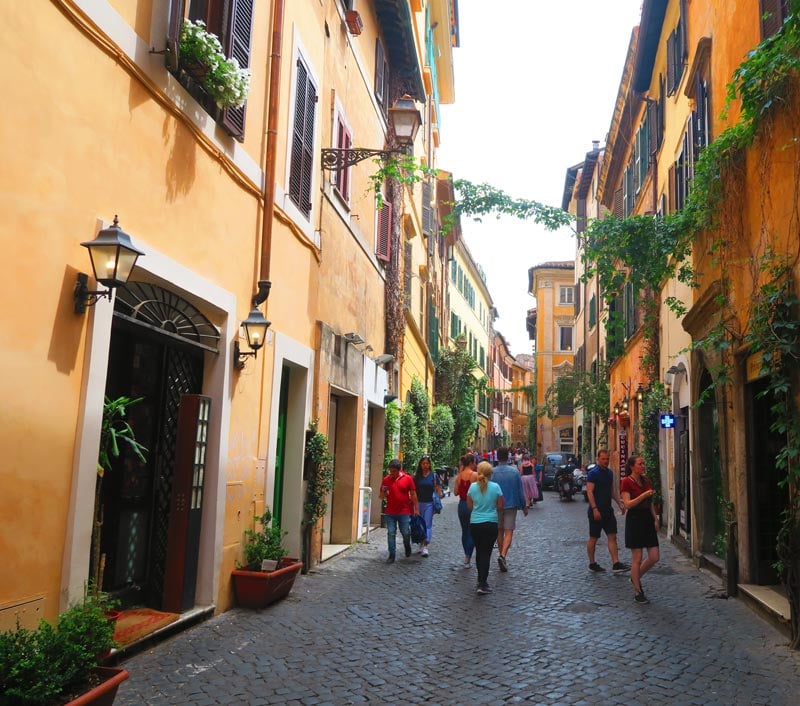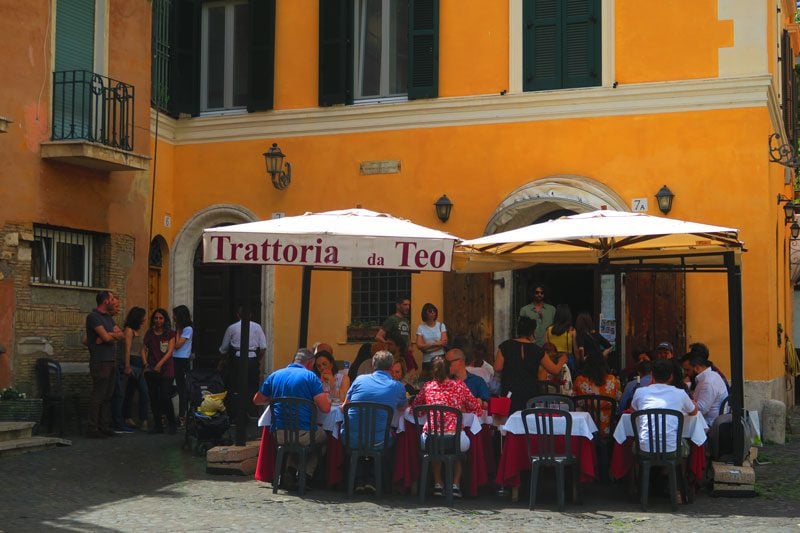 Villa Farnesina
Crossing beneath the Porta Settimana, our first real stop in Trastevere was at Villa Farnesina, a 16th-century mansion that's worth visiting if you like art but dislike crowds (10€, no pre-booking necessary). Built during the Renaissance by a wealthy banker from Siena, Villa Farnesina is famous for its frescoes painted by Raphael and other talented artists of the time. It only takes about one hour to 90 minutes to properly experience the mansion so I highly recommend it, especially on a rainy day in Rome.
The first major highlight in the villa is the Loggia of Galatea, a fresco painted by several artists including one Raffaello Sanzio da Urbino, better known as Raphael. Its most striking feature is that of a nymph riding a sea shell canoe drawn by dolphins.
In the second room is the Loggia of Cupid and Psyche and the Council of the Gods. This fresco was designed by Raphael but others had to complete the job as the maestro took on too many projects and was occupied elsewhere.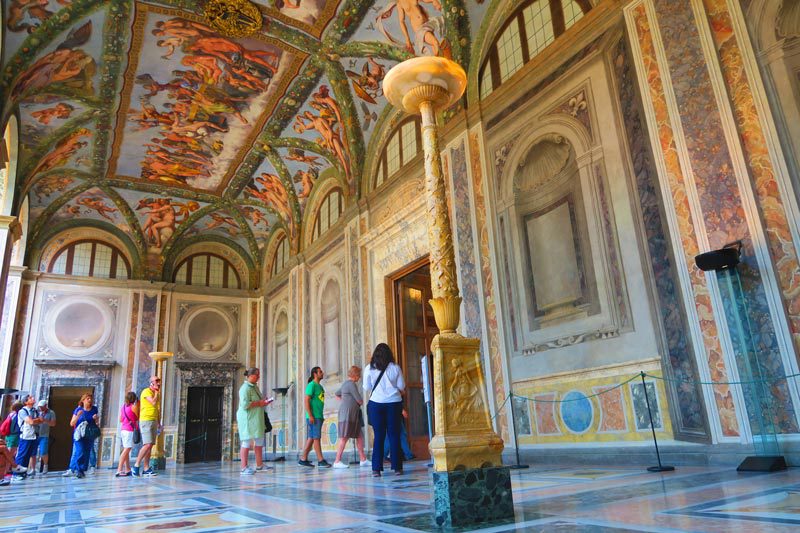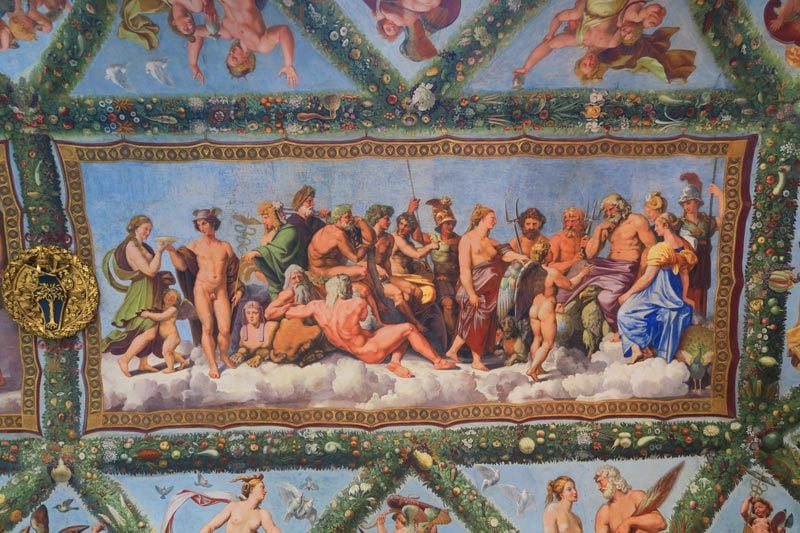 The next major highlight is the Room of the Frieze. In case you're wondering what a frieze is, it's a large horizontal painting, in this case wrapping around the top section of this room. An interesting feature is the columns, painted in such a way that gives them a sort of two-dimensional feel.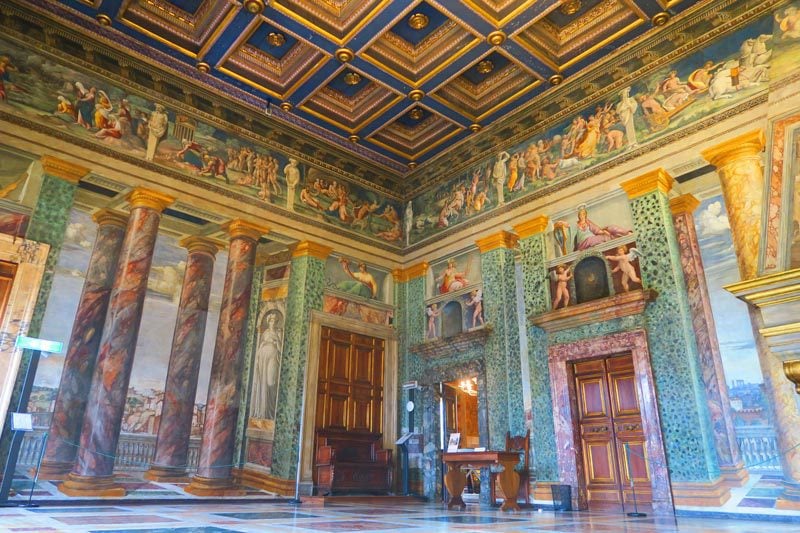 Janiculum Terrace
From the mansion, we paused for some coffee and headed fifteen minutes uphill via a series of steps to this lookout. The Janiculum Terrace is one of the best places in Rome for panoramic views. Even Roman couples have their pre-wedding photos shot here. From the terrace, you can see the monuments and domes of the historic center and the Vatican. Next to the Janiculum Terrace stands a large monument honoring Italians from the First War of Independence, fought in 1849.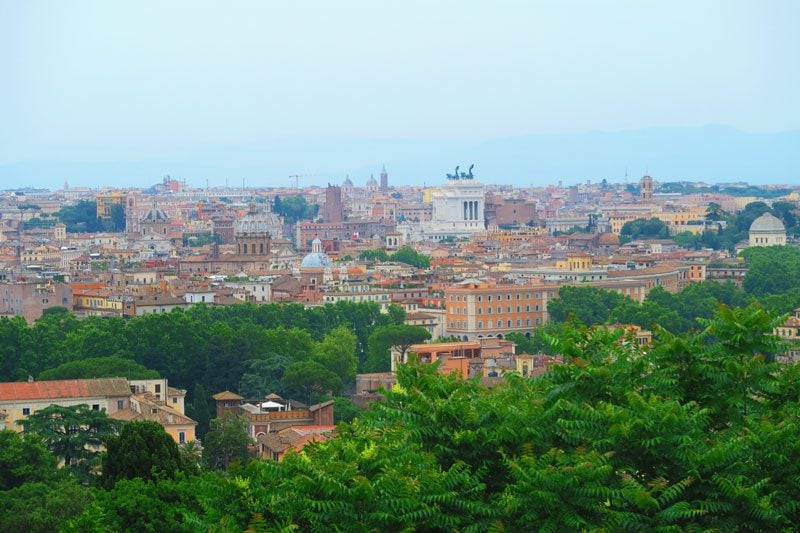 Piazza and Basilica di Santa Maria in Trastevere
Trastevere's main square is said to be the site where a fountain of oil sprung out of the ground on the day of Christ's birth. It's probably the reason why Christians have practiced their faith here pretty much ever since. The square itself is somewhat picturesque but its basilica is well worth visiting for its mosaics.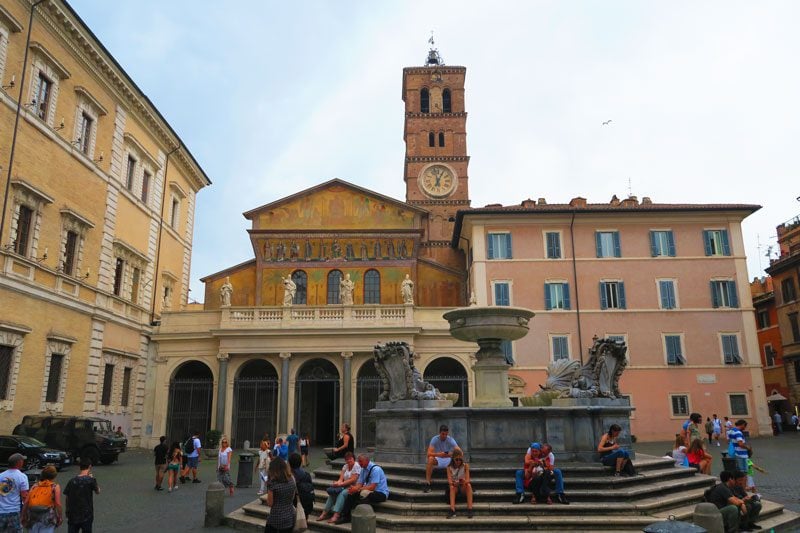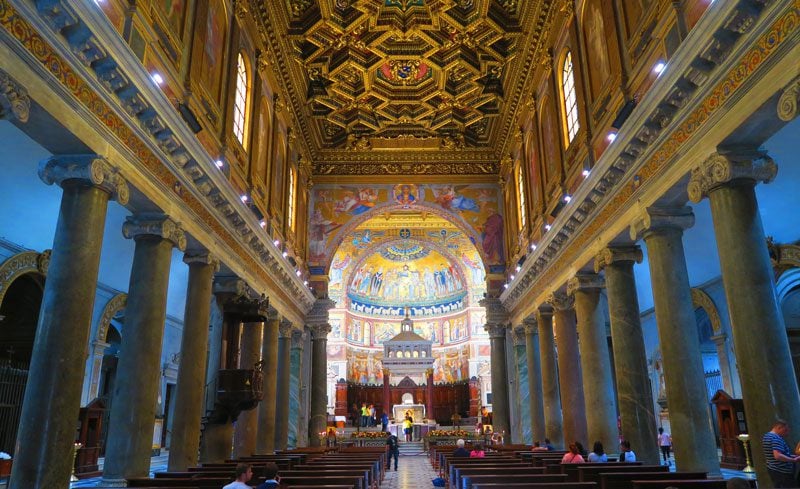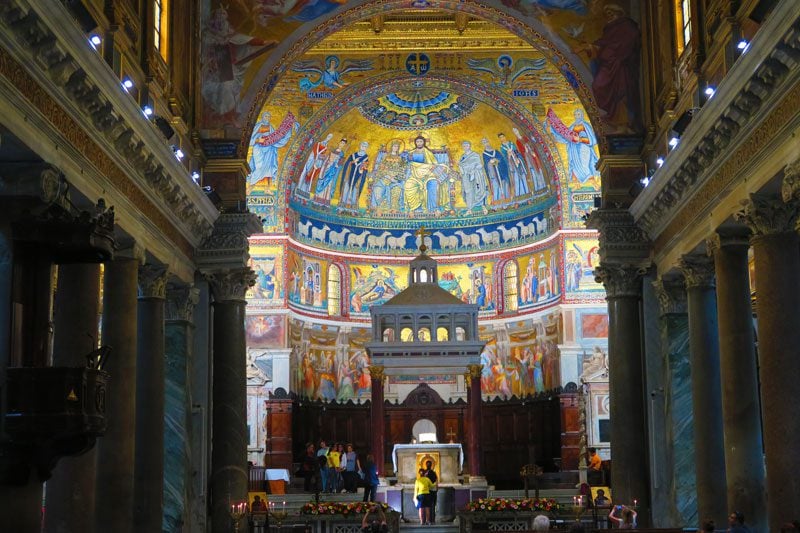 Pizza Lunch at Dar Poeta
Quietly tucked away in a narrow lane, Dar Poeta is one of the best places in Rome for pizza. If you can, grab one of the few outside tables and soak the vibe of Trastevere as you savor a delicious pizza, but don't be alarmed if there's a queue of people waiting to be seated as the restaurant's interior is quite huge and can easily accommodate large parties. We devoured two pizzas accompanied by drinks for about 15€.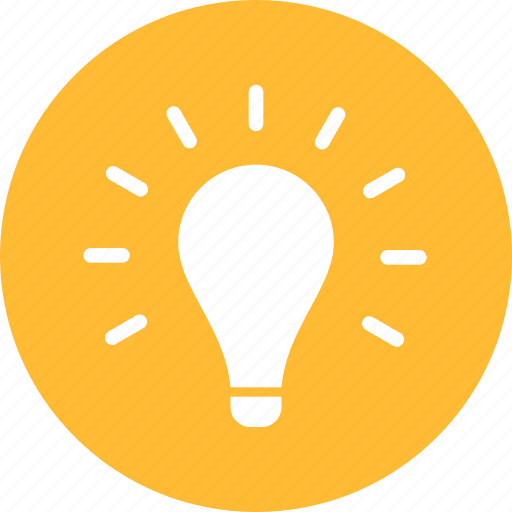 Pro Tip
If you fancy a pizza lunch, I recommend sharing a pie and ordering a side salad to supplement it. Even with a thin crust, eating an entire pizza on your own, though possible, should be followed by a nap and not by lots of sightseeing…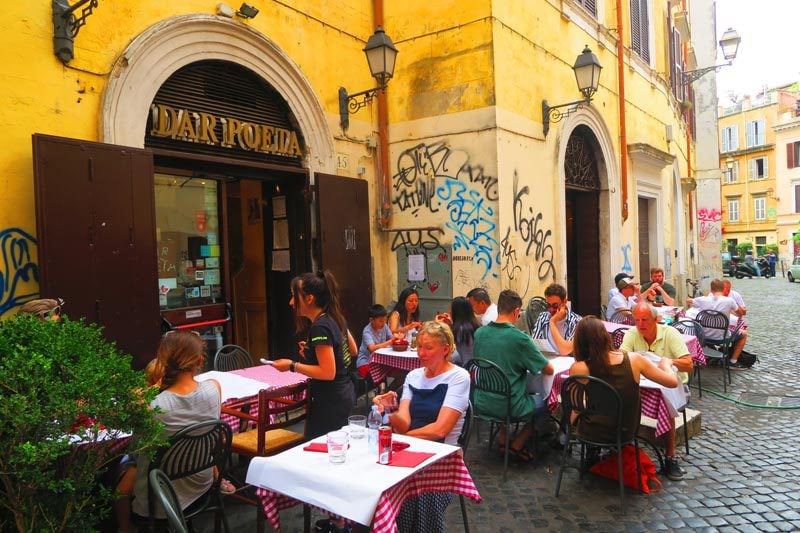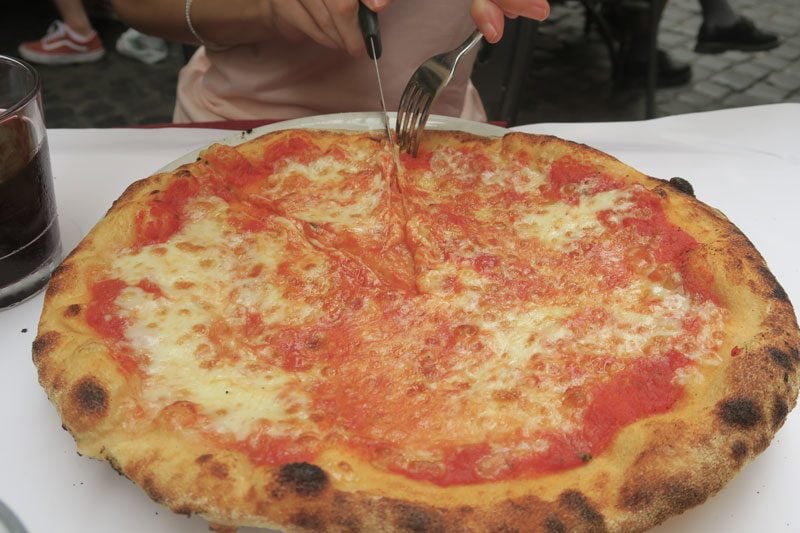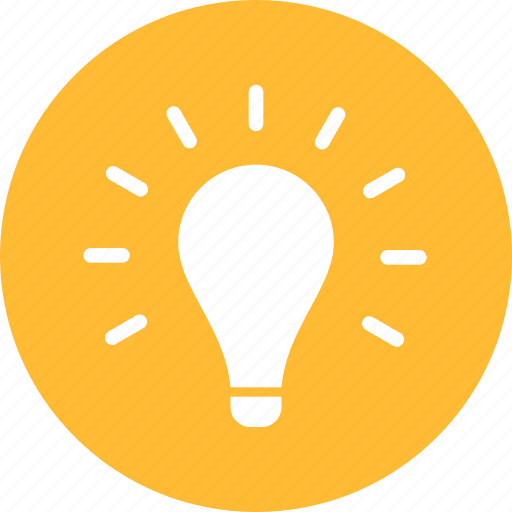 Pro Tip
Additional recommended Trastevere restaurants for lunch include Nannarella, Trattoria Da Enzo al 29, and Tonnarello. The latter two are challenging in terms of available seating and not all accept reservations.
Across the River to the Old Jewish Ghetto
After a well-deserved ice cream stop at Gelateria del Viale, we crossed the Tiber River at Ponte Cestio to Rome's lonely island – Isola Tiberian – from where we could catch a glimpse of the remains of the Ponto Rotto (built in the second century BC). On the other side of the island, we finally crossed to the other bank via the historic Ponte Fabricio, a bridge that has remained intact since its construction in 62BC!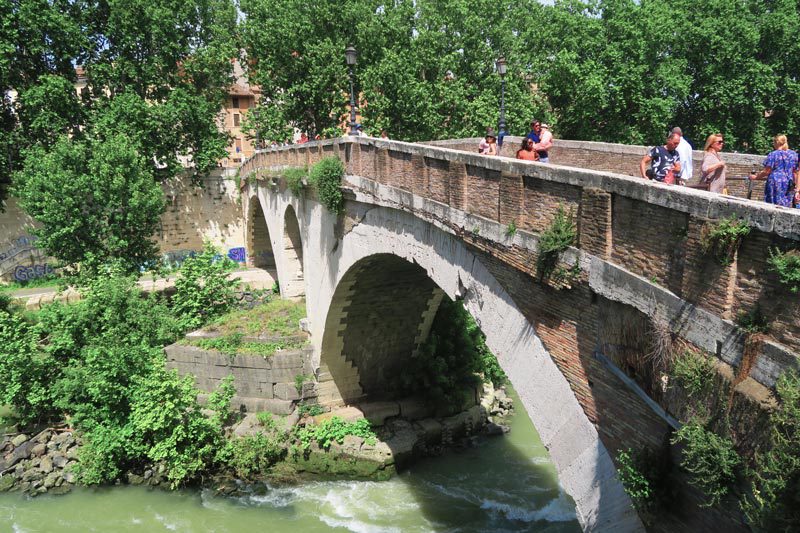 Old Jewish Ghetto
Right as you cross the river, you enter what is known as the Old Jewish Ghetto, a small area where Jews were confined to in the 16th century at the order of Pope Paul IV. Nowadays, the area's most attractive section is along Via del Portico d'Ottavia. Those interested in learning about the history of the community can head to the Jewish Museum at the Maggiore Synagogue.
The other interesting site in the old ghetto is the Portico of Octavia, an impressive ancient Roman gate and adjacent theatre (Teatro di Marcello). Both were off-limits when we visited due to restorations but can be appreciated from the exterior.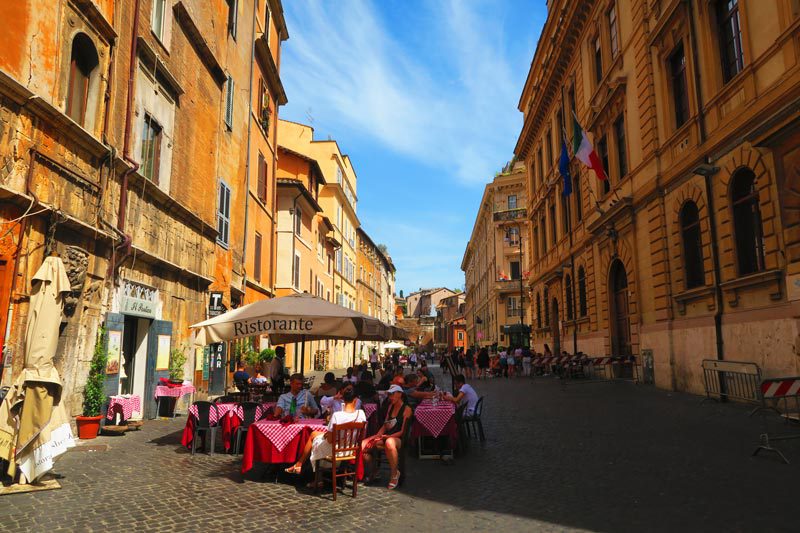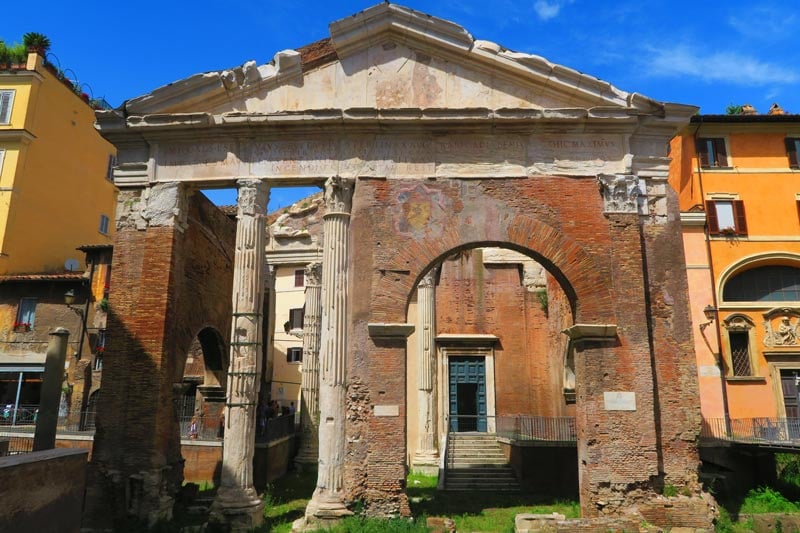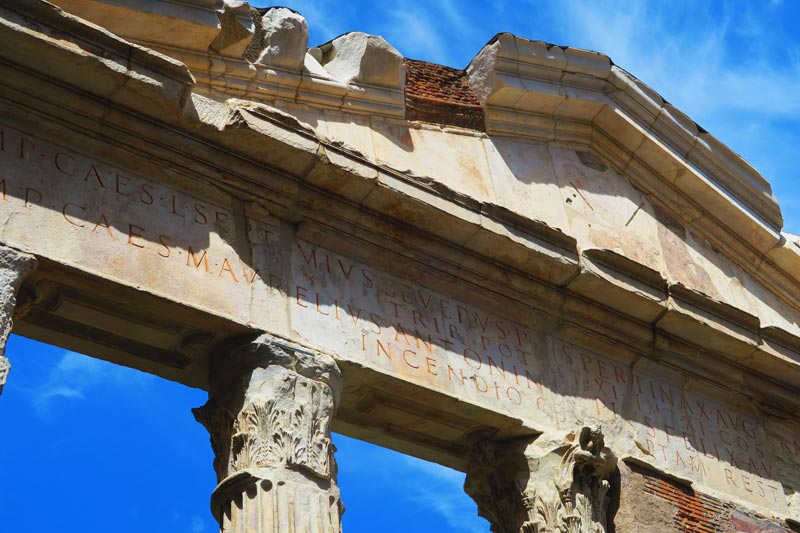 Via Giulia
Running parallel to the Tiber River, Via Giulia makes for a pleasant stroll to get back to the historic center. Home to a number of antique shops, mansions, consulates, and government offices, it gets very quiet here on weekends which is a rarity in central Rome. At its northern end is the church of San Giovanni Battista dei Fiorentini.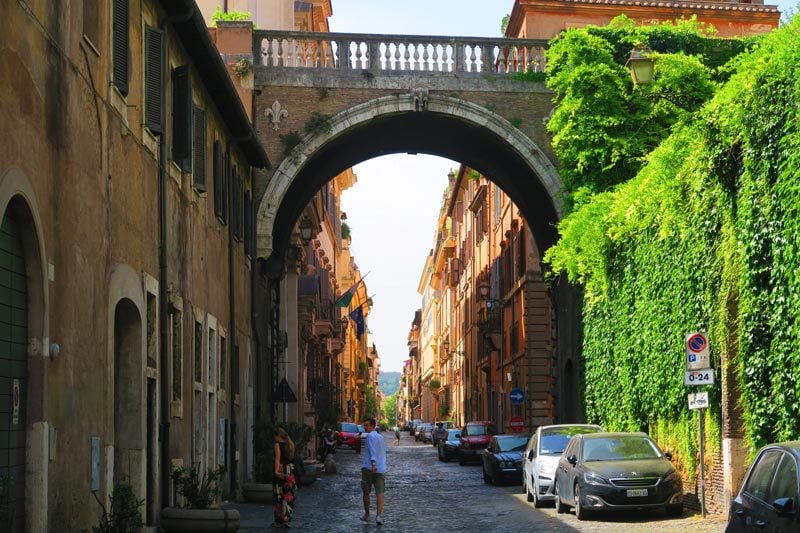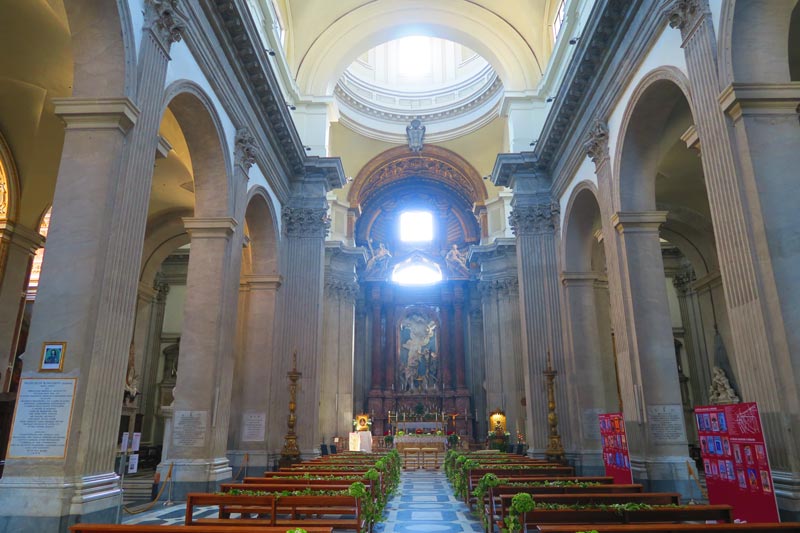 Wine Bar Dinner
We were still quite full from the pizzas at lunch so we opted to check out Rome's wine bar scene (enoteca). After much contemplation, we headed to Cul de Sac in the historic center. This enoteca has been around since 1977 but its early 1900's predecessor apparently started the entire wine bar scene in Rome back in the early 20th century. Cul de Sac has a huge selection of wines (they claim the number to be 1,500 labels) and the food is pretty good as well. We went for a selection of small dishes to go with wine and sat in its narrow interior.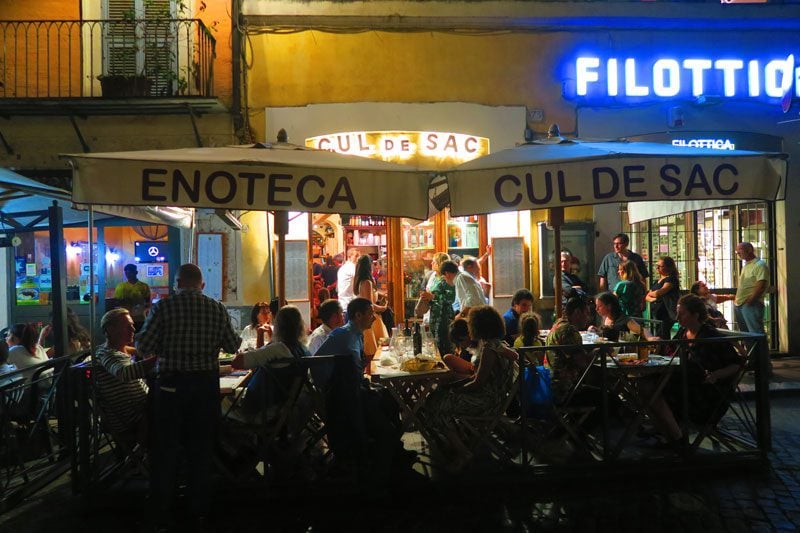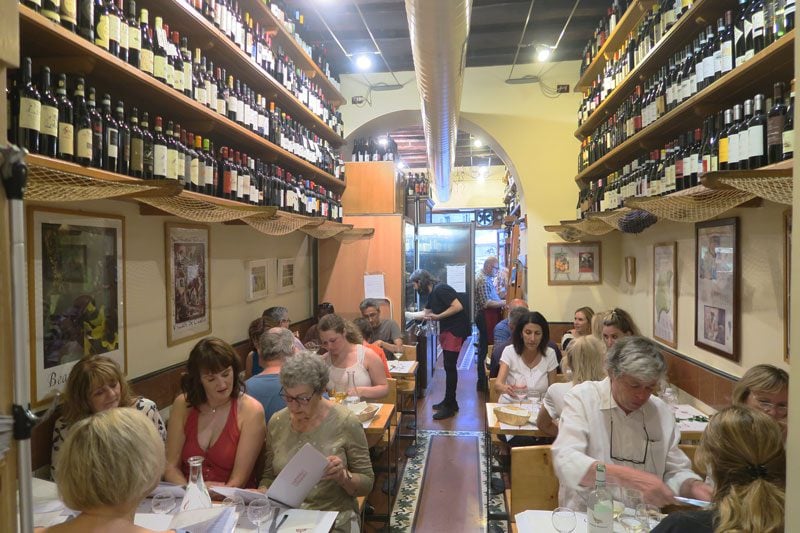 Rome by Night
After dinner and drinks, we couldn't resist the urge to keep walking and absorbing the vibe of a perfect Roman summer evening. We sliced through Campo di Fiori, where diners were cramming the piazza's restaurants, later crossing back to Trastevere which was simply buzzing on this Saturday evening with live music everywhere and a great atmosphere.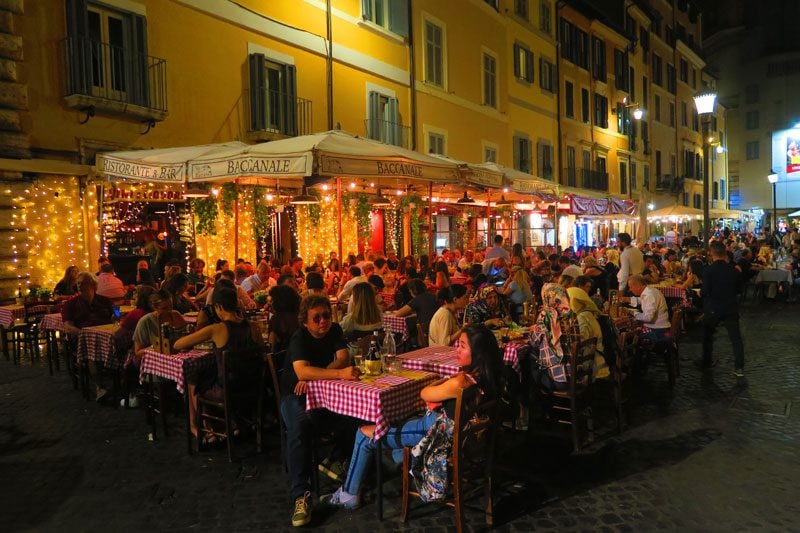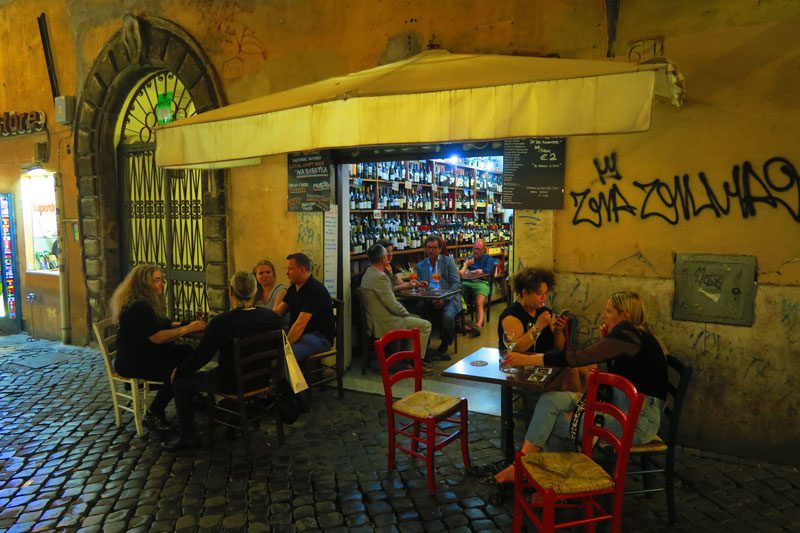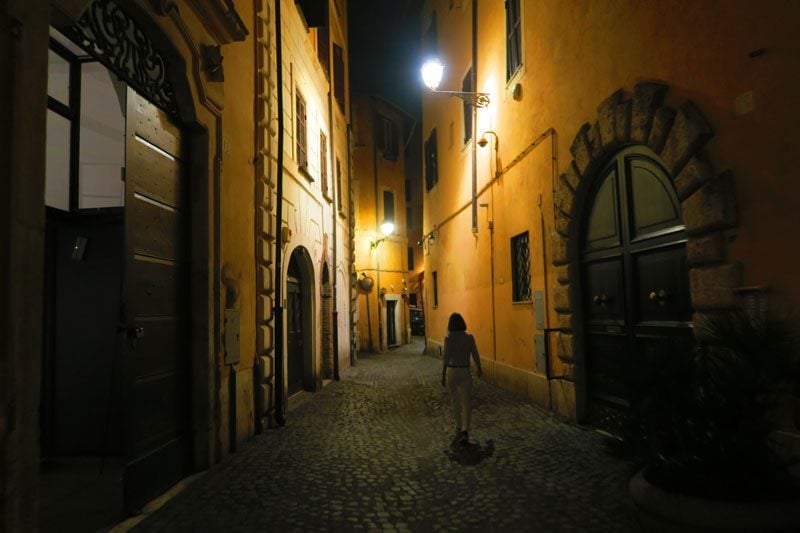 During the summer months, you can also head down to the left bank of the Tiber River where cafes, restaurants, bars, and arcades spring to life after sunset. It's a sort of promenade that better suits families rather than couples on a romantic vacation.