Canyonlands National Park to Capitol Reef Itinerary
A visit to Utah's "Mighty Five" allures road trippers and desert-lovers around the world. But if your vacation days are limited or you wish to concentrate on the national treasures around Moab, a road trip from Canyonlands National Park to Capitol Reef leaves a lasting impression. This itinerary explores how to divide your week and what to focus on at each stop.
I spent nearly two weeks in Southern Utah on a recent five-week road trip in the American Southwest, exploring Utah's five national parks, hiking, and driving on scenic backcountry roads. This itinerary spanning from Canyonlands to Capitol Reef is based on my experience and on extensive research.
What's Included in this Itinerary?
Several sections make up this Canyonlands to Capitol Reef itinerary:
Canyonlands NP: The Needles & Island in the Sky (2 Days)
Arches National Park (2 Days)
Canyonlands NP: Horseshoe Canyon (1 Day)
Capitol Reef National Park (2 Days)
Additional Resources
If you're planning a trip to Southern Utah and the Southwest, check out additional in-depth national park guides, sample Utah road trip itineraries, essential planning tips, and more.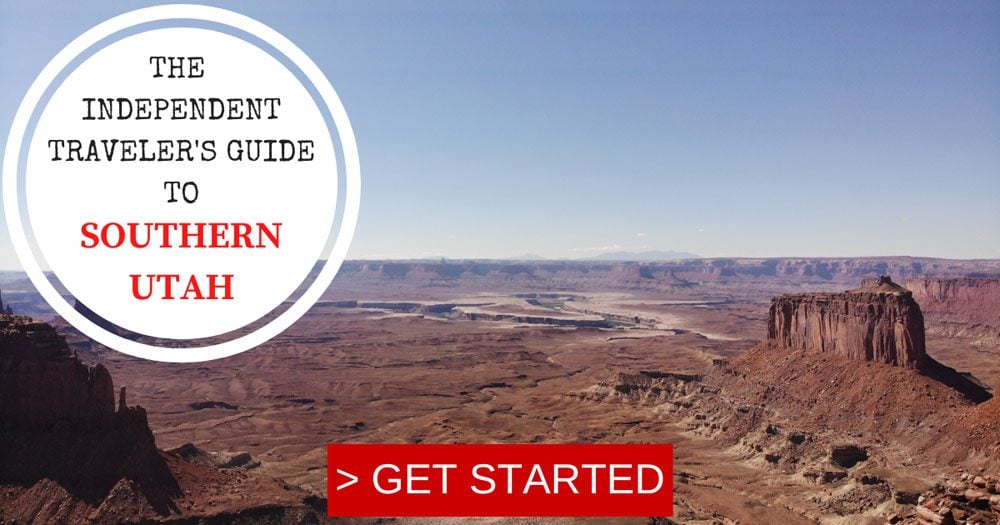 Canyonlands to Capitol Reef Itinerary Map
Here's the driving route we'll follow on this itinerary. Simply click on the image to open it in Google Maps.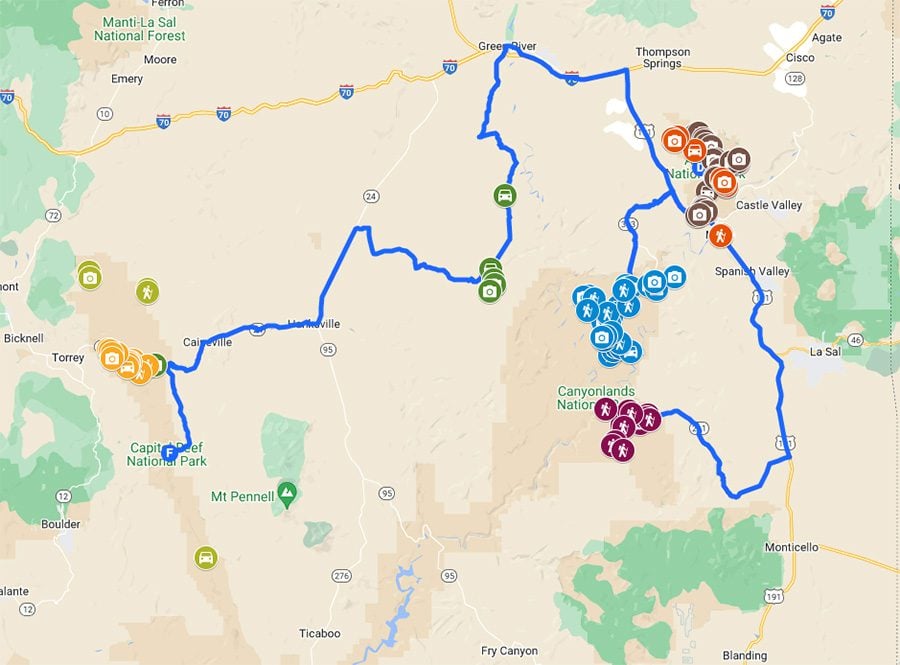 Where to Start this Road Trip?
Theoretically, you can fly to an airport near Moab, rent a car, and start this road trip. However, for most travelers, this plan fits into "the middle" of a more extended Utah itinerary or a desert road trip in the American Southwest.
It's possible to start this Canyonlands to Capitol Reef itinerary in Salt lake City, about a four-hour drive from Moab. You can also head to Moab from the south after visiting Canyon de Chelly, Monument Valley, or the Grand Canyon. If you're flying into Las Vegas, you can approach from the south after visiting the Grand Canyon and Monument Valley, or from the west, after visiting Zion National Park and Bryce Canyon.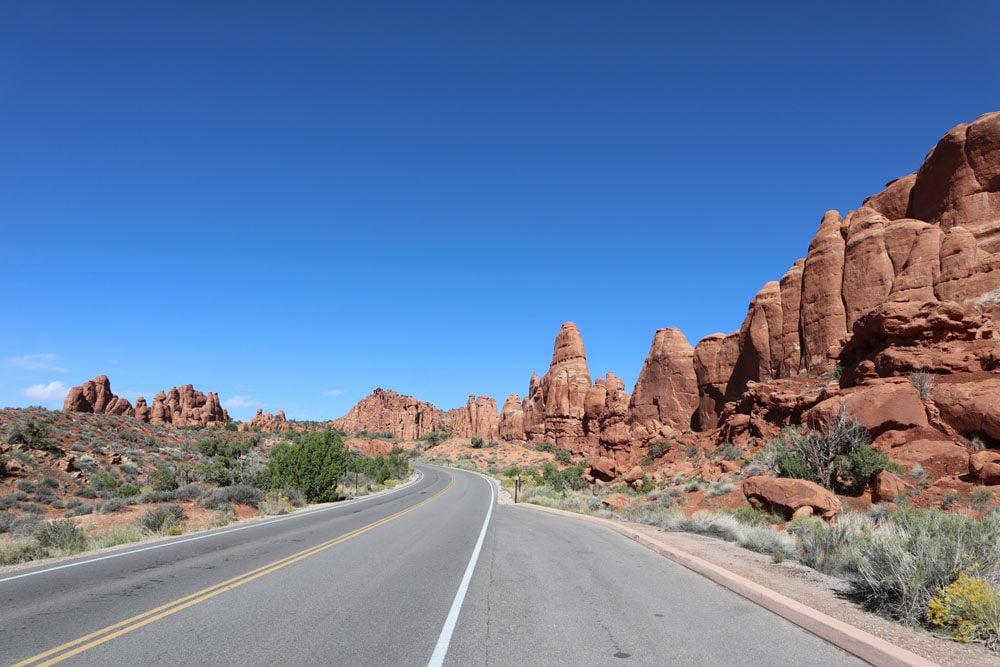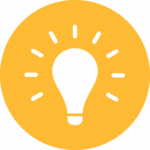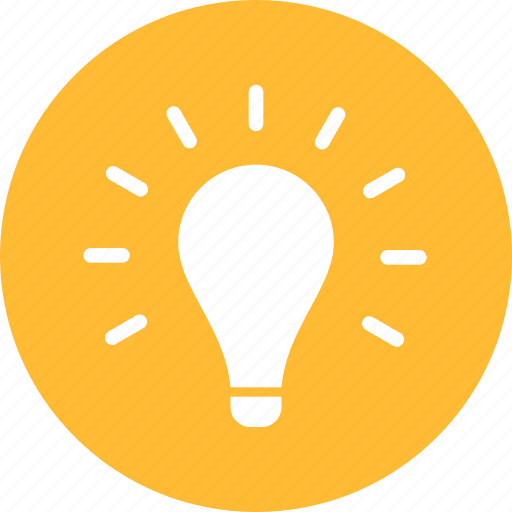 Pro Tip
If you're first visiting Zion and Bryce Canyon, it makes more sense first to cover Capitol Reef National Park and only then drive to Moab for Arches NP and Canyonlands.
How Many Days are Needed?
This itinerary calls for an entire week of road tripping, hiking, and sightseeing. However, it can be shortened by one or two days by reducing the Canyonlands portion to two days and the Arches NP visit to one day. On the flip side, you can easily extend this itinerary beyond a week by spending more time in Canyonlands and Capitol Reef (on backcountry hiking/4WD trips) or extending your reach by driving to Las Vegas via Zion NP or the Grand Canyon.
Canyonlands to Capitol Reef Road Trip Checklist
Before hitting the road, here are a few tips to keep in mind:
Inspect your spare tire and parts (even on a rental car), and check your oil and other essential fluids.
Fill your gas tank before it dips below 50%.
Carry more water and food than you think you'll need.
Download offline navigation maps but also carry a physical map of the area.
Purchase a copy of the Moon Utah travel guide to prepare for the trip and learn about the region.
Carry a USB car charger.
Chat with park rangers to "sanity check" your driving and travel plans.
Stay on paved roads and only drive on dirt roads that suit your vehicle.
Familiarize yourself with what to do when your car overheats.
Carry a first aid kit and a flashlight.
Do your best to avoid driving at night.
Upgrade to All Trails Pro and download trail maps to your smartphone for offline use.
Think carefully about the travel gear you'll need: clothing, sun protection, hiking gear, camping equipment, etc.
Prepare for the elements: hot, cold, dry, and wet conditions.
Purchase the America the Beautiful Pass to save on paying park fees.
Canyonlands NP: The Needles & Island in the Sky (2 Days)
We'll start this itinerary in Canyonlands National Park, Utah's largest yet least visited member of the "Mighty Five." Canyonlands is divided into four separately-managed districts, one of which is among the least accessible regions of the Continental United States. Therefore, we'll turn our attention to areas of the national park that are relatively easy to explore while also venturing into remote territory.
Where to Stay?
The town of Monticello is closest to the Needles district, while Moab is closer to Island in the Sky. By staying in Monticello rather than further north in Moab, you'll significantly reduce driving times to the Needles. Of course, you can use Moab as a base for this road trip's entire Canyonlands and Arches National Park sections. Moab is a small tourist-friendly city with a wide range of accommodation options, though at a slight premium compared to other towns.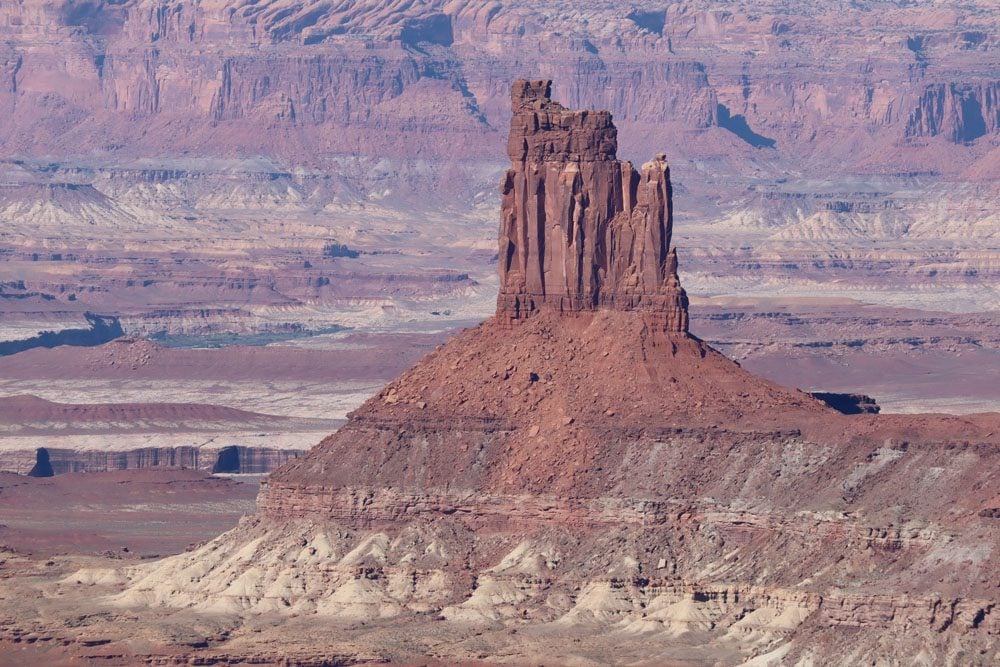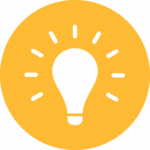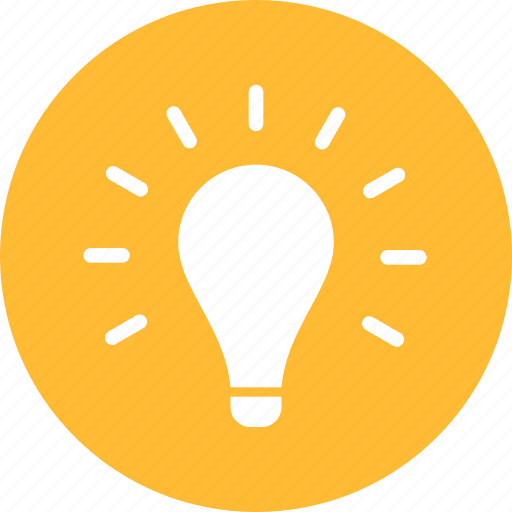 Pro Tip
Here are all the Moab and Monticello accommodations that can be booked online via Booking.com.
Day 1: The Needles
We'll spend the first day on this itinerary exploring the Needles, the second-most visited district in Canyonlands, after Island in the Sky. The area is named after the red and white sandstone spires that take to the skies. However, getting closer to the famous needles and other interesting natural wonders such as rock arches requires extensive hiking or off-road driving. That said, a 6.5-mile scenic drive does offer excellent distant views of the needles and shorter hiking opportunities.
Begin your visit to the Needles by driving the length of the short scenic drive, stopping at exciting viewpoints such as Wooden Shoe Arch Overlook and Big Spring Canyon Overlook, which also marks the end of the paved road. For shorter hikes, consider the Cave Spring Trail or the Slickrock Foot Trail. To venture closer to the needles, the Chesler Park Loop Trail is the most popular and can be combined with the hike to Druid Arch if you have the time and the will.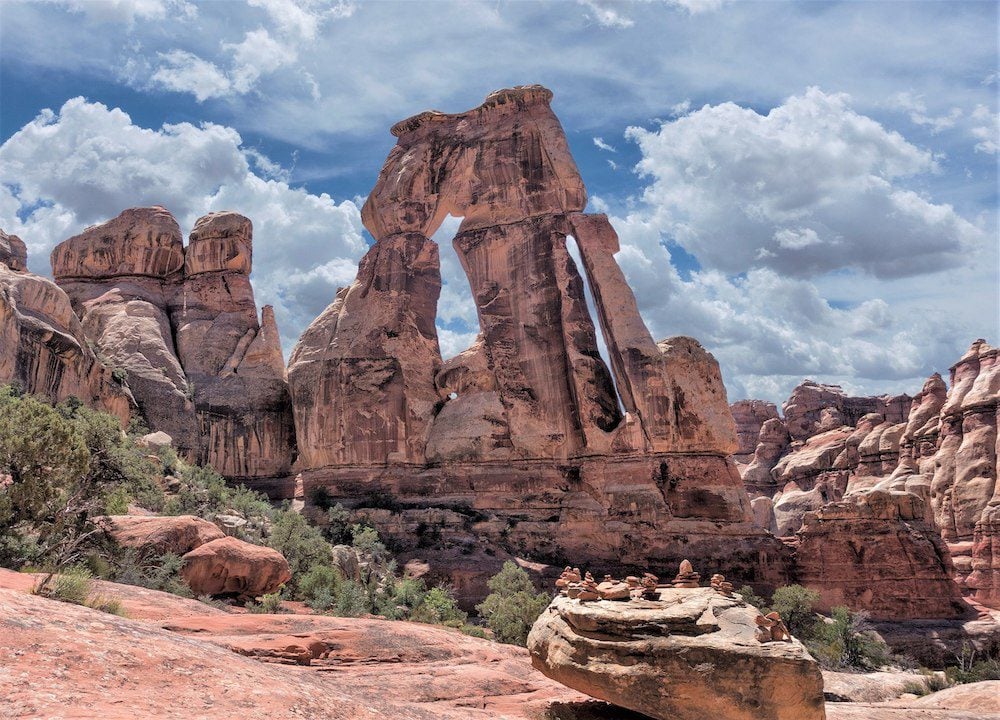 Day 2: Island in the Sky
On day two, head to Island in the Sky and explore Canyonalnds' most popular and accessible district. About 80% of visitors to Canyonlands National Park only visit Island in the Sky, and there's a good reason why. This area is easy to explore, even with small children, and boasts a "bird's eye view" of the region from a commanding position on an "island in the sky."
Of course, Island in the Sky is not actually an island but rather a high-elevation mesa overlooking 100 miles of desert scenery highlighted by serpent-like canyons shaped by the Colorado and Green Rivers.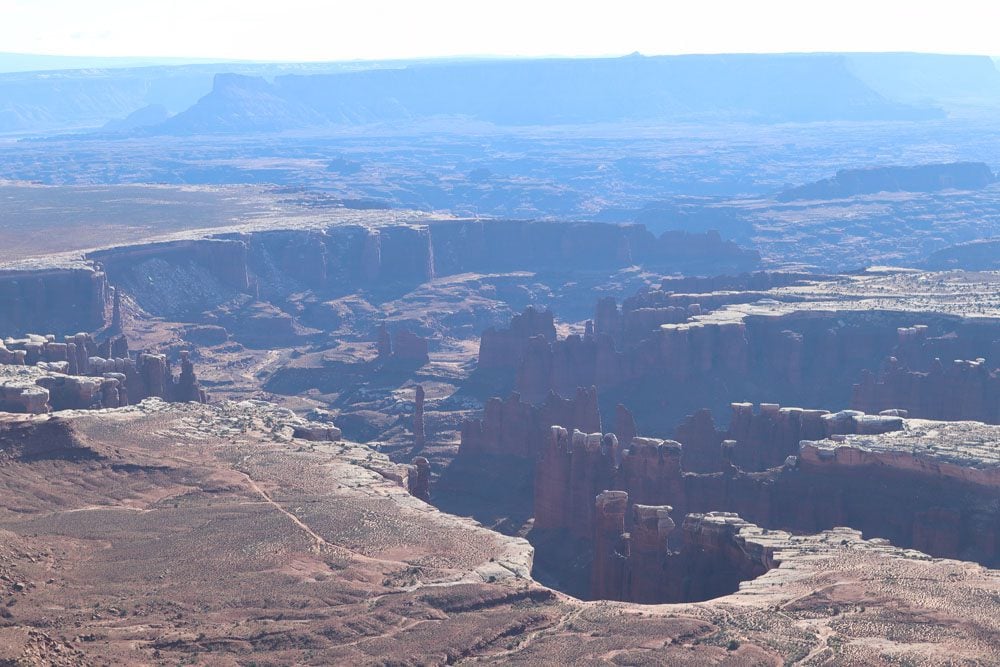 Spend the morning driving the length of the 34-mile scenic drive, mainly stopping at its roadside viewpoints, some of which offer an extended stay via short hikes. Start at Mesa Arch and enjoy morning colors shining through this natural window. Then, head to Grand View Overlook and hike the length of the Grand View Point Trail to better understand why they call it Island in the Sky.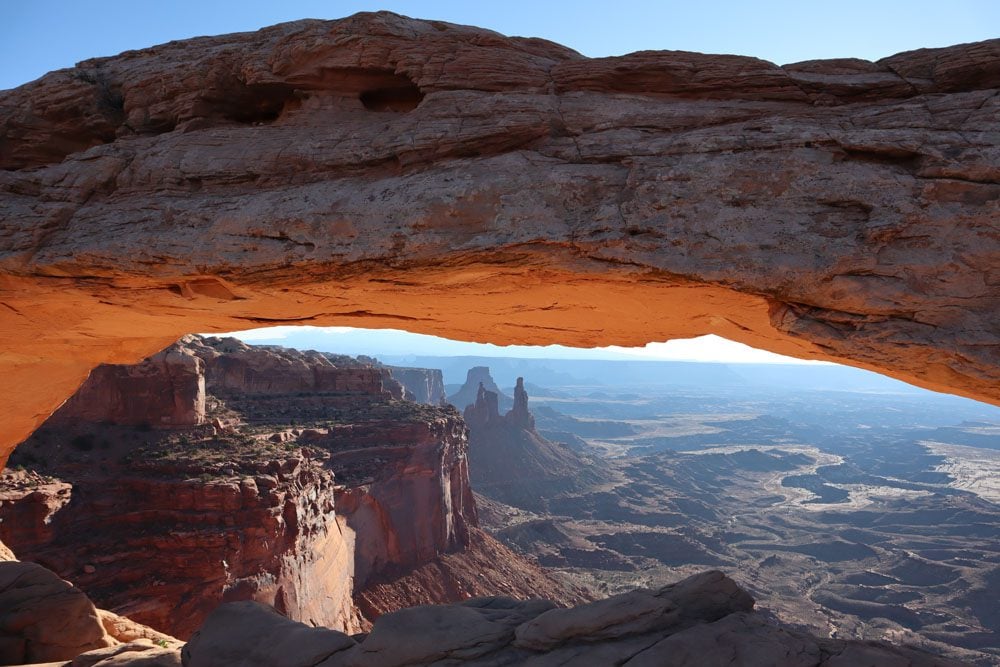 Back in the car, check out the views from Buck Canyon and White Rim Overlooks. Then, at the Green River Overlook, witness how the mighty river shaped Canyonlands and continue to Upheaval Dome to hike along the rim of a meteorite impact crater.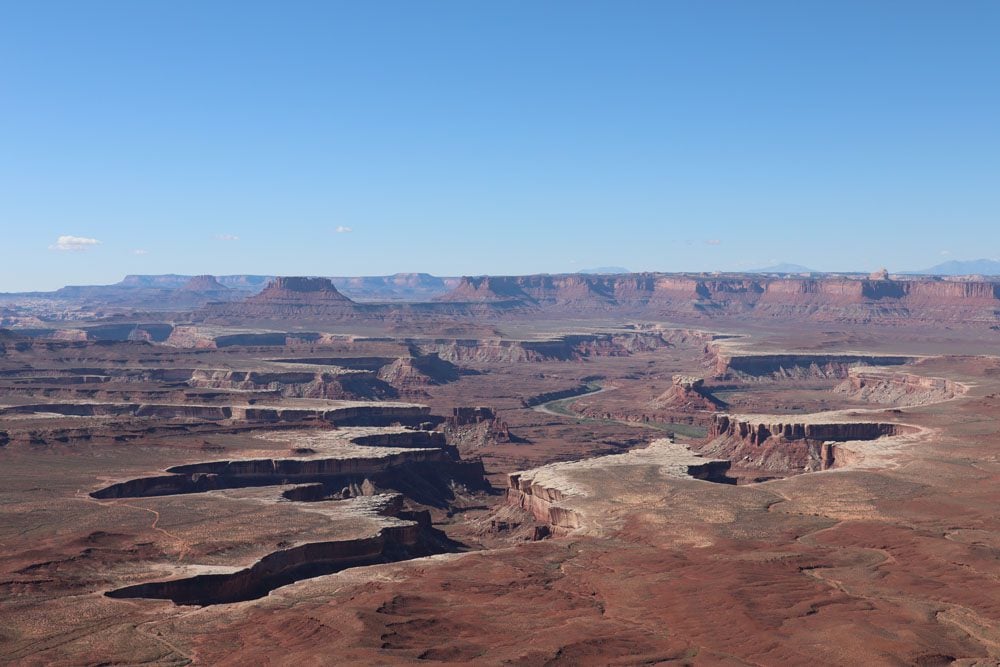 Use the afternoon in Island in the Sky for hiking. Challenging trails descend over 1,000 feet from the mesa top to the famous 4WD-only White Rim Road. Remember, though, that what goes down must come up. Shorter trails like the Neck Spring Trail and Murphy Point Trail are easier options.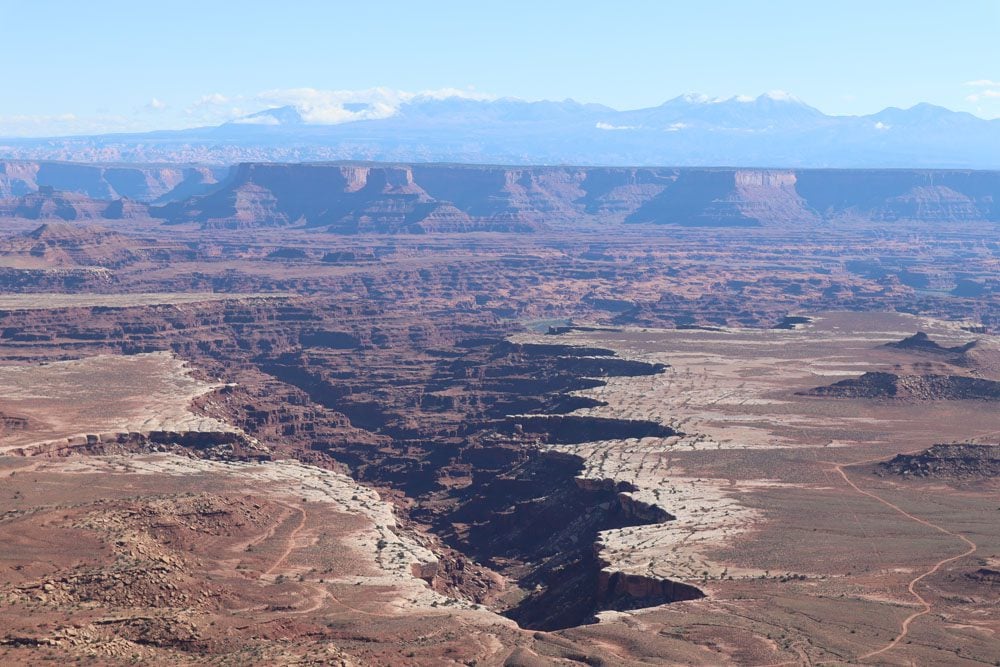 Before heading to Moab for the night, leave enough time for a glorious sunset next door at Dead Horse Point. Pay a separate fee to enter this state park, which can also serve as an optimal afternoon option if hiking in Island in the Sky appeals less to your preferences.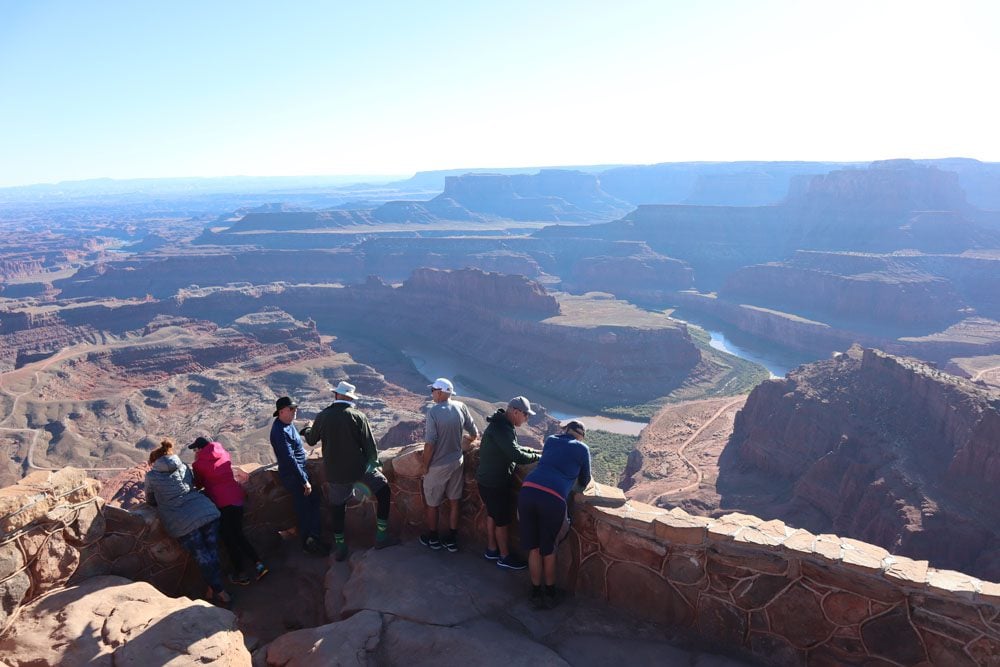 Arches National Park (2 Days)
The next leg of this Canyonlands NP to Capitol Reef itinerary takes us to Utah's third most visited national park, yet one of its smallest. More than 1.5 million visitors head to Arches National Park every year to witness some of the park's 2,000 natural rock arches and experience its otherworldly desert landscape.
Where to Stay?
Moab is just five miles from Arches National Park, so it's the most optimal place to search for accommodations. For camping options, see if there's space available inside the park at the Devils Garden campground, or look for camping options in BLM campgrounds along State Route 128.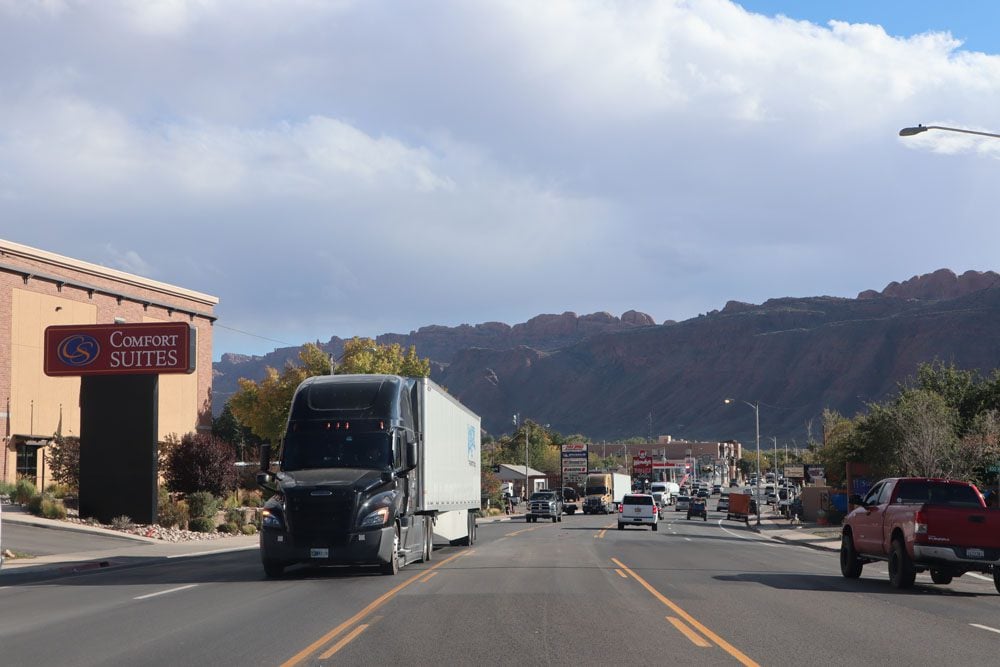 Day 3: Devils Garden and Delicate Arch
Spend the first day in Arches National Park, focusing on the Devils Garden and Delicate Arch sections. Get an early start and perhaps watch the morning colors from the La Sal Mountain Viewpoint. Then, continue along the 18-mile scenic drive to Devils Garden and hike the Devil's Garden Trail. This trail loops around an area of the national park with the highest concentration of natural arches. Highlights include Landscape Arch, the largest in the park, Double O Arch, and the wild Primitive Trail on the return leg.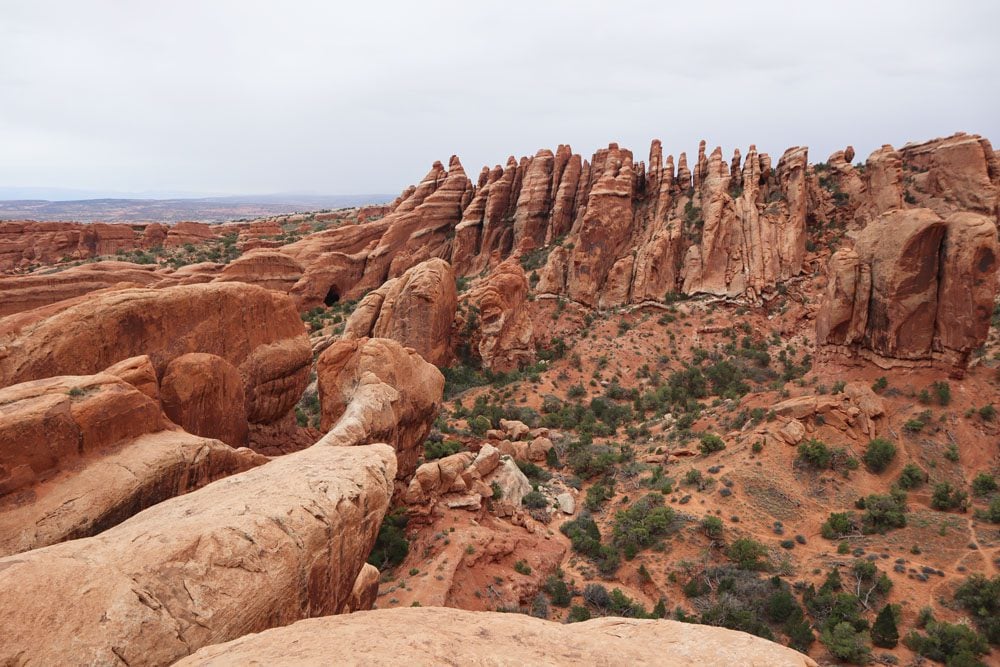 In the afternoon, patiently look for a parking spot at the Delicate Arch trailhead. Hiking to Delicate Arch is the top highlight in Arches NP, though some sections of the trail are challenging. Back in the car, check out the bizarre-looking Balanced Rock, and then spend the rest of the afternoon around the Courthouse Towers and Park Avenue before heading back to Moab.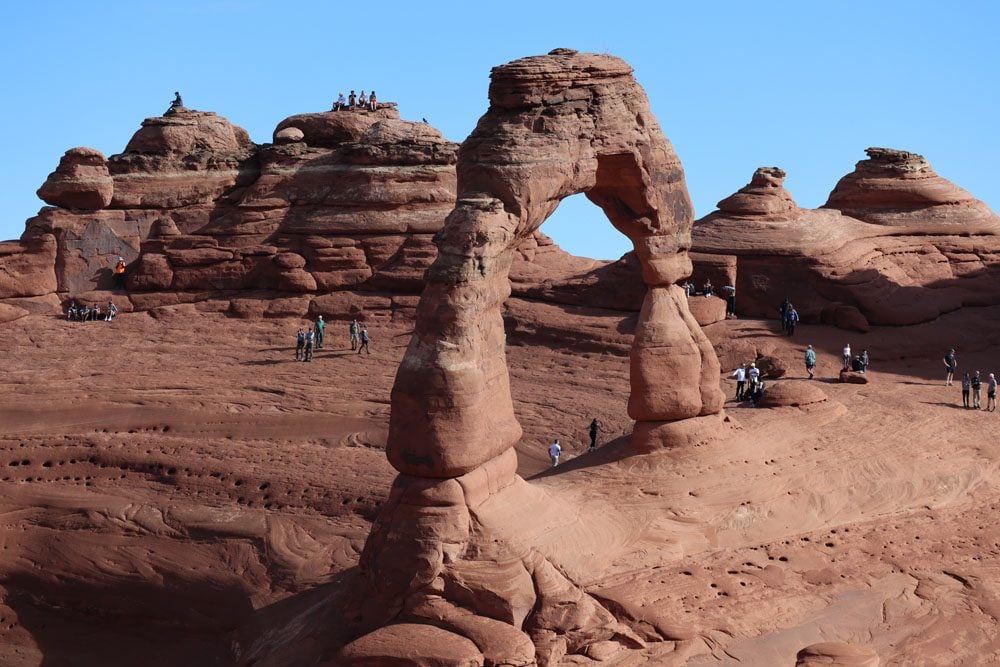 Day 4: Klondike Bluffs and the Windows
The second day at Arches NP can be a full-day adventure or a half-day outing, using the afternoon to explore Moab and its surroundings. In the morning, return to the scenic drive only to head inland on a dirt road just before Devils Garden. The Klondike Bluffs area is the remotest in the national park. This is an excellent opportunity to get away from the crowds and complete the Tower Arch Trail.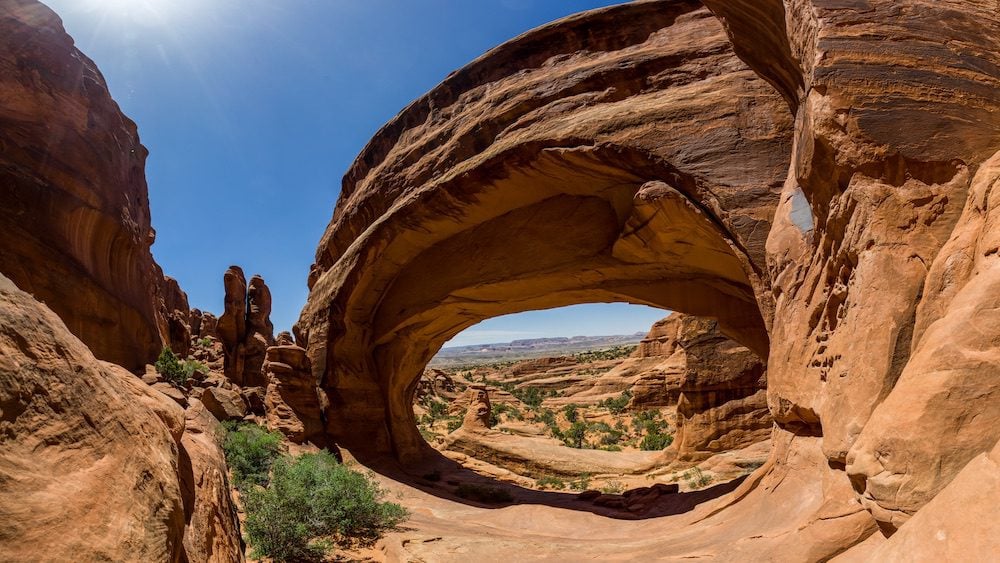 Spend the afternoon closer to the park's exit at the Windows Section. Start at the Garden of Eden Viewpoint to see the Parade of Elephants, an impressive series of seemingly extraterrestrial sandstone statues. Next, continue to the end of the paved road to hike the Windows Loop Trail, later crossing the road for the short trail to Double Arch.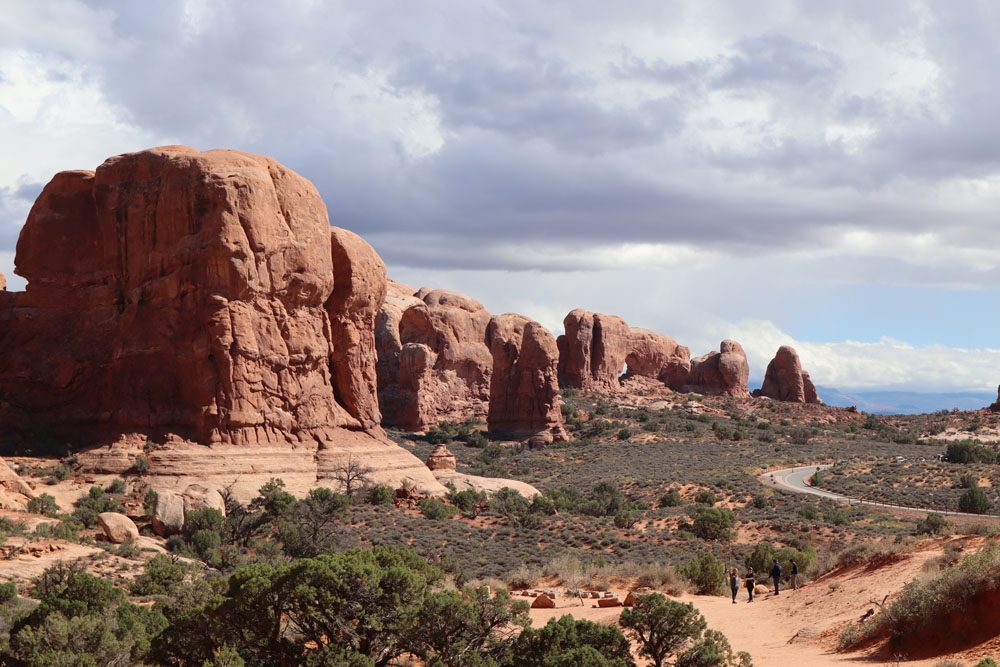 If you've only spent half a day at Arches, use the rest of the afternoon to explore Moab. First, stroll down Main Street, browsing through quality Southwest souvenirs at Lema's Kokopelli Gallery and trying on some Western-style outfits across the street at Cowboys and Indians Trading Company. If you wish to learn about the region's history, check out the Moab Museum. Alternatively, cruise with your car along the banks of the Colorado River and find a nice picnic spot on Highway 128. You can also join an organized tour and go offroading in the region's remote canyon region.
Canyonlands NP: Horseshoe Canyon (1 Day)
Day five on this Canyonlands National Park to Capitol Reef itinerary is unique as it technically covers two national parks. We'll spend most of the day searching for North America's most significant and magnificent rock paintings in Horseshoe Canyon and take a backcountry road in the late afternoon to Capitol Reef National Park.
Day 4: Horseshoe Canyon
It takes about 2.5 hours to reach Horseshoe Canyon from Moab or 1.5 hours from Green River. Most of the drive is on dirt roads suitable for high-clearance AWD vehicles unless it has recently rained. Regular cars can also make the trip, but it's less recommended and requires extra care. The long drive into this desert wilderness is an experience on its own. There's little chance of seeing more than a couple of cars along the way.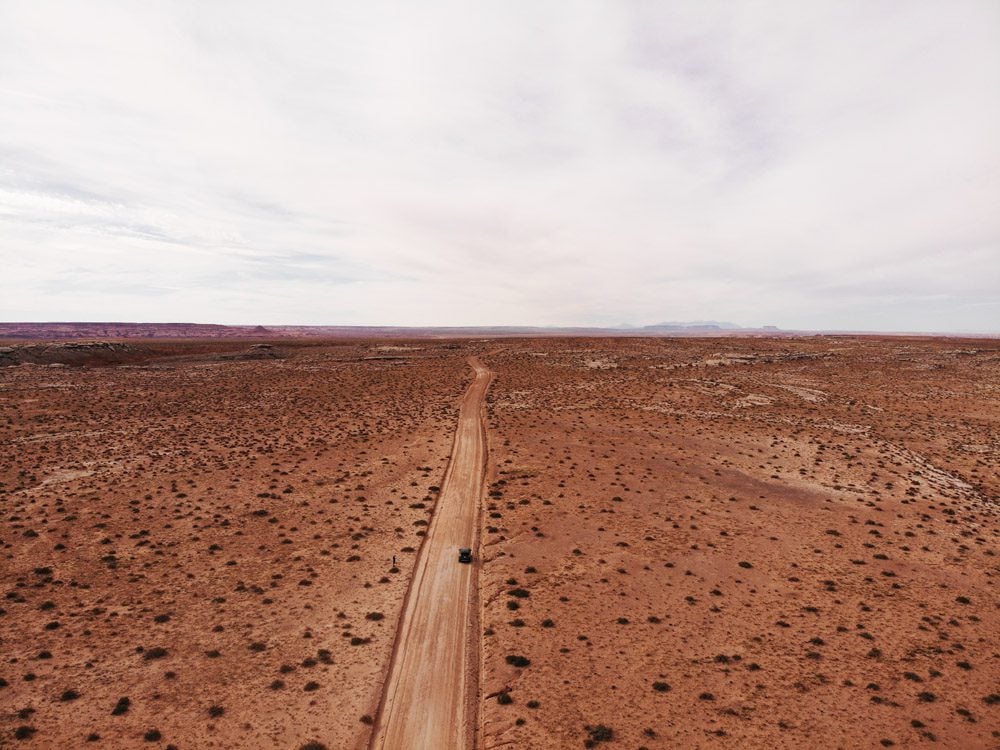 Once you reach the trailhead's parking lot, sign the guest book and descend to the canyon floor on the moderately difficult Horseshoe Canyon Trail. Cairns marks the lonely trail, but it's hard to get lost as you just follow the canyon floor en route to four galleries whose mysterious rock art is estimated at 3000-4000 years old.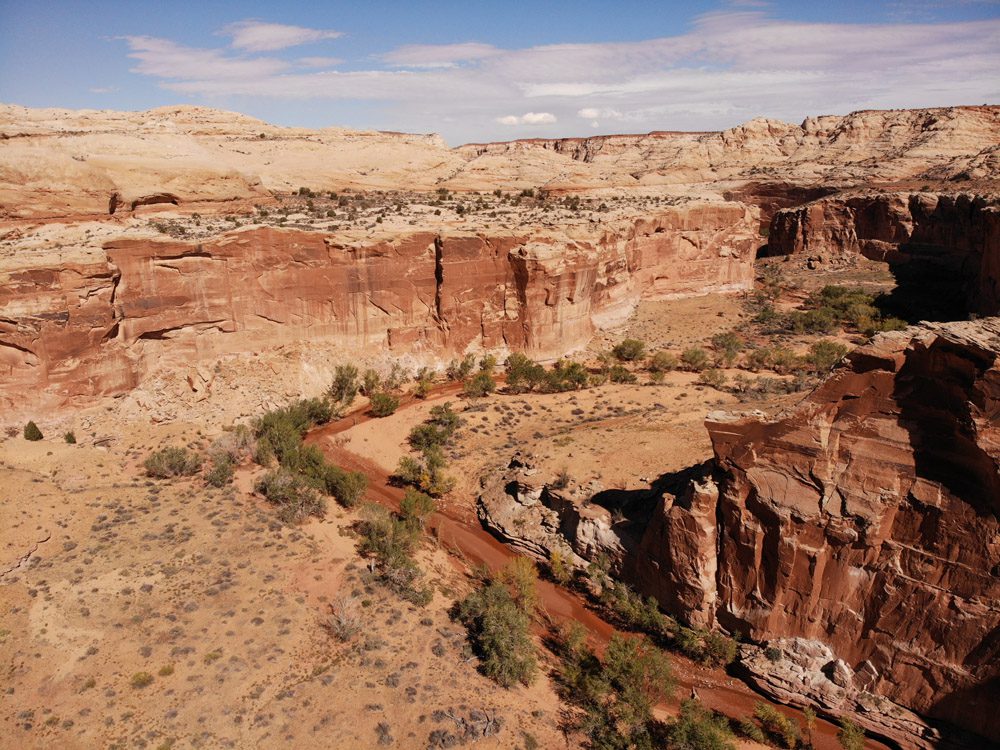 Researchers aren't sure why the ancient hunter-gatherer tribes painted these figures or what exactly they collectively mean. Still, the feeling of hiking in this secluded canyon and seeing these ancient works is hard to describe. The trail's highlight is the Great Gallery, with its life-sized human figures, intricate patterns, and impressive use of color.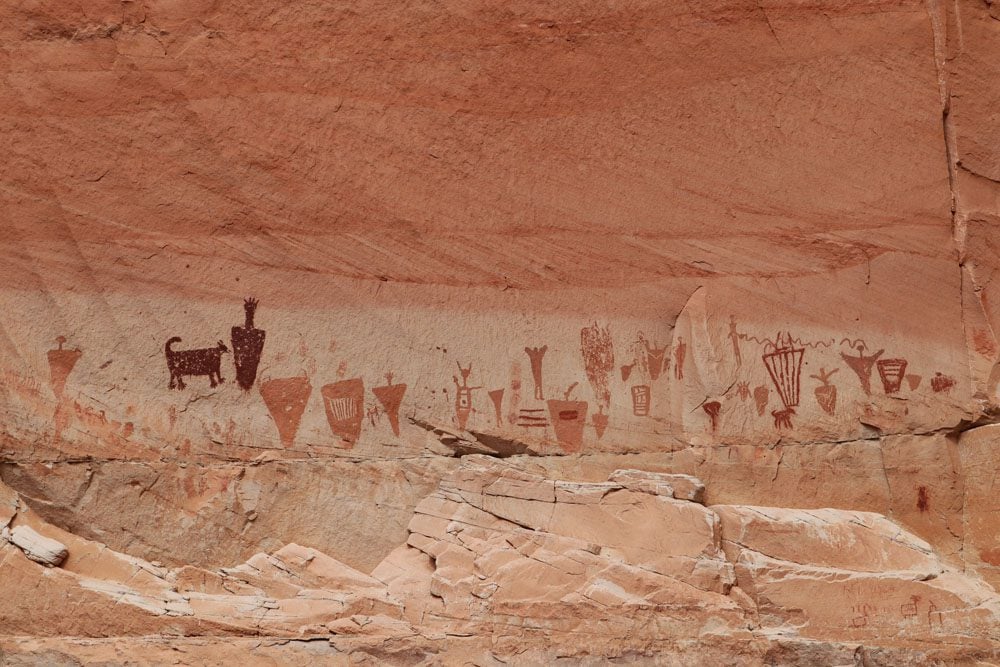 Back in the car, take a "shortcut" to Capitol Reef by following Western Lower San Rafael (dirt) Road to State Route 24, which runs as straight as an arrow to Hanksville. From here, it's about 40 miles to Fruita or 85 miles to Torrey.
Capitol Reef National Park (2 Days)
Our last stop on this road trip takes us to Utah's second largest national park. Capitol Reef is often explored by travelers heading from Zion and Bryce Canyon to Arches National Park, but it is considerably less visited than those three mainly because of its size and lack of extensive infrastructure.
Where to Stay?
Most visitors to Capitol Reef "rough it out" by camping in the backcountry or at the well-located Fruita Campground. If camping is not what you're after, the towns of Caineville and Torrey are the best options.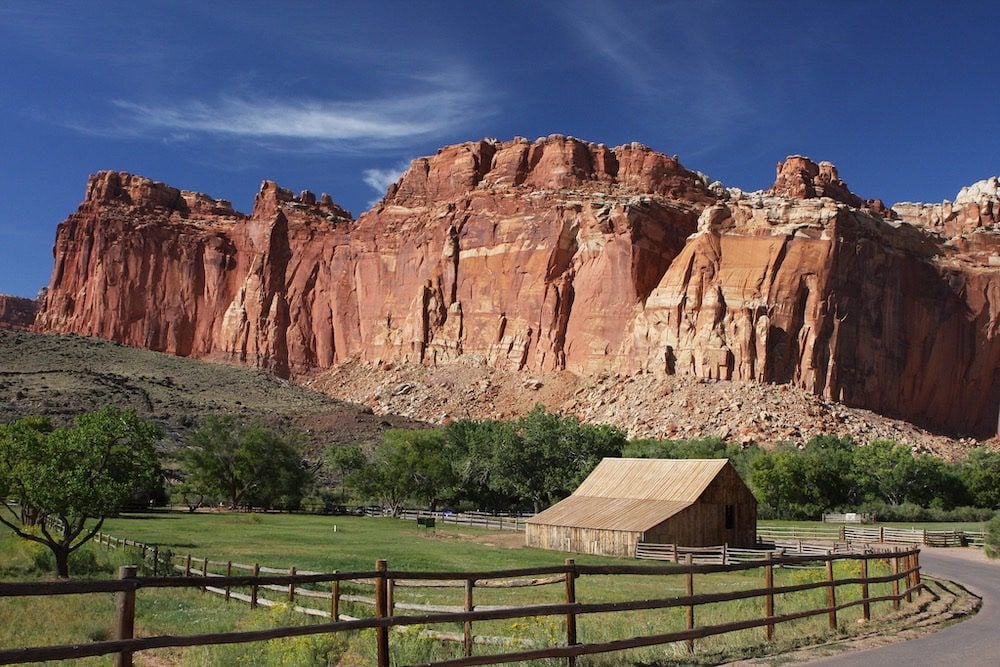 Day 6: Fruita & Around
Minimize driving time on the first day in Capitol Reef by exploring Fruita and its surroundings. In the morning, hike to Hickman Bridge to see this 133-foot natural bridge, and extend the hike with a detour to Hickman Bridge Overlook and even further to Rim Overlook. Alternatively, hike the easy Grand Wash Trail and combine it with the Cassidy Arch Trail for a slightly longer adventure.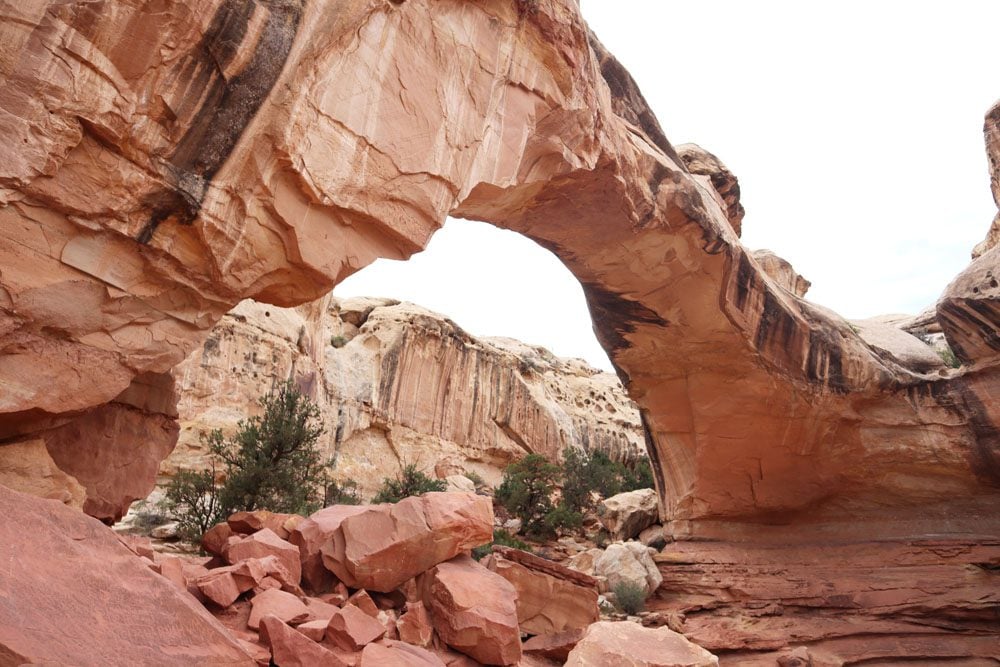 In the afternoon, head back to Fruita and check out the historic schoolhouse, later stopping for a slice of homemade pie at the historic Gifford Homestead. Then, drive the length of the eight-mile scenic drive (fee required). If there's enough time, continue to Capitol Gorge and hike to Pioneer Register or head back to Highway 24 to see the Petroglyphs Panel. If there's still time, head west to see or hike around Chimney Rock and watch the sunset from Goosenecks Overlook.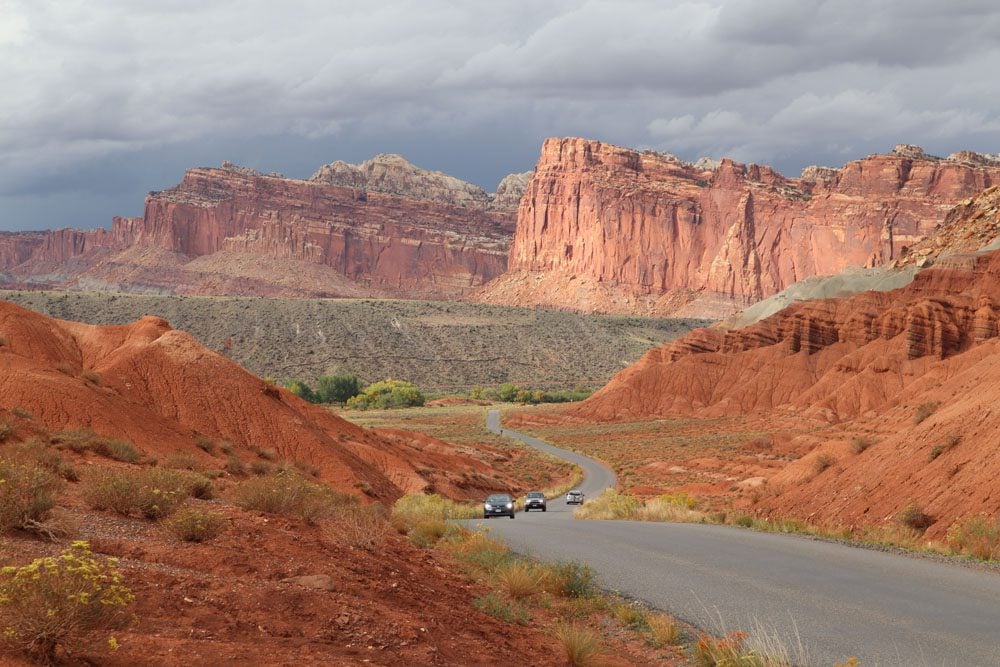 Day 7: Cathedral Valley or the Burr Trail
On day two in Capitol Reef, get an early start and drive the Cathedral Valley Loop, a 58-mile scenic drive on a dirt road just north of Fruita. You'll need a high clearance AWD vehicle or a 4WD unless otherwise advised by park rangers. If there isn't enough time to complete the loop, drive to the Temple of the Sun and the Temple of the Moon.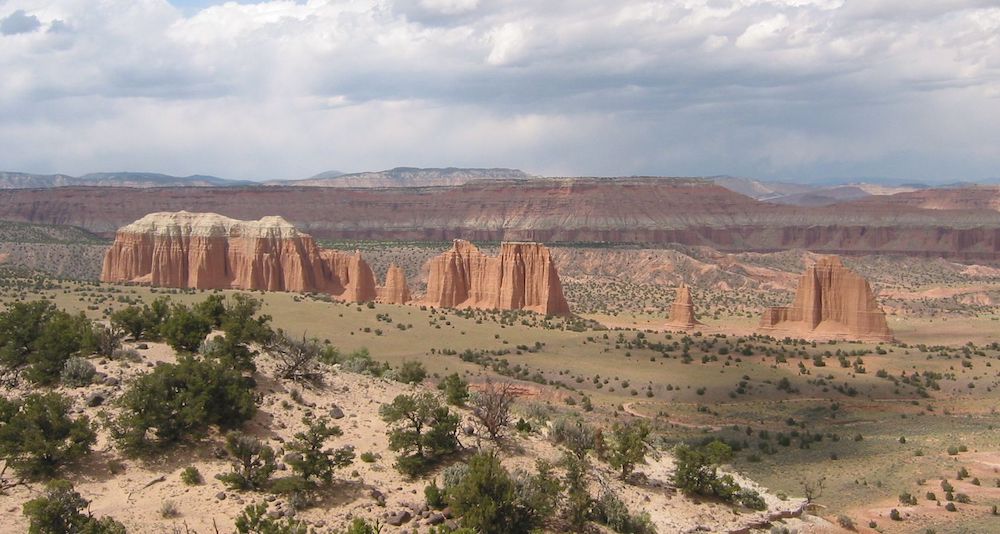 Alternatively, drive from Fruita on Norton Road and check out the legendary Burr Trail switchbacks. Check road conditions with park rangers before attempting the drives for both options.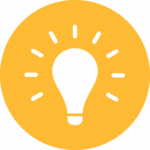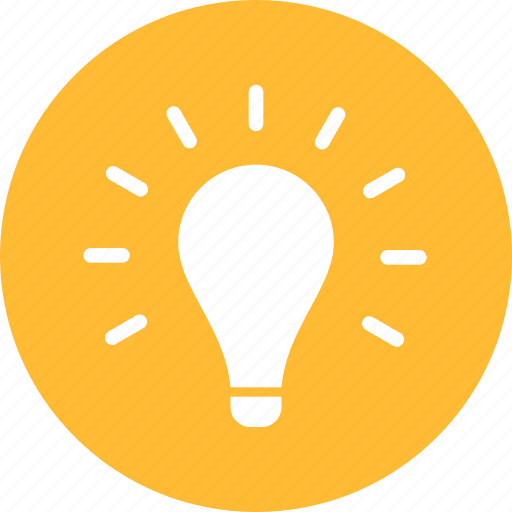 Pro Tip
If you're continuing west after Capitol Reef, consider taking the Burr Trail from Capitol Reef to Boulder in Grand Staircase-Escalante National Monument.
What's Next?
This week-long itinerary took us over 200 miles from Canyonlands National Park to Capitol Reef. As mentioned in the opening, you can slightly shorten and easily extend this road trip to include additional members of the "Mighty Five." If you're heading to Southern Utah and the American Southwest, explore additional in-depth guides to the region, including sample itineraries and essential planning tips.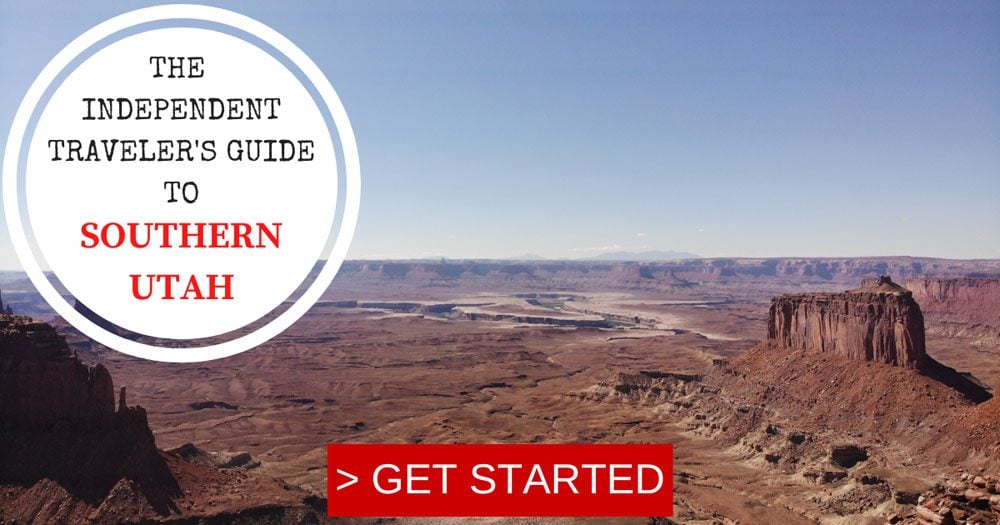 ---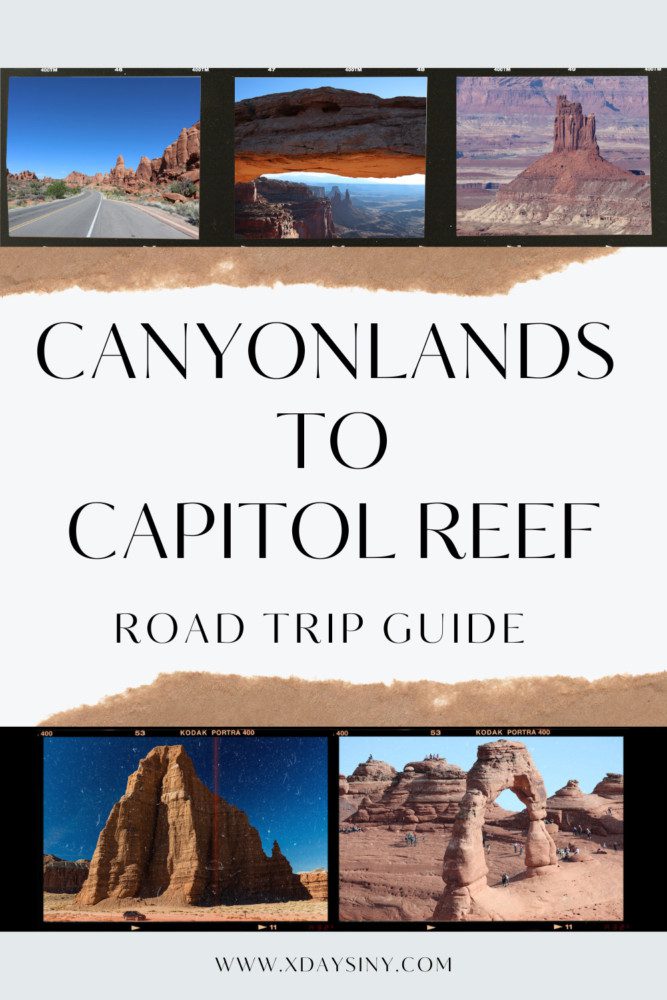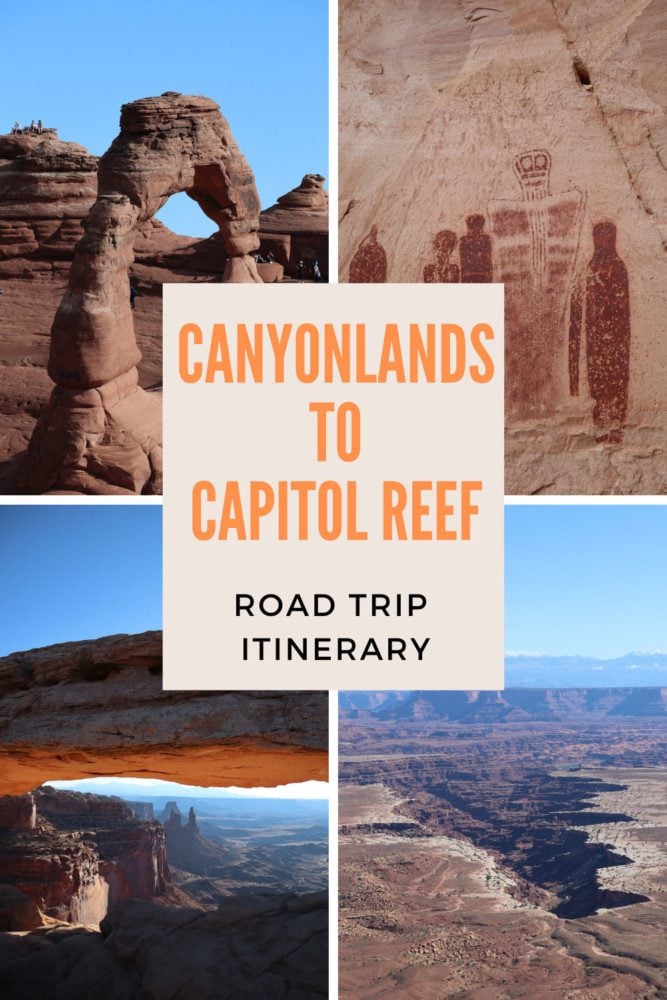 Pin These Images To Your Favorite Boards!