Hiva Oa – The Island Where Time Stands Still
The Marquesas Islands have already grown on me after five memorable days in Nuku Hiva. But all good things must come to an end, so on the 11th and final island we'll explore in French Polynesia, there will be absolutely no constraints. Anything is possible over the next five days. Hiva Oa is another Marquesan island that captivates you just from the sound of its name. With jungle covered peaks, bay after bay of hidden villages where time stands still and ancient statues the size of NBA superstars – Hiva Oa simply cannot be missed! So let's cap off six months in the South Pacific Islands with a big bang. Shall we?
Heading off to French Polynesia? In-depth island guides to all 5 archipelagos await you, including sample itineraries and essential travel tips & tricks.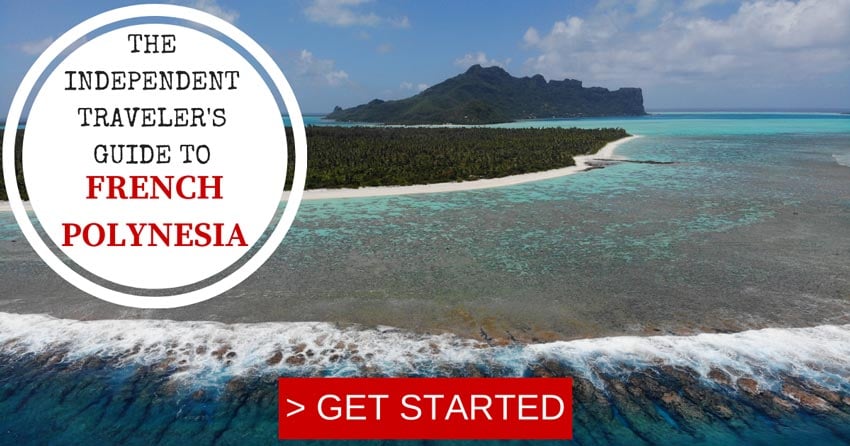 The island where time stands still
Hiva Oa is the third biggest island in French Polynesia, right after its big sister to the north – Nuku Hiva. In an island so beautifully sculpted over millions of years by volcanic activity, there's hardly anyone here. Only 3,000 people call this place home – and boy are they friendly! Some live in remote villages that are only accessible by boat or a treacherous mountain road. We'll visit some of these folks so hang on to that thought.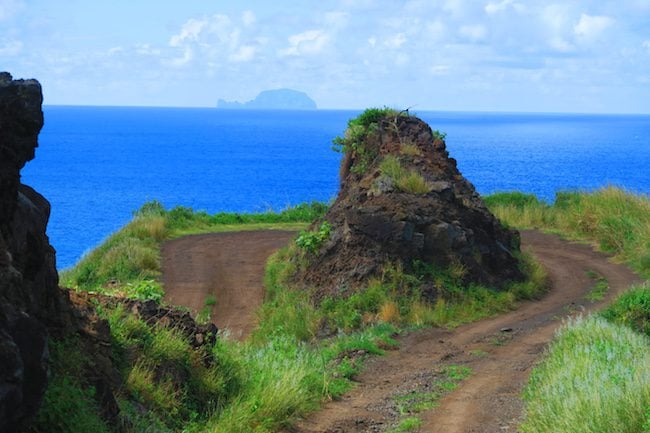 Of the many foreign guests that were drawn to the magic of Hiva Oa, none are as famous as French painter Paul Gauguin and Belgian singer Jacques Brel. Once they arrived to the island, they just couldn't leave…
I arrived in Hiva Oa on a quick flight from Nuku Hiva, thinking about what Alvane is up to today. My thoughts of Nuku Hiva were quickly replaced with excitement, as the plane made landfall over Hiva Oa. Is this place for real? I can't wait to get down there!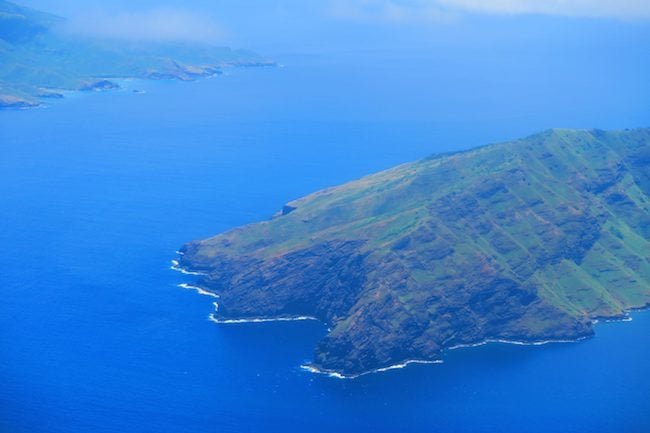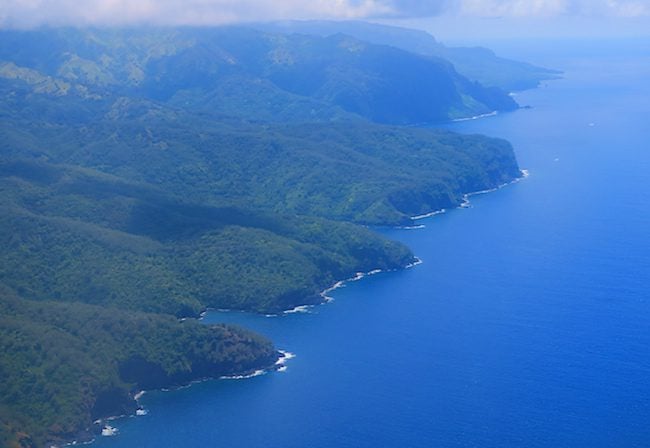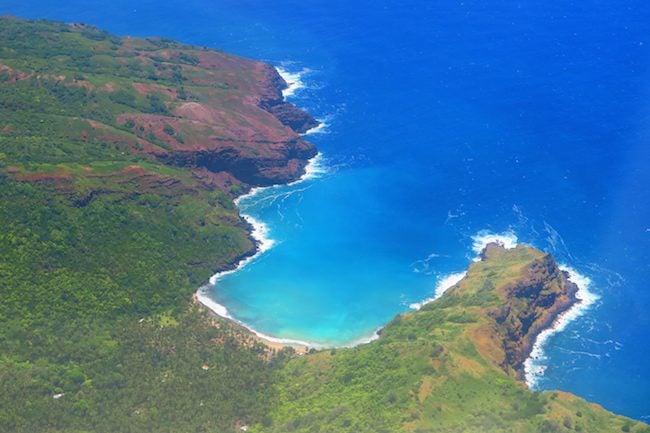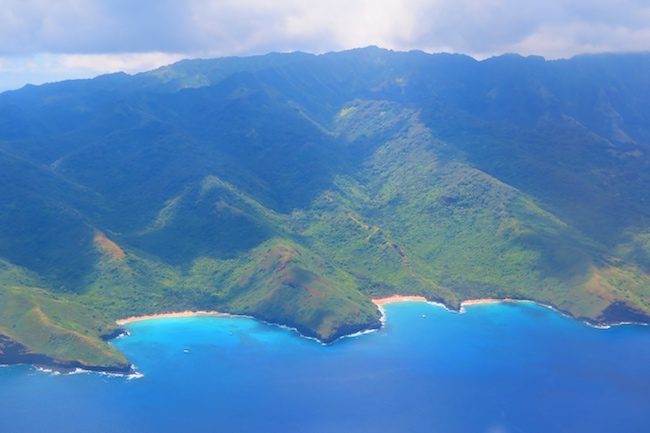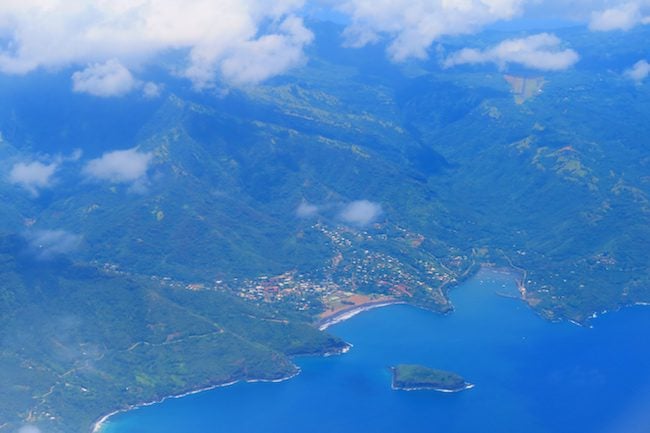 Did the captain have too much to drink?
We flew over endless cliffs and bays that looked like somewhere in Europe before humans arrived. The pilot then swung the plane straight over a deep valley… did he have too much to drink?
The small ATR then began its final descent over a jungle-covered plateau. This is the only flat piece of land on Hiva Oa, so there's no choice but to build the runway here. It had to have been one of the most exciting landings I've ever experienced, definitely a candidate for the world's scariest runways.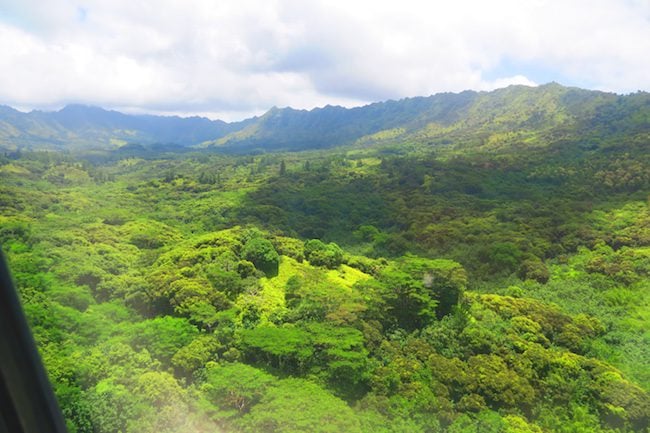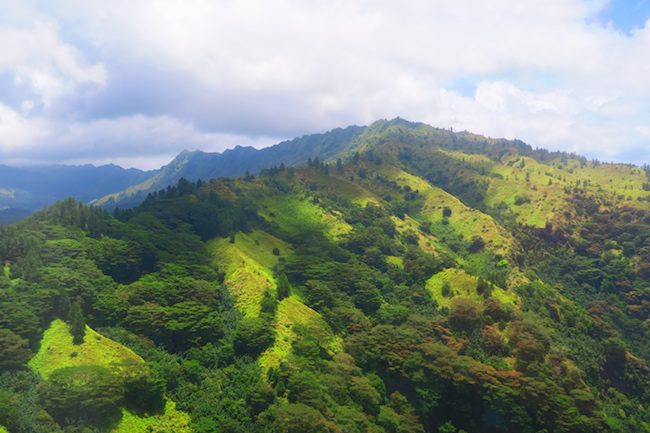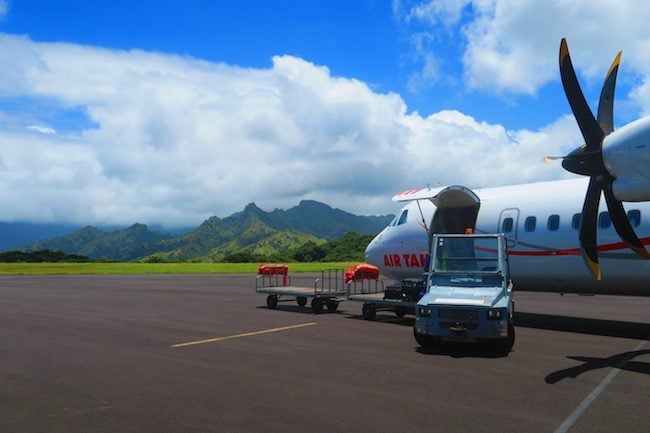 I was greeted at the airport by Tania, the owner of Pension Kanahau. The constant smile on her face and that contagious laugh light up every room she enters, even a small airport terminal. I'll never forget this. Tania worked in the tourism industry on other islands, before realizing she could do it better than anyone else. We hopped into her a 4X4, the island's prime necessity, and rode along the coastal cliffs to her pension – perched up on a hill.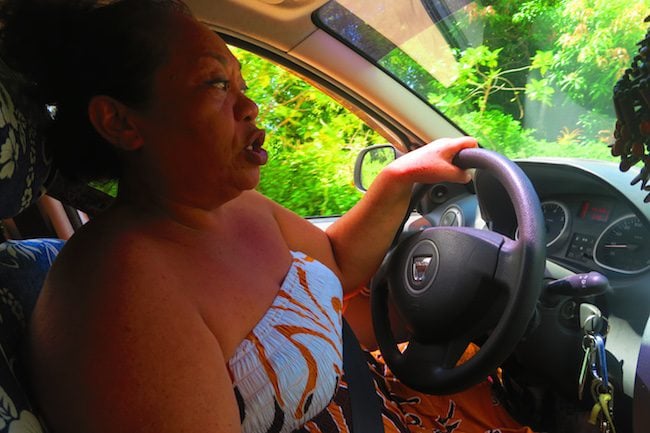 Of all the lovely pensions I got to visit in French Polynesia, Tania's place wins the top prize for panoramic views. The picturesque port, the lush mountains, and even the distant Tahuata island – all seem to be within arm's reach.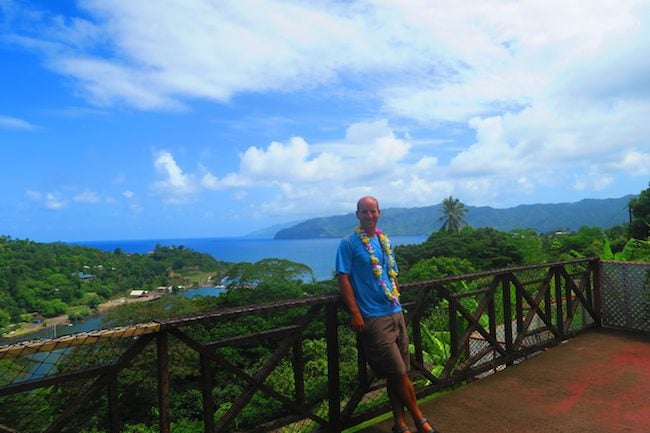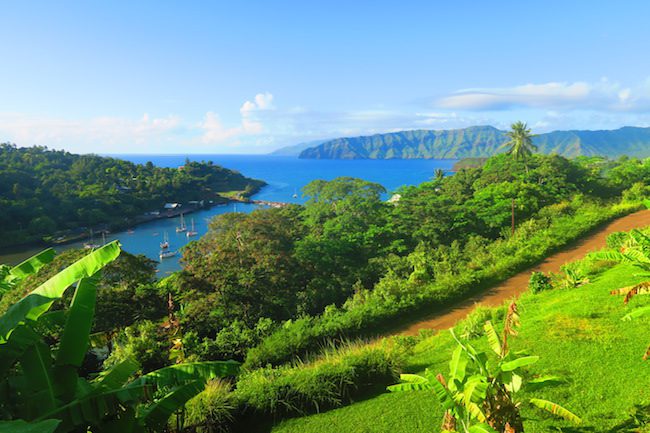 The Swiss Alps in the tropics
Even with this gorgeous view, it's time to check out Hiva Oa's main village – Atuona. The village sits in a small stretch of flatland at the edge of a valley, squeezed between a black sand beach and a semicircle of cloud-covered peaks. You might be getting tricked into thinking you're somewhere in the Swiss Alps, that is until you're soaked in sweat after only a few minutes of walking.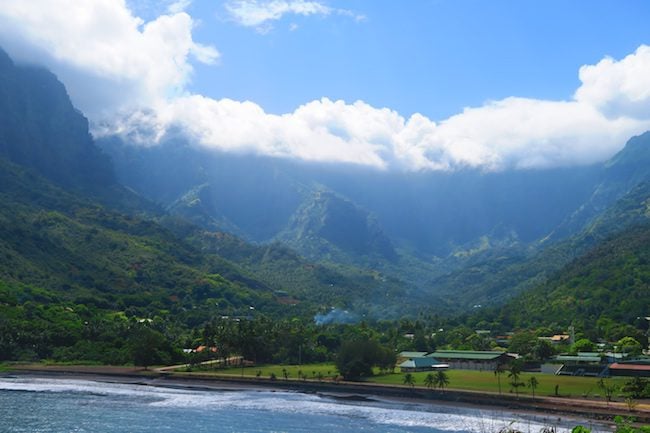 Atuona is one of the prettiest and most tranquil villages in the South Pacific. The word 'stress' simply doesn't exist in the local lexicon. Tropical flowers and fruits in season are just the norms along the main street. Just help yourself and grab a snack for later.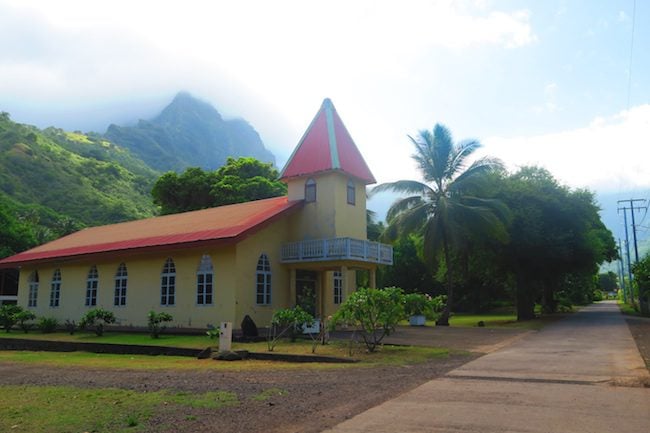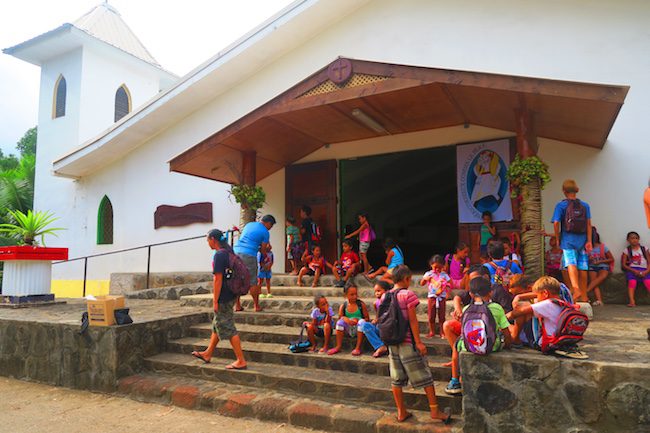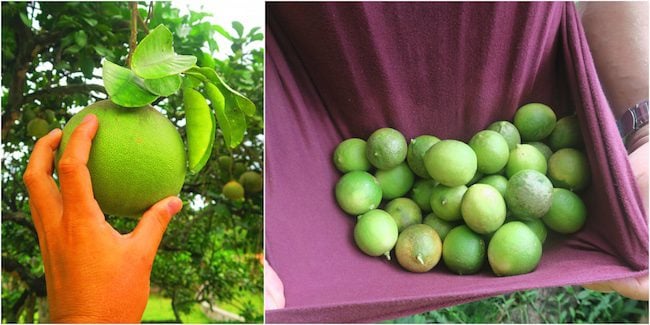 Though I'm by no means an art lover, I recalled seeing the exotic paintings of Paul Gauguin in the Musee d'Orsay in Paris, so I just had to visit the legend's museum. Gauguin settled in Hiva Oa in the 1890s after a stint in Tahiti, with the hopes of 'getting lost' and being able to focus on art. He depicted the daily life of Tahitians and Marquesans, contributing to the global fascination with this exotic distant land.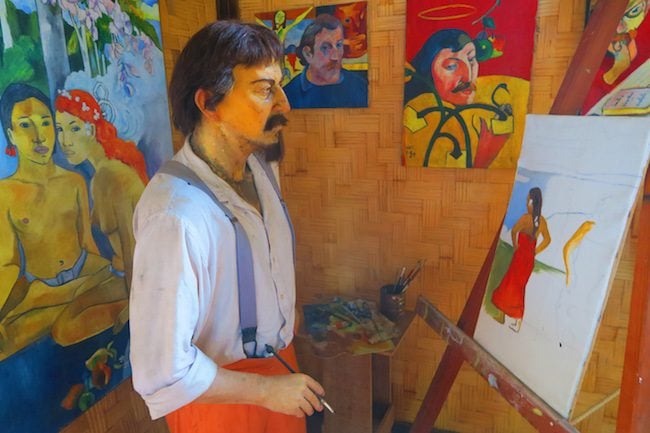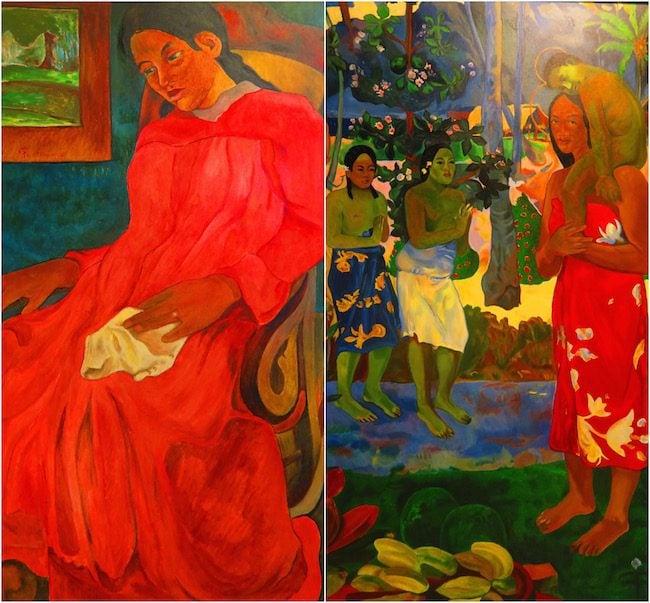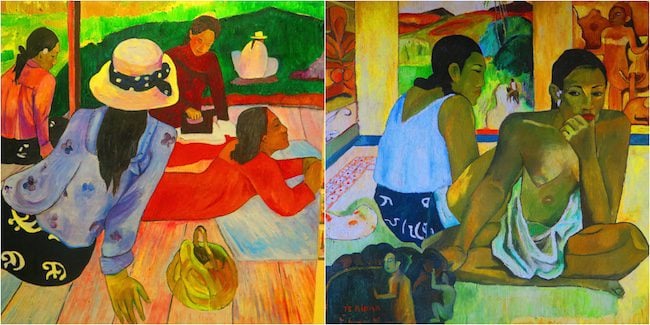 From one artist to another, I crossed the street and headed inside a hangar that houses Jacque Brel's famous airplane – Jojo. The man responsible for so many romances, breakups and everything in between, came to Hiva Oa in search of a life as an ordinary man. He became a true part of the local landscape, even using Jojo for local medical evacuations.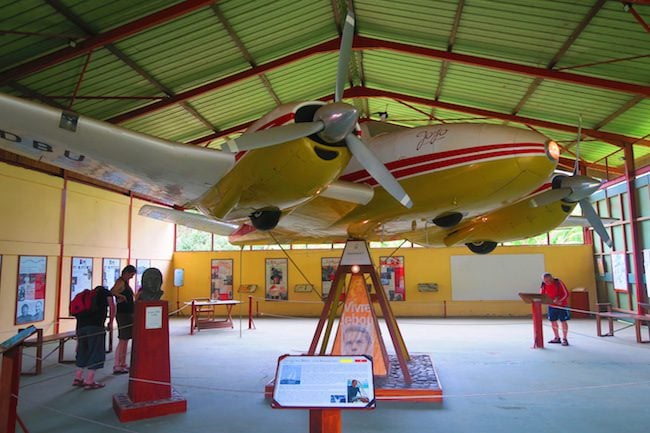 To complete the celebrity pilgrimage, I headed up the hill to the Calvaire Cemetery. In Hiva Oa, even the deceased are rewarded with eternal panoramic views. The cemetery is the final resting spot for village locals, former missionaries and of course – Brel and Gauguin.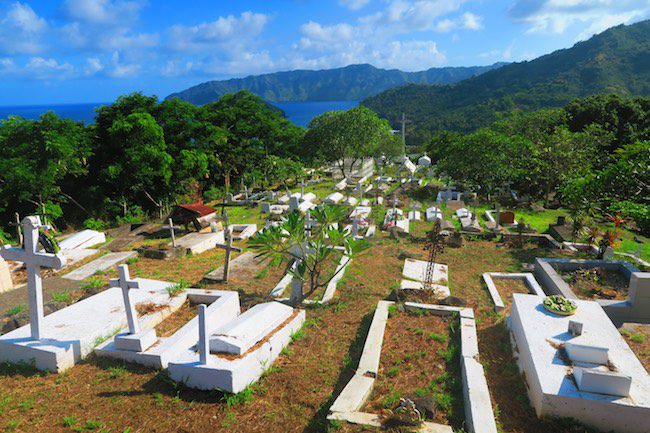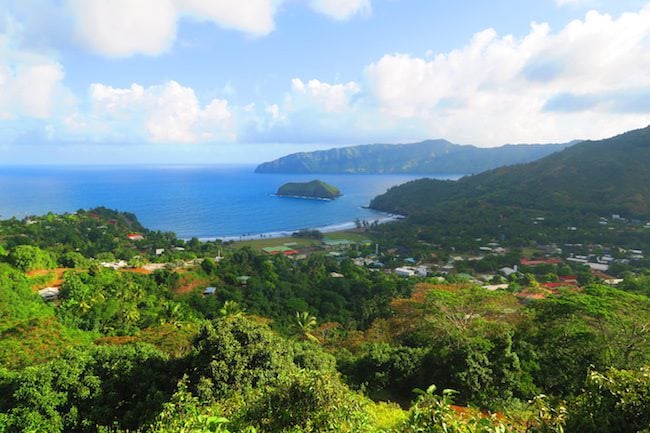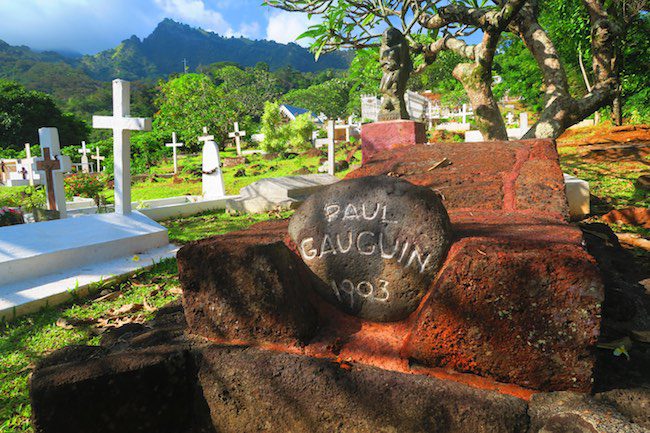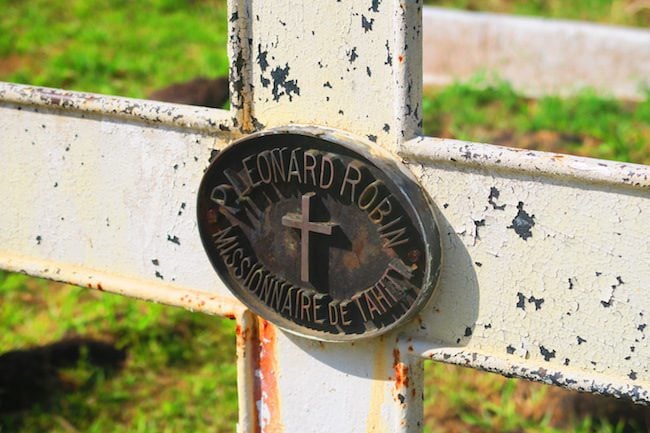 Much like Jim Morrison's grave at the Pere Lachaise Cemetery in Paris, Brel's is a mecca for fans. A very heavy smoker, he died at the age of 49 from cancer.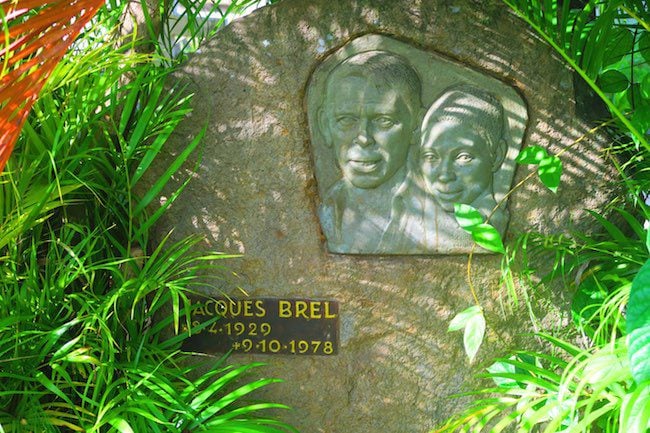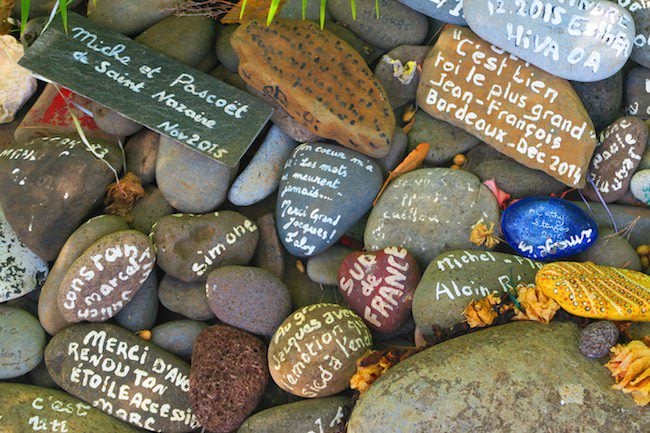 A little gift for you!
Friendly host? Check! Great view? Check! But what about the food? Turns out that Tania is quite the cook, hitting all the right taste buds. Tuna was usually on the menu – and that's perfectly fine by me. In fact, Tania makes delicious poisson cru. I've been bragging a lot about French Polynesia's national dish in just about every post, so Tania was awesome enough to share with us her secret recipes. Here's your very own PDF copy to print and prepare! Tama'a maita'i (that means bon appetit in Tahitian).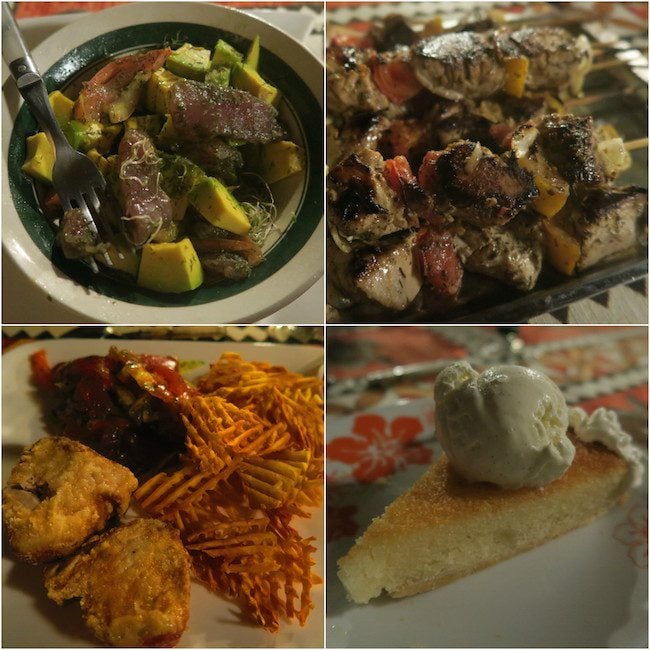 Tania's desserts were always delicious, but nature's version cannot be beaten. From my balcony, I could see the Milky Way right over my head. I haven't seen it since that magical week in Ofu Island in American Samoa. There were millions of stars over my head, and millions of mosquitoes and lizards trying to get into my room. The tropics aren't a place for softies.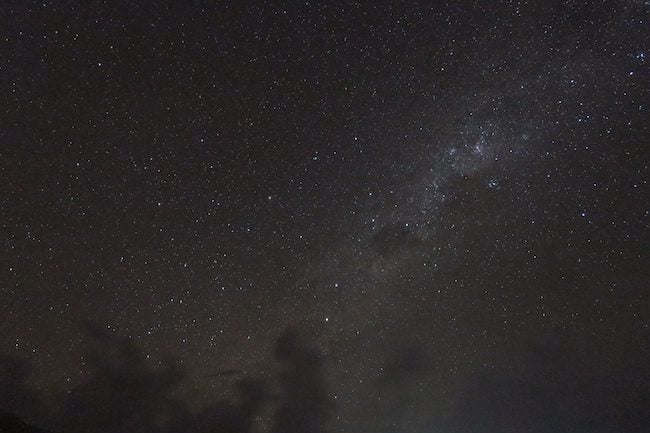 O'connor ain't exactly a Polynesian last name
The next morning, I headed down to the port, where I met Pifa O'connor – my guide for the day. Pifa also doubles as a fireman and speaks excellent English after studying in Hawaii. But what's the deal with that last name? O'Connor ain't exactly Polynesian… It turns out that his great-great-grandfather escaped the Great Famine in Ireland and somehow made it here.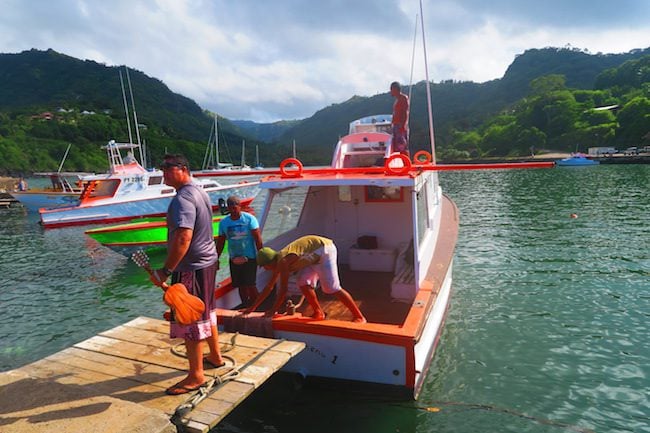 Pifa arranged for a fishing boat to take a bunch of us across the 4-kilometer channel to neighboring Tahuata Island. We were escorted out of the port by a family of manta rays; haven't seen those since Maupiti Island. We then crossed Ta'a Oa Bay, which is actually the ocean-filled crater of an extinct volcano. Without the protection of a coral reef around us, even a calm day at sea was pretty rough. The views were totally worth it though!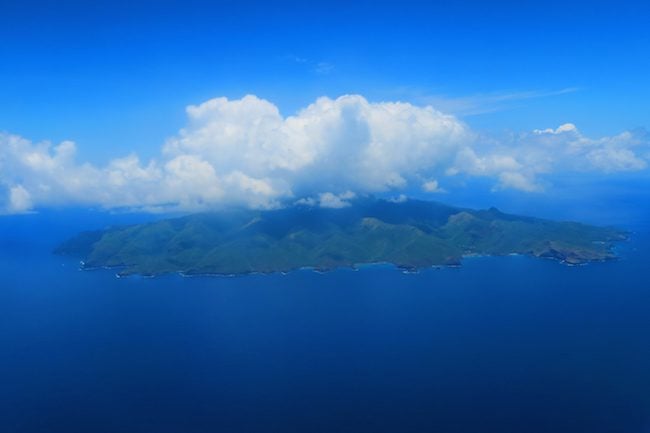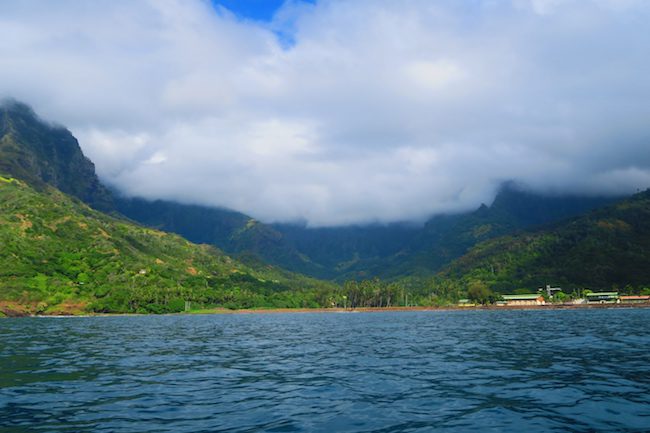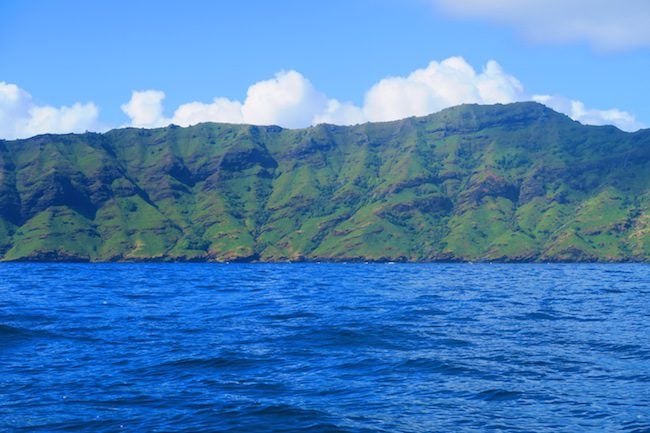 The scenery around us of sea cliffs pounded hard by the ocean, made it all look like we're somewhere in England or Ireland. Such are the Marquesas Islands; every island is like a package of totally diverse nature from the four corners of the globe.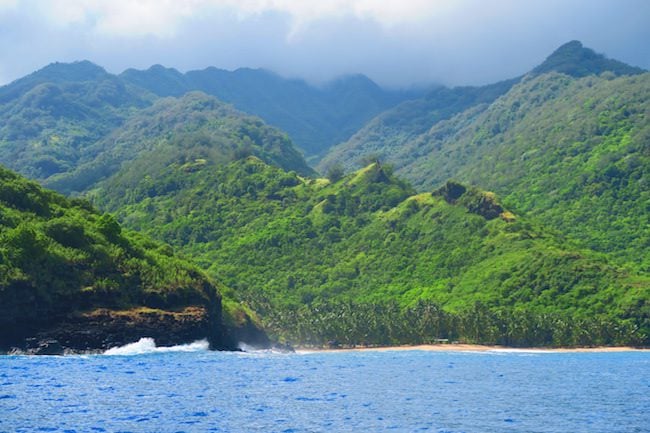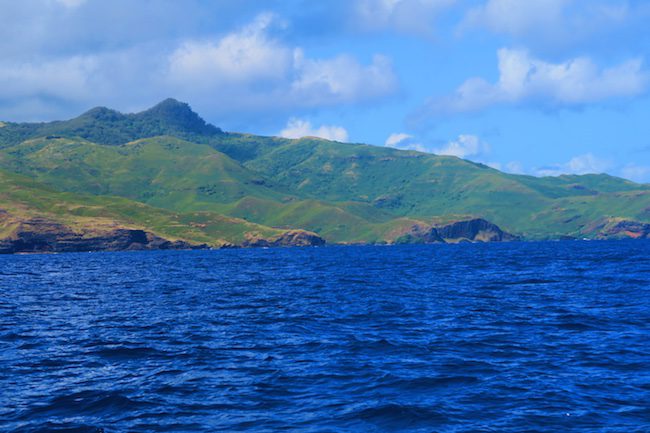 Who needs a supermarket around here?
After a 40-minute boat ride, we entered the tiny harbor of Hapatoni Village. About 100 people live in this picturesque village, mainly living off fishing, copra production and hunting. There are no shops, no internet but they do have a payphone…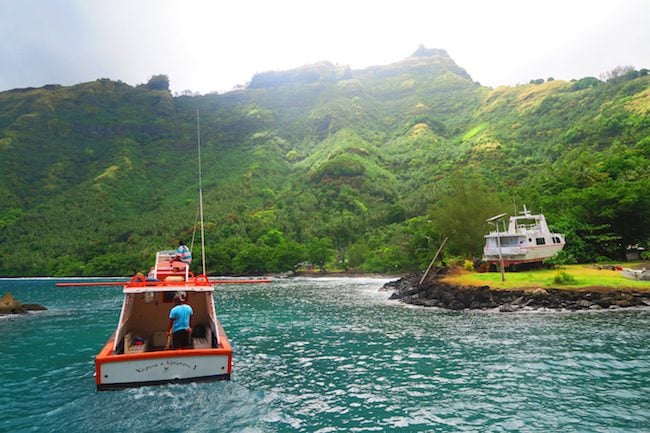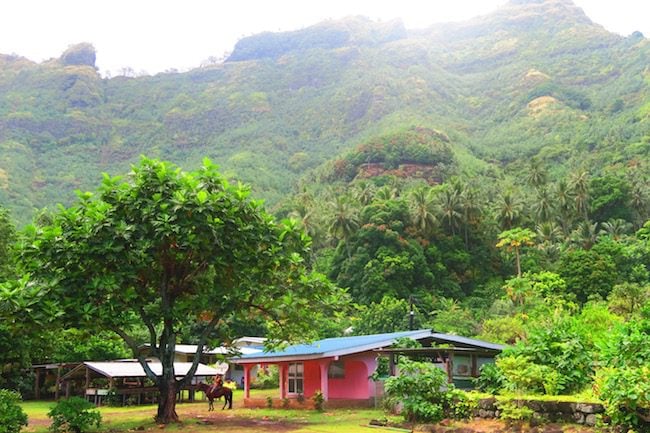 We marched along 'main street', saying hello to the resident piglet and listening to Pifa, as he enlightened us with knowledge about all that's growing around us. There was of course the tiare flower – used for fragrance and monoi oil, wild hibiscus – which believe it or not can be used as antiseptic if no dentist is around, noni – with its disgusting smell (like blue cheese) but miraculous ability to cure illness, corosol – a spiky yet perfect fruit for jams, and last but not least the tamanu – whose oil is perfect for massages and insect bites.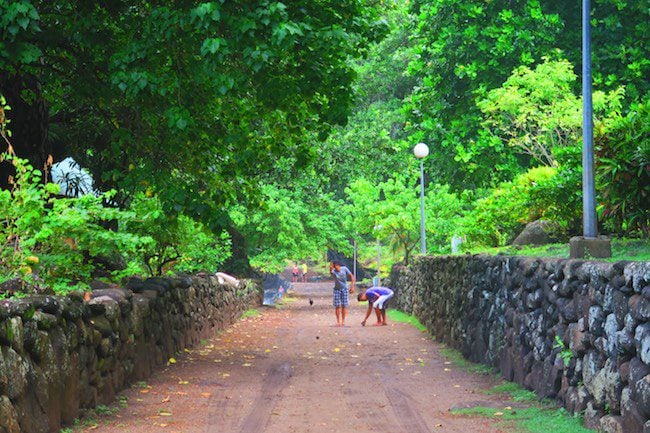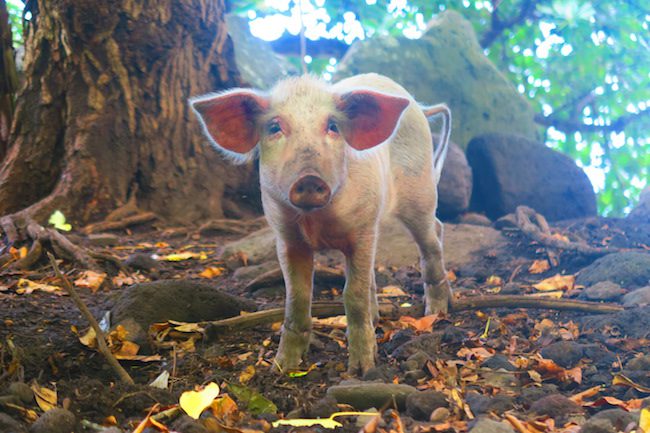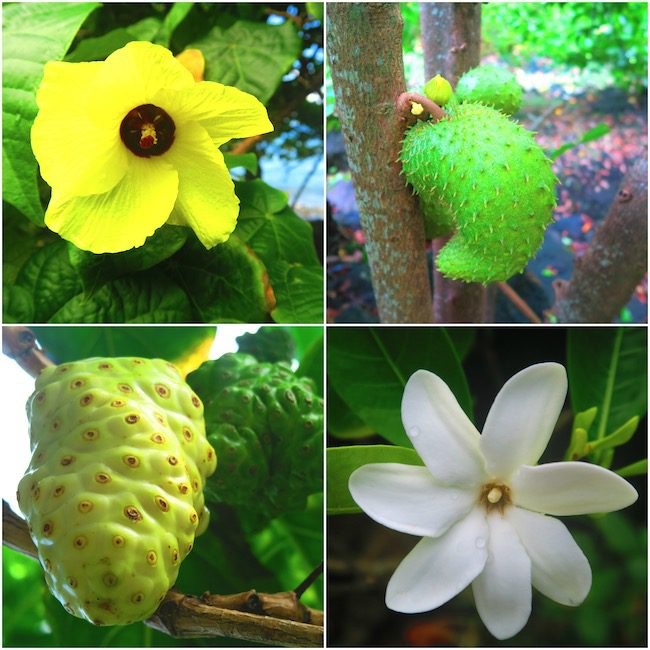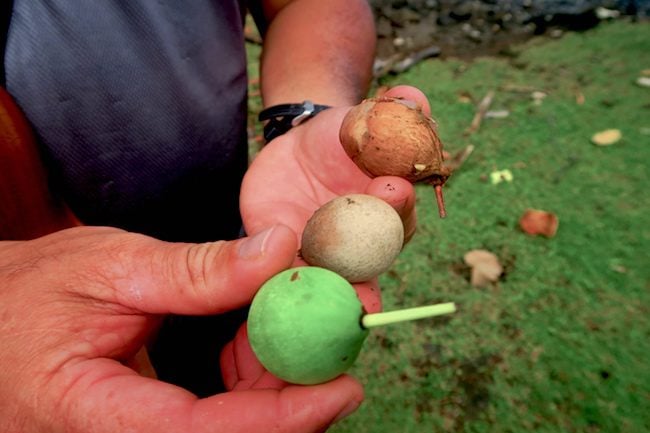 Under the shade of one of the 200-year-old tamanu trees, a local artist was busy carving a traditional paddle made from rosewood. It will take him two full days to complete, after which it will be put up for sale in the local market or shipped off to Tahiti. Marquesans are among the best carvers in the country. We popped next door to the artisan market to see some more things we all wanted to buy. There were weapons fashioned from bones (not human), jewelry and sandalwood figurines – a very rare tree that's practically been eradicated on other islands.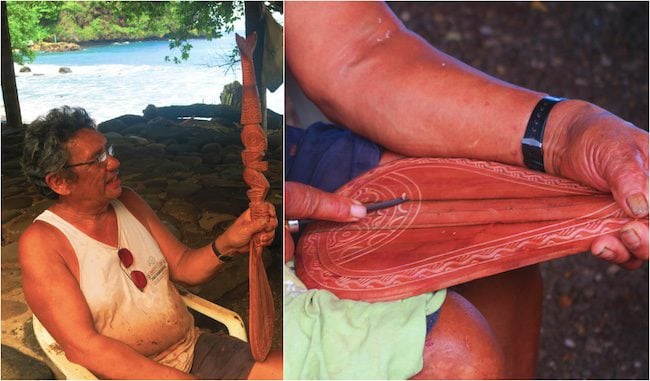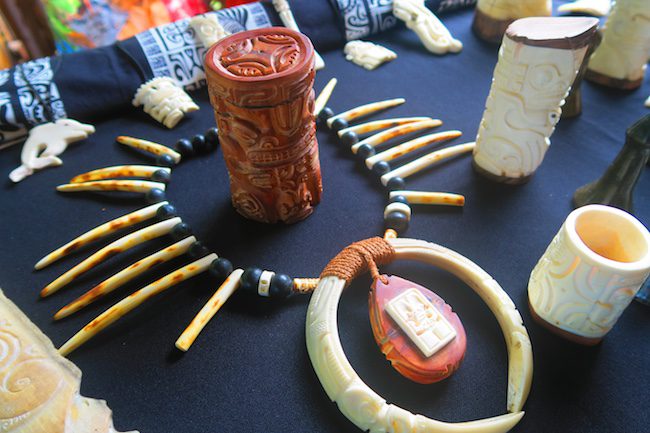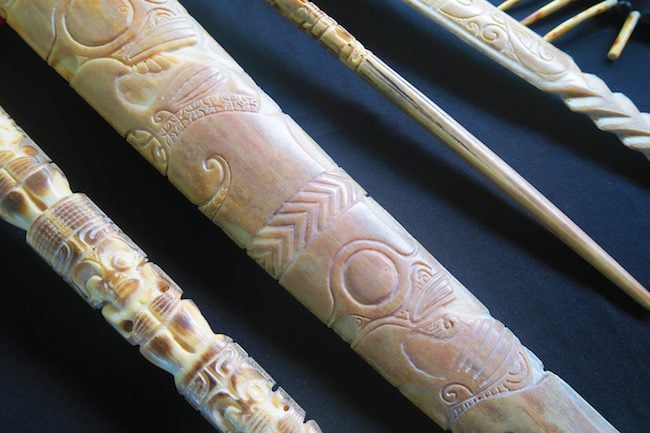 Our village tour finished off with a visit to the local church. It's been around since 1877 and is barely large enough to fit all the villagers. As we waited for the boat to come to pick us up, Pifa played a few tunes on the ukulele as we treated ourselves to some freshly picked grapefruit. He's got a great voice for a fireman…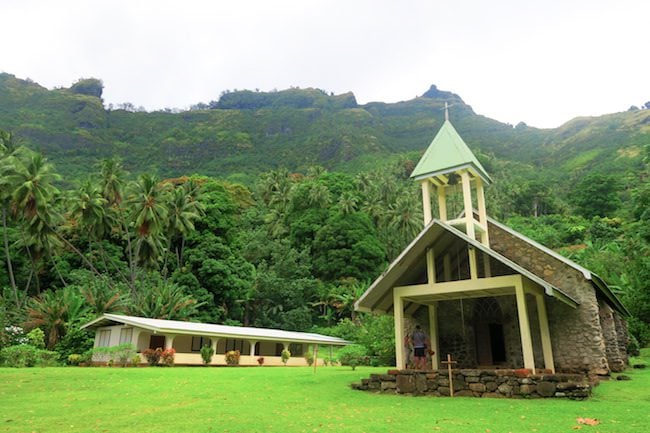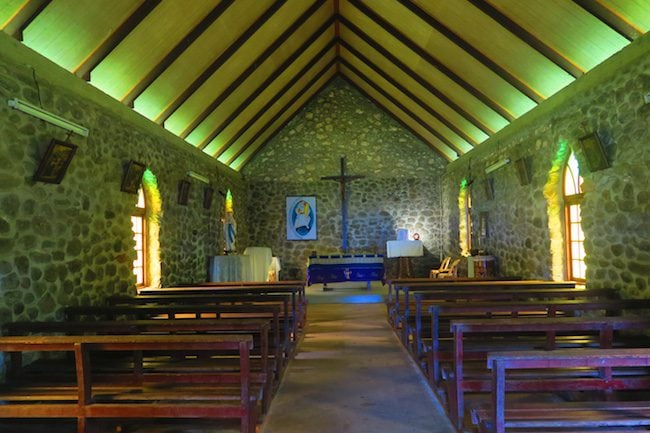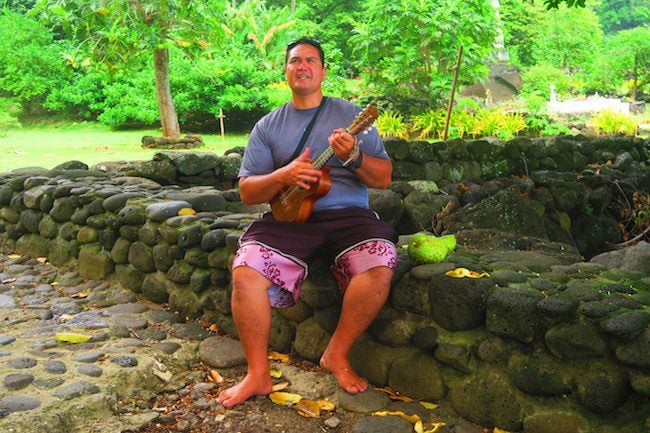 Are we seriously getting on that boat?
Back on the boat, we sailed for another twenty minutes before seeing a break of white sand among all the rocky cliffs. Could this be our lunch stop? The boat slowed down as it entered the calm bay. As we neared the beach, a tiny rowboat headed towards us. Is this our ride? Oh God! We all somehow made it into that tiny boat. Welcome to Hanamoenoa Bay, time for lunch!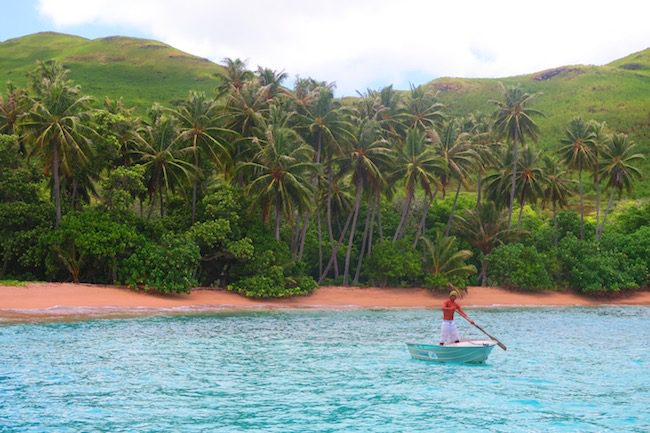 As Pifa and the guys prepped the BBQ lunch, we had the chance to explore the surroundings and go for a dip. There's nothing exciting to report in terms of snorkeling, but it's such a beautiful spot.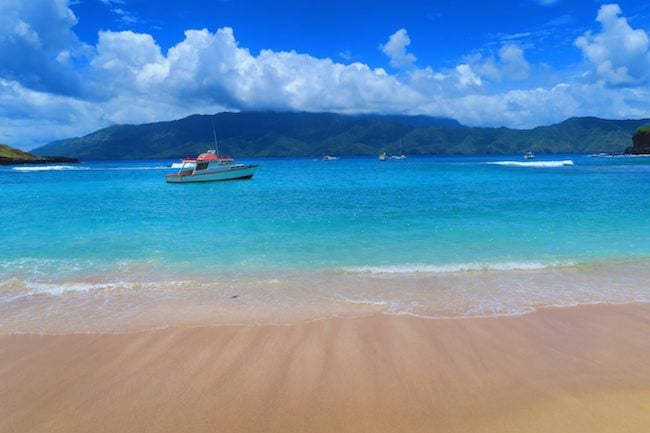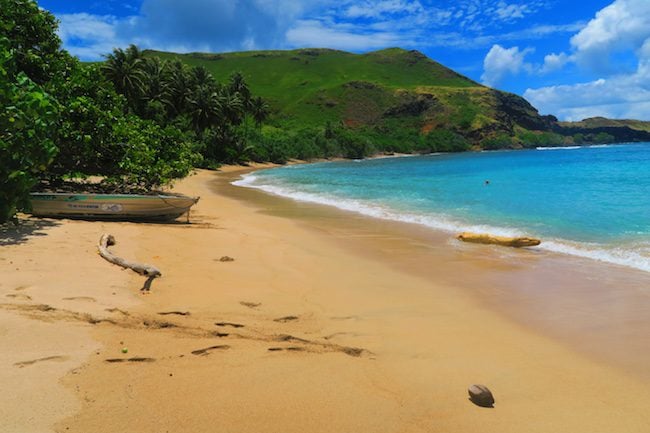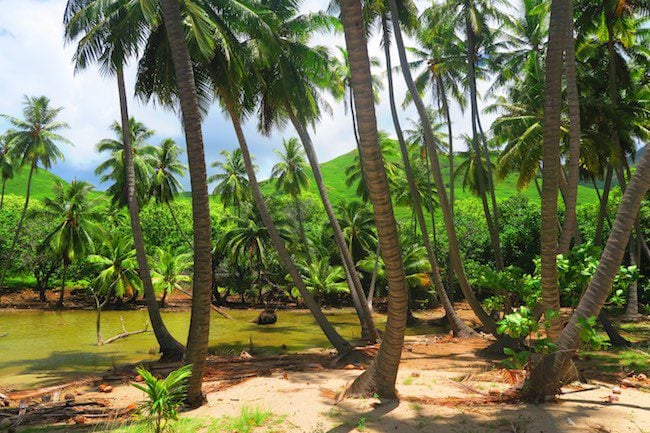 Lunch was served in classic Polynesian picnic fashion, complete with: tuna steaks, coconut rice, and the quintessential poisson cru (in case you missed it earlier, here's the recipe for the Tahitian 'national dish'). It always amazes me just how good the locals are when it comes to picnics in the middle of nowhere.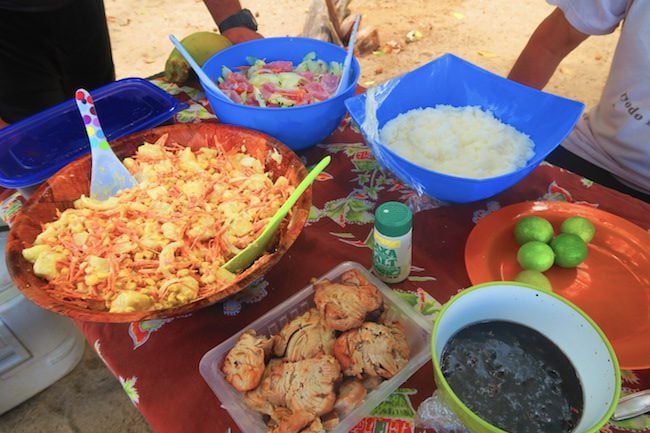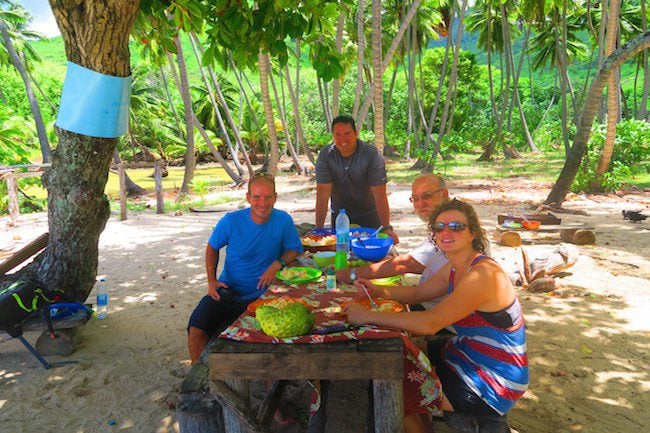 Dessert included freshly baked brownies and more ukelele tunes by Pifa, as we all snoozed a bit before getting back on that tiny rowboat. Back at the port, locals were fishing off the pier – using special rods with multiple hooks. With a bit of luck, they would pull six small mackerels that would be sold to the yachties as bait for when they're fishing at sea for the big stuff. Not a bad business.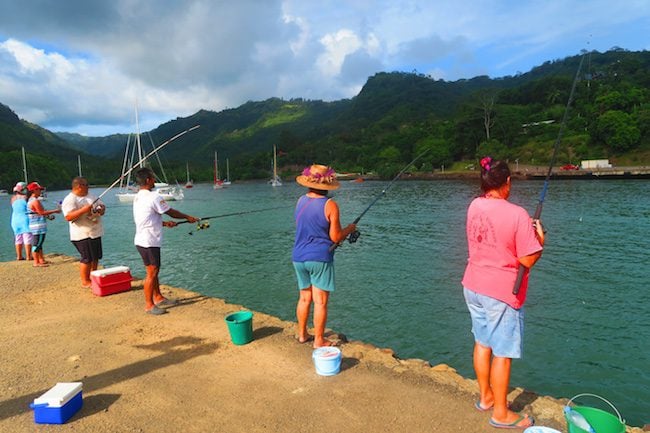 Saddle up!
The next morning saw the arrival of the famous Aranui – a cargo ship that also doubles as a luxury liner. It was a busy morning down at the port, with passengers disembarking for a few hours on land and freight offloaded. I watched all this commotion from the comforts of my balcony, with a pot of fresh morning coffee.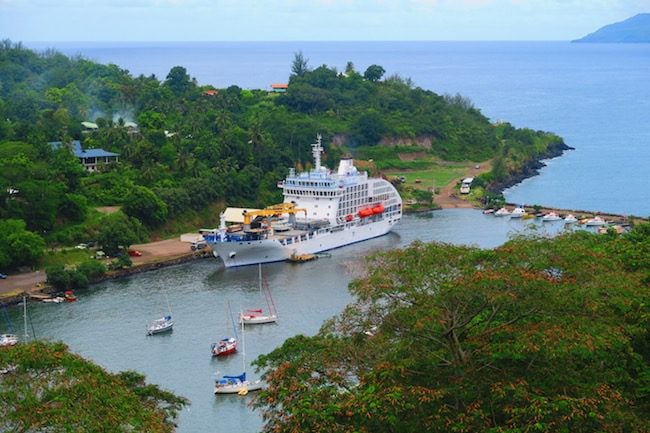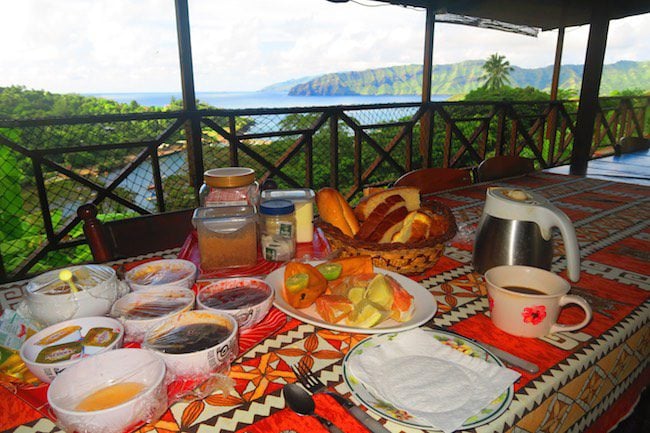 I then went to meet Paco at his ranch just outside the village. Paco is one of the most respected horsemen in French Polynesia. The plan? Explore the island on horseback – one of the top things to do in Hiva Oa. The problem? Heavy rain! As a French couple decided to call it quits, an experienced Belgian rider and I decided to take our chances. Weather is so unpredictable over here, and it can go both ways.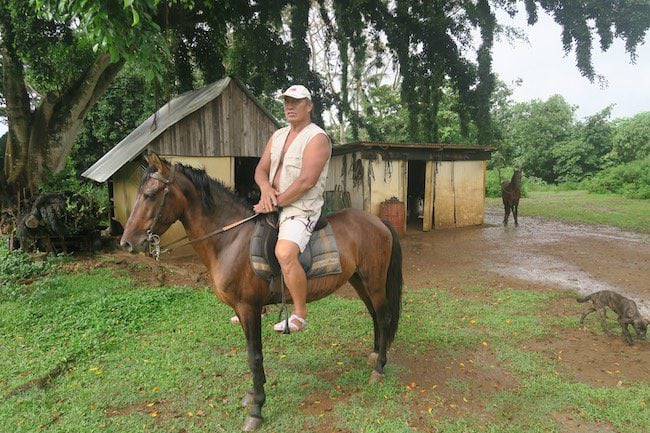 Our gamble worked! The skies quickly cleared up and it turned out to be a beautiful day. Never give up! Paco paired me with Ottawan, a horse named after the Canadian capital city. Off we went into the forest, always accompanied by Paco's hunting dogs.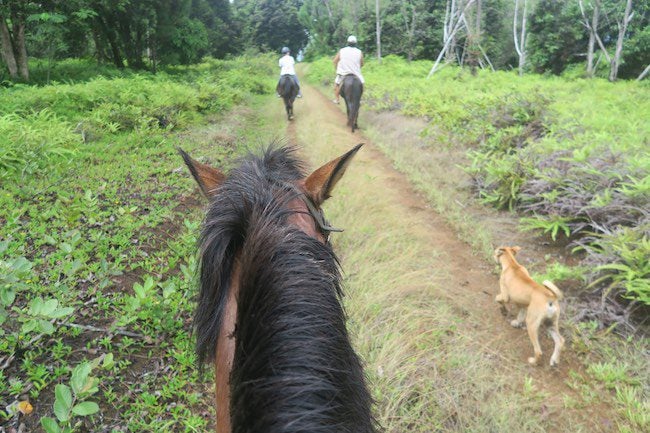 Our first stop offered beautiful panoramic views of Atuona and its bay. We then continued along the ridge deeper over the valley, just as the Air Tahiti flight was approaching the nearby runway with more fresh faces getting 'wowed' onboard.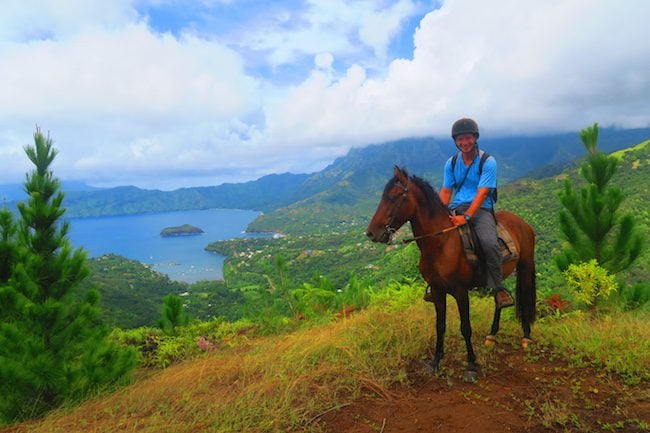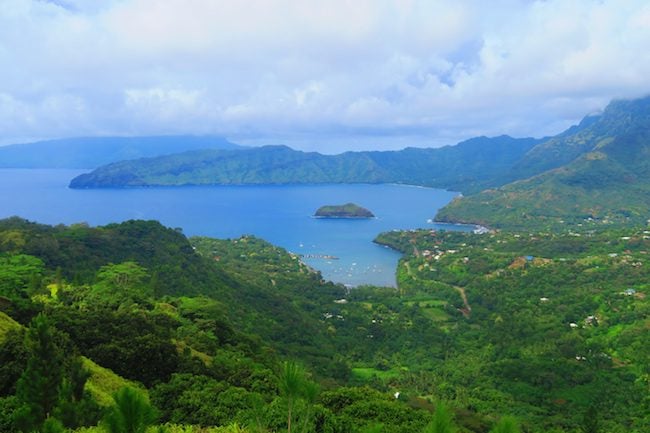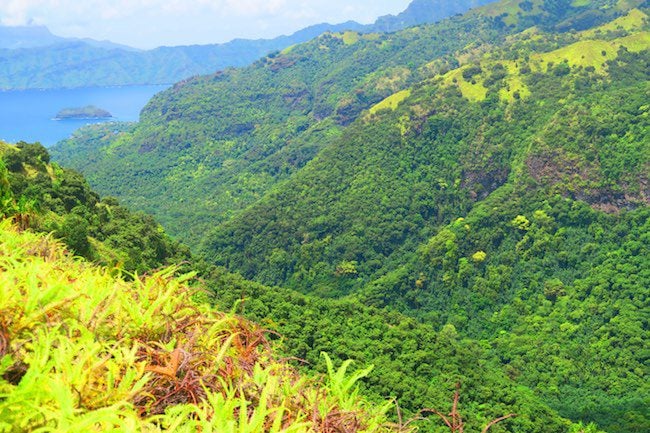 We then ventured deep into the rainforest, slippery and muddy from all the recent rain. Though Paco said it was nothing for them, I felt Ottawan struggling a bit – but that's because I'm such a terrible rider. There were steep climbs, slippery descents and lots of fallen branches to watch out for. I tell you, riding a horse is not as easy as it looks. I really can't understand how Clint Eastwood could ride one as if it were a motorcycle. I was kind of glad when we made it back to the ranch. Farewell Ottawan – my back and a$$ are killing me!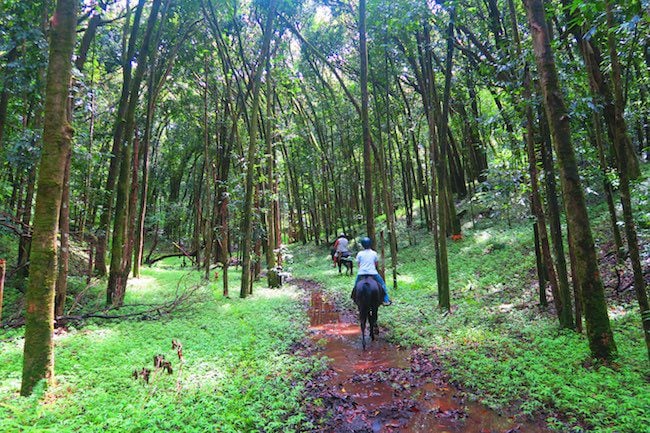 Those aren't rotten eggs you're smelling
The fun wasn't over with such clear skies. Before a father/daughter team had to catch their flight, Tania packed us into her car and took us to Taaoa Bay. The short ride from town is a scenic one, driving along the cliffs and looking back towards the village and the hills. At some point, it smelled like rotten eggs. Tania explained that it's sulfur we're smelling, caused by an underwater volcano that lies somewhere in the ocean between Hiva Oa and the island of Fatu Hiva – some 90 km's away. In a few million years, a brand new island will rise to the surface!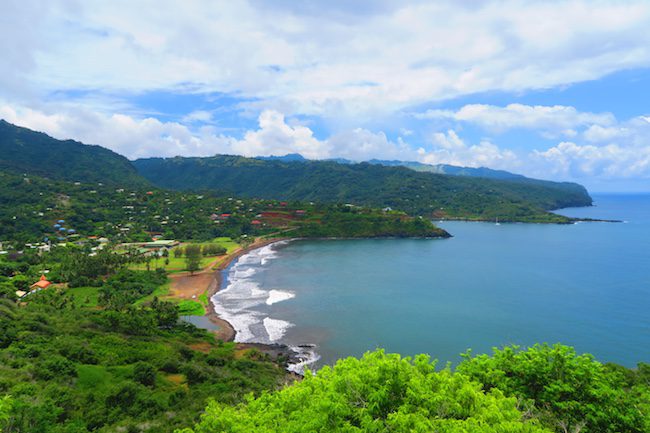 Taaoa Village marks the end of the paved road. There's a beautiful church (of course) that's actually one of the most photographed in French Polynesia. We met Tania's friends who had just finished peeling a few Hinano leaves. Hinano is not just the name of the national beer, but also of a plant that gives off a long-lasting fragrance. It's used by locals to keep clothes smelling fresh in the closet. Polynesians have a natural solution for everything.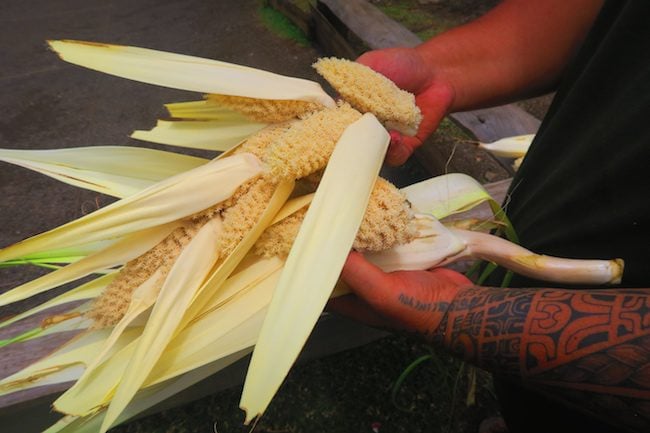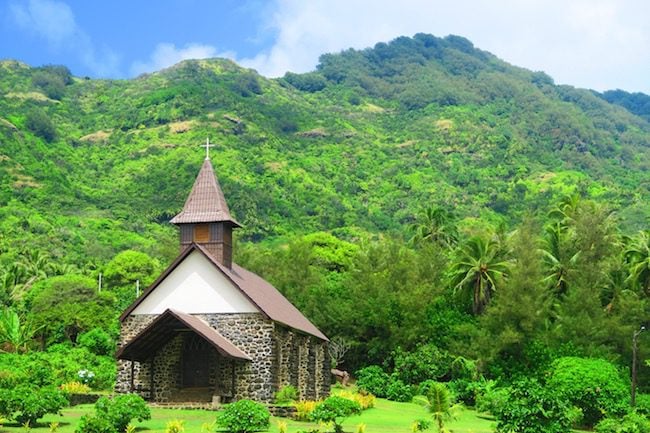 This was just a warmup! >> Head over to the next page and explore the wild side of Hiva Oa!