I already fell in love with Fakarava as I peaked out of my Air Tahiti window seat. From up here, the magical atoll looks like a NASA satellite image – a massive ring of coral rock in the middle of the vast ocean, encircling a blue lagoon often sprinkled with tiny golden sand bars. Fakarava not only offers scuba divers the chance to visit underwater heaven, but also offers anyone the chance to enjoy life as it should be – extra slow and on your very own tropical beach. Visit this dream atoll before the secret is out, and use this Fakarava Travel Guide to make your tropical wishes come true!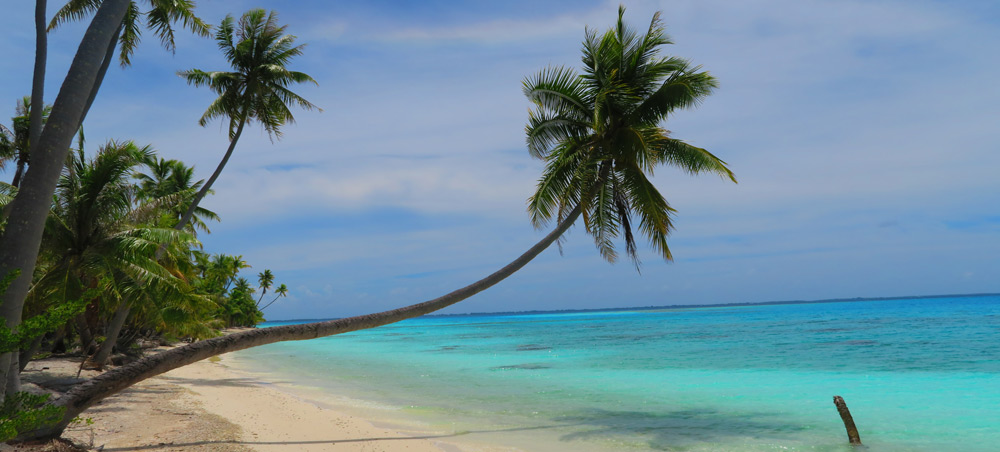 About This Fakarava Travel Guide
I spent three months in French Polynesia, as part of a six-month backpacking trip across the South Pacific Islands – with 7 nights in Fakarava. This travel guide to Fakarava was written based on my experiences and is meant to help you make the most of this destination. The Fakarava Travel Guide is geared towards independent travelers, but any visitor will find it useful.
Heading off to French Polynesia? In-depth island guides to all 5 archipelagos await you, including sample itineraries and essential travel tips & tricks.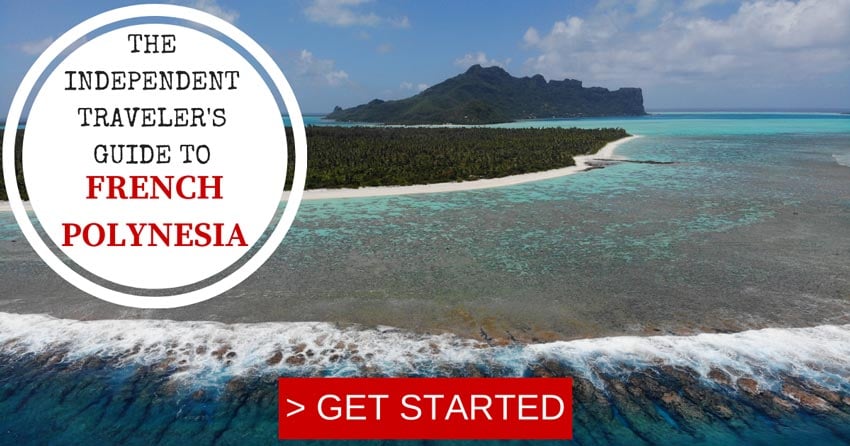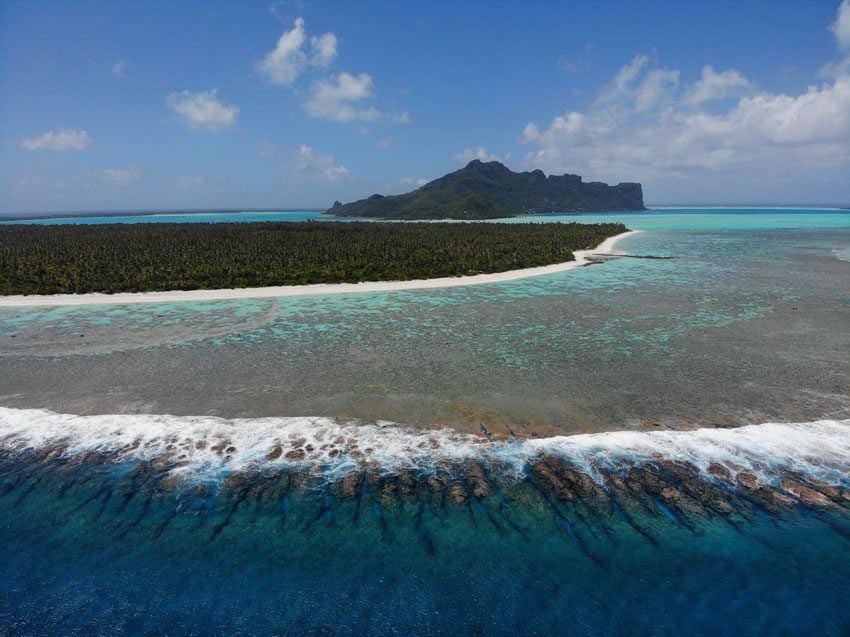 Tahiti, Tailor Made!
The Islands of Tahiti are among the last places to be colonized by mankind, 118 islands, each with their unique personality.
Get expert advice and assistance with planning your trip to the destination where tropical dreams come true!
See Options
---
Why Should You Visit Fakarava?
If you love scuba diving but looking for something beyond, Fakarava is a perfect choice. On the diving side, Fakarava never disappoints – with pristine coral as equally impressive as the walls of sharks. But the 'added value' in my opinion is the possibility to enjoy life in the slow lane back on dry land, whether on a stroll through the sleepy village or on your very own tropical beach.
While neighboring Rangiroa is (relatively) mass-marketed, Fakarava is still off the tourist radar (for now). You'll find fewer hardcore dive enthusiasts who schlep their gear with them wherever they go, and a lot more down-to-earth independent travelers like you. Fakarava can also be "two destinations for the price of one". Its north (lagoon pass) is the most visited but it's the south pass that's most known for superb diving and pink sand beaches. You'll need to lower your standards and make an extra effort if you wish to overnight in the south pass.
Here's a quick tour of Fakarava. Enjoy!
What's Included in the Fakarava Travel Guide?
Several sections make up this travel guide:
Facts and brief history
Essential travel tips for visiting Fakarava
Things to do and places to see in Fakarava
Fakarava Travel Guide Map
This map features all the highlights mentioned in this guide. Click on the image to open in Google Maps.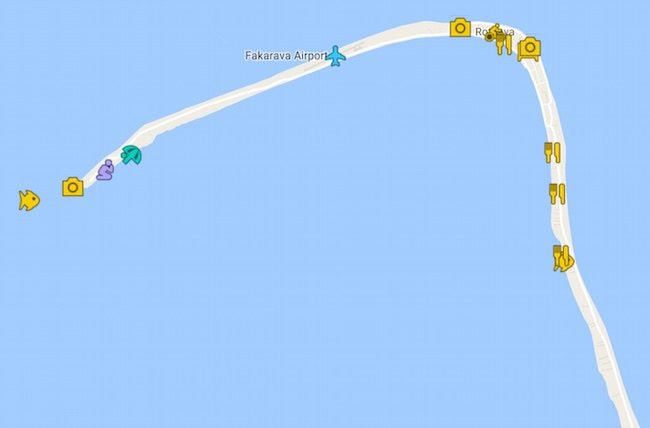 Facts & Brief History
Before diving into what Fakarava has to offer, let's briefly discuss the uniqueness of the island and its archipelago.
The Tuamotu Atolls
Fakarava is part of the Tuamotu Archipelago of French Polynesia. Consisting of 78 islands and atolls, the Tuamotus form the largest chain of coral atolls in the world, covering an area of the South Pacific roughly the size of Western Europe! Visit the 'facts & brief history section' of the Rangiroa Travel Guide to learn more about atolls and the Tuamotu Archipelago in general.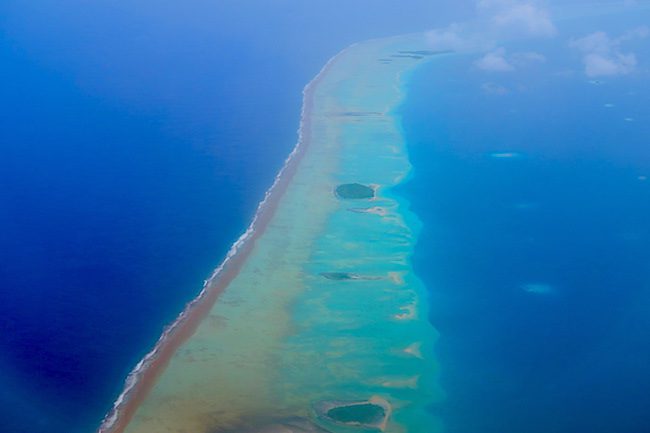 Fakarava
The second-largest atoll in the archipelago, Fakarava is home to the largest lagoon pass in French Polynesia – the Garuae Pass (~2km wide). The atoll is home to incredibly rich marine life, which is protected as part of Fakarava's status as a UNESCO Biosphere Reserve. Its huge lagoon may not be as big as Rangiroa's, but it measures a whopping 60*25 kilometers, sitting on top of a former volcano that sunk millions of years ago that reaches a depth of 1,100 meters!
About 850 locals are living on this huge yet isolated stretch of narrow coral rock. They live a very easy-going life, tending to coconut plantations used in the production of copra, cultivating black pearls, fishing, and catering to scuba diving tourists.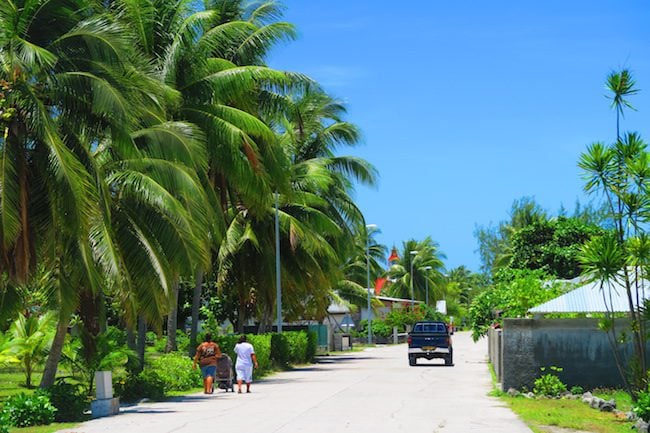 Fakarava Travel Tips
Listed here are specific travel tips for Fakarava to help with the planning stages of your visit.
Recommended Reading
Tikehau, Fakarava or Rangiroa?
Every island in French Polynesia is different, so choosing the right mix of islands can be a challenging task. The same is true for the Tuamotu Atolls. Though similar in look, they each offer something slightly different. Listed below are what I consider the pros and cons of the "big three", the most visited stops in the archipelago. For a more in-depth look, here's a guide on how to choose which atoll to visit in French Polynesia.
Tikehau
Pros

: very laid back and

not geared for large-scale tourism

, activities, and sites to see apart from purely scuba diving,

pink sand beaches

that are relatively easy to reach, possible to see unique species of sharks (tiger and hammerhead) even in shallow dives.

Cons

: the coral throughout the lagoon is not that impressive,

lack of diversity in dive sites

, travel time to dive sites takes up a lot of time, few places to dine around the main motu.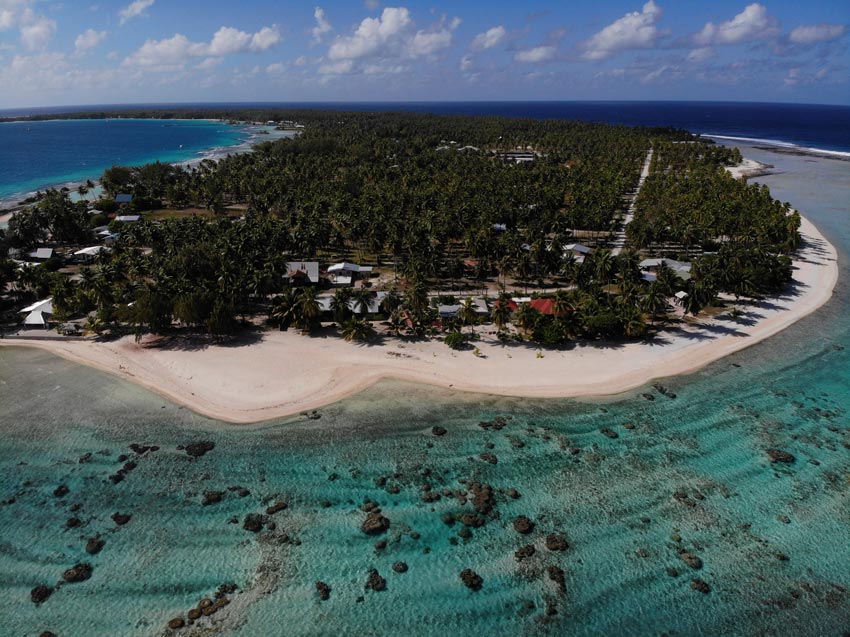 Fakarava
Pros

: laid back and still not yet fully discovered,

plenty of ways to enjoy the atoll apart from diving

, the coral is simply exquisite so every dive is memorable, two very distinct dive sites – the north & south passes, the motu where you'll be staying is huge and you can easily get lost there for the day,

beautiful white sand beaches

, excellent snorkeling, shark walls, lagoon excursion to pink sand beach, possibility to see 'shark walls'.

Cons

: the north and south passes are very far apart and are essentially two separate destinations, the likelihood of spotting dolphins and hammerheads are lower, not as many dive and accommodation options.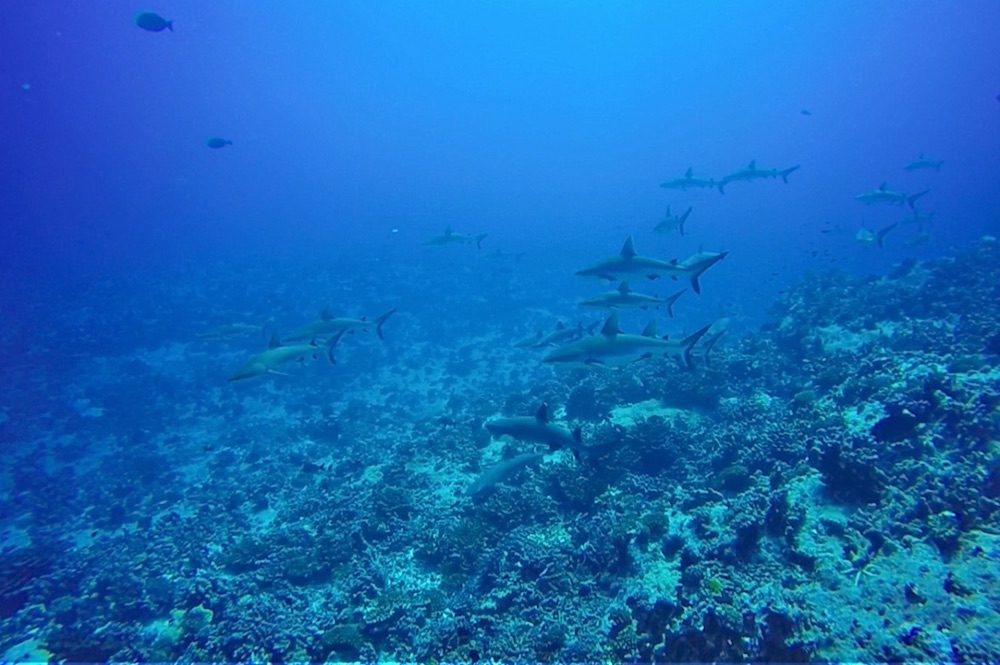 Rangiroa
Pros

: really geared for tourism, plenty of dive centers and accommodations to choose from,

greater likelihood of seeing the 'big fish'

(dolphins, hammerhead sharks, silvertip sharks, manta rays, etc.), easier to get to from Tahiti, excellent snorkeling from just about everywhere.

Cons

: aside from a couple of lagoon excursions (which aren't cheap but worth it),

there isn't much to do aside from scuba diving

, the coral here is not that impressive so if you lucked out on seeing the 'big fish' – your dive could be disappointing, relatively crowded with divers, the main motu where you'll be staying is small and there aren't that many options for self-discovery,

no white sand beaches

.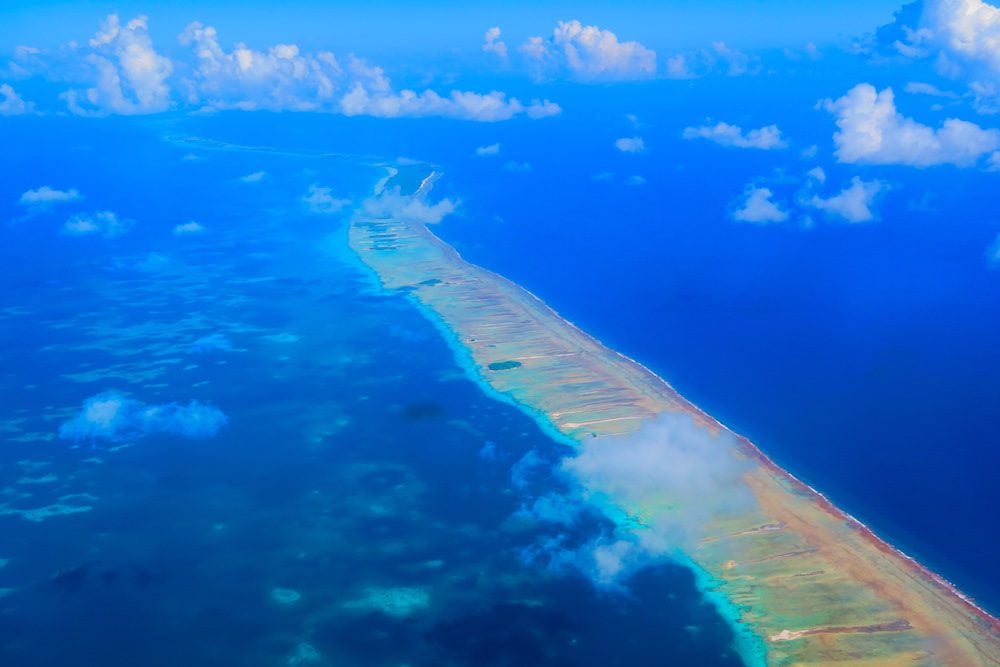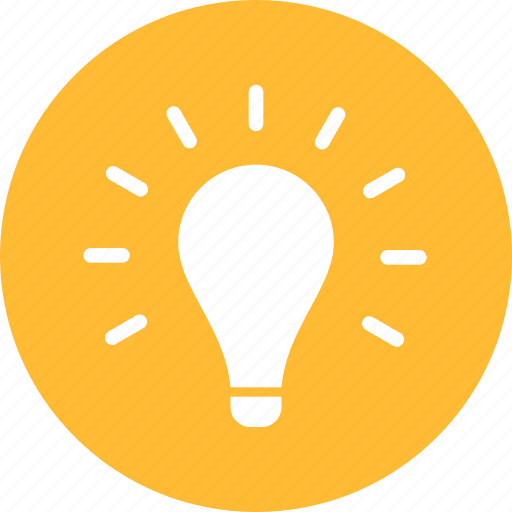 Pro Tip
Get in touch for assistance with planning your trip to French Polynesia, either for a personal consultation or complete itinerary planning.
How Many Days Do You Need In Fakarava?
Fakarava can be enjoyed even when you're not diving. To figure out how many days you need: (1) think about how many dives you want to do, taking into account you can do 2-3 dives per day (2) add a couple of days for relaxing, exploring the atoll and heading to the pink sand beach by the south pass (3) take into account if you'll be diving elsewhere in the Tuamotus, like in Rangiroa for example.
If you're looking to do serious diving in the south pass (more than 2 dives), consider basing yourself there for a few days and then transferring back to the main motu.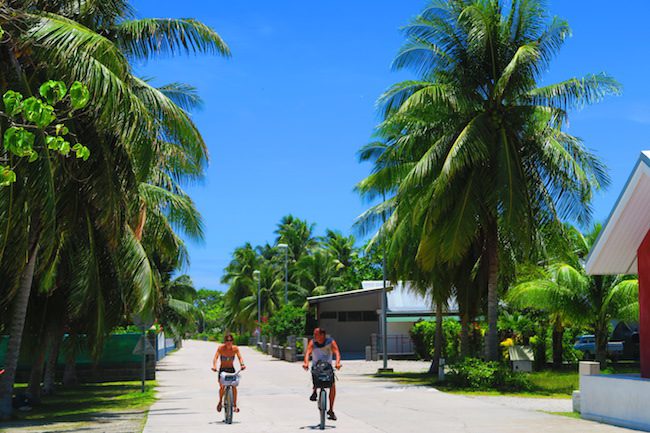 When Is the Best Time To Visit Fakarava?
Unlike the Society Islands, the Tuamotu Archipelago sees slightly different weather patterns. You'll be able to dive year-round, though keep in mind that seas are a bit rougher during the 'dry season' (June – September) when the southeasterly trade wind blows. During the 'wet season' (November – April), you'll get a passing storm that never sticks around for too long as there are no mountains to slow them down. During this time, you might get a full week of cloudy weather and periods of rain that lead to lagoon excursions getting canceled. The month before and after each season is probably the best time to visit. It's not too hot, not too cloudy and not too windy.
I spent 8 days in Fakarava during February, having arrived from neighboring Rangiroa where the weather was similar. I had nothing but sunshine for 5.5 out of those 8 days.
How To Get To Fakarava
By Air: by far the most convenient way to get to Fakarava. Direct flights are available from Tahiti (70 mins), Rangiroa (30 mins) and a couple of small atolls in the archipelago. It is possible to fly from Rangiroa to Fakarava without having to connect in Papeete. As always, if you're visiting multiple islands in French Polynesia, inquire about the Air Tahiti Pass.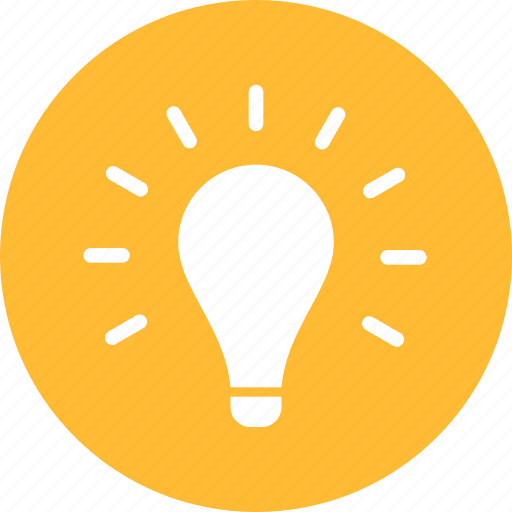 Pro Tip
Overcome Air Tahiti's 10kg weight limit on checked baggage by presenting your dive card. This should give you an extra 5kg and they hardly ever ask to see if you have equipment beyond a snorkel (which you technically should)!
By Boat: getting to Fakarava on a cargo ship is possible but very challenging. You'll need to be very flexible with your time, lucky and speaking French will go a long way. The Saint Xavier Maris Stella IV serves the Tuamotus from Papeete and it may or may not carry passengers.
By Yacht: you can cruise around some of the atolls on a chartered yacht. Have a look at Dream Charter Yacht for all the options.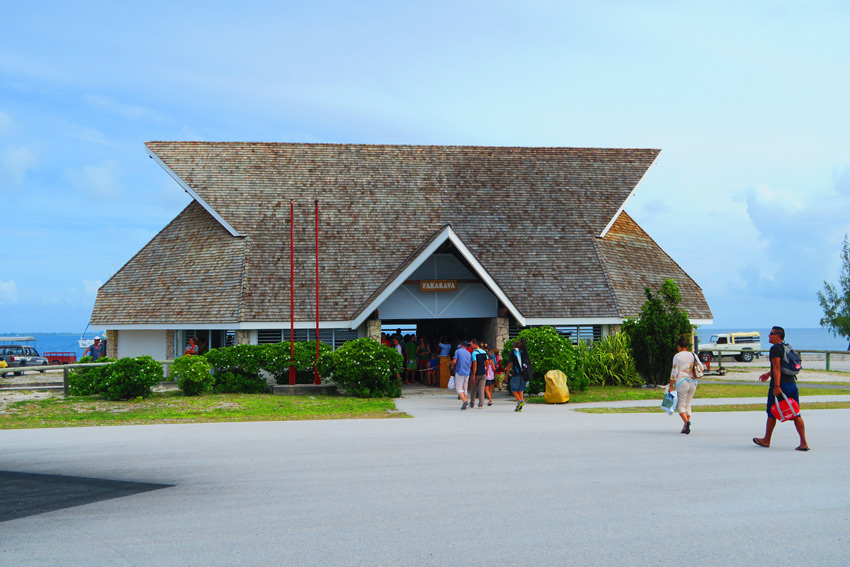 Getting Around Fakarava
To/From Airport: the airport is located about 4 km's from Rotoava Village and all accommodations will pick you up (almost always for free).
Around Fakarava: the best way to get around the main motu is by bicycle. A sealed road runs from Rotoava to the airport in the north and about 10 km's down south. It's flat and easily doable on a bicycle. Beyond the airport, a cyclable dirt road runs all the way to the lagoon pass, also marked by the same PK markers that indicate distances on the sealed roads.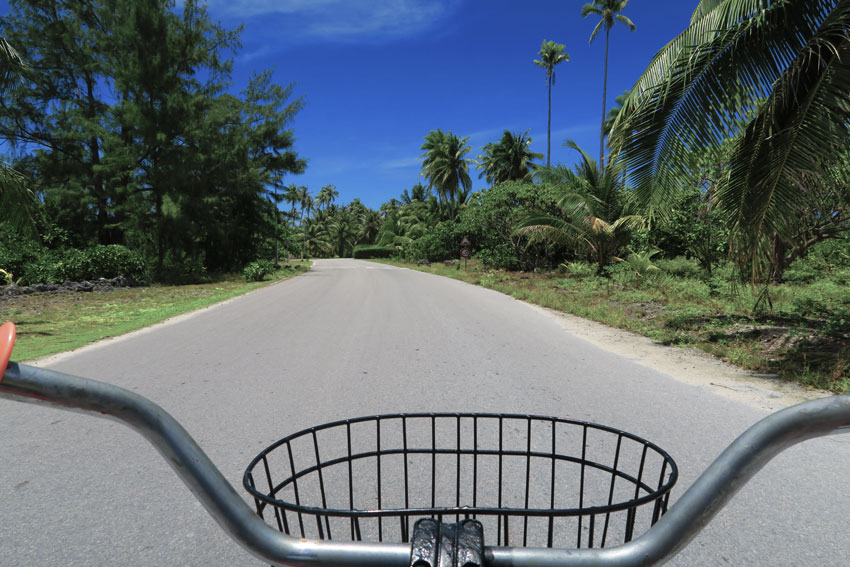 Getting to the South Pass of Fakarava
Fakarava's two lagoon passes are a scuba diver's paradise but it is the more remote south pass that is considered the best (see "where to stay in Fakarava"). Aside from chartering a boat, getting to the south pass is possible either by staying at one of the pensions located near the pass or by joining a day trip to the pink sand beaches. Some dive centers will periodically take divers on a day trip of diving in the south pass.
Where to Stay in Fakarava
Much like the island vibe, the accommodations in Fakarava are as laid back as can be. There are currently no resorts on the island, just family-owned pensions. It's important to note that Fakarava is split into two "mini destinations", each centered around a lagoon pass. Close to the north pass is Rotoava Village, the main settlement on the atoll. Further south, the abandoned Tetamanu Village lies next to the south pass. This remote part of the island is close to the most known dive sites and the pink sand beaches but required a lengthy boat transfer to/from the airport or Rotoava.
Fakarava North
The most high-end option in the north part of the island is the Havaiki Lodge. This pension has beachfront properties as well as lower-priced options further back. Its location cannot be beaten and its restaurant is open to outside guests. Other solid pensions include Pension Veke Veke (great location), Pension Vaiama, Tokerau Village & Paparara (slightly remote but within cycling distance from the main village), and Kori Kori (very basic).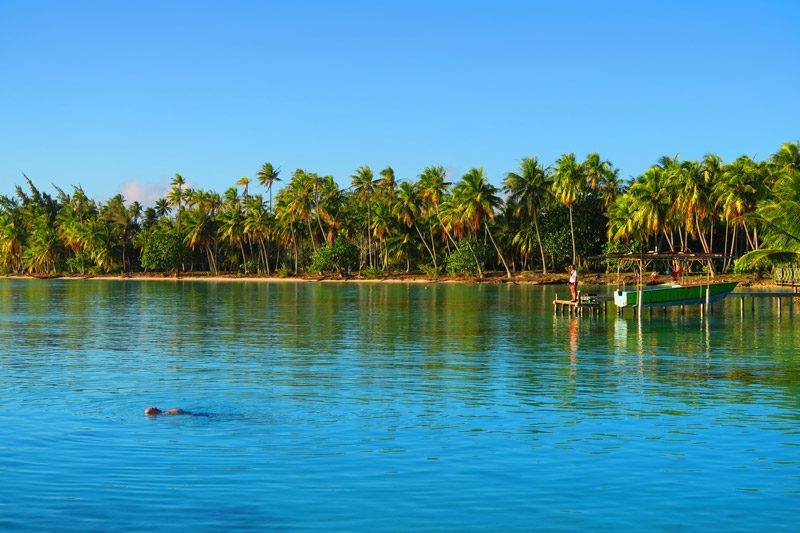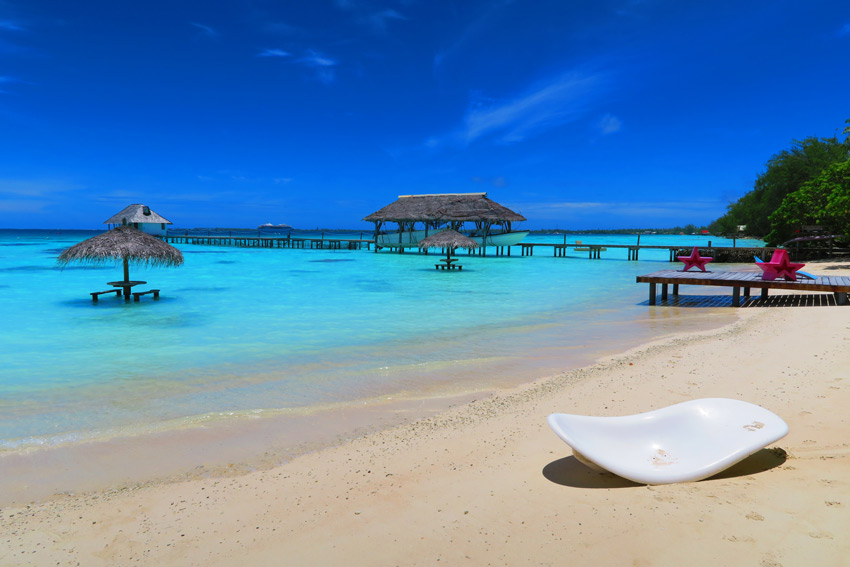 Backpackers, budget travelers and campers should look into the Relais Marama. Accommodations range from simple one-bedroom open-air bungalows facing the reef, to larger family units in the gardenia and noni-filled garden, and even a handful of camping spots to pitch your tent. Units are simple but comfortable, with a mosquito net, small balcony, and even a lockable cabinet. As for the sleep quality? You'll be sleeping like a baby to the sounds of the crashing waves on the reef just meters away. If there's a breeze at night, you might even need to cover up.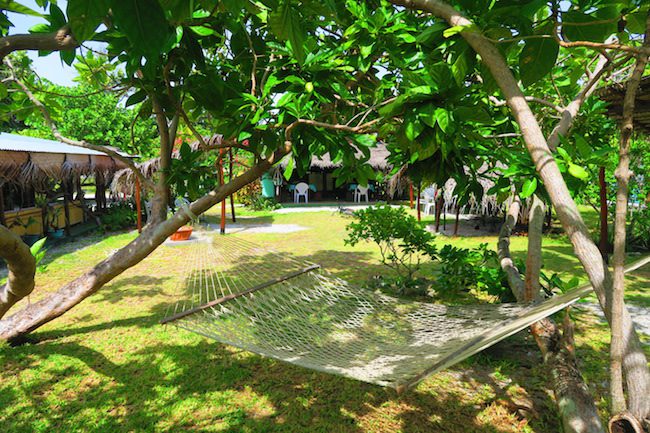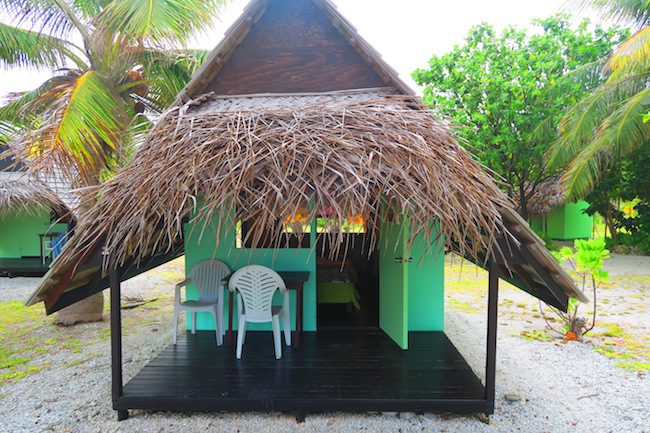 Fakarava South
If you're staying at one of the pensions in the south pass, your hosts will arrange the transfer, based on Air Tahiti arrival and departure times. Since the journey is quite long, on days when there are several flights, you might be instructed to wait. The "main" accommodation right on the south pass is Pension Tetamanu. However, slightly friendlier options can be found at Pension Raimiti and Pension Motu Aito. Due to their remoteness, pensions need to be self-sufficient so don't expect luxury or even 24-hour electricity. Some pensions have strict booking conditions and some can bundle your stay with a dive and tour package.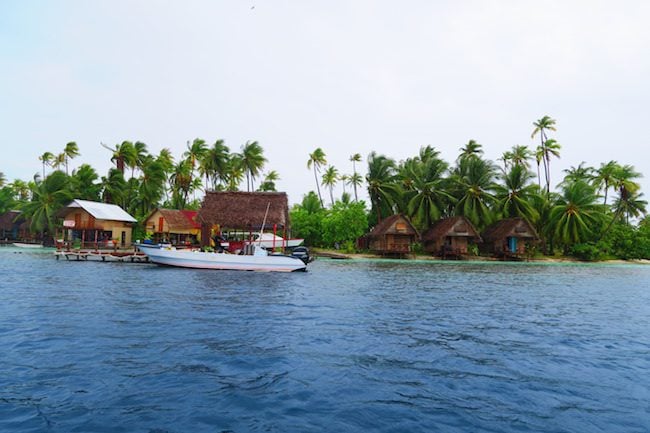 What To Pack?
Fakarava is a tropical destination, and as such – I recommend packing clothes that dry quickly and keep moisture (a.k.a sweat) out. Have a look at the X Days In Y Packing List for recommendations on what to pack for Fakarava based on my experience.
Money
There is one ATM in Fakarava. You'll find it at the post office and it does accept international cards. However, it may or may not work and some ATMs in French Polynesia have daily/weekly cash withdrawal limits. Inquire ahead of time at your pension if credit cards are accepted (shouldn't be a problem). Dive centers accept credit cards.
WiFi & Mobile Data In Fakarava
A Vodafone SIM card will likely NOT have reception in Fakarava but should double-check that in Tahiti before purchasing. You're better off with a Vini SIM card as they have coverage on all islands. Slow to adequate WiFi should be available free of charge in most accommodations but perhaps only in the common areas.
Fakarava Average Costs
Here's a breakdown of costs during my 8 days in Fakarava during my first visit in 2016. I stayed in a simple accommodation, did 5 dives and went on a full-day lagoon excursion.
Diving & Snorkeling In Fakarava
Fakarava is designated as a UNESCO Biosphere Reserve, with restrictions on commercial fishing and pollution in place, all in agreement with the local population. The exquisite marine life and coral are like no other I've personally seen anywhere in the South Pacific.
The snorkeling in Fakarava is superb and easily accessible. The water is clean, clear and good spots are to be found pretty much anywhere along the lagoon. I particularly enjoyed the snorkeling outside the village, along the sealed road before the airport, and of the breathtaking PK9 beach. I was also tipped off by a local that riding south of the village will bring you to lovely and secluded spots.
As for diving, Fakarava is rewarding every single dive. Not only will you encounter walls of sharks and thrilling drift dives back into the lagoon, but you'll also witness some of the most pristine coral in the entire South Pacific. The protection that the Biosphere Reserve provides, combined with the direction the reef faces (away from the prevailing winds) – allows the coral to grow and flourish in Fakarava. It comes in all shapes, sizes, and most importantly – color! Keep in mind that dive centers only take CMAS and advanced SSI/PADI divers on extra challenging dives. This is for your own safety.
I went diving with Dive Spirit Fakarava, currently operated by Yannick and Henri. Part of the totally worth it Te Moana Pass, divers are taken very seriously and personally here and it all starts the day before you dive. The owners or guides will meet you at your pension, sort out all the paperwork and make any changes to your dive schedule in case a spot opened up.
The following day, you'll be picked up and driven to the dive center – located in a beautiful spot by the lagoon. Grab your gear, some morning coffee, and start your briefing. Safety is paramount, especially when drift diving in the wide north pass. Your instructor will also brief you on what to look out for and how to maximize the chances of seeing the 'good stuff'. Each one carries an erasable board, used for scribbling down what it is you're seeing throughout the dive.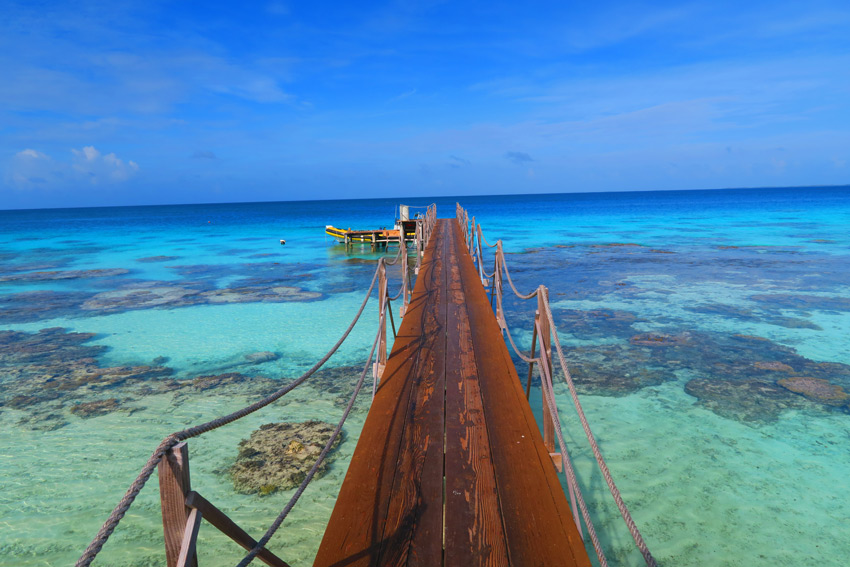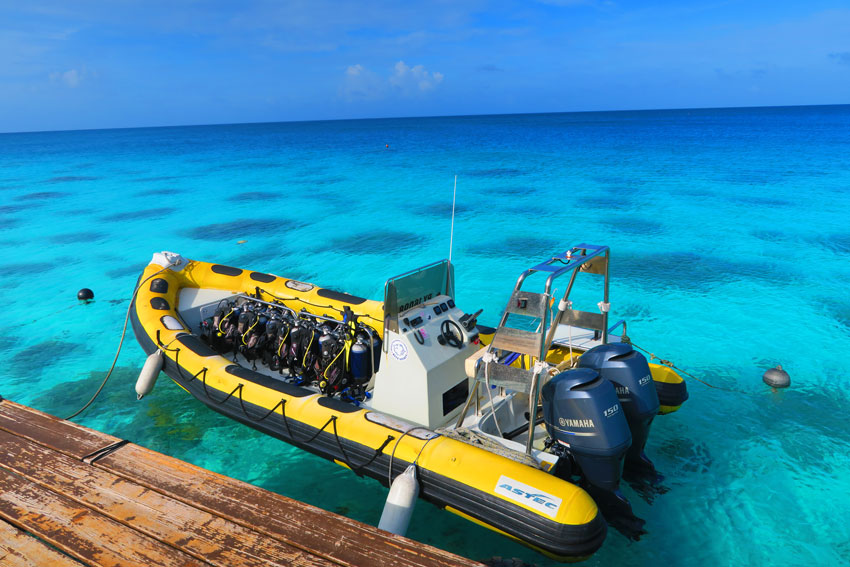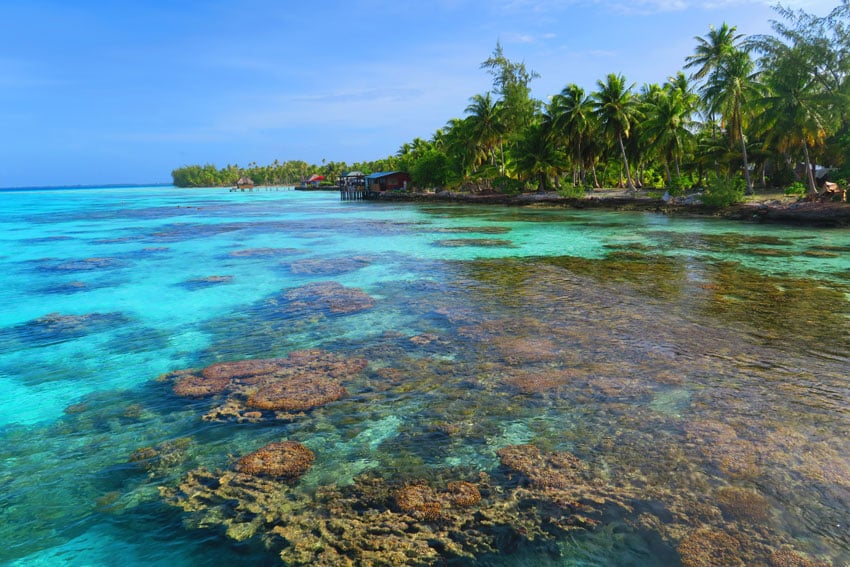 Dive Spirit Fakarava offer 'fun dives', snorkeling trips, dive certifications, daily trips to the north pass and occasional trips to the south pass. Morning dives are two tanks with a break on the boat or a beautiful beach, while afternoon dives are single tank. The more dives you do, the better the price gets. Book early as space is limited.
There are plenty of more dive photos and stories in the 'things to do' section, but here's more useful information for planning your dives.
Fakarava North Pass vs. South Pass
Where to dive?
Fakarava is famous for its two lagoon passes Garuae Pass ('north pass) and Tumakohua Pass ('south' or Tetamanu Pass).
Think of these two dive sites as two separate destinations
. While the north pass is easily accessible from Rotoava, the south pass is about 2 hours away by boat.
The North Pass
: this is where you'll do most of your diving. It's the widest pass in French Polynesia with excellent drift dives that you'll get to enjoy depending on your skill level and sea conditions. What to expect? Exquisite coral, lots of sharks, and a few other surprises (much more later on this).
The South Pass
: legendary for the multiple walls of sharks you're pretty much guaranteed to see, diving the south pass is challenging due to its remoteness. There are three ways to dive the south pass:
(1)
spend a few nights in
Tetamanu Village
and dive with
Eleuthera
(2)
join a dive safari from Rotoava with the likes of Dive Spirit Fakarava. This usually costs between 20,000-30,000F and includes a two-tank dive, picnic lunch and a visit to the pink sand beach (and excursion which on its own costs 12,000F). Such trips take place usually twice per month when there's enough demand and when the conditions are right.
(3)
Join an excursion to the pink sand beach, skip the snorkeling session and instead book a
single
dive with Eleuthera (your hosts will sort this out for you).
The Verdict
: I've heard mixed reviews from those who dove in the south pass. Some said it was totally worth the effort and some said it was 'OK'. I guess it's all about expectations. I personally only went snorkeling in the south pass since I was quite content with the shark walls I came across in the north pass. If you are
totally
set on conquering the south pass, I recommend spending 2 nights there at the start of your Fakarava trip and then transfer back to the main motu.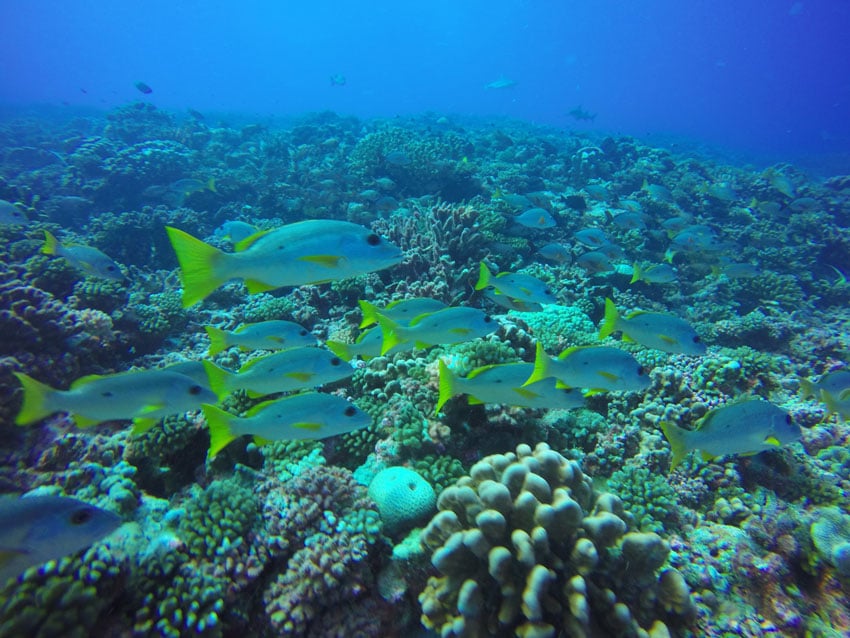 Beaches In Fakarava
Unlike Rangiroa, Fakarava has amazing beaches that are a short bicycle ride away. The best one is called PK9 (see 'things to do' section) and there are infinitely more (including pink sand beaches) on the more distant motus around the lagoon.
Drinking Water In Fakarava
Water in the Tuamotu Atolls only comes from the rain. Therefore, unless your pension offers filtered water, you'll have to buy bottled water in Fakarava.
Eating
I hate to disappoint you but much like in Rangiroa, there isn't much choice when it comes to fruits and vegetables in Fakarava. Don't forget – you're on a coral atoll. The soil isn't fertile, the wind blows right through and there's not much rain. You'll find that shops sell mostly canned goods and imported fruits & vegetables if you're lucky. Locals pre-order fresh produce which arrives on the weekly cargo ship and there isn't much leftover. Coconuts, on the other hand, are not a problem to find!
Your pension might offer the opportunity to go half board, including breakfast and dinner. In any case, Fakarava has a few good snacks for breakfast, lunch and dinner. Nearly all will pick you and drop you off for dinner, or deliver food to your pension.
See the 'places to eat' section for specific recommendations.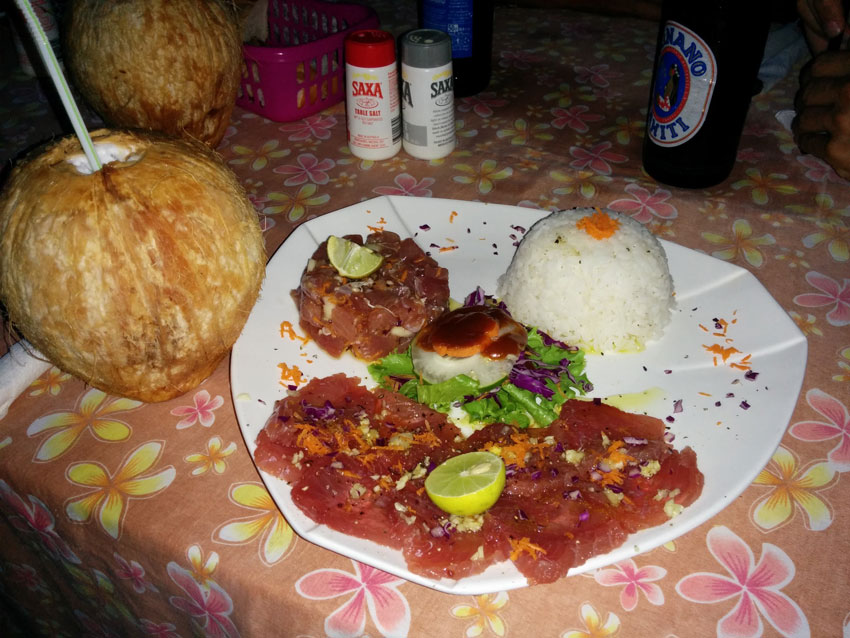 Safety In Fakarava
For general safety tips in French Polynesia, have a look at the 'safety' section of the French Polynesia Travel Guide.
As for Fakarava specific safety tips:
Your diving should be inclusive of insurance. However, it's highly recommended to extend your travel insurance policy to include scuba diving-related emergencies.
You might come across some sand flies in Fakarava, though they are nowhere as nasty as the ones in the Marquesas Islands. You will for sure encounter wasps when venturing outside the village. I even got stung once on the back of my head. There really isn't much you can do aside from trying to avoid them and not panicking if you get bitten (unless you're allergic of course).
Excursions In Fakarava
There are three popular excursions in Fakarava: the 'blue lagoon' (~7000F for ½ day, 9000F full day), beach picnic (~4000F), and the pink sand beach (~12000F) – which we'll cover in great depth later. If you must pick one, it should definitely be the pink sand beach. I heard that the blue lagoon is nothing special and you can easily cycle to the beach where the picnic is proposed on your own (it's PK 9 beach).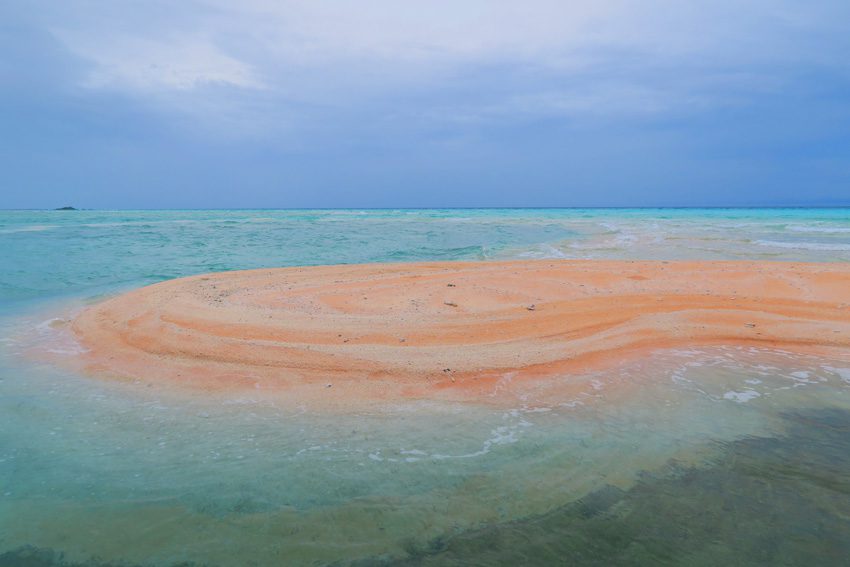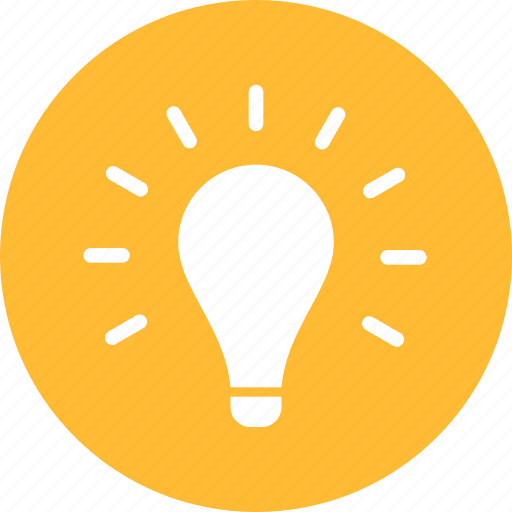 Pro Tip
I strongly recommend going on these excursions during the first days of your visit to Fakarava. Why? Though it makes for a perfect way to spend your last day on the atoll (you shouldn't dive in most cases), these excursions are very prone to cancellations due to weather and minimum passengers required. So, if you don't want any last-minute surprises, get these out of the way early to allow for extra flexibility. Diving will almost always be possible in Fakarava.
Things To Do & Places To See In Fakarava
Check out this 5 days in Fakarava sample itinerary to see how to divide your days on the island
Rotoava Village
The largest settlement in Fakarava is really just a tiny village. It's one of the calmest and most picturesque villages I encountered in French Polynesia, with locals dropping the kids off at school in the morning, and heavenly scented gardenia flowers and colorful hibiscus blooming everywhere. There isn't much happening in the village but it's got everything you need, including a couple of grocery shops, dive centers, a beachfront snack, and of course – a tiny shack selling island fashions.
If you happen to be in Fakarava on a Sunday, get up early and head to the whitewashed Catholic church (just after the Mormon church). Service starts at 9 am and you'll definitely hear the church bells ringing. Follow the locals, dressed in their finest clothes to the start of the weekly gathering. You might not understand anything that's said, but you'll never forget the beautiful singing and strong sense of community. Have a look at the interior decoration – it's all made from local coral and shells! My personal highlight took place as the service was about to end. Everyone just held hands in one final prayer and kissed each other on the cheek to wrap things off. After service, locals rush back home to start the Sunday feast known as ma'a Tahiti. If you're lucky, you might get invited over for lunch!
South Of Rotoava Village
At the edge of Rotoava, the paved road swings over to the reef side and continues for another 10 kilometers to the southern side of the main motu before turning into a dirt road. There are a couple of good snacks, pensions and a dive center just outside the village – but the fun is simply to cycle along this flat stretch of road with nothing but palm trees around you. I was told by a local that there's even a pretty beach somewhere around PK12 (12 kilometers south of Rotoava).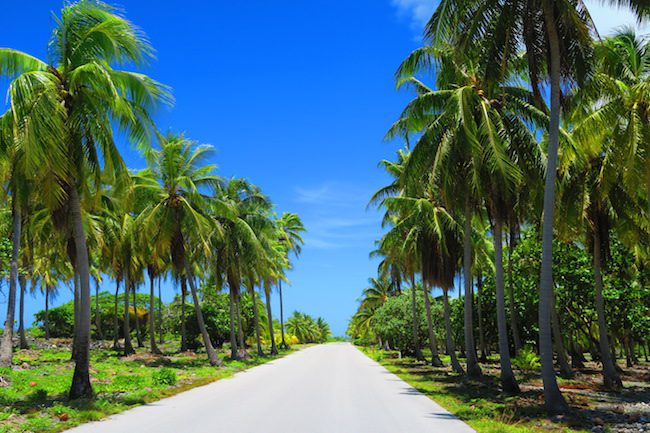 Taputavaka Lighthouse
Also known as Phare de Taputavaka, you'll find this pyramid-shaped former lighthouse on the reef side of the Relais Marama. It's one of the oldest lighthouses in French Polynesia at nearly 100 years old, kind of looking like a small ancient Mayan pyramid in Mexico.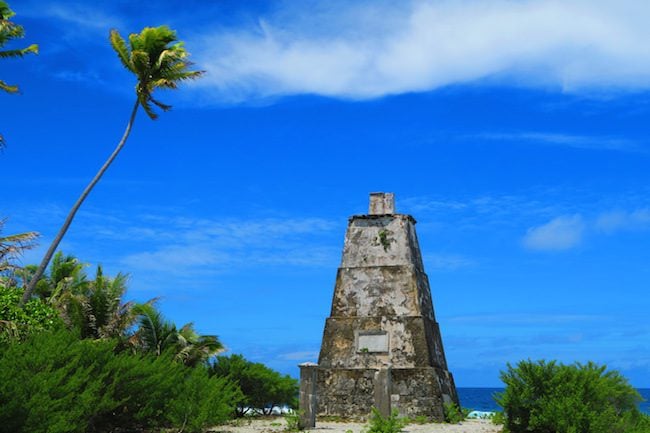 Topaka Lighthouse
Another oddly shaped former lighthouse that looks even more so like something the ancient Maya could have built (if only they had a way to get here). Known as Phare de Topaka, you'll find it on the reef side just after PK2. The former lighthouse dates back to 1957 and is no longer functioning. During times of emergency, a fire would be lit atop to signal neighboring atolls.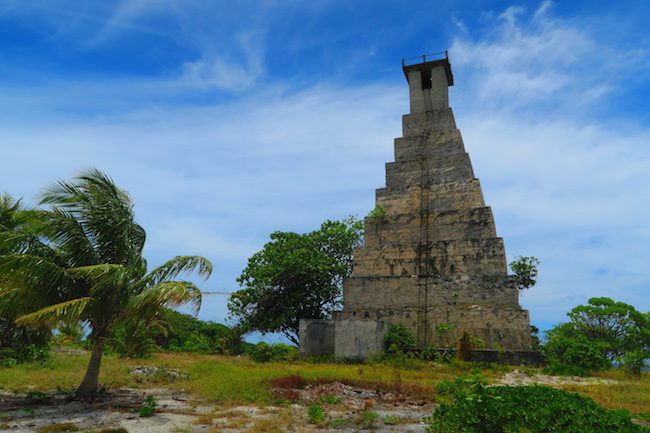 PK9 Beach
You must pay a visit to the beach named after the PK marker indicating its distance north of Rotoava. Plage de PK9 is one of the best beaches in French Polynesia. Why? The soft white sand, the turquoise lagoon colors, the palm trees curving in all directions, and… there's absolutely nobody here most of the time!
To get here, cycle north of the village towards the airport, after which the paved road turns into a dirt road. You'll pass by one or two houses, wild reef-side beaches and maybe a couple of wasps trying to check you out. On your right-hand side, look out for the PK9 marker and turn left all the way. It's a 9-kilometer cycle from town and you'll have to bring everything you need with you (water, beach gear etc) for a few hours because you simply won't want to leave!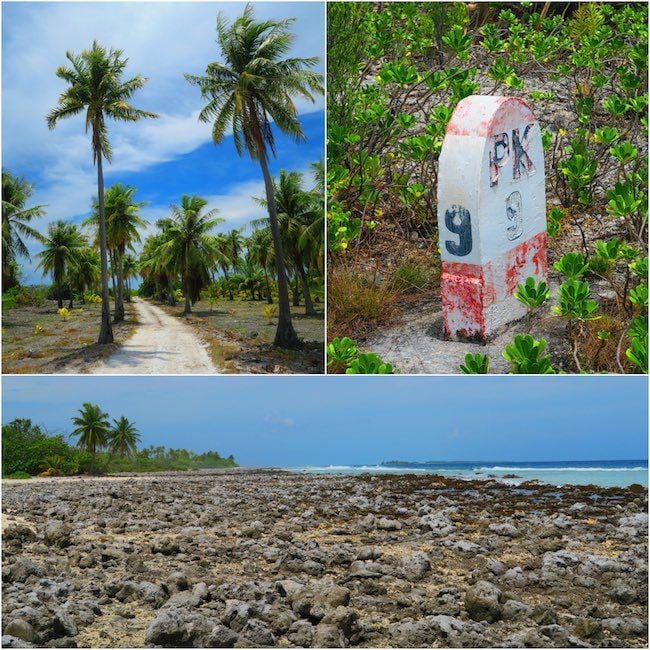 The snorkeling is pretty good too, with excellent visibility, a sandy bottom and maybe a few sharks passing by. Enjoy paradise.
Marae Tahiti Vairau
A little bit further north of PK9 beach, turn left to get to this ancient Polynesian temple. It's not worth cycling all the way here just for this, but if you're already here you might as well see. In any case, the finest ancient marae will be found in Raiatea, Huahine, Nuku Hiva and Hiva Oa.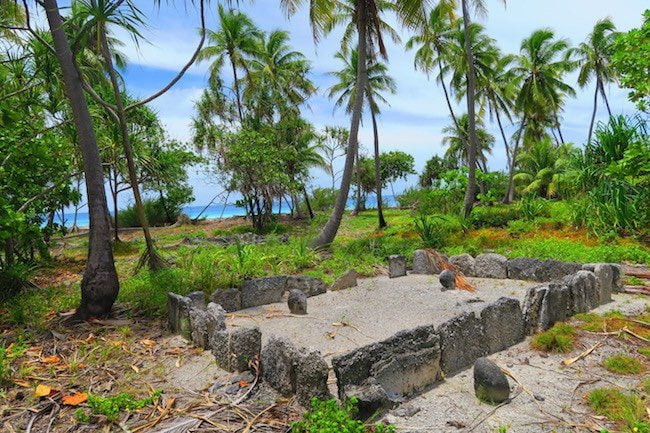 Garuae Pass Lookout
The dirt road ends at Garuae Pass, also known as the 'north pass'. It's the widest lagoon pass in French Polynesia and where you'll do the bulk of your diving. Feel free to snorkel a bit but be super aware of the currents. I opted out but a friend of mine said it was superb.
Diving In The North Pass
This is the prime reason for coming to Fakarava. The scuba diving in Fakarava is among the best in all of the South Pacific. Garuae Pass (a.k.a north pass) is super accessible from Rotoava. I went diving with Dive Spirit Fakarava whom I highly recommend. Have a look at the 'diving and snorkeling' section for more info about them. The best time to dive the north pass is during 'slack tide'. This is when the incoming current is beginning and the fish come out in large numbers.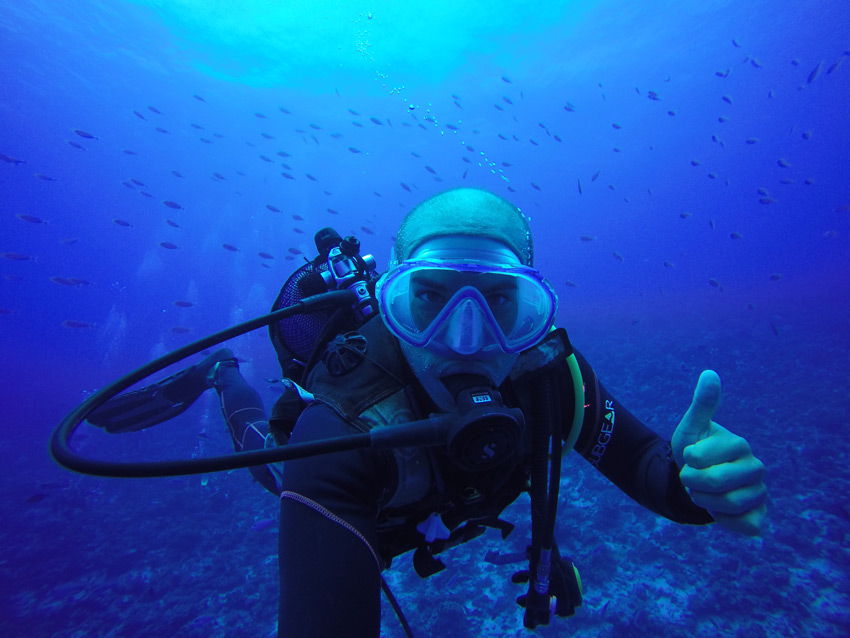 Ohotu Cliff
You'll spend the bulk of your time in and around the coral garden along this cliff. I'll start by mentioning that the corals here are superb, far better than in Rangiroa or anywhere else I've seen. Even if you won't spot any sharks (and there's hardly a chance of that happening), you will still greatly enjoy your dive. The corals are healthy and come in all shapes, colors and sizes.
With visibility usually between 20-40 meters, you'll have no problem spotting the walls of grey and white tip reef sharks patrolling the deep blue. If conditions are right, you'll leave the confines of the coral garden and swim super close to 200 or so sharks!
As for the fish… you'll spot huge napoleons, barracuda, the usual colorful reef fish and my favorite – schools of goatfish. These guys cruise along in large numbers, and you can just swim right through them and watch how they harmoniously change their pattern. Incredible!
Alibaba Canyon
When conditions are right, you'll finish your dive off with a drift back into the lagoon, a thrilling ride that can only be described as riding on the rooftop of a bullet train. En route, you'll fly over canyons, coral-covered channels and helpless fish caught in the strong current.
Just before the end of the drift, you'll reach the Alibaba Canyon. You'll be instructed to 'stay low' to avoid being swept by the incoming current and all that's left to do is enjoy the view. Colorful lagoon fish are everywhere and sharks are patrolling the waters above your head. If you're lucky, you might even spot a rare marlin. This was the first time I've seen one, super impressive with its spear sticking out in front.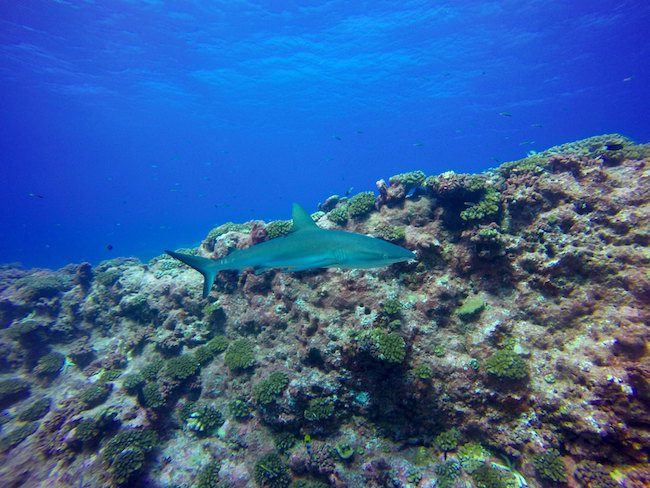 Nurse Shark Cave
If the navigational skills of your dive instructor are good, you might even finish your incredible drift dive at the entrance of the 'nurse shark cave'. With the incoming current now at its peak, fish from around the neighborhood take refuge in this cave. And as its name suggests, nurse sharks like to take afternoon naps here as well. We spotted a 2-meter nurse shark sleeping inside and an odd-looking spotted flounder swimming 'sideways' at the cave's entrance.
Have a look at the top highlights from the memorable scuba diving in Fakarava!
Lagoon Tour: Pink Sand Beach & South Pass
If you're not yet convinced that Fakarava is way more than just diving, here's another proof. One of the highlights around here is the famous pink sand beach (les sable roses). Other atolls have such beaches, but the one in Fakarava is said to be spectacular. You can visit the pink sand beach on a full-day tour that also includes Tetamanu Village and the legendary 'south pass'. I joined Captain Geoffrey and Temio from Vaiama Village Pension, which also welcomes outside guests to join their tours to the blue lagoon and pink sand beach.
After about 90 minutes of seeing nothing but pearl farms and deserted beaches, you'll reach Tetamanu Village. Sitting at the mouth of the Tumakohua Pass (also known as the south pass), Tetamanu Village is home to only four families (that's right) and its main purpose these days is to cater to scuba divers who follow the legend and make the long journey out here.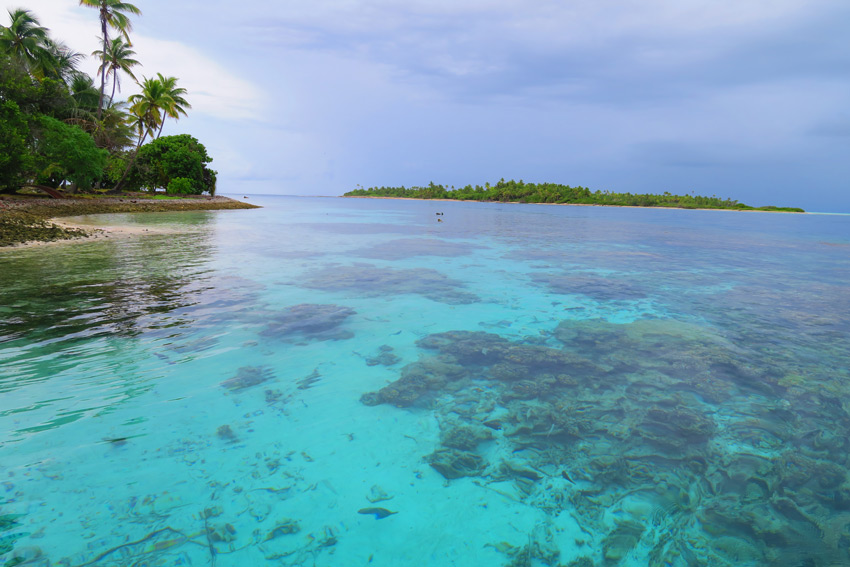 Your crew starts to prepare the picnic lunch as you head out on a village tour. Tetamanu Village is something straight out of some fantasy movie. There is no electricity (batteries only) and forget about internet folks! Walking along the grassy 'main street', you'll visit the Catholic church that's been here since 1874. The oldest in the Tuamotus and one of the first Catholic churches in French Polynesia, the building is made entirely from coral rock!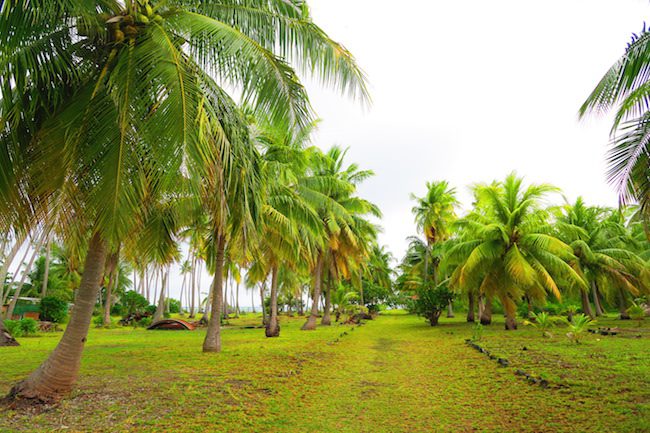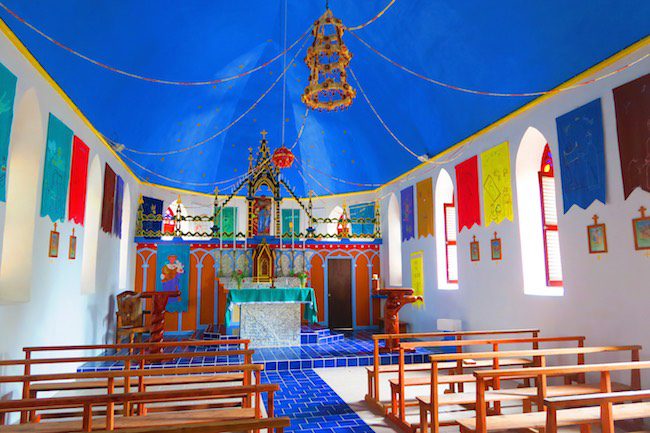 Down the street, you'll pass by the former school, now taken over by nature. It closed its doors when it didn't make economic sense to import a teacher for just one child… Further down, there's even a small prison – well, what's left of this single cell. You see, Tetamanu actually preceded Rotoava and was the main settlement in Fakarava. When they finally figured out that a better spot for a 'large' village is by the north pass, Tetamanu began its gradual decline. Without the scuba diving dollars keeping it alive, this village would long be abandoned.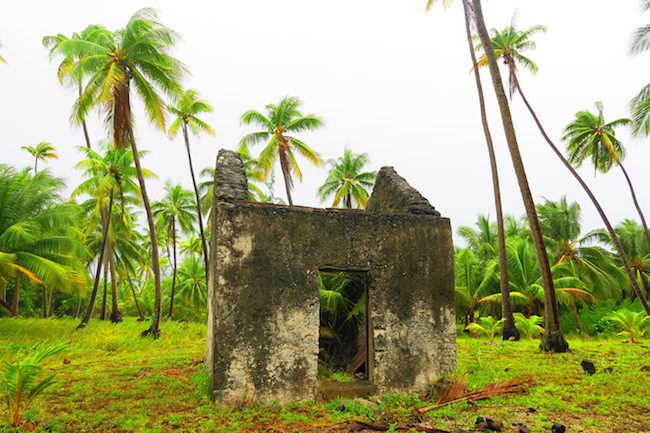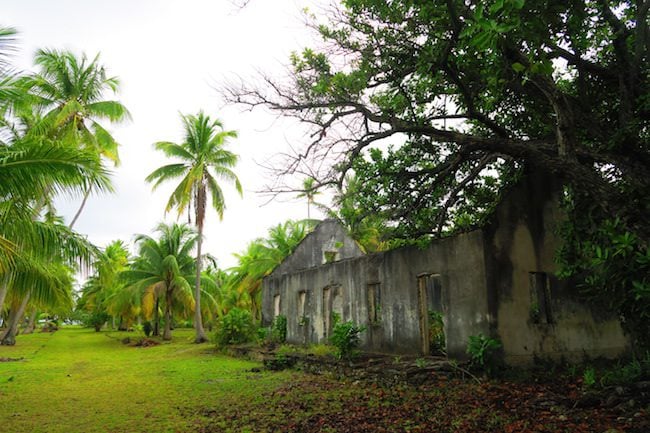 After the tour, put your snorkeling gear on and head into the water. The lagoon on this side of Fakarava is much clearer and richer than around Rotoava, though as not that great for snorkeling with the reef rapidly dropping into the deep. Nonetheless, you'll come across dozens of reef sharks, trevally, giant Napoleon and stingrays (to name just a few). The real underwater appeal of the south pass is just meters away inside and beyond the pass.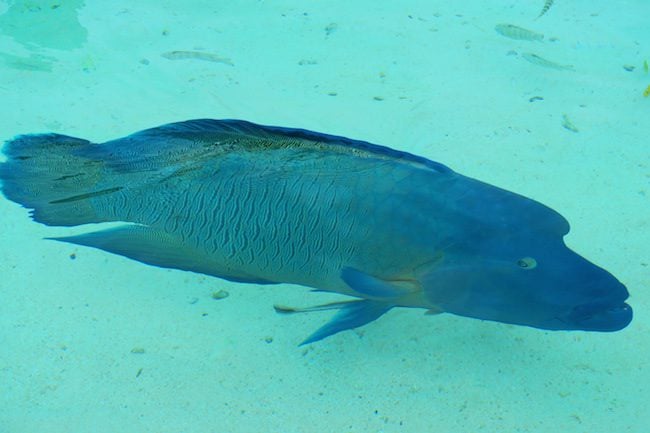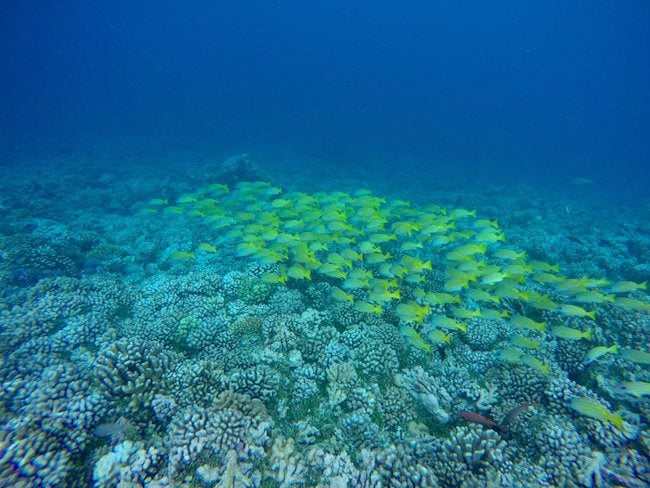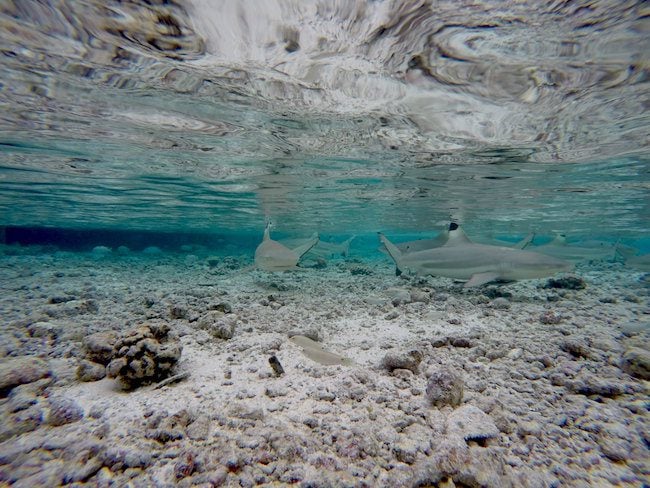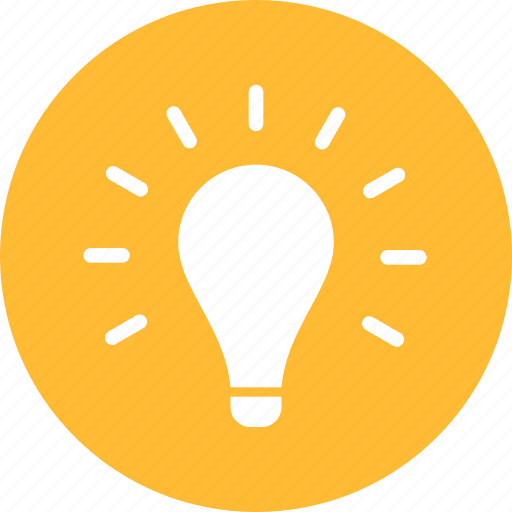 Pro Tip
You might be able to skip the snorkeling part of the tour and book a single dive. Mention this at the time of booking the lagoon tour and hope there's an open spot.
Lunch was simply in a different league from all the lagoon excursions I went on in French Polynesia. There was lobster, sashimi, grilled fish and sausages to go along with a side of breadfruit, rice and my absolute favorite – coconut bread!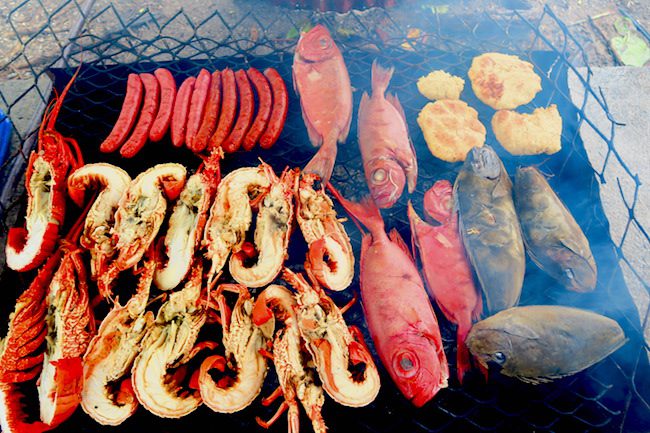 After lunch, you'll head to the famous pink sand beach. In the middle of nowhere, you'll land on dreamy sand bars floating in the blue lagoon. The degree of 'pinkness' will depend on the sun. On a cloudy day like when I made the voyage, it was more orange than pink but spectacular!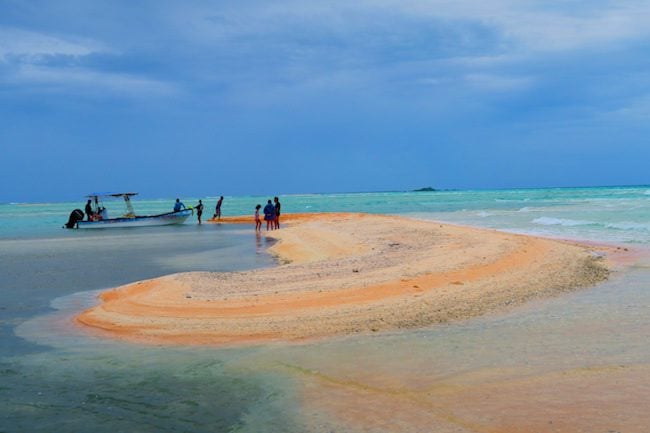 If the weather is nice, you'll have about an hour to play around in the water and enjoy one of the most paradise-like spots in French Polynesia.
Logistics: leave at 8 am, back at 4 pm. Be prepared for a 90-minute boat ride in each direction (bring pills if you get seasick though the lagoon is usually flat). Bring: snorkeling gear (if you have your own), towel, something warm & rain jacket if a cloudy day, sunscreen, etc. The crew does bring along plenty of water, juices and beers. The tour costs 12000F per adult can take a maximum of 8 people and there is a minimum as well so inquire early.
Bottom line: I would strongly advise going on this full-day tour only if the weather is pleasant. Without the sun, it's a lot less impressive than it could be and the ride back can be choppy and wet.
Places To Eat In Fakarava
Grocery shops: there are two shops in the main village just across from each other. They're open from early morning until noon and from 4 pm until about 7 pm (closed Sundays). There's another shop around PK8 south of the village.
Snack Chez Elda: my favorite dinner spot! If your pension won't drive you here, Elda will pick you up and drop you off for free. Come here for traditional Polynesian dishes, served in huge portions and with a generous dose of garlic and ginger. It will be hard to choose what to order and that's exactly why Elda came up with combo dishes to make your life easy (1500-1900 F). I came here on two occasions and had tuna sashimi, carpaccio and tartare. And to drink? Go for the huge cocktails (1200F), guaranteed to put you to bed within hours!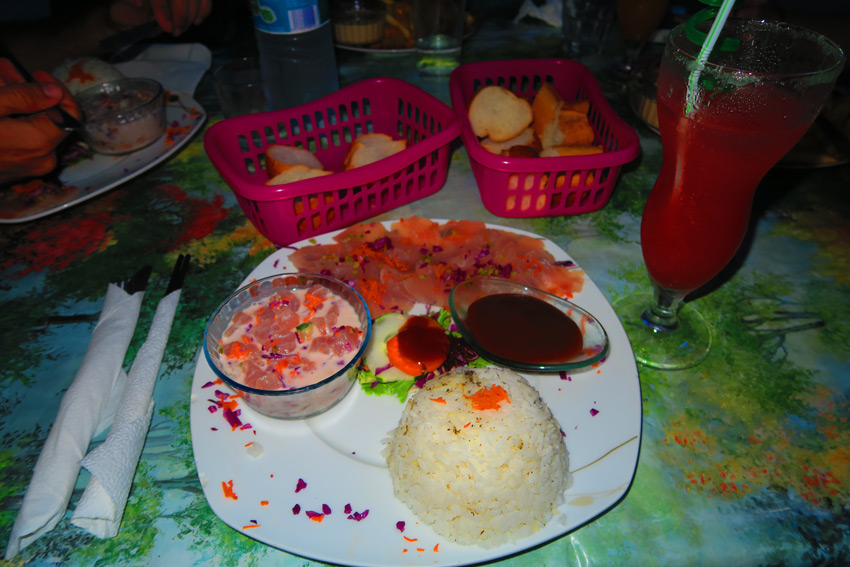 Snack Kori Kori: a snack with a view to die for, conveniently located seconds away from Dive Spirit Fakarava and Pension Vekeveke. I always came between dives and loved the huge sandwiches (~400F), though they do also serve serious steaks and fish dishes (~1700F). Don't forget to toss your leftovers down below to the sharks!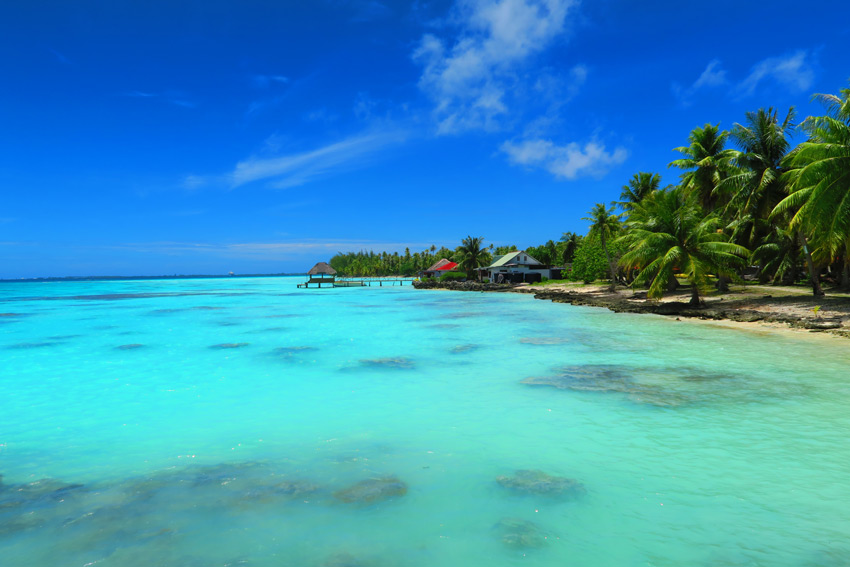 Havaiki Lodge: the Havaiki Lodge is the fanciest pension in Fakarava so it's no surprise to find a good restaurant out here. Food is served in a lovely lagoonside deck shaded by a thatched roof. Traditional Polynesian dishes are the main attraction, starting at around 1700F.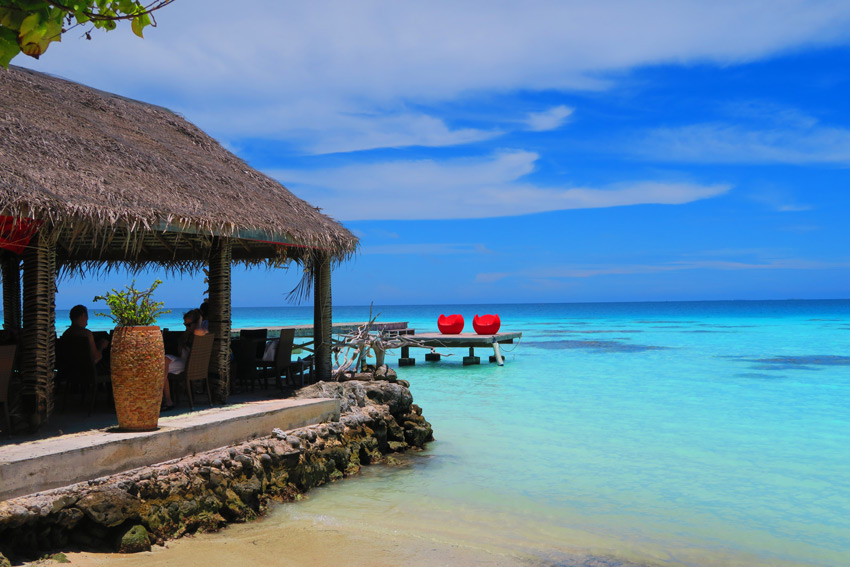 Snack Paillote: pretty much in Rotoava Village, come here mainly for crepes by the beach.
What's Next?
I hope you've found this Fakarava Travel Guide useful. For information about Fakarava and French Polynesia, check out these travel guides.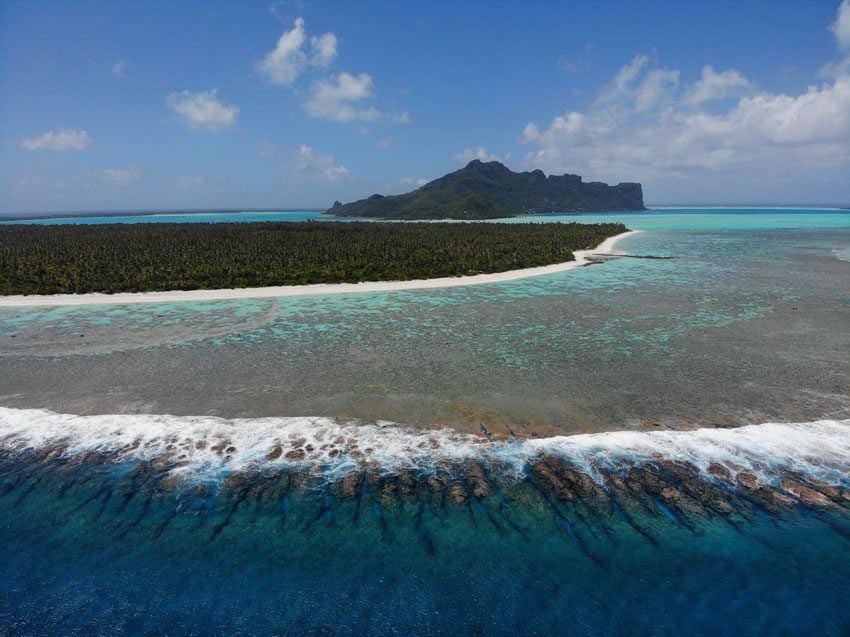 Tahiti, Tailor Made!
The Islands of Tahiti are among the last places to be colonized by mankind, 118 islands, each with their unique personality.
Get expert advice and assistance with planning your trip to the destination where tropical dreams come true!
See Options