Things To Do & Places To See In Fakarava
Check out this 5 days in Fakarava sample itinerary to see how to divide your days on the island
Rotoava Village
The largest settlement in Fakarava is really just a tiny village. It's one of the calmest and most picturesque villages I encountered in French Polynesia, with locals dropping the kids off at school in the morning, and heavenly scented gardenia flowers and colorful hibiscus blooming everywhere. There isn't much happening in the village but it's got everything you need, including a couple of grocery shops, dive centers, a beachfront snack, and of course – a tiny shack selling island fashions.
If you happen to be in Fakarava on a Sunday, get up early and head to the whitewashed Catholic church (just after the Mormon church). Service starts at 9 am and you'll definitely hear the church bells ringing. Follow the locals, dressed in their finest clothes to the start of the weekly gathering. You might not understand anything that's said, but you'll never forget the beautiful singing and strong sense of community. Have a look at the interior decoration – it's all made from local coral and shells! My personal highlight took place as the service was about to end. Everyone just held hands in one final prayer and kissed each other on the cheek to wrap things off. After service, locals rush back home to start the Sunday feast known as ma'a Tahiti. If you're lucky, you might get invited over for lunch!
South Of Rotoava Village
At the edge of Rotoava, the paved road swings over to the reef side and continues for another 10 kilometers to the southern side of the main motu before turning into a dirt road. There are a couple of good snacks, pensions and a dive center just outside the village – but the fun is simply to cycle along this flat stretch of road with nothing but palm trees around you. I was told by a local that there's even a pretty beach somewhere around PK12 (12 kilometers south of Rotoava).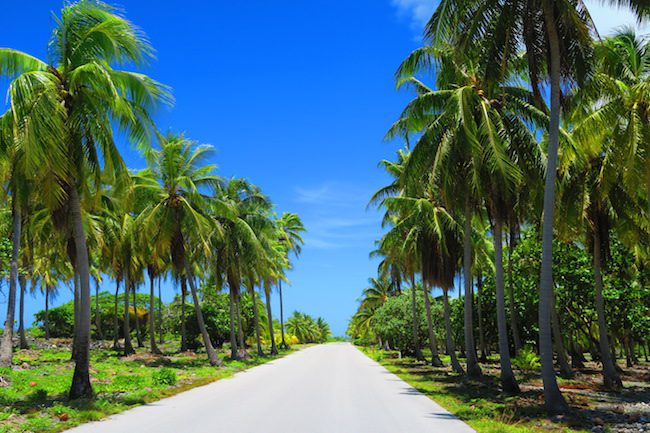 Taputavaka Lighthouse
Also known as Phare de Taputavaka, you'll find this pyramid-shaped former lighthouse on the reef side of the Relais Marama. It's one of the oldest lighthouses in French Polynesia at nearly 100 years old, kind of looking like a small ancient Mayan pyramid in Mexico.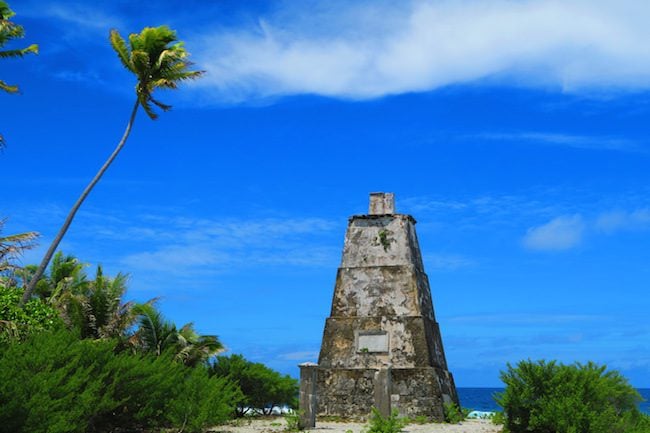 Topaka Lighthouse
Another oddly shaped former lighthouse that looks even more so like something the ancient Maya could have built (if only they had a way to get here). Known as Phare de Topaka, you'll find it on the reef side just after PK2. The former lighthouse dates back to 1957 and is no longer functioning. During times of emergency, a fire would be lit atop to signal neighboring atolls.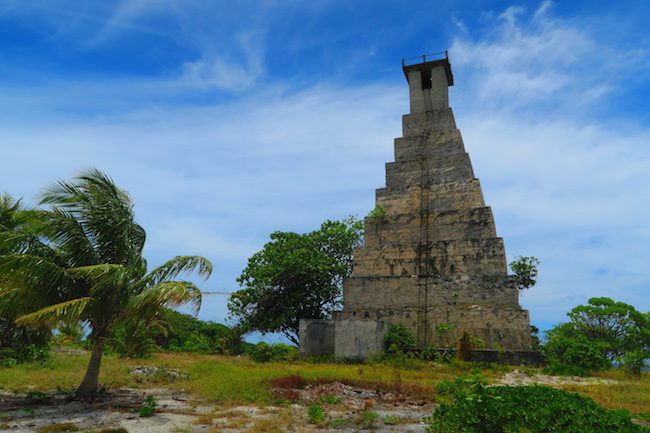 PK9 Beach
You must pay a visit to the beach named after the PK marker indicating its distance north of Rotoava. Plage de PK9 is one of the best beaches in French Polynesia. Why? The soft white sand, the turquoise lagoon colors, the palm trees curving in all directions, and… there's absolutely nobody here most of the time!
To get here, cycle north of the village towards the airport, after which the paved road turns into a dirt road. You'll pass by one or two houses, wild reef-side beaches and maybe a couple of wasps trying to check you out. On your right-hand side, look out for the PK9 marker and turn left all the way. It's a 9-kilometer cycle from town and you'll have to bring everything you need with you (water, beach gear etc) for a few hours because you simply won't want to leave!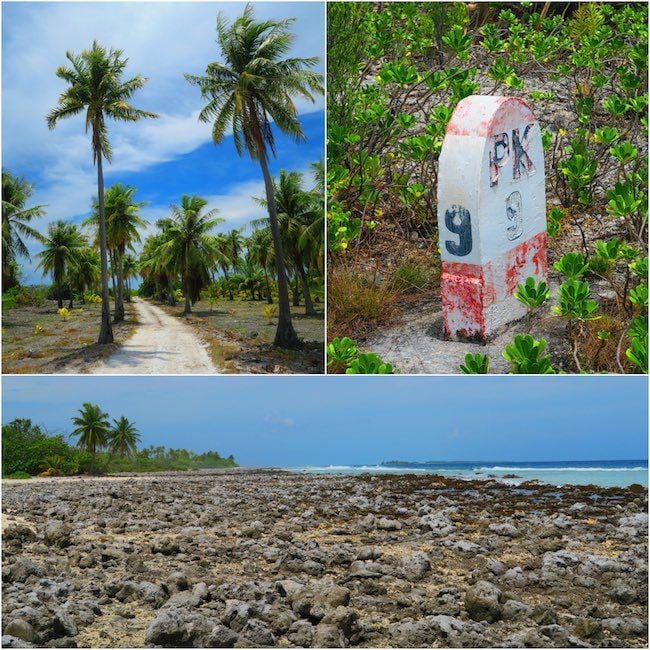 The snorkeling is pretty good too, with excellent visibility, a sandy bottom and maybe a few sharks passing by. Enjoy paradise.
Marae Tahiti Vairau
A little bit further north of PK9 beach, turn left to get to this ancient Polynesian temple. It's not worth cycling all the way here just for this, but if you're already here you might as well see. In any case, the finest ancient marae will be found in Raiatea, Huahine, Nuku Hiva and Hiva Oa.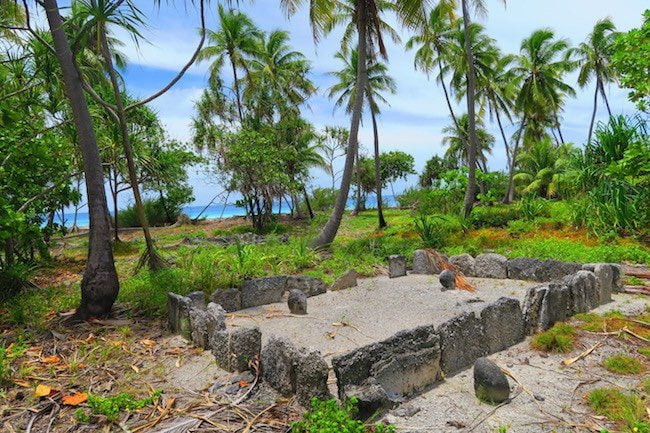 Garuae Pass Lookout
The dirt road ends at Garuae Pass, also known as the 'north pass'. It's the widest lagoon pass in French Polynesia and where you'll do the bulk of your diving. Feel free to snorkel a bit but be super aware of the currents. I opted out but a friend of mine said it was superb.
Diving In The North Pass
This is the prime reason for coming to Fakarava. The scuba diving in Fakarava is among the best in all of the South Pacific. Garuae Pass (a.k.a north pass) is super accessible from Rotoava. I went diving with Dive Spirit Fakarava whom I highly recommend. Have a look at the 'diving and snorkeling' section for more info about them. The best time to dive the north pass is during 'slack tide'. This is when the incoming current is beginning and the fish come out in large numbers.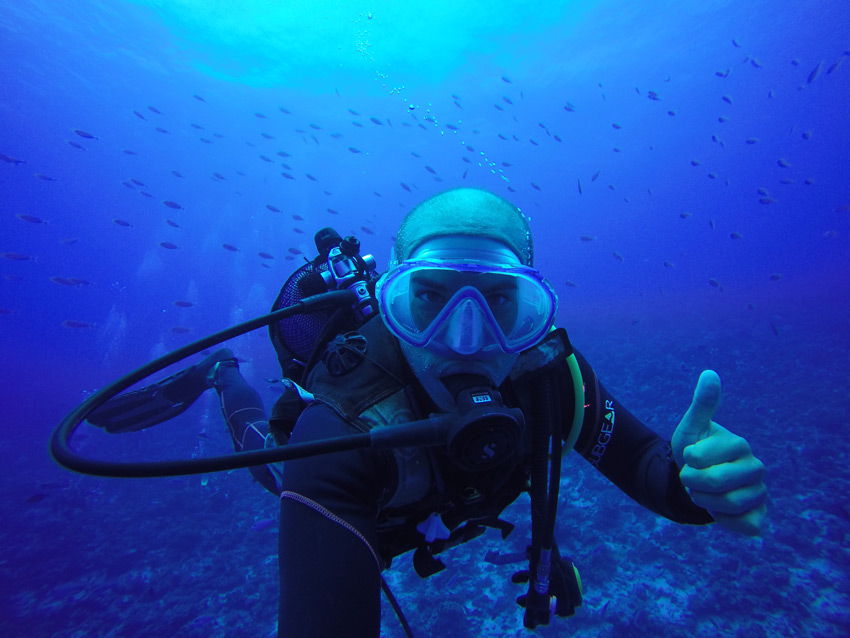 Ohotu Cliff
You'll spend the bulk of your time in and around the coral garden along this cliff. I'll start by mentioning that the corals here are superb, far better than in Rangiroa or anywhere else I've seen. Even if you won't spot any sharks (and there's hardly a chance of that happening), you will still greatly enjoy your dive. The corals are healthy and come in all shapes, colors and sizes.
With visibility usually between 20-40 meters, you'll have no problem spotting the walls of grey and white tip reef sharks patrolling the deep blue. If conditions are right, you'll leave the confines of the coral garden and swim super close to 200 or so sharks!
As for the fish… you'll spot huge napoleons, barracuda, the usual colorful reef fish and my favorite – schools of goatfish. These guys cruise along in large numbers, and you can just swim right through them and watch how they harmoniously change their pattern. Incredible!
Alibaba Canyon
When conditions are right, you'll finish your dive off with a drift back into the lagoon, a thrilling ride that can only be described as riding on the rooftop of a bullet train. En route, you'll fly over canyons, coral-covered channels and helpless fish caught in the strong current.
Just before the end of the drift, you'll reach the Alibaba Canyon. You'll be instructed to 'stay low' to avoid being swept by the incoming current and all that's left to do is enjoy the view. Colorful lagoon fish are everywhere and sharks are patrolling the waters above your head. If you're lucky, you might even spot a rare marlin. This was the first time I've seen one, super impressive with its spear sticking out in front.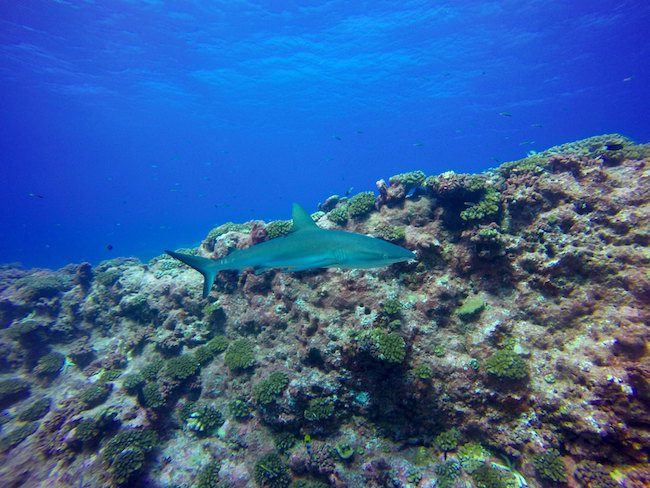 Nurse Shark Cave
If the navigational skills of your dive instructor are good, you might even finish your incredible drift dive at the entrance of the 'nurse shark cave'. With the incoming current now at its peak, fish from around the neighborhood take refuge in this cave. And as its name suggests, nurse sharks like to take afternoon naps here as well. We spotted a 2-meter nurse shark sleeping inside and an odd-looking spotted flounder swimming 'sideways' at the cave's entrance.
Have a look at the top highlights from the memorable scuba diving in Fakarava!
Lagoon Tour: Pink Sand Beach & South Pass
If you're not yet convinced that Fakarava is way more than just diving, here's another proof. One of the highlights around here is the famous pink sand beach (les sable roses). Other atolls have such beaches, but the one in Fakarava is said to be spectacular. You can visit the pink sand beach on a full-day tour that also includes Tetamanu Village and the legendary 'south pass'. I joined Captain Geoffrey and Temio from Vaiama Village Pension, which also welcomes outside guests to join their tours to the blue lagoon and pink sand beach.
After about 90 minutes of seeing nothing but pearl farms and deserted beaches, you'll reach Tetamanu Village. Sitting at the mouth of the Tumakohua Pass (also known as the south pass), Tetamanu Village is home to only four families (that's right) and its main purpose these days is to cater to scuba divers who follow the legend and make the long journey out here.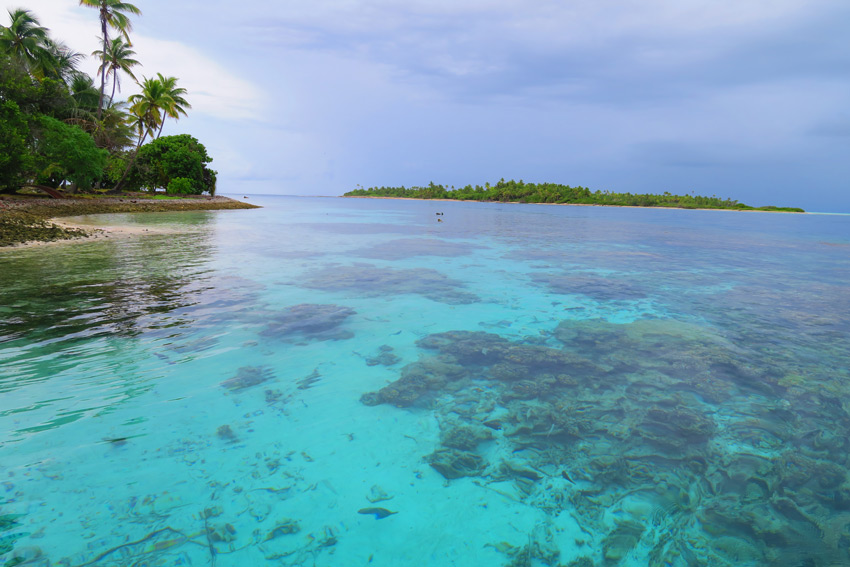 Your crew starts to prepare the picnic lunch as you head out on a village tour. Tetamanu Village is something straight out of some fantasy movie. There is no electricity (batteries only) and forget about internet folks! Walking along the grassy 'main street', you'll visit the Catholic church that's been here since 1874. The oldest in the Tuamotus and one of the first Catholic churches in French Polynesia, the building is made entirely from coral rock!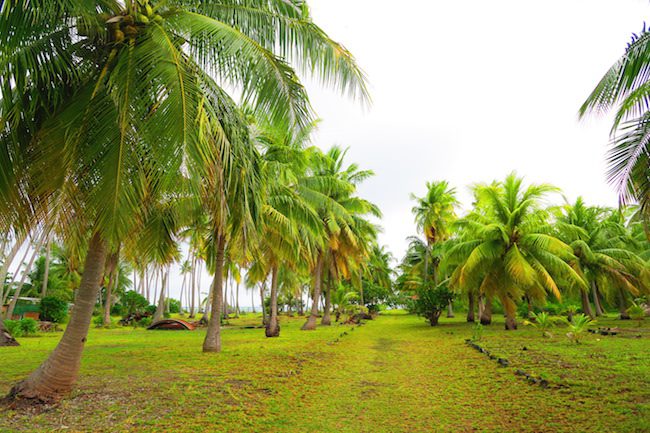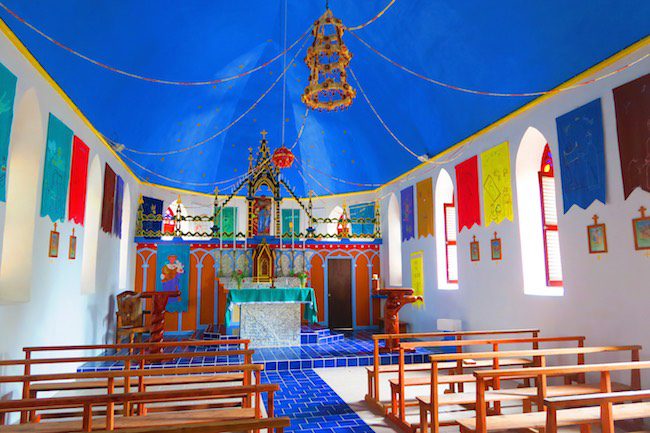 Down the street, you'll pass by the former school, now taken over by nature. It closed its doors when it didn't make economic sense to import a teacher for just one child… Further down, there's even a small prison – well, what's left of this single cell. You see, Tetamanu actually preceded Rotoava and was the main settlement in Fakarava. When they finally figured out that a better spot for a 'large' village is by the north pass, Tetamanu began its gradual decline. Without the scuba diving dollars keeping it alive, this village would long be abandoned.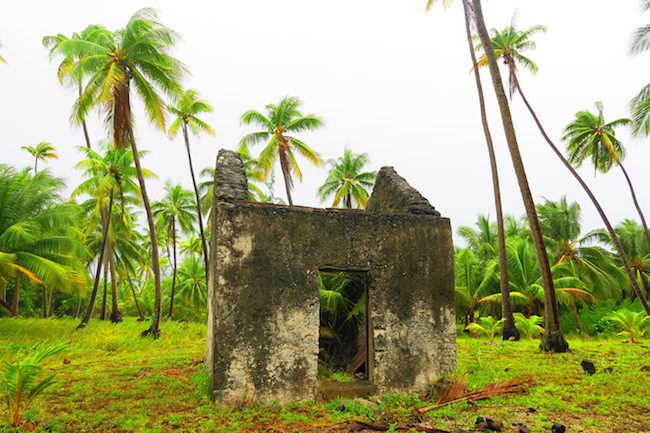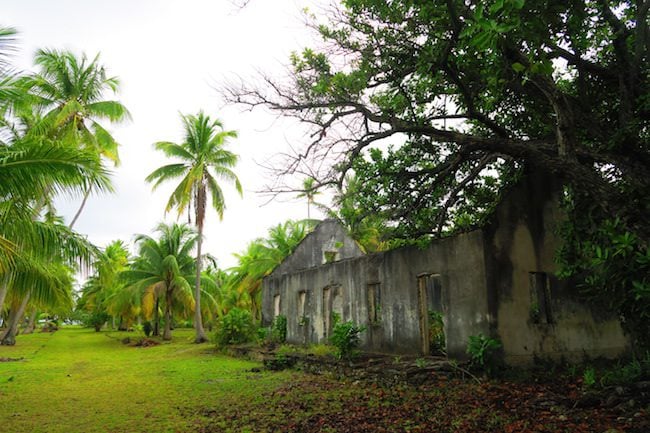 After the tour, put your snorkeling gear on and head into the water. The lagoon on this side of Fakarava is much clearer and richer than around Rotoava, though as not that great for snorkeling with the reef rapidly dropping into the deep. Nonetheless, you'll come across dozens of reef sharks, trevally, giant Napoleon and stingrays (to name just a few). The real underwater appeal of the south pass is just meters away inside and beyond the pass.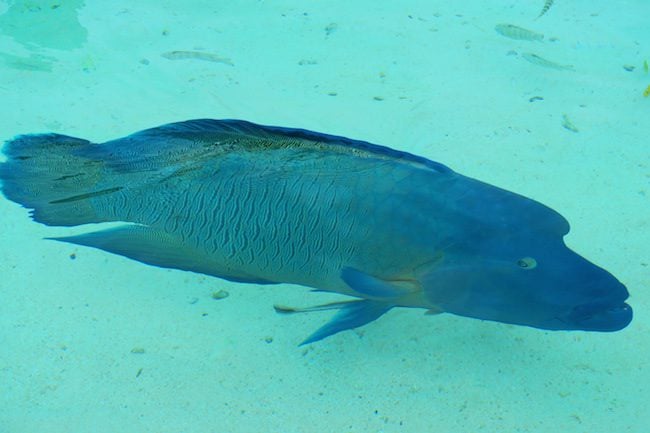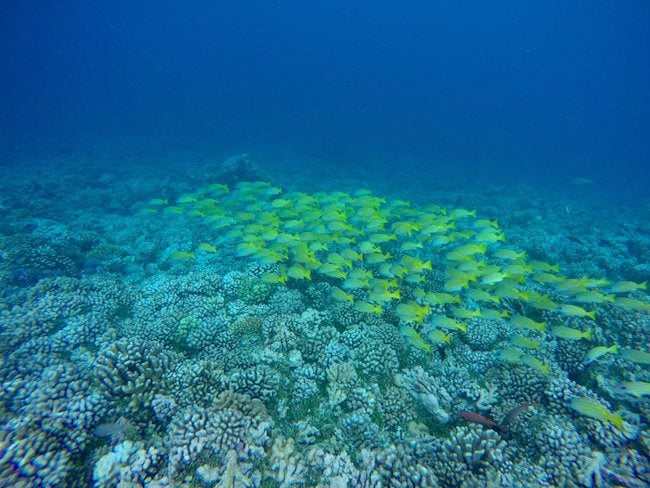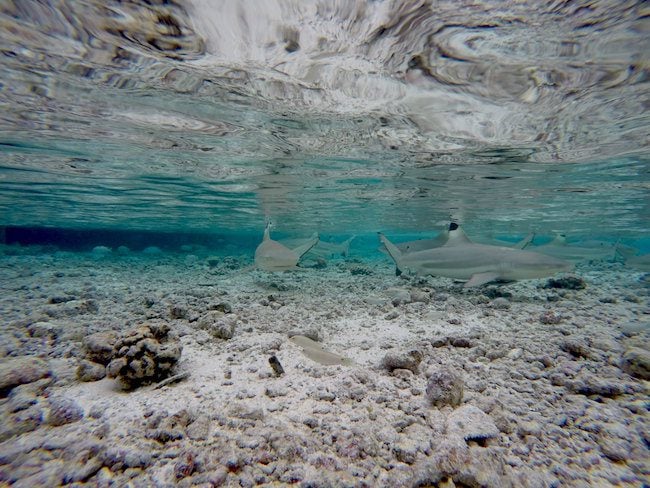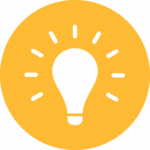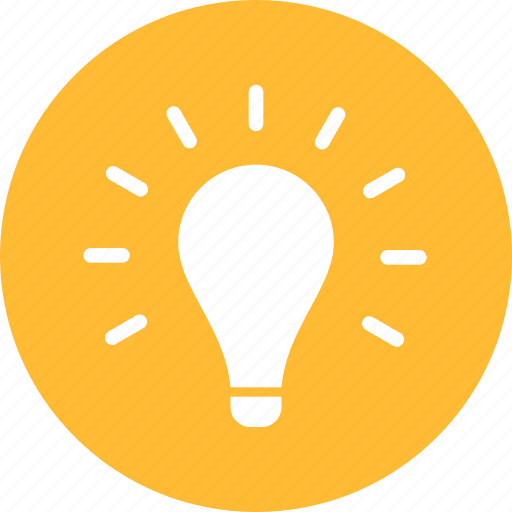 Pro Tip
You might be able to skip the snorkeling part of the tour and book a single dive. Mention this at the time of booking the lagoon tour and hope there's an open spot.
Lunch was simply in a different league from all the lagoon excursions I went on in French Polynesia. There was lobster, sashimi, grilled fish and sausages to go along with a side of breadfruit, rice and my absolute favorite – coconut bread!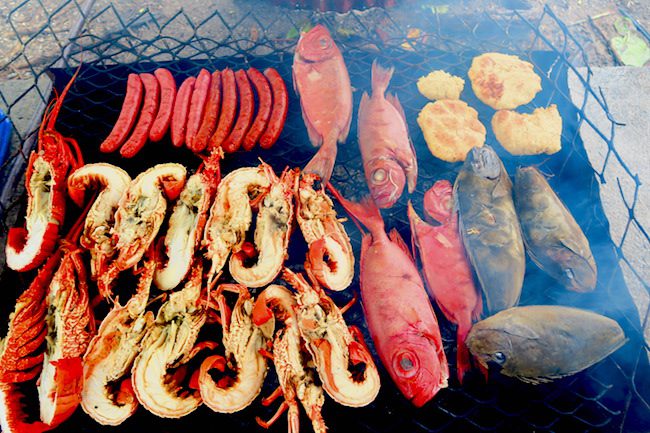 After lunch, you'll head to the famous pink sand beach. In the middle of nowhere, you'll land on dreamy sand bars floating in the blue lagoon. The degree of 'pinkness' will depend on the sun. On a cloudy day like when I made the voyage, it was more orange than pink but spectacular!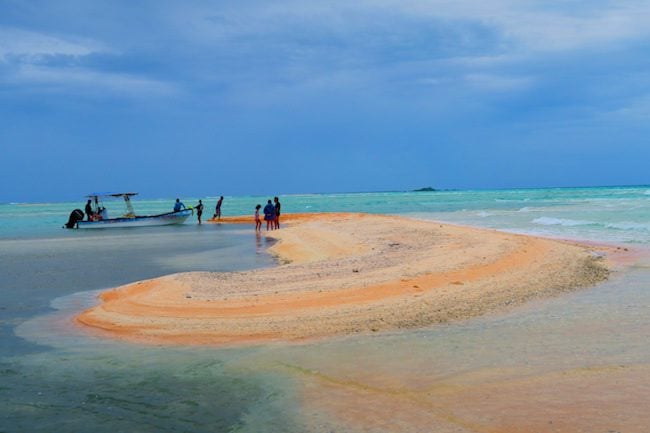 If the weather is nice, you'll have about an hour to play around in the water and enjoy one of the most paradise-like spots in French Polynesia.
Logistics: leave at 8 am, back at 4 pm. Be prepared for a 90-minute boat ride in each direction (bring pills if you get seasick though the lagoon is usually flat). Bring: snorkeling gear (if you have your own), towel, something warm & rain jacket if a cloudy day, sunscreen, etc. The crew does bring along plenty of water, juices and beers. The tour costs 12000F per adult can take a maximum of 8 people and there is a minimum as well so inquire early.
Bottom line: I would strongly advise going on this full-day tour only if the weather is pleasant. Without the sun, it's a lot less impressive than it could be and the ride back can be choppy and wet.
Places To Eat In Fakarava
Grocery shops: there are two shops in the main village just across from each other. They're open from early morning until noon and from 4 pm until about 7 pm (closed Sundays). There's another shop around PK8 south of the village.
Snack Chez Elda: my favorite dinner spot! If your pension won't drive you here, Elda will pick you up and drop you off for free. Come here for traditional Polynesian dishes, served in huge portions and with a generous dose of garlic and ginger. It will be hard to choose what to order and that's exactly why Elda came up with combo dishes to make your life easy (1500-1900 F). I came here on two occasions and had tuna sashimi, carpaccio and tartare. And to drink? Go for the huge cocktails (1200F), guaranteed to put you to bed within hours!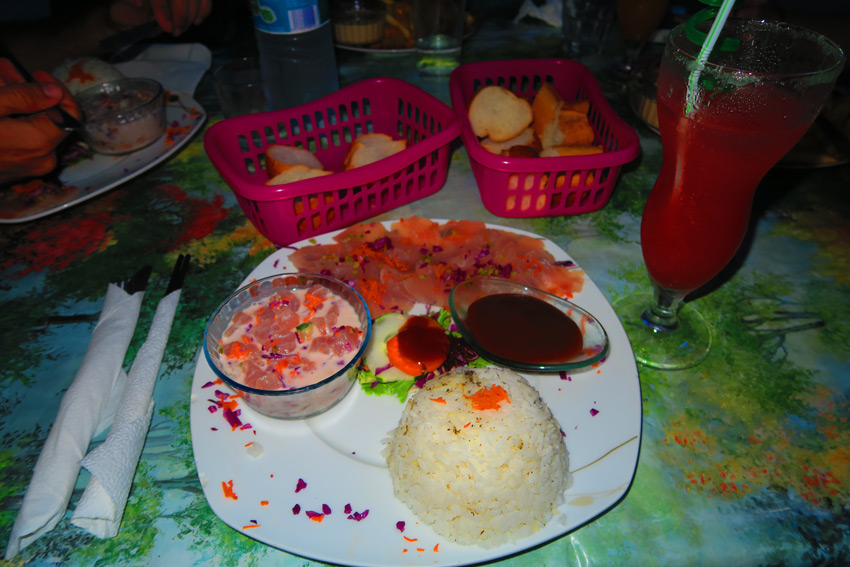 Snack Kori Kori: a snack with a view to die for, conveniently located seconds away from Dive Spirit Fakarava and Pension Vekeveke. I always came between dives and loved the huge sandwiches (~400F), though they do also serve serious steaks and fish dishes (~1700F). Don't forget to toss your leftovers down below to the sharks!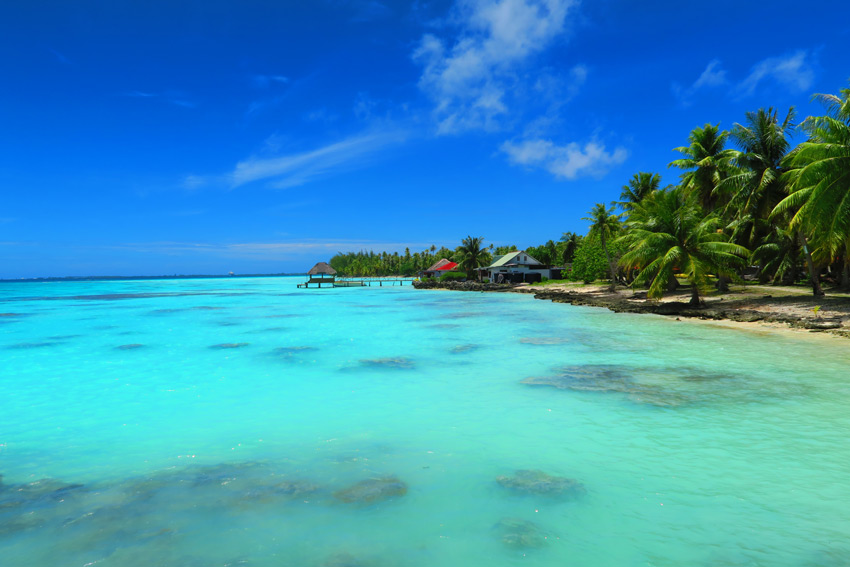 Havaiki Lodge: the Havaiki Lodge is the fanciest pension in Fakarava so it's no surprise to find a good restaurant out here. Food is served in a lovely lagoonside deck shaded by a thatched roof. Traditional Polynesian dishes are the main attraction, starting at around 1700F.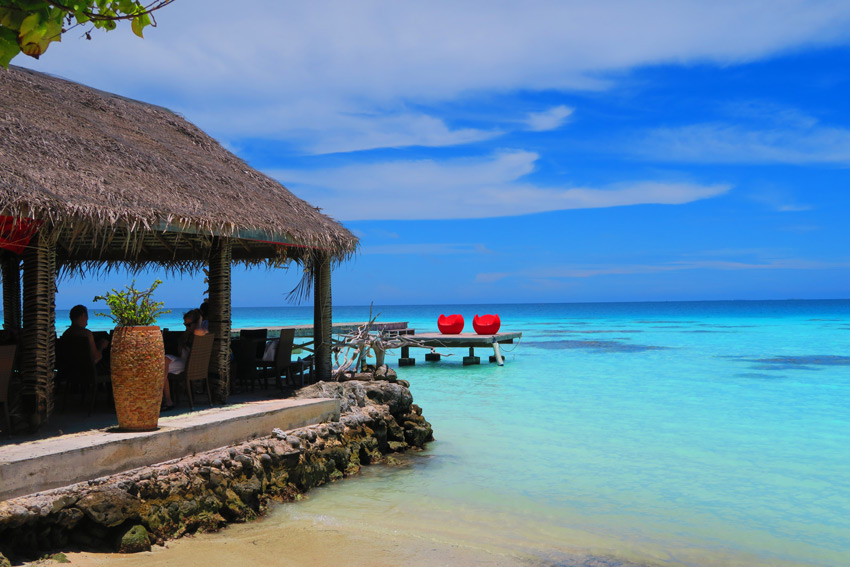 Snack Paillote: pretty much in Rotoava Village, come here mainly for crepes by the beach.
What's Next?
I hope you've found this Fakarava Travel Guide useful. For information about Fakarava and French Polynesia, check out these travel guides.
Tahiti, Tailor Made!
The Islands of Tahiti are among the last places to be colonized by mankind, 118 islands, each with its unique personality.
Get expert advice and assistance with planning your trip to the destination where tropical dreams come true!