The Perfect Honeymoon In Tahiti
Six tropical islands in 30 days, this is the story of a perfect honeymoon in Tahiti. Mixing luxury with authenticity, well-known islands with off-the-grid gems, festivals with scuba diving, and blissful beaches with mountain hikes, the islands of Tahiti are the perfect honeymoon destination. Let's head to the South Seas and relieve highlights from a dream honeymoon.
This was my seventh visit to French Polynesia, or Tahiti as it's often called (even though Tahiti is just the main island in a nation of 118 islands and atolls). It was nearly a year since I last visited the islands on a family trip with my parents and little sister. But now it was finally time to share my personal paradise with my bride, Ella.
---
Heading off to French Polynesia? In-depth island guides to all 5 archipelagos await you, including sample itineraries and essential travel tips & tricks.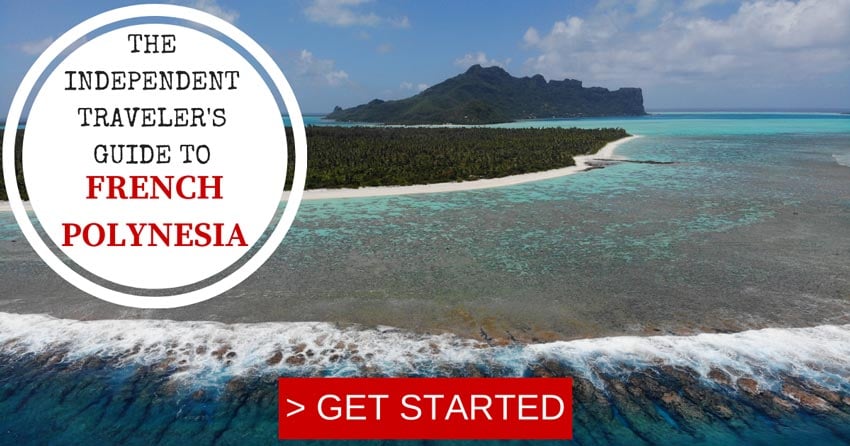 Planning a Honeymoon in Tahiti & French Polynesia
Heading to paradise? Check out this detailed guide covering the ins and outs of how to plan a perfect honeymoon in Tahiti. It will help you make the most of your time in one of the most dramatic and romantic couples destinations.
The Perfect Honeymoon in Tahiti Video
Check out this two-part video series highlighting our honeymoon in Tahiti.
Part 1: Arrival & the Atolls
In the first part, we explore a secret waterfall deep in Tahiti's uninhabited interior before hopping to Rangiroa and Fakarava for some diving and beach bumming.
Part 2: Heiva Festival & the Society Islands
In the second part, we start the Heiva Festival in Tahiti and then explore Maupiti, Bora Bora, and Mo'orea.
Tahiti, Tailor Made!
The Islands of Tahiti are among the last places to be colonized by mankind, 118 islands, each with its unique personality.
Get expert advice and assistance with planning your trip to the destination where tropical dreams come true!
Arrival in Tahiti
After a 30+ hour journey, we finally arrived in Tahiti just after sunset. We were greeted by the usual airport dance group that helps pass the time while waiting in line at passport control, but we were then surprised to find our local friends Jacques and Iris greeting us with lovely headpieces that made it clear that we just landed in paradise. After picking up a car for the next couple of days, we settled at Pension Fare Suisse on the outskirts of downtown Papeete, French Polynesia's capital.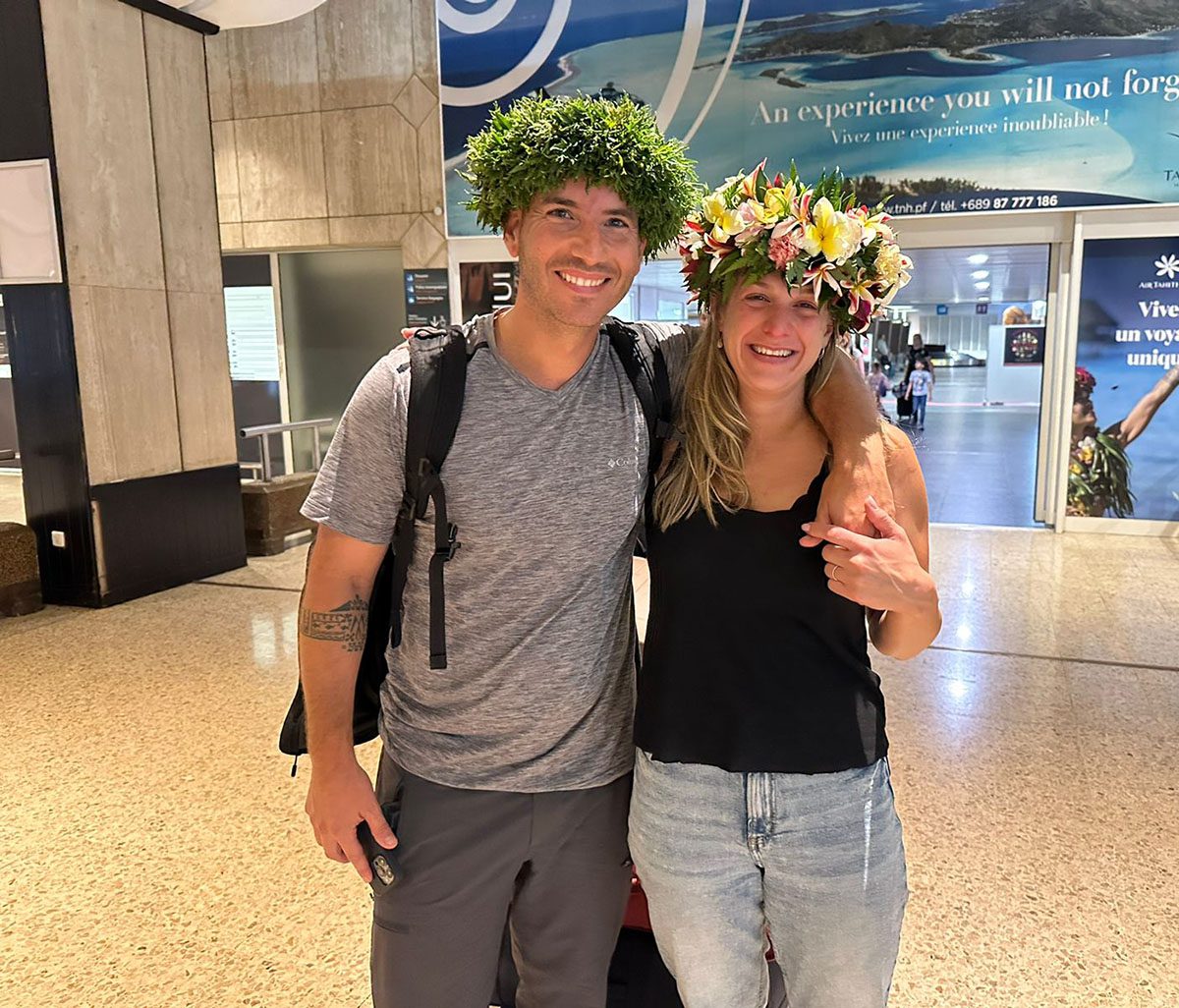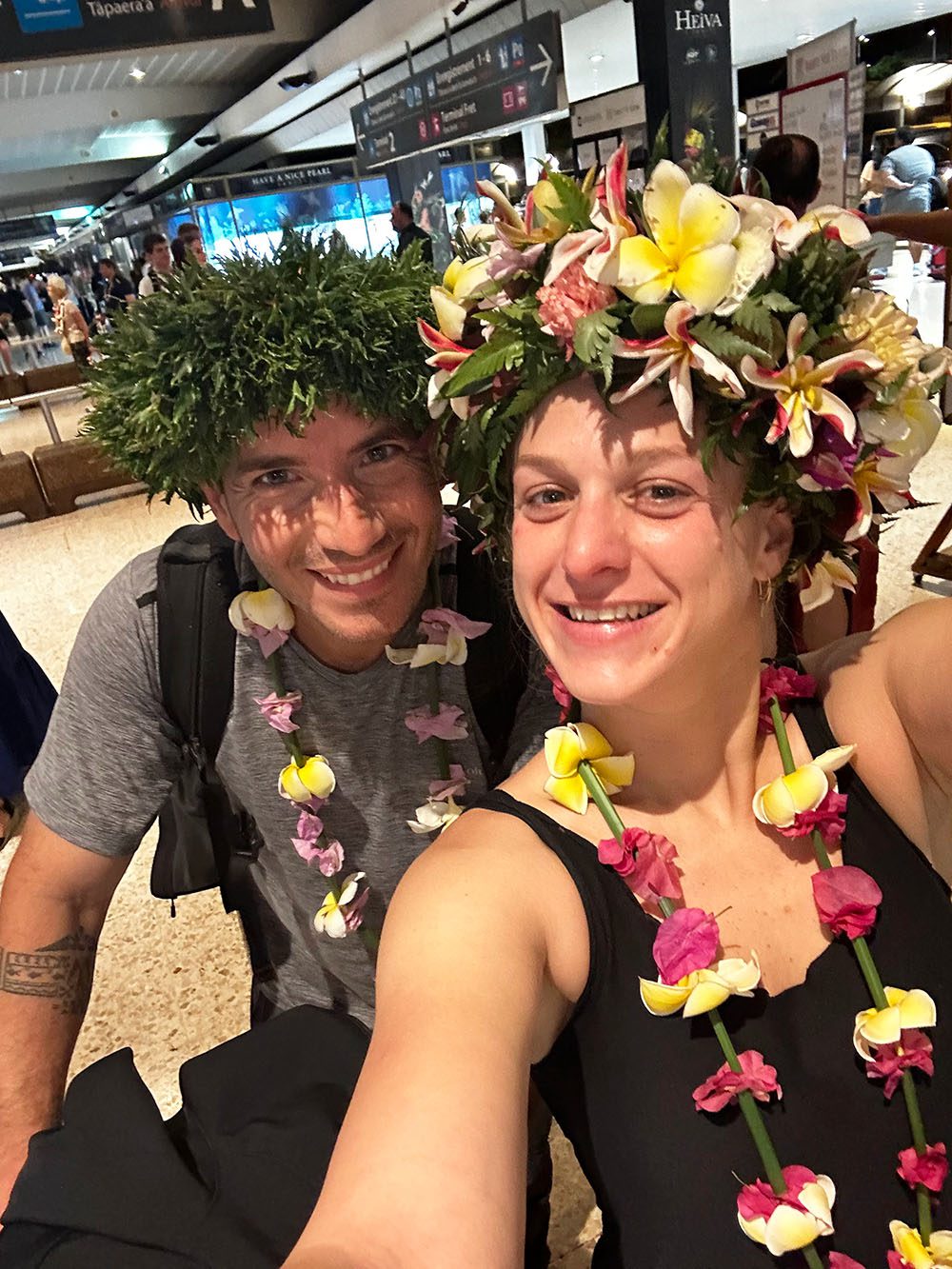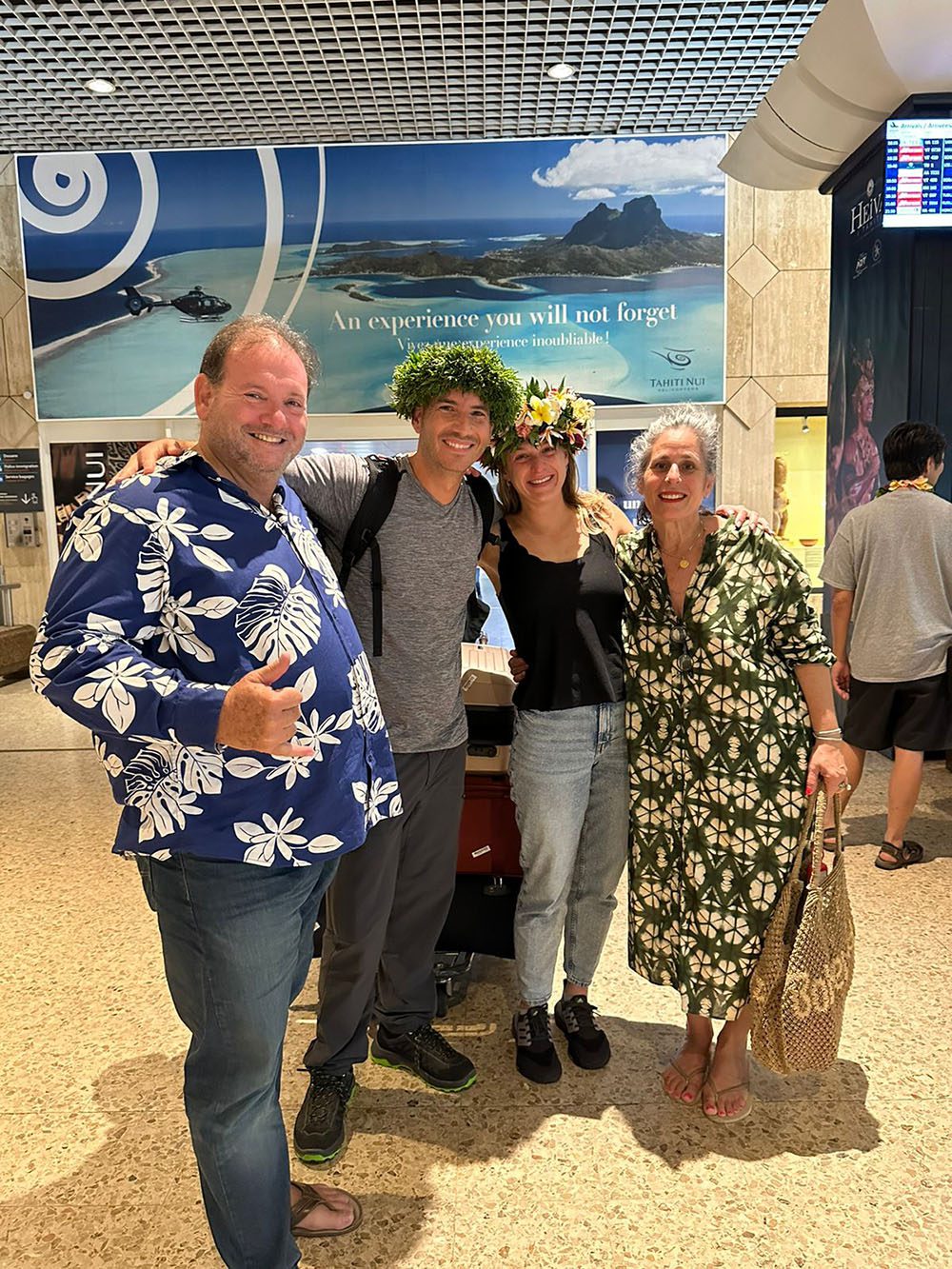 Sunday Morning Market
Thanks to extreme jetlag, we woke up just in time for the special Sunday edition of Papeete's central market. Unlike on other days, the market opens up around 4 a.m. with its surrounding streets pedestrianized until it's either time to head to church or head home to prepare the Sunday family feast. Things get pretty busy long before sunrise. We examined the freshly caught fish and the ready-to-eat local dishes but settled on something light for breakfast, fruits and vegetables, and a few rounds of ginger and passionfruit sugarcane juice.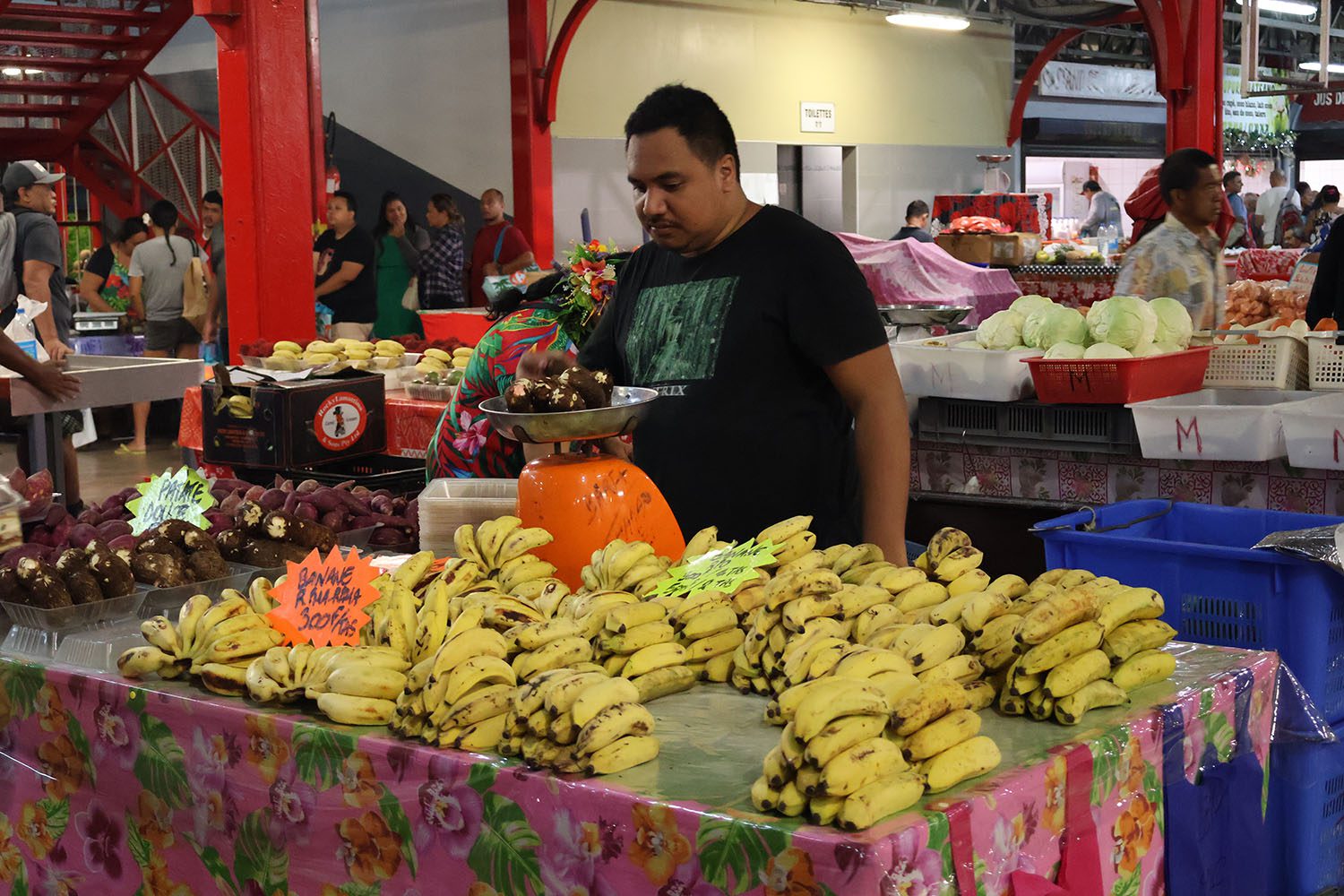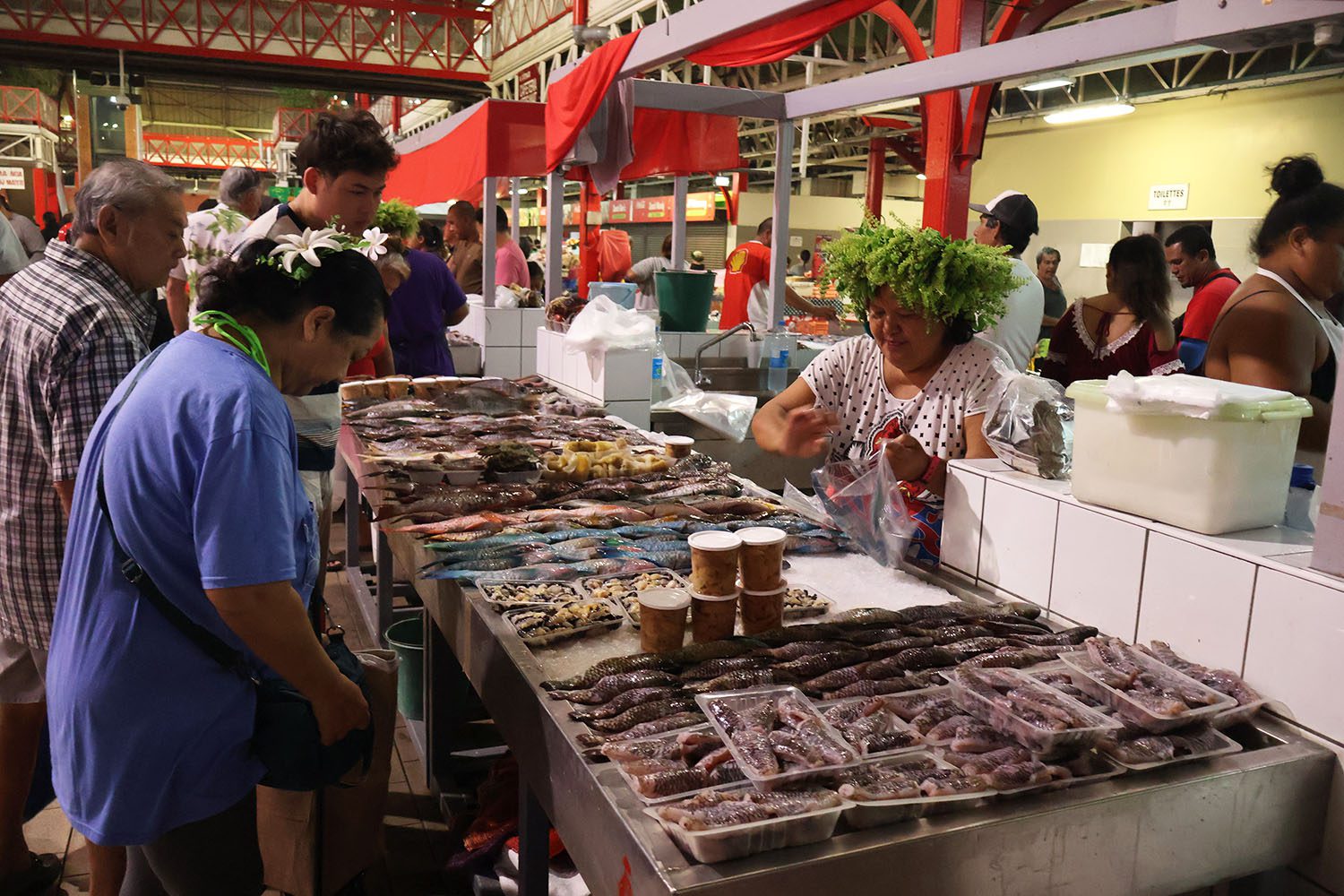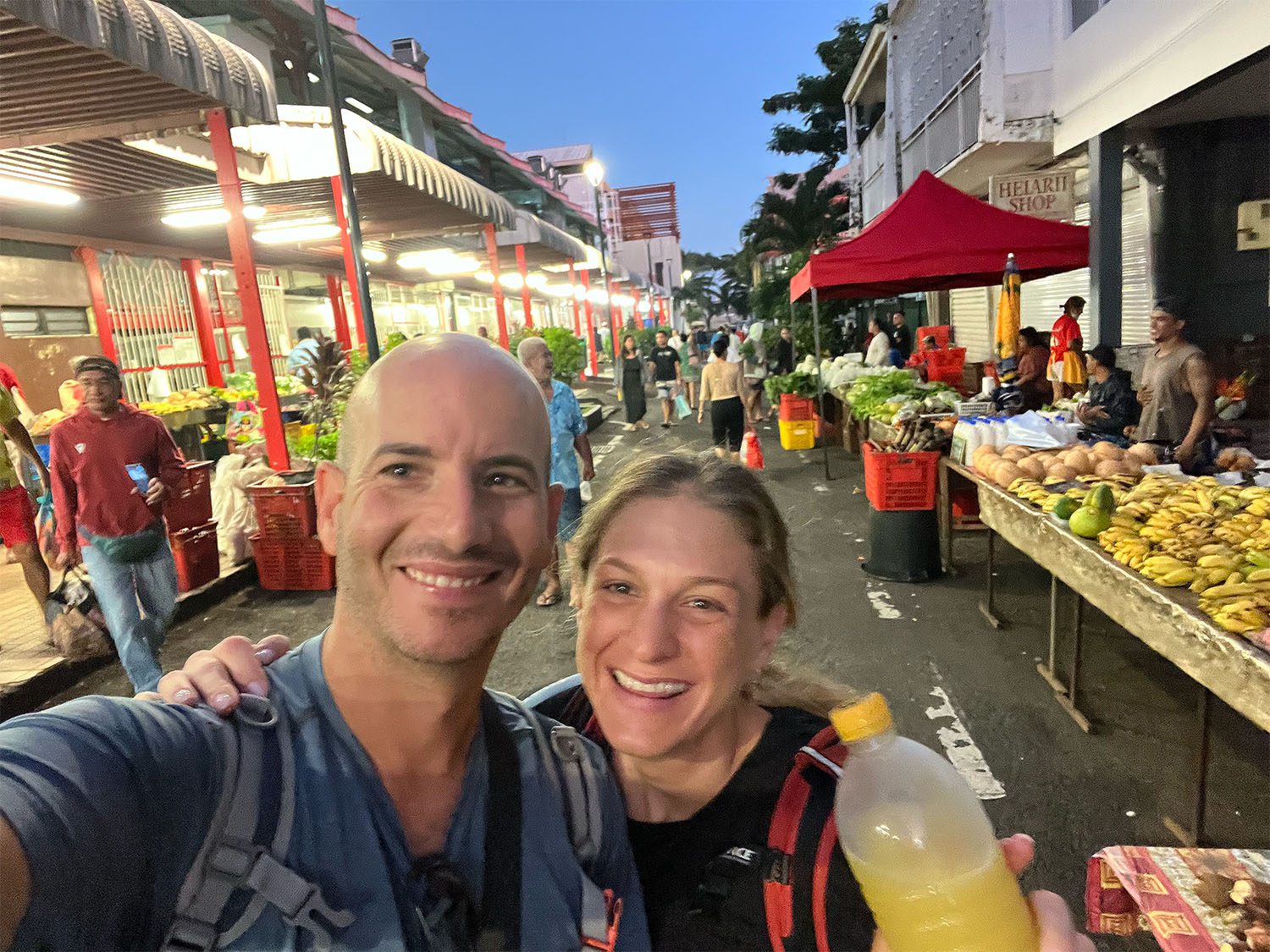 Faraura Valley Hike
With the morning in full swing, we headed along Tahiti's wild east coast and entered Faraura Valley. Tahiti's dramatic topography is a nature lover's playground. The island is dotted with deep valleys covered in lush vegetation, waterfalls galore, and magnificent peaks that tower above 7,000 feet (2,000m).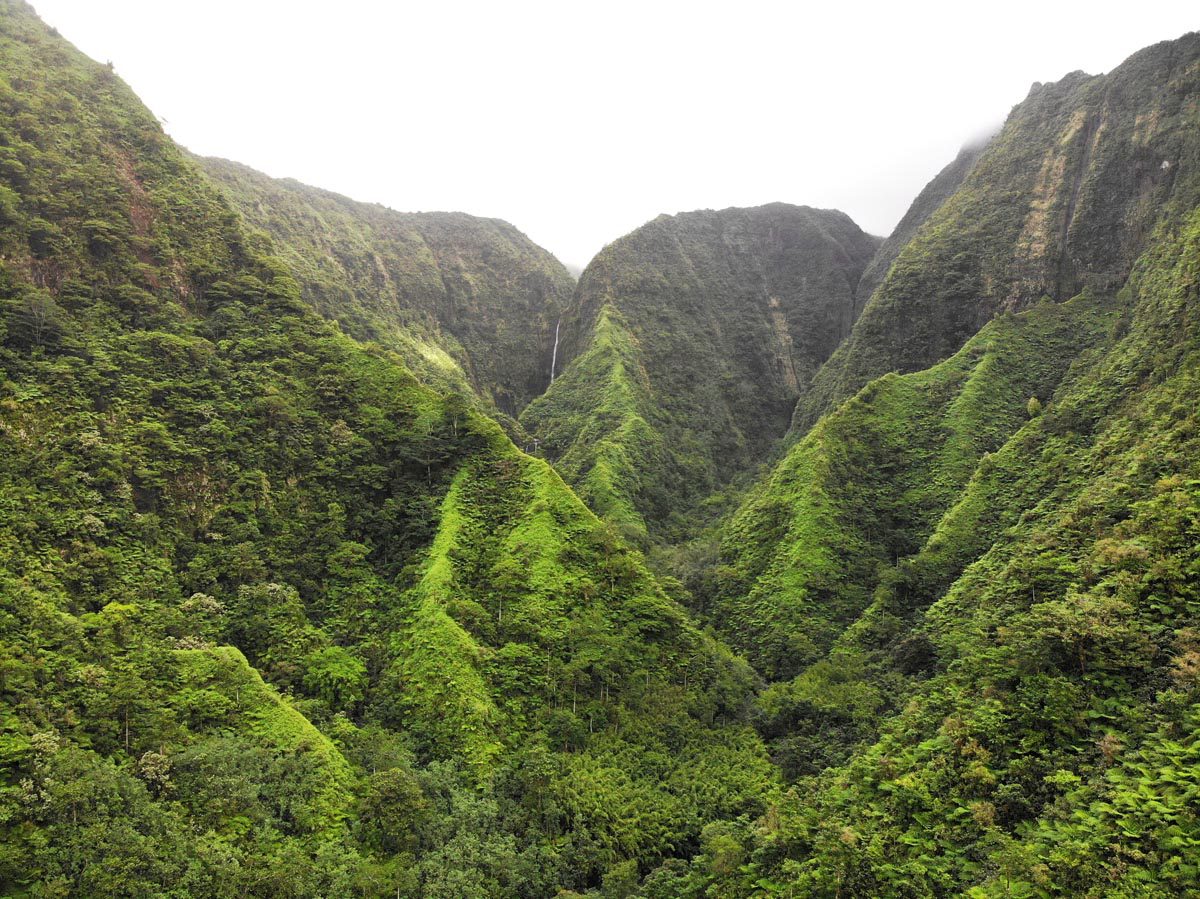 Our goal for the day was not to get lost in the rainforest and to follow the river upstream until reaching the magnificent waterfalls. Along the way, we had to carefully ford the river at precise locations and remind ourselves of the promised reward as sweat poured from almost every inch of our bodies.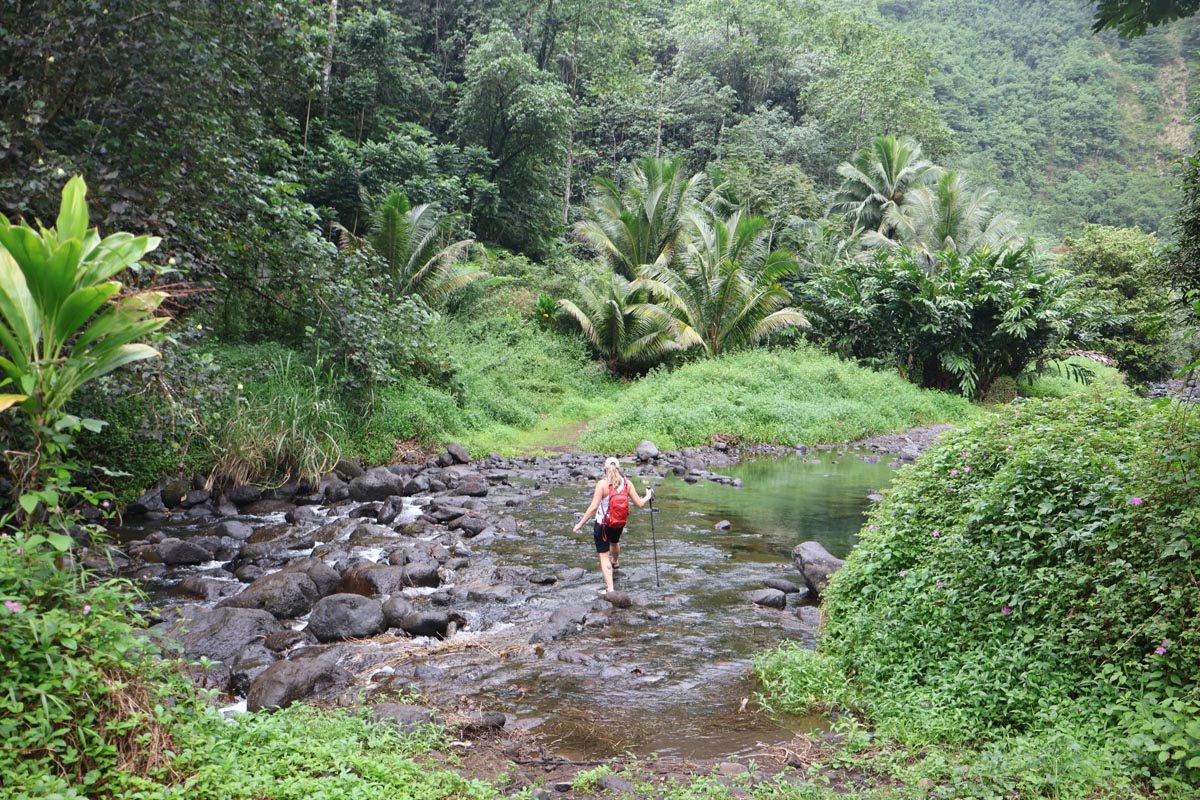 When I picture Tahiti, this is precisely what comes to mind. A pristine rainforest, towering emerald peaks, and waterfalls with hardly anyone around. We went for a dip in the water, treated ourselves to a natural massage beneath the falls, and enjoyed the market's bounty in a picnic lunch.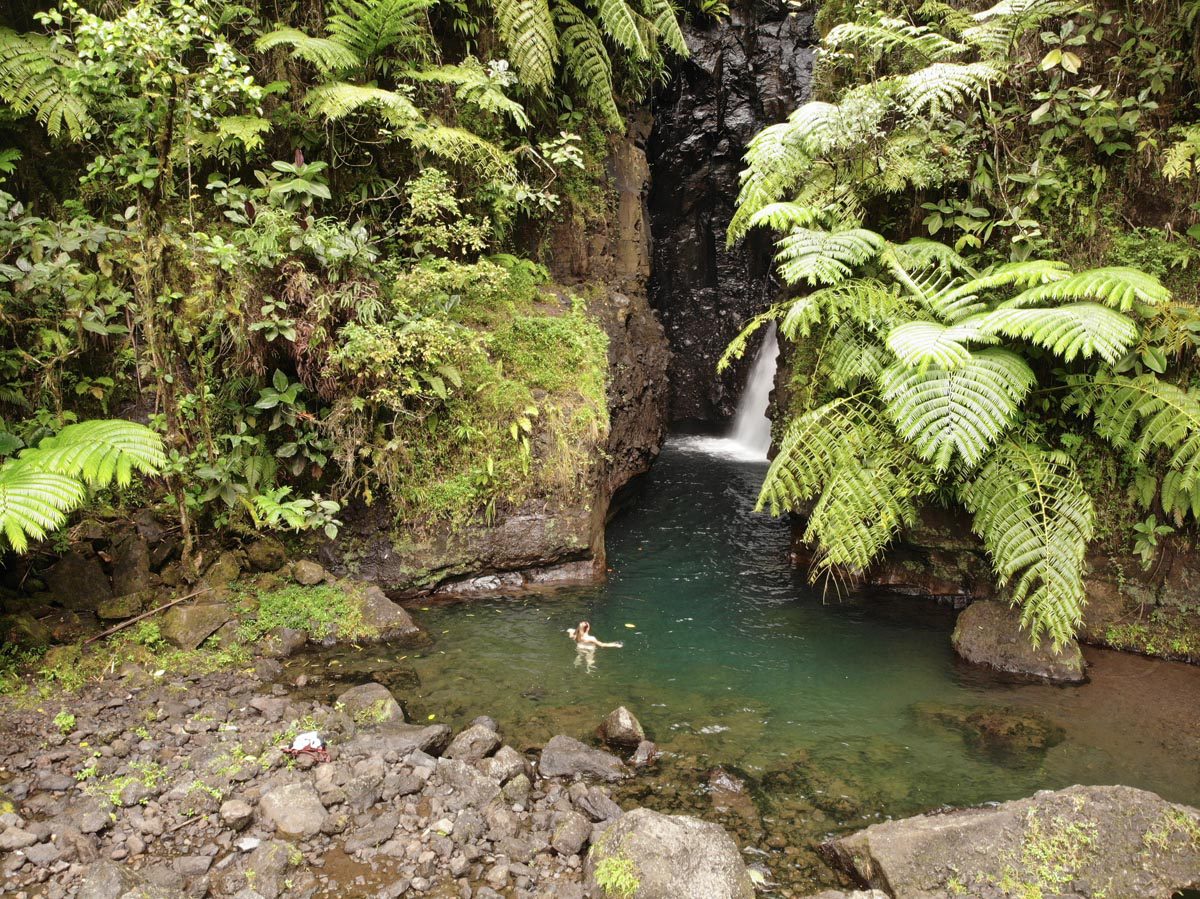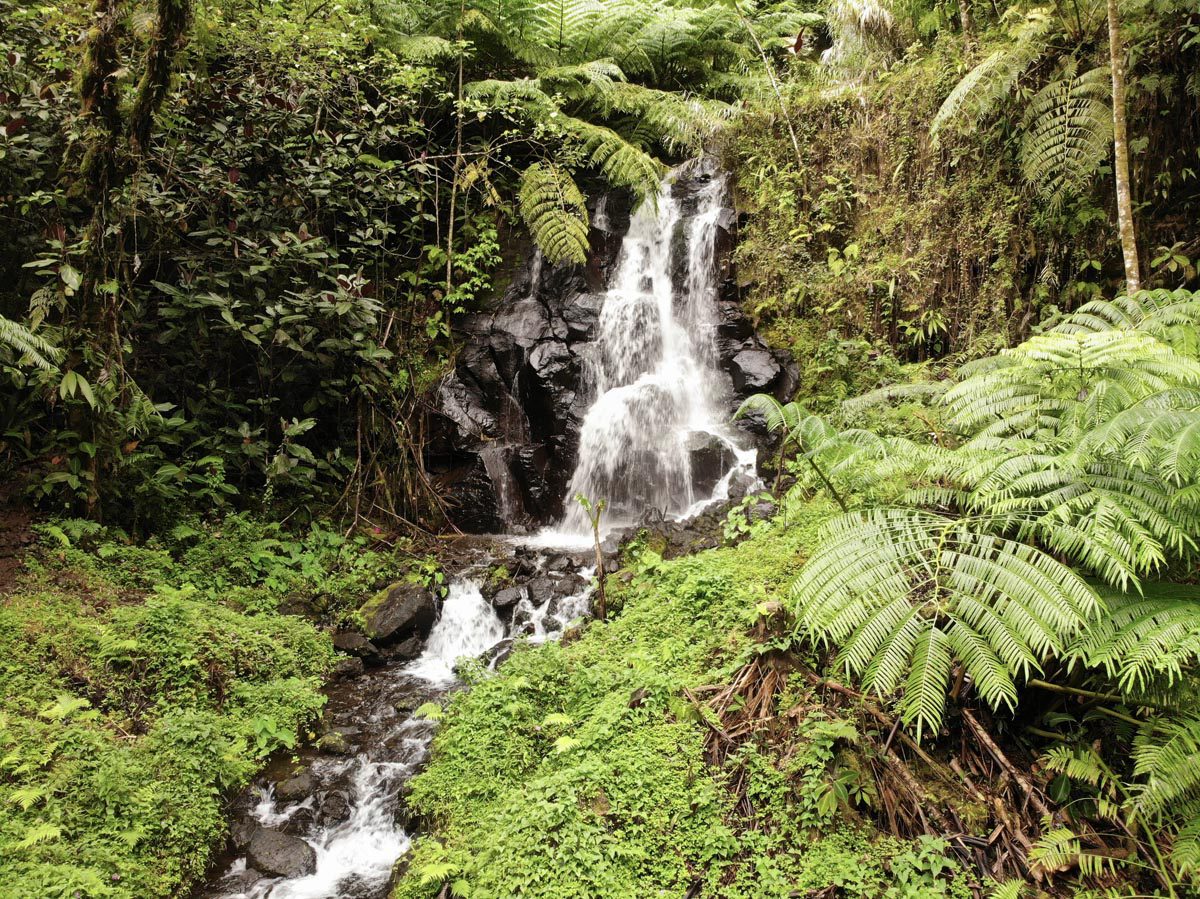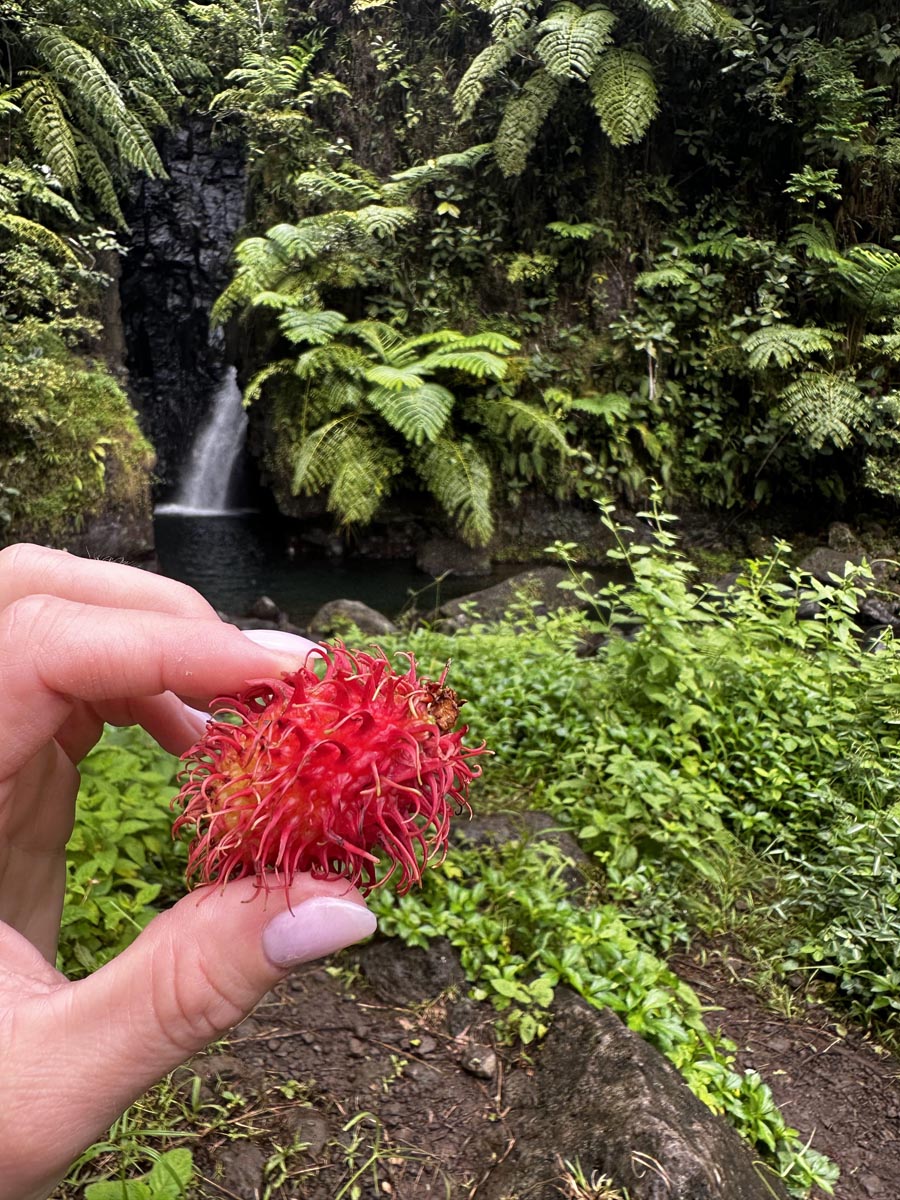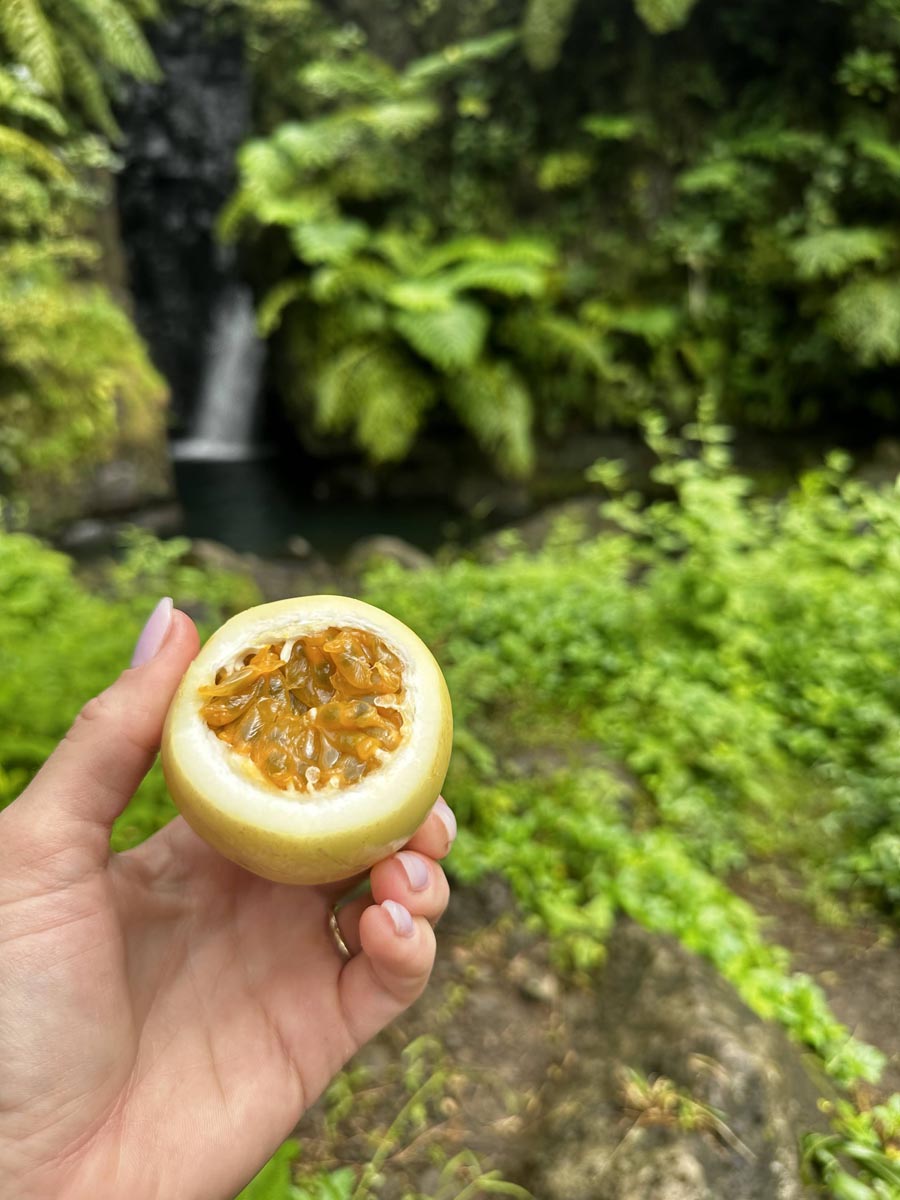 We'll return to Tahiti later on for the Heiva Festival!
Rangiroa
The first few days in Tahiti were just an appetizer as our honeymoon officially kicked off with a short (and very scenic) flight to Rangiroa. This would be our first stop on a nine-day stay in the Tuamotu Islands, one of French Polynesia's five archipelagos. Home to over 70 islands, the Tuamotus form the largest chain of coral atolls in the world, and Rangiroa is its largest resident, with a lagoon so immense that you can fit Tahiti inside and still have room to spare. It's no wonder why the island's nickname is "The Infinite Lagoon."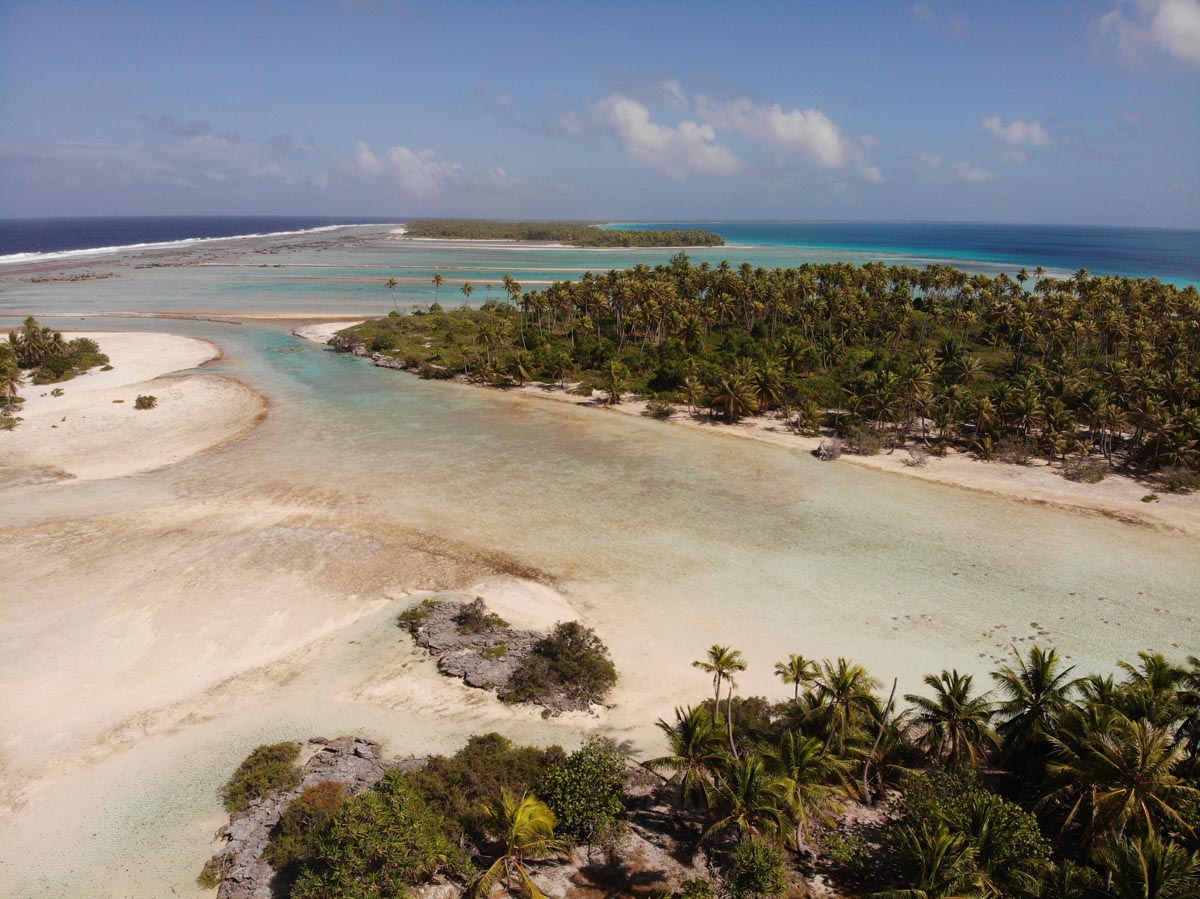 The land on an atoll is essentially a raised section of the ancient coral reef. When the extinct volcano sinks under its own weight beneath the waves, all that's left is this narrow sliver of land that now serves as a barrier between the open ocean and the inner lagoon where the volcano once stood. We spent our downtime in Rangiroa chilling at the Hotel Maitai Rangiroa and exploring the surroundings on a bicycle, including a lesson on the production of exquisite black pearls at Gauguin's Pearl Farm.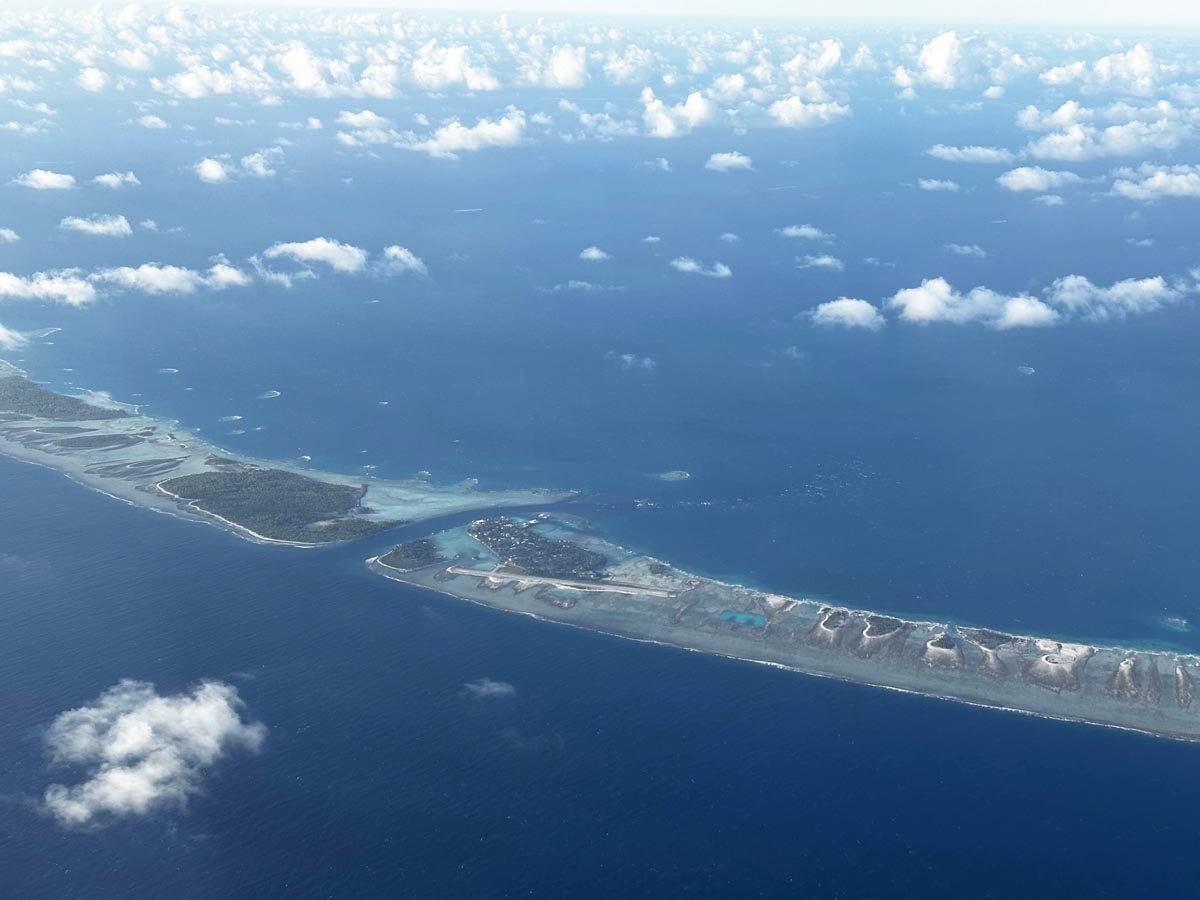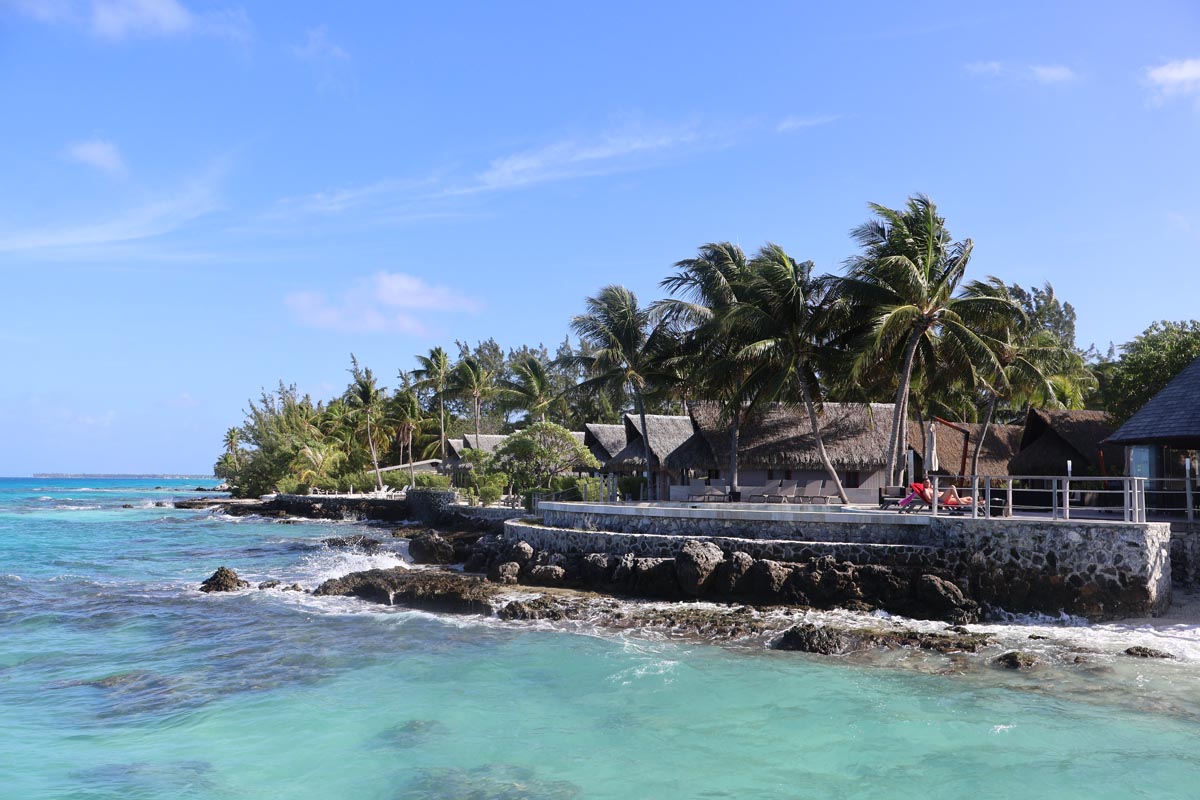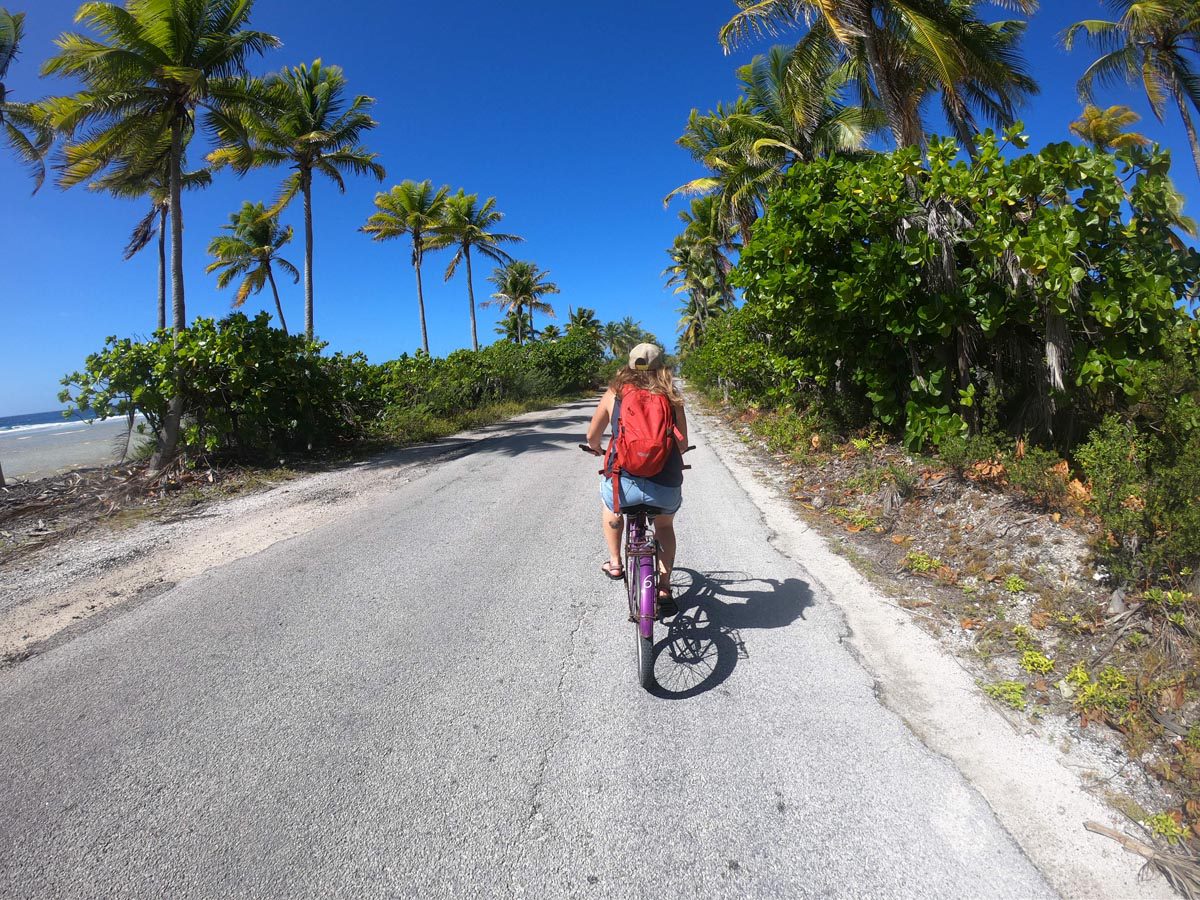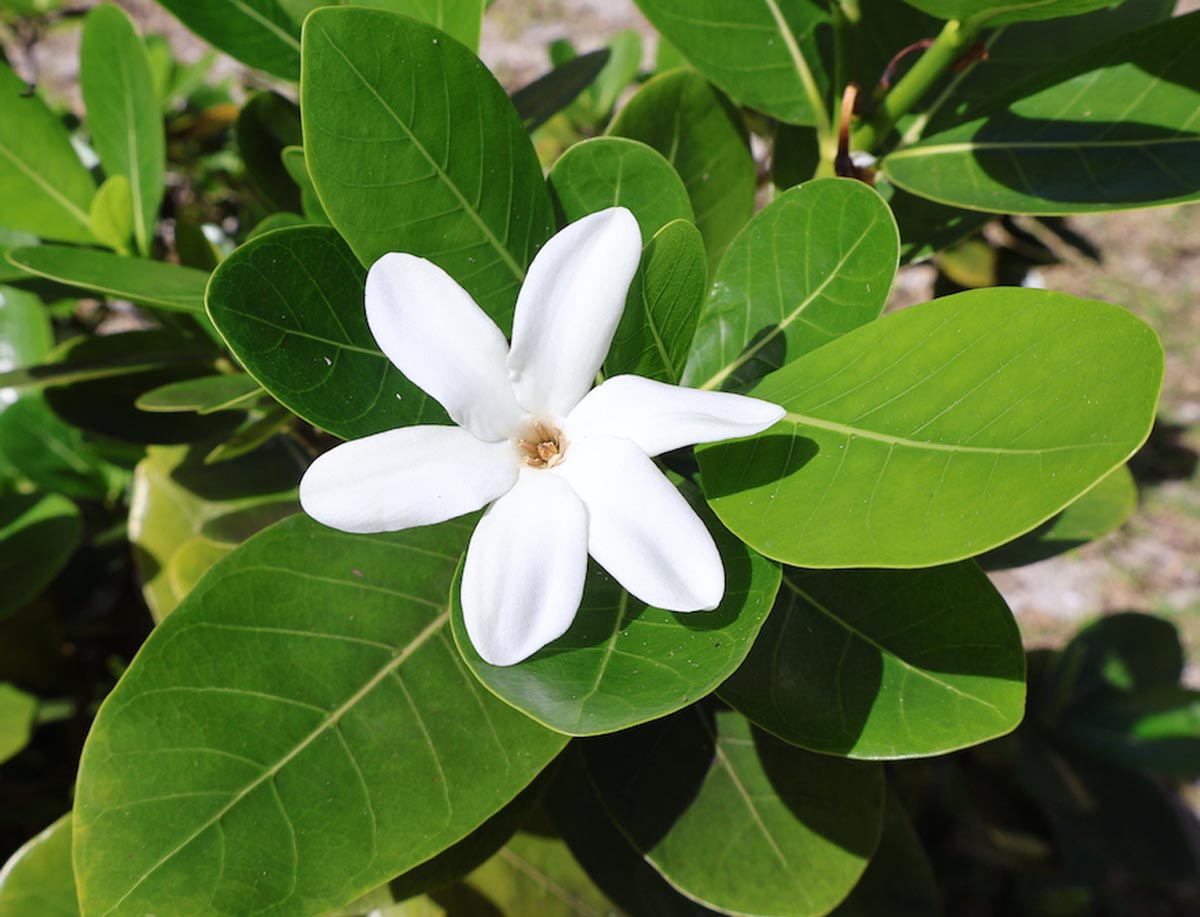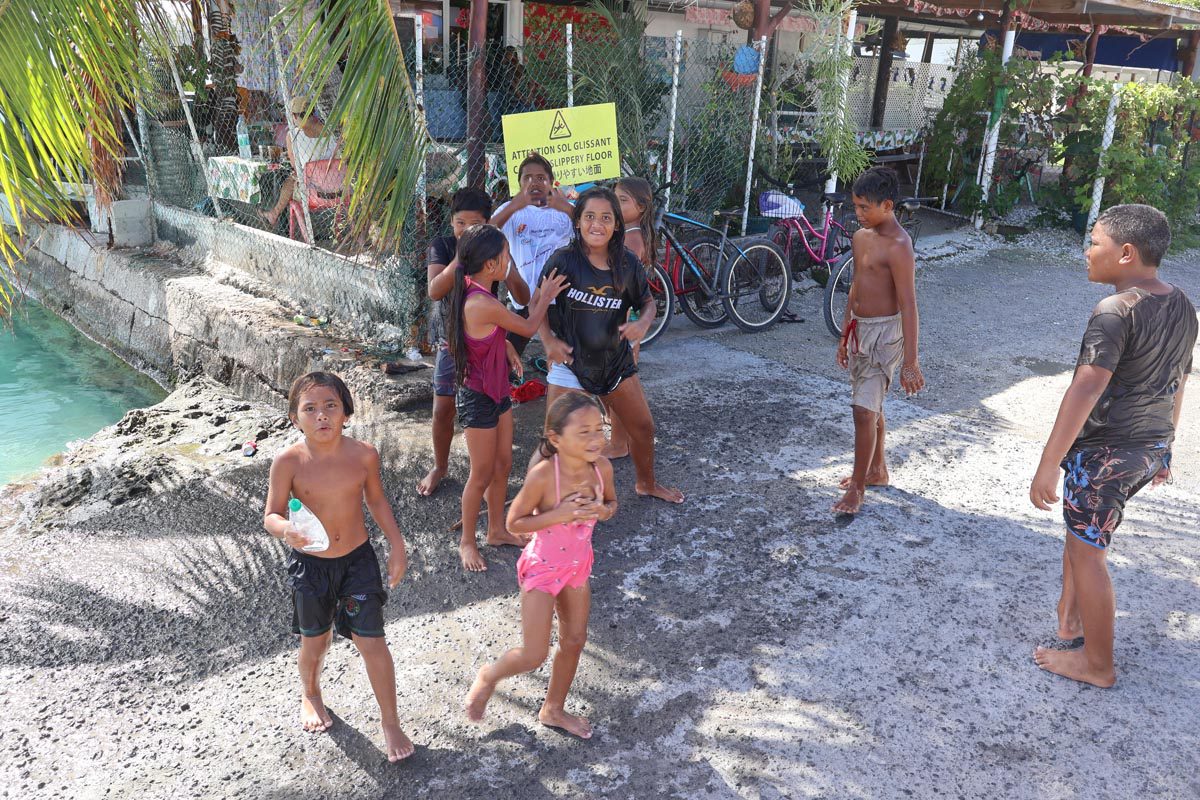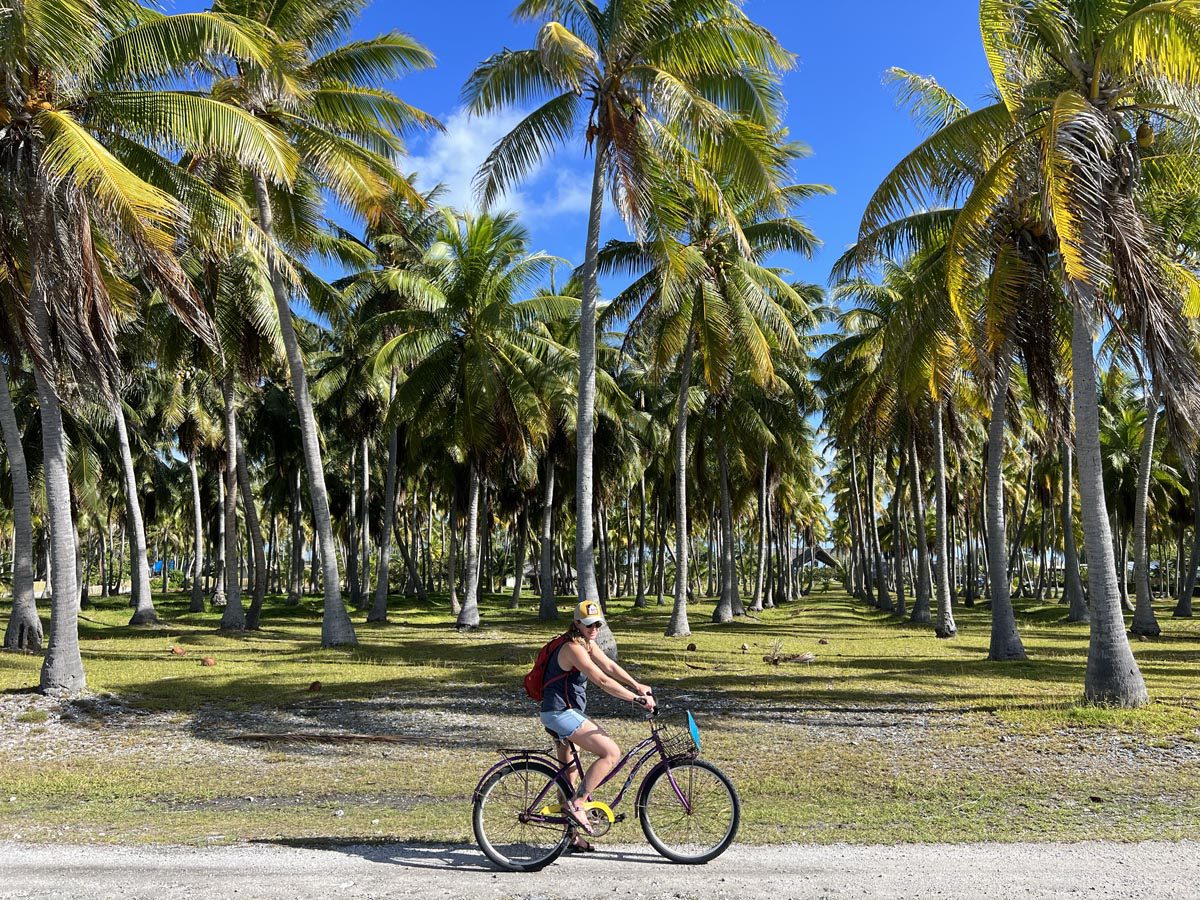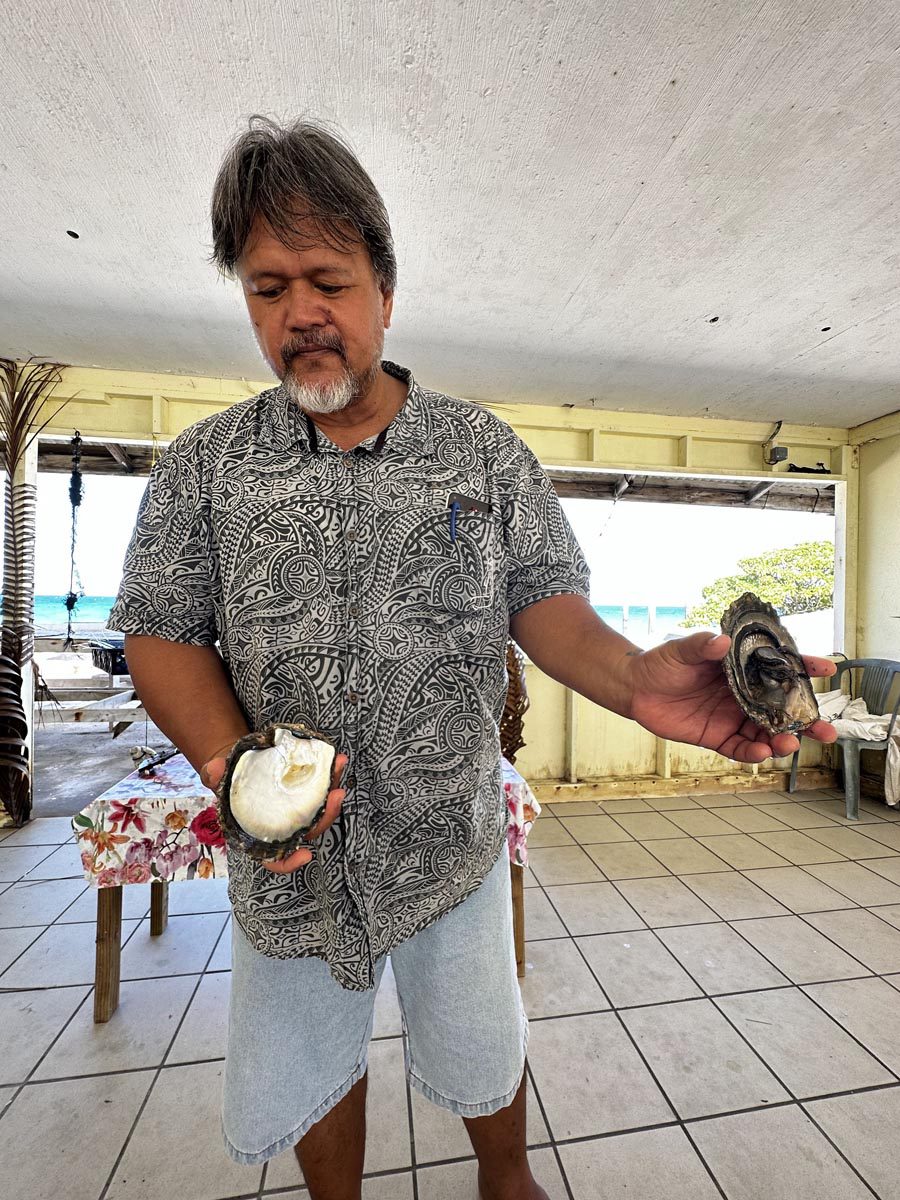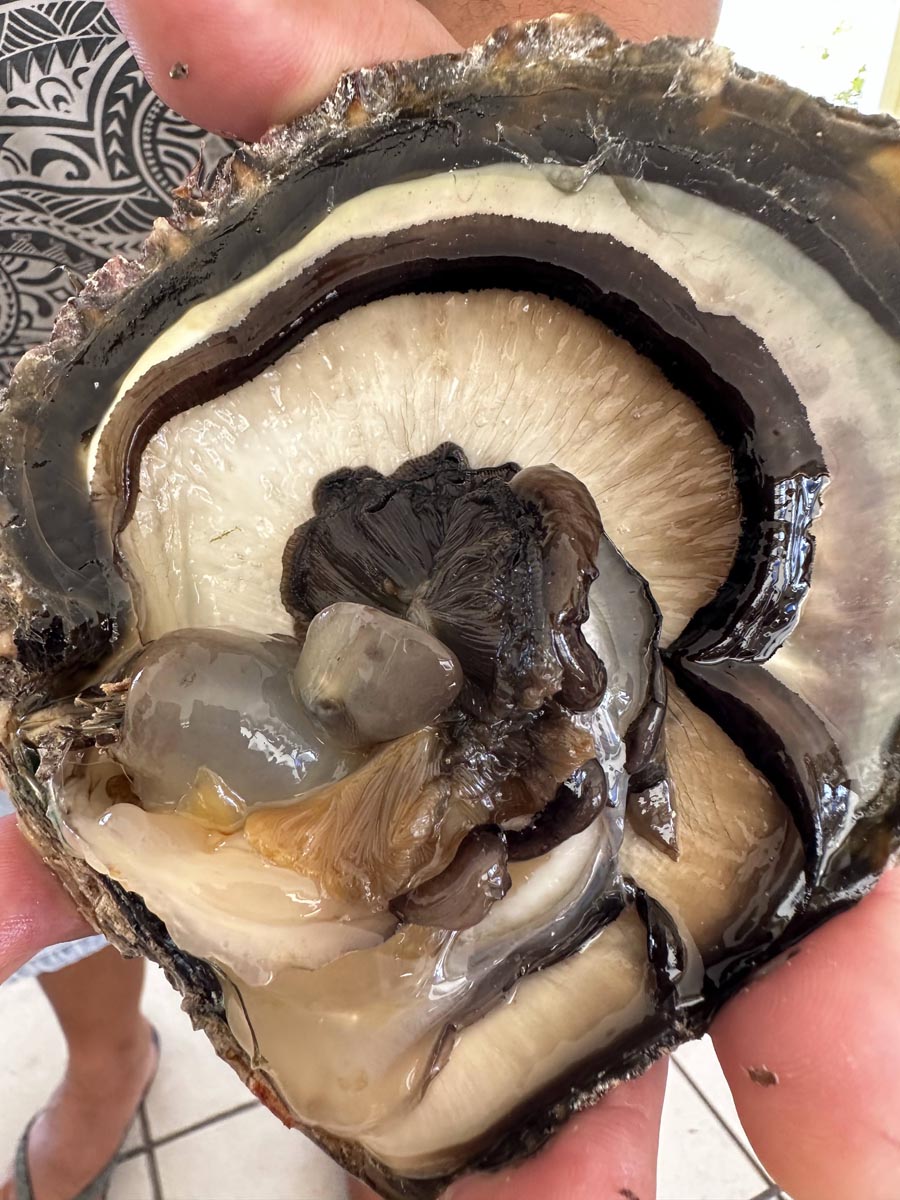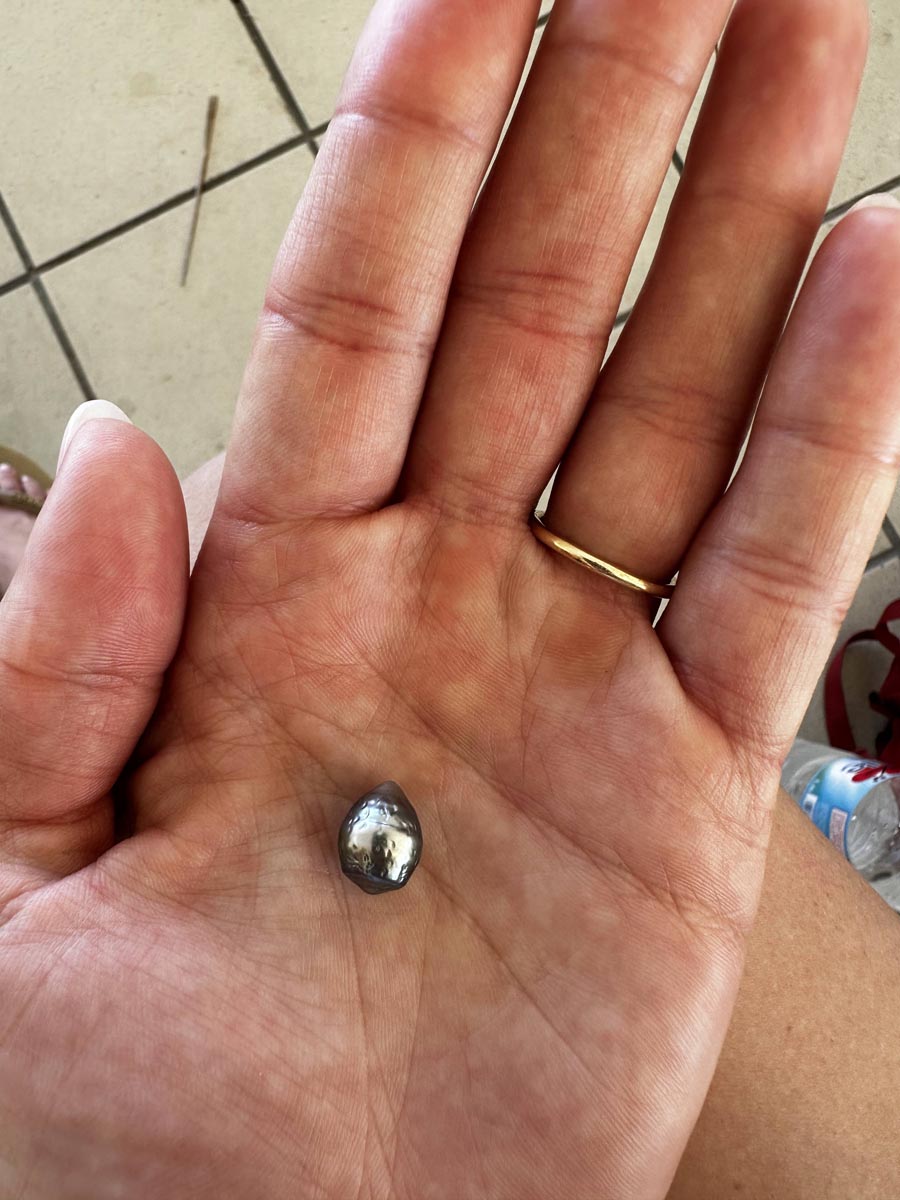 Scuba Diving In Rangiroa
With its two accessible lagoon passes, Rangiroa is a scuba diving "Mecca." On my first visit to French Polynesia in 2015, I came to Rangiroa for some diving, and it was now time to close the loop and finally show Ella the underwater wonders of this remote part of the world. During our two dives in the Tiputa Pass, we saw more sharks than we can count, an aggressive moray eel, and even a dolphin in the distance.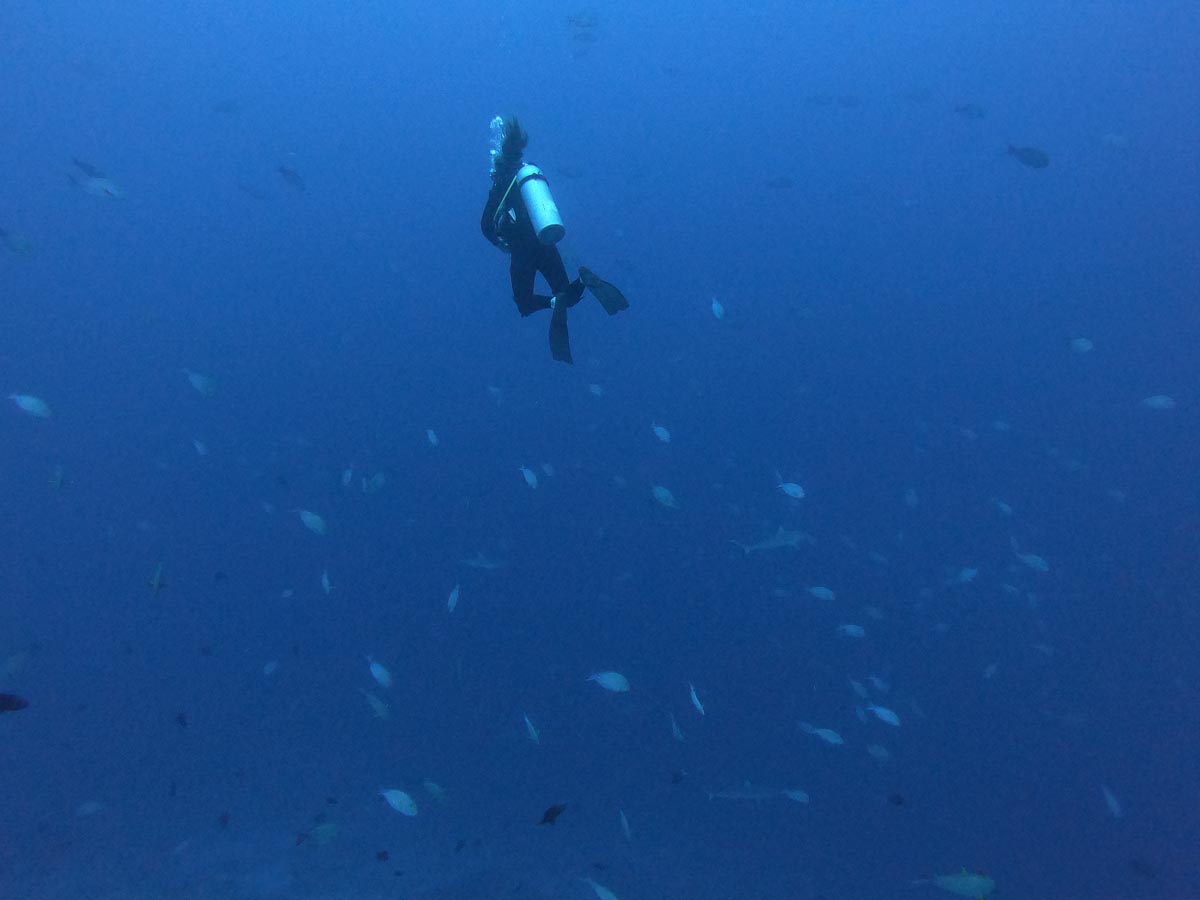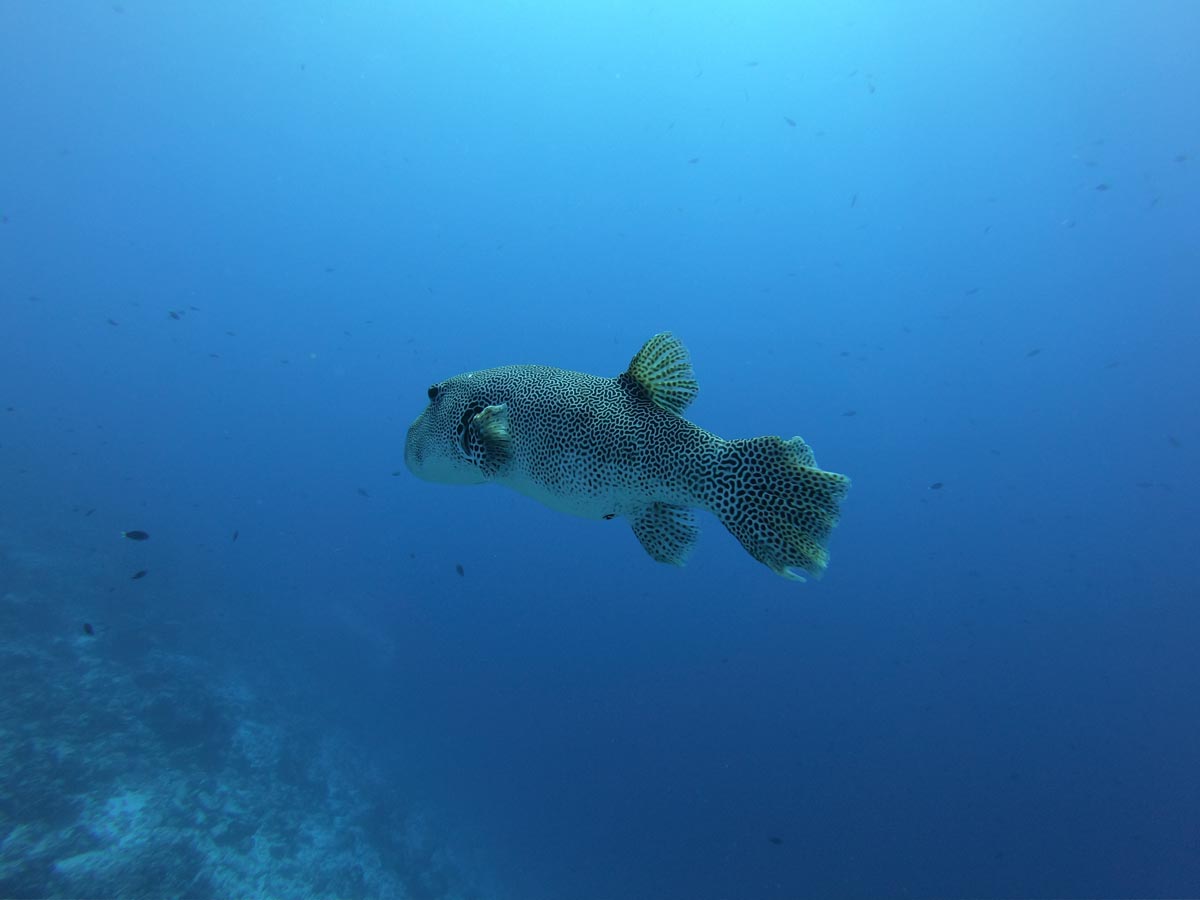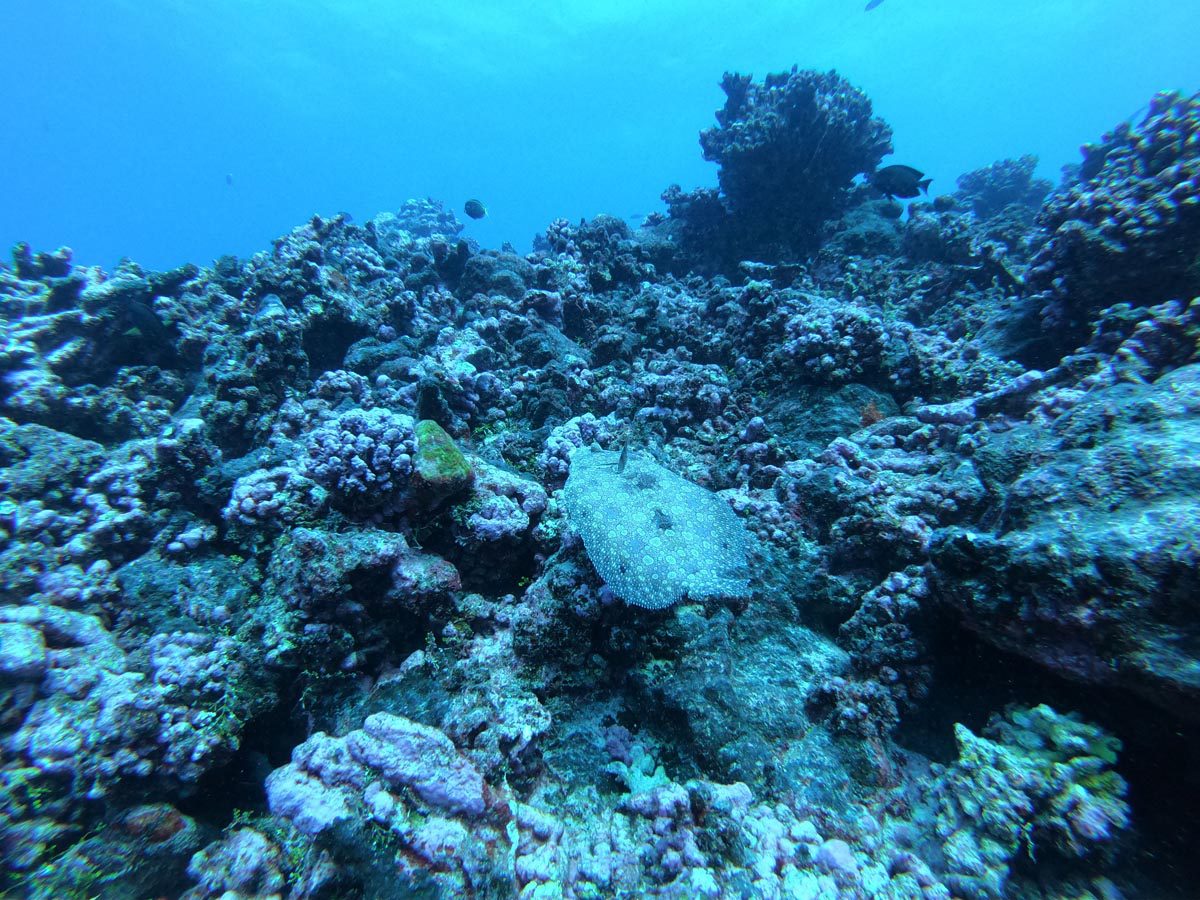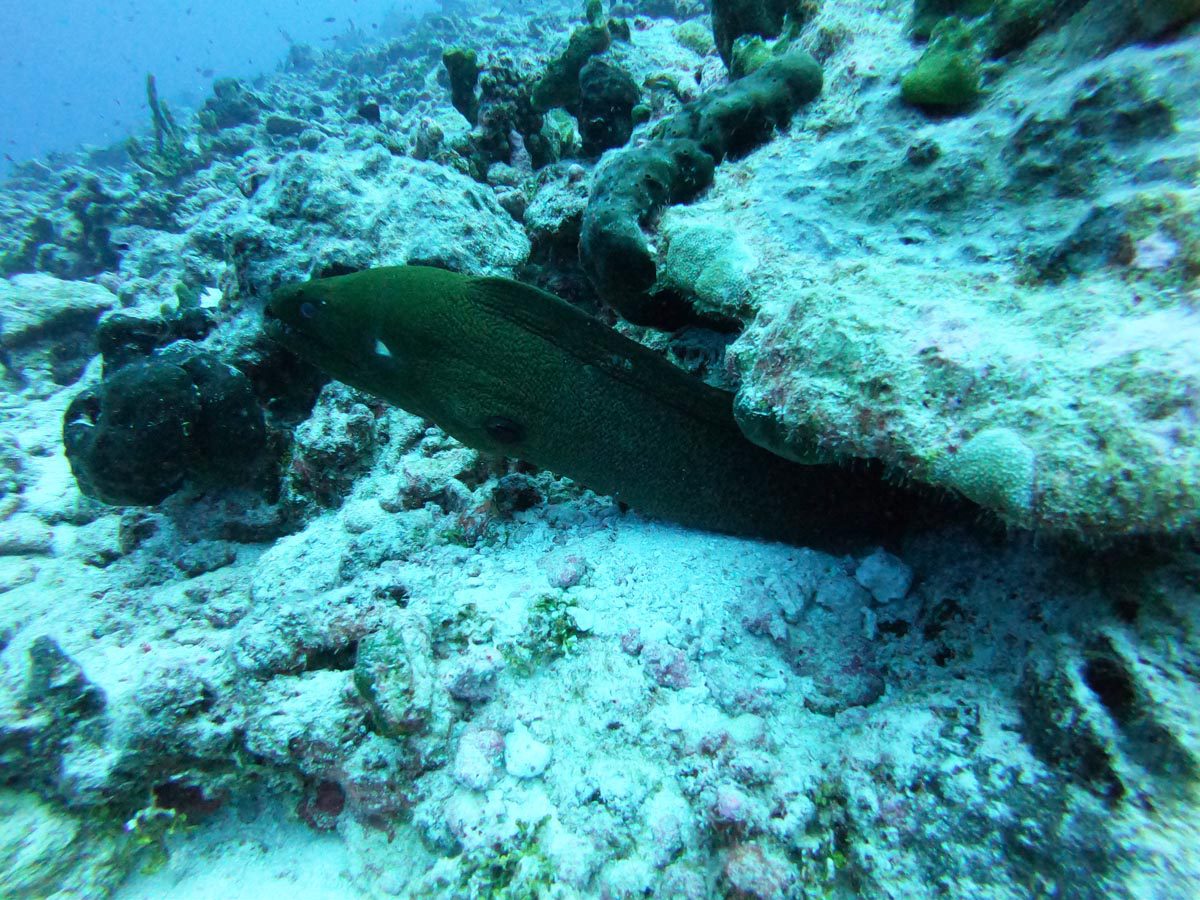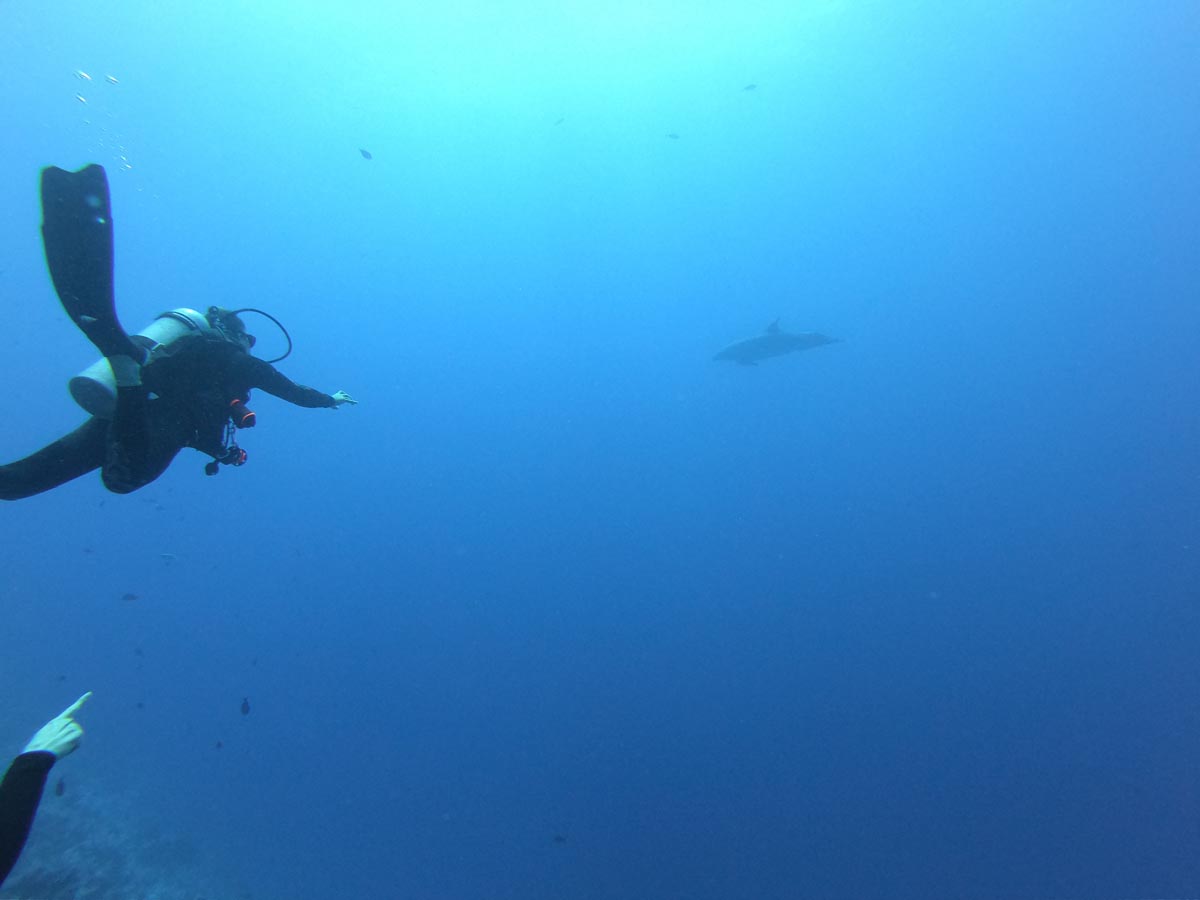 The Blue Lagoon
With a bit of effort, Rangiroa is also enjoyed by non-divers. The atoll's distant sections boast a few incredible spots for beach lovers, the most famous of which is the Blue Lagoon. After breakfast and a small dose of sea-sickness pills, we hopped on a speed boat bound for the Blue Lagoon.
Before commencing the hour-long journey to Rangiroa's Blue Lagoon (Le Lagon Bleu), our guide made a brief spot in the heart of the Tiputa Pass to see if any dolphins were around. With perfect timing, we arrived exactly when the outgoing tide met the incoming waves, the perfect conditions for playful dolphins. I had seen dolphins before on Reunion Island, but on this day, this pod of dolphins rewarded us with a special honeymoon surprise.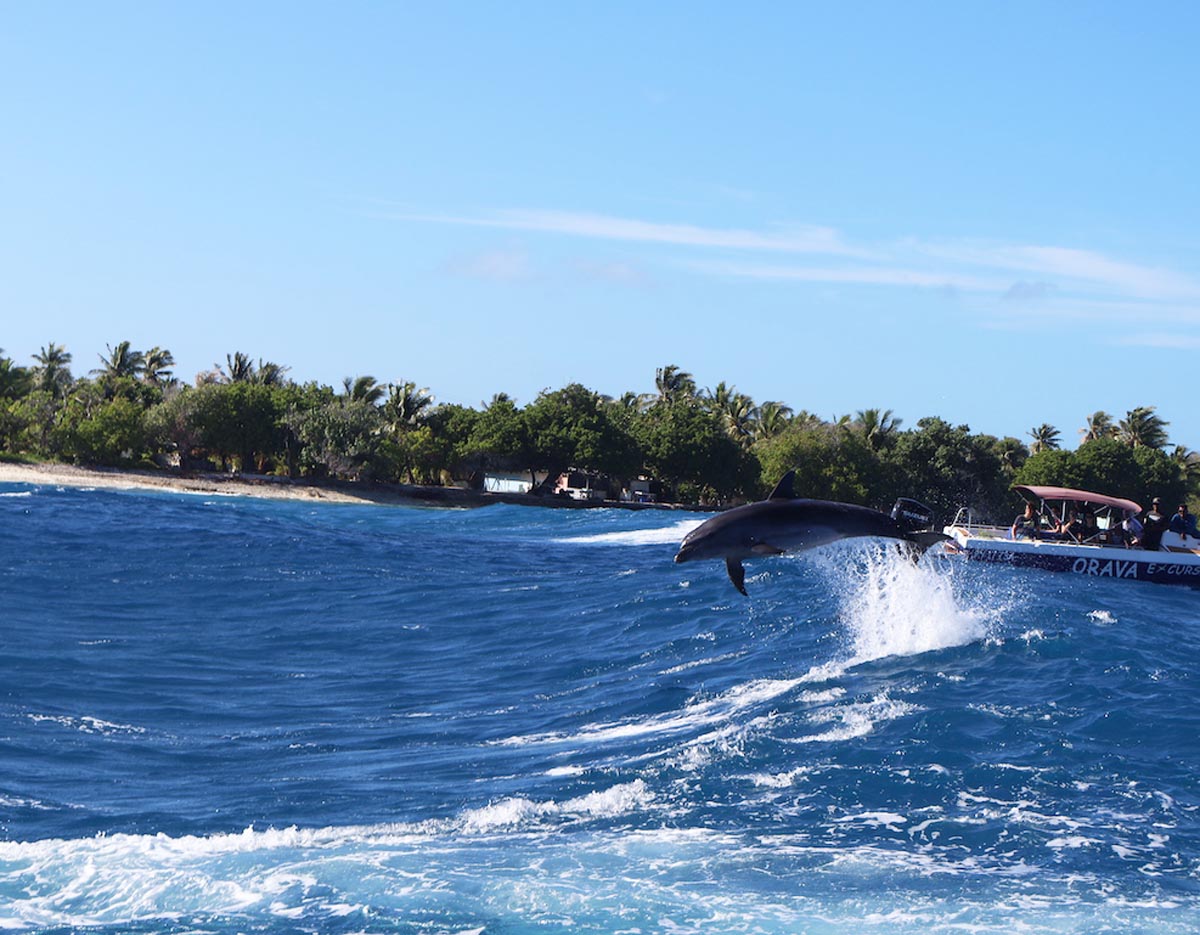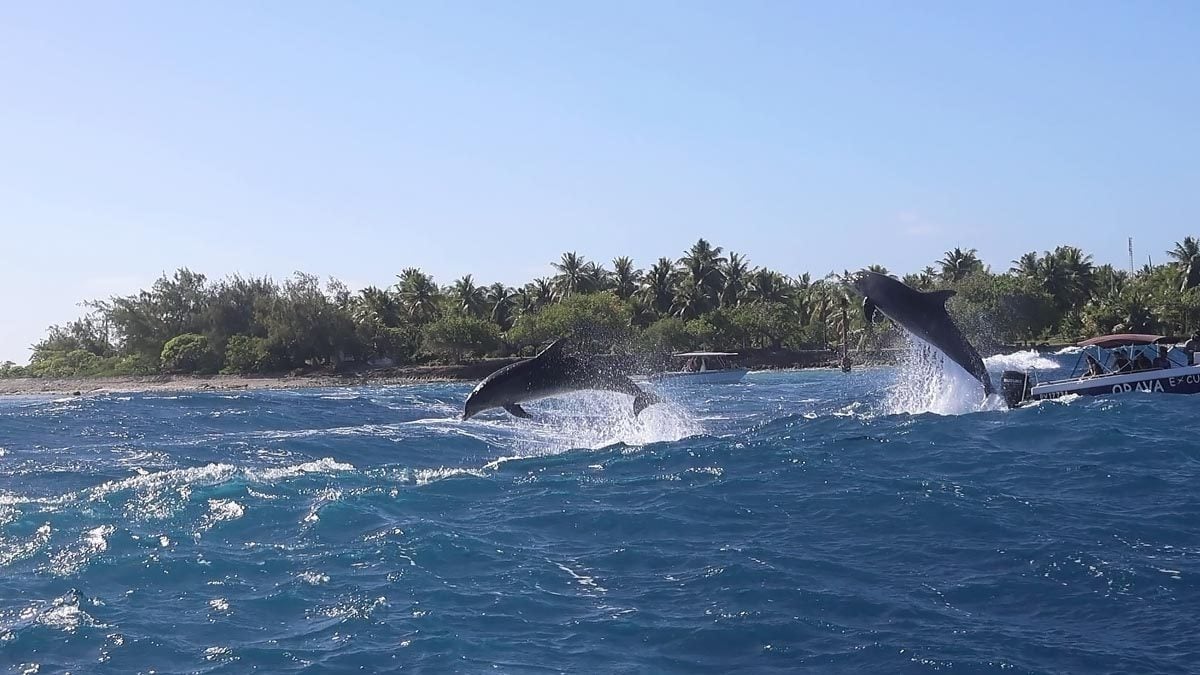 The Blue Lagoon in Rangiroa is best described as a lagoon trapped inside the lagoon. It's a slice of paradise, the perfect place to spend a day in a place you've seen before, but only in postcards or screensavers. As the crew started to prepare lunch, we had time to explore the Blue Lagoon, find a quiet spot, and check out the diverse wildlife in the air and beneath the waves.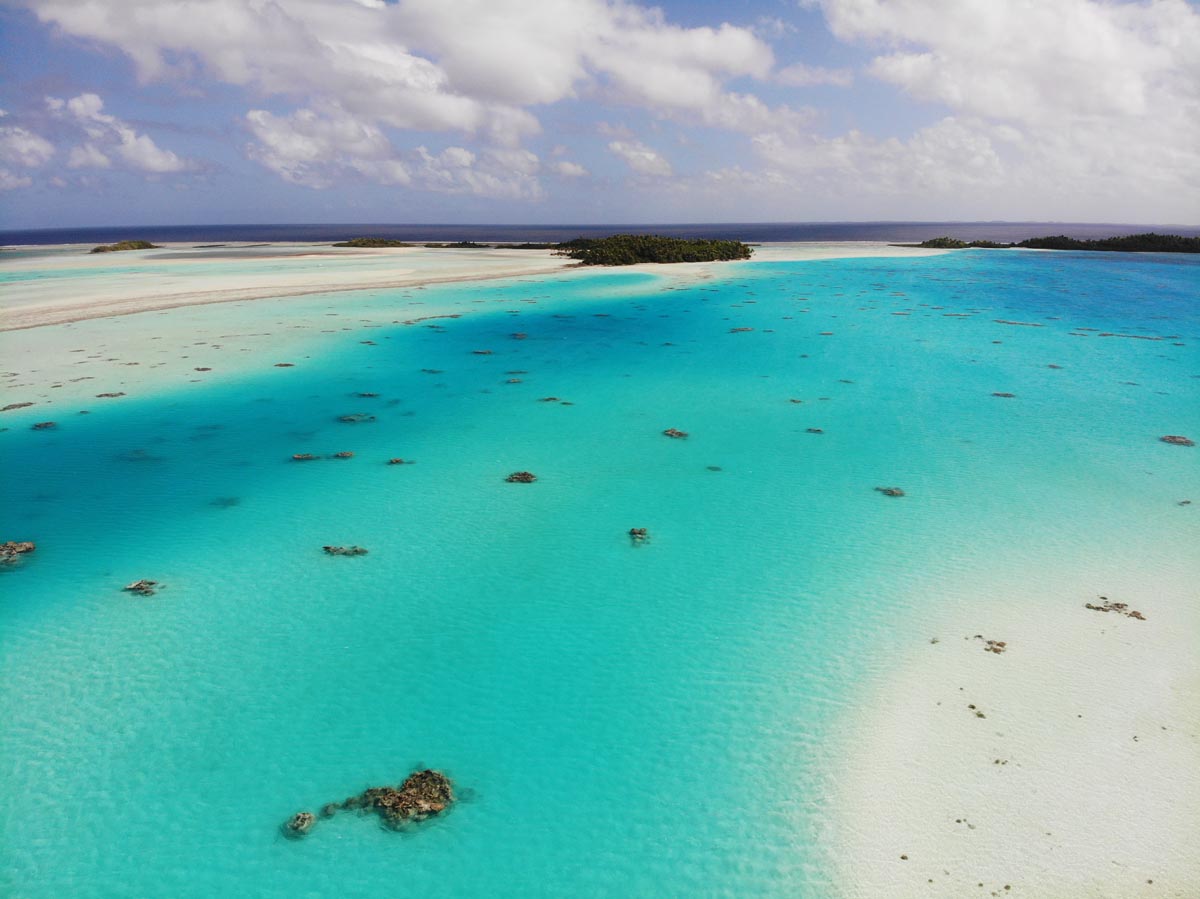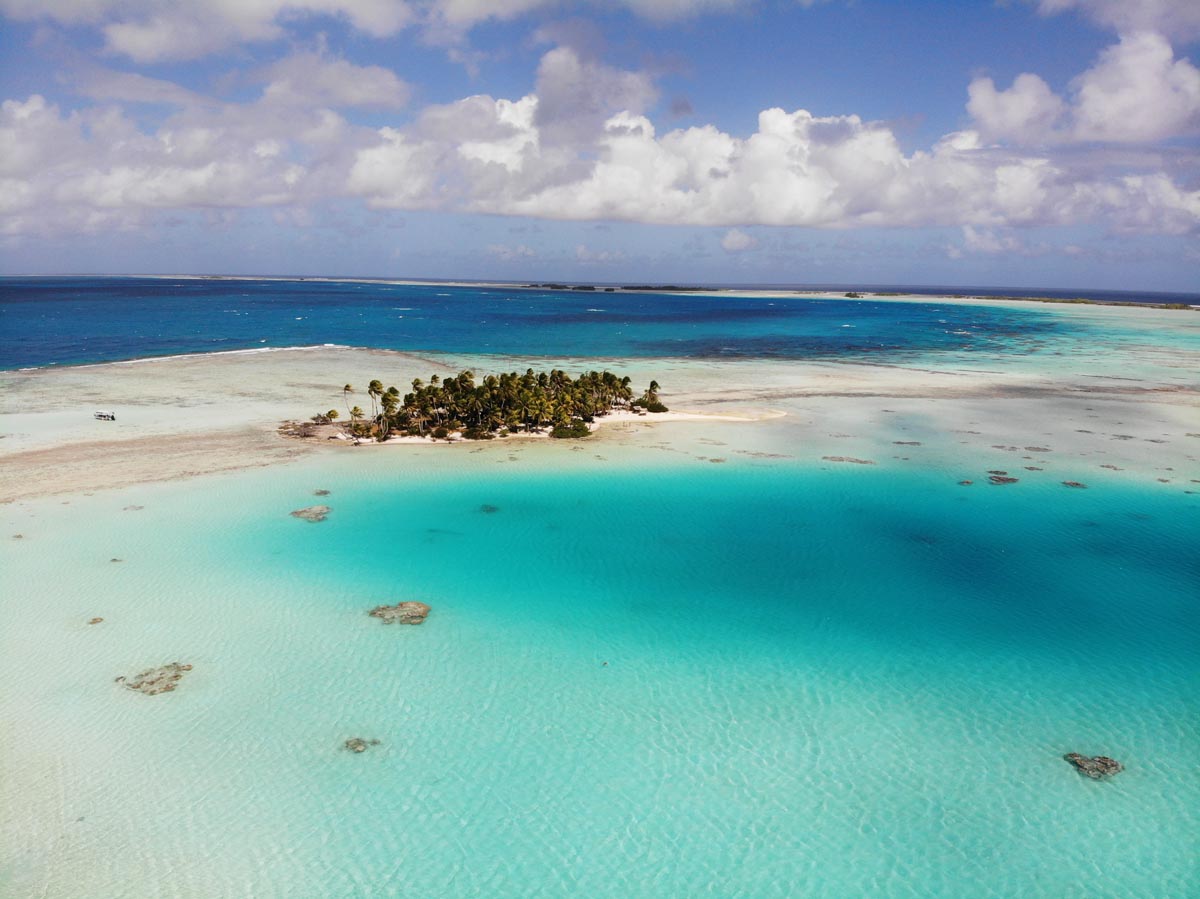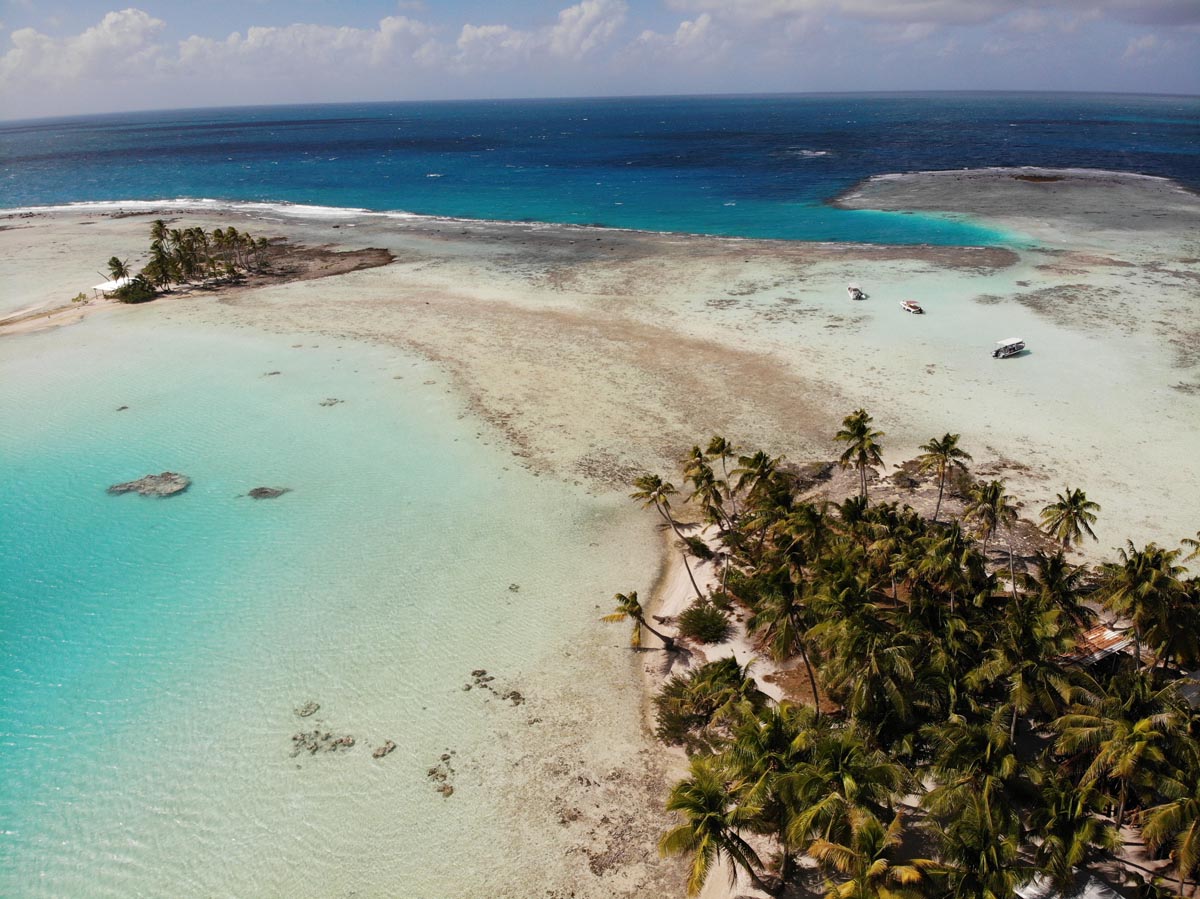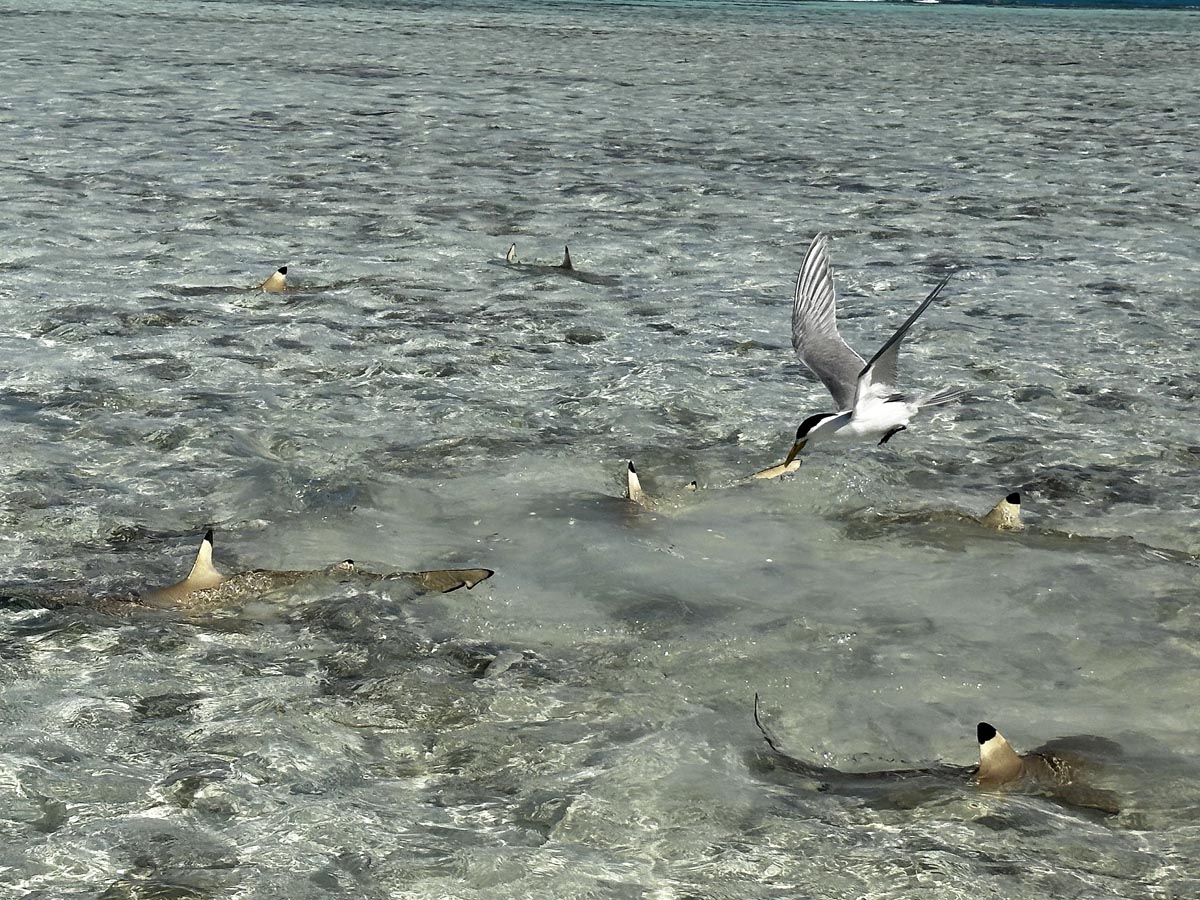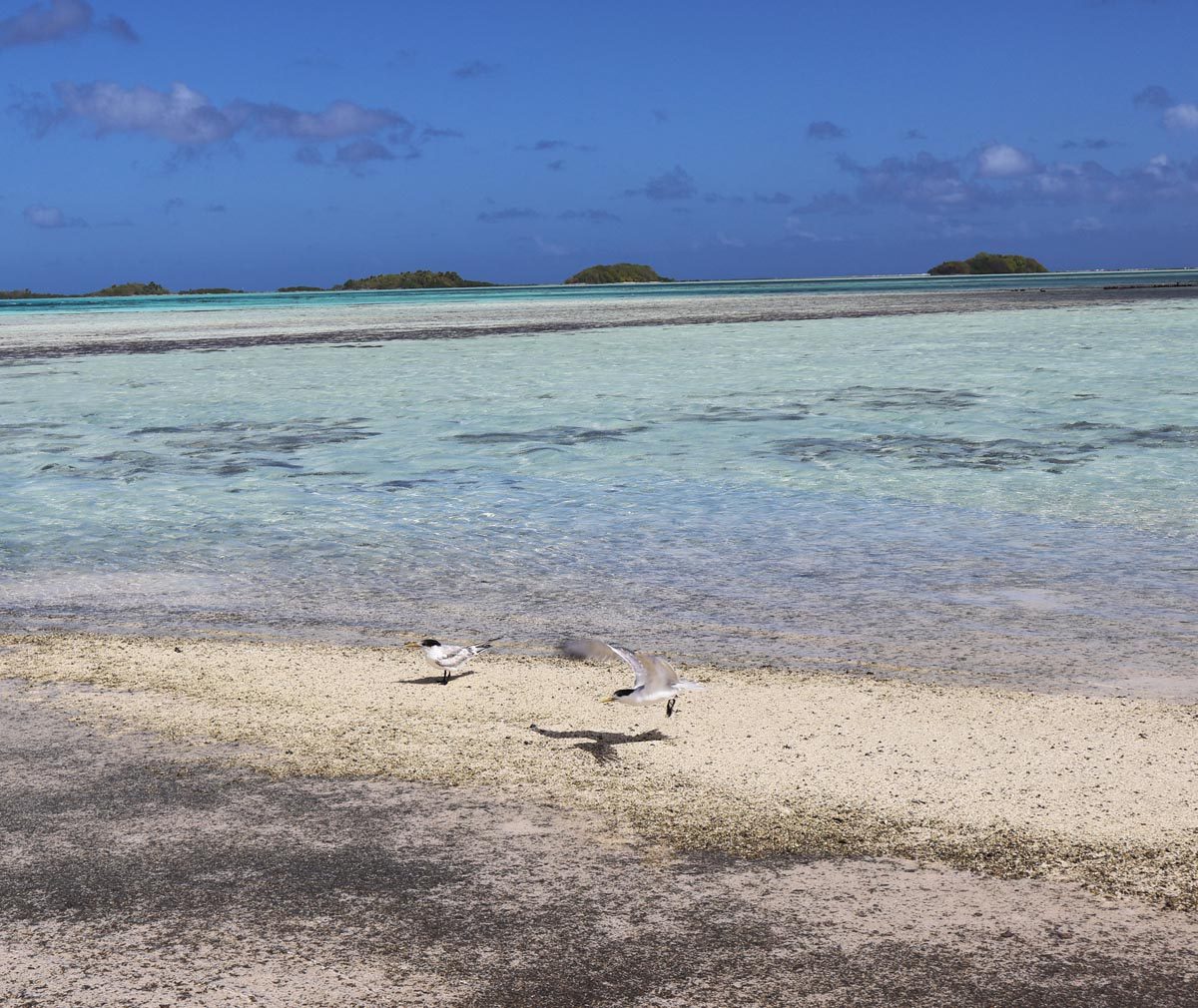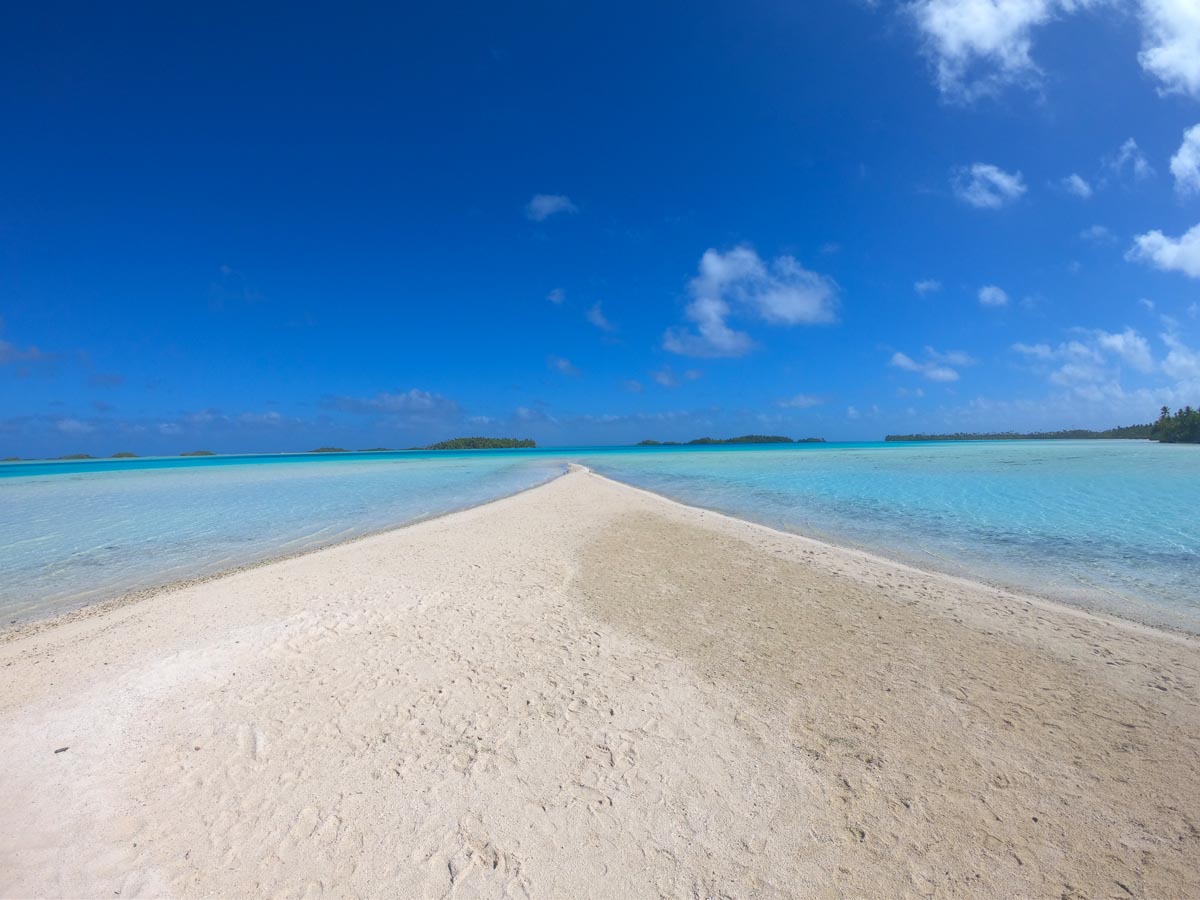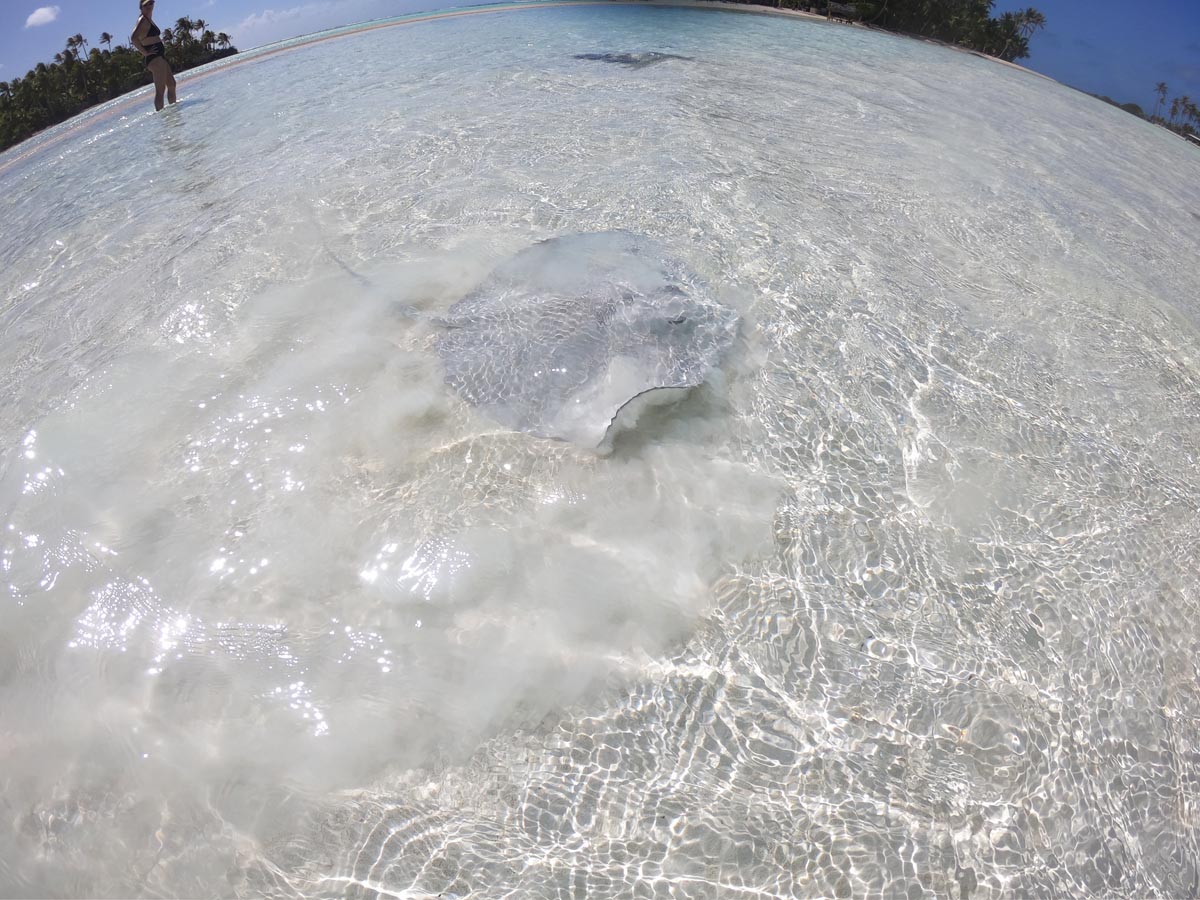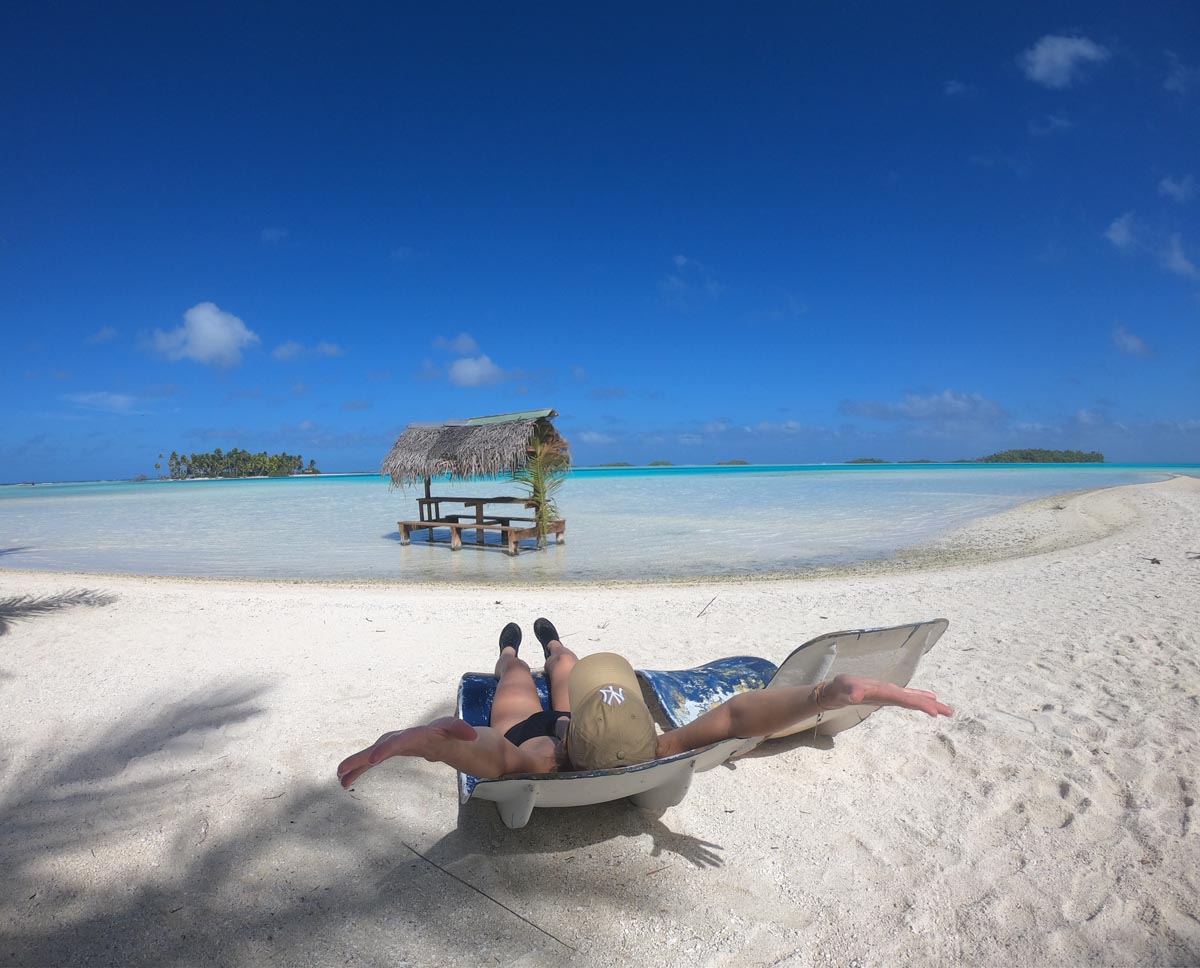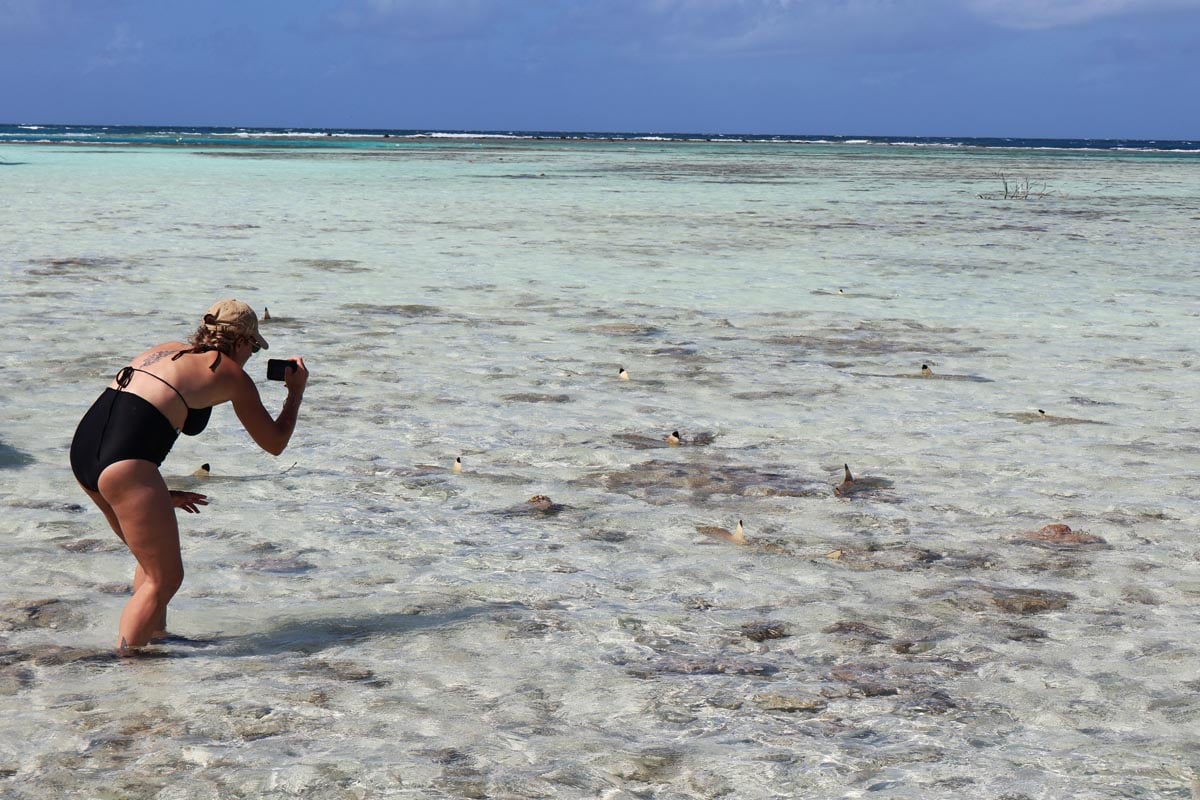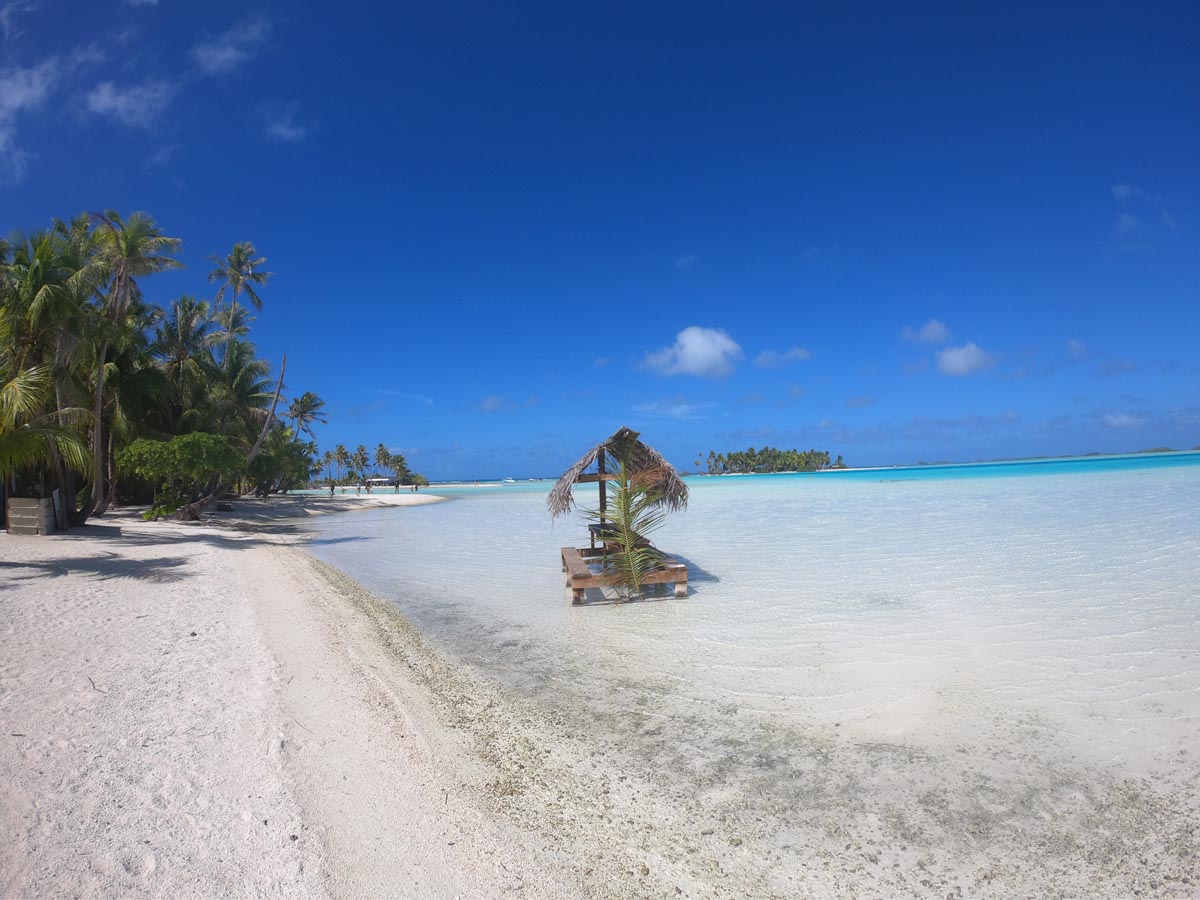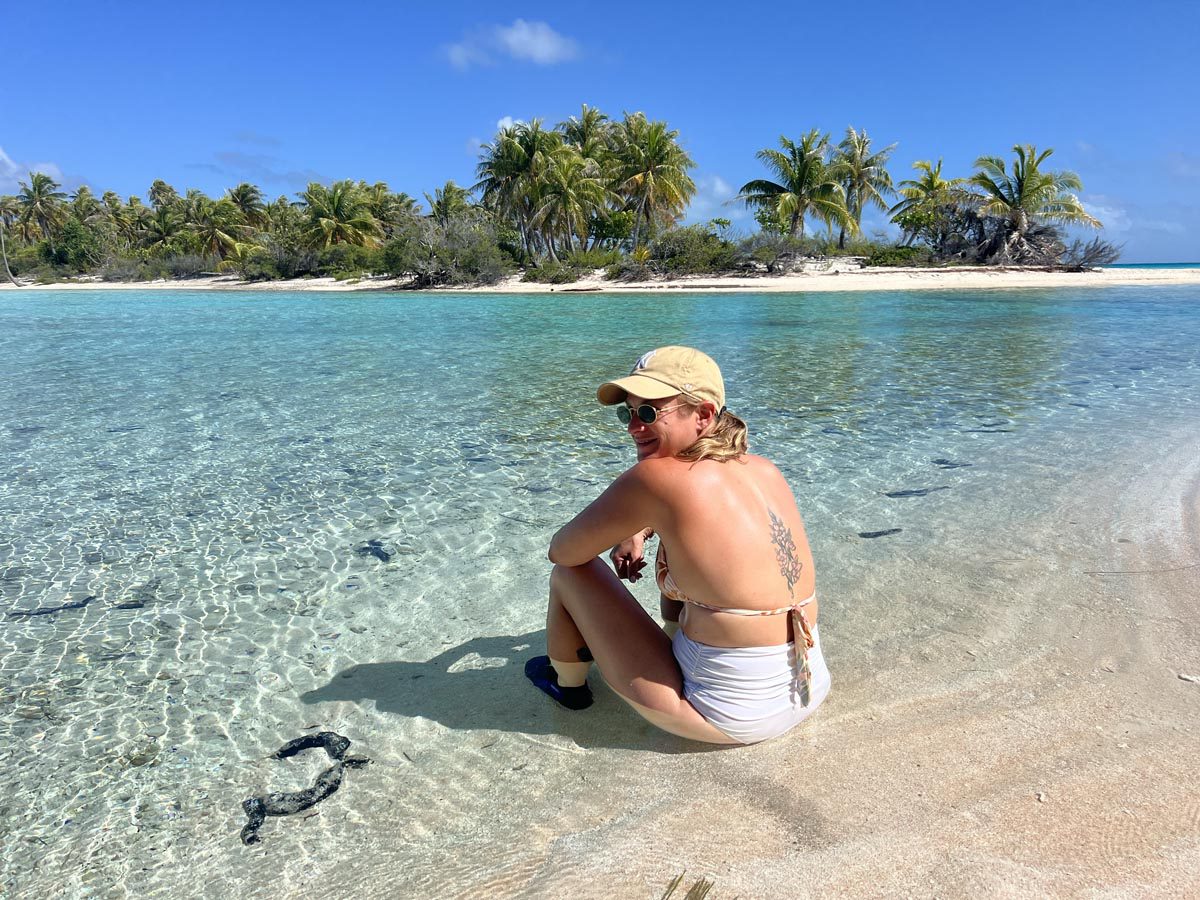 When we weren't eating or beach-bumming, the crew entertained us with weaving lessons, music, and traditional Tahitian dancing. It's the type of day that will forever remain in our collective memory.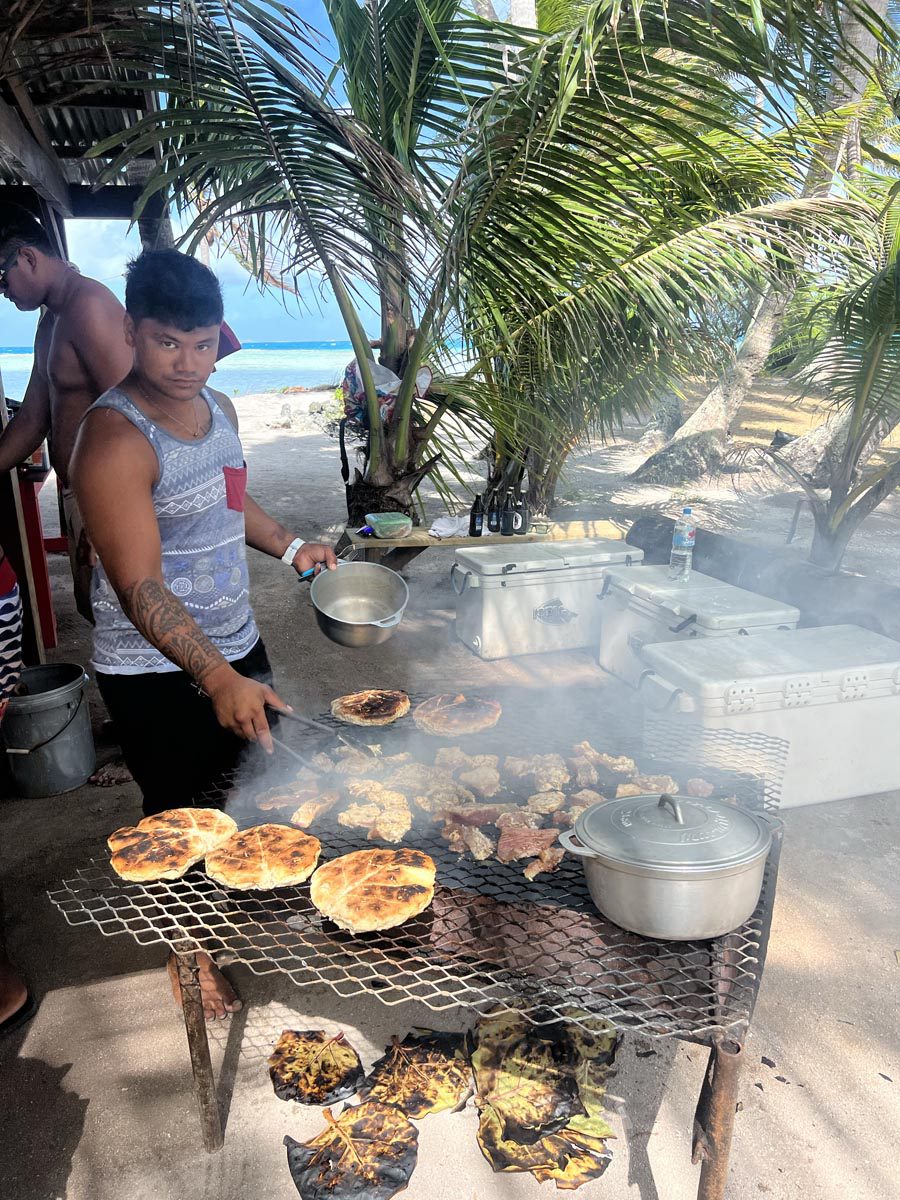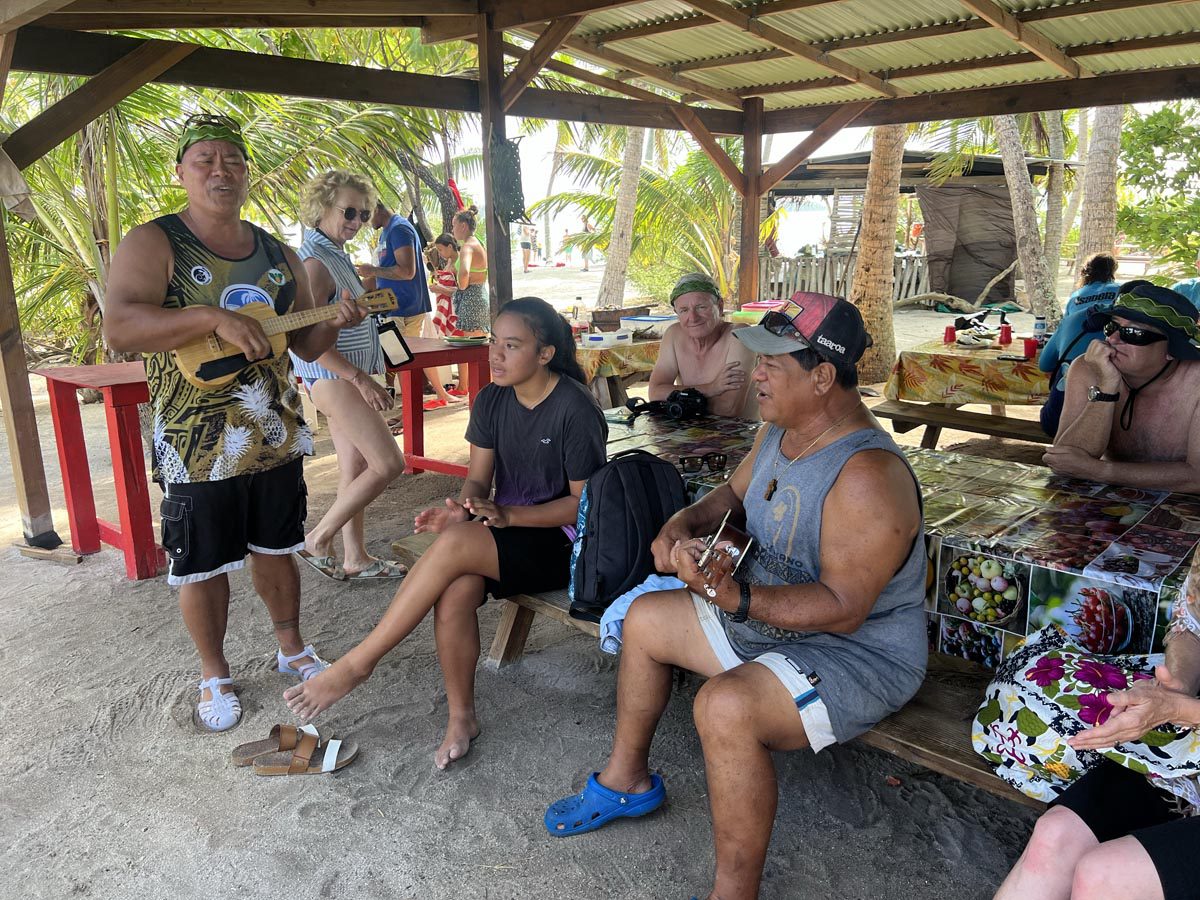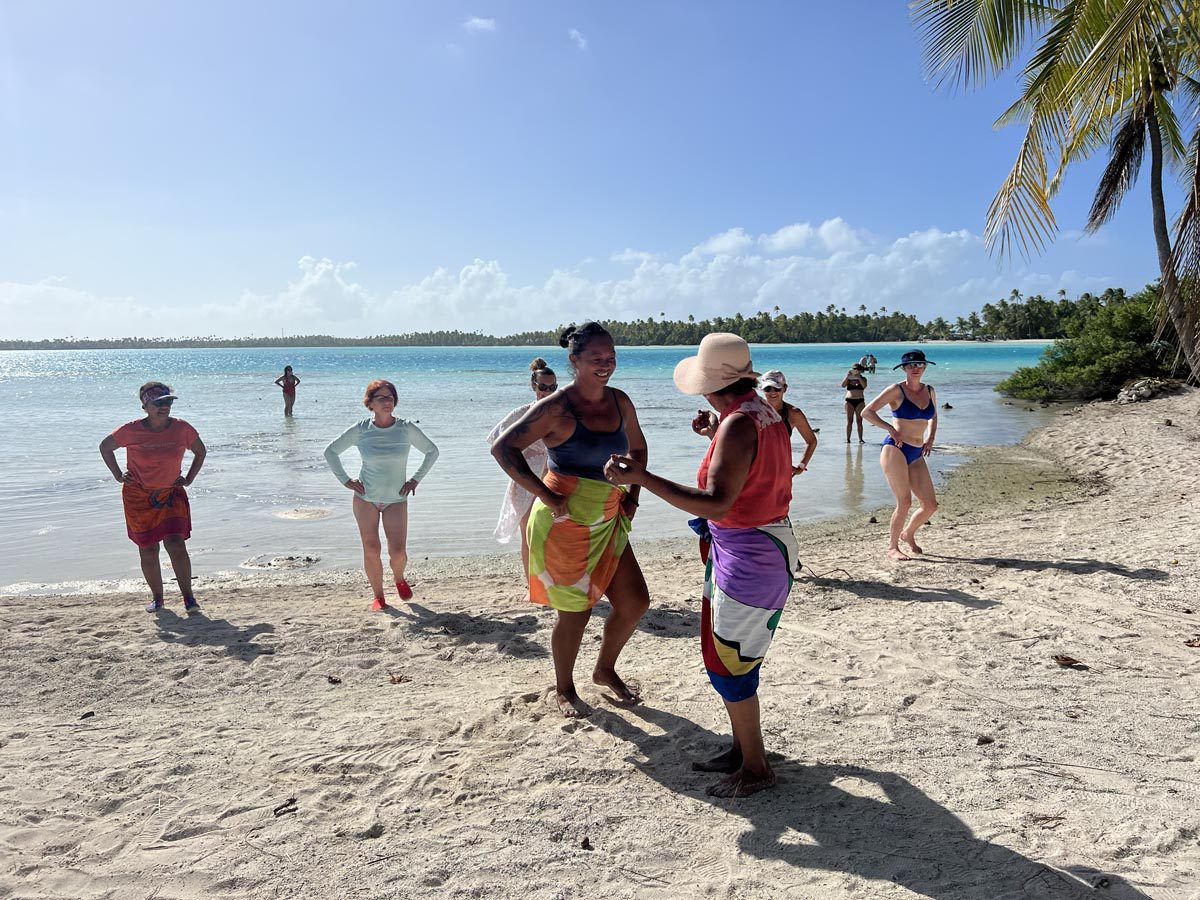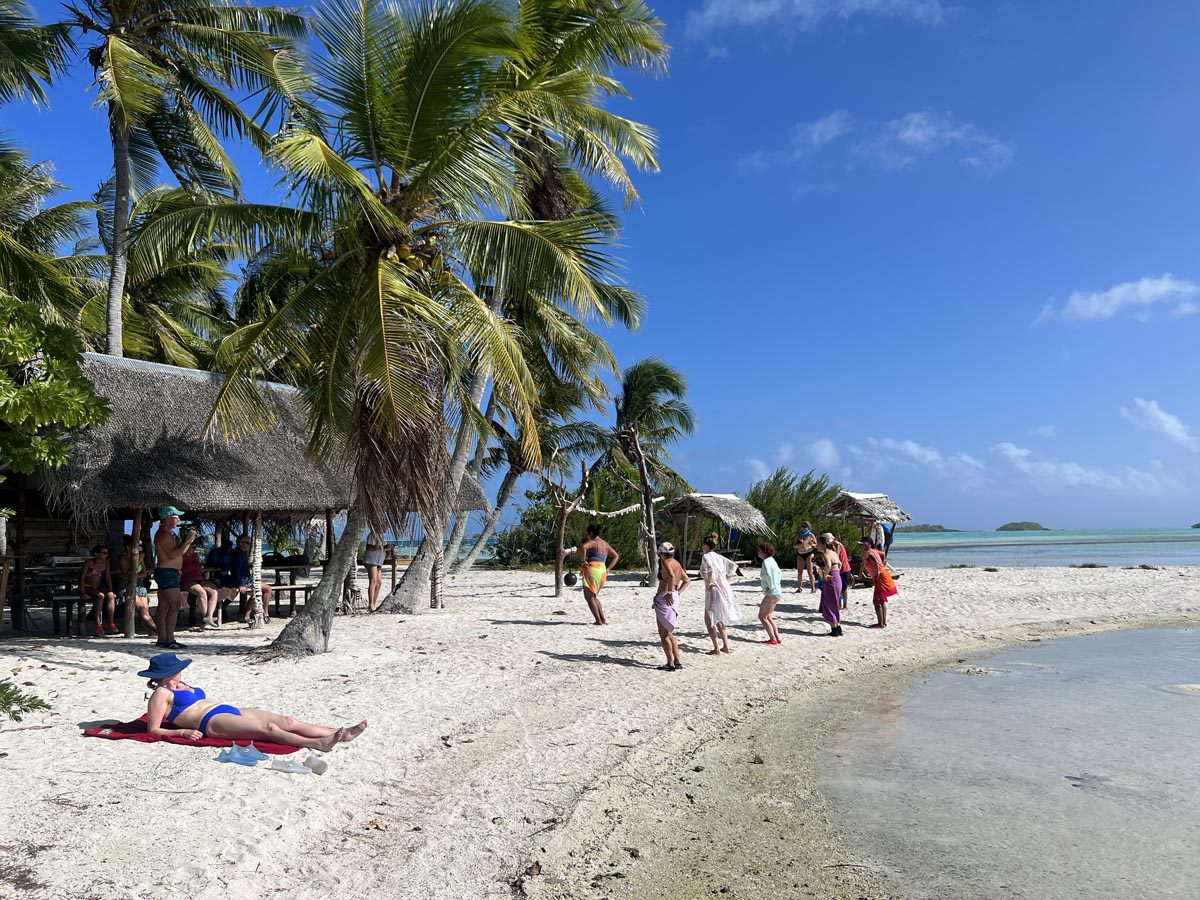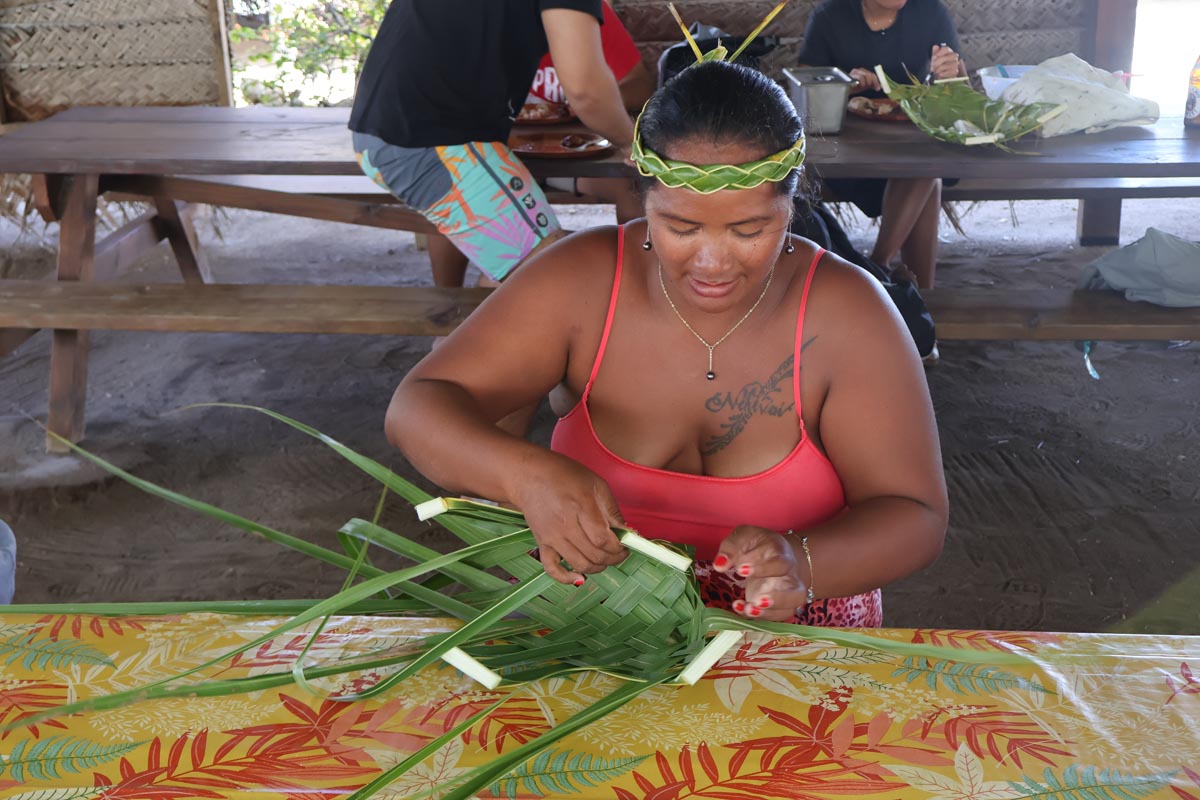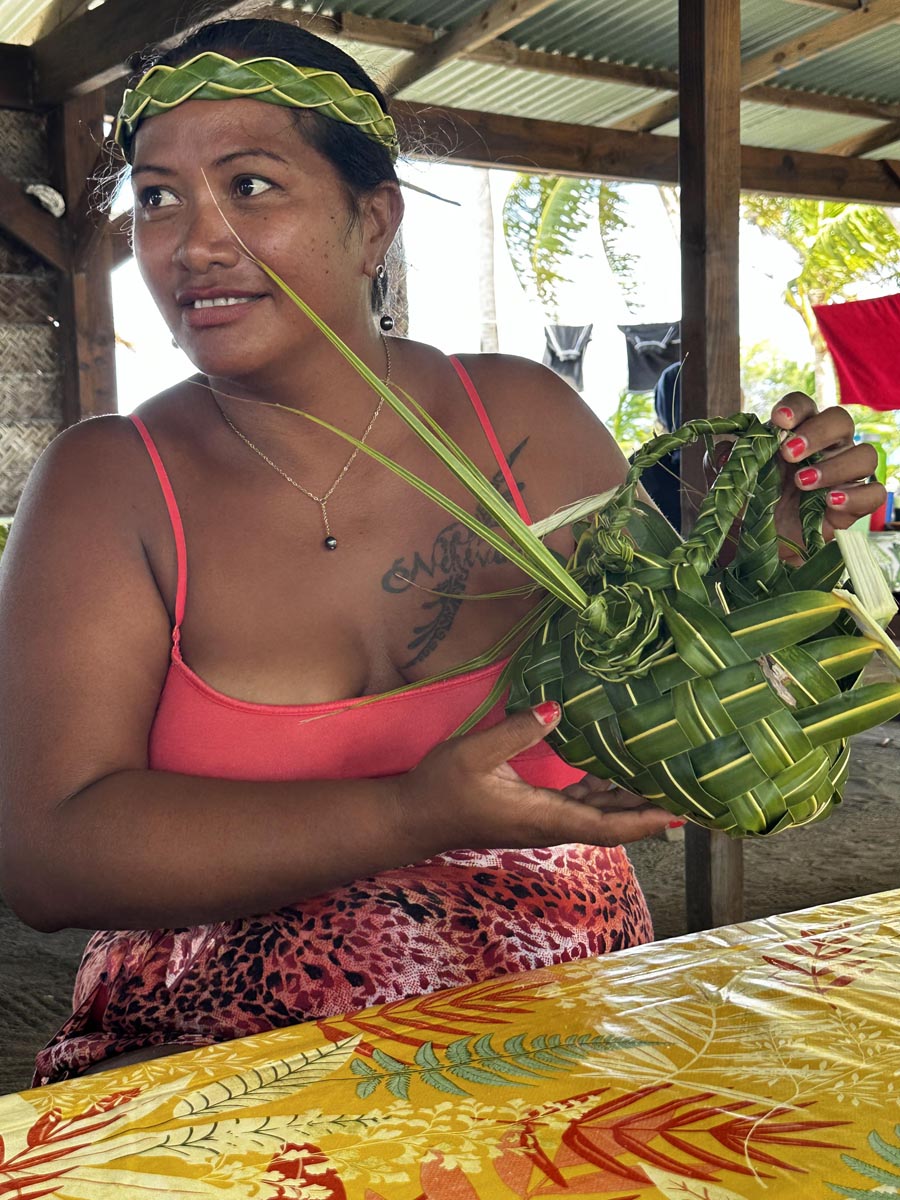 Reef Island
Rangiroa's other "must do" excursion is the equally long boat trip to Reef Island (Ile aux Recif). This remote region in the atoll's south is dotted with raised coral formations called "feo." Weathered by erosion into petrified silhouettes that stretch as far as the eye can see in either direction, the raised coral creates basins and channels that make for superb natural swimming pools.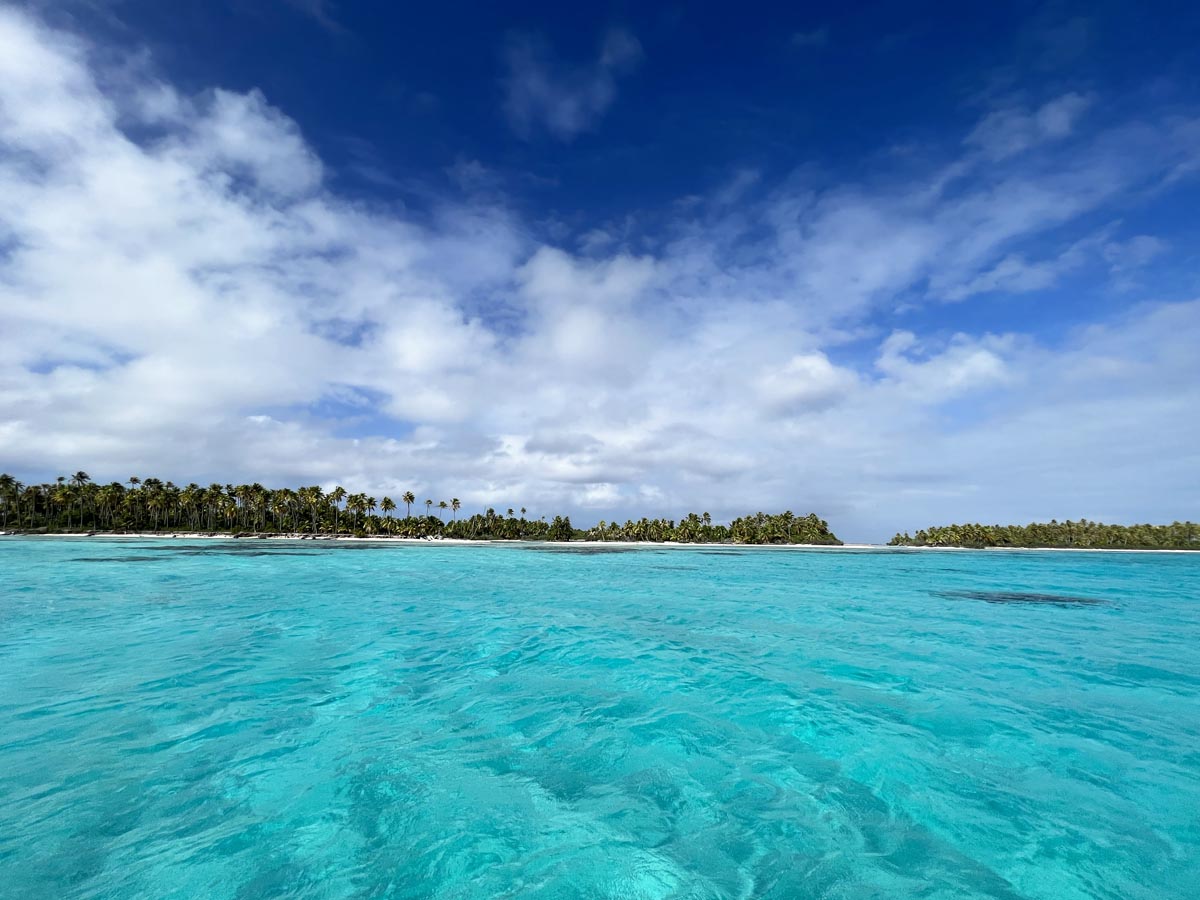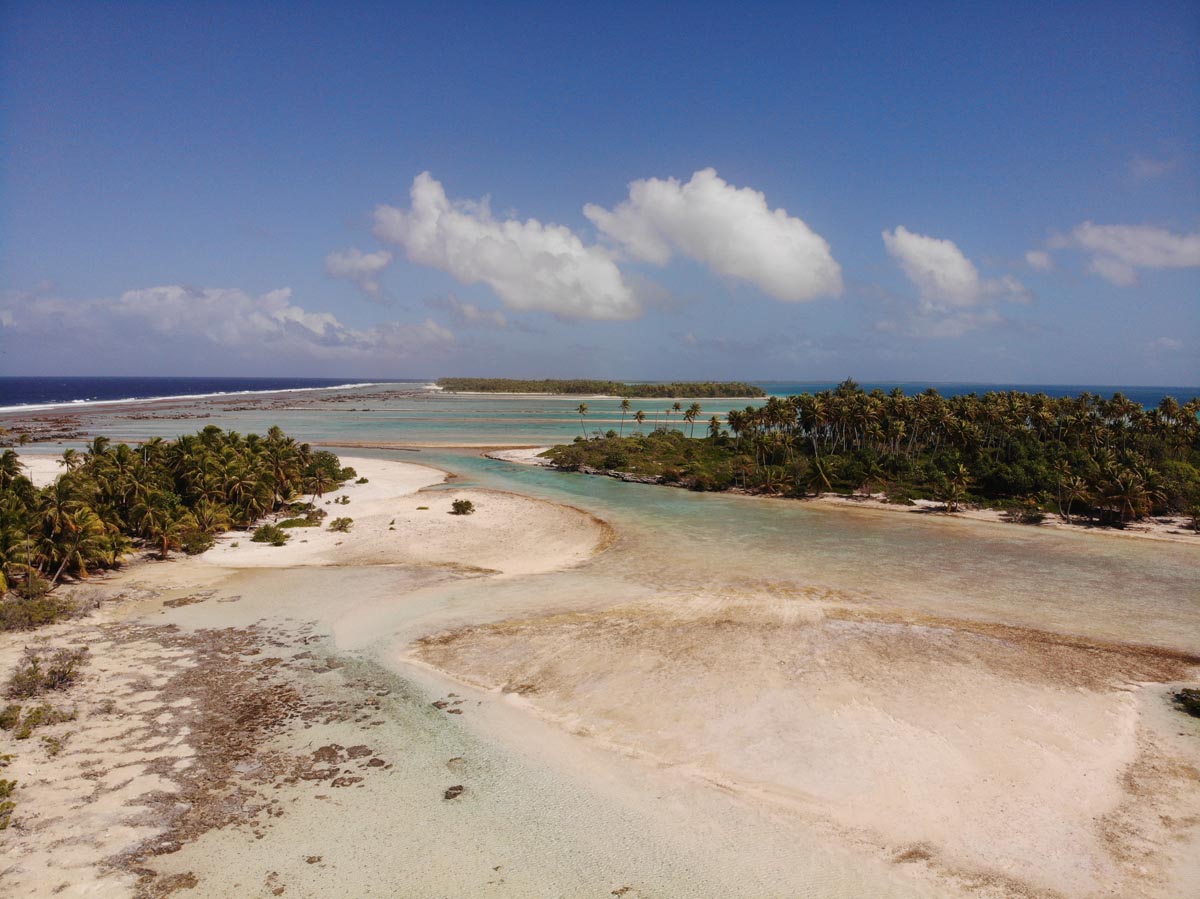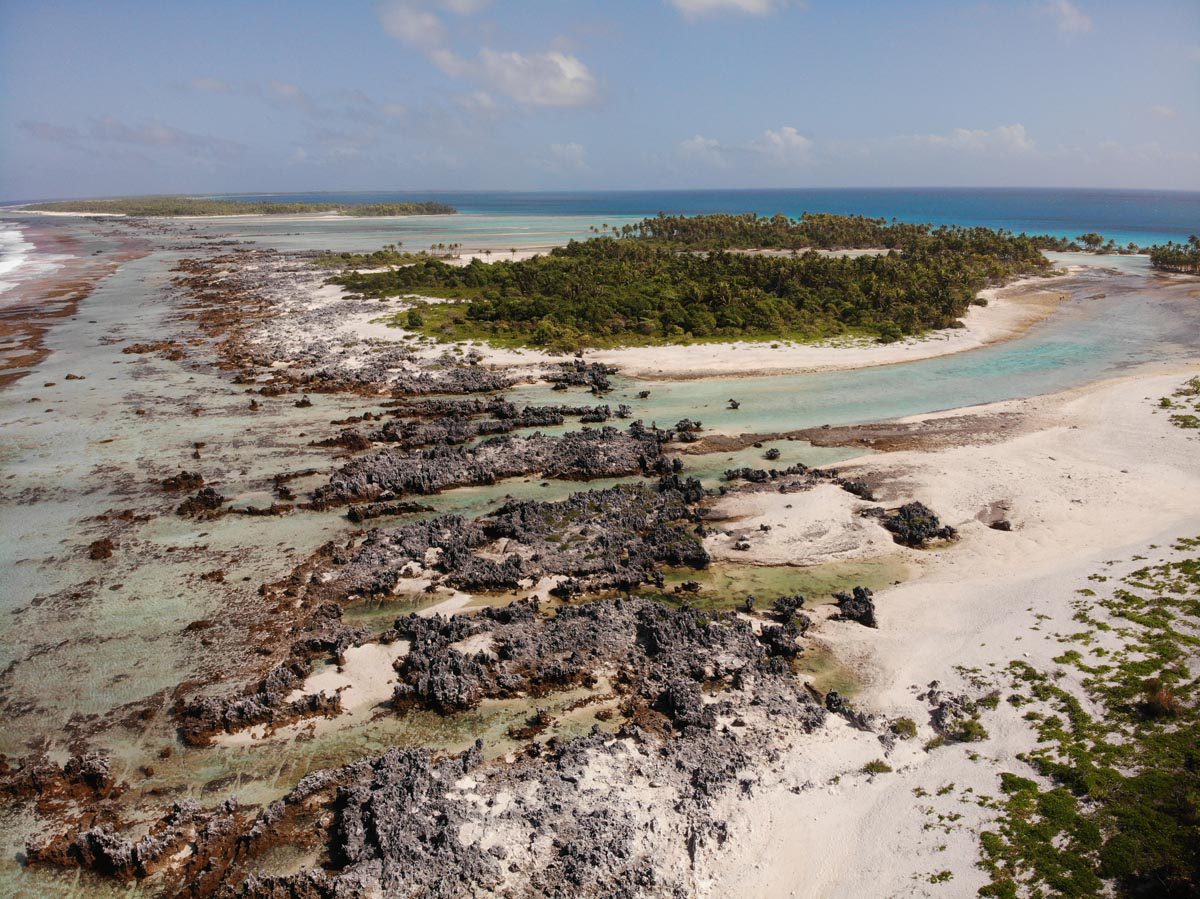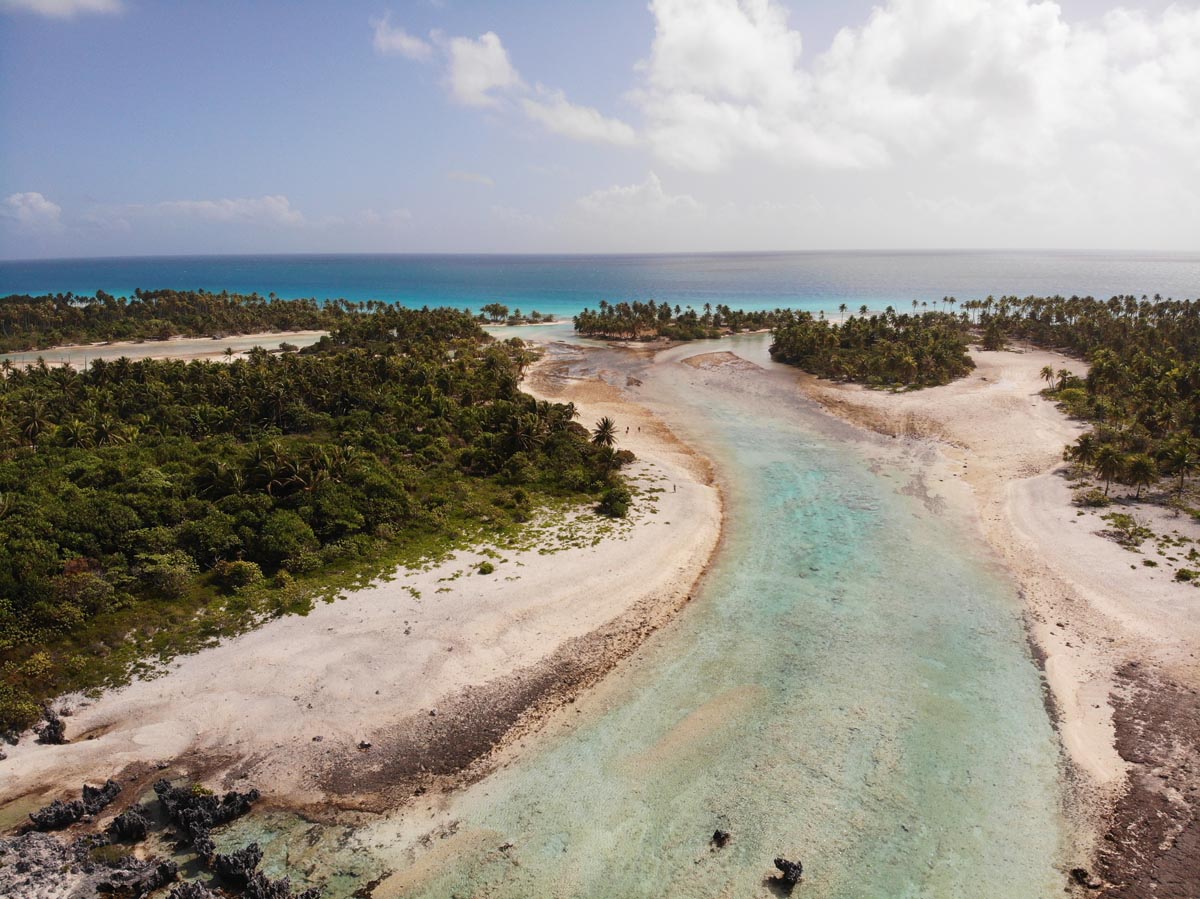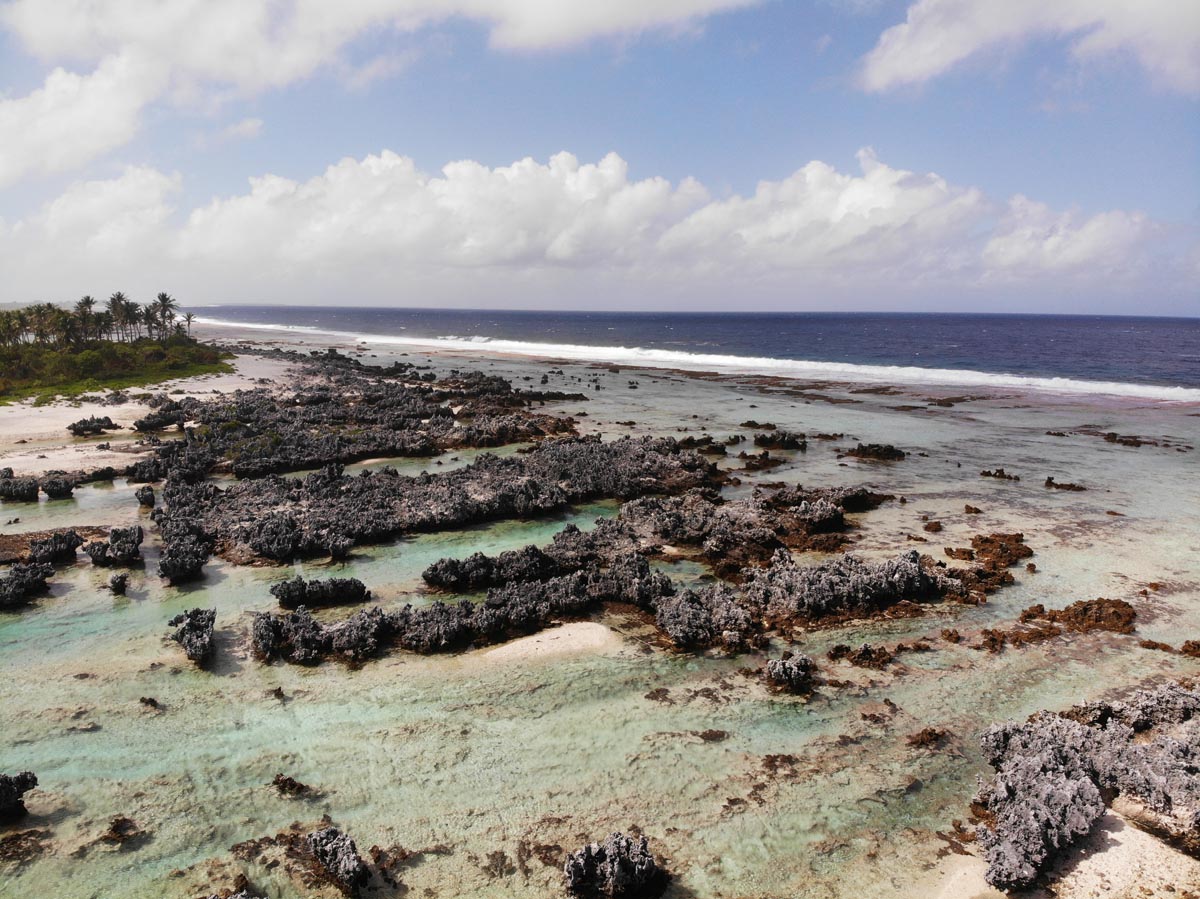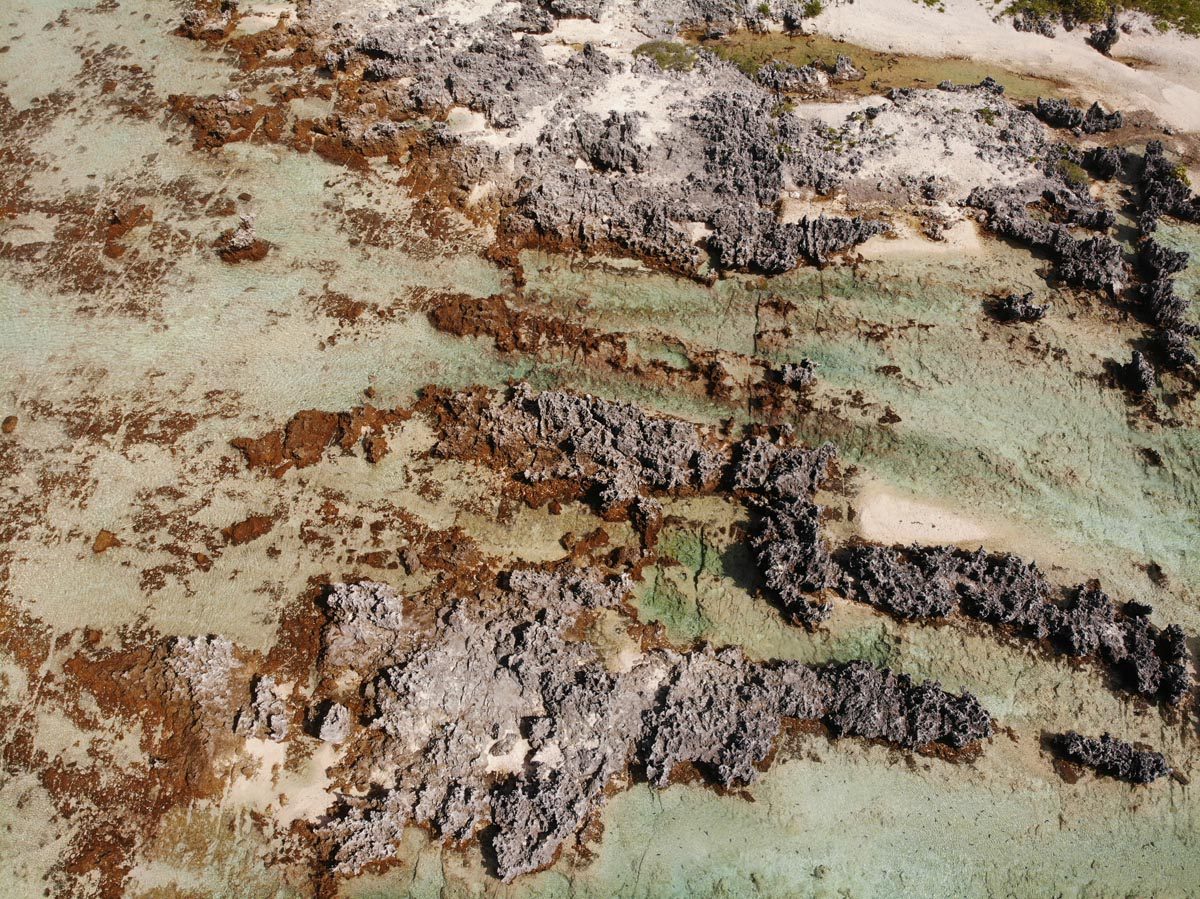 After a warm greeting from Reef Island's resident pigs, we explored the magnificent but razor-sharp raised coral and relaxed in one of the most stereotypical tropical settings I've ever visited during seven years of exploring the South Pacific.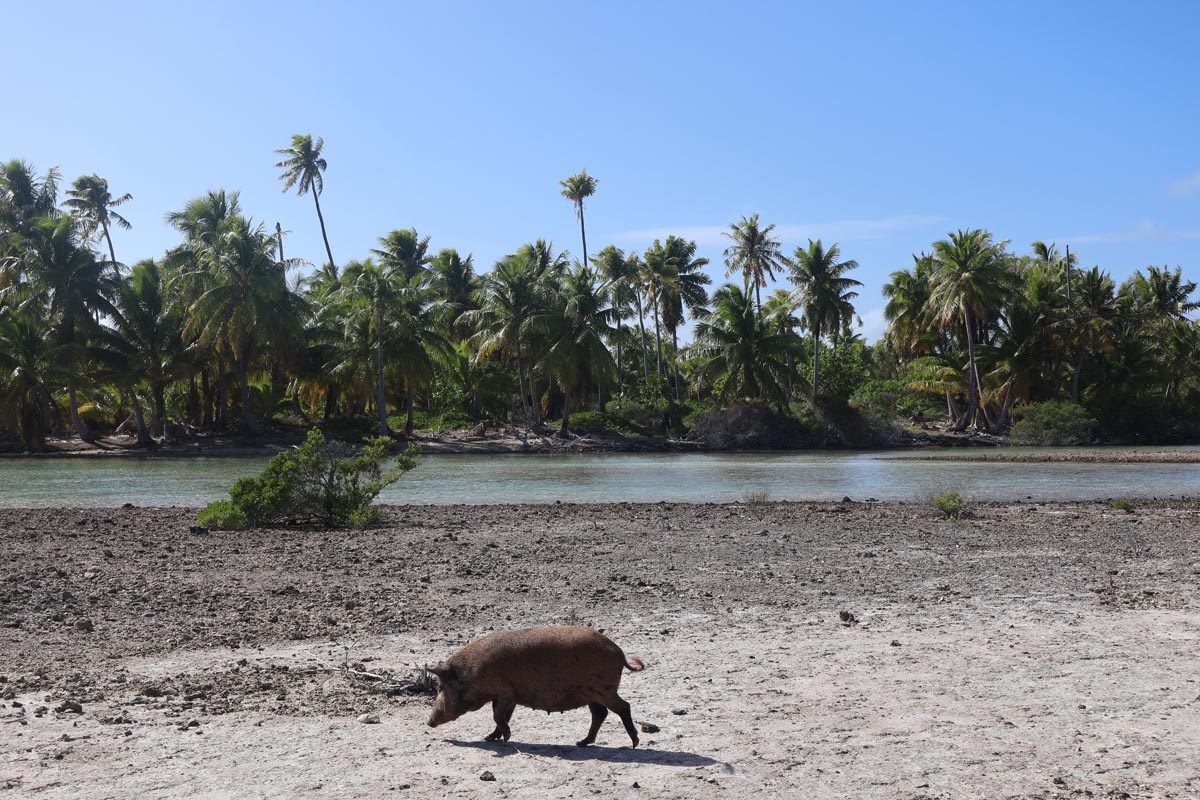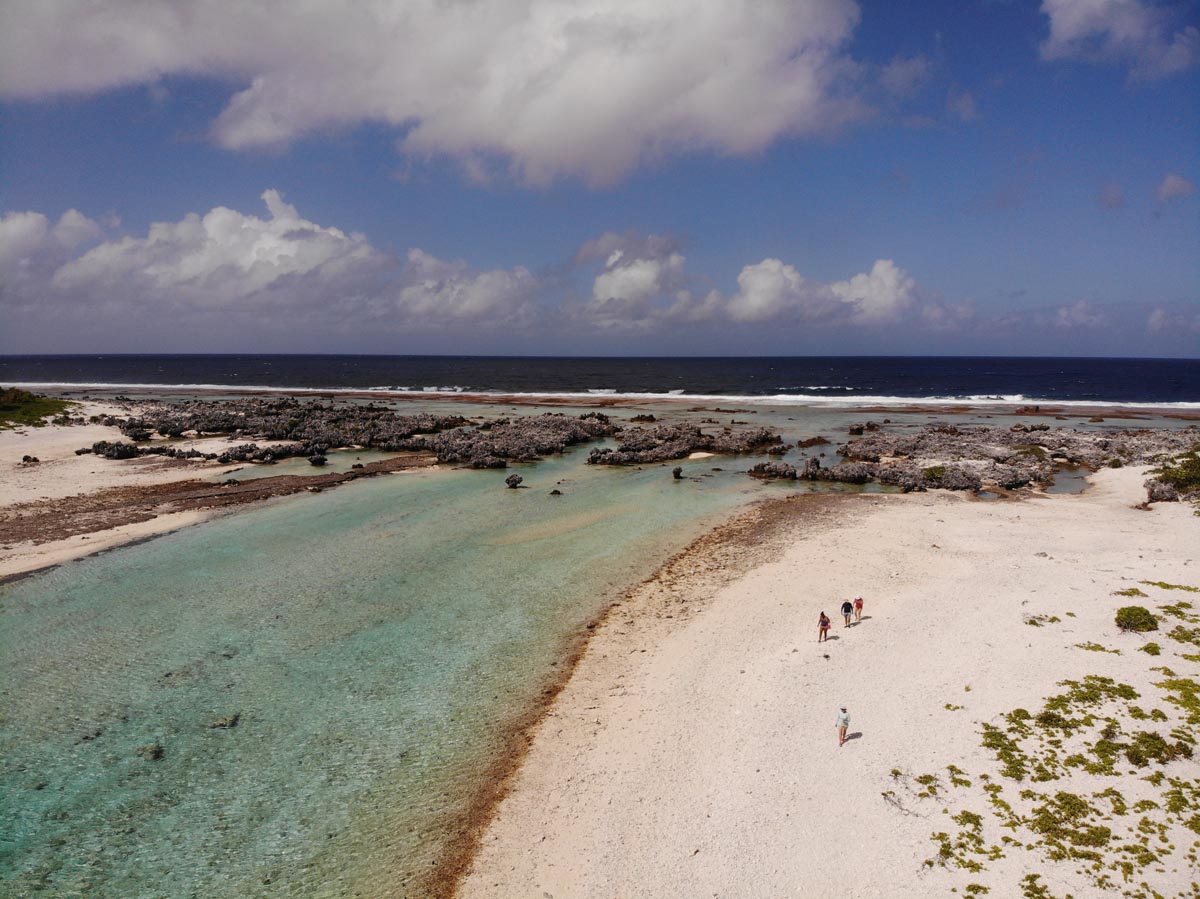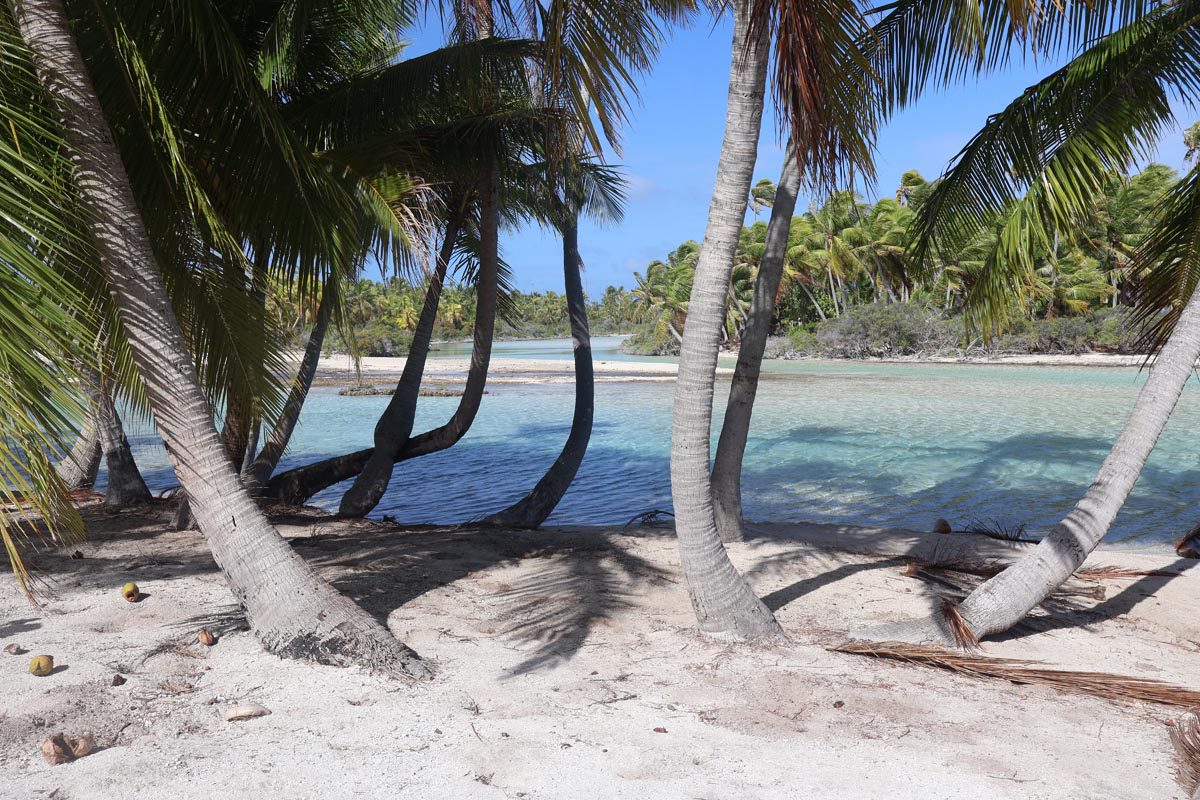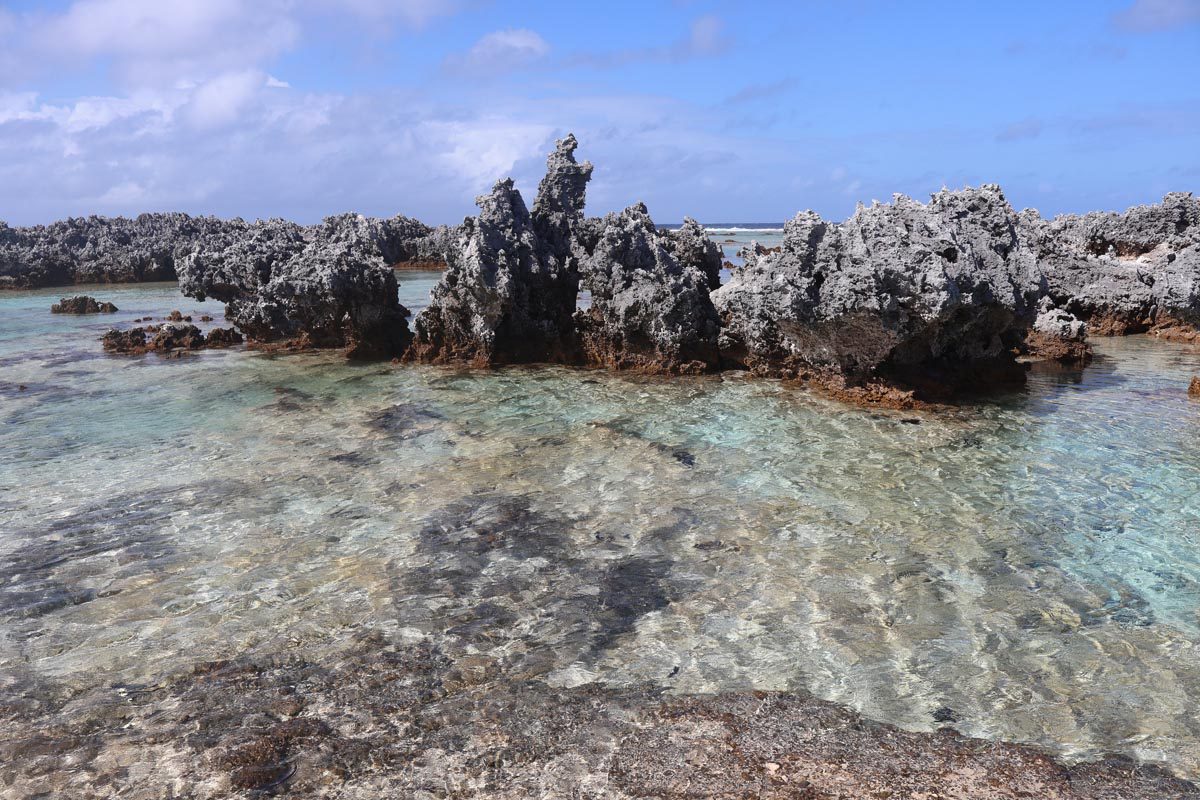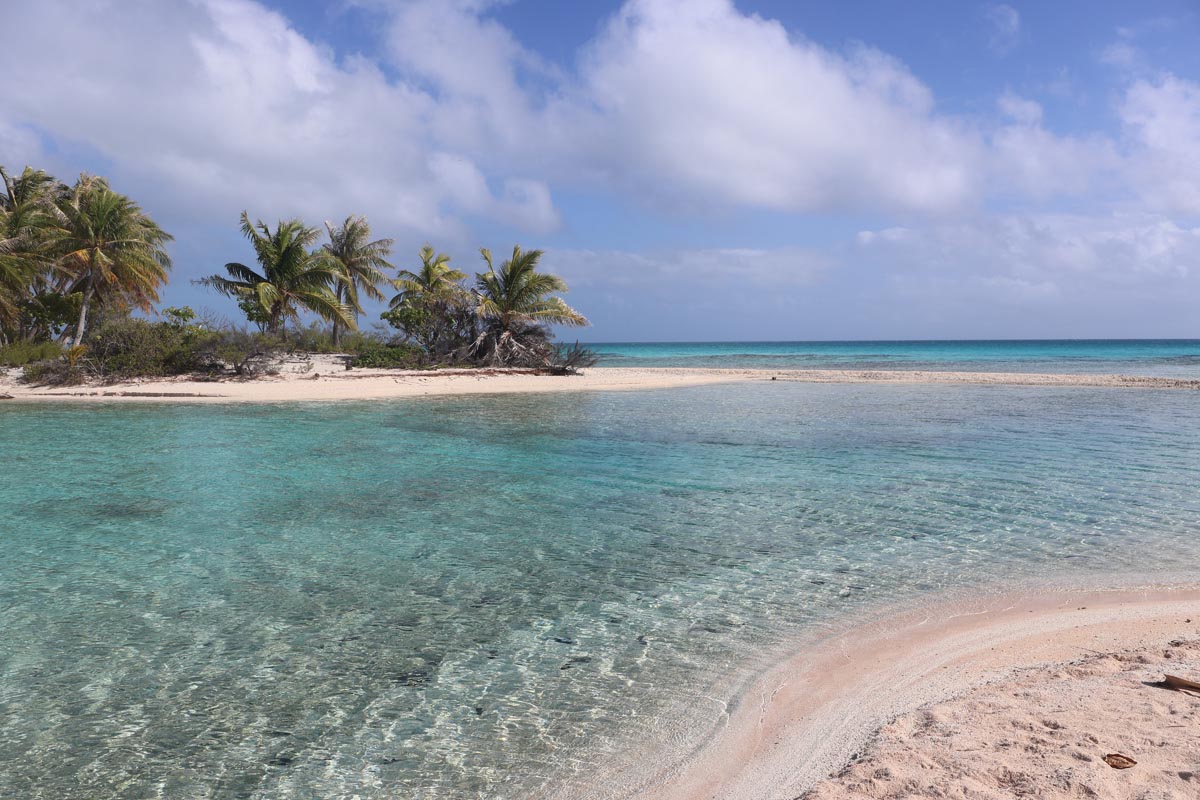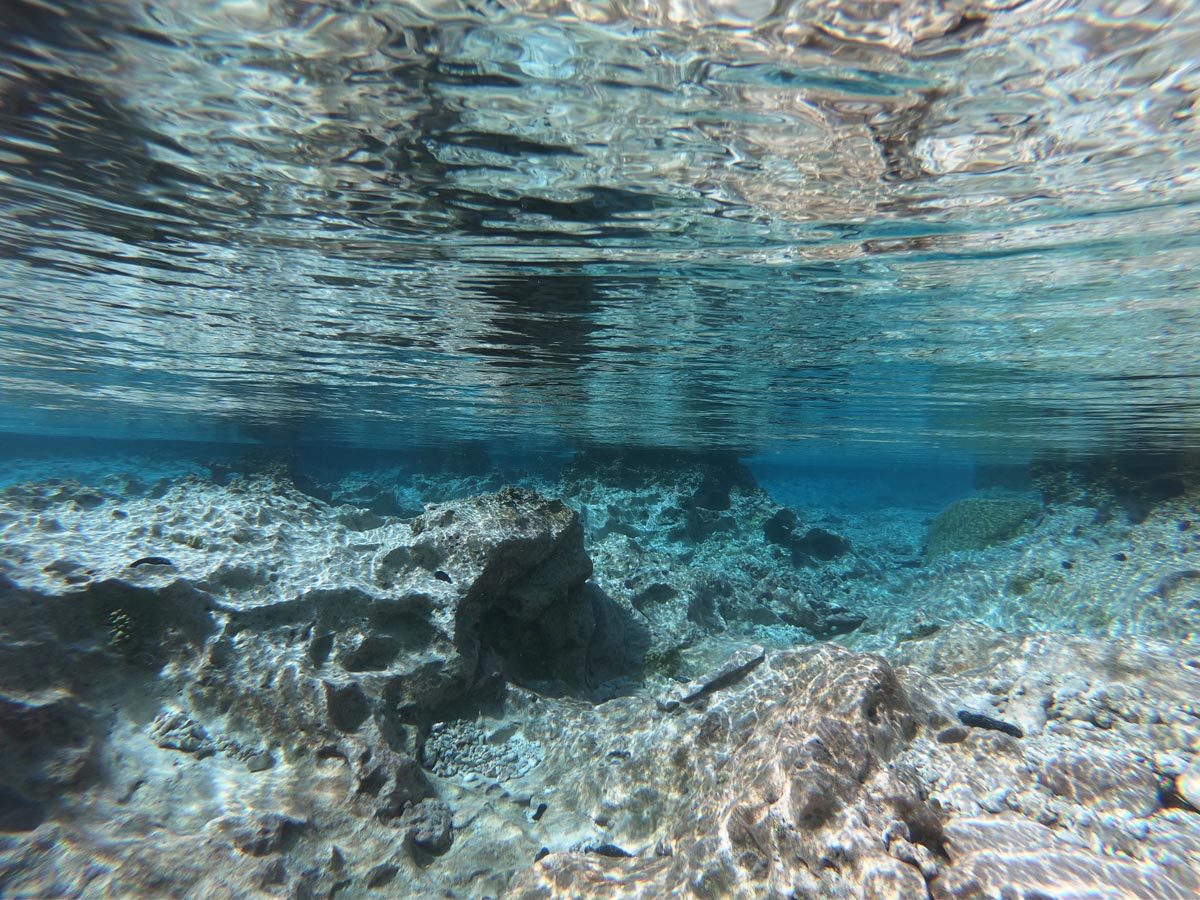 Fakarava – South
Our next stop was Fakarava, one of the best atolls to visit in French Polynesia. Fakarava is second only to Rangiroa in terms of size, and it is a designated UNESCO Biosphere Reserve thanks to its rich marine life. The atoll has two openings, or lagoon passes on opposite ends of the immense lagoon. The north pass is close to the main village and the airport, while the south pass requires a 90-minute boat ride to an off-the-grid section of the island.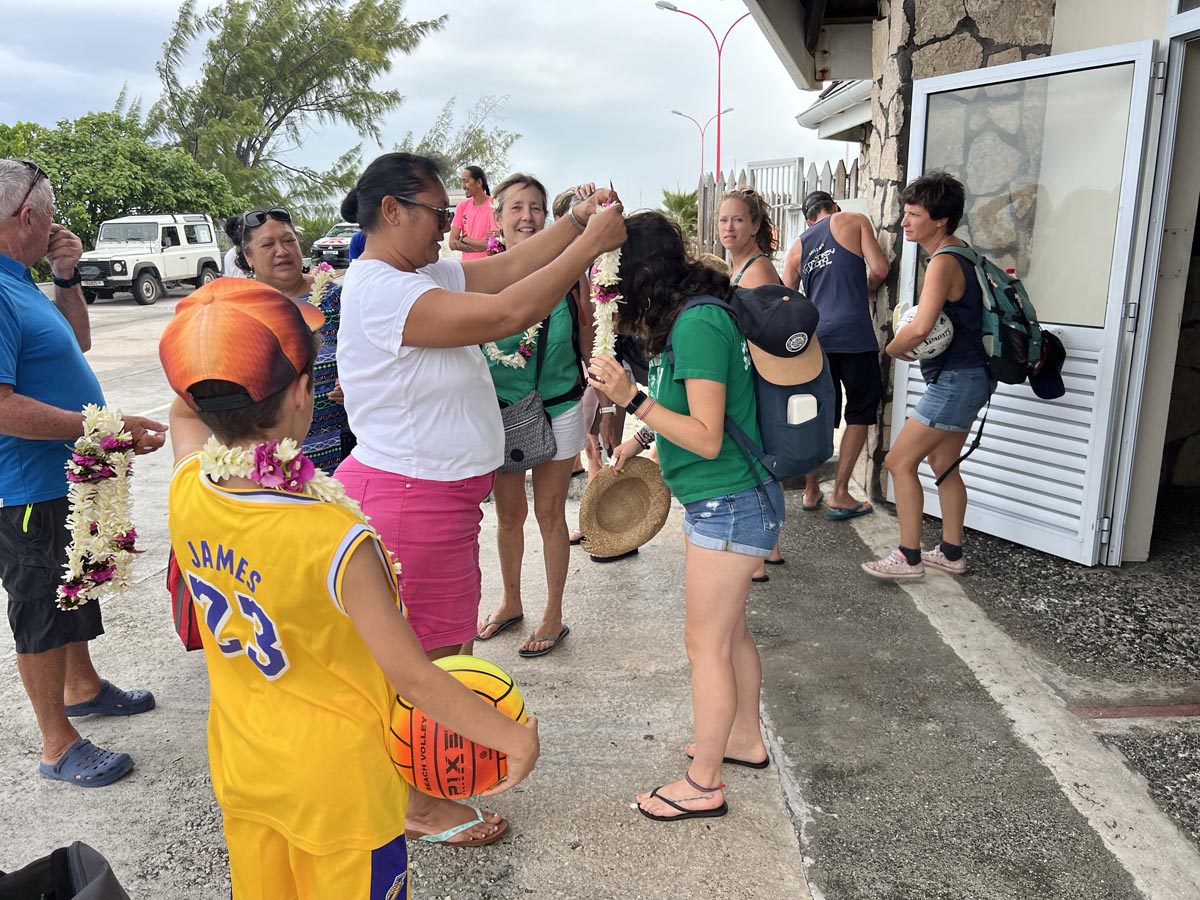 I spent about a week in Fakarava during my first visit to the region but only made it south on a rainy day trip from the main village. Despite its remote location, Fakarava South is well known in certain circles. The area rose to fame following a series of articles by a French journalist many years ago. It has become a legendary dive spot frequented by the likes of National Geographic and curious divers who head here to witness the "wall of sharks" and grouper spawning.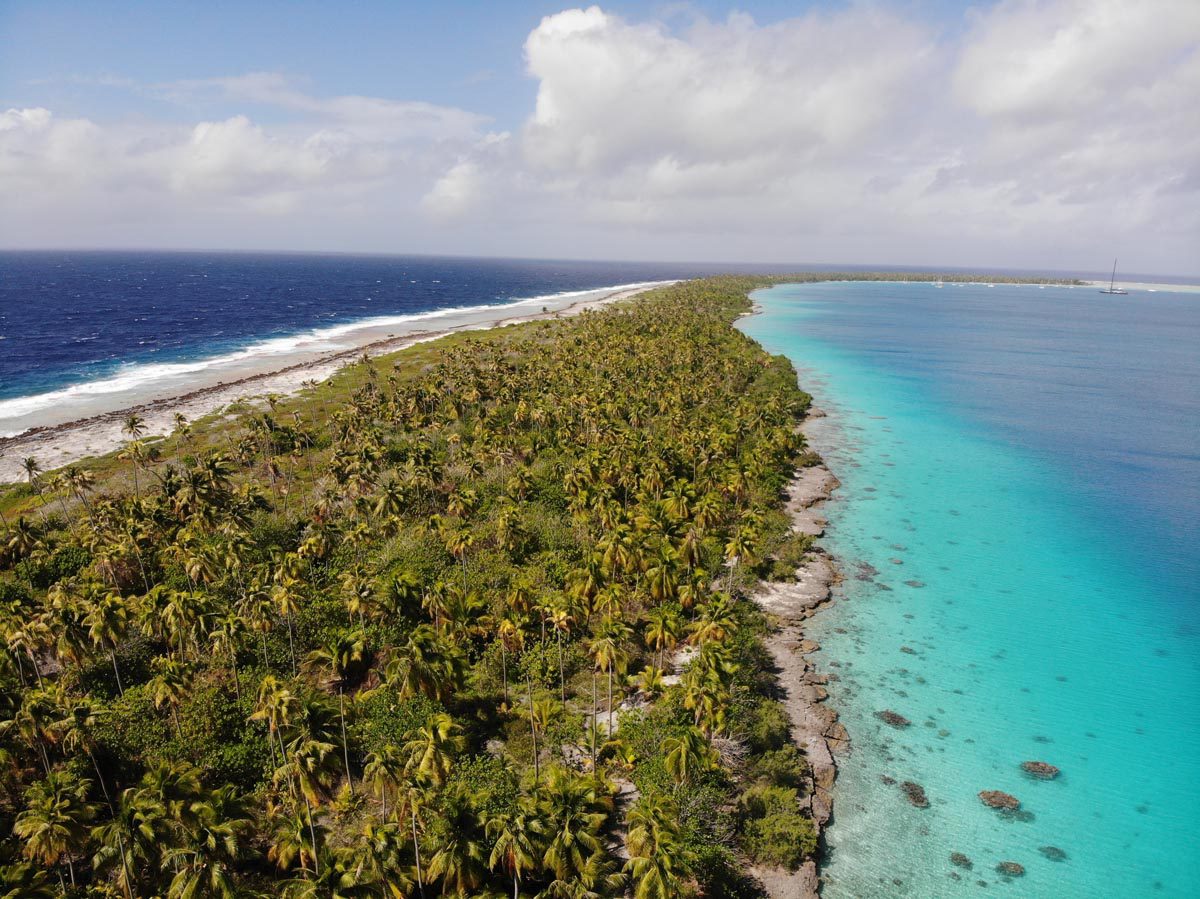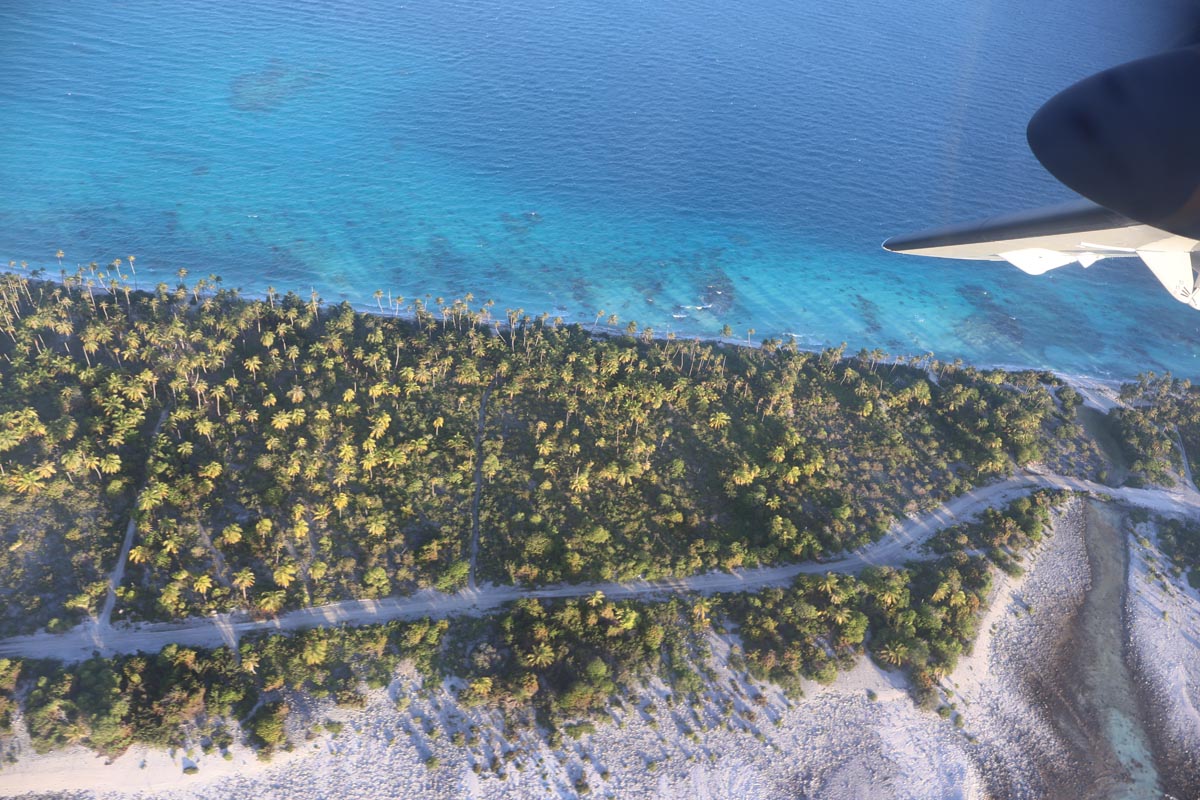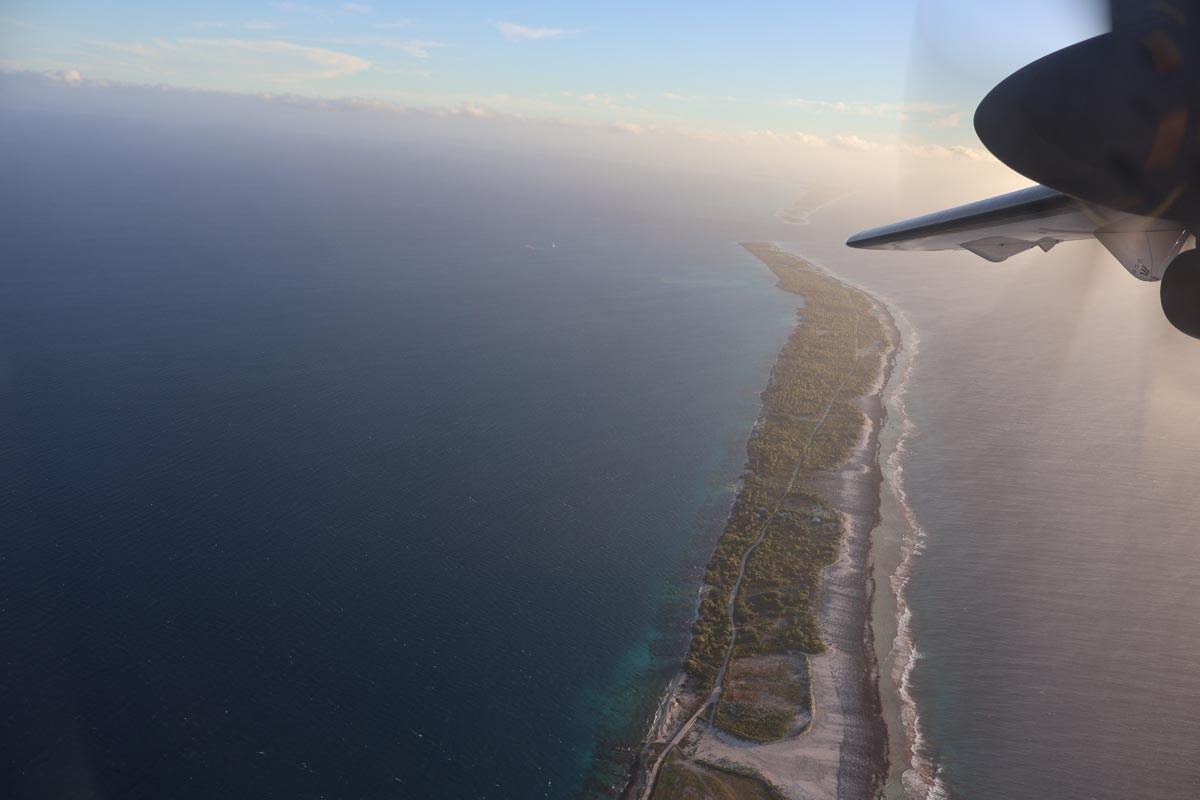 Pension Raimiti
We arrived at Pension Raimiti long after sunset, with the night sky lit by millions of shining stars. Our bungalow, properly named "Robinson Crusoe," was on the distant reef side, where natural air conditioning is on-demand 24/7, thanks to strong trade winds that also carry the tranquil melody of crashing waves on the barrier reef.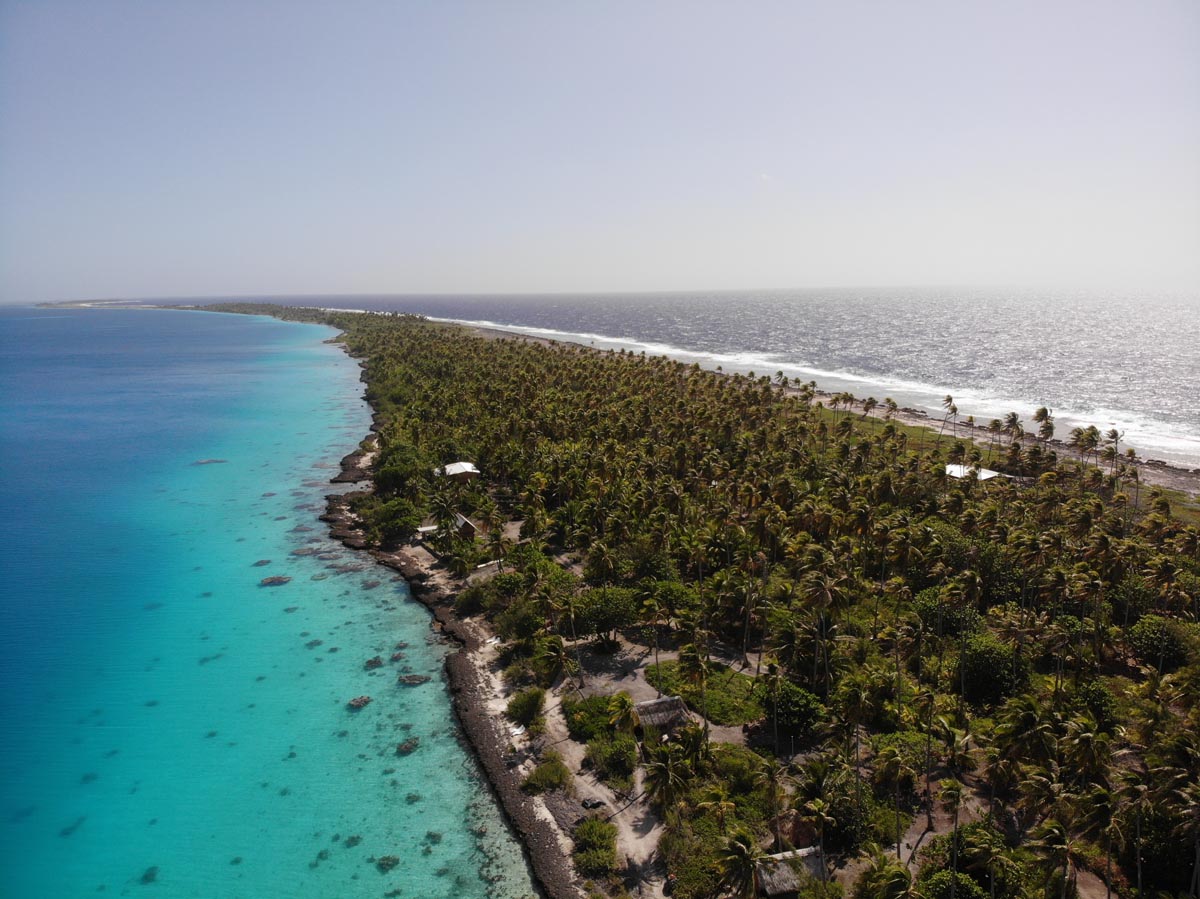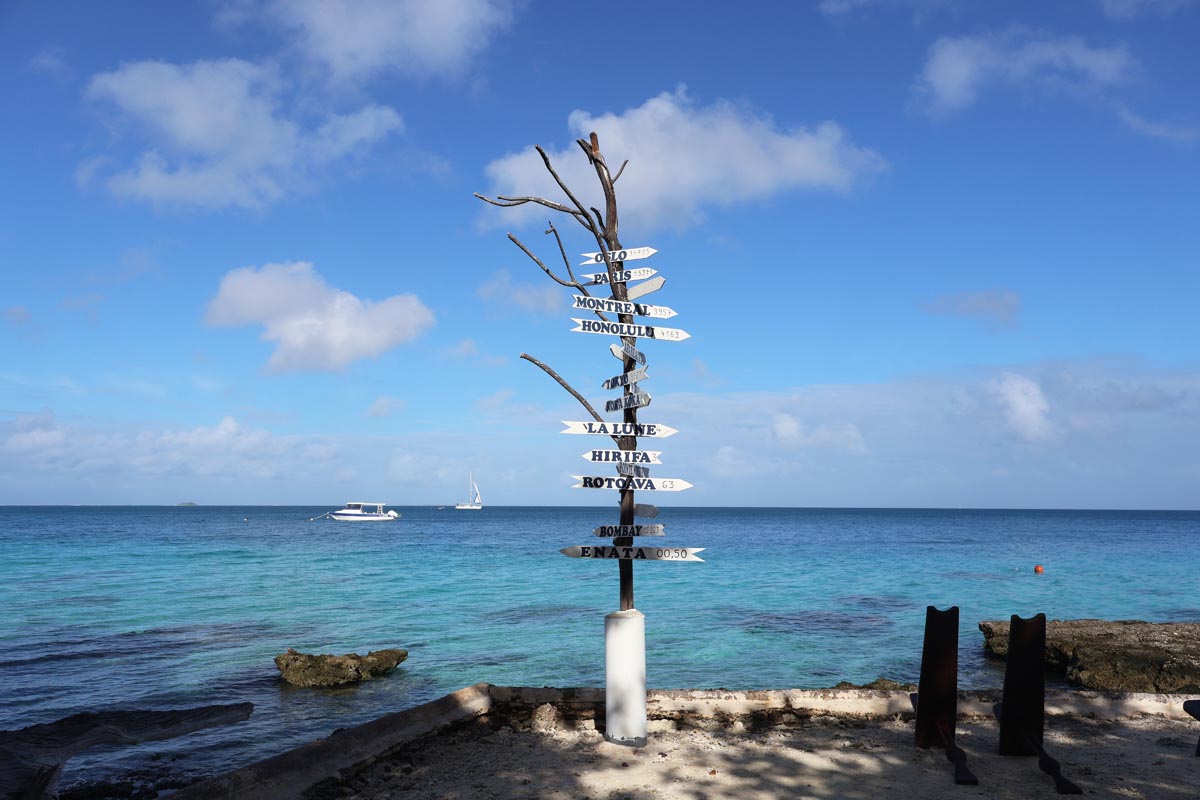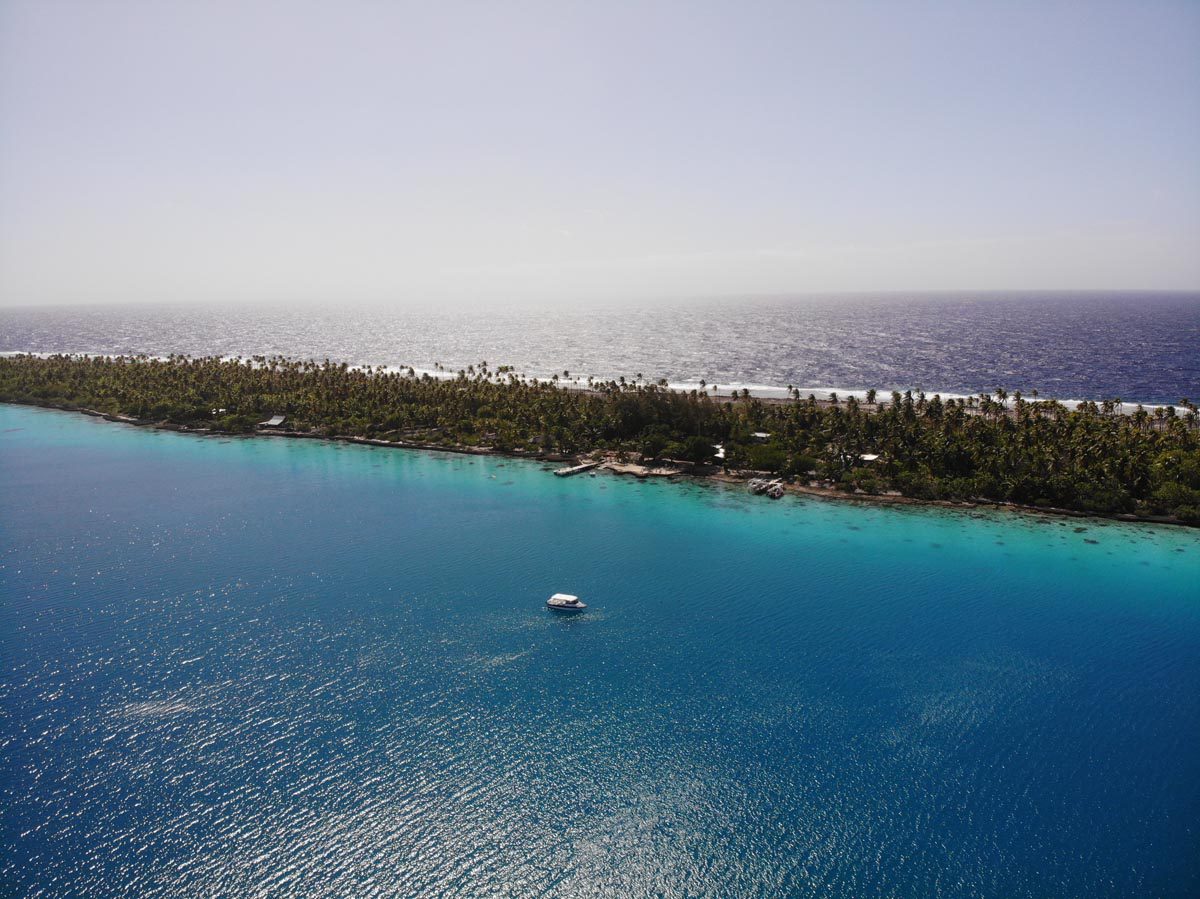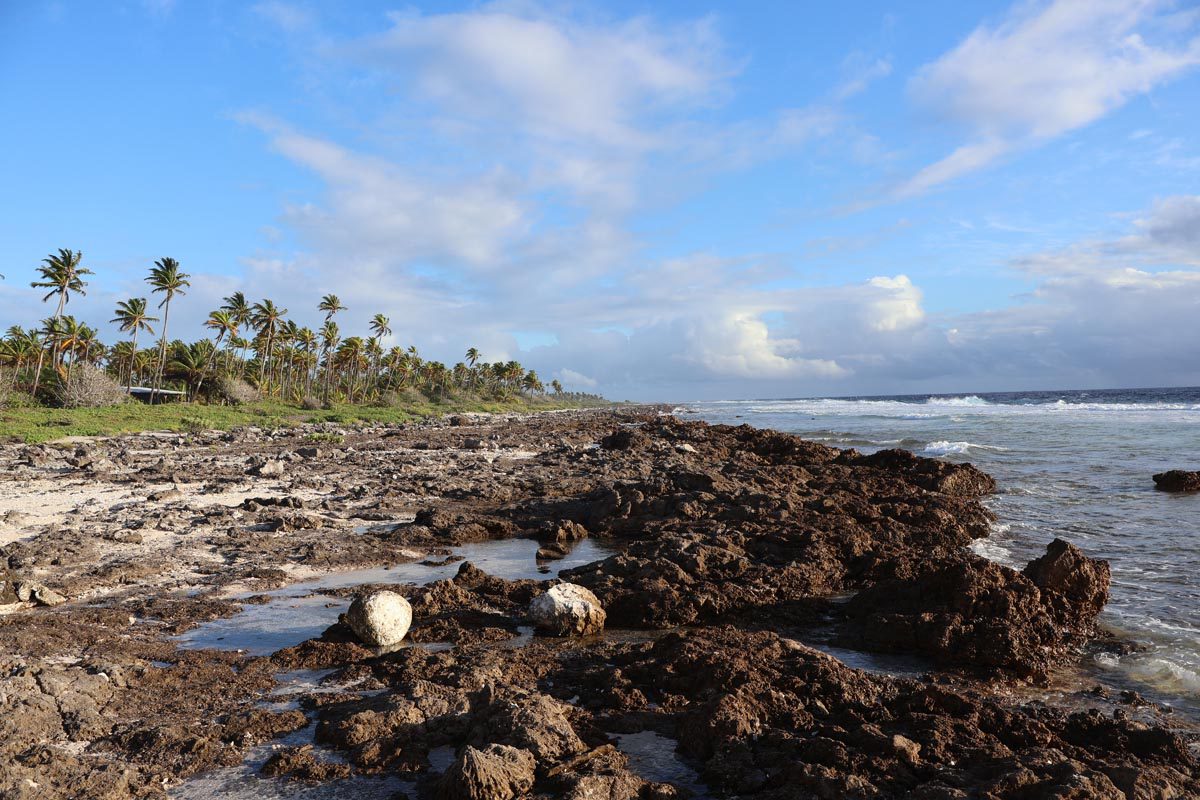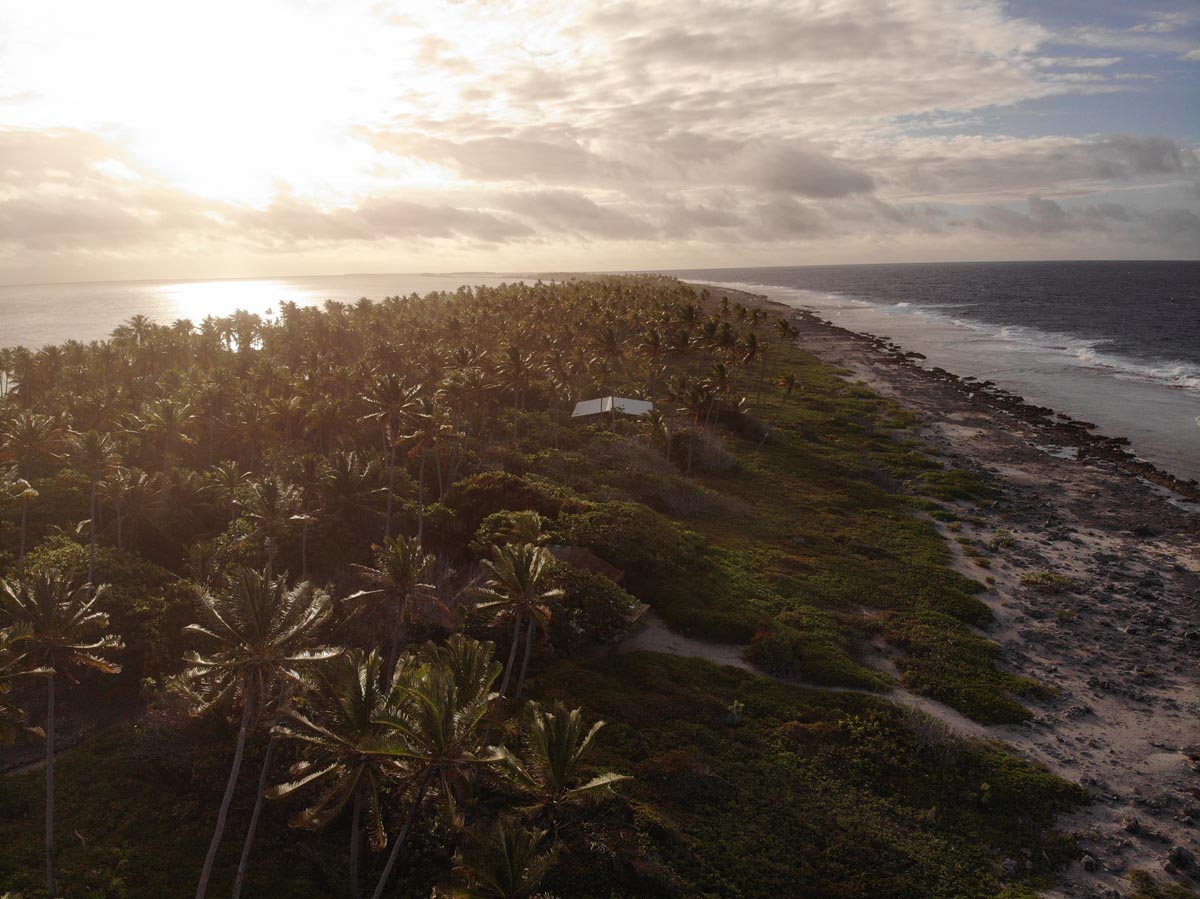 Pension Raimiti is a remarkable achievement. In such a remote location, the owners have managed to either import or build from scratch many modern comforts, all while retaining a stress-free and authentic Polynesian vibe. And while you often feel like climbing into a hammock and reading a good book, there's so much to do here, including kayaking, snorkeling, and scuba diving (of course).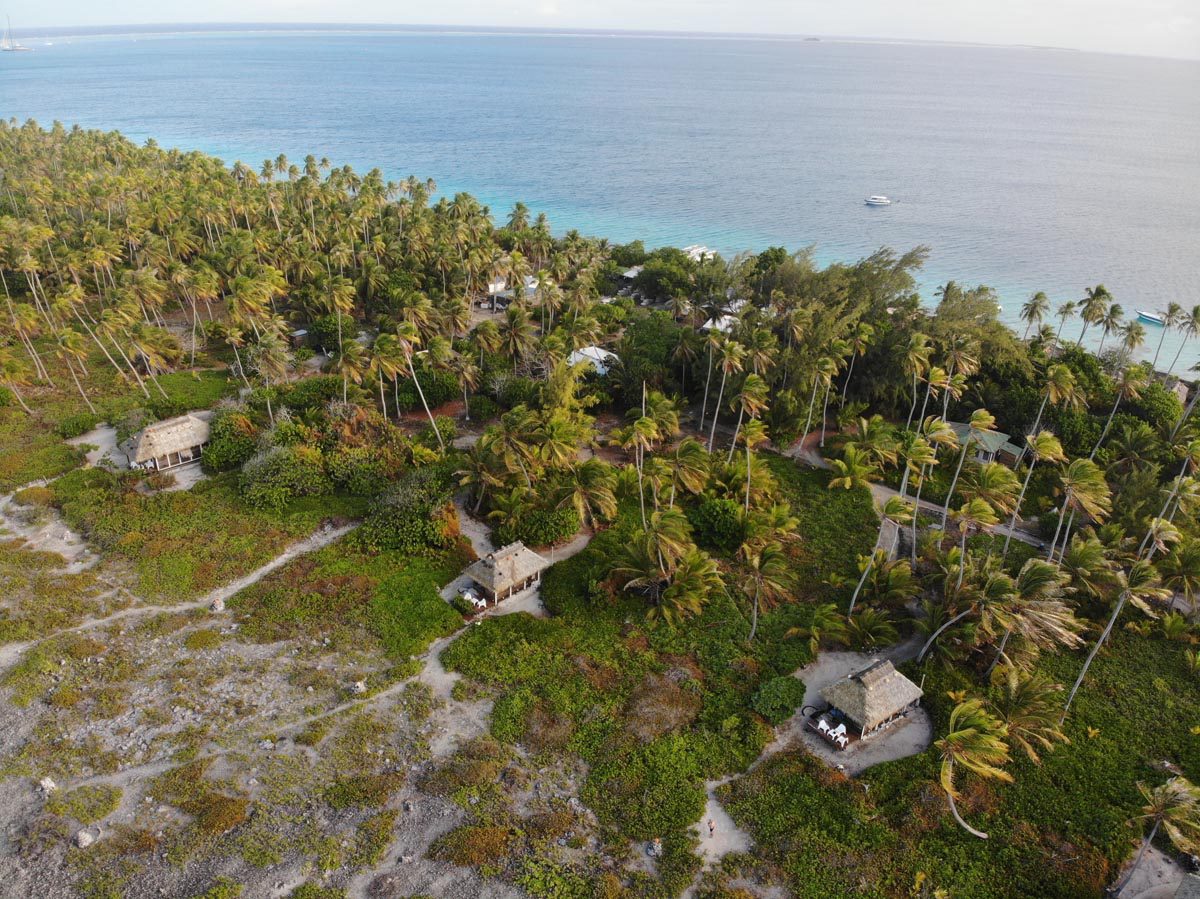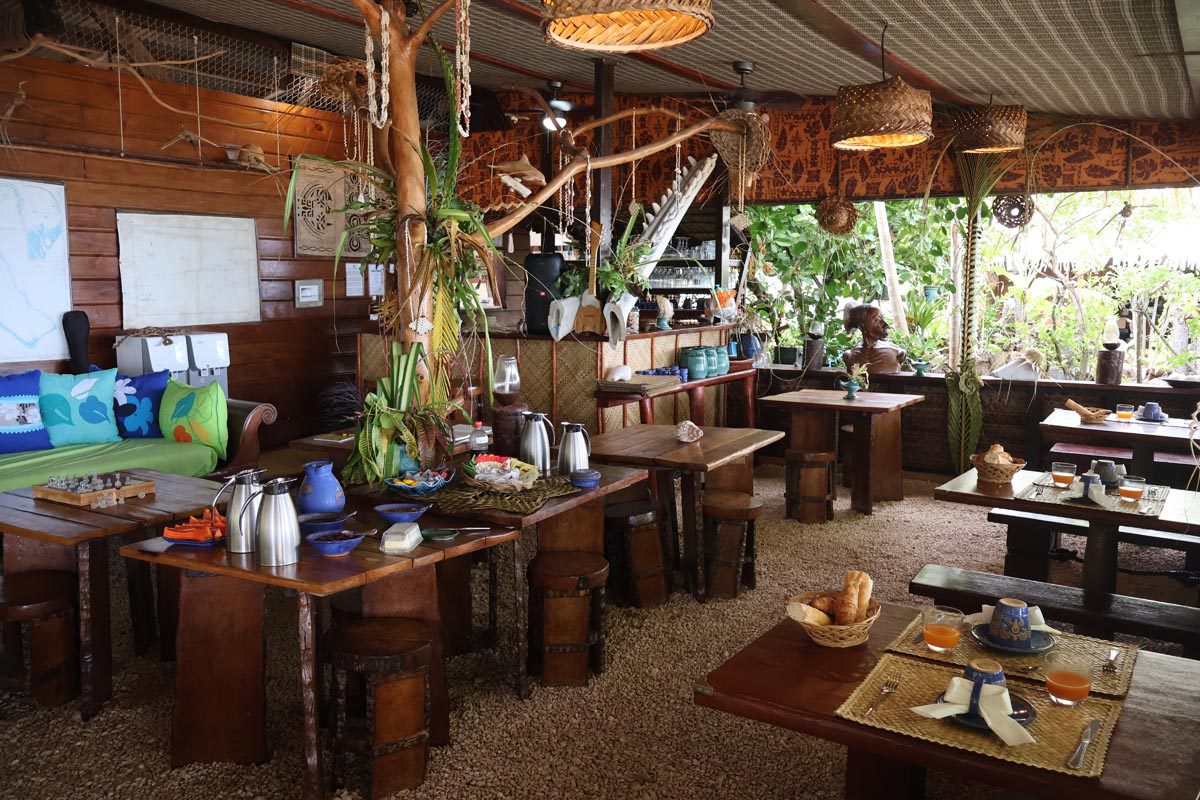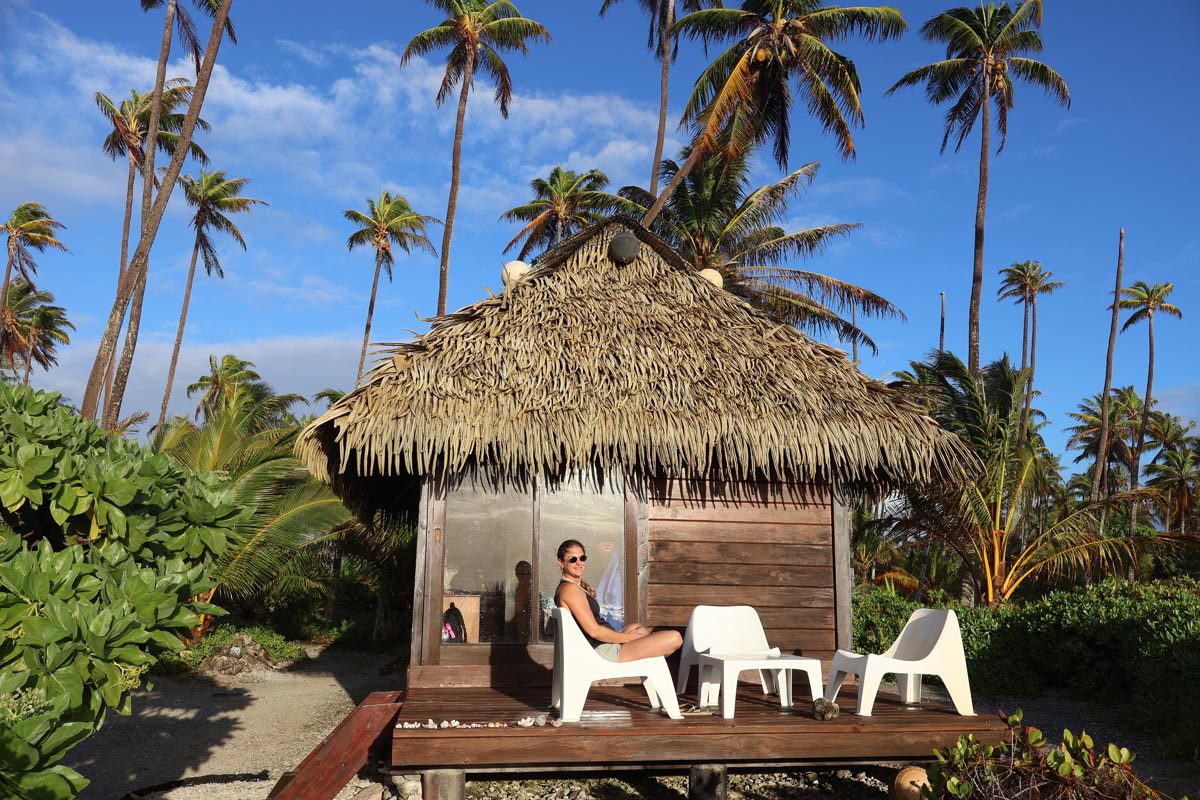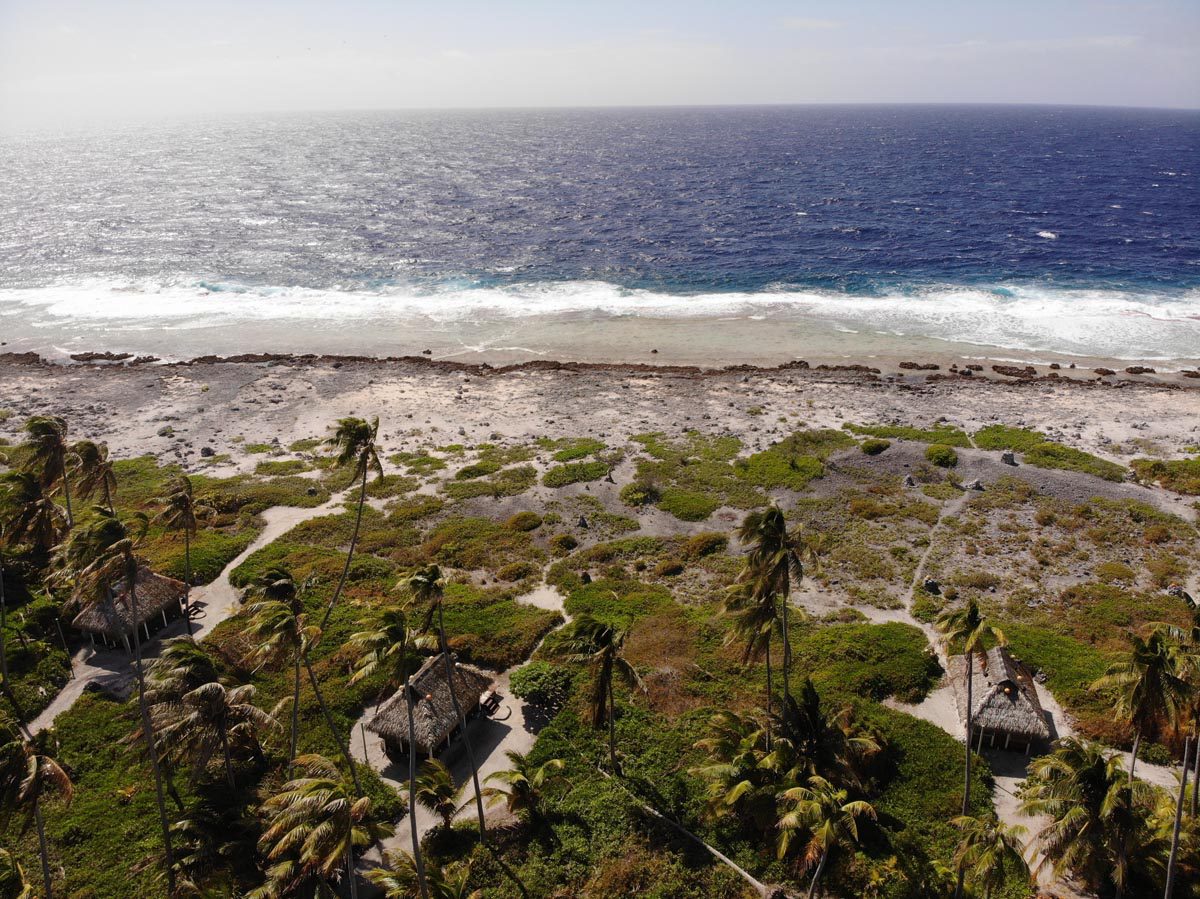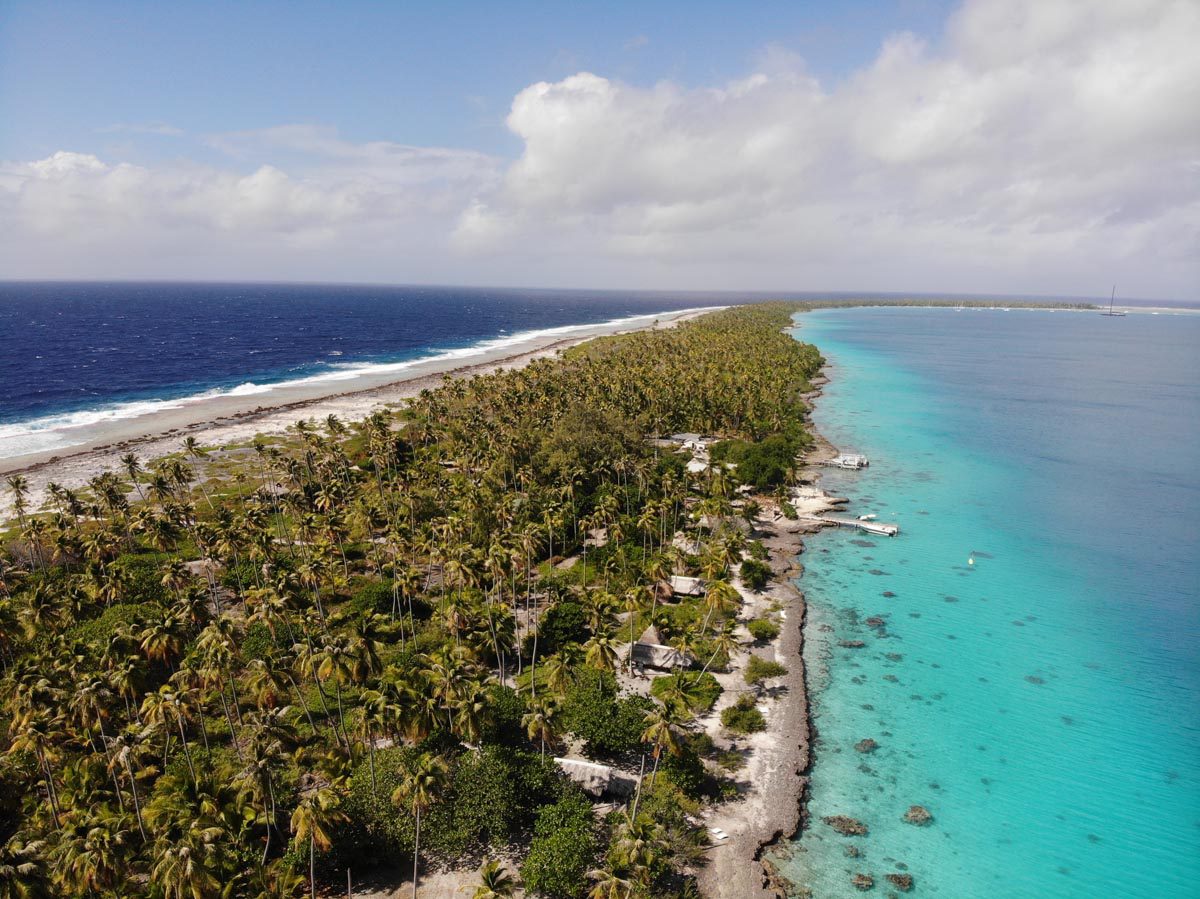 Scuba Diving in Fakarava South
Scuba diving in Fakarava's South Pass is a dream of many avid divers. The dive spot's legendary status might be a bit overhyped, but the pass's narrow and shallow physical attributes are usually the ingredients for memorable dives.
On a rainy afternoon, we hopped on the zodiac for the short trip to the pass with Enata Diving. Our two dives brought us head-to-head with the famous "shark walls" of the South Pass. I'm talking about dozens of sharks patrolling the area, scouting possible dinner options, or riding the current to pass the time. And when they weren't patrolling, some were napping on the sandy ocean floor. Each dive was accompanied by an exciting drift either back into the lagoon or out into the open water, depending on the current.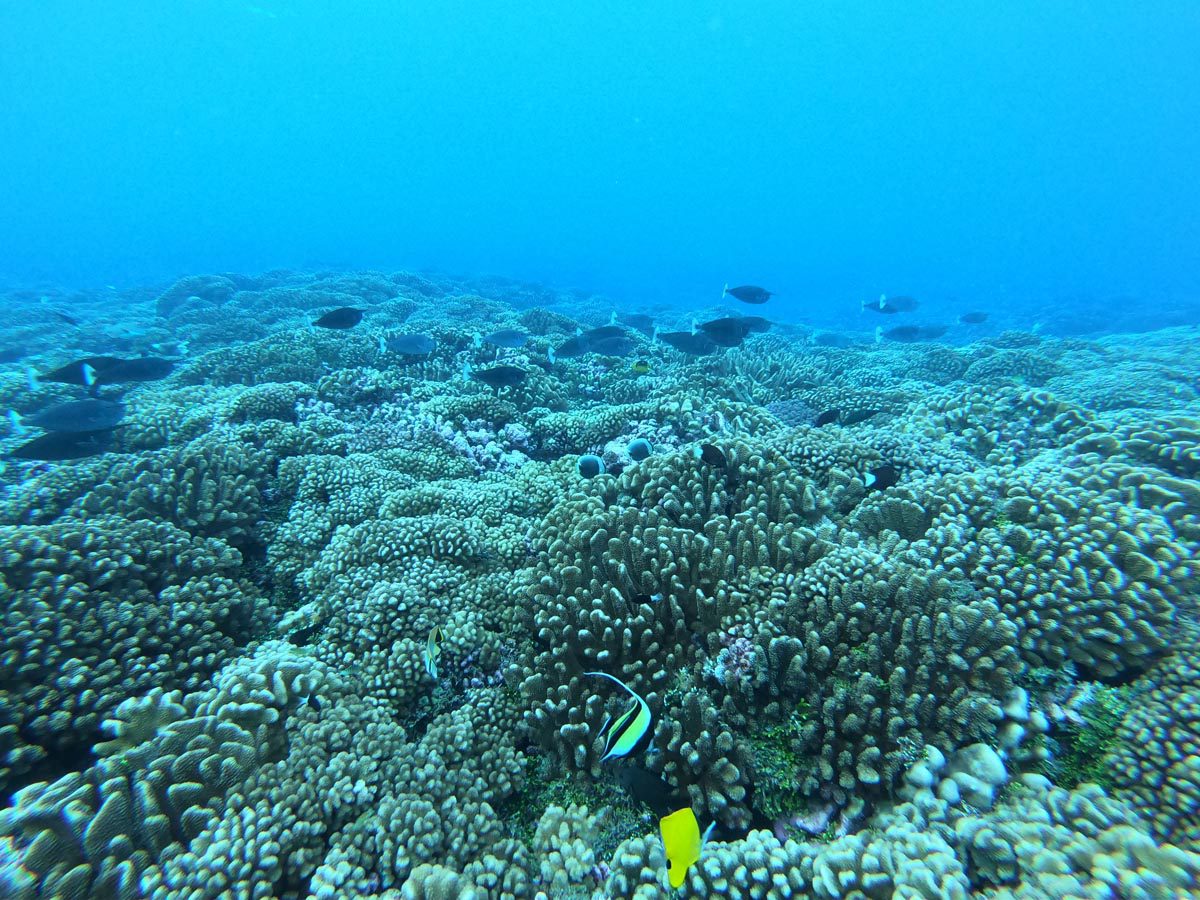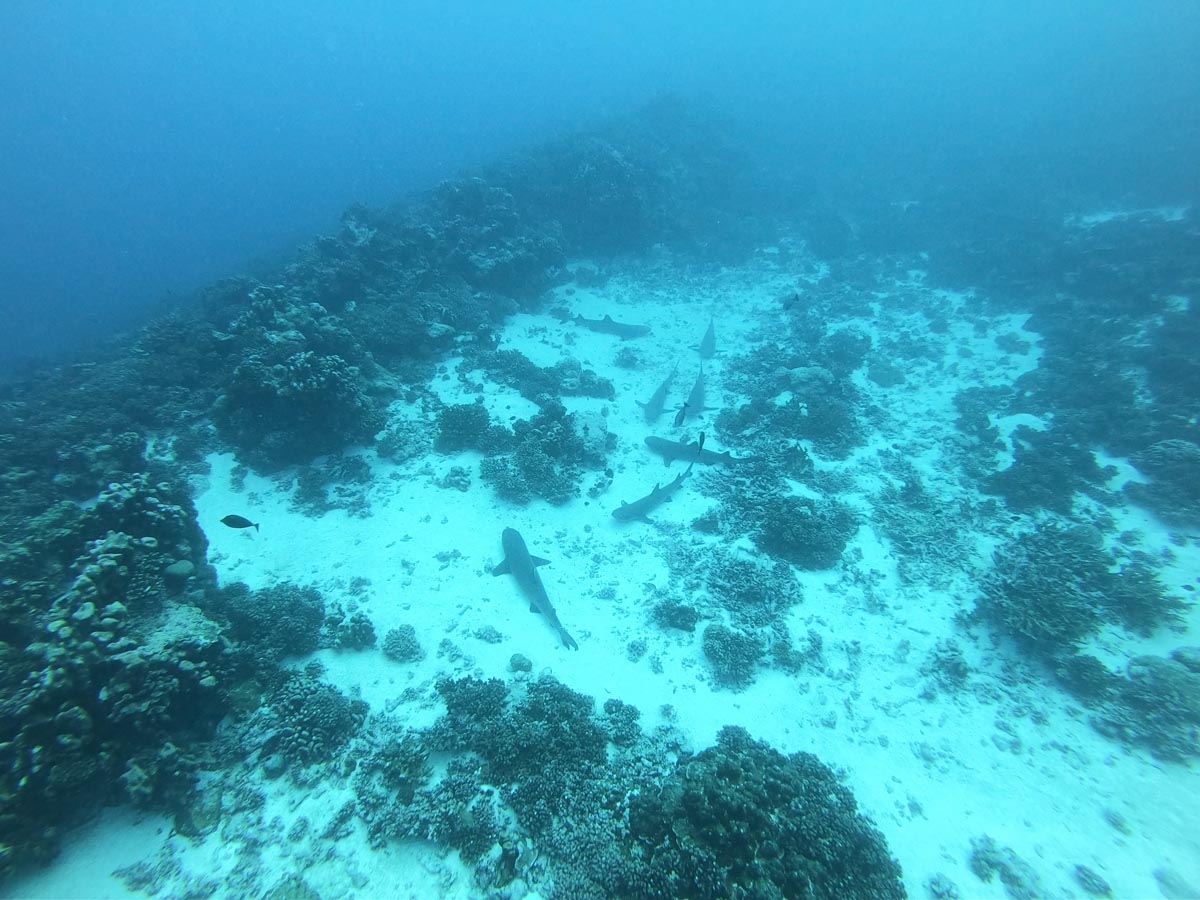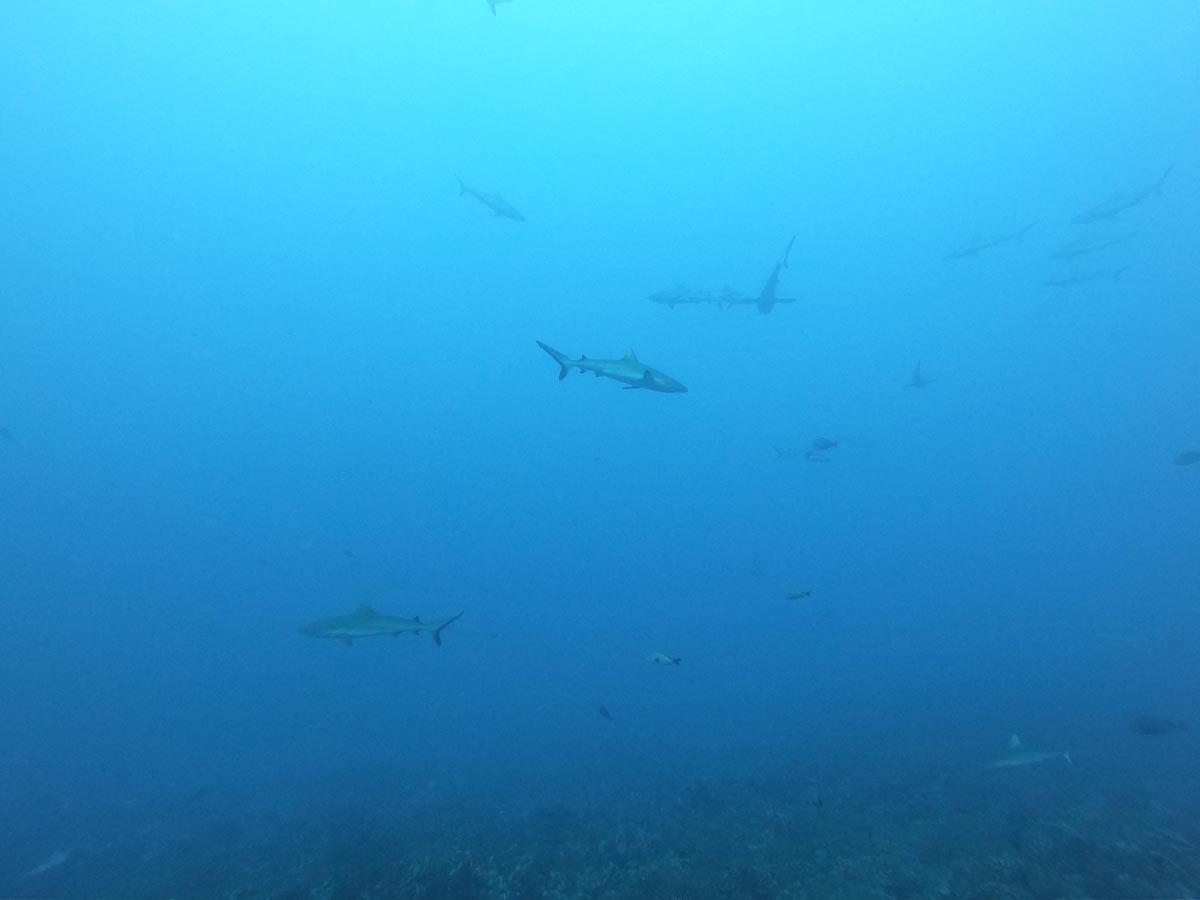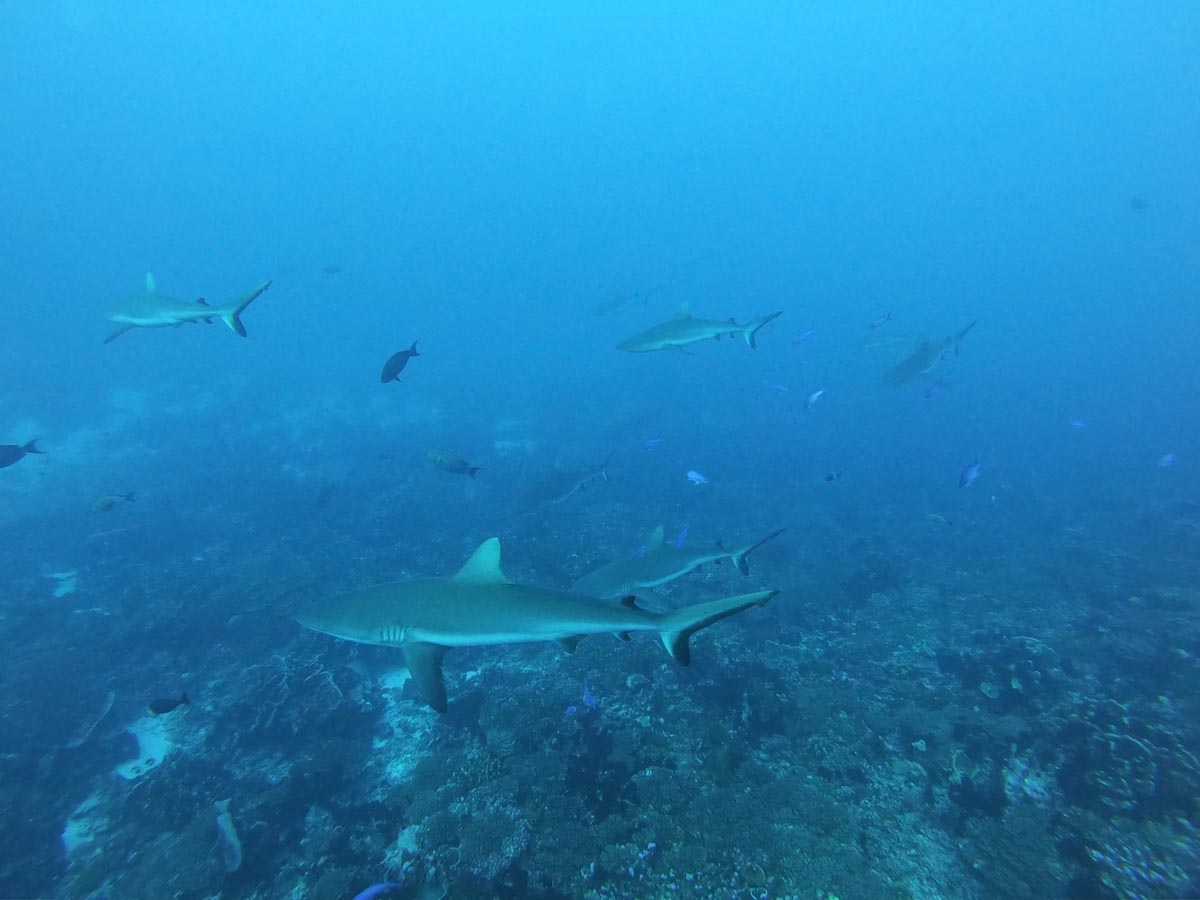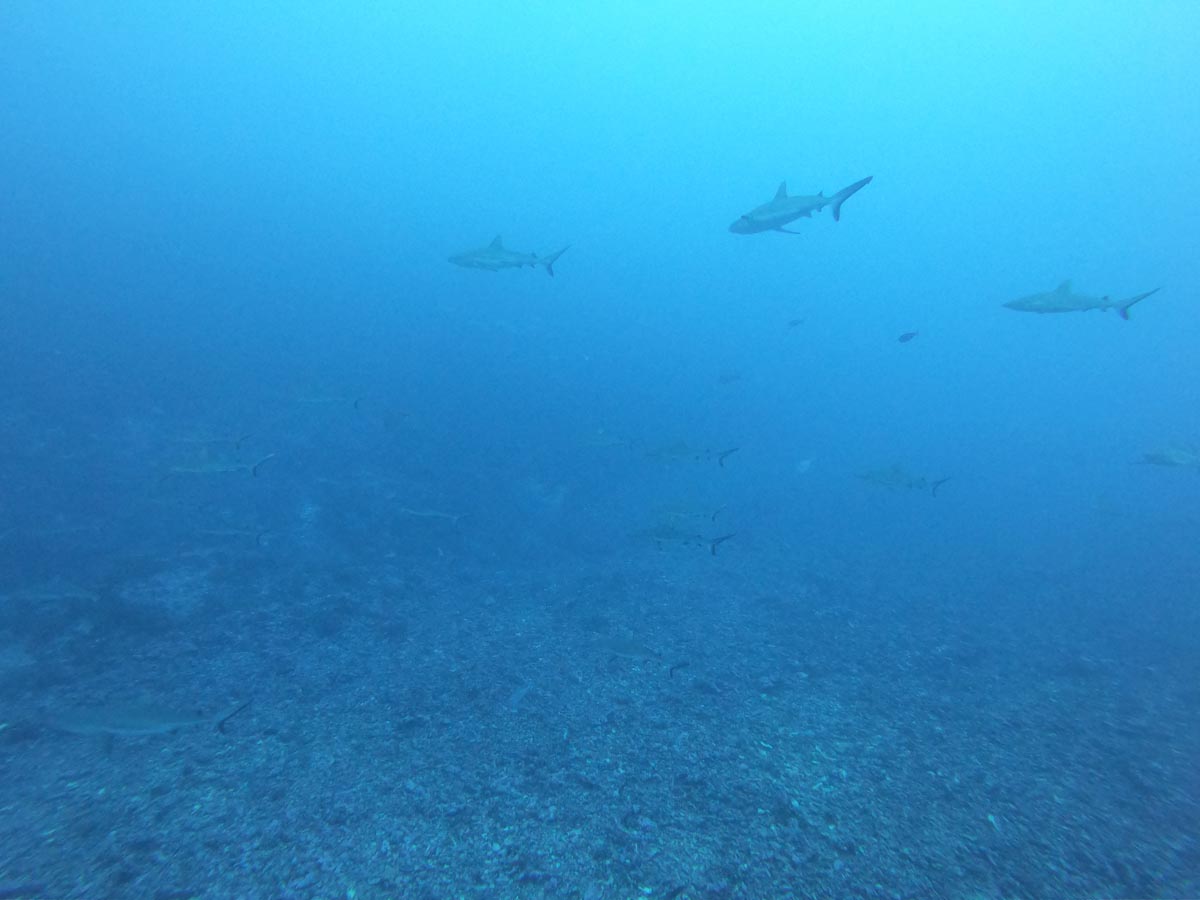 The Pink Sand Beaches
Fakarava's South Pass is not only home to superb diving but also to dreamy beaches covered in soft white sand that, depending on the amount of sun on a given day, shine brightly with pink and orange hues. Every morning after breakfast, we set out with Pension Raimiti's crew to explore the pink sand beaches and relax in a tropical setting that is hard to describe in words.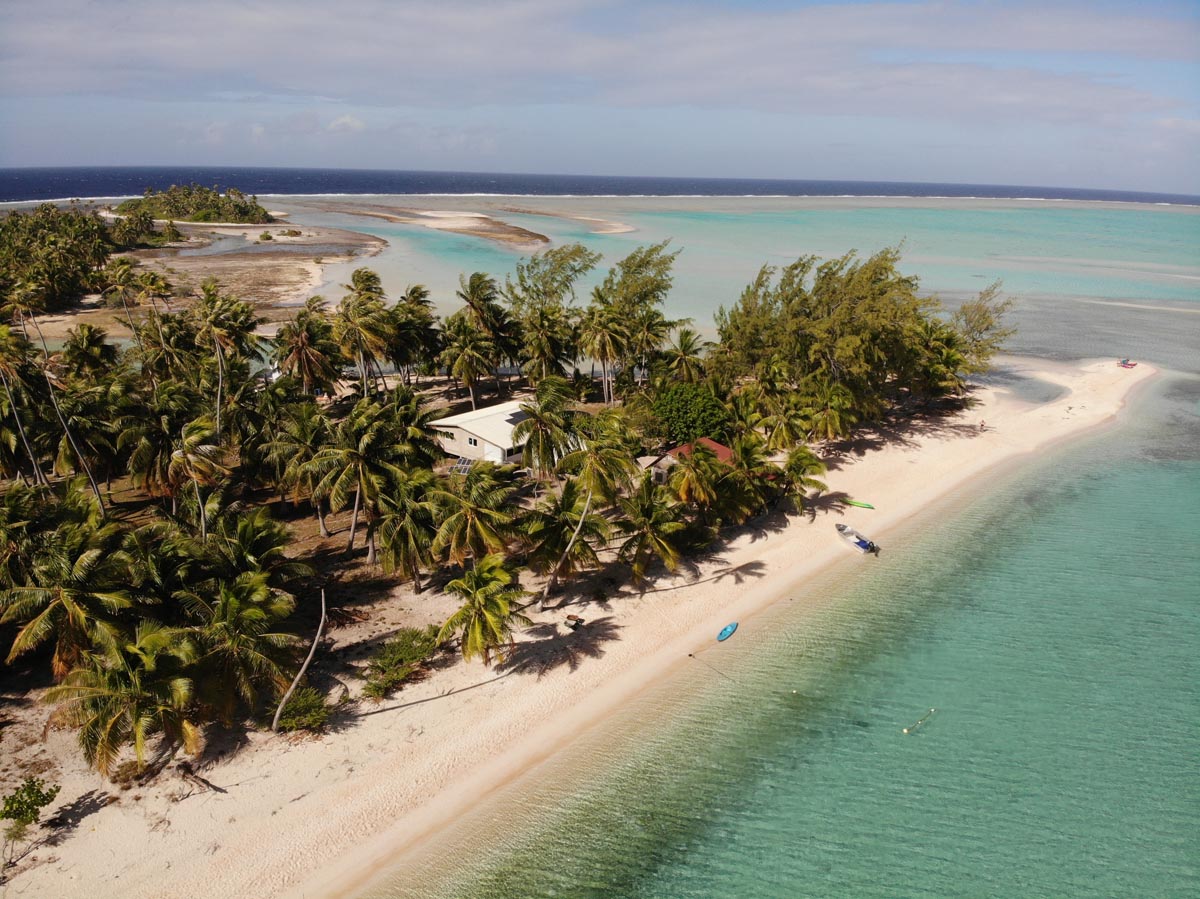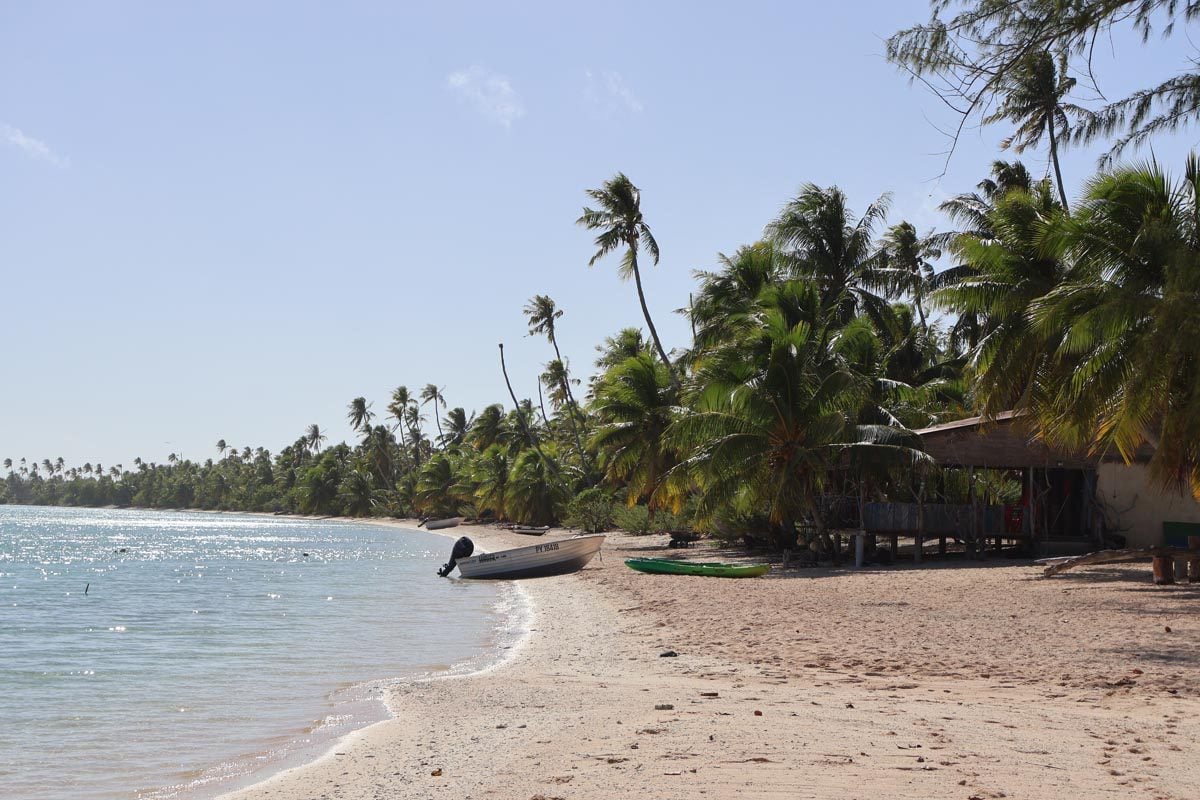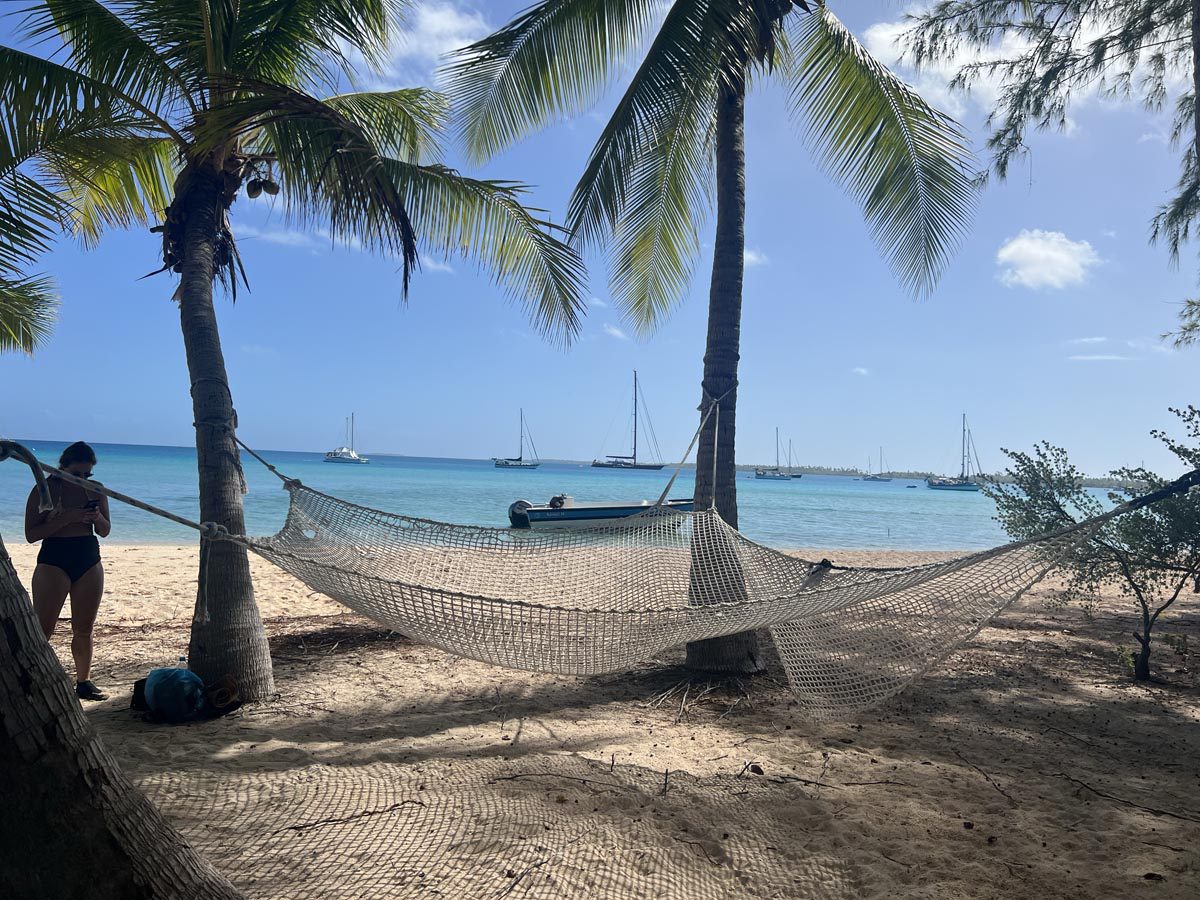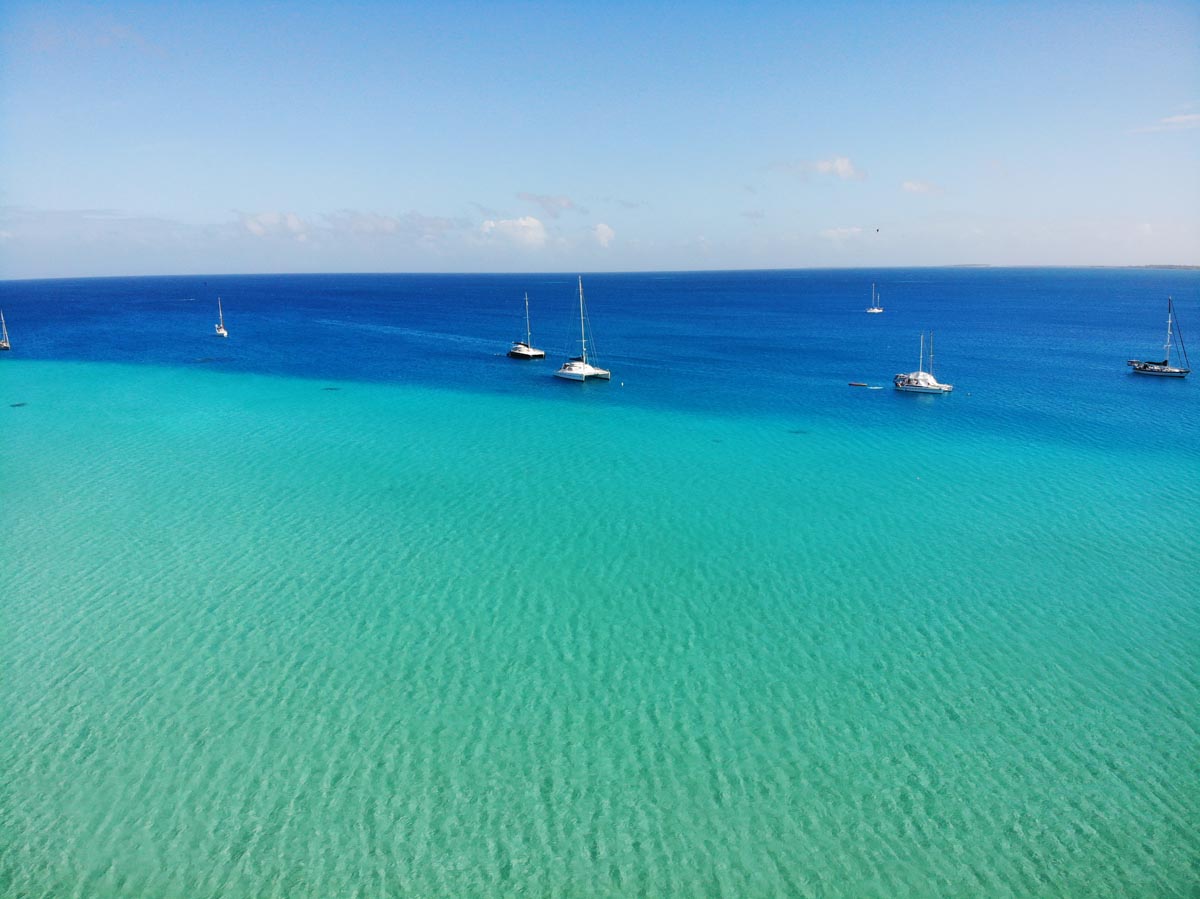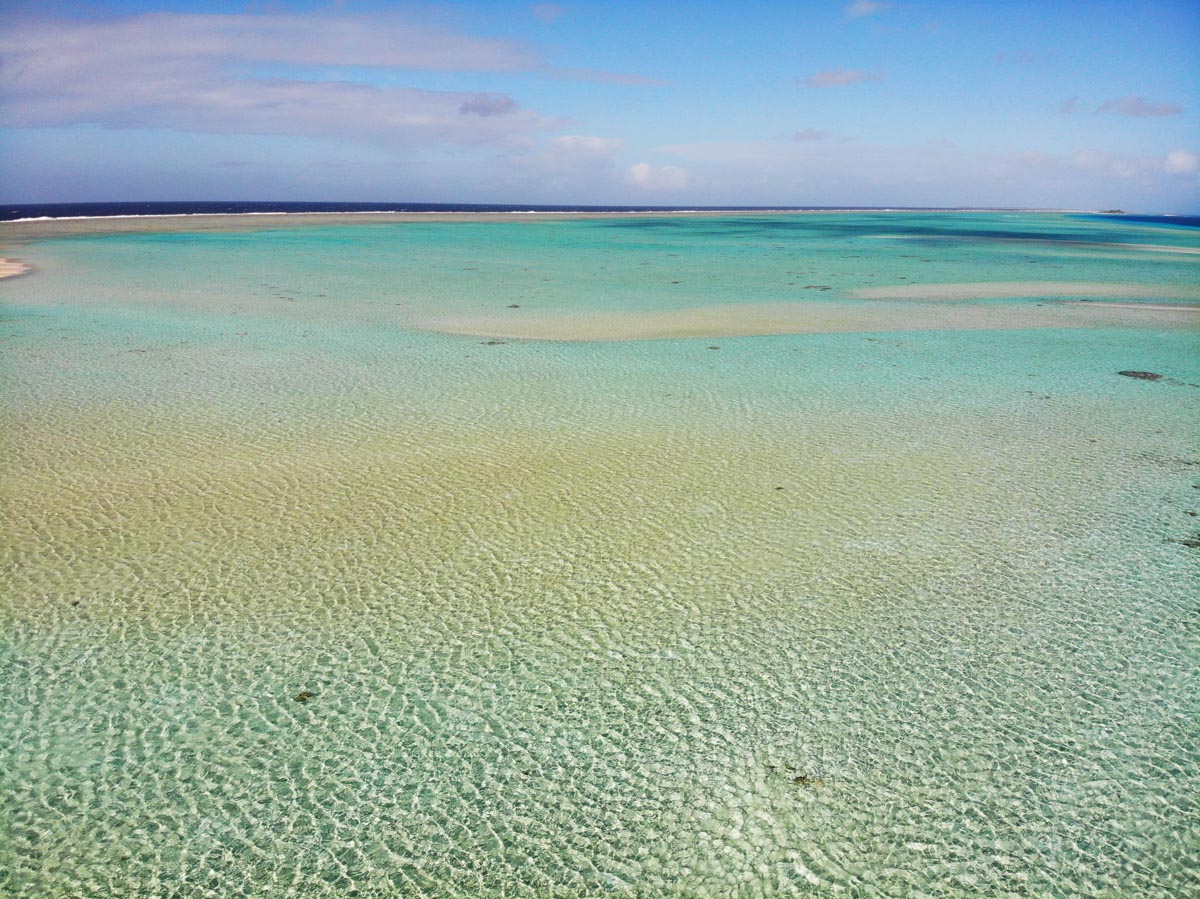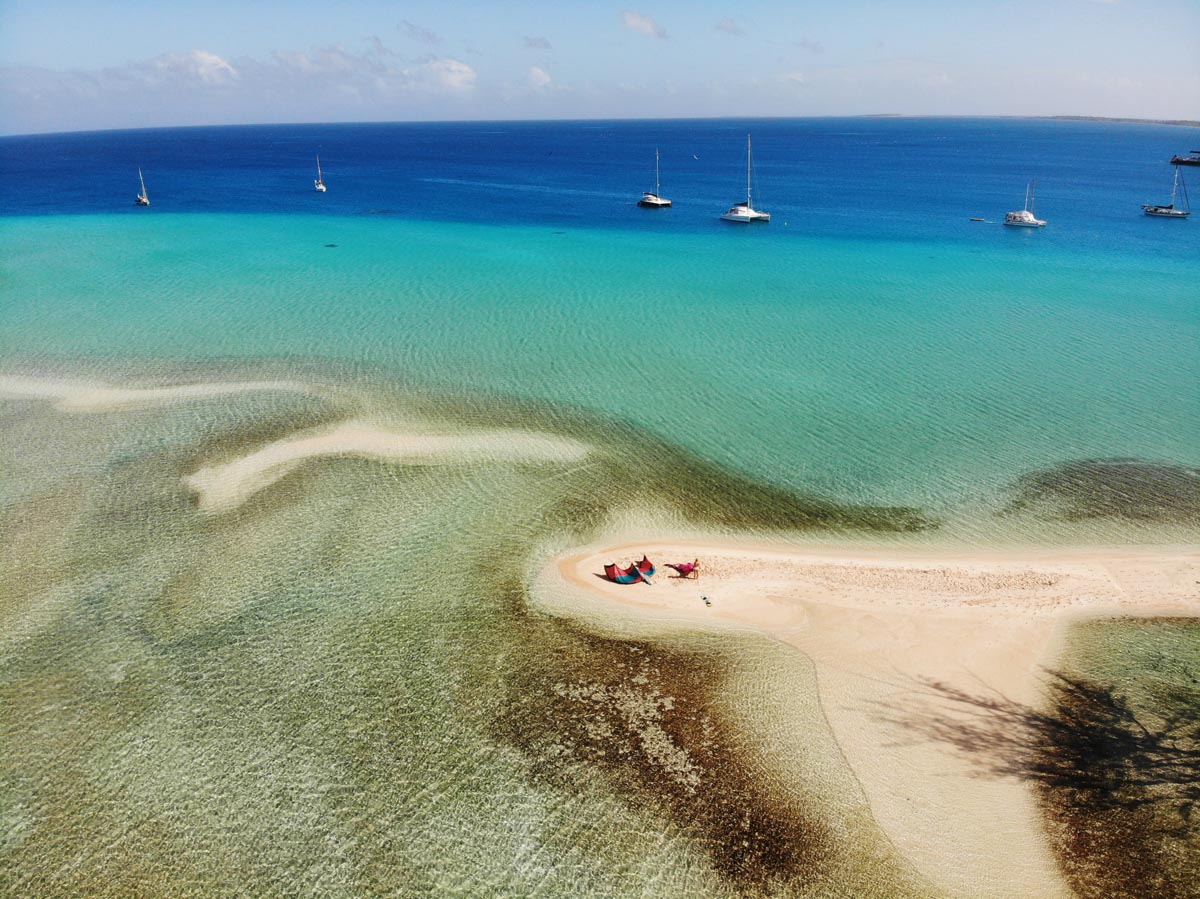 Fakarava – North
The bad news was that we had to leave Pension Raimiti and the southern end of the atoll. But the good news was that we booked three nights in a beach bungalow at the Havaiki Lodge in Fakarava North. The move from south to north was like arriving in a big city after living in the country, yet Rotoava Village and its surroundings lack any skyscrapers or anything that even hints at stress.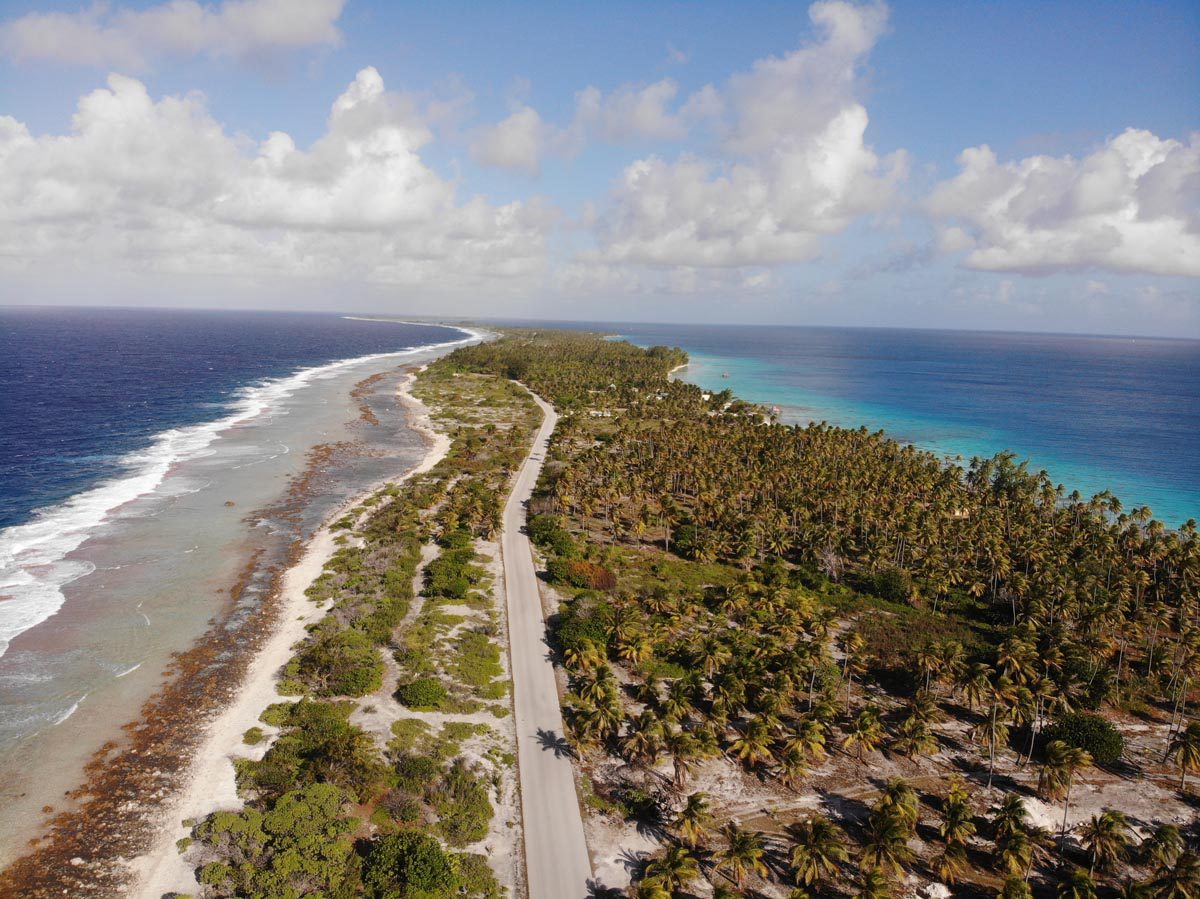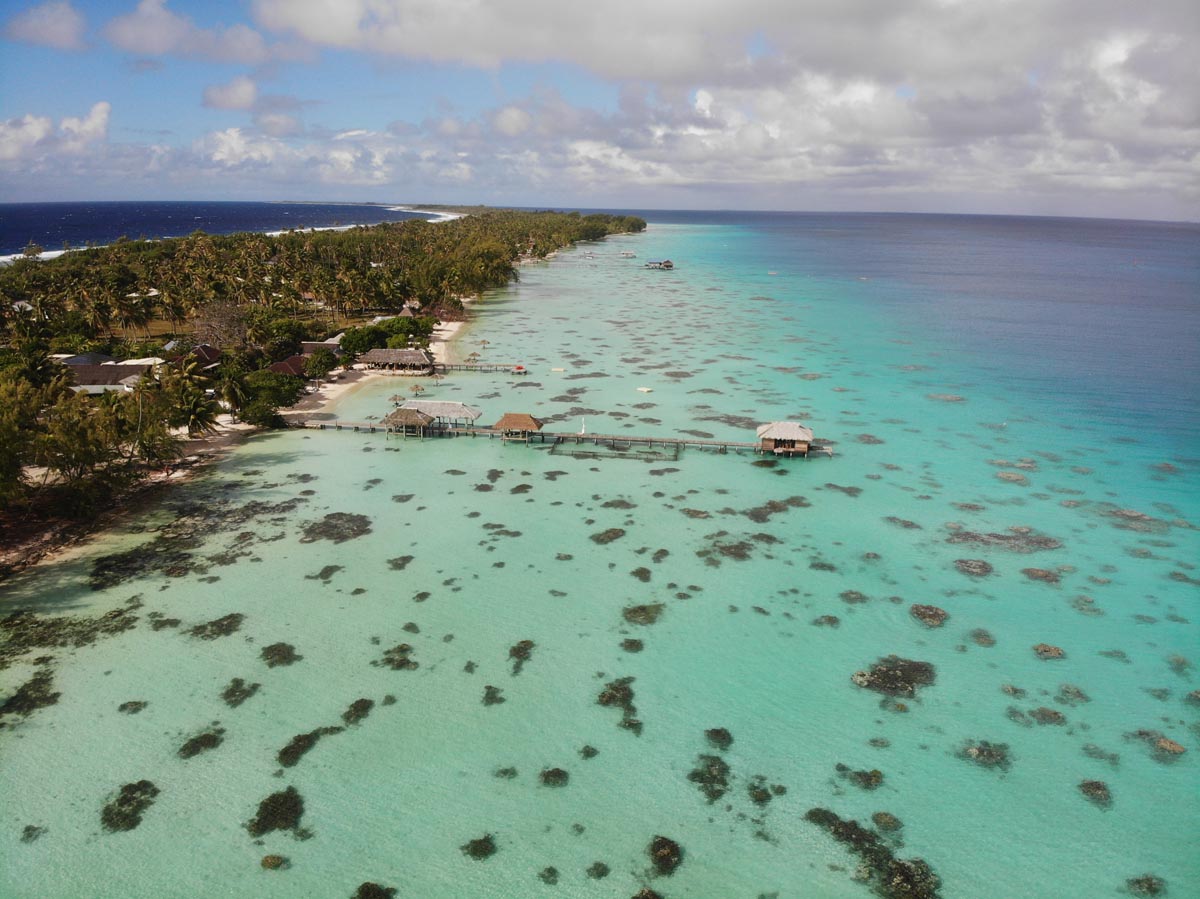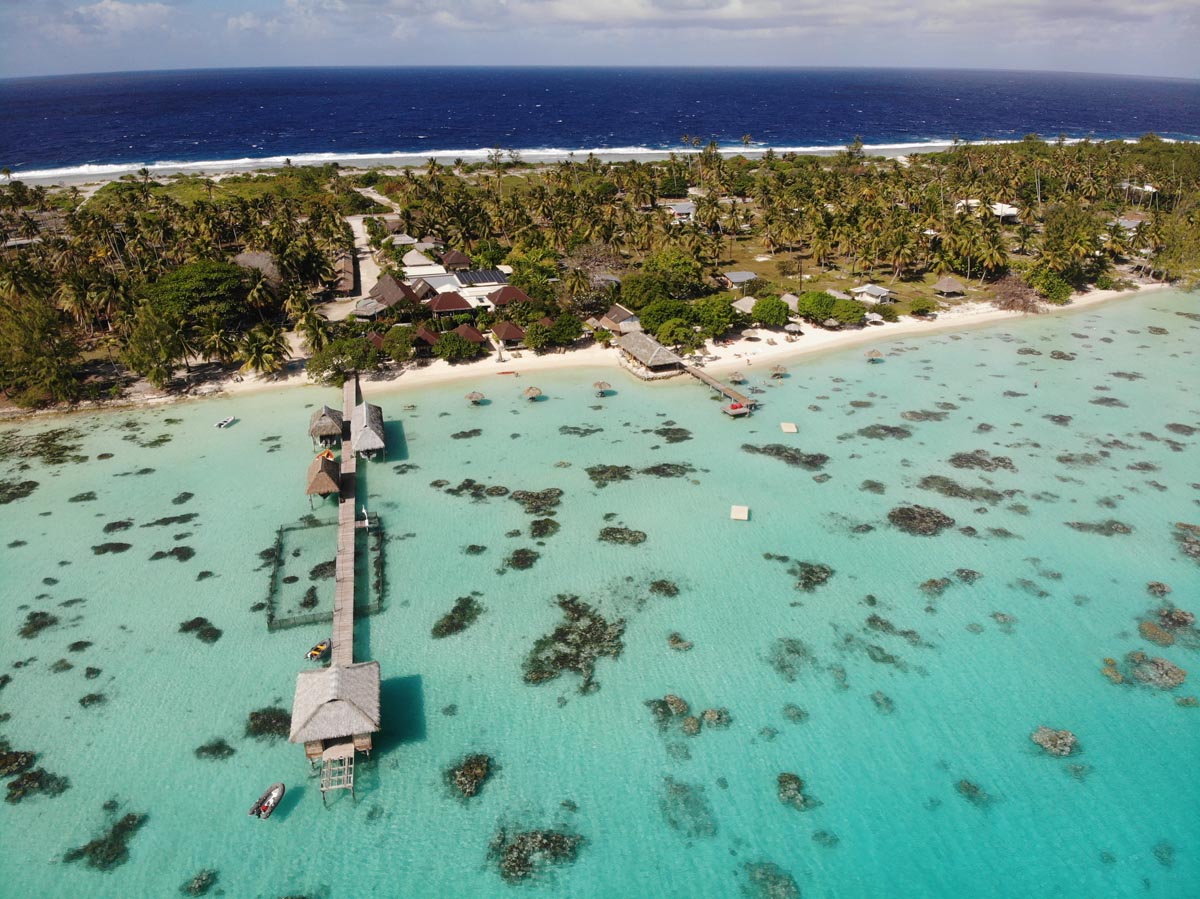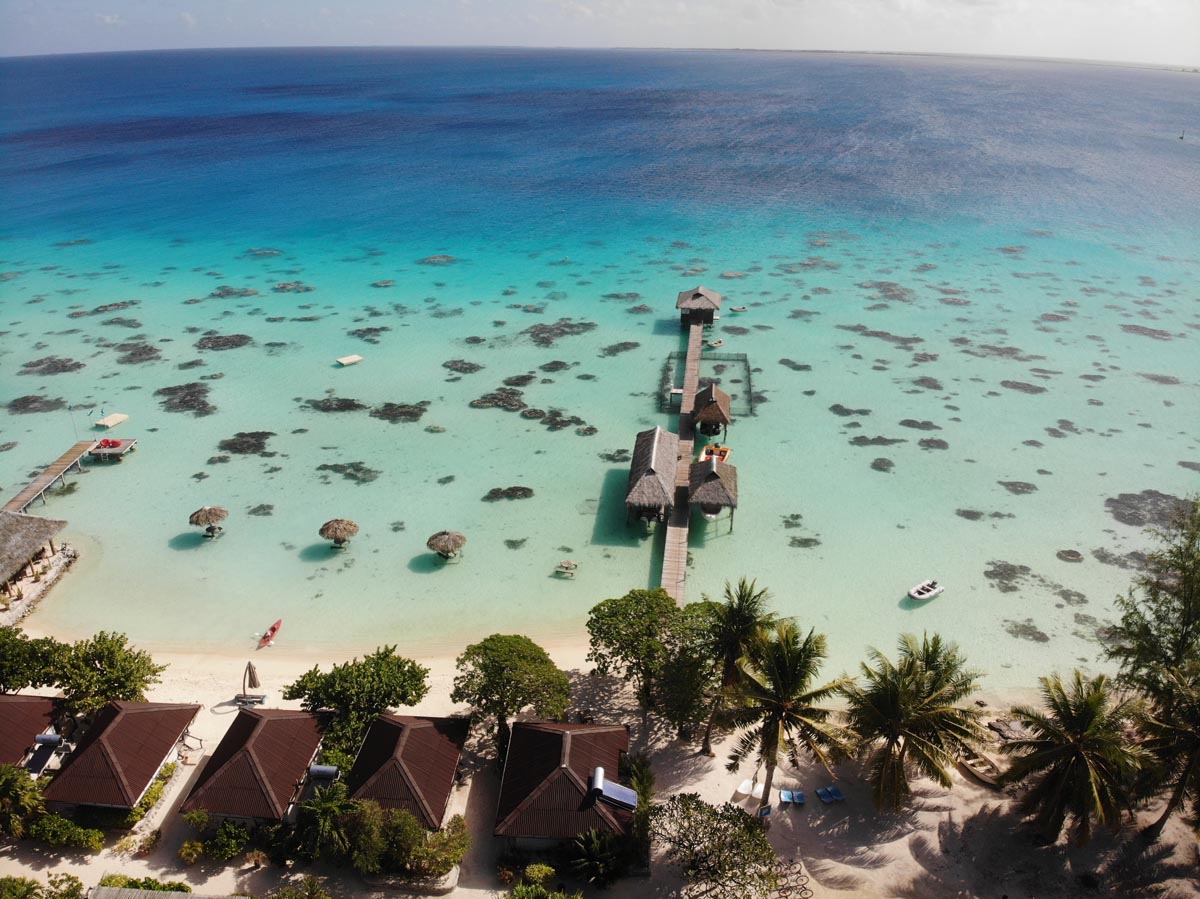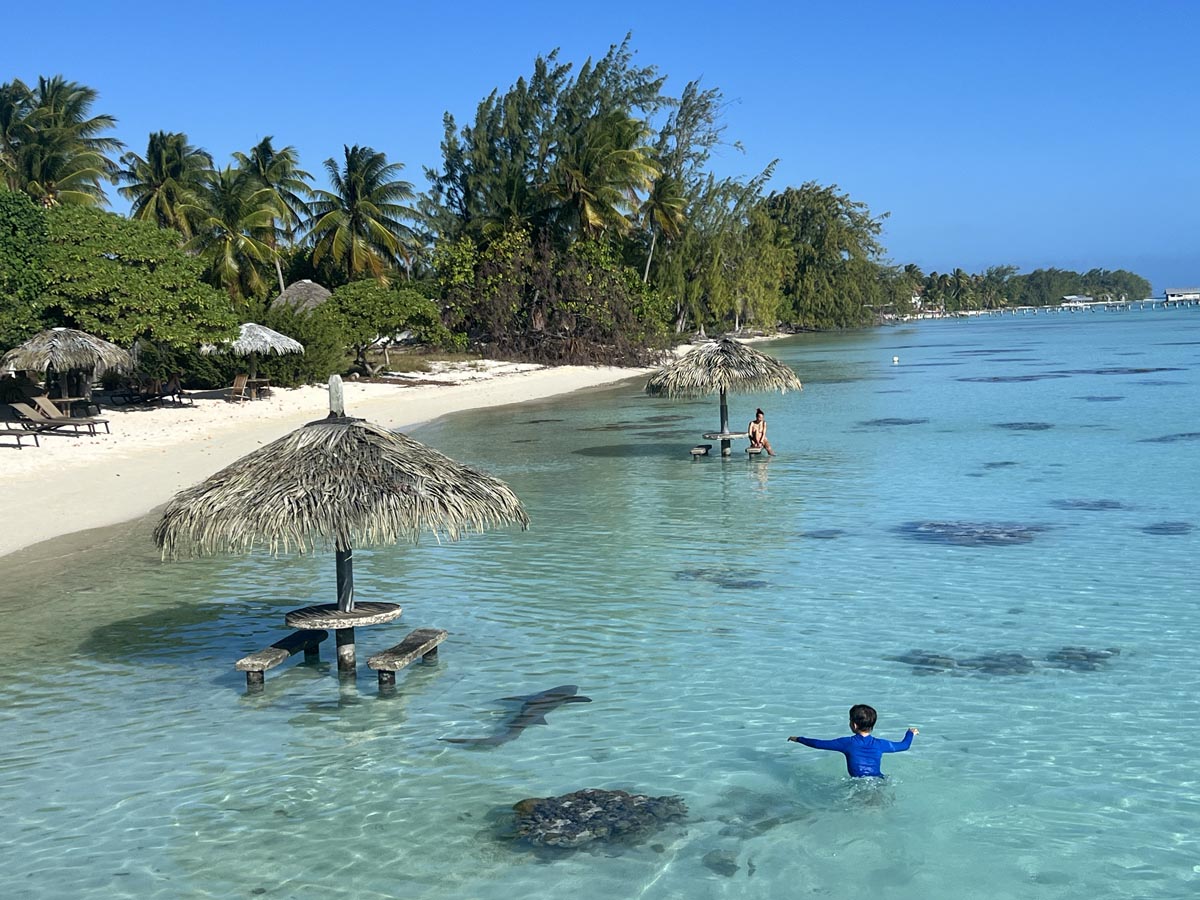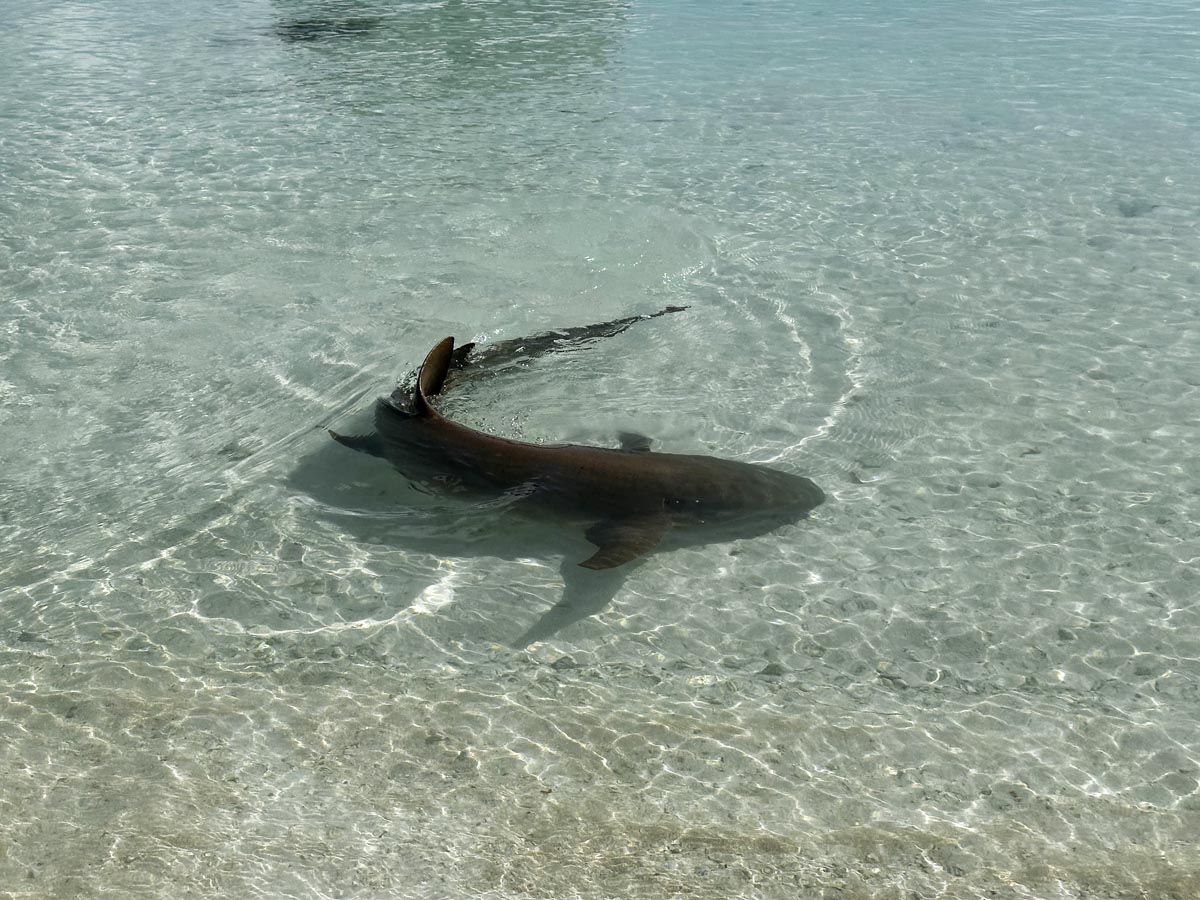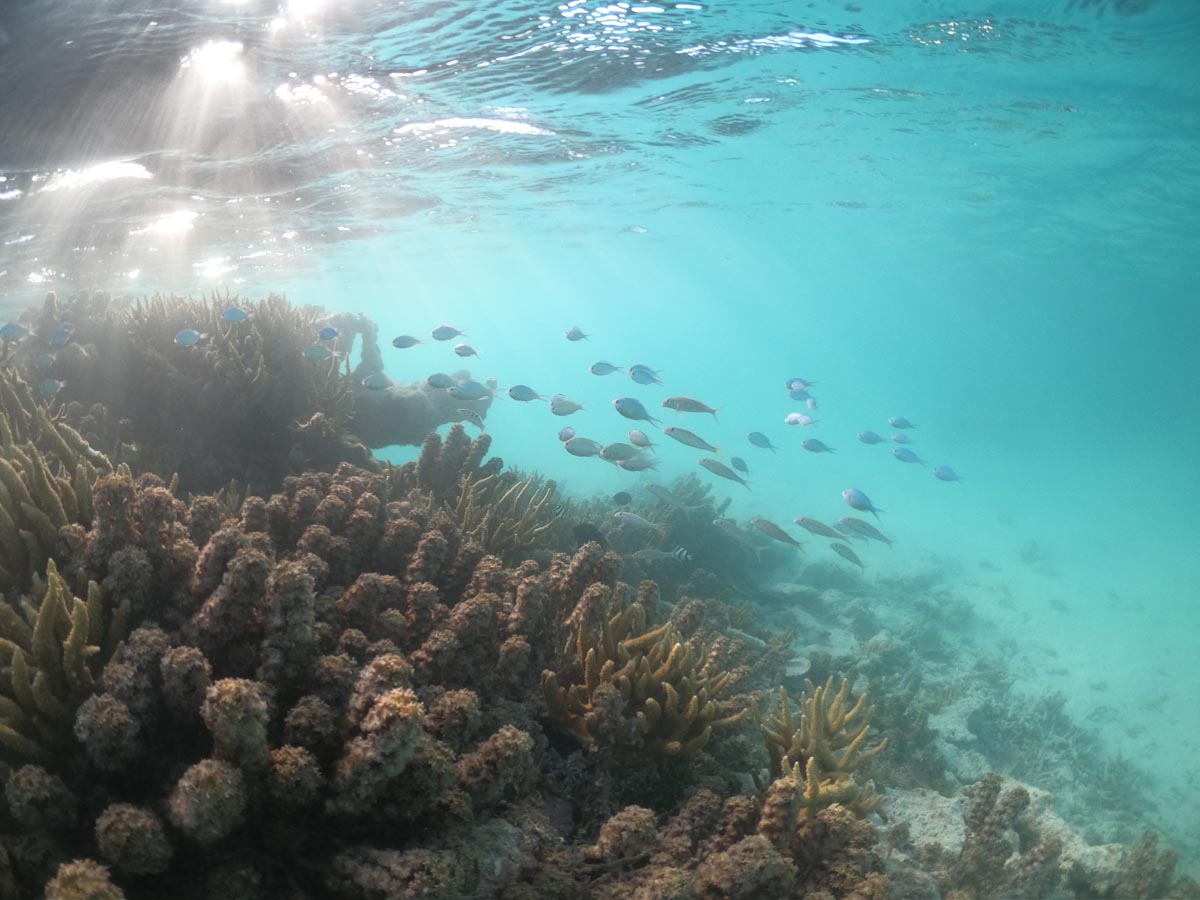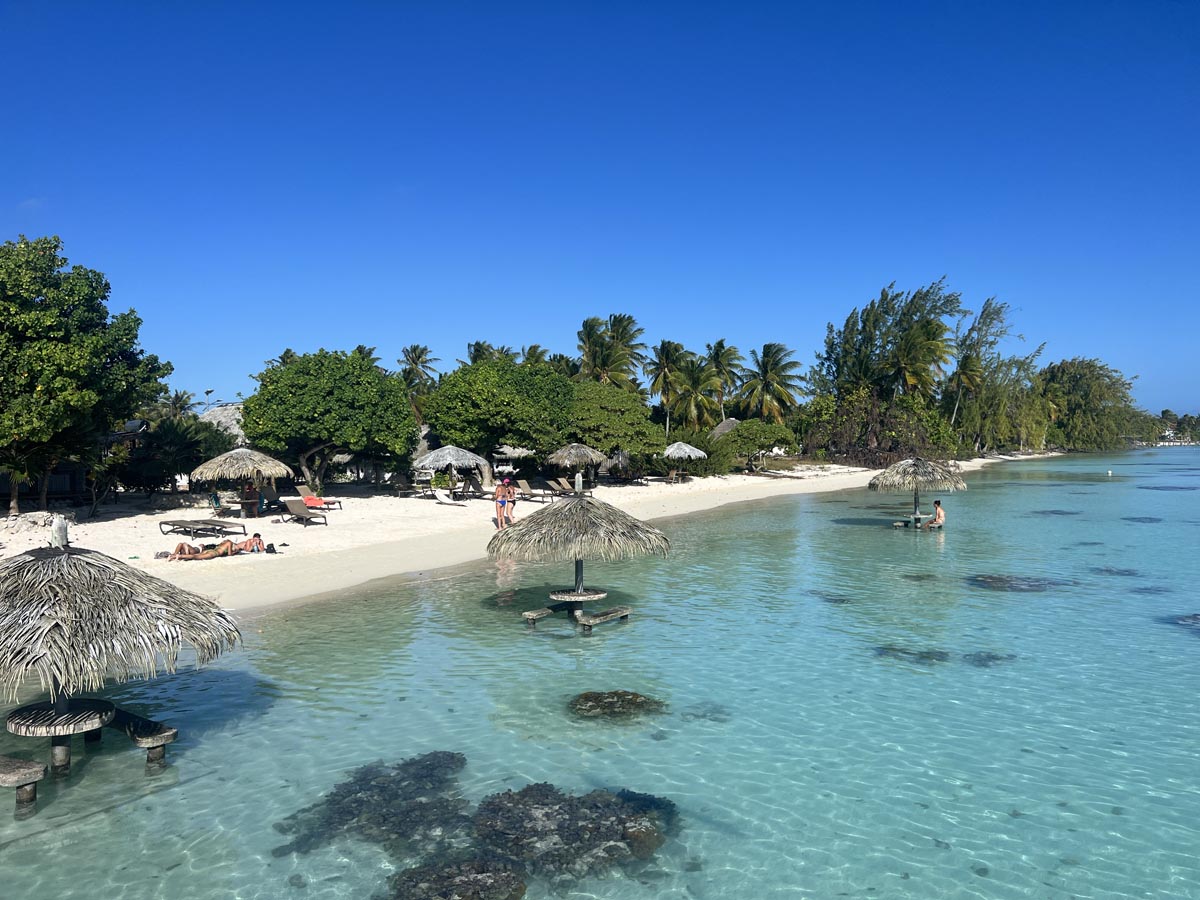 When we weren't diving or exploring this side of the atoll, Ella braved the sharks and paddle-boarded in the lagoon, cautiously worked on our tan, and enjoyed sunset cocktails on the dock doubling as a pearl farm.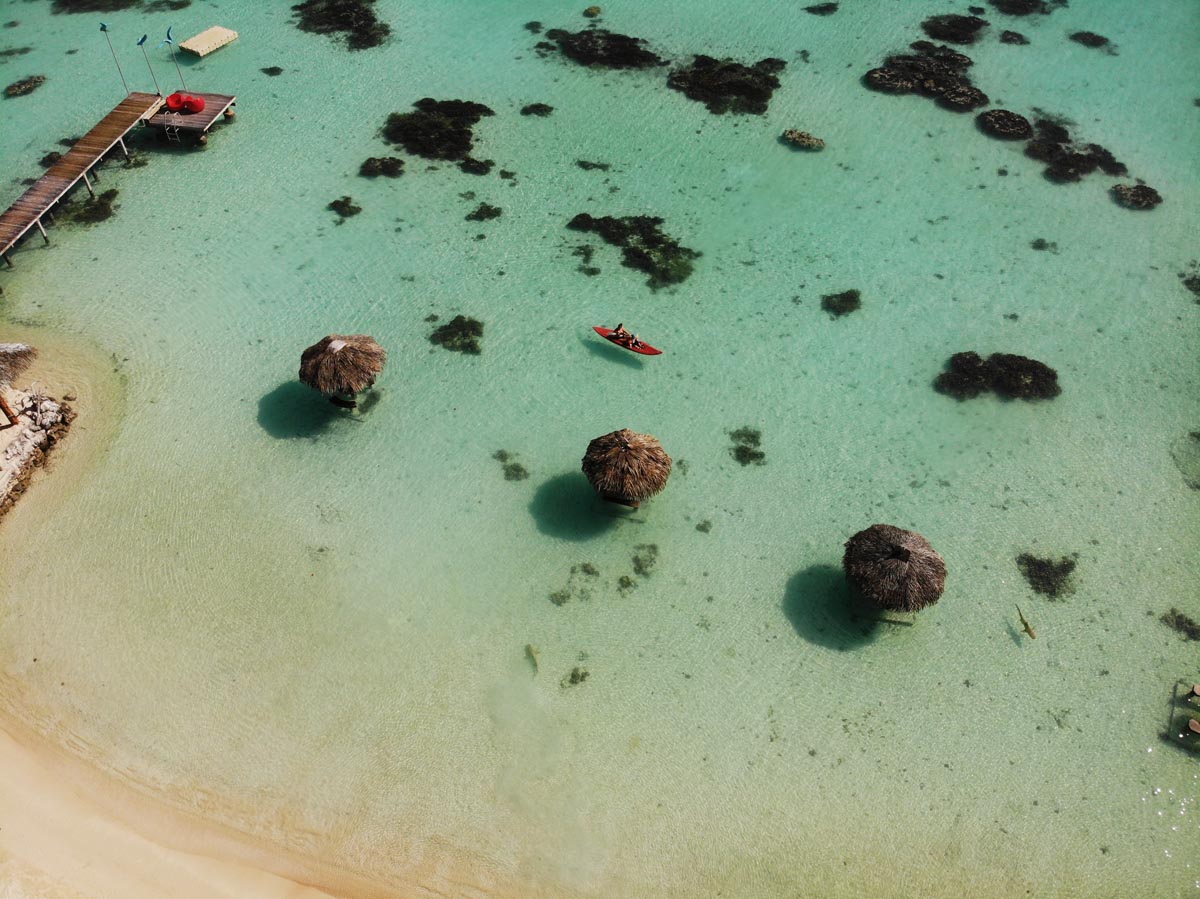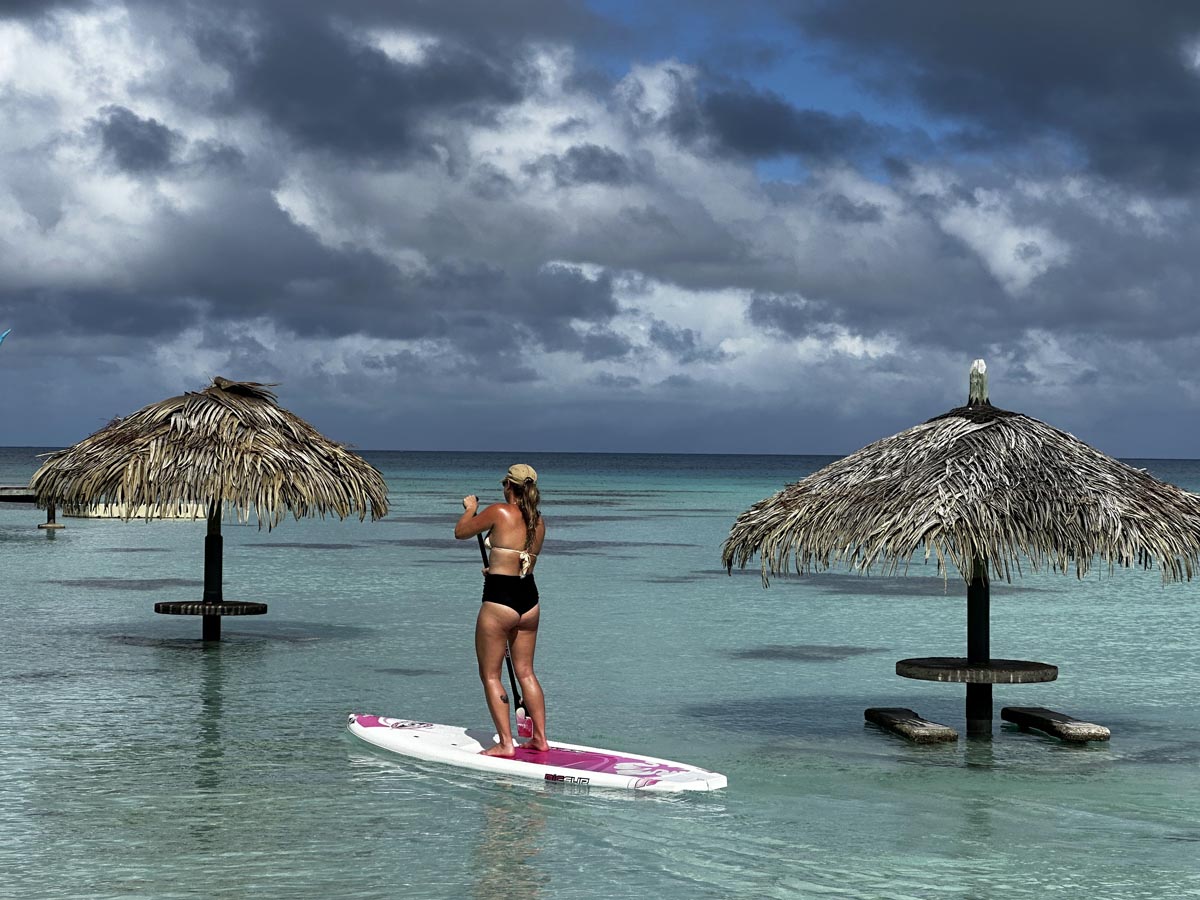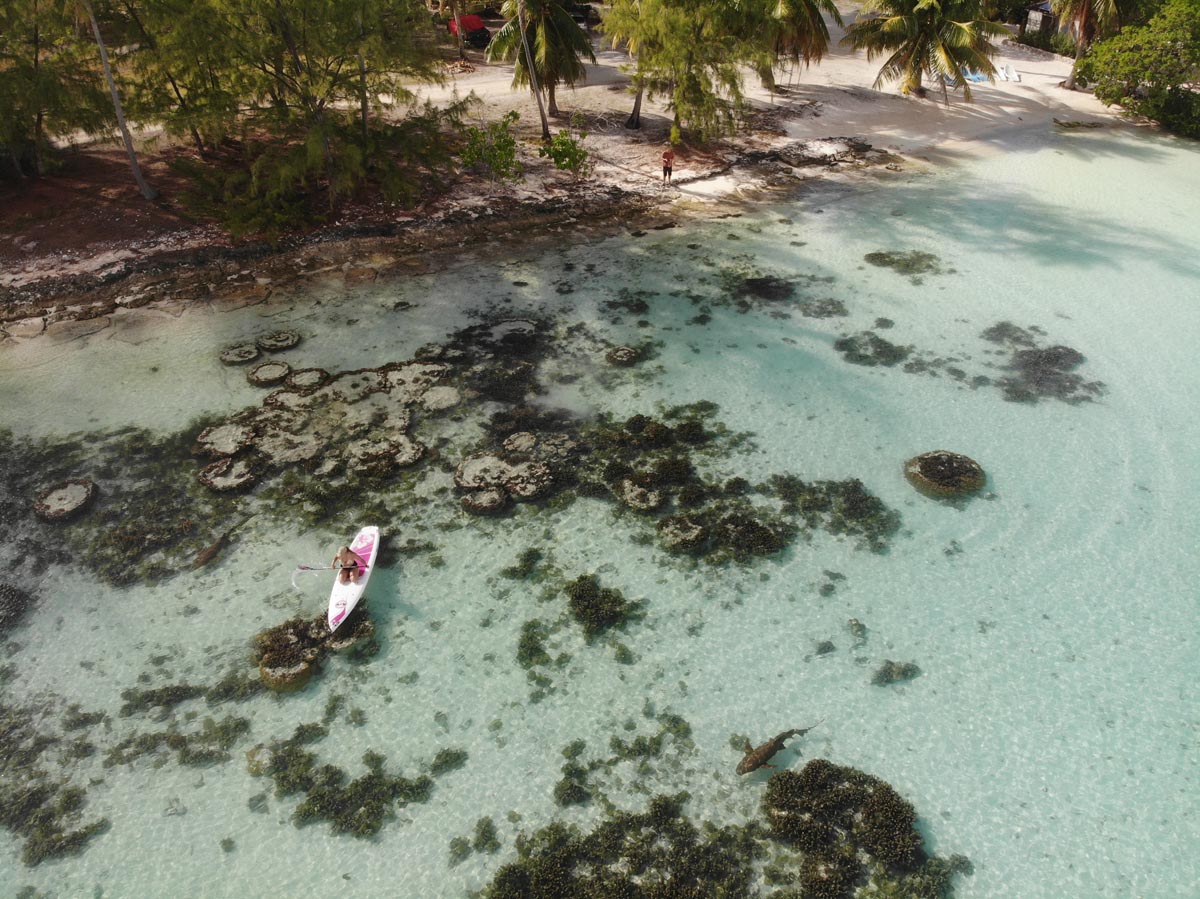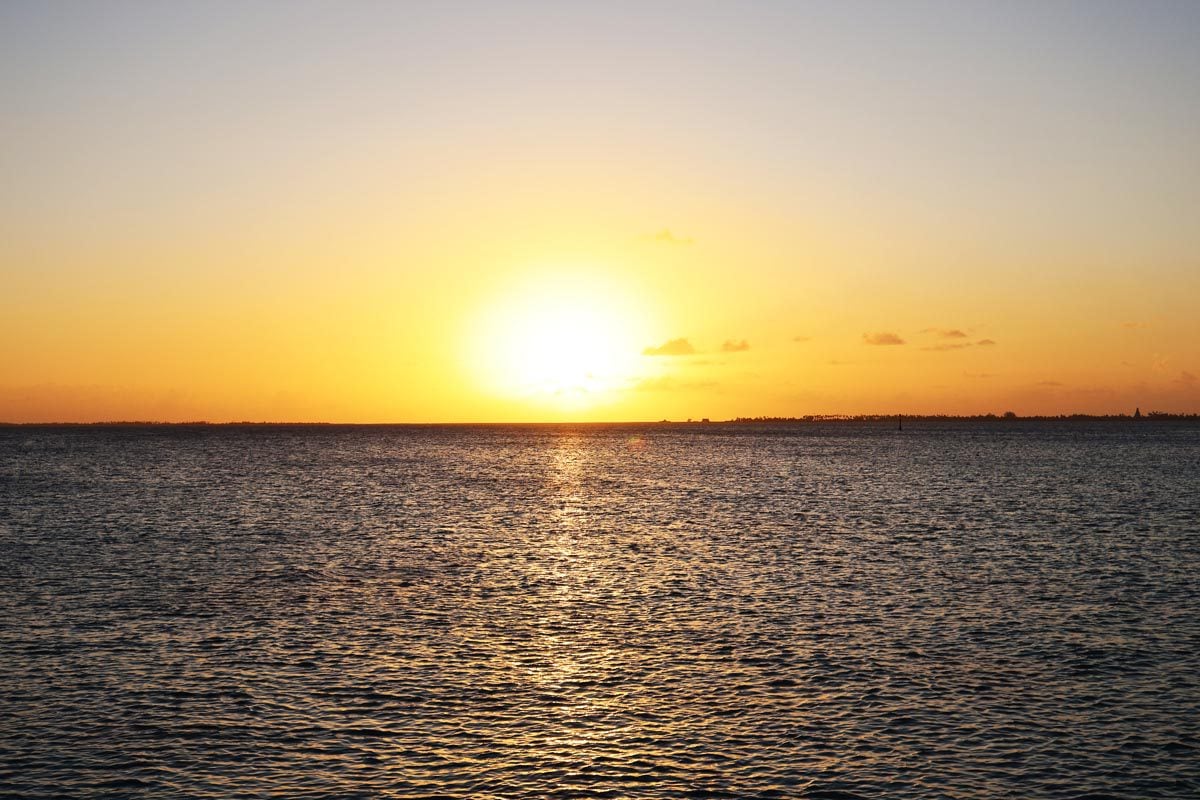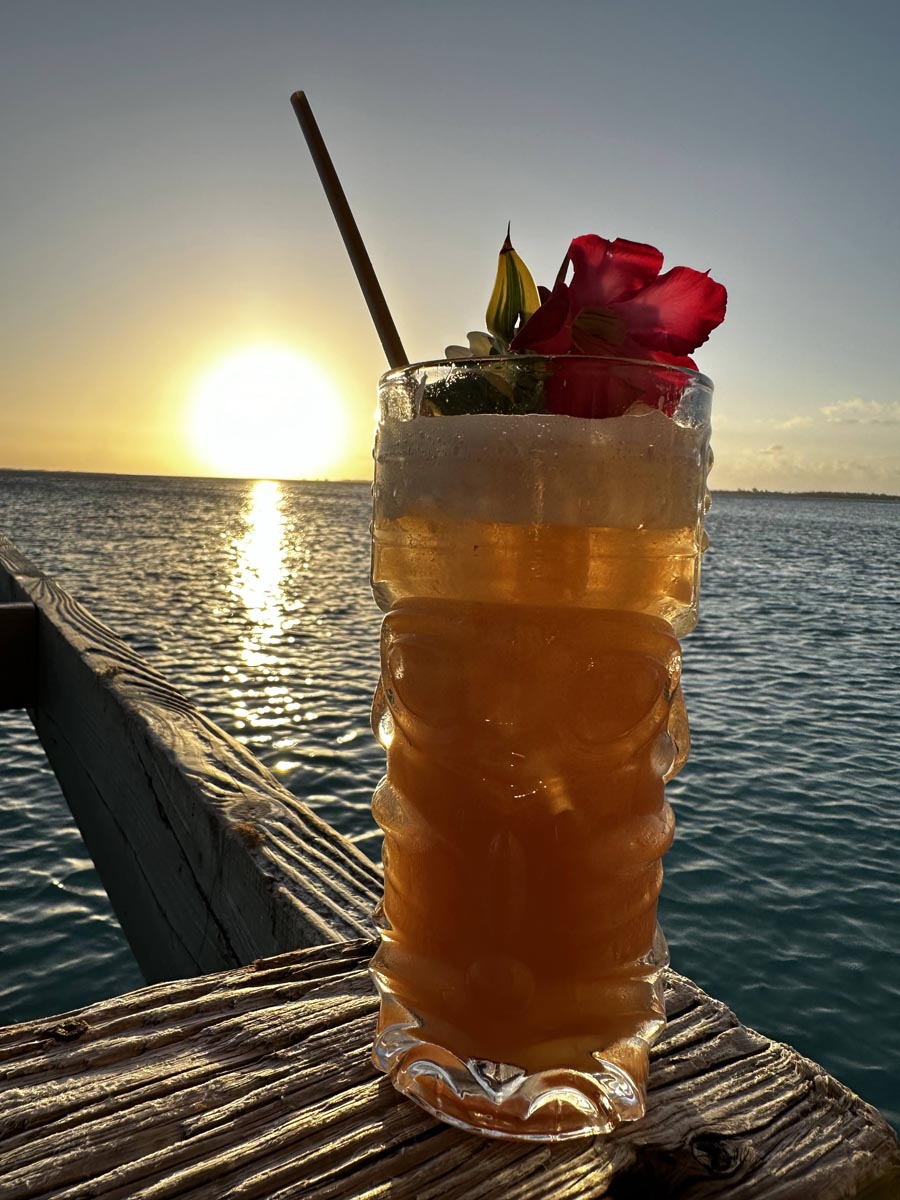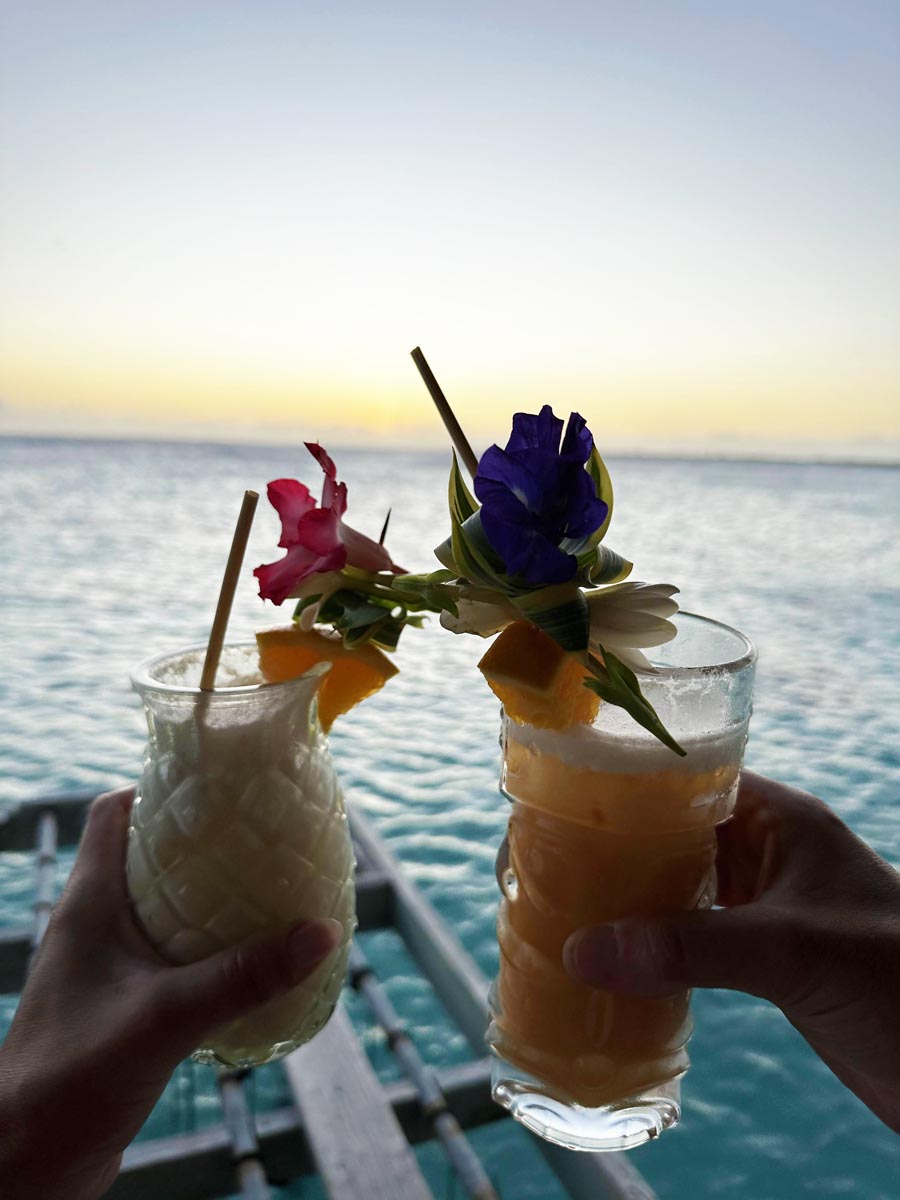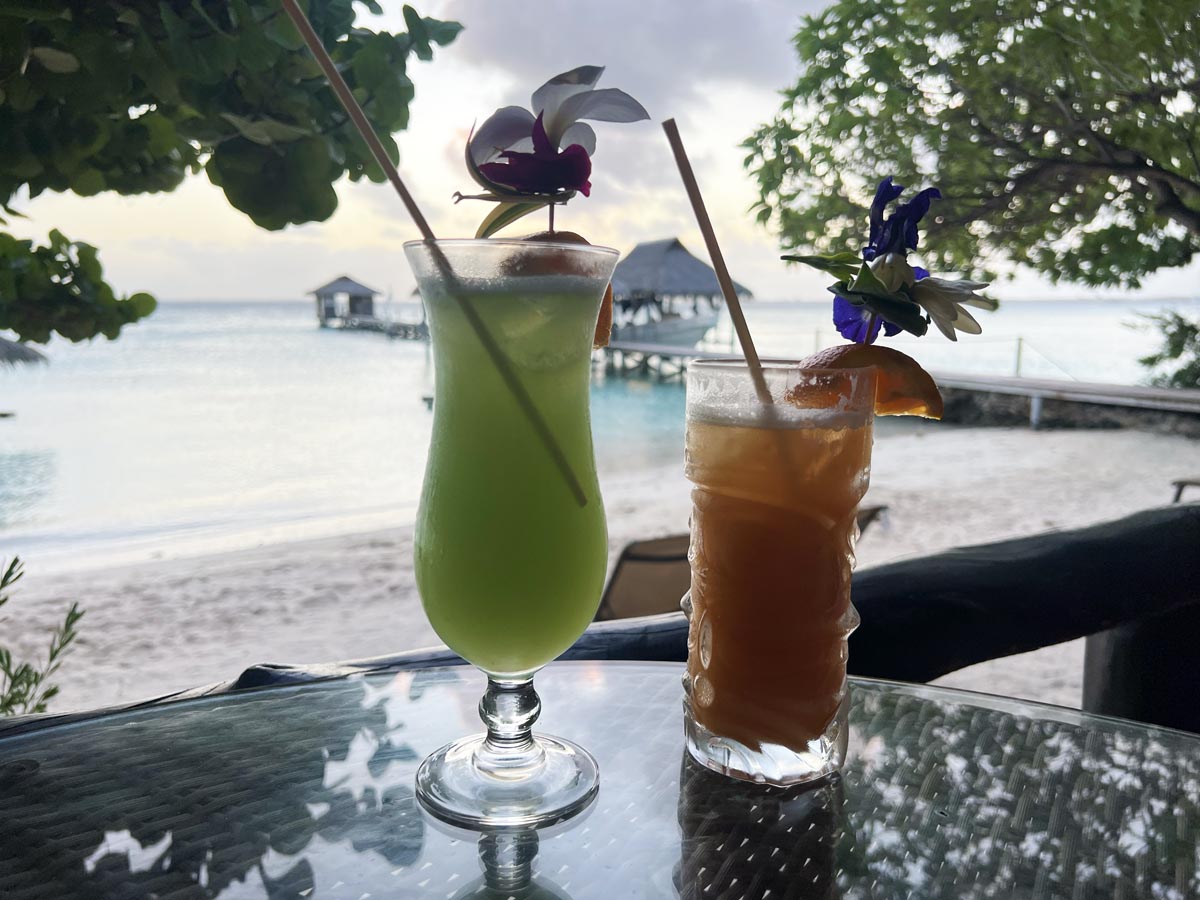 PK9 Beach
On the following day, we rented an electric scooter intending to reach PK9 Beach, one of the best beaches in French Polynesia. PK9 Beach is located in a remote location near the mouth of the north pass, nine kilometers from the main village. The drive to the beach requires a bit of offroading on coral dirt, but the adventure is well worth the effort. We even met a couple of young fishermen cleaning parrot fish they had caught with their harpoons in low tide.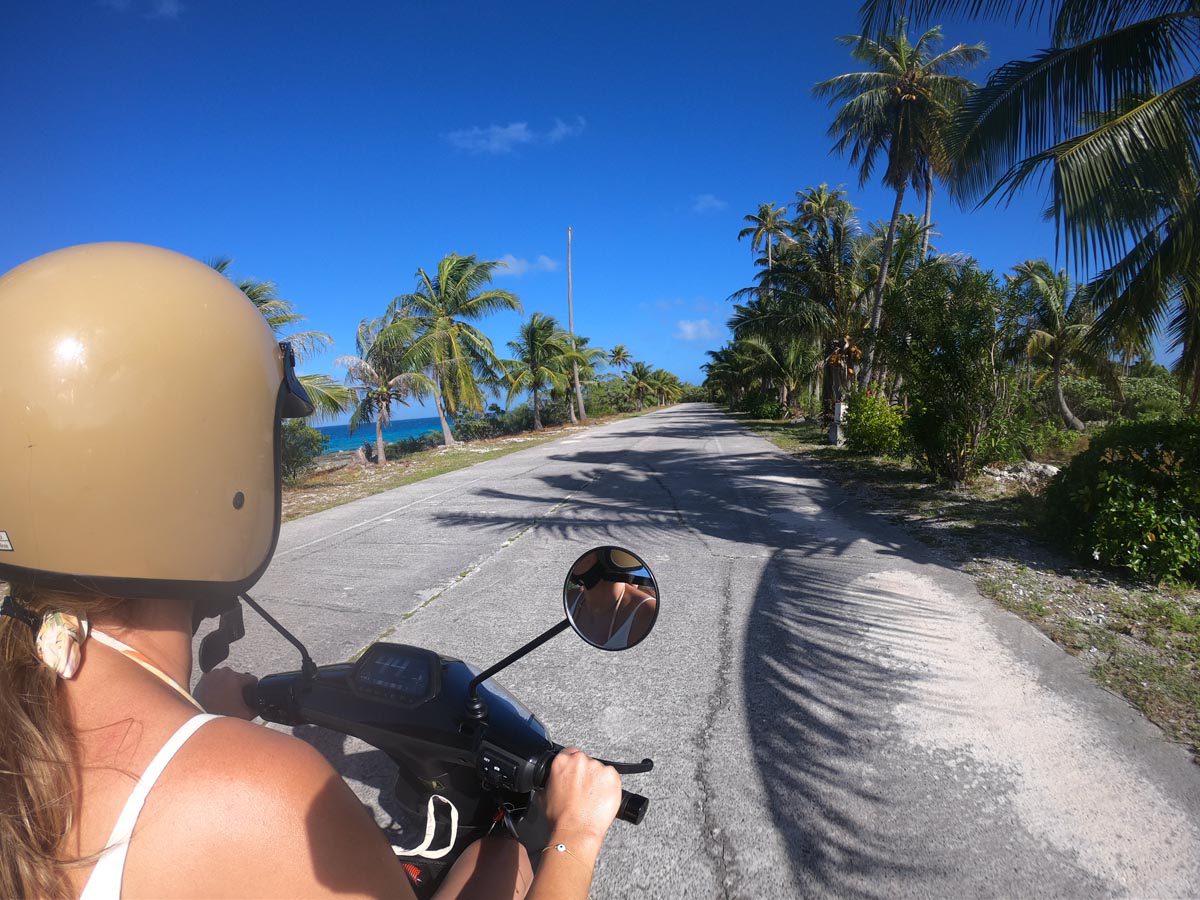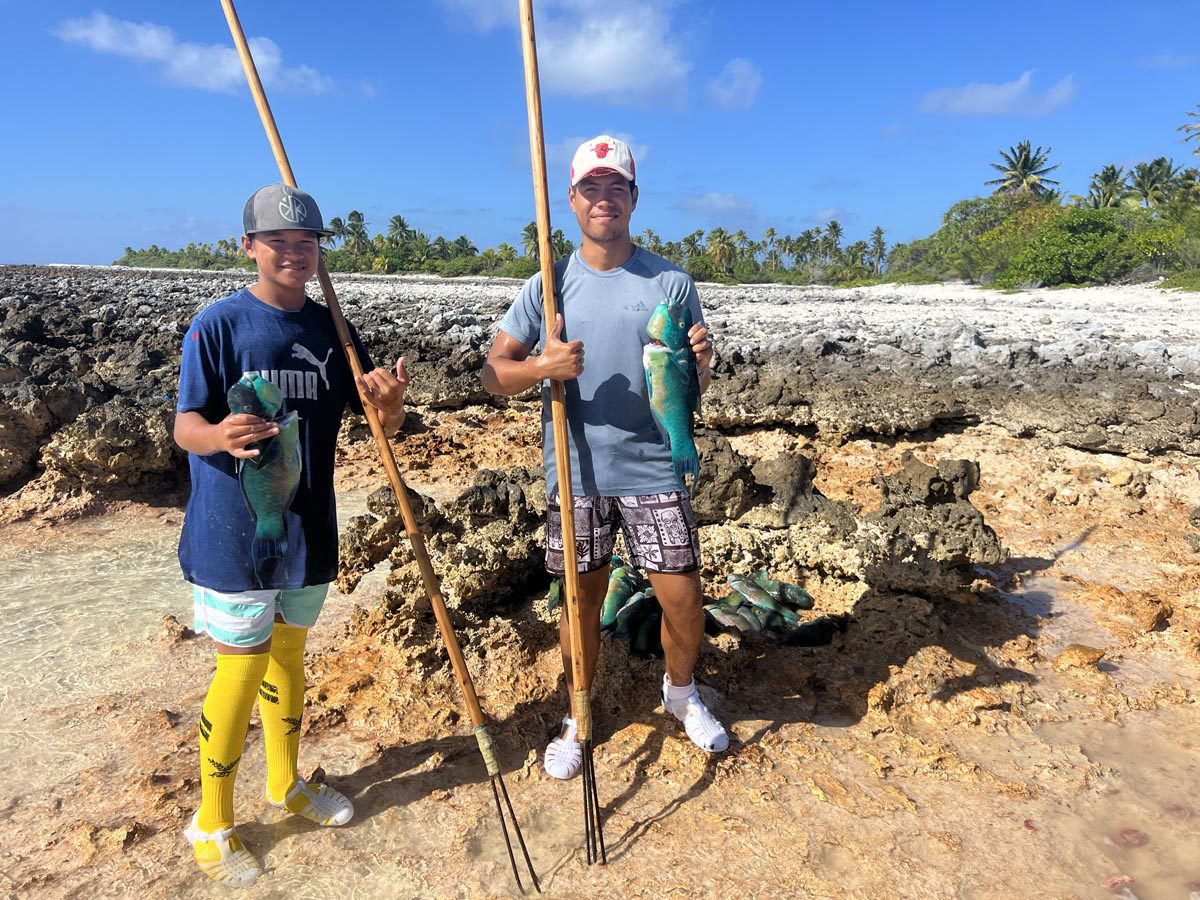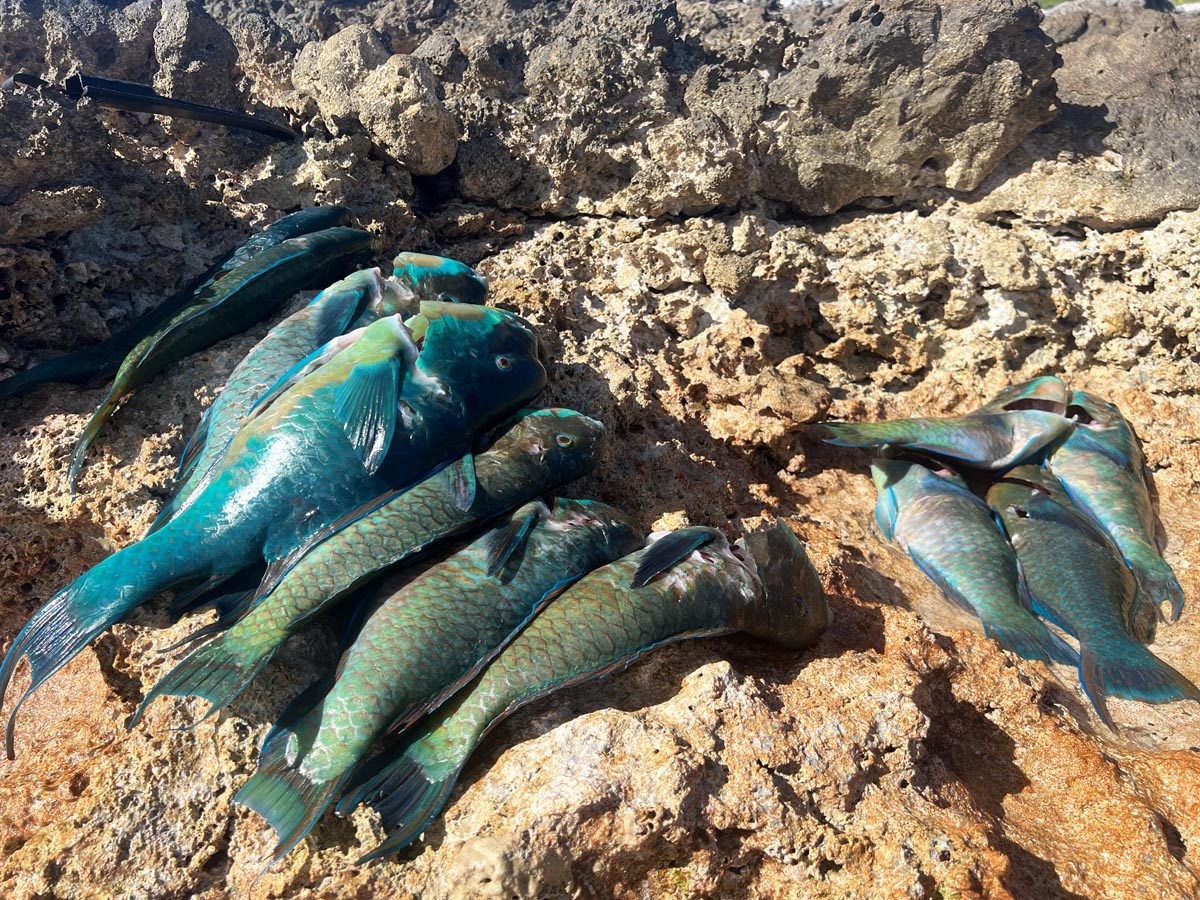 PK9 Beach was glorious, even on an extremely windy day. It really doesn't get any better than this, especially with the perfectly curved palm tree that extends into the lagoon like an overwater bungalow. We spent the entire day isolated in this perfect spot before returning to the Havaiki Lodge for sunset cocktails.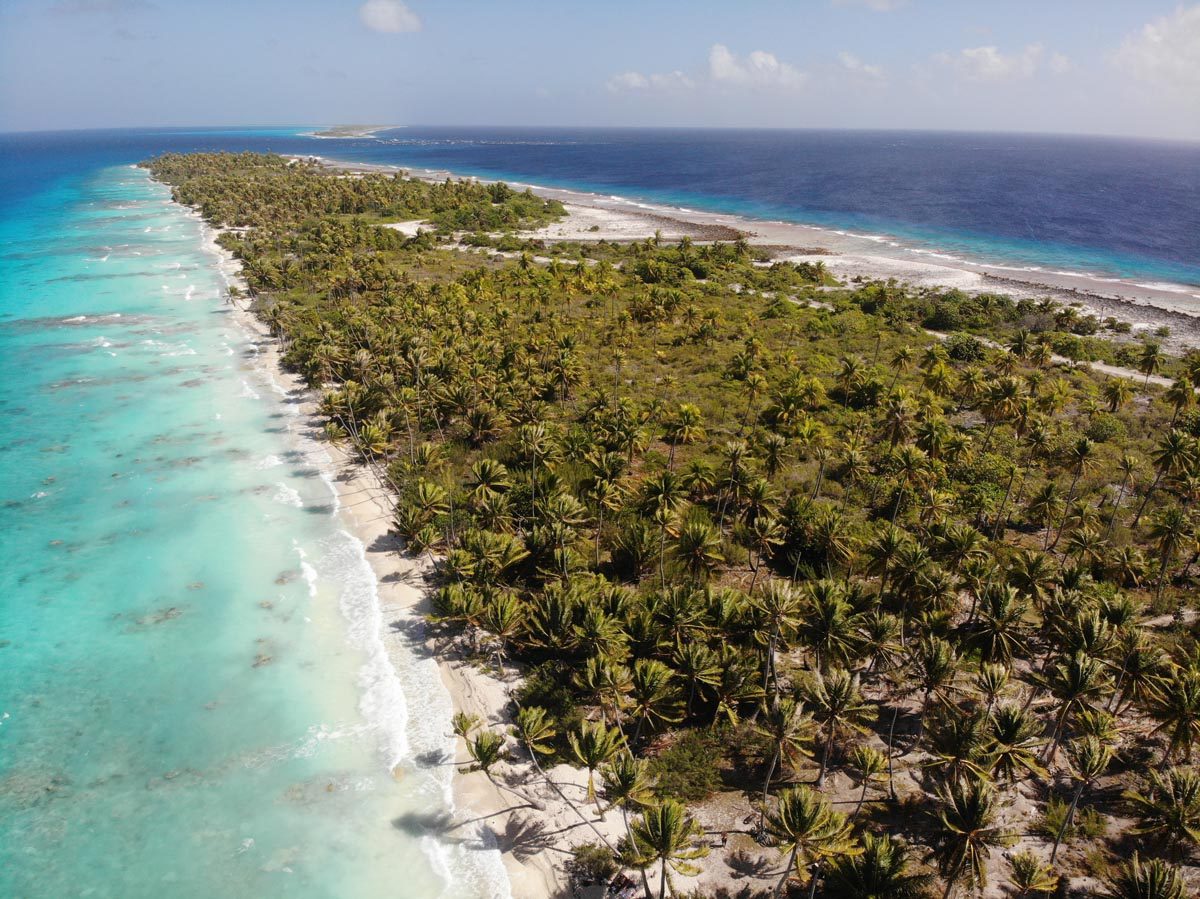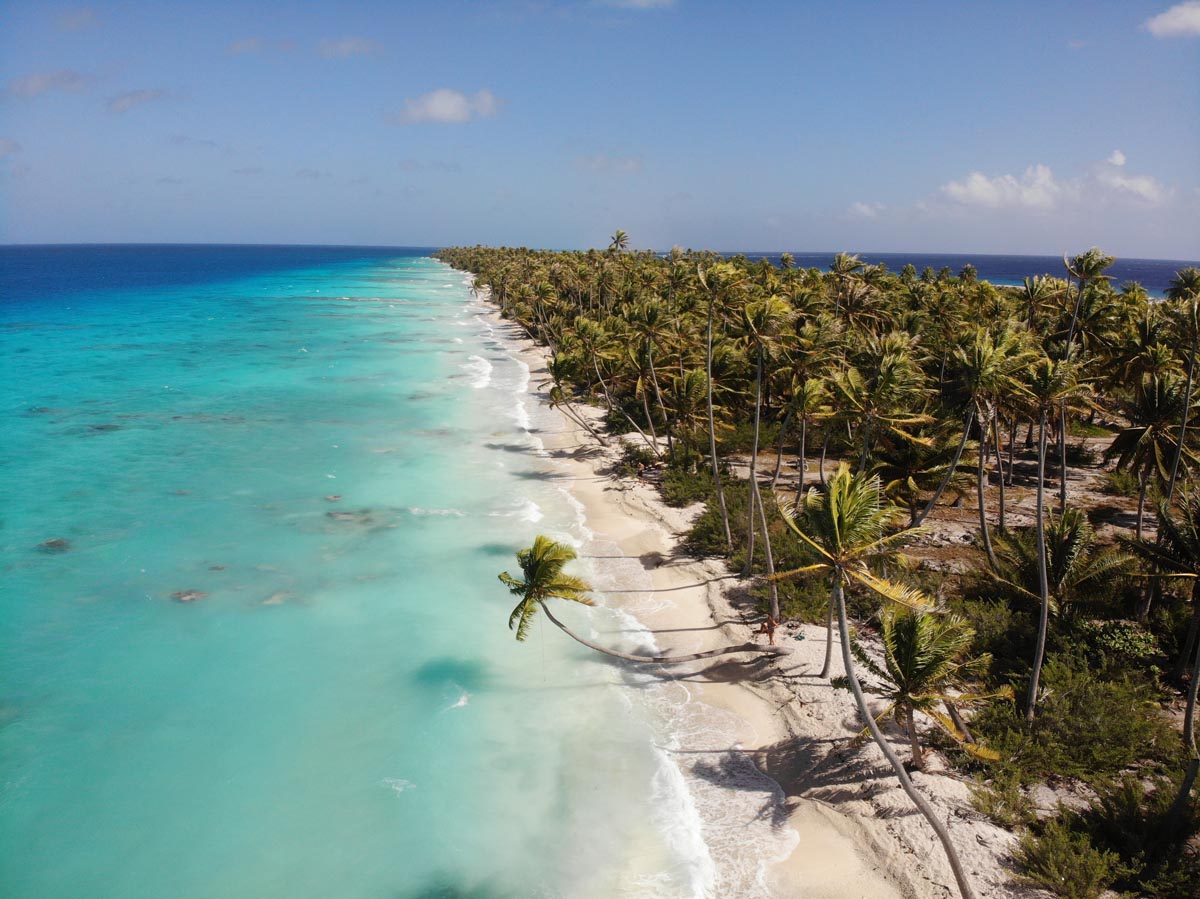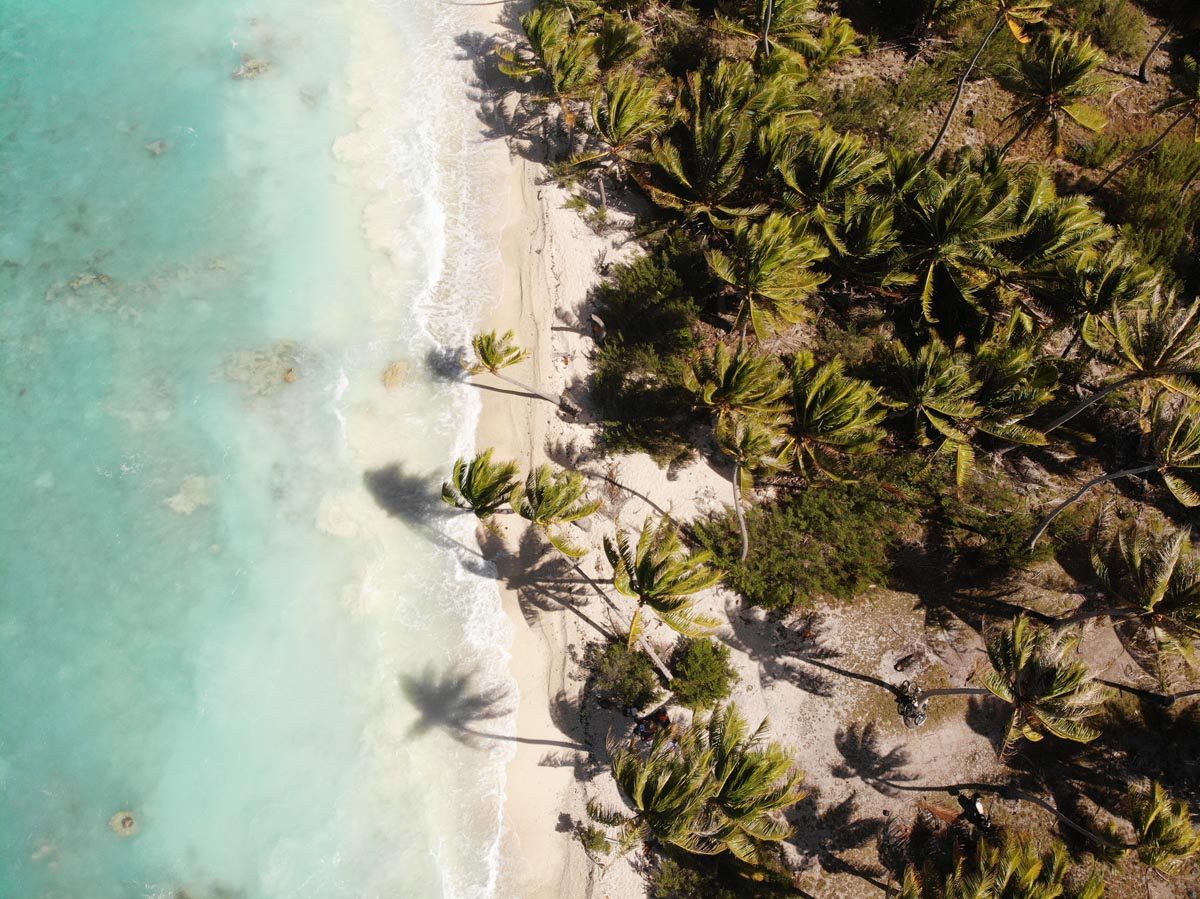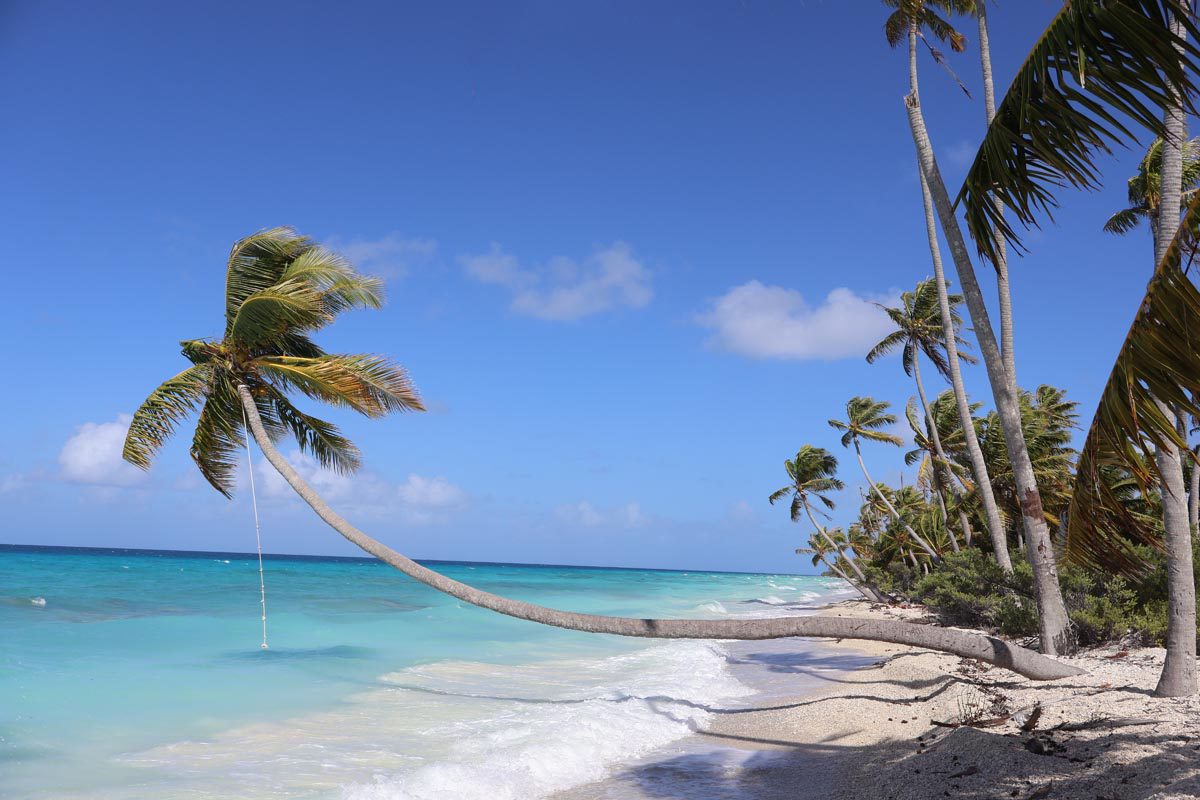 Scuba Diving in Fakarava North
The last pair of dives on our honeymoon in Tahiti were in the Garuae Pass, the widest lagoon pass in French Polynesia. The enormous amount of water that flows in and out of the lagoon through this pass creates superb diving conditions and the opportunity to witness one of the busiest coral reefs in the world.
Our first dive began with a rare sighting of a hammerhead shark but was mostly filled with close encounters with massive schools of fish and hundreds of sharks. We rode the strong outgoing current and flew like Superman back to our boat anchored just outside the pass. Our second dive was a lot more relaxing, going for a gentle "stroll" in the magnificent coral garden that is home to a caleidoscope of corals and marine life.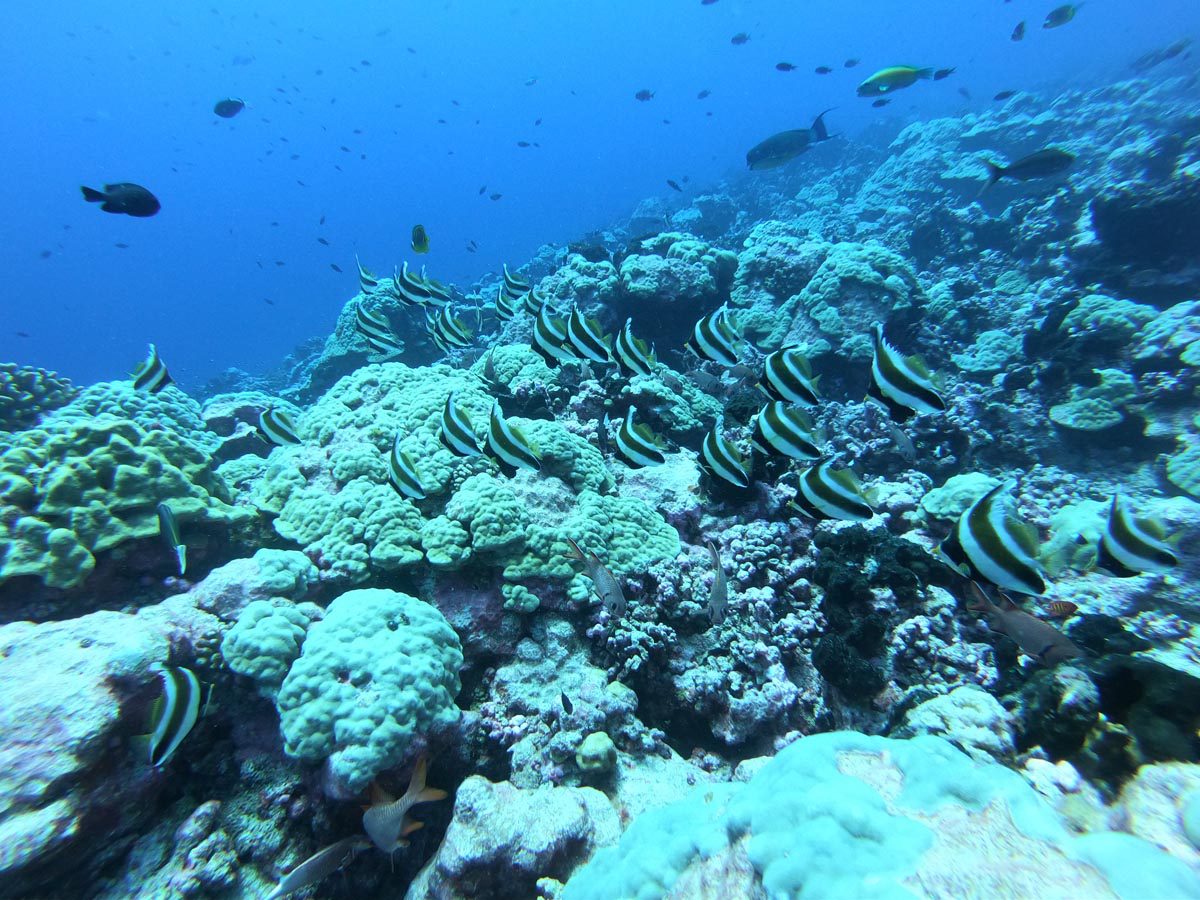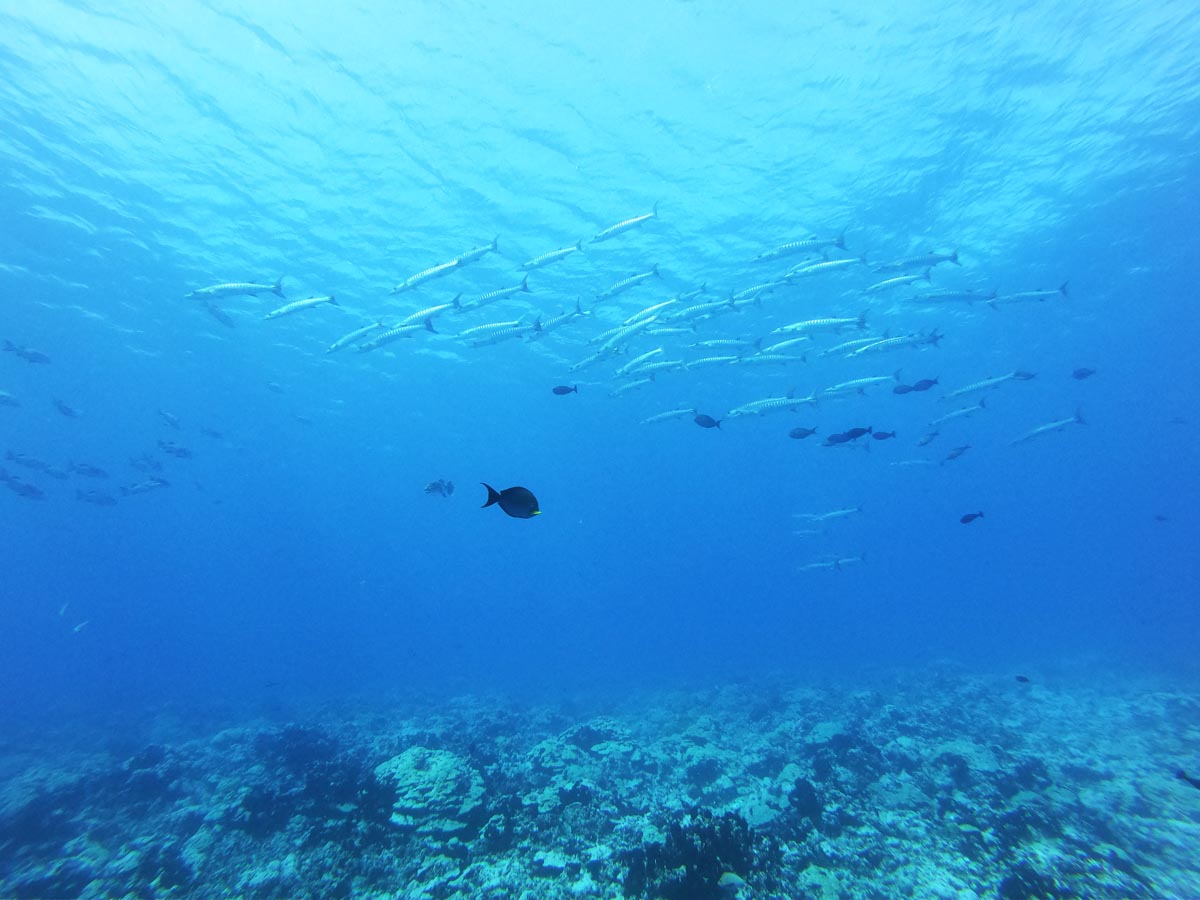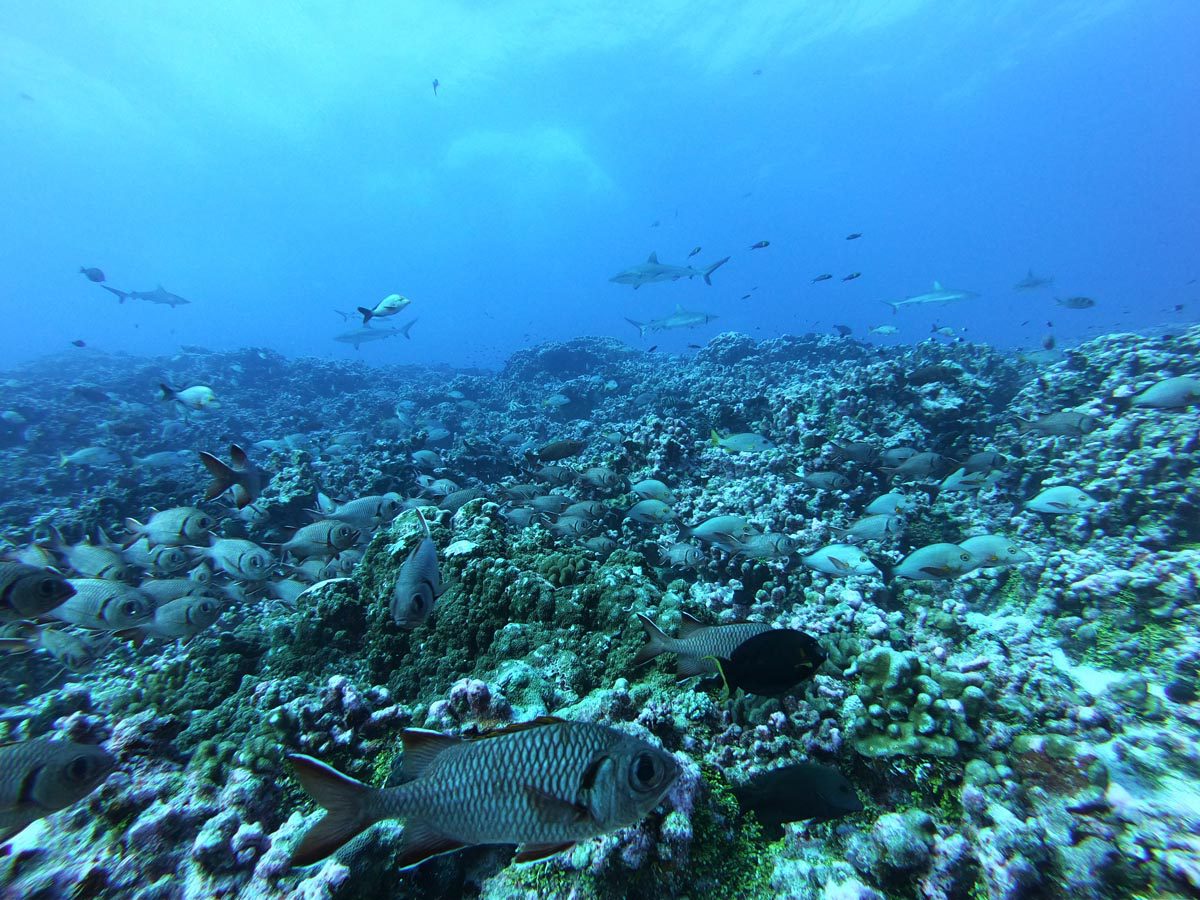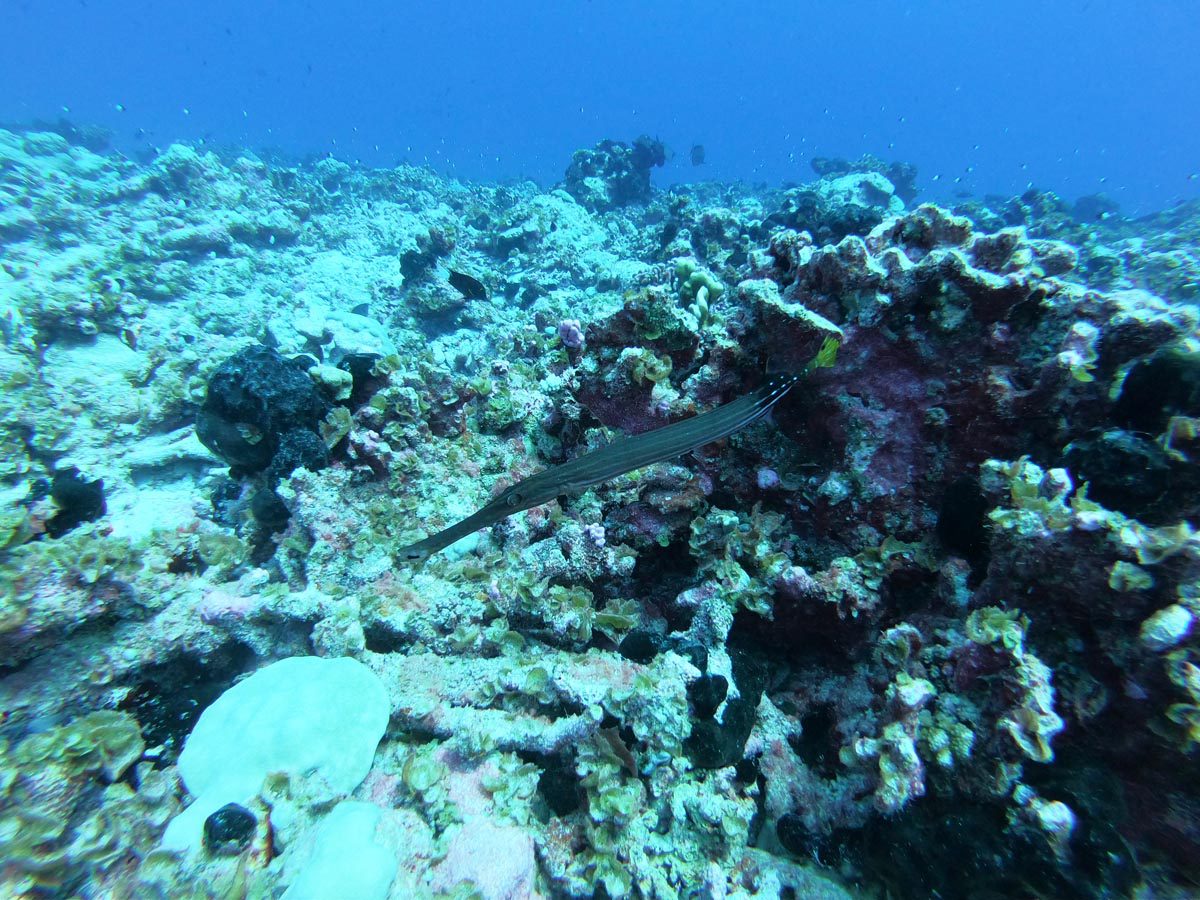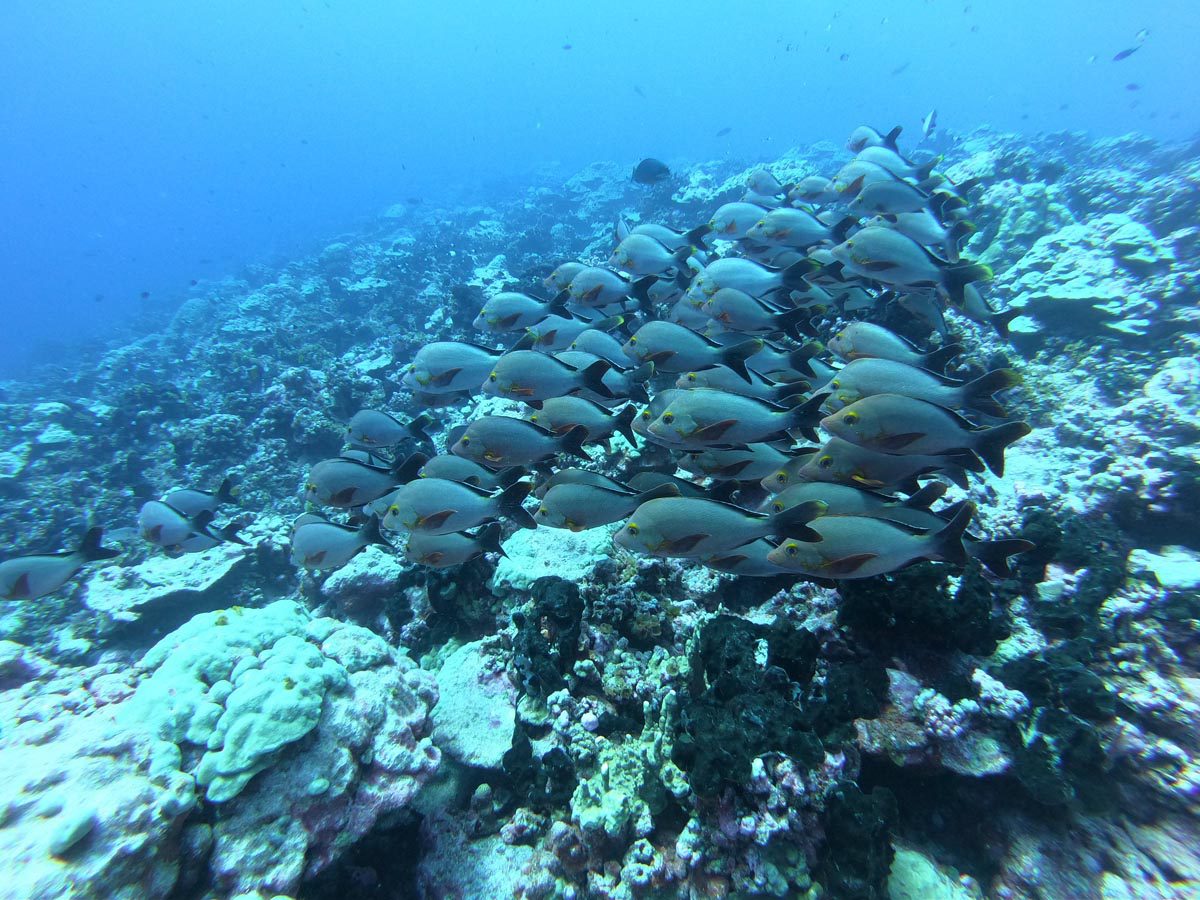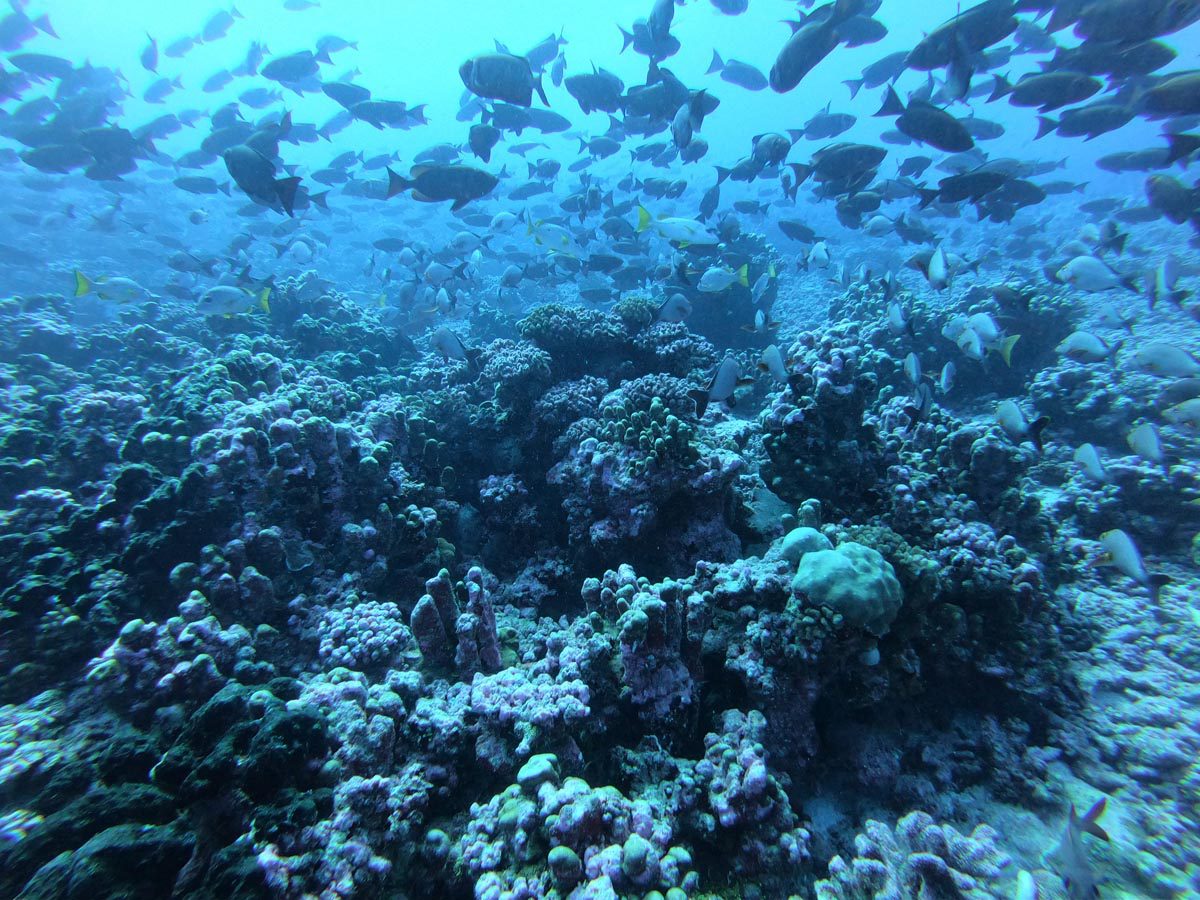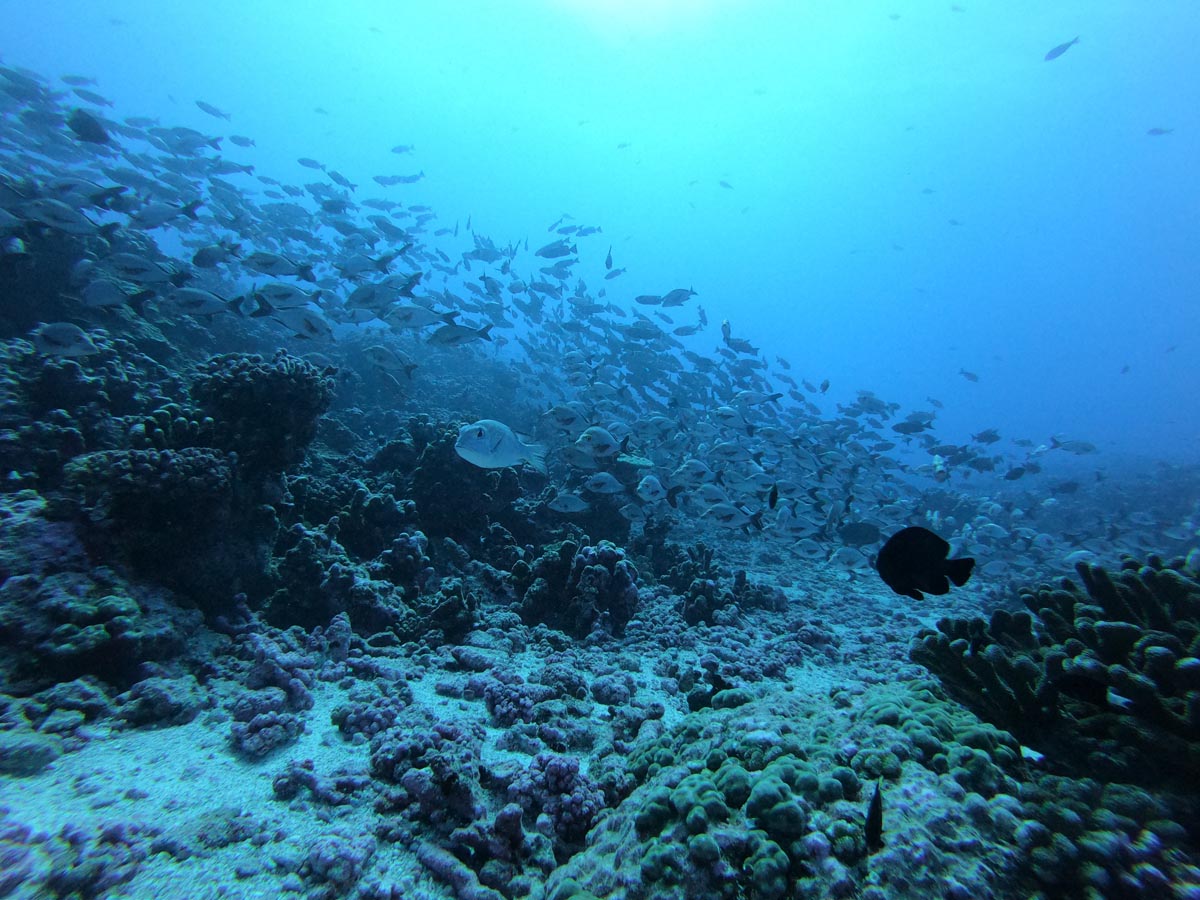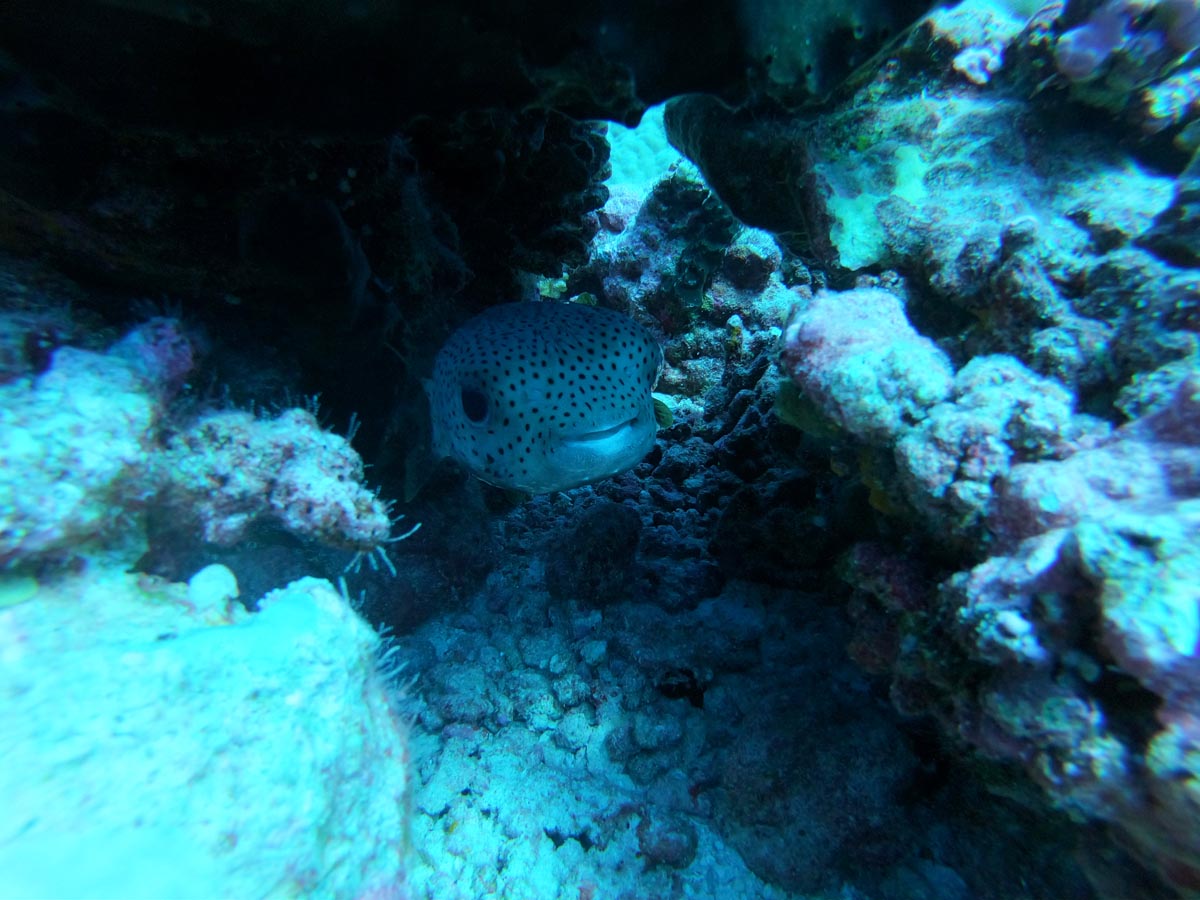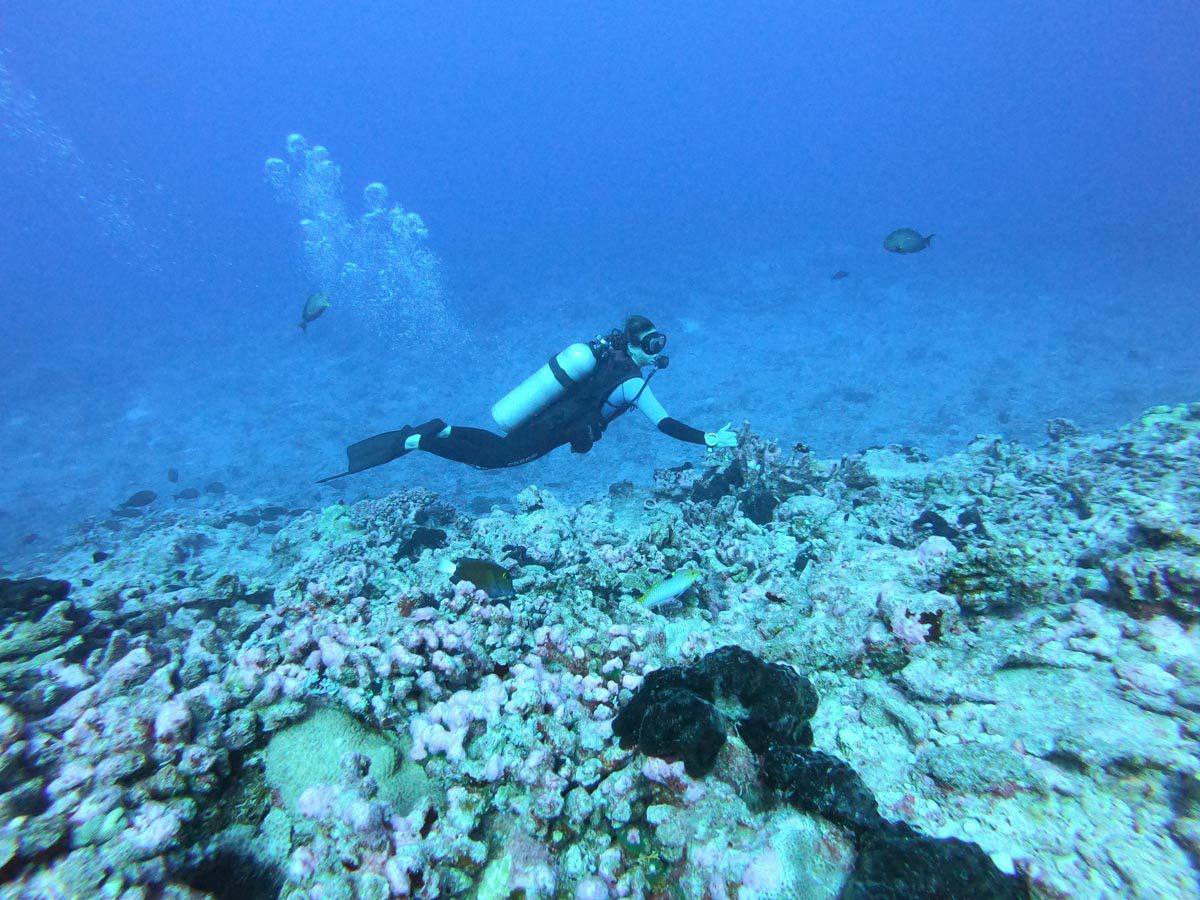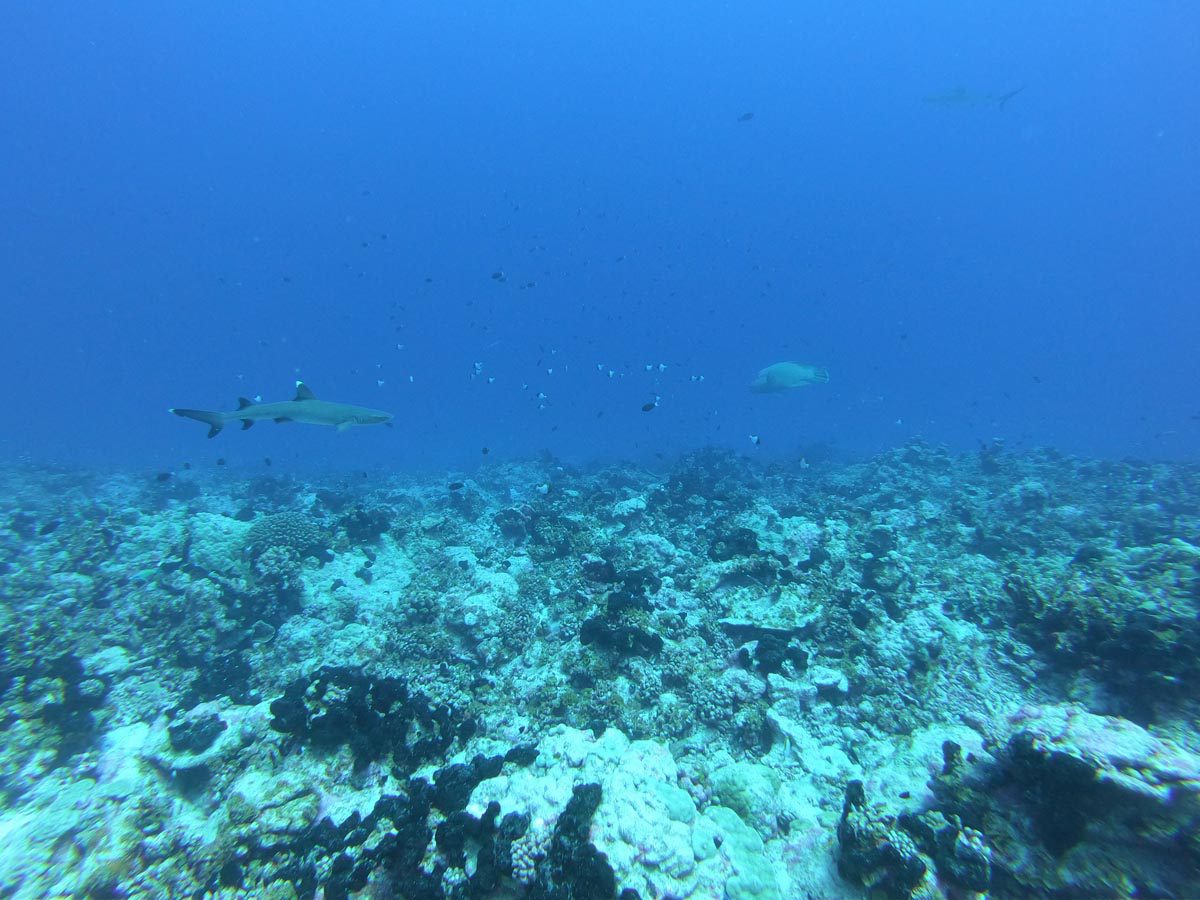 The Heiva Festival in Tahiti
The second part of our honeymoon in Tahiti was devoted to the Society Islands, French Polynesia's most famous archipelago. The Society Islands are home to high islands with breathtaking "skylines" thanks to their mountainous interior, shaped by the forces of nature into beautiful "sculptures." Each island is surrounded by a barrier reef, creating an inner lagoon that greatly varies in size. These are the "classic" islands, the likes of which include Bora Bora.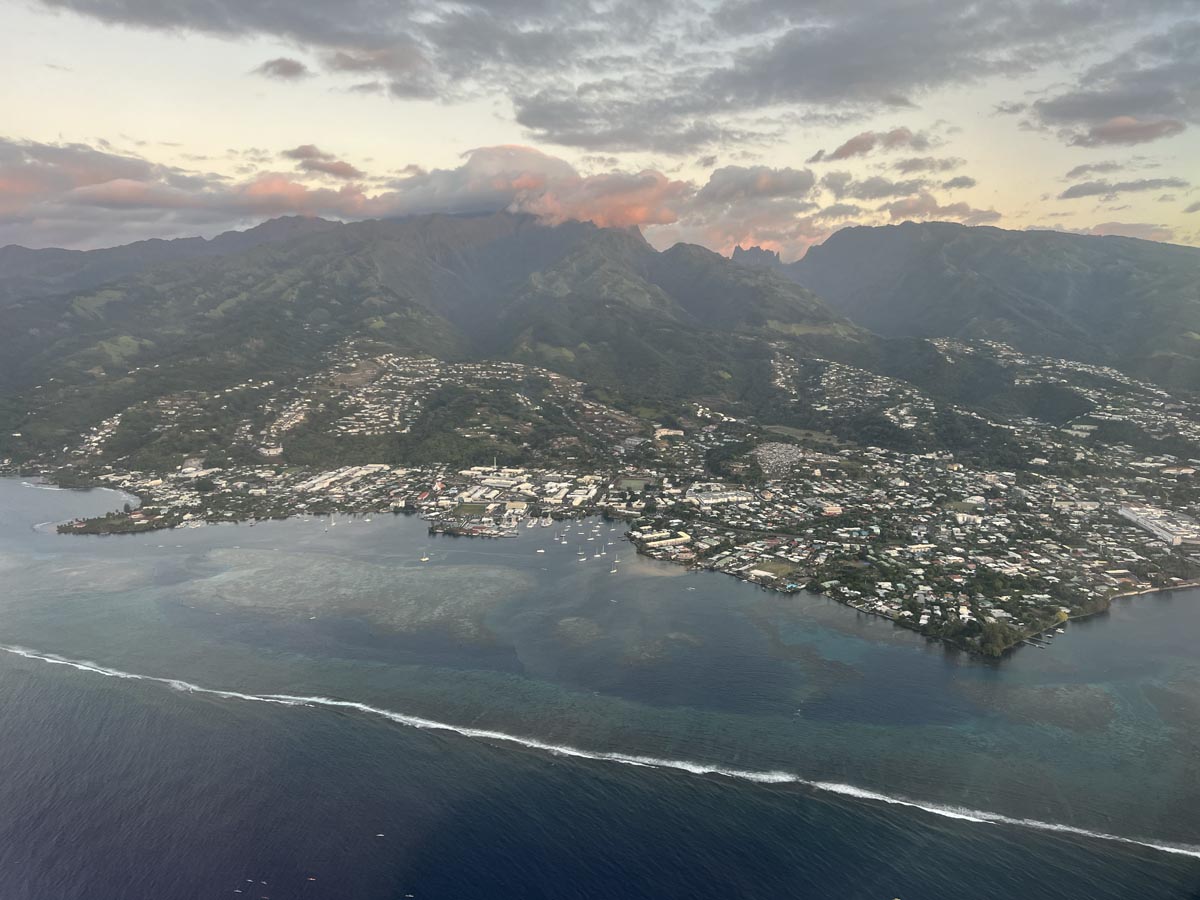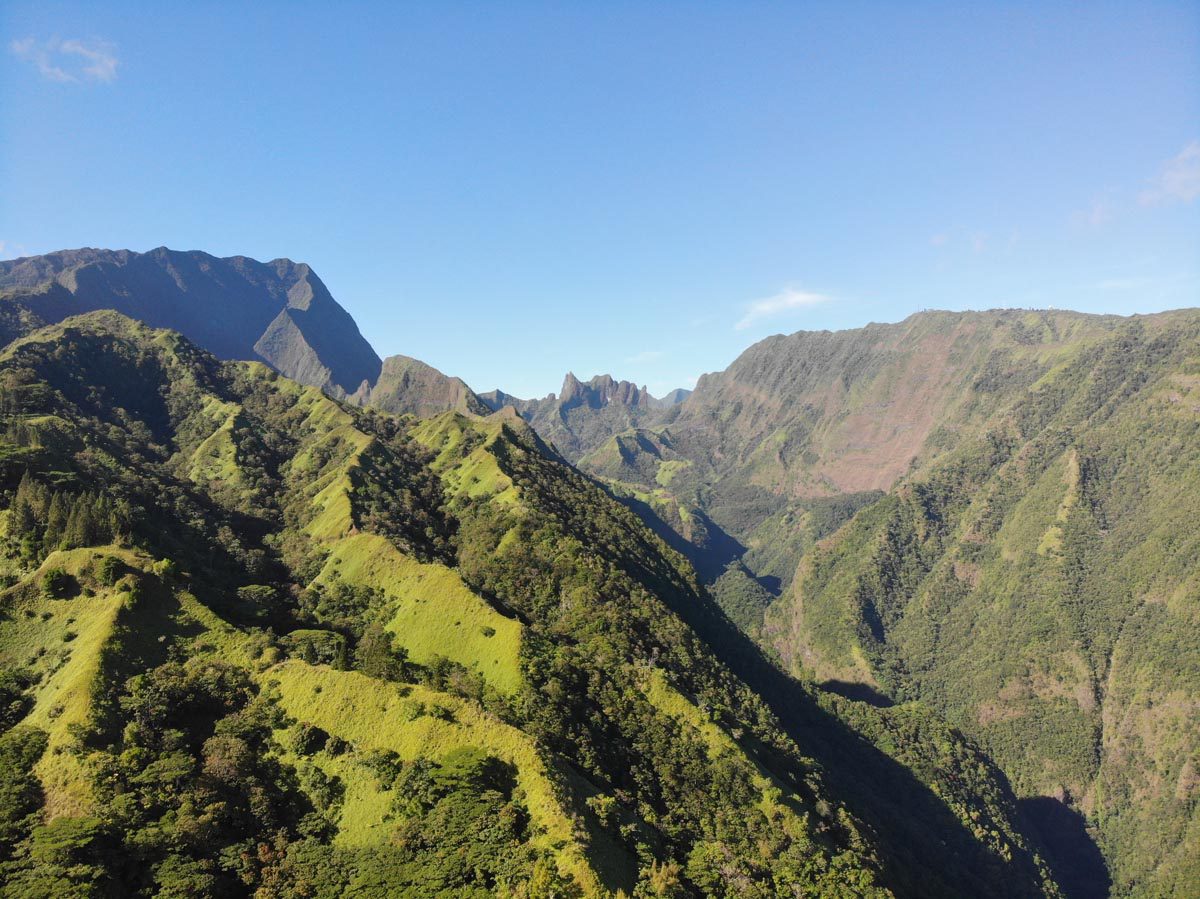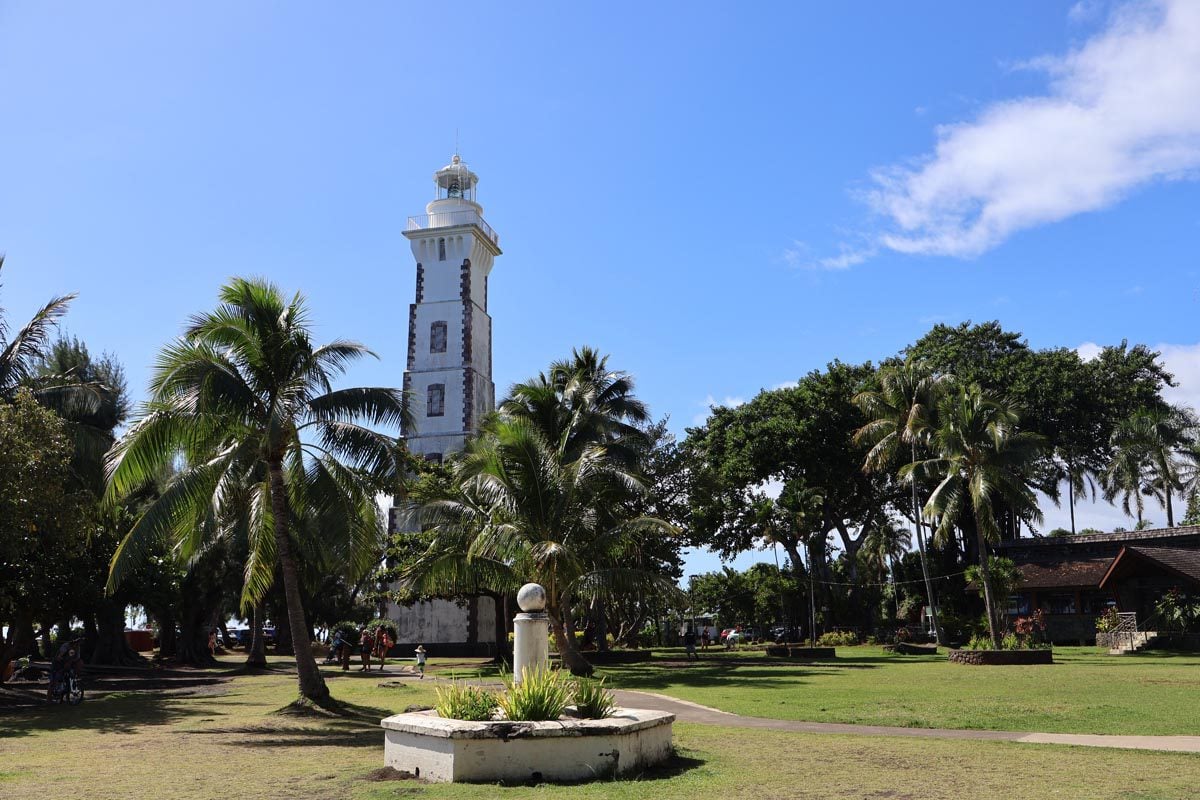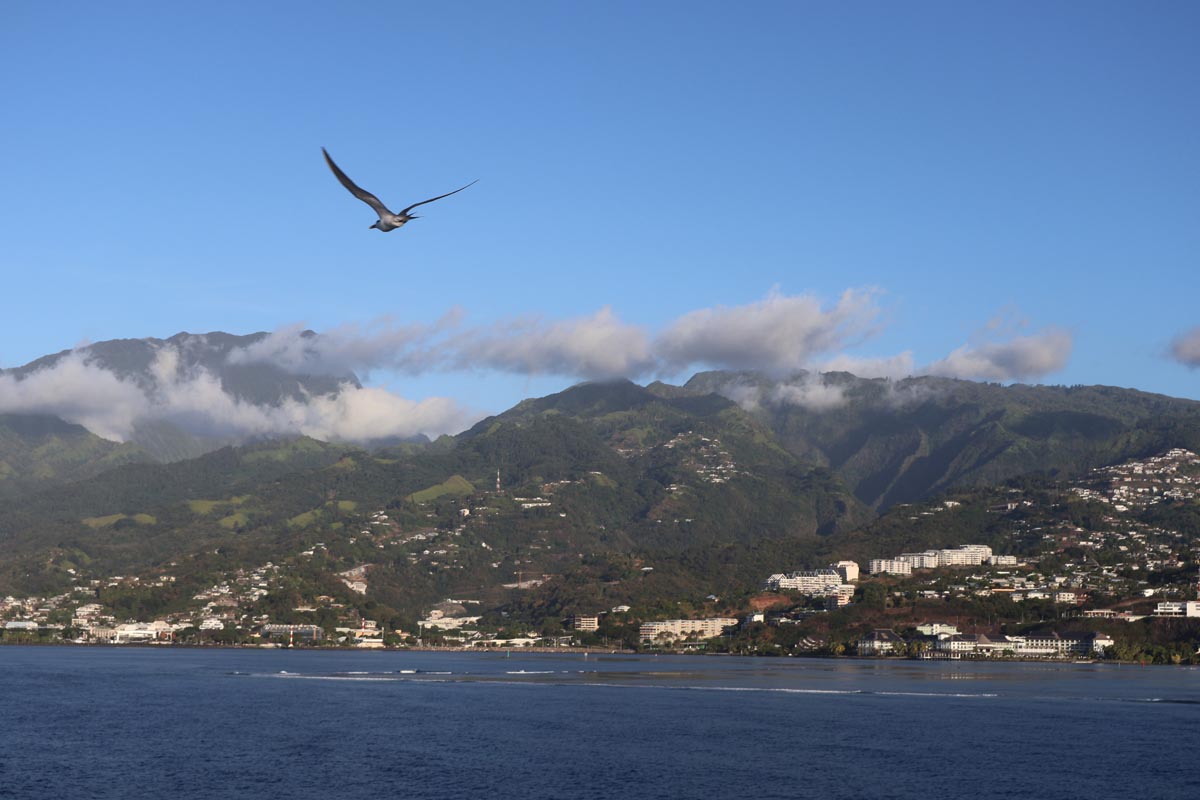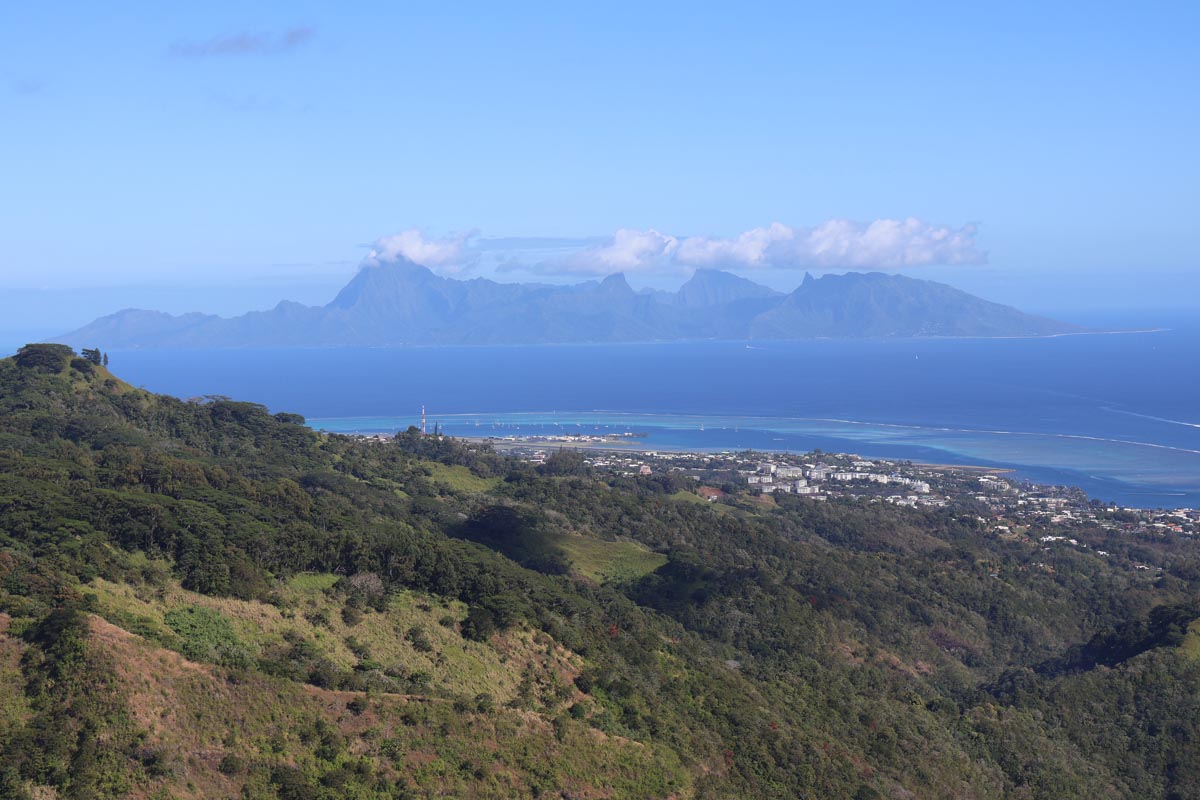 We returned to Tahiti from Fakarava to spend four days centered around the Heiva Festival, one of the oldest running festivals in the world. The Heiva Festival in Tahiti brings together teams from around French Polynesia and the Polynesian Triangle who celebrate the exciting and exotic traditional Polynesian culture that flourished in these islands during pre-European days.
I've sent so many curious travelers to the Heiva Festival over the years as part of my Tahiti Tailor Made service, but I've never managed to visit paradise during July and see it for myself.
Traditional Sports
In between sightseeing, we headed to the Museum of Tahiti, whose large lagoon-facing lawn plays host to the traditional sports competition. I couldn't have wished for a more authentic experience as the toughest Polynesians around lifted enormous basalt rocks, blazed up towering palm trees, and tried to hit tiny coconuts with sharp spears. Even Miss Tahiti was around to check things out and crown the winning athletes.
Stone Lifting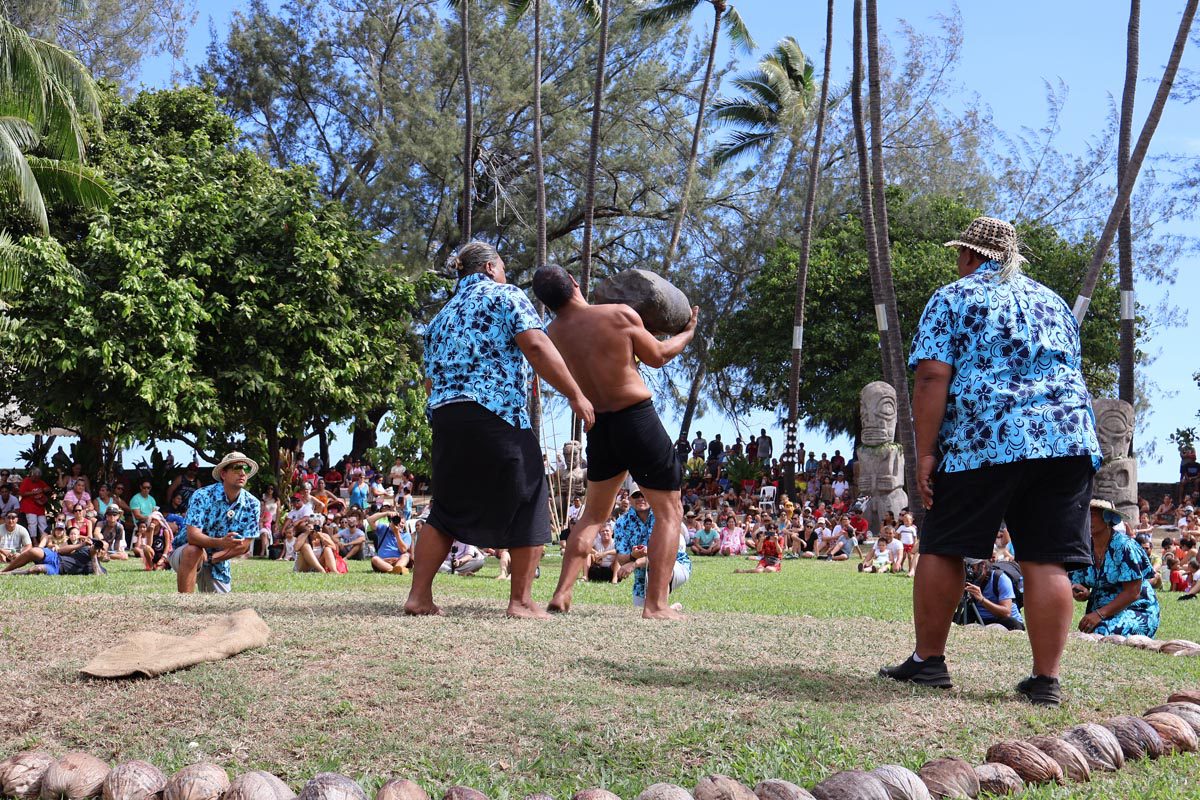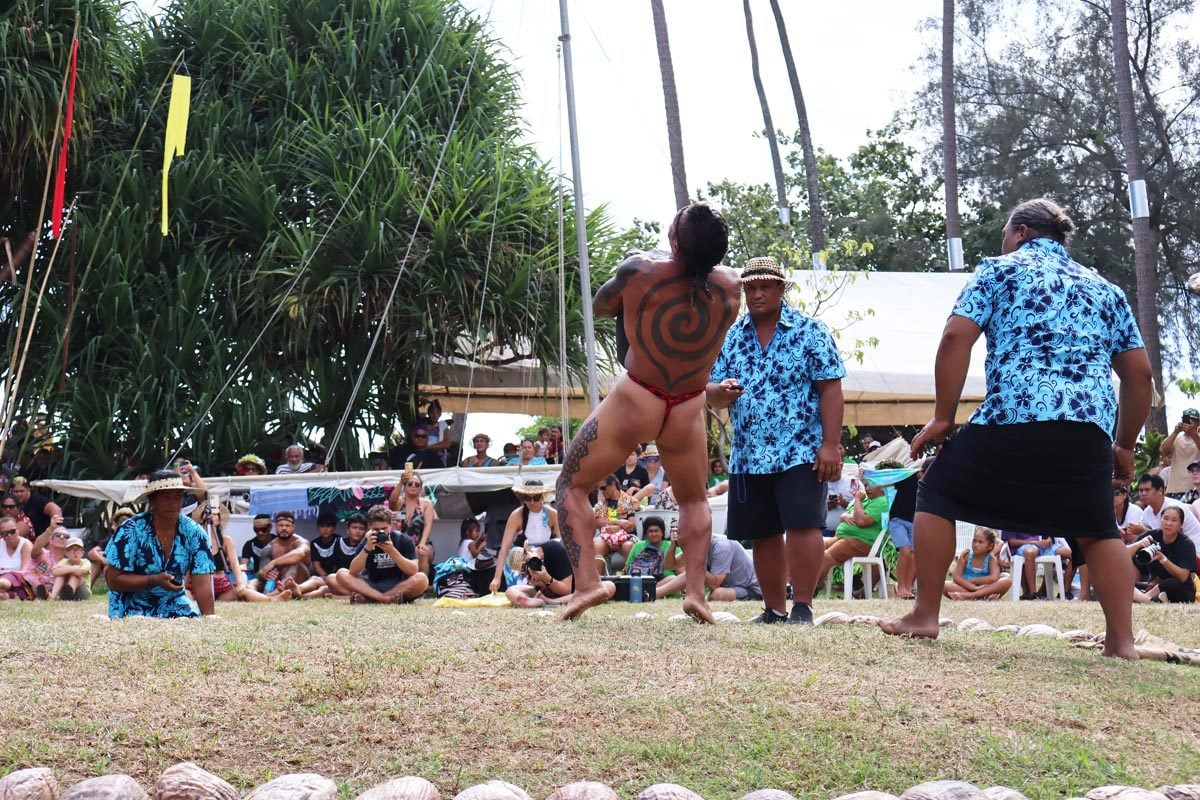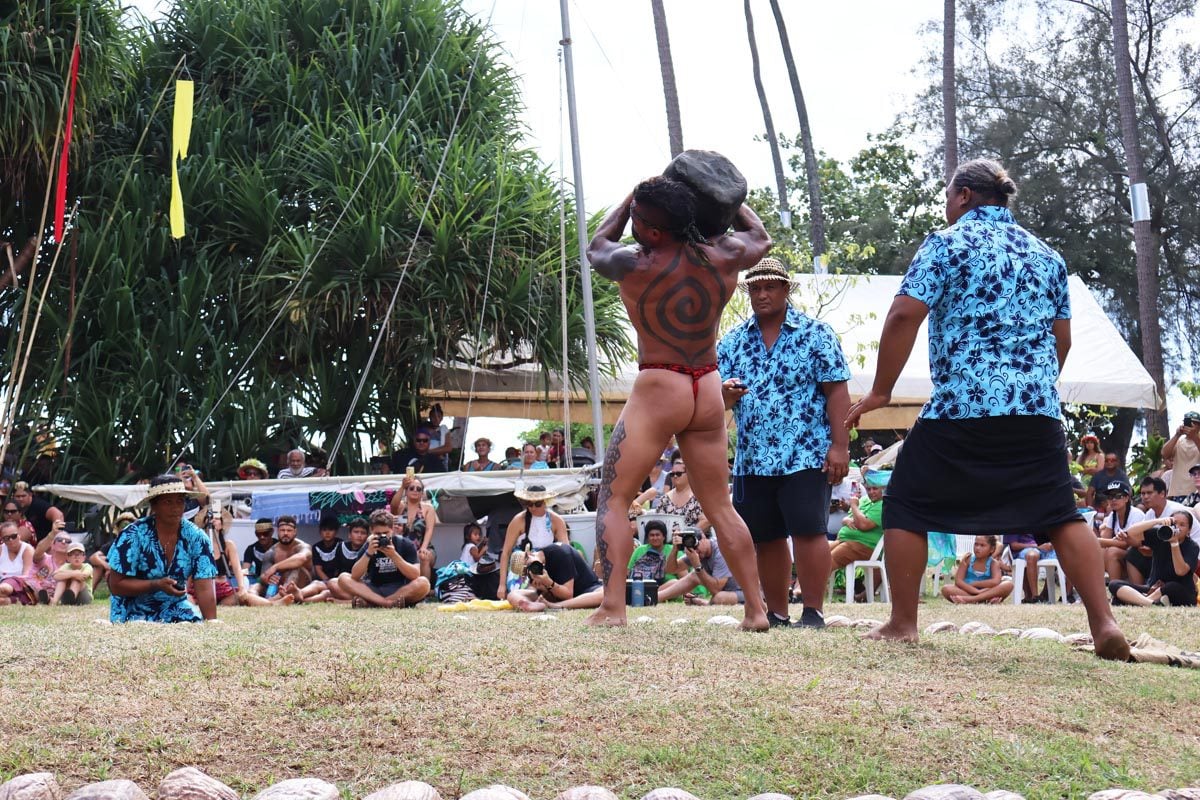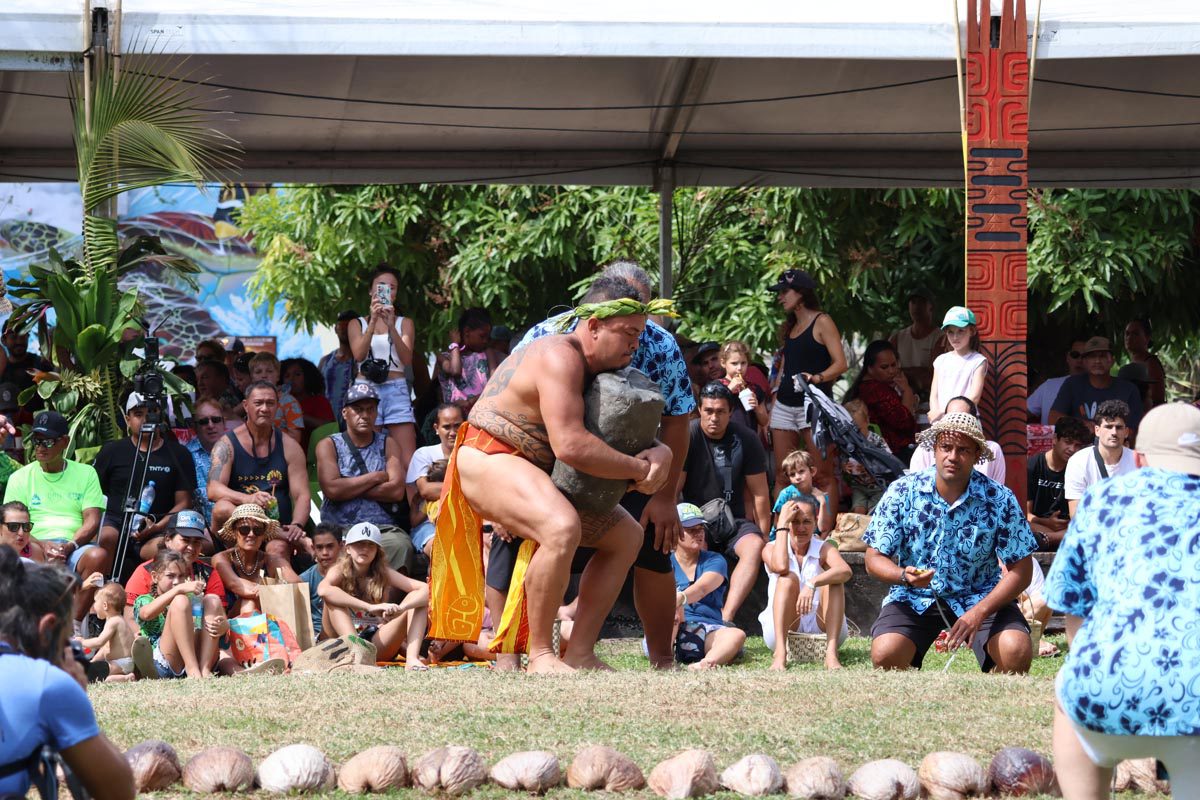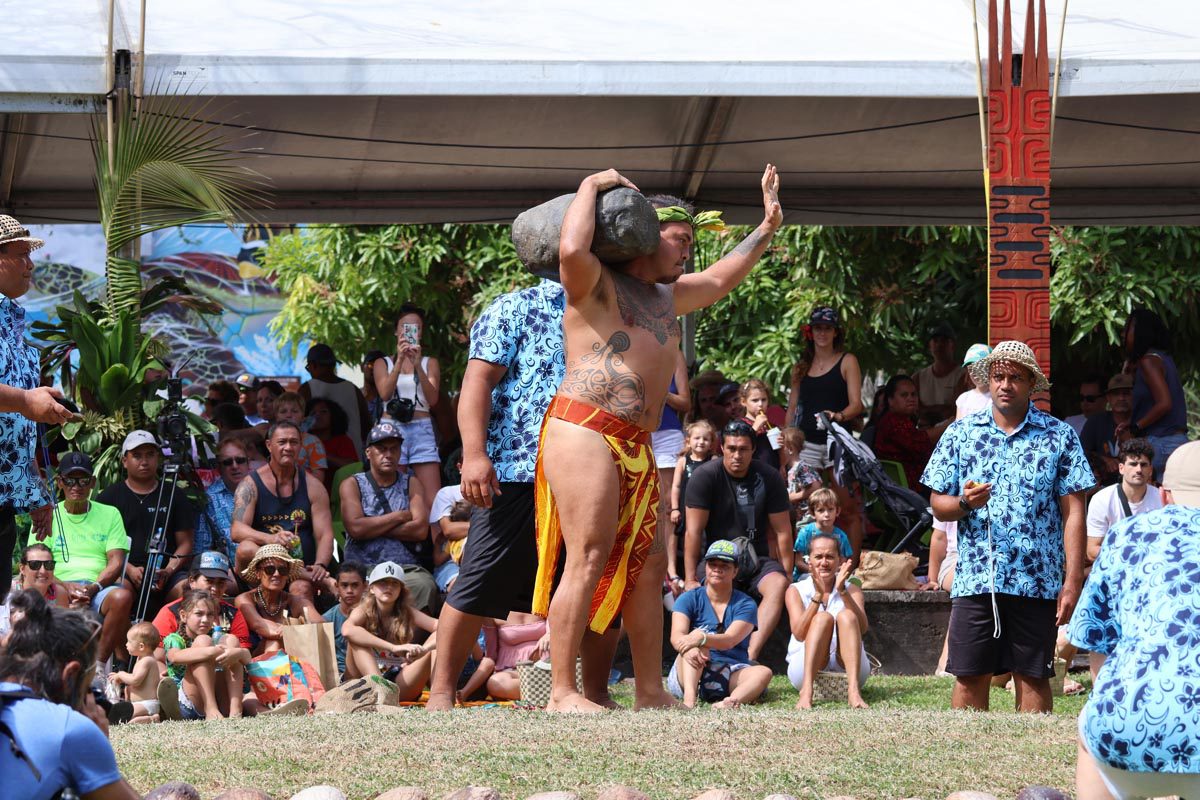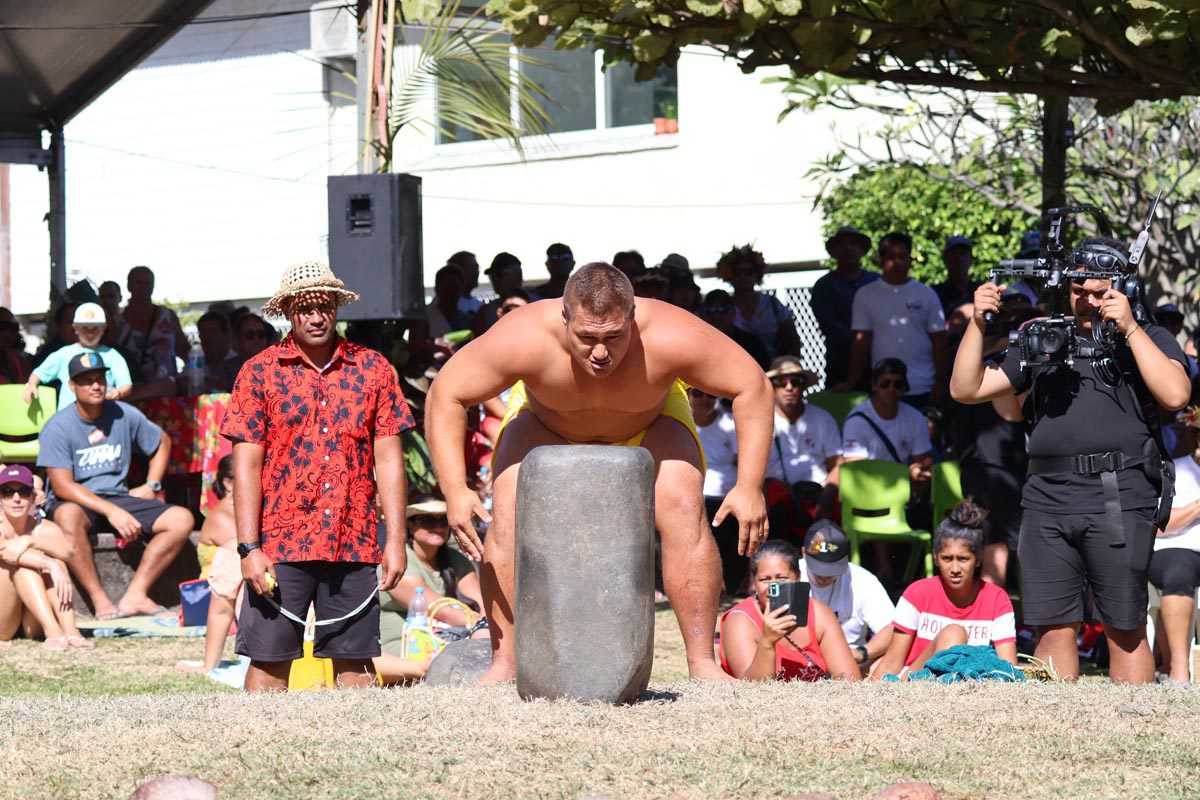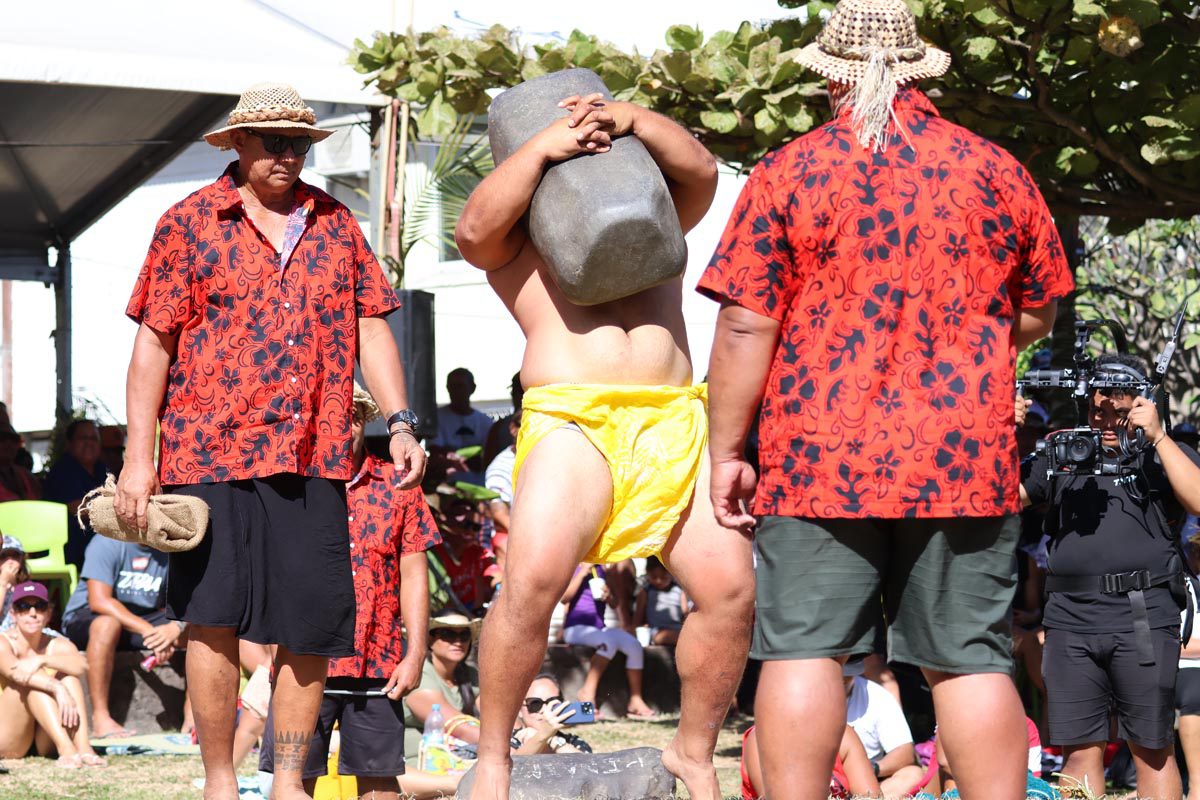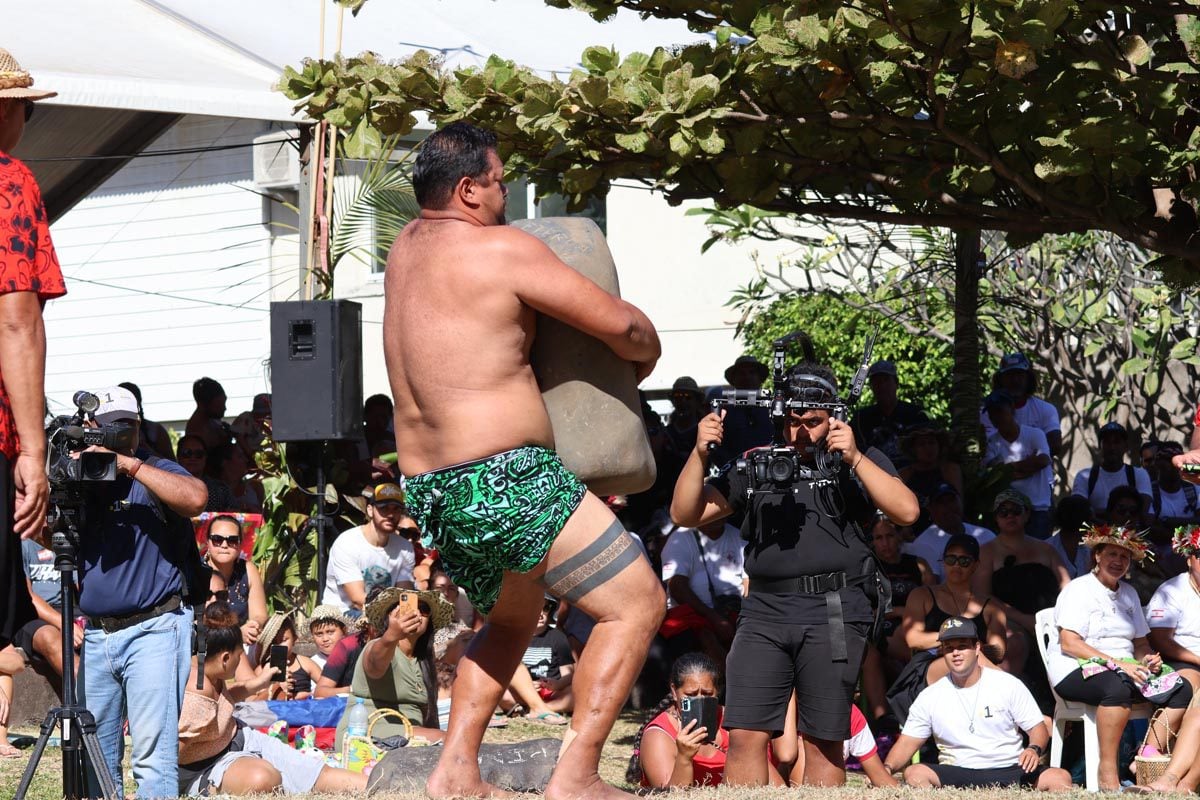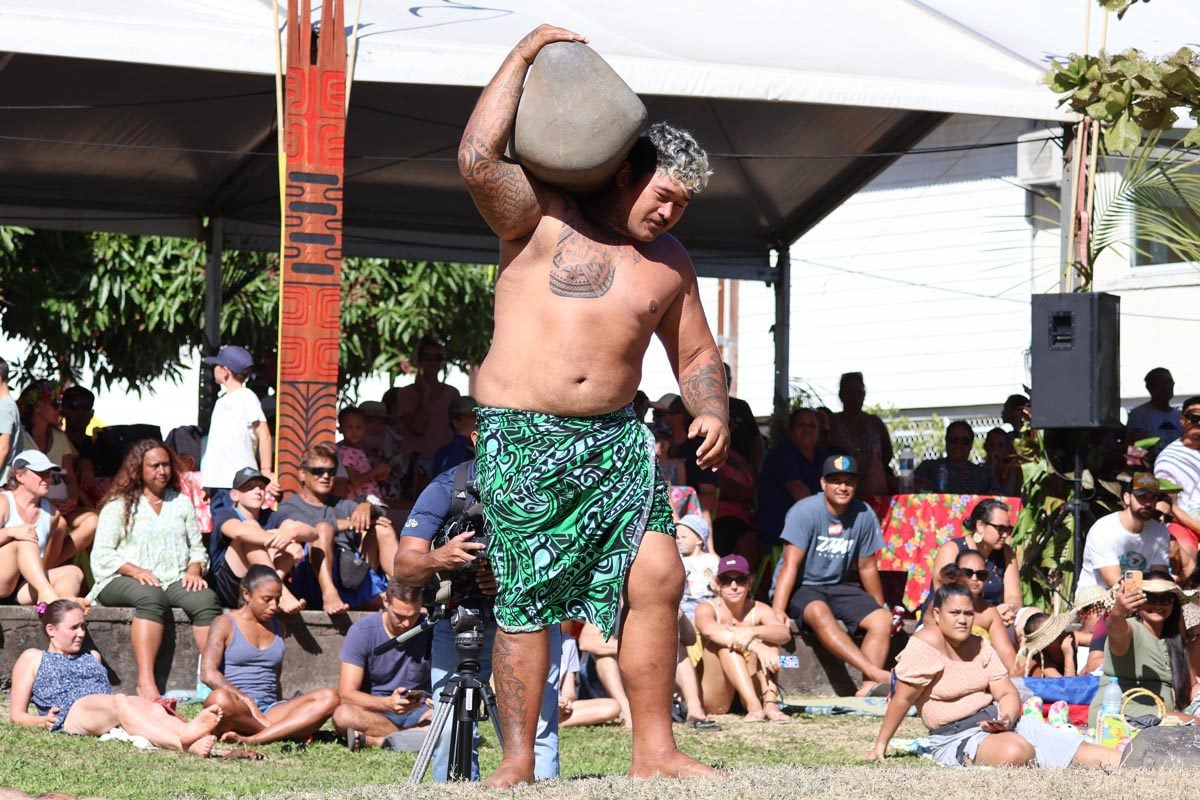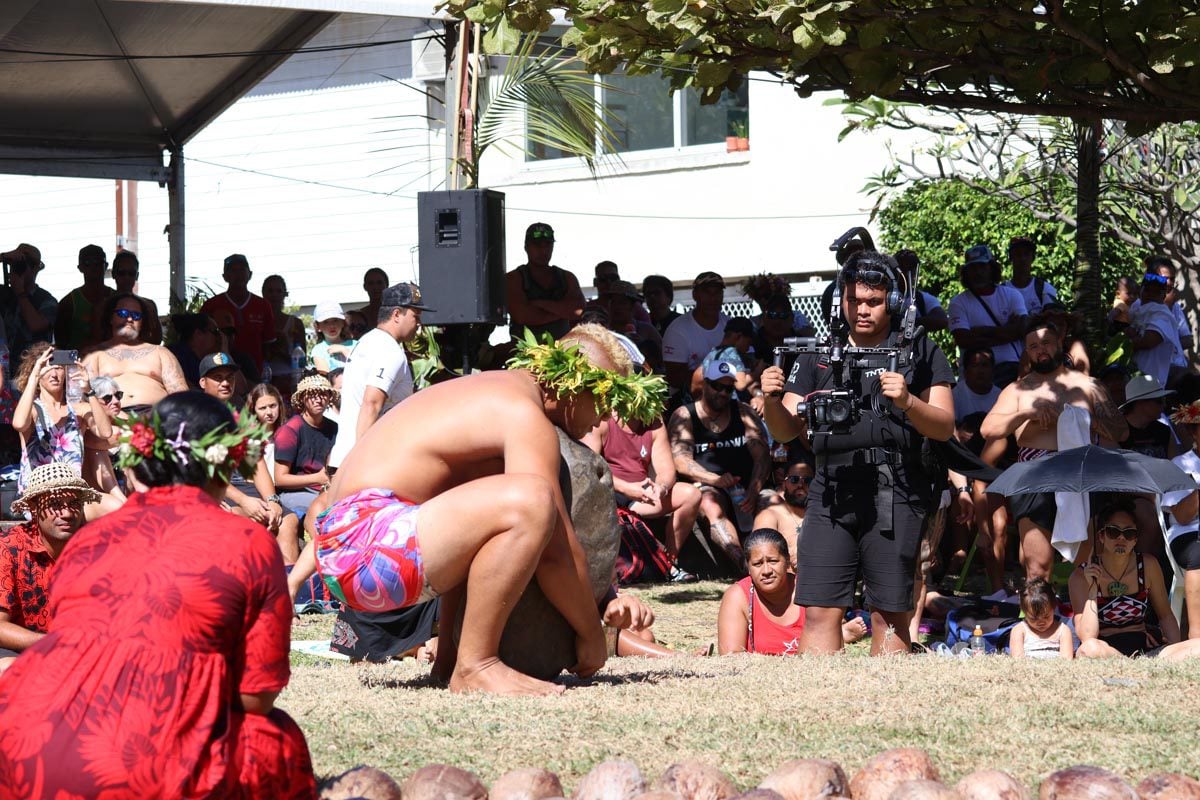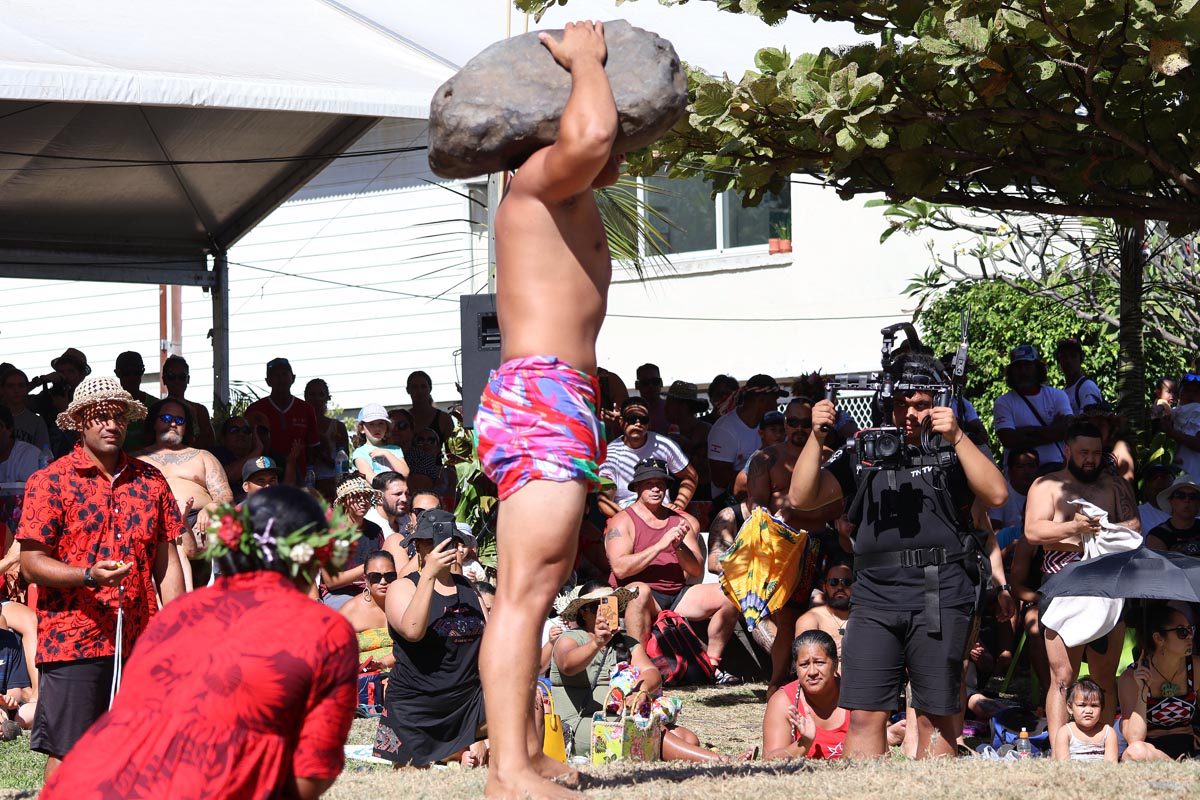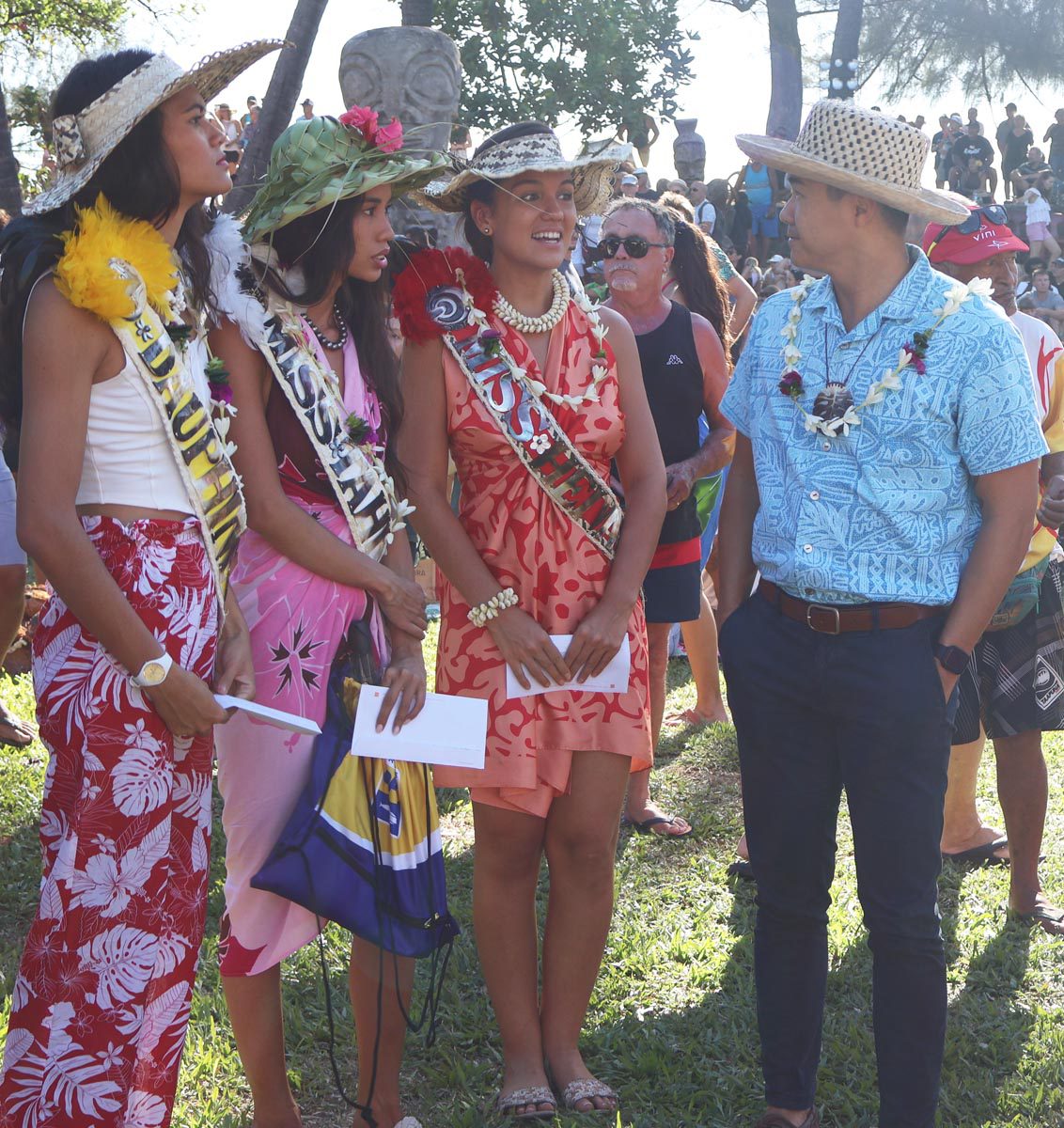 Javelin Competition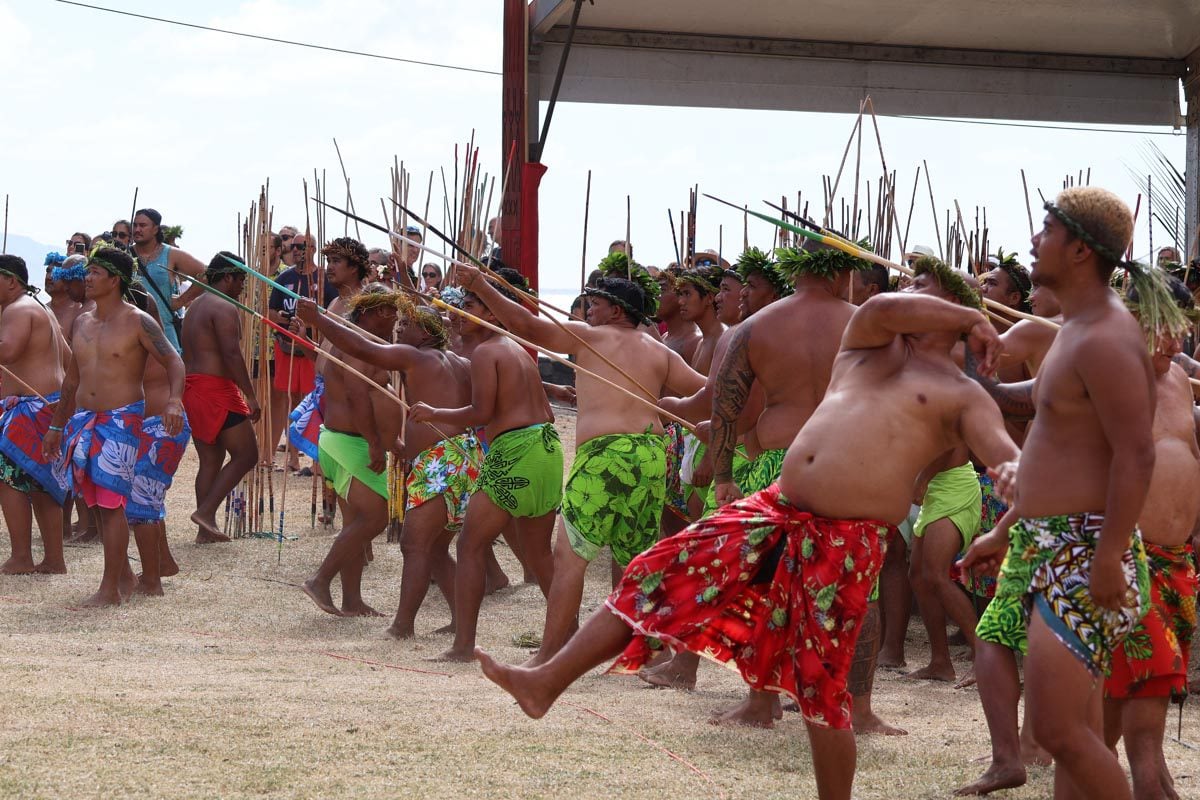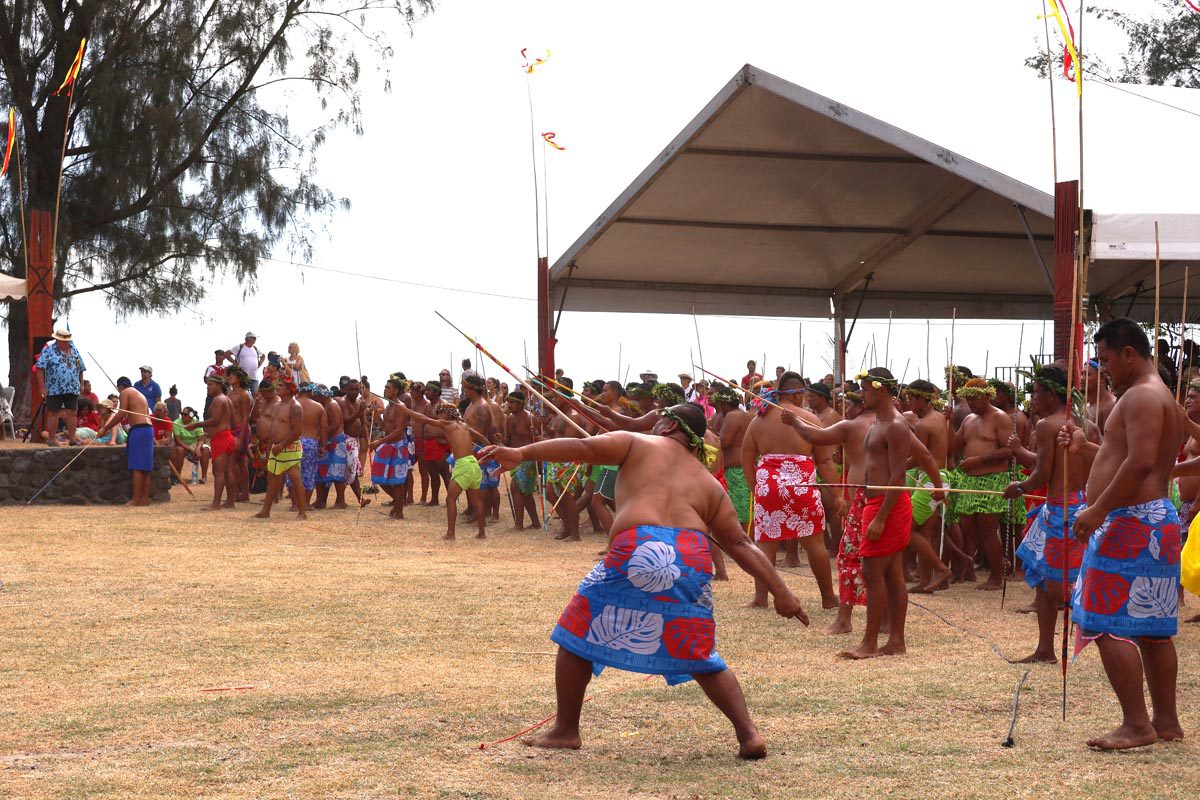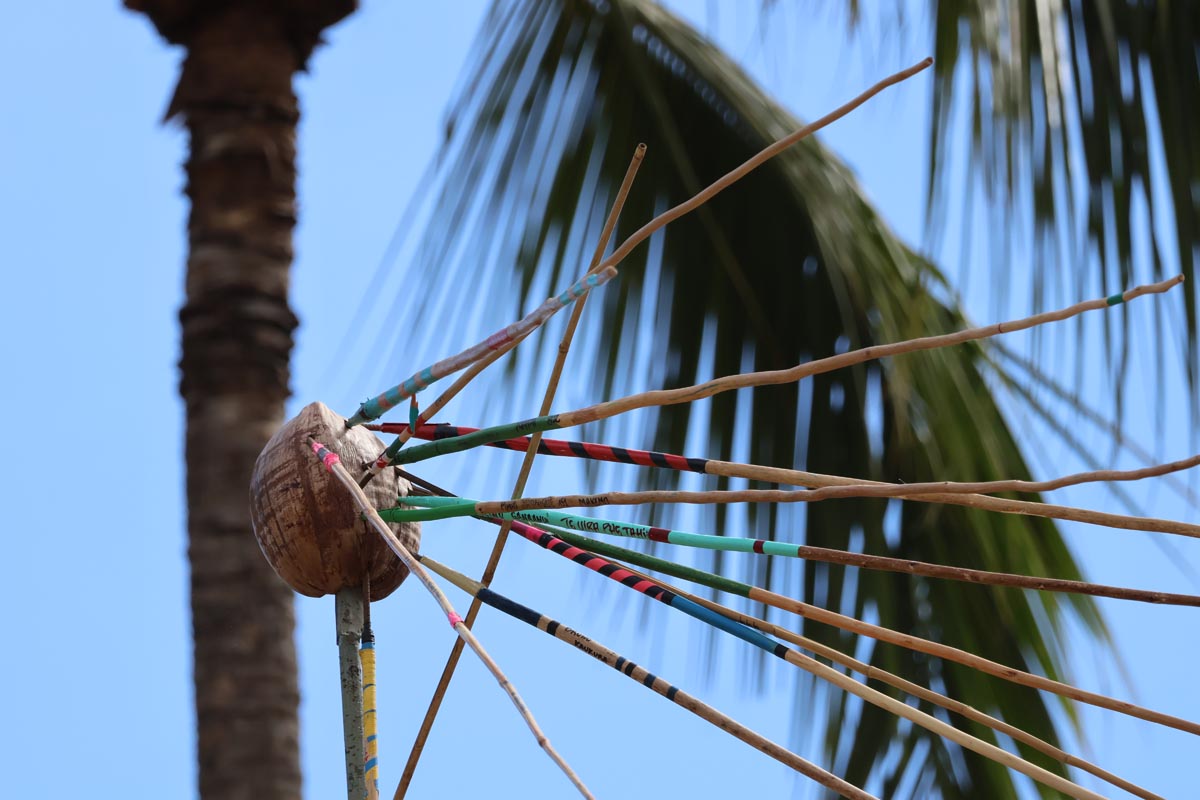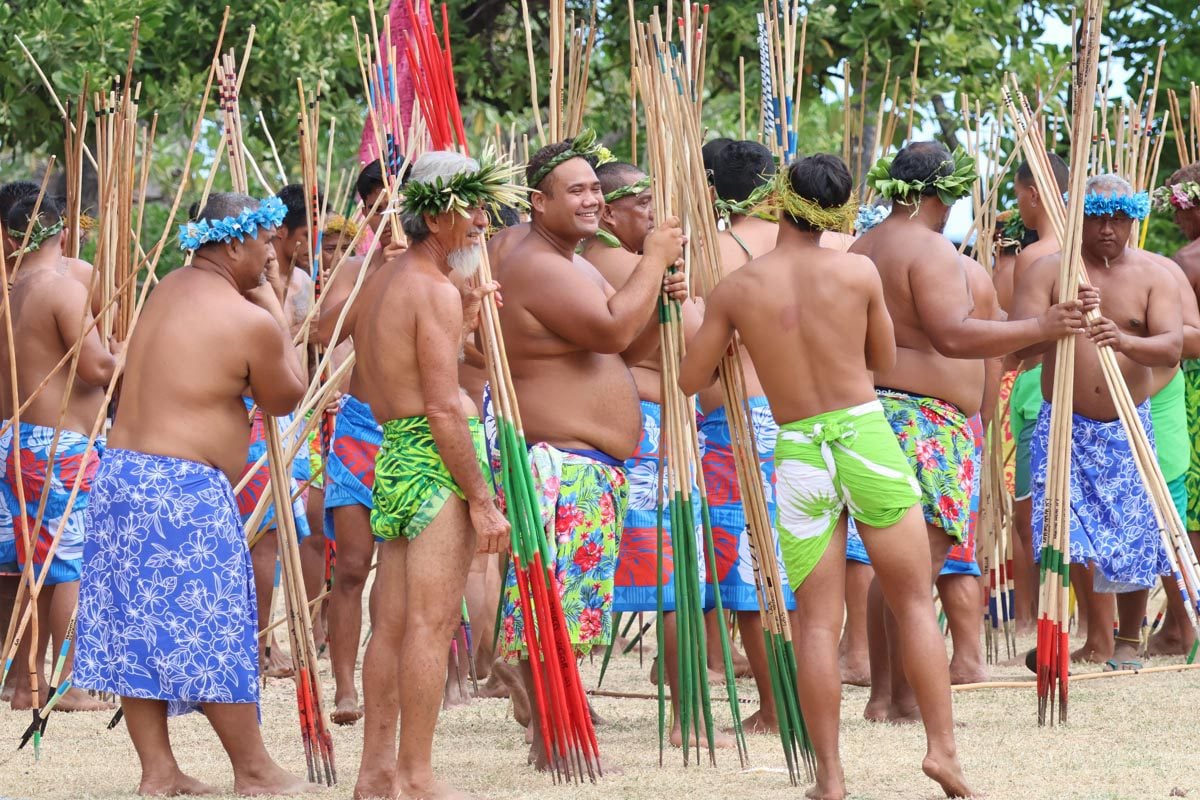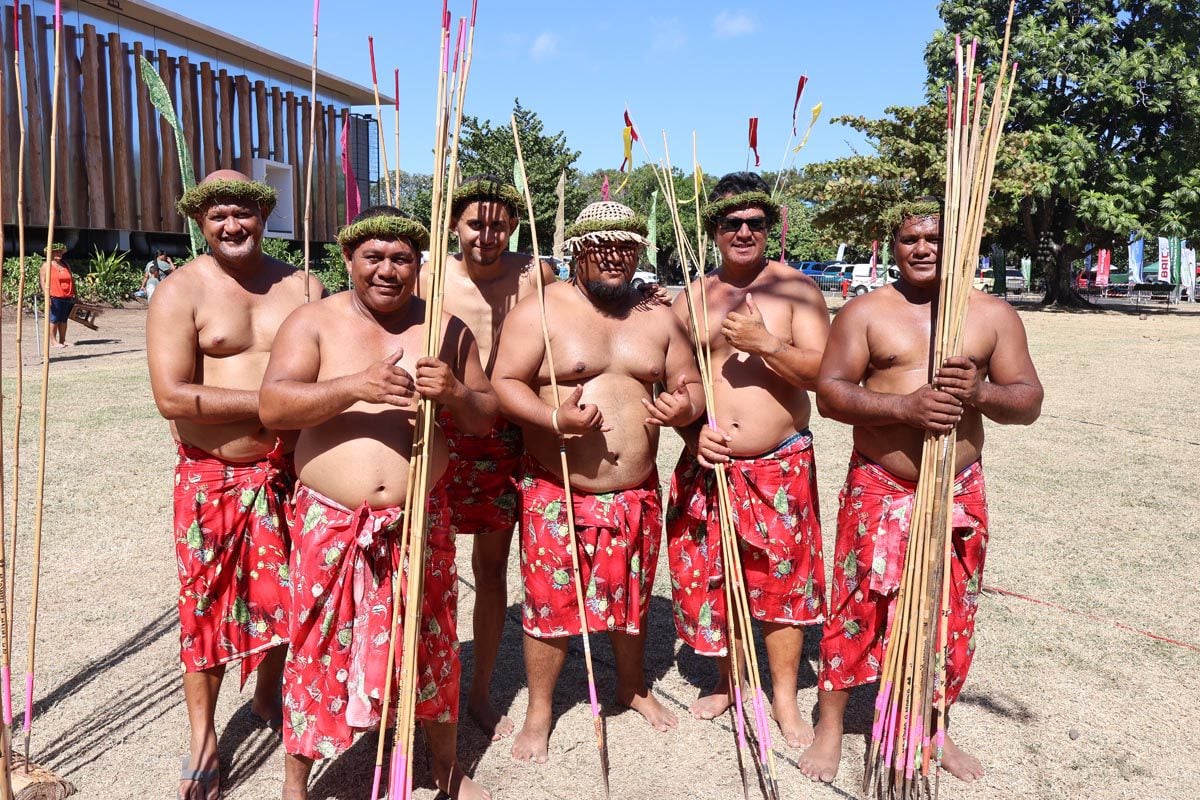 Coconut Tree Climbing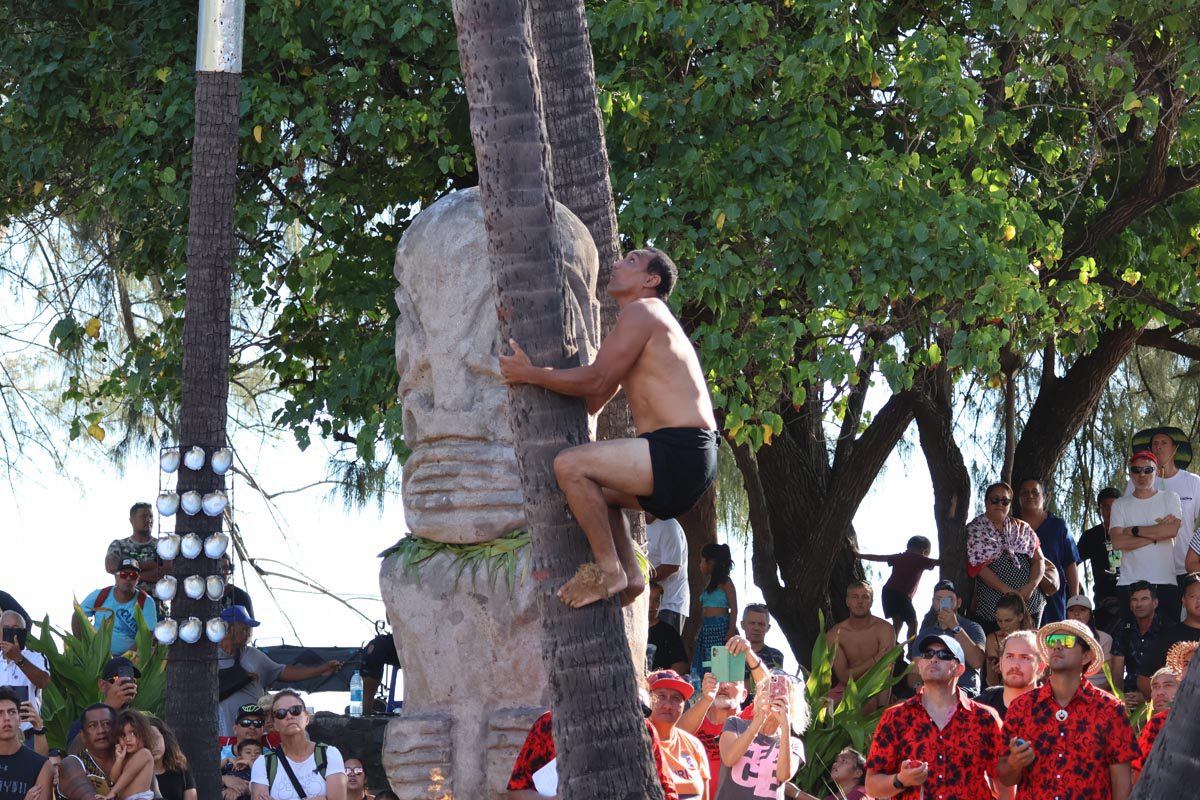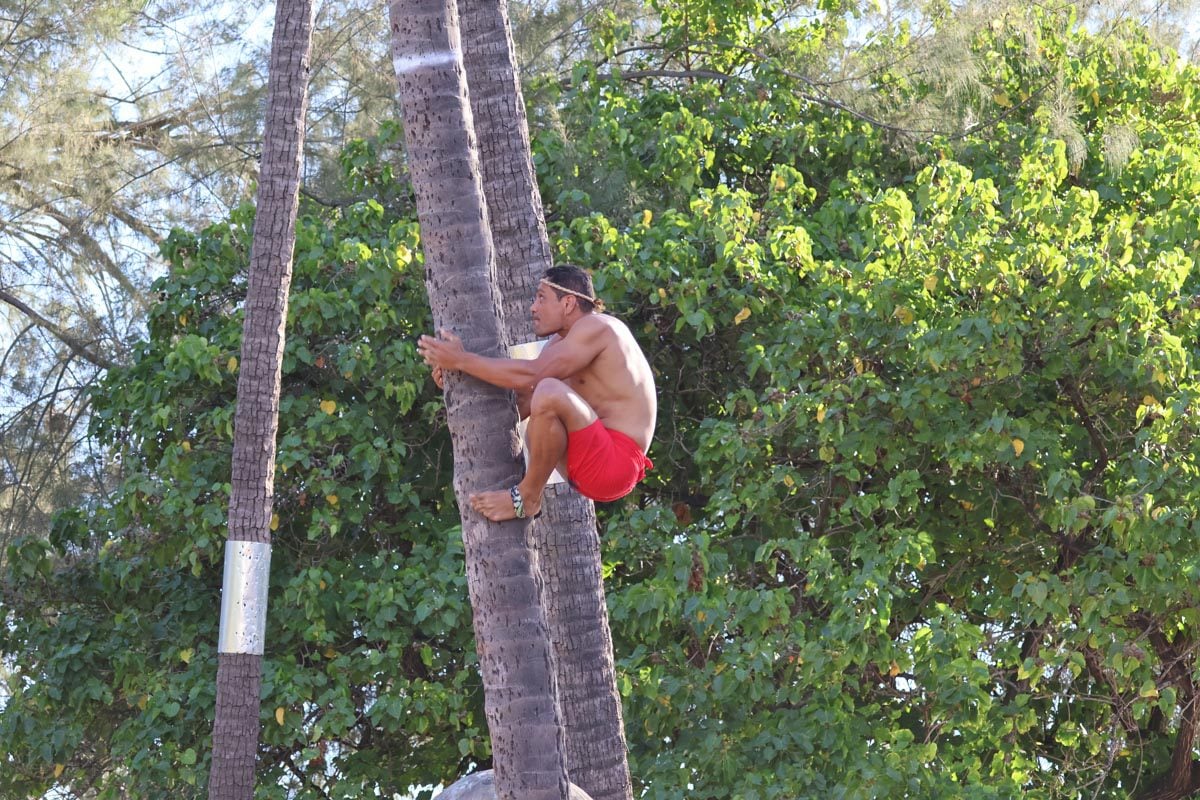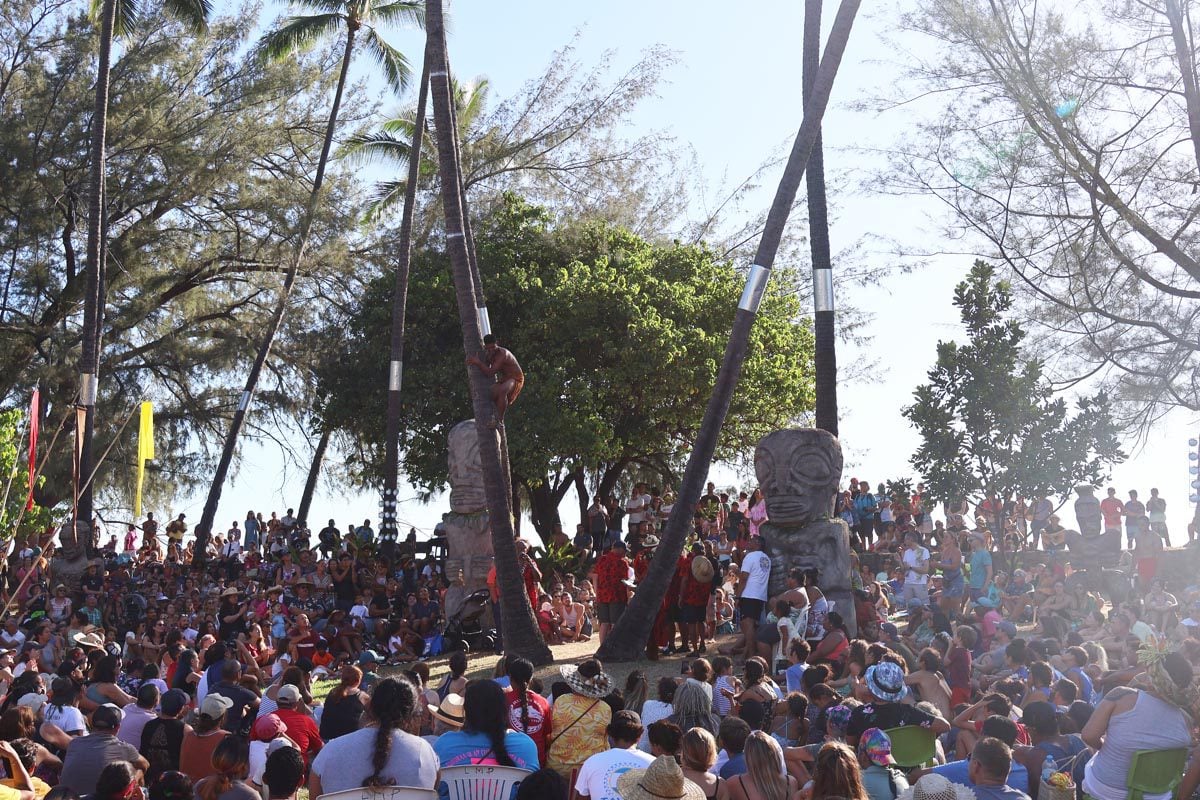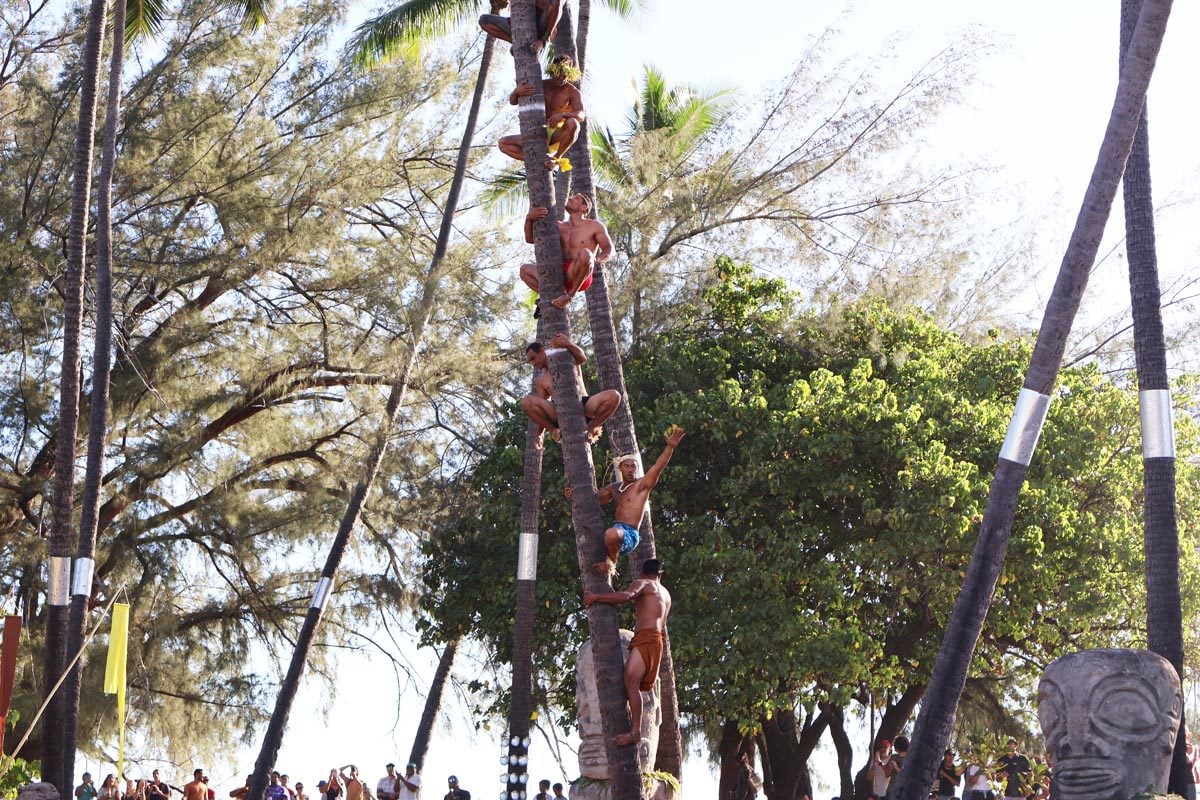 In one of the events, after a Maori from New Zealand took the title, his team spontaneously erupted in a thunderous haka dance that immediately caught the crowd's attention. But there were also "planned" entertainment breaks in which dance groups from various archipelagoes showed off their exotic moves on the central lawn.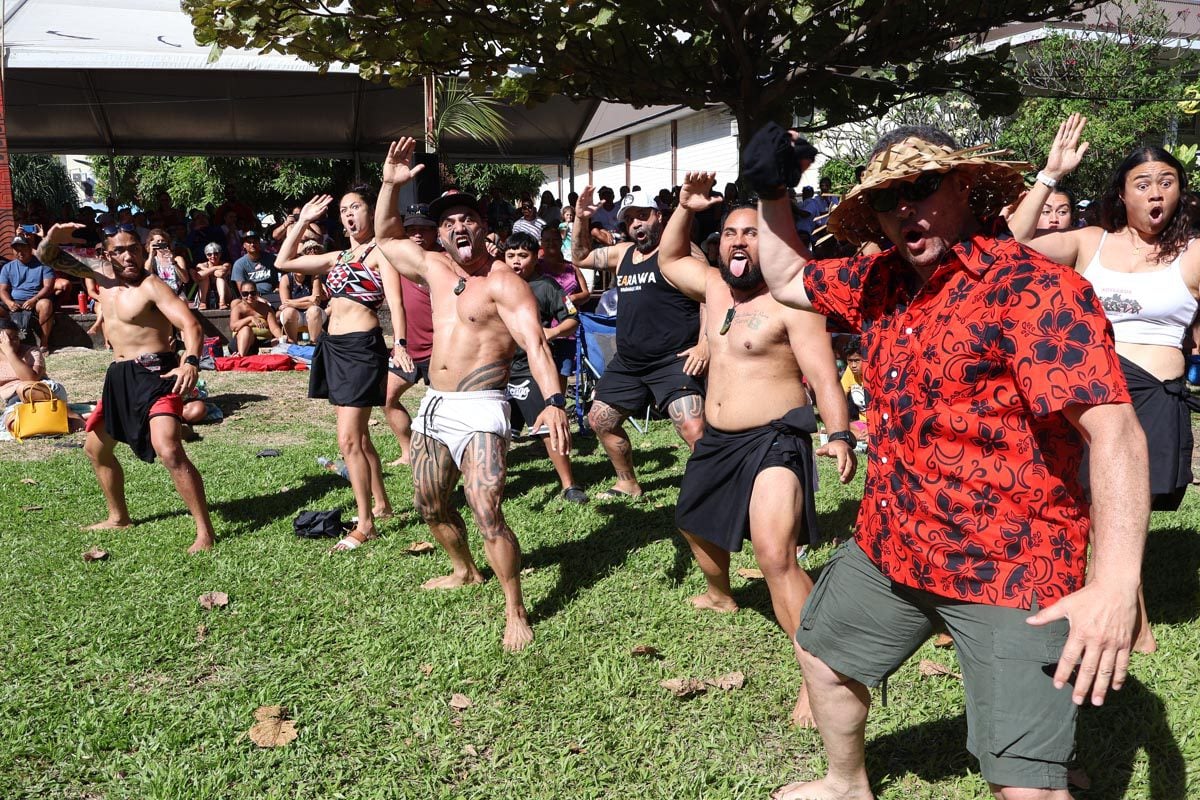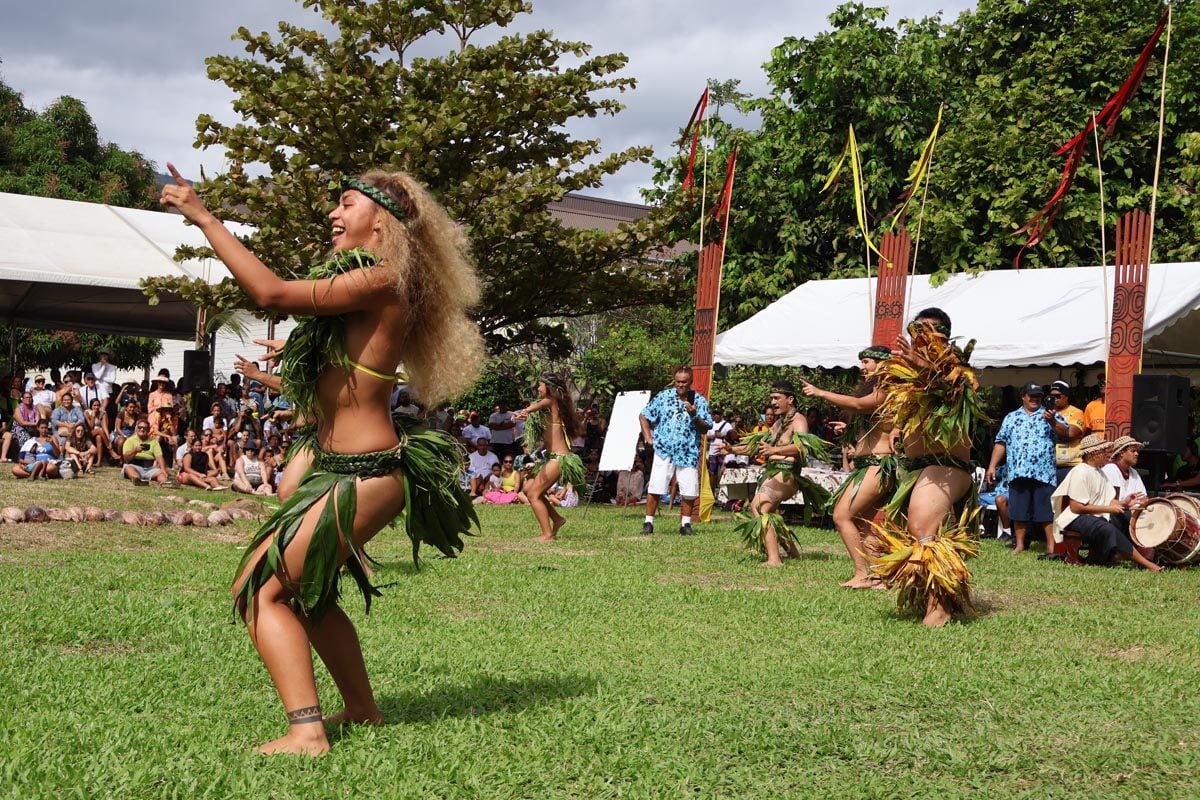 But without a doubt, the most interesting traditional sports event was the copra competition. In this arduous and long event, athletes must crack dozens of coconuts, scoop out the "meat," and arrange everything inside a jute bag commonly used for exporting copra. This was a highly competitive event whose roster appears to have spanned several archipelagos. Fans and island ex-pats now living in Tahiti were cheering for bragging rights, trying to push their athletes across the finish line and complete the enormously challenging task.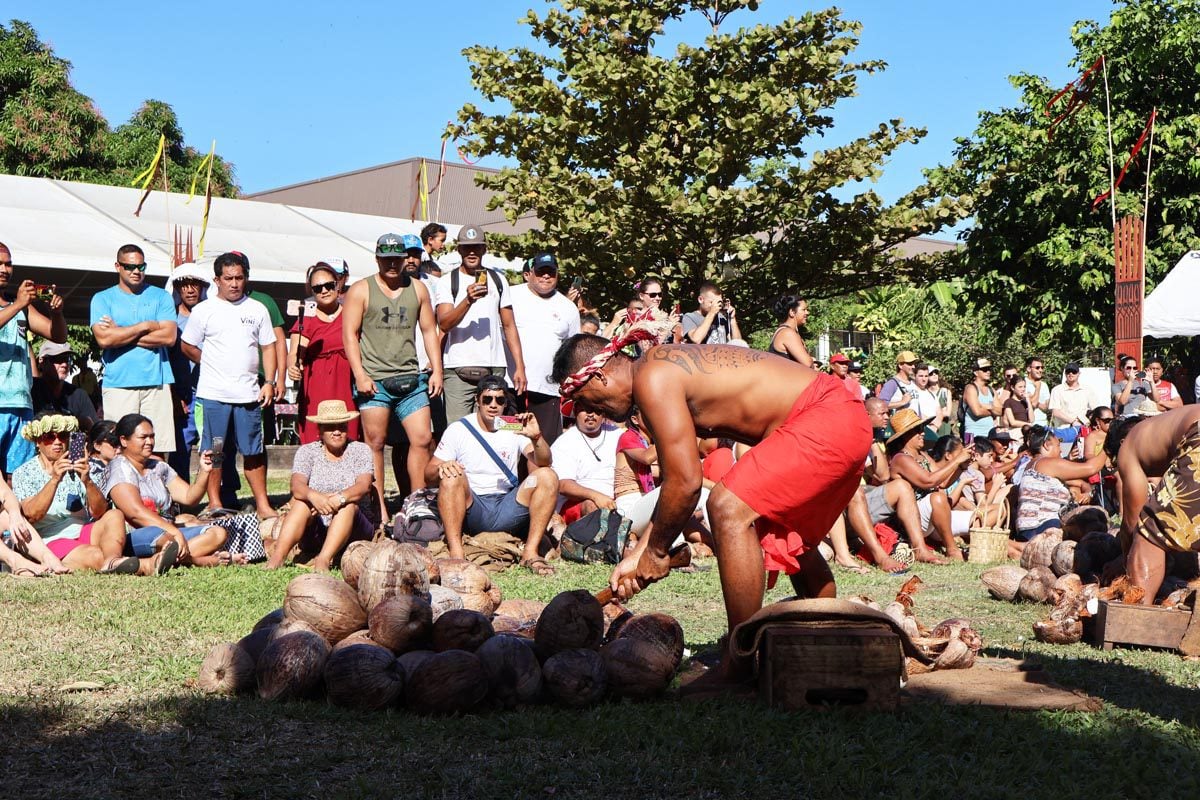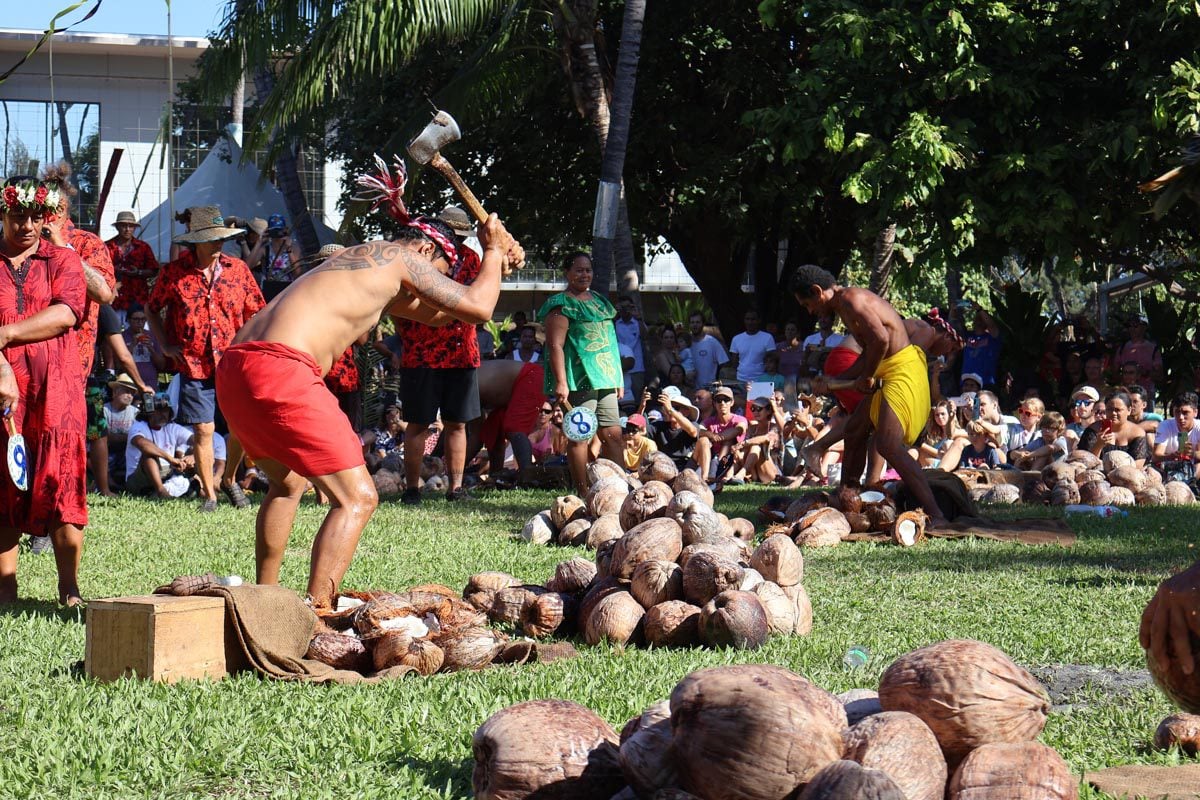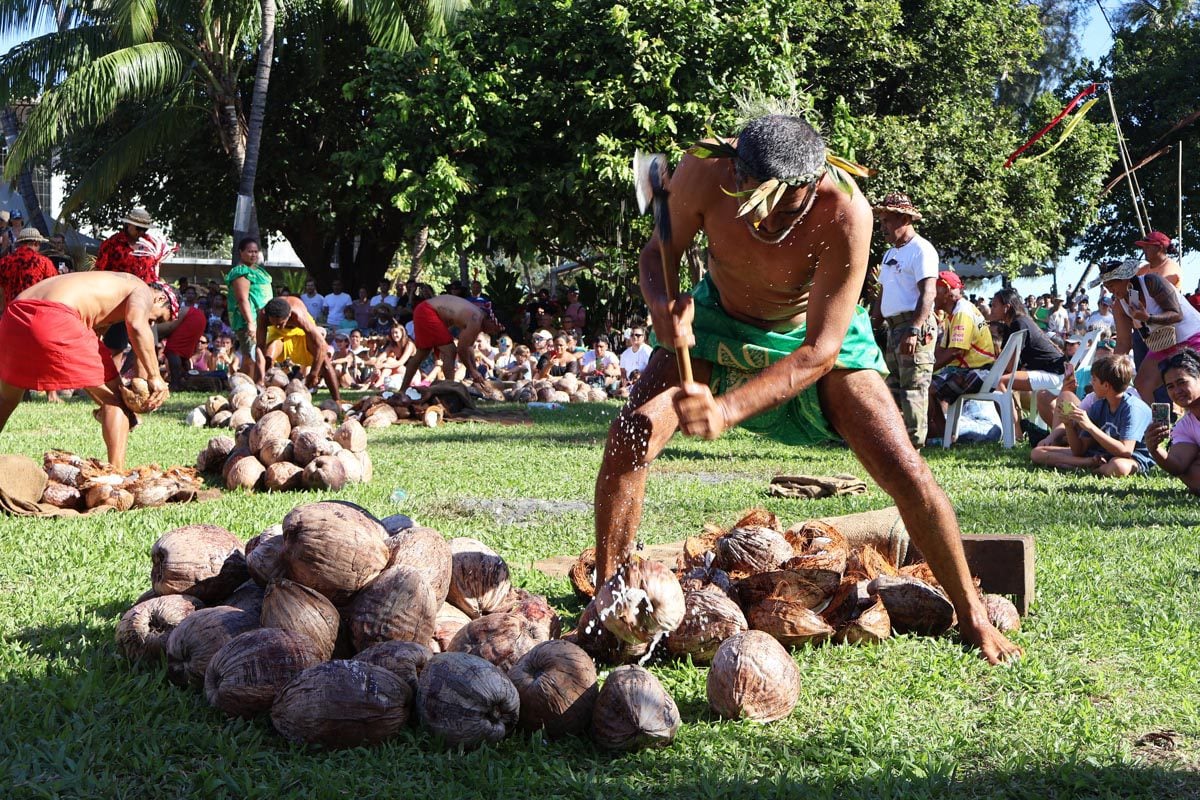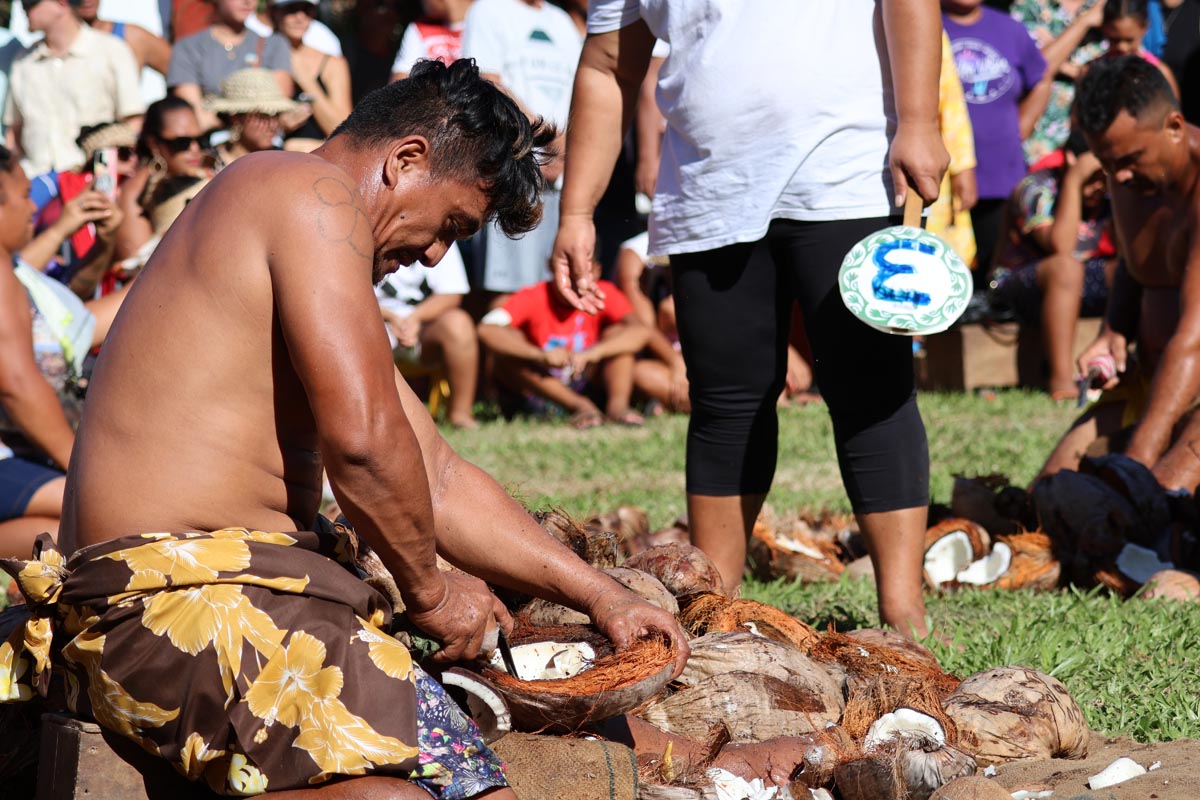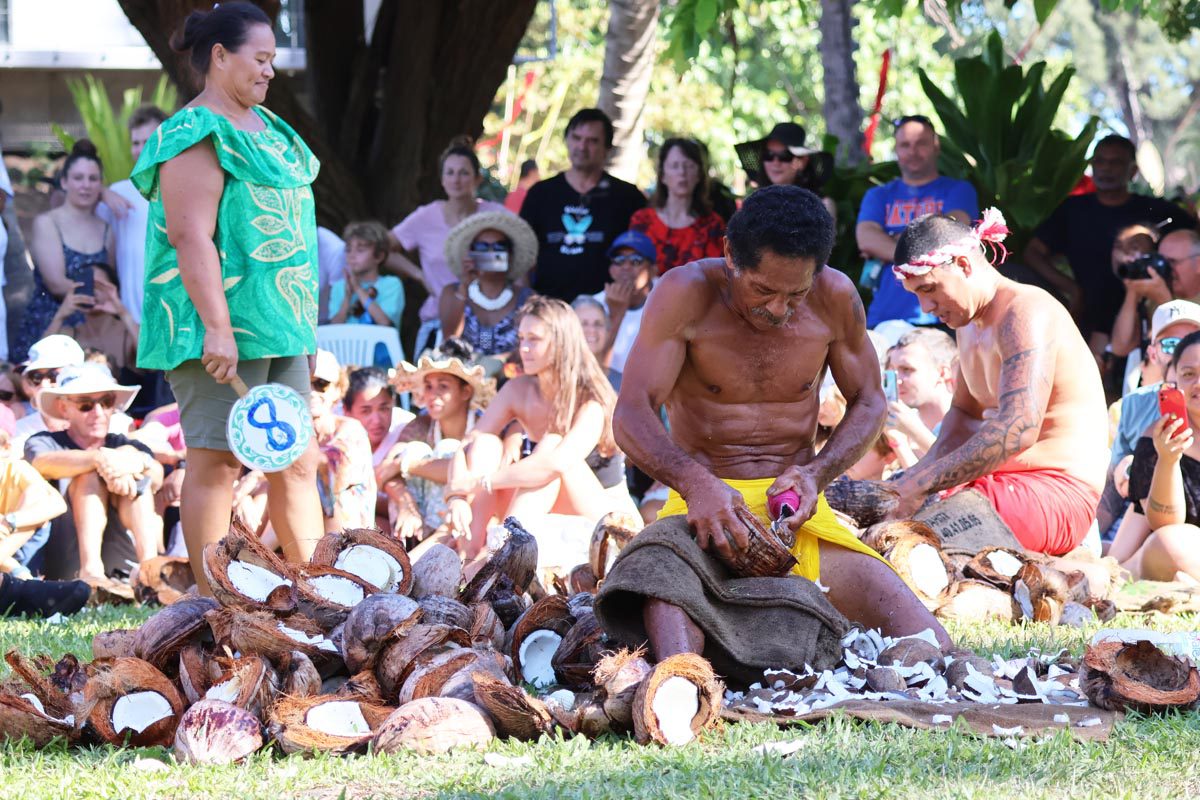 Evening Song & Dance Competition
During some nights, the lagoonside outdoor stadium in downtown Papeete is filled with lucky spectators, cultural enthusiasts, and media for the highly prized song and dance competition. Every archipelago has its twist in the form of legends, rhythm, costumes, and dance style. We were lucky to catch two of the winners' gala evenings in which the winning teams repeated the acts that placed them at the top of the podium.
Photography is not allowed in the evening competition, so this is the best I could snap.
And when I say teams, I mean nearly 100 dancers and musicians taking the stage in turns, bringing ancient legends from various parts of this vast ocean nation to life. Their costumes are all naturally made and usually include hundreds of fresh flowers whose heavenly scent easily reaches even the back rows. And no Tahitian dancing is complete without music, whose drumbeats reverberate throughout the stadium in a hypnotizing pattern when coupled with the sensual dance.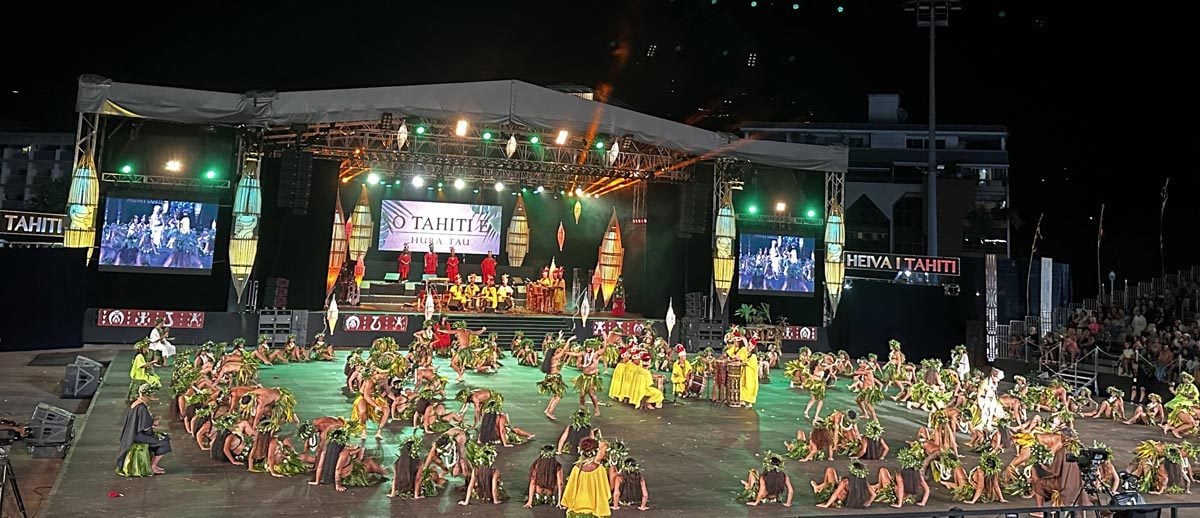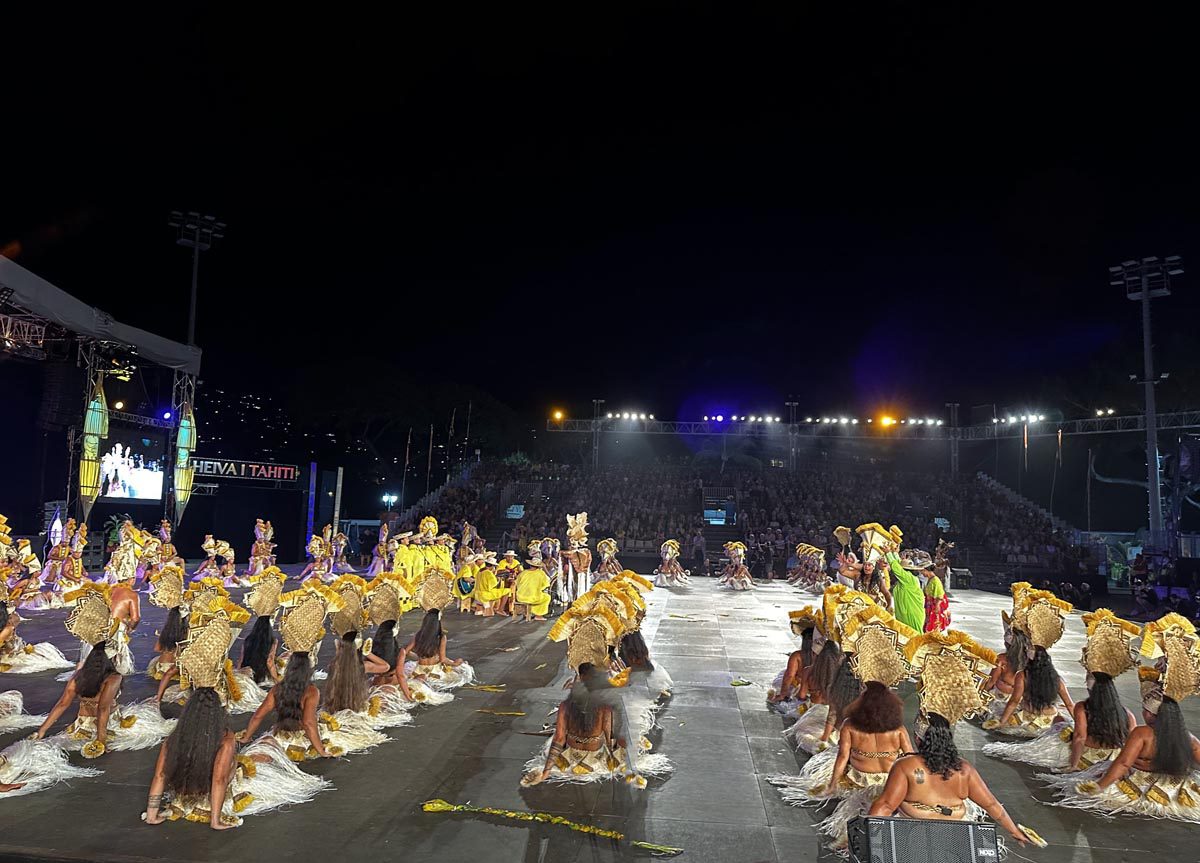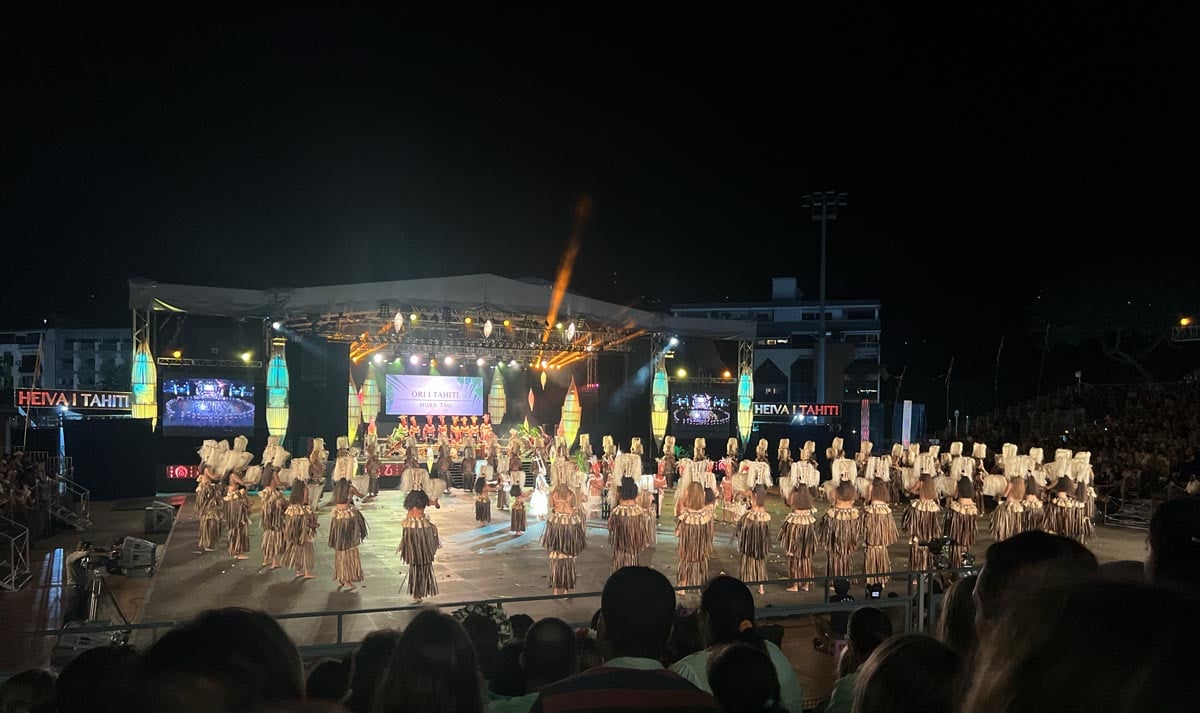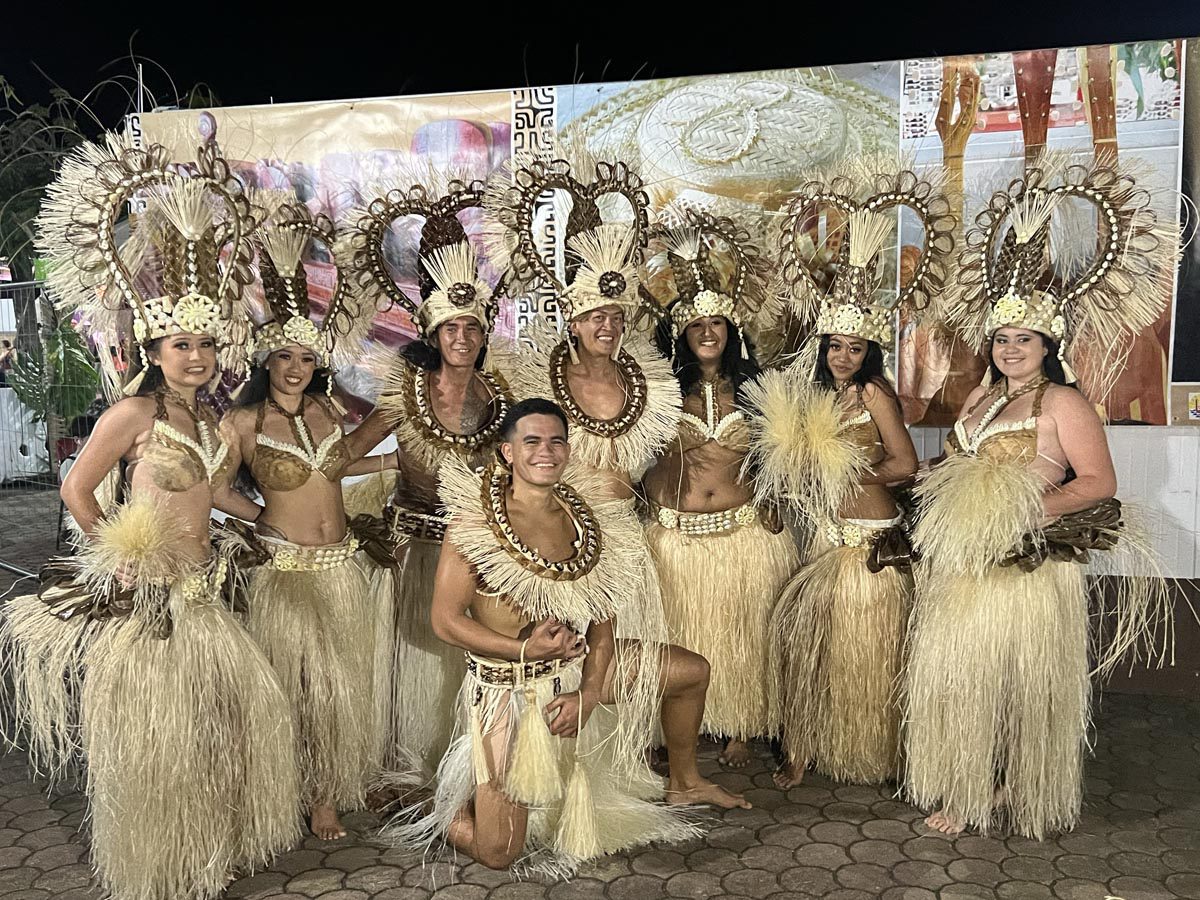 Maupiti
Our next stop was at the far end of the Society Islands in the authentic island of Maupiti. This would be my fourth visit to Maupiti, a testament to the island's appeal. My first visit to Maupiti was life-changing. The island is small enough to be circled on foot and surrounded by a wide lagoon that holds many treasures, both beneath the waves and on land. But Maupiti's "x-factor" is, without a doubt, its vibe.
Despite, and perhaps because of the island's proximity to Bora Bora, locals decided many years ago to resist mass tourism. The island has just a few family-owned and operated pensions, zero stress, and only recently had an ATM installed at its post office.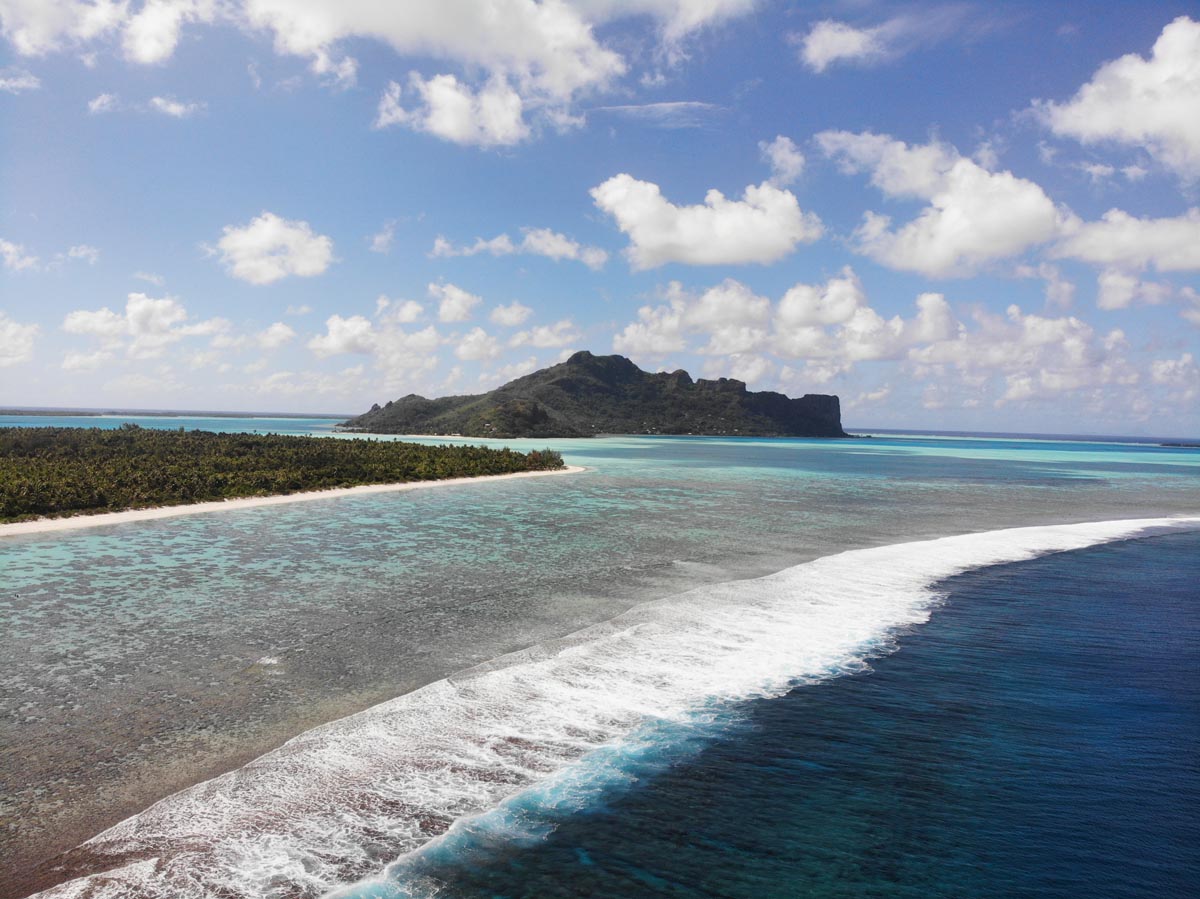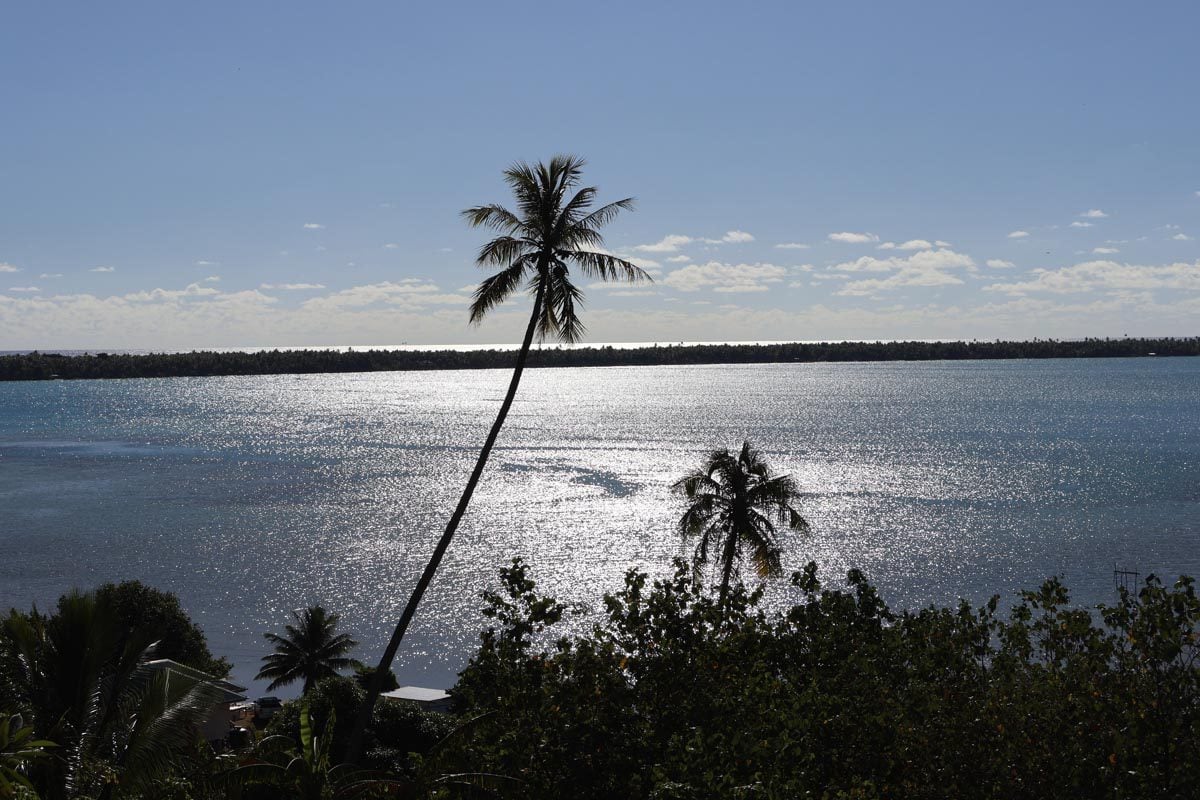 The 55-minute flight from Tahiti to Maupiti is pure bliss, especially for those with a window seat on the right side of the plane. The plane flies relatively low above the entire archipelago, offering exceptional views of Huahine, Tahaa, and Bora Bora with its neighboring heart-shaped atoll, Tupai.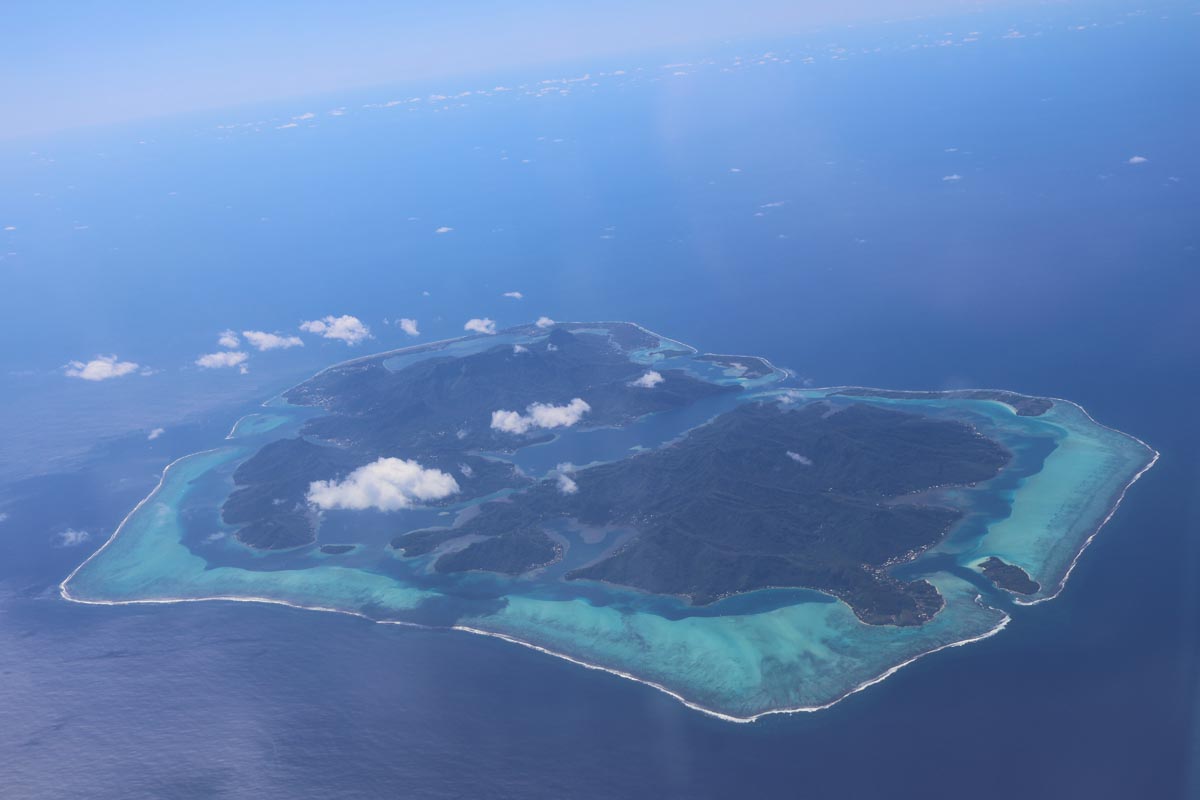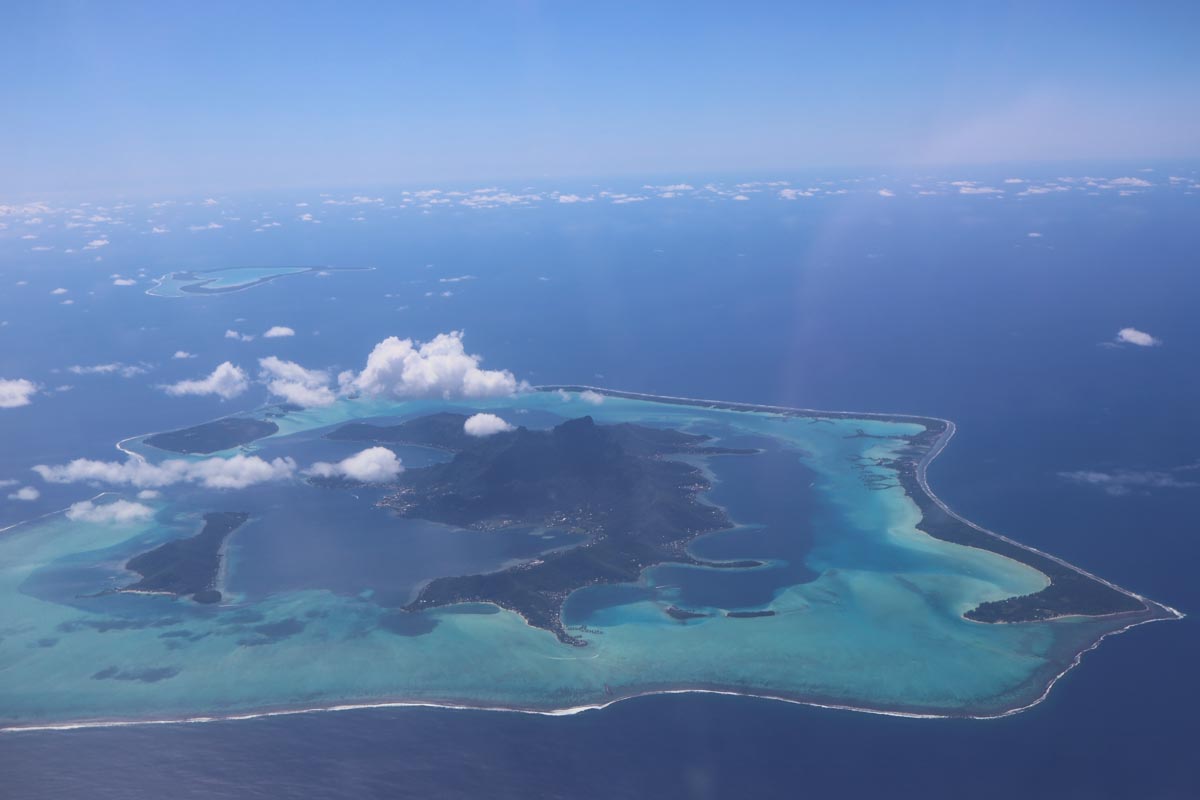 Pension Tautiare Village
A wise person once said, "never change a winning horse," and that's why I always return to Pension Tautiare Village on my visits to Maupiti. What this place lacks in terms of luxury, it makes up with a super-friendly atmosphere, excellent dinners, and a real opportunity to meet locals. Dawn, Vetea, and their family run an exceptional and well-located pension on the main island. It's the perfect spot for exploring Maupiti, relaxing, and sharing stories with like-minded travelers over delicious dinners.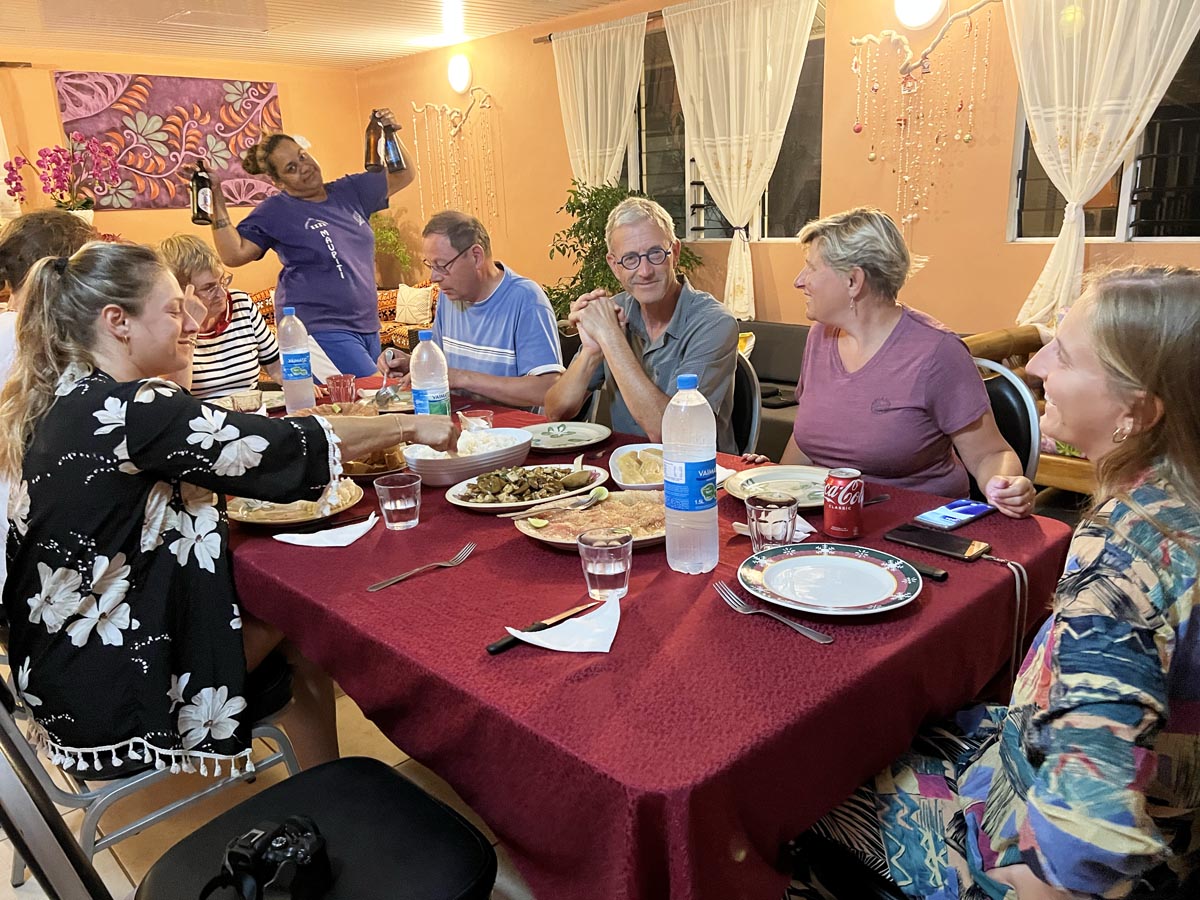 Tereia Beach
After settling in at the pension, we used the remaining daylight hours at Tereia Beach. This is the only public beach on the main island, a sliver of soft white sand gently extending into the calm lagoon like a tiny peninsula. It's a favorite gathering spot for locals and the best place on the island for sunsets.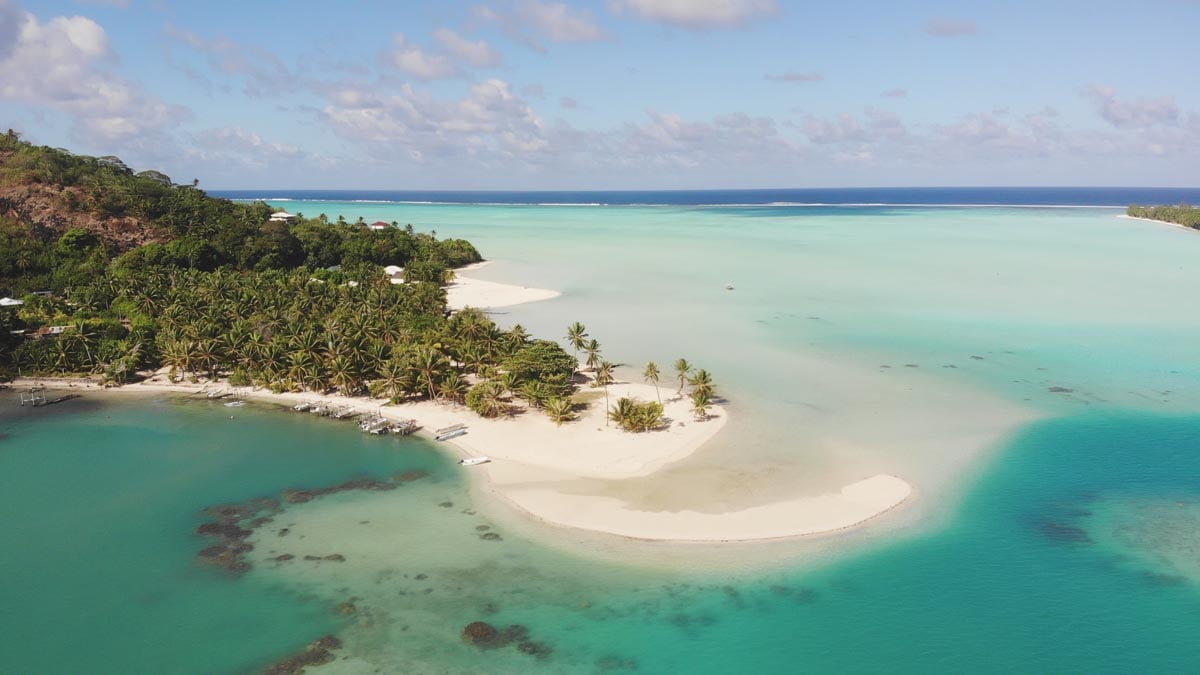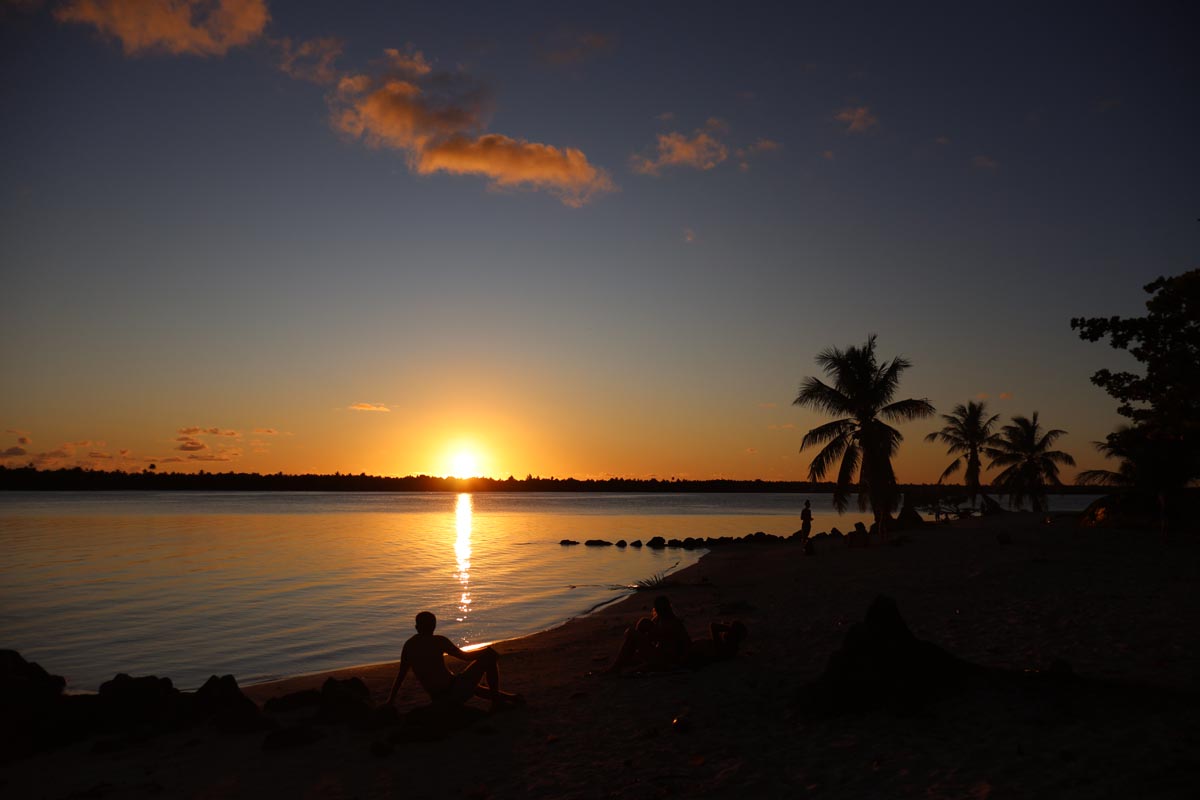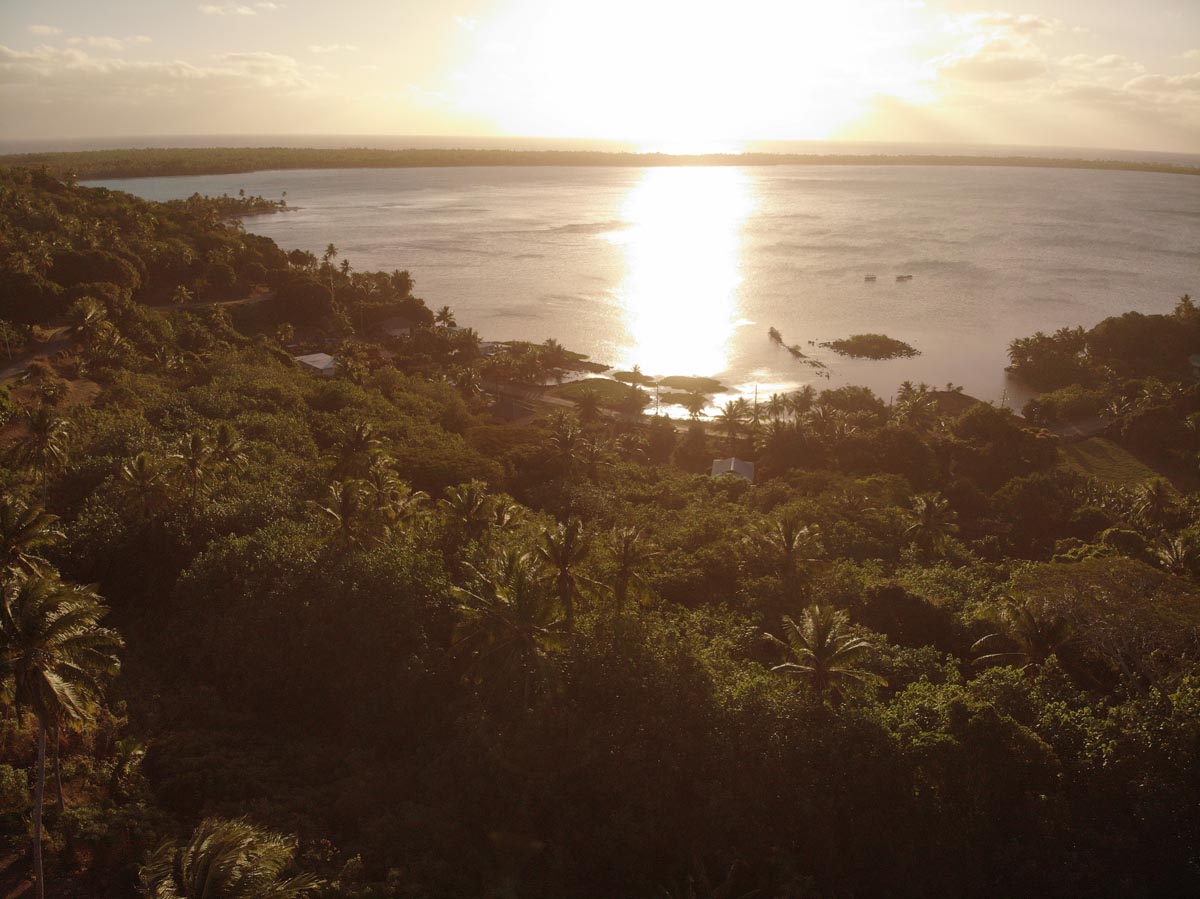 Maupiti Lagoon Tour
The highlight of every visit to Maupiti is the day spent exploring its lagoon. Our host, Vetea, first took us to the manta ray "cleaning station," a relatively deep spot in the lagoon where manta rays converge in the morning to get cleaned by small fish. We then plunged again into the water at the coral garden for some snorkeling with the tropical lagoon fish and Maupiti's signature brightly-colored shells.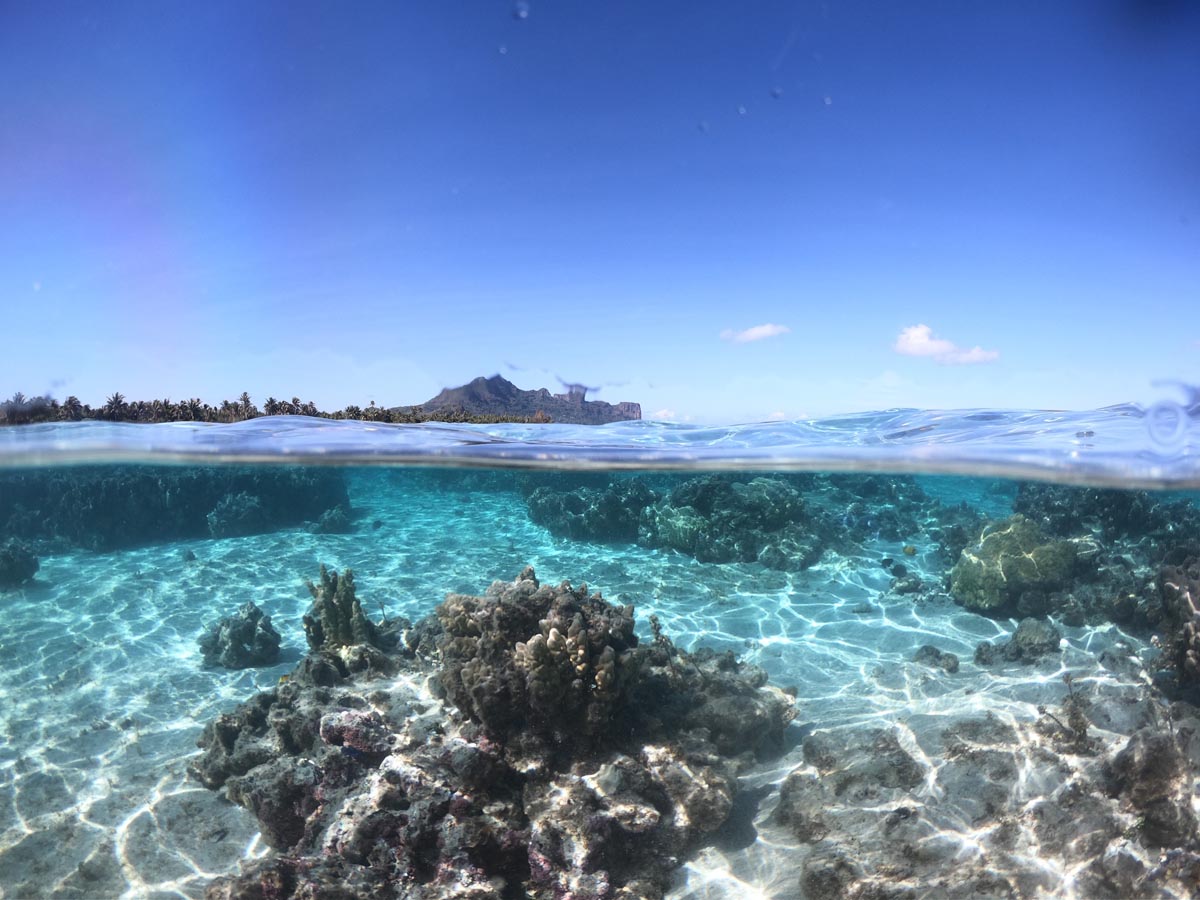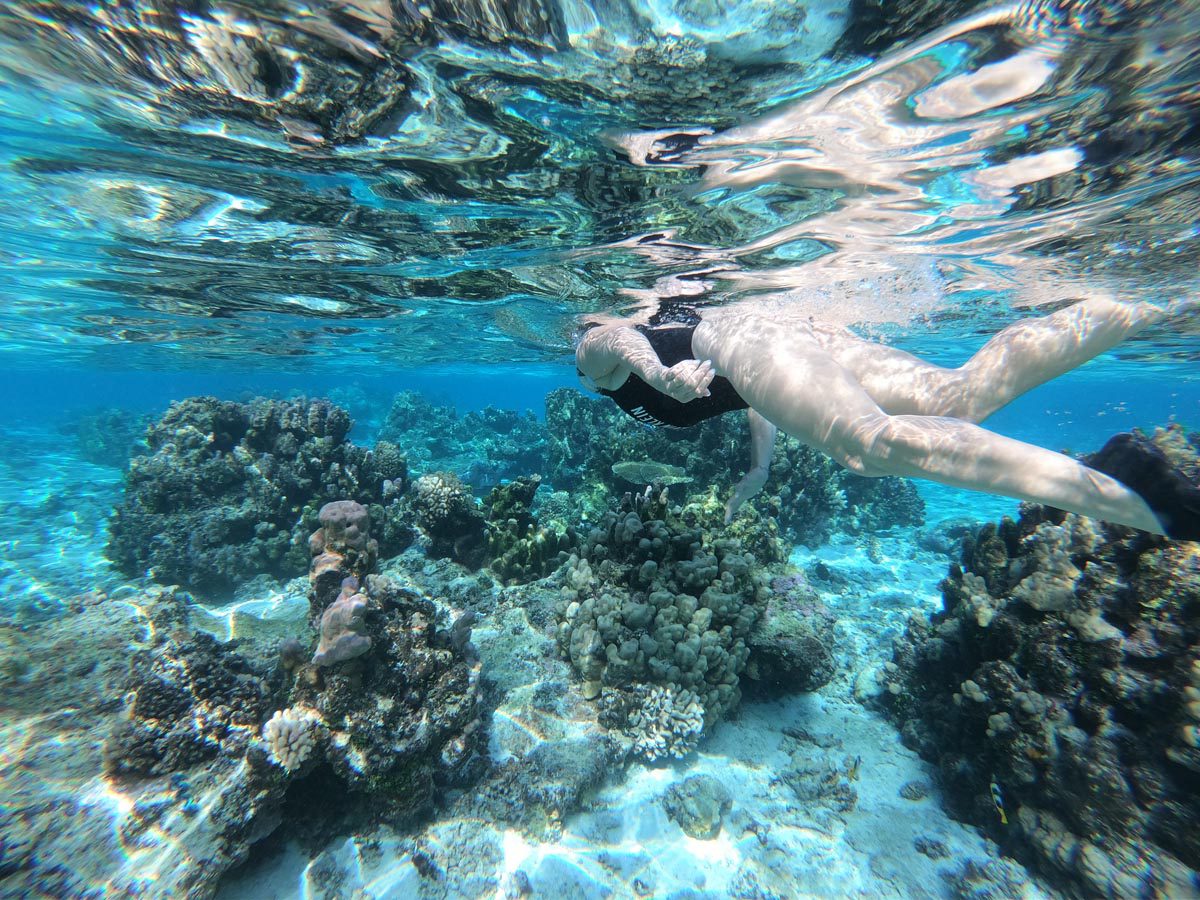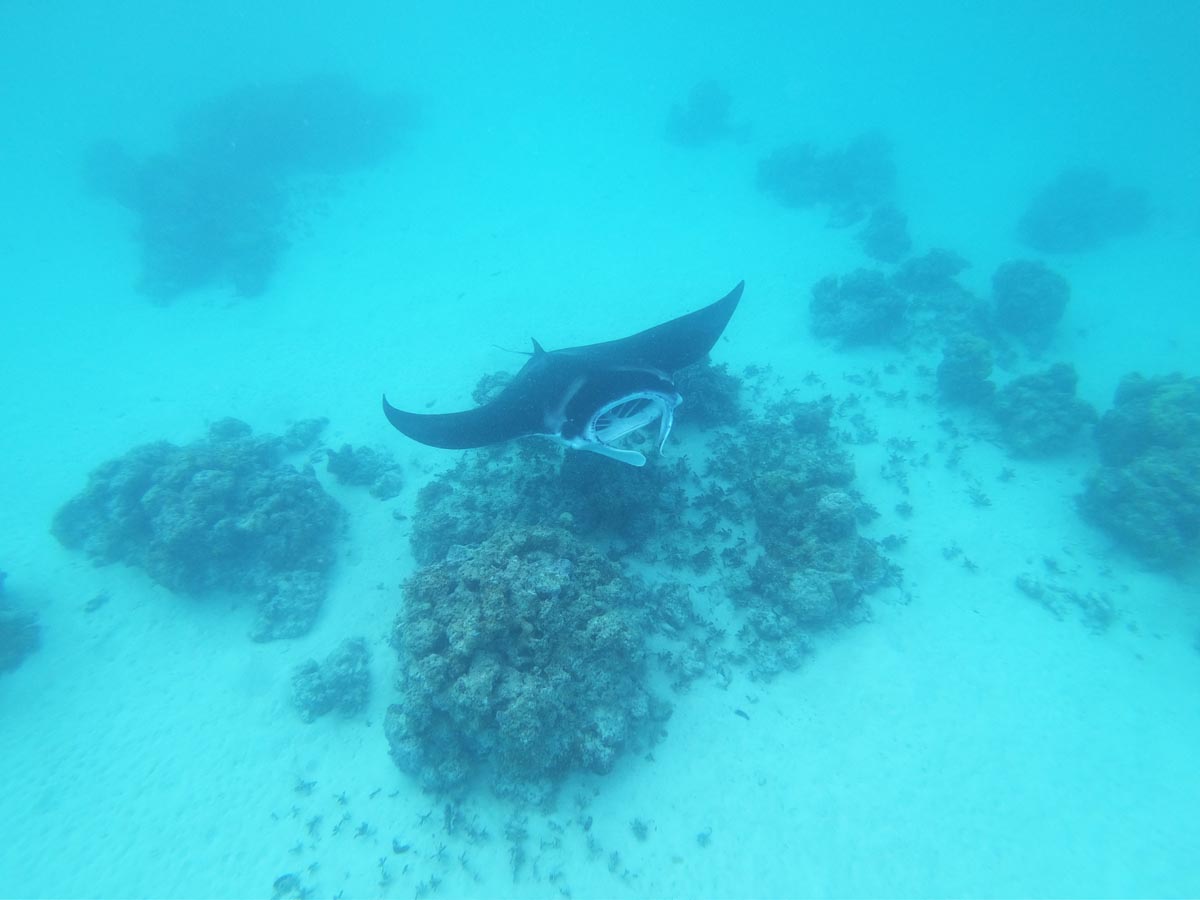 The weather turned sour as we reached the motu (islet) for a picnic lunch, but this allowed us to learn some of Dawn's secret recipes and chit-chat with her extended family as lunch was prepared. What's on the menu? Freshly baked coconut bread, Tahitian poisson cru, tuna steak, and rice.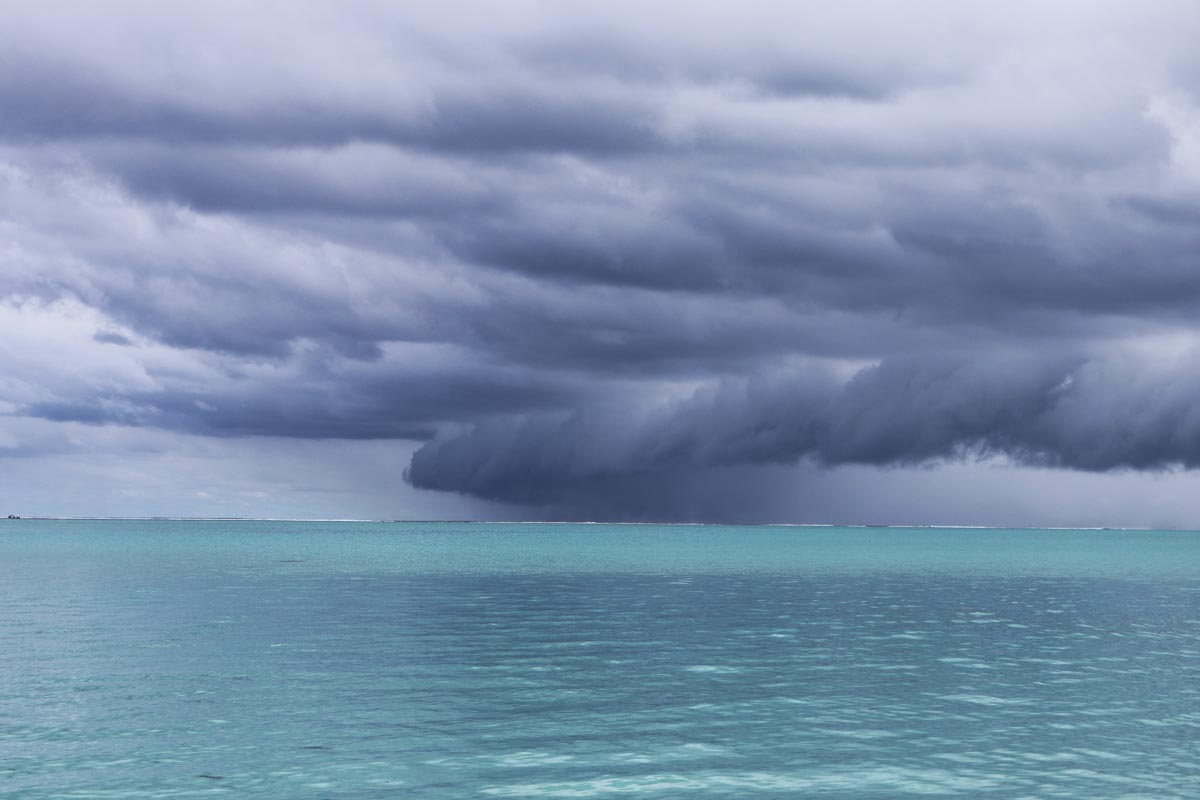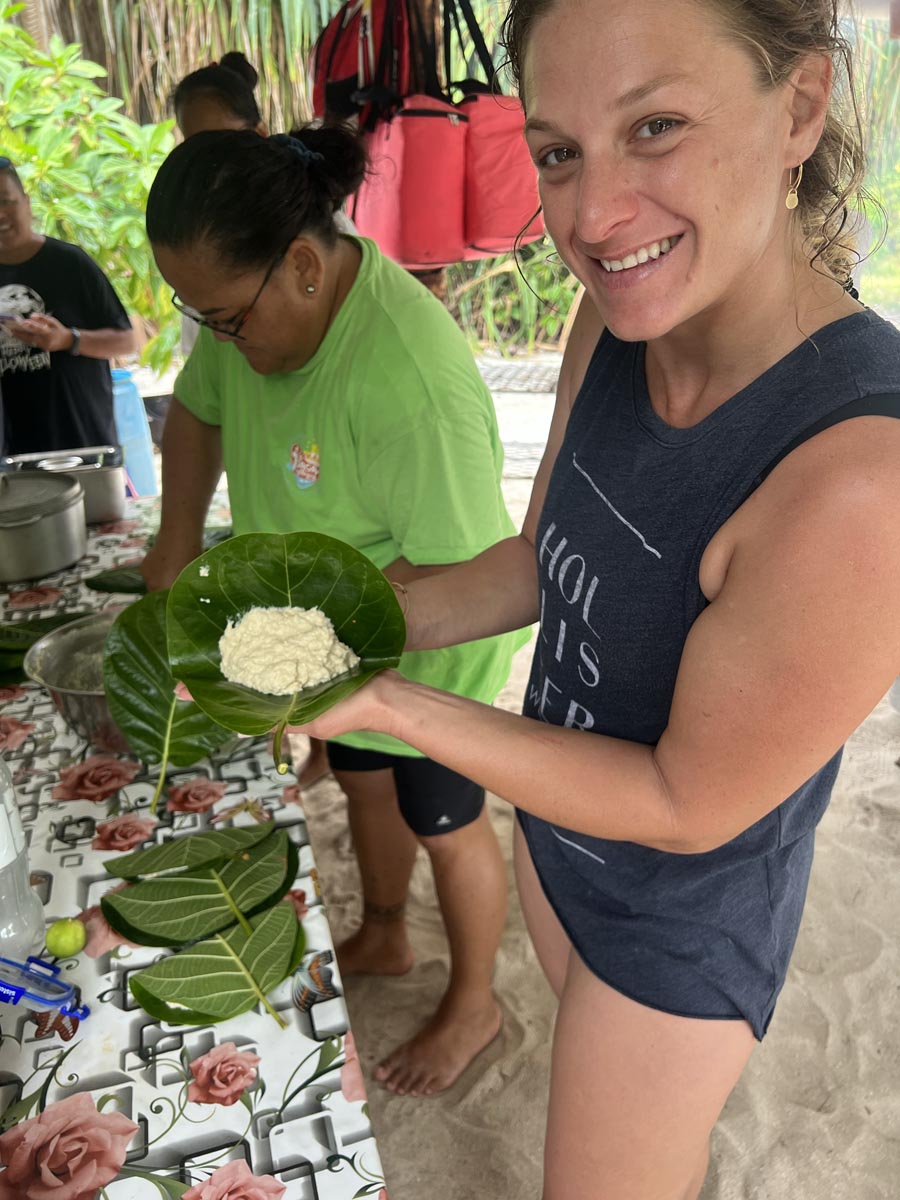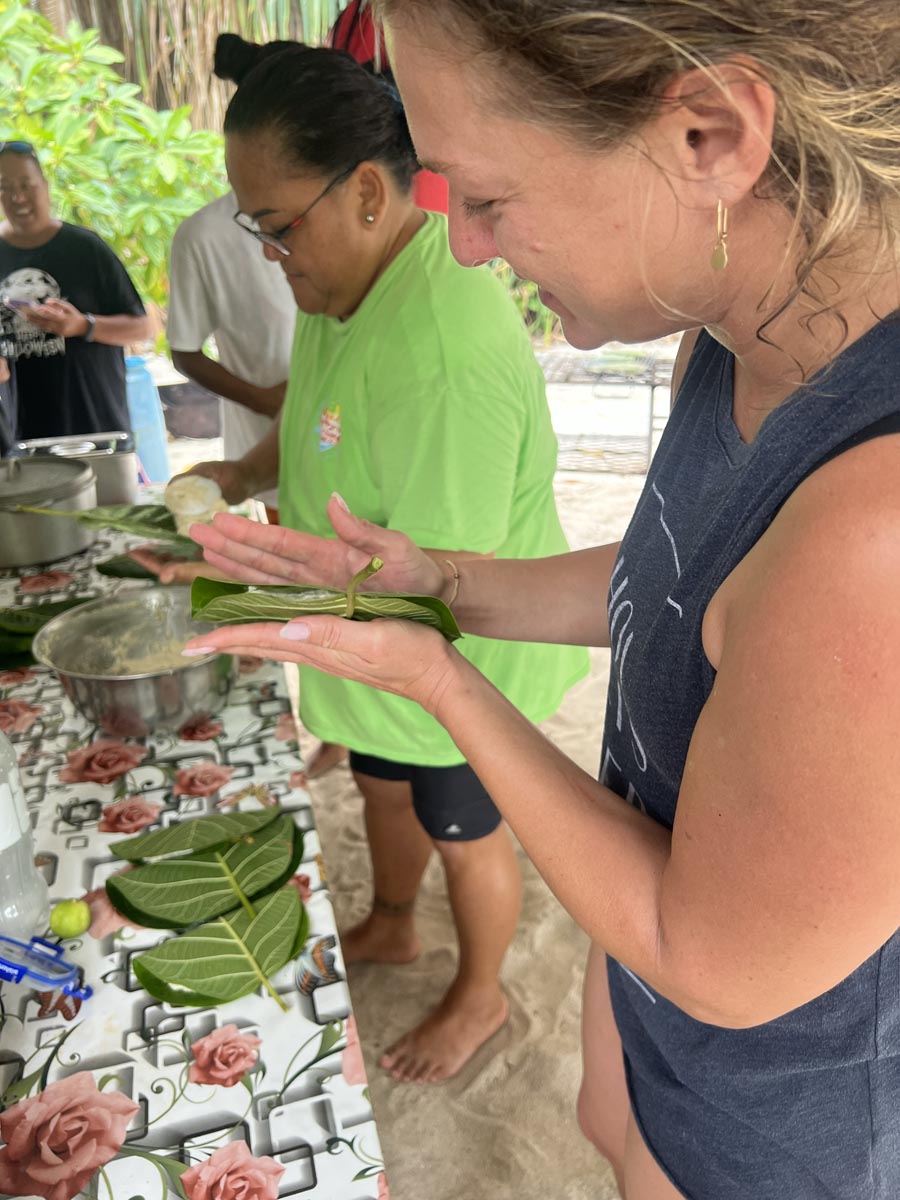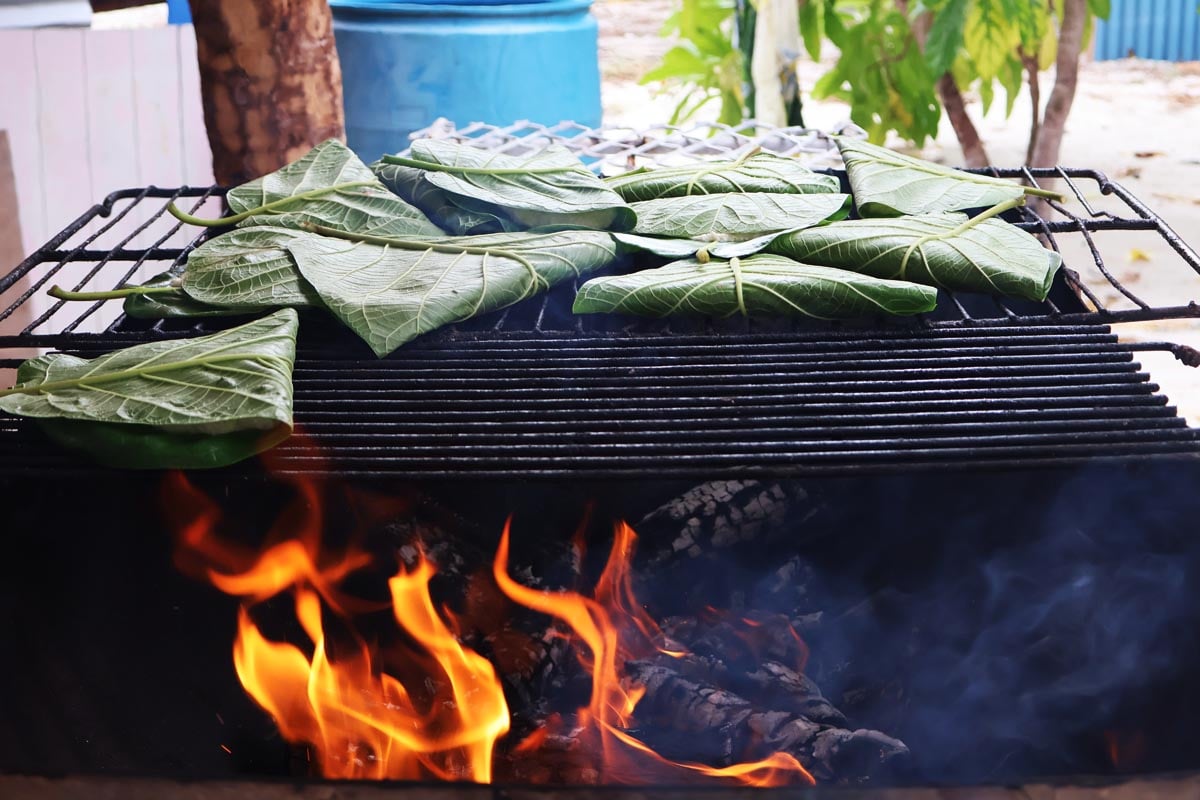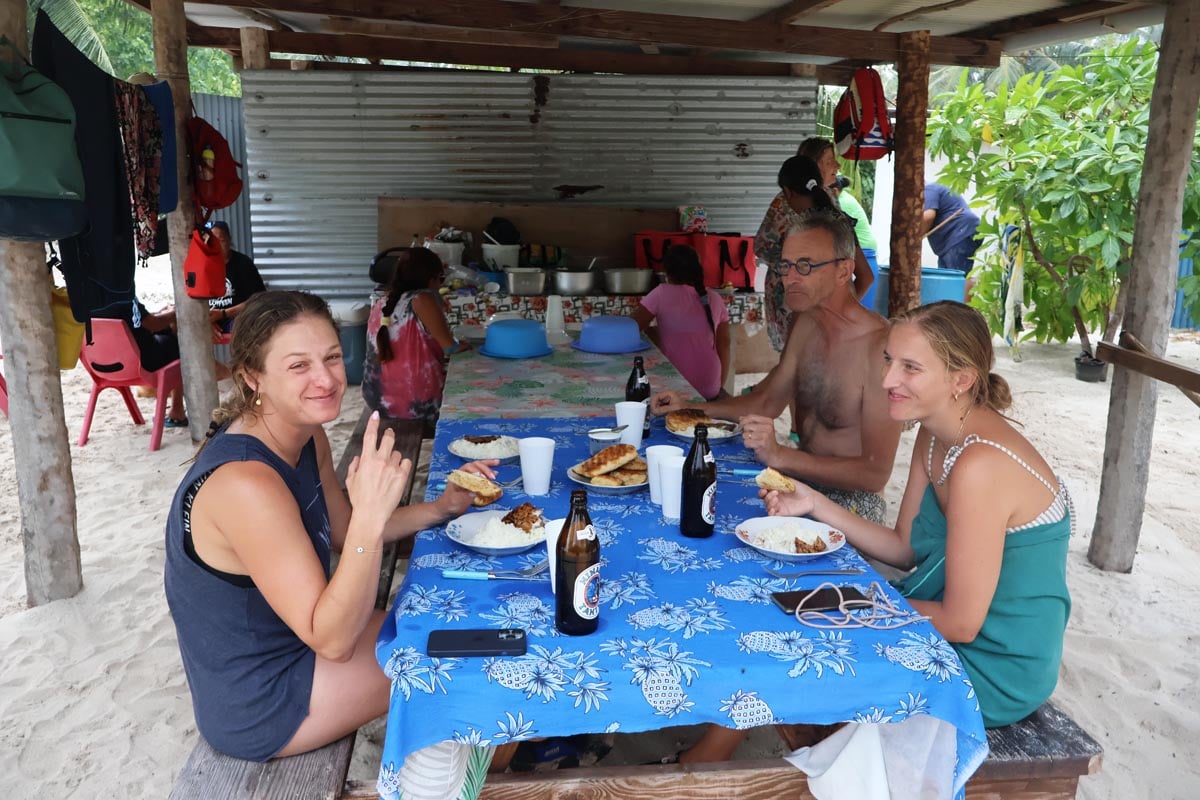 Motu Auira
The lagoon tour might be rated the #1 activity in Maupiti, but those who know venture to Motu Auira for the day. From a specific point in Tereia Beach, it's possible to cross a shallow area of the lagoon on foot and spend the day Robinson Crusoe style on Motu Auira.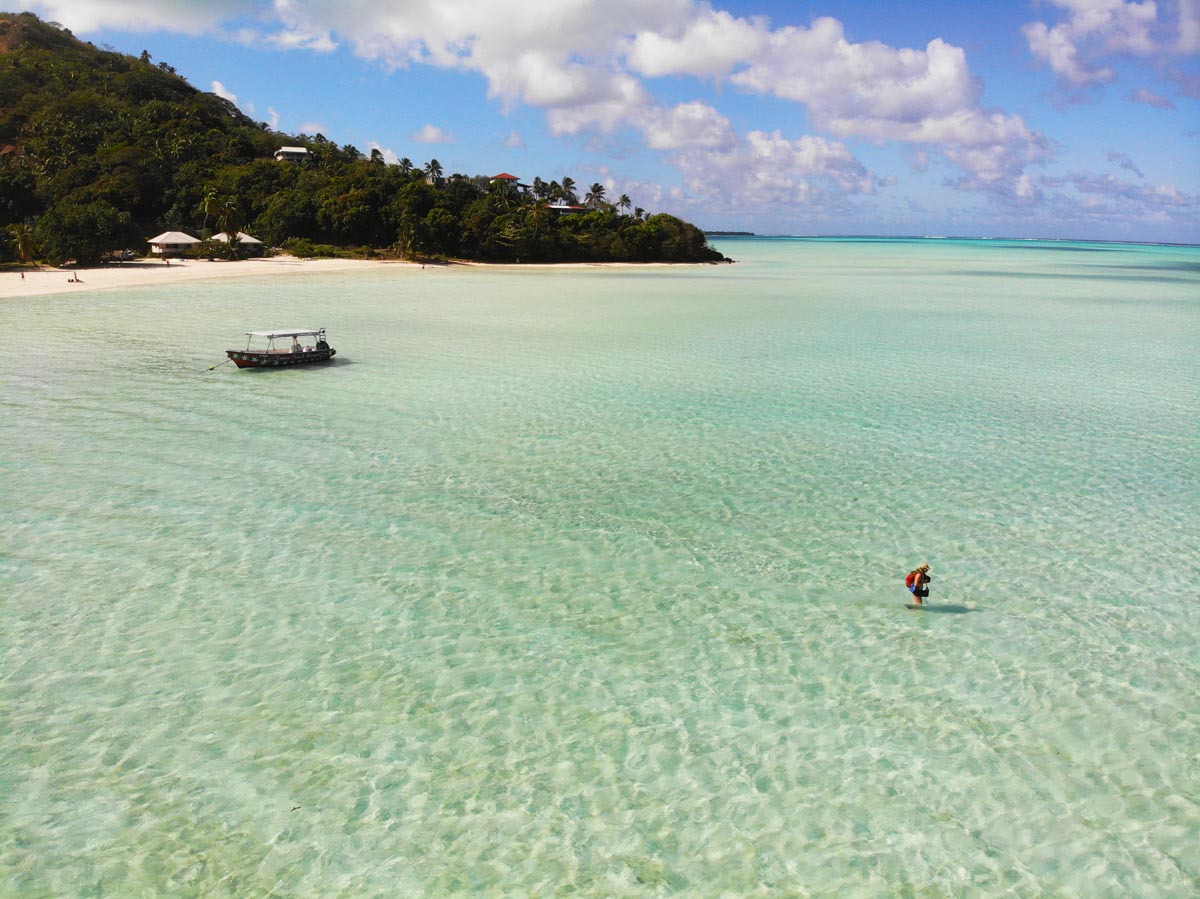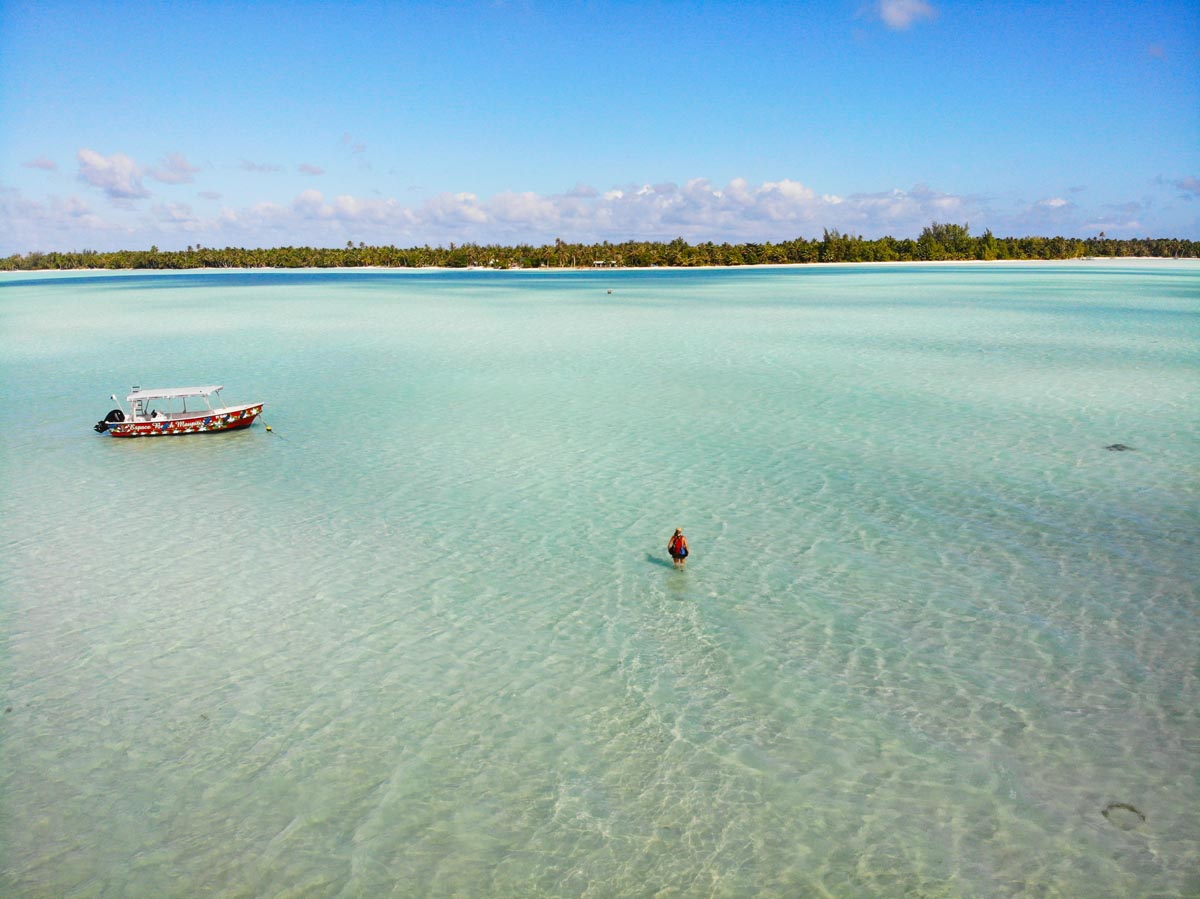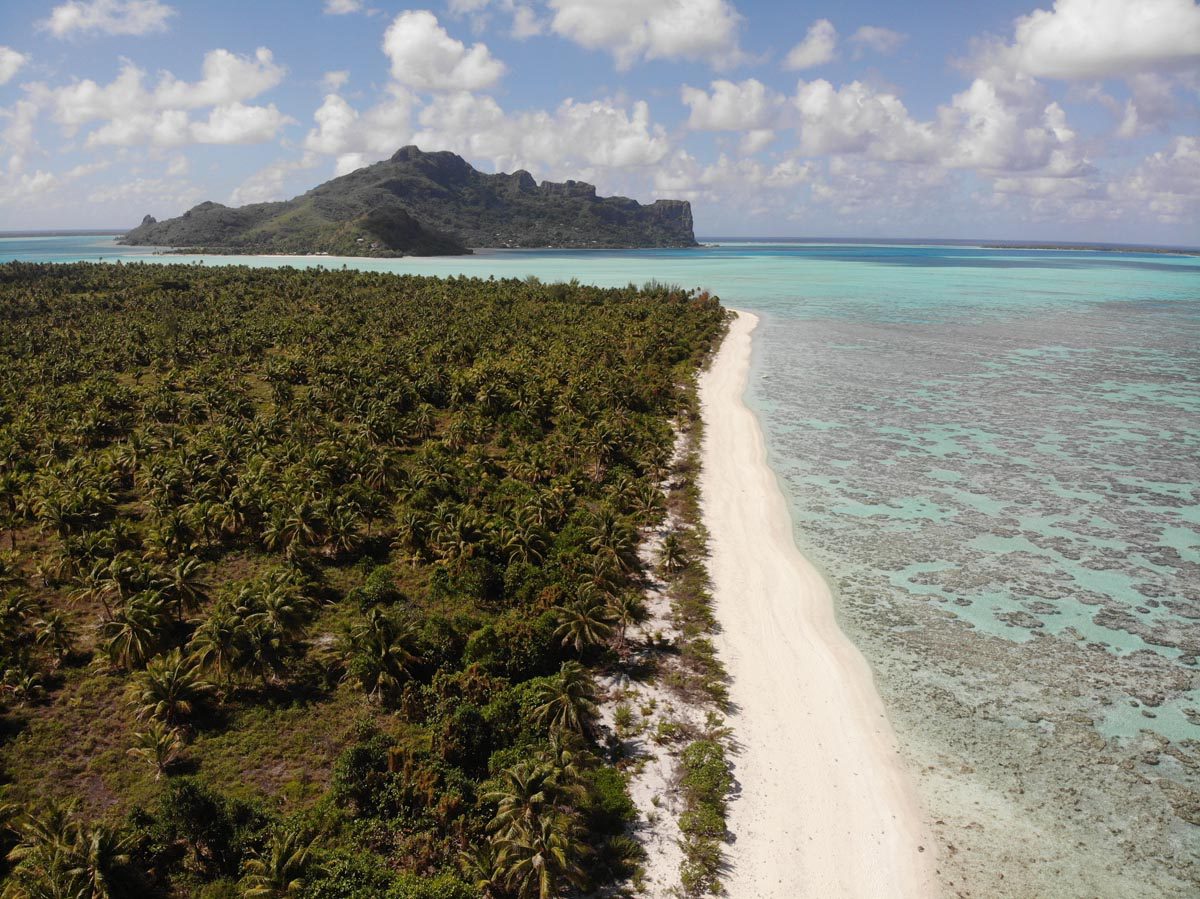 Once we made landfall on Motu Auira, we headed to my "secret spot" on the reef side to chill for the day. The snorkeling was excellent; hardly anyone was around, and we could even spot Bora Bora's famous skyline in the distance.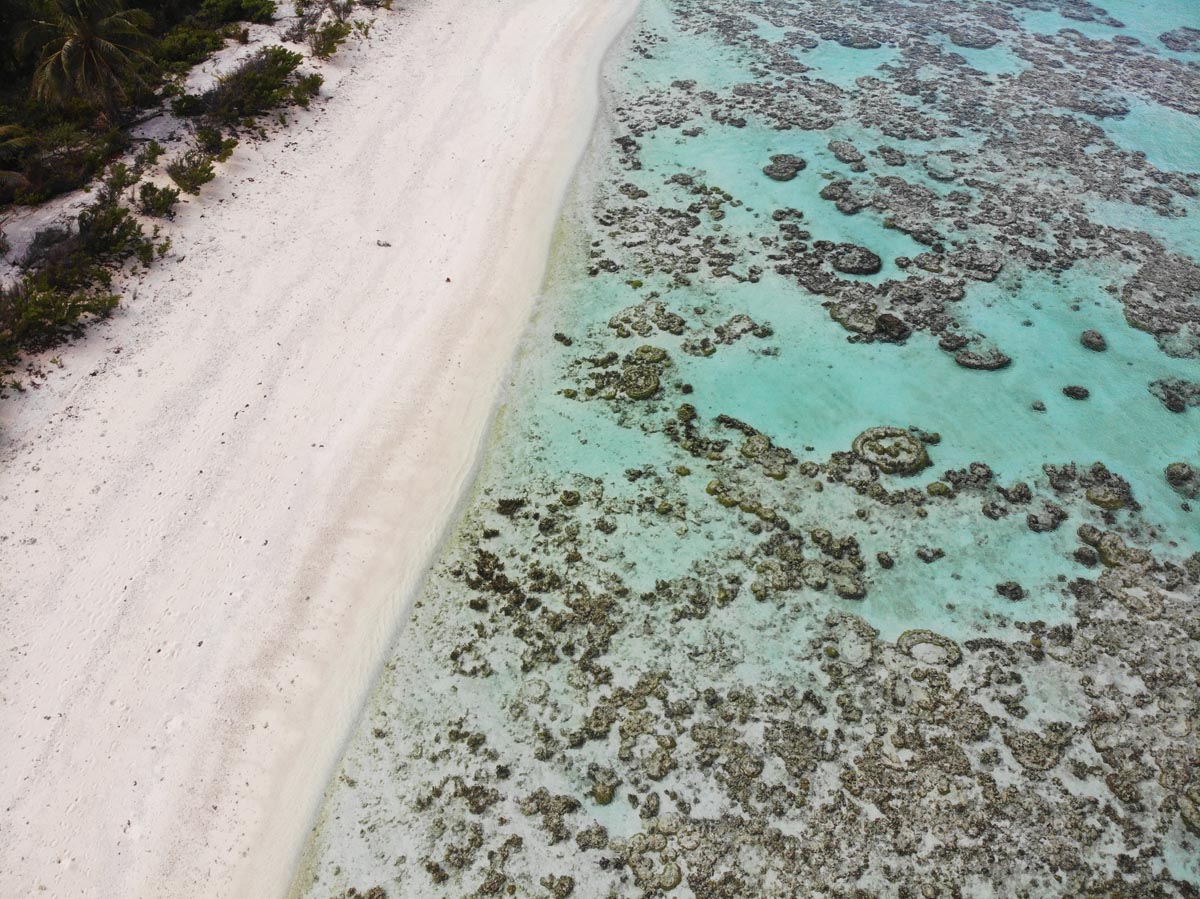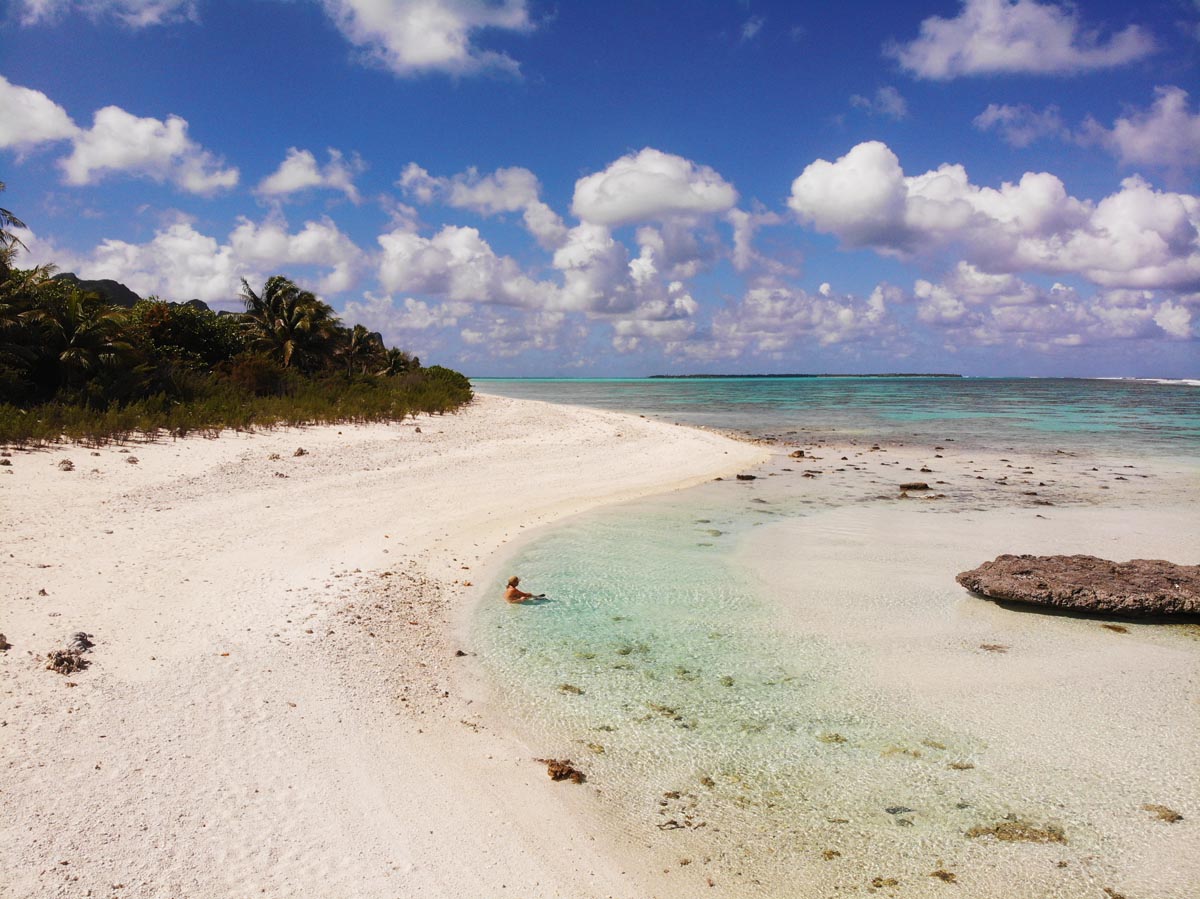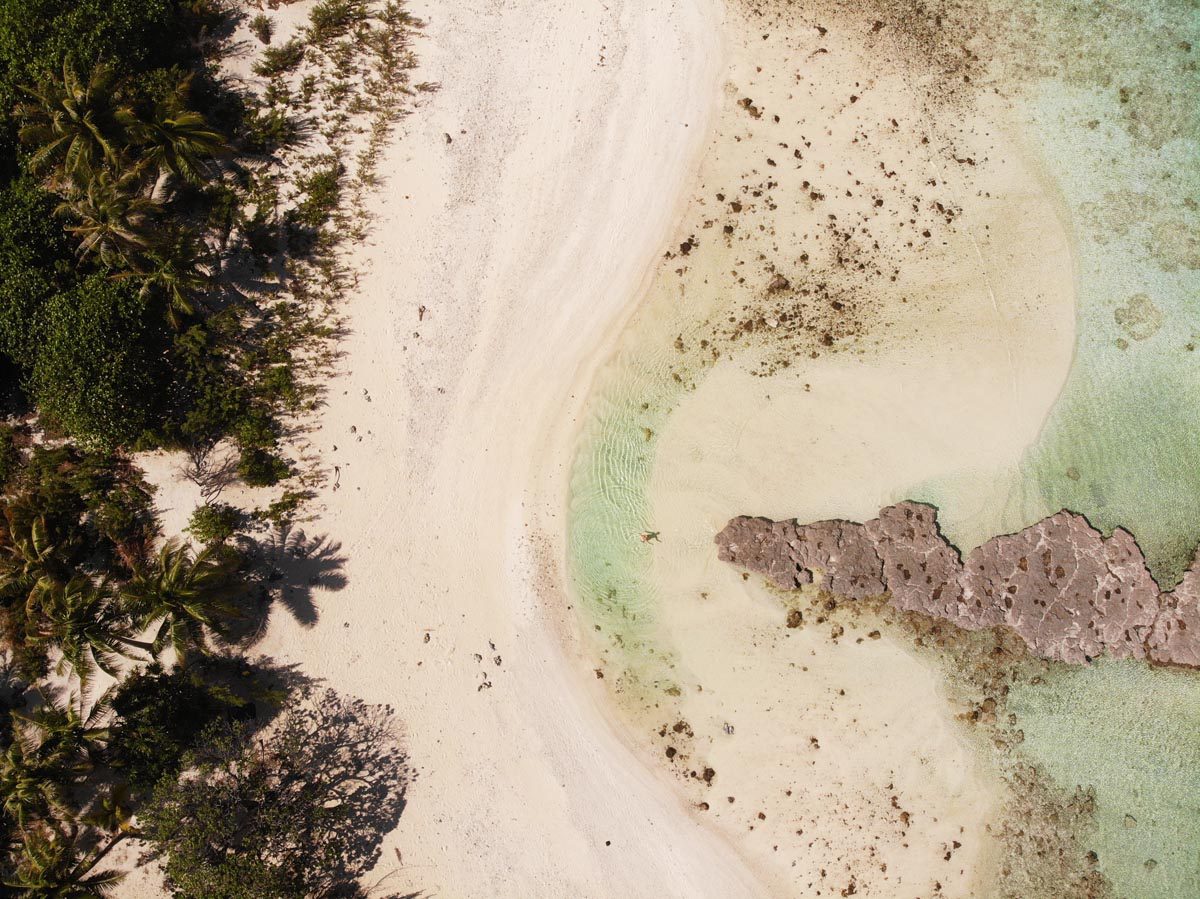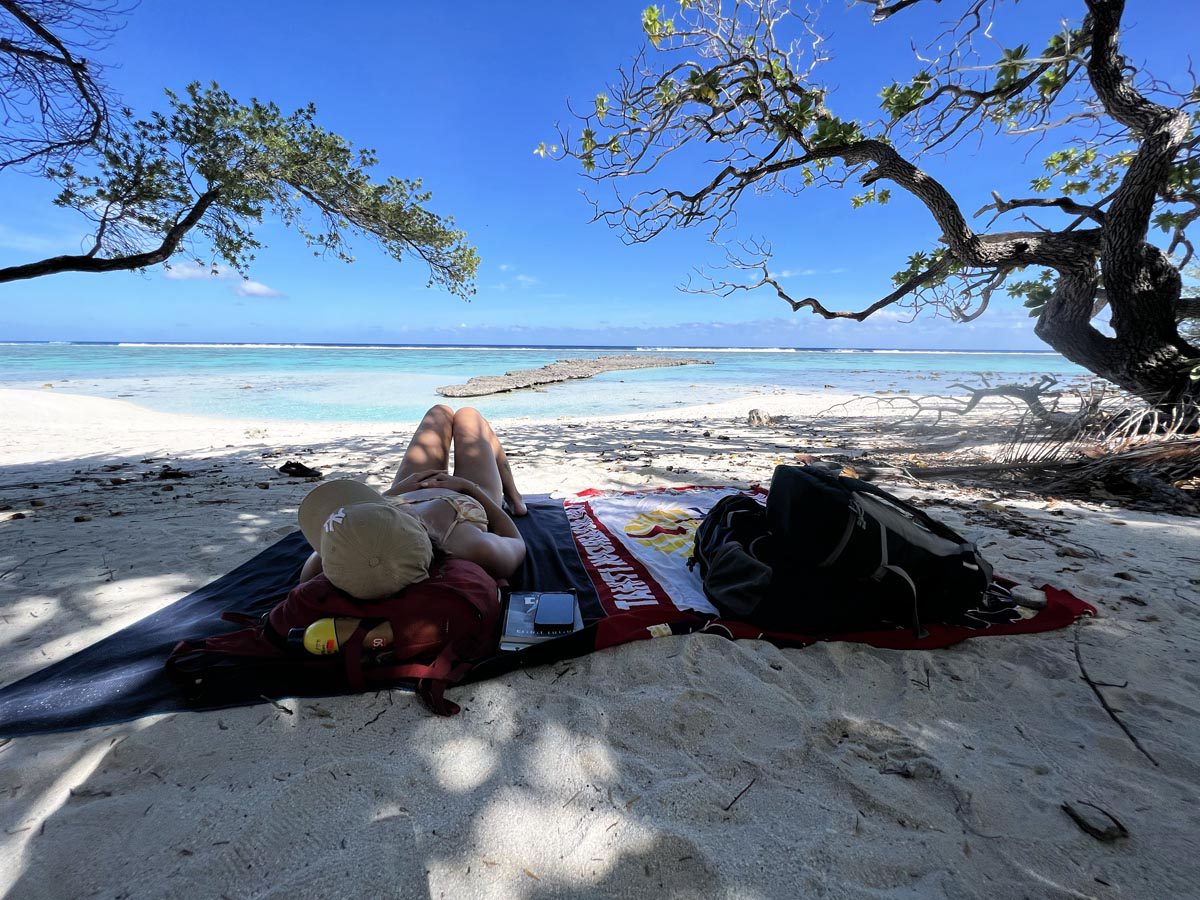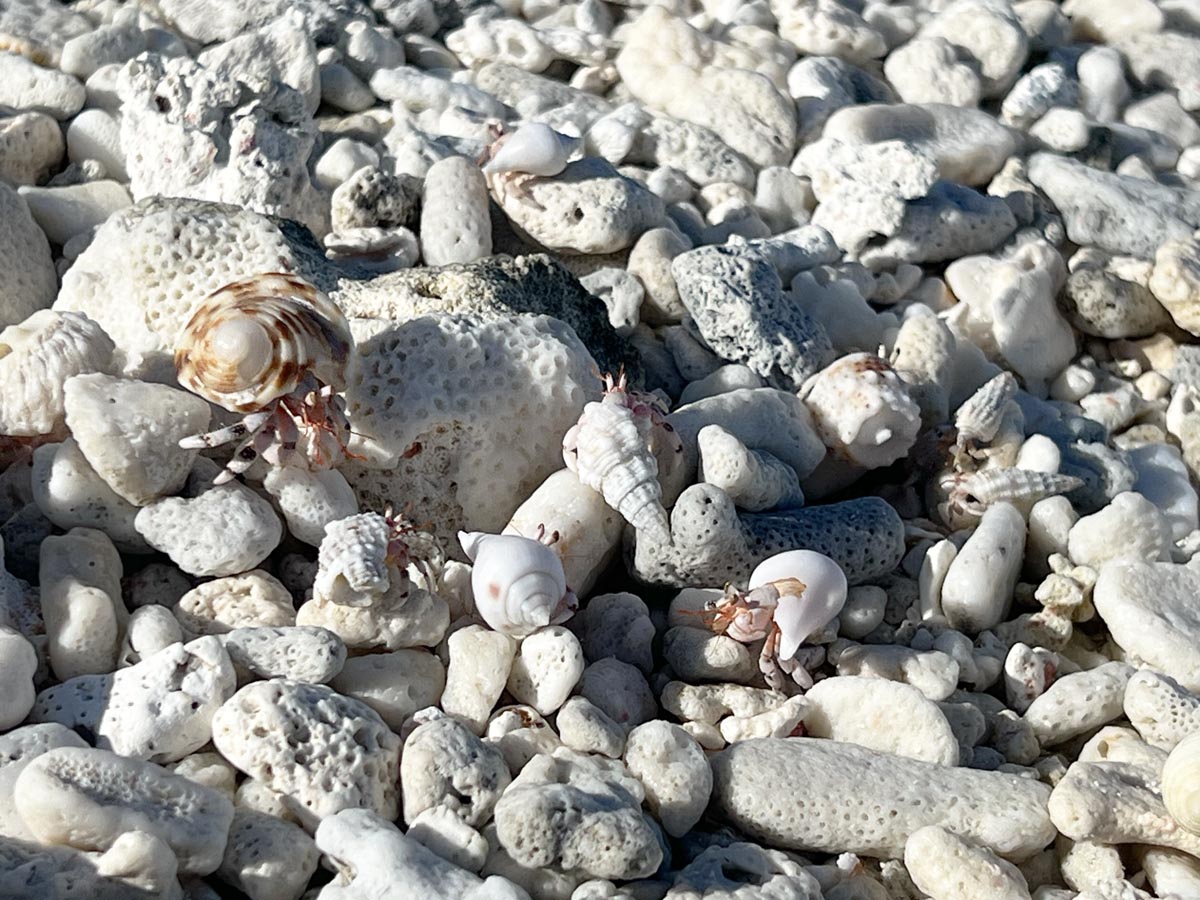 The Heiva Festival in Maupiti
After dinner, Dawn graciously offered to drive the guests "downtown" for tonight's Heiva celebrations. There wasn't a soul on the road from the pension to the makeshift stadium on the outskirts of Vaiea Village as the entire island gathered to watch the competing teams. This version of the Heiva Festival was low-key compared to what we saw in Tahiti. Still, like everything in Maupiti, it was a lot more authentic, as kids cheered their dancing aunties and cousins, and islanders took advantage of the rare opportunity when everyone was at the same spot. And with everyone heading home at the end of festivities, we also witnessed the only time Maupiti ever experiences a "traffic jam".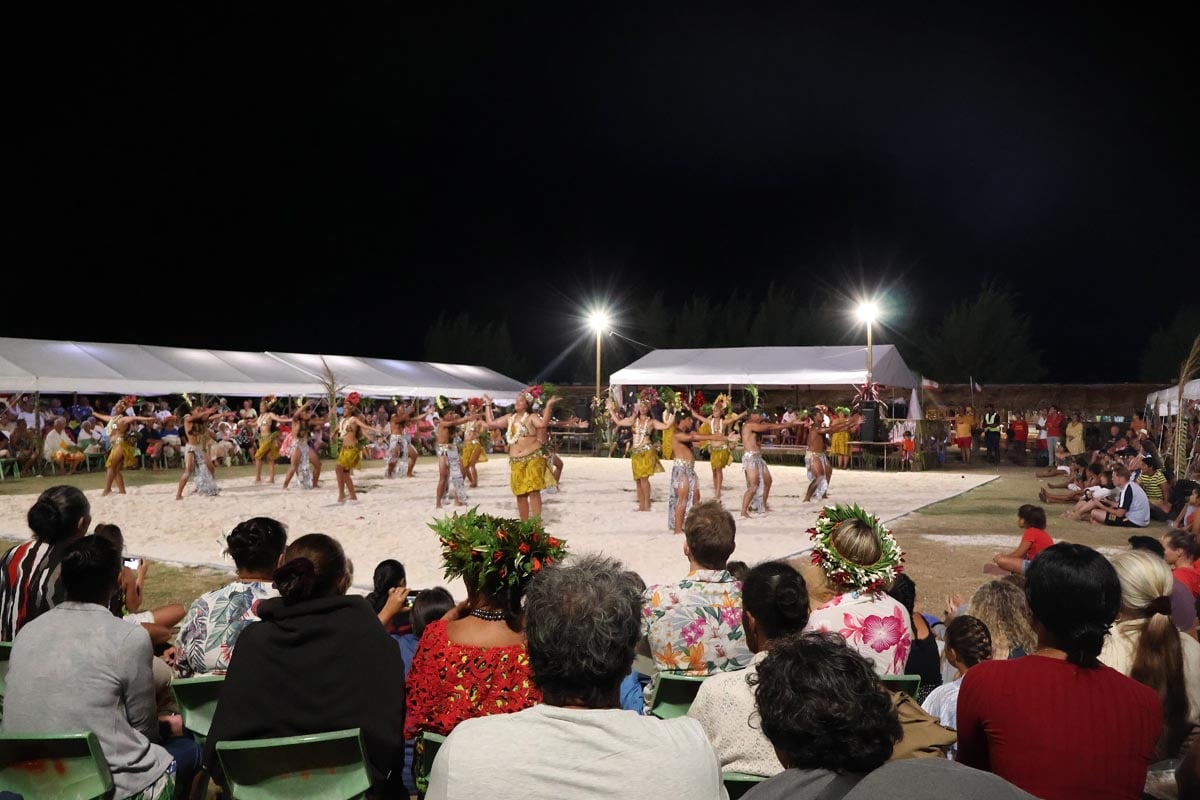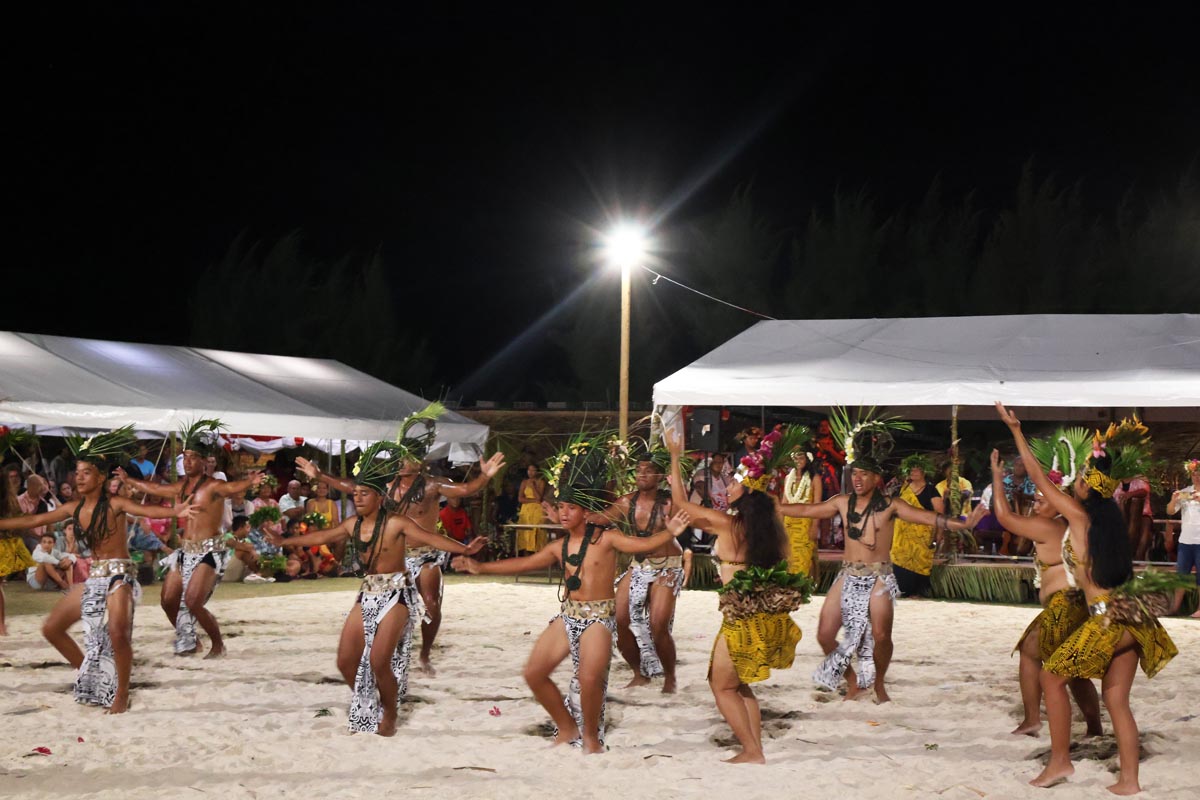 Cargo Ship Day
The weather the following morning was sour, but it coincided with the cargo ship's arrival. In this part of the world, cargo ships are the logistical umbilical cord of the islands. Once per month, a cargo ship somehow manages to sail through the challenging lagoon pass and unload containers that seem to be loaded with gold. You see, living on such a small and remote island, the residents of Maupiti must carefully plan their grocery list and patiently wait for it to arrive along with any other "luxury" goods they purchase.
When we heard that Dawn was about to head to the dock to pick up her supply, we jumped at the opportunity to join her and learn about the mechanics of island life. At the dock, every family was represented, and excitement was in the air. (Very) slowly, container after container was breached, revealing mostly Chinese-made goods, boat engines, canned food, and the new island sensation, electric bicycles. There's a famous saying that there are no secrets on an island, and here's a testament to that. Everybody knows exactly what you bought. It's hard to keep secrets in Maupiti.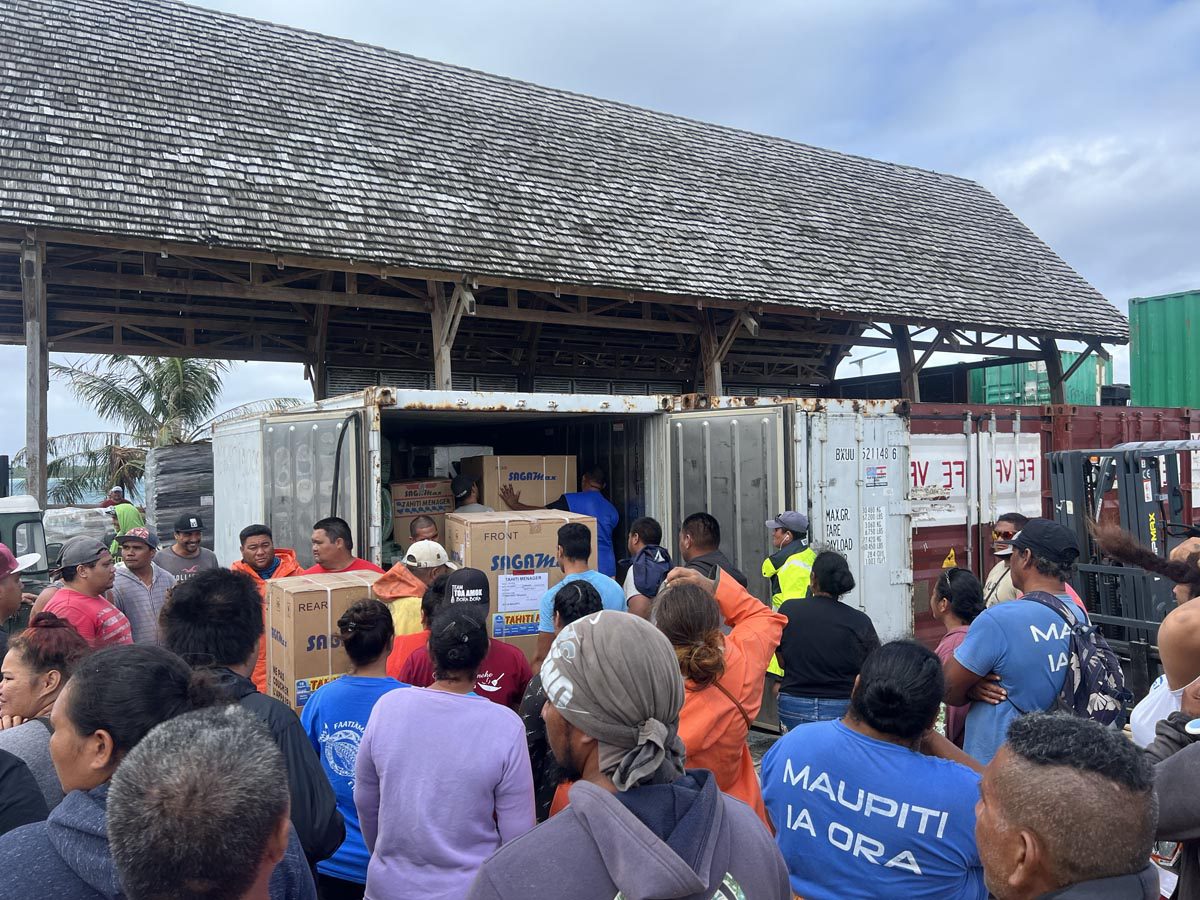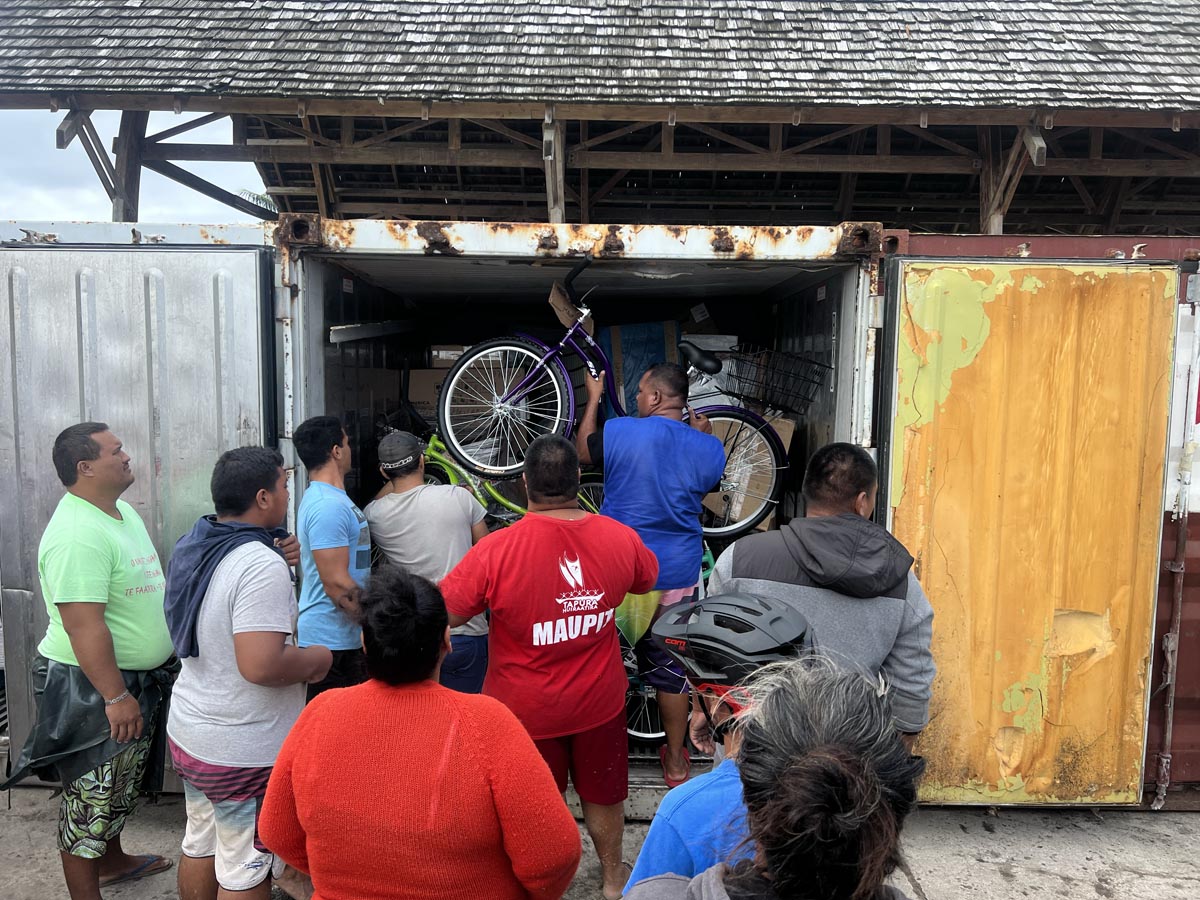 Hiking Mount Teurafaatiu
The weather finally cleared on our last day in Maupiti, and there was one last achievement to unlock. At 1246 feet (380 meters), the summit of Mount Teurafaatiu offers the best seat in the house on Maupiti. The short but challenging hike from the center of Vaiea Village slowly reveals the magic of Maupiti as you gain elevation. The rope-assisted final ascent brings you to a rocky balcony that is literally the top of the island.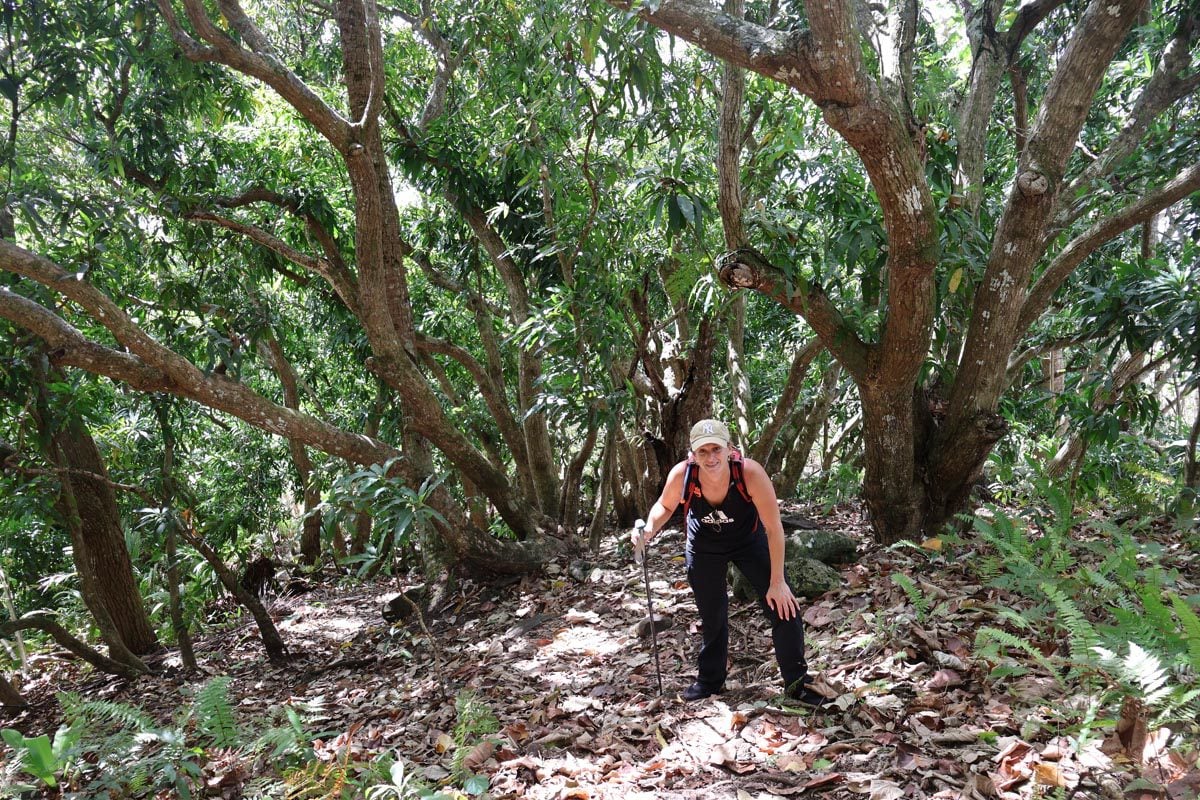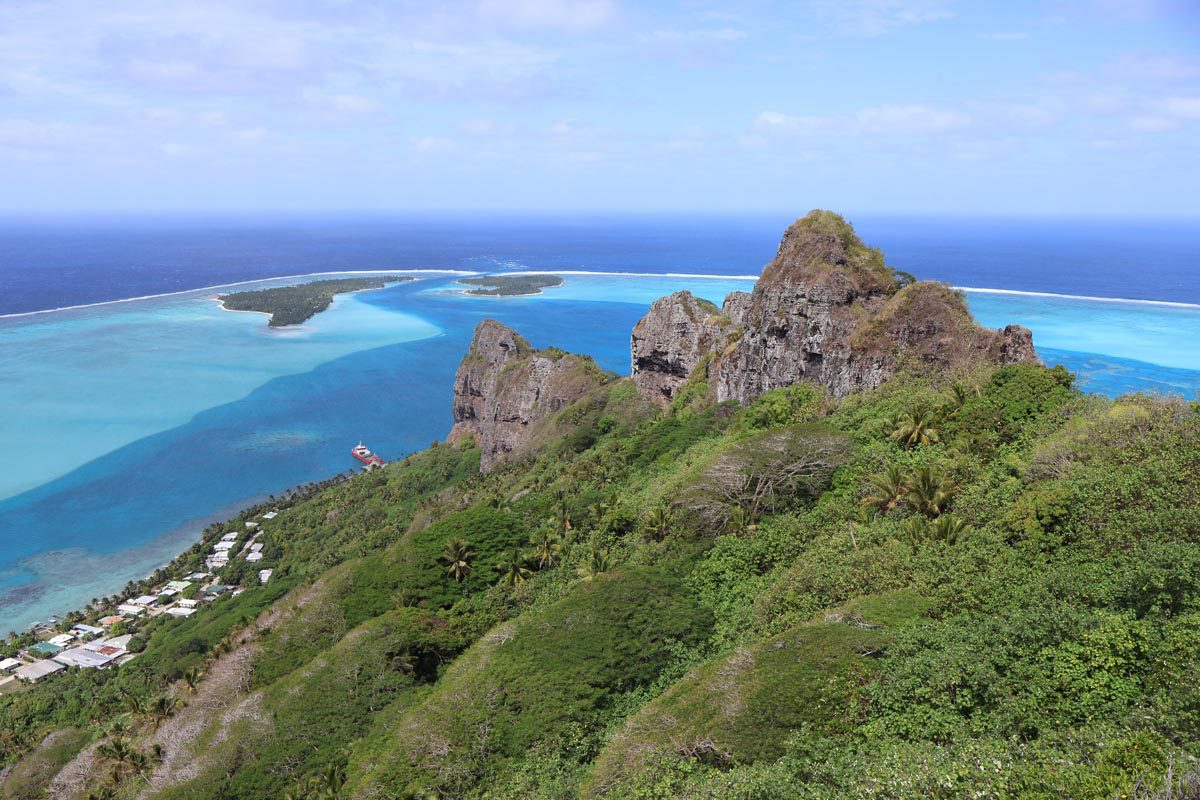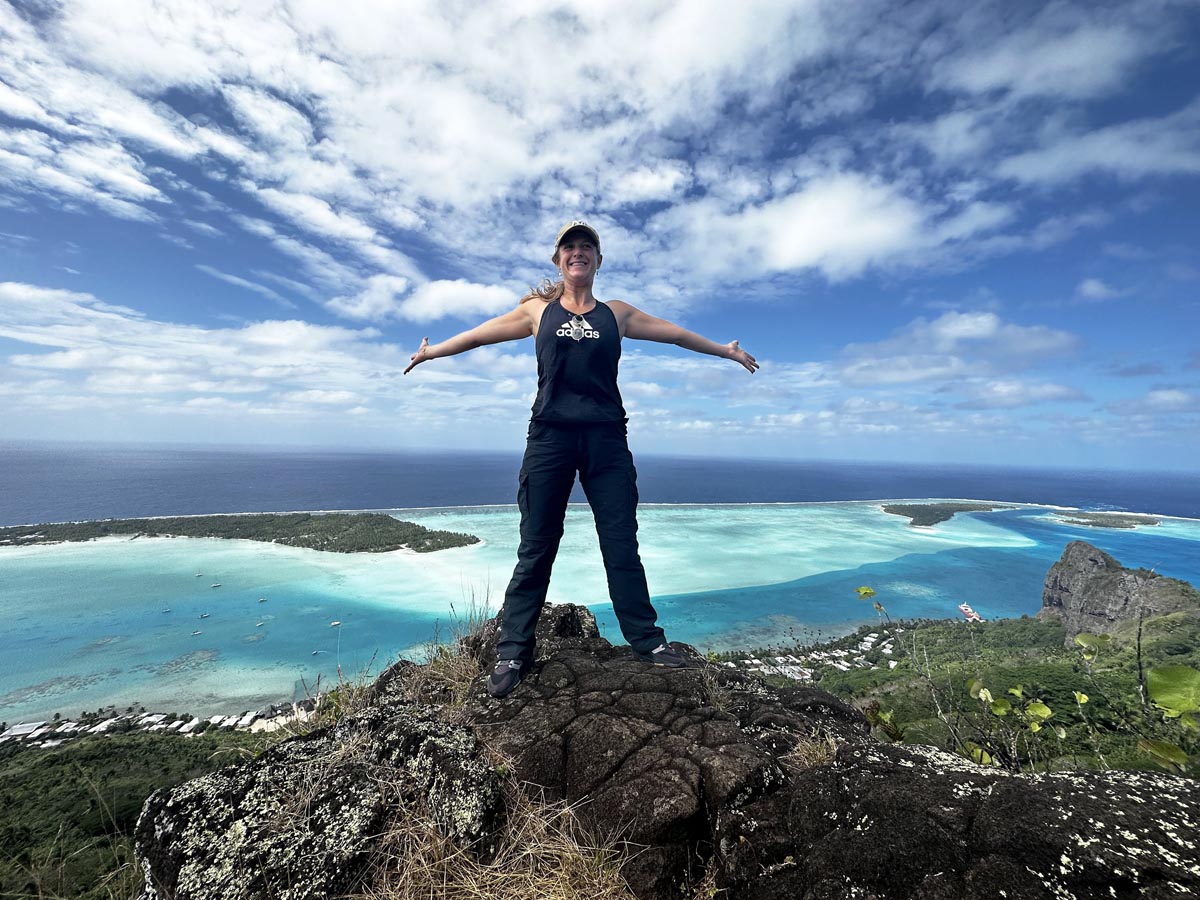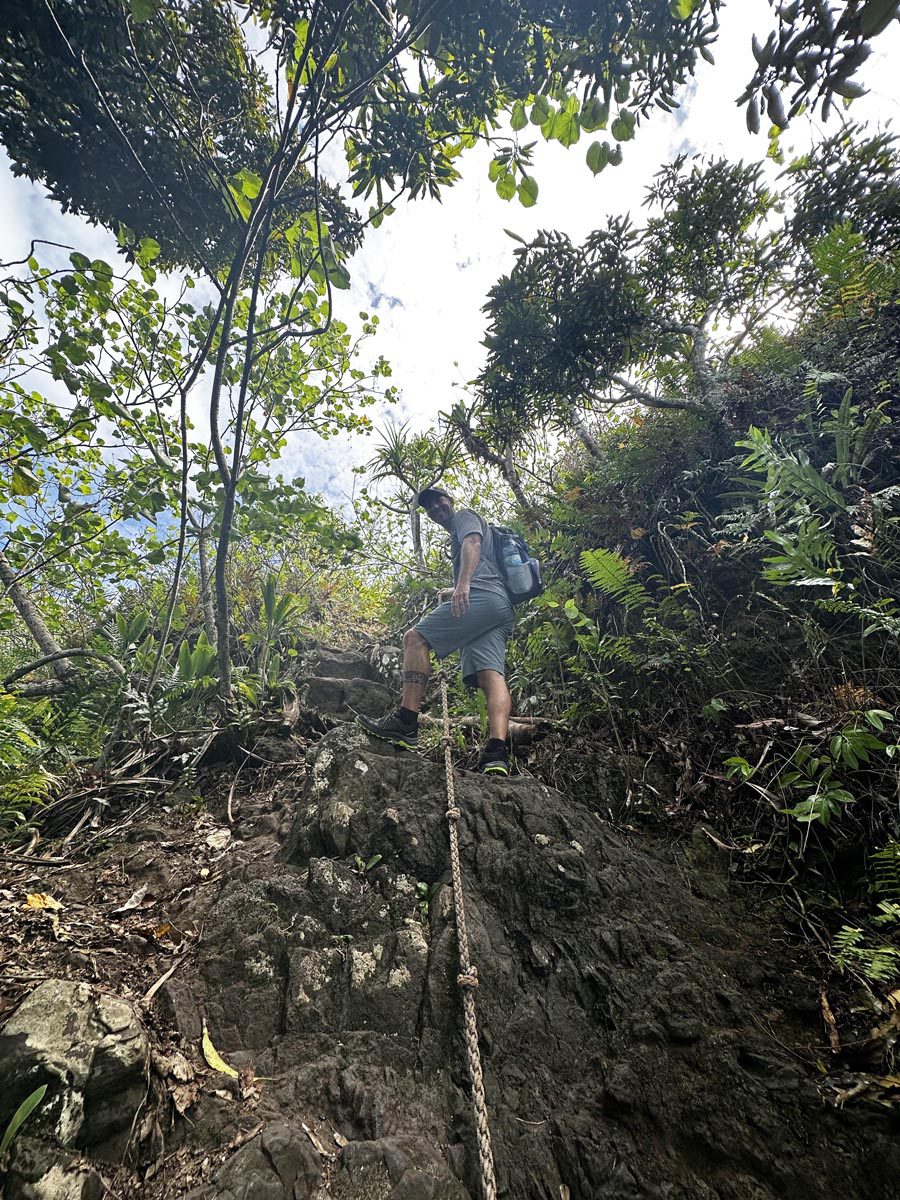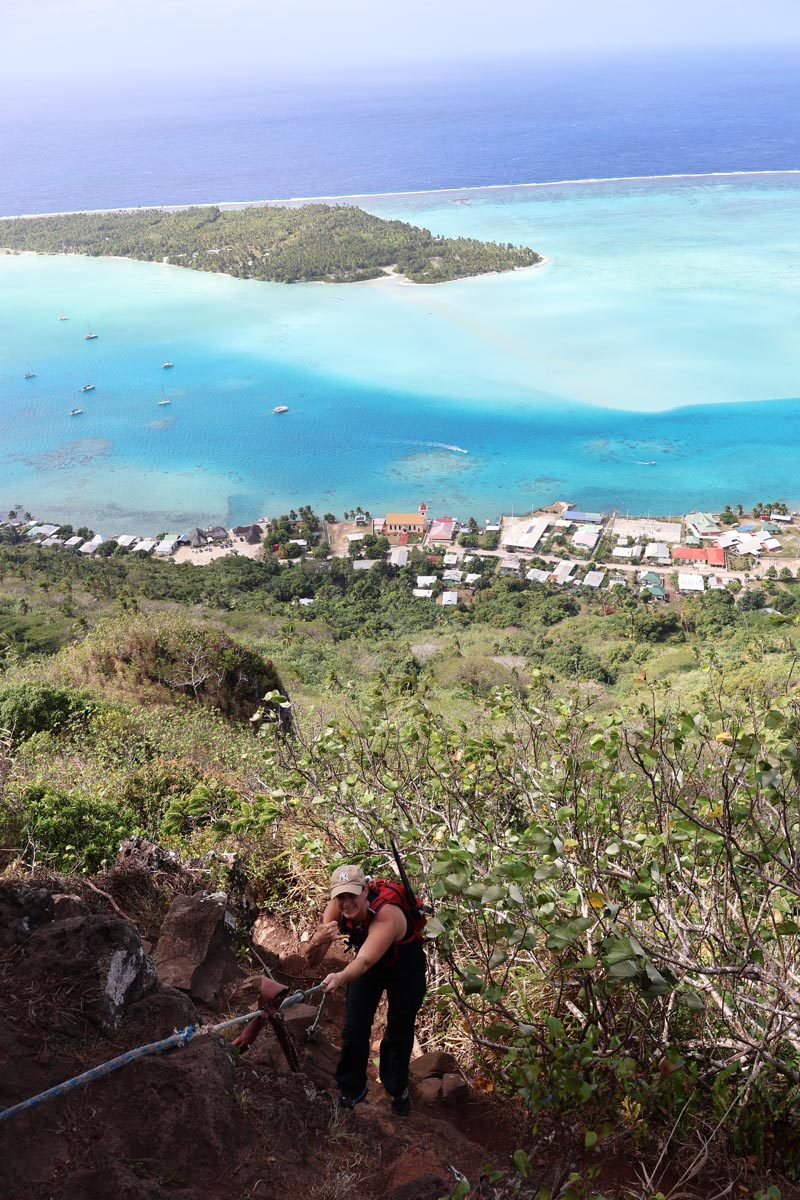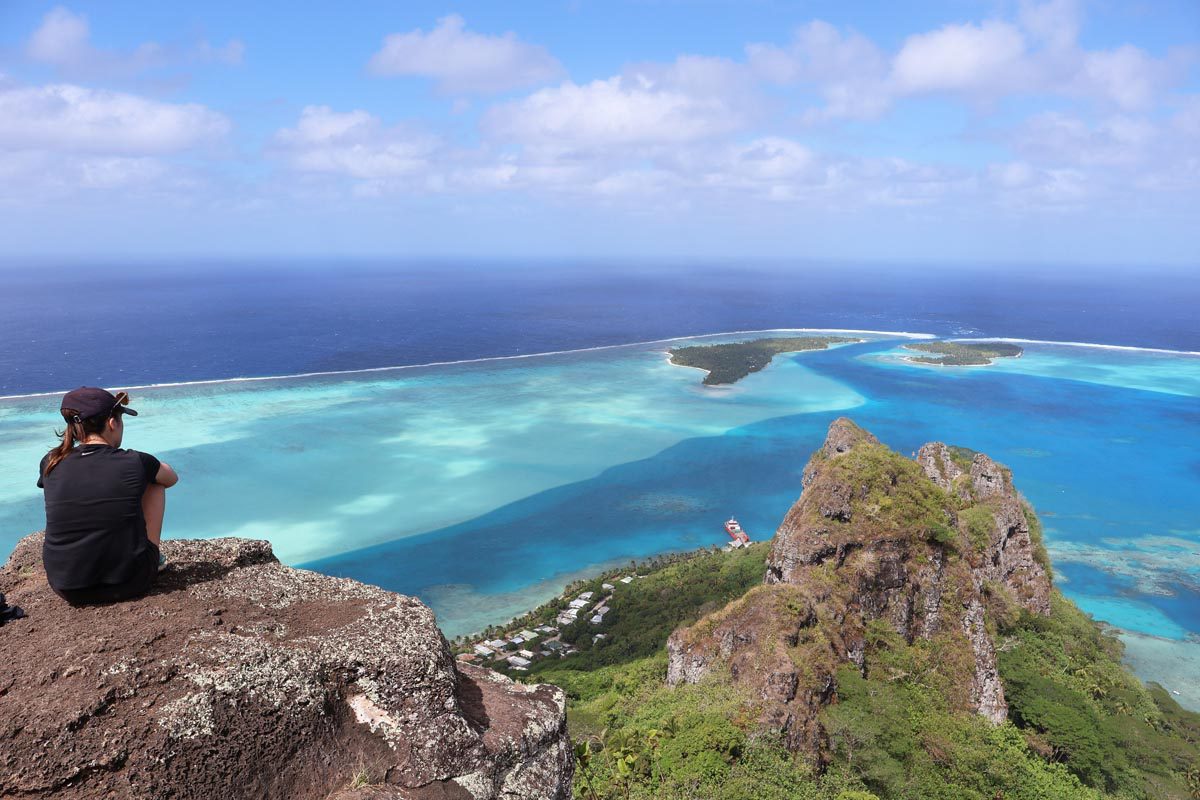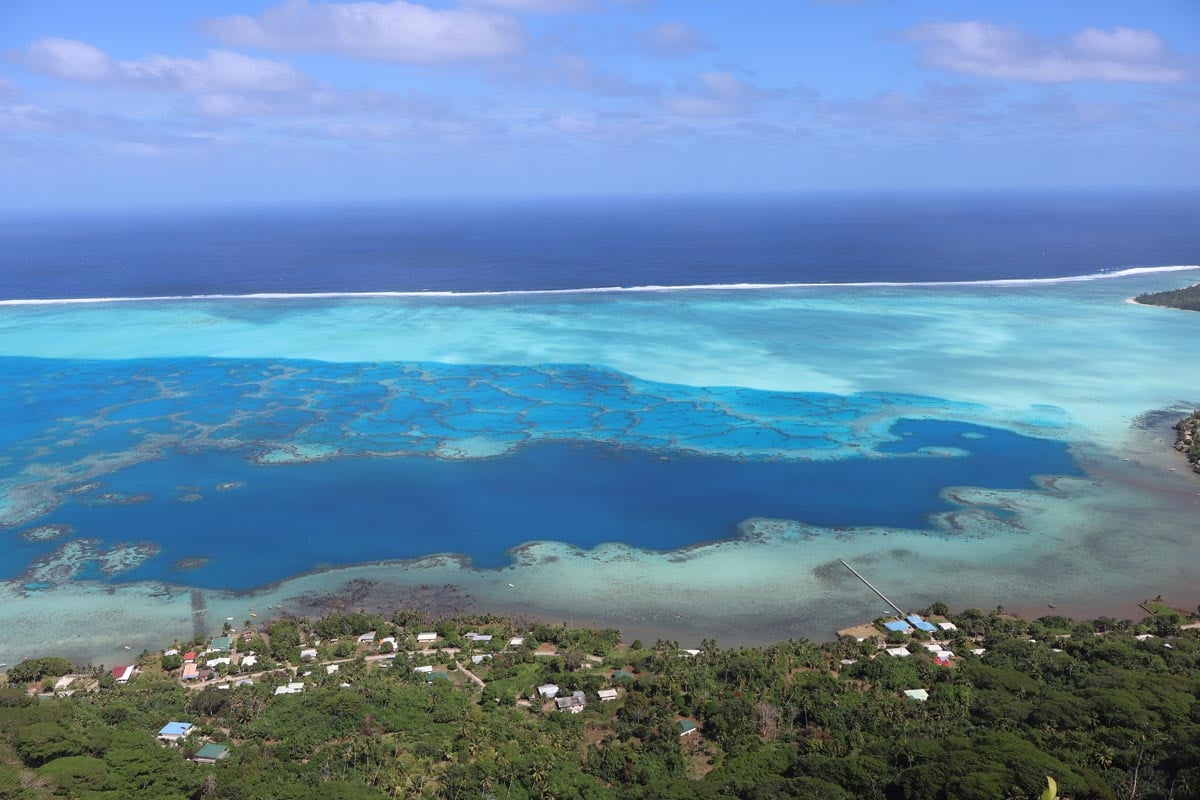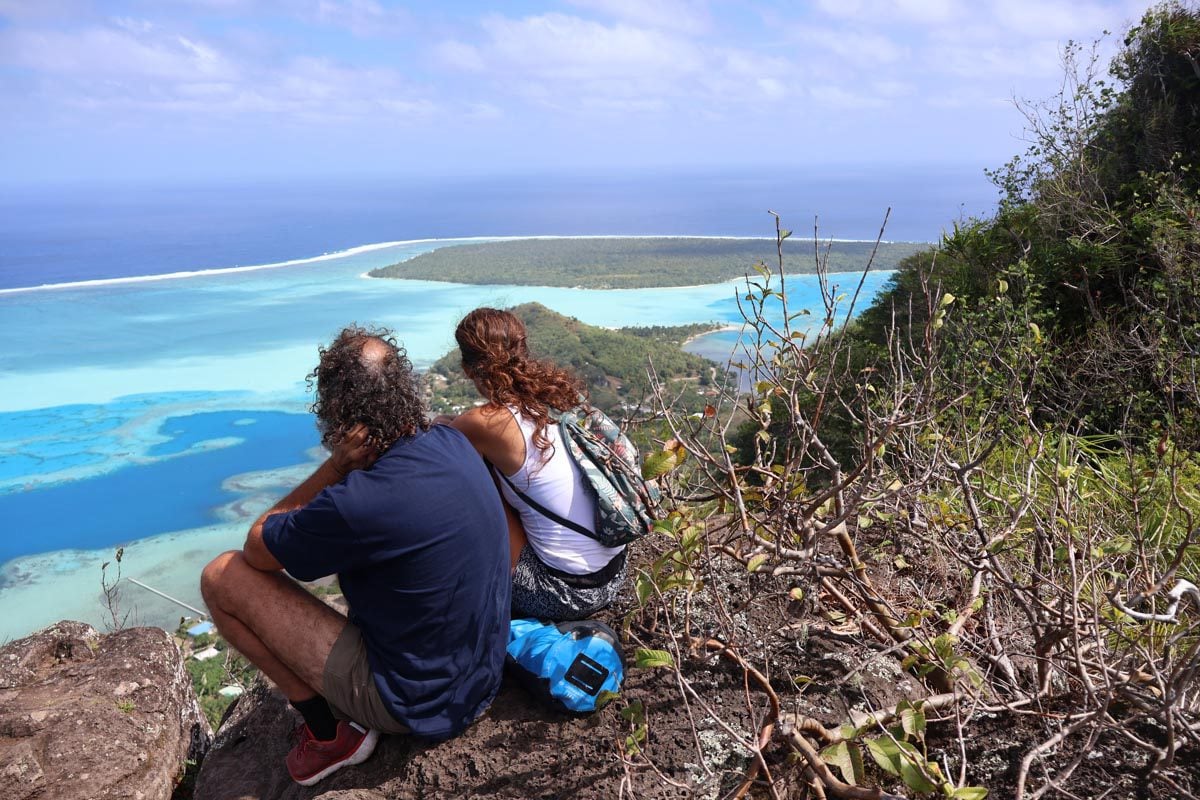 Bora Bora
No honeymoon in Tahiti is complete without a trip to Bora Bora. Sure, it is a relatively touristy island in an otherwise very low-key destination, but it doesn't even come close to what you might encounter in the likes of Hawaii and Thailand.
The 20-minute flight from Maupiti to Bora Bora is another scenic experience for those who choose their seats wisely. As the plane begins its final approach, Bora's Bora's signature peaks, its immense azure lagoon, and the countless times you saw this place as a default picture on a TV or computer screensaver push the excitement levels on the plane to the max.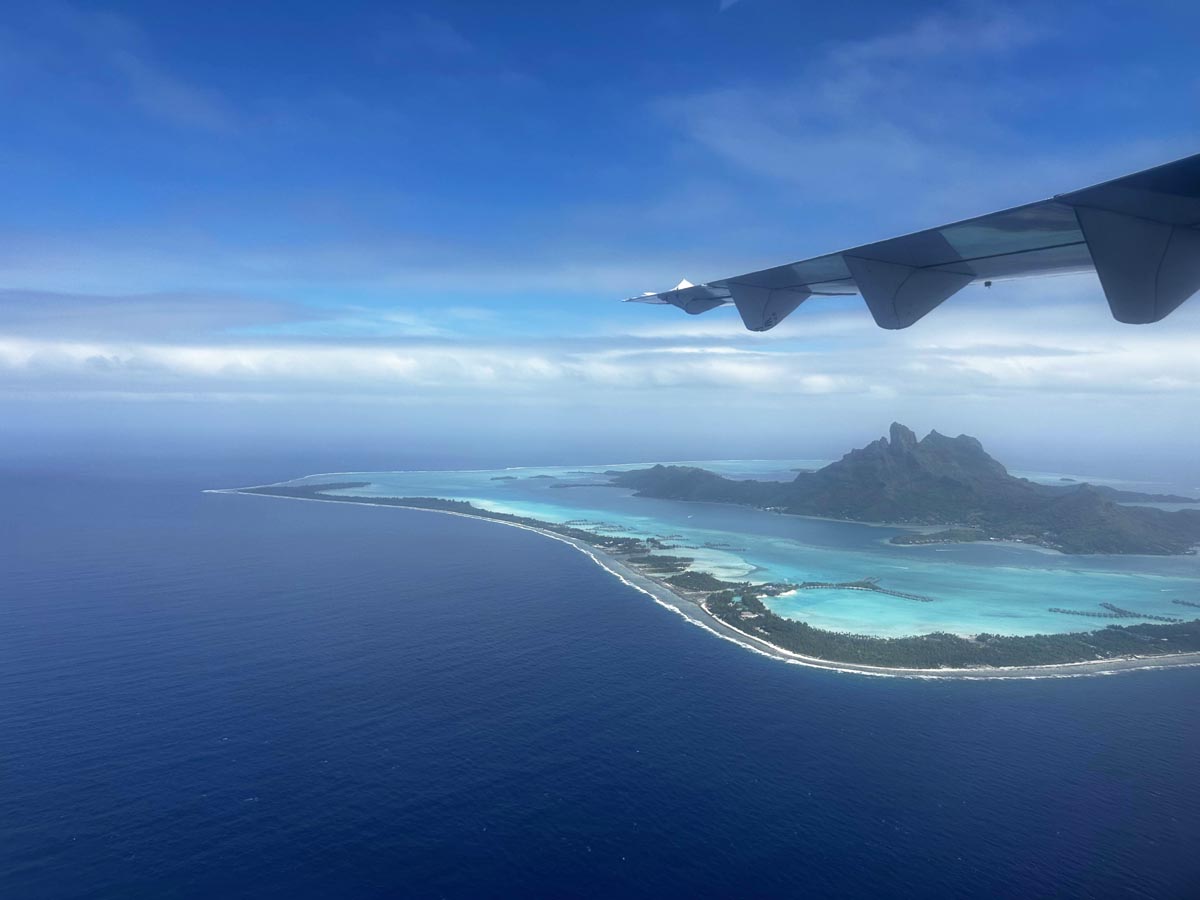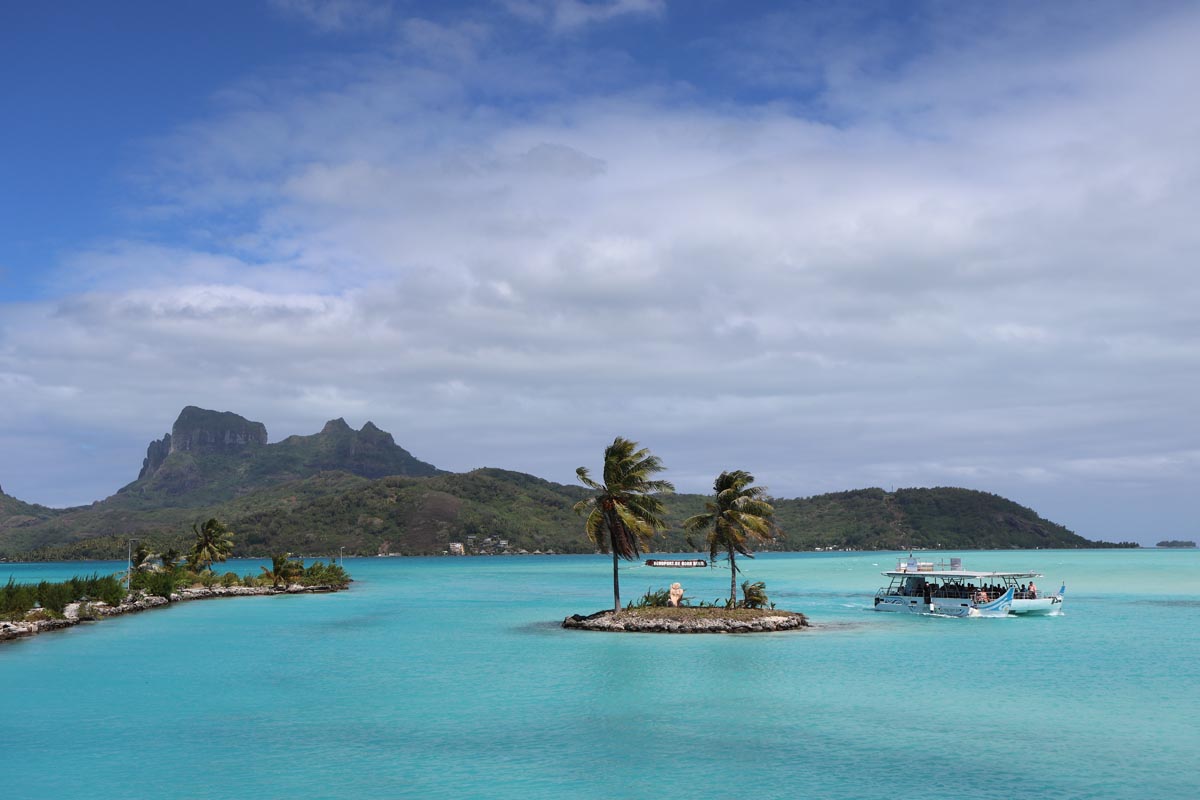 Royal Bora Bora
We split our five-day stay in Bora Bora between the main island and a luxury resort on the motu. Our first two nights were at the Royal Bora Bora on the main island. With its fabulous beach, spacious rooms, and reasonable price, it might surprise you that you don't have to mortgage your house to visit "the real" Bora Bora.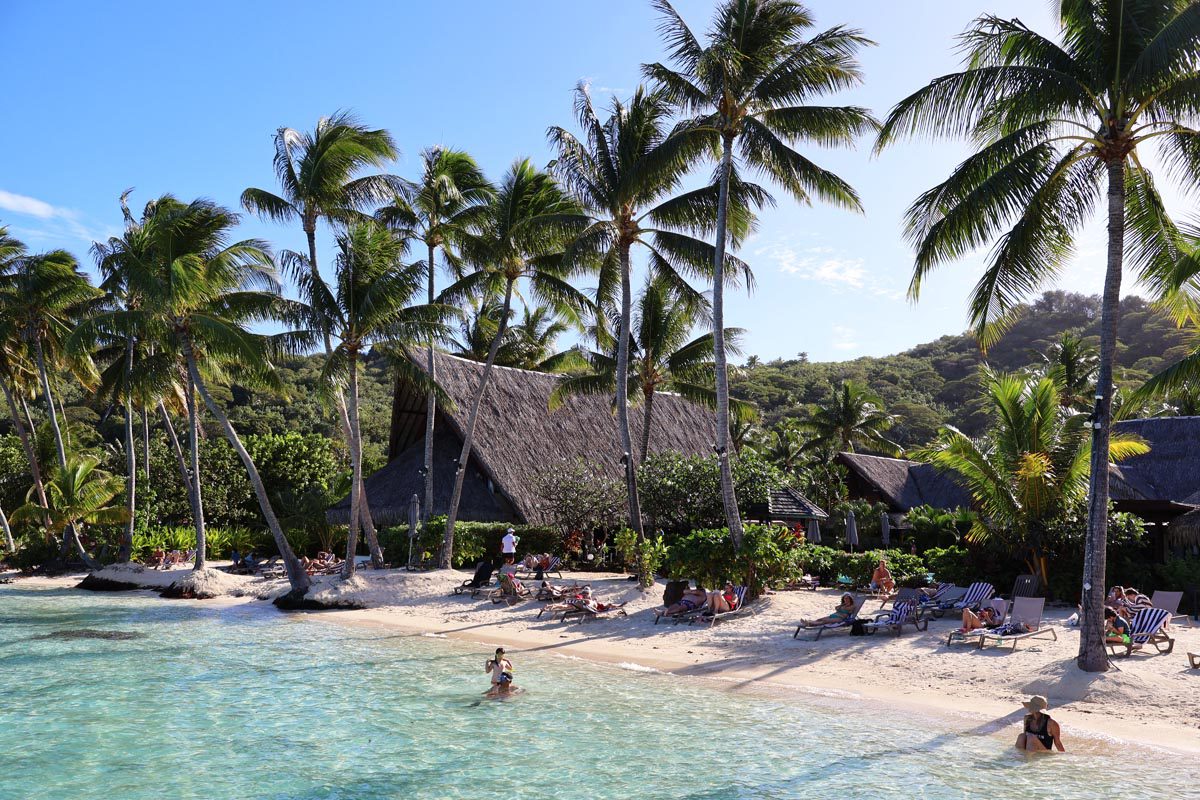 Island Tour
Our main activity on the main island was to circle Bora Bora with a car and see its special sites. Bora Bora is pretty from just about every angle, and we were lucky on this almost cloud-free day to see the island's signature peaks without any obstruction.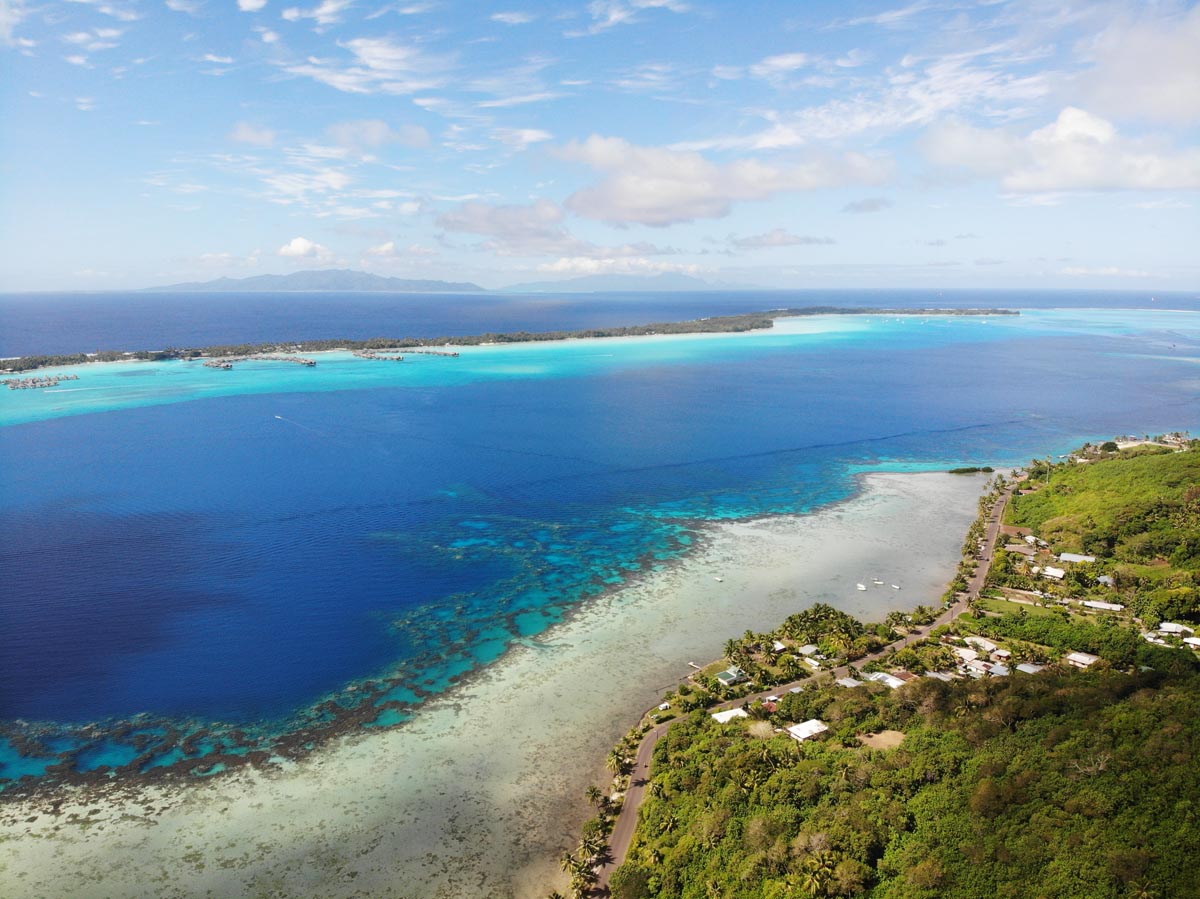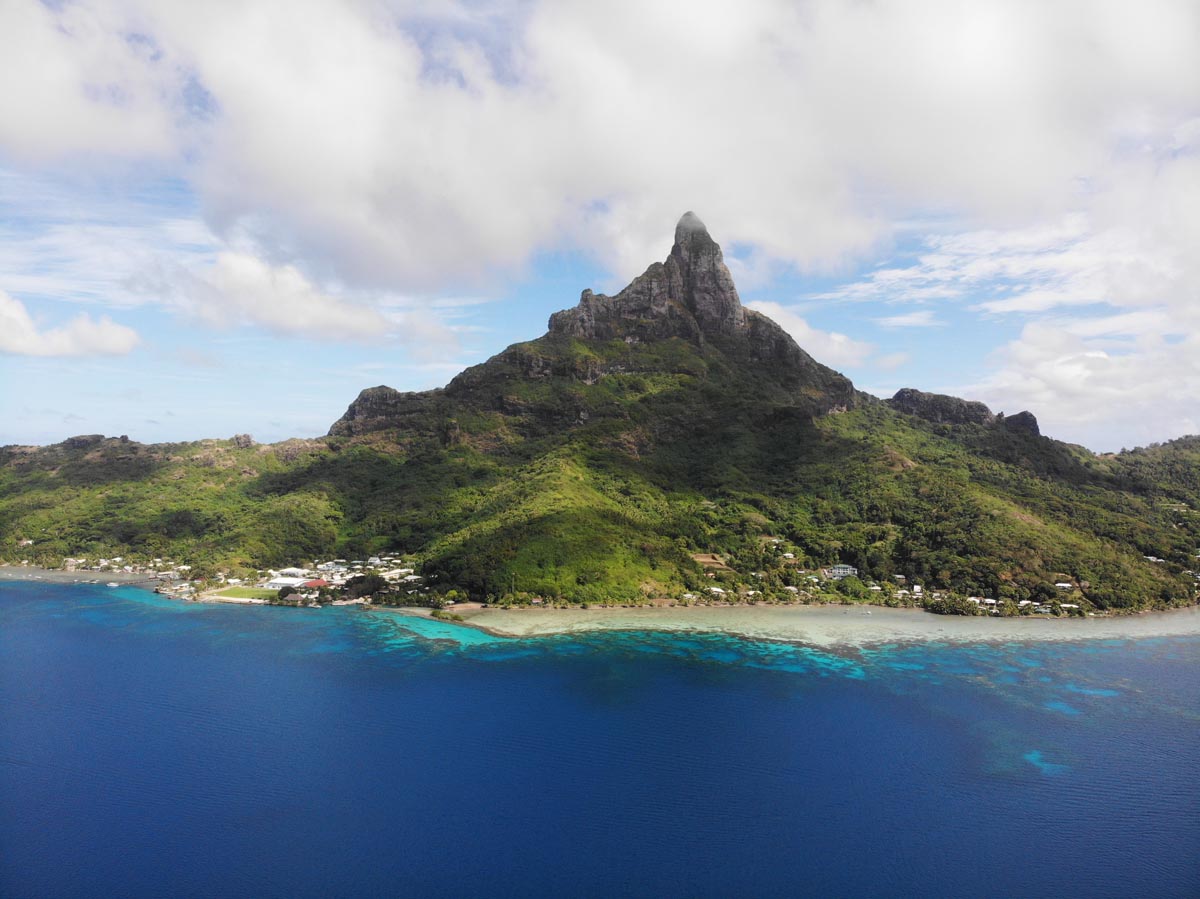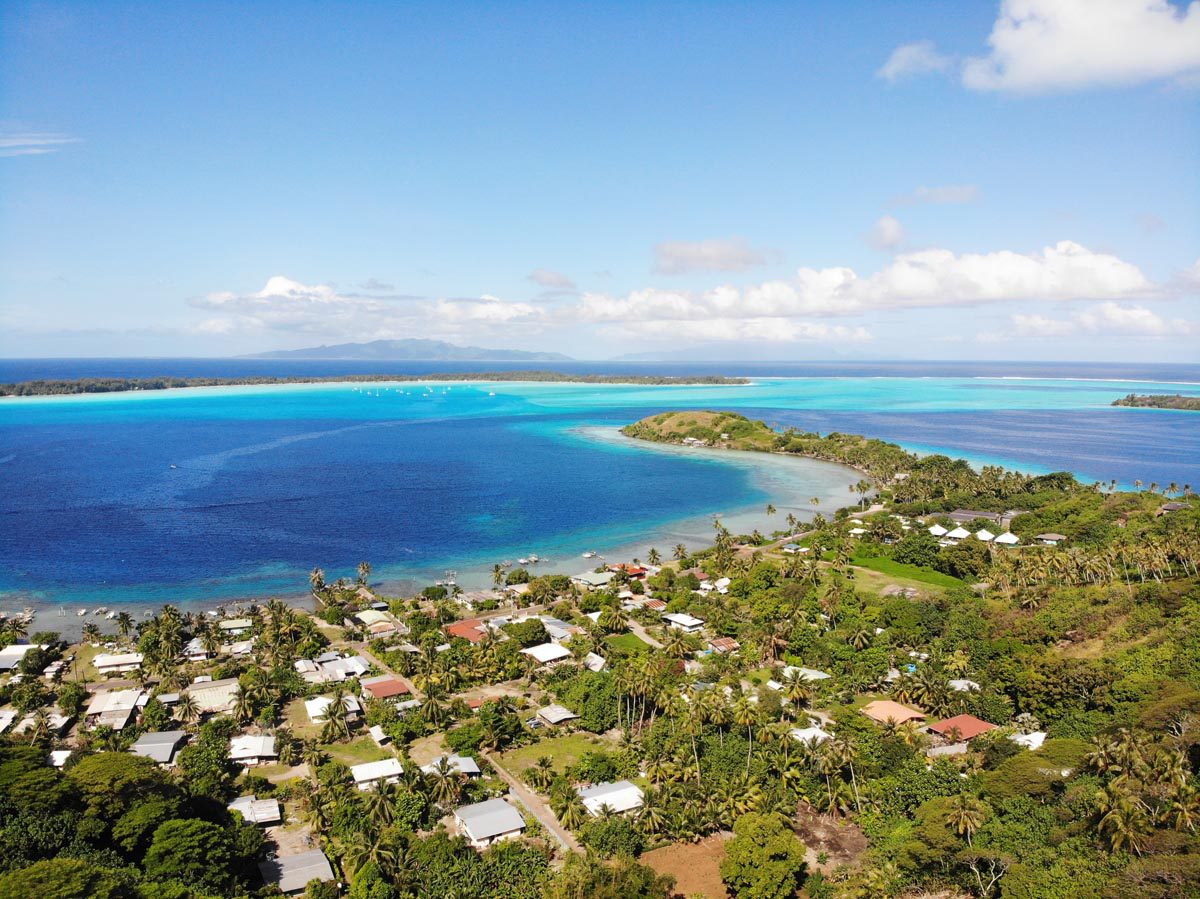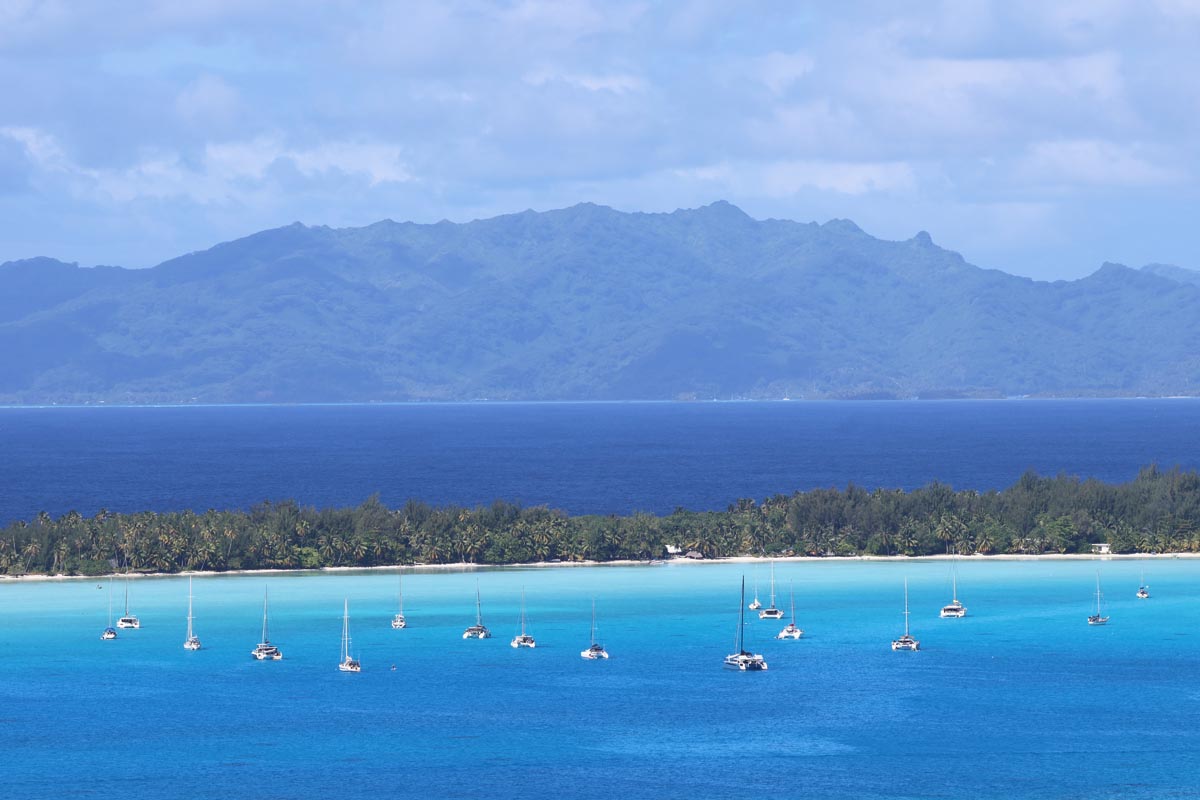 At Fiti'u'u Point, we hiked from the main road to the edge of this stunning and interesting peninsula, first taking in the majestic Vairou Bay with Mount Otemanu in the background and then the WWII canons. In 1942, the United States began Operation Bobcat, a logistical military operation that modernized Bora Bora and forever transformed life on this tiny slice of paradise. Wartime relics are still scattered throughout the island, the famous of which are canons strategically positioned to defend against a possible Japanese invasion. Nowadays, the canons face the island's luxury overwater bungalows.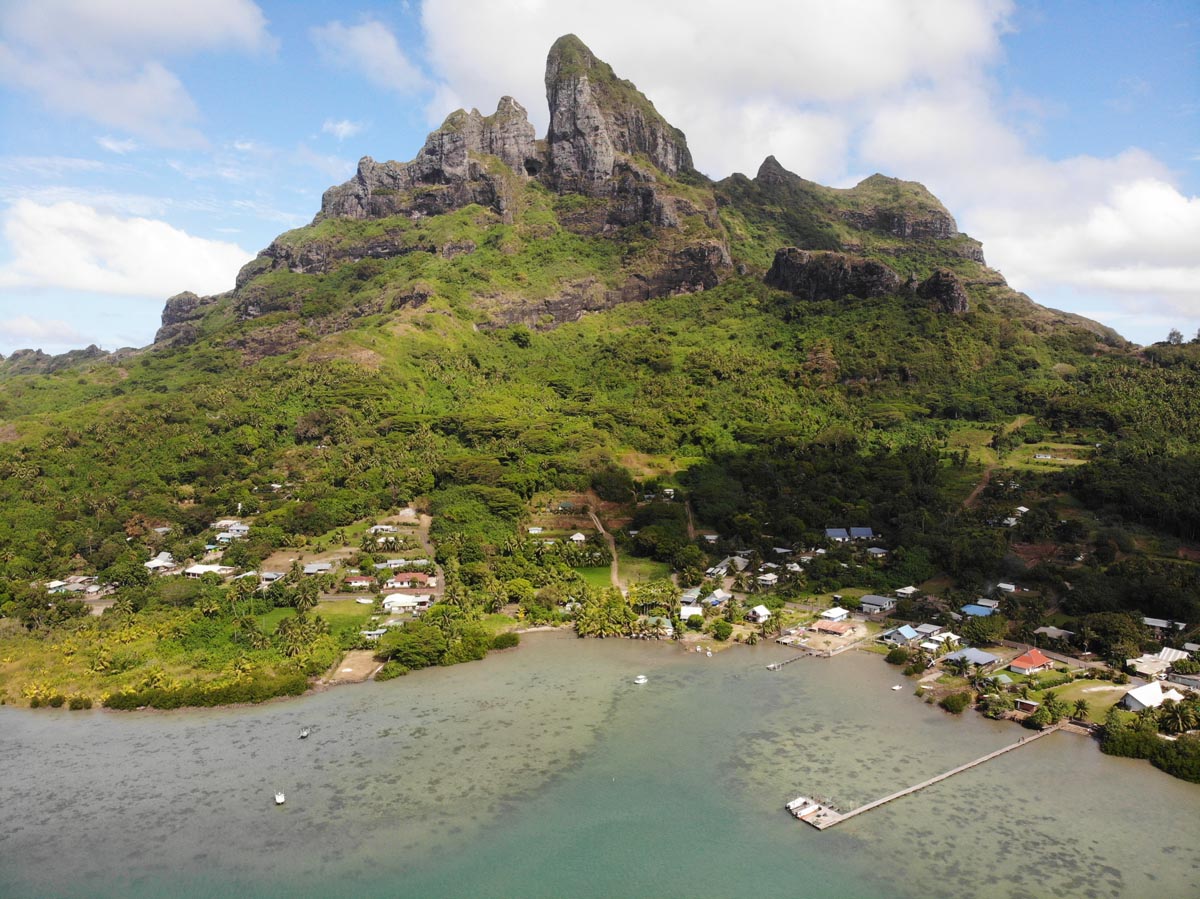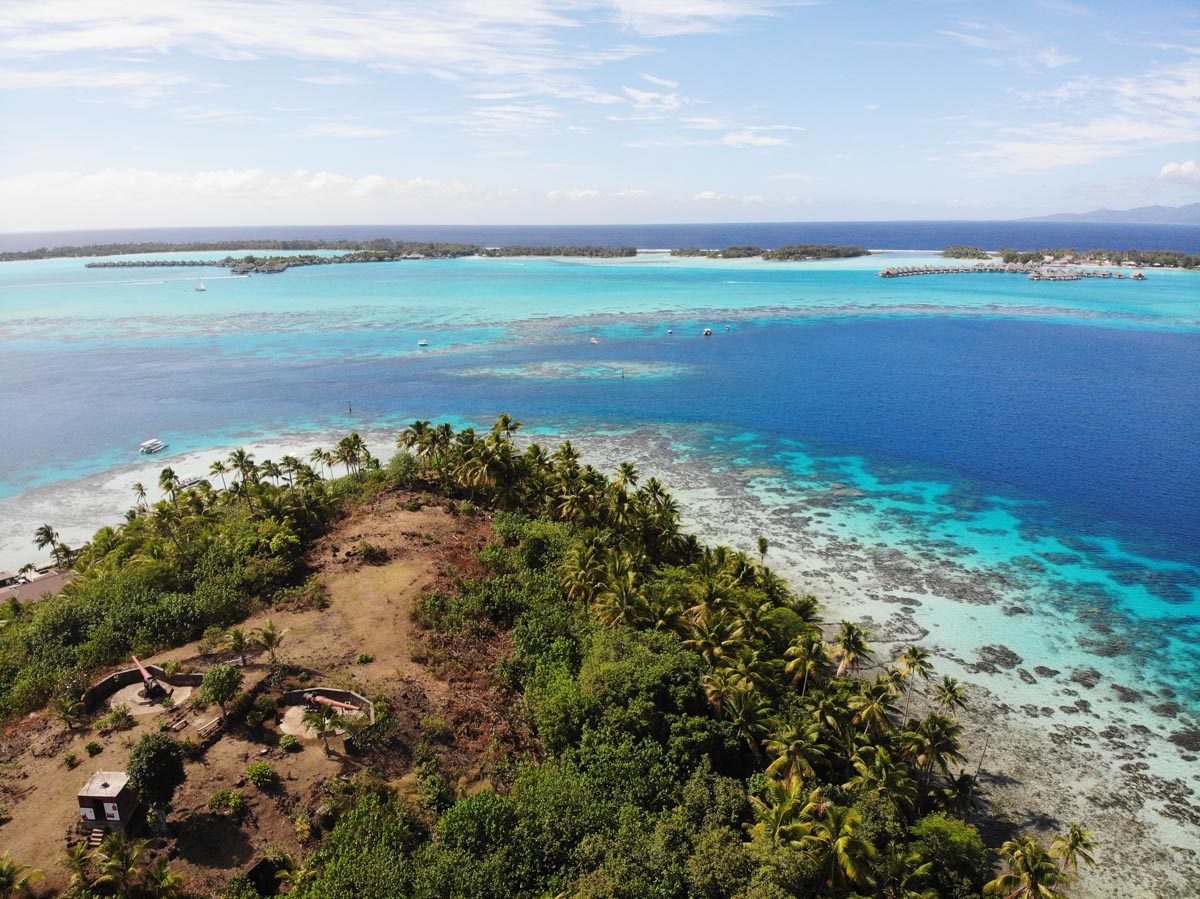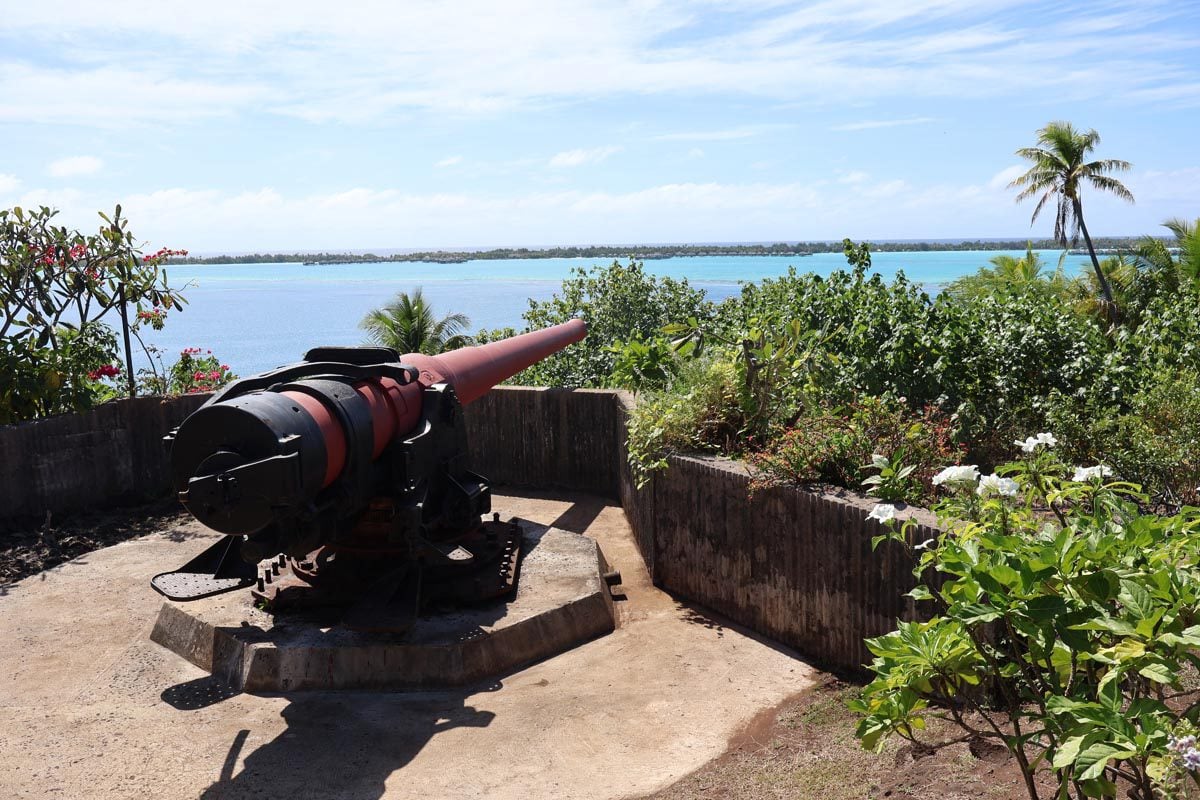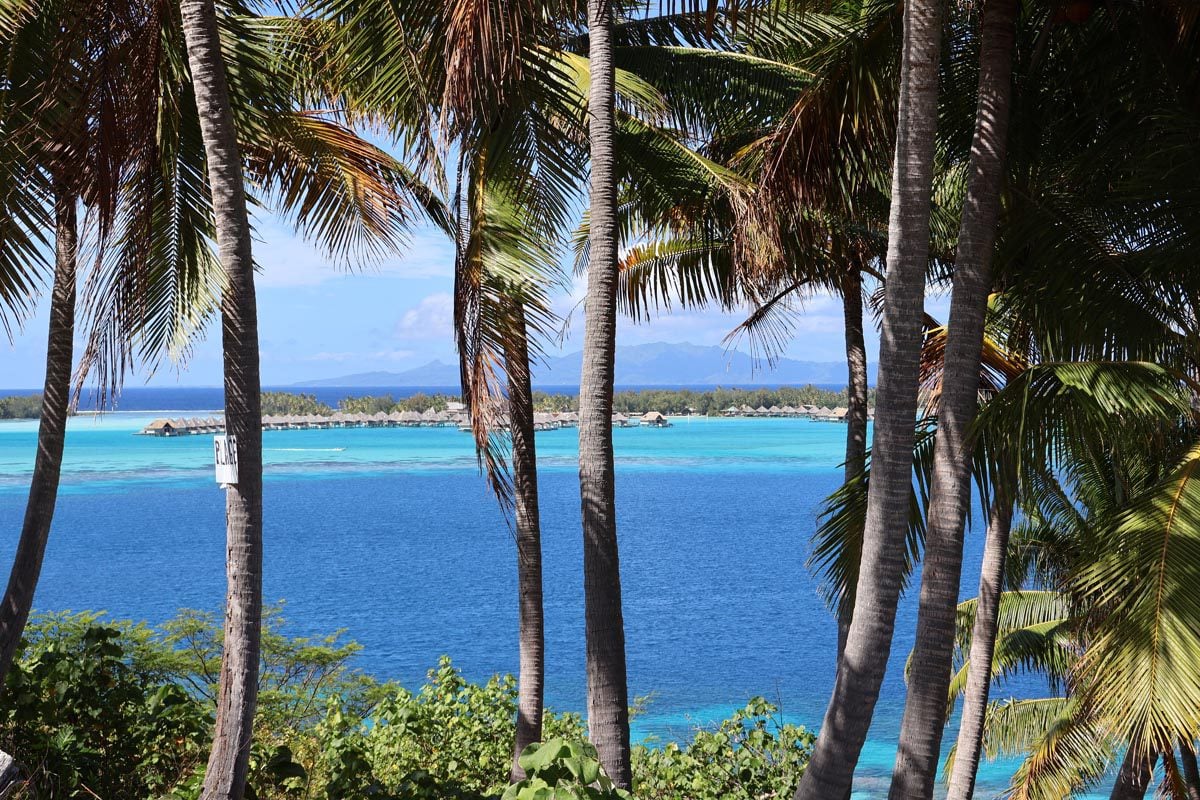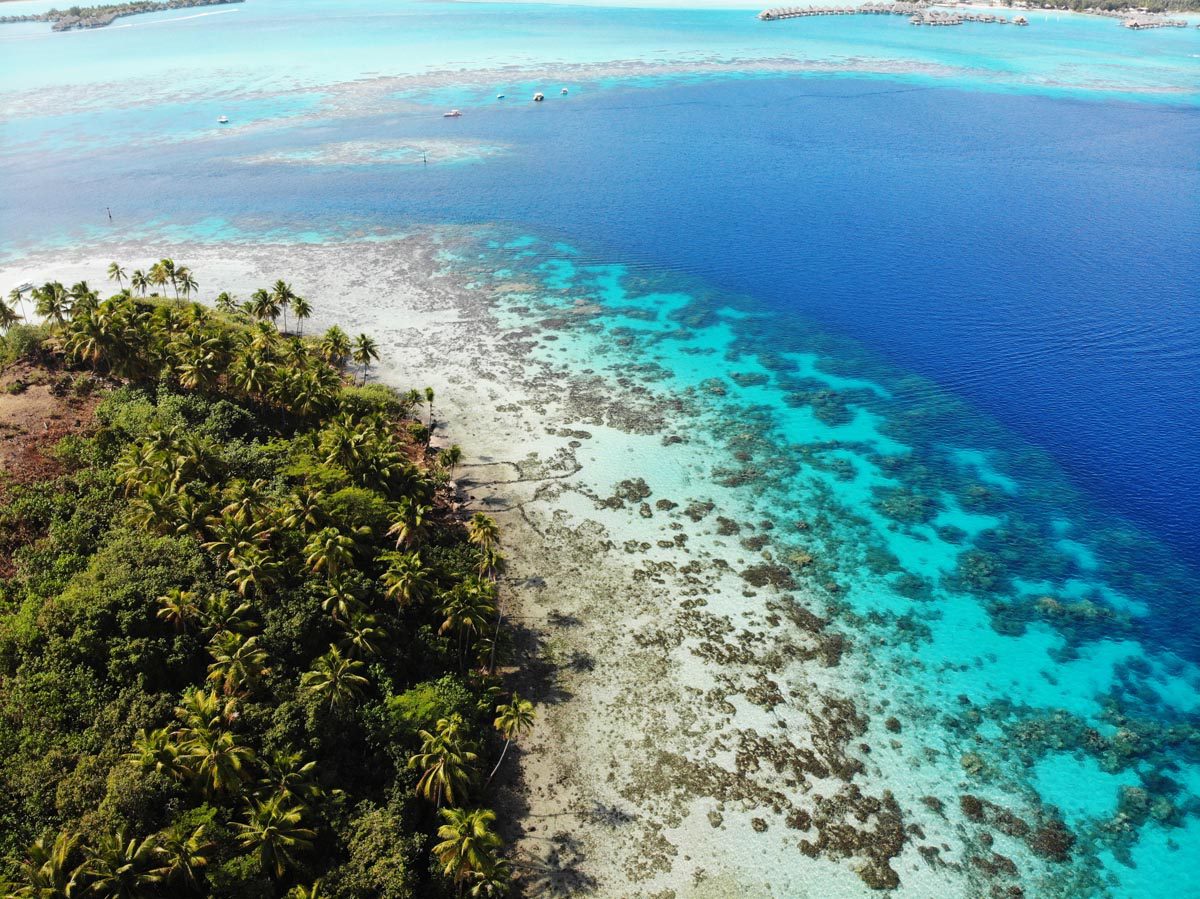 Our final stop was at Matira Beach, the most famous public beach on the main island. The northern section of the beach borders a shallow area of the lagoon that extends far into the distance, while the southern section is more lowkey and frequented by locals.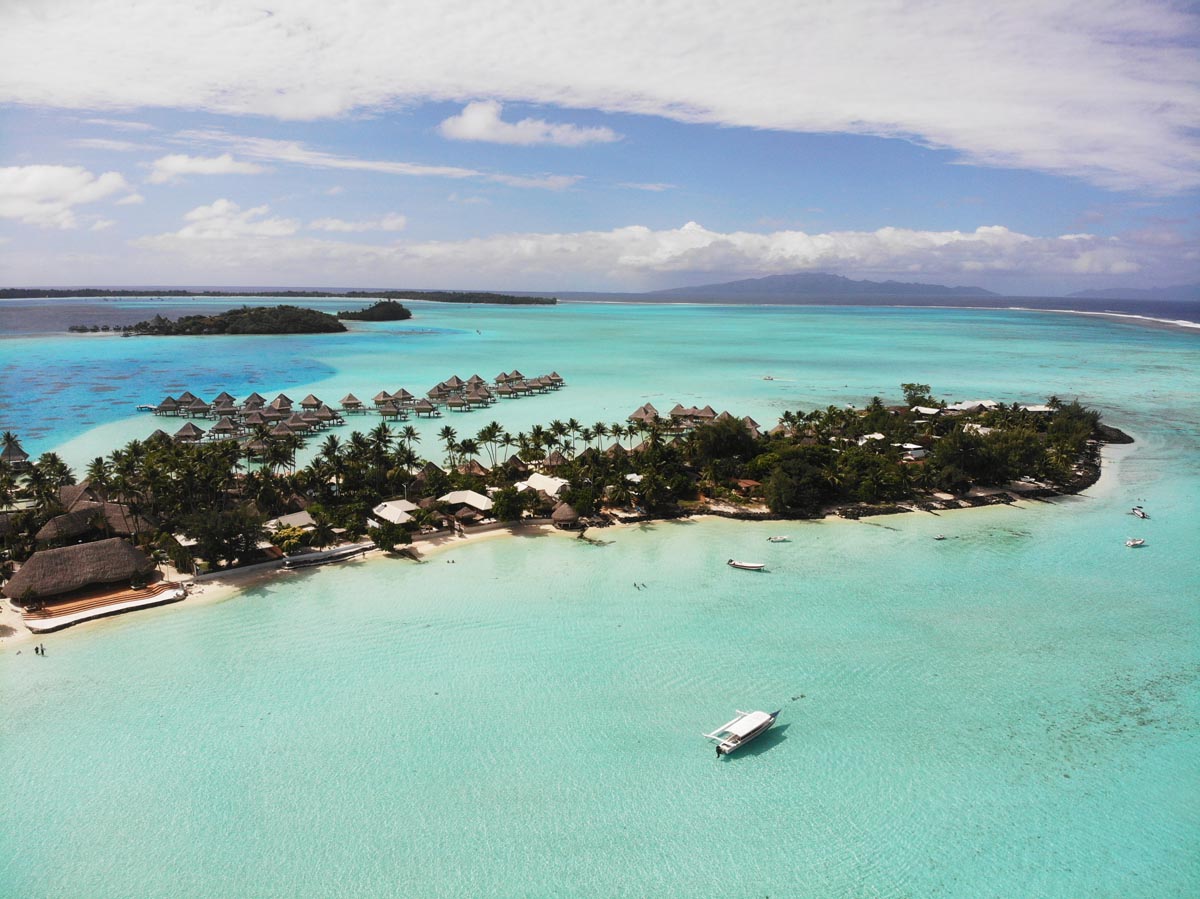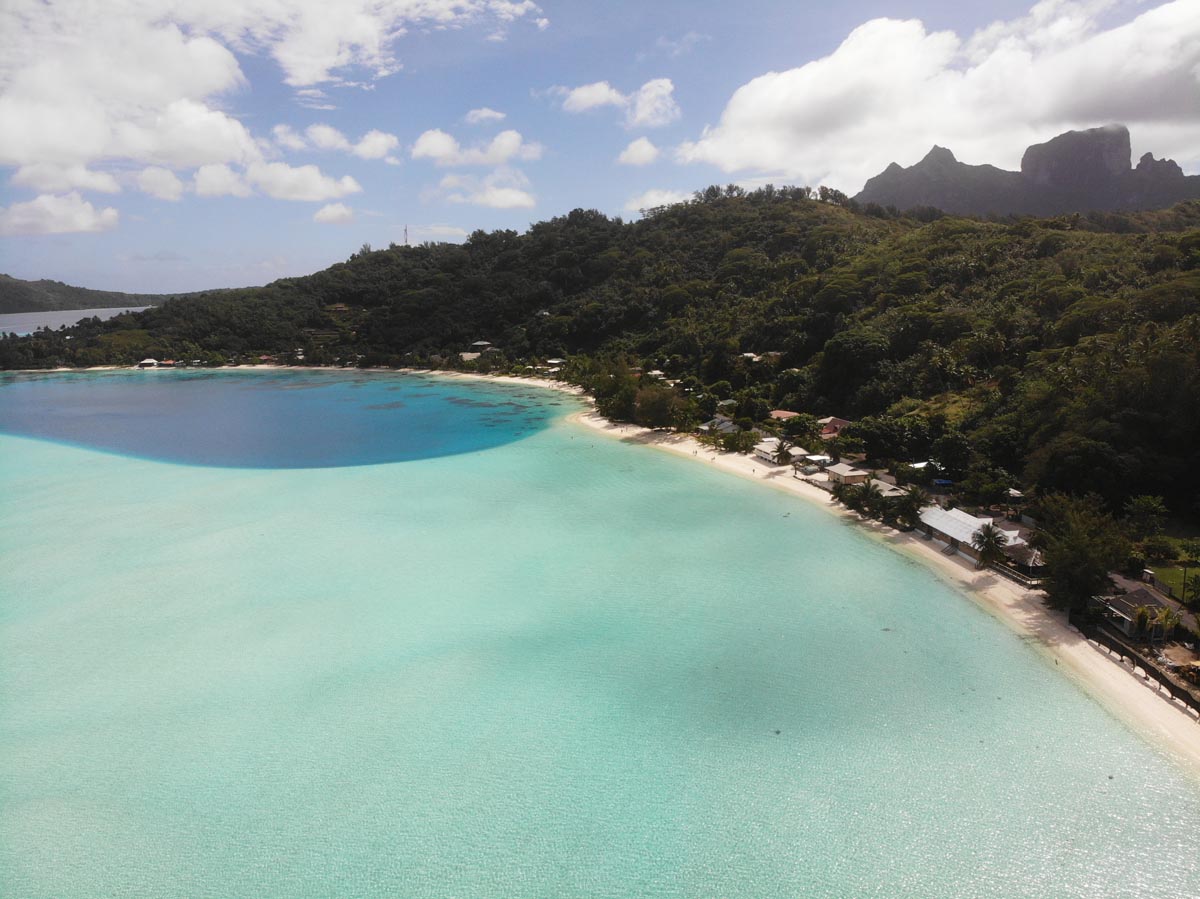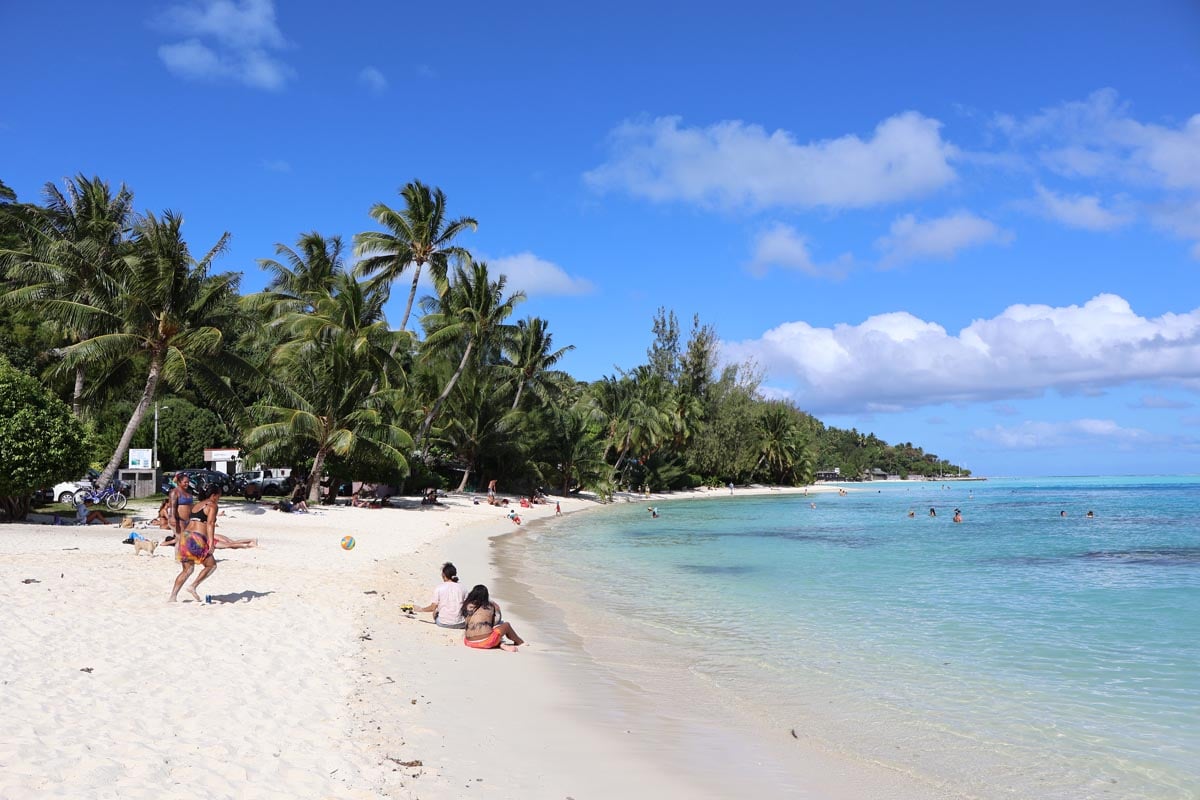 Overwater Bungalow in Bora Bora
Did you know that overwater bungalows were invented in French Polynesia in the 1960s? While they first saw light in Moorea, they're most popular in Bora Bora. Sure, they are absurdly expensive, but it is a very unique, not to mention a pampering experience. After returning the car, we patiently waited for the boat to take us to the InterContinental Thalasso Resort, located in a highly prized piece of real estate on a motu facing Mount Otemanu.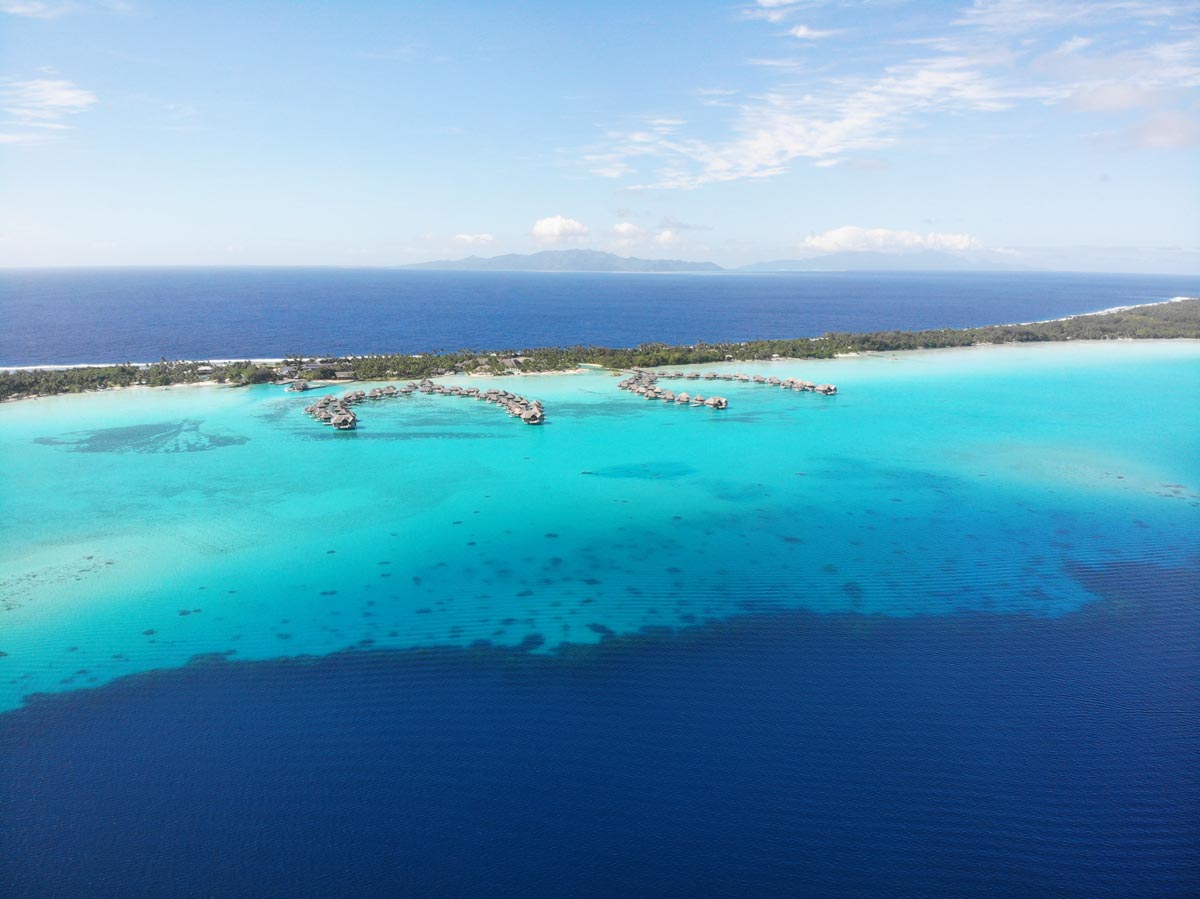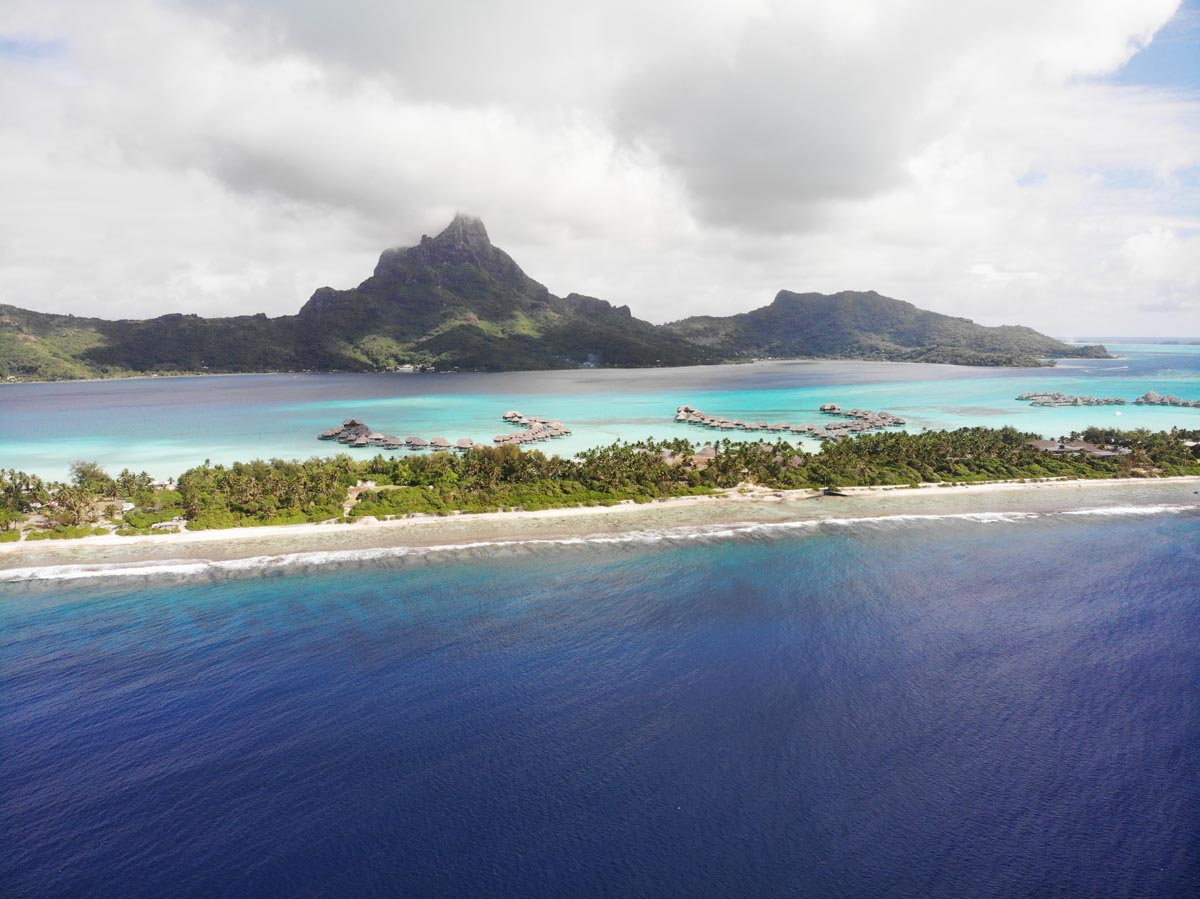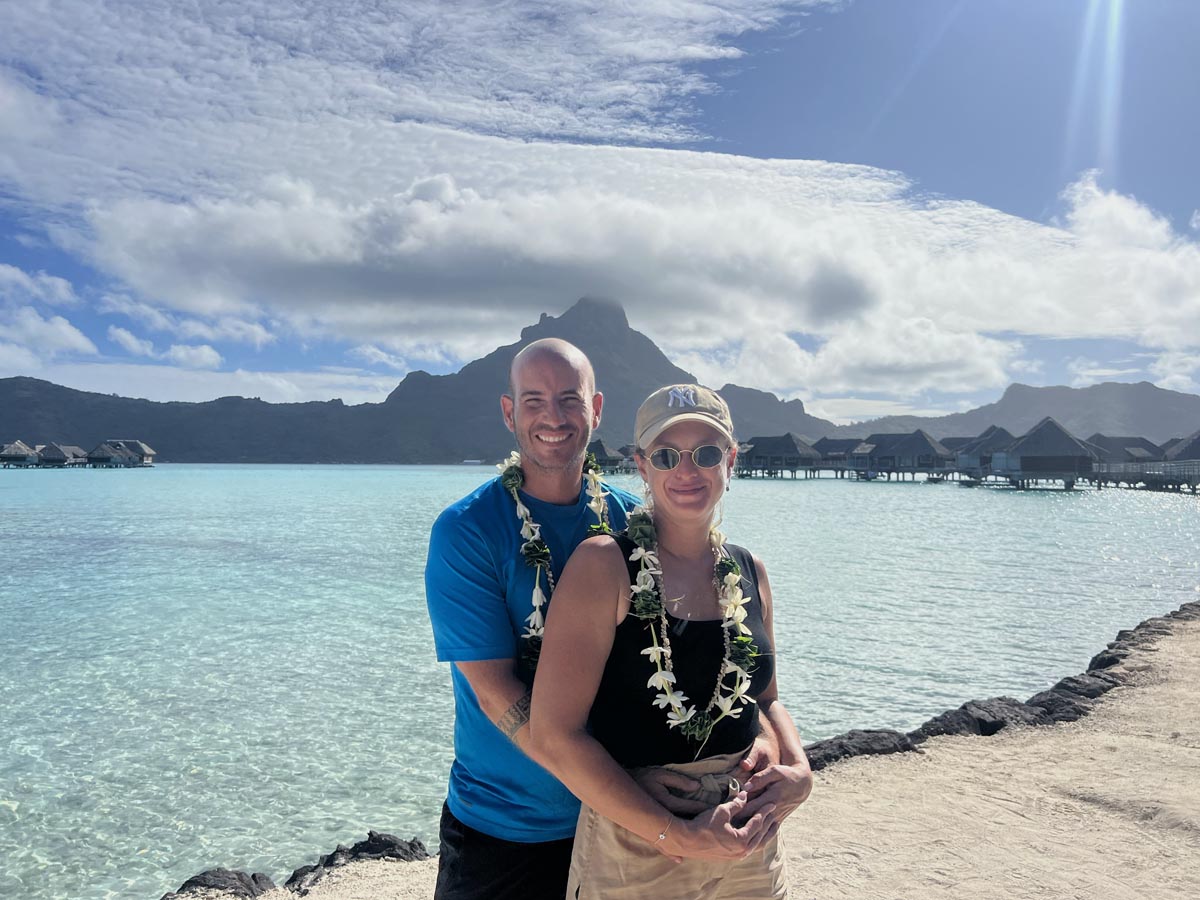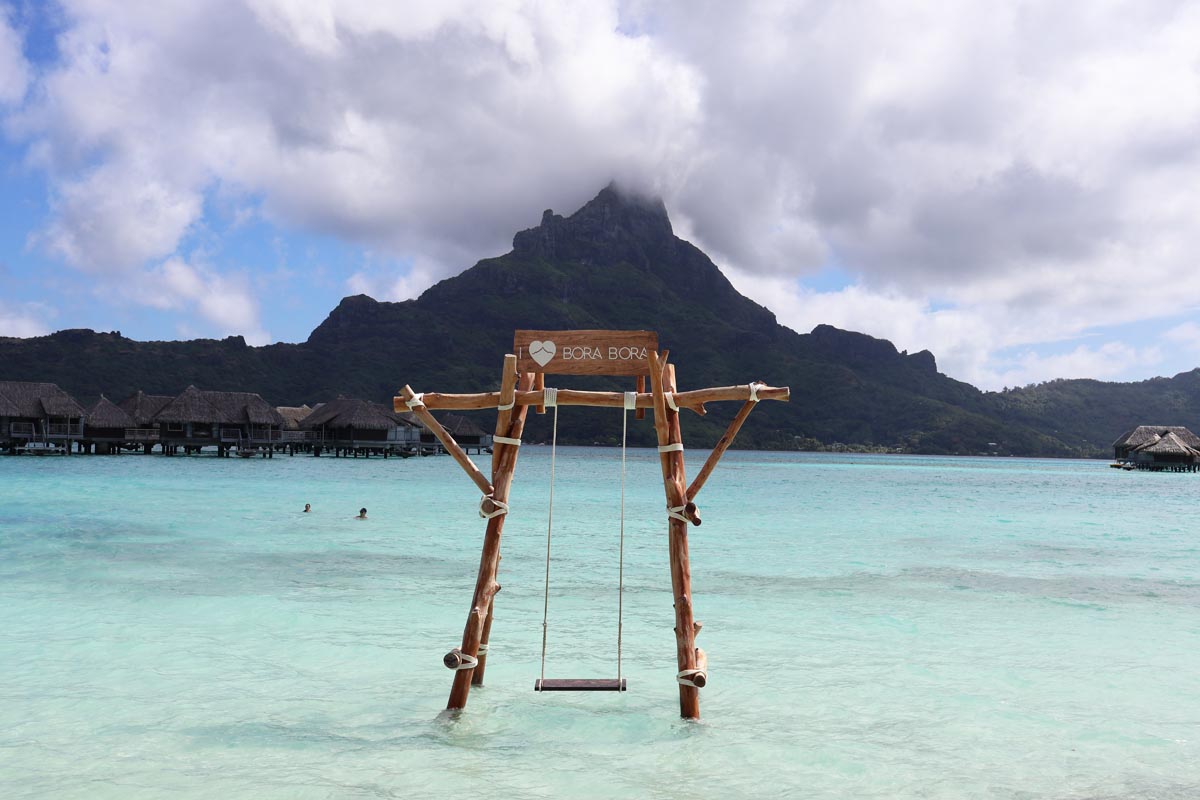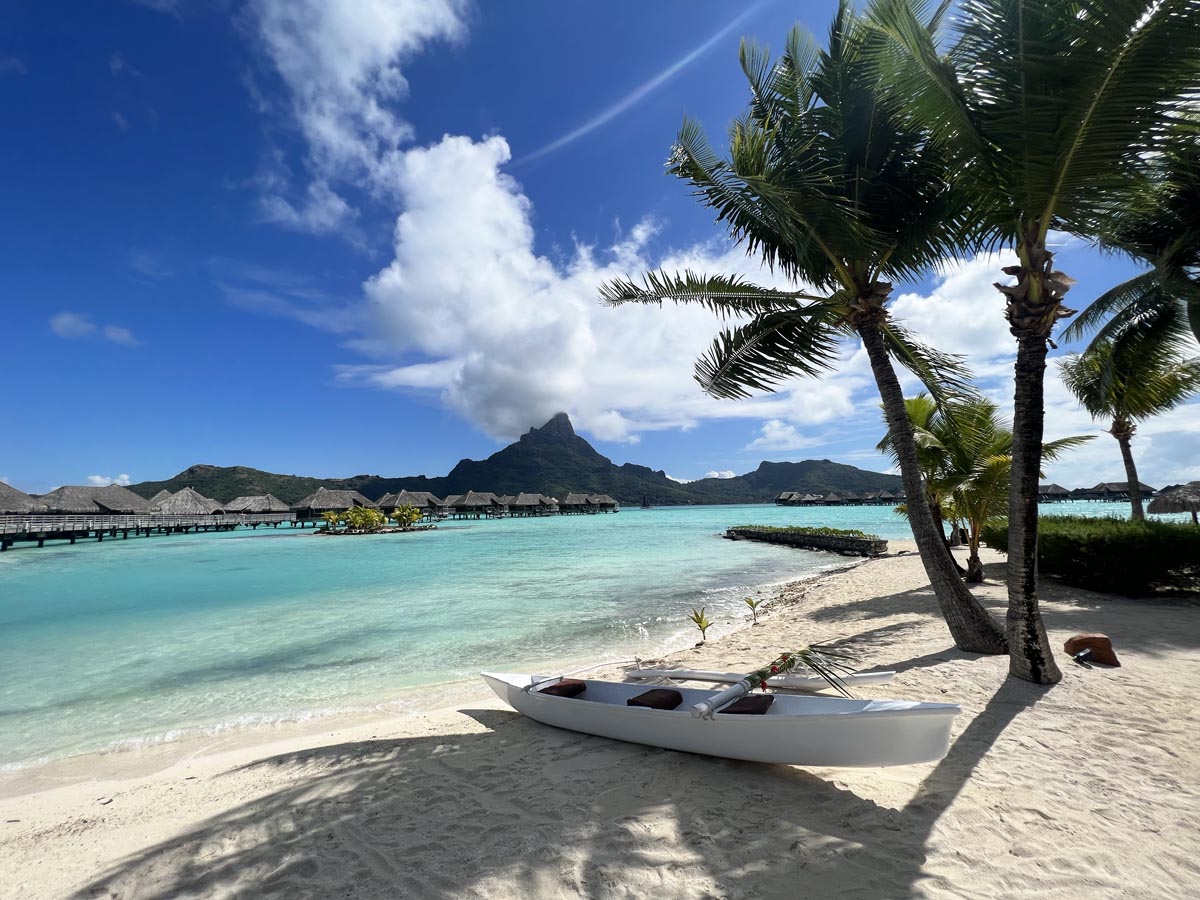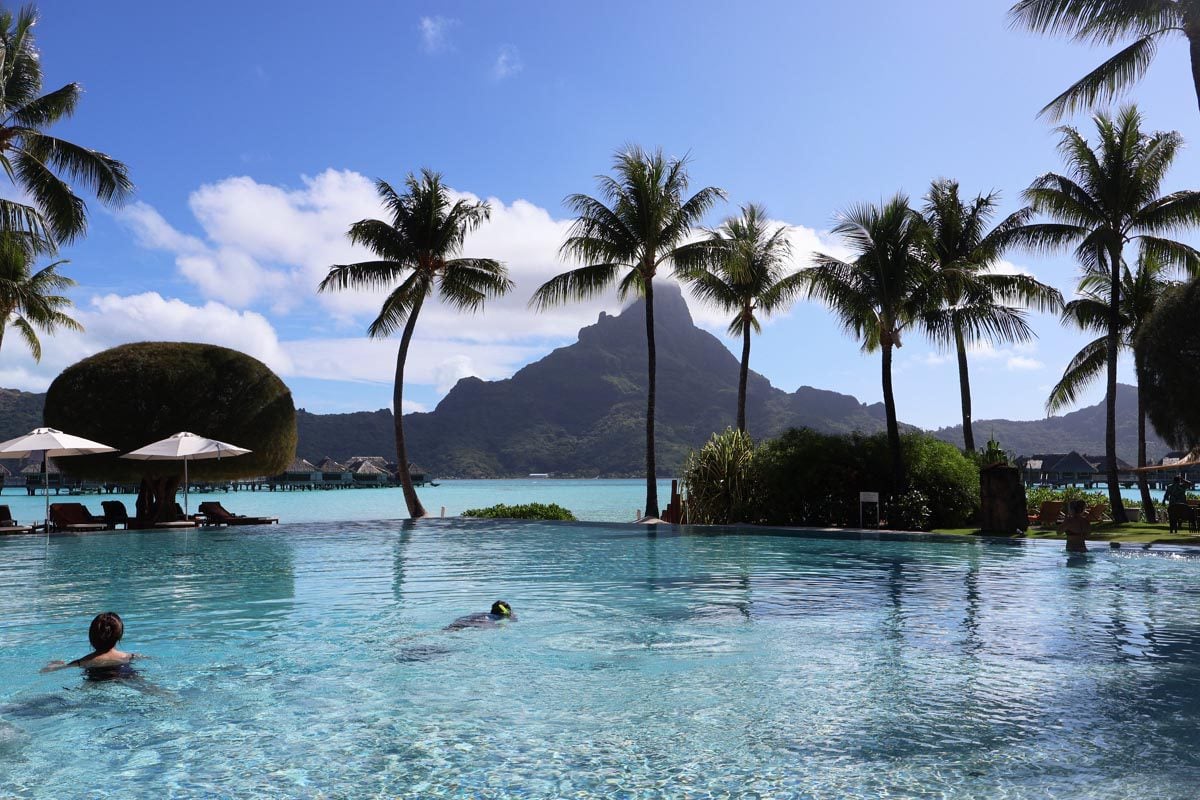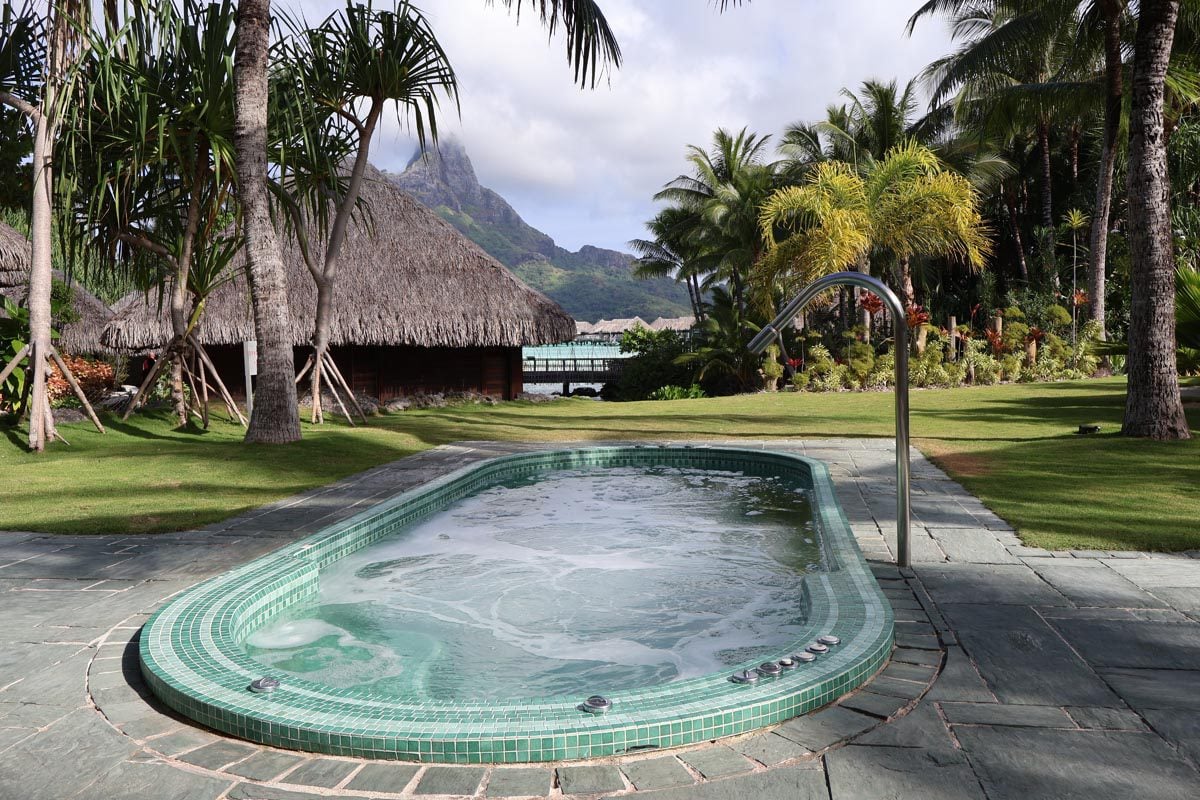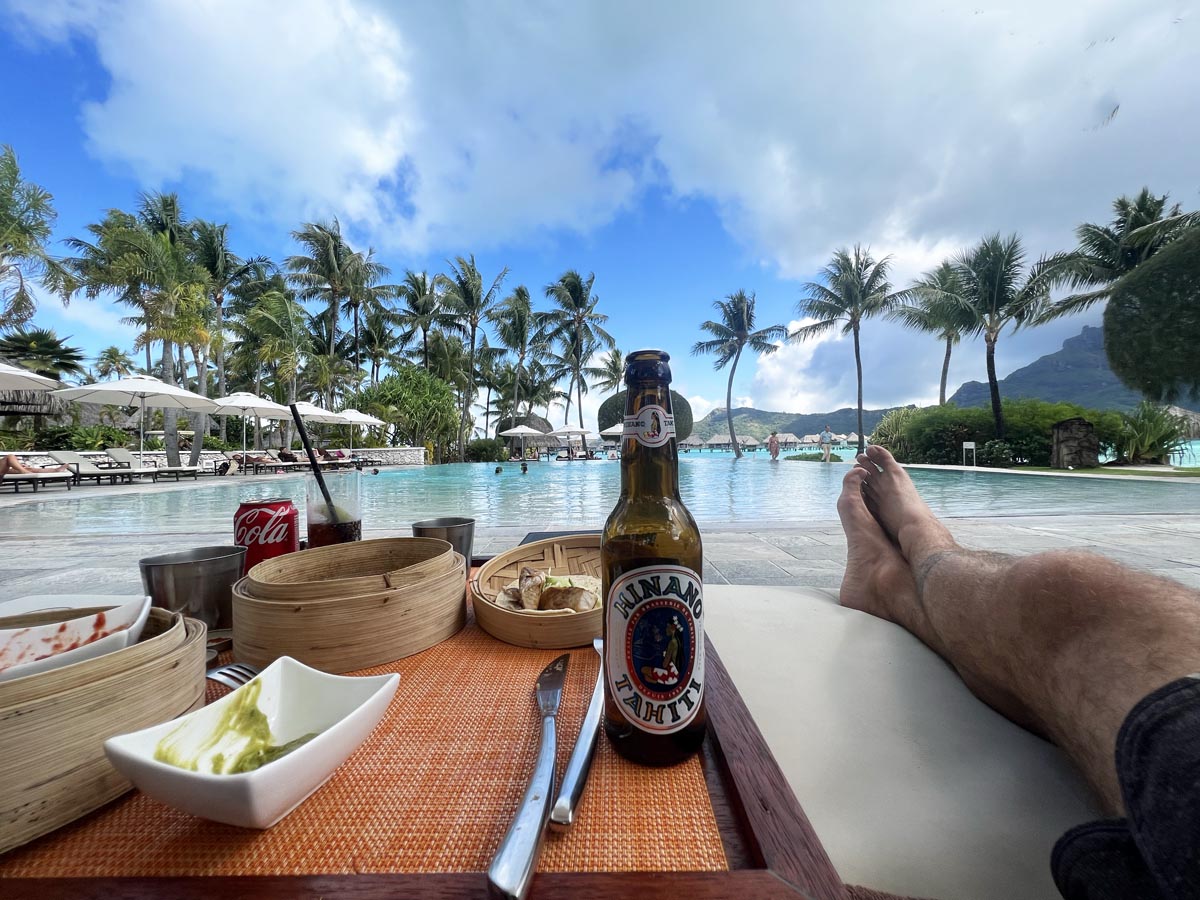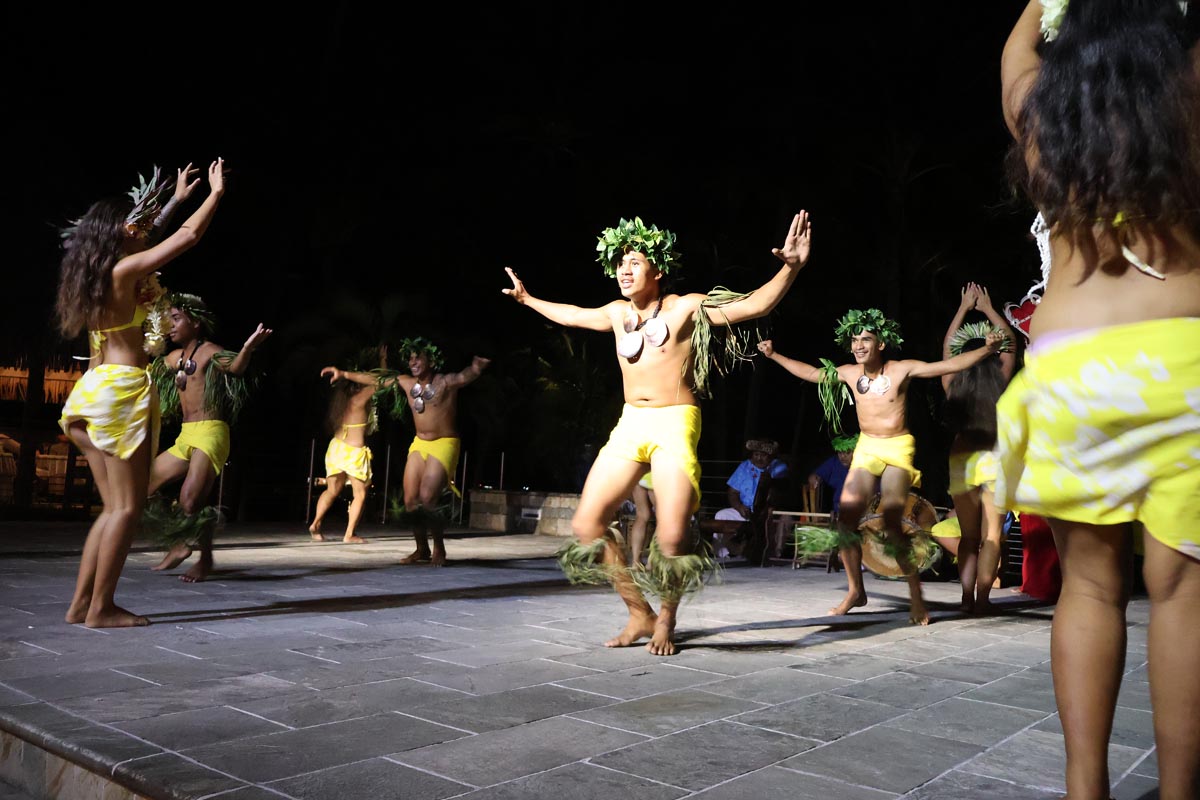 What can I say? You don't think about how much you splurged when you wake up in something like this. In fact, the only negative feeling that comes to mind is somewhat of an anxiety as you're unsure how to split your time between the luxury overwater bungalow and the gorgeous resort.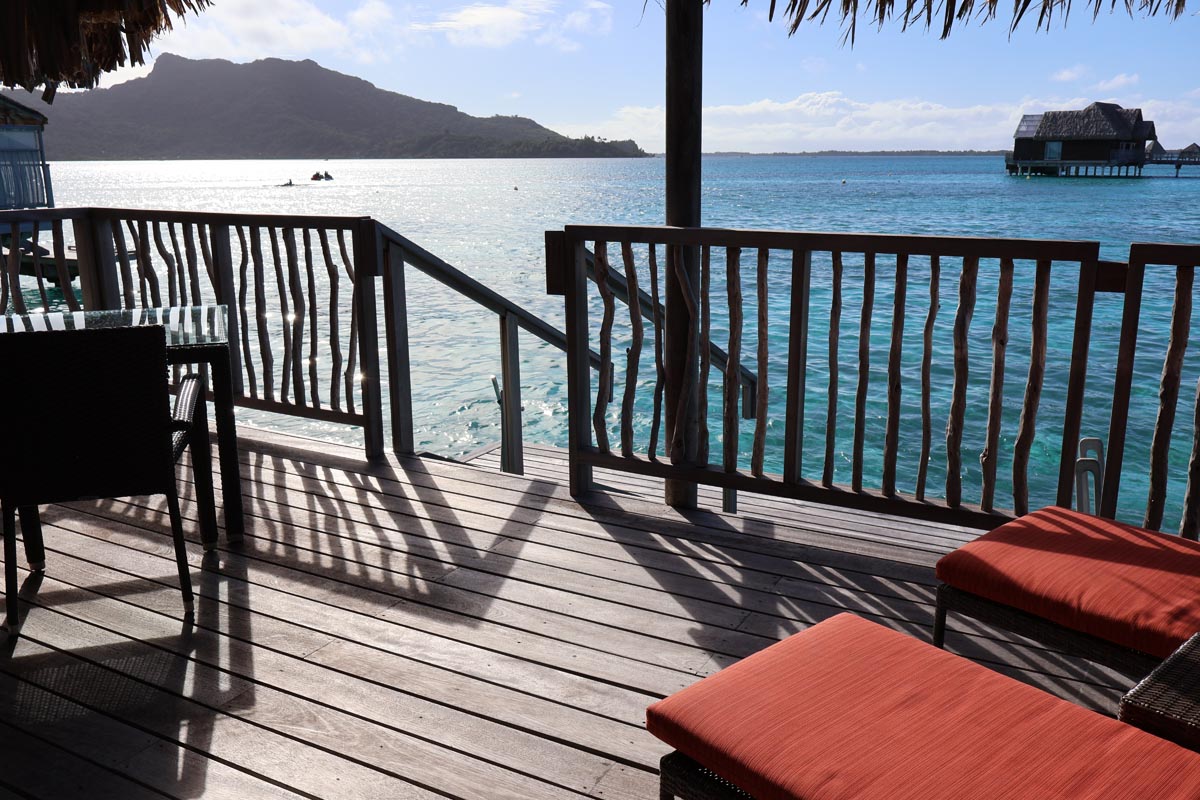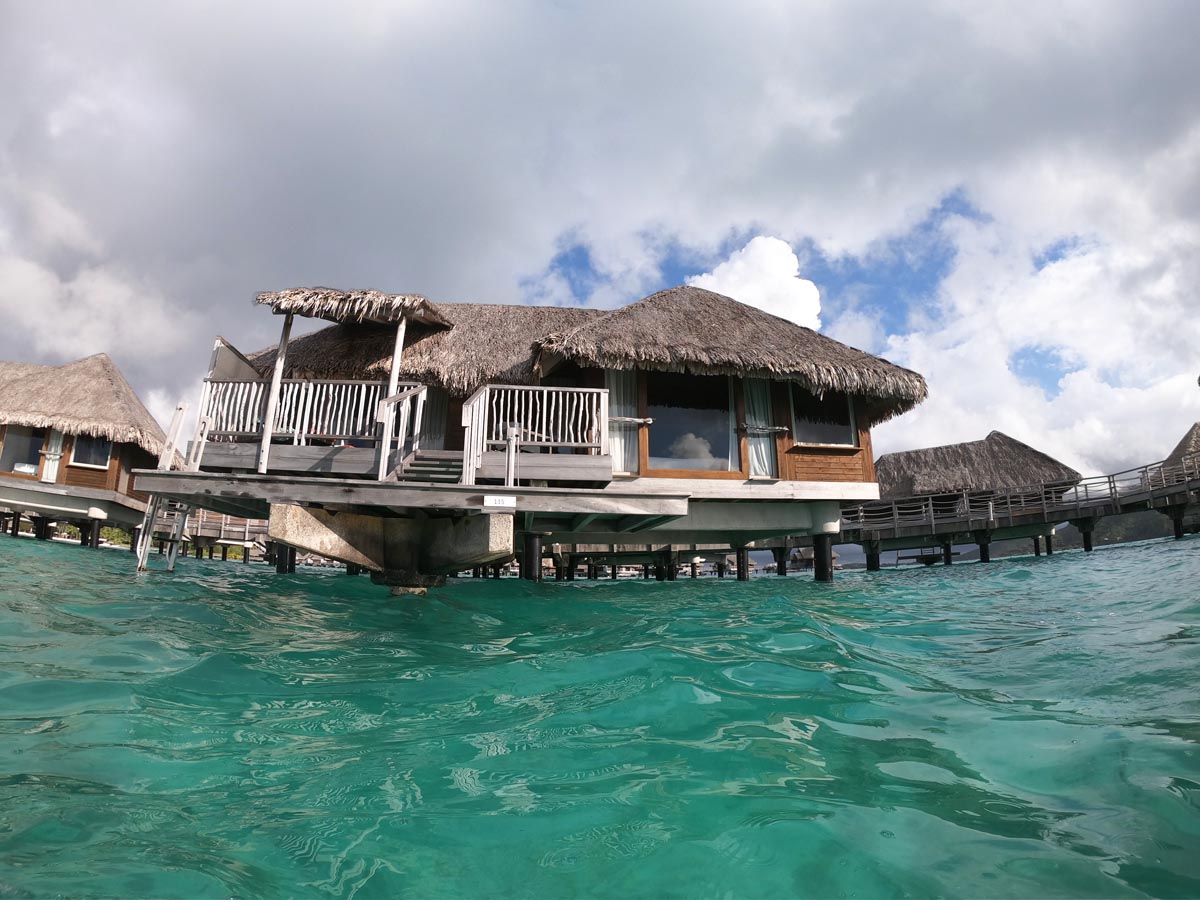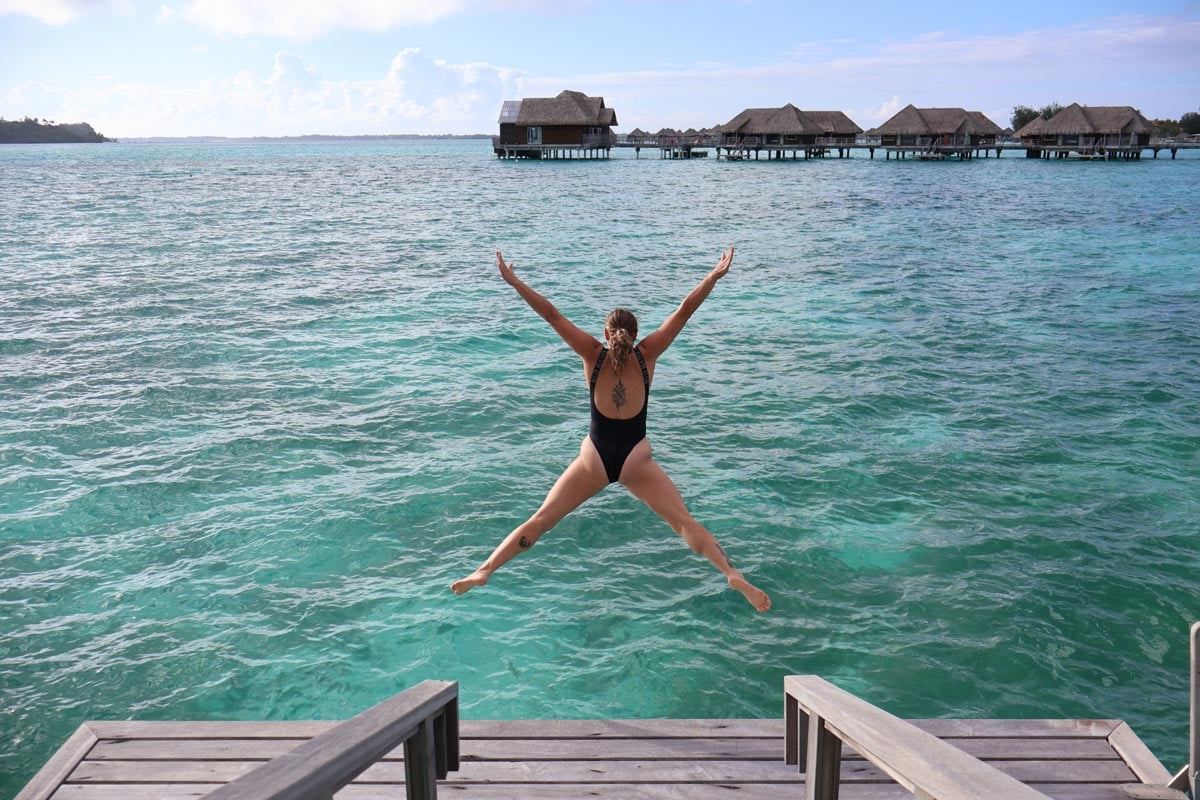 Mo'orea
The final stop on our honeymoon in Tahiti was Mo'orea, Tahiti's neighbor and my home for an entire month during my first visit. Moorea is the kind of place that has everything, from accommodations of all types to any imaginable activity on land or at sea. We drove from the ferry terminal to our full-furnished mountain home for the next four days at the Legends Residence, a former upscale hotel now privately owned by individuals, some of whom rent their units to visitors.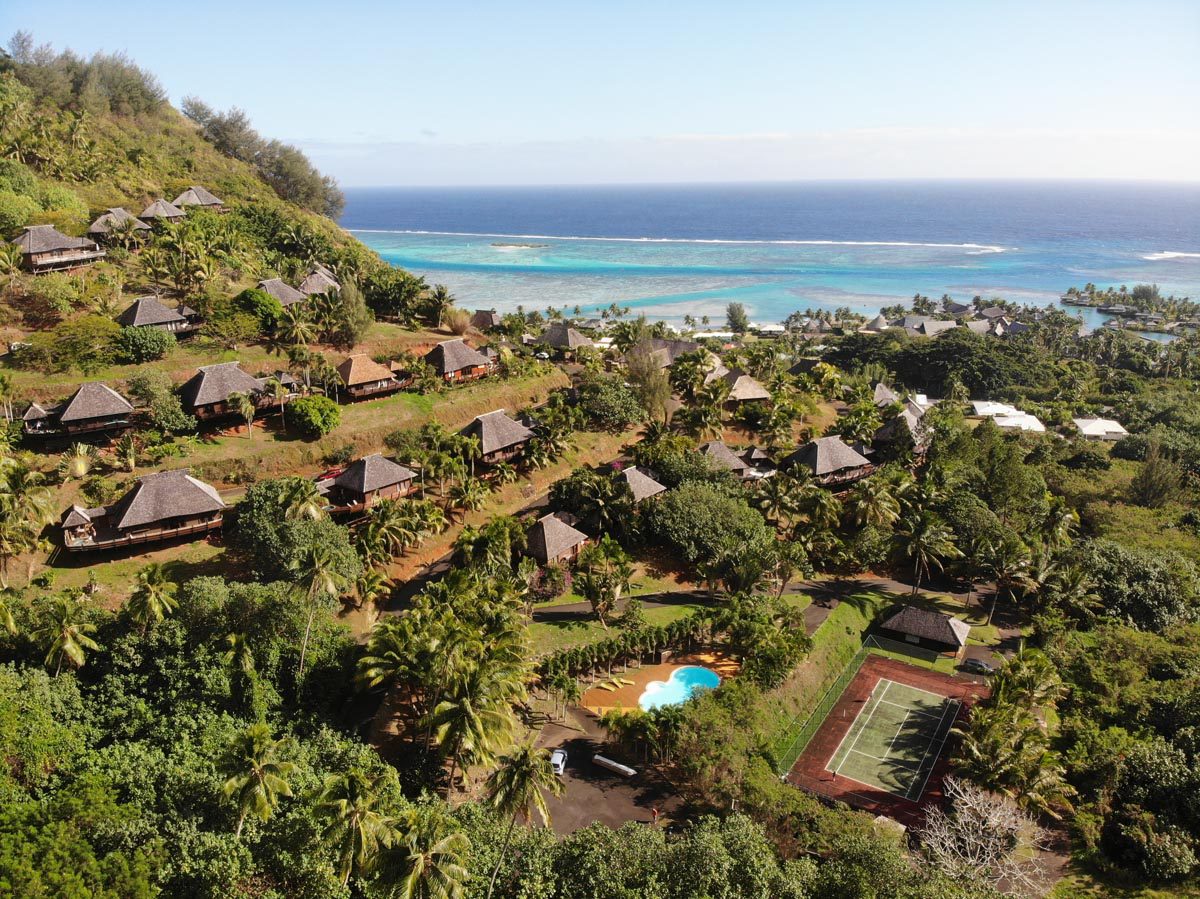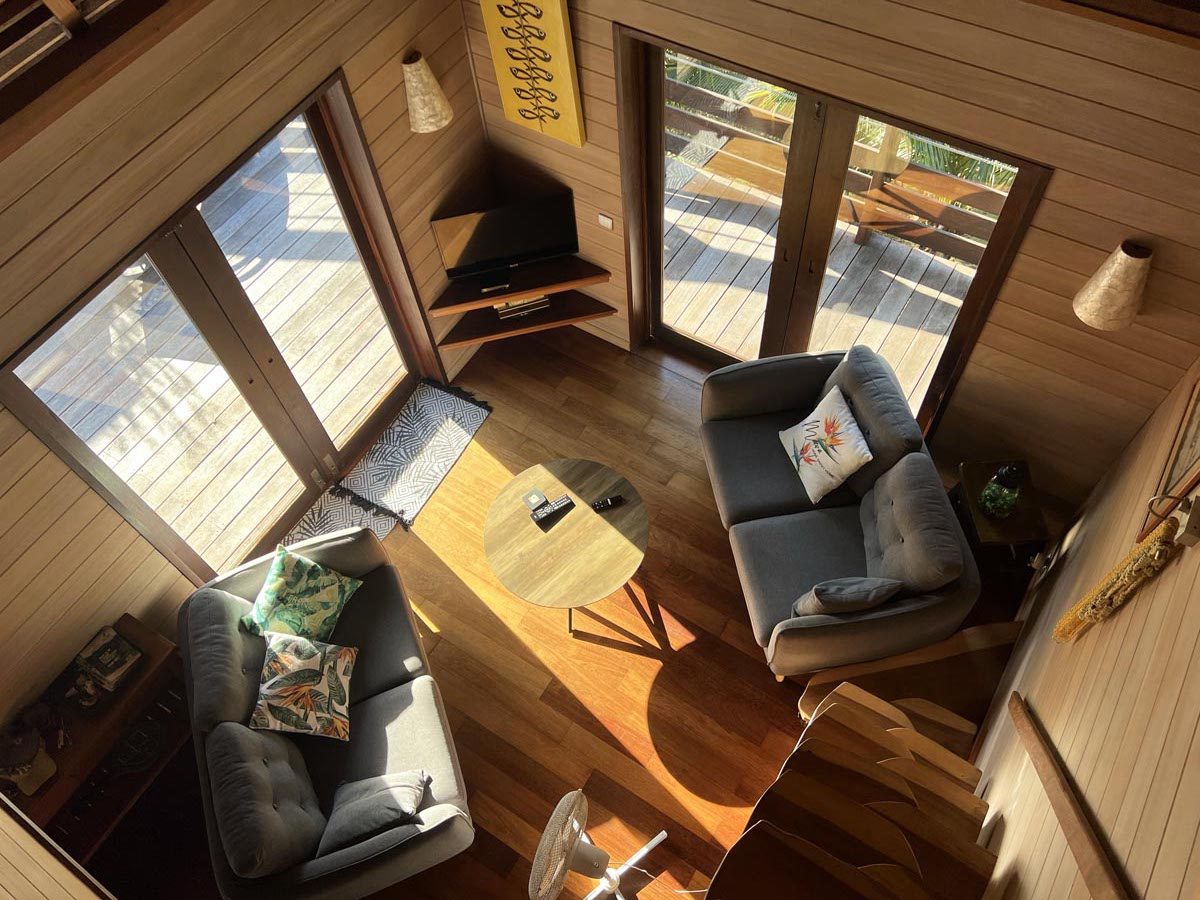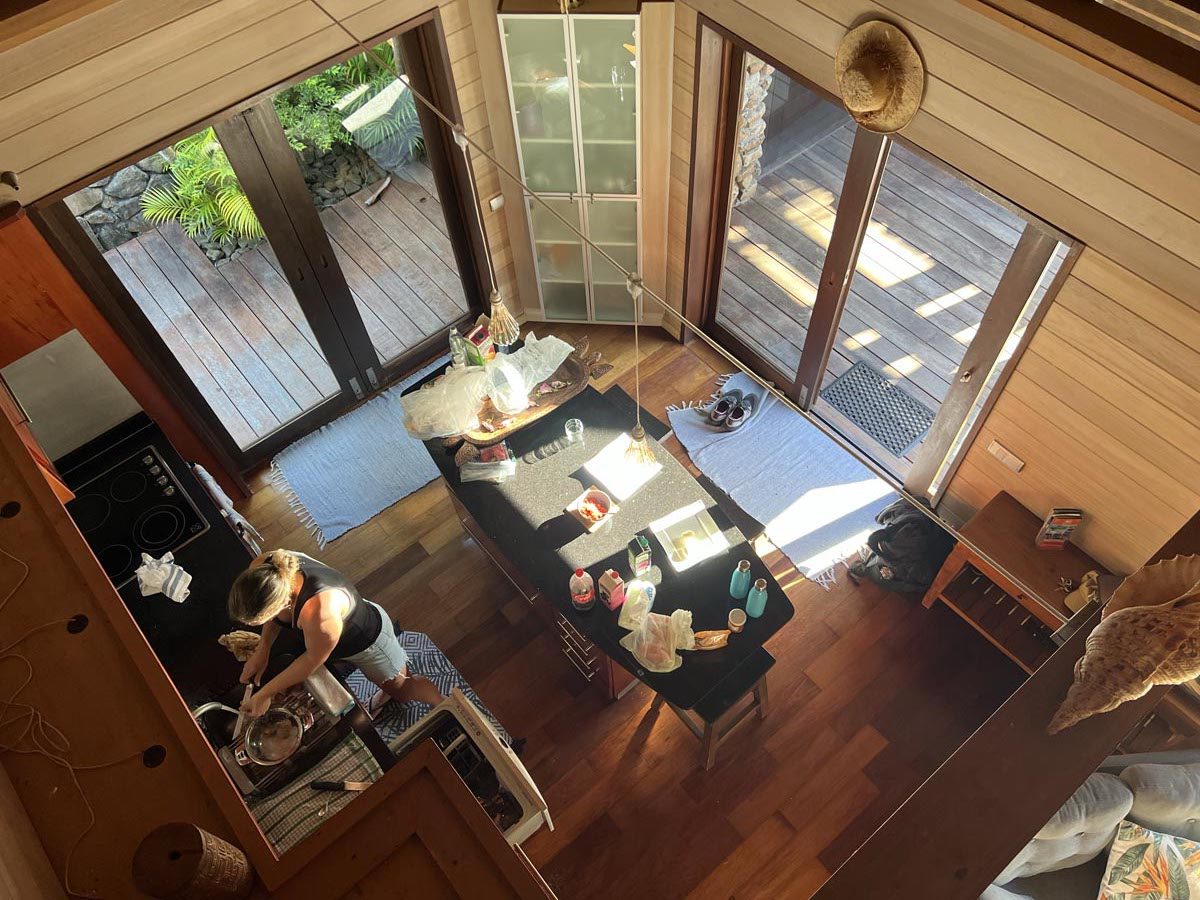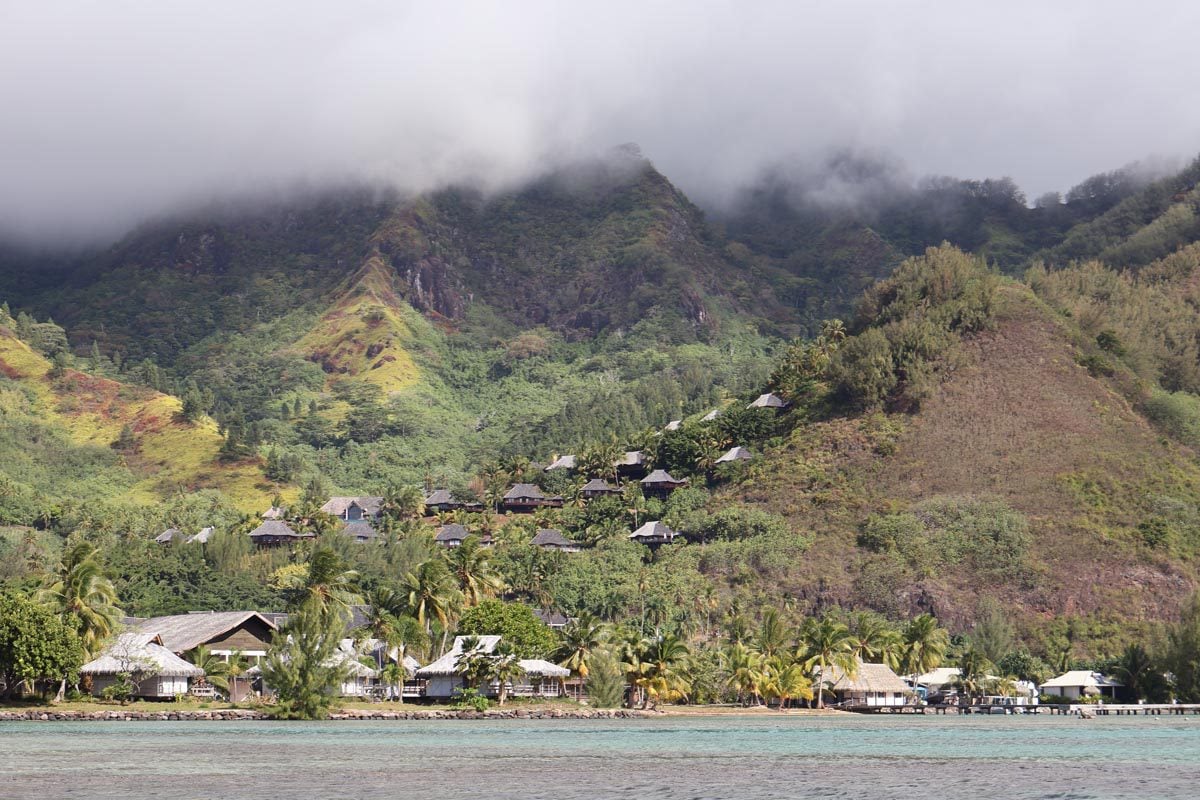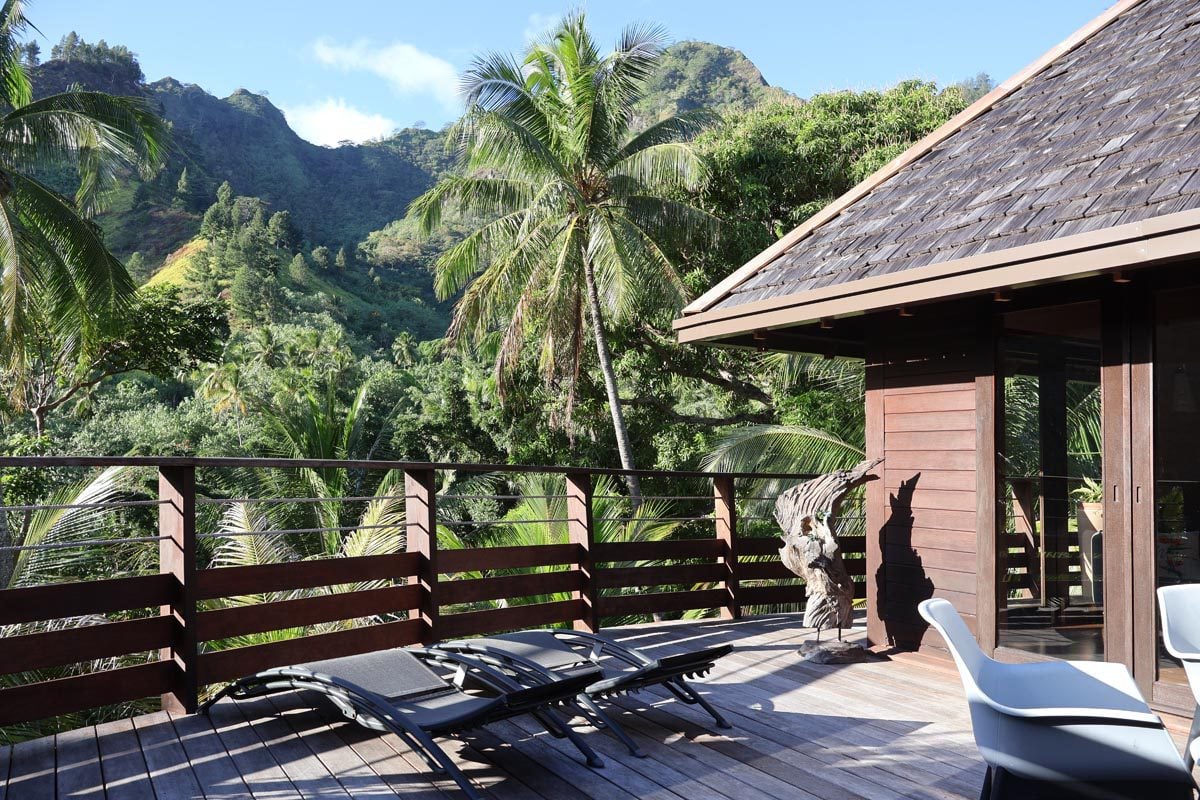 Ella's Birthday
It just so happened that our visit to Moorea coincided with Ella's birthday. To celebrate the special day, we started with a thrilling jet ski tour along the island's majestic north coast. We zig-zagged in and out of the lagoon, often seeing turtles and dolphins coming up for air.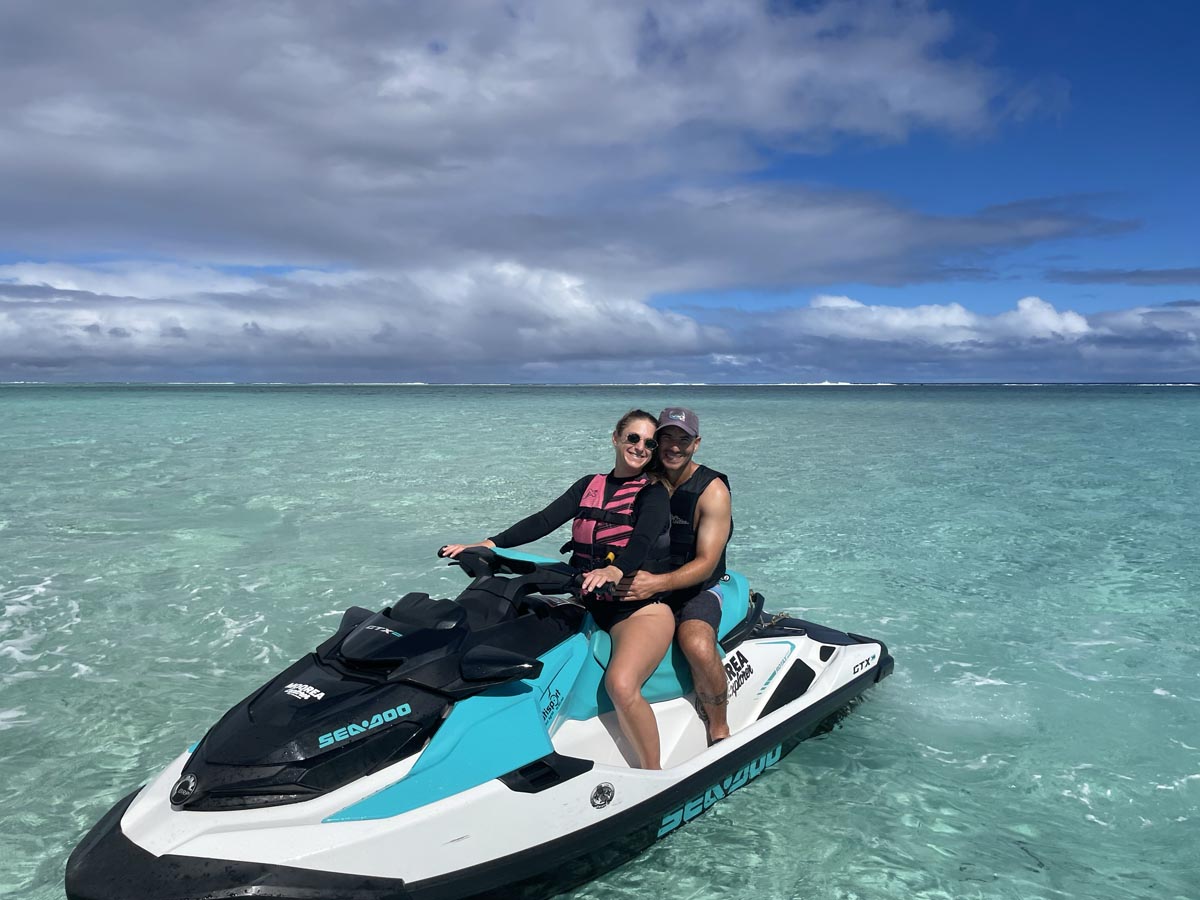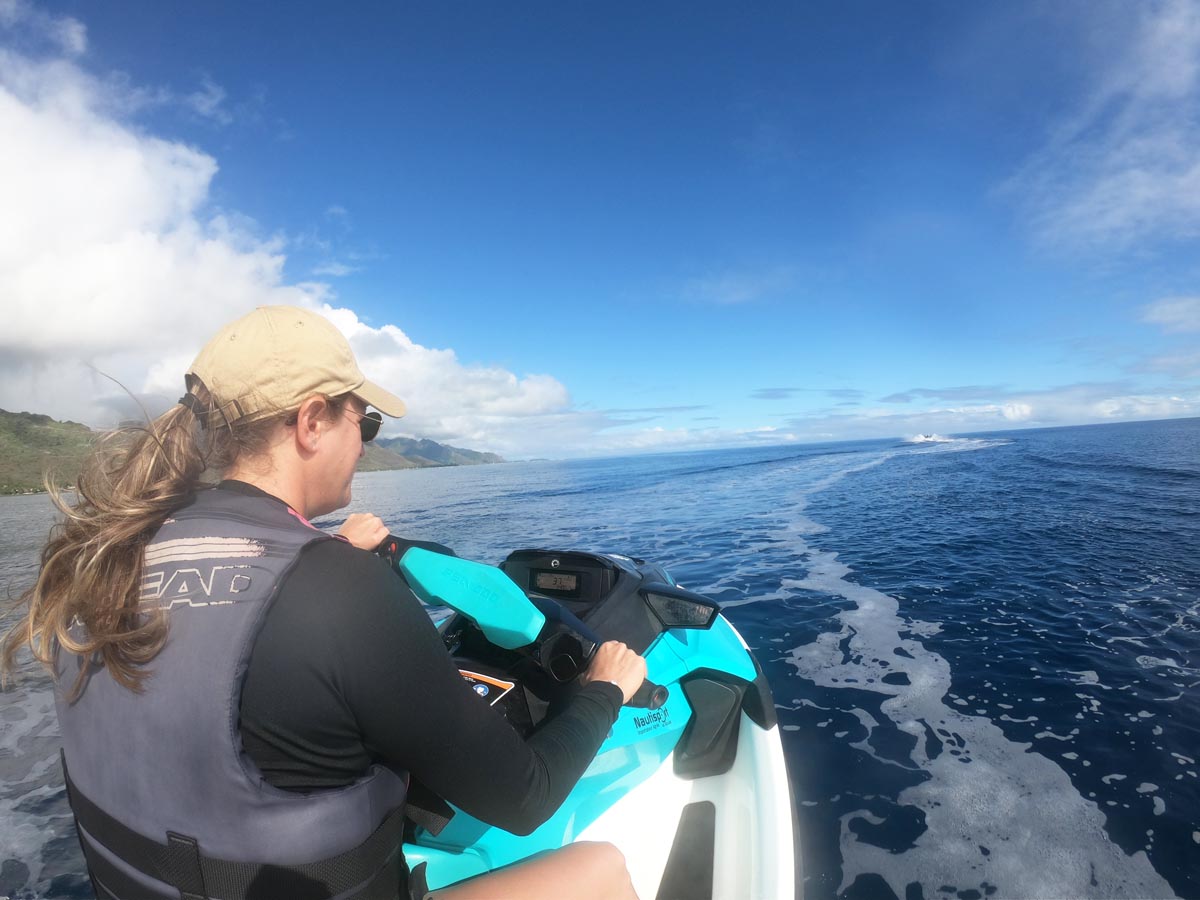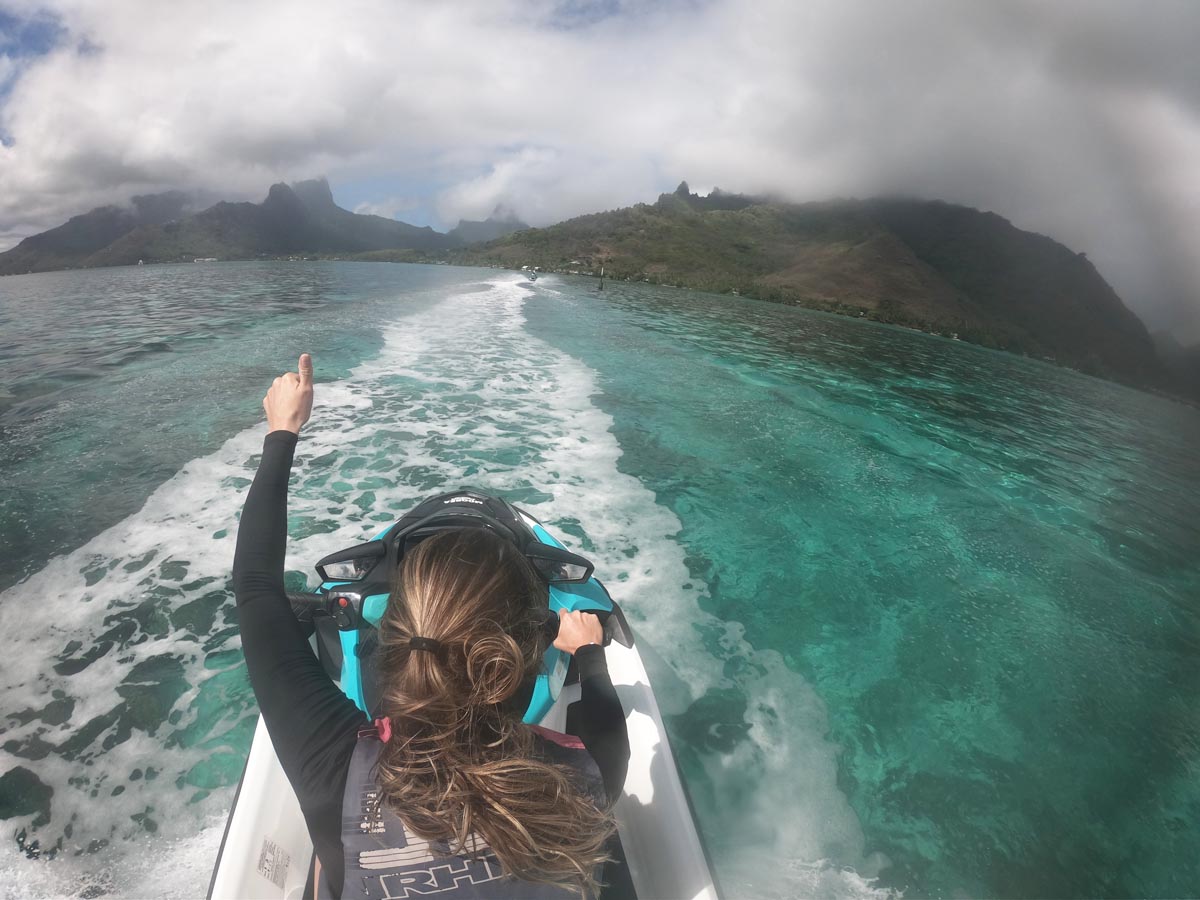 Before returning to base, we stopped in a shallow area of the lagoon to swim with sharks and stingrays. Reef sharks in French Polynesia are equivalent to street cats back home. They're everywhere, and hardly any local is excited to see them. In these islands, as long as the sharks are inside the lagoon, there's nothing to worry about. Stingrays, however, are a different story, perhaps due to their sharp tail. Getting close and (very) personal with them on this excursion certainly lowers the fear barrier.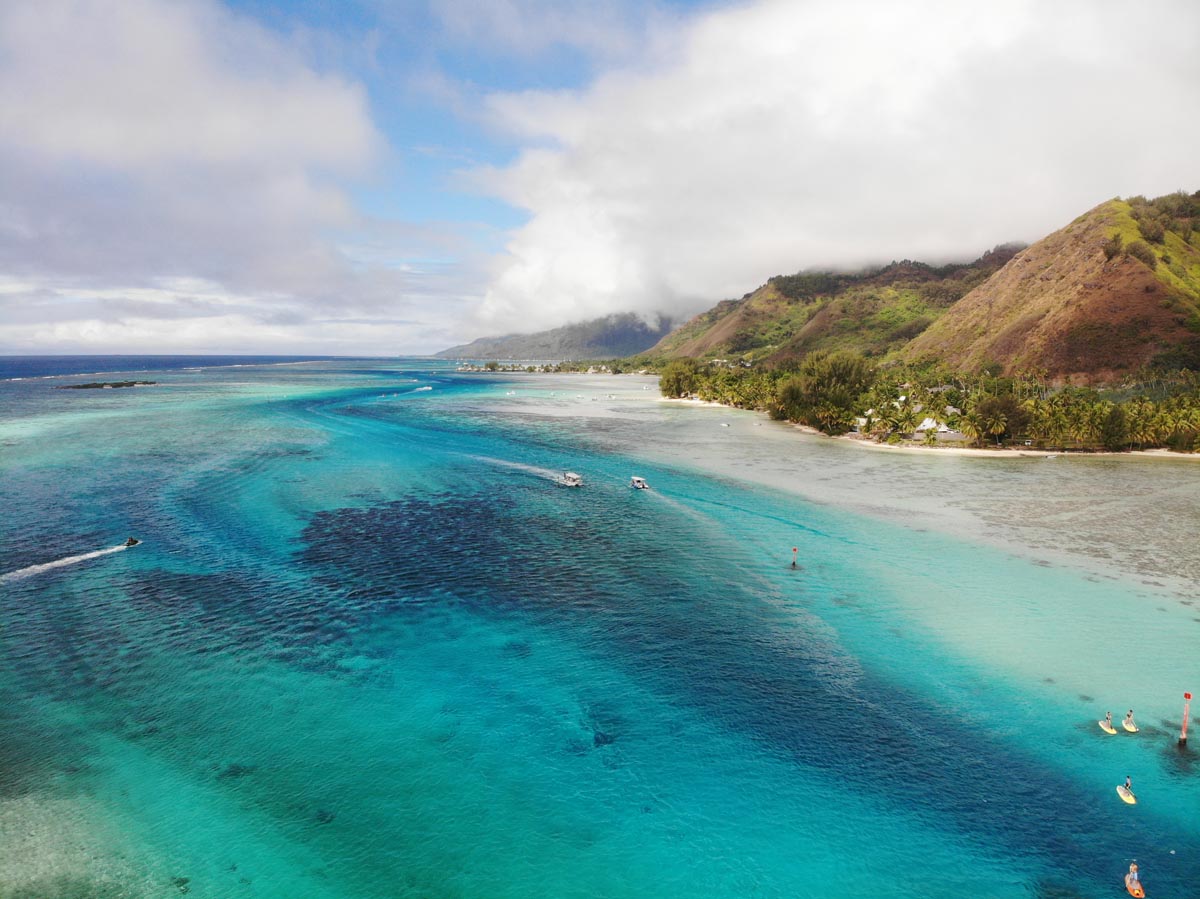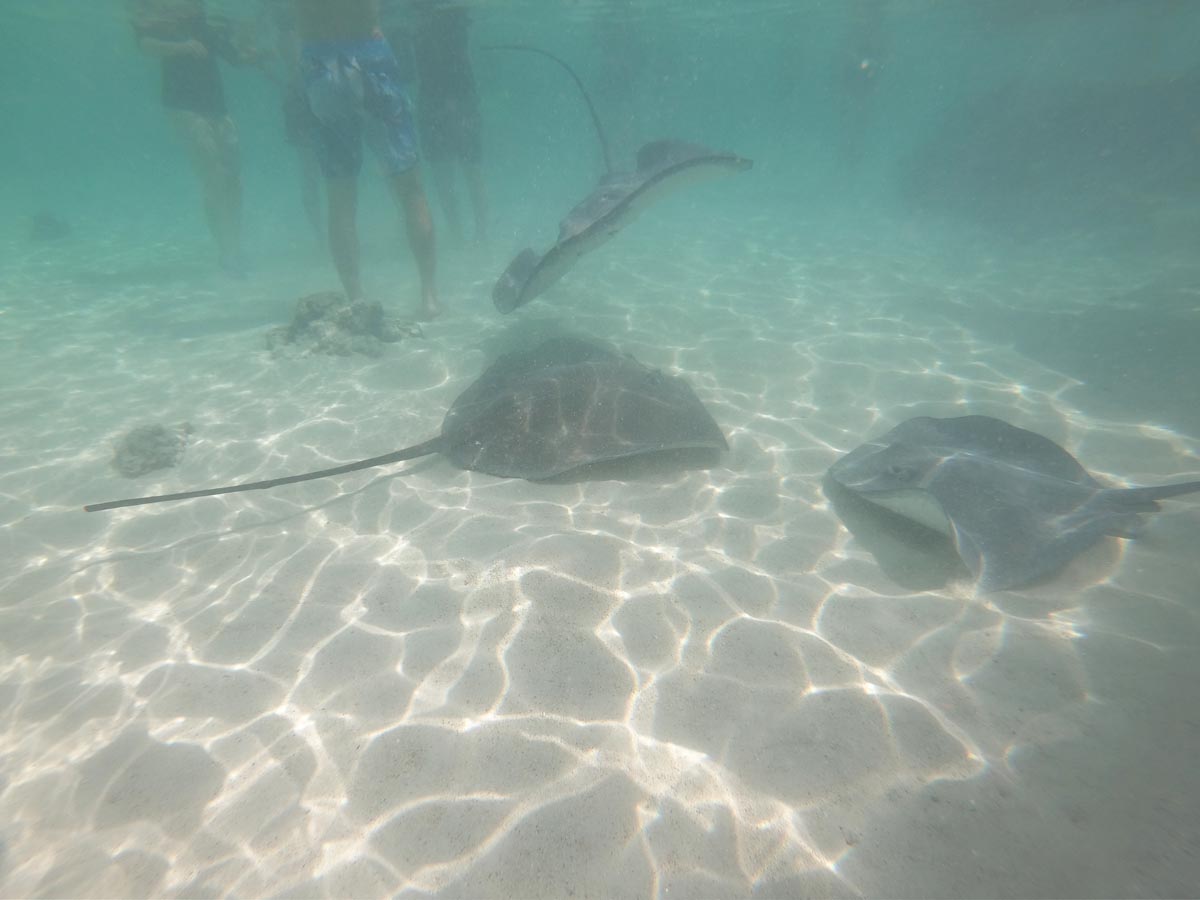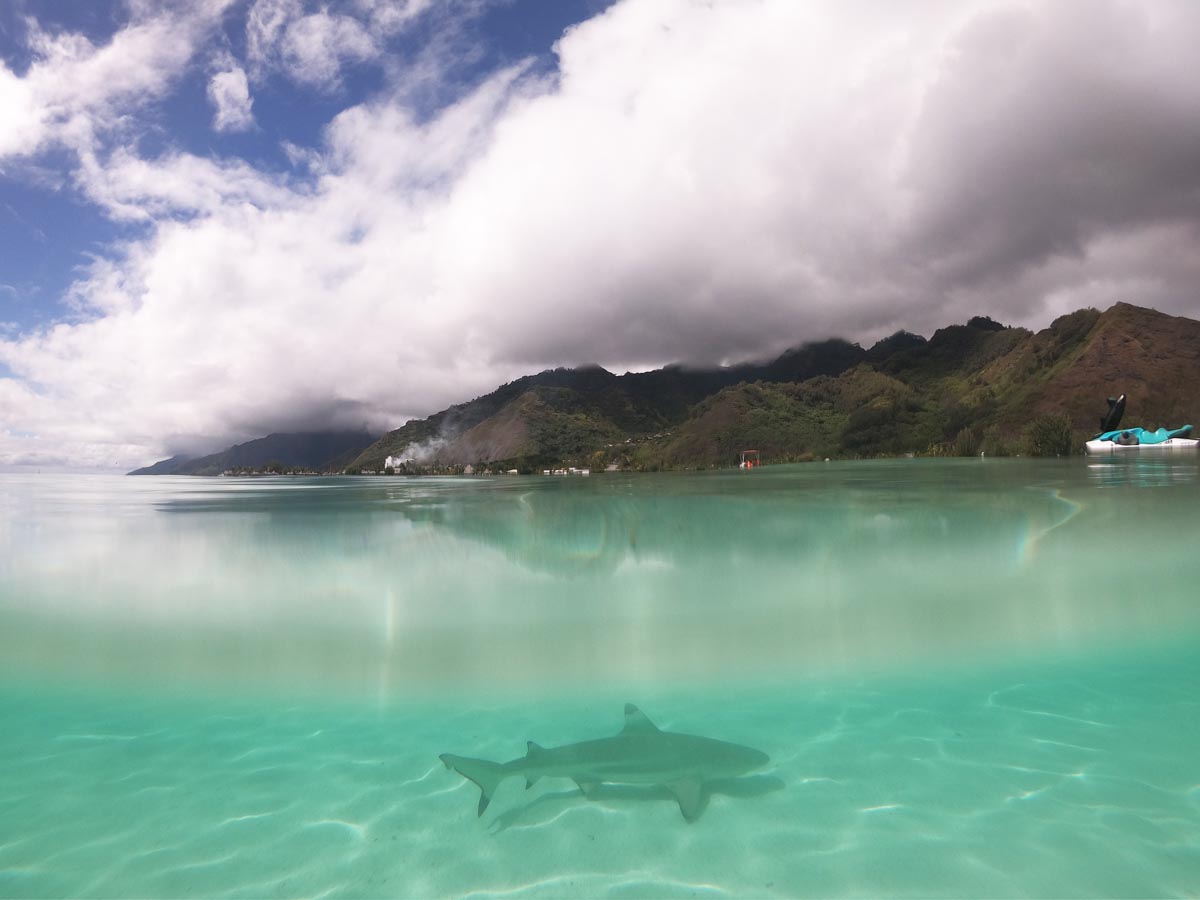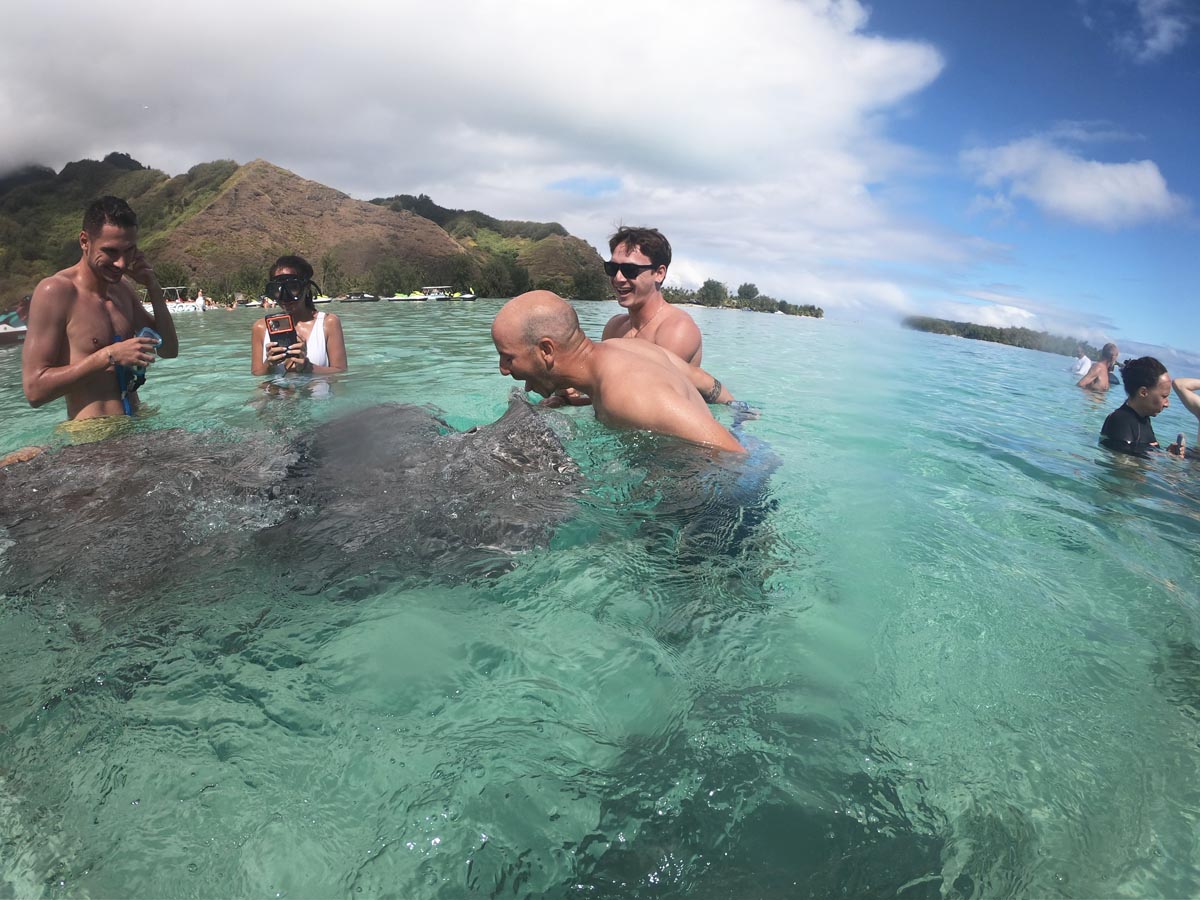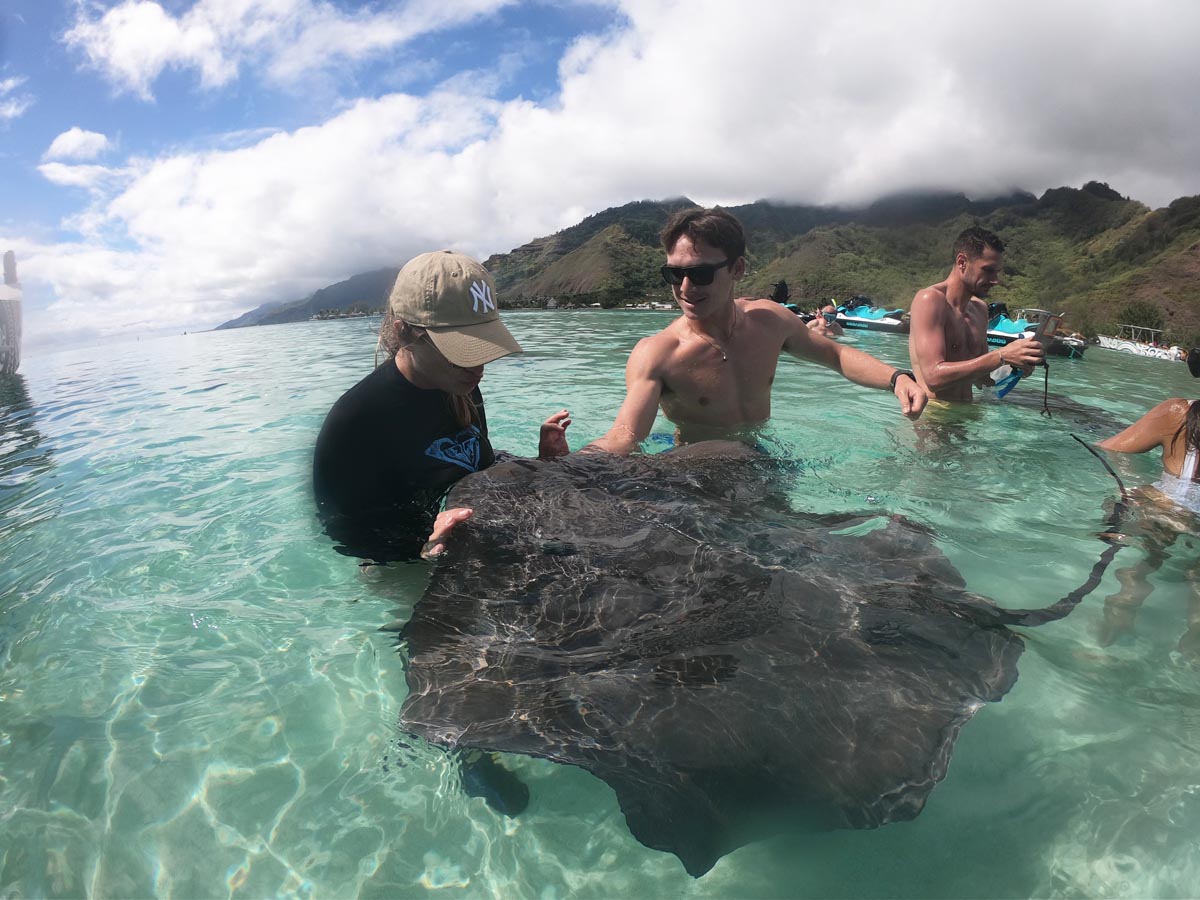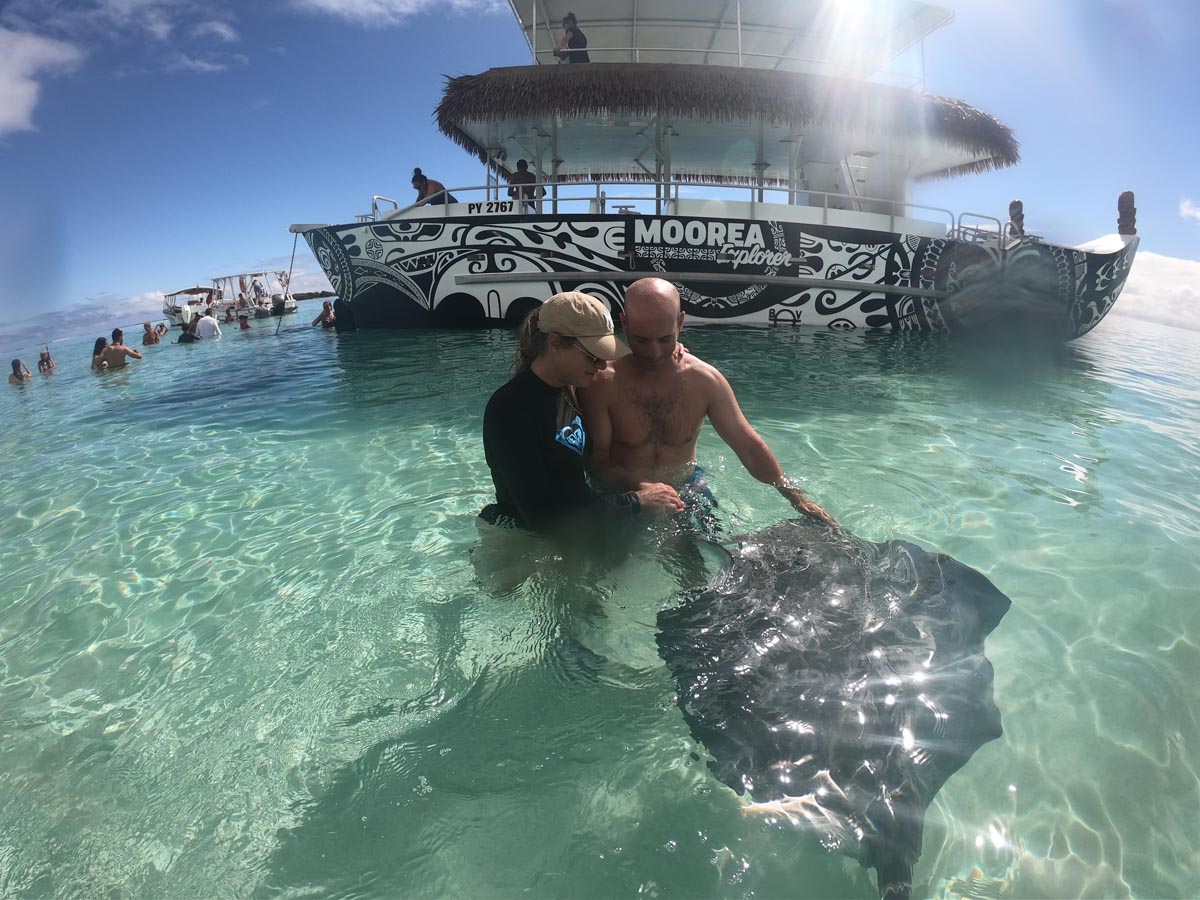 Since no birthday is memorable without a memorable meal, we hopped on a boat for the short but scenic voyage to the Coco Beach Restaurant. Located on a motu facing the main island, Coco Beach is not only a restaurant but also an experience. While you're sipping cocktails and waiting for your fish to grill, stingrays patrol the shoreline and kayakers make landfall, hoping to find a free spot. It really doesn't get any better than this in Moorea.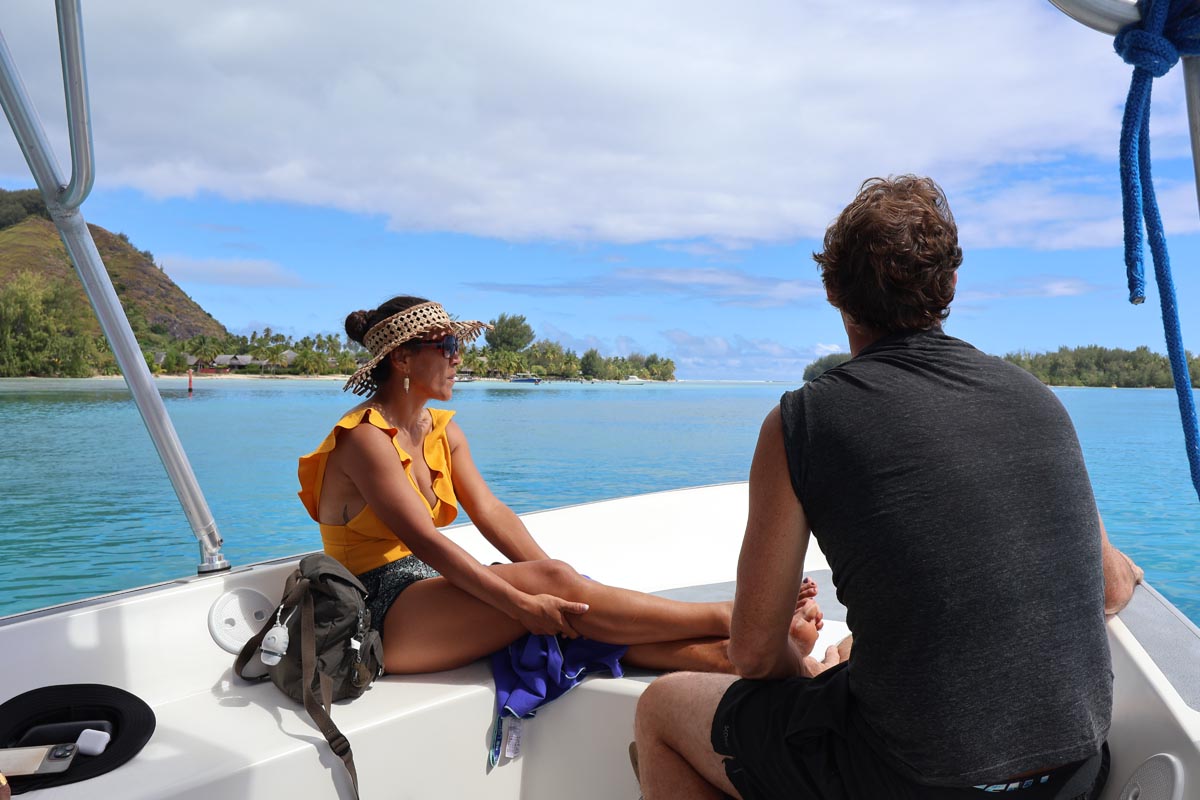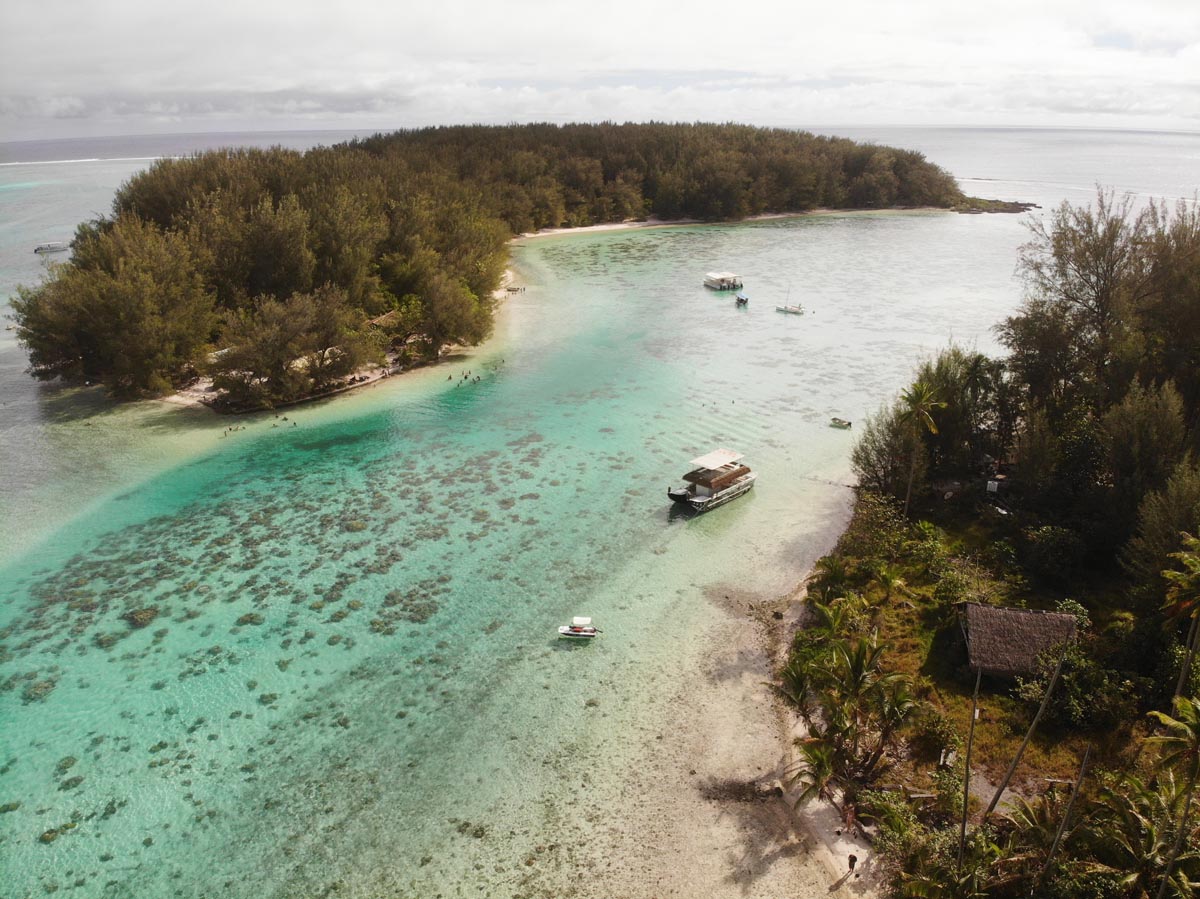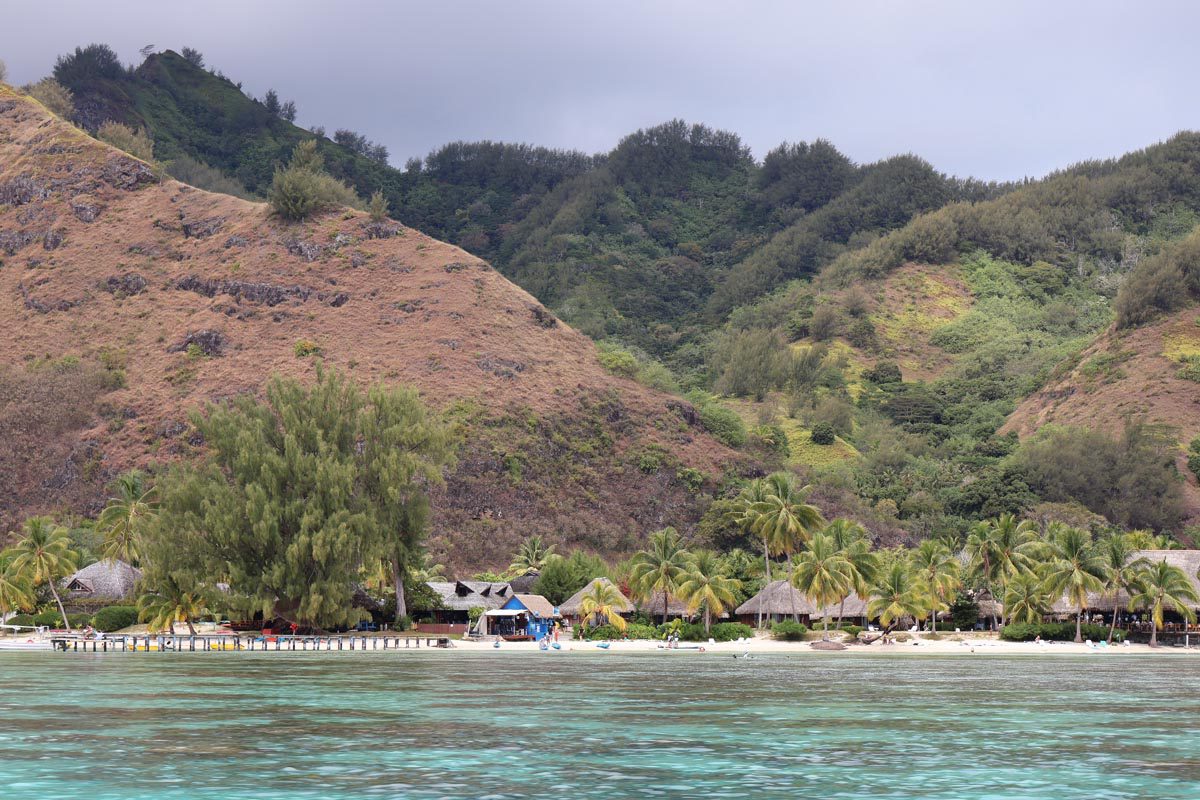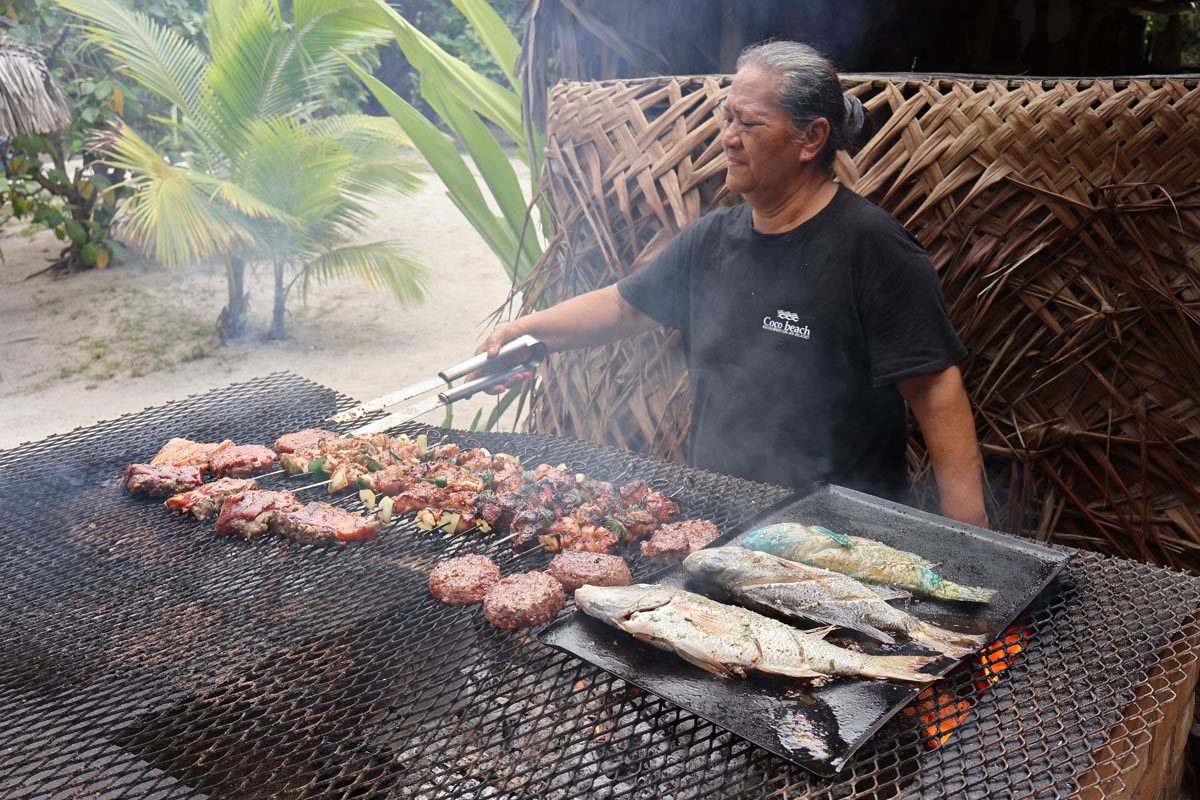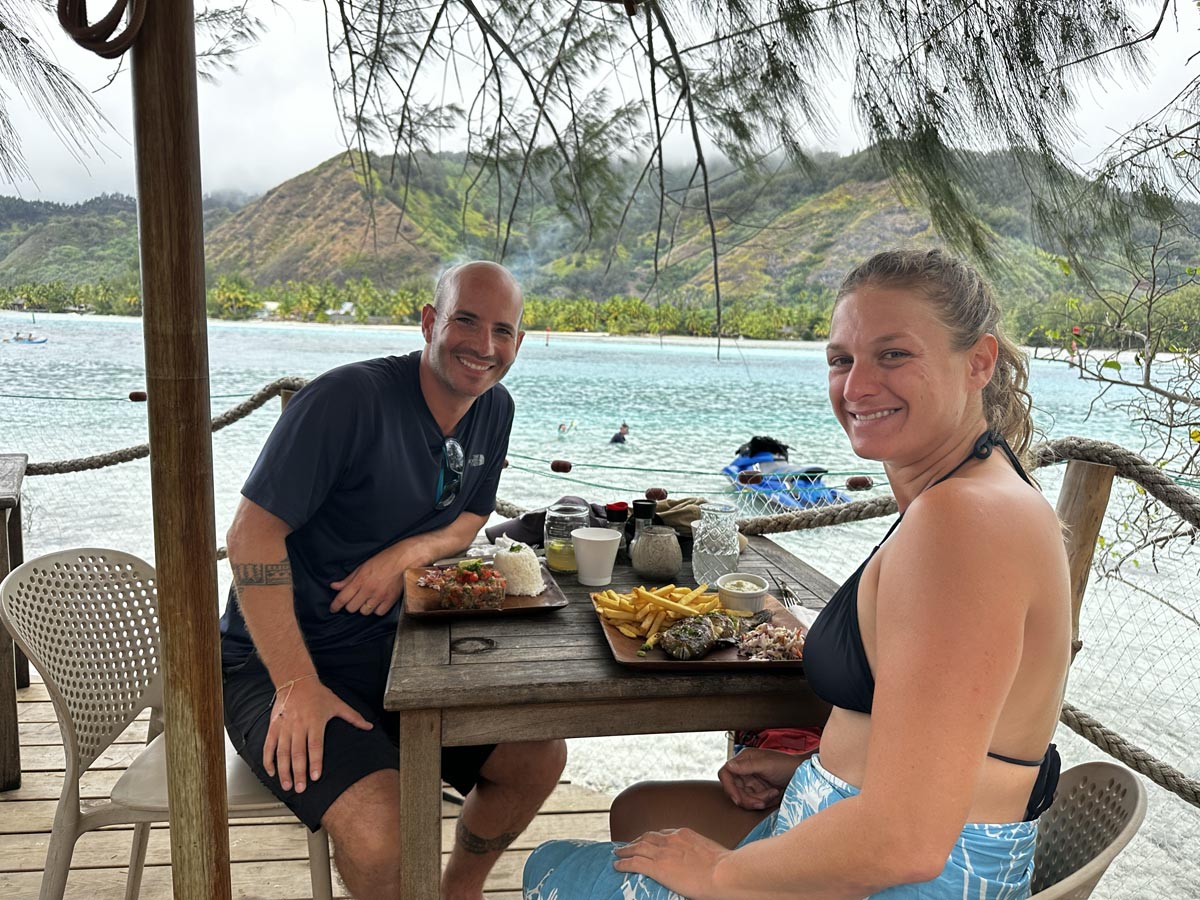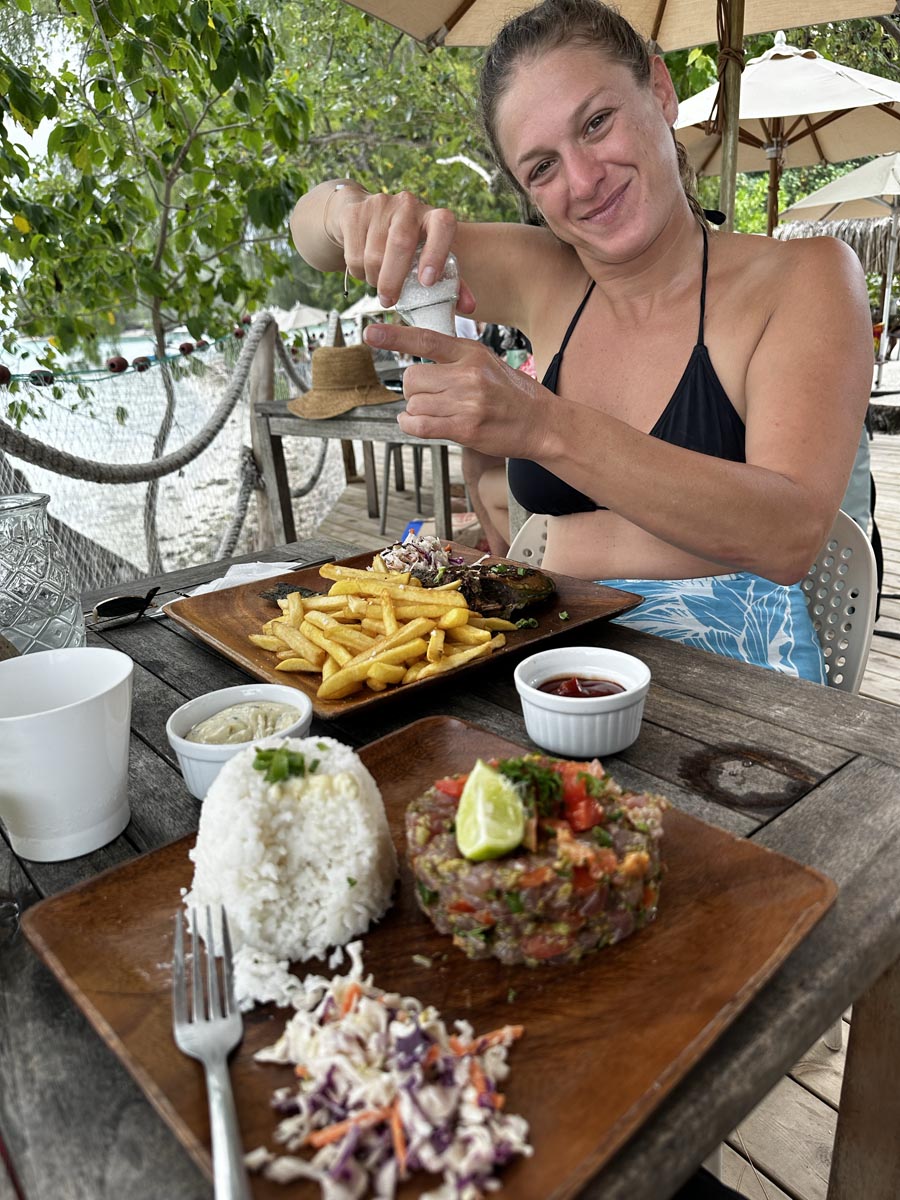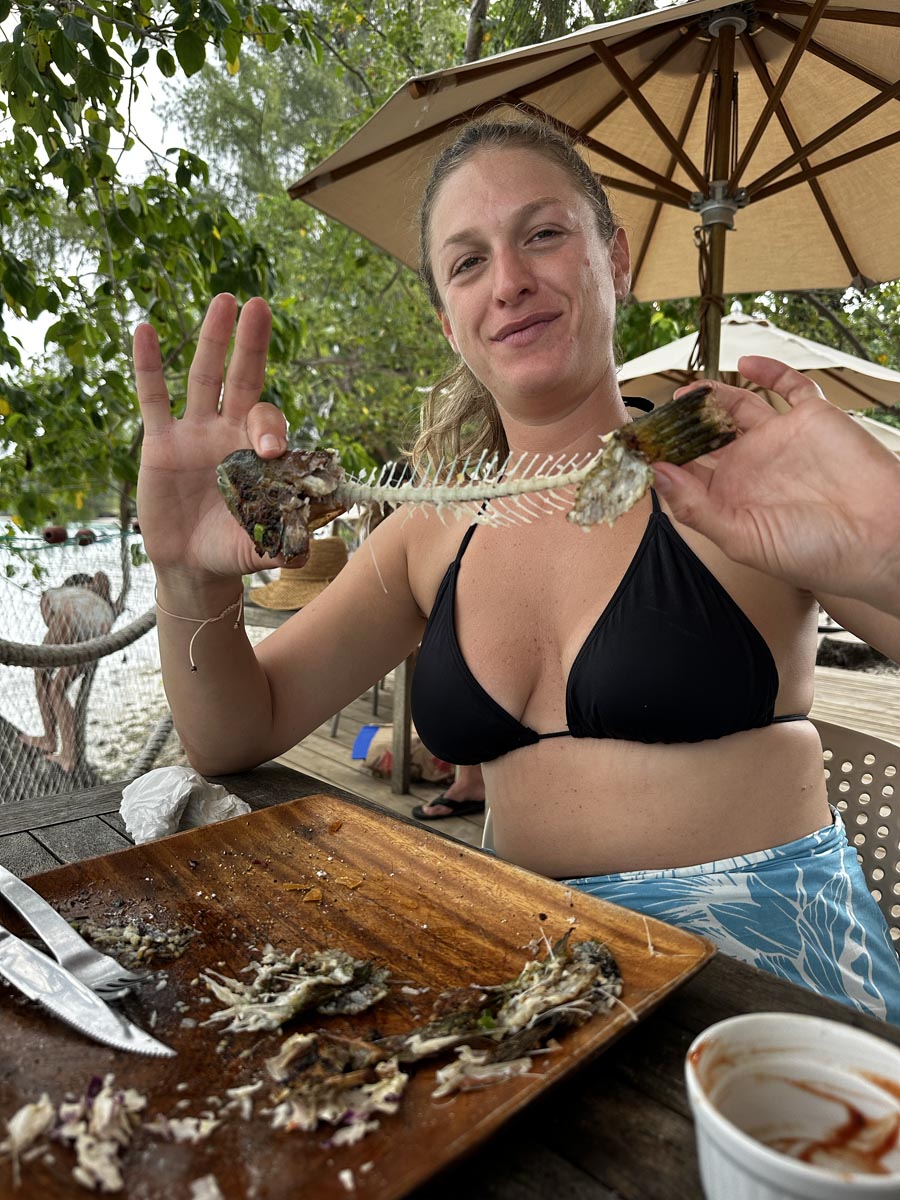 The Heart-Shaped Island
We road-tripped around the island the following days, primarily focusing on its north coast.
When viewed from high above, Moorea resembles the shape of a heart, thanks to its deep twin bays separated by Mount Rotui. This area is known as Opunohu Valley, the site of the former caldera now surrounded by a dozen or so peaks that create a natural amphitheater. The valley's lush earth and abundant water attract local farmers who primarily grow Moorea's prized pineapples.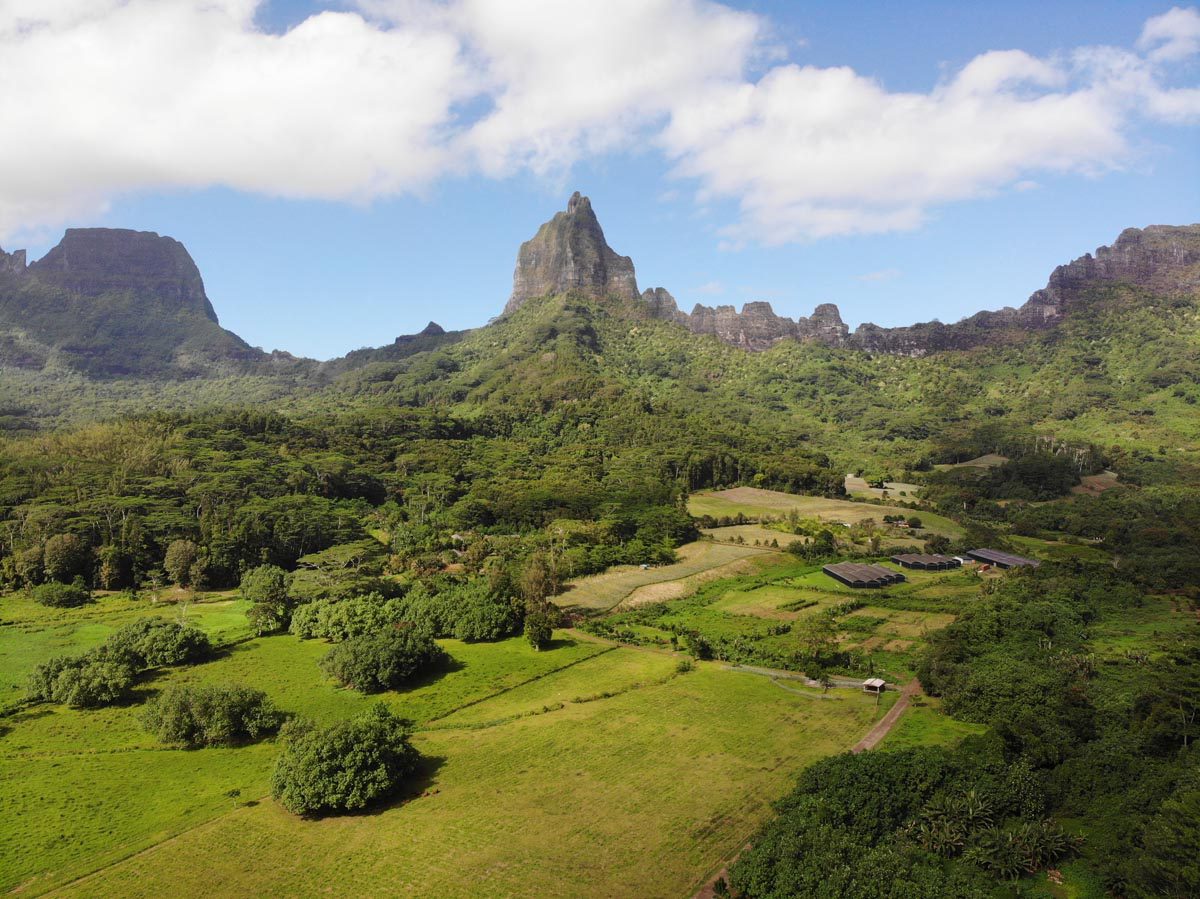 At the Belvedere scenic lookout, we saw Moorea's twin bays and Mount Rotui in a single frame. From here, we hiked a small section of the Three Coconuts Hike via the pristine rainforest. On our way back to the ring road, we checked out the ancient temple complex and the beautiful Pineapple Route.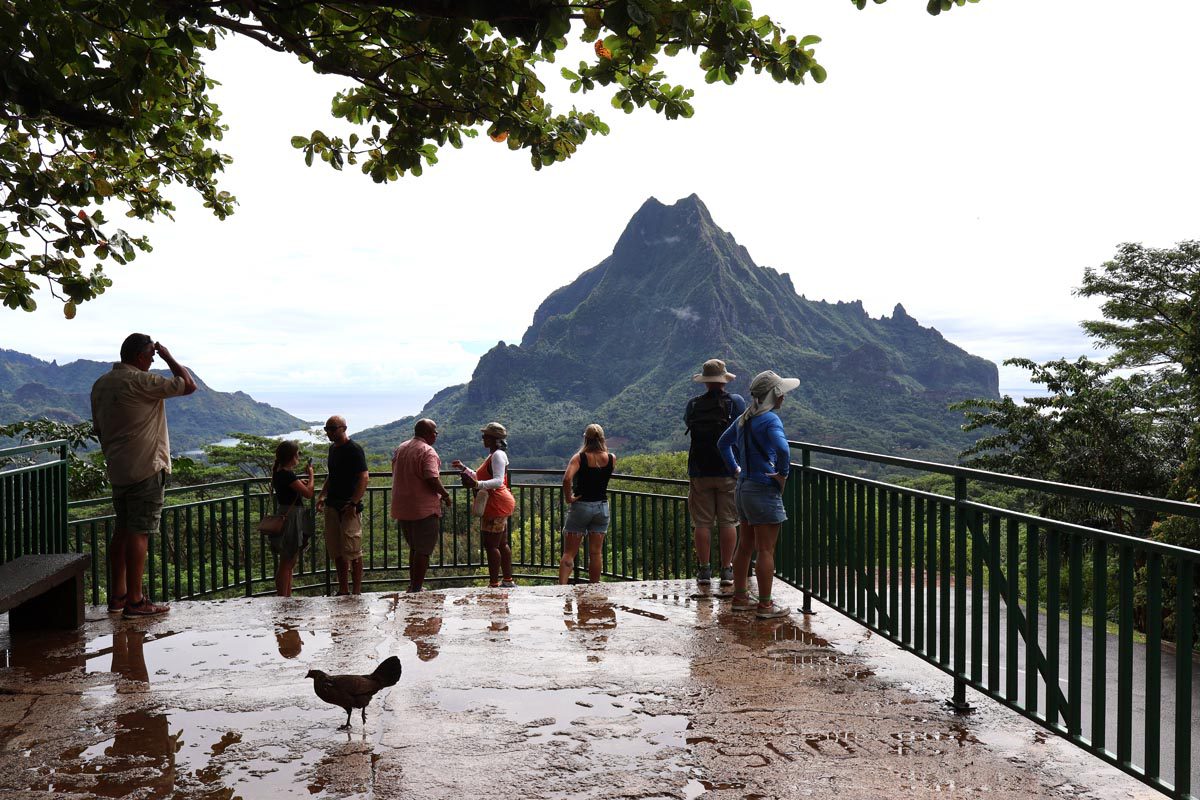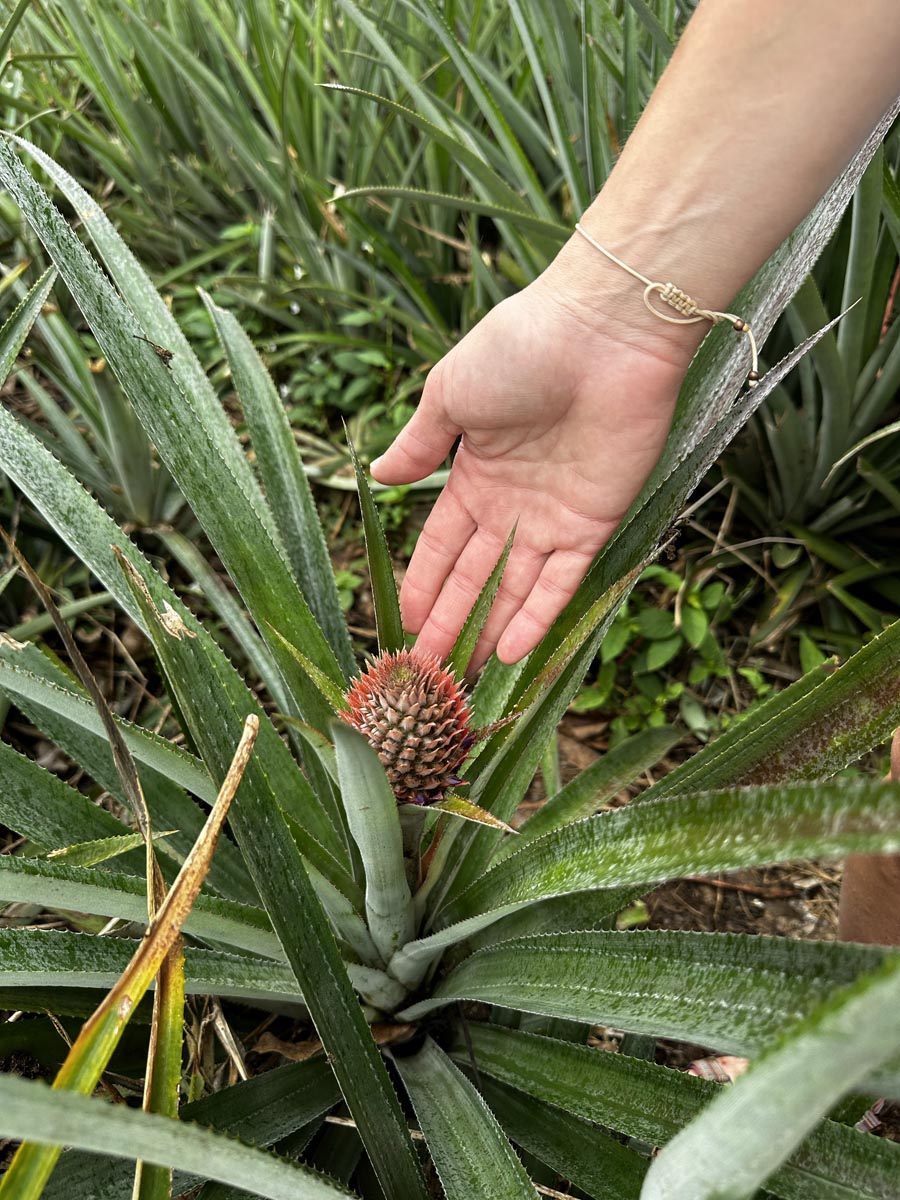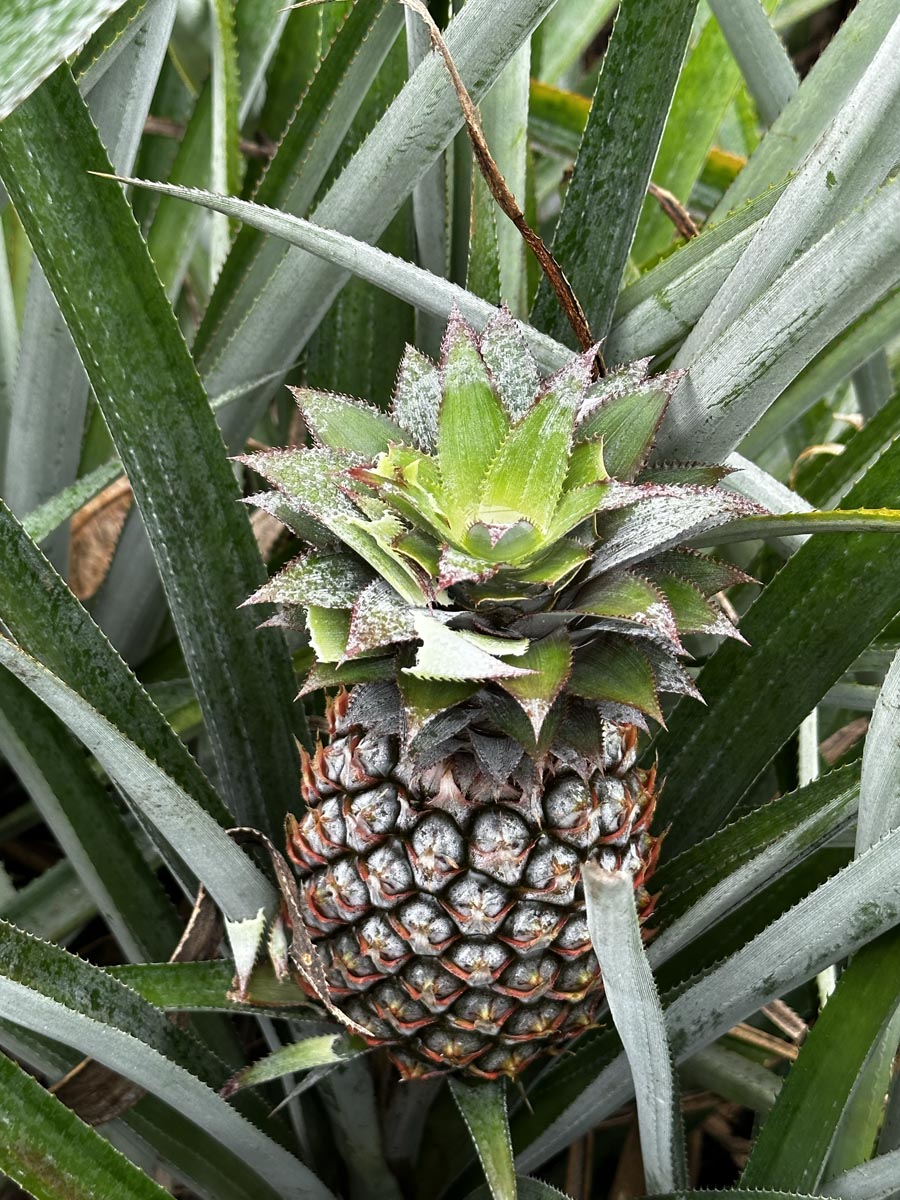 To almost wrap up the day, we headed to Ta'ahiamanu Beach, one of Moorea's public beaches. It's one of the prettiest spots on the island, with a coconut grove giving way to soft white sand and exceptional views of Opunohu Bay. The beach is a favorite gathering spot for locals and visitors alike.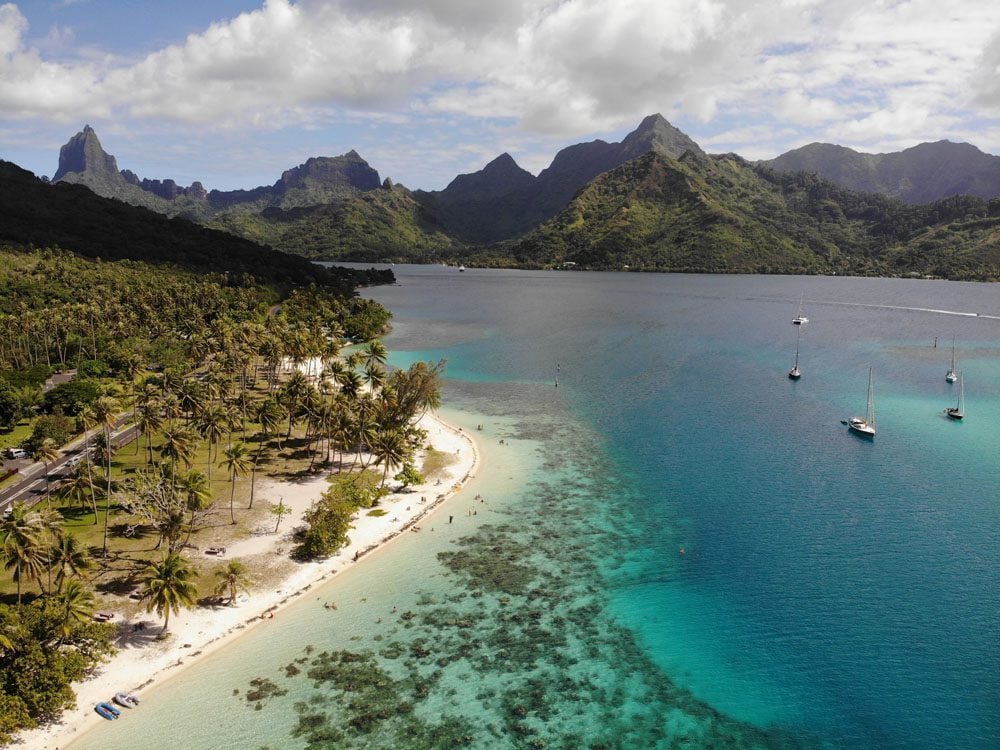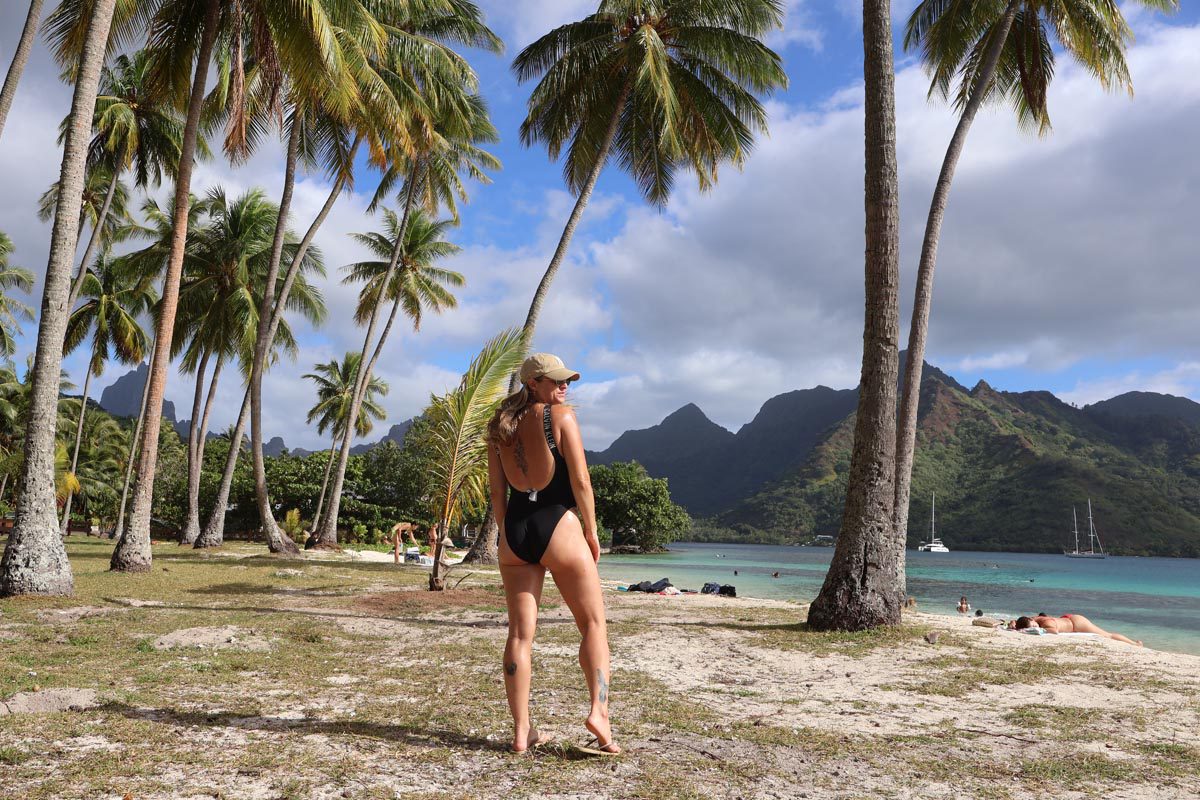 After a homemade dinner, we headed to Ha'apiti near the famous Tiki Village. After several visits to Moorea I can honestly say that this is the best spot on the island for watching the sunset.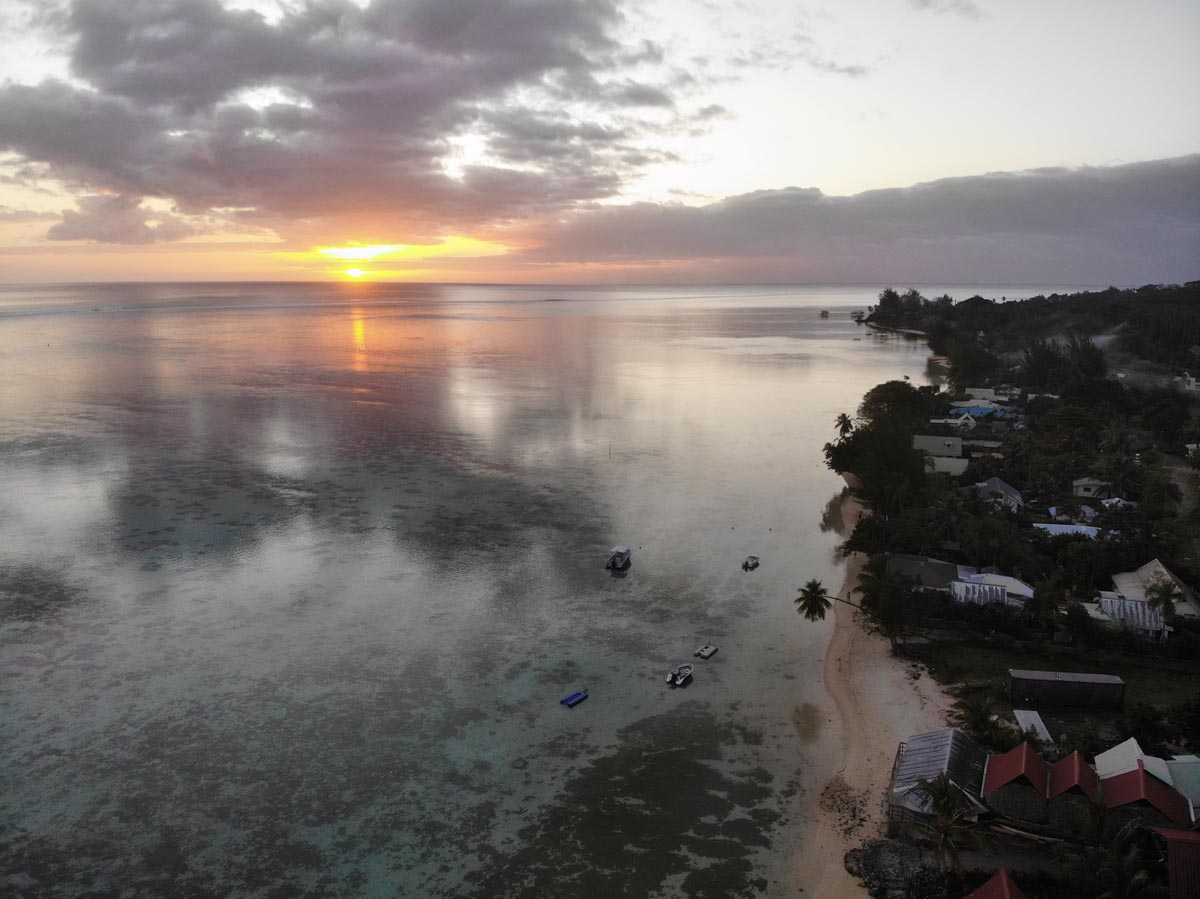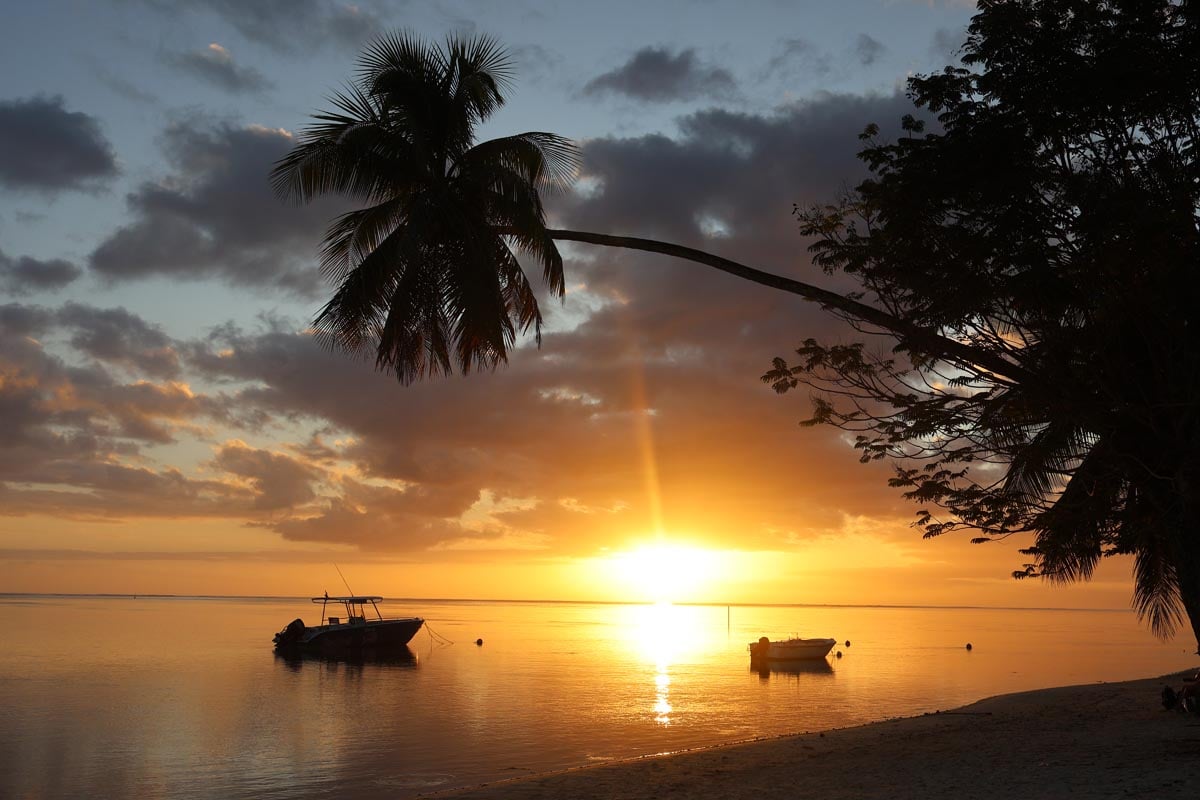 The Grand Finale
Time flies even when the clocks are set to "island time." Our month-long honeymoon in Tahiti was coming to an end, but we still had a full day to kill before catching the ferry back to Tahiti. We headed to Temae Beach on the island's northeast corner in the morning. This is one of the longest stretches of sand in French Polynesia, and the snorkeling isn't too bad either.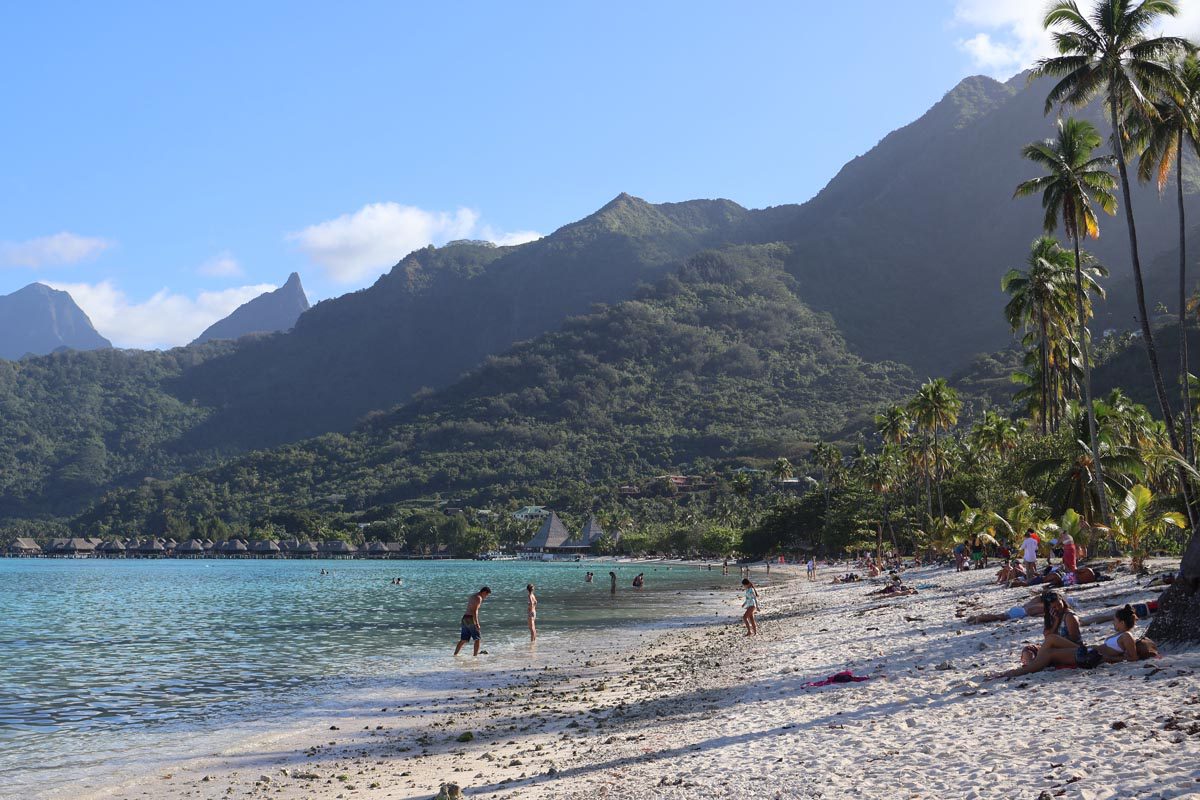 At noon, we drove to Gil's house near Temae Beach to get a couple of permanent souvenirs. I got a traditional tattoo in Moorea on my last solo trip to French Polynesia. On this visit, a friend in Tahiti had recommended Gil, and we certainly were not disappointed with our choice. We met Gil a few days prior and shared the feelings we wanted to express in our tattoos. Upon our arrival, Gil presented a few options he worked on, representing our desires in traditional Polynesian motifs.
I was first on the surgeon's table, initially tattooing the emblem of French Polynesia on my heart to express my connection with this beautiful nation. Gil then turned to my wrist, tattooing our union and the little "guest" now cooking in Ella's womb. This tattoo is also represented on Ella's wrist, a permanent reminder of our perfect honeymoon in Tahiti and the start of our family.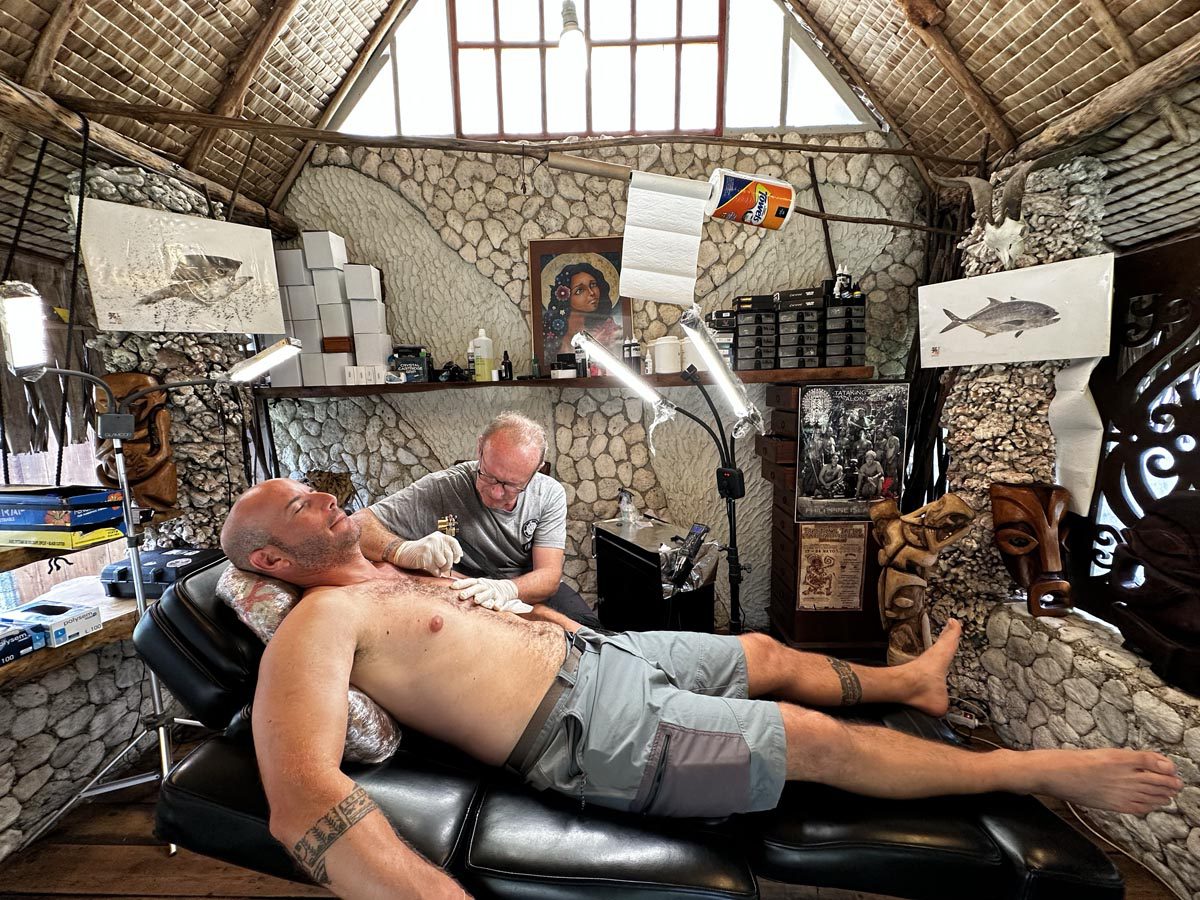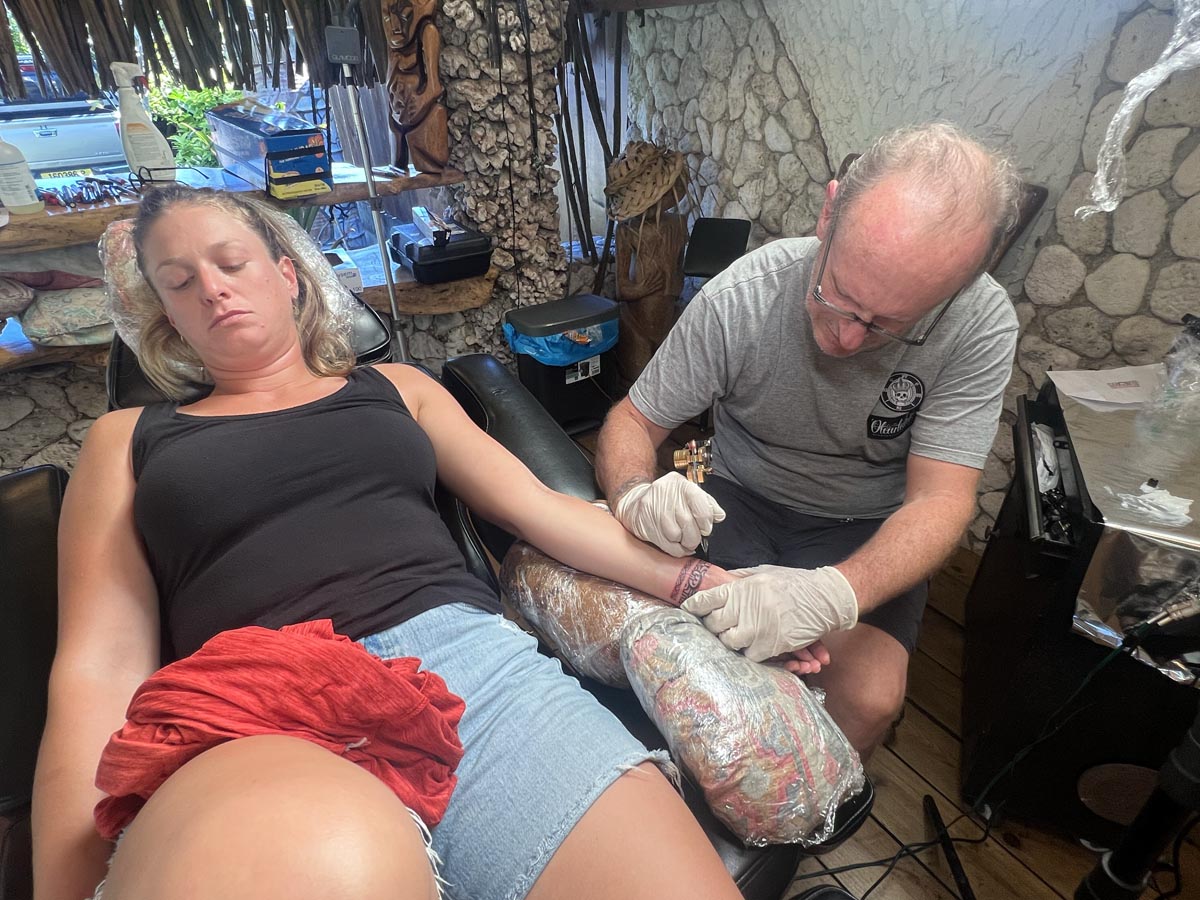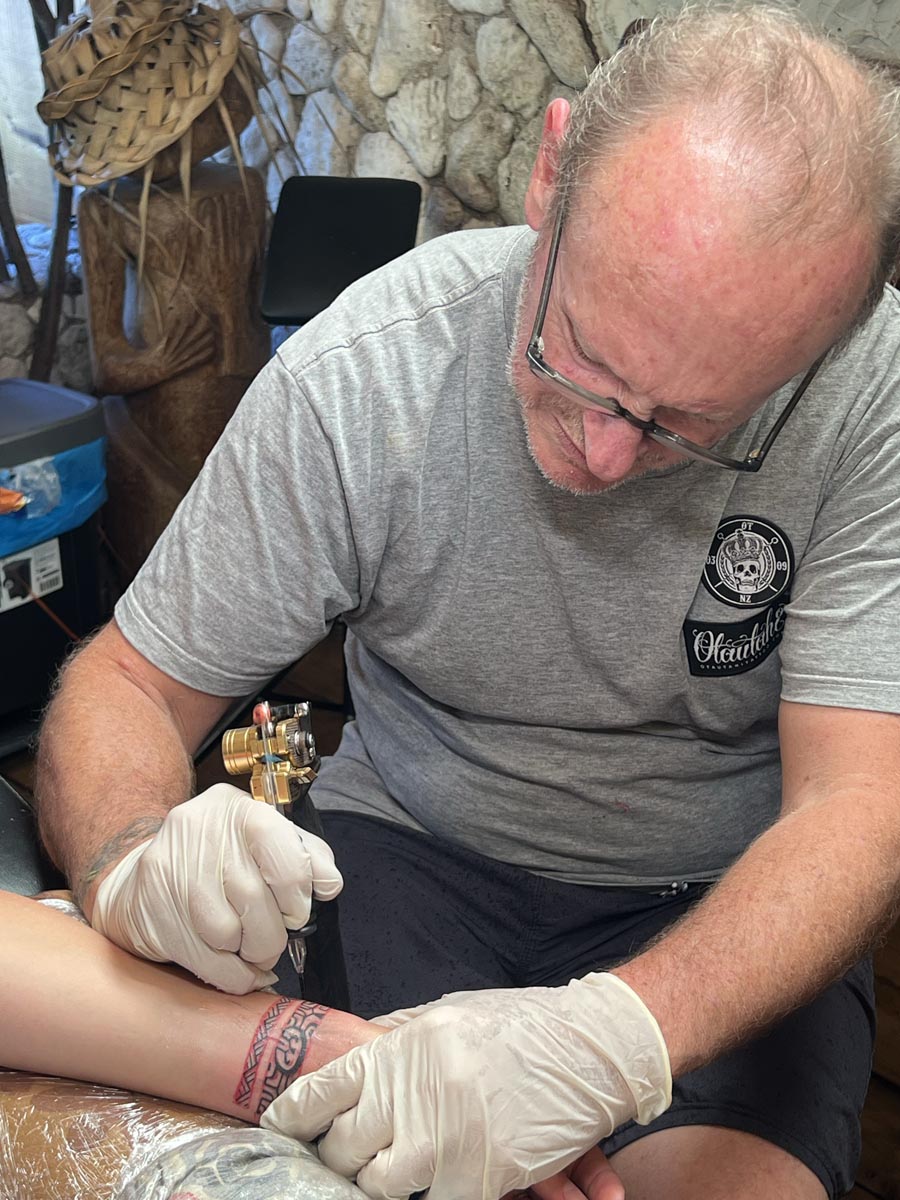 Without too much time to spare, we returned the car, hopped on the ferry back to Tahiti, and promised each other: "à la prochaine fois". Until next time…
---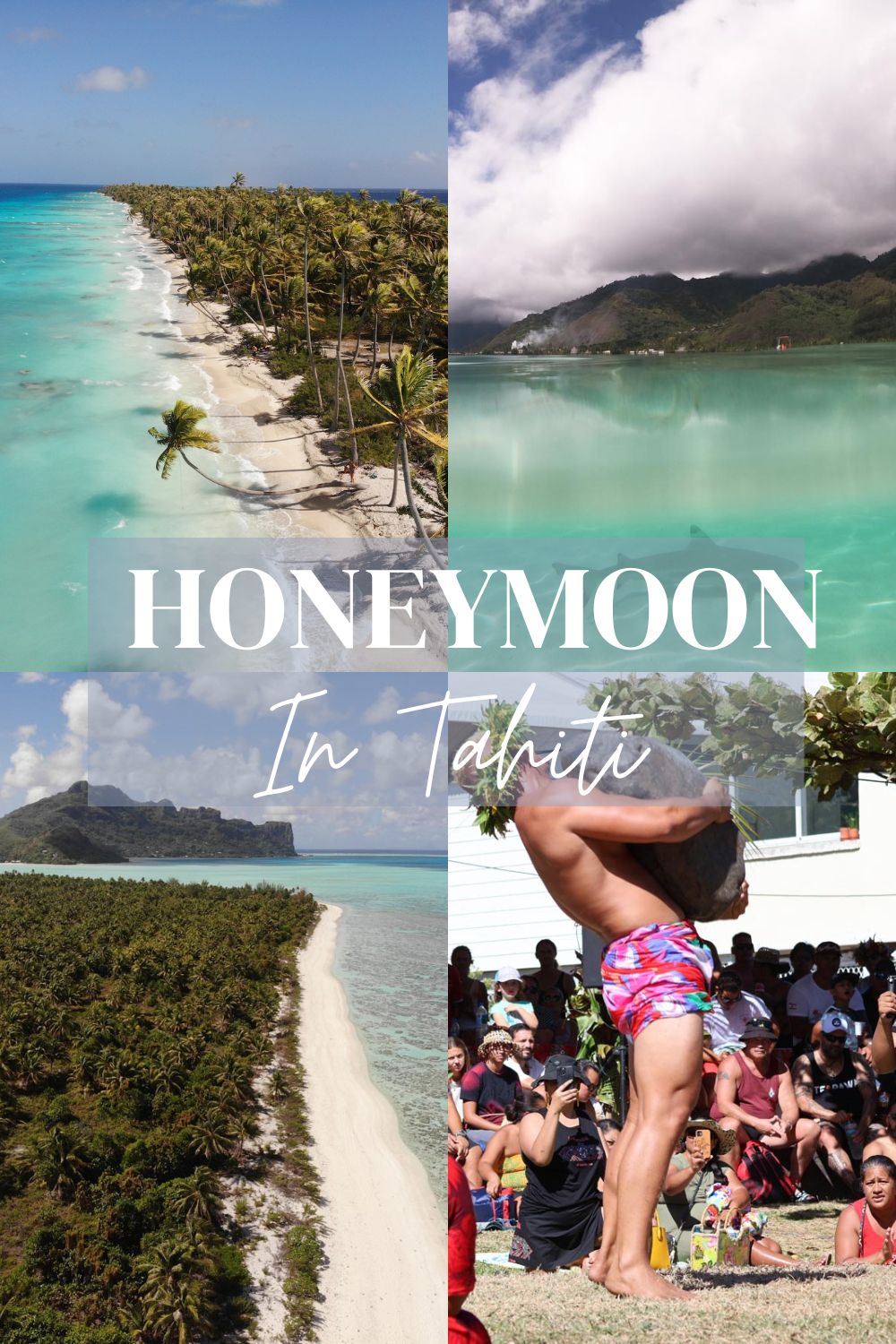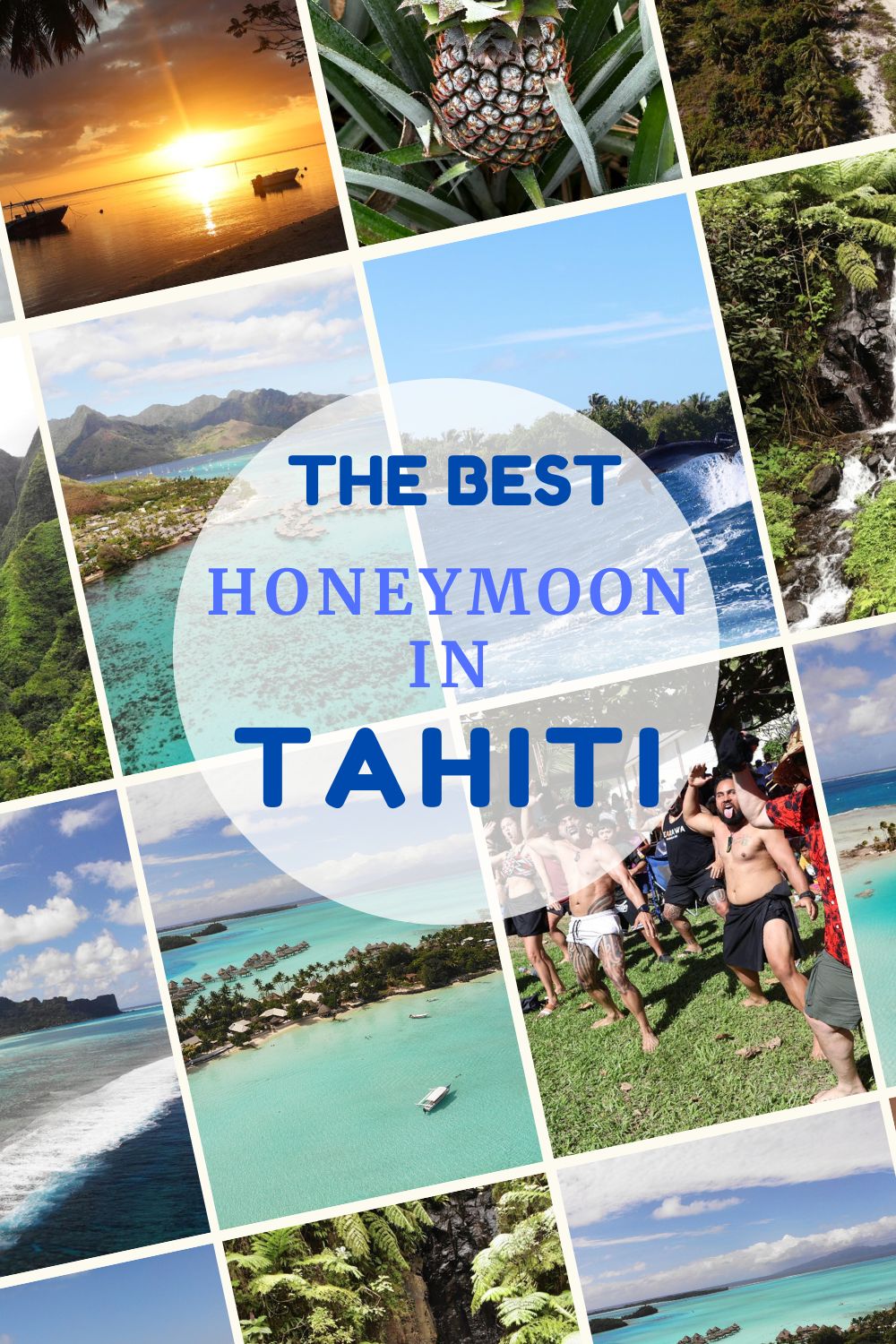 Pin These Images To Your Favorite Boards!
Tahiti, Tailor Made!
The Islands of Tahiti are among the last places to be colonized by mankind, 118 islands, each with its unique personality.
Get expert advice and assistance with planning your trip to the destination where tropical dreams come true!