A Week In The Garden Of Eden In Huahine Island
Capping off an action packed few days in the sacred island of Raiatea, I headed to Huahine, the seventh island on my three month voyage to French Polynesia. Huahine is known as the 'Garden of Eden' and is one of the best kept secrets in this vast island nation. Huahine offers a laid back traditional Polynesian way of life and unspoiled natural wonders that will live in your memory for a lifetime. Every island I visit seems to top off the previous one, and the trend would definitely continue this time. In this week's update from the South Pacific Islands, we'll spend a magical week in Huahine and find out the true meaning of 'island life'.
Heading off to French Polynesia? In-depth island guides to all 5 archipelagos await you, including sample itineraries and essential travel tips & tricks.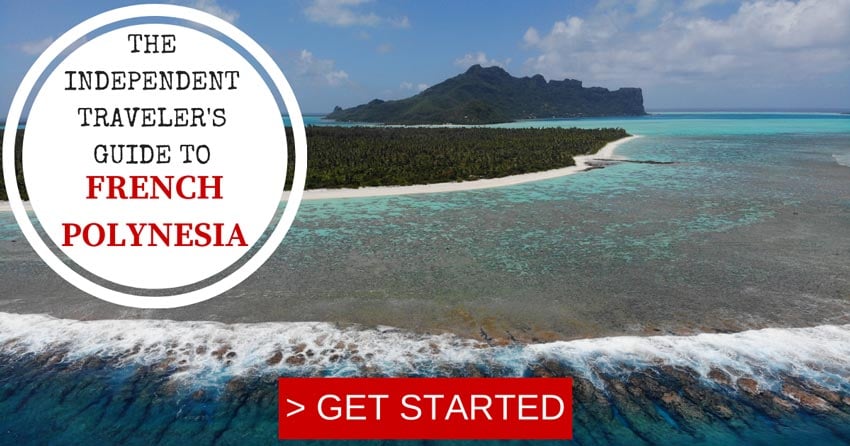 Tahiti, Tailor Made!
The Islands of Tahiti are among the last places to be colonized by mankind, 118 islands, each with its unique personality.
Get expert advice and assistance with planning your trip to the destination where tropical dreams come true!
Two islands for the price of one
Huahine is the last island I'll pay a visit to in the beautiful Society Islands group in French Polynesia. The name Huahine sounds incredibly similar to the Tahitian word for woman – vahine. Locals say the reason for that can actually be seen just off the beach in the island's main town of Fare. Here, are a series of green rolling hills that resemble the contours of a pregnant woman lying down on her back… you be the judge.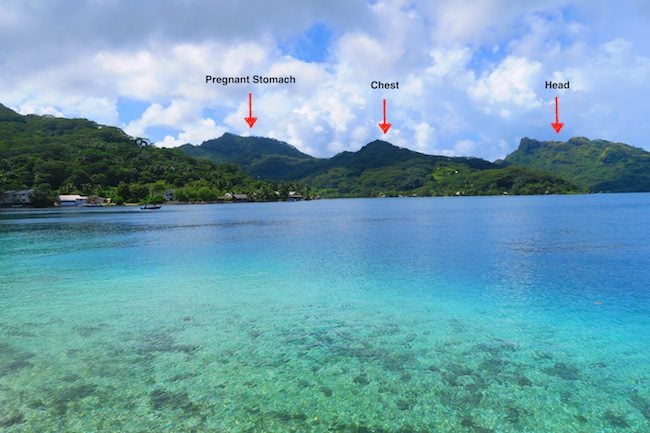 Huahine is actually two islands for the price of one: Huahine Nui (big Huahine) and Huahine Iti (Little Huahine). The two are joined together by a cute-looking bridge, while the clear lagoon that surrounds the two often opens up to reveal magnificent emerald bays. Huahine was one of the first islands to be colonized by the ancient Polynesians, with records dating back to the 9th century AD. There seemed to be something special about this place to the ancient Polynesians, as Huahine has the largest concentration of ancient temples, marae, in all of French Polynesia.
There are just a little over 6,000 lucky folks who call this island home and there's plenty of space for everyone. In fact, much of the lush island is still untouched, with the interior almost completely uninhabited and impossible to explore on your own – unless you're Bear Grylls of course. As you would expect, with all this fertile land and bountiful sea – farming and fishing are what mostly keep the locals busy. Everything seems to grow in abundance over here, from breadfruit to grapefruit and wildly scented flowers – Huahine is so easy to fall in love with, so let's begin our tour!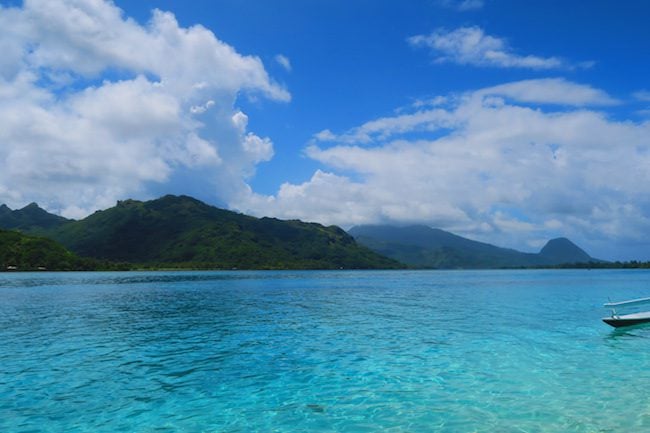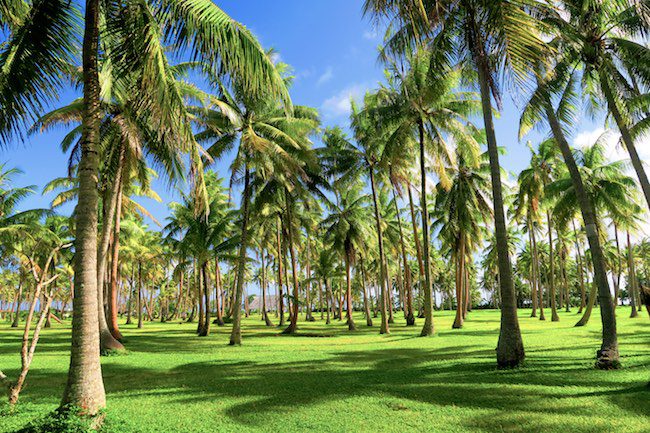 Airbnb'ing in the South Pacific
I made it to Huahine with a direct 20-minute flight from Raiatea. Finally, island hopping without having to connect in Tahiti! Back at the 'airport' in Raiatea, there were many tearful eyes as visitors were bidding farewell to their kind hosts. I can totally understand why. Raiatea was a huge surprise. But such are the 'hardships' of traveling, you just have to say goodbye to the people you meet and the places you love – and move on to the next great adventure that's waiting for you just across the blue sea. With my legs still aching from all those back-to-back hikes, I was hoping to slow things down a bit in Huahine.
At the airport, I was greeted with a flower necklace by my Airbnb host Poema (yes, that's right – Airbnb has even made it to the South Pacific!). Her great great grandfather came to Huahine way back in the 19th century from Switzerland to photograph the island. Like many fellow countrymen and women who visited Huahine, he fell in love with the island and simply stayed. The result of this strange Swiss migration is a small population of mixed Tahitian and Swiss, with a unique European and local look.
The Airbnb was a real find, close to town and very spacious. I had a small garden unit for sleeping and a large house to do the cooking, bathing, and lounging.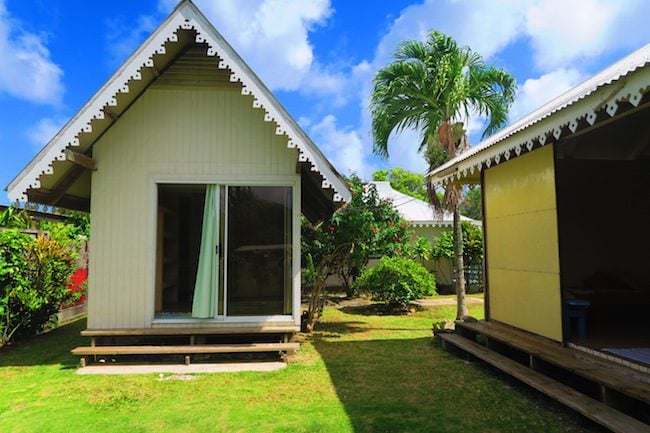 Charming South Pacific life
All settled, I headed five minutes down the street to check out Huahine's prime 'town' – Fare. This little place is quite a charming South Pacific town, right on the water and with a mountainous backdrop. It feels busy yet relaxed. I guess everything is relative, ah? Locals set up small stalls along the main road to sell anything from fresh fish, local fruits & vegetables, and even medicinal oils. From time to time, small boats from the more remote villages would arrive, to do some shopping and catch up with friends. What a life!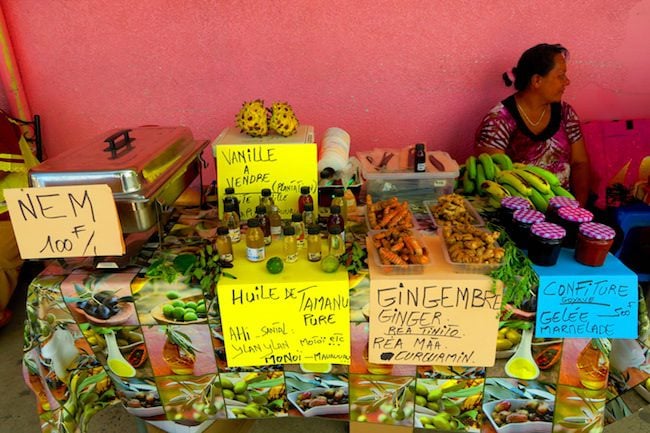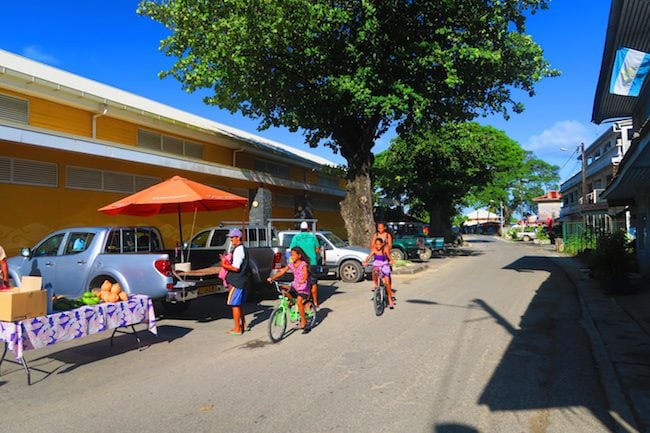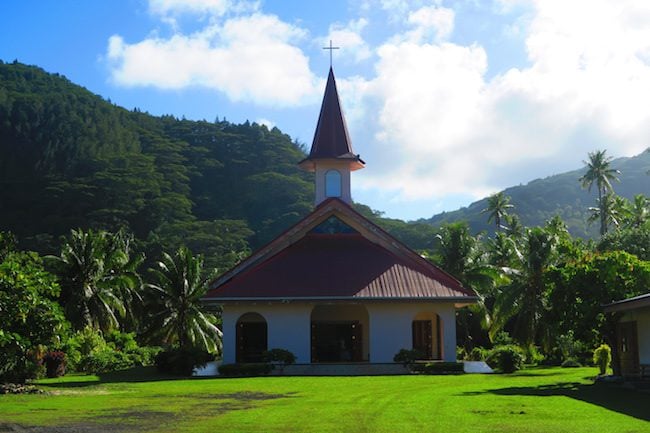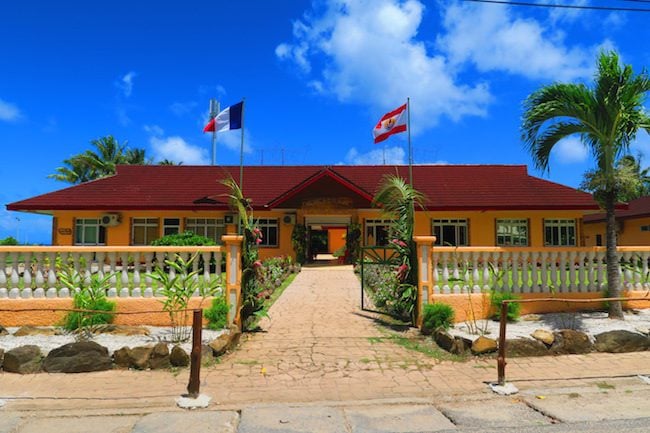 With the unpacking done and the fridge now full, it was time for the day's next priority – checking out the local beach. Fare is not only a cute little town, but it also has a gorgeous beach, and it was a just stone's throw away from my backyard.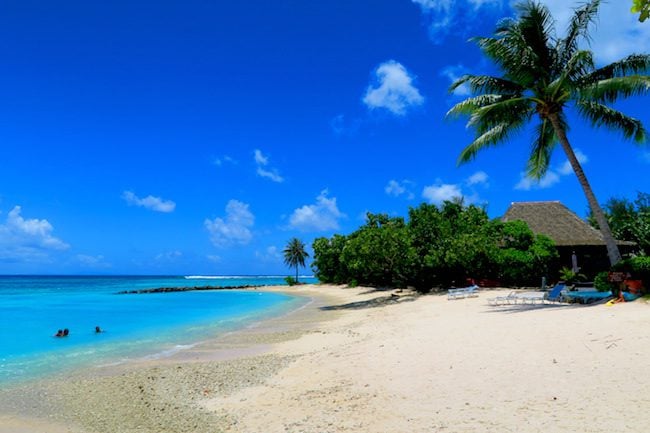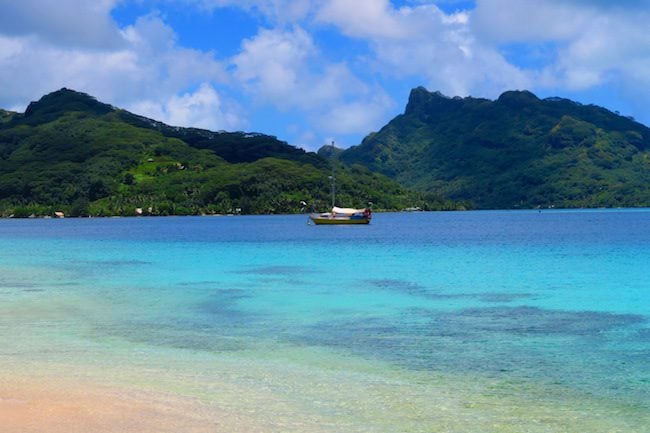 It was a lazy Saturday and there were locals firing up BBQs in the back. Two local five-year-old boys would not leave me alone, and I had no choice but to accept their challenge to a rock bouncing competition. You know, the one where you have to bounce a small rock off the water as many times as possible. Needless to say, they thought this tanned white boy had no skills, but I'm quite good at this useless sport. They were so impressed with my tossing, that they kept on bringing me fresh fruit from the huge plate their mom brought out to the beach between the intense matches.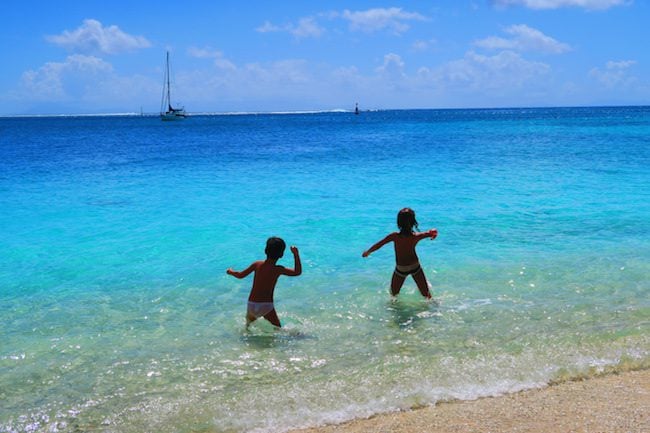 So cute town, pretty beach – but what about the nightlife? Turns out, Fare actually has a bar! And a good one too. The Huahine Yacht Club is the place to be just before the sun goes down. Not only because the sunsets are so pretty, but also because it's happy hour until 6:30 – which is about the time night begins in this part of the world. Mai Tai anyone?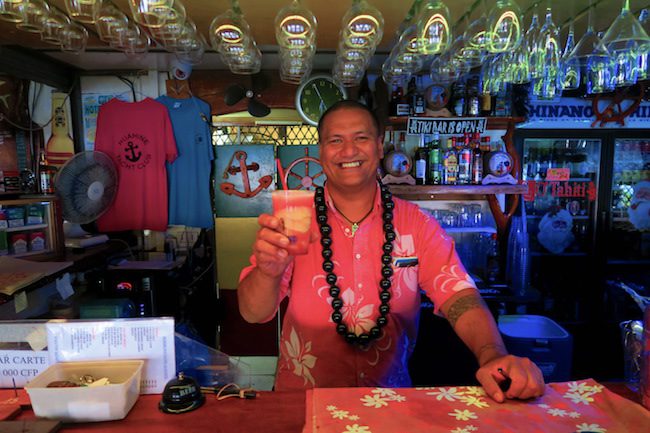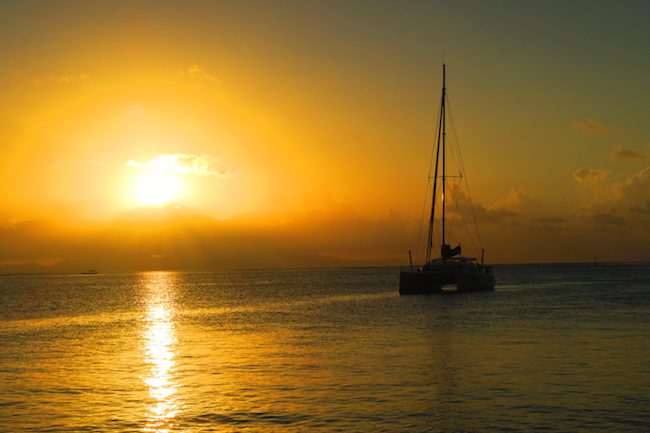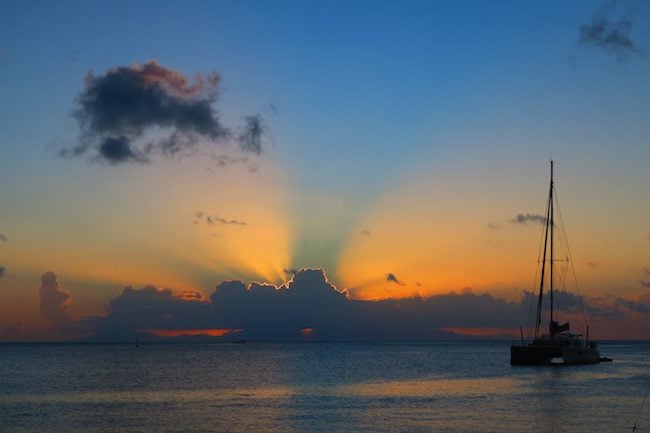 To really ensure I fell in love with Huahine (like there was any doubt), it was now the night sky's turn to impress. And I didn't even need to go too far, just grab a seat on the grass behind my bungalow and watch the spectacle!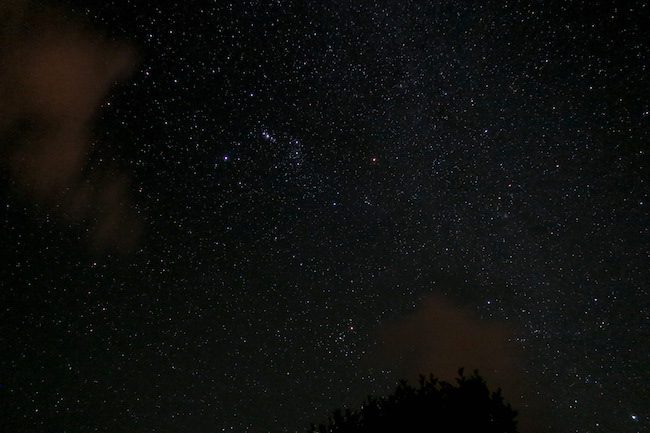 Road tripping in Huahine
OK, so Fare is nice but what about the rest of the island. To check if my affection for Huahine was island-wide, I rented a vehicle and circled the two islands. It was Sunday, and not much was happening on the roads even by island standards.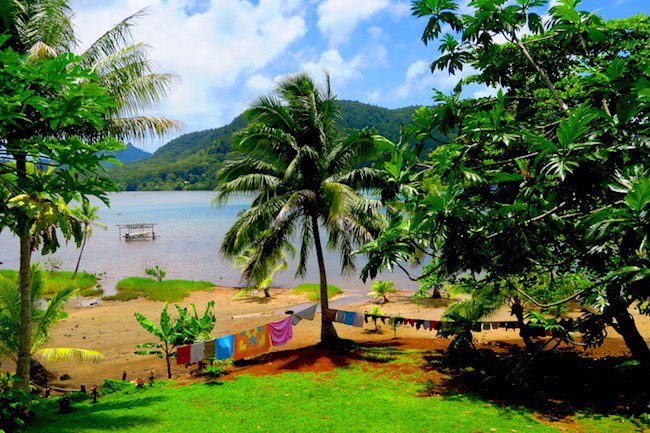 Just as you exit the town, you hit the shores of Lake Maeva, named after the next town from Fare. It's actually not really a lake, but rather a large opening from the lagoon. Lake or not, it's a pretty setting.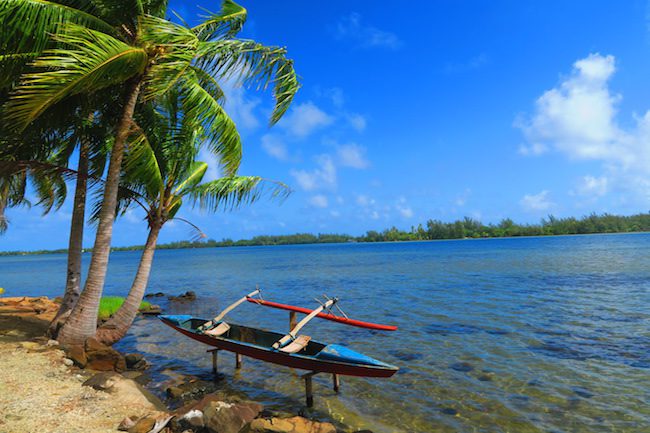 The lake is famous for its massive marae complex, where 30 or so ancient temples have been discovered along the shores and up on the hills. The high concentration of marae in this area creates a true open-air museum. This should come as no surprise, as Maeva was the seat of royal power during pre-European times.
While Raiatea is home to the most important marae, which had international influence, the ones in Huahine are a lot more diverse. You find here different types of temples: family temples that were used for occasions such as births and deaths, community temples used for sacrifices and ceremonies, and even temples reserved for the royals.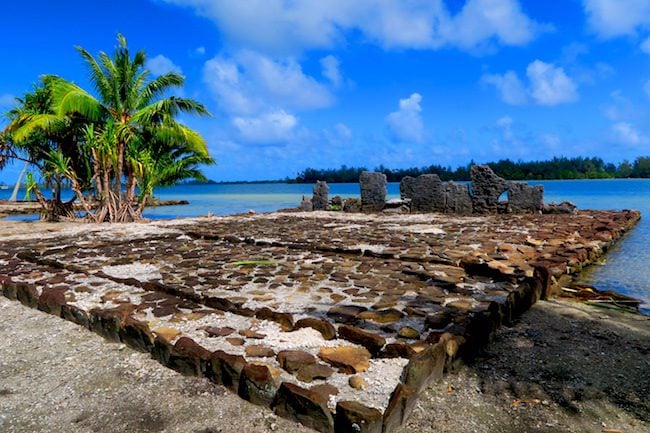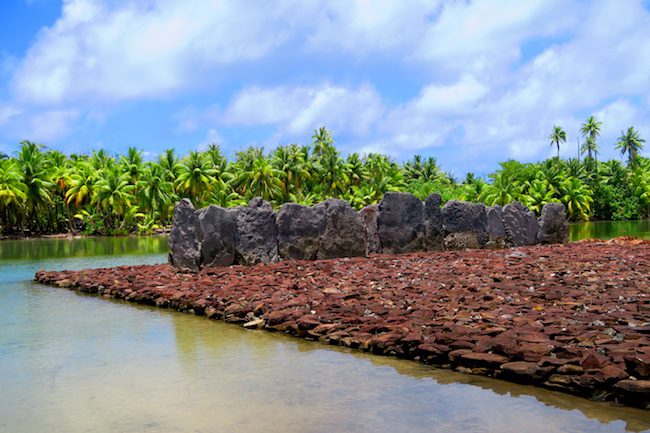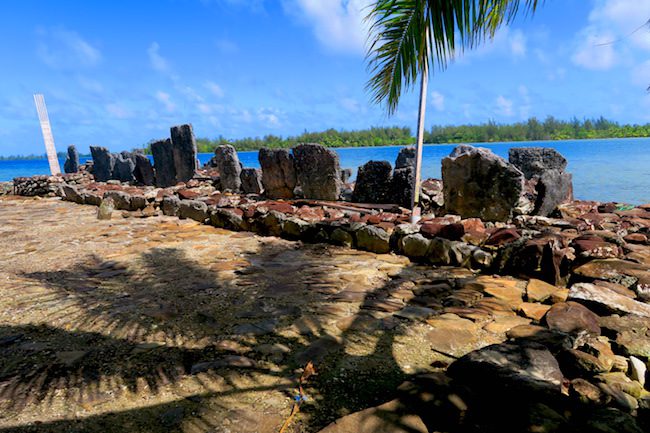 I was curious to check out the royals' marae, which just happened to be at the top of Matairea Hill overlooking the island. Along the trail, you pass by a few smaller temples – where the trees have long taken over from the priests, sending their roots wherever they can.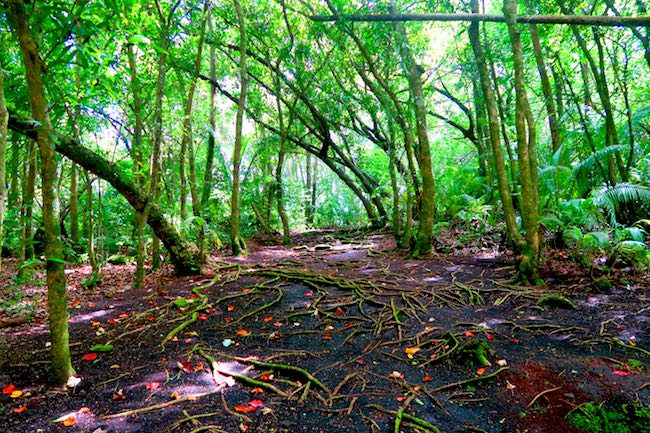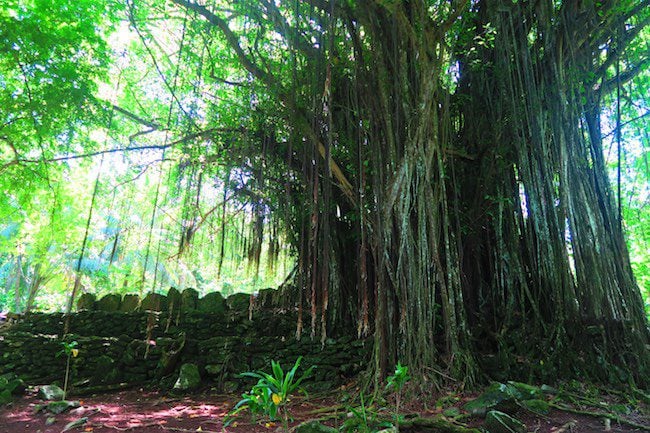 When you finally reach the top of the hill, you understand why the royal family chose this place. Great view, a fresh breeze, no commoners to 'bug' you, and probably as close to the Gods as they could possibly get. Location, location, location!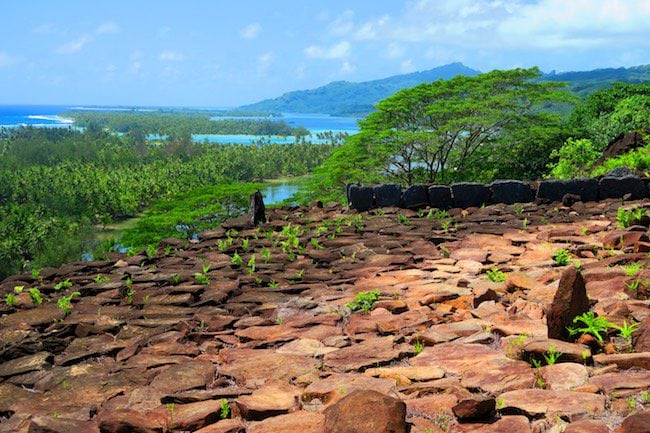 Ingenious ancient design
Back on low ground, I went to check out the other side of the lake, the oceanfront. As you cross a small bridge, you get to see another ancient Polynesian wonder. Just beneath you are what are known as the V-traps. These fish traps were laid here centuries ago and are still used today. Rocks are laid in connecting V shapes, trapping fish as they're drawn by the tide. The fish swim along the rocks until finally ending their journey in a circularly shaped basin – leaving the locals-only the easy task of simply collecting them. Ingenious, ah?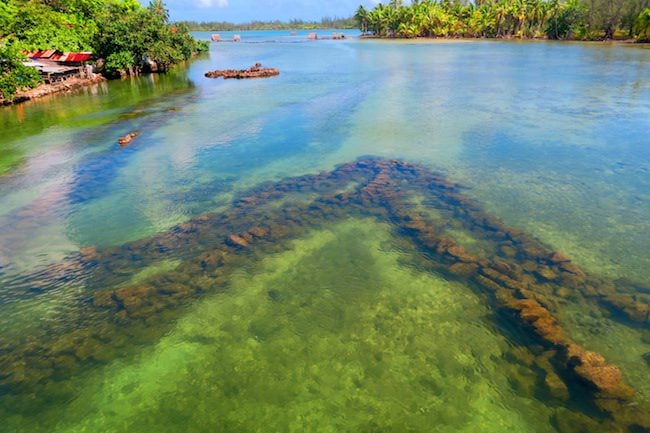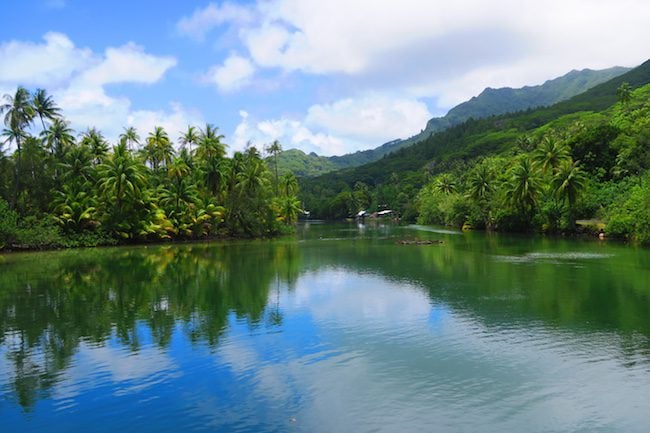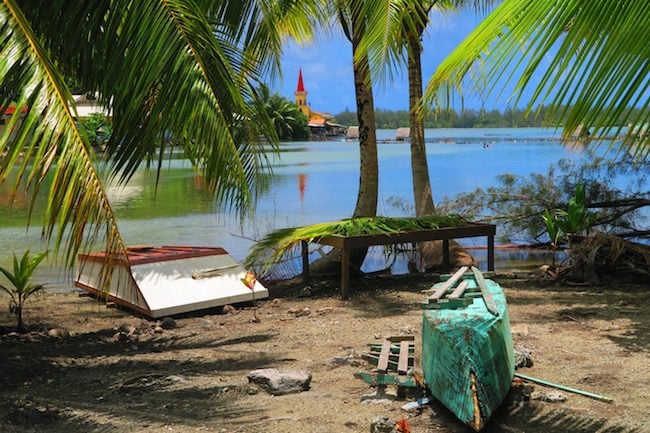 Now on the other side of Lake Maeva, I headed south to locate a nice beach I heard about. Along the way, I stopped at Gallery Umatatea where I met artist Melanie Dupre. She came here from Ohio in 1999 and simply stayed. With all this natural & cultural beauty around, it's no surprise that an artist finds their inspiration right here in the Garden of Eden. A visit to the gallery is a great motivation to discover Huahine and French Polynesia's other islands.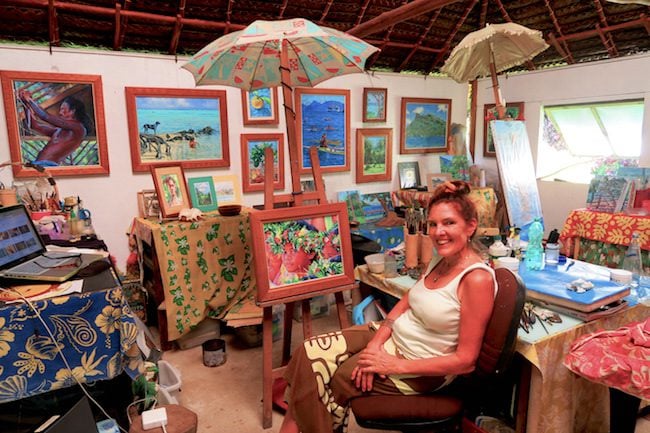 A short bike ride from the gallery, the beach was pinned down. The beach is known as La Cite de Corail, and it's where you also find the abandoned grounds of the old Sofitel Resort. Horses have taken over from the honeymooners, but the beach is simply stunning and there's a good chance you'll have it all to yourself. The snorkeling is a bit rough due to the strong current, but they don't call it La Cite de Corail for nothing…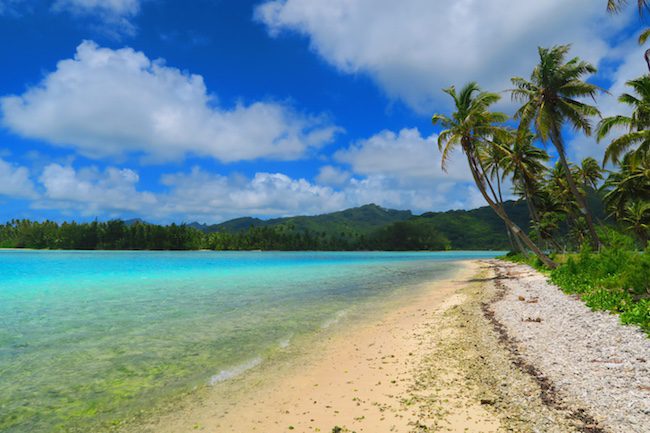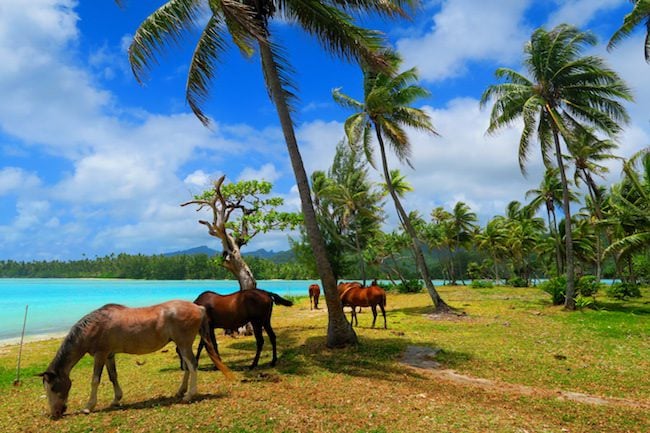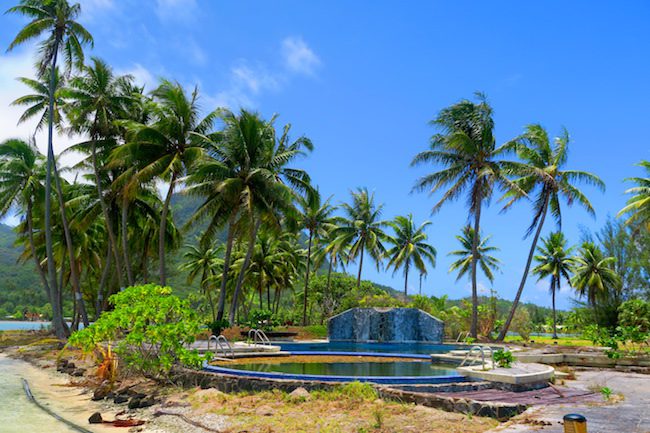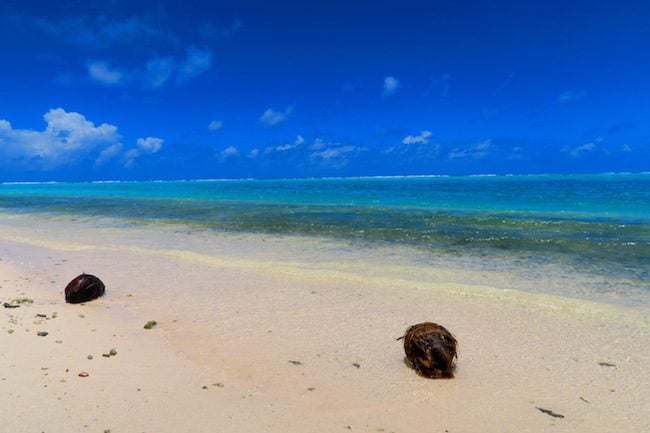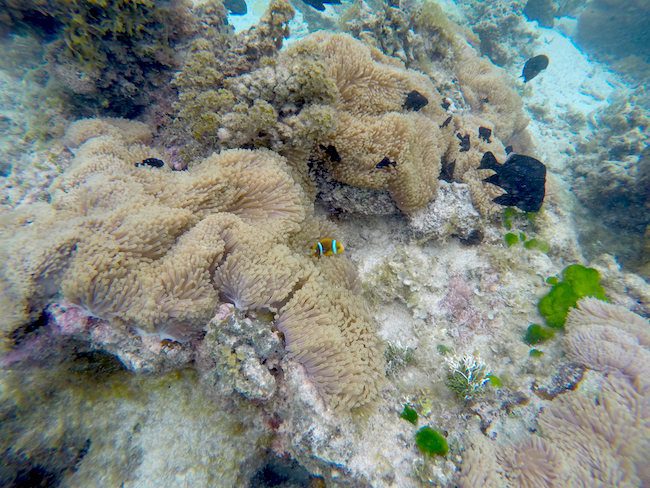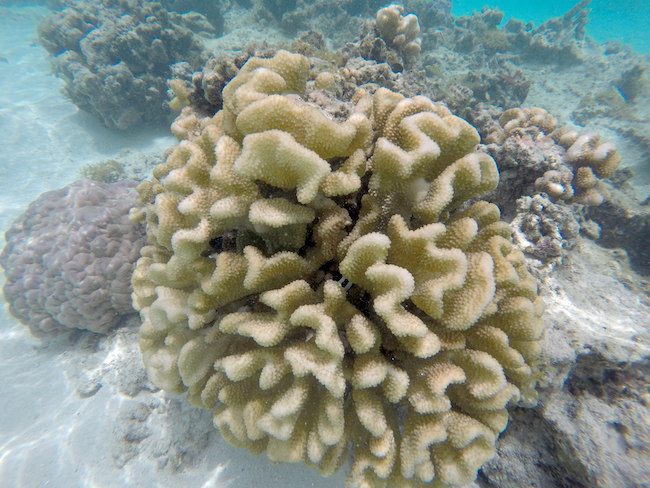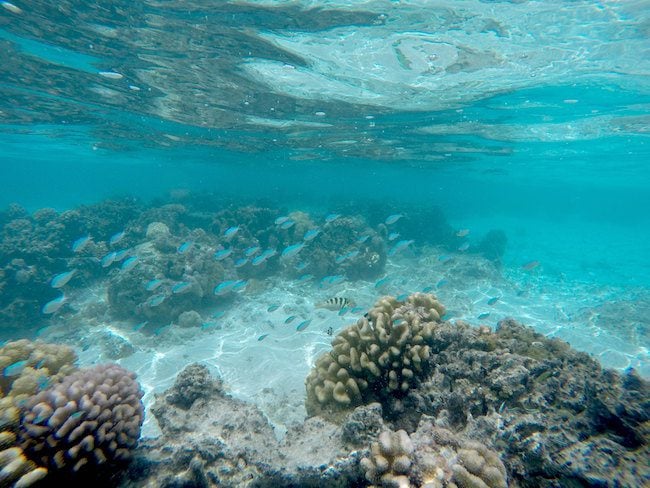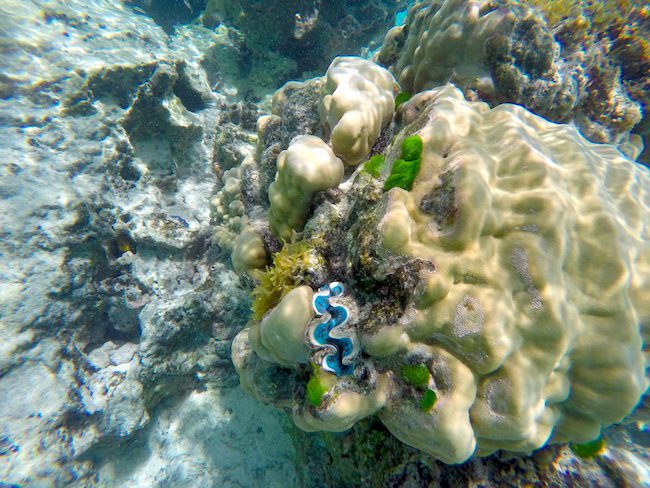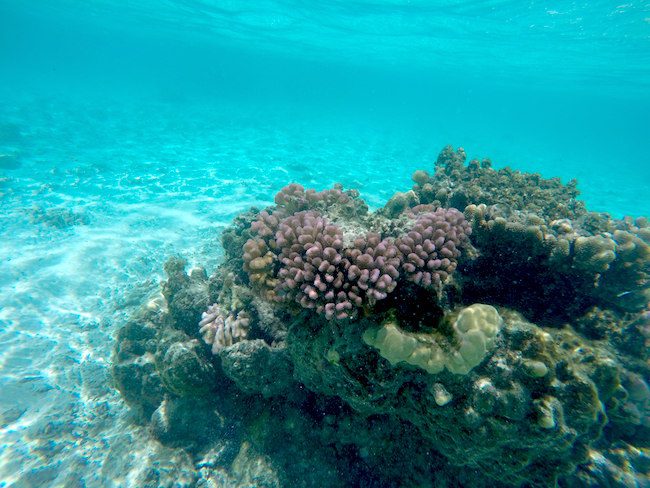 Thank God I have a week in Huahine because I definitely want to come back to this beach. But the show must go on, and the car must be returned in a few hours so it's back on the road – the dirt road that is. I wanted to check out the wild ocean side of the lake so I added a few kilometers and continued. This side of the island is home only to a handful of families but it's prime coconut land in Huahine. I rode on the dirt track through plantations and not much else, until joining the island's ring road once again.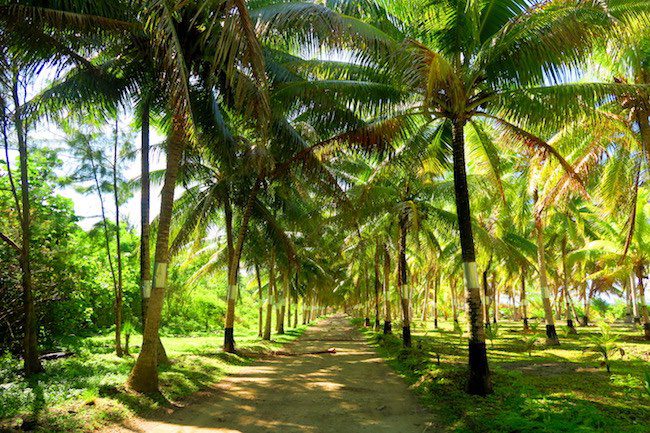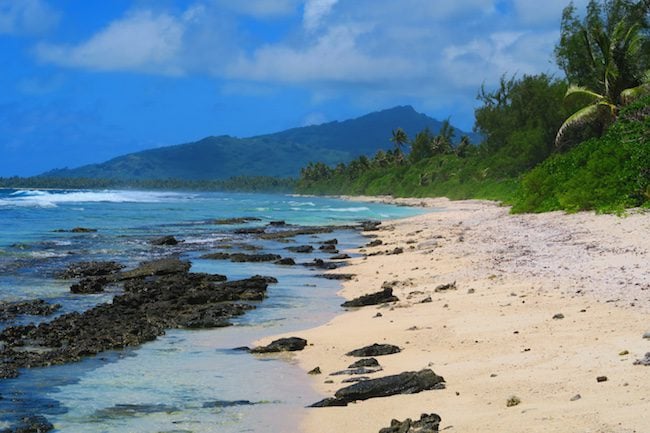 The sacred blue eyed eels
The next stop on this Huahine road trip was the sleepy village of Faie, home to a very not so sleepy and bizarre creature. The creek that runs through the village is home to the sacred blue-eyed eels. Now, you have to understand, I hate eels. I hate eels because I hate snakes and they are the same thing to me. But eels with blue eyes? I just had to see this for myself.
I picked up a can of sardines and stepped down and into the creek – there's no turning back now. I tossed a few slices and watched the show begin. After a few seconds, dozens of slimy-looking eels just make a mad dash for the poor sardines. Now, there's another thing you need to know. The eels have blue eyes because they cannot see. So in the mayhem that's caused by a rare canned treat, the eels taste your fingers, camera, legs and whatever smells like sardines (and boy does that smell stick to you for hours!). Guys, you're way off, the sardine's over there!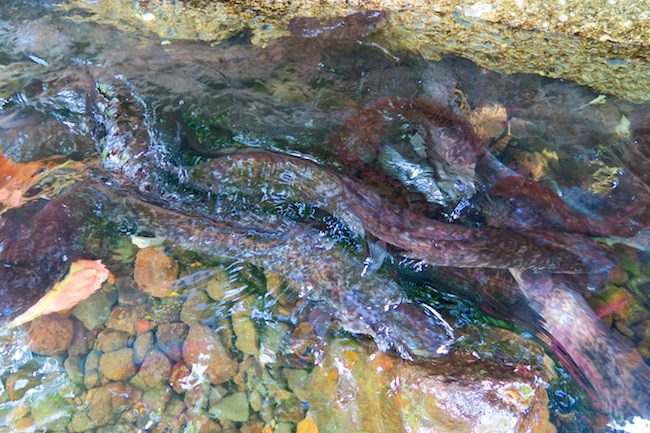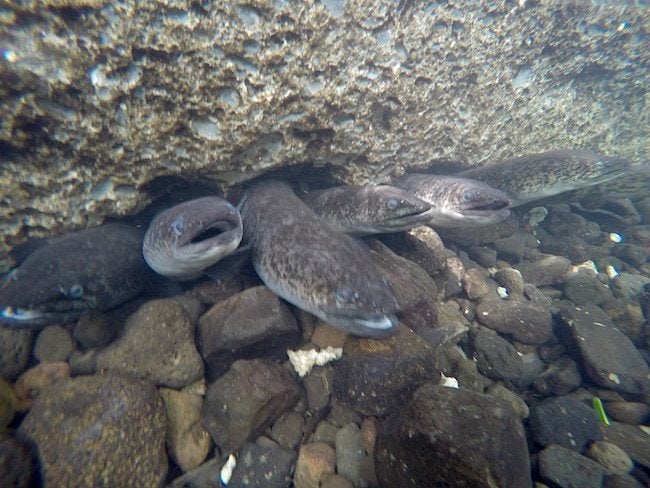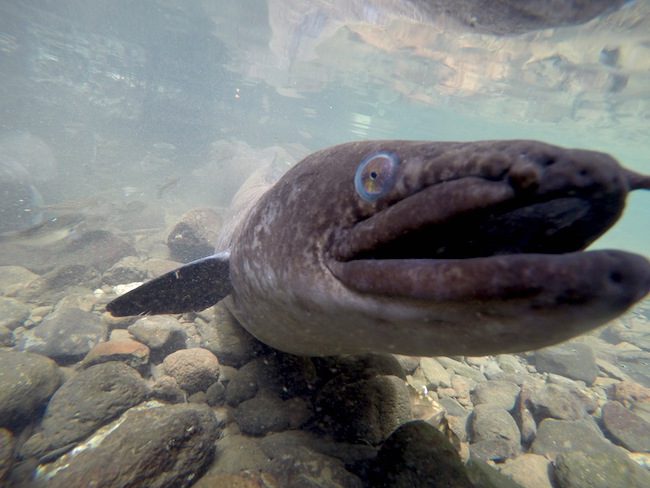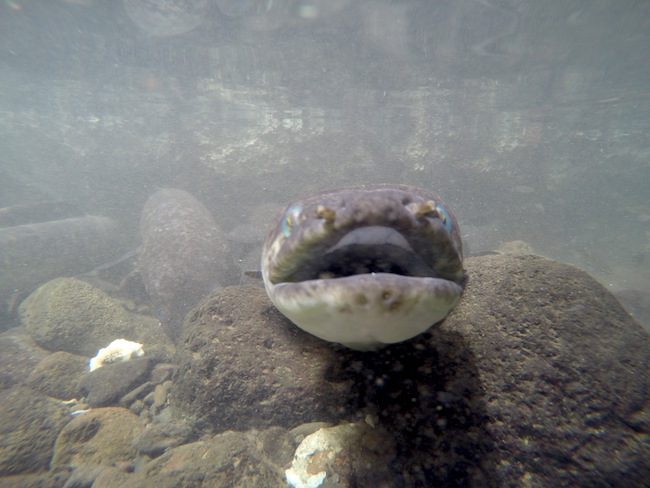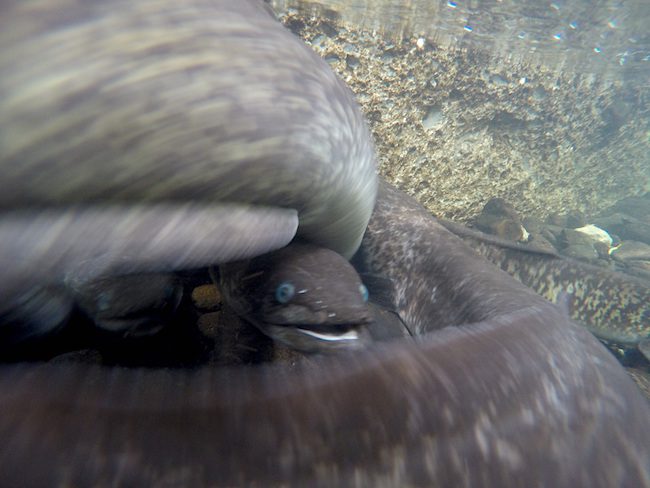 The eels only live in this particular creek in Huahine and are considered sacred – believed to hold the spirits of the dead islanders. This doesn't stop local kids from playing with them after school, luring them out of their hiding and tossing them high in the air.
A few minutes with the eels were enough for me, so I continued along the road, which now climbed steeply over the mountain for a great panoramic view of Huahine Iti in the background.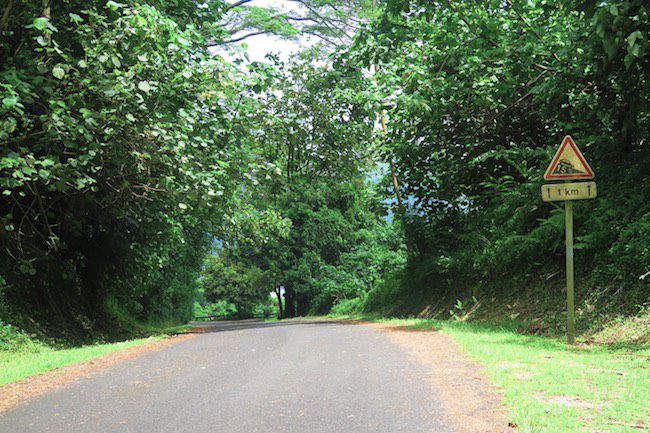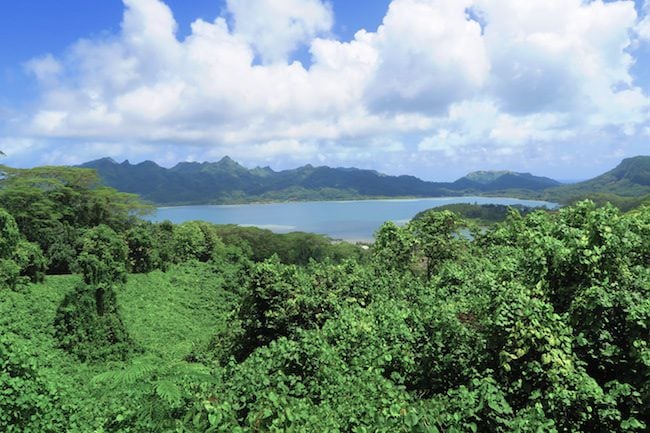 This part of the island, known as Maroe Bay, is really sparsely populated. But the sights of the lagoon and the lush mountains all around you, are ones you'll never forget.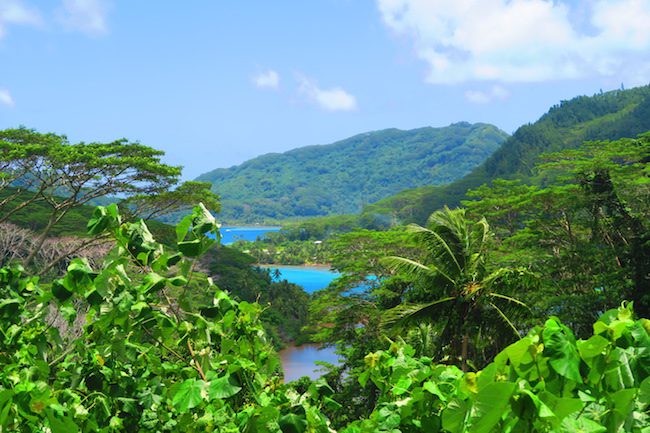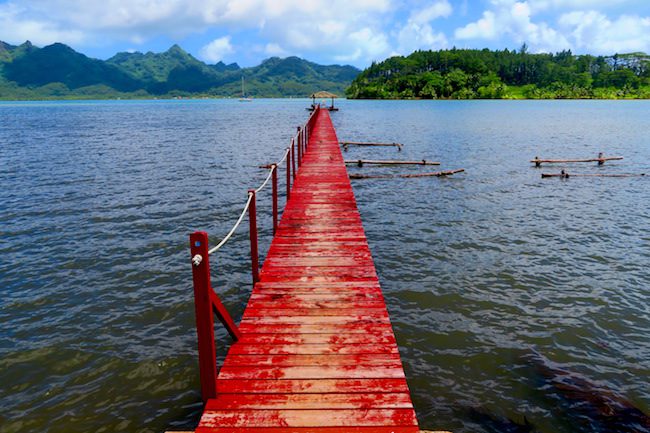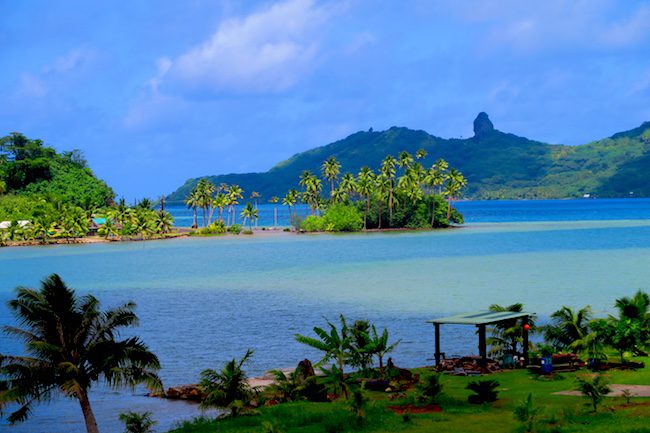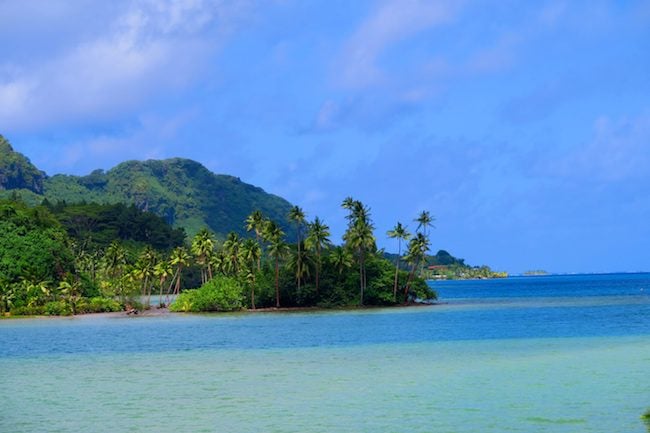 Crossing over to Huahine Iti
After a few more kilometers and a lot more photo op breaks, I finally made it to the bridge that connects the two 'Huahines'. Sunday was now in full swing, and local kids were doing some impressive somersault jumps into the water below. I'm sure there are a few candidates for Olympic diving there… Tahitians have no fear. This is what living on an island will do to you.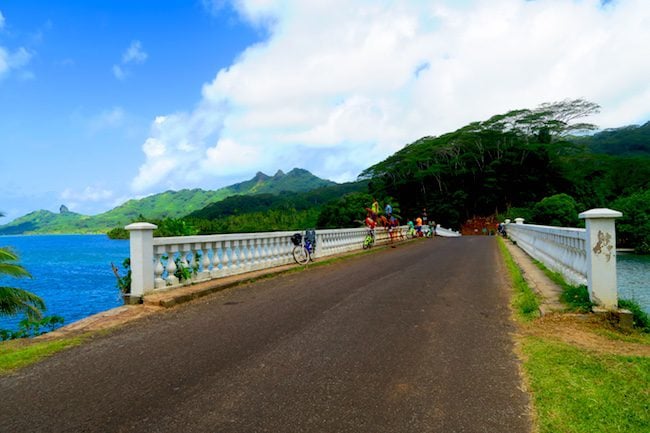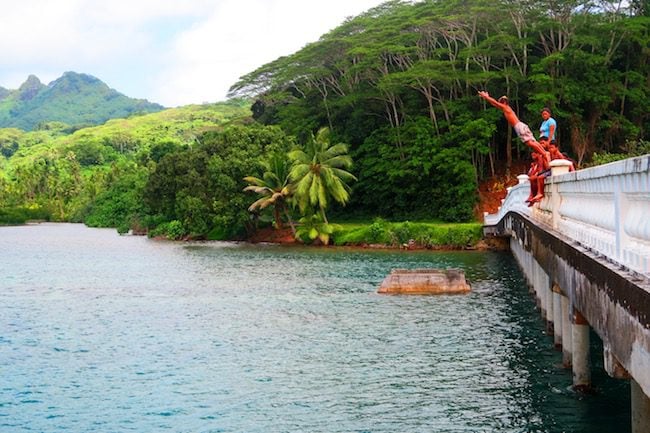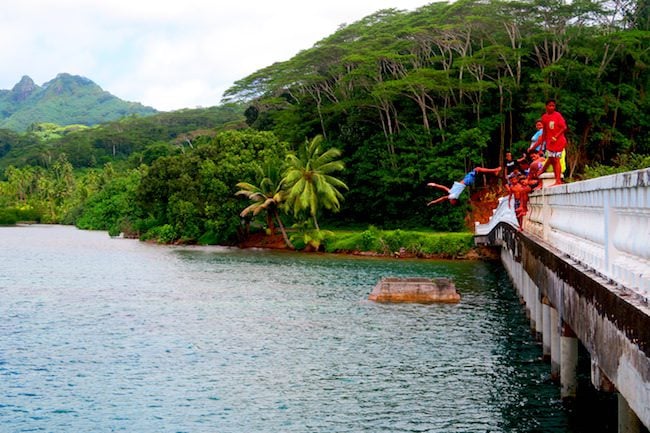 Now on Huahine Iti, the smaller of the two, it really felt as though I had the island all to myself at times, with few cars and few people on the road this Sunday afternoon.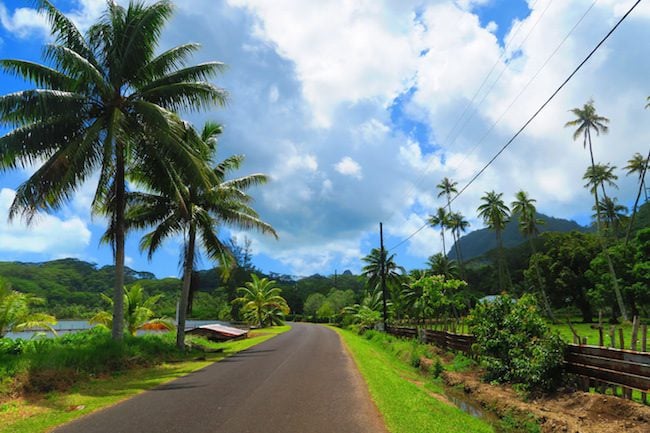 After ascending up the mountain for more great views, the scenery dramatically changed as it was back to sea level again.
I made it to Avea Bay, where some of Huahine's best beaches can be found. I mean, look at these beaches – straight out of a magazine or postcard. This is the South Pacific guys, the best part of the world if you love beaches and you'll have them all to yourself! The snorkeling ain't bad either…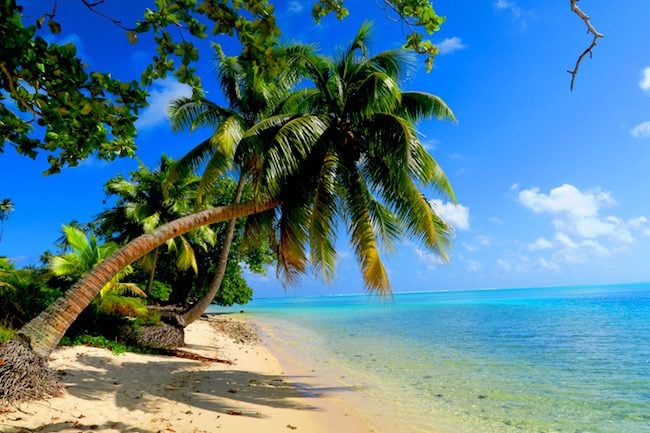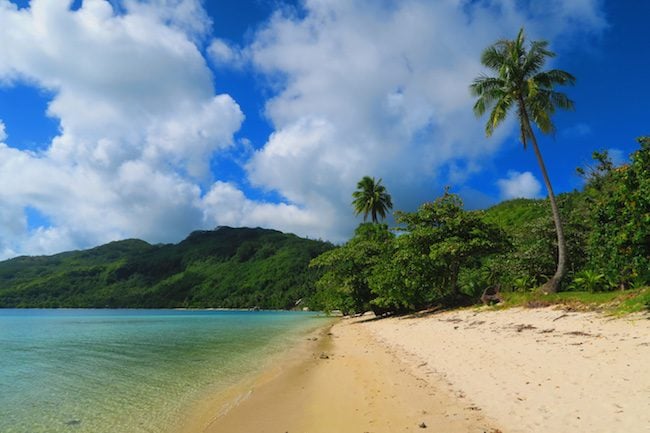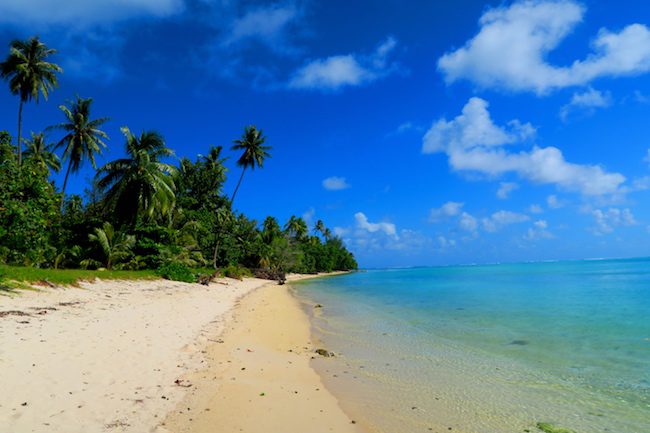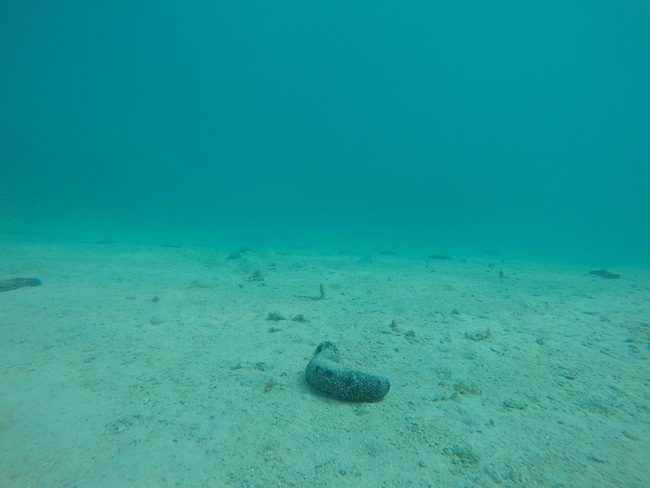 I made it to Avea Bay just as Chez Tara was about to close for the day. This is one of the best restaurants on the island, famous for its traditional Sunday ma'a Tahiti feast. A couple of weeks ago I got to taste authentic Tahitian Sunday food with my island guide, Teva and his family, on Tahaa Island. It was such a unique experience, I had just had to try it again. The food was excellent, but it might not look so appealing on your plate. It's amazing how islanders figured out how to make this delicious food with the few ingredients that could be found on their remote paradise. Food was accompanied by traditional tunes, just to make this Sunday extra perfect!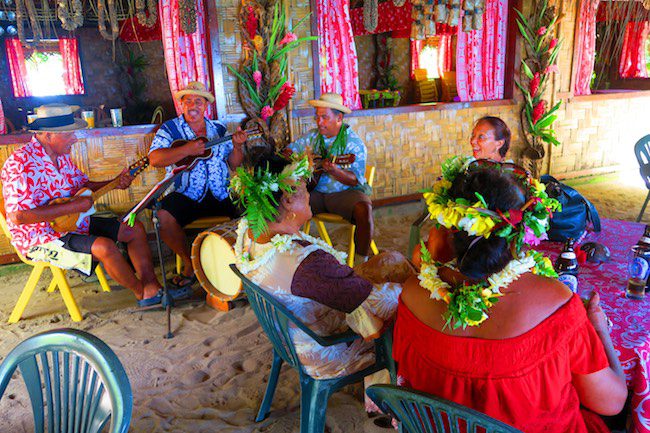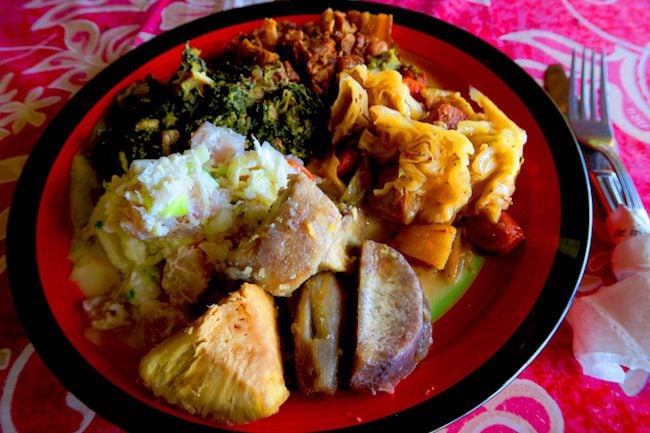 Digesting this heavy meal for an hour or so on the beach, I started to make my back to my little bungalow – passing by a beautiful lagoon and mountain vistas that made me contemplate a late return fee on the car…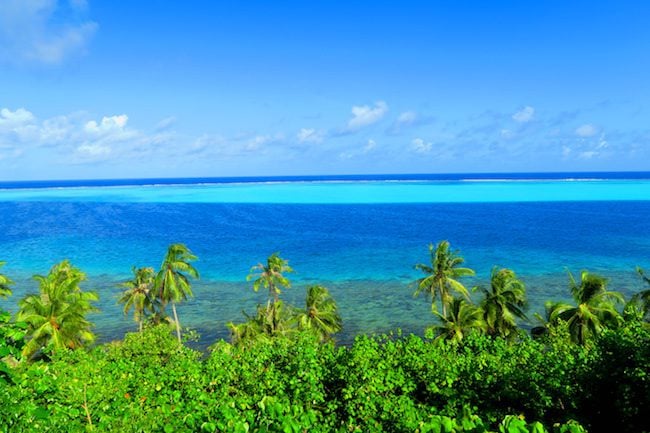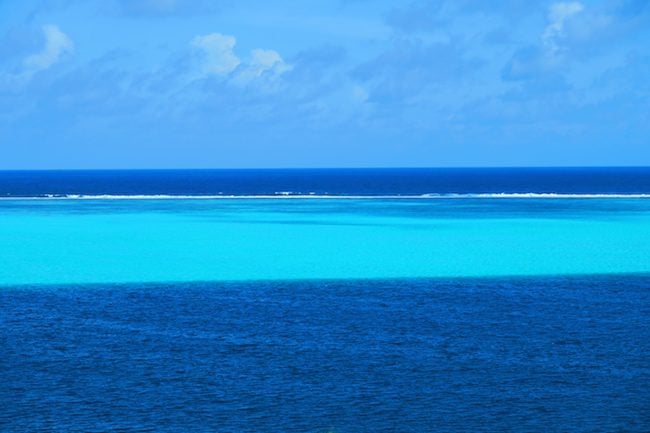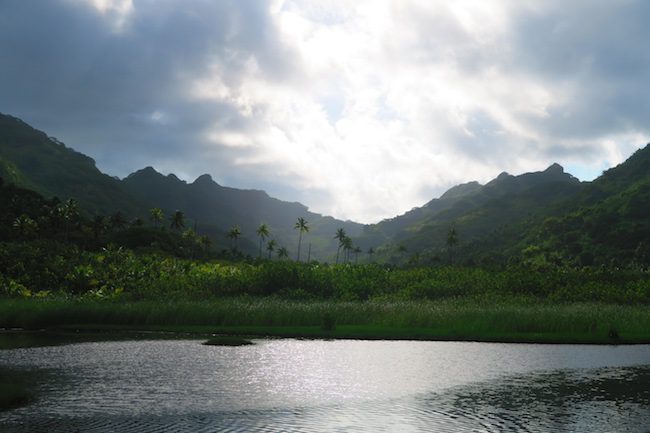 Intense petanque and homemade beer
Just before the bridge, I passed by a frenzy of locals playing what seems to be the national sport around here – petanque. This is one of the most successful French imports to Polynesia, along with the baguette. One of the players noticed me curiously looking and called me over. I wasn't sure he was pointing at me, and in a shy gesture I pointed at me as if to ask 'who, me'? Yes, he meant me and he was a very nice guy who just happens to work at the local power station.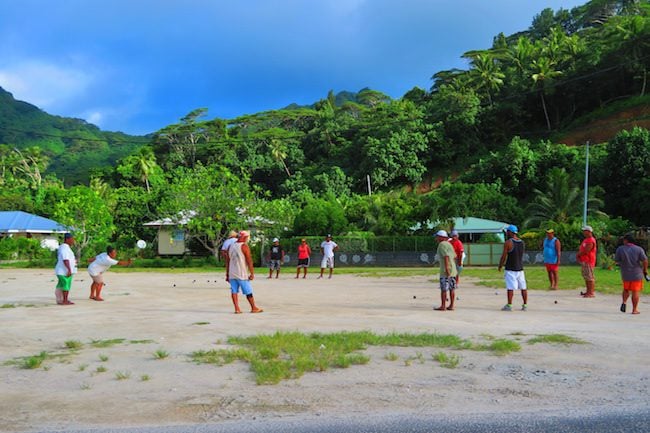 Harris was his name, and like the others, he was enjoying the last hours of Sunday, drinking beer and playing a few rounds of petanque. Harris had another trick up his sleeve in the form of homemade beer. He insisted I try this strong brew, which is served in shot glasses. It tasted pretty good, like bitter lemon with a spike. The games themselves were quite intense, with makeshift rulers often being whipped out to measure precisely who the winning team was.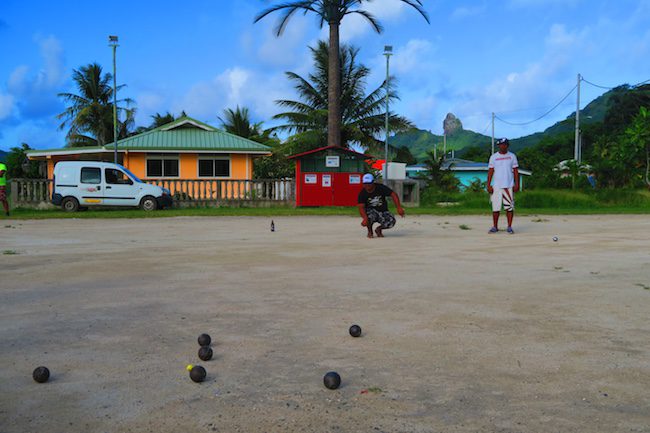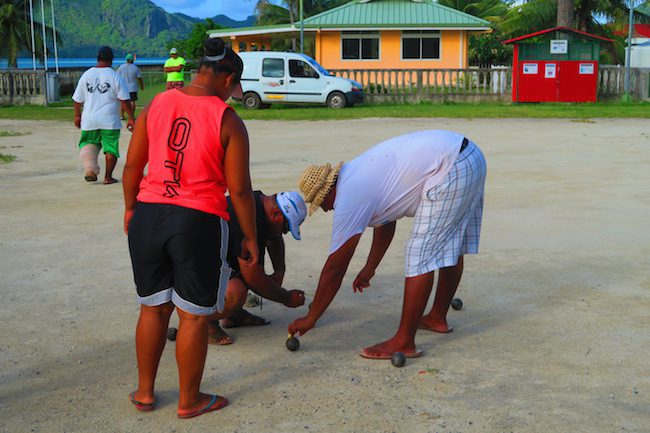 Back on Huahine Nui now, it was just a few more kilometers of empty tropical road, before calling it a wonderful day circling Huahine!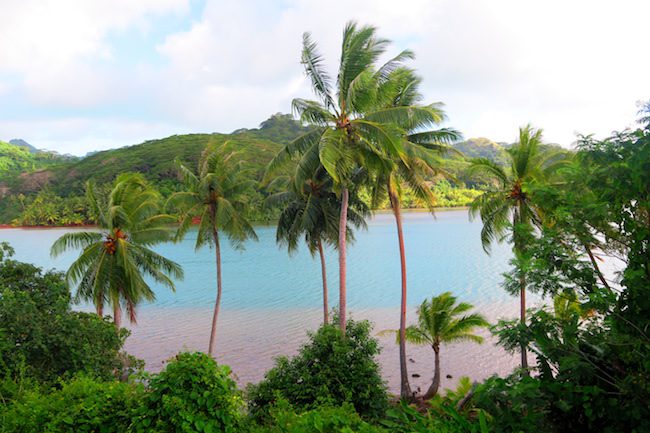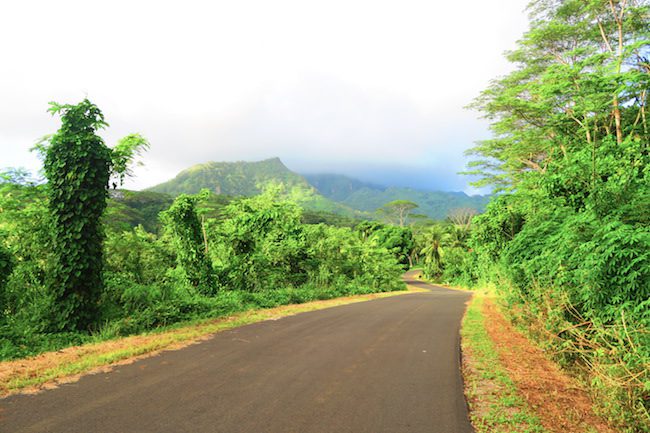 Now that we've circled the island, let's head inside the Huahine lagoon! Click over to the next page and continue.