Touchdown In Paradise: Efate Island In Vanuatu
It's been a little over a week since I started my journey across the South Pacific. I am happy to announce that I've already lost track of time. I still have to pinch myself once or twice a day to realize that I'm actually here. I am currently in Vanuatu and my journey will take me across to Samoa, the Cook Islands and finally to French Polynesia. I want to share with you a few highlights from the last few days.
Heading to Vanuatu? Here's a sample 10 day Vanuatu itinerary!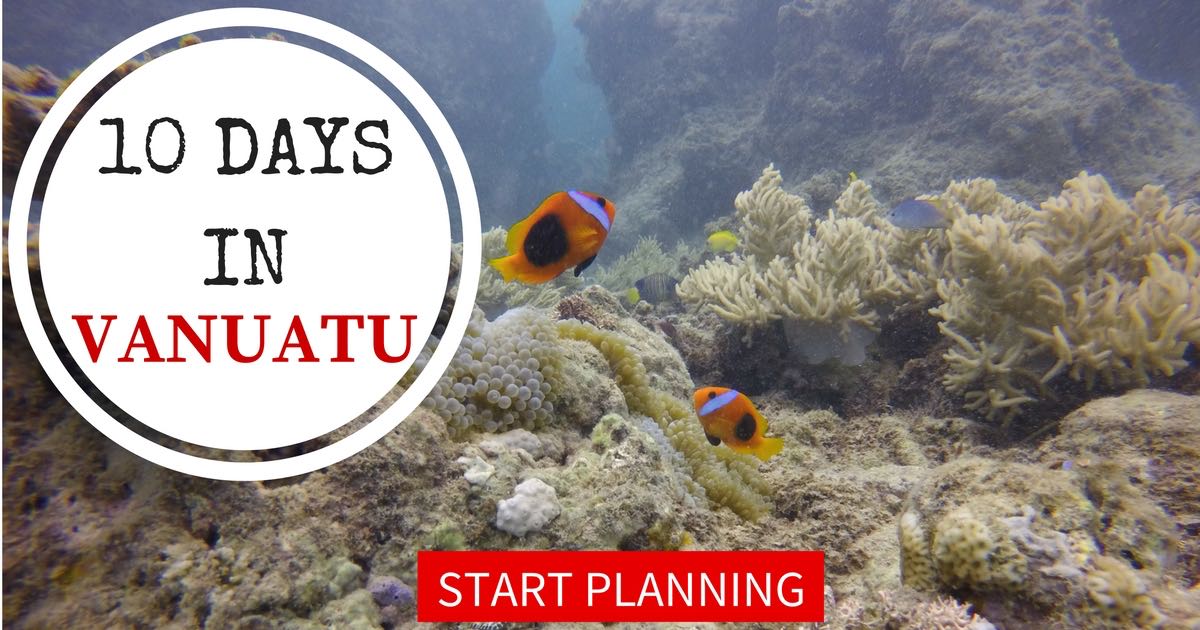 Before reaching paradise, I spent a few exceptionally cold and wet days in Sydney. I was beginning to think that I brought the Irish weather with me all the way to the Pacific. After almost 5 years of living in Ireland – grey is definitely my least favorite color.
It was weird being a backpacker again and staying in dorm rooms. It is a very good way to meet people, like the lovely Englishmen from Oxford with that perfect accent. But you also come across 'interesting' characters, like the electrician from Dublin who's here on a work-holiday visa. He must have broken the record for the number of times you can use the 'F word' in just one sentence. I was totally ready to leave Sydney. So with a combination of jetlag and sheer excitement to finally start my trip, I got almost no sleep the night before the early morning flight to Port Vila, the capital of Vanuatu.
The flight to Vanuatu finally showed some signs of optimism, with glimpses here and there of turquoise lagoons and atolls. Perhaps the pilot can just drop us off here?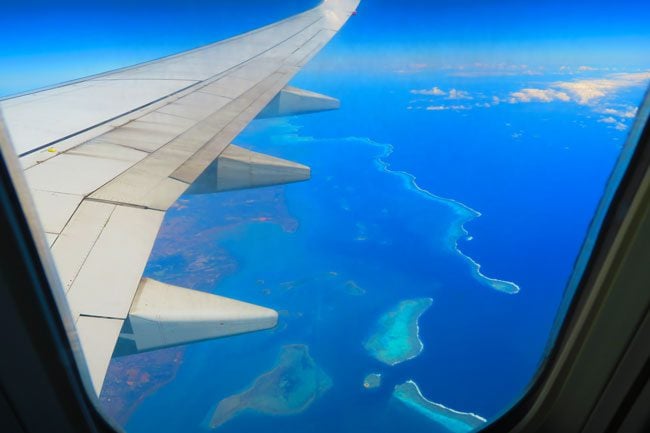 A couple of hours later, we touched down in Port Vila, the capital of Vanuatu. What is really starting to sink in, is that in our fast-paced world, time is the most precious commodity. It's just amazing that with a few hours on a flying piece of metal, you can find yourself in a totally different world. You just need to free up the time…
At the friendly motel I stayed at, I met Jørn. He's a young Norwegian who has already visited 85 countries, on his quest to visit all 201 countries & territories in the world. In fact, he also publishes a travel blog called 201countries.com. What are the odds? Somewhere back in his late teens, on an alcohol-filled night, he changed his first name to Jørn Bjørn just for the hell of it. Apparently, in Norway, you can change your name online. How convenient!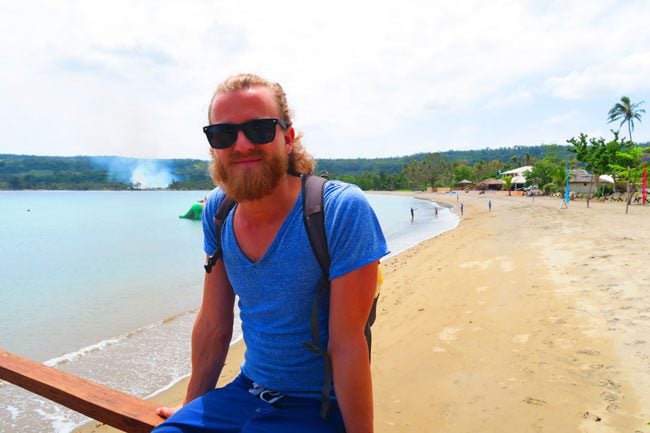 The following morning, Jørn Bjørn and I set out to explore Port Vila and its surrounding. Port Vila, or Vila as the locals call it, is the sleepy capital of Vanuatu. It's also the main town on Efate Island – one of the 83 islands that make up Vanuatu.
Our first order of the day was to check out Mele Cascades, a pretty cool waterfall that cascades down to a series of crystal clear lagoons.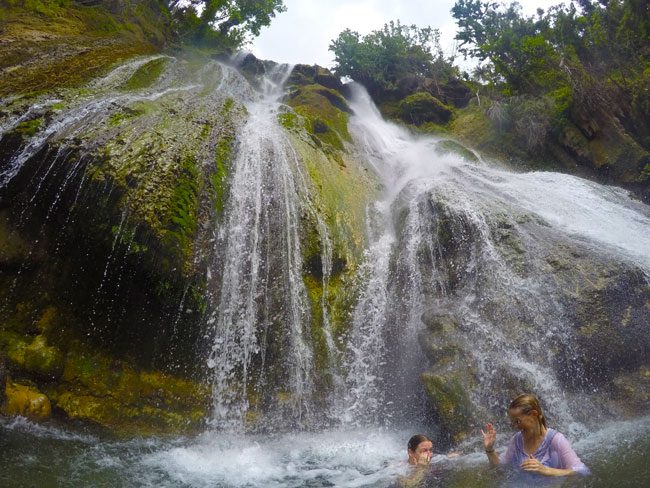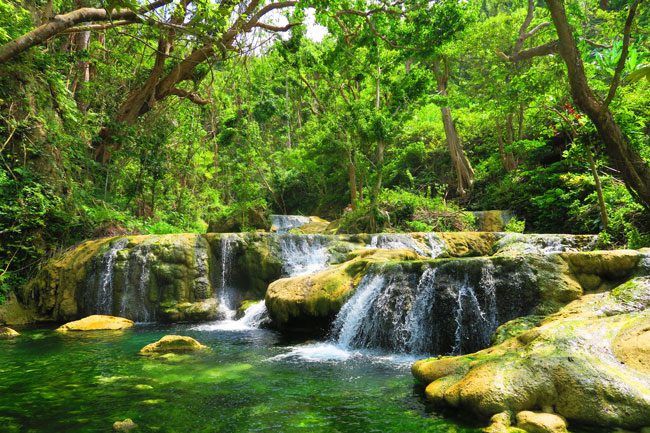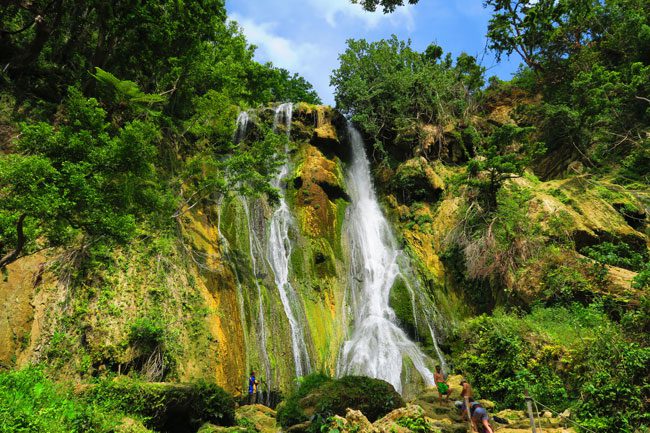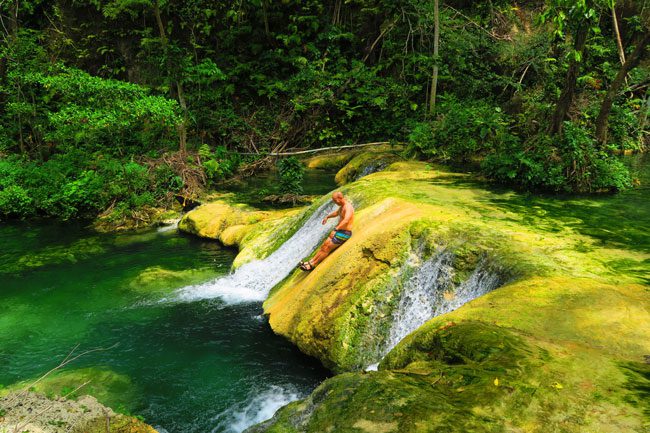 The walk over to our next stop took us through a few sleepy villages and our first encounters with the local people of Vanuatu, the Ni-Va. It's hard to imagine that cannibalism was so widespread in Vanuatu until just over a century ago. The locals are so friendly, always smiling and greeting each other. In fact, the people of Vanuatu are known to be among the happiest people in the world (look it up). How can they not be? Despite possessing very little, they have a small slice of paradise and apparently – they know it!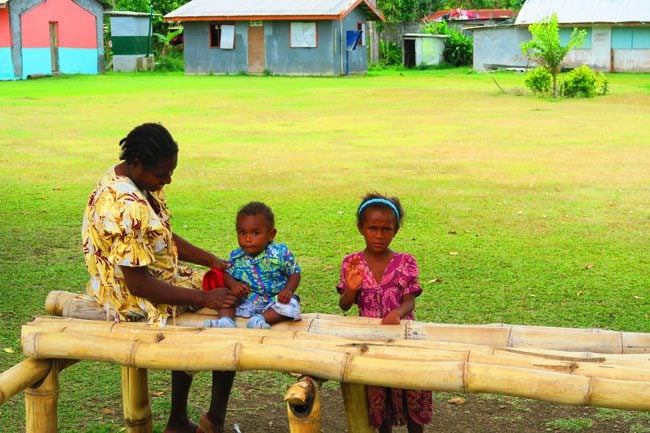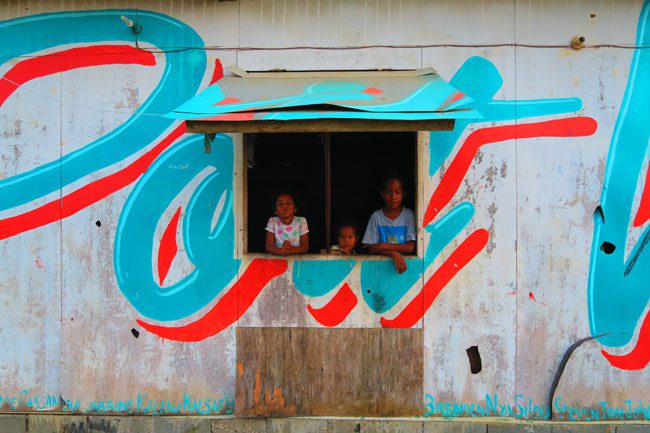 Our next stop was Hideaway Island, the first chance to head underwater and finally put that snorkel to use. Hideaway Island has a wonderful little reef. They even have coral farms here, an innovative way to grow new coral on slabs of cement, before planting back in a dead reef to regenerate it.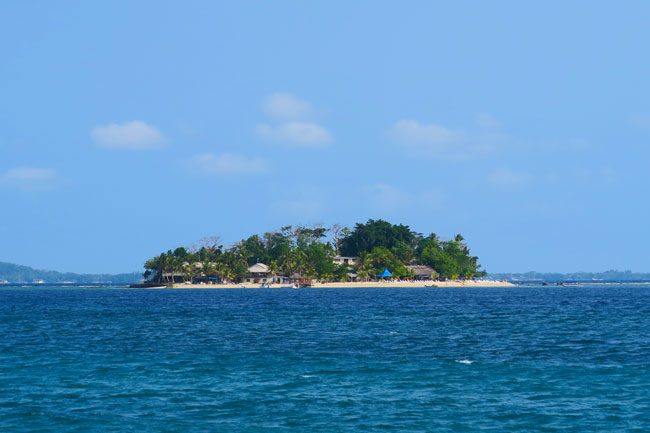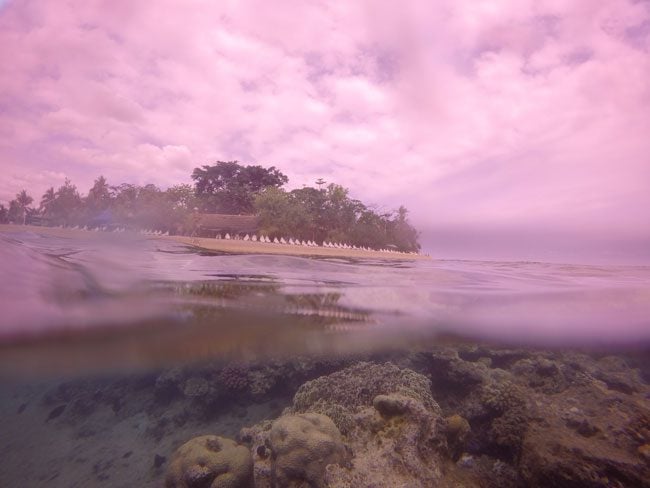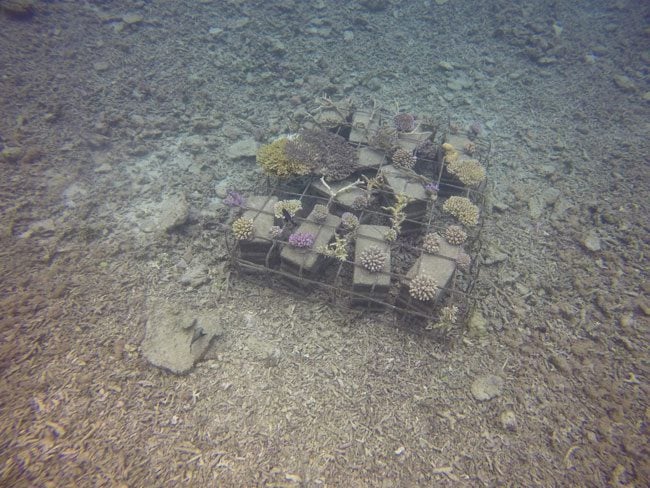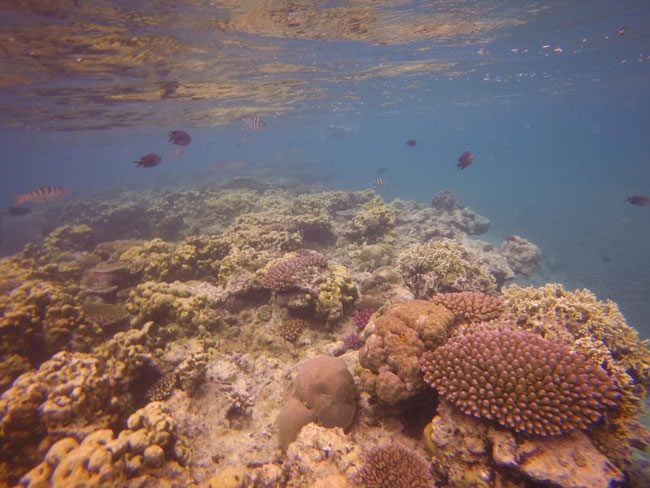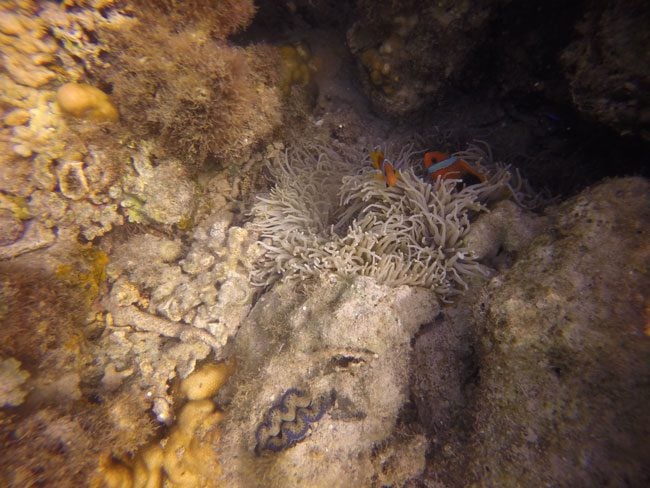 Beach and snorkeling are all good but now for the real highlight at Hideaway Island. In a country with few sealed roads and plenty of remote Islands, Vanuatu prouds itself on having the world's only underwater post office – and it's right here, just off Hideaway Island. A few of you can be expecting a postcard – hope it'll dry up by the time it arrives.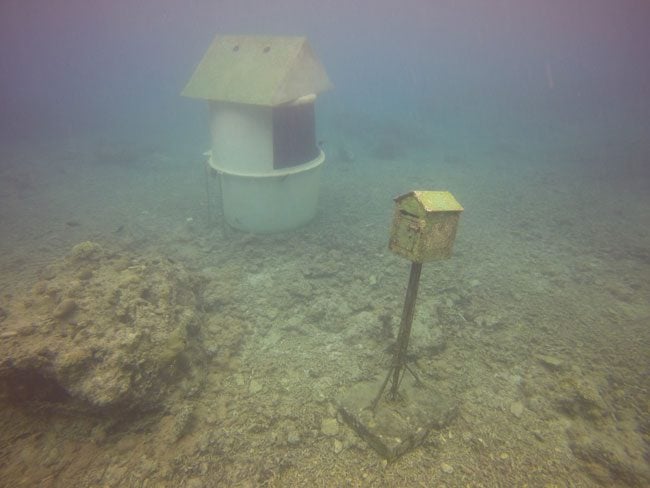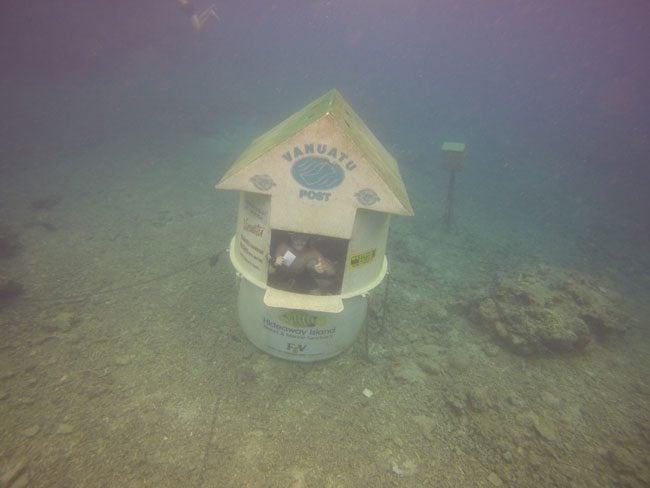 Before the sun set, we explored the Port Vila waterfront. It's not really something to write home about but just have a look at the local kids end their days. Not bad ah?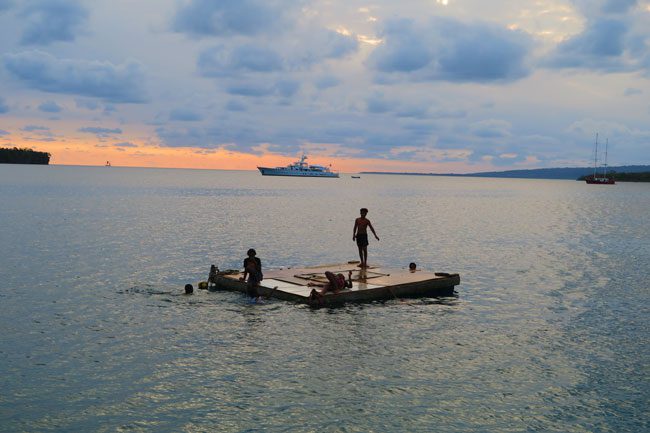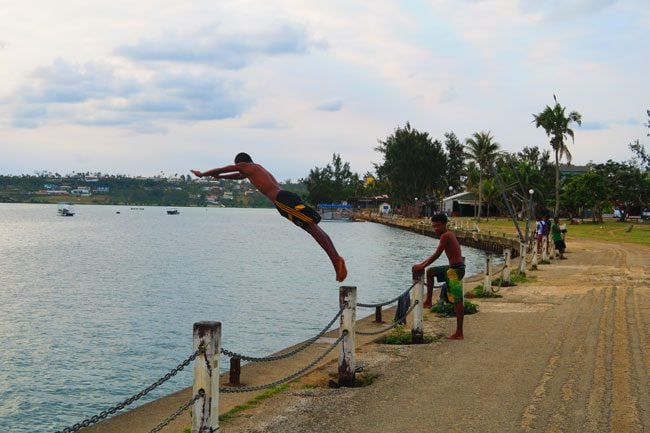 As for the nightlife in Port Vila… As the sun sets, it can only mean one thing in Vanuatu – head for the nearest Kava bar! For those of you not familiar with Kava, it's made from the root of a plant widely grown throughout the South Pacific. The roots are mixed with water to create a muddy looking juice that gives off a sedative feel. It's perfectly legal and in fact, kind of the thing to do here when night falls.
All you have to do is walk around town and look for a colorful light coming out of an undescriptive looking place. Step inside and gulp down a few 'shells' (a.k.a shots). Then, proceed to the 'Kava garden' to relax with the local patrons. Don't be alarmed by the orchestra of spitting and pallet cleaning (sort of a regurgitating sound). This is perfectly normal, even if it might be a bit disgusting. Kava makes your tongue go a bit numb and your mouth dry – so these oral actions apparently help with that. Getting high… South Pacific style!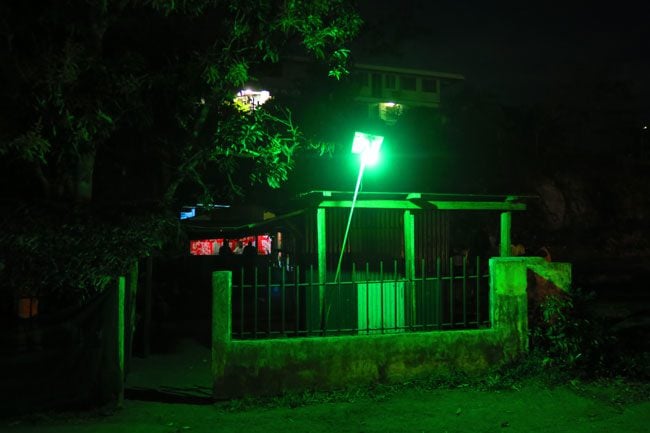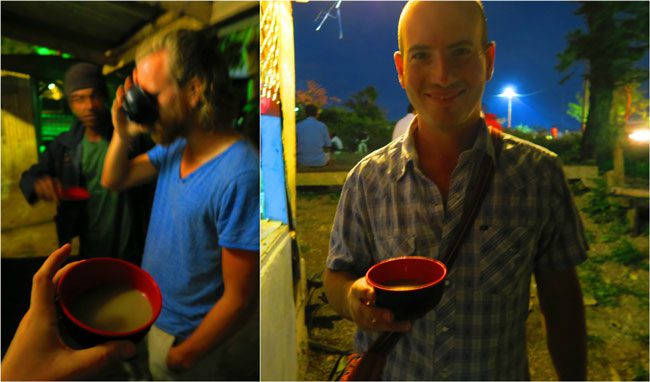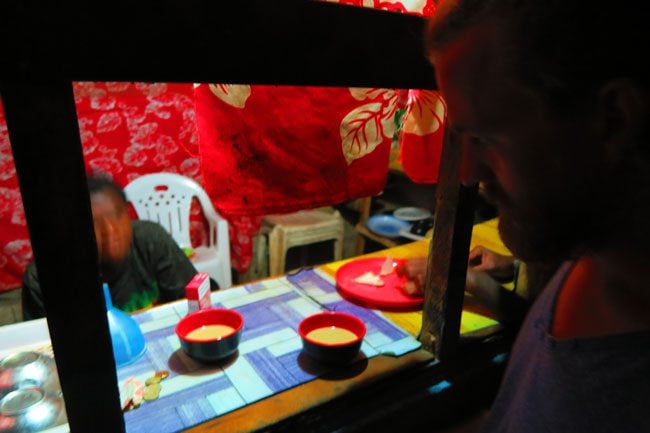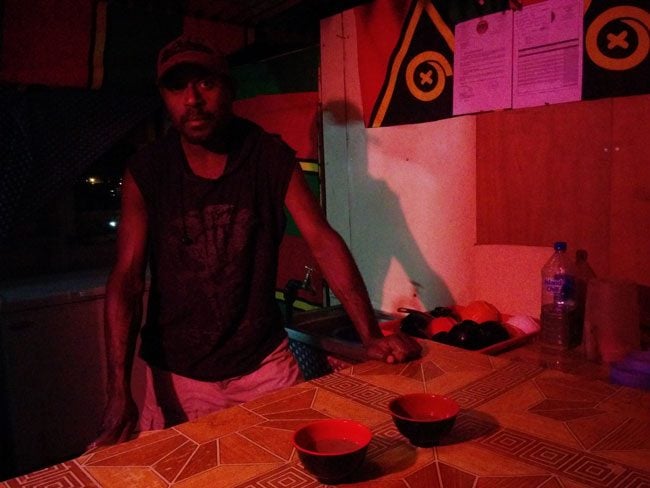 After a very good night's sleep, Jørn Bjørn and I rented our very own jeep to go around Efate Island. The island itself is quite small and it only takes about 90 minutes to circumnavigate it, making it perfect for a day trip. Before heading out of town, we stopped by the super cool Port Vila market to stock up on some food for the road trip. Farming is a main source of income for many of the locals and they come from all around the island to sell their produce. You'll find here the usual staples like taro and coconut, but also seasonal delights and even aphrodisiacs.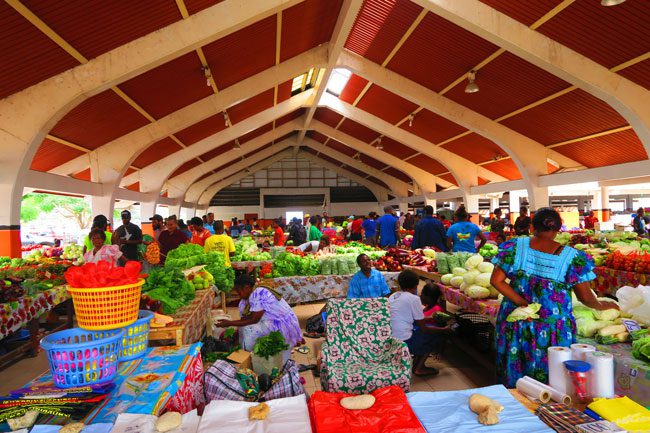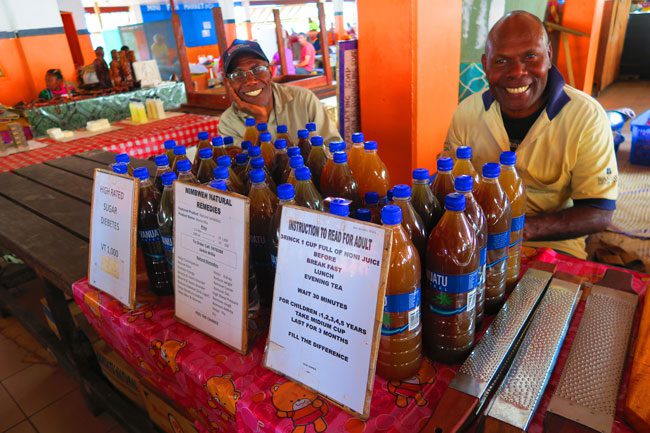 Next to the food market, there's a small market for local clothes. I was tempted to wear this outfit for the road trip but thought it was a bit too early for that…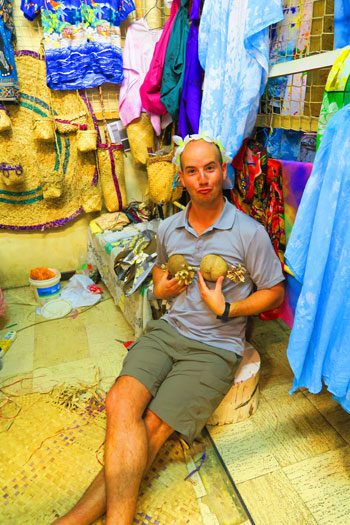 There are very few road signs in Vanuatu and the best way to navigate is to keep track of which river you just crossed on the map. Our first navigational mistake led us to a lovely viewpoint over the bay and Port Vila.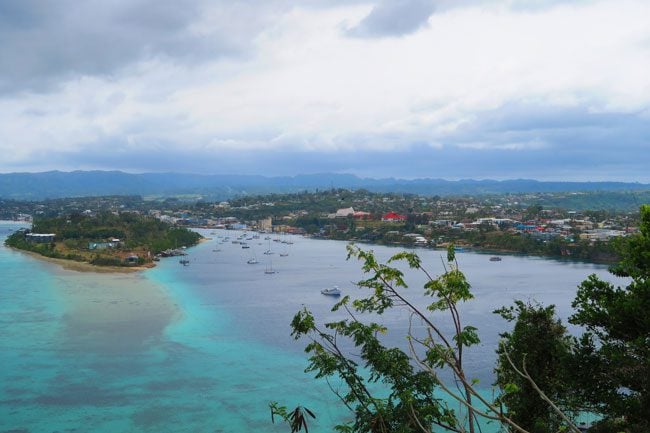 The cross-island road gave us a chance to see some beautiful scenery of endless coconut plantations, rivers and some more super friendly locals.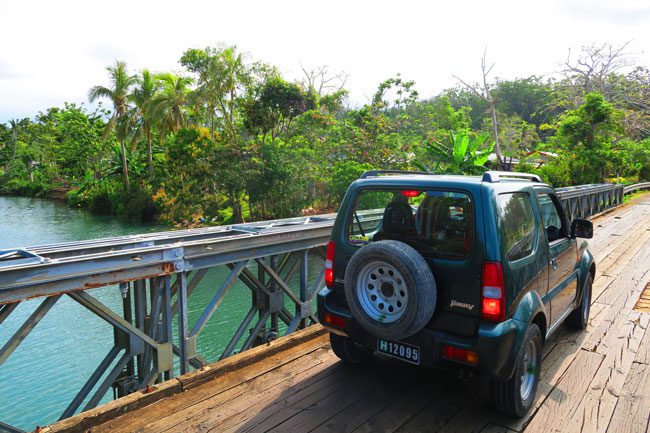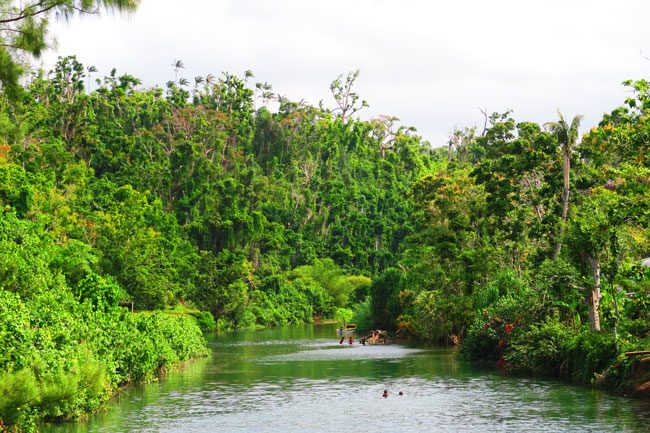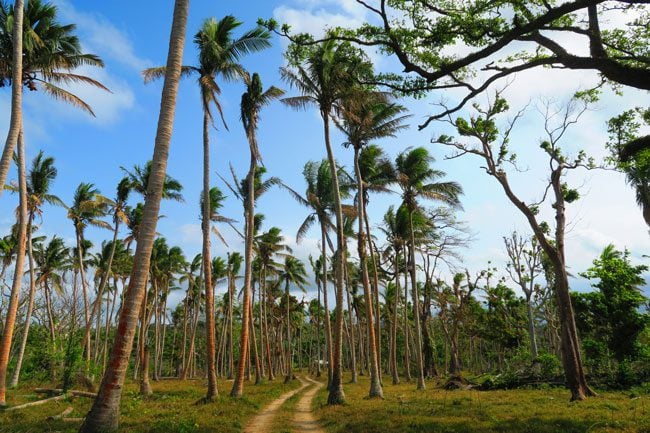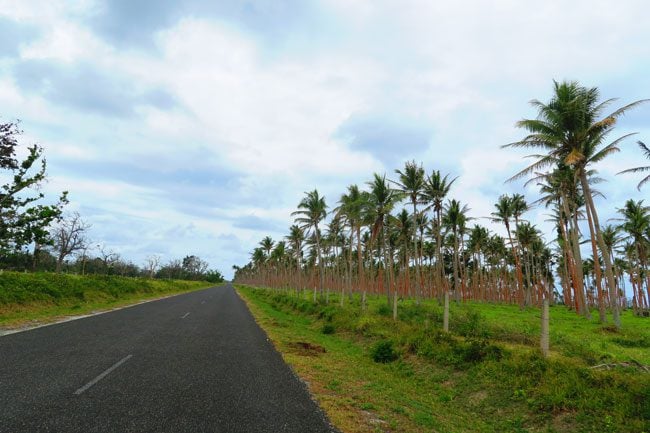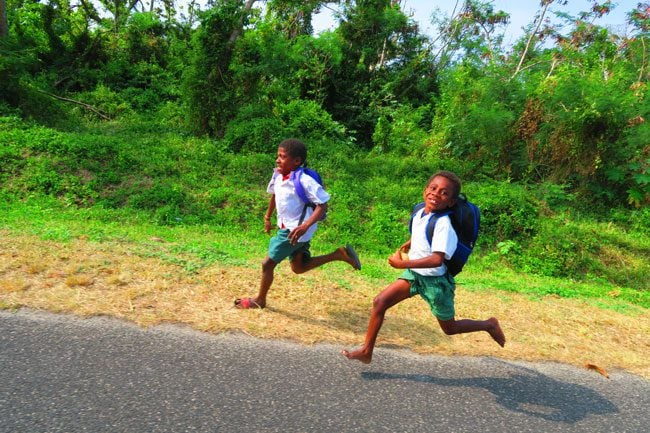 On the flipside, the drive also gave us a good glimpse of the destruction that Cyclone Pam brought with it, as it swept across Vanuatu in March of 2015. The scars of the cyclone are still fresh, with many losing their homes and livelihood with it. Vanuatu is quickly getting back on its feet and tourism is super important for its recovery.
Our first planned stop was at the Eton Blue Lagoon to practice our water jumping skills. The water is crystal clear and blue lagoons are something to be found throughout Vanuatu.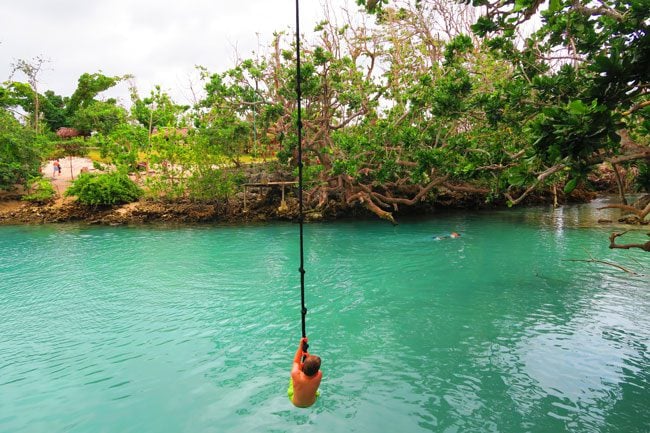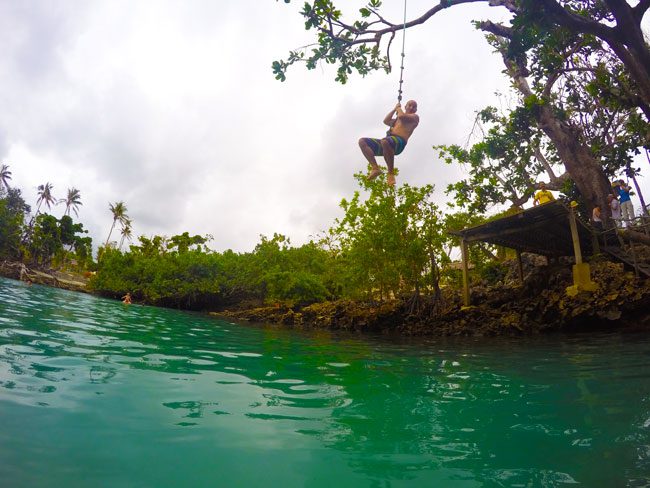 All that jumping brought with it a healthy appetite and on a tip from our hostess back in Vila, we stopped for lunch at the beachside village of Taka. Unlike the shirt that this man is wearing, the local villagers cook up a wonderful lunch in a beautiful setting. The entertainment ain't too bad either (give it a listen)!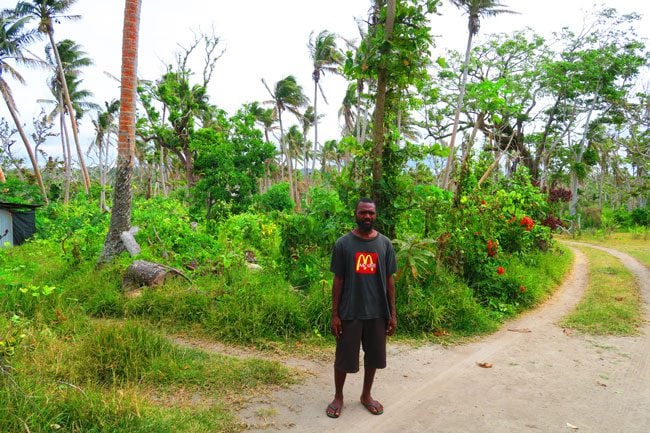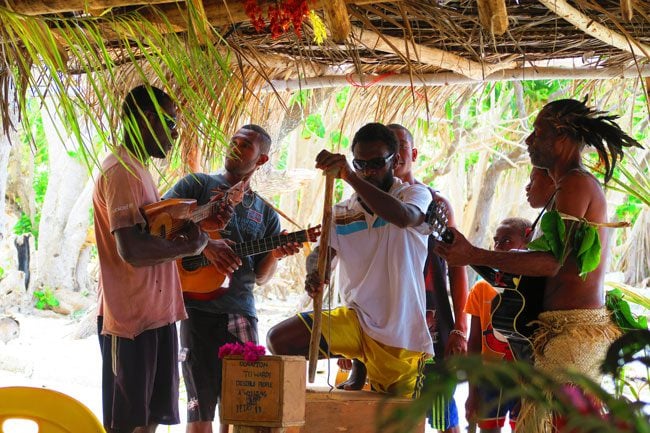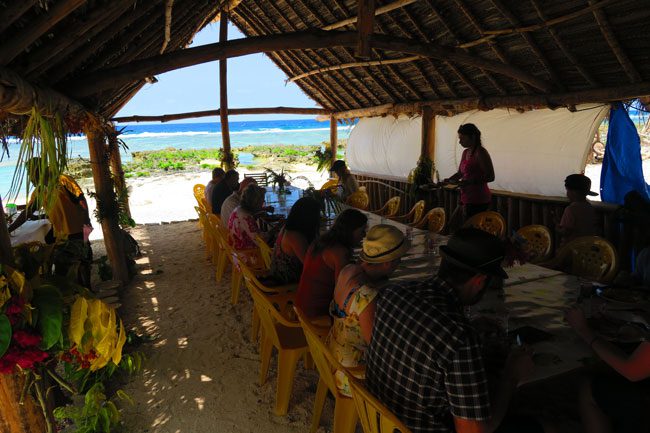 Our next stop was at Port Havannah for some more beaching and snorkeling. Survivor fans might appreciate that this is where the 9th installment of the popular reality show was filmed.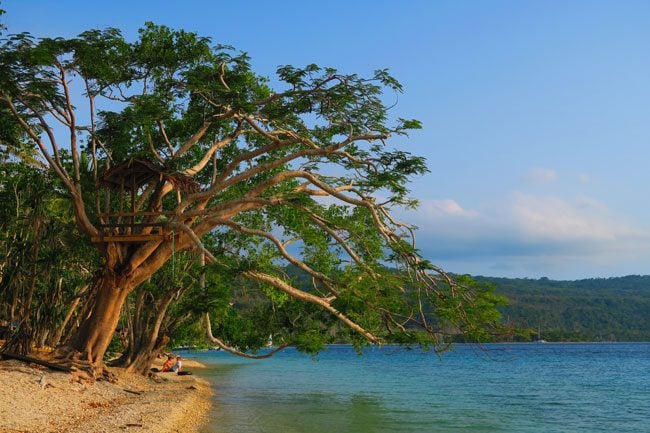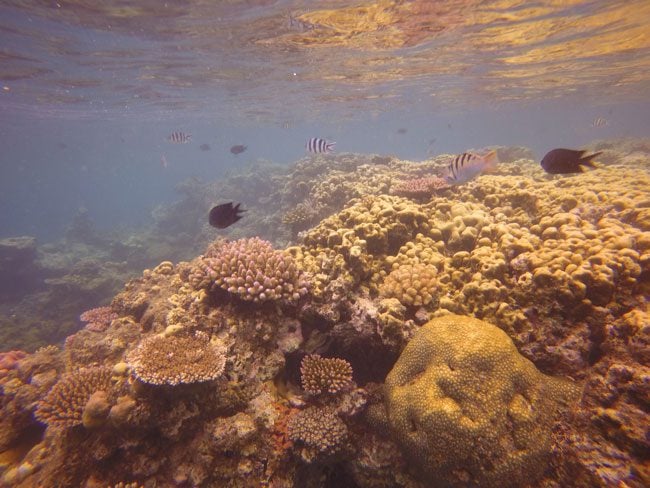 As we came around back to Port Villa over the highlands, we were treated to another great view of the lush island of Efate. To cap off our great day trip, we stopped for some coffee at the Tanna Island Coffee Company. Exceptional Arabica Coffee is grown and roasted right here in Vanuatu. Jacob has been working here since the 1980's and he showed us how the the different roasts are made.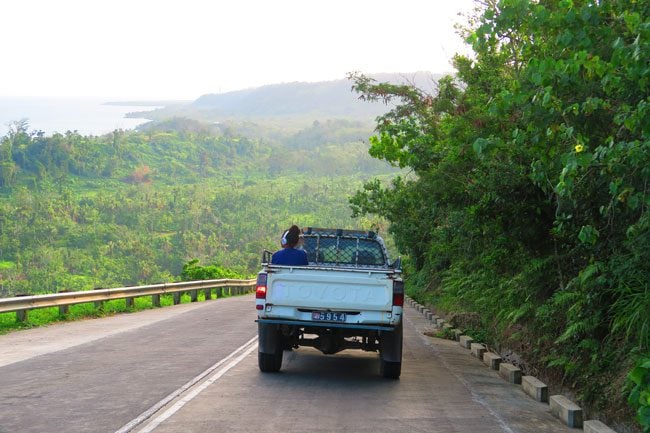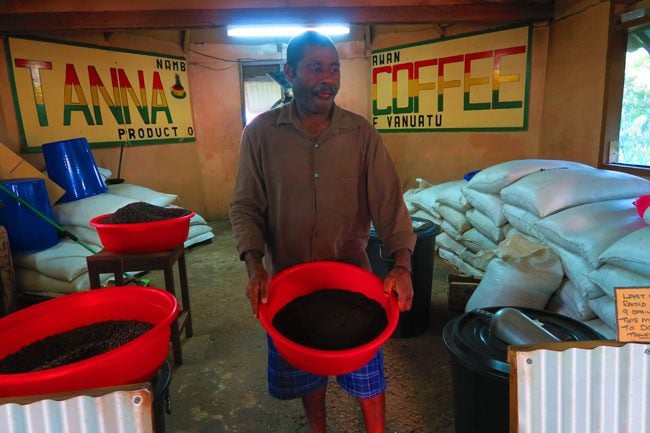 The following day, with Jørn Bjørn heading off to Fiji, I headed off to my second island in Vanuatu, Espiritu Santo. This is the largest island in Vanuatu and is known for its world-class wreck diving and pristine beaches. Stay tuned…