Apia Travel Guide
Apia is the capital of Samoa and though barely a large town, it's the country's only real city. Despite its small size, Apia has an abundance that is rare in all other parts of this traditionally Polynesian country, even home to a busy Mcdonald's! Situated along a natural harbor and backed by Mount Vaea, Apia started out as a small fishing village, gradually growing to its present size and 'swallowing' surrounding villages in the process. It naturally has the largest ex-pat community, partly due to the fact that there are still large chunks of land which do not belong to any particular village in perpetuity.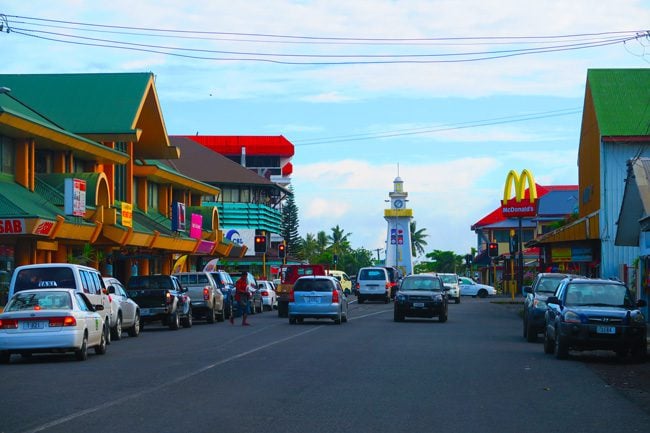 You don't necessarily need to base yourself in Apia, but it's absolutely worth exploring, with vibrant markets and a handful of colonial buildings scattered throughout the town. In this section of the Samoa Travel Guide, we'll cover the capital city's major highlights.
Apia Map
Click on the image to open in Google Maps. This map features all the places highlighted in this section of the Samoa Travel Guide.
Apia Travel Tips
Recommended reading:

Talofa! Welcome To Beautiful Samoa

– a personal account of my visit to Apia and its surroundings

Apia is small enough to be explored on foot. If you do need to take a taxi in Apia, a ride within town should cost no more than T5.

You can catch a bus from the central station to every part of Upolu.

There are at least three supermarkets and a fruit & vegetable market in Apia, with

Farmer Joe

even open on Sundays.
Where To Stay In Apia
Apia naturally has a large selection of hotels and resorts. Prices are also much higher in Apia than elsewhere. Have a look at my recommended places to stay in Upolu Island for a few good choices in Apia that I tested out.
Things To Do And Places To See In Apia
Let's check out some of Apia's major highlights.
Clock Tower
You cannot miss the WWII memorial which sits at a large traffic circle at the bottom of Vaea Street. This is a charming part of Apia, close to the waterfront and home to a bunch of old colonial buildings that manage to survive the humidity. There is, however, an ugly government compound that was donated by the Chinese just behind the clock tower. I am mentioning this because it's the scene of a weekday ritual that is not to be missed.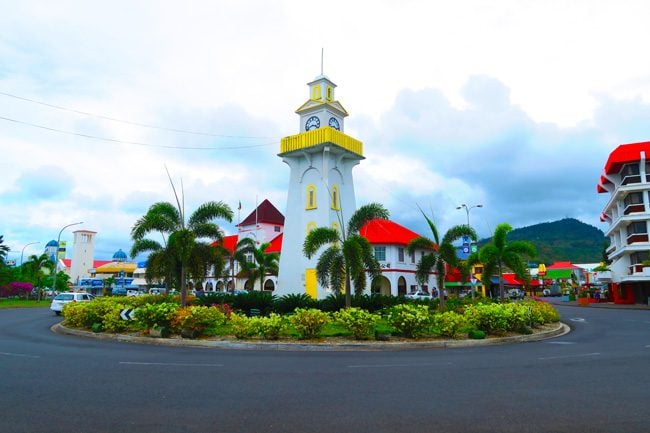 Every weekday morning at 9 am, a siren signals all traffic to come to a halt in the vicinity of the clock tower. It's time for the Samoa Police Band to proudly raise the flag, marching from the nearby Police headquarters down to the government compound. They march to tunes inspired by Buckingham Palace and sport lavalava skirts – all in honor of Samoa, a country so beloved by its citizens. The whole ceremony takes about 20 minutes so aim to arrive at 8:50 am to position yourself.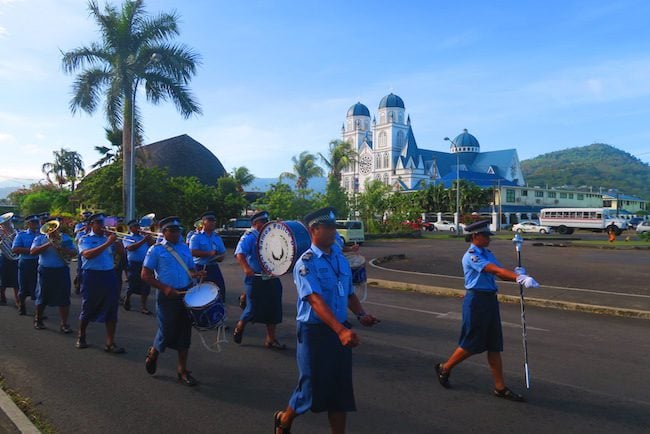 Maketi Fou
Market lovers will absolutely love Apia's main market, the Maketi Fou – also known as Fugalei Market. This covered market is simply huge, loaded with all the tropical produce you could ever imagine. It's a great opportunity to not only witness the abundance that living on a tropical island brings with it, but also to interact with Samoans themselves, who sometimes take turns sleeping in the market to keep save the spot for their family's stall.
Aside from the seemingly endless supply of coconuts, mangoes, starfruit and other tropical delights, you'll also be able to browse for island fashions, souvenirs and buy some ready-to-eat breadfruit and taro, sold by Samoan women so accustomed to keeping the flies away!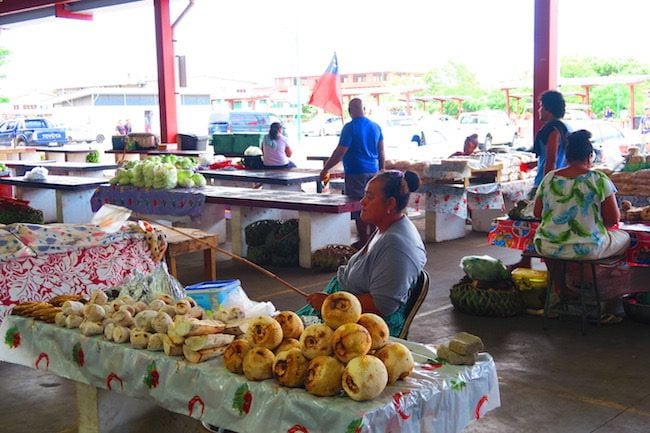 Flea Market
Apia's flea market is a fantastic place to buy souvenirs and gifts. Alley after alley of ubiquitous stalls will display sarongs, wood carvings, bracelets, island fashions and what not. If you want to do some shopping, bring plenty of cash and don't even try to bargain.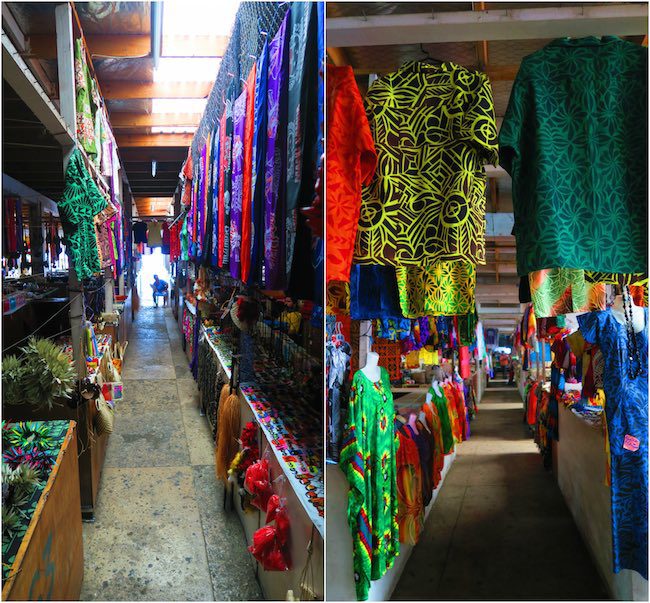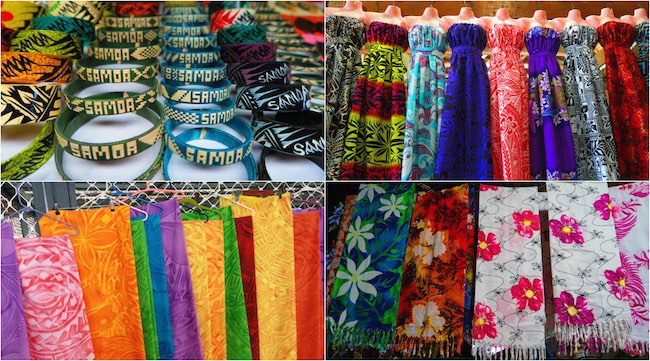 The flea market also has a small 'food court', where Samoans just love eating what looks like giant deep-fried donuts stuffed with chicken or other meat. If that's not to your liking, I also saw some fish and chips for sale. In any case, the place gets packed especially when school's out, another good opportunity to catch a glimpse of local Samoan life.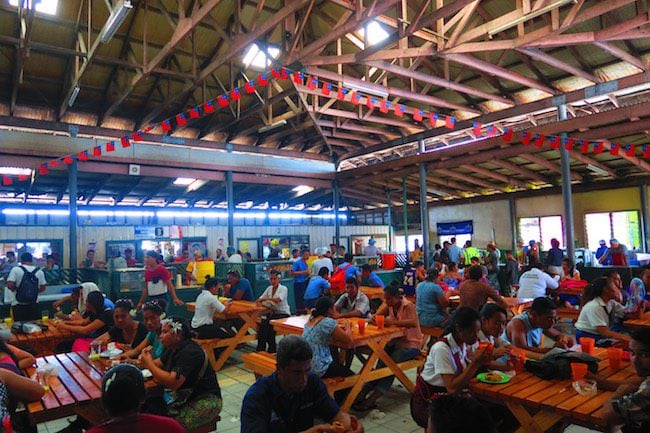 Fish Market
Best enjoyed in the early morning hours, I visited the Apia fish market around 9 am just as things were wrapping up. Up for Sale? Lobsters, crabs, yellowtail tuna, skipjack tuna, and more fish that I have no clue what they're called. There's also a small shop selling fish and chips.
Central Bus Station
The central bus station in Apia is probably the busiest spot in Samoa and definitely one of the most colorful ones. Throughout the day, busses that are more like pimped-out trucks connect villages across the island with the capital city. The most interesting time to visit is in the early afternoon when students grab a snack, chit chat and maybe quarrel over a girl, as they await the bus that takes them back to their village. Have a look at the 'taking a bus in Samoa' section for information on getting around Samoa by bus, an experience you'll never forget!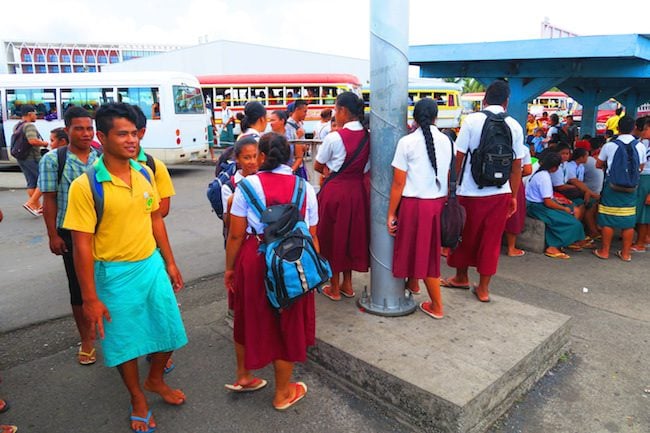 Mulivai Catholic Cathedral
Completed in 1905, Apia's main Catholic church has the most beautiful interior of any church I came across in the South Pacific. If you happen to be in Apia on a Sunday, you're welcome to attend the service. Samoans love their church and there's plenty of singing followed by a whole lot of eating on Sunday. It's a very interesting experience for visitors, believers or not.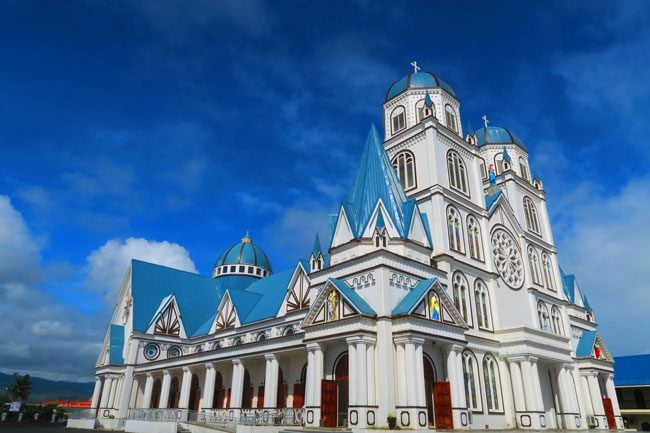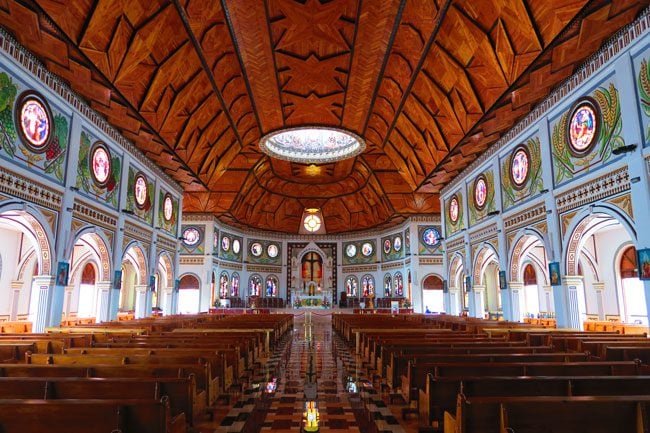 Samoa Cultural Village
An absolute must-visit, the Samoa Cultural Village is a top-notch and free attraction graciously offered by the Samoa Tourism Authority. On this authentic tour, you'll get practical lessons on the basics of being a Samoan. This will help you put the rest of your visit to Samoa in the right context. You'll also learn about Fa'a Samoa – the Samoan Way, a code of behavior that governs Samoan lives.
The first stop is a bit of weaving from the leaves of 'the tree of life'. The palm tree has so many uses for Pacific Islanders, with its branches used in the production of anything from baskets, to roofs to plates.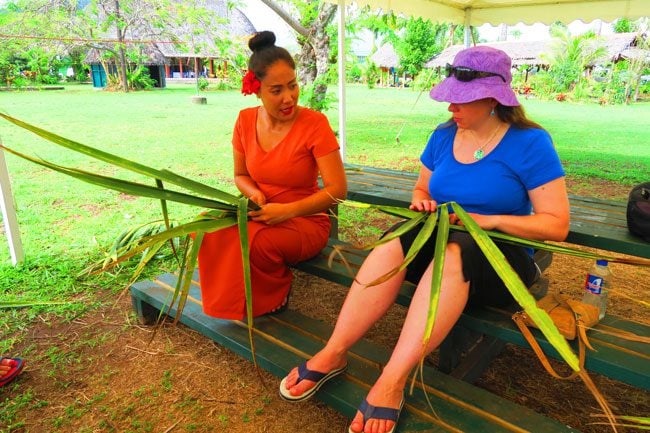 You'll then proceed to watch the men prepare the umu, a traditional Samoan Sunday meal prepared in a ground oven. In Samoa, it is the men who are in charge of preparing the umu. Taking a few hours to prepare and requiring a lot of muscle, the food is eventually wrapped in leaves and laid in the underground oven – heated by volcanic river rocks that won't crack like salty beach rocks. Later in my visit, I was privileged to prepare a Sunday umu with my hosts, so this lesson sure came in handy.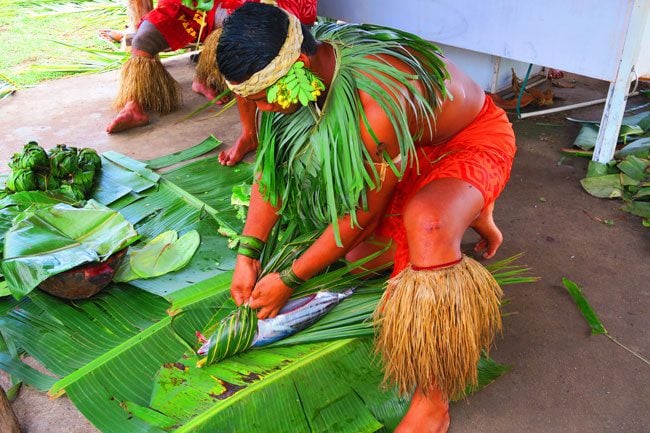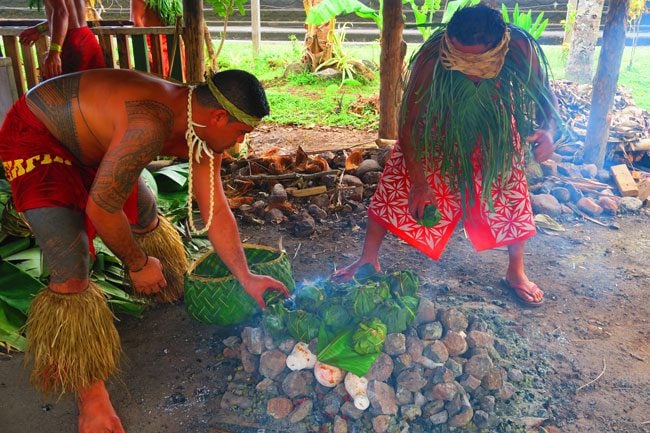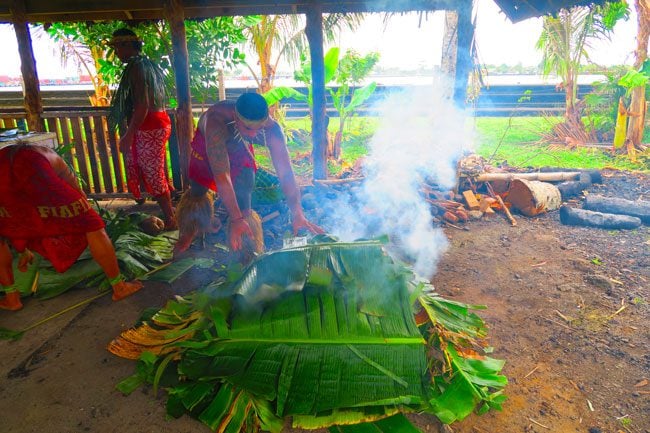 As you wait for the food to cook, you're treated to a traditional ava (or kava) ceremony and some very impressive traditional Samoan dancing. Samoans love to dance, bang on the drums and play with fire – but you'll learn this on your own after a few days on the island.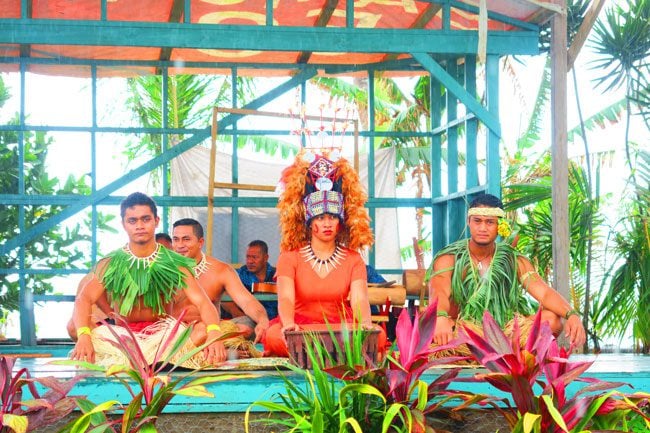 As the show wraps up, lunch is served on the very same plates that you made earlier from the palm tree branches. On the menu? Tuna, palusami, taro, and breadfruit. So delicious and so authentic.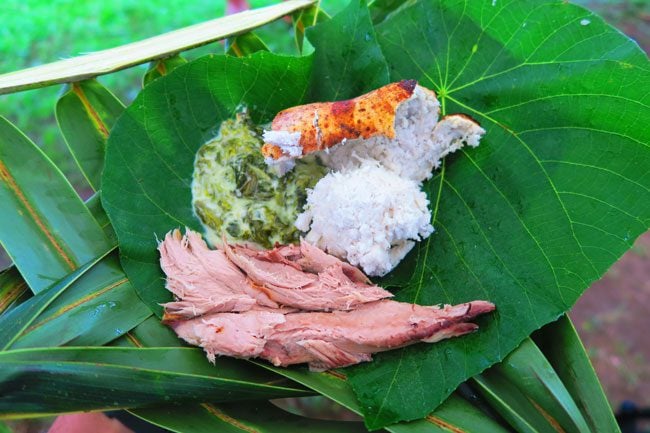 You'll then learn about the Samoan way (fa'a Samoa): the chief system, the importance of family, land ownership, and even the seating arrangements in village meetings. As our guide was enlightening us about the traditional code, the ladies were making siapo (also known as tapa cloth). In a difficult and manual process, the inner parts of the mulberry tree (U'a) bark are hammered to make a canvass-sized cloth. To compensate for tiny holes, additional layers are added until a smooth surface is reached.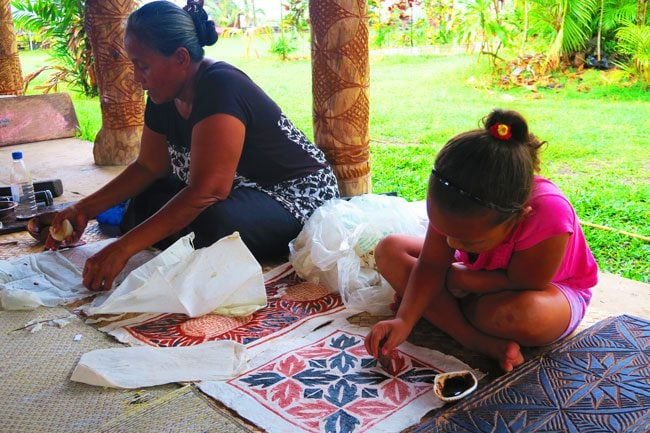 Natural dye is then used to paint Polynesian patterns and my absolute favorite – sea turtles. The finished product comes in all sizes, from small A4 paintings to large tablecloths. Siapo was used to barter for goods and is today still used in gift-giving. The best part? You can buy one of these directly from the artist for as low as T20, quite a bargain considering I saw the same thing sold in French Polynesia for three times the price!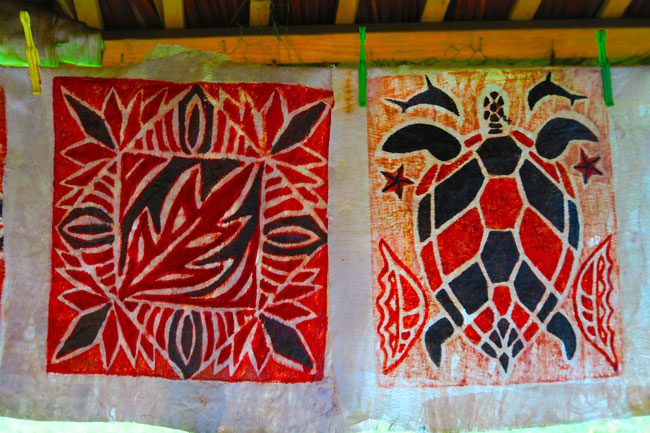 From the tapa station, it's on to the woodcarving hut. If you were a Samoan woodcarver back in the day, you were 'the man'! Woodcarvers could make anything from houses to pots to canoes which allowed Samoans to harvest the bounty of the ocean. As with the previous station, you can buy souvenirs directly from the artist.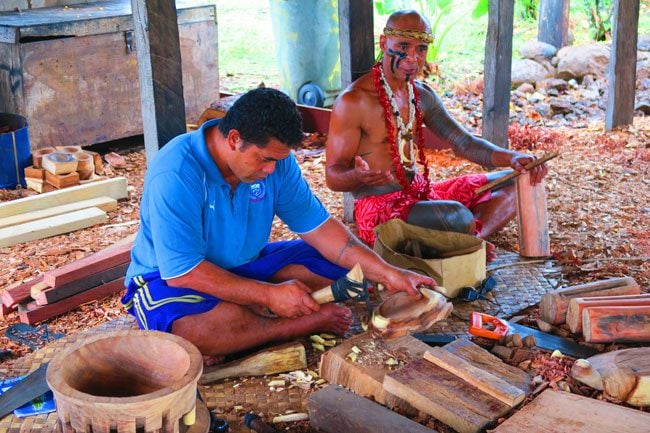 The last station was the tattoo hut, where a traditional Samoan tatau session was actually taking place. Samoans were among the earliest tattoo artists, considered to be among the best in the world. A traditional Samoan tattoo is a rite of passage, a key part of fa'a Samoa. Men and women endure multiple sessions, where the tattoo is tapped onto their bodies and where family members that have undergone this painful process come to support. There are only a few families in Samoa who own the trade, with knowledge passed from father to son. A Samoan man or woman with a traditional tattoo (from knees to waist for men), will rise up the village ranking, earning respect and perhaps even a chief's status later on in life. No filming is allowed here, this is serious business!
Palolo Deep Marine Reserve
The Palolo Deep Marine Reserve is the best spot I found in Samoa for snorkeling. Best visited at high tide and not after a storm, you'll need to swim out to the 'blue hole', where you can cruise around a beautiful patch of hard coral that's teeming with tropical fish. Entrance plus equipment rental will cost T12 (fins are a must) and Vaiala Beach is right here, so it's not a bad place to get some tanning done.
Beach Road
A nice way to get to the Palolo Deep Marine Reserve is by walking along Beach Road. You'll get a great view of Apia and Mount Vaea while passing the historic Aggie Grey's Hotel.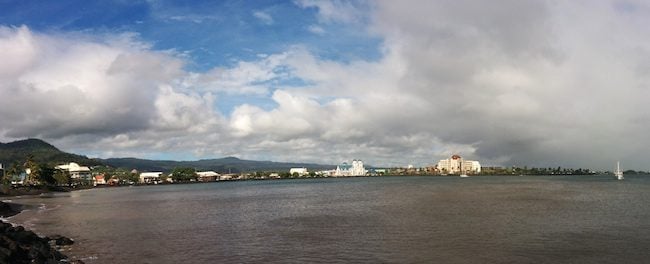 Museum Of Samoa
This definitely ain't the Louvre in Paris, but the Museum of Samoa is one of your few options for rainy days in Apia. It's a small but at least air-conditioned museum that showcases Samoa's history and its environment. My takeaway from here was learning about the nonviolent Mau movement for Samoan independence.
Robert Louis Stevenson Museum
On my voyage across the South Pacific, I learned of many famous European writers and poets who escaped to these tropical islands. Samoa's most famous European is no doubt the Scottish author of Treasure Island. Stevenson moved with his family to Samoa in the hope that its tropical climate would help with his tuberculosis. He constructed a beautiful mansion in the foothills of Mount Vaea and became very involved in local life. In fact, Stevenson strongly advocated for Samoan independence and was highly admired by locals. He sadly died in 1894, buried at his request at the mountaintop. Also serviced by local buses, you can visit his beautiful former home for T20 and hike to his grave for panoramic views of Apia (free).
Papaseea Sliding Rocks
Not too far from the center of town and reachable by bus, everyone loves the Papaseea Sliding Rocks. Why? Because who needs a Six Flags when you can simply slide on a smooth volcanic rock down to a fresh pool! Always check if the water level is high enough before attempting a slide (trust me), or to play it safe, just watch the local kids who can't seem to get enough of this natural wonder. If you're lucky, you might even spot a few rare birds and the beautiful red ginger flower. The entrance is a steep T20, toilets, and change rooms are available in the parking area.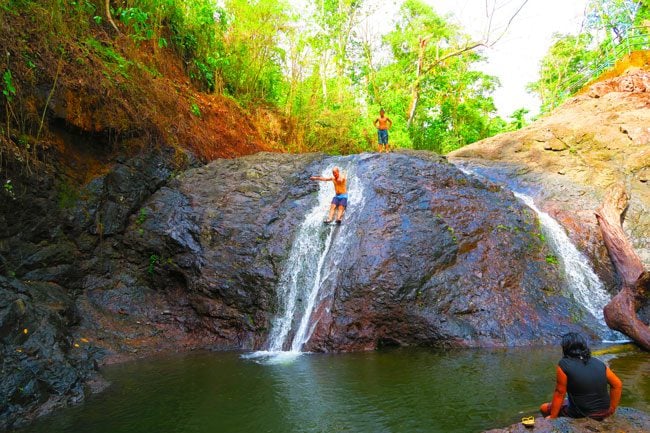 Places To Eat & Drink In Apia
Apia has plenty of restaurants and bars to choose from to go along with its casual markets, proper supermarkets, and random stalls along its main streets (good for breakfast and tropical juices). Here are a few places I sampled and enjoyed.
Georgie's Pizzeria
Good spot for a pizza in the center of town. Enjoy a large personal pizza on the outdoor terrace for T25-30 and don't forget an ice-cold bottle of the local Vailima Beer.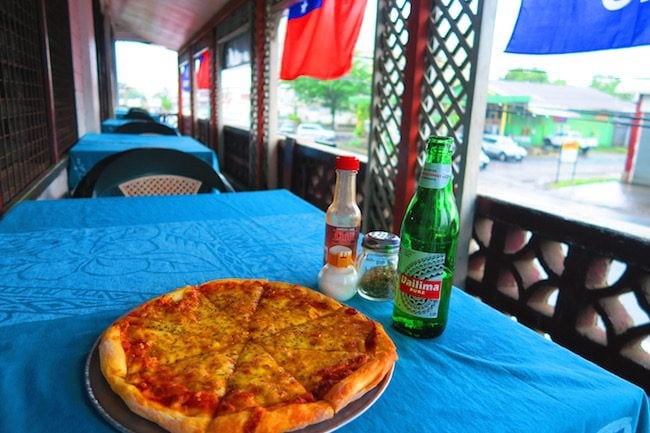 Seafood Gourmet Bar & Grill
Over on Beach Road, I came here a couple of times for lunch. They're known for their fish and chips, but I personally loved the grilled tuna (T24). Portions in Samoa tend to be quite huge and this is the case here. For an extra T3.50, you can wash it down with a fresh coconut!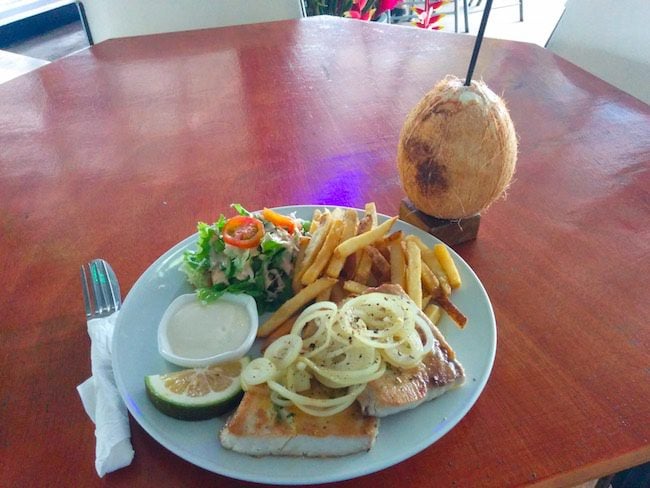 Tifaimoana Indian Restaurant
I personally love Indian food, so I couldn't refuse a visit to an Indian restaurant in Samoa of all places. Mains plus rice for about T25 and I must say it wasn't bad at all.
Cocktails On The Rocks
Known locally as 'cocks on the rocks', this place is not too far from the cultural village. It's nothing fancy, just a place to grab a drink, shoot some pool, and meet a few ex-pats.