Samoa Travel Tips
Listed in this section are essential travel tips for planning your visit to Samoa.
Read & Watch List
When Is The Best Time To Visit Samoa?
Samoa is a classic tropical destination, with hot and very humid weather throughout the year. There are two seasons in Samoa: the dry season and the wet season, which also brings with it cyclone season. Always keep in mind though: you can't have all this intense green without plenty of rain!
Dry Season (May – October): plenty of sunshine with the occasional downpour. This is the perfect time for hiking and for less humid weather. Towards October, things can change with more rainy and cloud-filled days.
Wet Season (November – April): expect plenty of wet days and I mean seriously wet days. Cyclone season in Samoa is in full swing and that can be an unpleasant experience, with high winds and flooding. This is especially true if you plan to stay at a beach fale. That said, there will be plenty of sunny days but without a guarantee to fall exactly when you visit.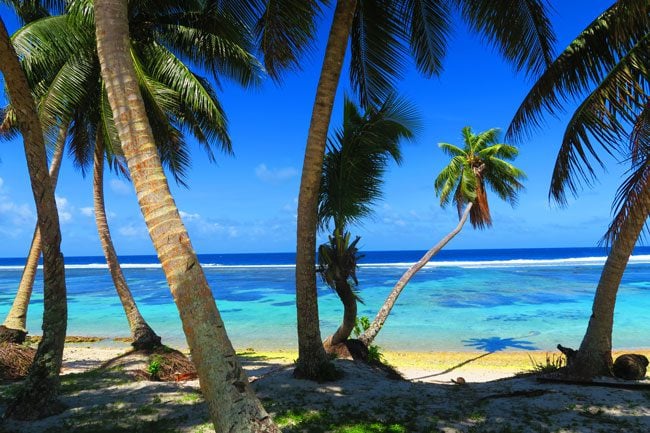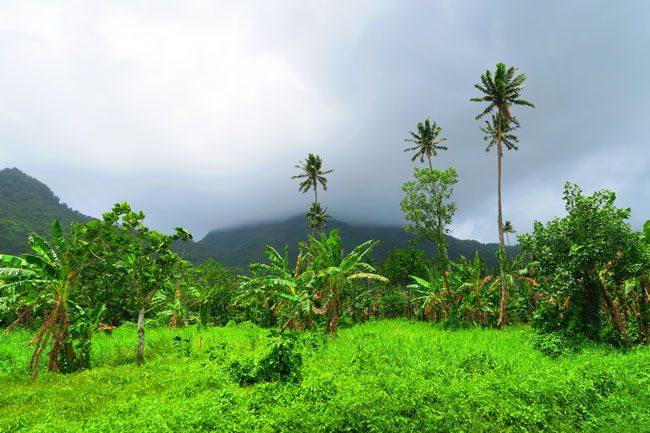 I personally visited Samoa in the shoulder season, during October and the start of November. I was quite concerned about having nothing but rain but it turned out to be just fine. My first week was plagued by on and off rain and clouds, while the rest of the time was nothing but sunshine. However, while I was in the Cook Islands towards the end of November, a small cyclone hit Samoa, causing flooding and some damage in Apia. Its effects were felt all the way in Rarotonga, so it wouldn't be a pleasant time to be in Samoa.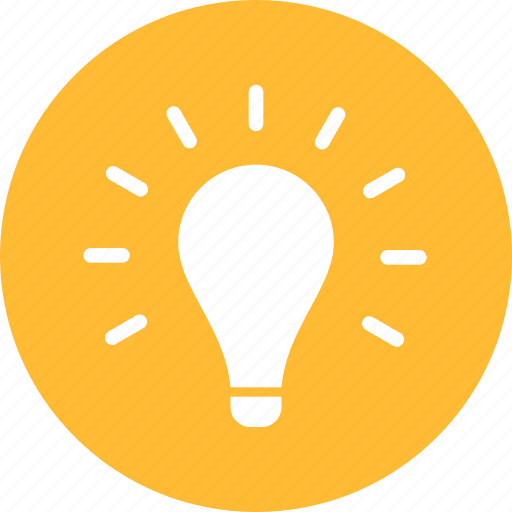 Pro Tip
Many Samoans live abroad, mostly in Australia and New Zealand. During the Christmas holiday season, flights and hotels will get booked quickly so I recommend booking early if visiting Samoa during this time.
What To Pack?
Water is the main element to be prepared for in Samoa: rain, seawater, and sweat (lots of it). Have a look at the X Days In Y Packing List for recommendations on what to pack for Samoa based on my own experience.
How To Get To Samoa?
Samoa is reached via direct flights from Australia, New Zealand, Fiji, Hawaii, and American Samoa. I personally flew to Samoa from Vanuatu, spending a night in Fiji on the way. Keep in mind that international flights arrive and depart from Faleolo Airport, about 40 minutes outside of Apia.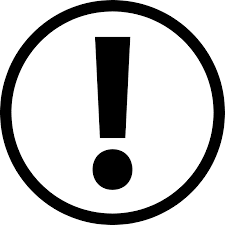 Updates
As of July 2017, you might be able to fly from Samoa not only to American Samoa but also to Tonga with newly formed Talofa Airways. As of November 2017, the "resurrected" Samoa Airways commenced flights between Apia and Sydney/Auckland. In December 2020, Fly Coral Ways started to offer flights to Samoa from Wallis and Tahiti. Keep in mind that small South Pacific-based airlines come and go and these routes may no longer be available at the time of your visit.
Entry Requirements
Visitors receive a 60-day tourist visa upon arrival in Samoa. It is important that you are able to show an onward flight ticket upon request. This means that if you're planning to island-hop in the South Pacific with one-way tickets (like I did), you should always have your next segment booked and the ticket printed (or saved on your phone).
Language
The official languages in Samoa are Samoan and English. Samoan is a strangely beautiful dialect that you'll likely not be able to pick up during a short stay aside from talofa (hello) and faafetai (thank you). English is widely spoken in Upolu but in Savaii the story is a bit different, with a lot of villagers only speaking Samoan (this is hardly an issue for tourists though).
How Long Do You Need In Samoa?
Most visitors spend a week to 10 days in Samoa, which is enough to get a good taste of the country. Ten days would give you enough time to properly explore both Upolu and Savaii, while maybe even spending a night or two in one of the smaller islands like Namua or Manono. With two to three weeks in Samoa, don't miss the chance to visit neighboring American Samoa. You might even be able to make it to Ofu beach, one of the prettiest beaches in the world!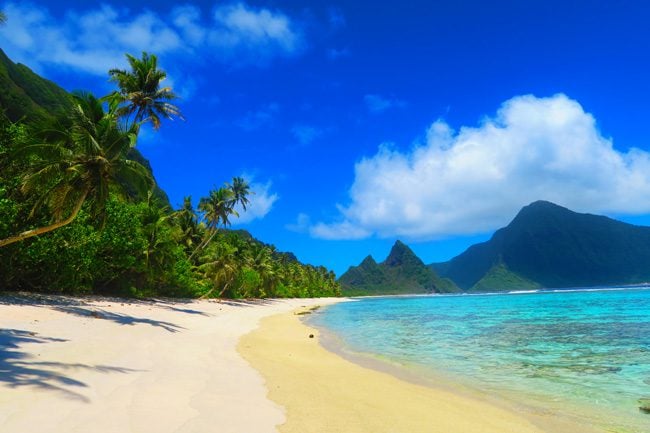 Upolu vs. Savaii?
The question of which island to visit in Samoa is not as tricky as in other South Pacific destinations like French Polynesia or the Cook Islands, where getting from one island to another requires a flight or a cargo ship voyage. Savaii and Upolu are connected by a short ferry ride, so it is merely a question of how much time you have. Here's a brief snapshot:
Upolu: home to the vast majority of the country's population and naturally the busier of the two. The island can be easily explored by bus or on a road trip with a rented car. There are plenty of accommodations to choose from ranging from the simple beach fale (Samoan beach hut) to luxury resorts. Aside from having the only 'city' in Samoa, Upolu is home to incredible waterfalls, tropical white and black sand beaches, and off-the-beaten-track Namua Island.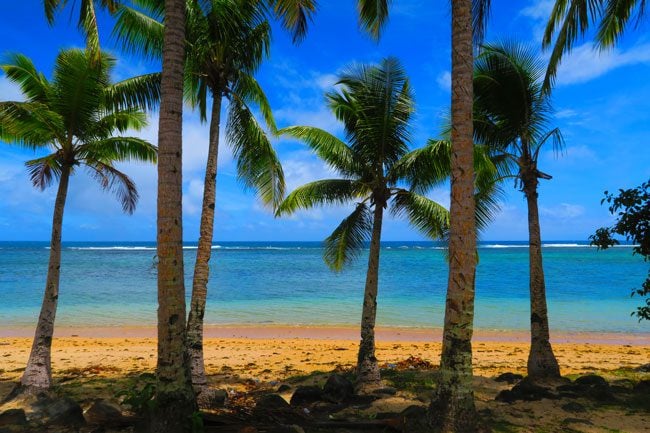 Savaii: one of the largest islands in the South Pacific and home to a fraction of the already tiny Samoan population. Savaii is deeply traditional, simple and little changed over time – with English not as commonly spoken as in Upolu. The island's main draw is exactly that – living life in the extra slow lane. Visitors come here to stay in simple beach fales, though there is a small selection of hotels and resorts. Highlights include guided hikes, scuba diving, ancient Polynesian sites, lava fields, sea cliffs, and blowholes. Getting around is more challenging, with a car essential for properly exploring the entire island.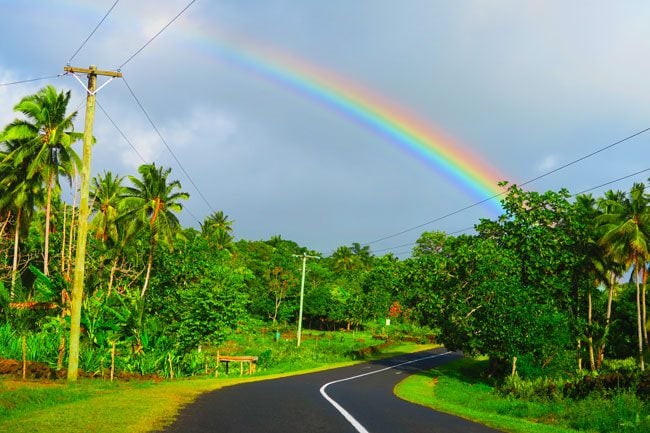 The bottom line: both islands offer a wealth of attractions, but if you have less than a week – stick to Upolu. I personally felt that Savaii receives more hype than it deserves. It was nice, don't get me wrong, but I found Upolu to offer more of that 'classic' tropical vacation.
How Much Does It Cost To Travel In Samoa?
Samoa is one of the most affordable South Pacific destinations. While you can stay at upmarket resorts and have your own car for the entire stay, there aren't too many opportunities to spend a lot of cash. Samoa is a very simple country. Here's a breakdown of my travel costs in Samoa.
Backpacking In Samoa
After Fiji, Samoa is probably the most backpacker-friendly destination in the South Pacific. In fact, there are quite a few backpackers visiting from New Zealand as part of their year-long work holiday visa. If you are happy with a simple hut on the beach and getting around using public transportation, you'll be surprised at how little your vacation will cost. The best places for backpackers in Samoa are Taufua Beach Fales in Lalomanu and Manase Beach in Savaii. See the individual island guides for more details.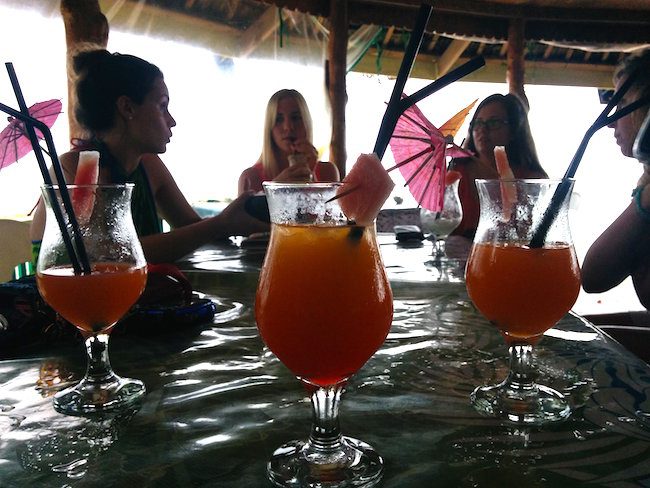 Where To Stay In Samoa?
Samoa's accommodations are basic and reasonably priced. I'll recommend specific places to stay in Samoa in the various sections of the guide but here's a general overview.
Beach Fales: pronounced fa-le, Samoa's signature accommodation offers you the chance to literally stay 'on the beach'. It's the absolute top choice for those seeking an authentic slice of Samoa and a great way to save on costs. Usually, a simple thatched roof-covered wooden hut, fales seem to be everywhere along the coastline. Owned and operated by extended families, staying at a good beach fale can be an experience you'll never forget – offering you the chance to meet real Samoans and other like-minded travelers.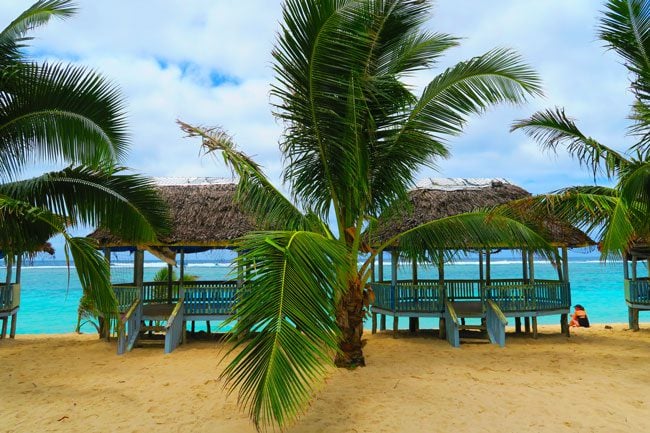 In the T60-80 range, you'll get a very simple open-air fale with a thin floor mattress, mosquito net, and woven blinds that can be rolled down at night yet still allow for the breeze to enter. In T100-120 and up, you can find open or walled fales with proper beds, maybe a fan, and all the way up to proper beach huts with electricity and air conditioning.
Priced per person, do the math if it's worth sharing a fale or opting for a proper room at a resort or hotel. The price almost always includes a communal breakfast and dinner (sometimes even lunch), with a shared bathroom/shower usually with cold water. Note that beach fales in Savaii are much cheaper than those in Upolu. You'll almost always be able to walk in and find a spot, and don't forget to bring your own towel.
Hotels: simple hotels and bed & breakfasts will almost exclusively be found in Apia and Salelologa.
Resorts: Samoa has a few high-end resorts, though it's nothing like the resort scene of the Cook Islands or French Polynesia. The bulk of the resorts in Upolu are in and around Apia and down on the south coast where the best beaches are. Over in Savaii, there are a few mediocre resorts in Salelologa and high-end options in Manase. One of the newest resorts to open in Samoa are the Aga Reef Resort & Spa, located on arguably the best beach in Samoa at Lalomanua, and Taumeasina Island Resort, situated on an exclusive private resort close to Apia.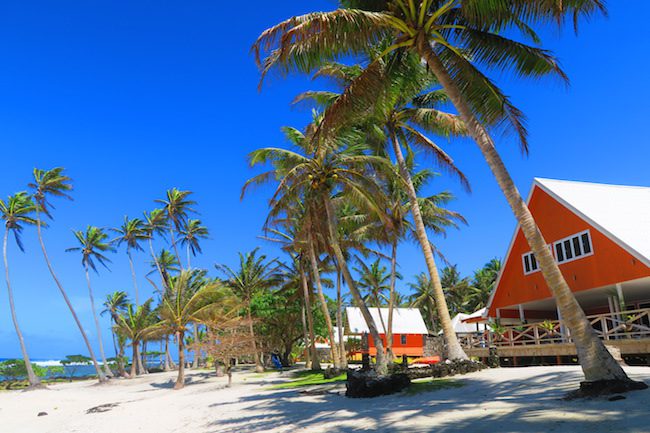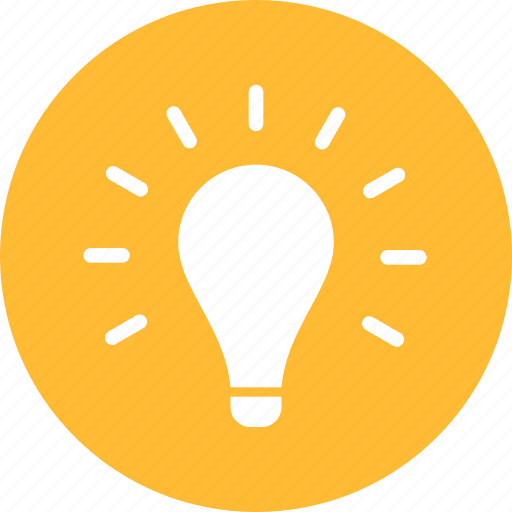 Pro Tips
(1) Book your accommodation in advance during the Christmas holiday season and ahead of weekends, when many young Samoans head to the popular beaches for overnight stays. (1) Here are all Upolu Island accommodations and Savaii Island accommodation that can be booked online via booking.com.
Money
Samoa uses the Western Samoan Tala (WST or just T and even sometimes $) as its official currency. While most Apia hotels and resorts throughout the country will accept credit cards – Samoa is in large parts a cash economy when it comes to tourism. Much like in Vanuatu, a lot of places might add a 3-5% surcharge if you wish to use your credit card.
So equip yourself with enough cash! In Upolu, I'm aware of ATMs at the airport and in Apia, while in Savaii you'll for sure find an ATM in Manase and Salelologa. Be aware of high banking fees and don't be surprised if an ATM is out of money over the weekend.
Tipping & Bargaining In Samoa
Tipping is not necessary in Samoa, aside from perhaps in the luxury resorts. Bargaining is actually quite frowned upon and you should refrain from doing so, aside from perhaps before entering a taxi. You'll notice that even in markets, prices are clearly marked, down to the smallest banana.
Getting To & From The Airport
A bus from the airport to Apia and vice versa will cost around T4, caught from just outside the terminal along the main road or from the central bus station in Apia. If you don't feel like taking the bus or if you arrived late at night or on a Sunday – taxis will take you to and from the airport for about T60-70. Your hosts can also book the Aggie Grey shuttle which picks you up from your Apia accommodation 24/7 for T25.
Riding The Bus In Samoa
Taking the bus in Samoa is an experience you'll never forget. It's a great way to save on travel costs and to get to know the Samoan culture from a unique perspective (you'll soon see why). Busses in Samoa are essentially massive Toyota trucks that have seen better days since hitting the road a few decades ago. Colorfully decorated, sometimes 'gangsta style', drivers always blast pop remixes to some of your favorite tunes Samoan style… that is when the Christmas mix isn't playing in an endless loop. The most uncomfortable wooden benches that mankind could design line up the interior, with space underneath and in the aisles kept free for bags, groceries, and even cargo that might be loaded throughout the ride.
Aside from getting from point A to point B, taking the bus in Samoa will open your eyes to another aspect of Fa'a Samoa (the Samoan way). There's a seating arrangement that may seem invisible to you at first, but every Samoan is totally aware of it. Tourists and the elderly will always be given a seat on the front benches, no matter how crowded the bus is. If offered, do not refuse, simply say thank you (faafetai lava) and observe what's happening around you. As the bus fills up, Samoans will start to play 'musical chairs'. Children and even teenagers free up their seats in favor of those older than them, only to sit on their laps… Total strangers quietly sit on each other until either benches free up or it's time to get off – whichever comes first. It's incredible to witness how Samoans get along so well with each other!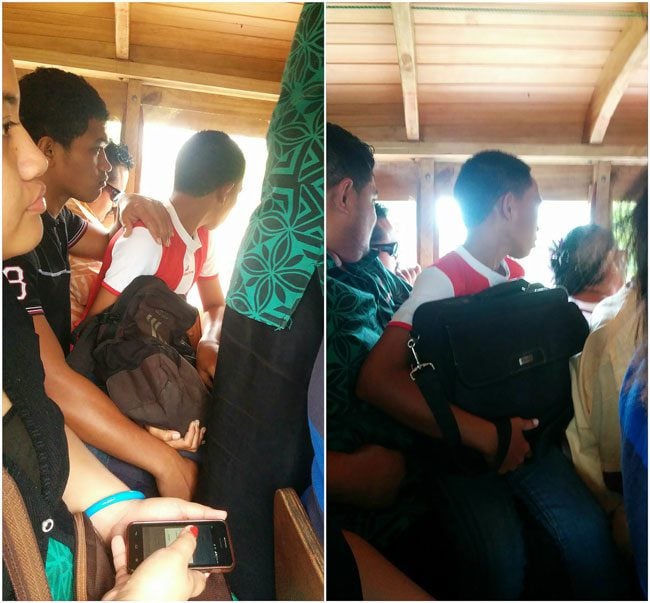 Each village has its own privately operated line, with the final destination clearly marked on the front of the bus (which may not mean much to you). You'll have to ask around which line to take and keep in mind that it is very difficult to get from one village to another without connecting first in Apia, as busses essentially connect a village to Apia (or Salelologa) and vice versa. There are 'central stations' in Apia and Salelologa, but you can just flag a bus from the main road and get off wherever you want. In fact, it's very common for the driver to stop along the way for gas and a bit of shopping in discount grocery shops. Locals know the drill, quickly disembarking and returning within minutes with groceries for the family anticipating their imminent return in the village.

There is somewhat of a bus schedule, though you'll need to be flexible and ask multiple sources in order to triangulate the information given to you. Buses run every day except Sunday, starting from very early in the morning until late afternoon/early evening. Payment is (obviously) cash only and exact change is not needed.
Renting A Car In Samoa
Renting a car in Samoa costs between T100-120 per day and less for periods of three days or more. You'll find car hire companies in Apia, Salelologa, the larger family-owned beach fales, in some hotels and resorts.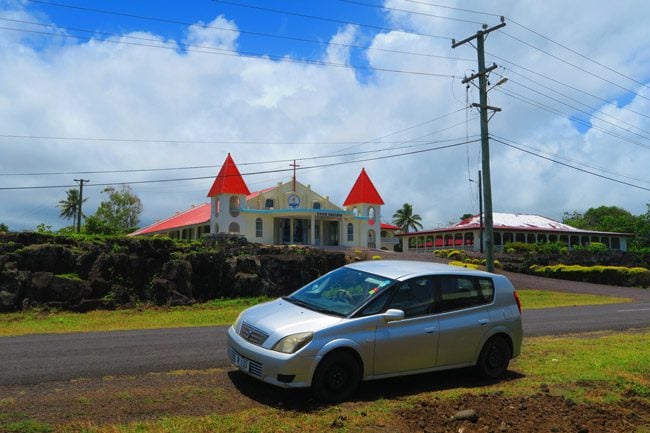 In Upolu, I rented from AA Rentals who offer well-maintained cars and great service. They dropped off and picked up the car in my Apia hotel free of charge, though charging a 5% fee for paying with a credit card. In Savaii, I rented from the Jet Over Hotel. They have economy cars starting at just T105 but those sell out fast.
Here are a few tips for renting a car in Samoa: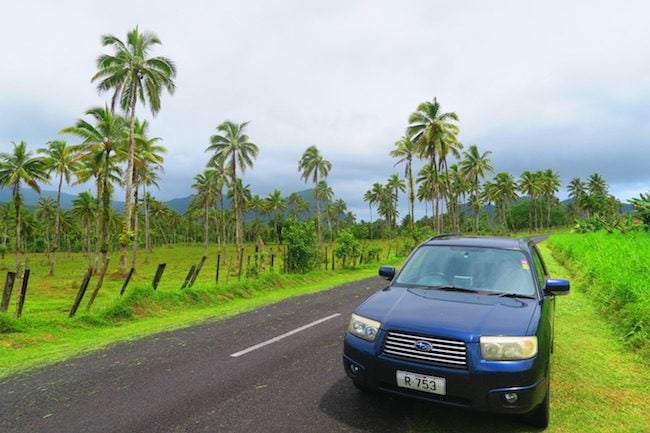 Some companies will require a cash bond instead of a credit card authorization (~T300). This is common practice and you will get your money back.
Driving is on the left side of the road in Samoa.
A 2WD will allow you to reach nearly all tourist highlights.
Inquire if the price includes extra insurance (it surprisingly might).
You must purchase a temporary local license for T21 to compliment your own driver's license. You'll get it when renting your car and will be asked to produce this document if stopped on a random police check (which happened to me).
While gasoline was inexpensive in Samoa at the time of my visit (less than $1.20 per liter), always gas up whenever you get the chance. Gas stations are sparsely spread around the islands and some of them may run out of gas.
Roads are usually in good condition but some parts might be unsealed and unmarked – so drive with extra care and don't go over the speed limit.
There aren't a whole lot of radio stations once you get out of Apia aside from the occasional Christian music station, so you might want to prep for that.
Hitchhiking & Cycling
Hitchhiking is not that common in Samoa but you will likely not wait very long as Samoans are very friendly people. I personally did not hitchhike but met quite a few backpackers who sporadically did.
Cycling is a great way to get around on small day trips and some beach fales might offer free bikes. If you're not venturing up into the mountains, roads are relatively flat. Remember to take plenty of water and don't forget to wear a hat. If you get too tired, just offer someone with a pickup truck a few Tala and dump your bike in the back. I did that when trying to visit three beaches in one day, which required cycling on dirt tracks from the main road down to the beach. By the third beach, I was completely exhausted.
Getting To American Samoa From Samoa
There are lots of daily (and inexpensive) flights connecting Apia and Pago Pago, departing from Fagali'i Airport on the outskirts of Apia. At the time of writing this guide, Polynesian Airlines was the only airline flying from Samoa to American Samoa, but this may change. There is a passenger ship connecting Apia and Pago Pago but you'll need to inquire about that locally. UPDATE: as of November 2017, Polynesian Airlines has been rebranded as Samoa Airways which also flies international routes from Samoa to/from Australia and New Zealand. The "brand" Polynesian Airlines may or may not be still in use and, as always, things constantly change when it comes to South Pacific aviation.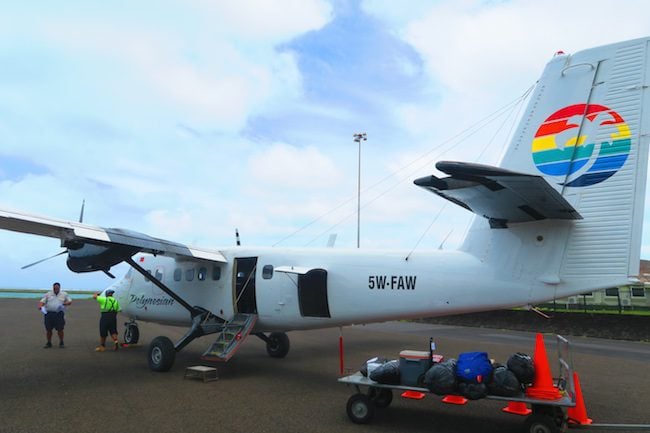 Mobile Phones In Samoa
At the time of writing this guide, Digicel and Vodafone were the current mobile operators in Samoa. When I visited Samoa, for ~T25 (Tala), I got the SIM card, along with 850 MB of mobile data valid for 14 days. I could then top up with phone credit. Over at Digicel, they wanted, at the time, T25 just for the SIM card, with any added credit valid for only 7 days. These packages likely changed but the moral of the story is – shop around!
Internet In Samoa
As in the Cook Islands, the concept of free wifi was unheard of in Samoa, at the time of my visit. You needed to connect to either a Lavaspot or Vodafone hotspot using a prepaid card. Hotspots are found in various hotels, beach fales, resorts and internet cafes on Upolu and Savaii. Before you purchase credit, check which provider has coverage where you'll be staying. Savaii is almost exclusively covered by Lavaspot, whereas Upolu is covered by both. Usage is measured in minutes, which is far better than by megabytes like in the Cook Islands (just remember to log off). So technically, you could do heavy-duty work without using too much credit – if the connection is good. Samoa should have better Internet coverage by now thanks to new undersea cables.
Sundays In Samoa
Samoans don't do much on Sunday and in some villages, the same will be expected of you. The day starts with church service (highly recommended), followed by a whole lot of eating with the extended family until the sun sets. Consider yourself lucky if invited to join a Samoan family for the Sunday routine, it's as authentic as it gets (I describe my own Sunday experience towards the end of this article). Some villages will request that you refrain from swimming, but that's only the case in absolute rural areas.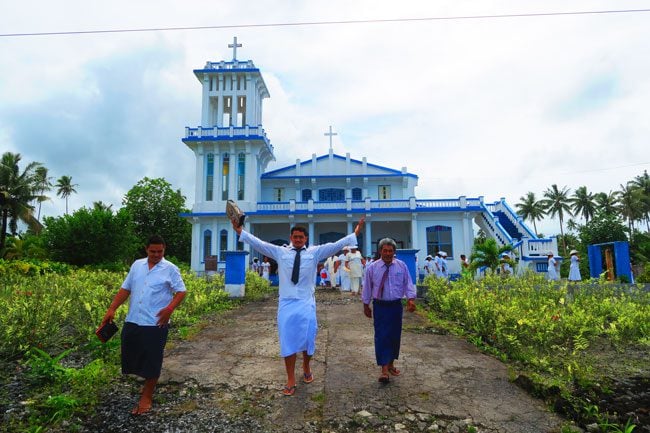 In resorts and popular beach fales, hosts will throw their own version of the Sunday feast, requiring a lot of post-lunch napping from your side. In any case, I highly recommend keeping the movement on Sunday to a minimum. There is no public transportation so you'll need to have your own car or hire an expensive taxi. 'Samoan time' is known to be out of sync with what you're used to from back home and… that's actually part of the charm! Airport shuttles do operate on Sunday in case you're wondering.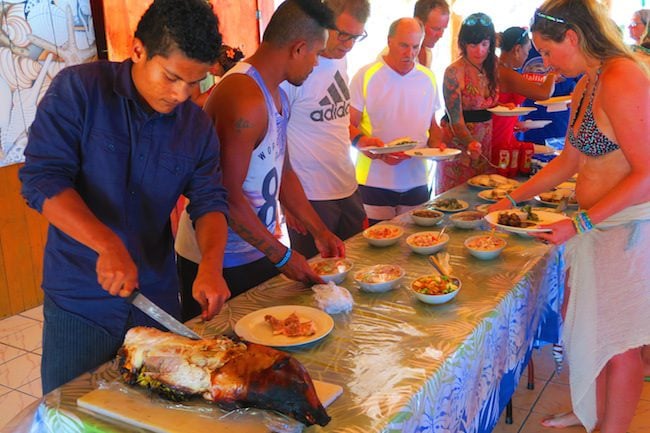 Samoan Village Protocol
As mentioned in the introduction, Samoa is a traditional country where family, church, and customs are pretty much all that matter. This is all part of Fa'a Samoa – the Samoan way, a 'code of conduct' which dictates everyday life. For tourists, this may all appear strange (and it is), but for Samoans, it's serious business. This is especially true in rural areas far from Apia, where your hosts might be more traditional than others. Here's how you can respect the Samoan way, but in any case – just ask when you check-in: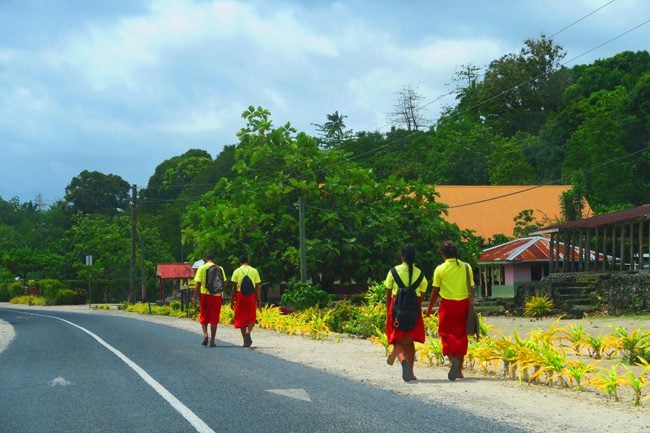 Honor the local village customs if the evening prayer curfew is observed (this is called s'a). This might mean staying indoors between 6-7 pm until you hear the 'all clear' sound.
Take it extra slow on Sunday.
No topless sunbathing and cover yourself when entering the village (t-shirt and sarong are fine).
Pack 'nice' clothes if planning to attend Sunday church service: skirt or dress for women and long pants for men.
When sitting inside a fale with locals, avoid pointing your feet at others.
Always ask permission before taking photos of locals and inside villages. You'll find that Samoans love to have their picture taken if only asked.
Entrance Fees In Samoa
Just like the internet, nature ain't free in Samoa! Do not be alarmed if you're stopped by a local en route to a beach, waterfall or mountain vista. Since most of the land in Samoa is privately owned by villages, so are its natural landmarks. This is quite an important source of income for villages and they can set the price as they wish. Be prepared to pay entrance fees almost everywhere, calculated on a per person or type of vehicle basis. Anything from T5-10 is reasonable. For anything above that, think twice if it's really worth the price of admission.
Food In Samoa
To go along with its traditional vibe, the Samoan cuisine is authentically Polynesian. But that's not necessarily a good thing for weight watchers, as Samoan food is very (very) fattening and thus, Samoans are quite large folks. If they're not deep frying, Samoans stick to traditional recipes, with food often cooked in an earth oven called umu. While in Apia you'll find plenty of international culinary choices, outside the capital it's a different story.
Don't expect to find roadside stalls overflowing with fresh fruits, vegetables, and coconut water like in French Polynesia. In fact, the island's fresh produce can unfortunately only be purchased in large supermarkets and food markets in the major cities. Village shops will only have packaged food without much selection (I hope you're not allergic to peanuts). Here's what you'll likely find: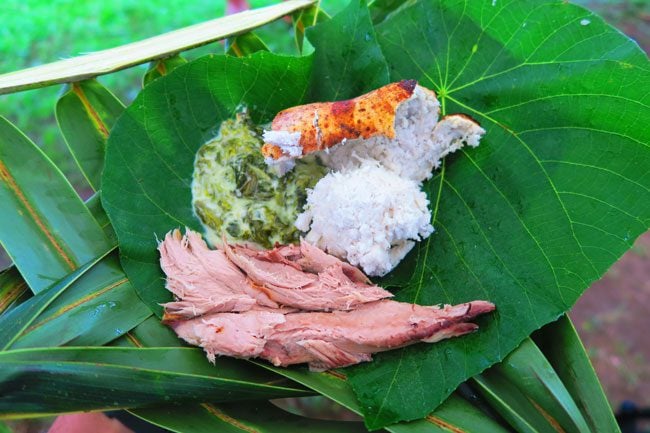 Palusami: an irresistible local dish of boiled taro leaves in coconut cream
Taro: an essential South Pacific staple crop that grows in the ground like a giant carrot
Breadfruit: a typical crop that grows on trees and boiled or fried like French fries
Koko Samoa: a drink made of a thick mix of rice and cacao
Oka I'a: a delicious dish of raw fish (usually tuna) marinated in lime and coconut milk, known as ikamata in the Cook Islands and poisson cru in French Polynesia. Here's the recipe.
Samoan chicken: a brothy soup with chunks of bony chicken
Fish & seafood: readily available in Apia but outside will vary greatly on the season and the mood of the fishermen
Palolo Worms
The caviar of the South Pacific magically appears like clockwork, a week after the full moon in October and/or November. The Palolo Worms gently rise from the shallow reef to the surface, where local parties eagerly await with large nets to collect the prized trophy. When I visited Samoa and American Samoa, I always seemed to arrive a few days after the worms had risen. They don't appear on all beaches and some years are better than others. It's best to inquire with the locals, who will happily allow you to join them if the timing is right.
Scuba Diving In Samoa
The best place for scuba diving in Samoa is currently in Manase on Savaii Island. Dive Savaii will take you on a two-tank dive including equipment for about T270. Expect to see hard coral, stingrays, sea turtles, and small surprises. Sharks are not as common as in the Cook Islands or French Polynesia. See the 'things to do' in the Savaii section of this Samoa Travel Guide for more information.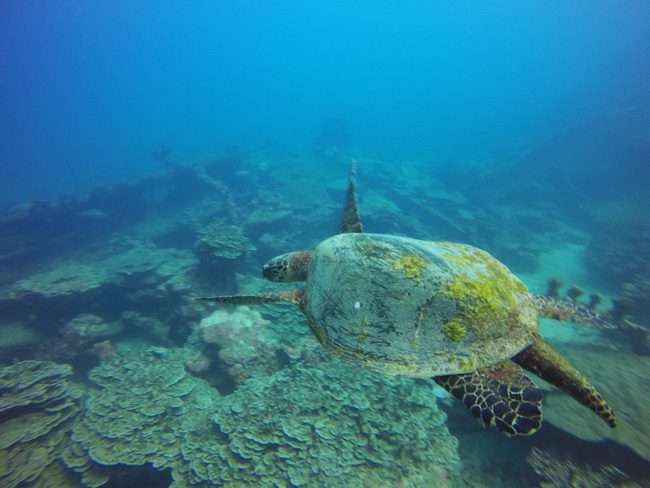 Safety Tips For Samoa
Samoa is a friendly and safe destination, where most of the dangers are from mother nature and not the Samoans themselves. Here are a few tips for staying safe in Samoa: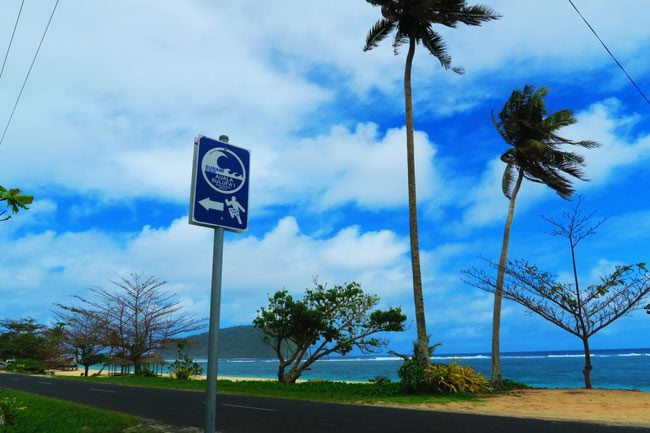 Drinking water: despite fresh water cascading from waterfalls, you must drink bottled or filtered water in Samoa. Do not gamble with this and do not be tempted to drink the water from fresh pools. I've met quite a few tourists who got sick from this!
Theft: rare but can happen, especially at the beach or in beach huts. I recommend to seal your valuables in your bag and fix the bag onto a pole using metal wire and an additional lock. If driving, don't leave any valuables visible in a parked car.
Driving: remember to drive on the left and be careful with sections of the road that are not sealed. While unmarked, these sections can be extremely slippery if you're ever so slightly exceeding the speed limit.
Tsunamis: Samoa was struck by a powerful tsunami in 2009 which devastated Upolu's southeast coast. You will see tsunami evacuation signs throughout the country and it's not uncommon for drills to take place during the early morning hours. Your hosts, unfortunately, may not inform you of this so it's best to just get up and follow the crowds.
Cyclones: rare but can happen between November to April and obviously not pleasant to be around. Samoa is inside the South Pacific's cyclone hotspot.
Hiking: nearly all hikes in Samoa should be attempted with a local guide. Hiking is hardly a common Samoan activity and trails are rarely marked.
Dogs: almost every home has at least a pair of nasty looking dogs. If you see a pack of dogs coming to check you out, just walk away quickly and with confidence. Threatening with a rock or a coconut branch can help solve the issue quickly.
Travel Insurance
Like with any trip, make sure that you are covered with sufficient travel insurance. World Nomads offer excellent coverage and value for money. Aside from the usual lost luggage and medical coverage, I would recommend the following areas to consider:
Diving

: if you'll be diving, you must have special insurance coverage in case of an accident. Most diving centers will have some insurance included in the cost of diving. However, you never know what it does or does not include – so it's best to have your own.

Flights

: in this remote part of the world, things

can

go wrong, so it's best to have special travel insurance that covers the costs of missing a connecting flight or a hotel reservation.

Lost or Stolen electronics

: if you're carrying a laptop, camera, GoPro, etc. – consider purchasing insurance in case those are lost or stolen.
What To Buy In Samoa?
Aside from the usual island fashions, sarongs, wood carvings, and shell necklaces – I highly recommend buying siapo in Samoa (also known as tapa cloth). In a long, difficult, and manual process – slices of mulberry tree bark are pounded to create a cloth-like canvas where sea turtles and beautiful Polynesian patterns are hand-painted. The best place to buy siapo is actually in the Samoa Cultural Village in Apia, where you can buy directly from the artist starting at just T20.
Samoa is also the best place in the South Pacific for a Polynesian tattoo. The traditional method of painfully and manually tapping the tattoo onto the skin is probably not for the regular tourist (and will take up a lot of time), but nonetheless, finding a good artist using modern tools should be a breeze in Apia. Here's a good article about souvenirs and shopping in Samoa.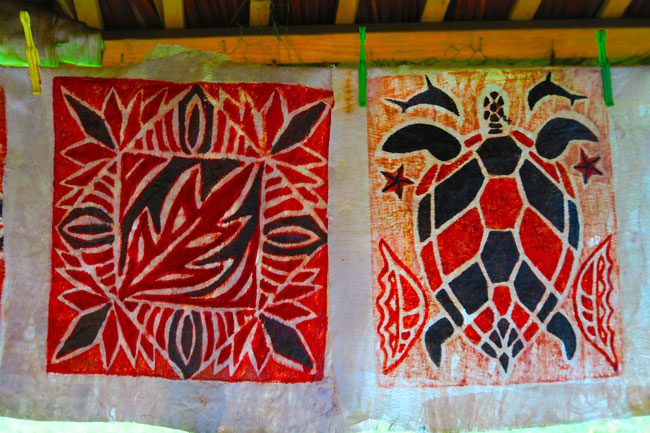 How To Save On Costs In Samoa?
Here are some ways to reduce your travel costs in Samoa:
Stay at beach fales where breakfast and dinner are included

Use the bus to get around the islands

With entrance fees the norm, carefully choose what's worth paying for (beaches, waterfalls, etc.)

Seek

volunteering opportunities

to exchange your time for free accommodation & meals