Top 10 Things To Do In Bangkok
It might be smoggy, chaotic and always congested – but Thailand's capital city is loaded with charm. It's a city where beautiful temples lie at every street corner, a city where amazing street food is always within a 2-minute walk, and a city that always pushes your senses to their limit. So before you hop on that bus or flight to the islands, here's a list of the top things to do in Bangkok. Sawadika!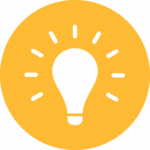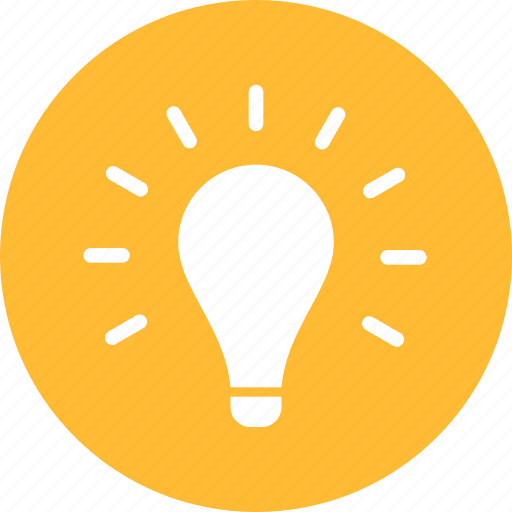 Pro Tip
Planning a trip to Thailand? Get started with this sample itinerary for spending 2 weeks or less in Thailand.
10. Count the Colors at the Flower Market
After your first visit to a Bangkok temple, you'll realize that flowers are a big deal around this part of the world. There's no better place to see and smell flowers in colors you didn't even know existed – than in the main Flower Market near Chinatown. Best visited in the early morning hours, the market is always busy with families preparing flower bouquets and large bags filled with petals to be sold by the bulk. An added bonus is the fruit and vegetable section in the back, where ginger is manually peeled and where mountains of parsley are weighed the old fashion way on metal scales.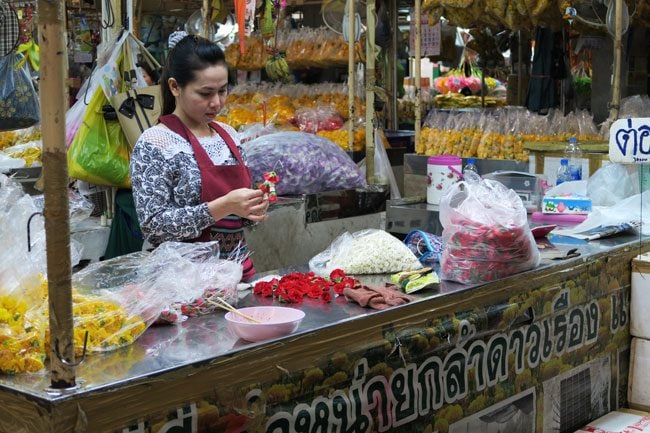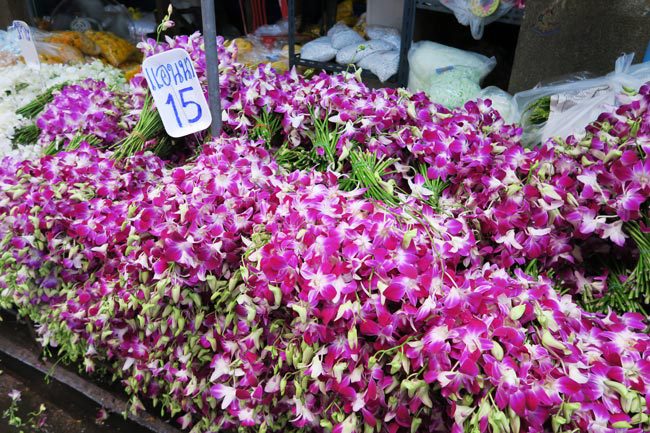 9. Cocktails and Views at the Sky Bar
For a rare breath of fresh air and some seriously awesome views of Bangkok's skyline, slip out of those baggy 'Thailand pants' into something nice and head to the Sky Bar. Of all the rooftop bars in Bangkok, this is the most impressive one. The panoramic views are breathtaking, the killer cocktails hit the spot, and everyone gets to feel like a celebrity for just a few hours. Heck, from 250 meters above ground – even Bangkok looks like a peaceful city.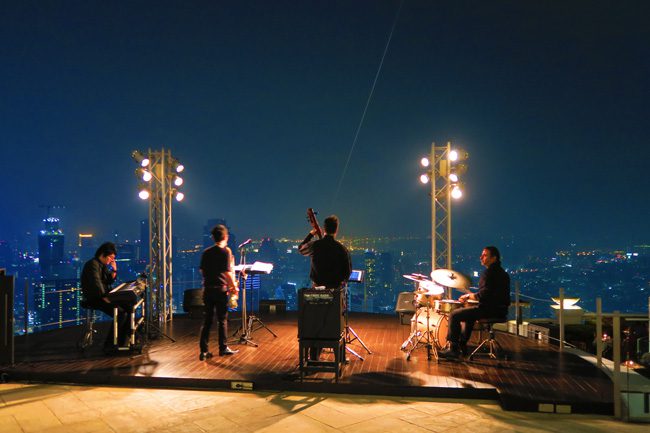 8. Over-Water Shopping in the Floating Markets
If Roger Moore is your favorite Bond (he is the best one without a doubt), then you should already be somewhat familiar with Bangkok's floating markets. The Thonburi district east of the Chao Phraya River is scattered with exotic markets where the action takes place above the water. Some have lost their local charm in the wake of Bond-related tourism, but the harder to reach floating markets are well worth the effort.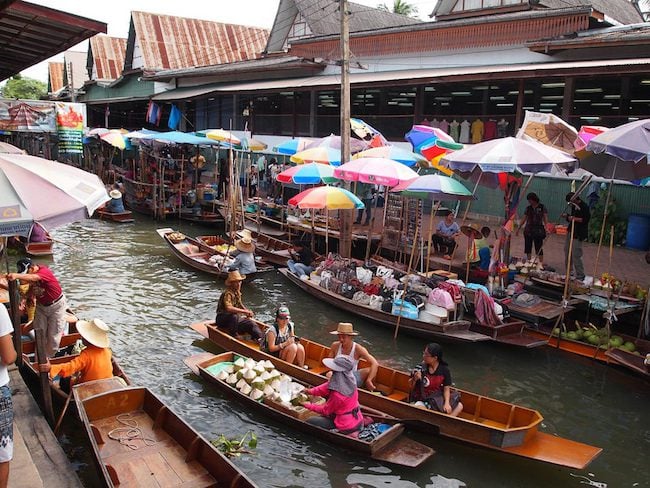 7. Climb Wat Arun
The competition over the title of 'best temple in Bangkok' is a mighty hard one with hundreds of worthy competitors. However, Wat Arun – also known as the Temple of Dawn – has a trick up its sleeve. The temple's signature feature is its 81-meter prang – a tall tower-like spire that is richly carved and intricately decorated. Bonus points are awarded to this temple because you can actually scale the spire to inspect from up close the impressive craftsmanship and enjoy panoramic – if not smoggy – views of Bangkok's famous Rattanakosin District.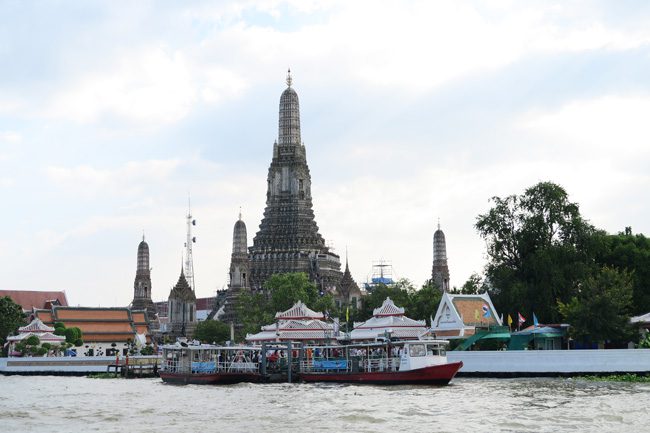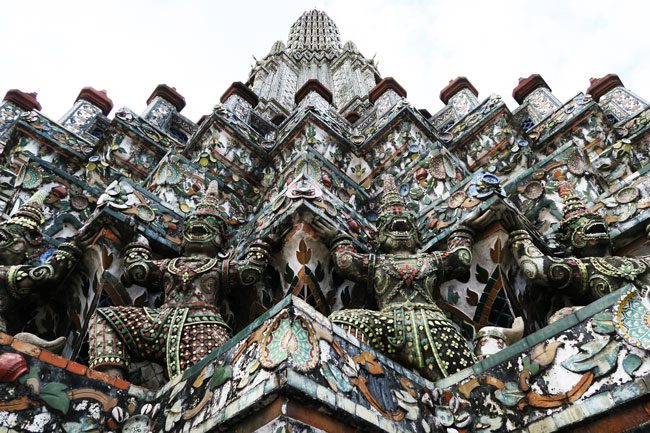 6. Getting Lost in Chinatown
San Francisco's Chinatown might be regarded as the prettiest one outside of China, but in my view, nothing beats the size and chaos of Chinatown in Bangkok. It's a confusing maze of narrow alleys intersected by busy thoroughfares, challenging even the most skilled urban navigators. As you're trying to catch your bearings, you realize that every little stall you pass is like its own little world, with different scenes taking place in each one. Even if you're not on the hunt for some herbal medicine or gold jewelry – Bangkok's Chinatown is an exciting place to sample delicious food. Don't know a good (or sanitary) place? Just ask a local as we did, and they might draw a treasure map leading you to the best (and safest) street food in the area!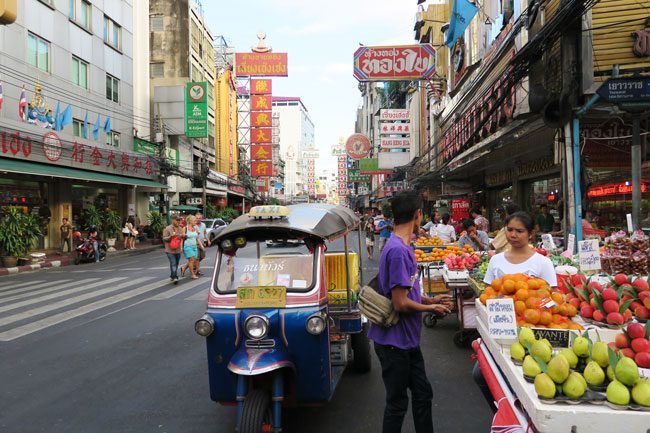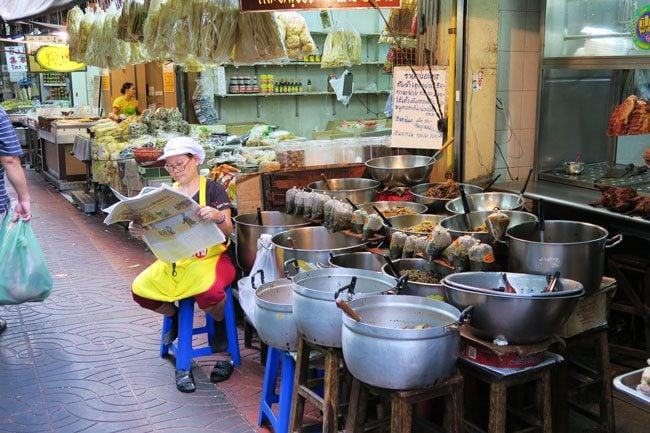 5. Chill With the Reclining Buddha
The oldest temple in Bangkok is also where you'll find this super relaxed Buddha. Over at Wat Pho, a giant 45-meter long gold-painted Buddha is leisurely lying down in a complete state of Nirvana. For an extra measure of good luck and longevity, drop a coin into 108 bowls that extend the length of the Buddha. This temple is so chill that they even have a massage school on the property – a perfect opportunity to relax after a long day of temple-hopping in Bangkok!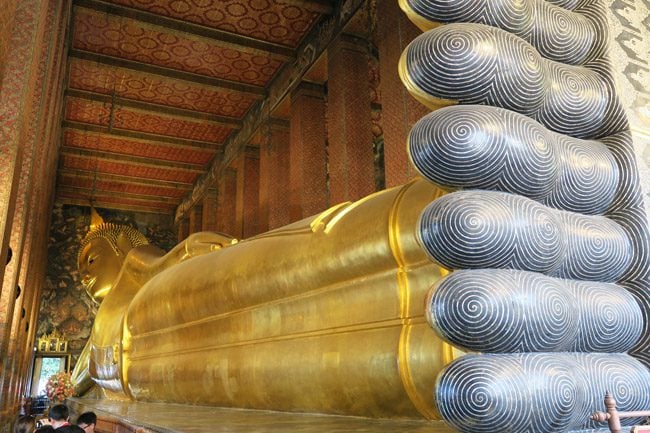 4. Buy Souvenirs By the Bulk at Chatuchak Market
A visit to the largest and best market in Bangkok must be timed to coincide with the weekend. Brace yourself as you carefully map your preferred route of exploration. After all, Chatuchak is kind of like the Louvre Museum in Paris – you can't see everything in one visit. You can find absolutely everything here, and if it's souvenirs by the bulk you're in need of – this is the right place! Aside from shopping, there's, of course, an incredible selection of food and drink. In fact, when the shops wrap up in the early evening hours, the open-air spaces become one giant street food market!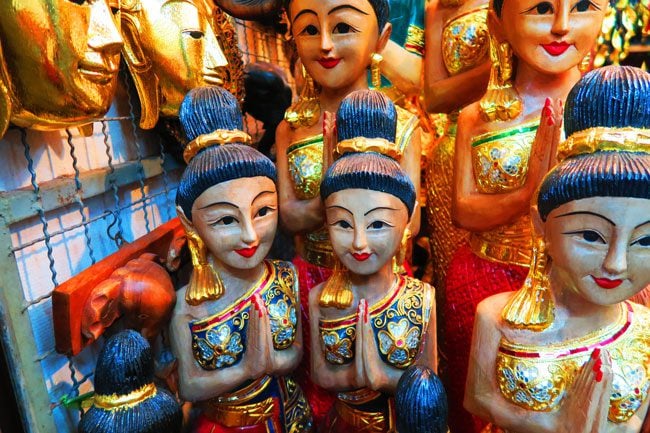 3. Search for DiCaprio in Khao San Road
Before he found that secret map to 'the beach' (horrible film but a must prior to a trip to Thailand), Leonardo DiCaprio started his Bangkok adventure like every other backpacker – somewhere around the Khao San Road. During the day, the road is buzzing with discount bazaars, tour operators, and cafes, while at night it's the food and nightlife scenes that take over. Though it can be a bit overwhelming for some, strolling around Khao San at night is definitely a 'right of passage' that every first-time visitor to Bangkok must pass.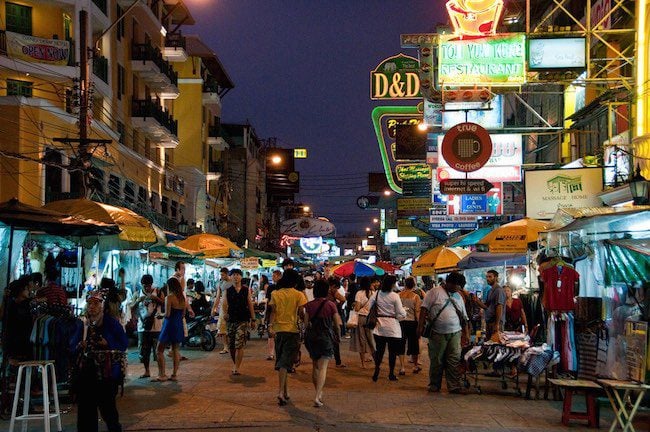 2. Visit a Parallel Universe at the Grand Palace
Wow! This place simply cannot be real. The huge complex known as The Grand Palace is the top attraction in Bangkok and as such – draws thousands of visitors every day. But it's just so enchanting out here that you'll quickly forget about the never-ending crowds. I mean, look at this place. The complex served as the residence of the King of Siam from 1782 until 1925. The King put a lot of emphasis on the decor and by the looks of things – his favorite color was definitely gold. The Grand Palace is also the seat of the Temple of the Emerald Buddha – one of the holiest shrines in Thailand. Sitting comfortably atop a 9-meter high pedestal, this particular Buddha is believed to be centuries old – exchanging many hands and carrying out countless miracles until its long journey across Southeast Asia ended at its permanent home in this temple.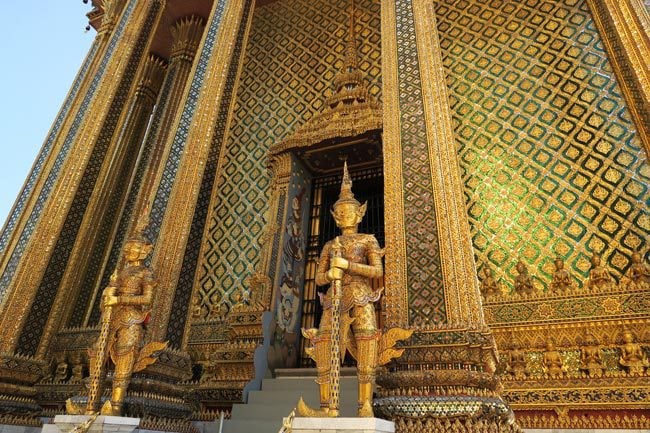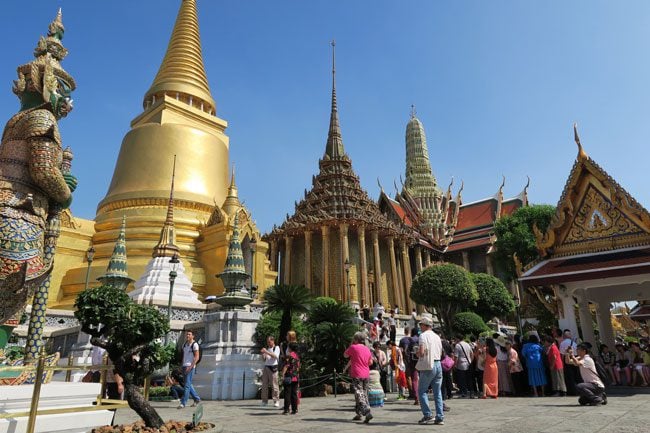 1. Time Travel in Ayutthaya
A day trip from Bangkok to the ancient capital of Thailand and UNESCO World Heritage Site easily tops our list. Built on an island surrounded by rivers and ancient walls, Ayutthaya was the seat of power until things moved downriver to the Grand Palace in Bangkok. Rising from this vast complex are the remains of beautiful ancient temples, one reclining Buddha and a mysterious head wedged deeply inside a tree trunk.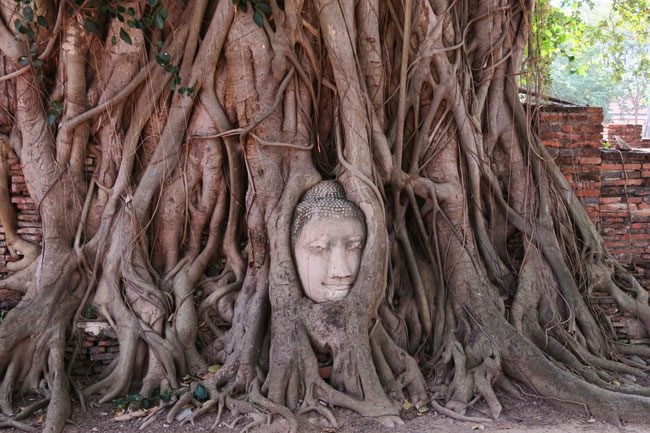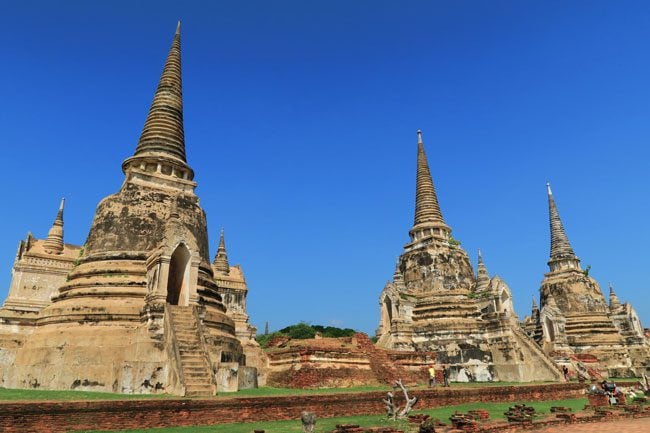 But it's not only the beauty of the place that awards Ayutthaya the top prize on our list but also the way visitors can explore it. All you need is a rusty beach bicycle to hop from one temple to another. The ancient city is so big that you'll easily find your own spot to admire its brick skyline or just stare at the clouds. If you're really feeling lazy, you can always try your luck riding one of the elephants!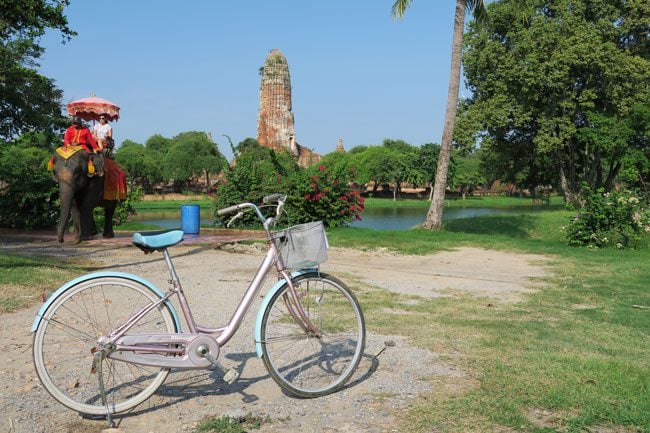 Now It's Your Turn
Though it's really the tip of the iceberg, this wraps up my list of the top things to do in Bangkok. You'll either love it or hate but in any case, have to pass through it. So here's my tip: embrace the mess and look for the charm that is always around you in Bangkok. Have you been to Bangkok and have your own favorite spots? Do you have any questions about this list? Leave a comment below and let's get the conversation started. Ready to visit Bangkok? Here's an itinerary for 2 weeks in Thailand including Bangkok and the beaches!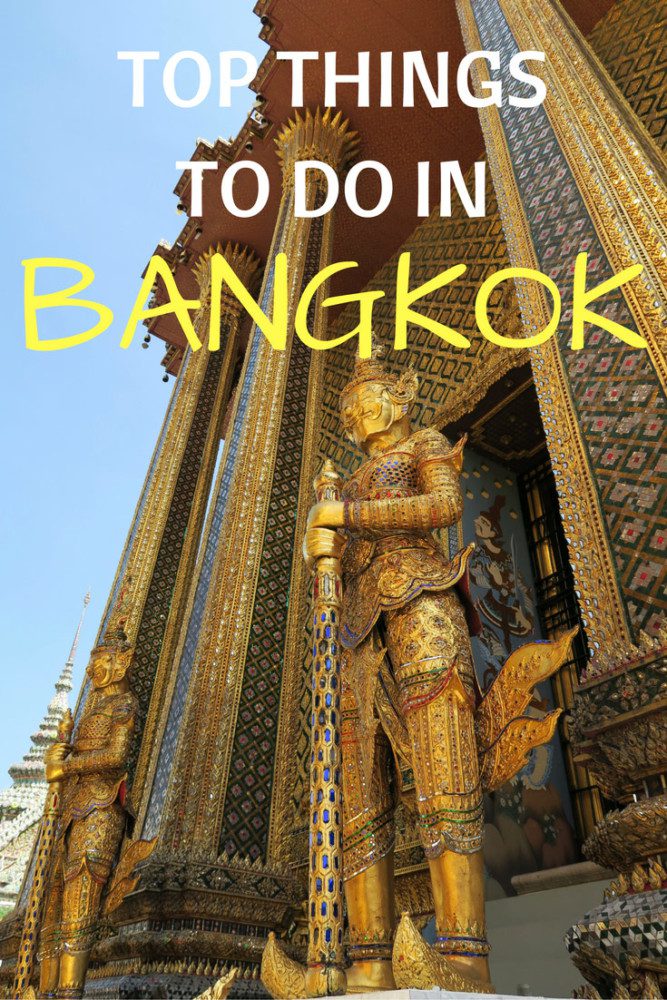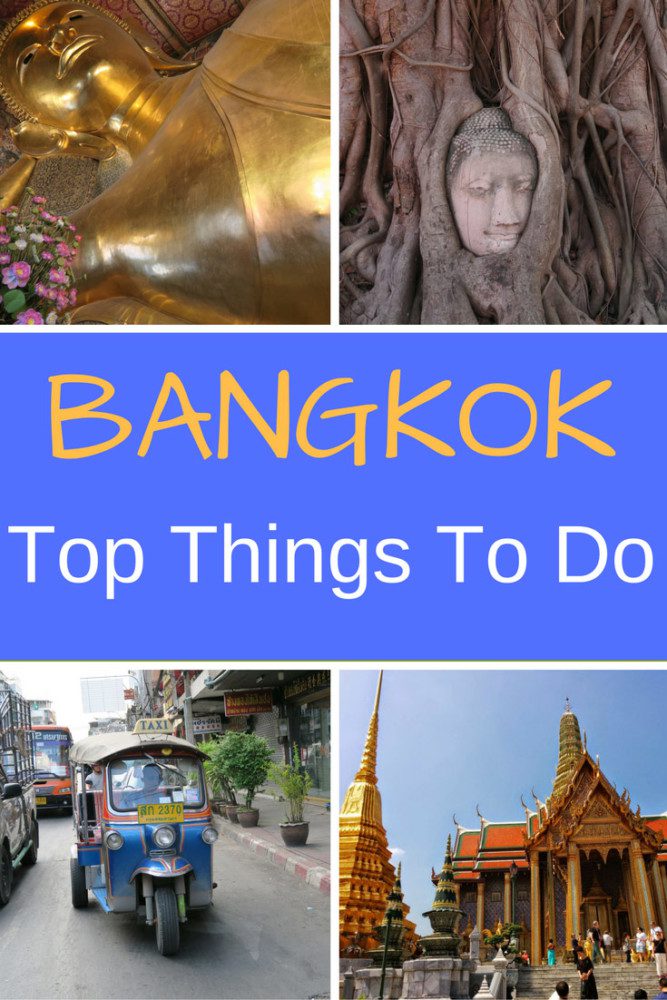 Pin These Photos To Your Favorite Boards!