Surrounded by granite cliffs aiming for the sky, giant sequoia groves, and remarkable tranquility, Yosemite's natural beauty is hard to sum up in words. Home to one of the most stunning valleys on Earth and dozens of other temptations, including over 800 miles of hiking trails, a visit to Yosemite is simply a must. This Yosemite travel guide will help you get started with planning your trip to the national park.
I first visited Yosemite on a family trip back in the mid-90s and recently returned to thoroughly explore the national park. I spent five days driving and hiking in Yosemite as part of a long road trip in the American Southwest. This Yosemite travel guide is based on extensive research and experience.
Why Visit Yosemite?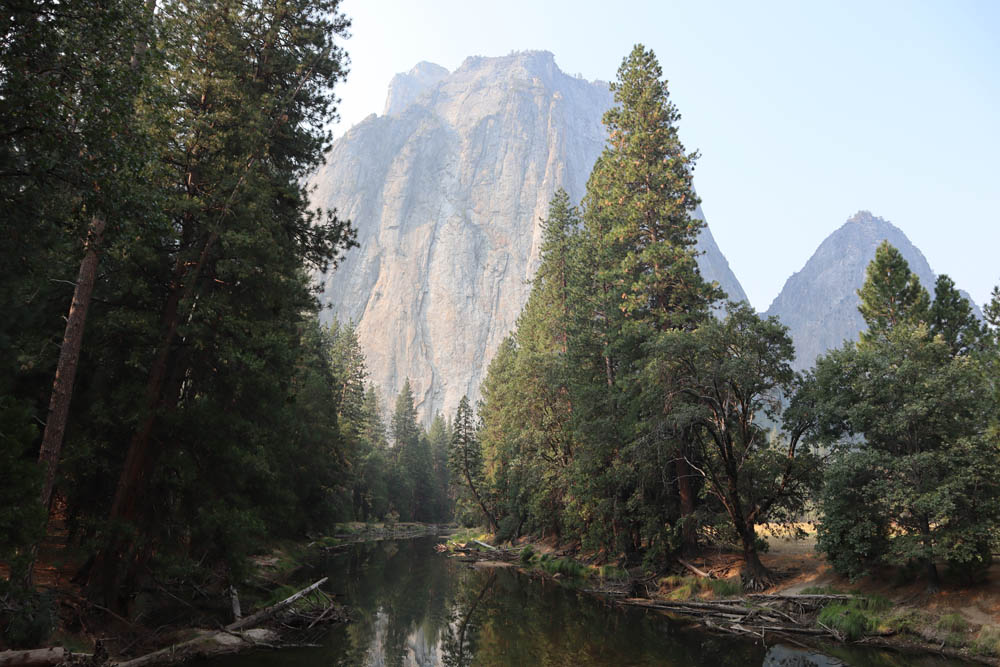 Yosemite Valley
One of the world's most dramatic natural landscapes, Yosemite Valley is striking from every angle and at every hour of the day. The valley's grassy meadow appears detached from the outside world by tall granite cliffs, some of which are tearing with waterfalls.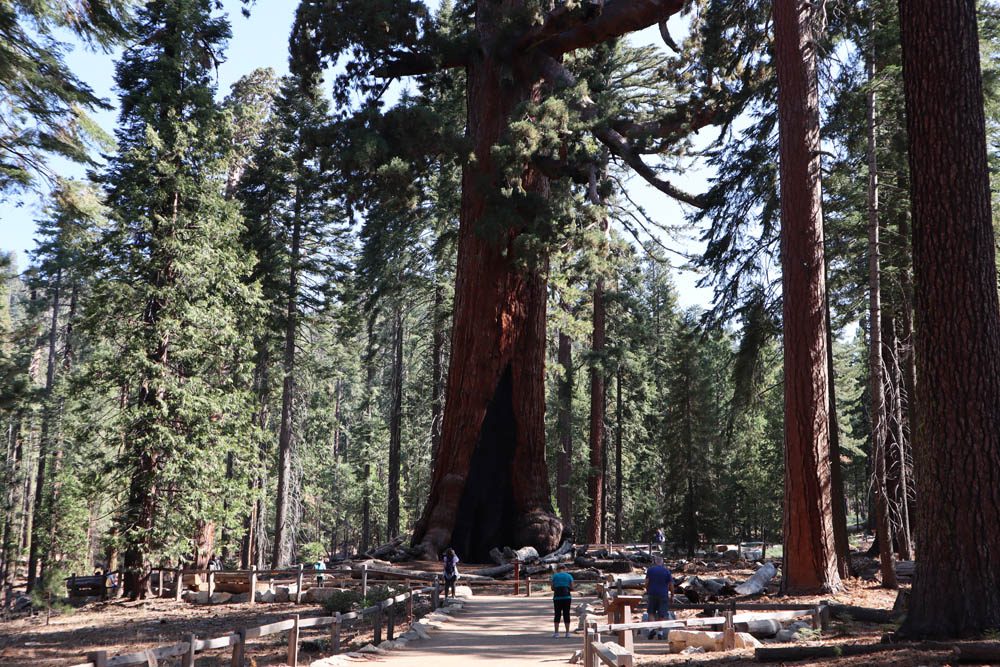 Giant Sequoias
At the edges of the national park, groves of giant sequoia trees have been aiming for the sky for thousands of years. Walking amongst these ancient giants helps put life in perspective.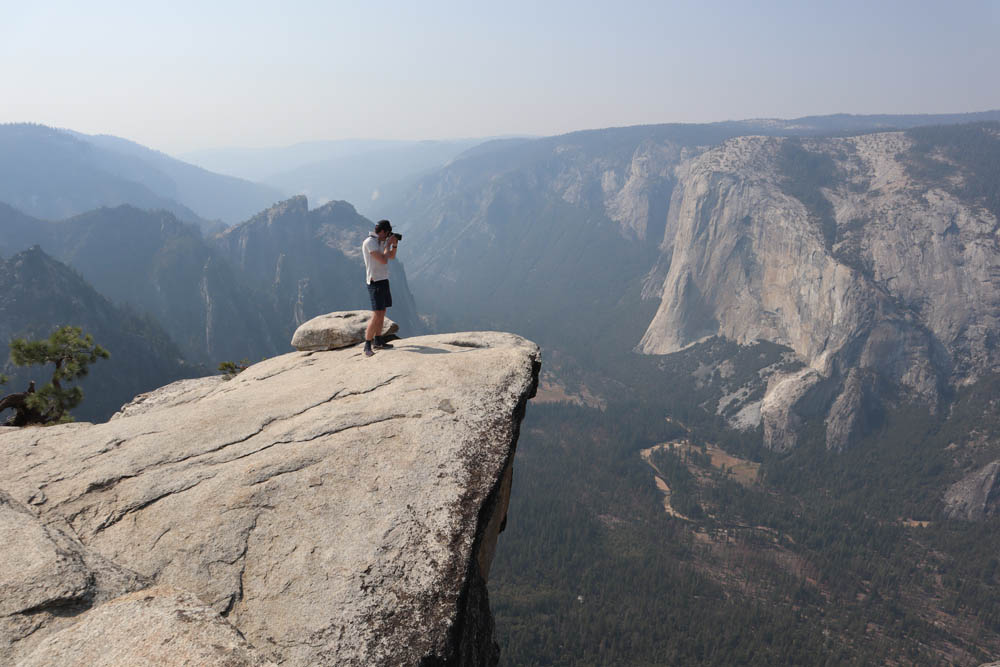 Superb Hiking
Whether you're visiting Yosemite for the day or staying overnight, the park's vast network of walking and hiking trails beckons visitors to put on their outdoor shoes and explore Yosemite on foot.
What's Included in this Yosemite Travel Guide?
Several sections make up this Yosemite travel guide:
Yosemite background and travel guide companion map
Additional Yosemite Resources
Check out the Yosemite travel guide collection for additional information, including one-day, two-day, and three-day Yosemite itineraries, the best hikes, and top things to do.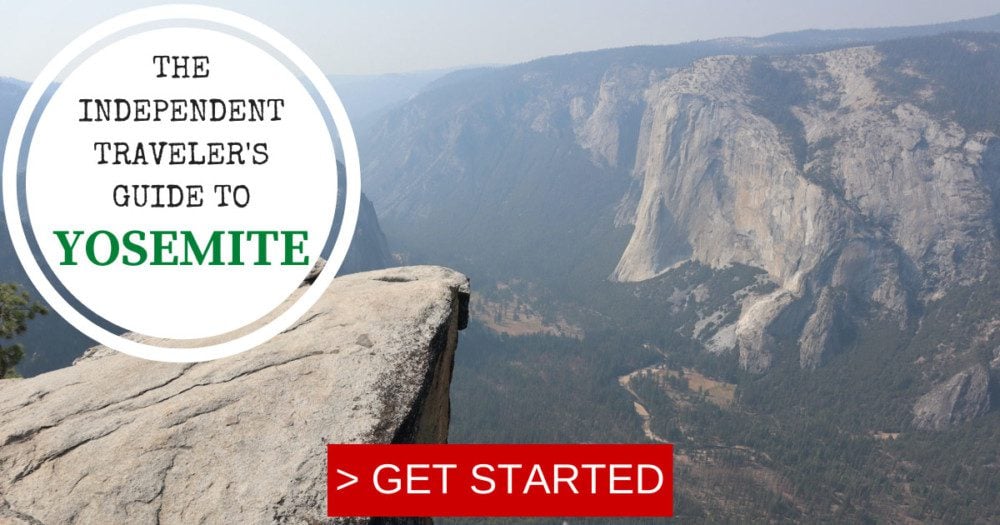 Yosemite Travel Guide Map
All places mentioned in this Yosemite travel guide can be found on this companion map. Simply click on the image to open it in Google Maps.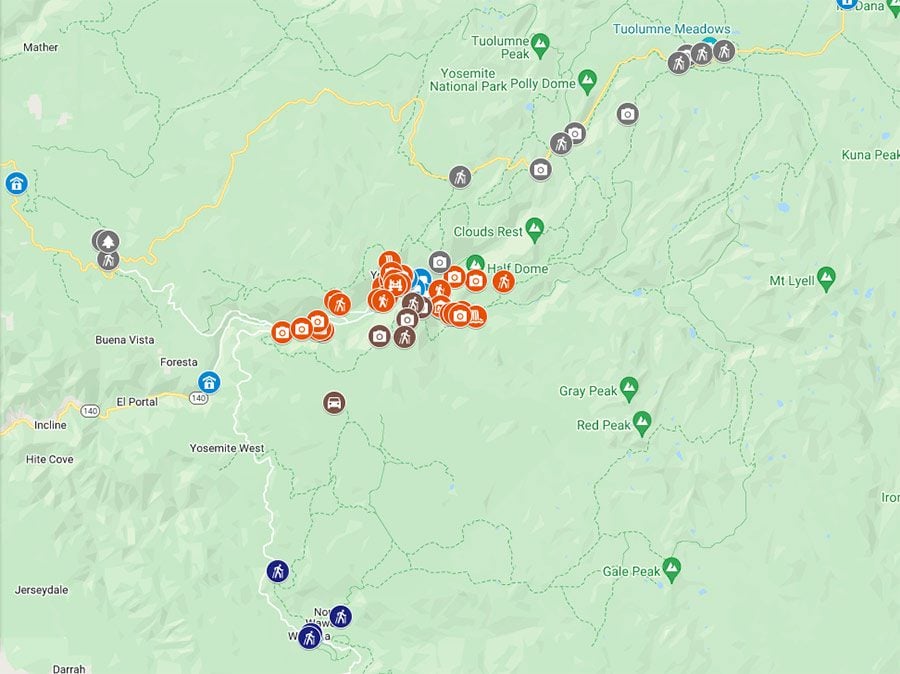 Yosemite Background
Yosemite National Park covers an extensive area in the high Sierra Nevada measuring over 1,000 square miles (over 3,000 km2 ). Together with the low-lying Yosemite Valley, the park's high elevation meadows and peaks combine to create a highly diverse natural environment where over 400 species of living organisms are found, including giant sequoias over 2,000 years old. Apart from the rich plant and animal life, Yosemite is well known for its skyscraper-like granite cliffs, sculpted by the elements into craggy peaks and smooth domes.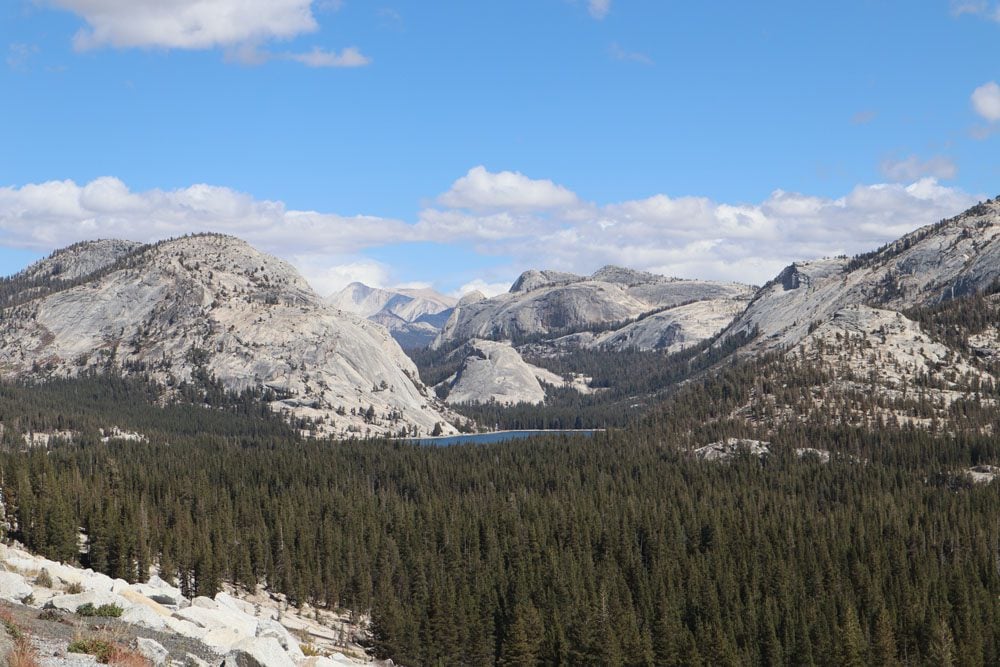 The Yosemite we see today is owed to geological activity that began about 10 million years ago when the Sierra Nevada range was uplifted. This activity increased the steepness of existing rivers, whose now stronger flow created deep canyons. Snow and ice began to accumulate at high elevations about one million years ago. During its melting process, ice slowly moved to lower elevations while deepening the canyons. The force of the melting ice pushing against the rock chipped the granite wherever it could and polished it in the process, creating the majestic U-shaped Yosemite Valley.
Yosemite Valley was first settled by Native Americans over 6,000 years ago. They referred to the valley as "Ahwahnee", loosely meaning "place of gaping mouth". The flowing Merced River, the valley's moist meadow, and black oak trees provided food for bears and deer that we still see today. In 1848, gold rush seekers and settlers began to arrive in the San Joaquin Valley, followed by raids by the valley's native residents on their camps. In response, the army was sent to drive the natives out in 1851, becoming the first white men to see Yosemite Valley.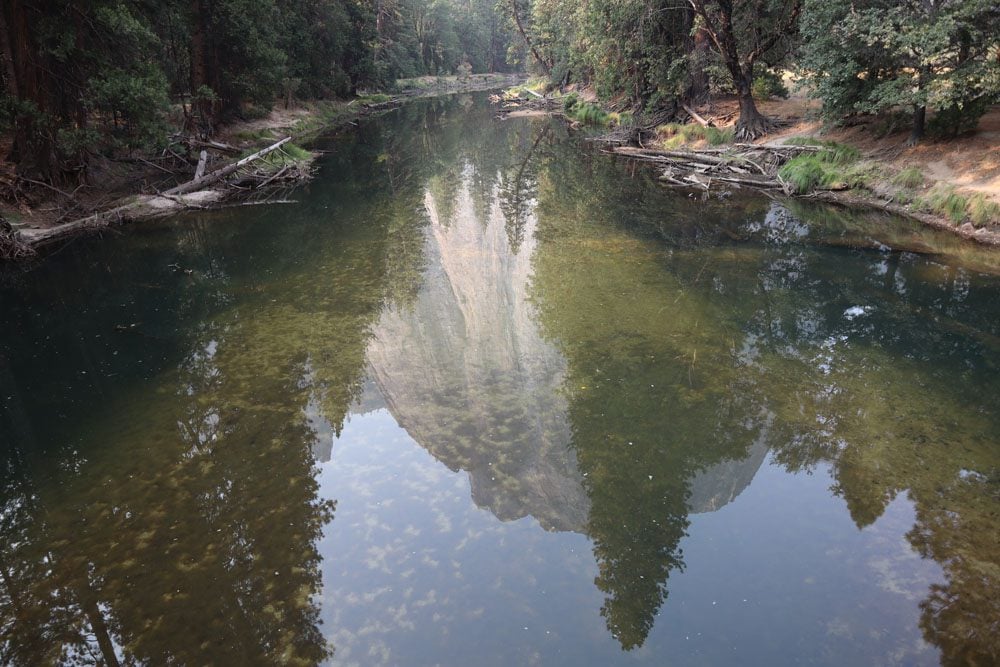 Word of the beautiful valley soon began to spread, attracting the first tourists to Yosemite Valley as early as 1855. Soon after, conservationists began to advocate for the protection of the area, the most famous of which was John Muir. in 1864, President Lincoln designated Yosemite Valley and Mariposa Grove as a forest reserve, handing over their management to the state. Following additional lobbying for the protection of the area above the valley, Congress set aside additional land for protection in 1890. In 1906, President Roosevelt took the next step and Yosemite finally gained national park status. In 1984 Yosemite was recognized as a World Heritage Site by UNESCO.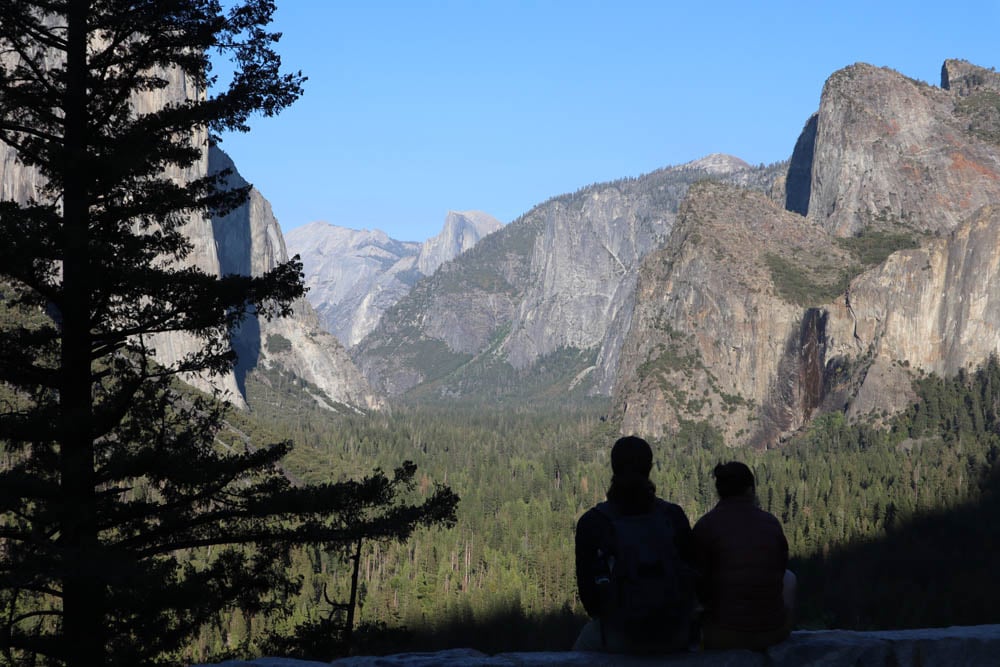 Today, Yosemite is one of America's most popular national parks, with over five million annual visitors in record years and even over two million visitors in 2020 when the COVID epidemic was restricting movement. This growing popularity forces the National Park Service to constantly optimize operations to both preserve the natural environment and enable visitors to enjoy their stay.
Yosemite Travel Tips
Listed in this section are essential tips for planning a successful visit to Yosemite National Park.
When is the Best Time to Visit Yosemite?
The best time to visit Yosemite is during spring and early fall when the temperature is pleasant and rainfall is infrequent. However, spring does have an edge over fall. Here's a breakdown of what to expect at Yosemite every season.
Winter: Yosemite's high elevation areas are prone to snowstorms and road closures. Tioga Road is closed from November to May and Glacier Point Road opens depending on road conditions. Even down in Yosemite Valley, nights will be freezing cold. On the plus side, Yosemite does transform into a winter wonderland and many activities such as skiing in Badger Pass, cross-country skiing trips, and ice skating are possible. Naturally, visitor numbers plummet and so do accommodation prices, though not all lodgings and park services are open.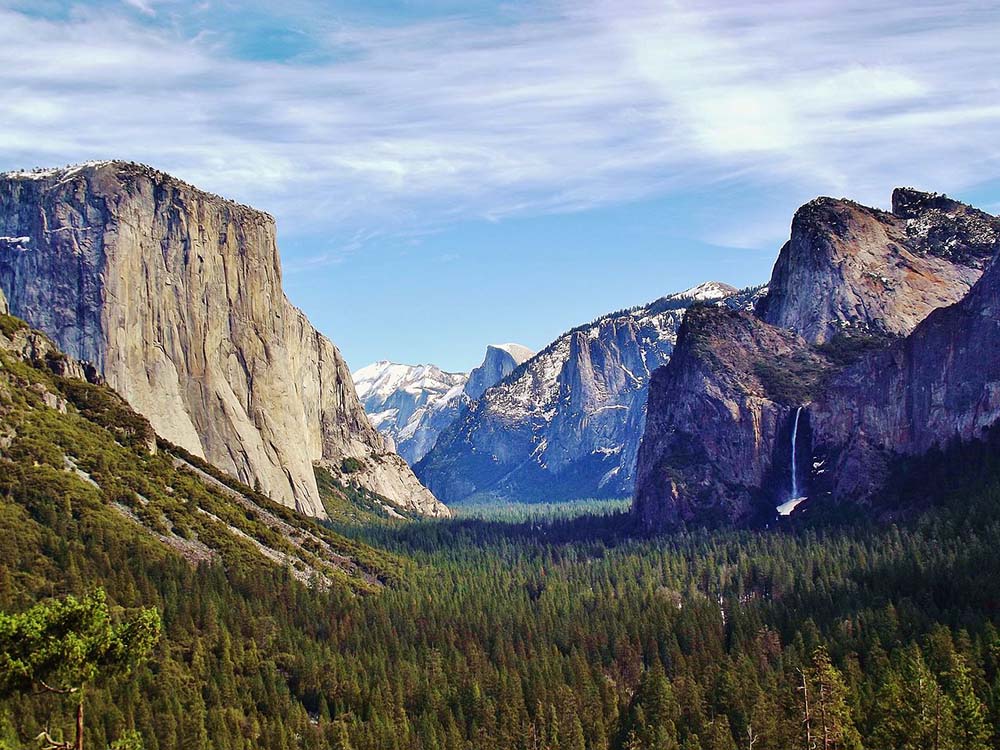 Spring: the melting snow brings Yosemite Valley's waterfalls into full power, along with a strong flow in the Merced River. The valley floor is painted green and dotted with blooming flowers. This is a great time to visit Yosemite, especially towards the end of spring when all roads, trails, and park facilities open for the season.
Summer: it gets really hot in Yosemite Valley and wildfires are unfortunately becoming quite frequent in the Sierra Nevada. Summer months drive park visitation to its peak, while its waterfalls run dry and the Merced River slows down to a trickle. However, the days are very long, there's little chance of rain, and hiking in Yosemite's high ground is very pleasant.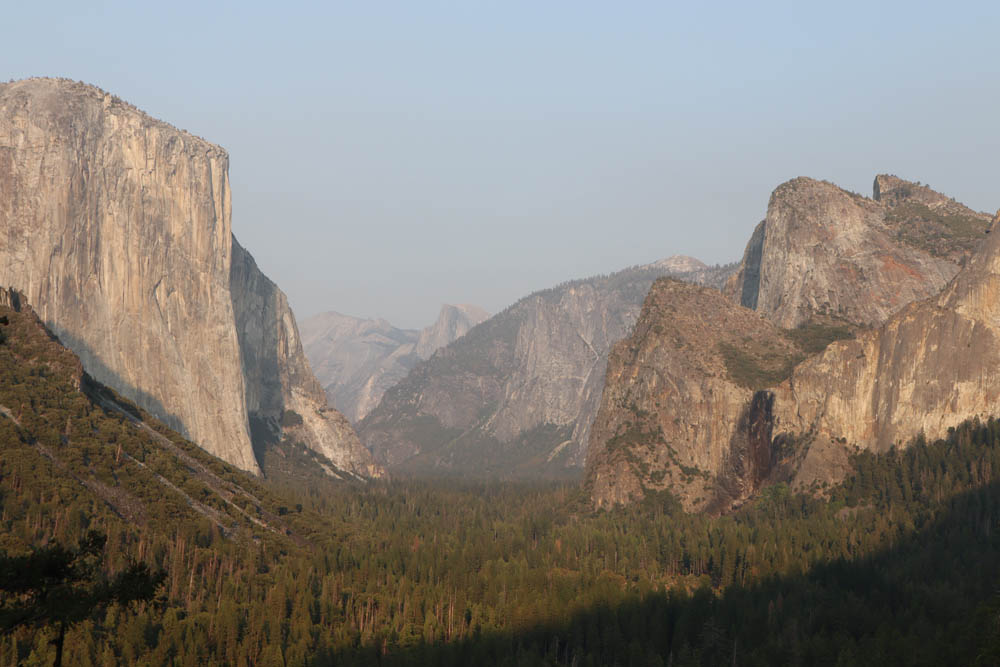 Fall: especially towards the end of fall, Yosemite Valley is painted gold, orange, and red, as the trees prepare for winter. There's moisture in the air and the days are getting shorter. This is a great time to visit Yosemite, especially after some rain when the valley's waterfalls might have woken up just in time for your visit.
How Many Days Do You Need at Yosemite?
Considering the time it takes to drive to Yosemite, it's worth spending at least one night in or around the park. However, if you're just visiting Yosemite on a day trip, you should focus on exploring Yosemite Valley and driving to Glacier Point for the views. Spending one or two nights in Yosemite opens up hiking opportunities beyond Yosemite Valley.
How to Get to Yosemite?
Yosemite National Park has four main entrances:
Northwest: Big Oak Flat Entrance via Highway 120 – best suited when driving from San Francisco (about a four-hour drive). A visitor information station is available just after you pay the park fees. When entering from this side, Yosemite Valley is a relatively short drive and you can explore Tuolumne Grove on the way.
West: Arch Rock Entrance via Highway 140 – suitable when driving from Los Angeles (about a five-hour drive) or Sequoia and Kings Canyon National Park (about a 2.5-hour drive).
South: Entrance via Highway 41 – also suitable for drivers from L.A. or Sequoia and Kings Canyon National Park. The Wawona visitor center is en route to Yosemite Valley (open during the summer). When entering from this end of the park, you can explore the Mariposa Grove on the way to the valley.
East: Tioga Pass Entrance via Highway 120 – a very scenic drive via an alpine-like landscape, Tuolumne Meadows (where you'll also find a visitor center), and redwood forests. This entrance is suitable if driving from Death Valley or Lake Tahoe, but note that Tioga Pass is closed from November to May.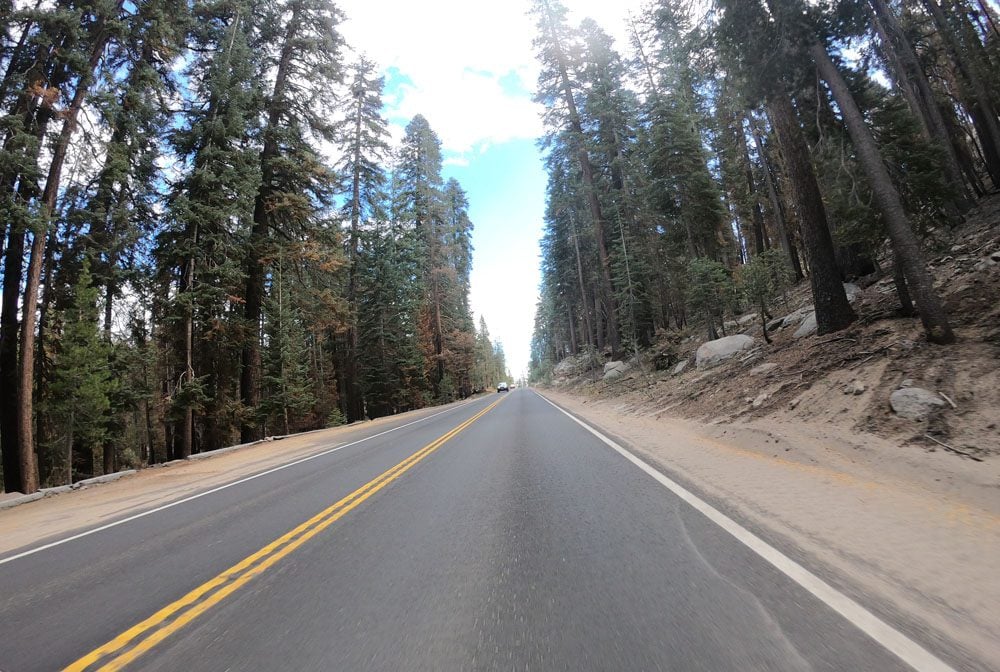 Entering the National Park
Apart from paying national park fees to enter Yosemite, it is possible that you'll need to make advanced (day-use) reservations just to have the option to enter the park with your vehicle. If you have accommodations booked inside the park, you'll be able to enter after paying the fee, likely without having to make advanced park-entrance reservations. It's very important to check Yosemite's official website for up-to-date entry information.
Where to Stay in Yosemite?
Camping and lodging inside the national park come at a steep premium compared to what you get, and require advanced reservation if visiting Yosemite during peak times.
Hotels
There are currently two hotels inside Yosemite where you can experience nature in a pampering fashion.
At the heart of Yosemite Valley, The Ahwahnee is the most luxurious option. Even if you won't be staying here, it's worth paying a visit. This historic hotel opened in 1927 and is exquisitely decorated with Native American motifs.
At the southern end of the park, the historic Wawona Hotel is close to Mariposa Grove and not far from the turn-off to Glacier Point Road. Opened in 1879, the hotel's distinctive features are its wooden facade and large veranda. There are several wings in the hotel so carefully check which room you choose as not all are en suite. Also, see if you can score a room that does not have a (locked) connecting door to its neighbor as noise does pass through. There's a gas station and a general store right next door as well as a summer-only visitor center.
Lodges
Yosemite has several large camps with varying accommodation options, ranging from proper rooms to rustic tents. In Yosemite Valley, the popular options are the upscale Yosemite Valley Lodge, the large Curry Village with its signature basic cabins and tents, and the comfortable Housekeeping Camp.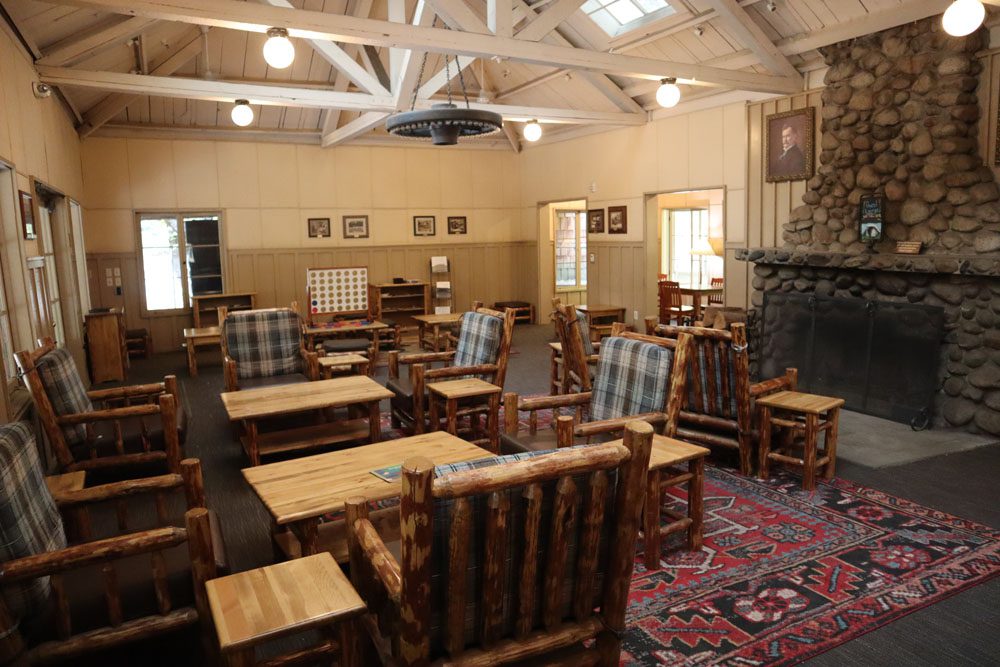 Each site has different amenities so it's important to know what to pack and what to expect before your visit. Some lodges have restaurants, cafes, and fast food options to go along with general stores that wouldn't shame supermarkets. Some lodges also offer recreation areas and bike rentals (about $40/day). WiFi is always an issue in Yosemite so expect to have to connect to the lodge's network in common areas with very limited speed.
Camping
There are 13 campgrounds in Yosemite some of which operate on a first-come, first-served basis. From April through October, reservations at campgrounds can be very difficult to obtain and the first-come, first-served campgrounds often fill up early each day. More information about Yosemite's camping options can be found here. If you plan on doing overnight hiking trips, you'll need a wilderness permit.
Outside the National Park
If no suitable accommodations can be found inside the park, check nearby options outside Yosemite (see all options here). Towns such as Groveland and Buck Meadows are near the western entrance to Yosemite, relatively close to Yosemite Valley, as is El Portal, close to the western entrance. Near the southern entrance, search for places in and around Wawona.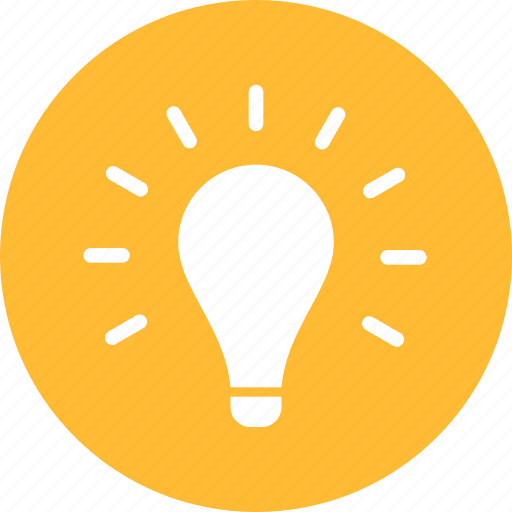 Pro Tip
Keep in mind that Yosemite Valley is a long drive via Tioga Pass Road, so staying in Lee Vining and the Mammoth Lakes area is an option if used as a base for driving into Yosemite for the day and later exiting south or west (that is, not driving back).
Getting Around Yosemite
It's very important to check Yosemite's official website as seasonal or permanent changes are sometimes made to optimize the flow of traffic and parking inside the park.
By shuttle: The national park operates several shuttles and bus routes, the most frequent of which is Yosemite Valley's free shuttles. Another popular option is to take the bus to Glacier Point and hike down to the valley.
By car: At the time of writing this guide, you can enter Yosemite with your car if you have secured a day-use permit or if staying at one of the park's accommodations. This is the most convenient way of getting around if you plan to explore beyond Yosemite Valley. A one-way system is in effect in Yosemite Valley which can be a bit confusing and also requires staying alert to avoid missing available roadside parking.
By bicycle: you can bring your own bicycle into the park or rent bicycles inside the park (about $40 per day).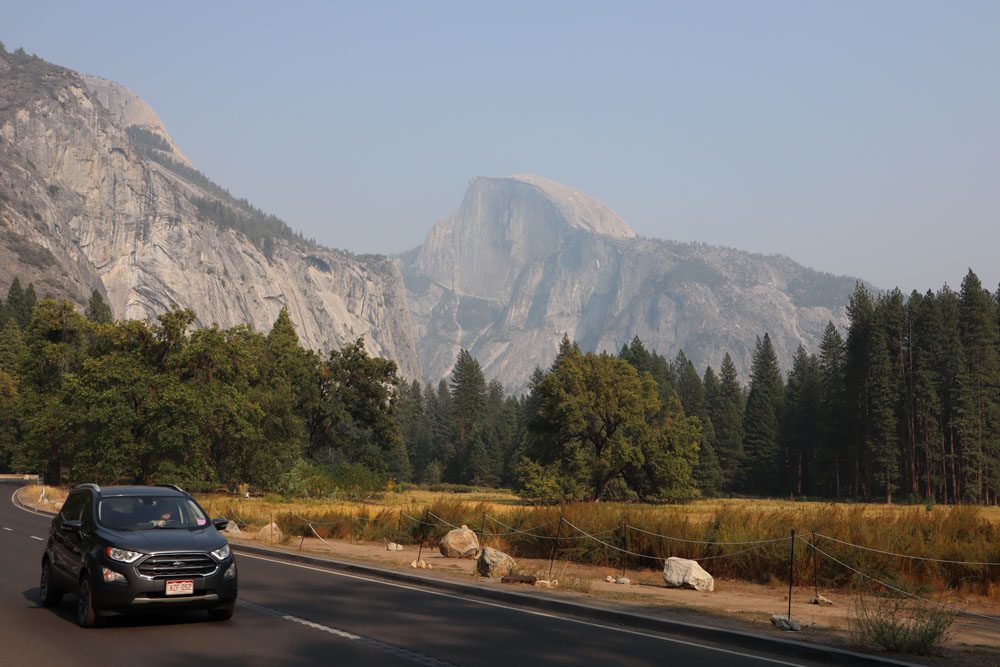 There are many dining options in Yosemite, primarily in Yosemite Valley. These range from casual to upscale dining. Outside the valley, your options are limited. The park also features several grocery and camping equipment stores, of which the Village Store by the Yosemite Valley Visitor Center is a proper supermarket. Depending on your daily itinerary, it's best to pack a picnic lunch and dine out either at or around your lodging or before sunset to avoid driving in the dark.
Hiking
Yosemite has over 800 miles of hiking trails, ranging from easy walks to challenging multi-day hikes. If you plan to extensively hike in Yosemite, I recommend checking the website for trail closures or better yet, chatting with park rangers upon arrival and validating your hiking wishlist. Keep in mind that in peak summer months and early autumn, Yosemite Valley's waterfalls are dry.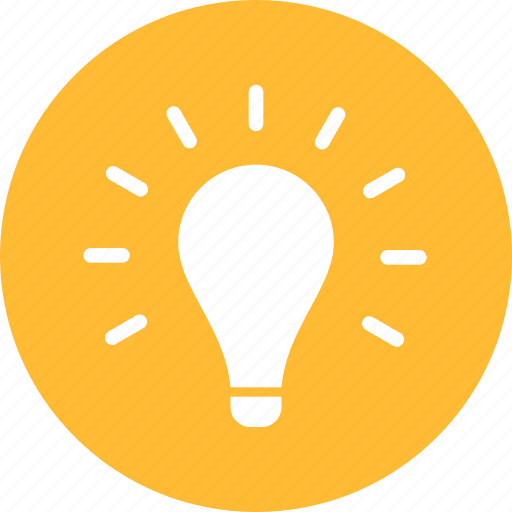 Pro Tip
Check this travel guide covering some of the best hikes in Yosemite, both inside Yosemite Valley and in the outer reaches of the national park.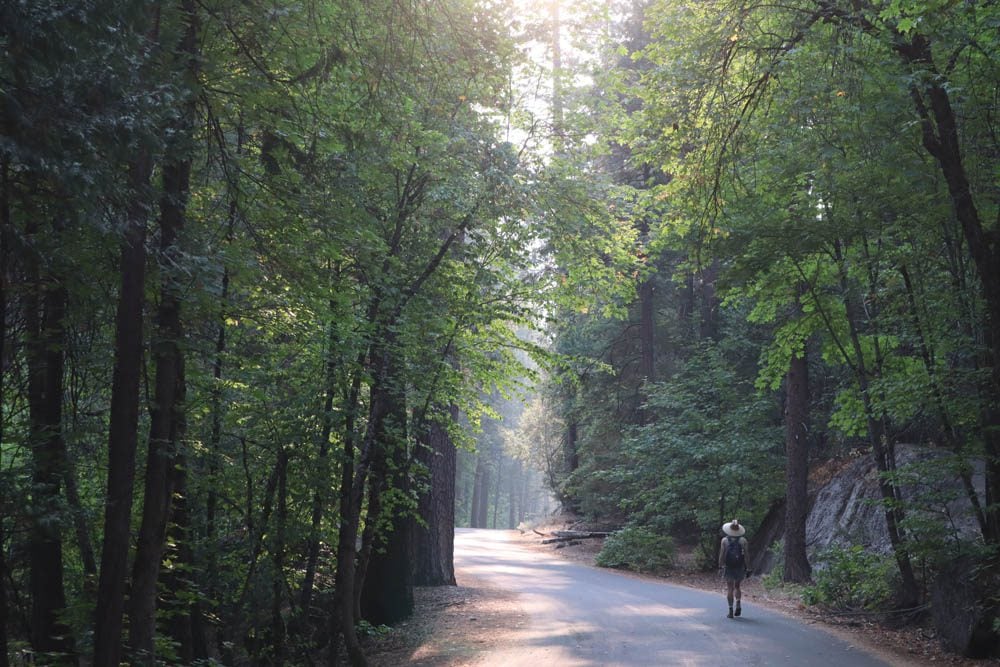 Half Dome Hike
After El Capitan, Half Dome is Yosemite's celebrity granite peak. Rising to a height of 8,842 feet (2,695 m), Half Dome's smooth curved summit is its signature feature. Unlike El Capitan, you don't have to be a rock climber to summit Half Dome. You just need to be lucky. The hike to Half Dome in Yosemite is the most sought-after trail in the park. Its final stretch is assisted by steel cables that are in place from May to October. Permits to hike Half Dome are released in March and very limited space is reserved for daily lotteries. You can try your luck with the daily lottery but keep in mind that every time you apply, a non-refundable fee is charged.
Mobile Reception & WiFi
During my last visit to Yosemite, mobile and data reception in Yosemite Valley was practically non-existent. Outside the valley, the reception was much better but still not something you could rely on. WiFi was available in the lodges, but only for registered guests. This meant that in Yosemite Valley, everyone was connecting to the same WiFi network, rendering it quite useless.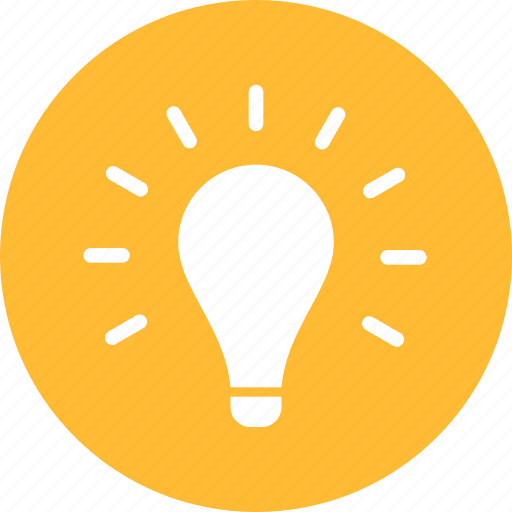 Pro Tip
Be sure to download an offline Google Map of Yosemite and mark the points of interest you wish to visit before heading out. That way, you'll still be able to navigate from point to point even without reception. I also highly recommend purchasing All Trails Pro and downloading trail maps of the hikes on your wishlist so you can navigate offline.
What to Pack for Yosemite
Listed below are some items to pack for a visit to Yosemite. Get them on Amazon!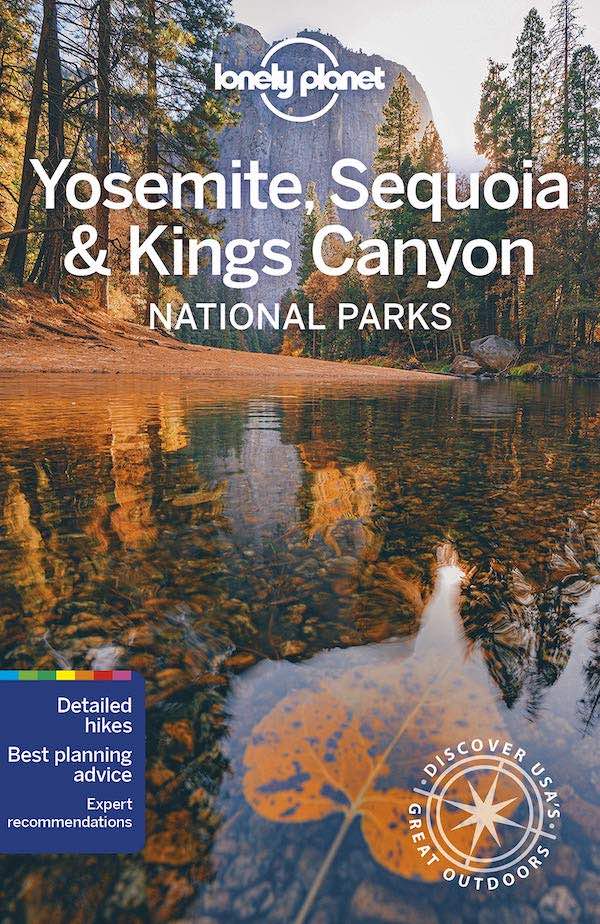 Get your copy of the Lonely Planet guide to Yosemite (also relevant for Sequoia & Kings Canyon). If visiting other parts of California, the Rough Guide to California is all you need.
Dress in layers, preferably sweat-repelling clothing
Warm clothing if overnighting in high elevation
Rain gear
Swimwear (optional)
First aid kit
Proper hiking shoes, preferably high shoes
Thick socks (for foot protection during hikes)
Lip balm (must) and hand cream (optional), especially during summer and early autumn as the air is extremely dry.
Toiletries
Lock(s)
Flashlight and headlamp
Pocket knife
Picnic gear
Walking poles (optional)
Waterpack
Alcogel
Ziploc bags
Foldable day pack
Food and snacks
Earplugs if overnighting in tents of any kind
USB car charger
Hat and sunscreen
Shower shoes if using shared facilities
Camping and cooking gear if relevant
Photography gear
Yosemite Safety Tips
Here are a few tips for staying safe in Yosemite during the warmer months.
Bear sightings are always on the minds of park rangers. If you spot a bear, do not approach. If overnighting in Yosemite, you cannot leave food in your car. Use metal boxes to store your food.
Carry more water than you think you need during the summer months, especially when hiking.
Yosemite is large and diverse so check weather forecasts with park rangers if possible and pack accordingly.
Fires are always a concern in the dry months. If you see lightning or hear thunder, it's best to head back to safety.
Especially during spring, be cautious when crossing streams.
If hiking on backcountry trails, it's best to notify someone before.
Download offline maps of the park and hiking trails. Expect no mobile reception. Good old-fashioned paper maps are essential as backups for multiday hikes.
Drive with care on Yosemite's roads and respect speed limits. It's very tempting for drivers to take their eyes off the road to enjoy the views but this can be fatal. There's always a place to safely stop nearby.
Avoid driving at night if possible.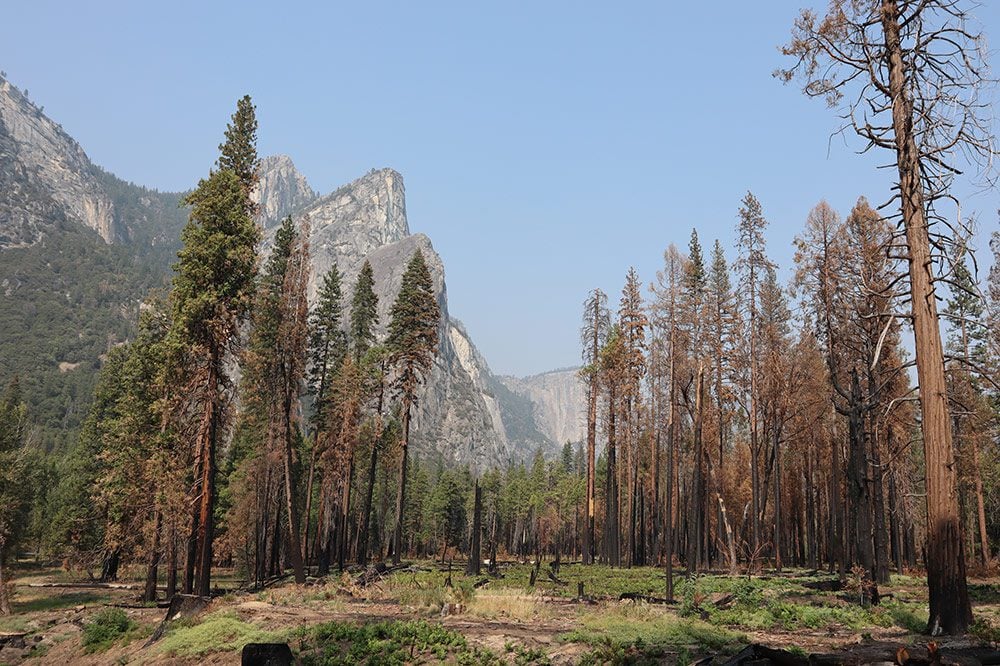 Things to See and Do in Yosemite
In this section of the Yosemite travel guide, I'll highlight Yosemite's main highlights in each of the park's main regions. I recommend following along using this companion map.
Yosemite Valley
Few natural sites are as striking as Yosemite Valley. Nicknamed "the incomparable valley", even the most tired eyes open wide when glimpses of the valley first come into view. Home to granite cliffs towering over 3,000 feet in height (900 m), plunging waterfalls, and picturesque meadows, Yosemite Valley is the park's main attraction.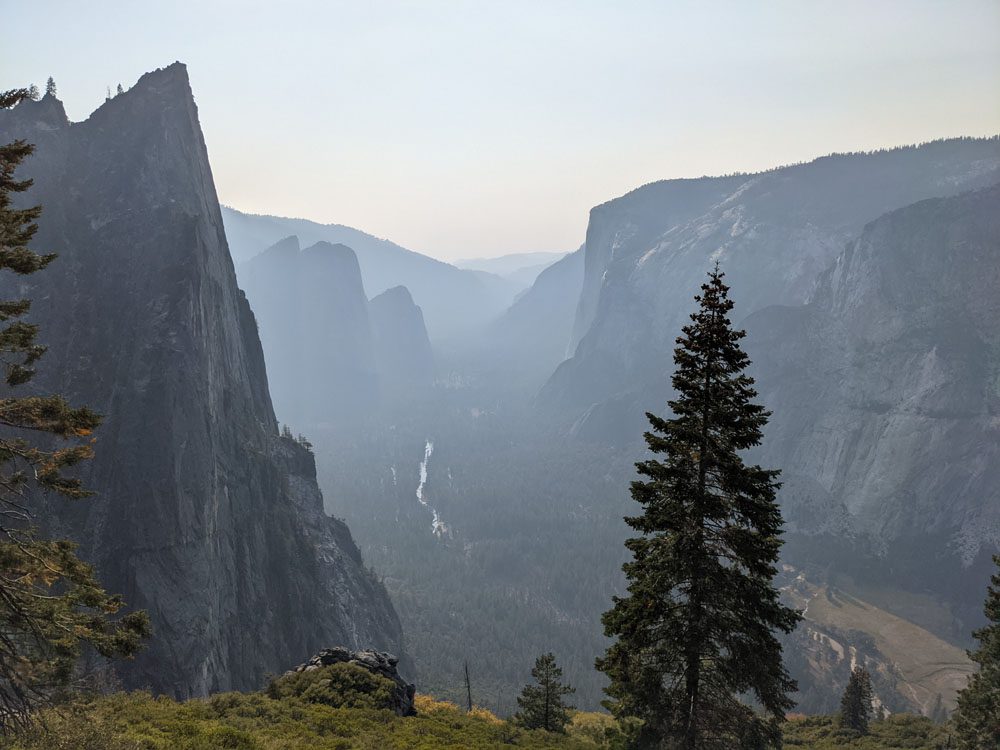 Yosemite Valley measures seven miles in length and one mile across at its widest point. In this small space lie some of the park's top sites, though many are best viewed from high above. Inside the valley, a one-way traffic system is in effect, and finding parking spaces at its prime spots can be a challenge during peak times. Listed below are Yosemite Valley's top attractions.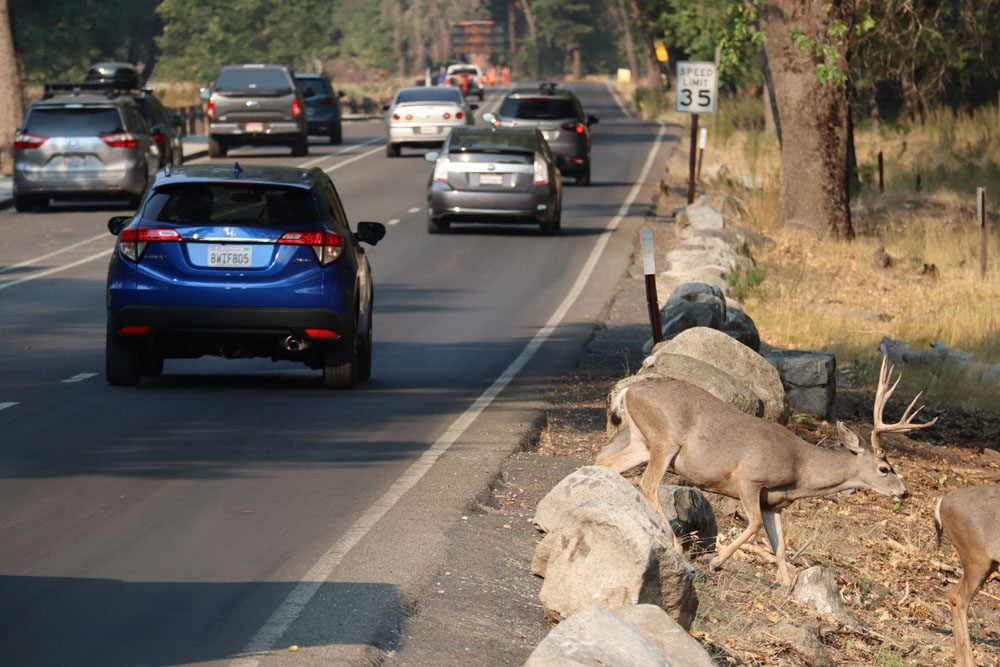 Yosemite Village
Not a village per se but rather a concentration of essential services. You'll find here the park's major restaurant and shop, the Village Store and Grill (where you can buy practically everything but gas), the Yosemite Museum, and the main visitor center.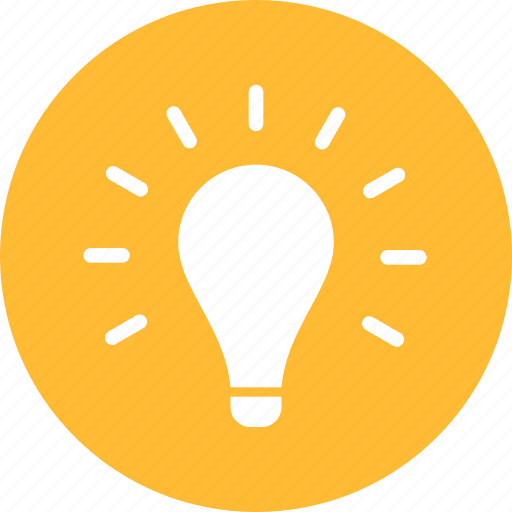 Pro Tip
I highly recommend starting your visit to Yosemite at the visitor center. Chat with a ranger to "sanity check" your plan or get help in devising one.
The Ahwahnee Hotel
You don't have to be a guest to visit Yosemite's luxury hotel. The historic Ahwahnee Hotel opened in 1927, blending into its surrounding with wood and rock on the exterior, and exquisite Native American decorations in its interior. You can park in the hotel's guest parking lot or take one of the walking trails that reach the hotel. Check out the Ahwahnee's impressive albeit pricey gift shop for original souvenirs.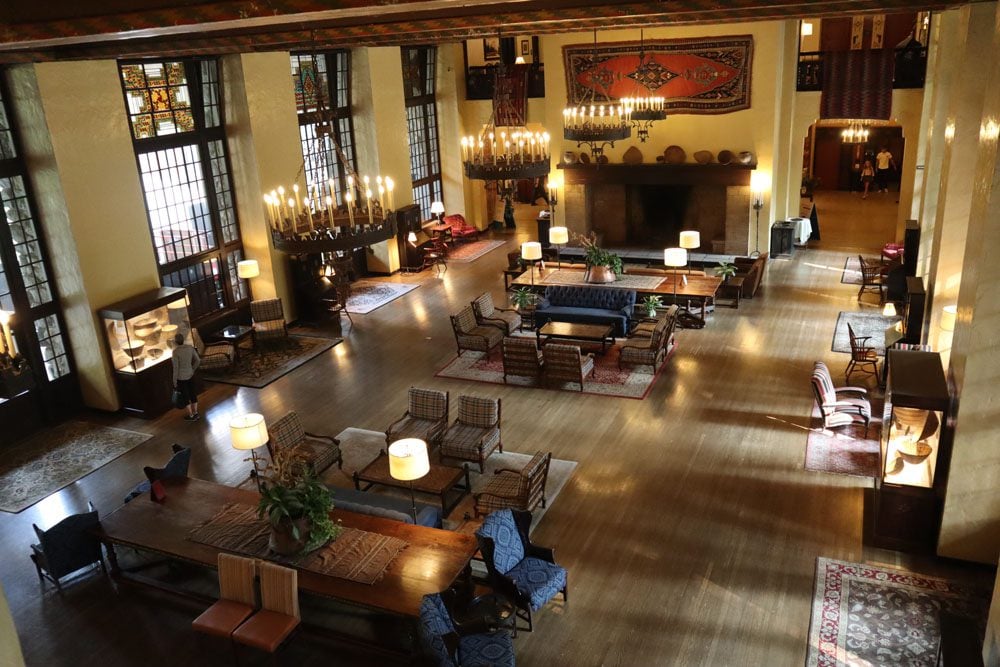 Bridalveil Fall
Stop at the Bridalveil Falls Viewpoint or across the Merced River at Hanging Valley Viewpoint to admire one of Yosemite's two famous waterfalls. From these viewpoints, Bridalveil Fall may seem small in the backdrop of the surrounding cliffs, but it is actually cascading from a height equal to a 62-story building (620 feet | 189 m). Due to the magic spell that the wind tends to cast on Bridalveil Fall, the native Ahwahneechee called this area pohono, meaning "spirit of the puffing wind". European-Americans named it Bridalveil Fall because of the veil-like effect when the wind tosses the water in the air.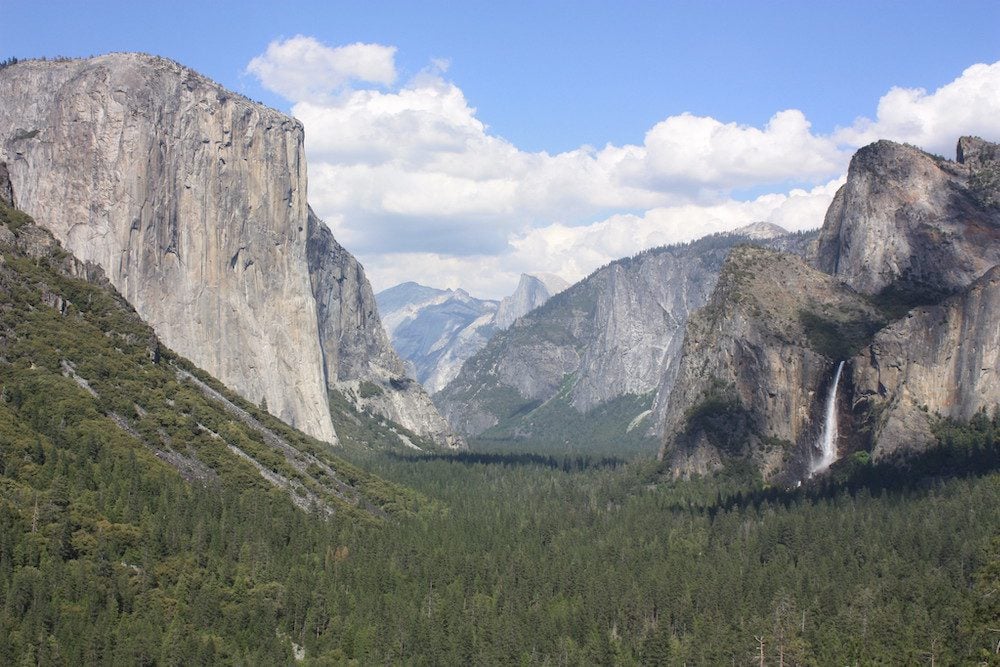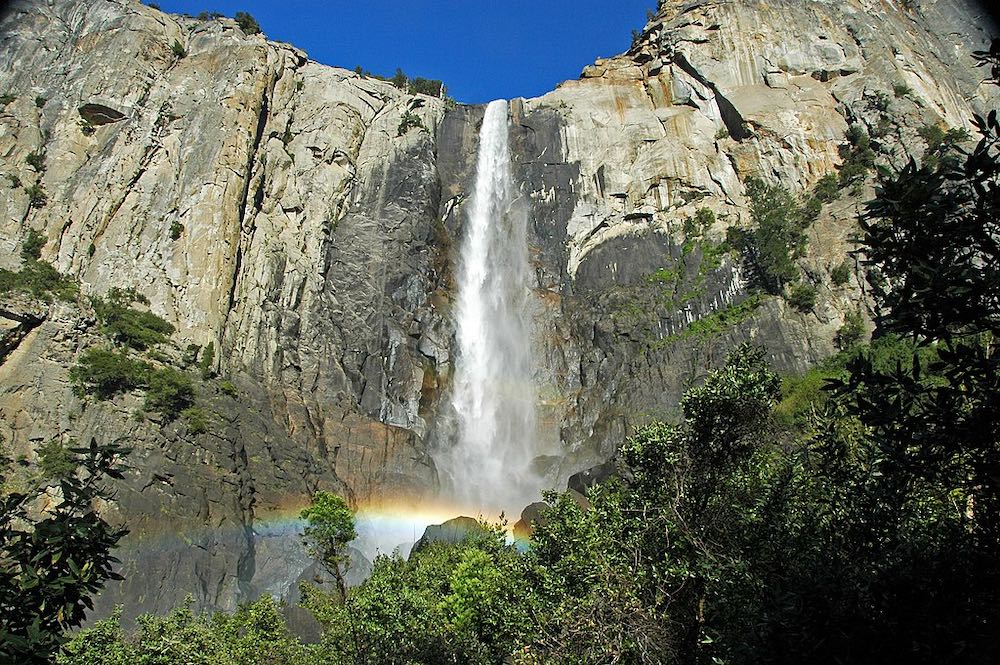 When you've had a good glimpse of the waterfall from afar, take the short hike to inspect Bridalveil Fall from up close. Keep in mind that the waterfall is usually very dry and practically non-existing in the late summer and early fall months.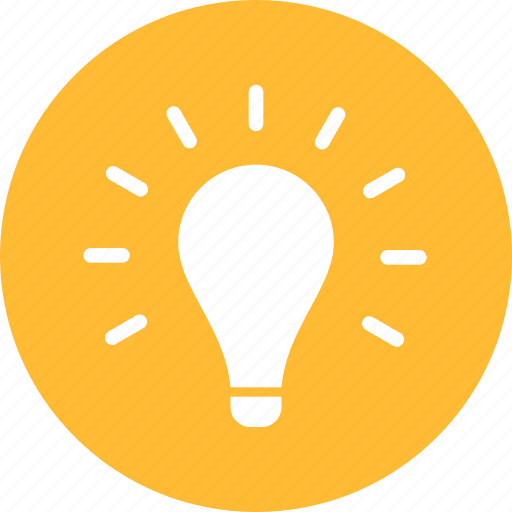 Pro Tip
If possible, time your visit to the afternoon when the sun is high in the sky. During the morning hours, the waterfall is likely hidden by shade.
Tunnel View
Looking for the perfect vista of Yosemite Valley? Head to Tunnel View and catch the valley's top celebrities in a single frame. Tunnel View is perfectly positioned and elevated, and there should be enough parking spots throughout the day. The best time to visit Tunnel View is in the late afternoon when the shine directly shines on the valley or at sunset. I can also see this being a good spot for stargazing in Yosemite.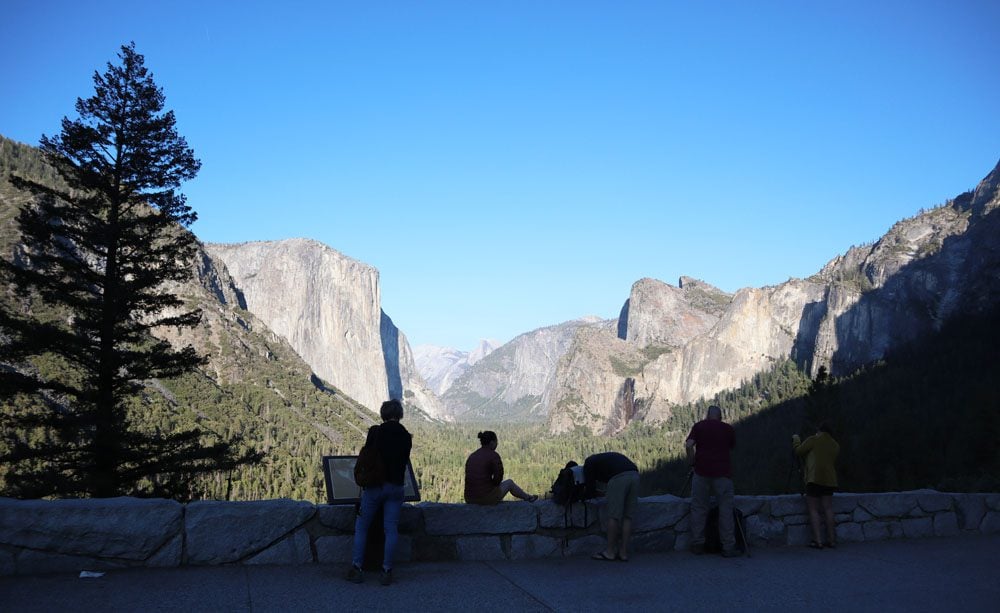 Yosemite Valley View
Together with Tunnel View, Yosemite Valley View ("Valley View") is one of the best scenic viewpoints in Yosemite, especially on a calm late afternoon when Yosemite Valley's grandeur is reflected on the surface of the water. This is also a good spot for watching the sunset in Yosemite.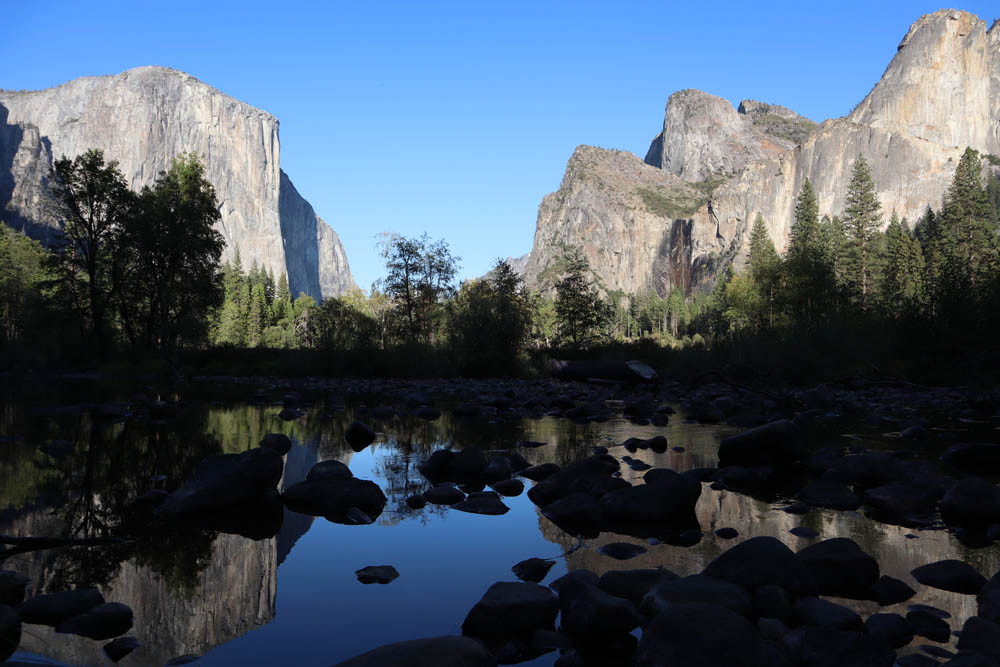 Yosemite Falls
Dubbed the "tallest waterfall in North America", Yosemite Falls is purposely written in plural because we're actually talking about two waterfalls: Upper Yosemite Fall and Lower Yosemite Fall. The two waterfalls have a combined height of 2,425 feet (739 m) when we also throw in the intermediate section known as "the middle cascade". Yosemite Falls is one of the park's top highlights but come late summer, there is little left to see but giant boulders.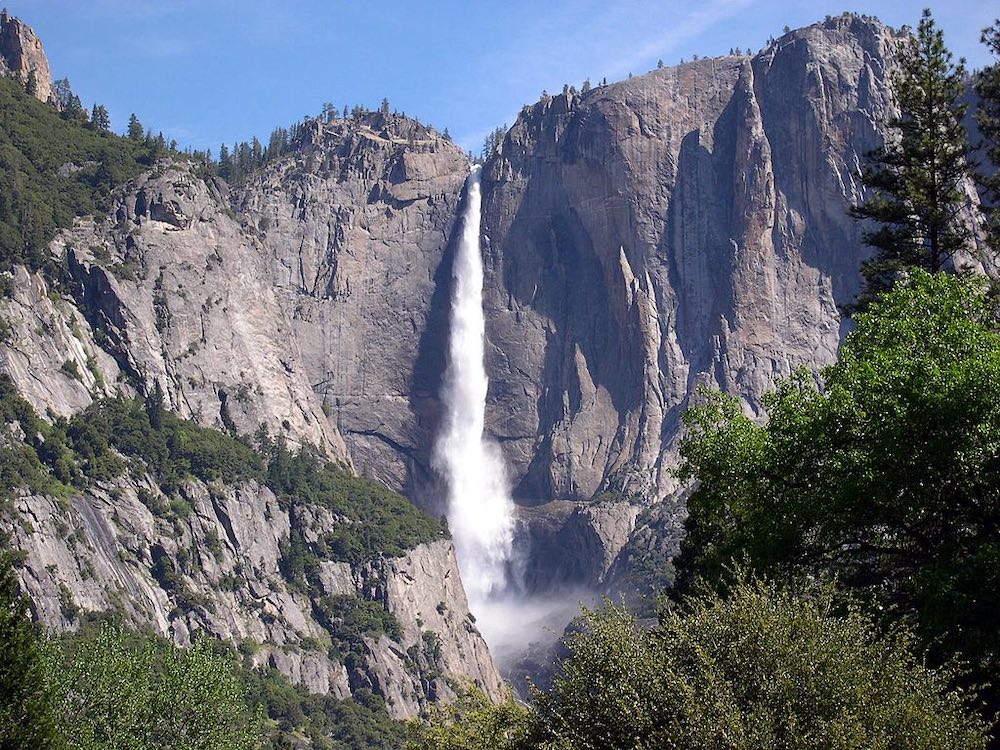 The best time to experience Yosemite Falls is during late spring and early summer when the snowmelt creates a serious flow. You can easily walk to the base of Lower Yosemite Falls on a paved trail (be on the lookout for bears and deer), and for a challenging yet rewarding hike, spend the bulk of the day hiking to Upper Yosemite Falls.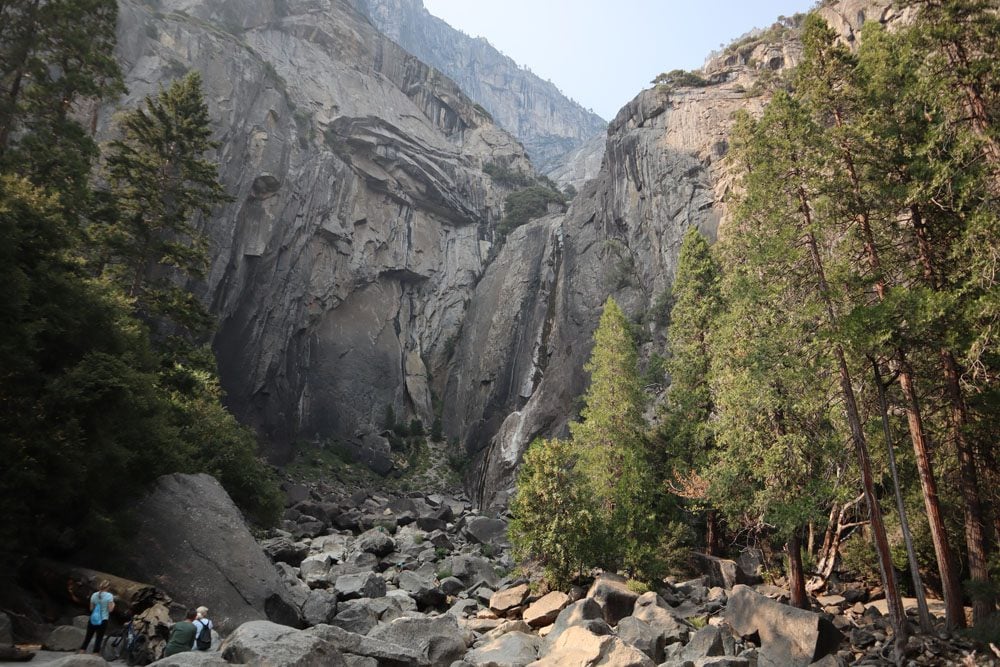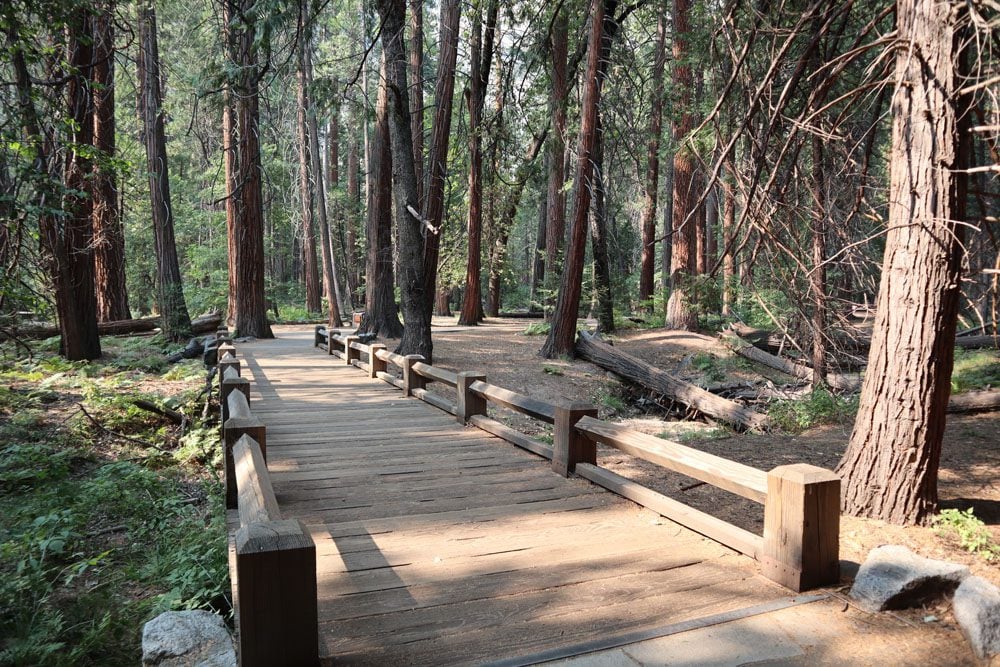 El Capitan
One of Yosemite's two famous cliffs, El Capitan is a granite monolith that rises to a commanding height of 3,593 feet (1,095 m) over Yosemite Valley. Rock climbers take to the challenge during the warmer months but, if you're an "ordinary" visitor, you'll need to strain your neck a little to admire El Capitan from the valley floor or attempt the challenging hike to the top of El Capitan. The best spots to see El Capitan from the valley floor are in the road section around Hanging Valley Viewpoint.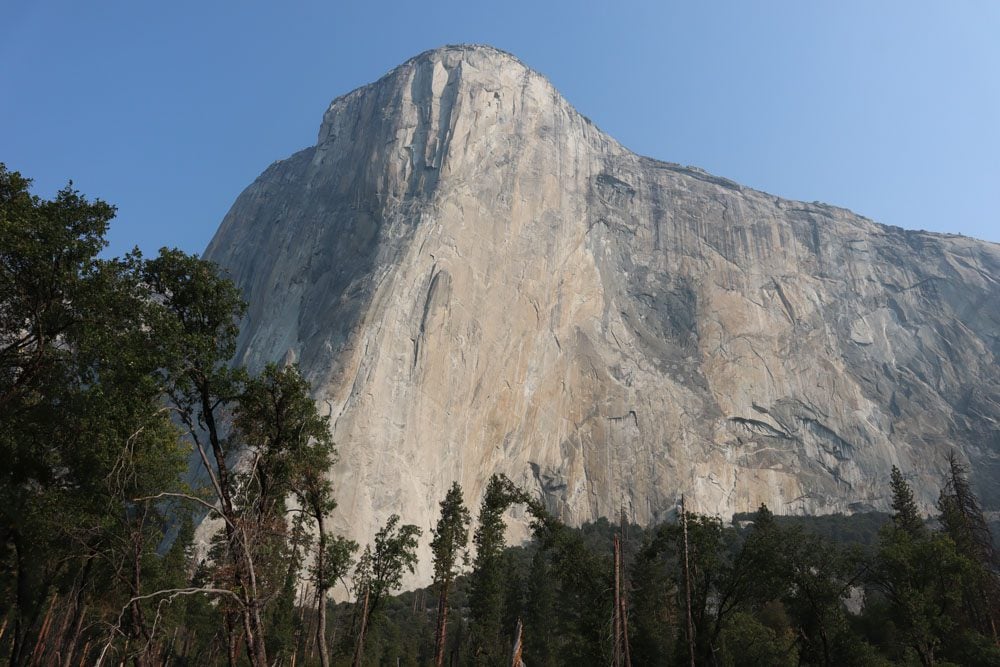 Half Dome
Without a doubt, Half Dome is Yosemite's most popular celebrity. Rising to a height of 8,842 feet (2,695 m) and 5,000 feet purey from the valley floor, Half Dome is stunning from just about every angle. Half Dome's size and composition make it one of the largest rock faces in the world. Its first recorded summit ascent was only in 1875. It is possible to hike to the summit of Half Dome if you have a permit. Otherwise, views of this rocky giant are best enjoyed from Glacier Point, North Dome, and from afar at Olmsted Point.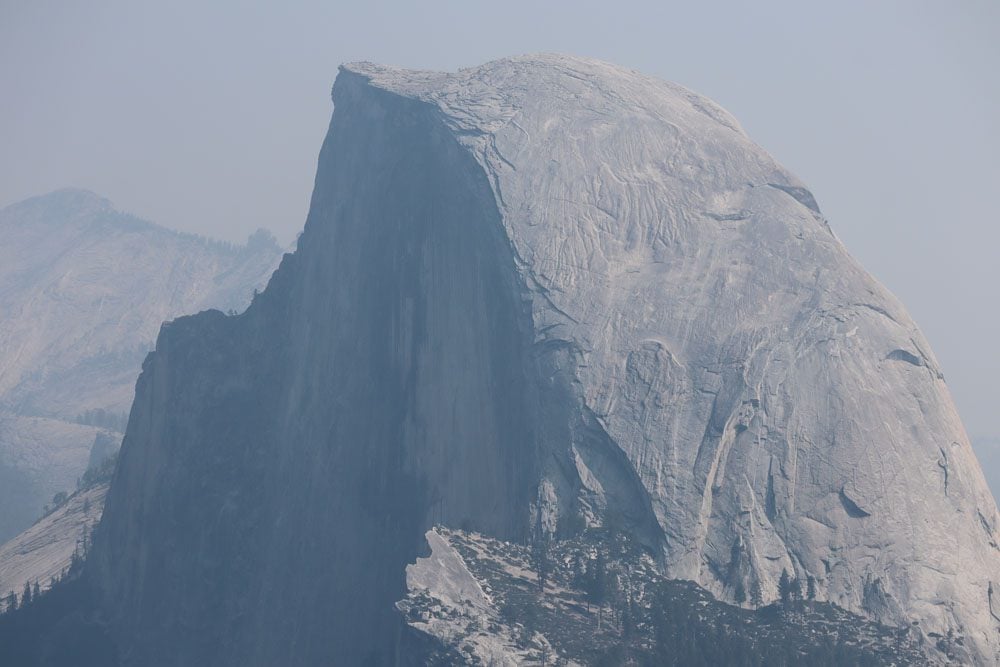 Yosemite's Domes
One of Yosemite's most striking natural features is the smooth and circular cliff tops, known as "domes". These were created by powerful geological forces that began about 80-100 million years ago when chambers of magma deep within the Earth's crust crystallized to form hard granite rock. Uplift of this solid rock in later years gave them their height, and the natural forces of erosion and receding glaciers sculpted the domes to their present shape.
Exploring the Meadows
Yosemite Valley's meadows take up "the center" of the valley. Crossed by the Merced River, exploring the meadows provide somewhat an escape from the crowds that gather along the main road, an opportunity to perhaps spot some wildlife, and a unique vantage point of Yosemite Falls, Half Dome, Glacier Point, and Sentinel Rock. Hike all or part of the Cook's Meadow and Sentinel Meadow trail to explore this area.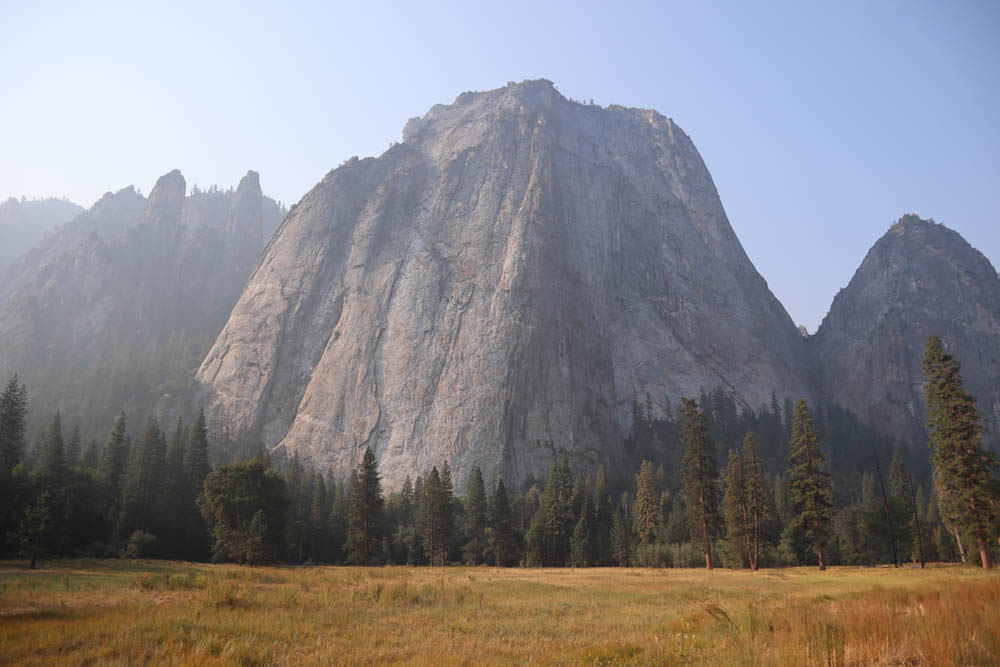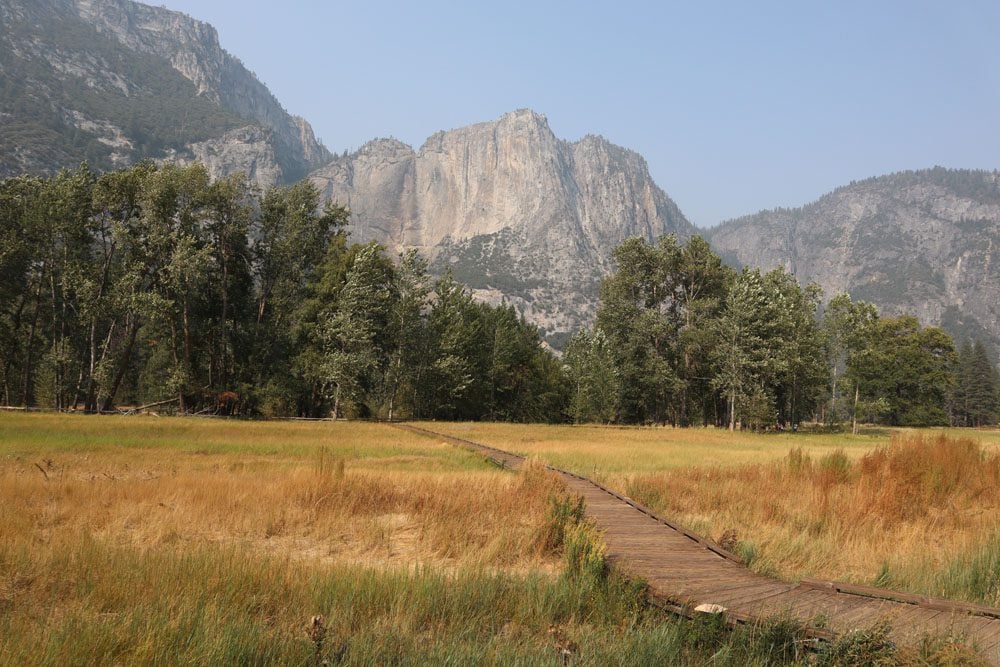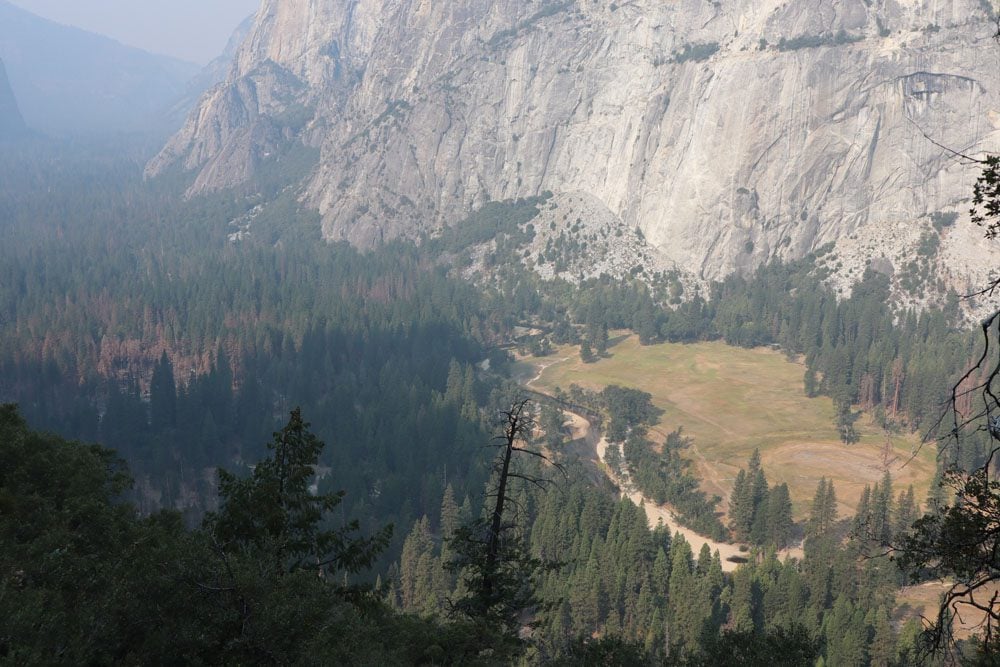 Mirror Lake
Though dry in the summer months, when this area turns into a meadow, the walk to Mirror Lake along a paved road closed to vehicle traffic is pleasant and easy. When Mirror Lake is full, visitors are rewarded with a beautiful reflection of Half Dome on the calm surface of the water.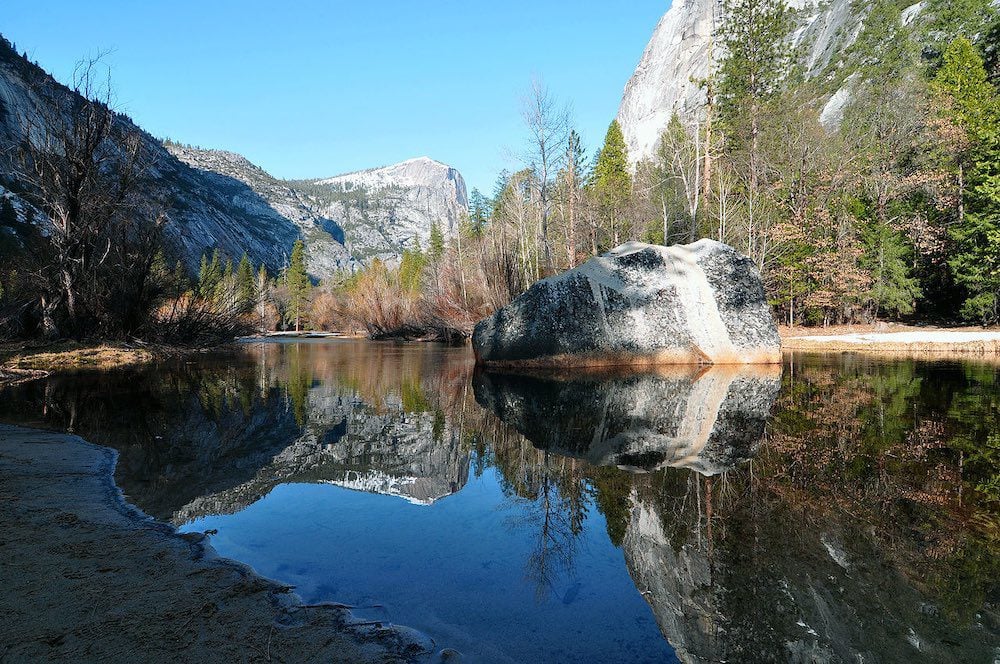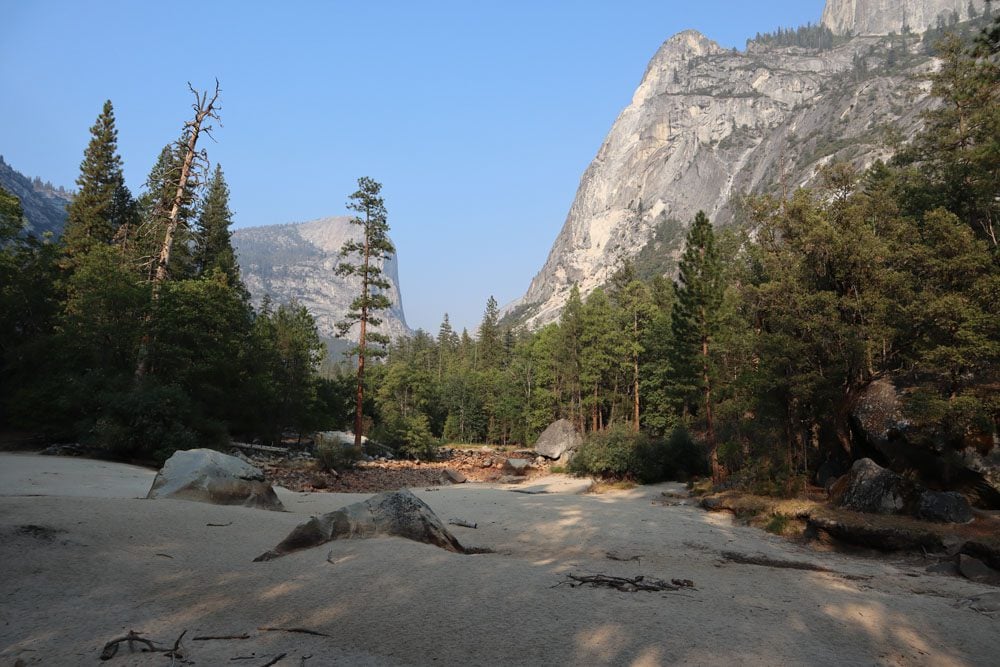 Happy Isles
Happy Isles lies at the start of the trail to Vernal and Nevada Falls but on the opposite end of the Merced River. You can go here for a swim even in the drier months, or just walk around and enjoy the natural surroundings. The Happy Isles Art and Nature Center can also be a good option if you're visiting Yosemite with children.
Vernal & Nevada Falls
Access to Vernal Fall and Nevada Fall is from Yosemite Valley, though reaching both require a bit of climbing. The trail to Vernal Fall Bridge is quite steep but it's paved throughout and dotted with scenic spots to catch your breath.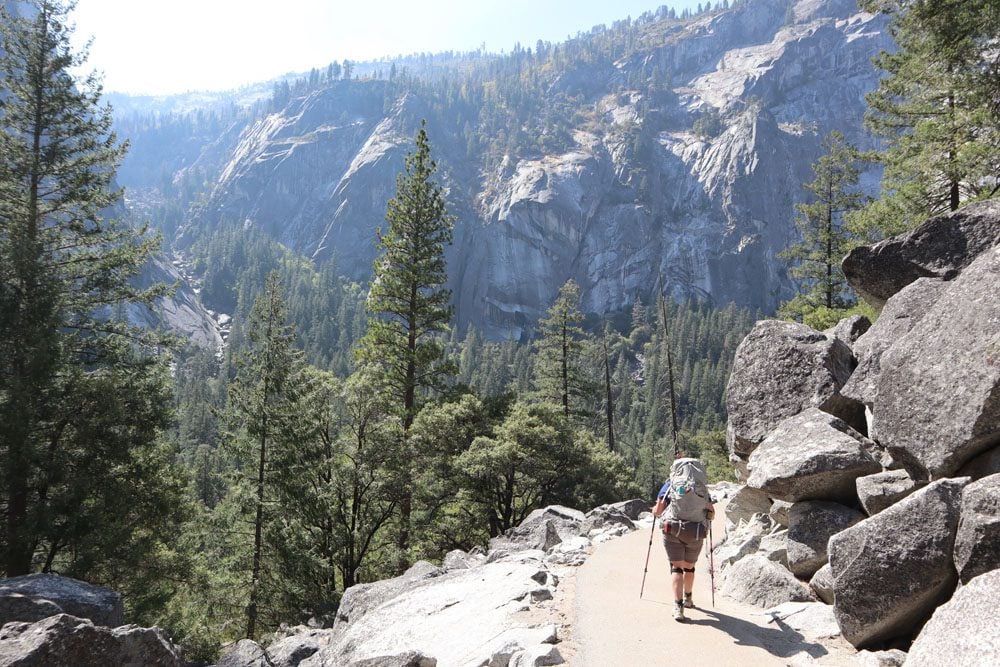 From Vernal Fall Bridge, you can catch a good glimpse of the waterfall, or continue to the top of the waterfall via the Mist Trail, if it's open during your visit.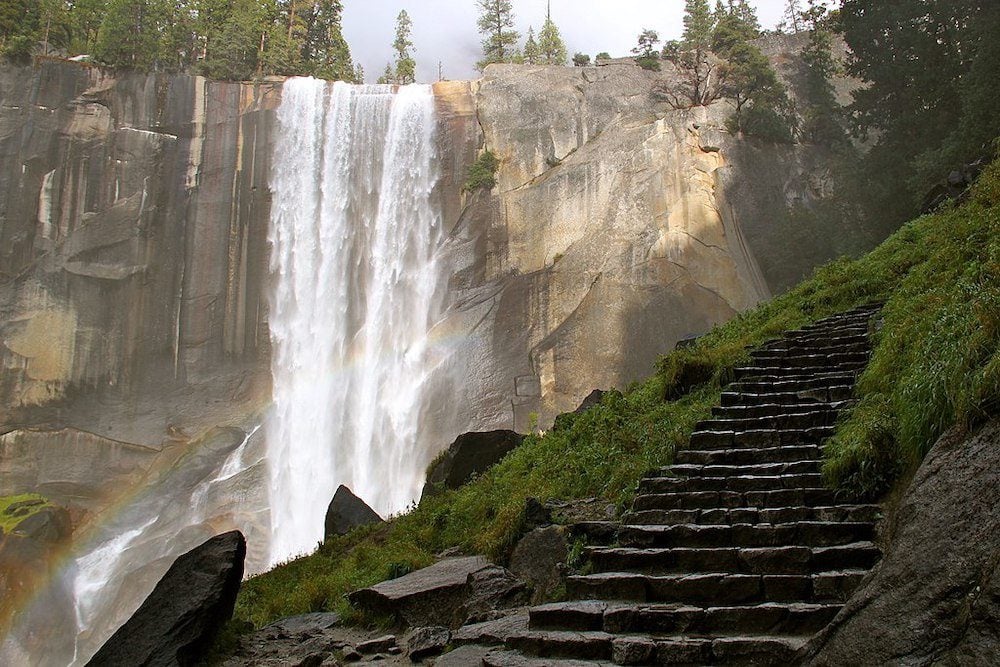 From the bridge, link up with the John Muir Trail or continue on the Mist Trail to Nevada Fall. Your effort is rewarded with exceptional views starting from Clark Point, even in the drier months. At Nevada Fall, you'll see hikers continuing to push towards the summit of Half Dome.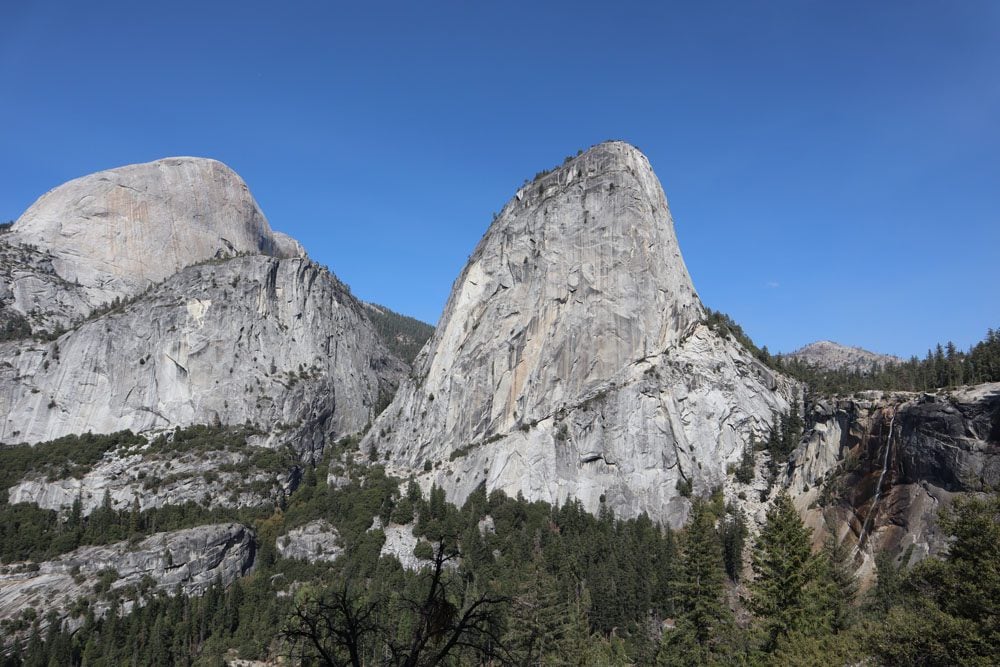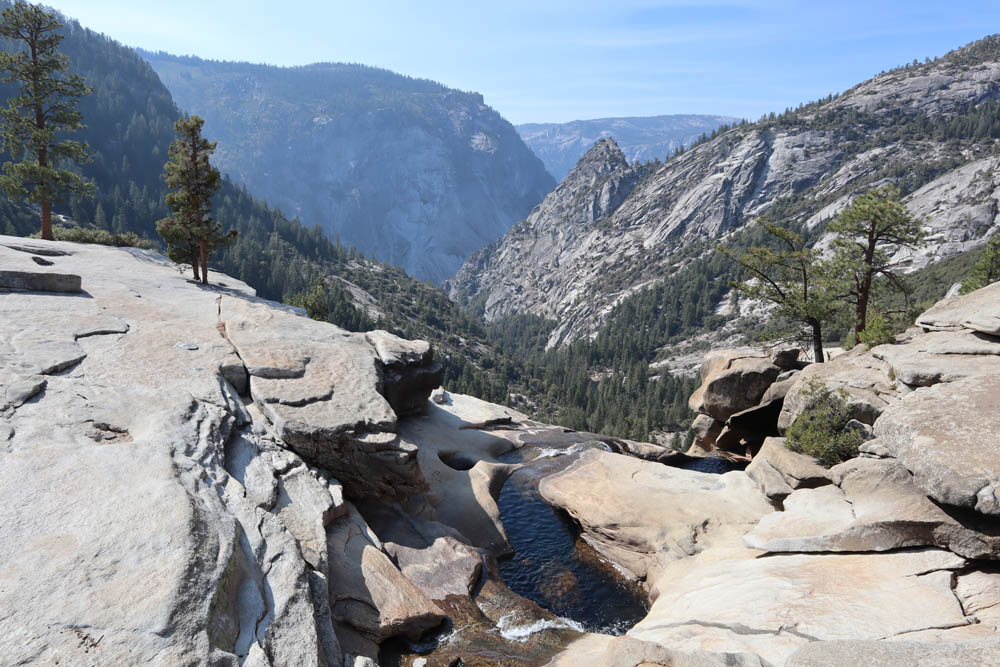 Yosemite Valley's Bridges
Several bridges cross the Merced River in Yosemite Valley. They often provide nice backdrops for photos or can be used as platforms with relatively unobstructed views of the scenery. Check out the Swinging Bridge, Sentinel Bridge along with nearby Sentinel Beach, and Berg Bridge.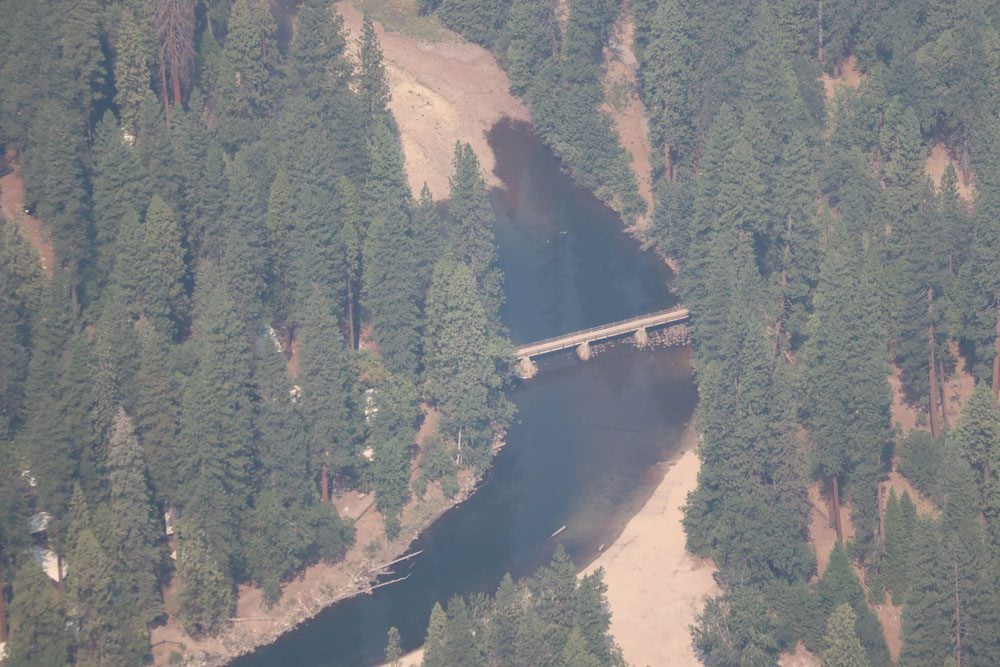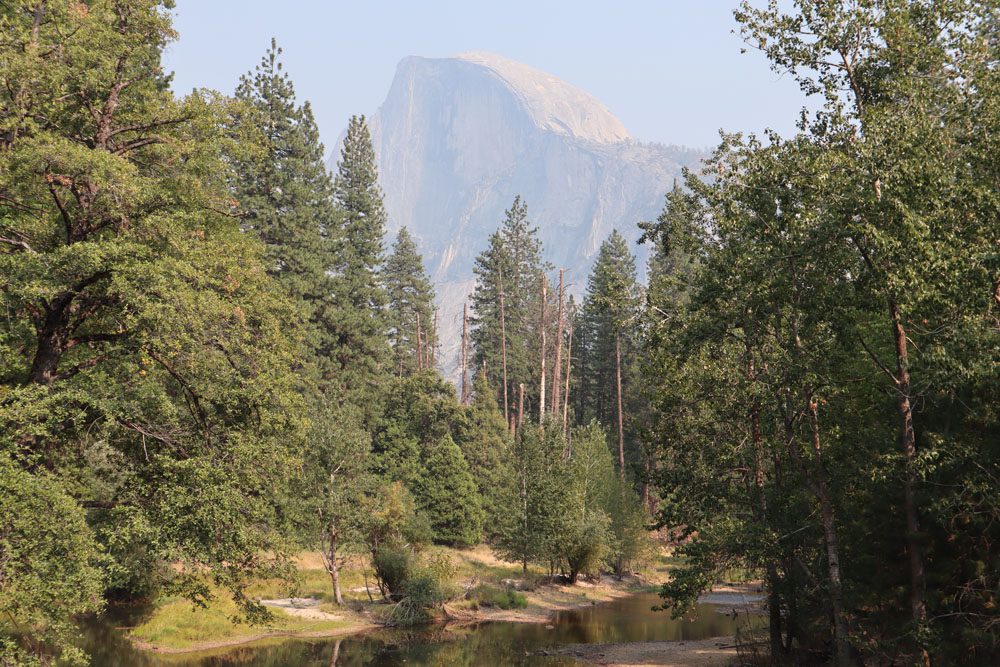 Glacier Point Area
Taking up the high ground overlooking Yosemite Valley from the south, I'll highlight this area's top sites along Glacier Point Road.
Glacier Point Road
This road is open from late spring through late fall and provides access to Glacier Point. The better part of the road is quite monotonous as it crosses a forest of redwoods, but towards the end, several bends in the road reveal pretty vistas. The road ends at Glacier Point.
Glacier Point
Providing unparalleled views of Yosemite Valley, Glacier Point is among Yosemite's top highlights. A large parking area provides paved access to this scenic lookout, where you'll also find amenities such as toilets, drinking water, and a small kiosk.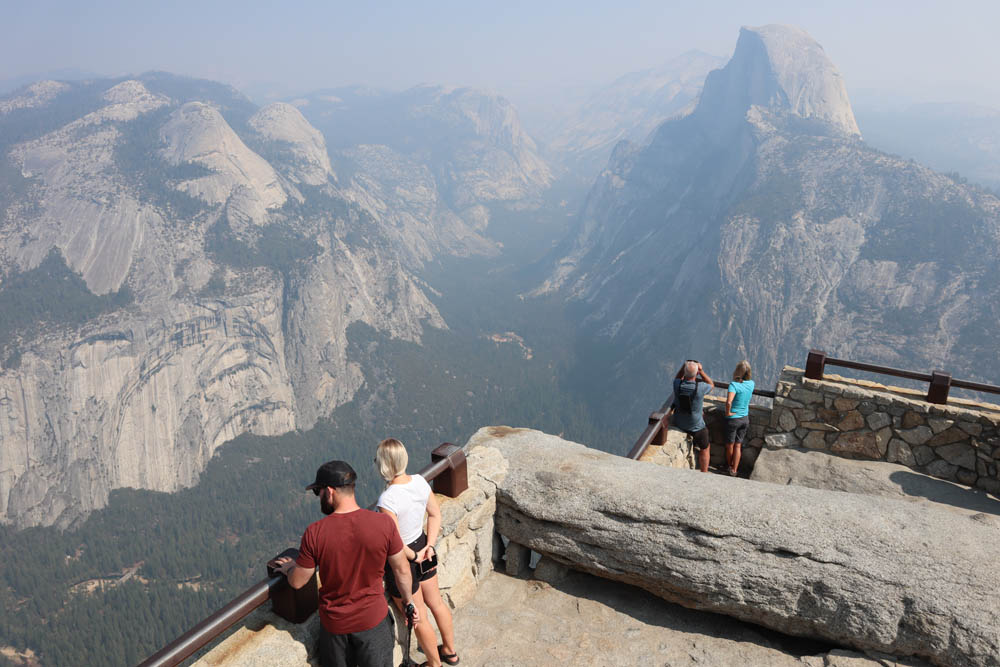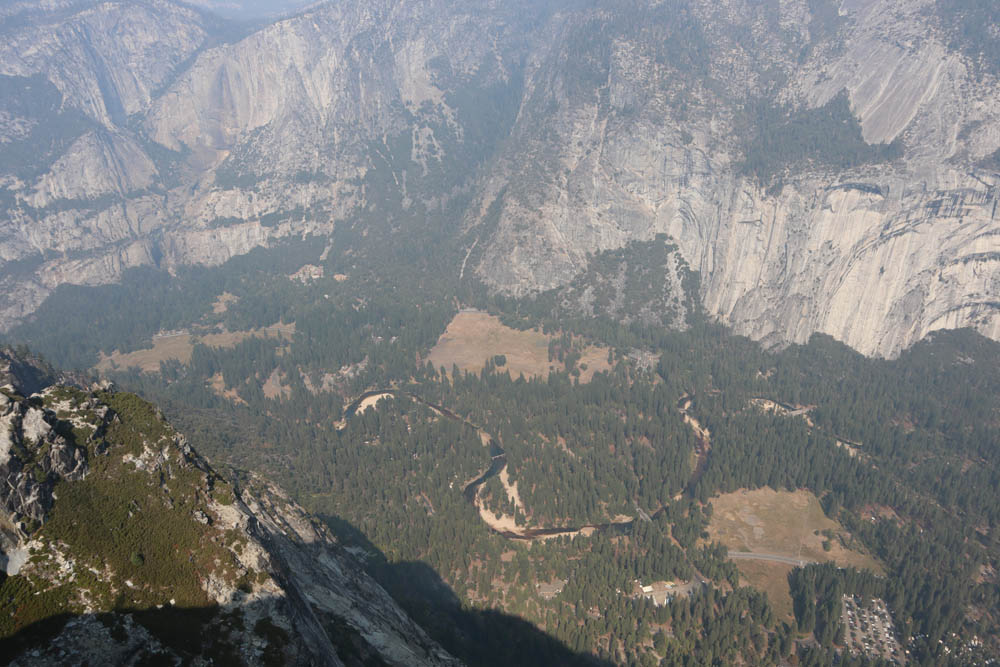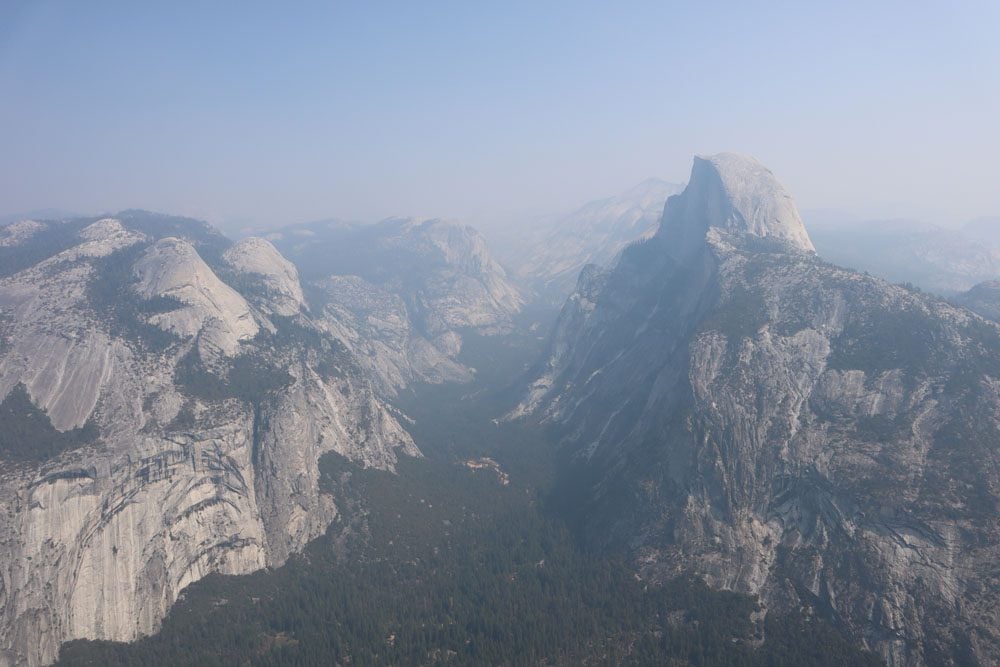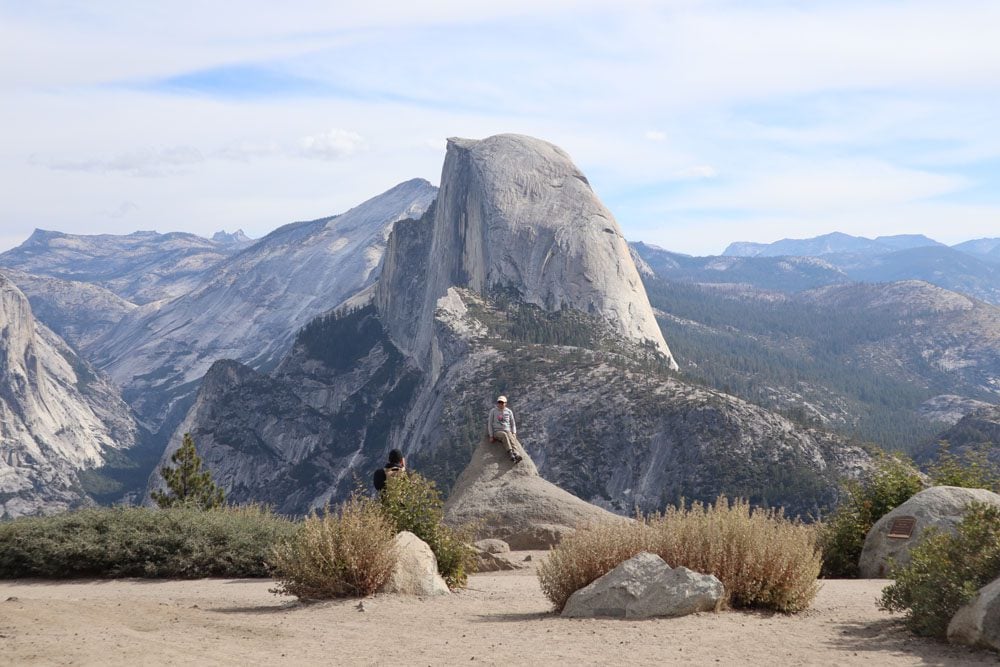 Glacier Point Lookout is 3,214 feet (979 m) above Yosemite Valley and almost directly across from Half Dome. There's good mobile reception from up here and with a pair of binoculars, you might be able to spot hikers on Half Dome's summit appearing as small as ants. Glacier Point can also be reached via the Four Mile Trail.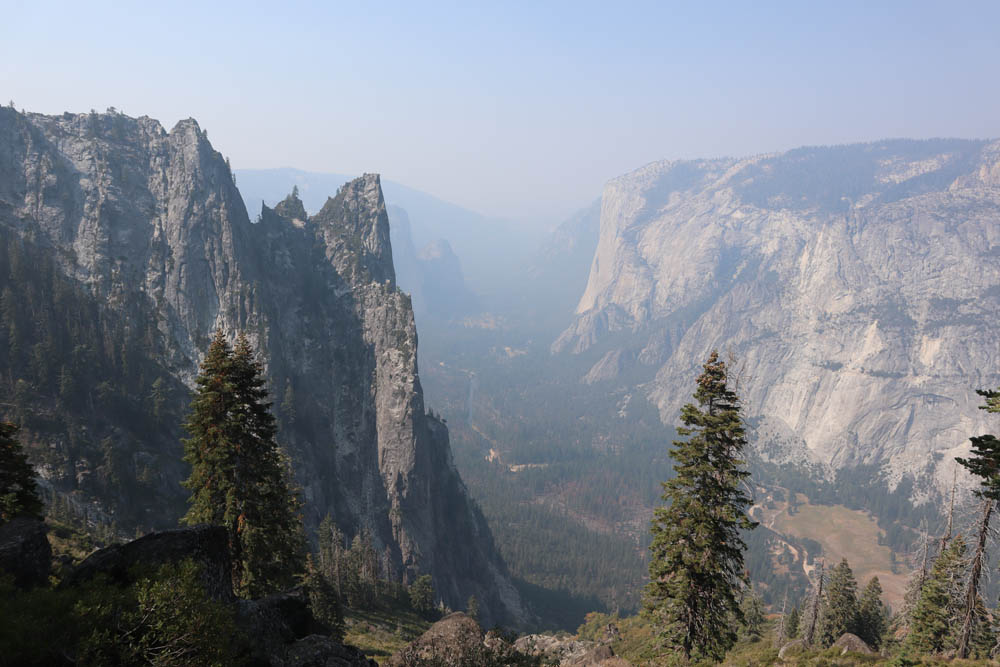 Sentinel Dome
Accessible via a trail from a parking area just down the road from Glacier Point or via a 45-minute hike from Glacier Point, the views from Sentinel Dome (8,122 feet | 2,475 m) are well worth the effort. It might be very windy up here but it won't be as crowded as Glacier Point. From Sentinel Dome, you can enjoy a slightly different vantage point of Half Dome and also see El Capitan. You can continue from Sentinel Dome to Glacier Point or follow the trail to Taft Point.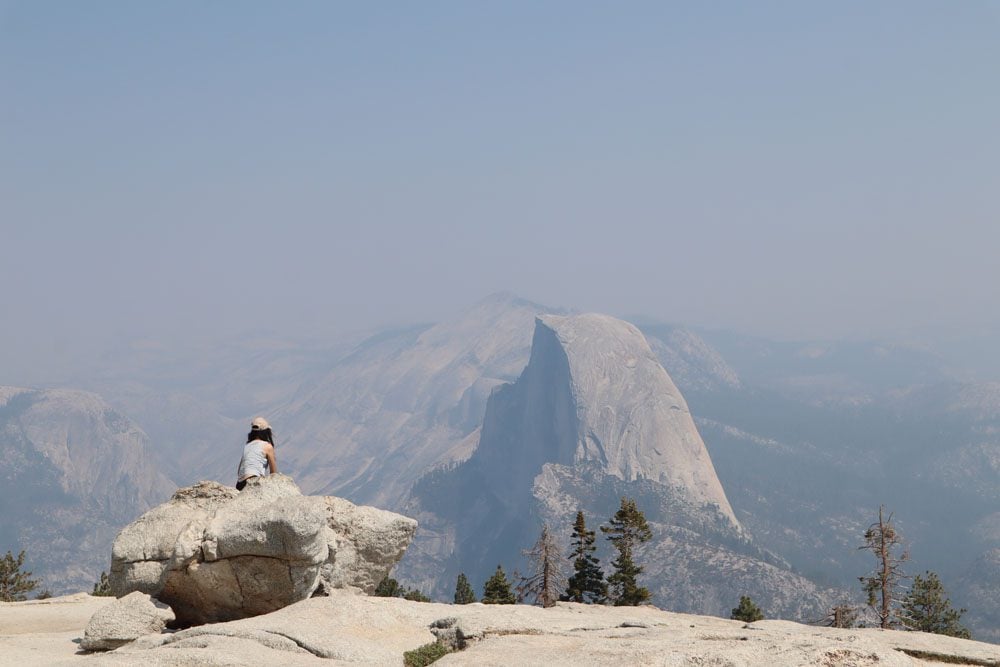 Taft Point
It's another 45 minutes of hiking from Sentinel Dome to Taft Point. I particularly liked the thrilling views at Taft Point, but your heart might skip a beat if heights aren't your thing.
If you feel adventurous, walk to the far side of Taft Point, cross the railing (cautiously), and grab a seat on the rocky ledge. It really doesn't get any better than this!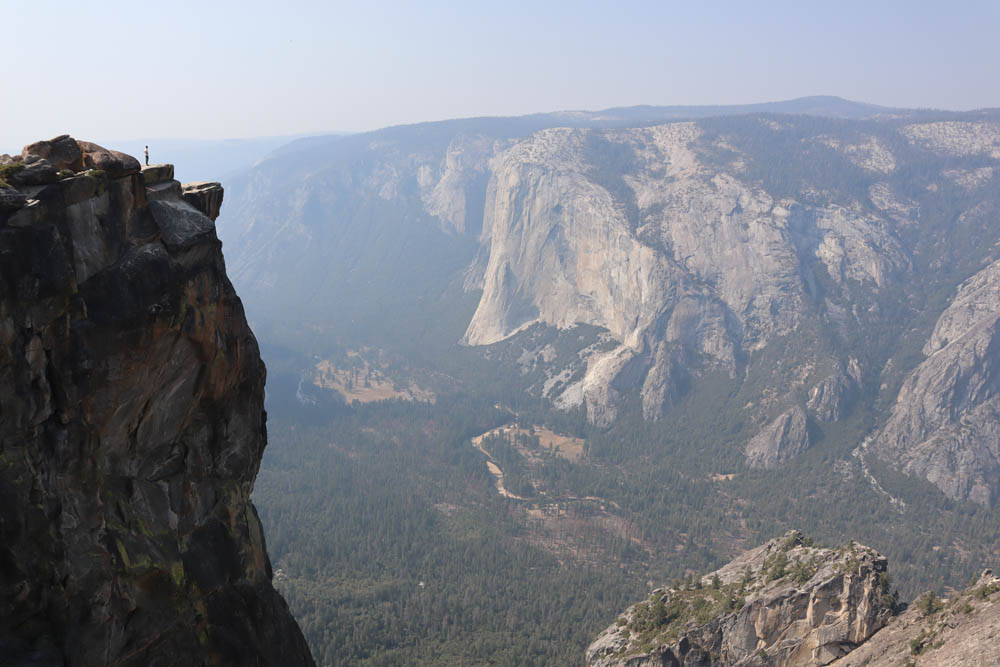 Wawona Area
The southern end of Yosemite National Park is quite different than other sections. You won't find any rocky domes or viewpoints from up above, just giant sequoias and calming meadows.
Wawona Hotel
The historic Wawona Hotel (Big Trees Lodge) opened its doors in 1879, but it owes its origins to 1856 when a small log cabin, called Clark's Station, began hosting tourists. The hotel's distinctive features are its wooden facade and large veranda. History buffs should also check out the Pioneer Yosemite History Center.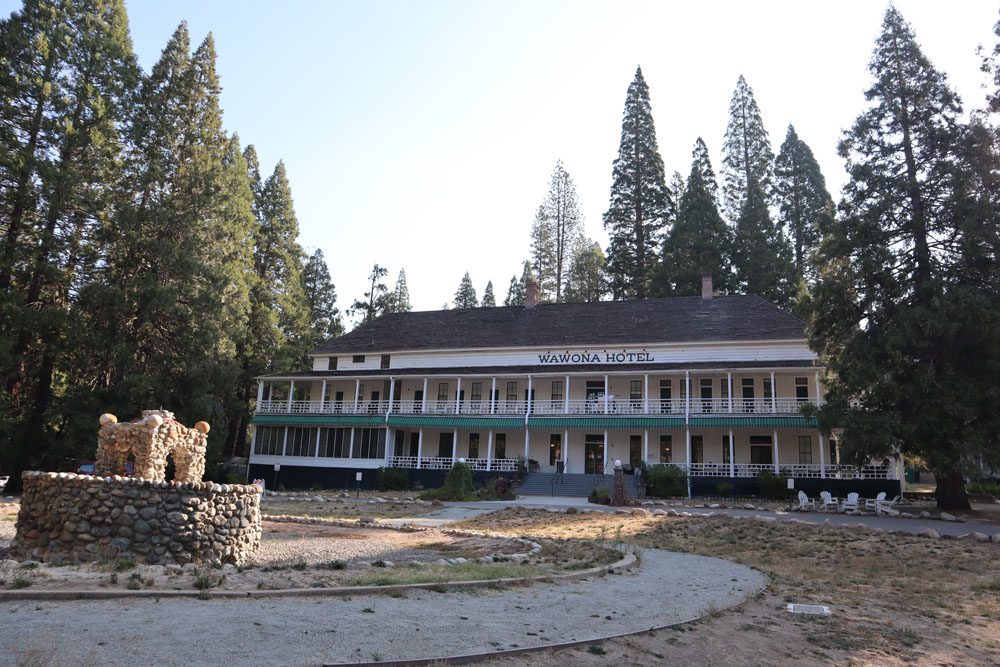 Mariposa Grove
Together with the Merced Grove and the Tuolumne Grove, the Mariposa Grove of Giant Sequoias makes up Yosemite's three sequoia groves. The Mariposa Grove is considered the finest of the three, with over 500 giant sequoias including the (approximately) 2,700-year-old "Giant Grizzly".
Parking is 1.9 miles from the actual grove entrance, reached either on foot via a marked trail or using park shuttles (when in operation). During the dry summer months, the trail can be very dusty, so if you suffer from allergies, take this into account.
Once you reach the Mariposa Grove, choose from several trails, including the easy and family-friendly Big Trees Loop Trail (0.3 miles) and Grizzly Giant Loop Trail (2 miles), or the more strenuous Mariposa Grove Trail (7 miles) and Guardians Loop Trail (6.5). As you stroll around, you'll notice a few fallen giants, some showing signs of fire. The sequoia's massive size is also its soft spot as fire, often directed to a specific point by wind, weakens the trunk until it can no longer support the giant and it comes toppling down.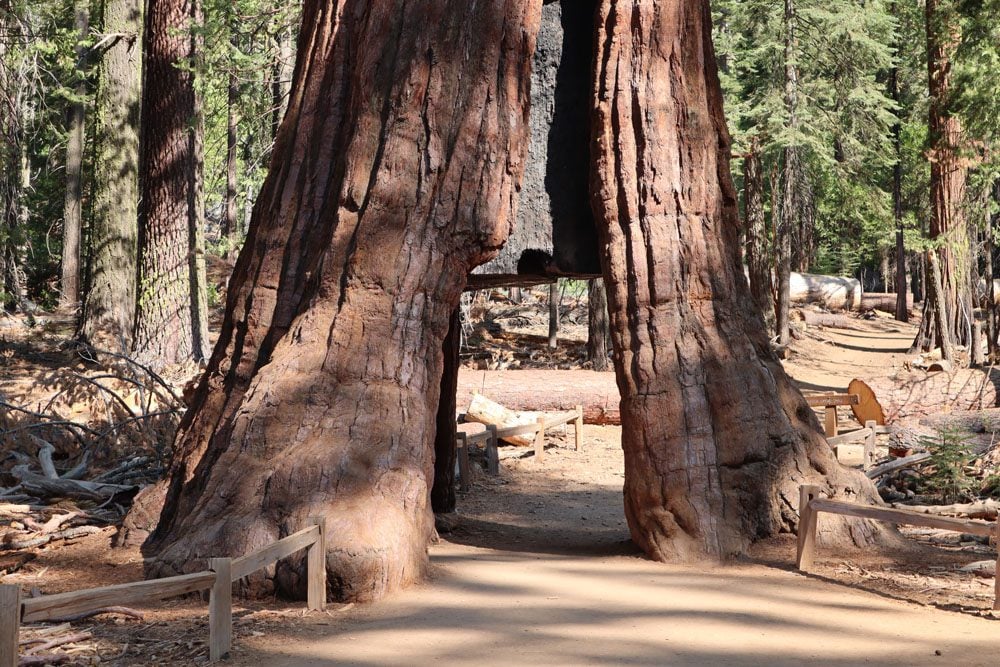 The main highlights to see in the Mariposa Grove are the cluster of giants known as the Bachelor and Three Graces, followed by the Grizzly Giant, and the California Tunnel Tree, through which you can actually walk.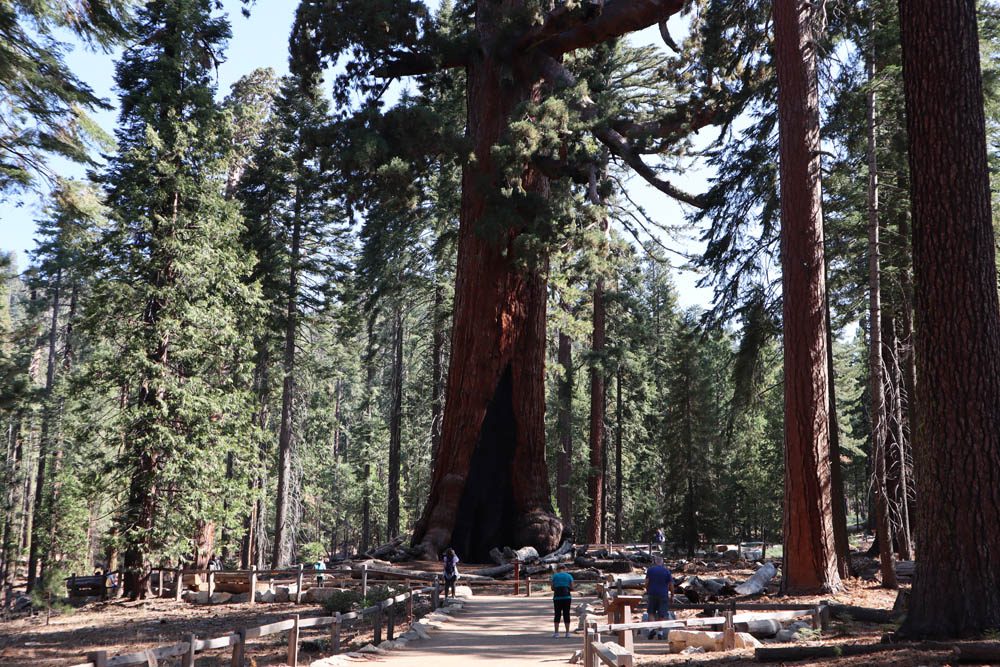 Hiking Trails
Several hiking trails depart from this area. Notable mentions include the easy Wawona Meadow Loop Trail and the Swinging Bridge Trail, along with the longer and more challenging Alder Creek Trail and Chilnualna Falls Trail.
Tioga Road Area
Open from late May or early June through November, Tioga Road is a 39-mile high elevation scenic drive, ranging from 6,200 feet to nearly 10,000 feet (over 3,000 m). It is Yosemite's trans-Sierra Nevada crossing, passing through sub-alpine meadows, blue lakes, huge granite domes, and hiking trails. In season, Tioga Road is the entry point to Yosemite if driving from Death Valley or Lake Tahoe (and vice versa).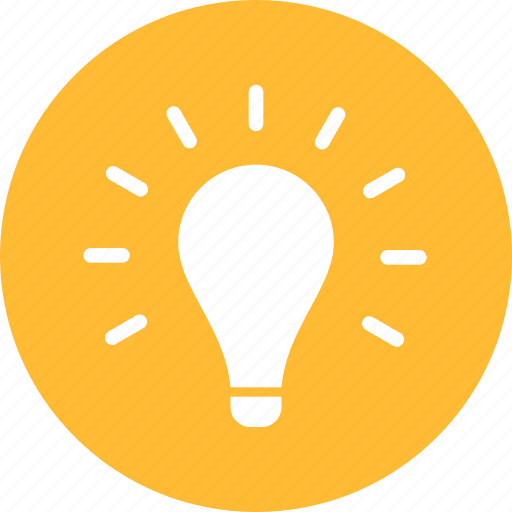 Pro Tip
Due to the area's high elevation, the weather can and probably will be much colder at Tuolumne Meadows than in Yosemite. Plan and dress accordingly.
Tioga Pass
At the eastern end of Tioga Road and an altitude of 9,945 feet (3,031 m), Tioga Pass is the highest automobile mountain pass in California. This stretch of Tioga Road is a true engineering marvel, a steep narrow roadway traversing harsh terrain until reaching the level ground at a high altitude. Tioga Pass Road is regarded as one of the most scenic roads in the entire U.S. national park system.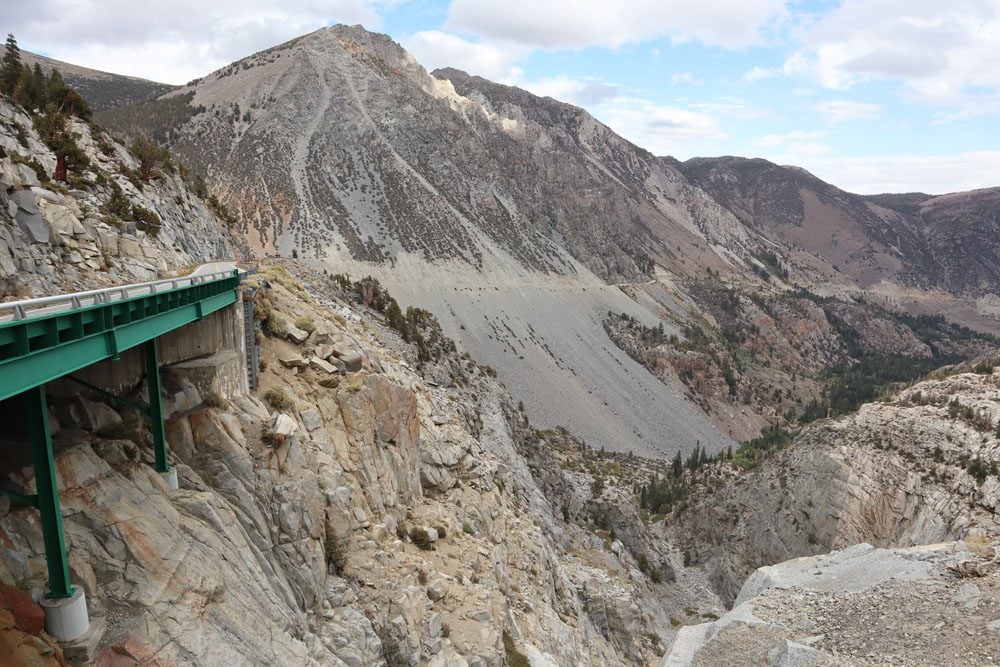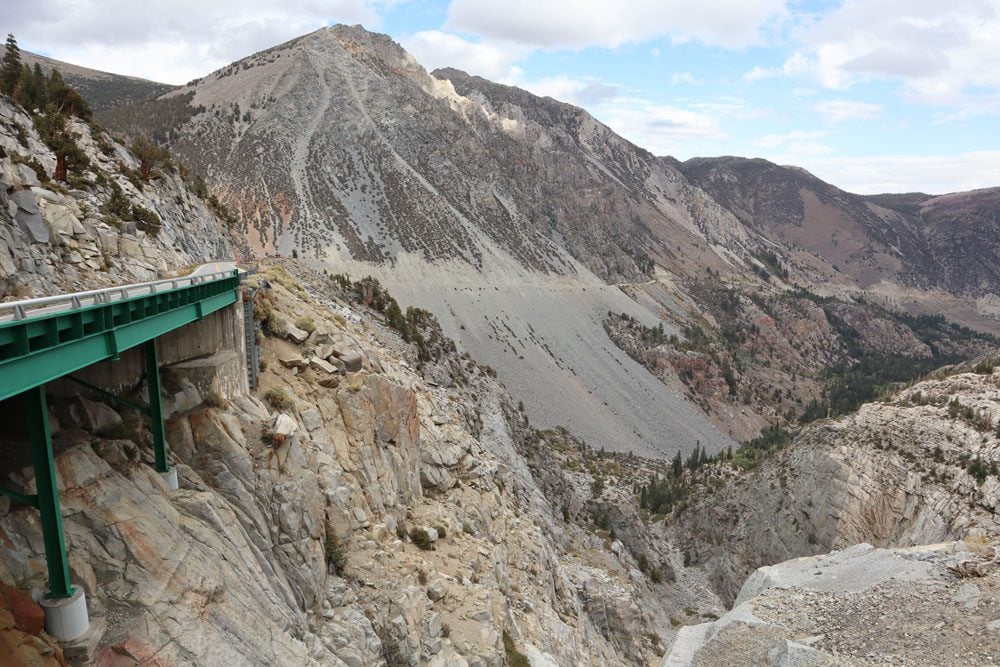 Ellery Lake & Tioga Lake
You'll think you've been magically teleported in your car from California to the Scottish Highlands or even Iceland when passing these two lakes. In the backdrop of granite cliffs and rolling hills, sub-alpine meadows are crisscrossed by streams and confined by the two lakes.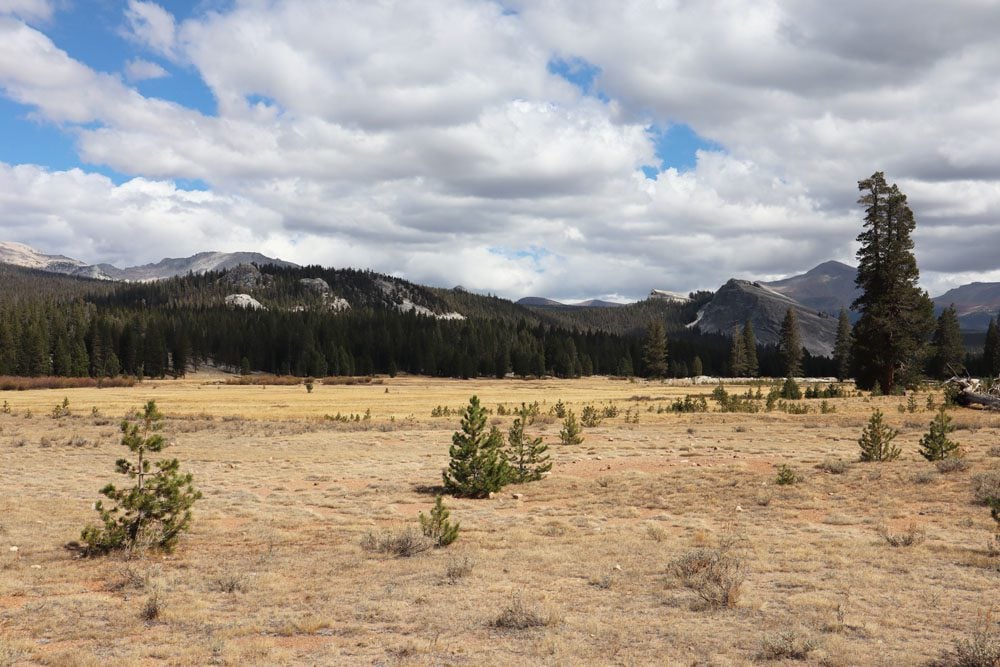 Tuolumne Meadows
At an altitude of 8,575 feet, Tuolumne Meadows is the largest subalpine meadow in the Sierra Nevada. It's not only a very pretty spot, but also the starting point for several hiking trails, ranging from day hikes to Soda Springs, Cathedral Lakes, and Lembert Dome, to multi-day backpacking adventures. Head to the visitor center to inquire about relevant options.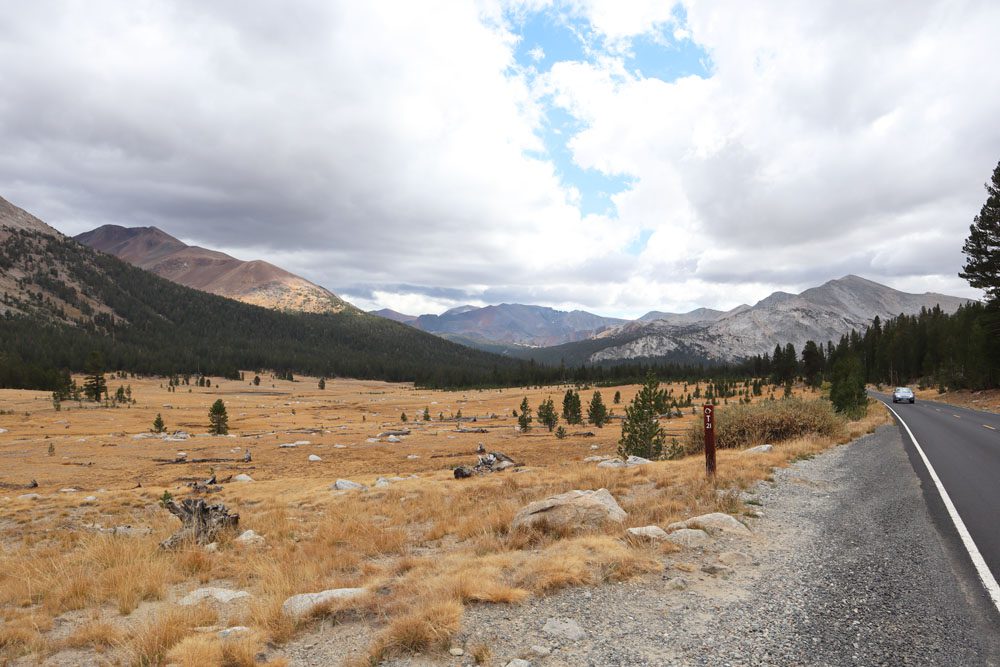 Tenaya Lake
A beautiful spot to stretch your legs or lounge for a little longer on the sandy beach. Tenaya Lake is also the starting point for the Sunrise Lakes Trail.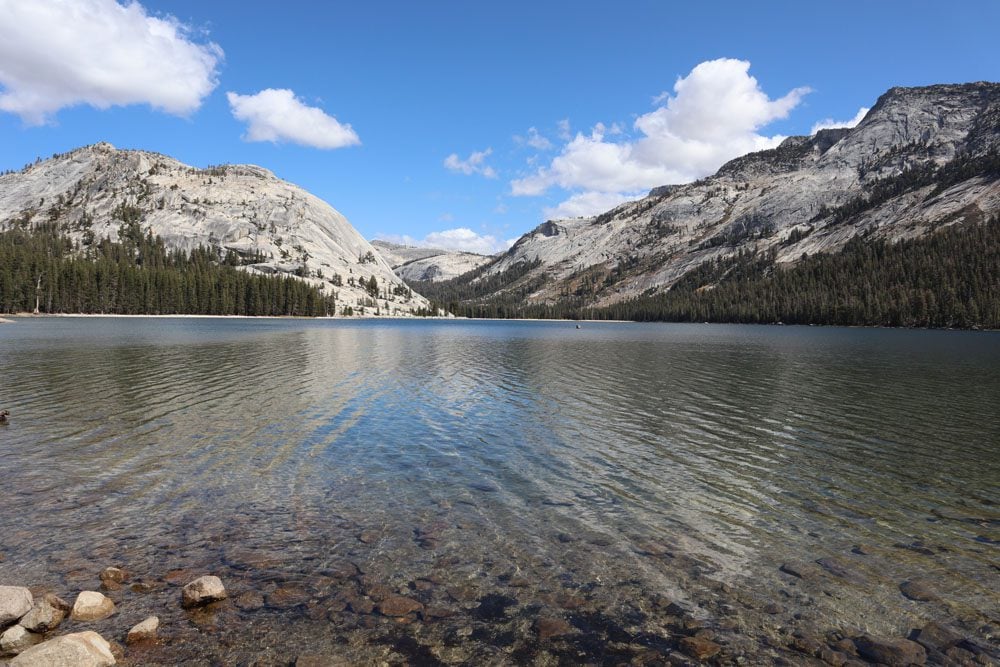 Olmsted Point
Olmsted Point is one of Yosemite's most spectacular scenic lookouts, though it can be quite cold and windy up here at an elevation of 8,841 feet (2,695 m). From Olmsted Point, you can see Tenaya Creek dropping sharply towards Half Dome in the far distance. Another highlight is the giant round boulders that can be approached. These were created by the immense forces of the glacier that also gave this area its polished look.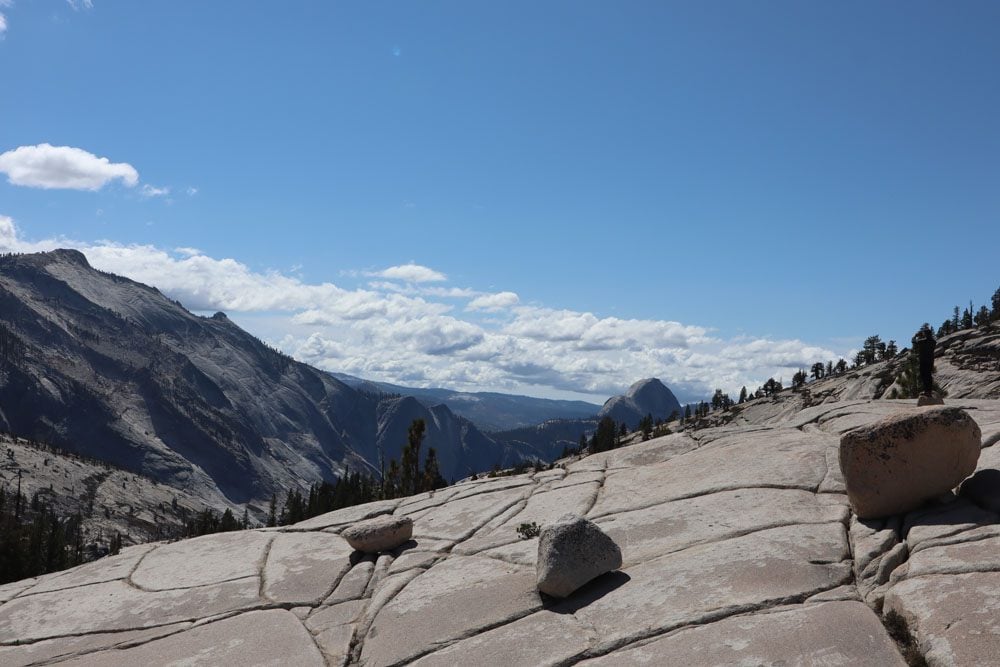 Porcupine Creek & North Dome
The hike to North Dome via Porcupine Creek is one of the best hikes in Yosemite. The trail leads hikers via a secluded sequoia grove where deer can often be seen, to the open expanse of the rocky domes. The trail eventually ends at North Dome, perfectly positioned for awesome views of Yosemite Valley and North Dome, without the crowds of Glacier Point.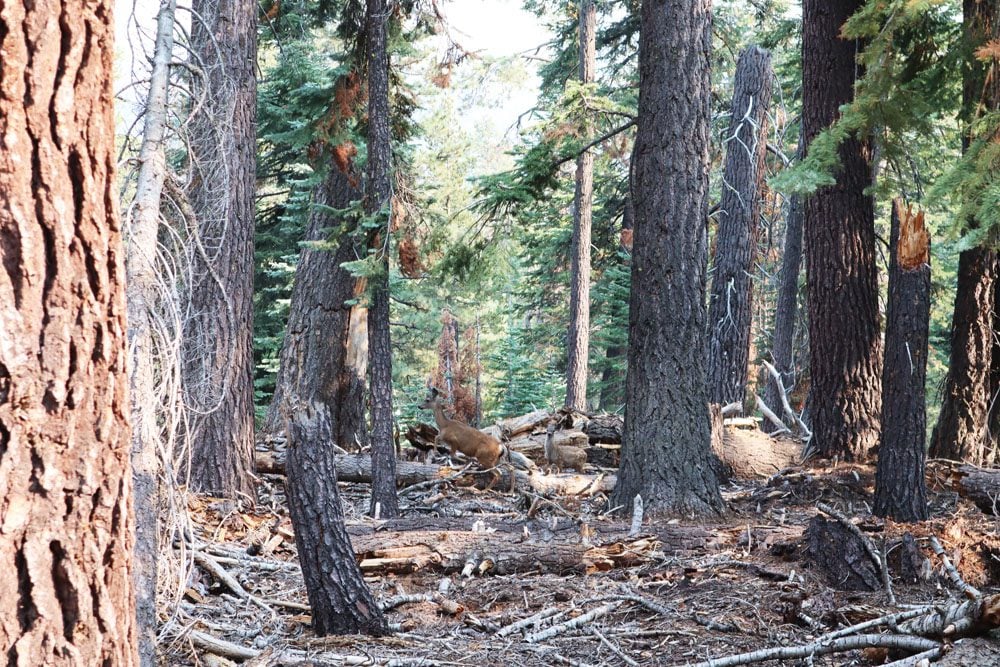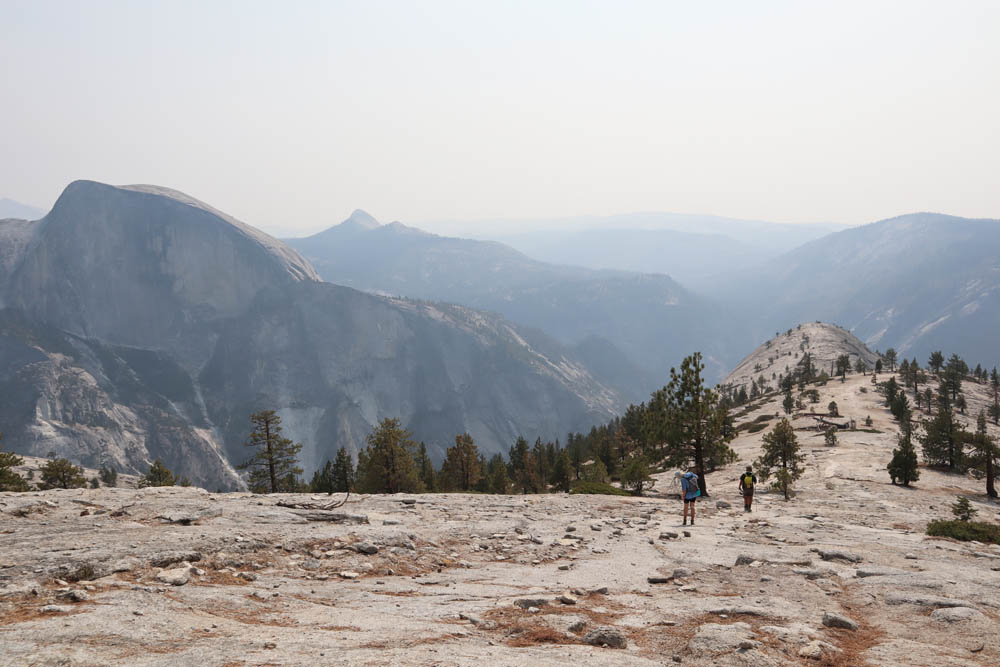 Tuolumne Grove
Tioga Road pretty much ends (or begins) at Tuolumne Grove, one of Yosemite's three giant sequoia groves. It isn't as impressive as the Mariposa Grove, with just 25 mature trees, but it is conveniently located near the Big Oak Flat park entrance and the road to Yosemite Valley.
A paved trail leads to the grove, about one mile from the trailhead. Along the way, you'll walk in a forest of Douglas-fir and sugar pine, before reaching the sequoia grove and its "celebrities" (Fallen Giant and Dead Giant Tunnel Tree). Sections of the trail were once part of the historic Big Oak Flat Road, one of the first to reach the park. The Tuolumne Grove Trail isn't very long, but getting out requires a relatively steep ascent of 400 feet of elevation. If you want to extend your visit, you can continue to Hodson Meadow (4.2 miles away).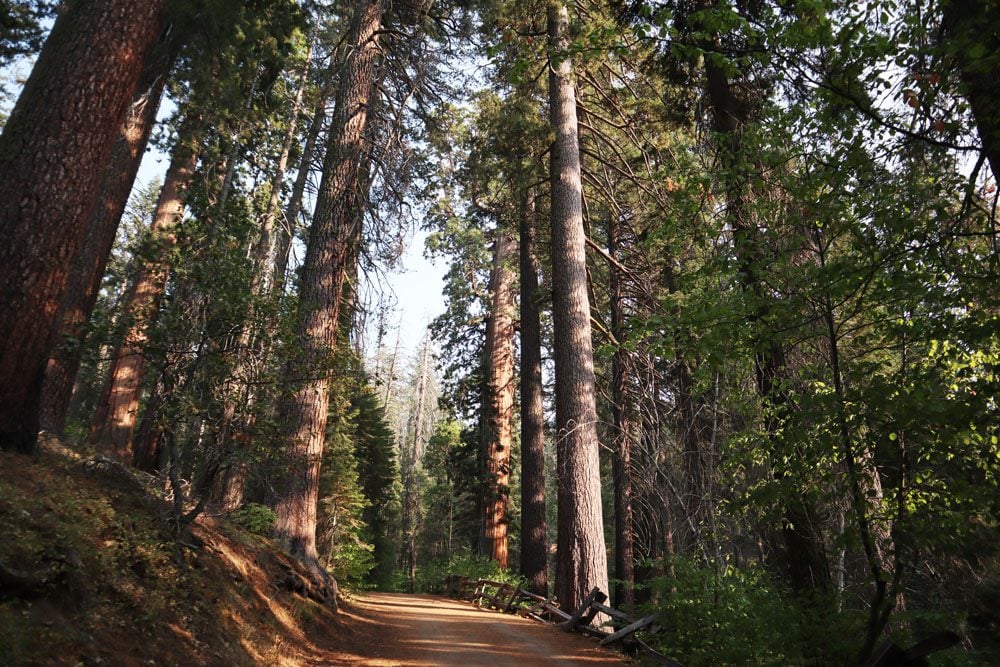 What's Next?
With the information in this Yosemite travel guide, you're now ready to begin planning your Yosemite adventure. For more information about Yosemite, including sample itineraries, check out the Yosemite travel guide collection.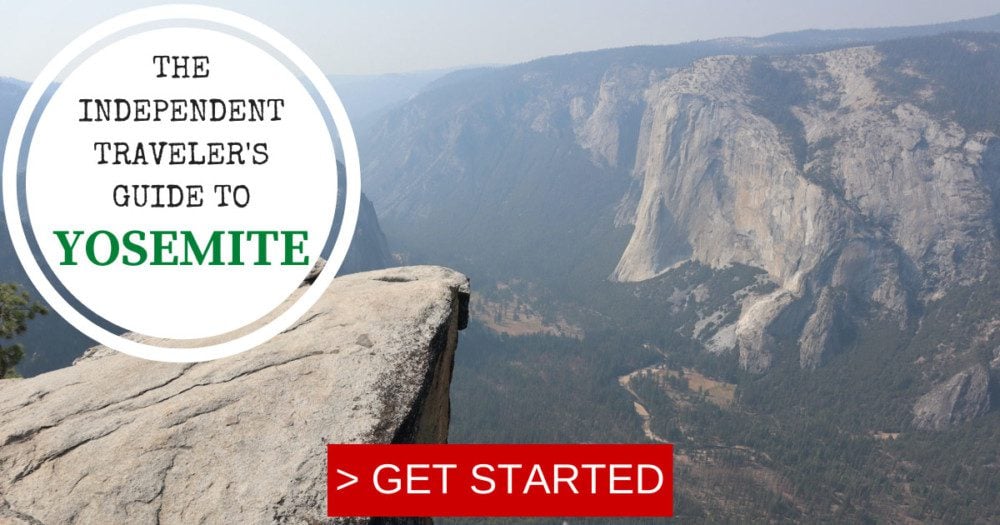 ---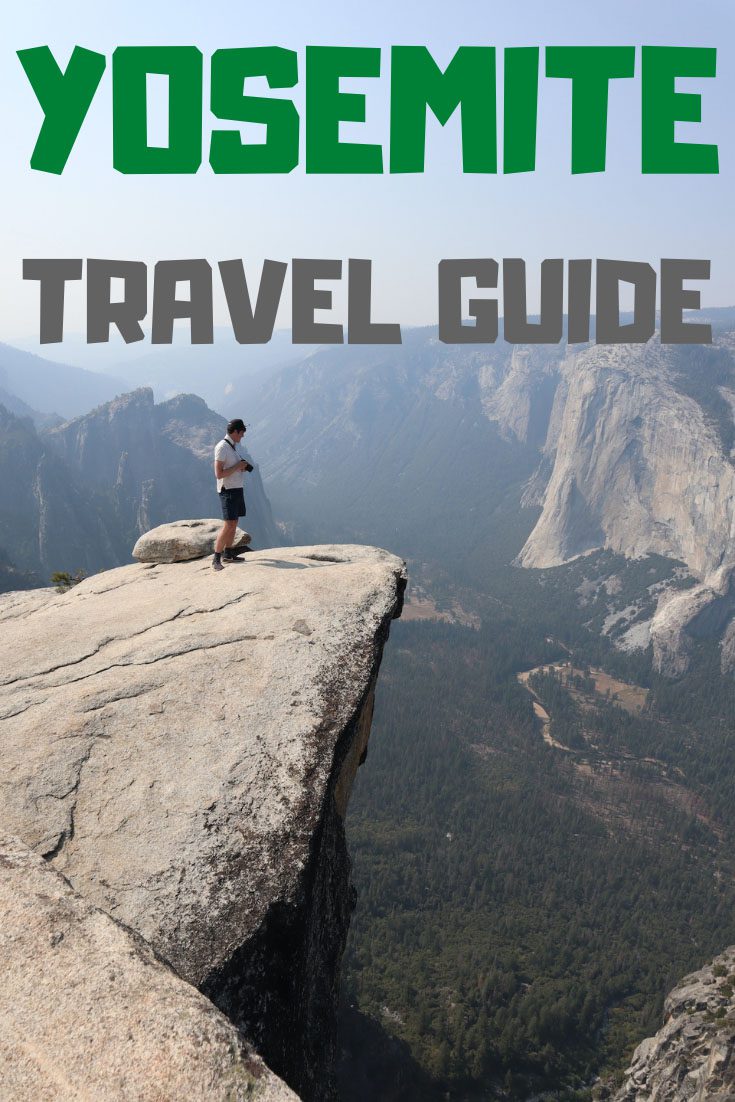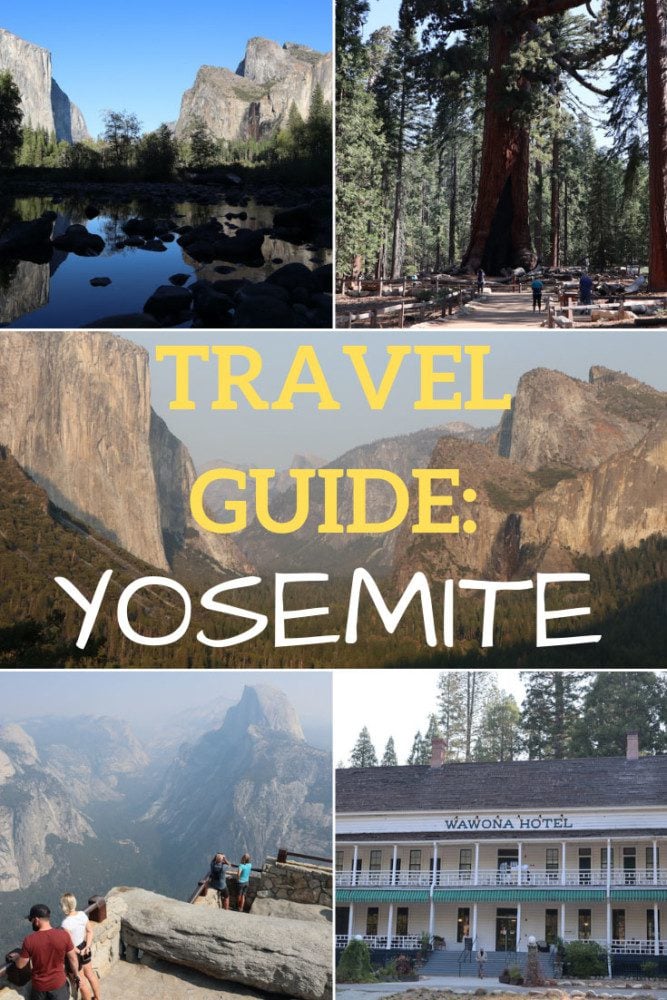 Pin These Images To Your Favorite Boards