The dream island that's on every traveler's bucket list, Bora Bora is simply stunning. Known as 'the romantic island', Bora Bora is the ultimate luxury destination for honeymooners and overwater bungalow enthusiasts. However, there's lots more to Bora Bora than just overpriced accommodation. If you're an independent traveler or simply seeking to venture beyond the resort scene – here's a sample three day Bora Bora itinerary that you can use. I spent 3 days in Bora Bora as part of a six month backpacking trip across the South Pacific Islands, and have since returned to Bora Bora on two occasions. Though there is a premium to be paid, you don't have to be a millionaire to visit Bora Bora.
Heading off to French Polynesia? In-depth island guides to all 5 archipelagos await you, including sample itineraries and essential travel tips & tricks.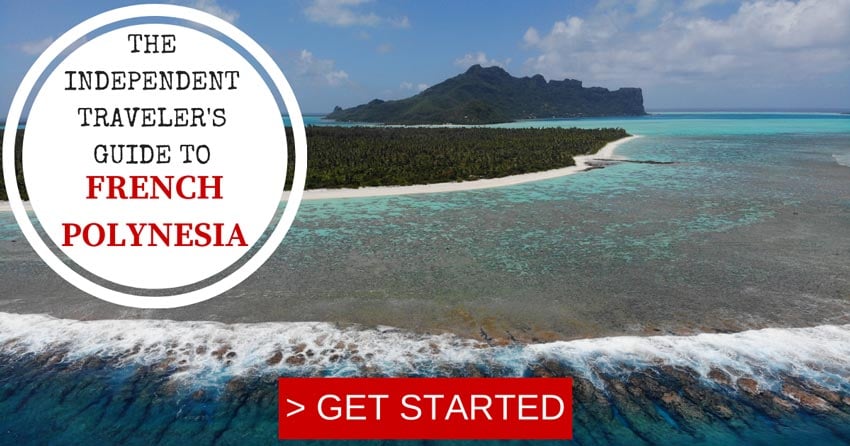 Tahiti, Tailor Made!
The Islands of Tahiti are among the last places to be colonized by mankind, 118 islands, each with its unique personality.
Get expert advice and assistance with planning your trip to the destination where tropical dreams come true!
---
3 Days In Bora Bora Itinerary Map
All places mentioned in this Bora Bora itinerary can be found on this companion map. Simply click on the image to open in Google Maps: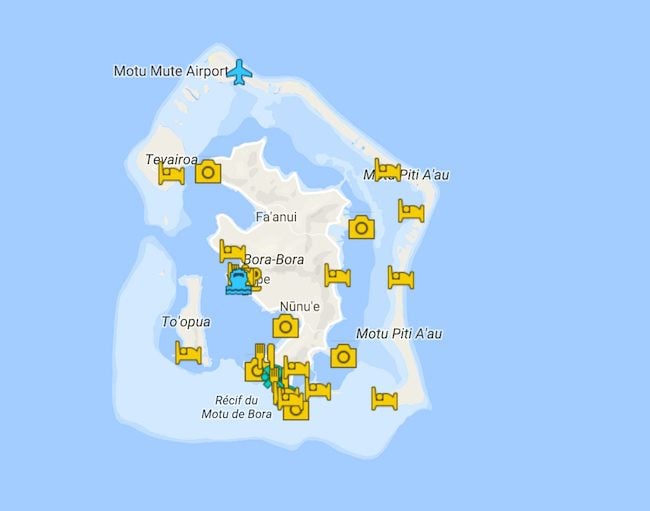 Where to Stay in Bora Bora?
If you're looking to experience the ultimate Bora Bora in a luxury overwater bungalow, the small islets (called motu) surrounding the main island are your destination. For simpler accommodations which range from lodges to affordable resorts, the area on the main island called Matira Point is where you'll want to base yourself. Here's a guide to all of the recommended places to stay in Bora Bora!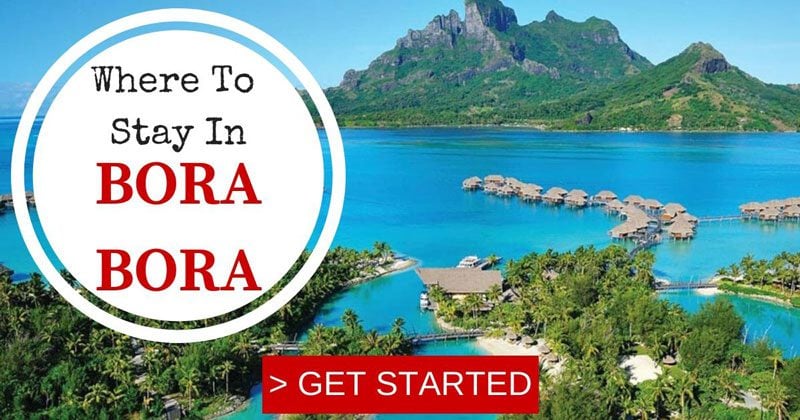 Here are all Bora Bora accommodations that can be booked online.
Day 1: Hit The Beach!
If you're staying at a luxury resort, use this day to relax and enjoy life. If you've opted for a simpler stay on the main island, use this first day in Bora Bora to relax and explore the area around Matira.
Matira Beach
Your first full day in paradise is dedicated to one of the prettiest beaches in French Polynesia. The Matira peninsula extends to the southernmost point in Bora Bora, leaving along its tracks a long stretch of perfect beach. Most tourists settle down in the public Matira Beach area, pretty on the eyes but hard on the head with little to no shade.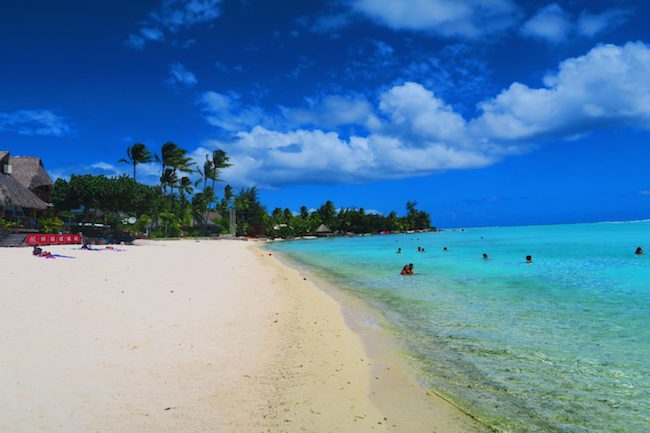 Here's a little secret for you! Follow the sand back in the direction of Vaitape Village, where the beach curves around a beautiful bay. I parked it here for a few hours under the shade of a palm tree (just watch out for falling coconuts) with hardly anyone around. The water is deep enough for snorkeling and the vibe… well, it's just perfect for an afternoon nap.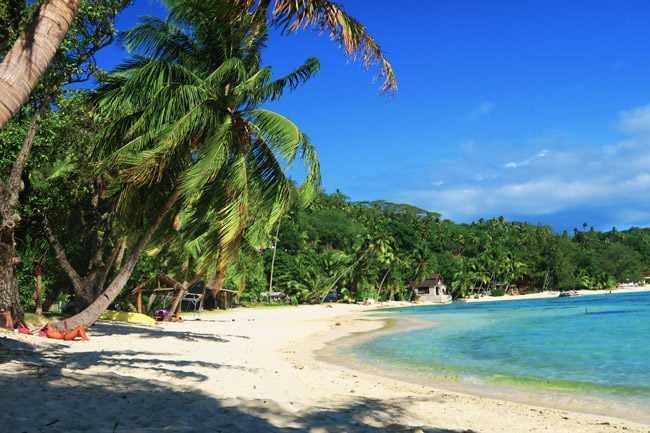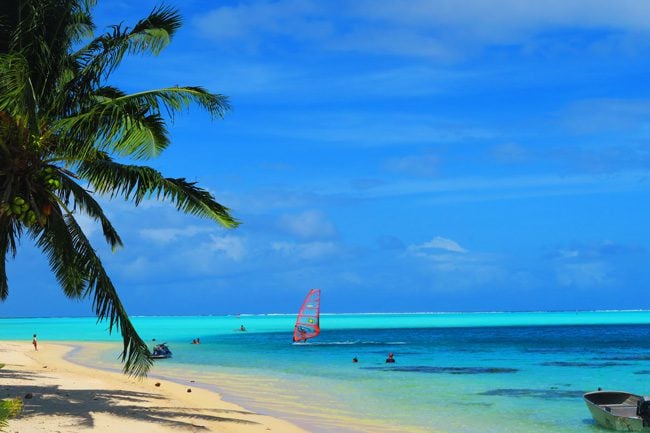 Lunch In One of the Snacks
When you've worked up an appetite, walk along the beach for plenty of food options. The closer you get to the public beach, the more options around. I grabbed lunch at Snack Matira, a quiet spot on the beach that serves traditional fish dishes and western-style food. Aside from the big portions, their incredibly surprising free wifi came in handy for making some calls back home.
Bring plenty of water with you for the beach and all the gear you need. I personally walked here from Vaitape village (~7 km's) and totally enjoyed the views along the way. We'll cover this part when we cycle around the island tomorrow but just so you know, it's also an option if you want to add some activity to your first day in Bora Bora.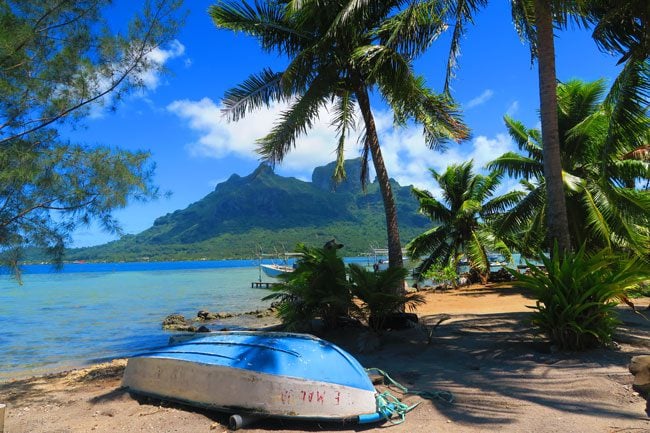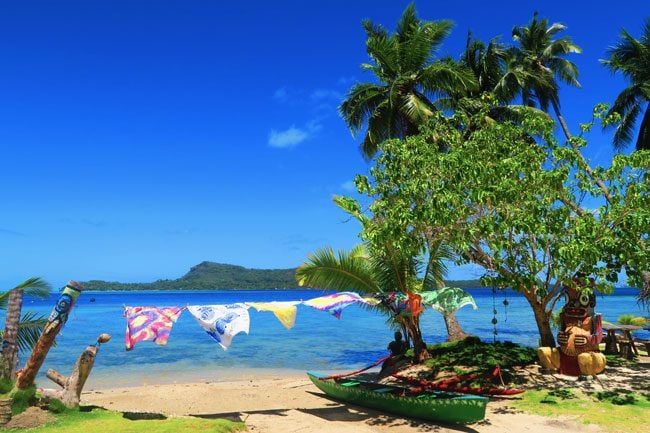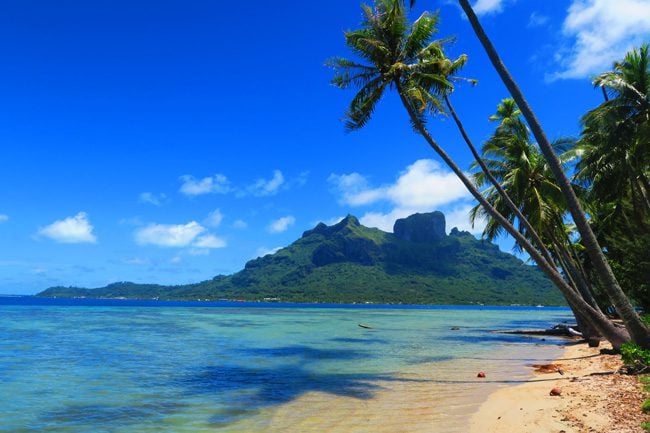 Casual Dinner in Vaitape
For dinner, head to Vaitape Village and join the locals, where after 6 pm the main town square hosts several food trucks known around French Polynesia as roulottes. What's on the menu? Well, that depends on which food truck is around. Options range from traditional Polynesian dishes (don't miss the poisson cru) to the ever-popular chow mein. The setting is casual, the portions are huge and they're all very well priced (starting from 1,000F). When you've finished cleaning your plate with a slice of baguette, walk around the pier and join the locals in counting some stars and downing a few cans of Hinano Beer. Alternatively, if Vaitape is too out of the way, there are plenty of dining options in and around Matira.