Day 3: Big Sur and Back to San Francisco
The last of our 3 days on the Pacific Coast Highway is primarily dedicated to Big Sur, the most impressive stretch of the PCH from San Francisco to Los Angeles. Big Sur's scenery is likely what you have in mind when thinking about this road trip. There are many scenic stops along the way and we'll need to drive back to San Francisco in the afternoon. So getting an early start is crucial to the success of this day.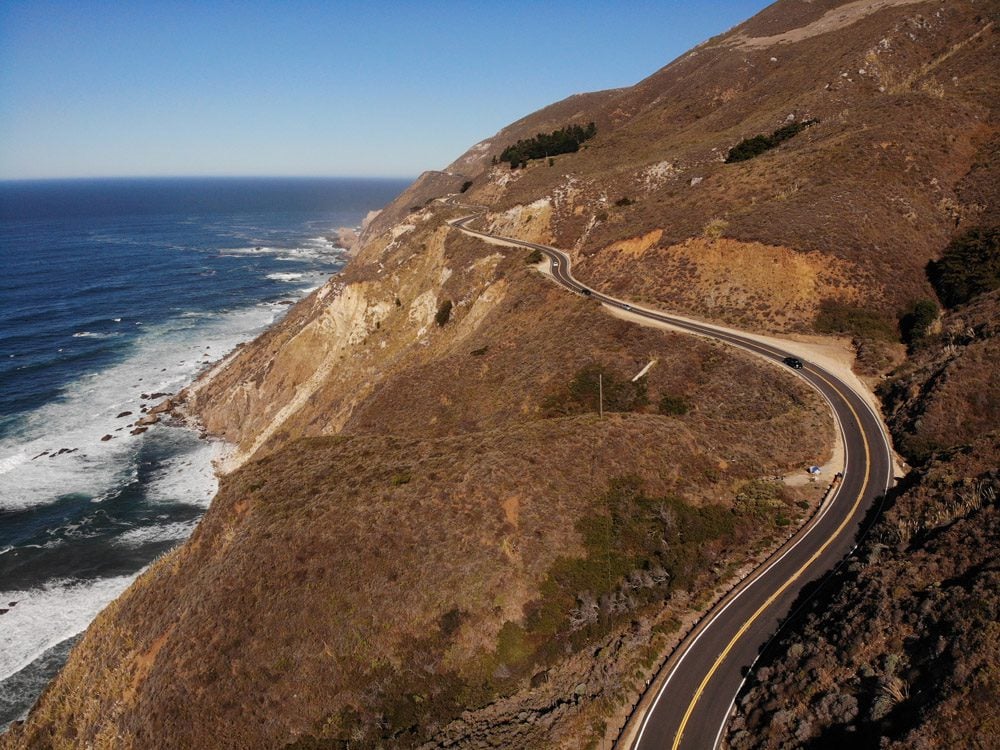 Moreover, driving in Big Sur is very slow-going, not only because of the countless temptations to stop and take in the views but also because of the terrain and possible roadwork. Drive with care, don't overtake unless it's safe, and plan for longer driving times than what you're used to.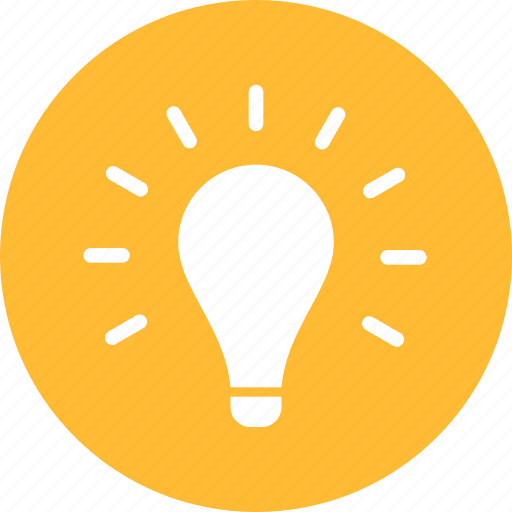 Pro Tips
(1) If morning fog is heavy and you plan to drive back to Carmel from Big Sur in order to join Highway 101 back to San Francisco, you can drive to the furthest point in this itinerary and work your back heading north as the morning fog clears. (2) Gas stations are few and far in between in Big Sur, not to mention very expensive. Be sure to fill up the tank before heading to Big Sur.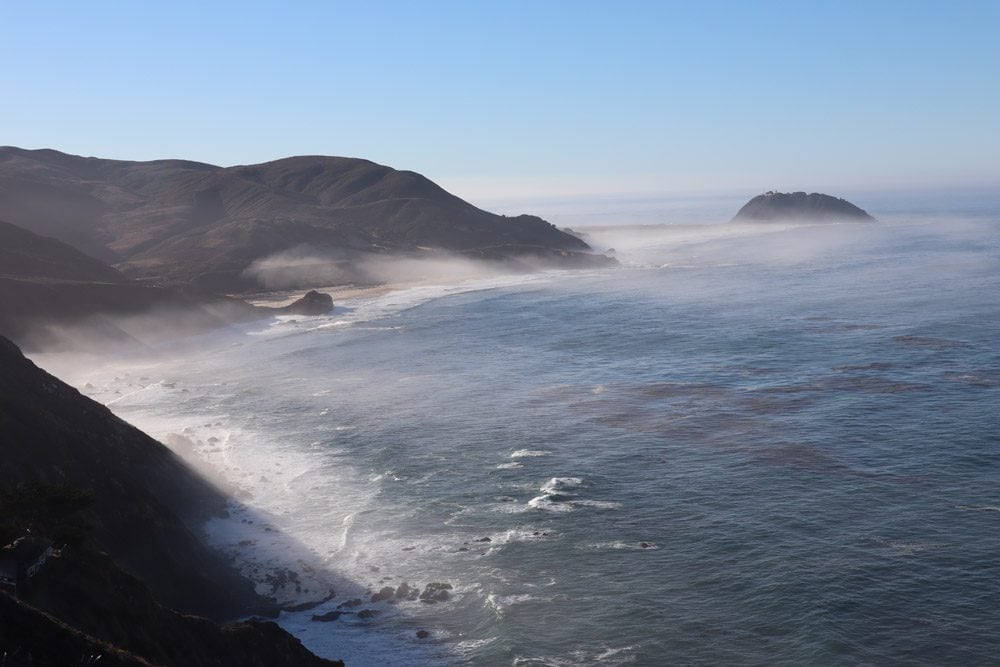 Soberanes Point
Part of Garrapata State Park, Soberanes Point is a worthwhile stop, even if just a quick one to enjoy the views. If you have the time, you can hike the three-mile round-trip Soberanes Point Trail or head further inland on the Soberanes Canyon Trail.
Notleys Landing Viewpoint
Another worthwhile stop, just before the final turns to Bixby Bridge.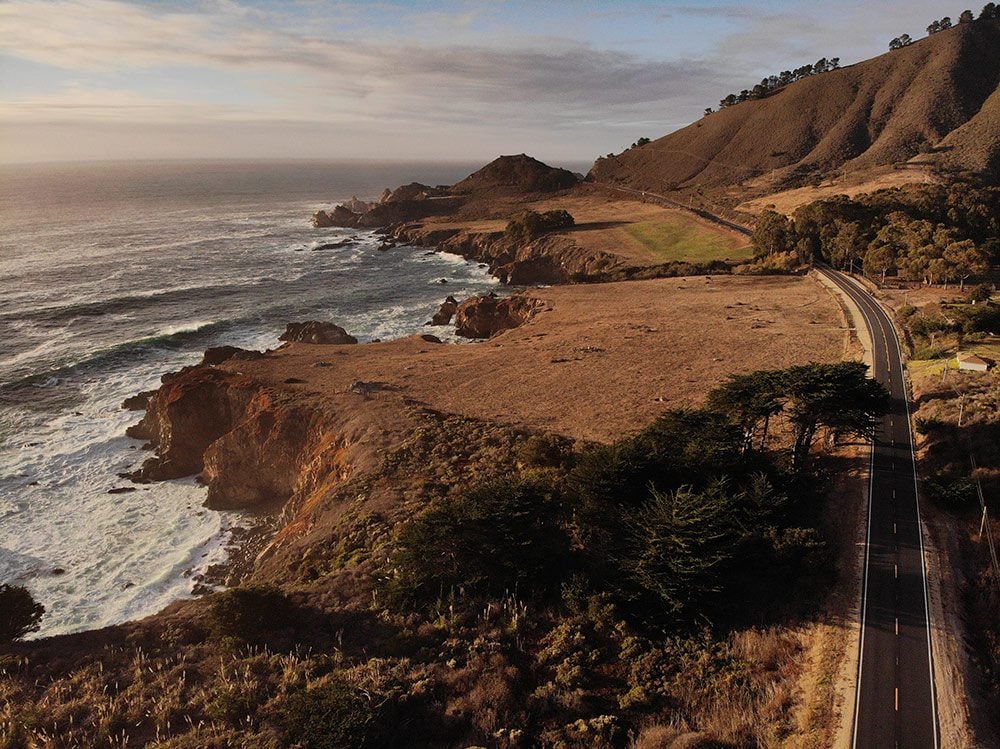 Bixby Bridge
Bixby Bridge is one of the top sites on the Pacific Coast Highway. Completed in 1932, Bixby Bridge is one of the tallest single-span concrete bridges in the world. Due to the popularity of this spot, there is enough roadside parking for a few dozen cars, but I can imagine that on a busy day, it might be challenging to find a spot. Take the time to stroll around and walk down just below the bridge on the marked path for great ocean views. You might even spot California Condors flying around.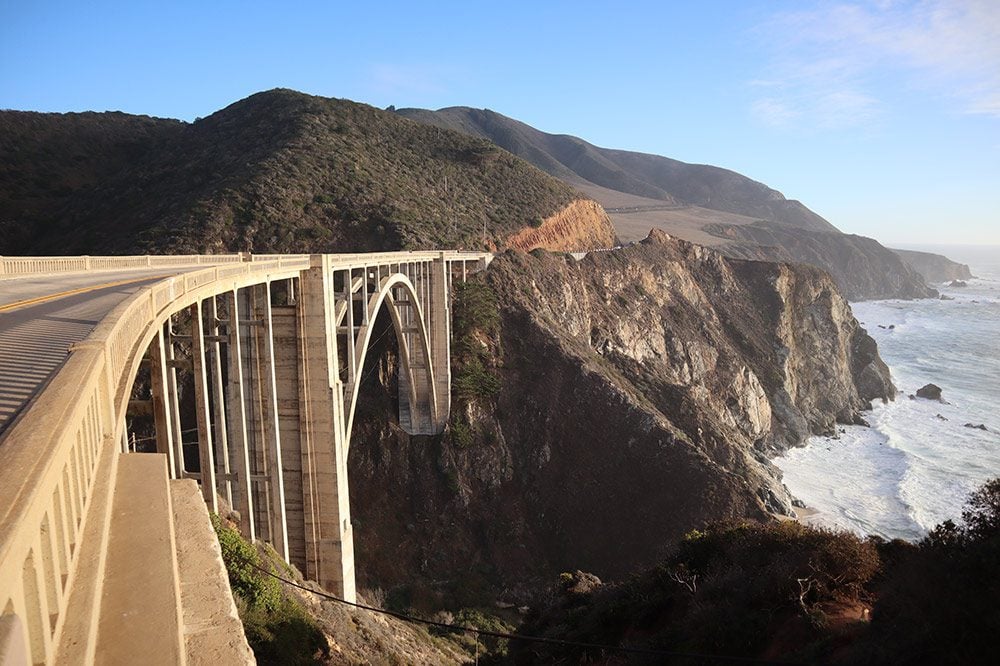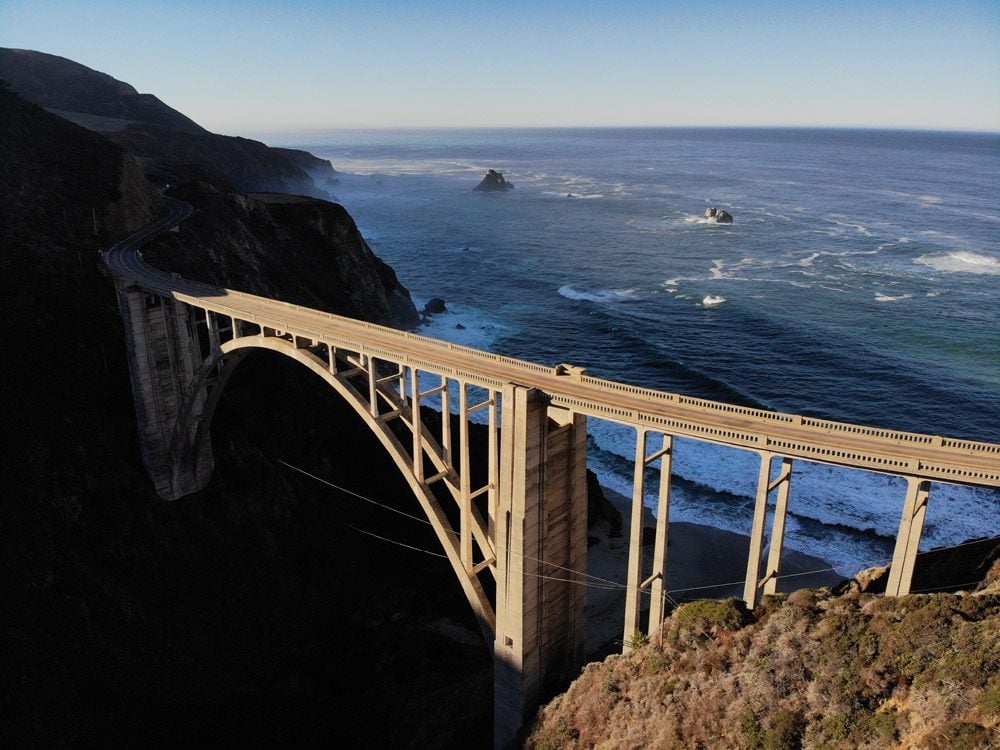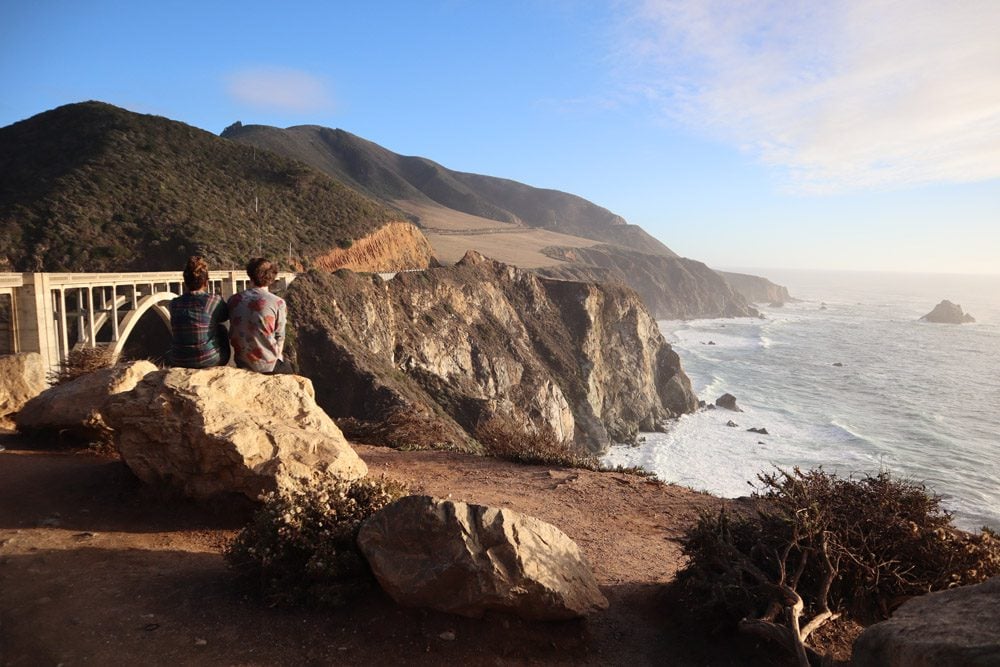 Point Sur Historic Park
Rising from the edge of a sand bar and looking a little out of place, Point Sur Historic Park is crowned by the giant volcanic hill atop which sits its historic lighthouse. You can visit the lighthouse only on three-hour guided tours which must be reserved in advance and timed with your itinerary.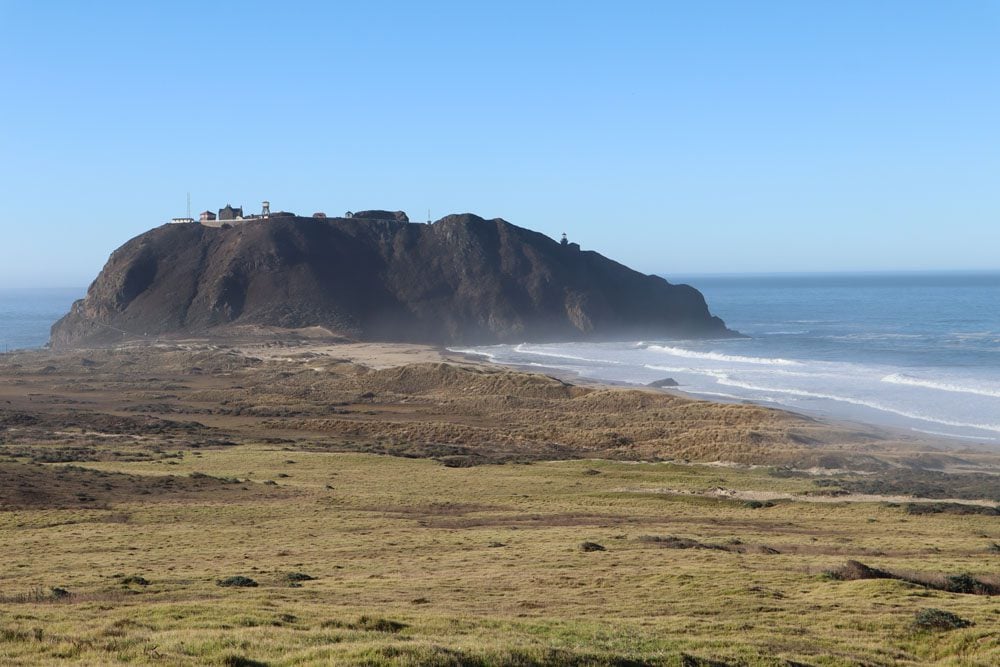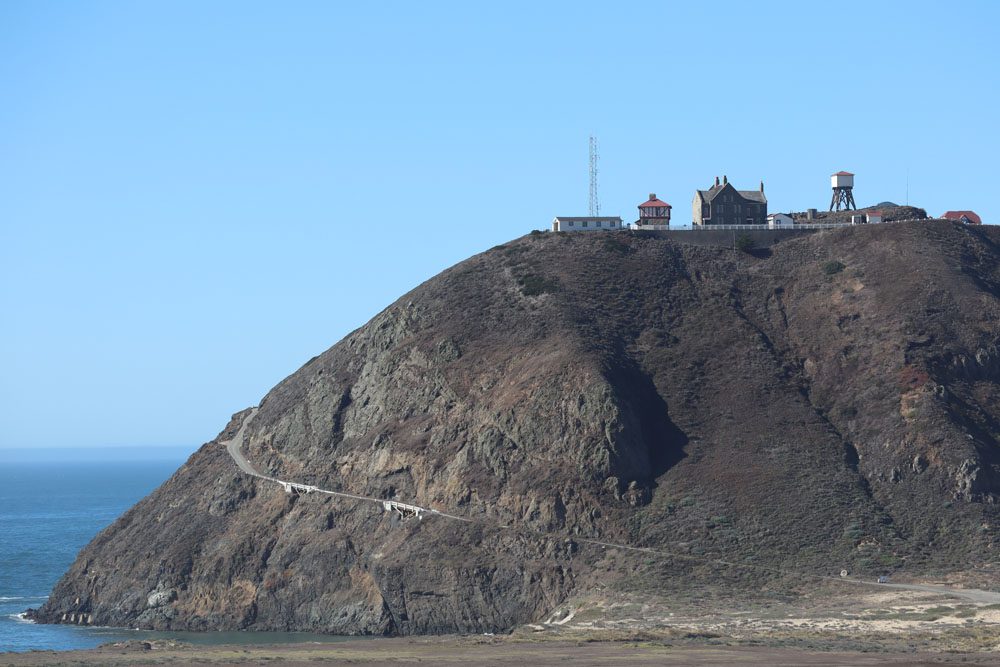 Hike to Pfeiffer Falls
A short but worthy hike on this day is at Pfeiffer Big Sur State Park, named after Julia Pfeiffer Burns, a respected Big Sur rancher in the early 20th century. This section of the state park covers the high ground and it features a wheelchair-accessible walking trail and a few hiking trails to go along with fine lodging at the Big Sur Lodge. The most popular hike is to Pfeiffer Falls, an easy 1.3 mile (2 km) trail through a redwood forest. Pfeiffer Falls is part of Pfeiffer-Redwood Creek, which flows to the Big Sur River before making it into the Pacific Ocean. Even in the dry season, there should be some flow in the waterfall, though towards the end of the summer it will only be a trickle.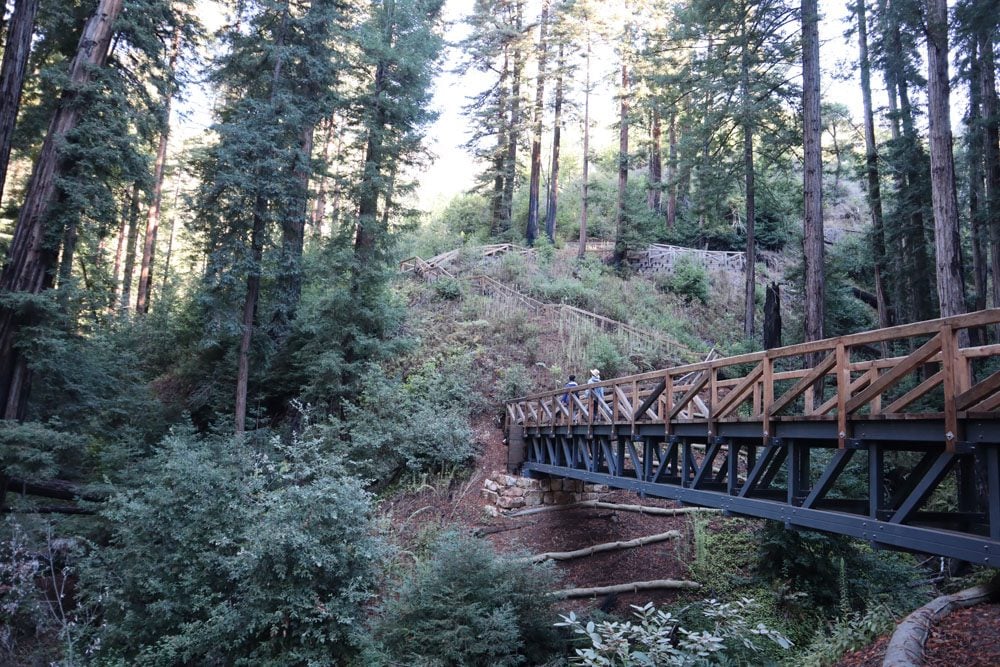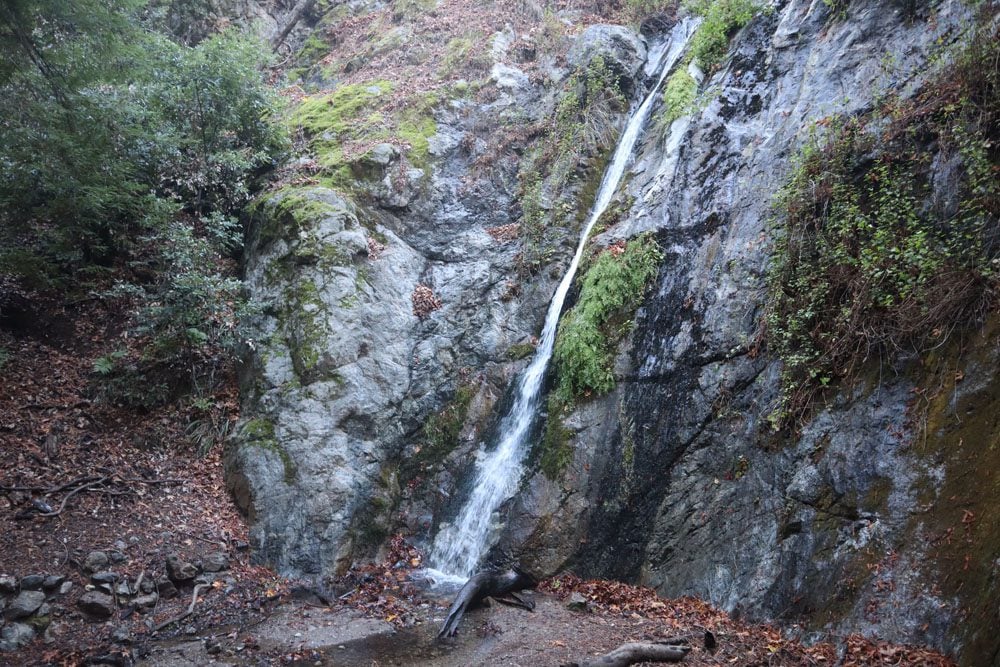 Pfeiffer Beach
Confusingly, Pfeiffer Beach is part of the Los Padres National Forest, so you'll need to pay a separate fee to enter. Pfeiffer Beach is a stunning rugged beach with a trick up its sleeve. Just a few meters away from the shore, pierced Keyhole Arch rises out of the water, allowing for rushing waves and the changing natural light to add a unique flavor. Pfeiffer Beach is an ideal stop for a picnic lunch.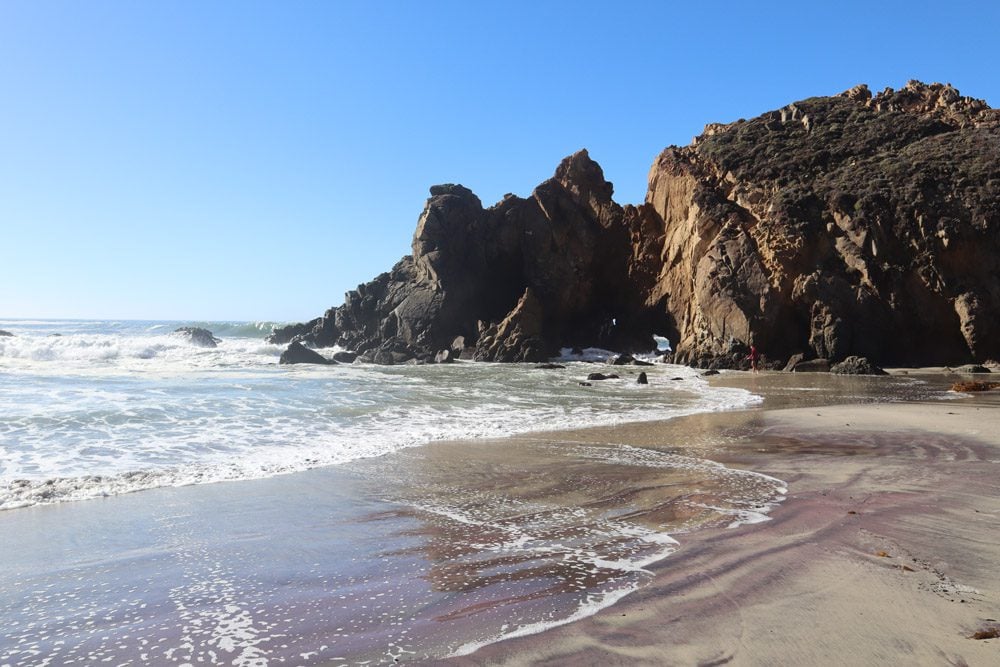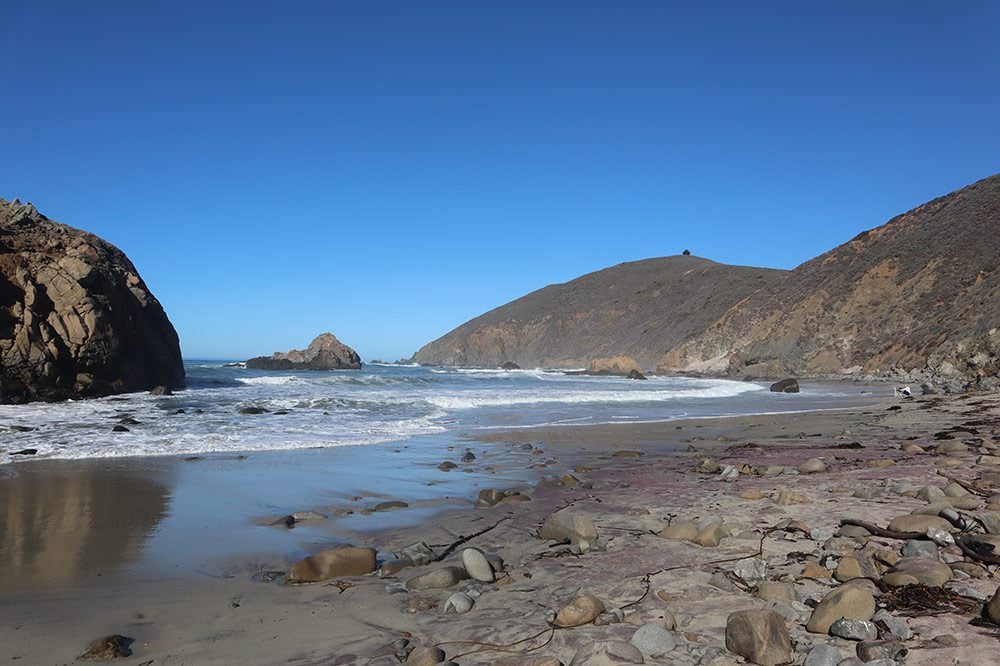 Seal Beach Overlook
Another worthwhile roadside vista point of Big Sur's beautiful and rugged coastline.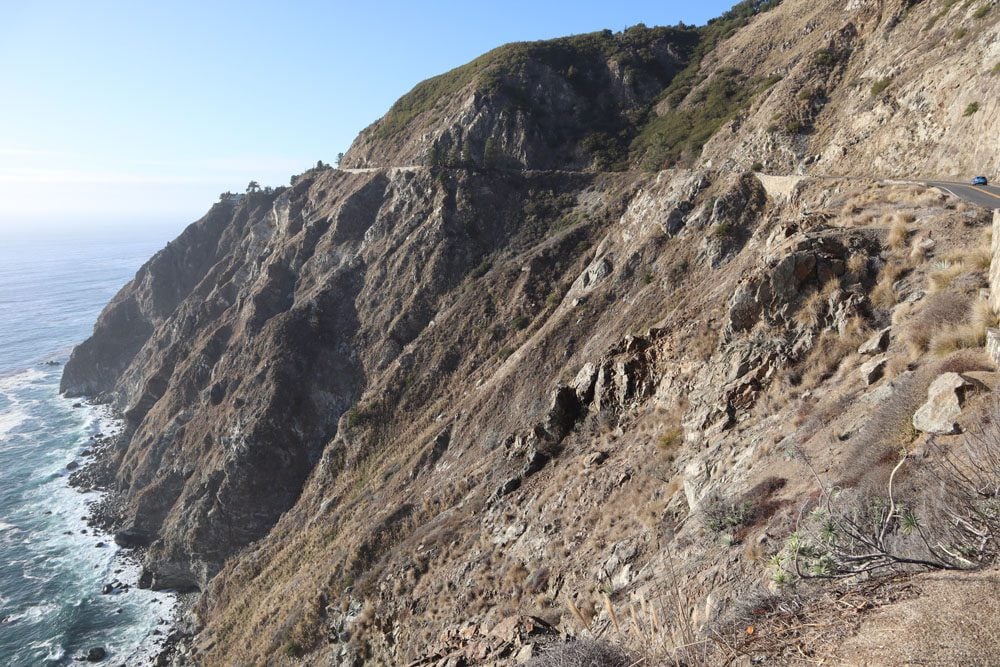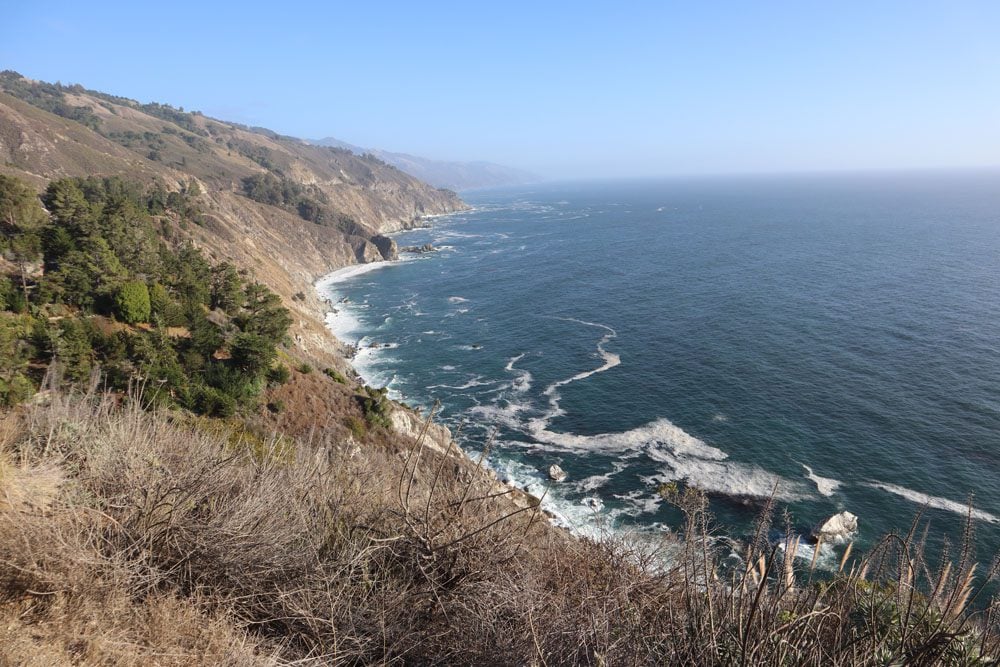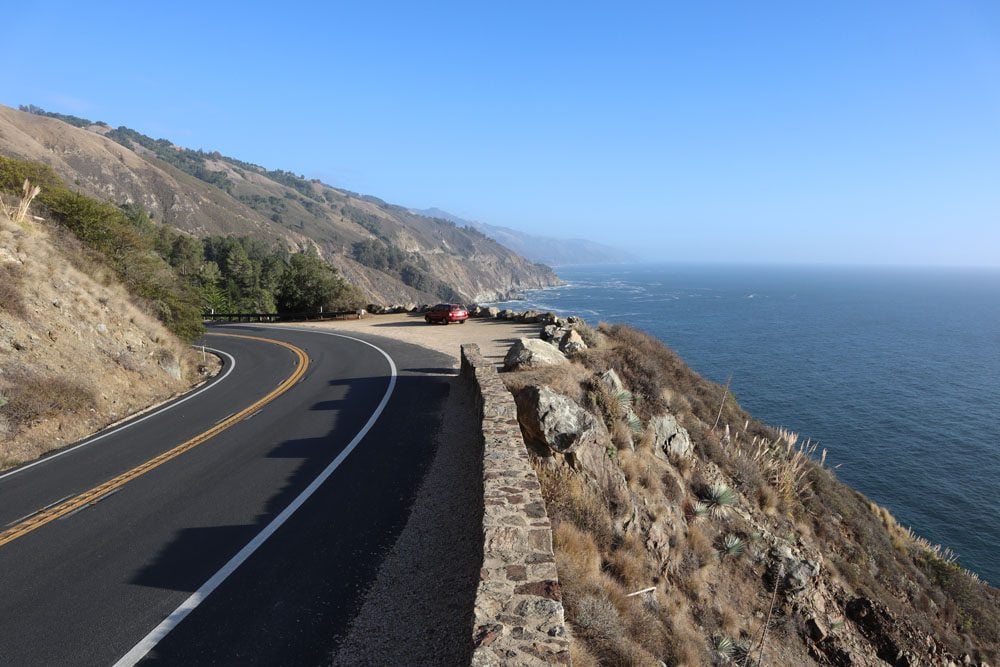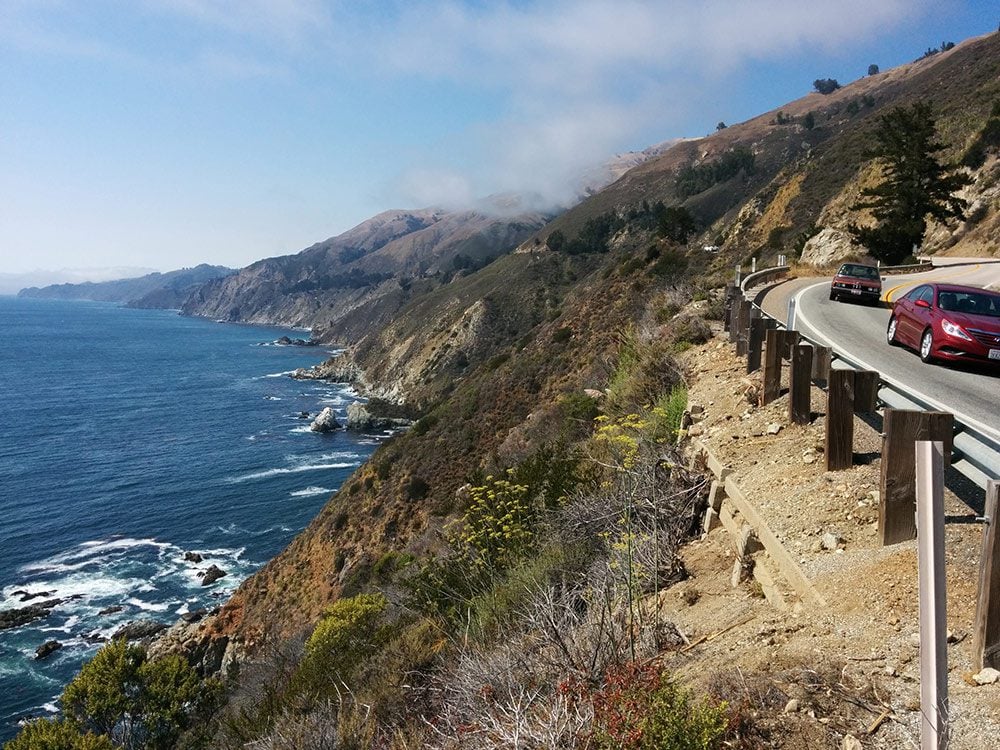 Partington Cove Trail
Though just over a mile long (1.8 km), the hike to Partington Cove requires hiking back over a relatively steep incline. If you make it down to the cove, you might be rewarded with private views of Big Sur.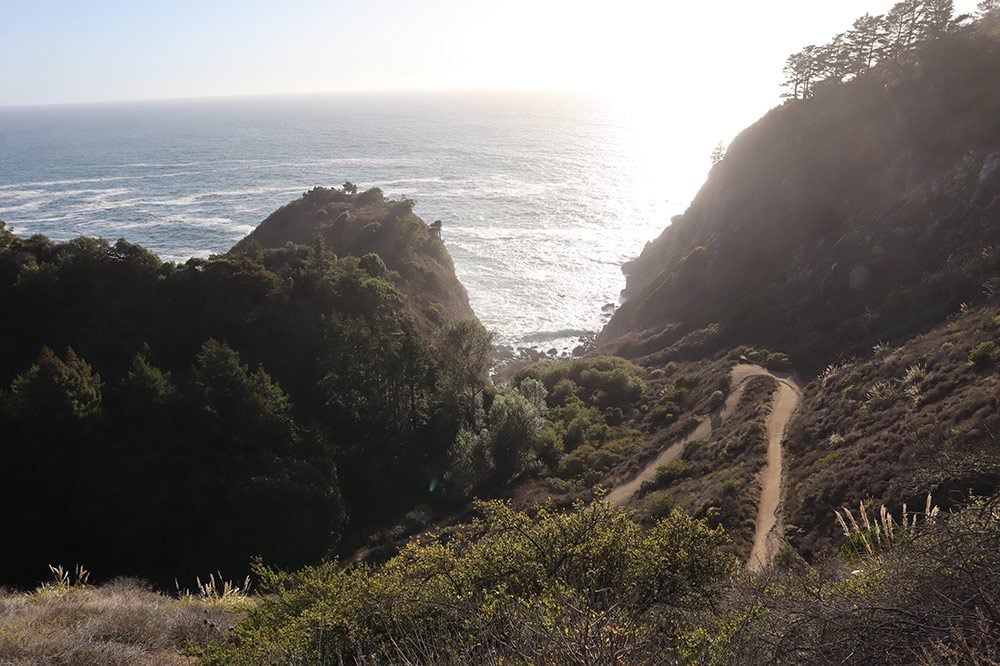 Julia Pfeiffer Burns Vista Point
One of the best scenic lookouts in Big Sur, if not the best. Get out of the car, stretch your legs, and enjoy the finest views of Big Sur and maybe even of whales swimming off the coast.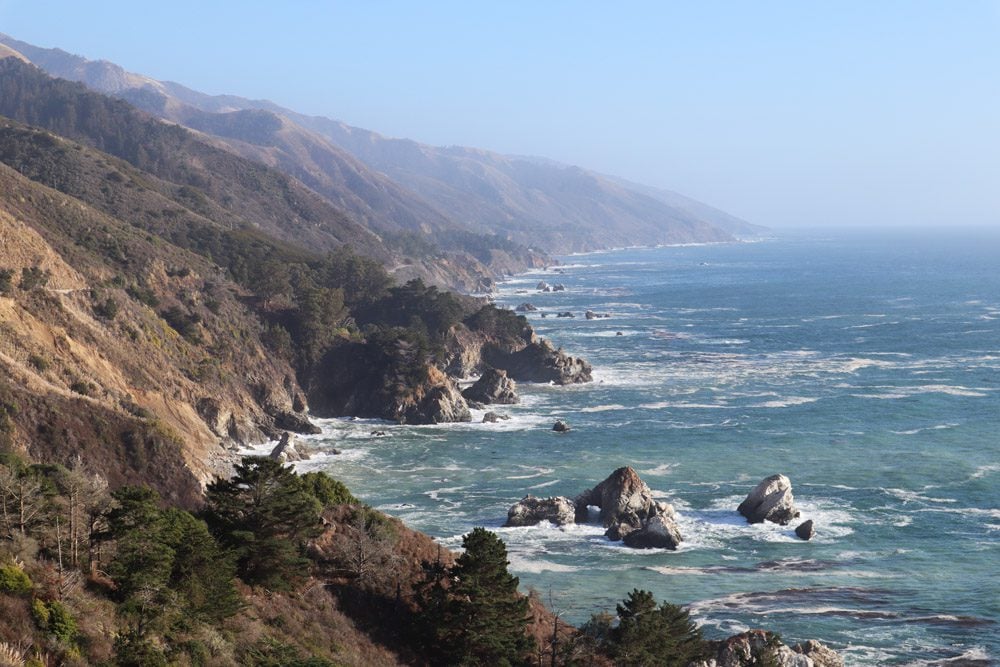 McWay Falls
There is no better way to end the sightseeing portion of this Pacific Coast Highway road trip other than at McWay Falls. Back on the grounds of Pfeiffer Big Sur State Park, McWay Falls is Big Sur's most impressive natural feature, best appreciated when the sun is high or directly shining on the beach. McWay Falls is 80-foot-tall (24 m) and cascades directly into the ocean during high tide. When the tide is out, this frame gets even prettier as the gentle waterfall spills onto a sheltered sandy cove hidden from the pounding forces of the Pacific.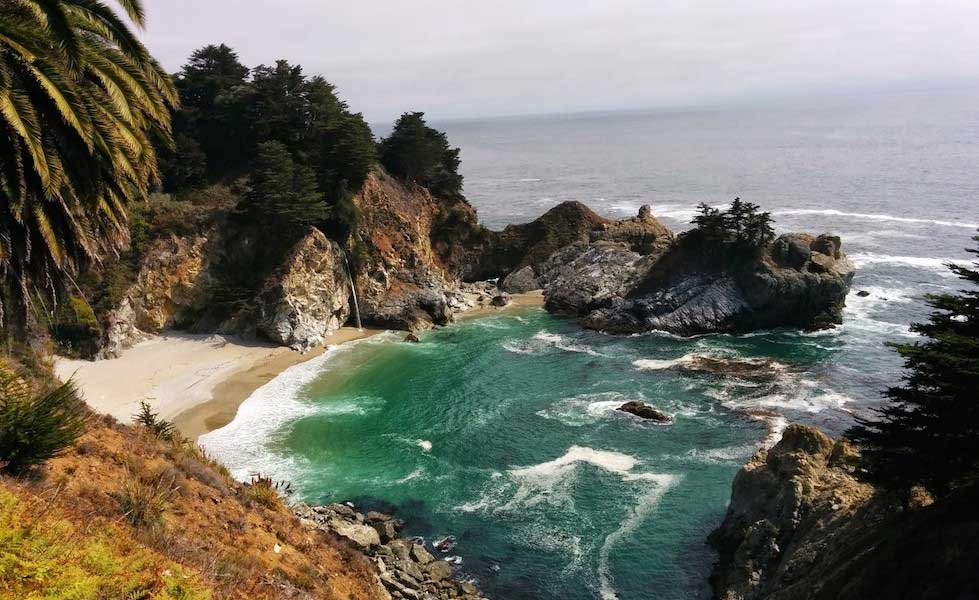 Drive Back to San Francisco
From McWay Falls, we'll head back to San Francisco. The quickest route takes us back to Carmel and then to Highway 101. The 160-mile drive should take about three hours in good road conditions. If you fancy doing some shopping, stop at the Gilroy Premium Outlets on the way to San Francisco. If you feel adventurous and don't mind taking a risk, you could drive further south and take Nacimiento-Fergusson Rd to join other roads that eventually reach the 101. This is a backcountry road and it may not be open.
What's Next?
This wraps up an exciting 3 days on the Pacific Coast Highway, driving from San Francisco to Big Sur in search of "classic" California coastal vistas and the unexplained allure of road trips. Be sure to check additional California travel guides which also include a comprehensive Pacific Coast Highway itinerary from San Francisco to Los Angeles.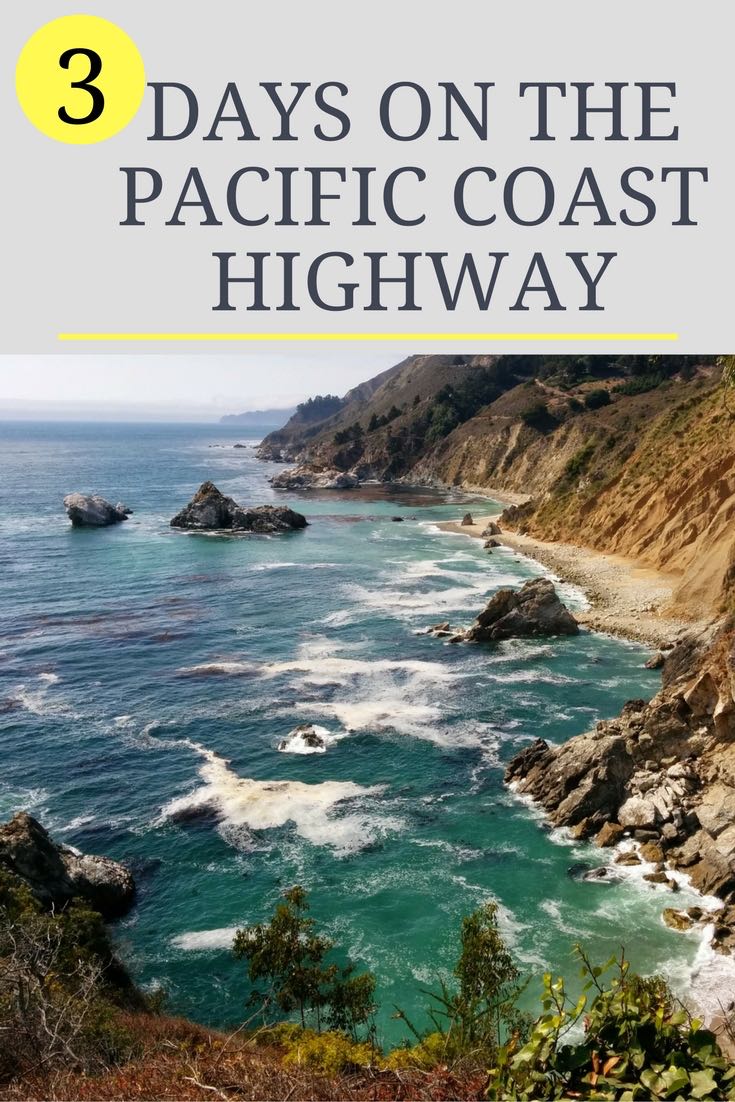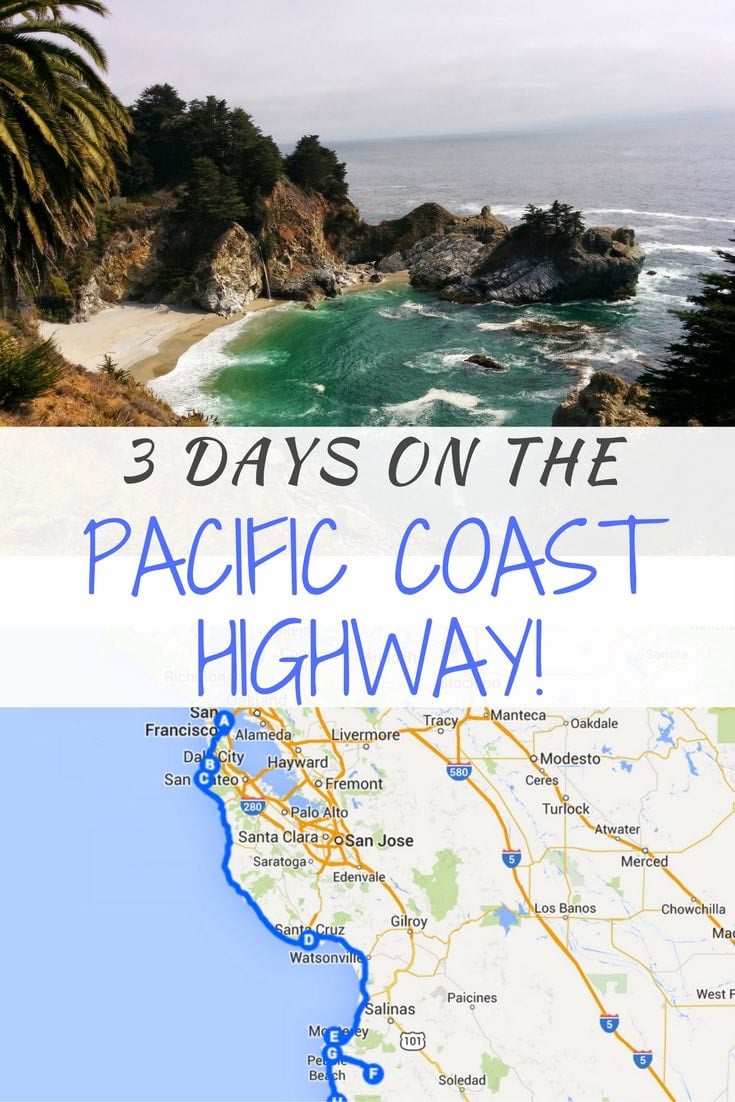 Pin These Photos To Your Favorite Boards!