Day 1: Balboa Park, San Diego Zoo, Downtown & The Gaslamp District
We'll spend the first day in San Diego exploring its downtown area, but not before we head to one of the best urban parks in the world.
Arrival
Though as I've mentioned in the introduction, San Diego is a large city, it certainly doesn't feel that way. The San Diego International Airport is just a 10-minute ride from downtown and having arrived very late on a Friday, I took a short taxi ride to the Manchester Grand Hyatt.
The Manchester Grand Hyatt commands prime real estate along the San Diego Bay. It's one of the nicest hotels in town for folks who like large hotels and rooms have excellent bay views. By its sheer size and grandeur, it feels like a Vegas-style hotel and we're not that far from Sin City. Rooms are as comfortable as you would expect and there's even a rooftop bar that opens at 3 pm, offering even better views of the bay and the famous Coronado Bridge.
Here's a full list of all San Diego accommodations that you can book online.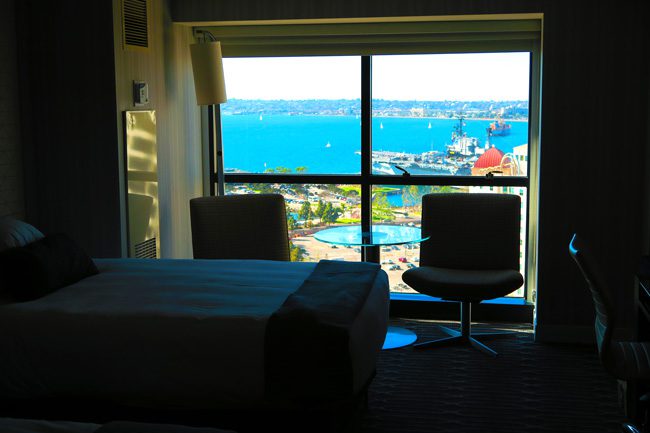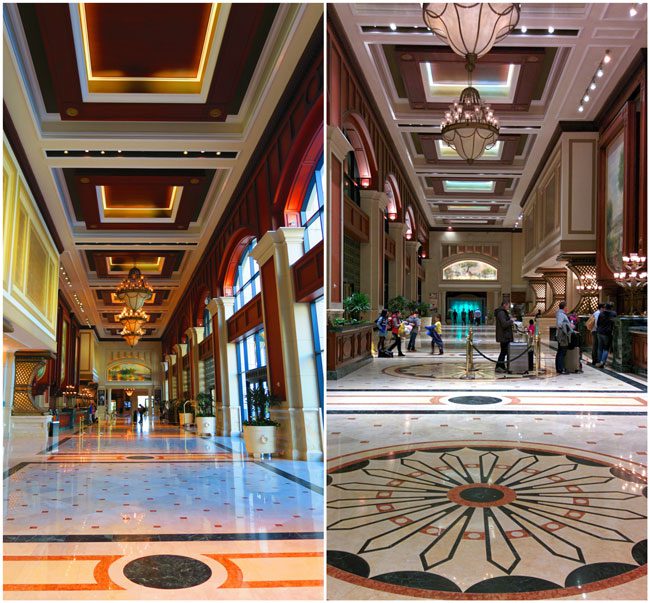 Take me to the zoo
On the first full day of my 3 days in San Diego visit, I headed to Cafe 222 for breakfast. Locals line up outside for this award-winning breakfast place- so they probably know a thing or two about the most important meal of the day. Dishes range from basic eggs to award-winning waffles and don't forget those free coffee refills. It's not the place for calorie counting but hey, we're in America!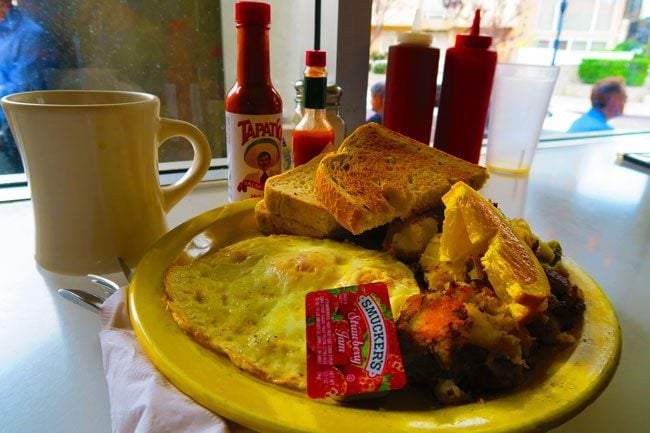 With energy levels high, I took a cab to San Diego Zoo in Balboa Park. We'll talk more about the region's most famous urban park in a little while but for now, let's get inside one of the most famous zoos in the world.
Following the Panama-California Exposition of 1915, many of the animals used for the expo were left abandoned. Dr. Harry Wegeforth thought it's a good idea then to establish an open-air zoo on the grounds of Balboa Park and so, the San Diego Zoo was born. Today, it's one of the world's largest and most famous zoos with over 3,000 animals on 100 acres of land. The concept here is to have as few cages as possible and provide animals with a habitat that resembles their natural home as much as possible. The zoo is also part of a much larger organization that promotes animal conservation around the world. Though I'm a huge fan of animals but not of zoos, the San Diego Zoo is much different than others I've seen. It's definitely among the must-see places in San Diego.
Entrance is by no means family-friendly, and you'll have to say goodbye to $48 to get in with the basic pass (check online here for special deals). As you would expect, you're kind of a trapped audience once inside so if you want to avoid resorting to burgers, hot dogs, and fries, or want to save a few bucks on food & drinks – bring with you some snacks for the road – just don't feed the animals with those Doritos!
The zoo is massive, with miles of trails and dozens of sections devoted to creatures from around the world. Though it might seem super touristy to do, I strongly suggest hopping on a free open bus tour just as you get inside. The short ride will give you a good sense of what's out there, what you want to cover and how.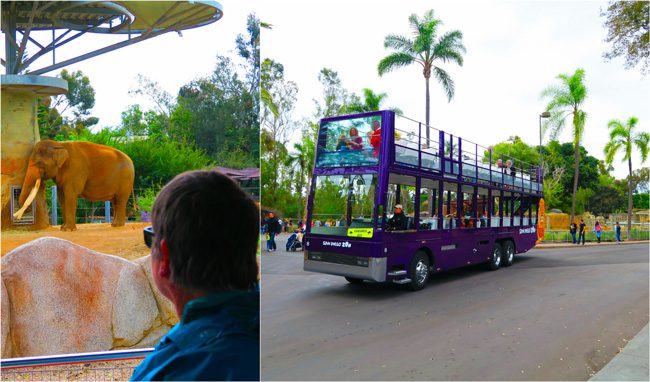 After completing my intro tour, it was time to say hi to the animals. Highlights include rhinos and giraffes at the Urban Jungle, cute koala bears in the Outback, elephants, lions, and jaguars at the Elephant Odyssey, adorable panda bears in the Panda Canyon (expect queues) and polar bears in the Northern Frontier section. Of course, there are so many others including the usual terrifying reptiles that always seem to crawl their way into my dreams after a visit to the zoo!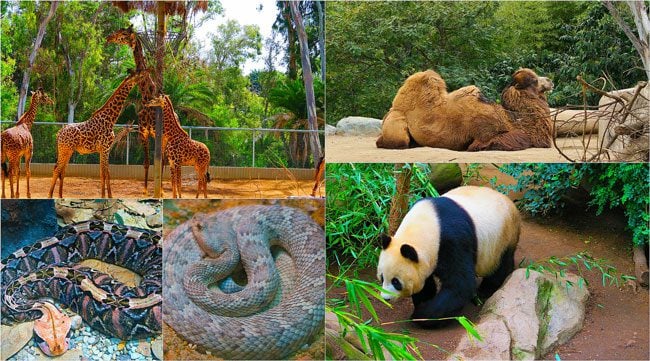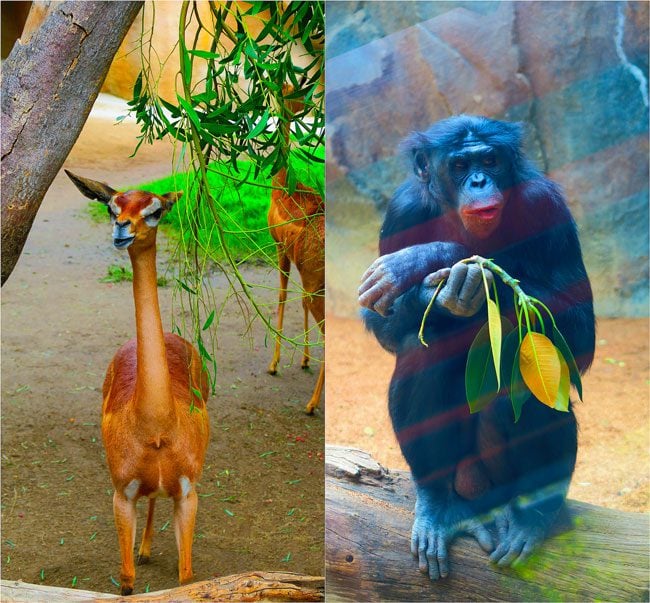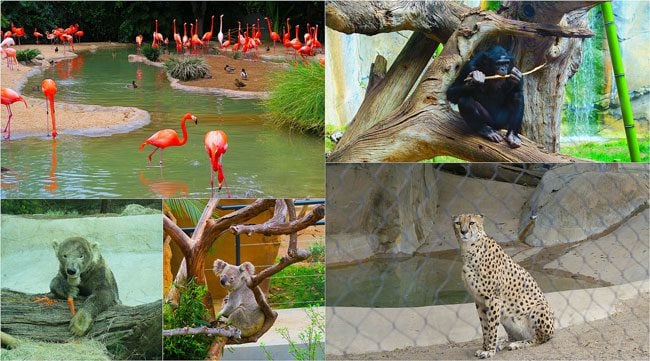 If you're not with young children and keep moving along, you can pretty much see everything in about 3 hours. I just worked my way across and up, eventually using the Skyfari tram (free) to get back to the entrance, while getting a lovely bird's eye view of the zoo and Balboa Park.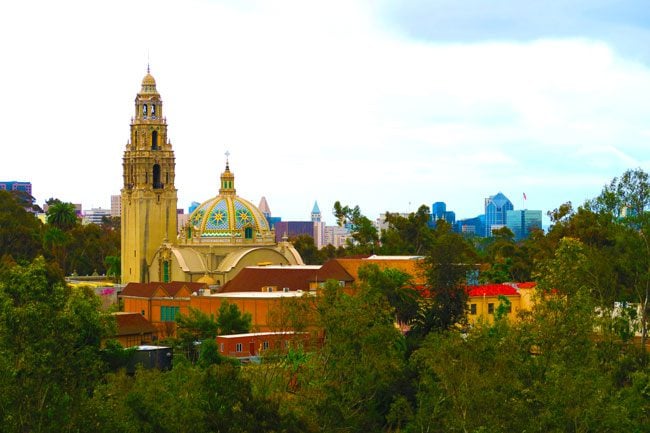 A park named after Rocky Balboa?
Speaking of Balboa Park, it was time to say goodbye to the animals and explore the park. Balboa Park is the largest 'urban cultural park'. What exactly does this mean? It means that it's not only a massive green oasis in the middle of town but also home to dozens of museums, gardens, Spanish colonial buildings and open-air theaters. And no, it's not named after the Italian Stallion, Rocky Balboa (who is a fictional character just to remind you – unlike Maverick & Goose) but rather after a famous Spanish maritime explorer.
Most of the action happens around El Prado, where you'll find the major museums (check this site for admission prices and packages). It's a great way to spend a weekend day but even if you're not into museums or don't have the time (like myself), it's fun (and free) to just wander around.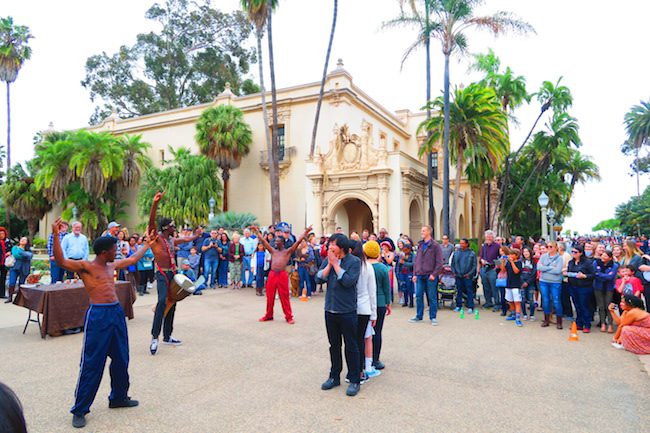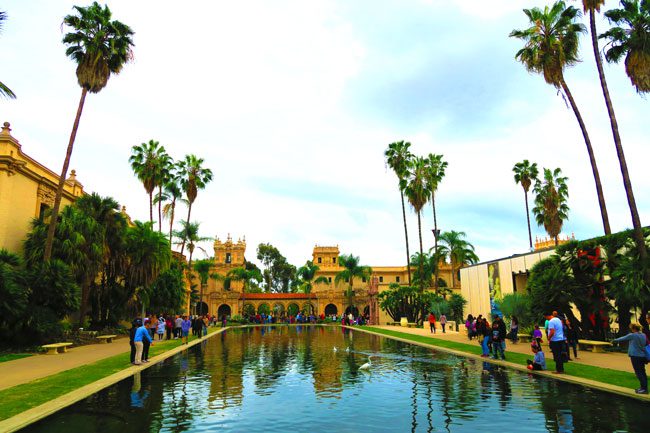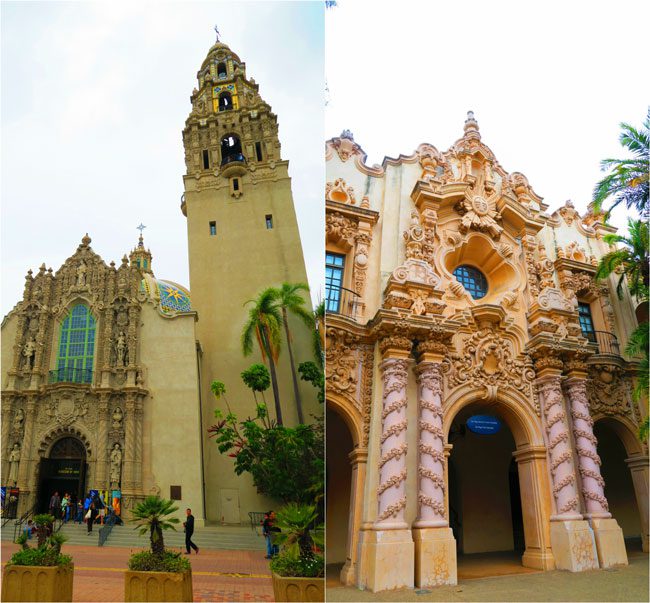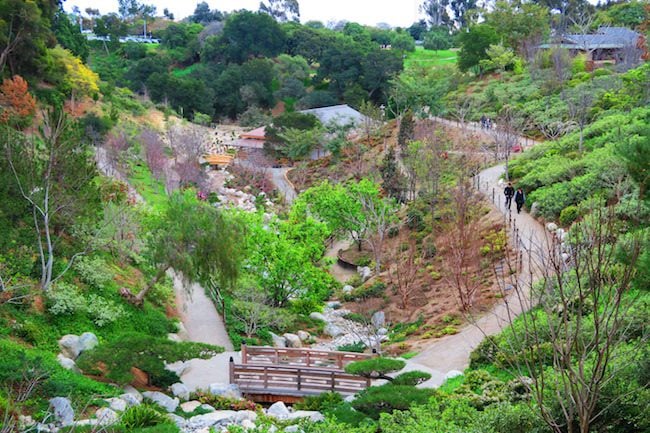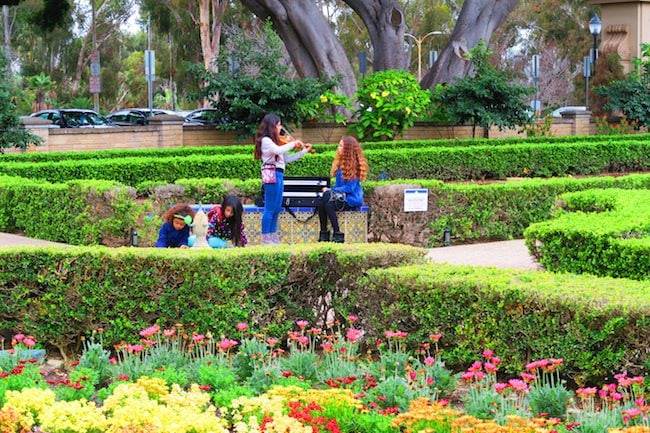 If you happen to hear some loud church music, don't be alarmed. Just head over to the Spreckels Organ Pavilion, grab a seat and listen to one of the world's largest organs blasting away (watch it live here). On the way, you can also grab a look at the Japanese Friendship Garden, a haven for those who need more peace and quiet. It kind of reminded me of my visit to the Japanese Tea Garden in San Francisco.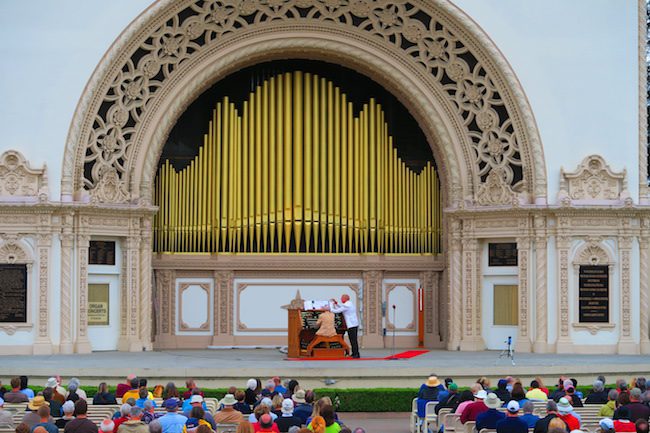 All that walking around and watching the animals snack away at the zoo made me hungry. Lunch in Balboa Park is not a bad idea and lunch at The Prado in Balboa is an even better idea. The atmosphere is great whether you're dining inside or out on the Spanish-style terrace. The food is not too bad either, to say the least, and you can choose from a wide lunch menu, including signature deli sandwiches.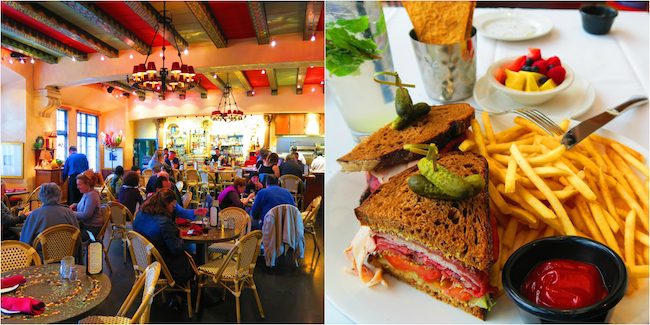 Exploring downtown San Diego
Though California has been in a state of drought for the past few years, it was no match for my habit of bringing the Irish weather with me wherever I travel and the skies opened up for a little while. What do you do in the US when it rains? You go shopping – of course! A short cab ride away is the Horton Plaza Mall, a beautifully strange-looking outdoor shopping mall that has all your favorite brands. For folks visiting from outside the US, don't forget that you get an extra 10% off at Macy's – I'm just saying…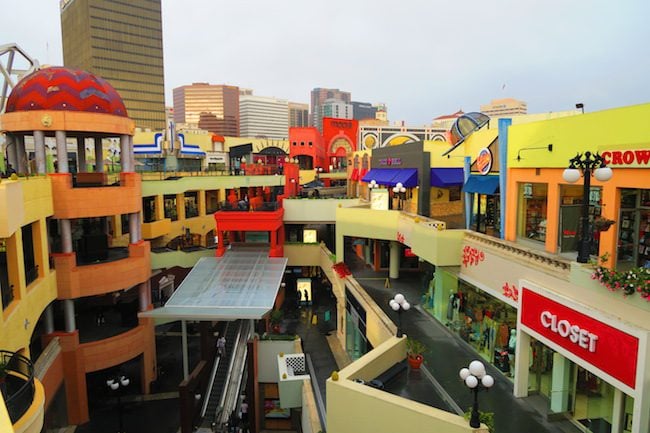 The mall sits right next to San Diego's most famous town square, the Horton Plaza which, unfortunately, is undergoing a major facelift so we'll just have to keep moving along. We are now in the famous Gaslamp District, the historical downtown of late 19th century San Diego. Though gas has given way to electricity, strolling around this 16 block area is super cool, especially at night – we'll actually be back in a few hours.
By day, the Gaslamp District is home to boutiques, cafes, restaurants and a bunch of cool shops. There are also a few historical buildings worth checking out, like the Balboa Theatre and the Louis Bank of Commerce, a tall wooden Victorian building and another reminder of my visit to San Francisco. There's a small-town vibe to the Gaslamp District, with few traffic lights and no skyscrapers – you'll quickly forget you're in the second-largest city in California. This all changes at night…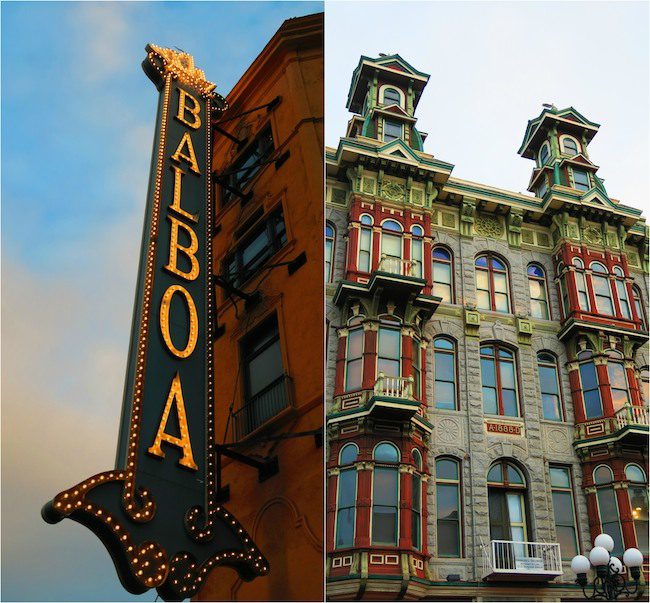 Saturday night in San Diego
By night, the Gaslamp District is transformed. Chilled cafes and dinner menus give way to cocktails, loud beats and a swarm of party-goers who descend on this patch of downtown San Diego. It's definitely the best place to party in San Diego on a Saturday night and best approached from the bottom of Fifth St, where you'll see the famous Gaslamp District arch which you may have overlooked during the daytime.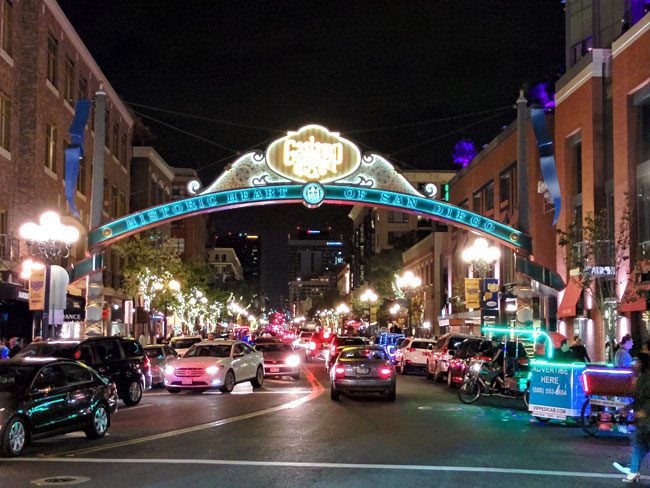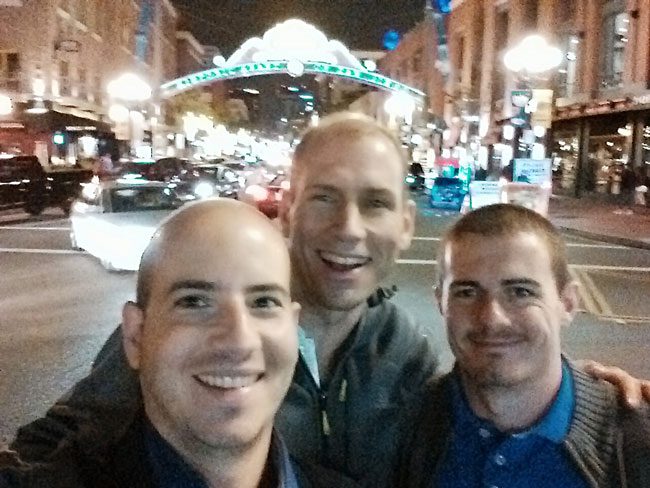 I didn't check out all the bars since 'why fix if it ain't broken' but it will be difficult to bar hop after 10 pm as queues can get pretty long. I started off at Barley Mash with my South African buddies Ian and Michael. This place really sheds its posh wine bar exterior at around 11 pm and the dance floor is definitely the place to be. After a few drinks and a few beats, we took one of the friendly tricycles down the street to Coyote Ugly.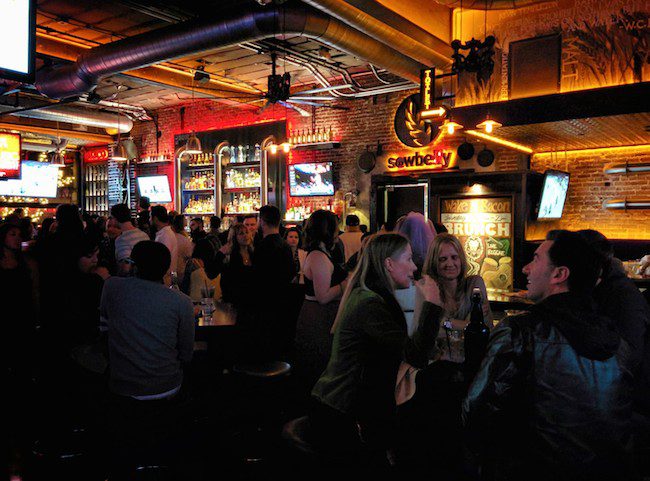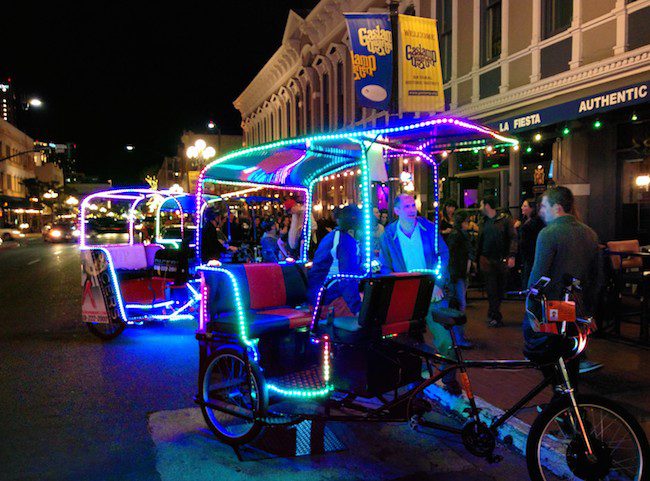 If you're looking for Piper Perabo dancing on the bar while preparing a few cocktails, you're bound to get disappointed. Nonetheless, though definitely not a politically correct establishment – it's a fun place to grab a few drinks and do a few 'body shots' while laying down on the alcohol-soaked counter.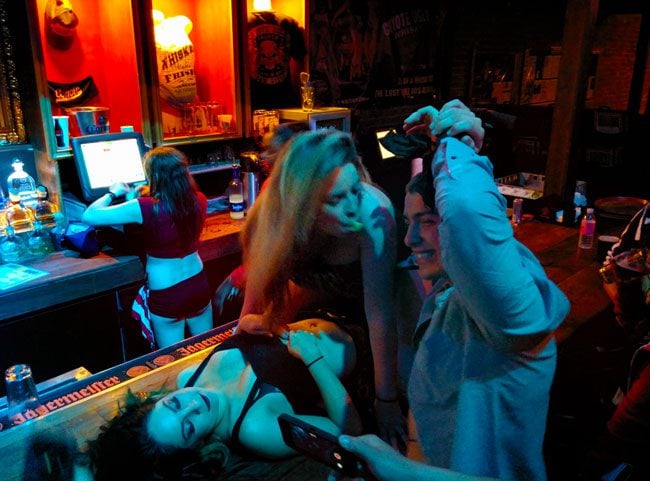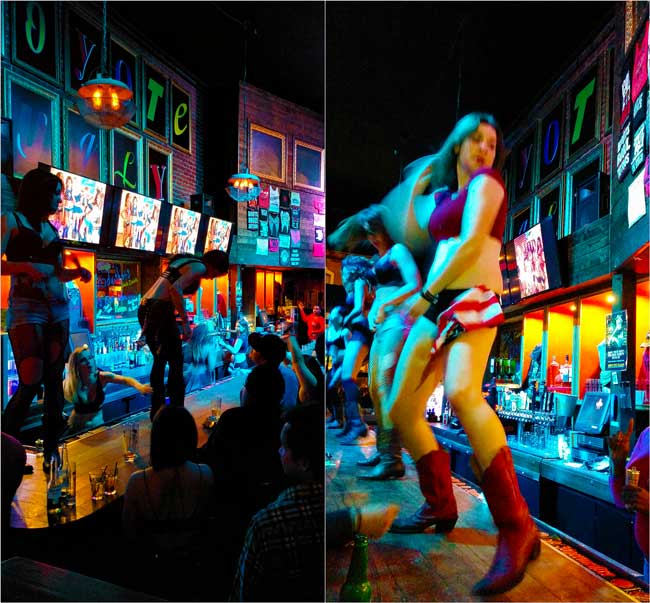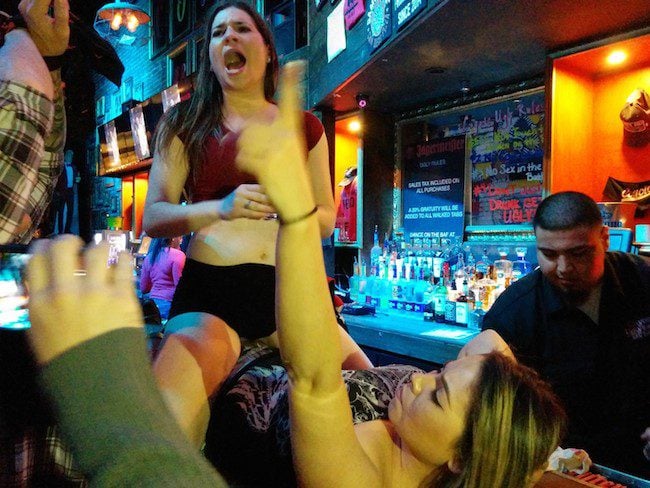 Jetlagged and a little wasted, it was time for a nightcap. I had a blast on the first of my 3 days in San Diego visit and so happy I made it here in time for Saturday night!
Any Regrets?
I'm not a massive fan of museums but with more time, I would probably check out a museum or two in Balboa Park. There are 15 museums here so you're bound to find a few that you fancy visiting.
The Horton Plaza is the major town square in San Diego but during my visit, it was closed for renovations. Be sure to pop in and follow up on progress on your next visit.
San Diego has been overtaken by a wave of craft breweries and bars selling… craft beer. There are loads of them scattered across town and worth checking out if you fancy a brewsky. I wanted to check out Hamilton's Tavern which is a bit further out. Also, I heard a rumor that The Yard House sells them by the… yard.