4 Days In Honolulu & Oahu
Day 4: Pali Coast & North Shore Road Trip
The final day in this 4 days in Oahu itinerary is spent exploring the island's windward coast as part of one last road trip. This is the island's "rural" section, where anti real estate development signs of "keep the country, country" are common, where life is good, and where secluded beaches meet the emerald cliffs that have been eroded for millennia.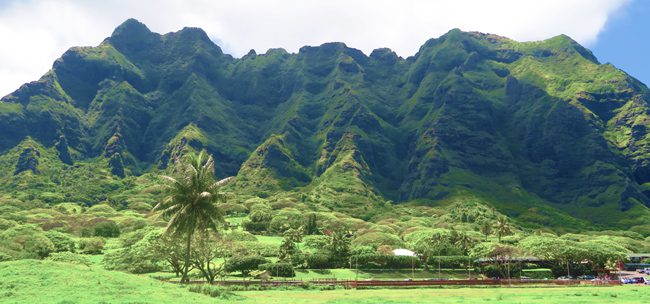 Logistics for the day
Maximize your final day on the island and hit the road early on in the morning. Wear casual walking gear but also be prepared for the beach, including snorkeling!
Interstate H3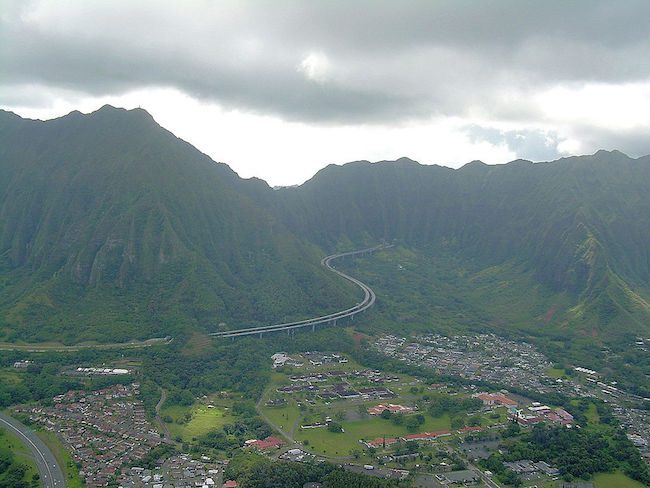 The only Hawaiian Island with official interstates, the H3 is an engineering marvel that you don't want to miss. I remember watching a Discovery Channel documentary on how challenging its construction was and ever since then I dreamed of one day cruising on one of its lanes and through its tunnels. The largely elevated interstate cuts through the Koolau Range (the eroded cliffs we saw yesterday), snaking its way along a viaduct and through miles of tunnels. It was one of the most expensive interstate highways ever built and its challenges were not only limited to engineering, but also to environmental and land disputes.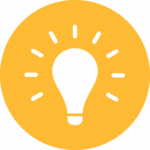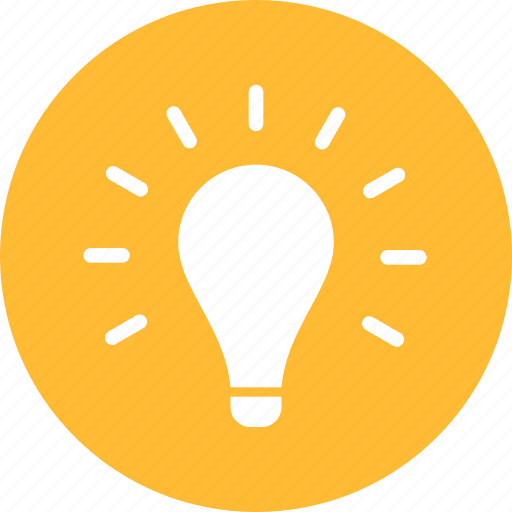 Pro Tip
Yu can also take the Pali Highway from Honolulu (Highway 61) and stop at the Nu'uanu Pali State Wayside if you didn't get the chance to yesterday.
Lanikai Beach
While most beachgoers head to the more "organized" Kailua Beach Park, its smaller sister beach just 5 minutes to the south is a whole lot prettier. Lanikai Beach was one of the prettiest beaches in Hawaii that I made it to over the course of four months! The colors of the water and sand, the palm trees, and the small offshore islets teasing you to come over – all make this beach look like a South Pacific jewel!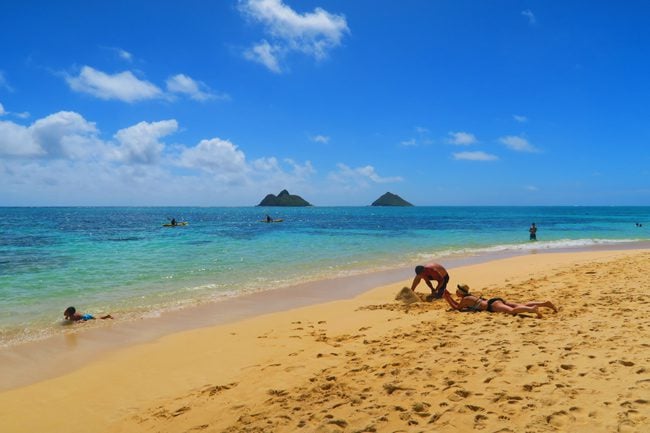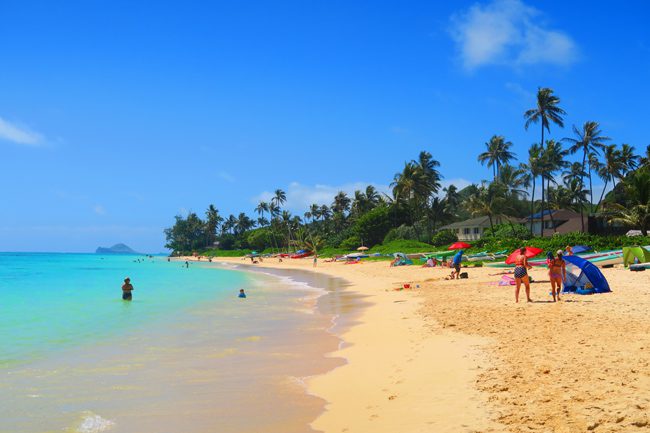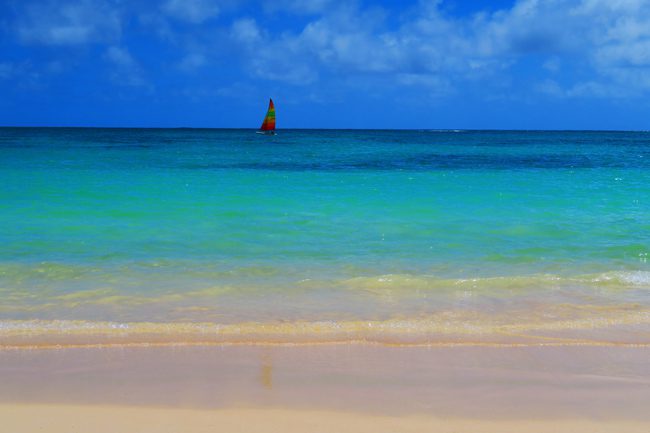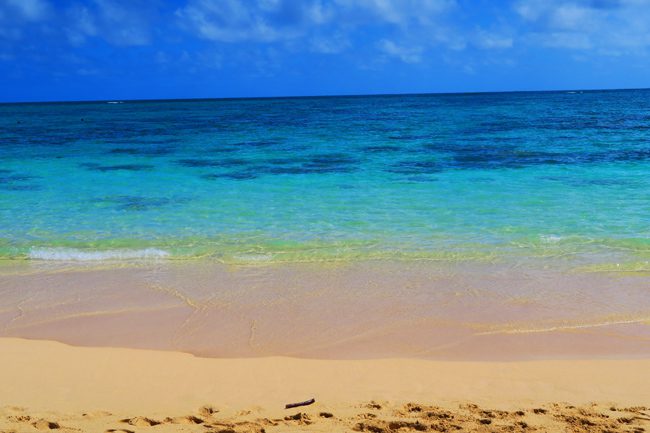 Logistics: access to the beach is via narrow pathways between the rows of mansions (be on the lookout for exotic lizards). There is some shade but not a whole lot. Swimming is safe if you don't venture out too far and when the weather is calm. Both Kailua and Lanikai beaches are optimal for kayaking.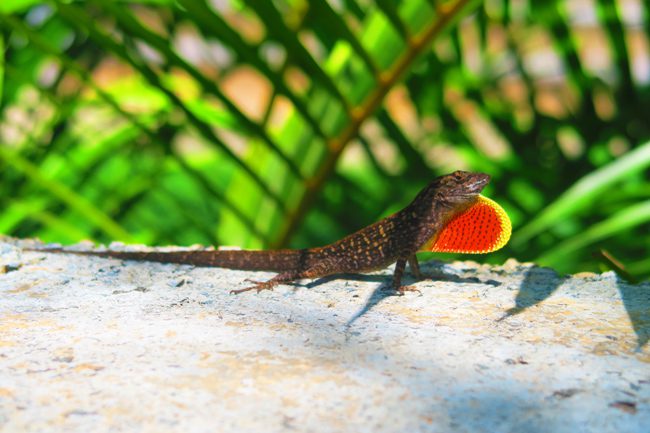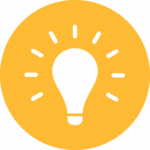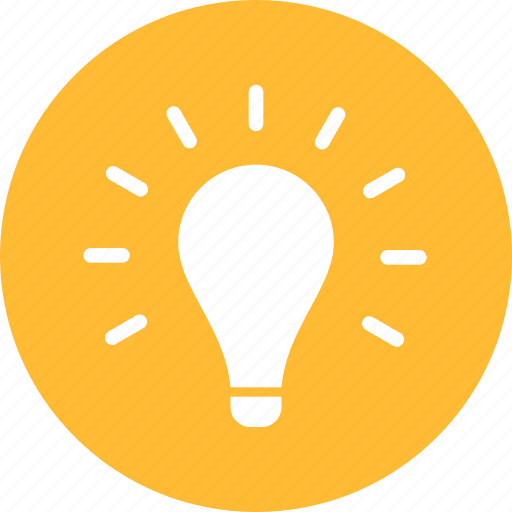 Pro Tip
If you like to start your mornings with a hike, the Kaiwa Ridge Trail – better known as the Pillbox Hike – is for you. The short hike might be slightly challenging, but the views are certainly rewarding with the morning sunshine.
Food/Drinks Break in Kailua
Kailua is the biggest town on the windward side of Oahu. I personally found it too busy for a seaside community but on the plus side, there are loads of ways to quench your thirst and satisfy your craving. For coffee and awesome sandwiches to go, stop at Kalapawai Market. It's been around since 1932 so there's probably a good reason why. If fresh juice or a smoothie are what you're in need of, Lanikai Juice is just up the road.
Pali Coast Scenic Drive
As you head north out of Kailua along the coast, both the scenery and vibe really start to change with every passing mile. This is as "country" as the windward coast gets, the kind of place you can see yourself retiring in. The beaches out here are a bit more "rugged" and emptier than their cousins down south, while on the other side of the "highway", horses and cattle roam around large plots that need no fencing on their west wings, with the eroded emerald cliffs of the Pali Coast doing the job without any setup costs. Sharp eyes might recognize the scenery over the next few miles from… Jurassic Park!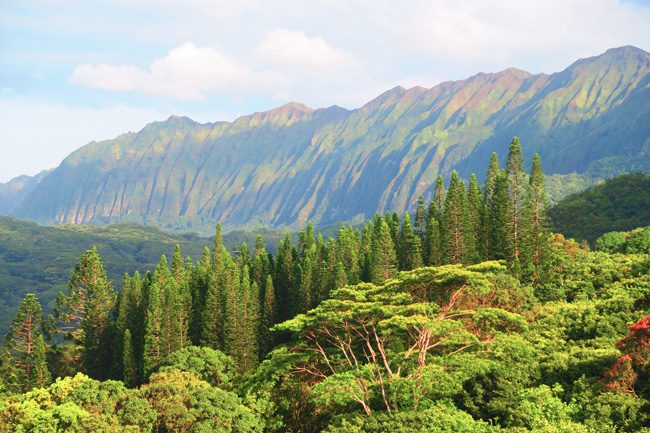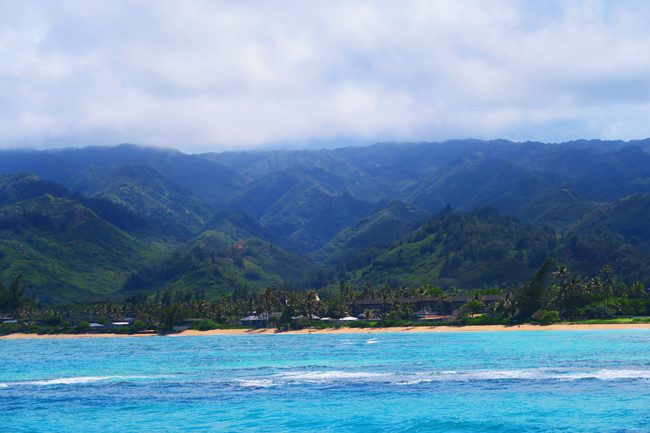 If you haven't had lunch yet, stop at the roadside Waiahole Poi Factory. This popular family-owned joint is famous for their Hawaiian plate lunches and poi. I am not a huge pork eater so passed on the opportunity, but if tasting real local food is your thing – pop in for a visit. A bit further up the road is Tropical Farms – another popular roadside stop. Starting out as a small seller of macadamia nuts, this place has ballooned into a large shop. There's an endless selection of coffee (and a free tasting), nuts of all sorts, and souvenirs galore (plus clean toilets!).
Kualoa Regional Park
I stopped here for a quick look and absolutely fell in love. This might not be the prettiest beach on the island, but the coastal views are sensational and you can finally step out of your car and admire the beautiful cliffs from here – a much easier task than trying to do so from a moving car!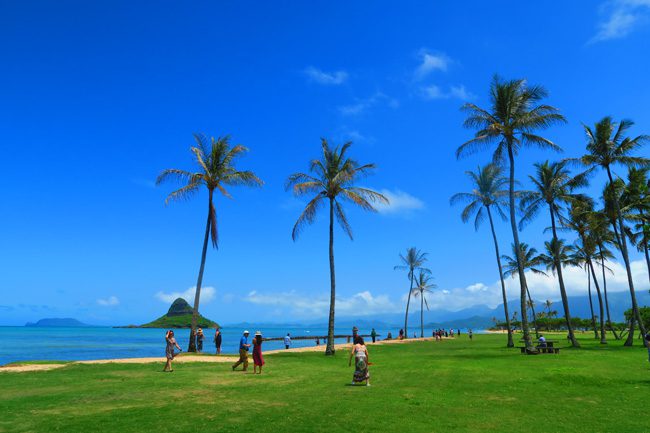 Laʻie Point State Wayside
Veer off the coastal road to this wild lookout point. From the tip of this narrow peninsula, catch a glimpse of a perfect sea arch and watch brave (or foolish) locals (usually men, of course) practice their cliff jumping skills.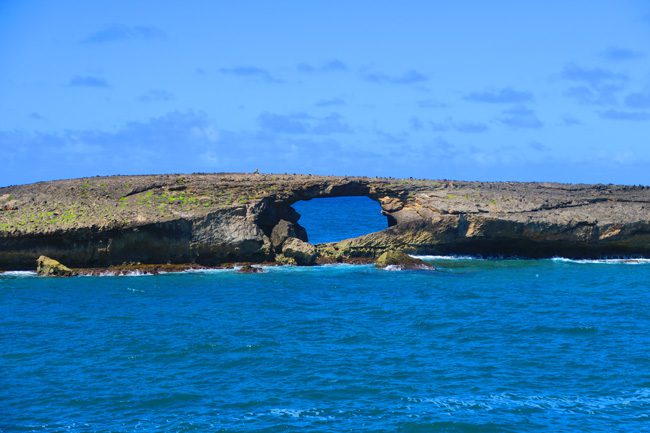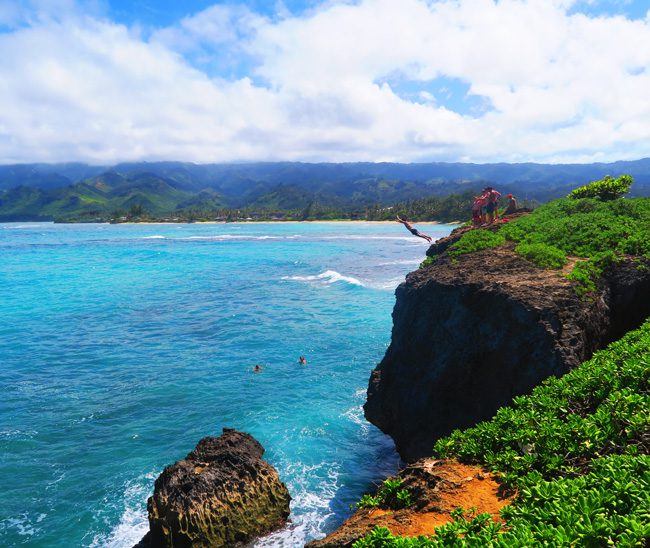 Malaekahana State Recreation Area
Not a must, Malaekahana Beach is hardly ever crowded and when conditions are right, you can actually walk across the lagoon to Goat Island – a small bird sanctuary.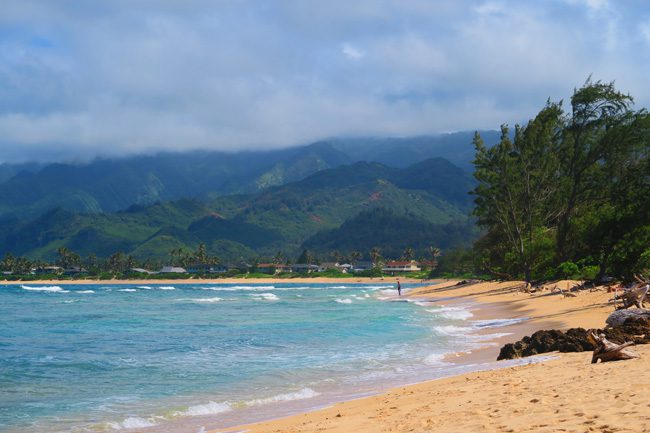 Lunch in Kahuku
I hope you have some room left in your stomach because Kahuku is "shrimp country". Thanks to nearby shrimp ponds, supply is always fresh and plentiful. As you near the town, you'll notice a large concentration of food trucks. This is where you want to stop. If shrimp ain't your thing, you'll find a few other good options, but if it's shrimp you fancy – Giovanni's Shrimp Truck is your calling! Folks driving up the coast literally line up for a plate of the most delicious shrimp I've tasted in Hawaii. Choose from lemon butter, hot spicey, or my favorite – scampi: shrimp marinated in olive oil and garlic!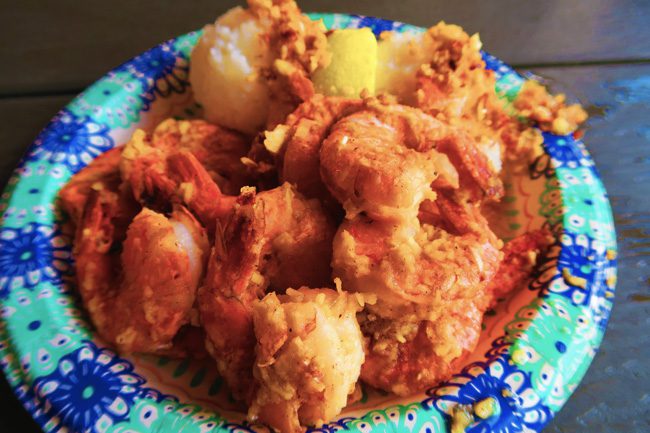 North Shore: Ehukai Beach Park
By now, you've "rounded the corner" and starting to head south back to Honolulu via Oahu's famous North Shore. This area is one of the best places in the world for surfing, with mammoth waves slamming into windswept beaches. Quite a few pretty beaches dot the north shore and you can pretty much stop wherever you want. I spent a couple of hours at Ehukai Beach Park – where some of the world's most perfect barrels break. Though surfing conditions were not optimal on this perfectly sunny day, the beach was magnificent and there were even a few surfers trying their luck.
Once a laid back spot, the immense strip of soft sand is now backed by enormous mansions. Some are owned by ordinary wealthy folks who like to surf, some by surf-friendly celebs like Jack Johnson (love you Jack), and some are owned by top surf brands who use the mansions to pamper the pros who advertise them as well as loyal fans.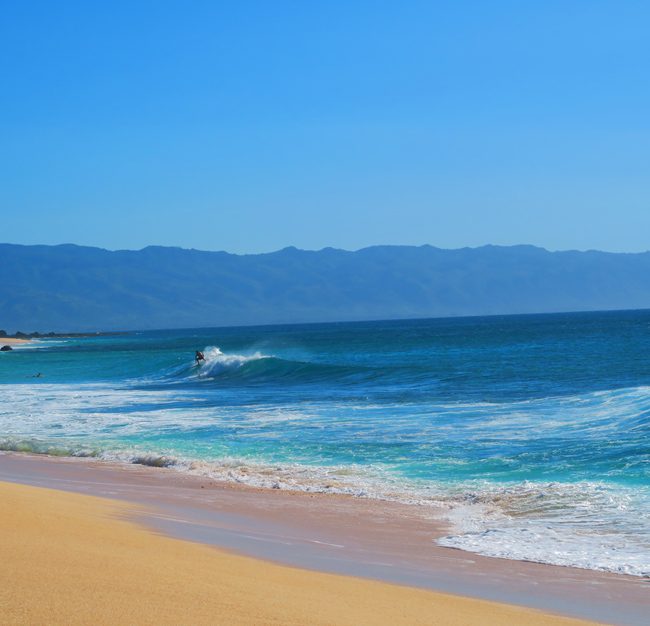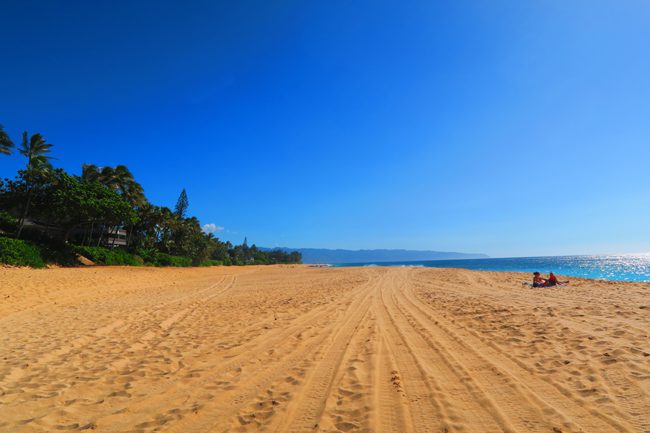 Waimea Bay
This is the north shore's most popular beach so finding a parking spot is quite a challenge. When the weather is good, Waimea Bay is drop-dead gorgeous, definitely worth the wait for a parking spot to free up.
Shave Ice at Matsumoto Or Kaimana Shave Ice
To wrap up this road trip in Oahu with a sweet taste in your mouth, stop for some shave ice at Matsumoto Shave Ice on the way back to Honolulu. Considered the best shave ice in Oahu, the wait at Matsumoto can be over 20 minutes long, but it's totally worth it. I never thought that shave ice could vary from one place to another (after all, it's ice with flavored syrup), but Matsumoto definitely trumps them all. Choose from over 30 flavors that can be combined to create an infinite amount of new ones, and don't forget to ask for some ice cream inside – it's the best!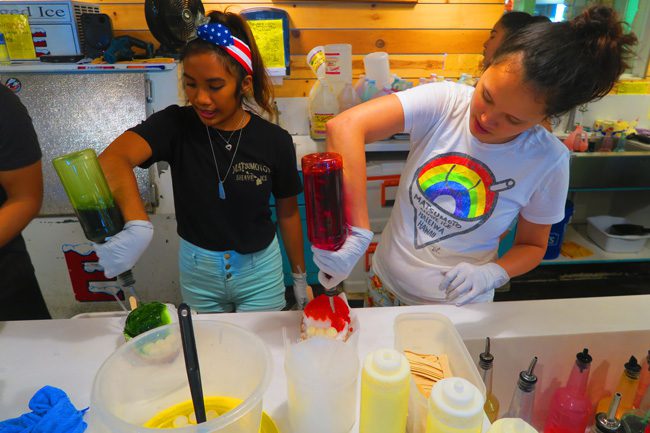 Alternatively, drive two minutes down the road and satisfy your sweet tooth at Kaimana Shave Ice. Brothers Max and Jake Nowicki started this popular business on the north shore of Oahu with the aim of serving a healthier, premium quality shave ice made from real fruit and all-natural ingredients, alongside with their home made ice cream.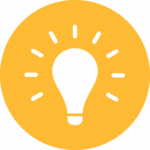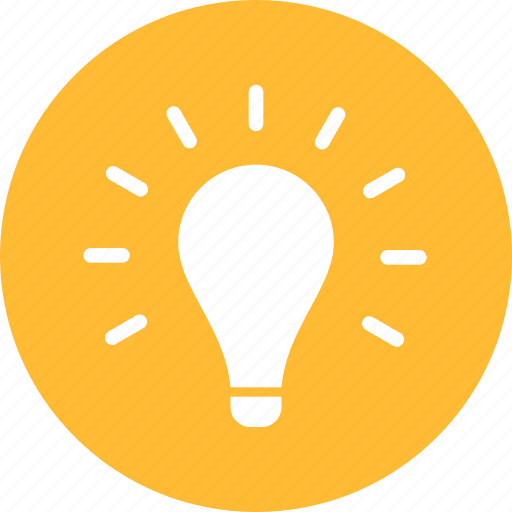 Exclusive Discount
Get a 10% discount on your order at Kaimana Shave Ice by mentioning X DAYS IN Y!
What's Next?
I hope you've found this 4 days in Honolulu and Oahu sample itinerary useful for planning your holiday! Visiting other Hawaiian islands? Sample itineraries, guides to the best beaches and the must-see highlights are all waiting for you in the Hawaii Travel Guide collection. Aloha!
Looking for More Information on Oahu?
Hawaii, Tailor Made!
The Hawaiian islands are among the last places to be colonized by mankind, five main islands, each with its unique personality.
Get expert advice and assistance with planning your trip to the destination where tropical dreams come true!
---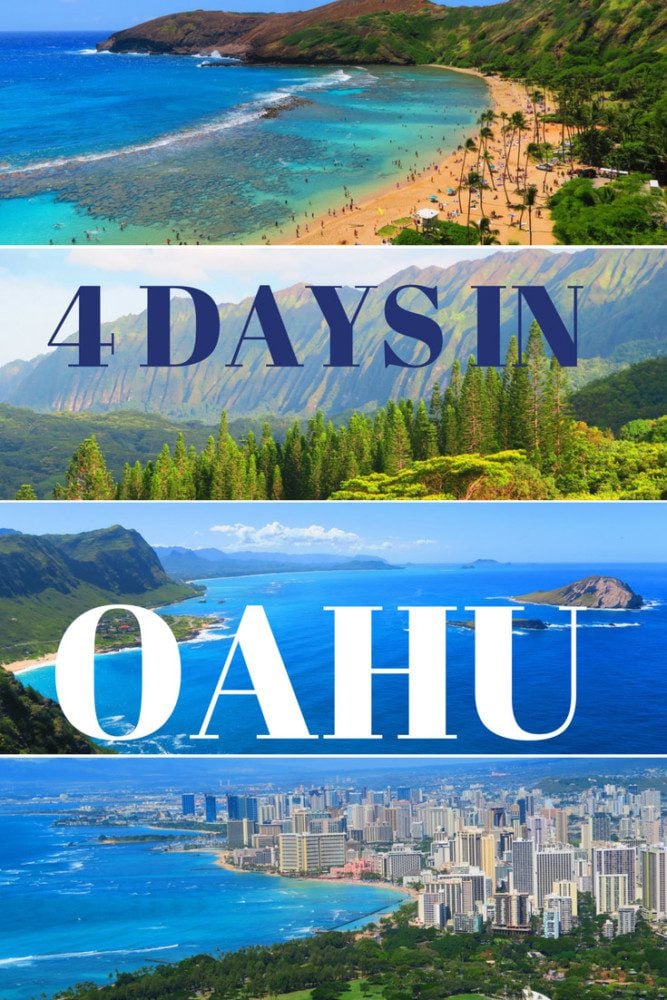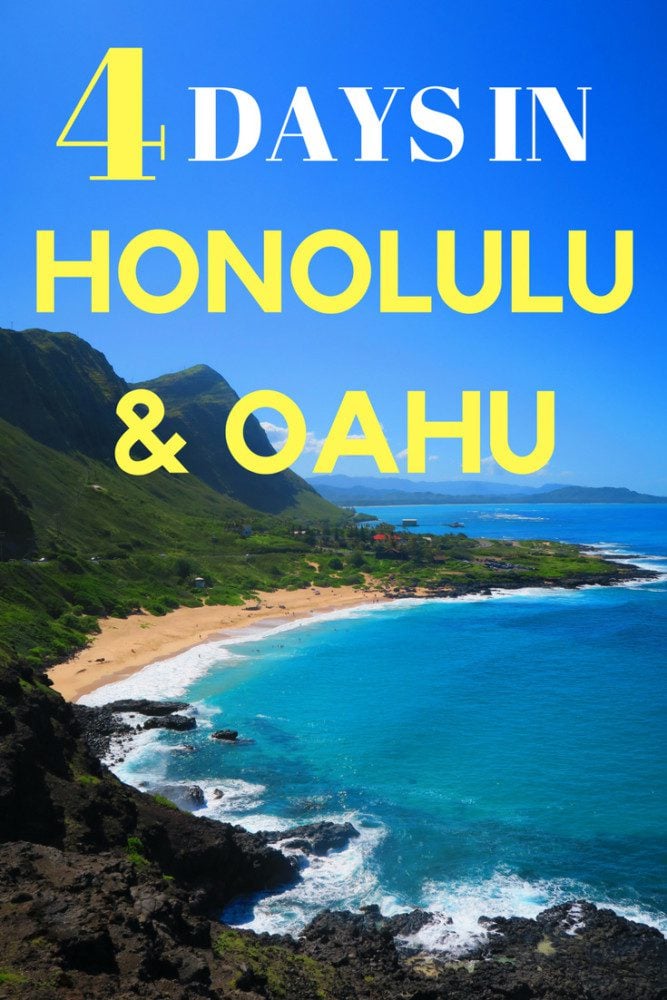 Pin These Images To Your Favorite Boards