One of French Polynesia's best kept secrets is one of those places that'll make you believe in paradise. Huahine is an island where time ticks by slowly, where emerald bays open up to a pristine lagoon and where ancient Polynesian temples create an 'open air museum'. Known locally as 'the Garden of Eden', take your time to slowly explore the lush island. Somewhere out there is white sand beach that's waiting to be discovered. I spent a full week in Huahine while backpacking across the South Pacific islands for six months and have since returned for a second visit. Here's a sample 4 days in Huahine itinerary which combines a bit of relaxing with a whole lot of discovery!
Heading off to French Polynesia? In-depth island guides to all 5 archipelagos await you, including sample itineraries and essential travel tips & tricks.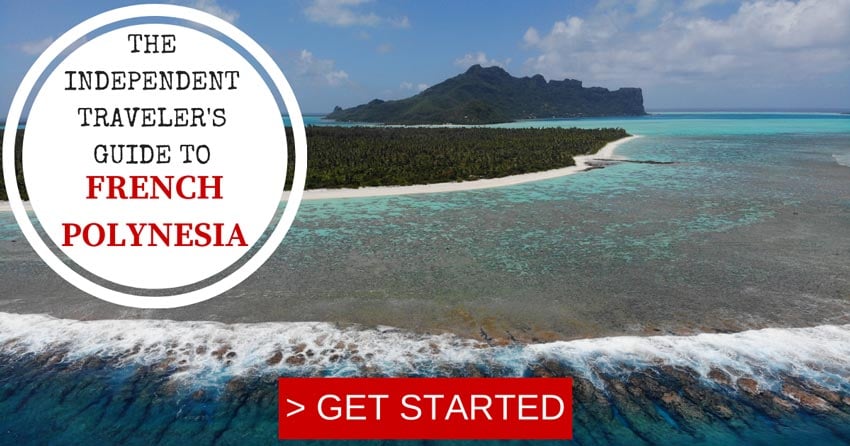 Tahiti, Tailor Made!
The Islands of Tahiti are among the last places to be colonized by mankind, 118 islands, each with its unique personality.
Get expert advice and assistance with planning your trip to the destination where tropical dreams come true!
---
4 Days In Huahine Map
All places featured in this Huahine itinerary can be found on this map. Simply click on the image to open in Google Maps: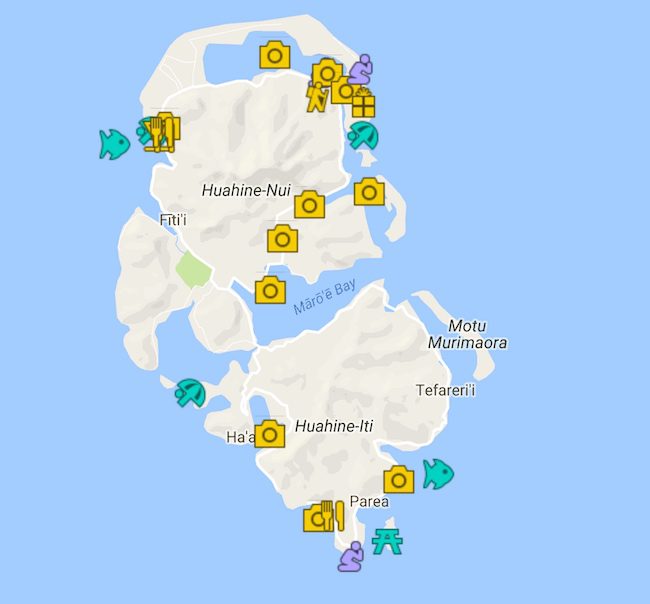 Day 1: Exploring Fare & Relaxing On The Beach
Spend your first day in and around the main village of Fare and experience local life in Huahine. Alternatively, book a scuba dive outing with Mahana Dive or Pacific Blue Adventure. You can also hire a guide and explore the far side of Huahine.
'Downtown' Fare
Laid Back Huahine has one town and it just so happens to be one of the most charming in all of the South Pacific. Fare has everything you could possibly need for your vacation in paradise while saving a few tricks up its sleeve.
Stroll along 'main street' in the morning hours and watch locals arrive on tiny speedboats from the neighboring villages. They might be after some gasoline, some grocery shopping or maybe just catching up with friends.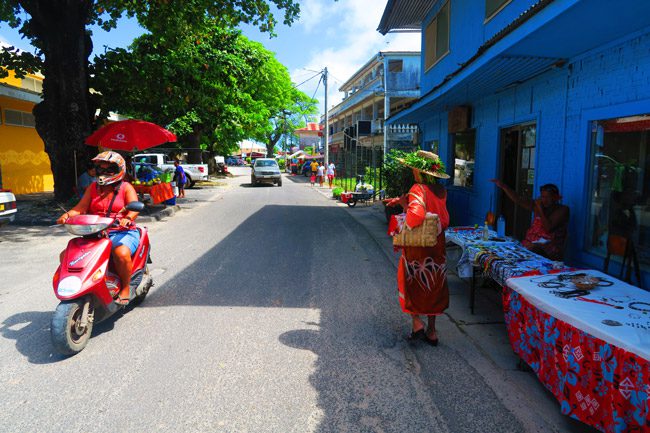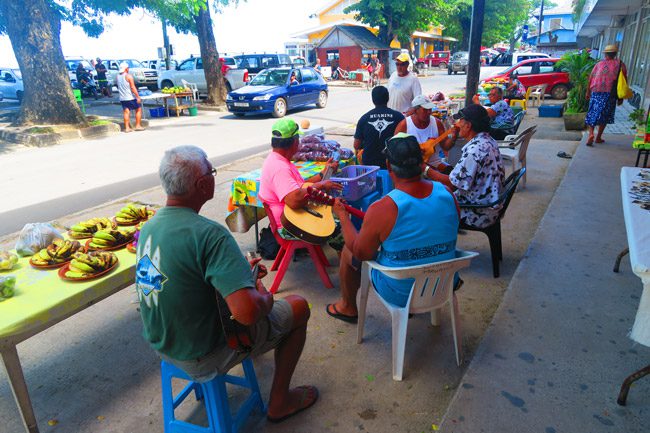 Mornings are also the best time to stock up on fresh fruits and vegetables and a packed lunch for the day. Locals set up stalls along the main road, selling fresh produce from their farms out in the lush valleys.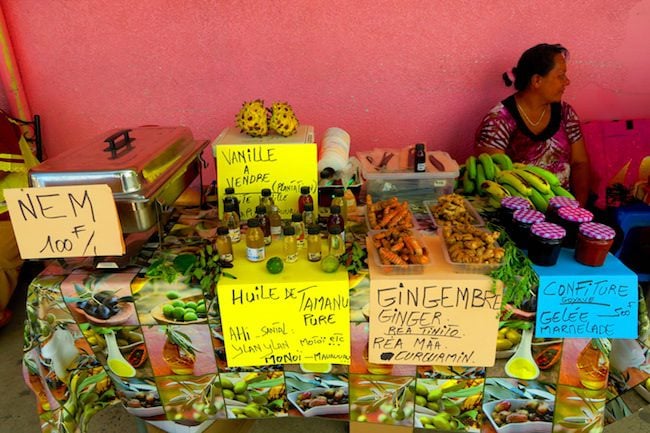 How's Your Sense Of Imagination?
Fare is the place to put a local legend to the test. The story goes that Huahine is named after the Tahitian word for woman – vahine. Look across the lagoon at the rolling hills and spot the pregnant woman lying on her back. It took me a full week to 'get it' so here's a little help.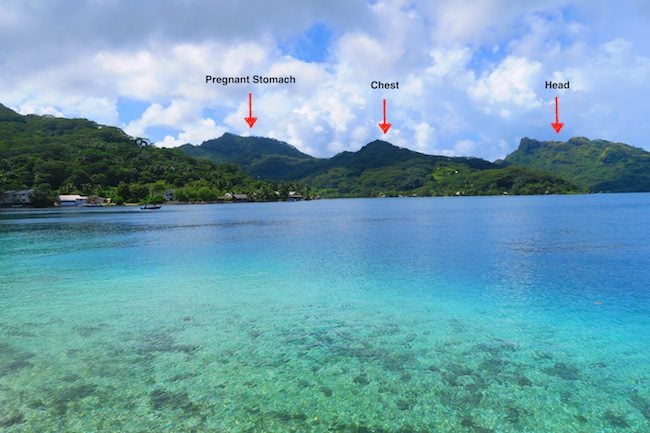 Fare Beach
Fare just happens to have a lovely stretch of white sand just walking distance from the center of town. Lay down your sarong (pareo) and cool off in the calm lagoon when it gets too hot outside. Snorkeling is not bad either, but be prepared to do a bit of freediving as the water gets quite deep quite fast.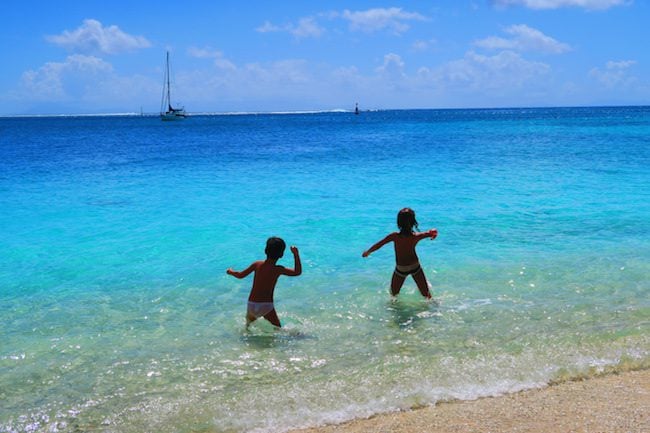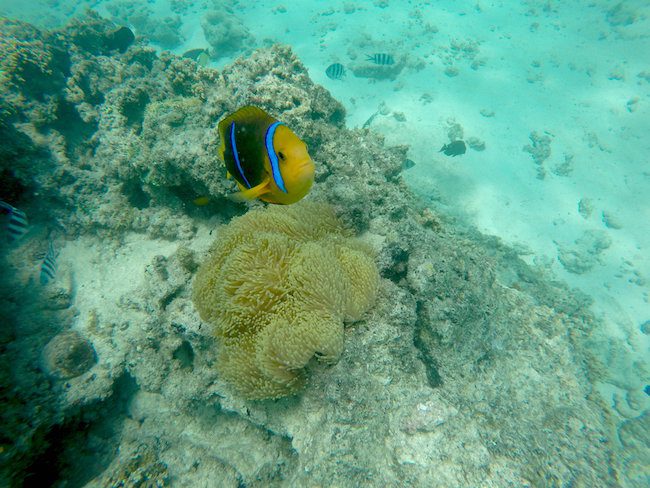 Sunset Drinks
A proper bar in Huahine? No Way! After a relaxing nap and a light lunch, head over to the Huahine Yacht Club to watch the sunset with a cocktail in your hand. Happy hour runs from 5:30-6: 30 pm and there's even live music on Fridays. Families, backpackers, couples, and yachties are all welcomed here. If you feel like having a proper dinner, make some reservations but if not – grab your drink and shoot some pool when the sun goes down.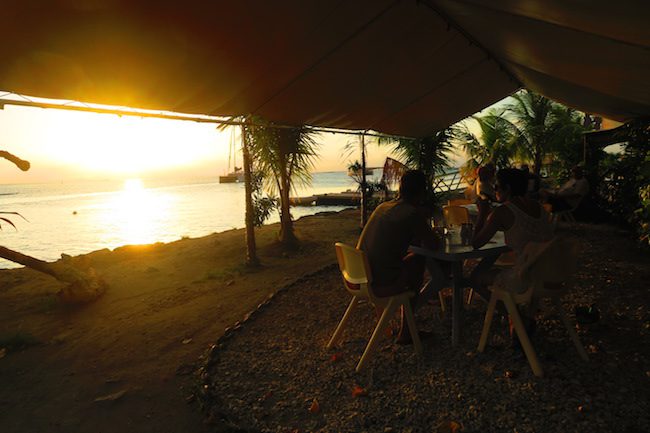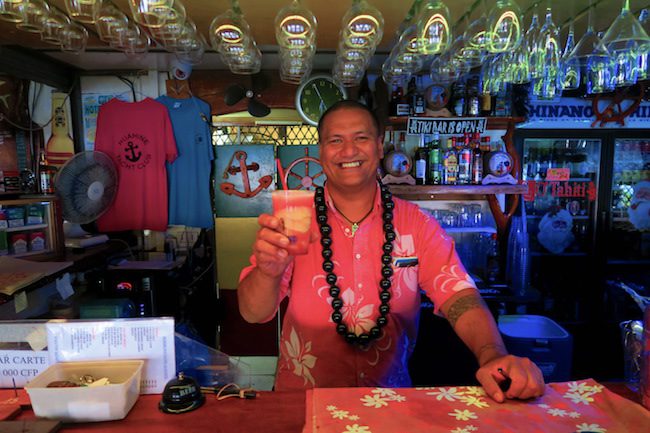 Dinner
If you opted out of dinner at the yacht club, head back to the center of town and pick your favorite roulotte. These legendary food trucks are found throughout larger towns in French Polynesia (with the best selection in Papeete). From chow mein to the 'national' dish of French Polynesia – the poisson cru, grab a plastic seat by a plastic table and enjoy large portions at reasonable prices. How do you know which one is the best? Just look for the locals…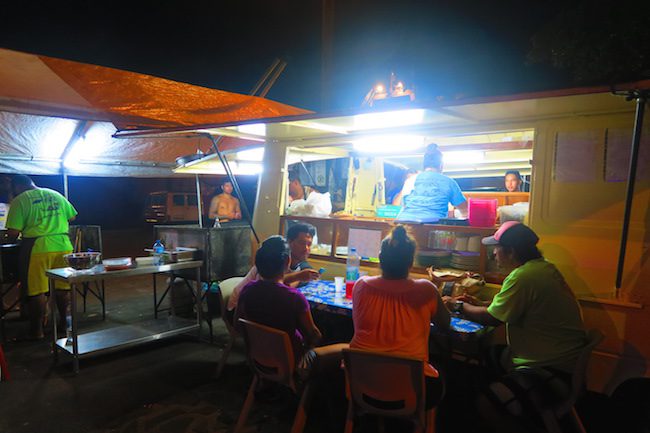 Dance With the Stars for Dessert
How shall you finish off this first day in Huahine? With some stargazing of course! Were you expecting a nightclub?
Day 2: Ancient Marae Walk & 'The Coral City'
If you feel like eating out for breakfast, head back to Fare and grab a seat on the outdoor terrace of Chez Guynette. This backpacker lodge/pension also serves up delicious breakfasts with a view out to 'main street'. It's the closest thing in Huahine to a Parisian terrasse. The pension/restaurant is run by a lovely lady from Monaco who came back to Huahine after falling in love with the island on her first time around. And no, it's her dog who is named Guynette.
You'll need a set of wheels for the next 6-8 hours. If you're fit enough, a bicycle will be enough for the flat-going ride that's coming up. If not, rent a scooter or a car from one of the local providers (have a look at the Huahine Travel Guide for more info on getting around Huahine). Don't forget to pack a lunch with you and take plenty of water! Good options await you in town, especially in the small snack complex just after the gas station.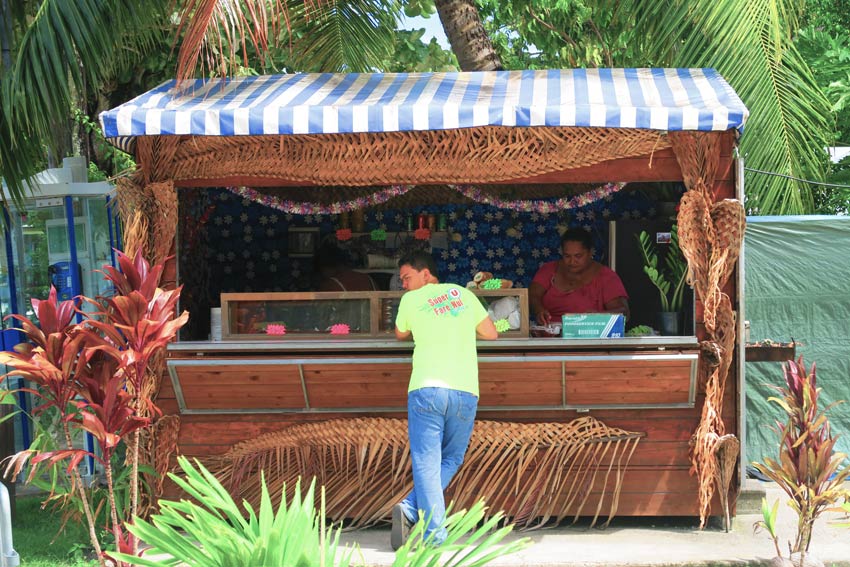 Ancient Polynesian Temples
Head south of Fare along the shores of Lake Fauna Nui, a.k.a Lake Maeva. This isn't actually a lake but since it's almost completely enclosed by Motu Ovarei – the name just stuck.
Your first real stop will be at the Maeva Marae Complex. Huahine has over 200 ancient Polynesian temples (marae), with over 30 located in and around the small village of Maeva (which means welcome in Tahitian). These ancient temples date back to pre European times, some thought to be over 1,000 years old.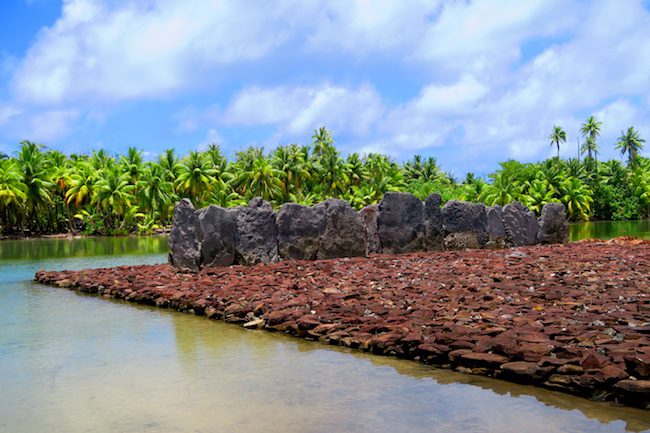 Marae are found across the islands of the South Pacific, but I haven't come across such a high concentration of temples on a single island. There were three types of marae in existence back in the day: community marae – used for sacrifices and gatherings, international marae like Taputapuatea in Raiatea – used for the gathering of key decision-makers from across the Polynesian Triangle, and royal marae – reserved only for the royal family as we'll soon see.
Strolling around the various marae is like walking along the halls of an 'open-air museum'. Just imagine the kind of energy present at this place in ancient times.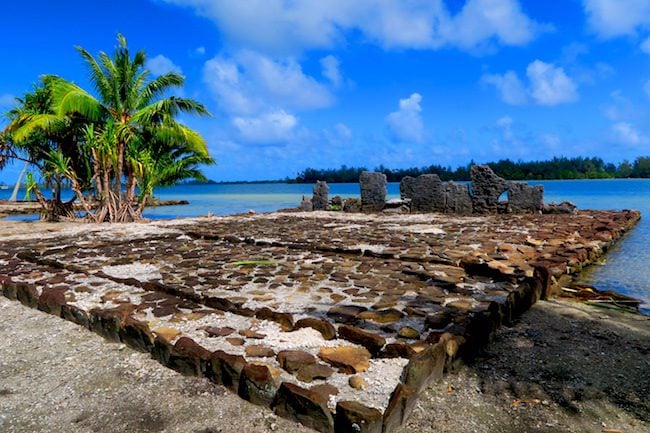 Within the marae complex, you'll also find Fare Potee, a small museum housed in a replica of a traditional Tahitian home. Inside, you'll learn about the history of Huahine and get to see traditional artwork.
Hike Up Matairea Hill
From the marae complex, locate the trailhead leading up to Matairea Hill. This easy one-hour (return) hike is the only one in Huahine not requiring a guide. As you hike through the thick rainforest, you'll pass by ancient fortification walls and additional marae – completely taken over by nature.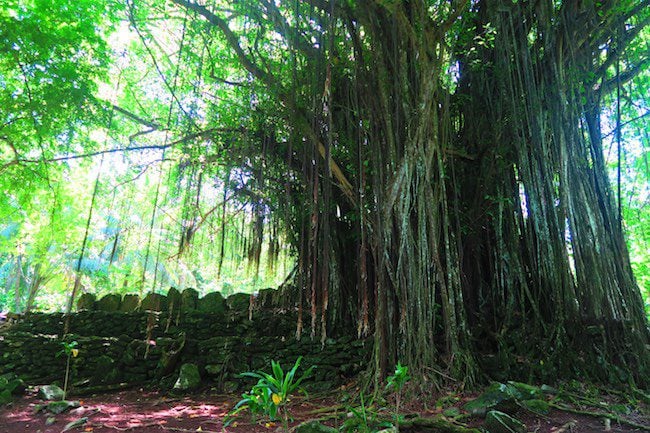 Continue walking all the way to the clearing and you'll reach one of the prettiest spots in Huahine. This is the site of one of the temples reserved only for the ancient royal family. It is thought that Maeva was the center of royal life in Huahine, and the temple up on Matairea Hill was a way to get as close to the gods as possible. Whatever the case may be, the view from up here is definitely worth the hike.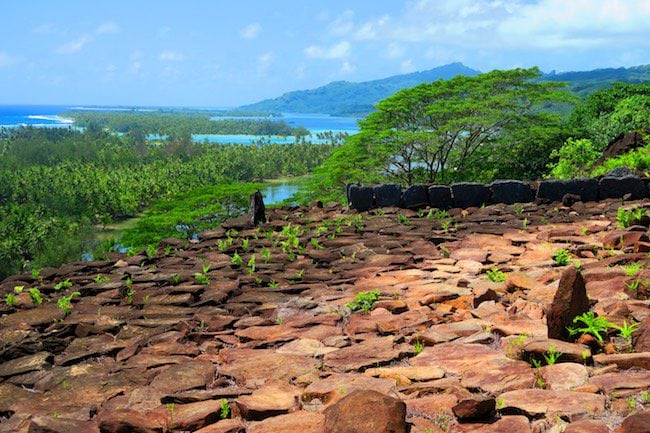 Crossing Over To Motu Ovarei
Back on the bike/scooter/car, drive past the village of Maeva and take a left on the bridge to Motu Ovarei. In the river beneath the bridge, you'll find the V-shaped fish traps. These ingenious contraptions were set up hundreds of years ago and are still in use today. The stone traps take advantage of the currents to trap fish and lead them to a circular basin where the only thing left to do is to collect them.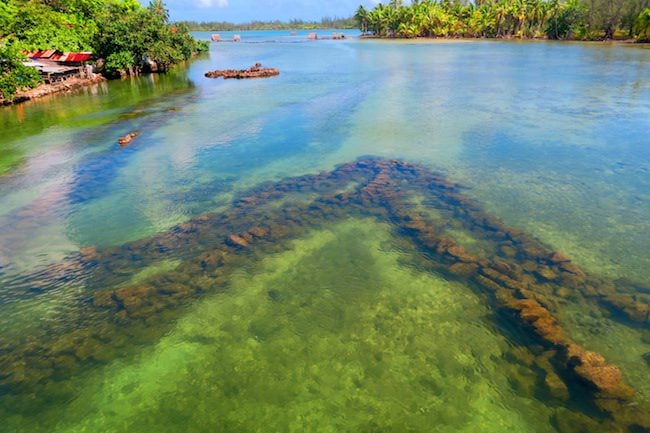 Continue driving past the bridge on the sealed road. You are now on Motu Ovarei. After a few hundred meters, you'll reach Gallery Umatatea. Step inside and say hello to Melanie Dupre. She's probably busy painting magical scenes from Huahine or perhaps a portrait of her exotic Tahitian partner. Melanie came to Huahine from freezing Ohio back in 1999 and immediately fell in love with the place. She'll be happy to show you around and sell you some of her prints. They make for an authentic souvenir from Huahine, eternally reminding you of the time you spent in paradise. While you're browsing, treat yourself to some ice cream. My favorite flavors were taro and coconut!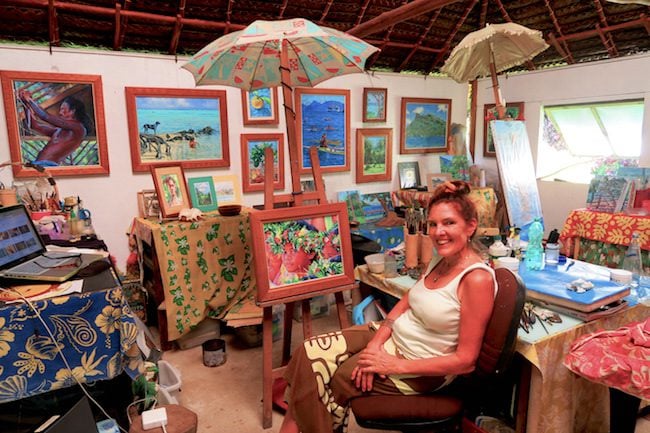 The Coral City
The end of the sealed road leads you to the abandoned Sofitel resort. Like many resorts in French Polynesia, it shut its doors post 9/11, when the country's tourism industry took a bit of a blow. These days, the weeds and horses rule the former luxury grounds. It makes for a bit of an eerie scene but the good news is that you might have the beautiful adjacent beach all to yourself.
It's one of those picture postcards of a beach, known locally as 'la cite de corail'. Why? Because there's some awesome snorkeling out here. Watch out for the strong currents which could ruin your experience. Even if that's the case, enjoy a few hours in the sun and take out that packed lunch you brought with you. We're about to head back to Fare.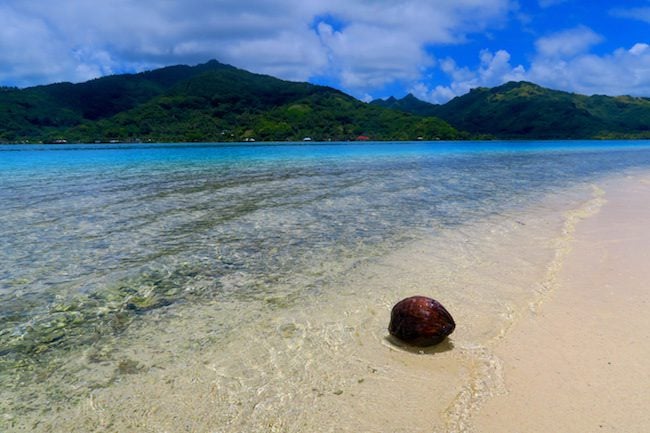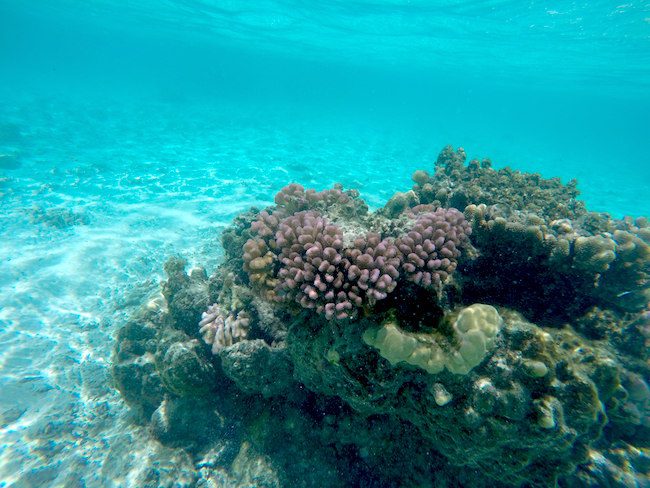 The Back Road To Fare
Back on the bike, we'll take a different route back home. Instead of bending left with the road back to the bridge, continue straight onto the dirt track until you reach Marae Manunu on your left (you can't miss it). This is one of the largest ancient temples on the island, with a wall measuring 2 meters high and 7 meters across. What's also pretty cool is the beach across the dirt road. It's wild, pretty and a favorite spot for locals to do some lobster catching and whale watching (in season).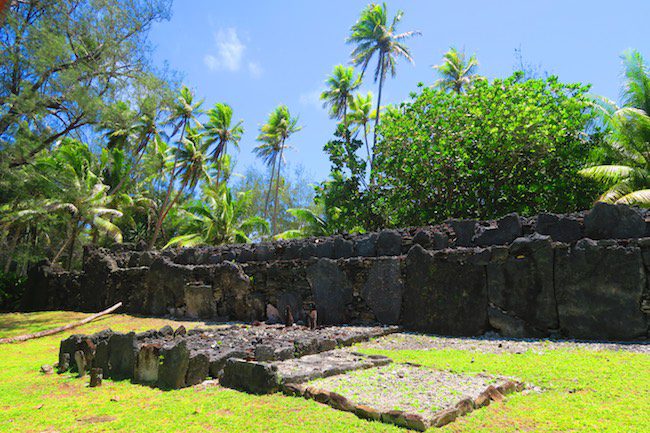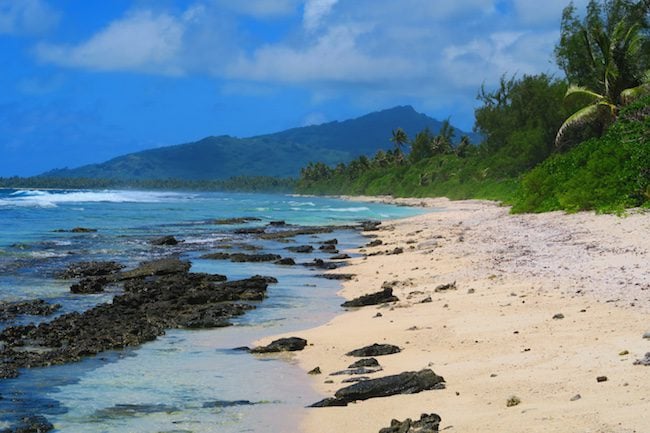 From here, simply continue riding along the main road. It'll take you through coconut plantations and a few farms before ending at the airport. Join the road leading from the airport to Fare and finish off this action-packed day with a cold beer – you've earned it!