5 Days In Raiatea And Tahaa
Off the beaten track, Raiatea and Tahaa offer visitors a look back at traditional Polynesian life and memorable opportunities to connect with nature. Tahaa is known as 'the vanilla island' – where some of the world's finest is grown. Raiatea is the 'sacred island' – home to the most important temple in ancient Polynesian times. I spent a week exploring these sister island which share the same magnificent lagoon, as part of a six month voyage across the islands of the South Pacific. Here's a sample 5 days in Raiatea and Tahaa itinerary which you can use to plan your own trip to this off the beaten track destination.
Heading off to French Polynesia? In-depth island guides to all 5 archipelagos await you, including sample itineraries and essential travel tips & tricks.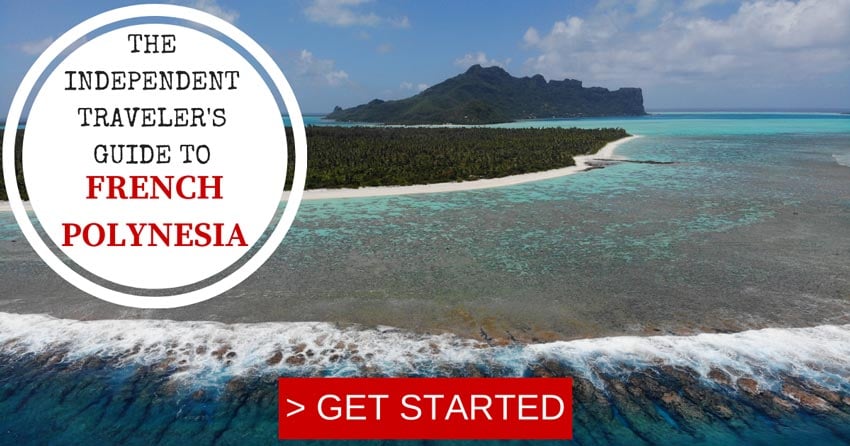 Tahiti, Tailor Made!
The Islands of Tahiti are among the last places to be colonized by mankind, 118 islands, each with its unique personality.
Get expert advice and assistance with planning your trip to the destination where tropical dreams come true!
---
5 Days In Raiatea and Tahaa Itinerary Map
All places mentioned in this itinerary can be found on this companion map. Simply click on the image to open in Google Maps: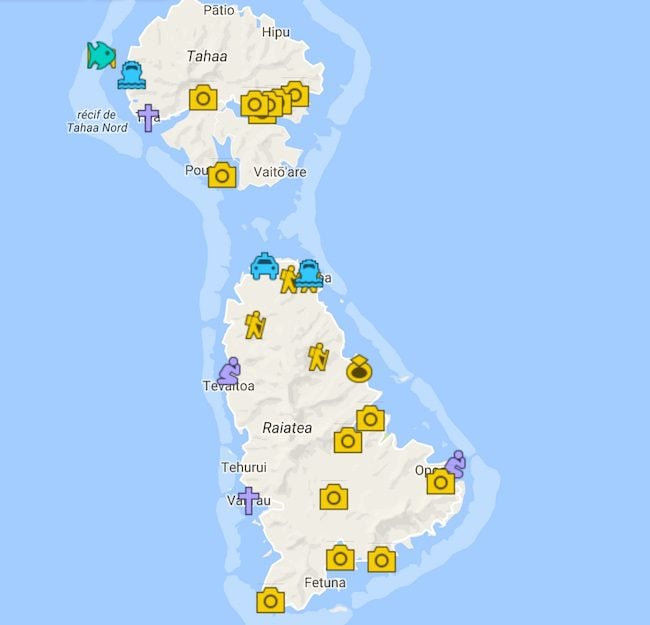 Day 1: Mount Tapioi, Uturoa & Island Road Trip
The first day in Raiatea will also be the busiest one, so get going early. Pick up a rental car the day before (upon arrival) or arrange for an early pickup. Moana Rent A Car has excellent rates and they'll pick you up if you're staying close to town (see the Raiatea Travel Guide for more info on getting around the island).
Hike Mount Tapioi
At 294 meters, Mount Tapioi proudly overlooks Uturoa and the gorgeous lagoon. It's pretty much the only hike in Raiatea you can do without a guide. If you enjoy panoramic views, don't miss this hike but do start the one-hour climb in the morning to increase your chance of cloud-free skies at the summit. This trail may be currently closed so inquire with your hosts. Alternatively, use the extra time to take it slow on the road trip around Raiatea and consider combining a guided kayak tour up the Faaroa River, the only navigable river in French Polynesia, or go for a hike on one of the newly-opened trails next to Marae Taputapuatea.
From the summit, you'll be treated to panoramic views of Tahaa Island and the shared lagoon, Uturoa, and even Bora Bora on a clear day. Plan on staying here for 30 minutes to enjoy the views, about the same time it will take you to get back to the car.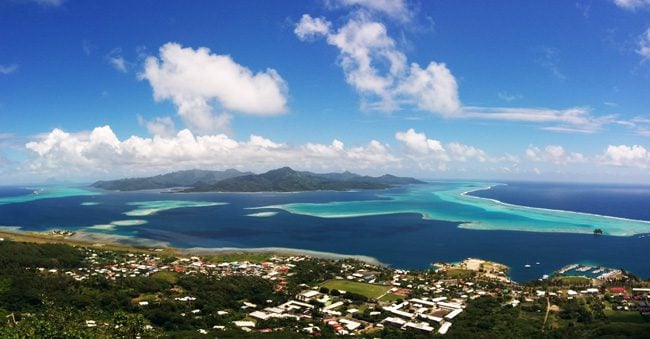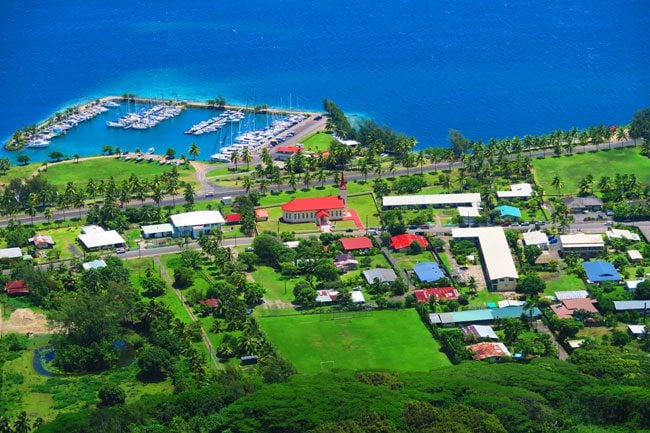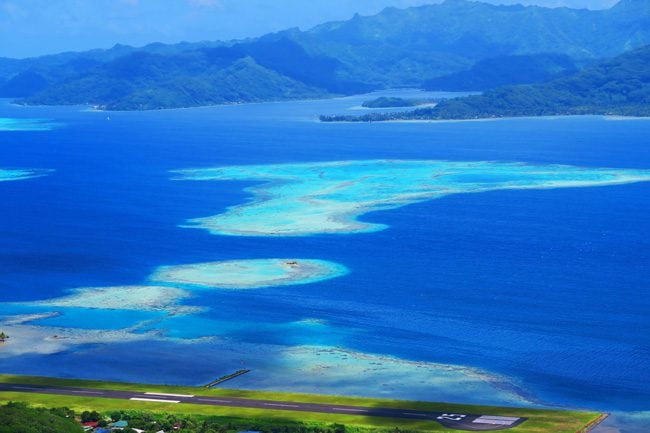 Note that climbing Mount Tapioi should be done only on weekdays as locals may close access on weekends.
Stroll Around Uturoa
With the morning exercise complete, head back to Uturoa and explore French Polynesia's second largest town after Papeete in Tahiti. Squeezed between Mount Tapioi and the lagoon, Uturoa is quite charming – not to mention useful. This is a good time to buy some food for the day in one of the supermarkets, a packed lunch from one of the snacks in the center of town and of course fresh fruits & vegetables from the market. It's also not a bad idea to treat yourself to an ice-cold fresh coconut!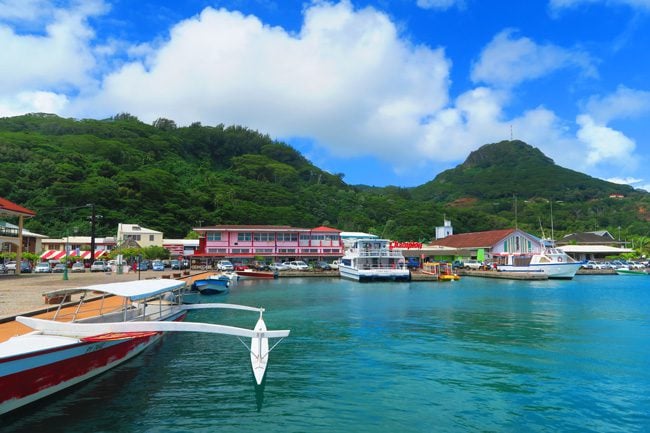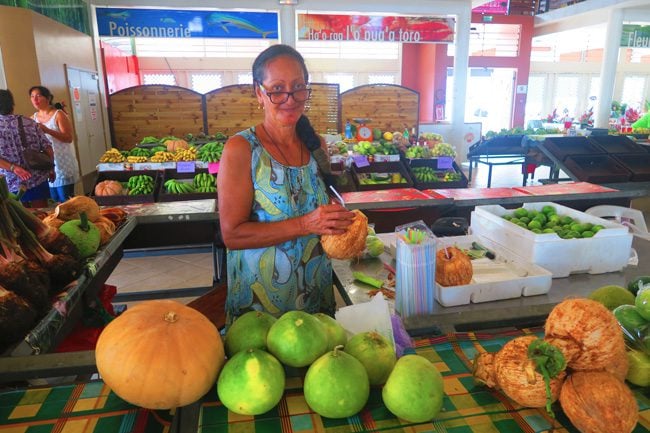 Road Trip Around Raiatea
This will be the longest part of the day so aim to head out of town before noon. The sealed road around Raiatea runs for about 100 km's and you'll be making quite a few short but frequent sightseeing stops along the way – driving in a clockwise direction from Uturoa. For a complete list of places worthy of a stop, have a look inside the Raiatea Travel Guide. Here are a few highlights nonetheless.
Belvedere Lookout Point
Take the mountain road connecting Faaroa and the south coast, stopping at the top to catch the views. Some refer to this spot as 'the belvedere', though it's not officially marked. If you feel you're starting to head back down, you've missed it. Locals use this road as a shortcut, but you'll just turn back around to Faaroa after satisfying your craving for a vista.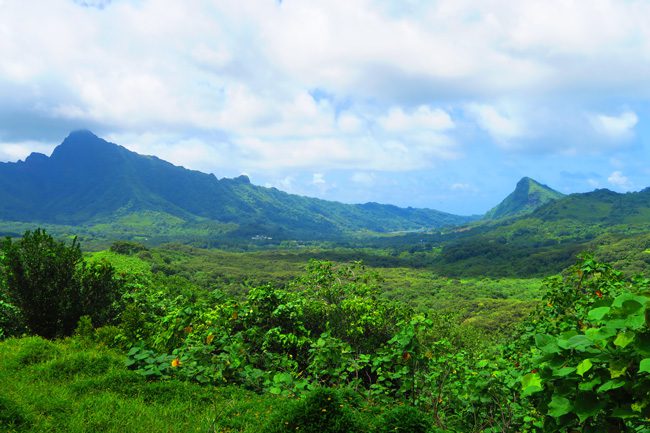 Marae Taputapuatea
This ancient temple and newly named UNESCO World Heritage Site is the prime reason why Raiatea is known as 'the sacred island'. In ancient times, kings, priests, and dignitaries from all across the immense Polynesian Triangle would gather at this spot for religious ceremonies and key decision-making. These days, there are three complexes you can walk around and there's no doubt you'll be feeling the mana (ancient spiritual energy). The main island's only sandy beach is right next door. Though artificially made, it's nonetheless a good spot for a quick break before getting back on the road.
To extend your visit, it's possible to hike in this area. In June 2020, the commune inaugurated a new hiking trail in the vicinity of Marae Taputapuatea. The new hiking trail is designed to combine natural scenery with a chance to meet locals in their rural environment.
South Coast
The southern coast of Raiatea is its most beautiful and isolated. Far away from Uturoa and with locals using the mountain shortcut, you might find yourself all alone out here though I'm sure you won't have a problem with that. The lagoon colors are spectacular out here, followed by bay after bay of nothing but lush hills and small private islets (motus) loaded with wild palm trees.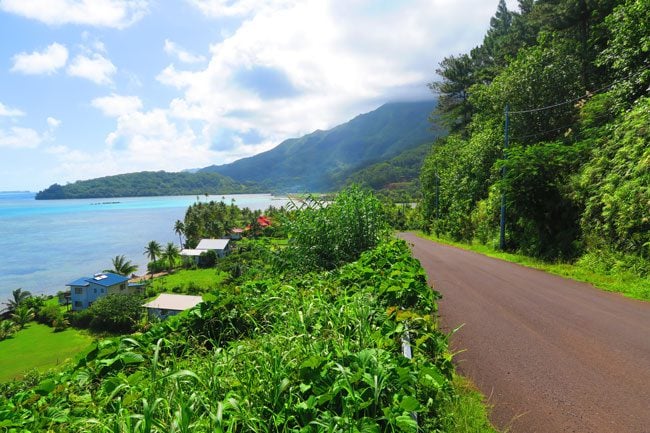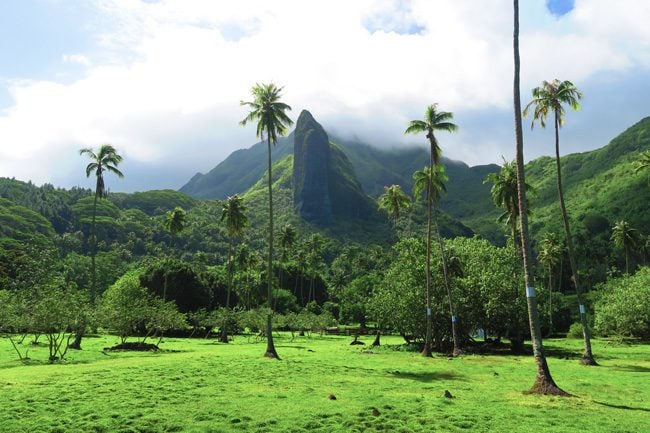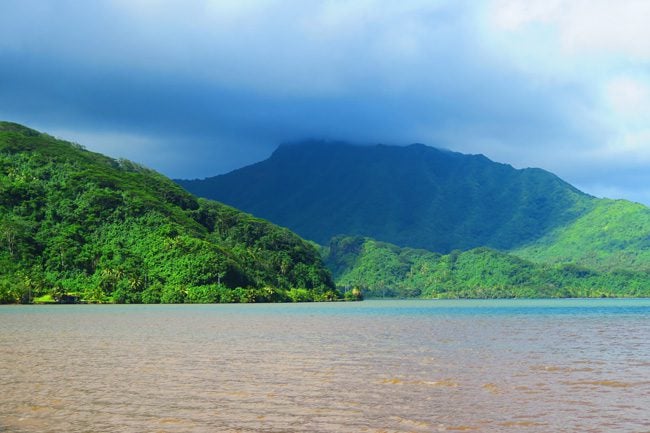 Day 2: Hike In The Temehani Plateau
Raiatea is home to the tiare apetahi, one of the rarest flowers in the entire world. The flower only grows in Raiatea and only in the Temehani Plateau. To find it, you'll need to hire a guide for the 6-7 hour hike (more details in the Raiatea Travel Guide).
The hike starts with a climb up to a pine forest before emerging out on the plateau. It feels like you've been teleported away from the tropics to somewhere in northern Europe. Not much grows up here but there are plenty of surprises. Our guide took us to see a lava tube deep inside the clouds. It is thought that this tunnel runs beneath the lagoon, emerging in neighboring Tahaa. It's not exactly a farfetched idea as Tahaa and Raiatea are believed to have been formed from a single island.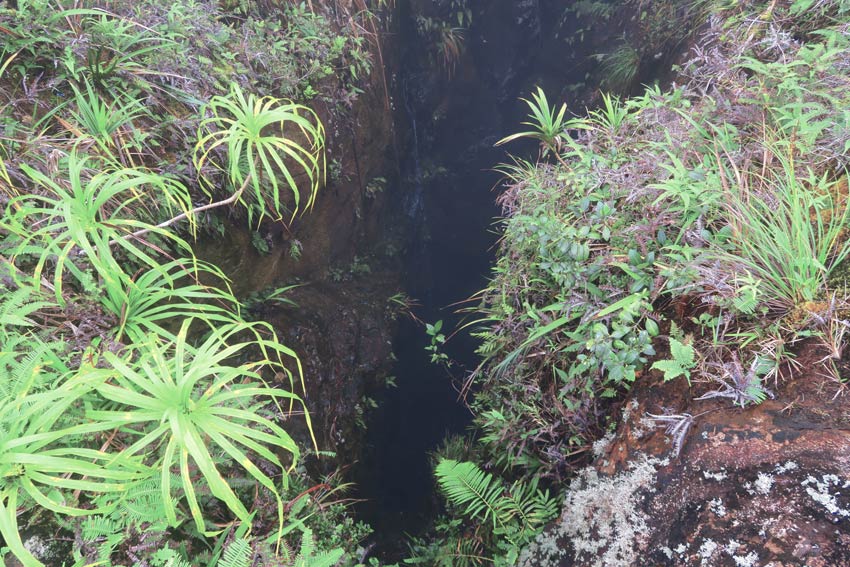 You'll then be hiking on the top of the plateau at about 650 meters, trying to spot the rare flower. During the hunt, don't forget to look up and enjoy the 360-degree views. On a very clear day, you can even spot the beautiful island of Maupiti, some 70 km's away.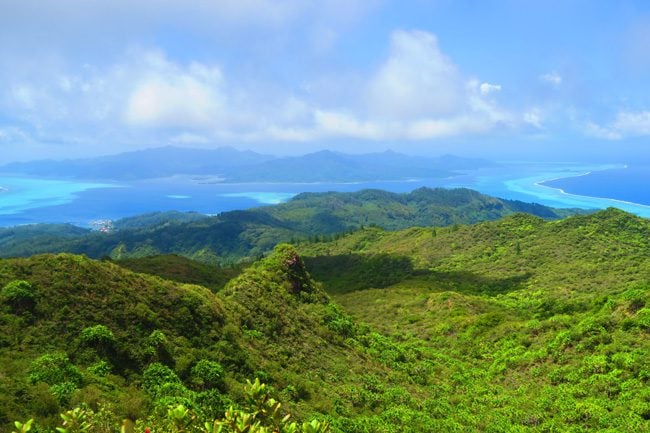 If luck is on your side (and if you're with a guide it probably will), you'll stumble upon an ordinary-looking bush, except this bush is nothing but ordinary. Growing like the shape of a hand, the tiare apetahi is part of the gardenia family, though unlike its bigger and more common cousins it has no scent.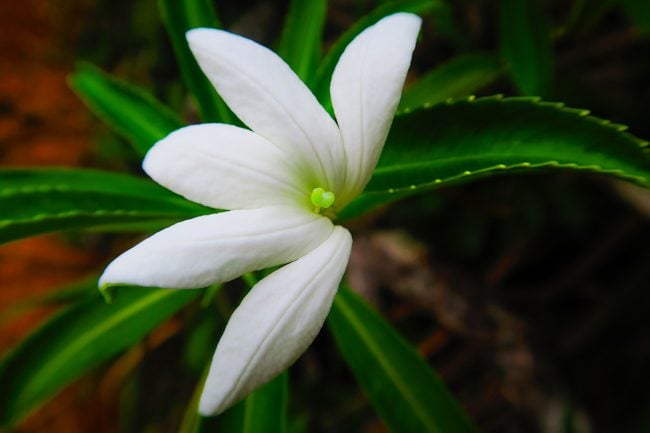 Legend has it that the rare flower's handshape is not nature's coincidence. A long long time ago, a local woman named Apetahi climbed to this very same plateau – killing herself and planting her hand in the ground in vain hopes of seeing long lost lover…
At this point, consider yourself part of an elite group that has seen this rare flower. It is time to start sliding your way back down to civilization.
The hike will take about 6-7 hours and your guide will bring a light lunch with him (full logistics in the Raiatea Travel Guide). After spotting one of the rarest flowers in the world, take the rest of the day off and grab a cold beer in town or back at your pension. For dinner, head back to Uturoa and dine with the locals at one of the roulottes in front of the ferry quay. The legendary French Polynesian food trucks are fantastic for grabbing cheap meals of Tahitian fish dishes and Chinese chow mein.